If you're looking for inspiration for your next bathroom makeover then my mega list of Bathroom Ideas is where you want to start. Bathrooms today serve the same needs as they always have; things are not going to change too much on that front. Yet, the nuts and bolts of how bathrooms are built and renovated are definitely evolving.
Today's emphasis is more on smart bathroom designs with a greater focus on saving energy and water.
Basically, what I want you to take away from reading this (or skimming through) is an understanding of the latest trends in bathroom design, what's current and popular and how contemporary bathrooms are getting bigger, better and even more efficient. You'll also gain some valuable insight to planning, choosing, and special considerations for re-doing your bathroom.
Let the fun begin…
Bathroom Ideas for Sinks and Vanities
Today, Vanities are available in a variety of configurations to suit specific needs. You can select from single, double, or offset sink designs, plus having door/drawer combinations that suit your powder room, master bath or kid's bathrooms.
Furniture vanities are available in decorative options which can be coordinated with the linen cabinets. You could have vanities with bun foot, decorative toe or even in a choice of turned posts. Other styles include plain floor open storage.
Floating bathroom vanities are the latest rage. These consist of vanities suspended on the walls giving the room a clean and sleek look. This type of bathroom vanity is ideal for transitional designs. Floating vanities allow you the option of installing single or double bowls along with individual cabinets that can be customized for a unique look.
For smaller bathrooms, add extra space by installing under-mount sinks with clever tile accents as a backdrop to it.
Spa-inspired travertine sinks fitted with copper faucets can turn your bathroom into a spa retreat. Copper or bronze faucets with stone walls help add color, texture, and style to the room.
For otherwise straight edged rooms, add an oval sink to soften the area.
Long double vanities with extra sink bowls and mirrors are a must have for busy mornings.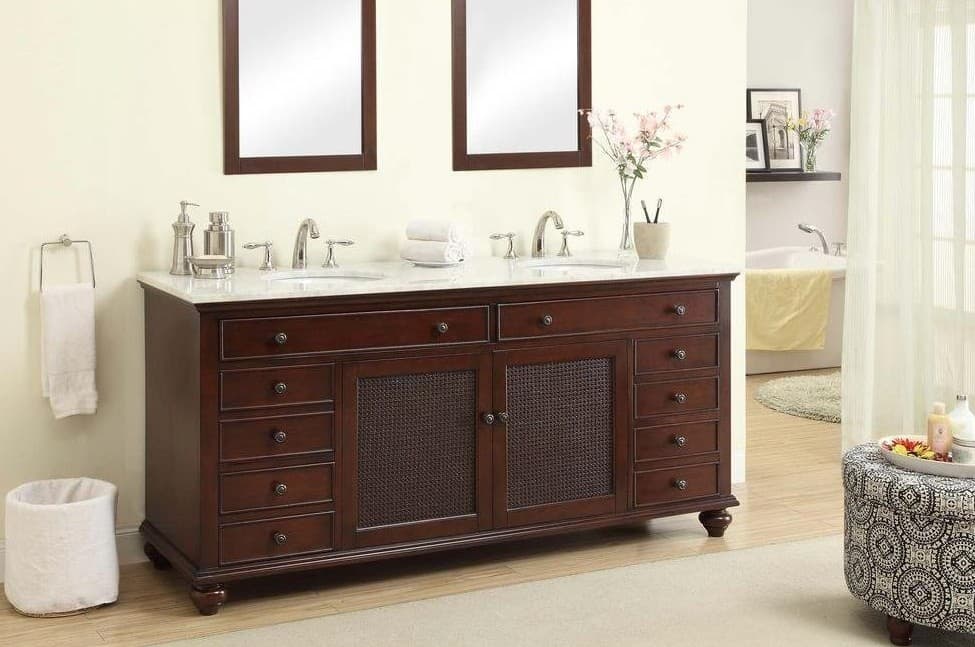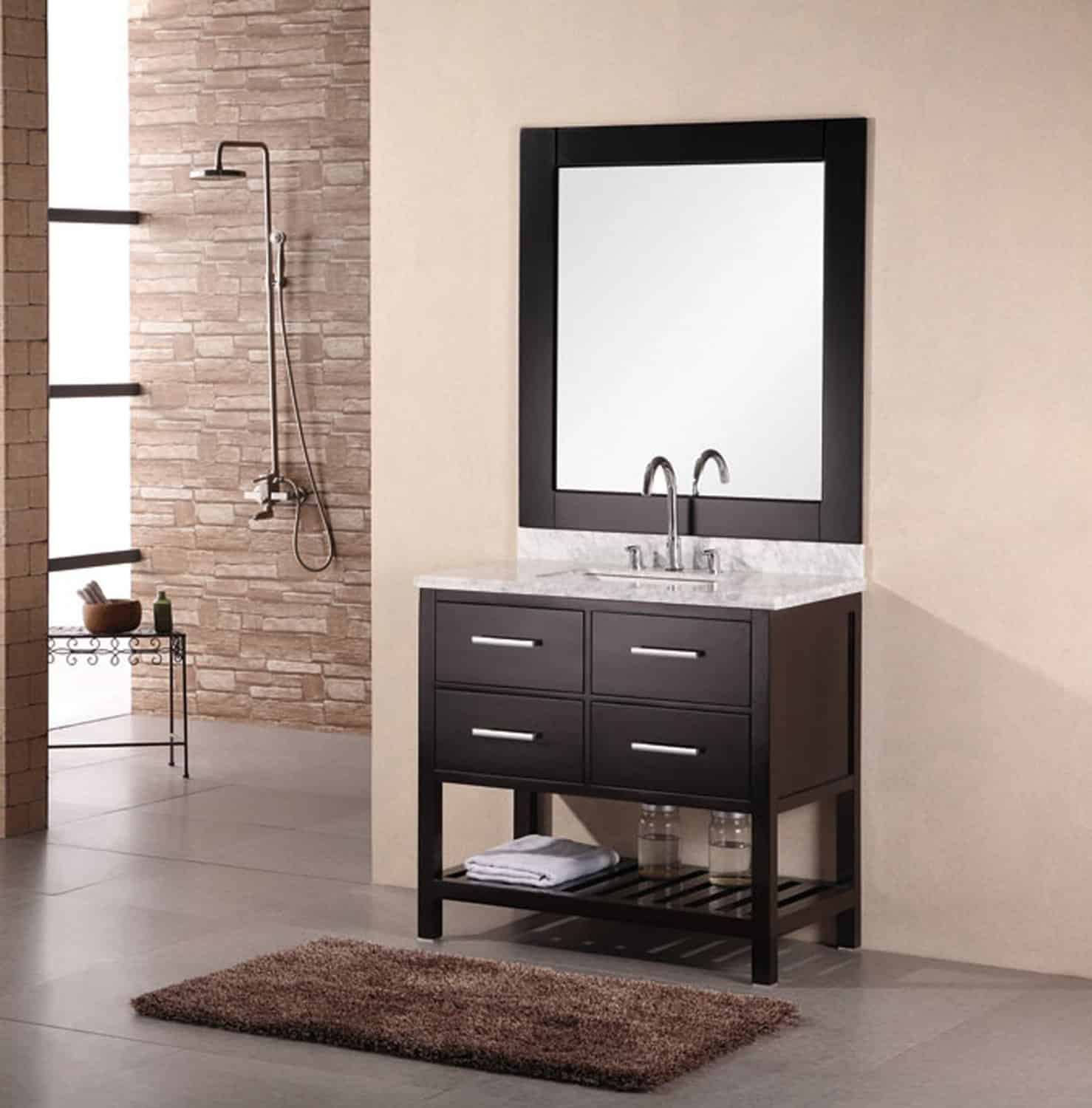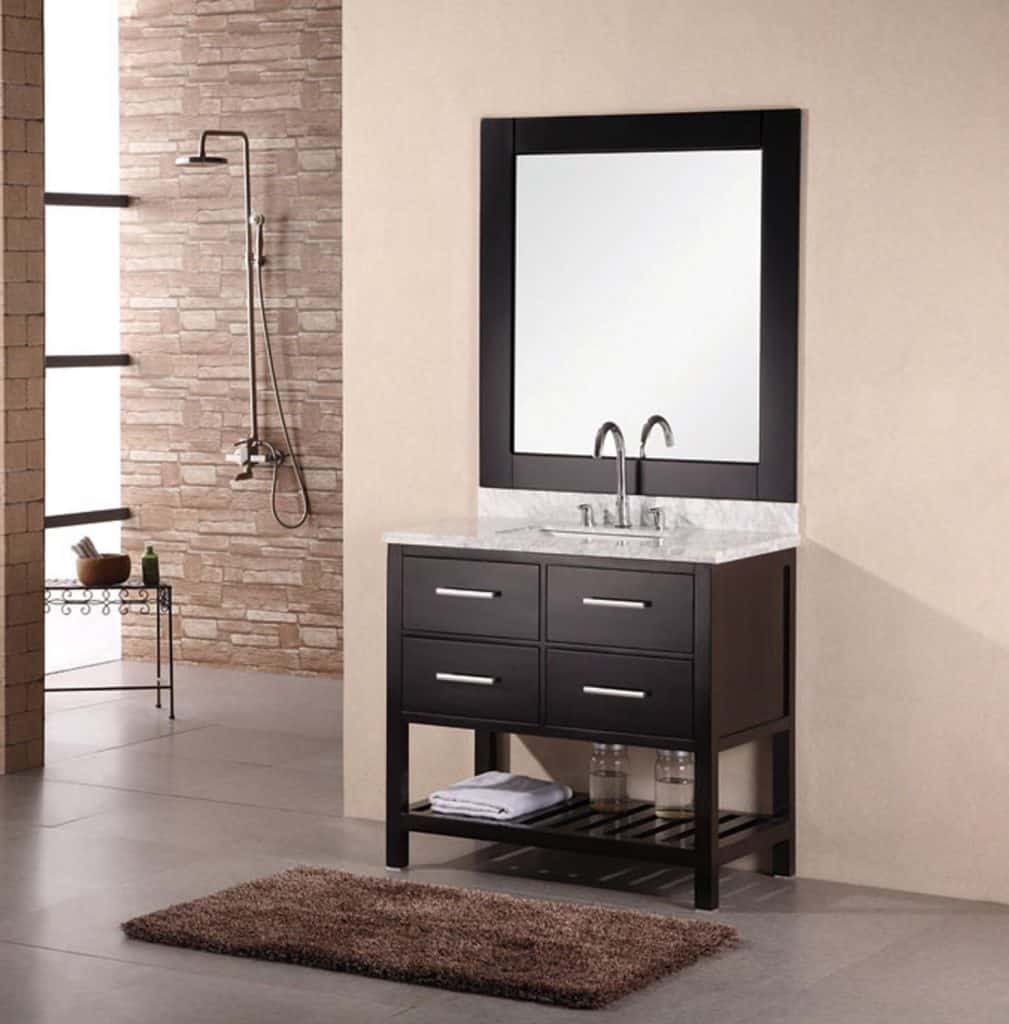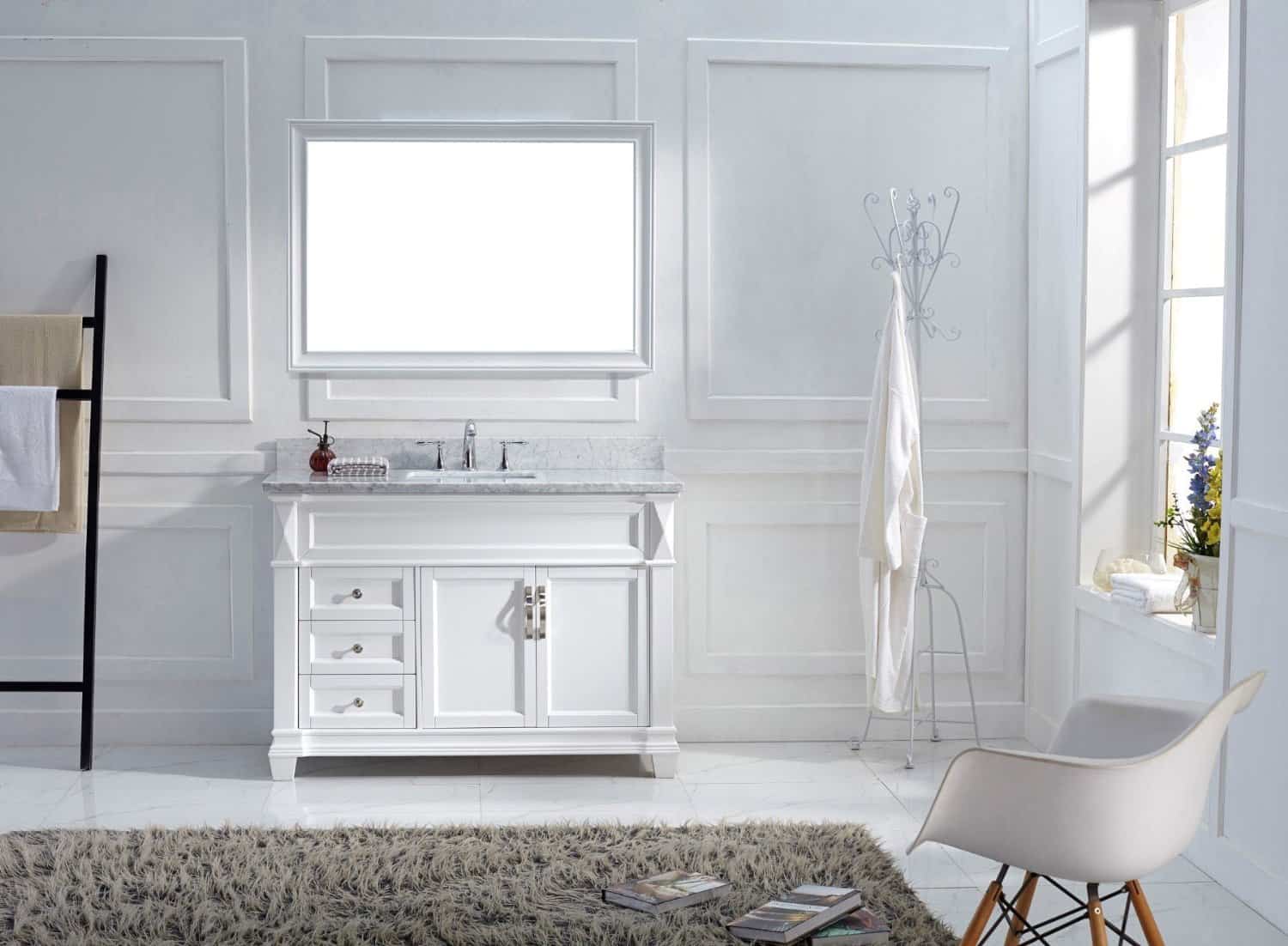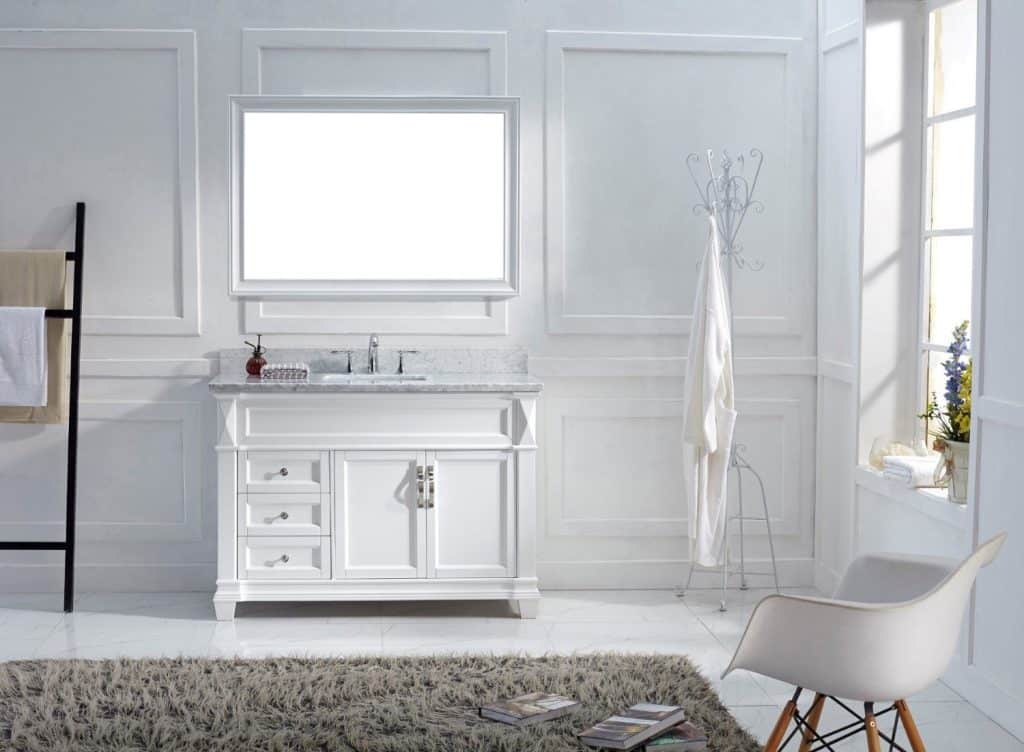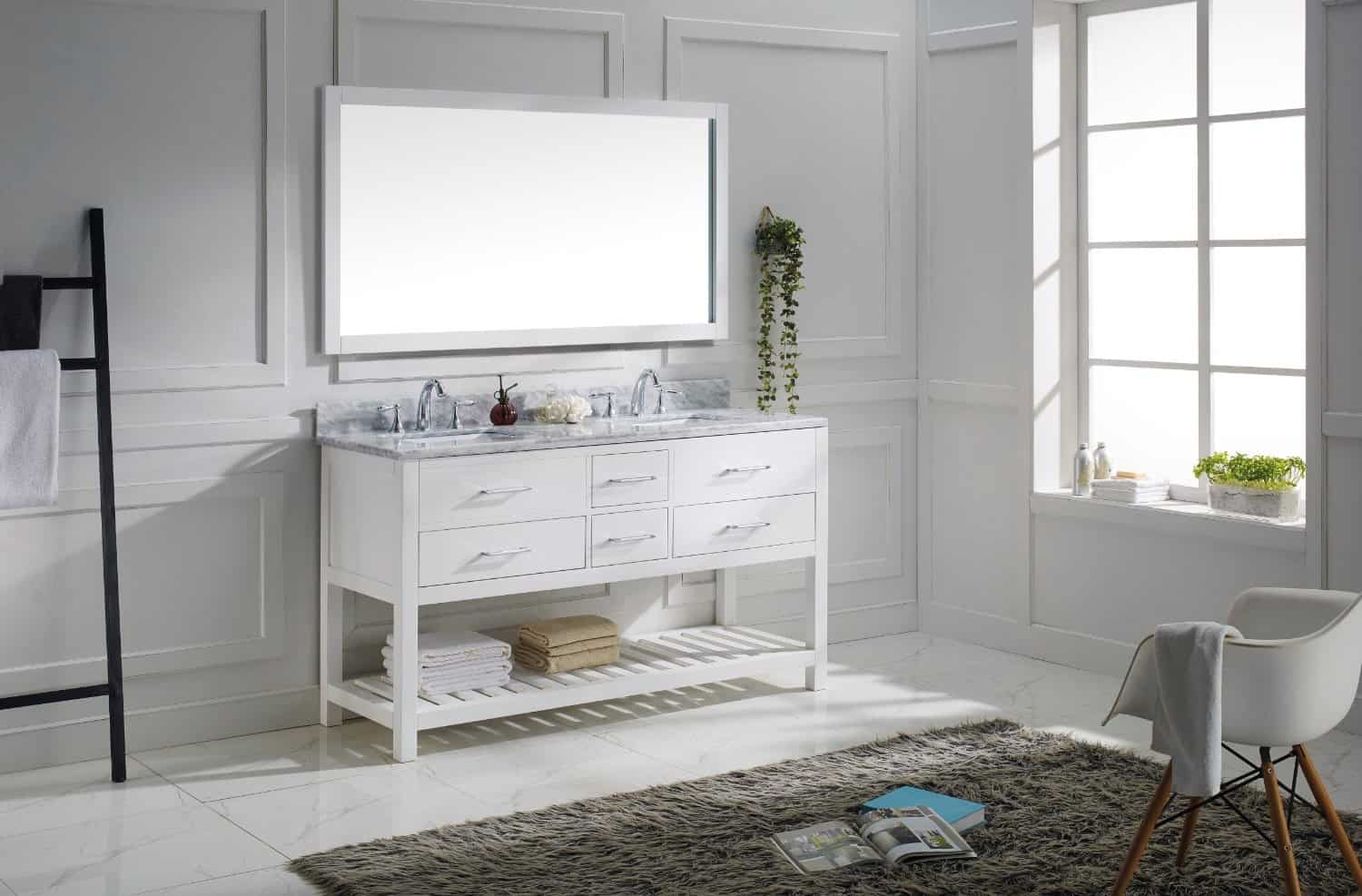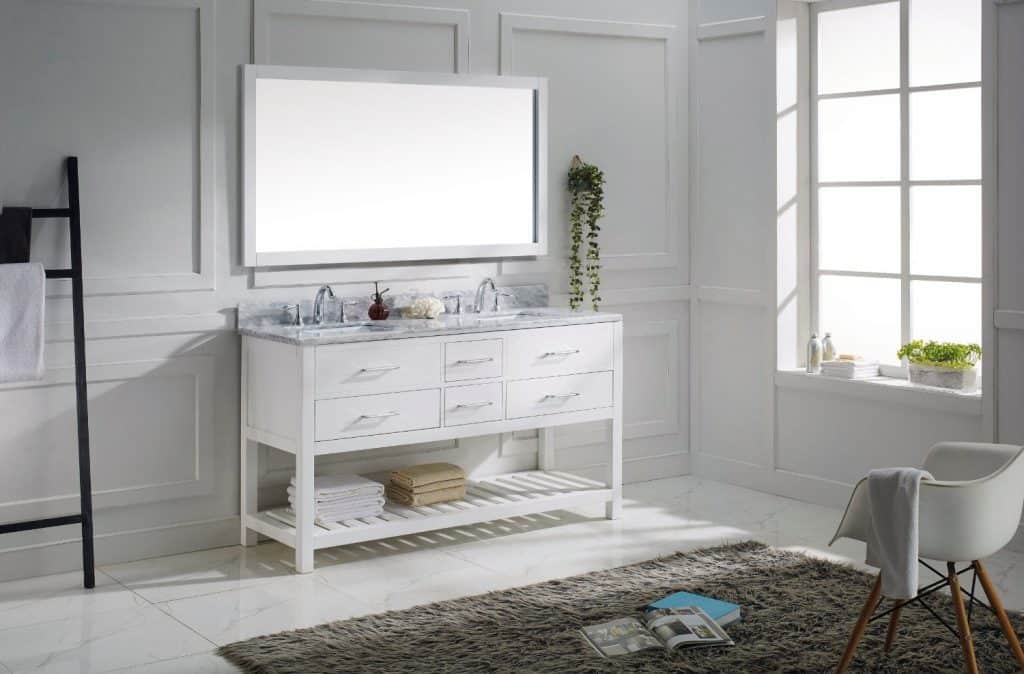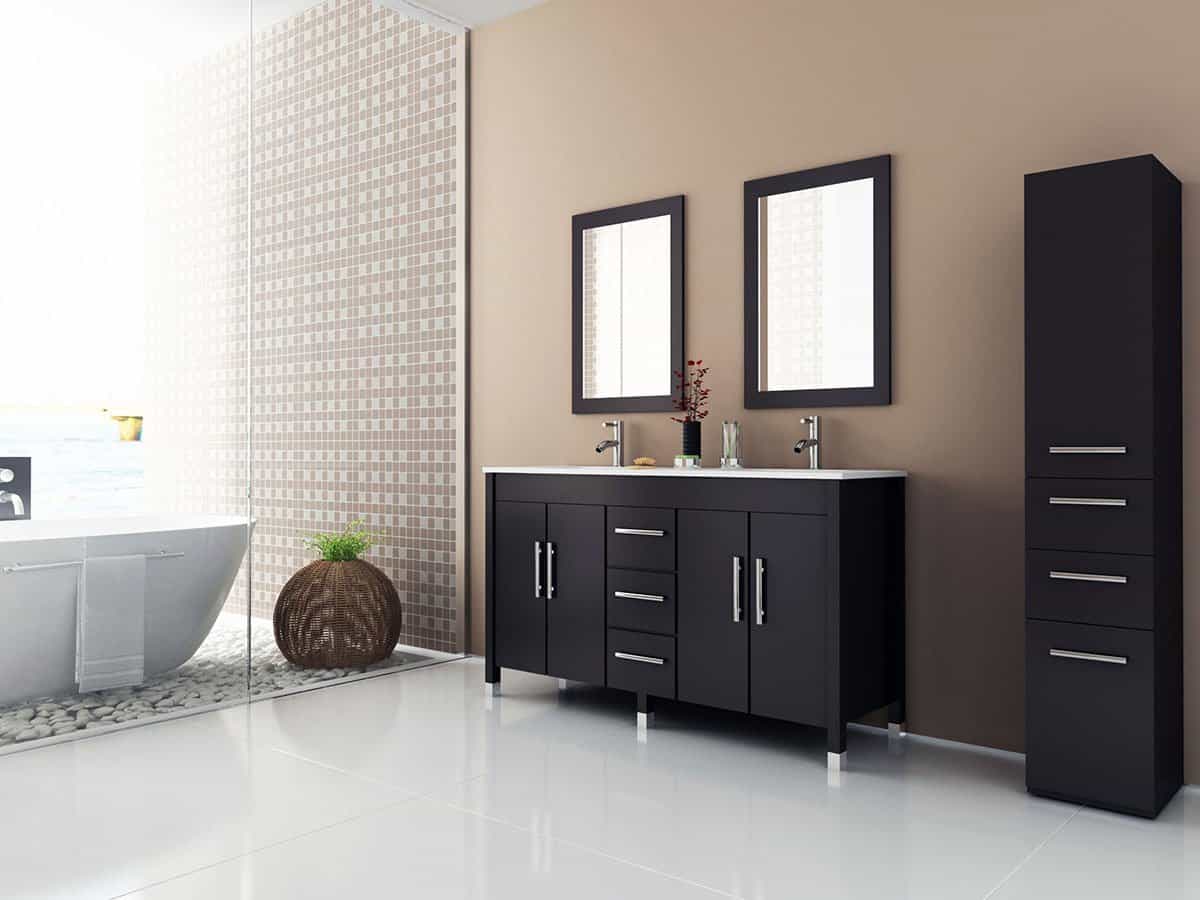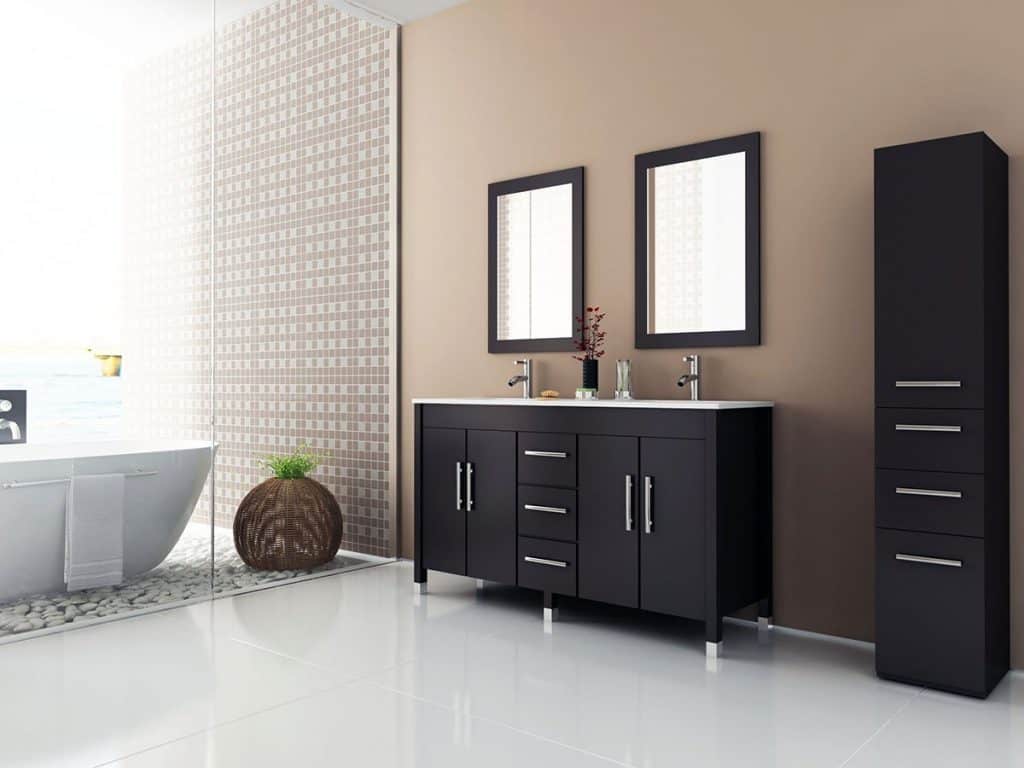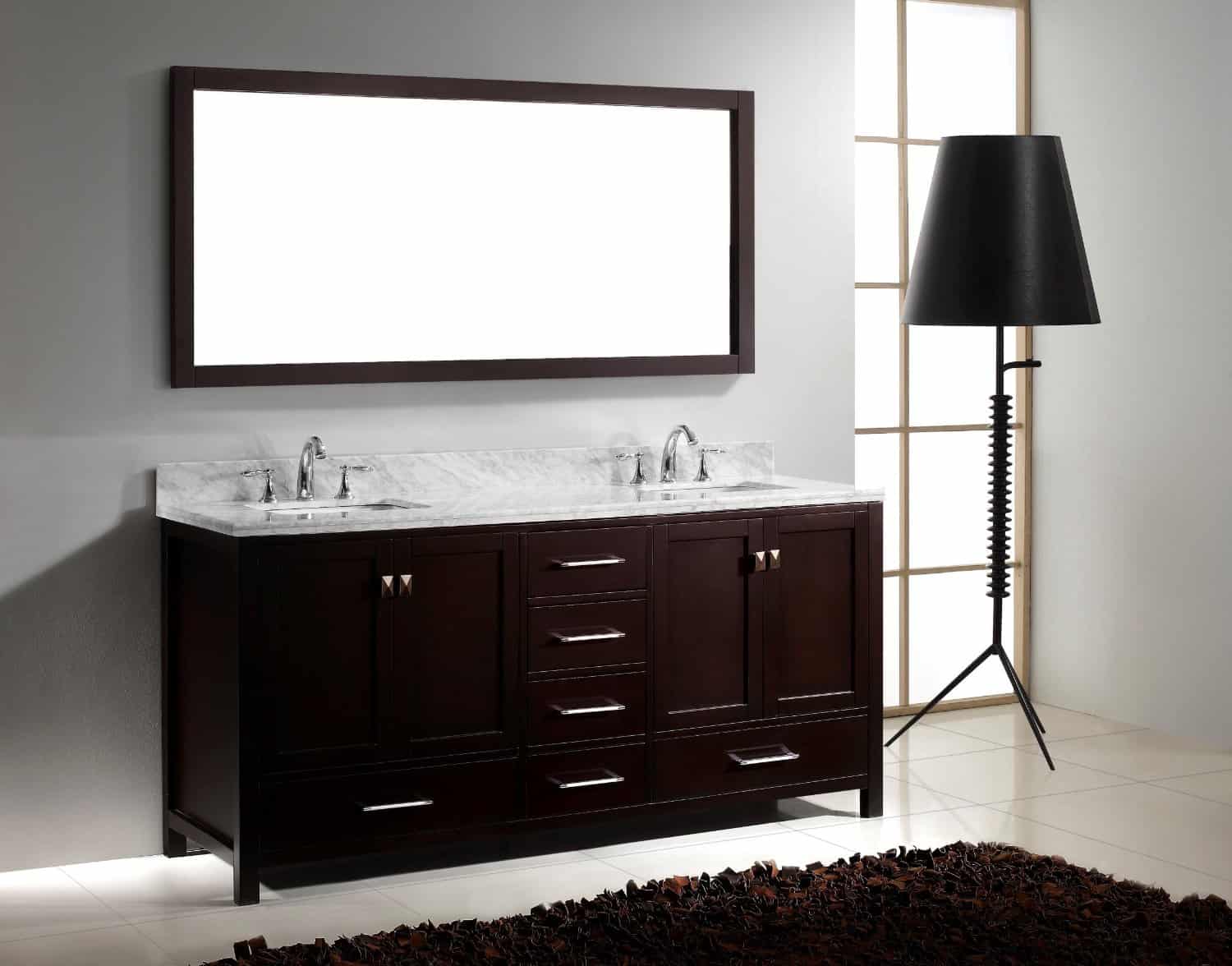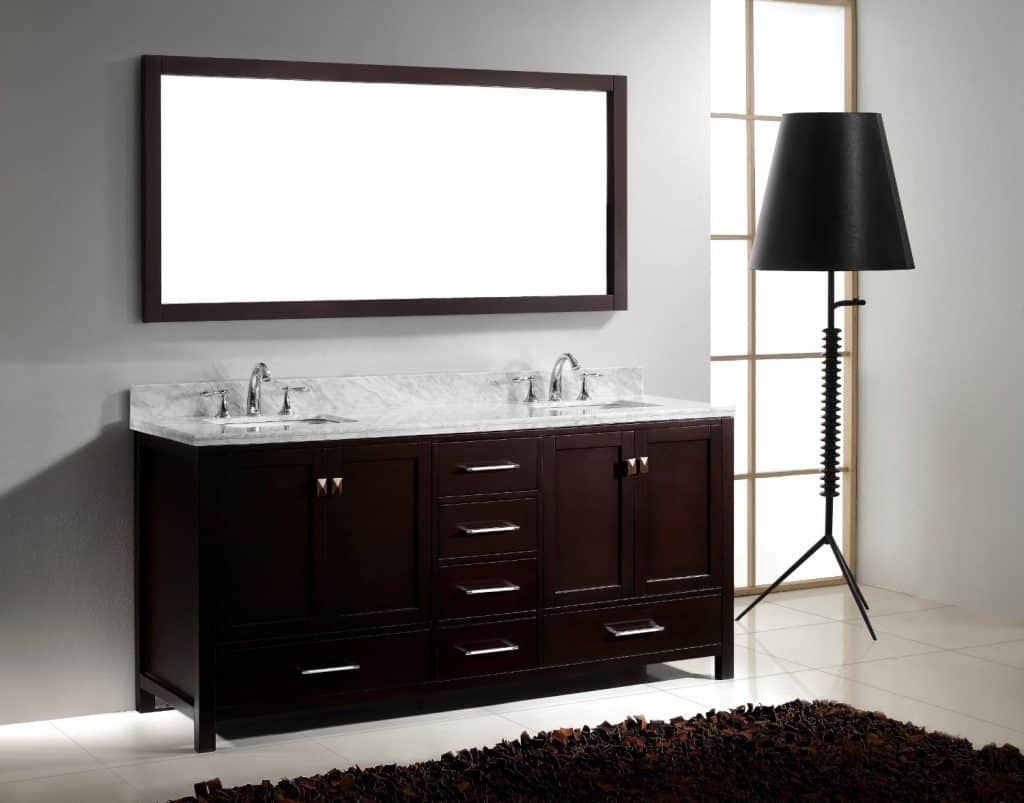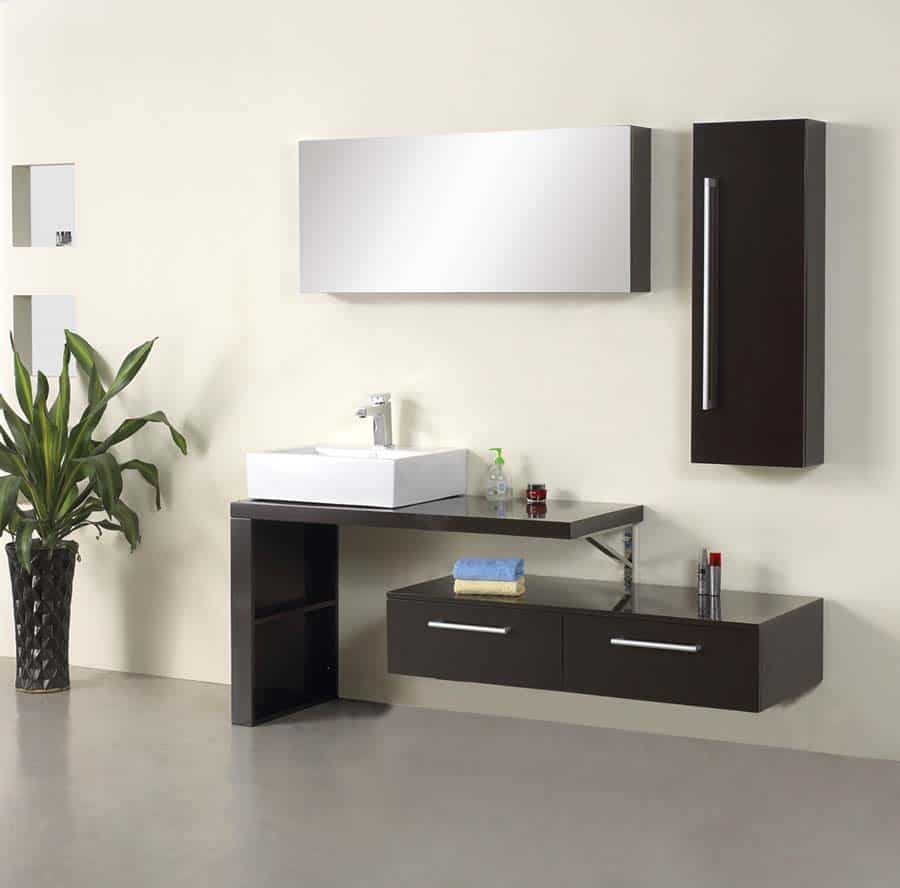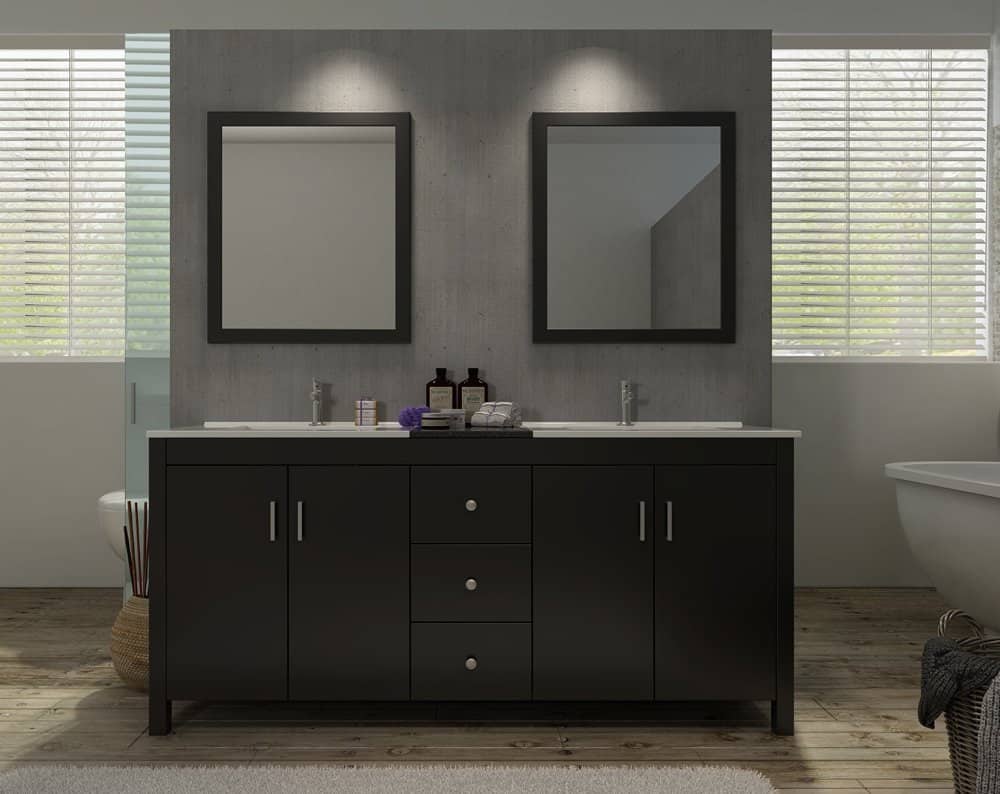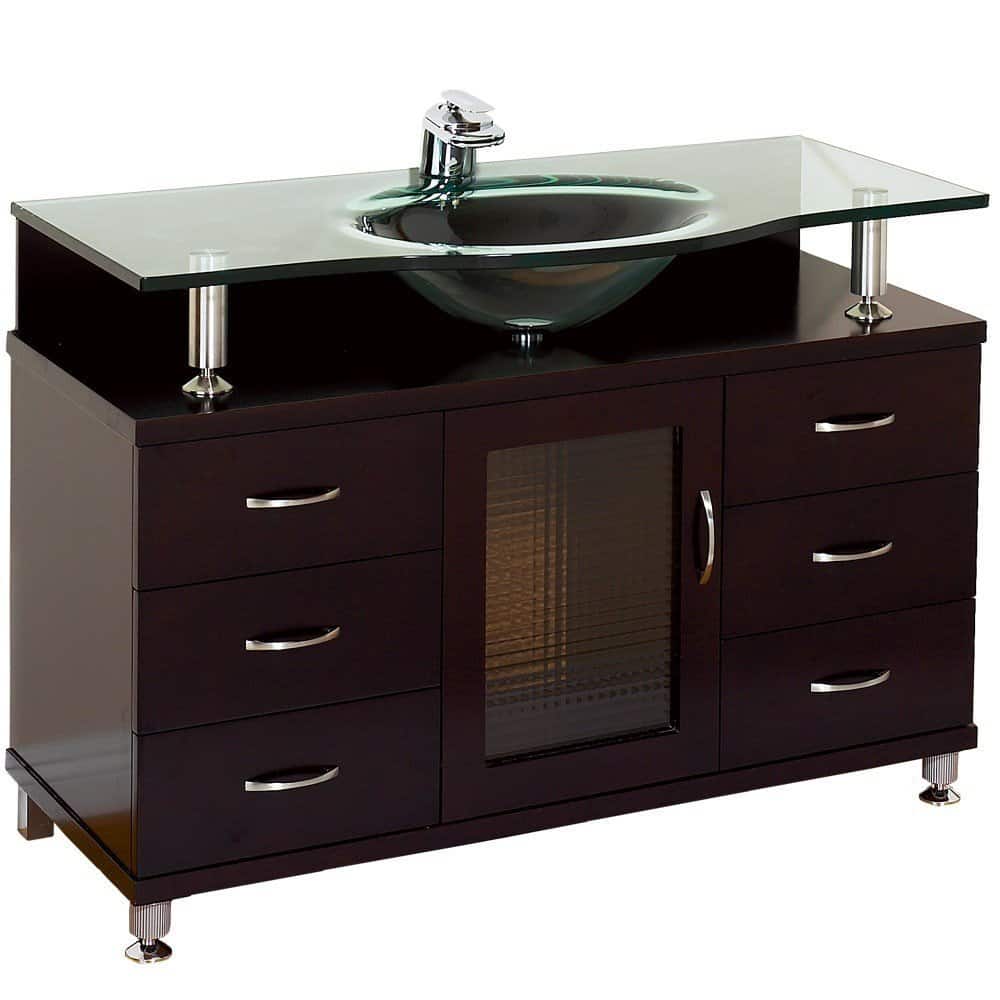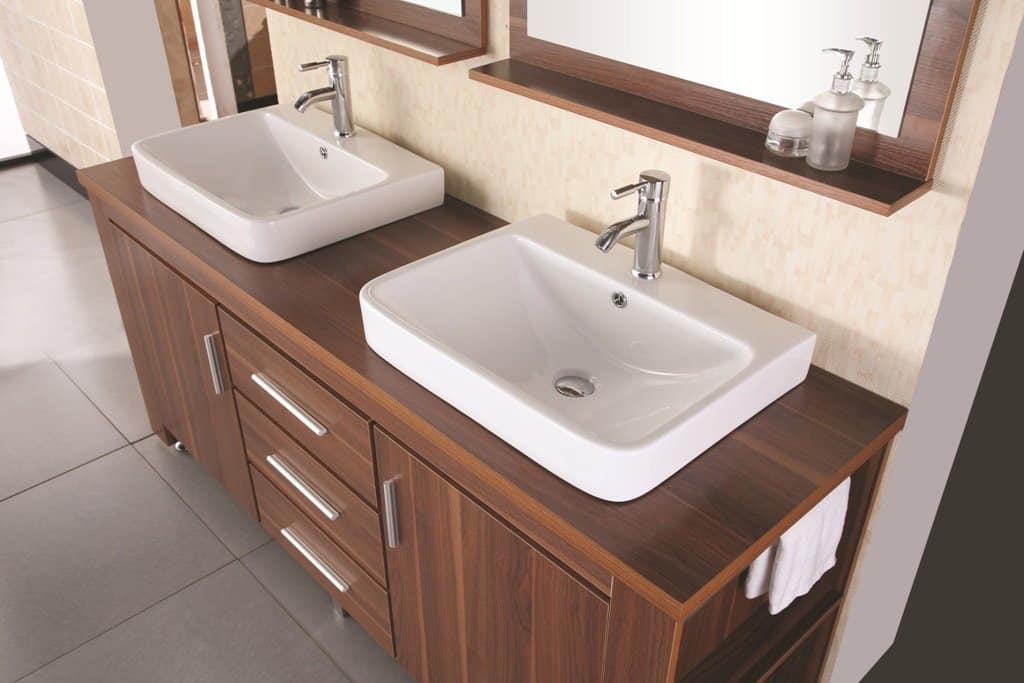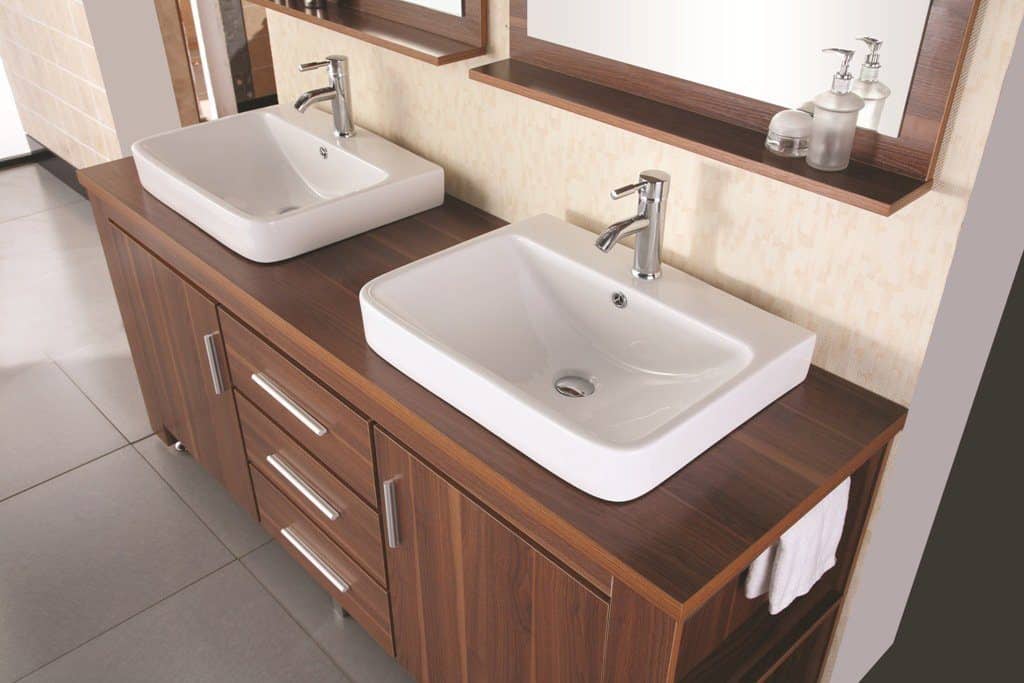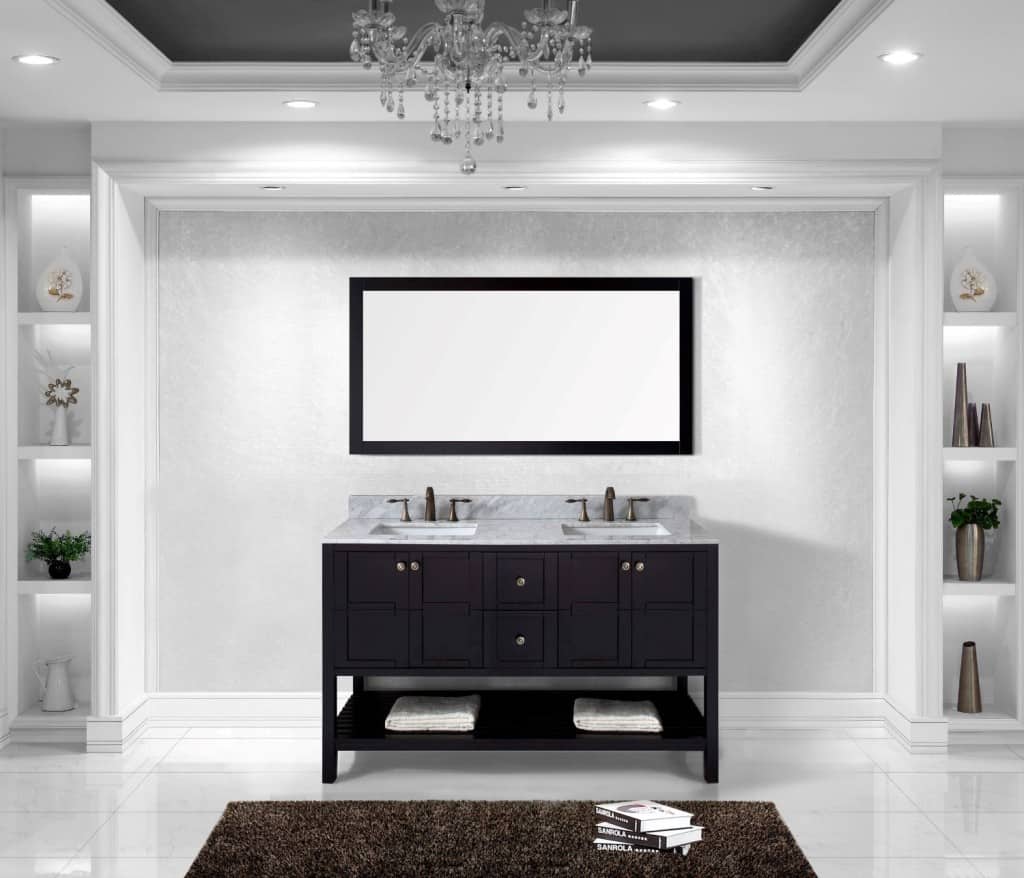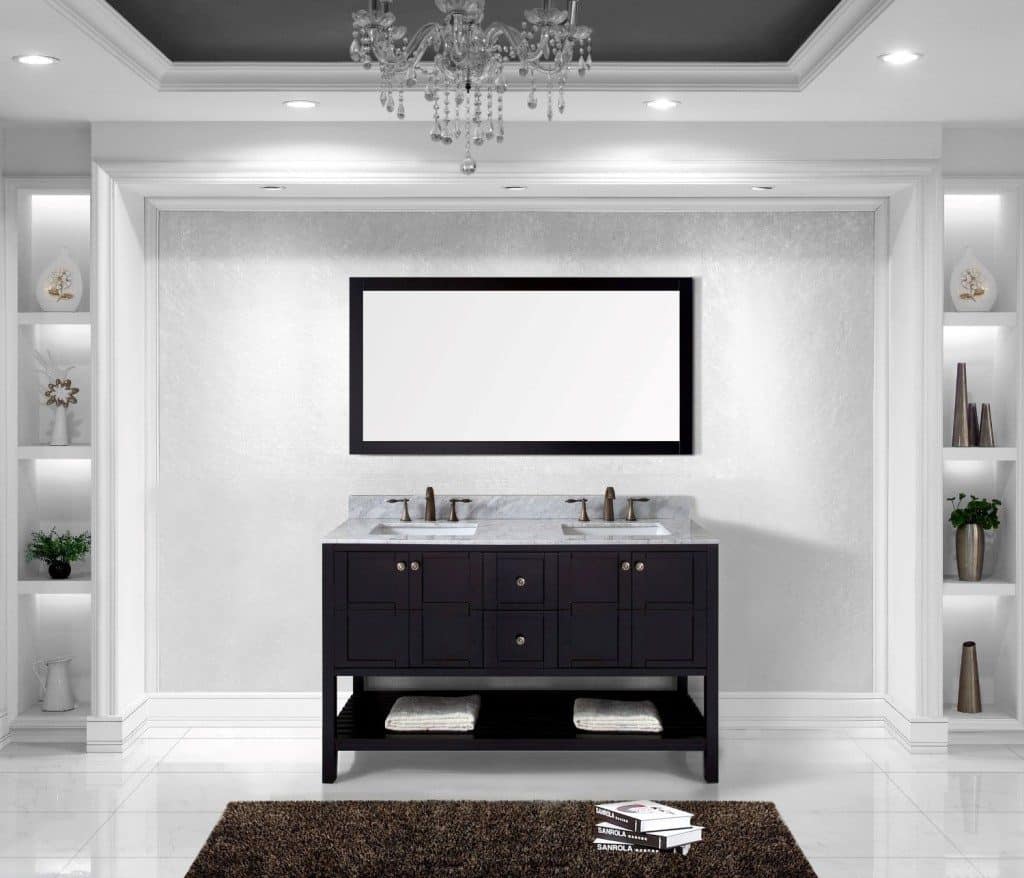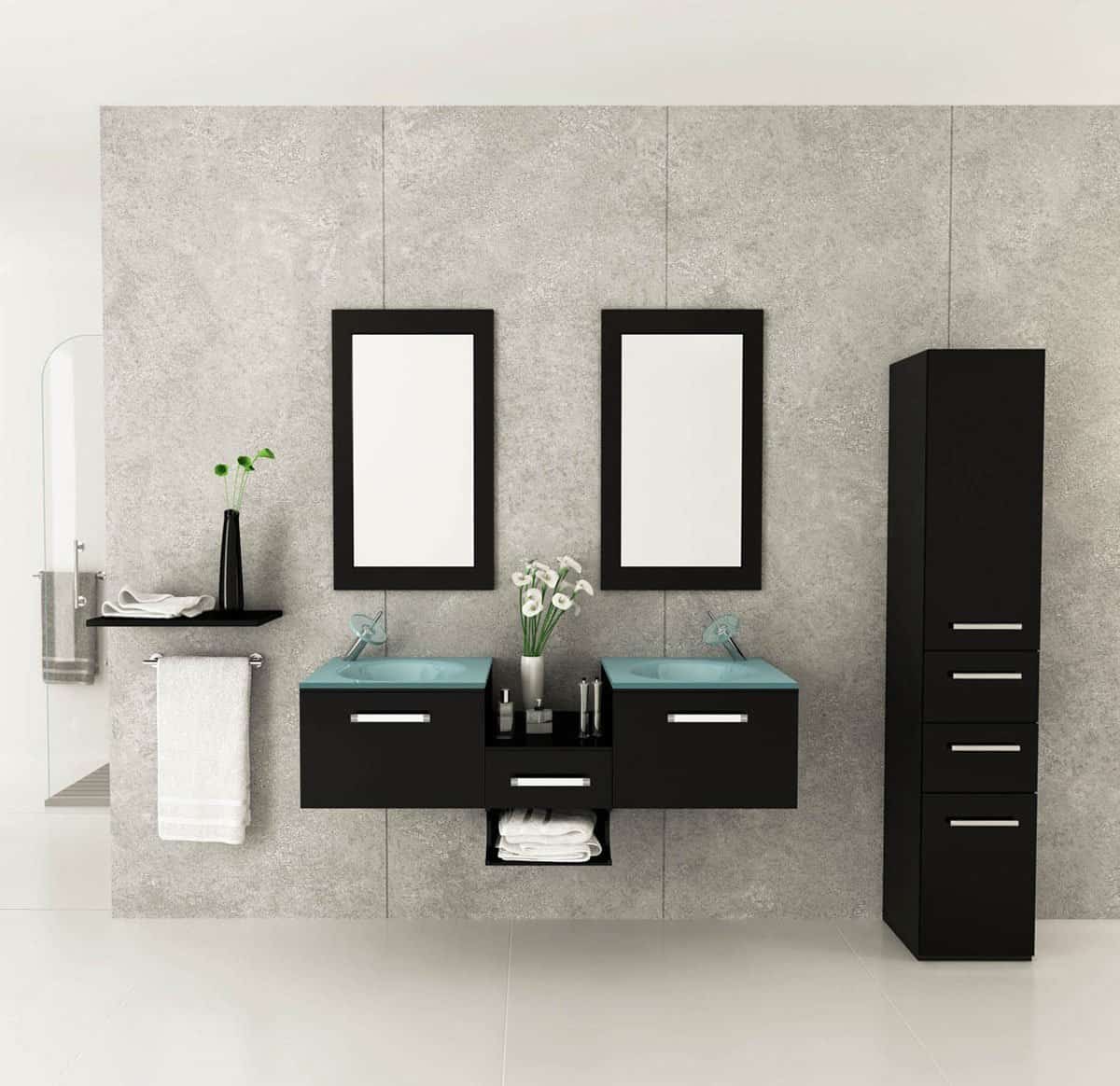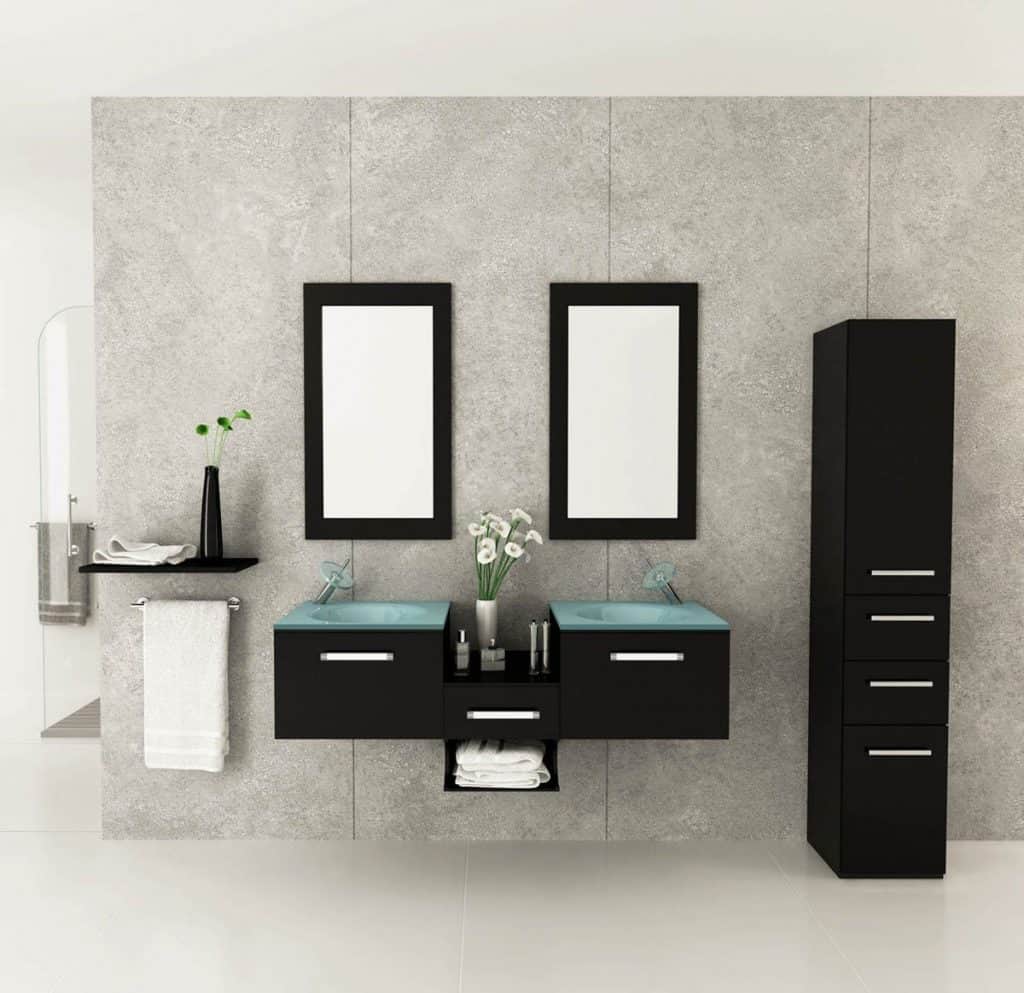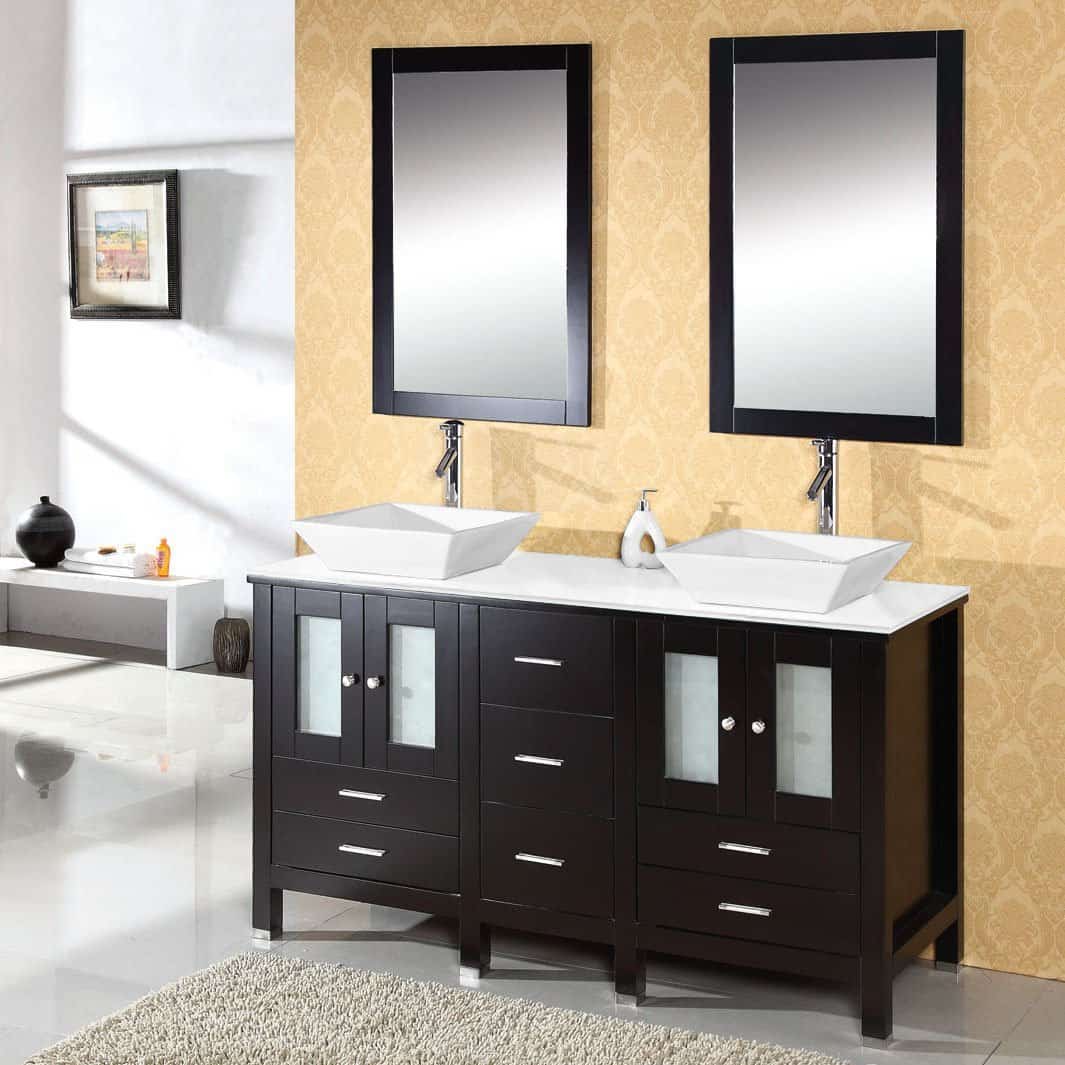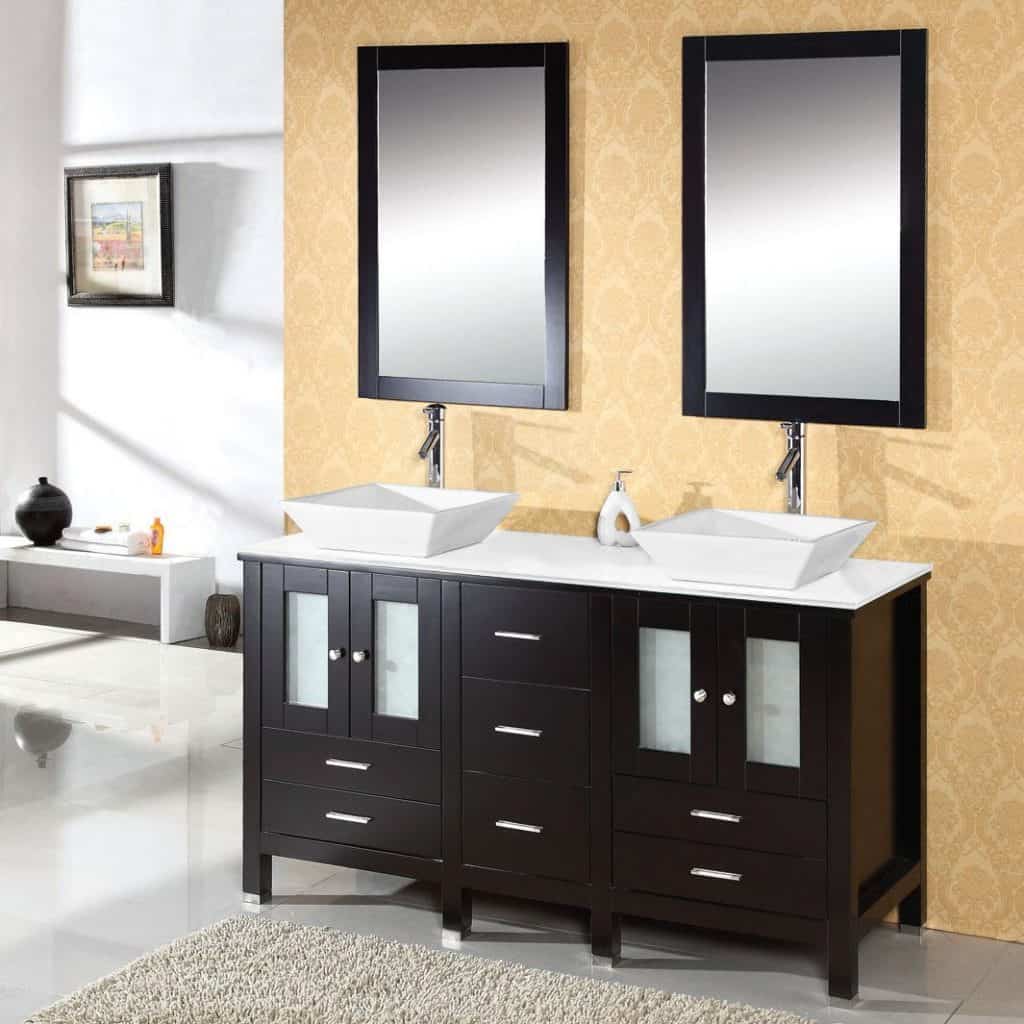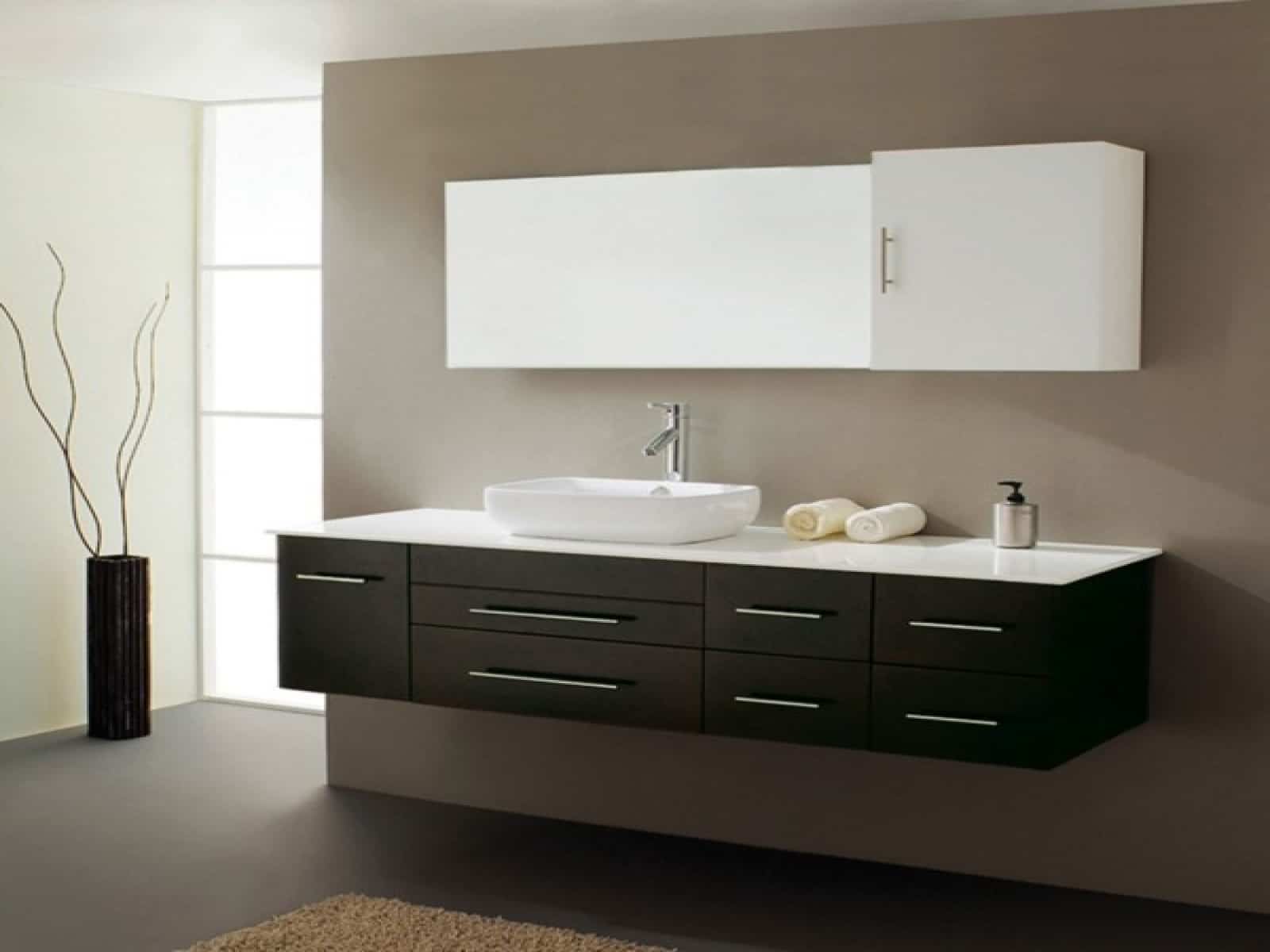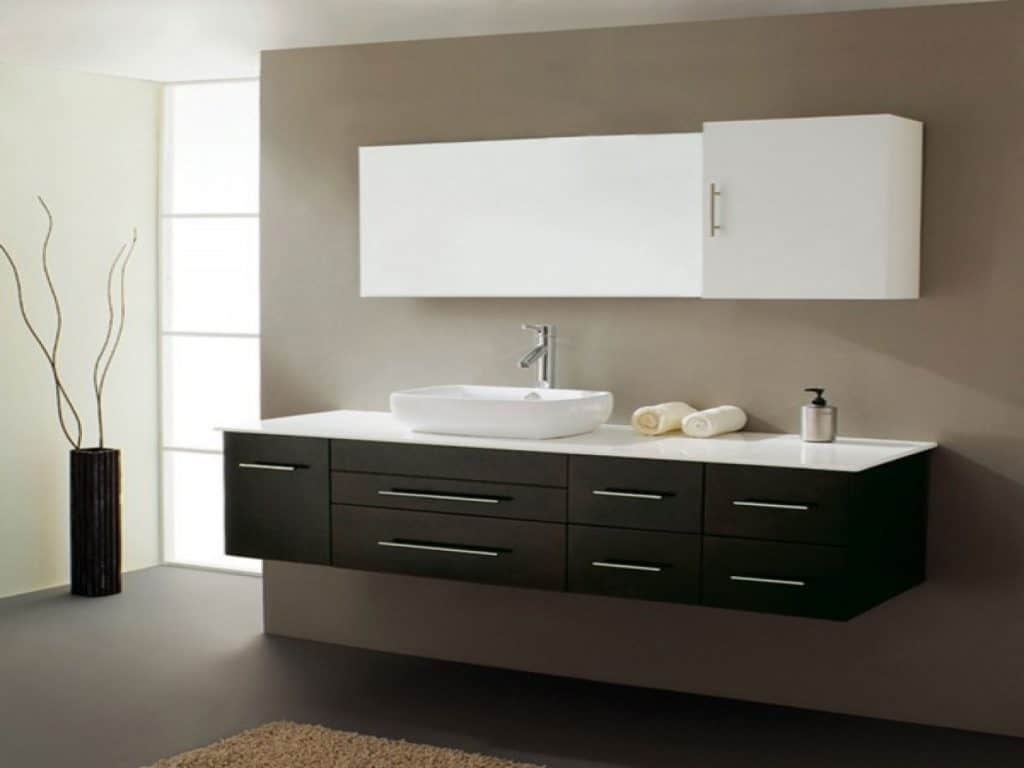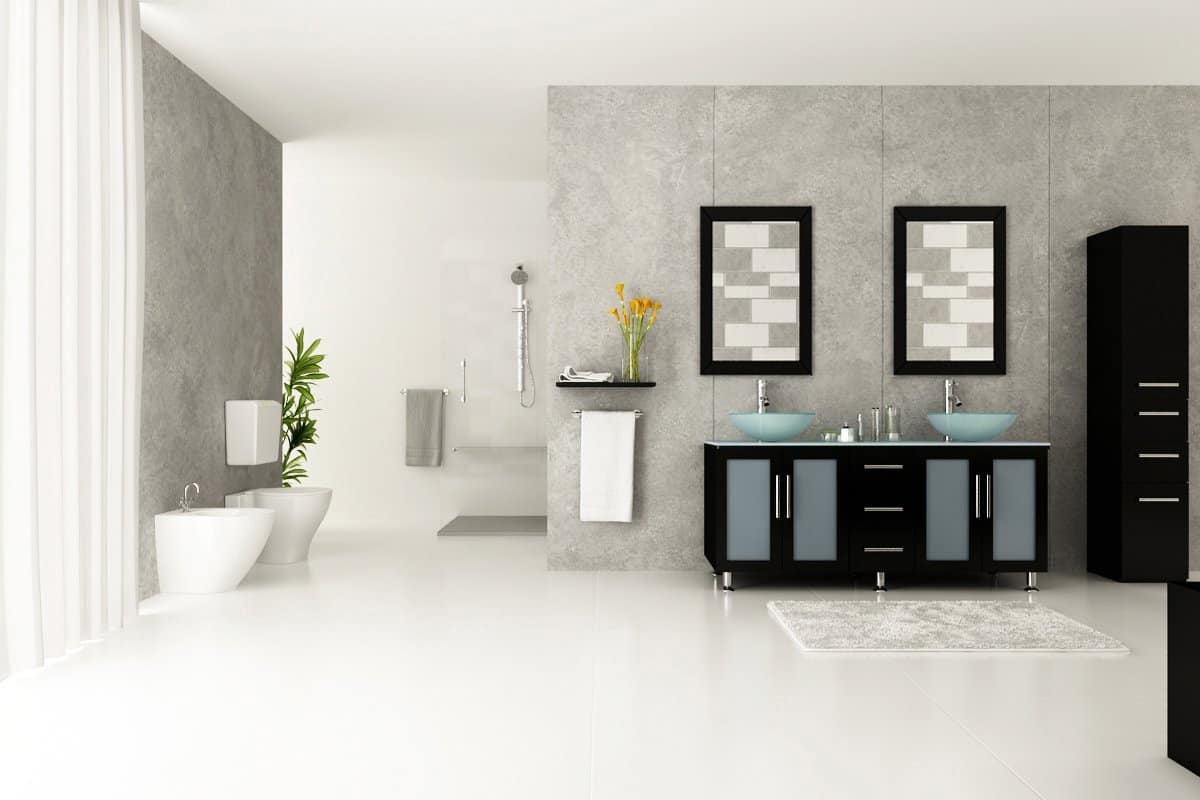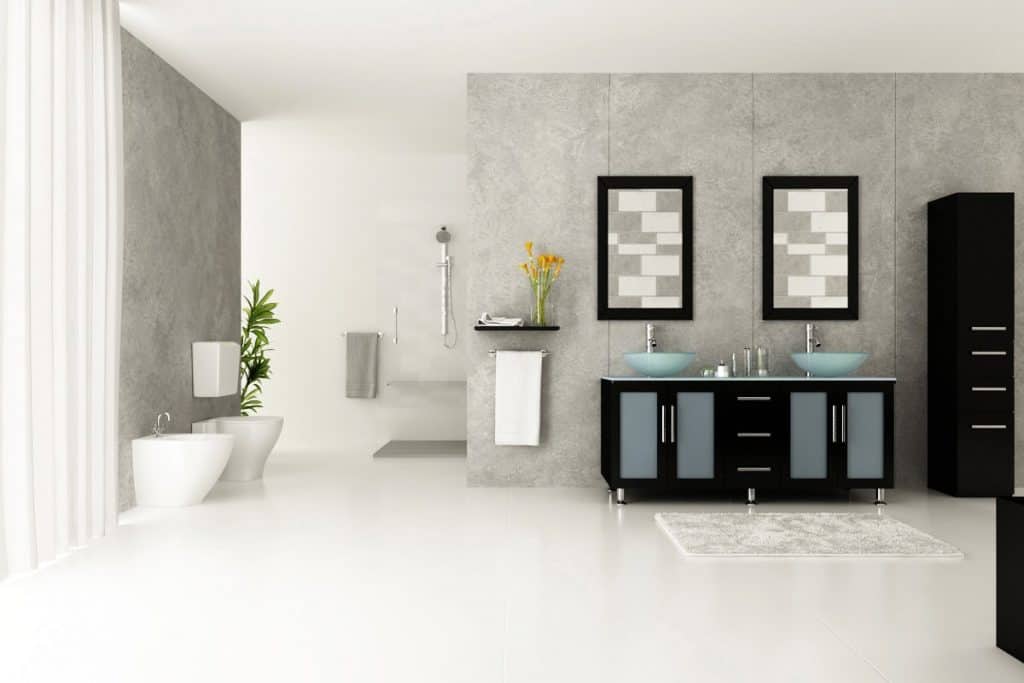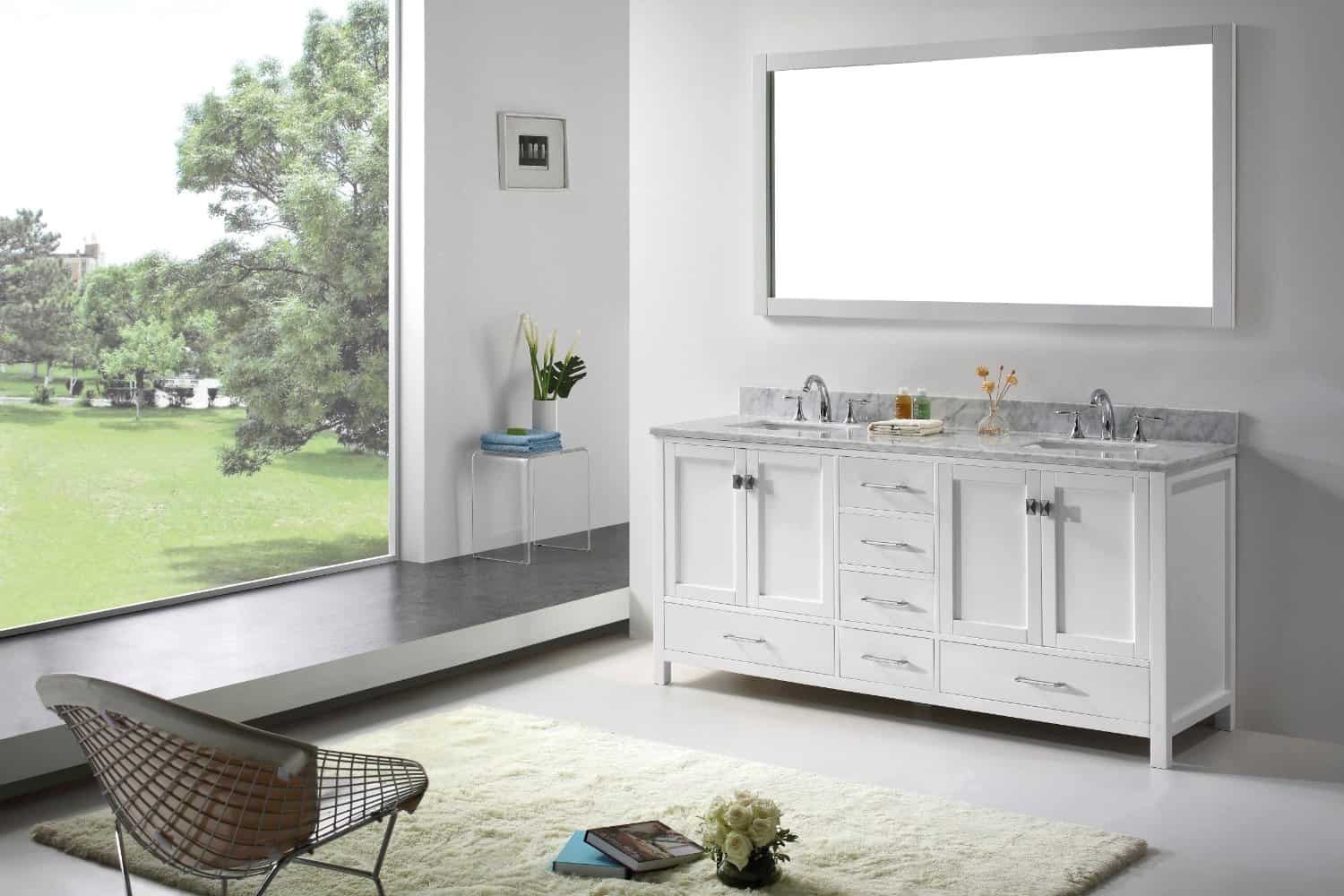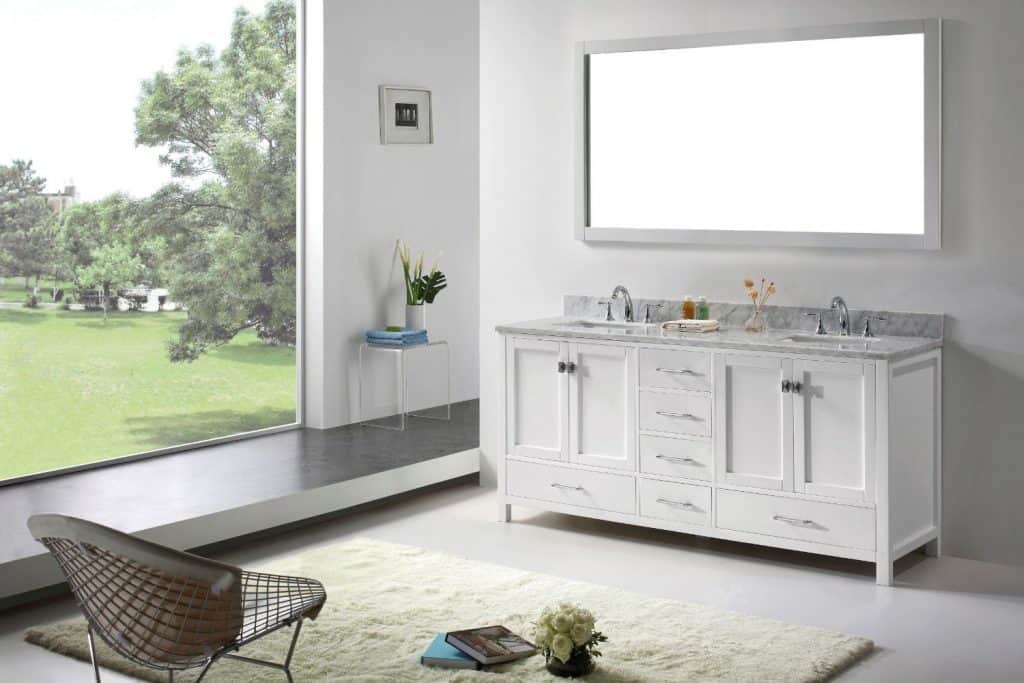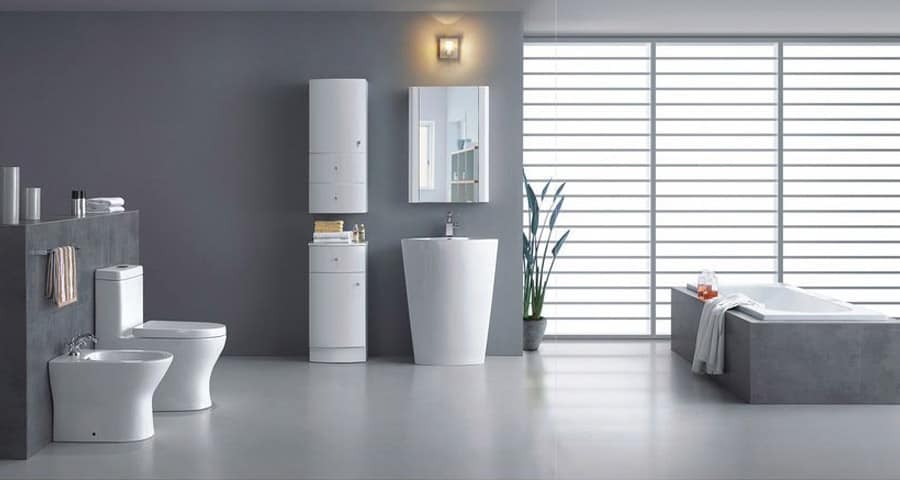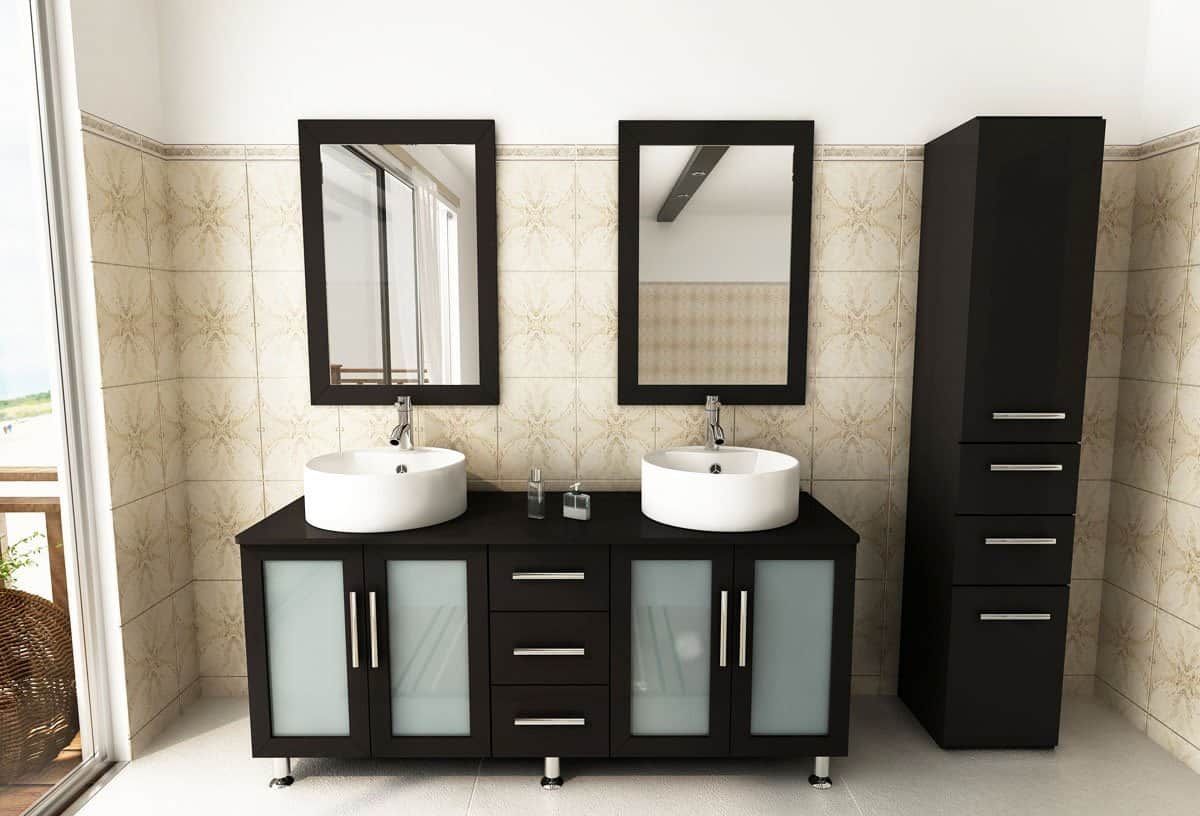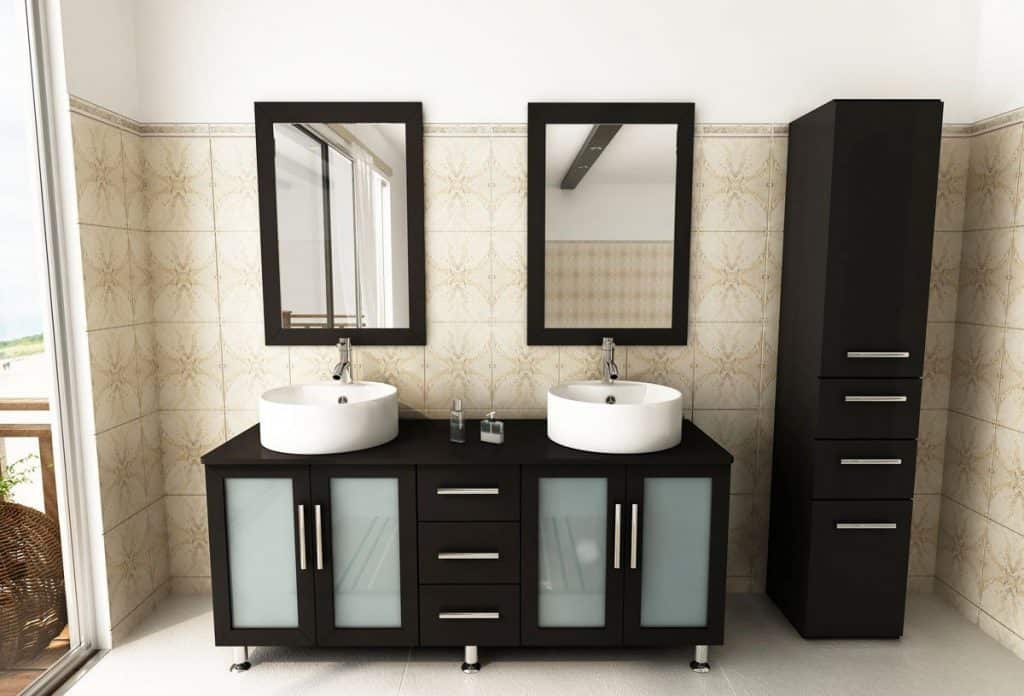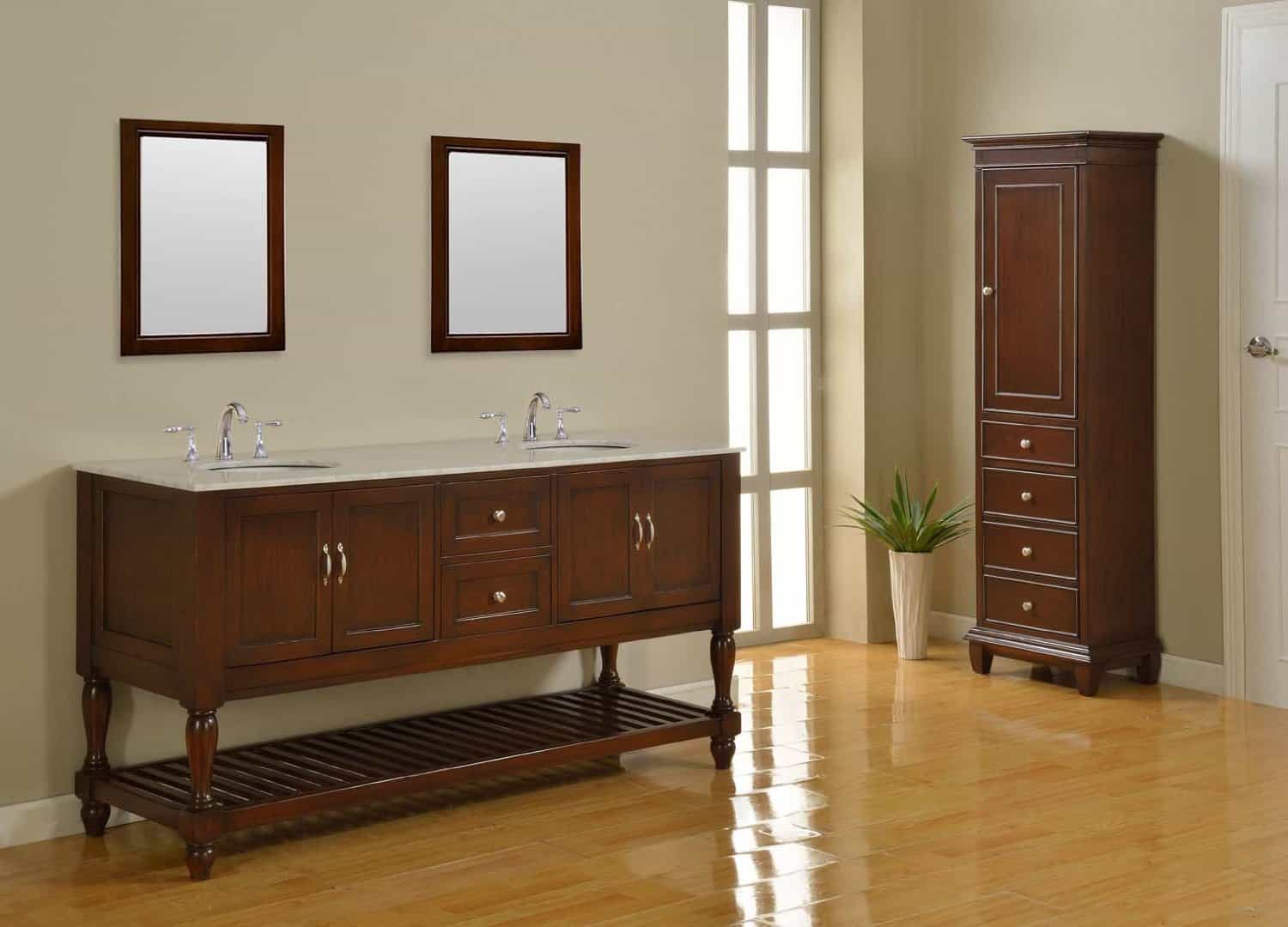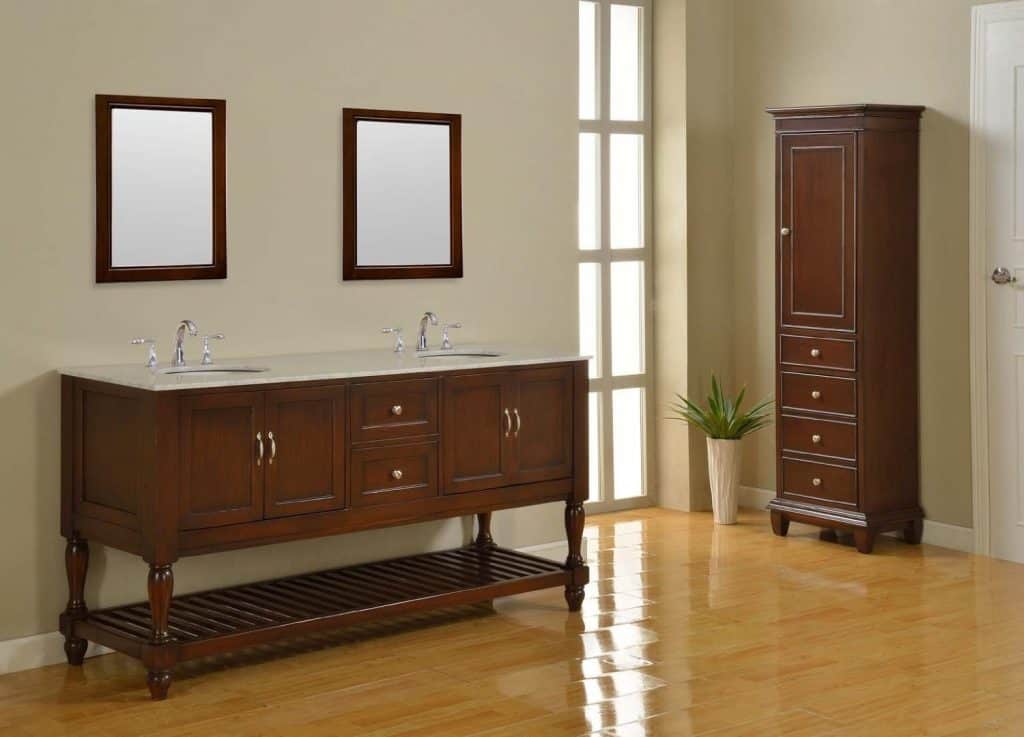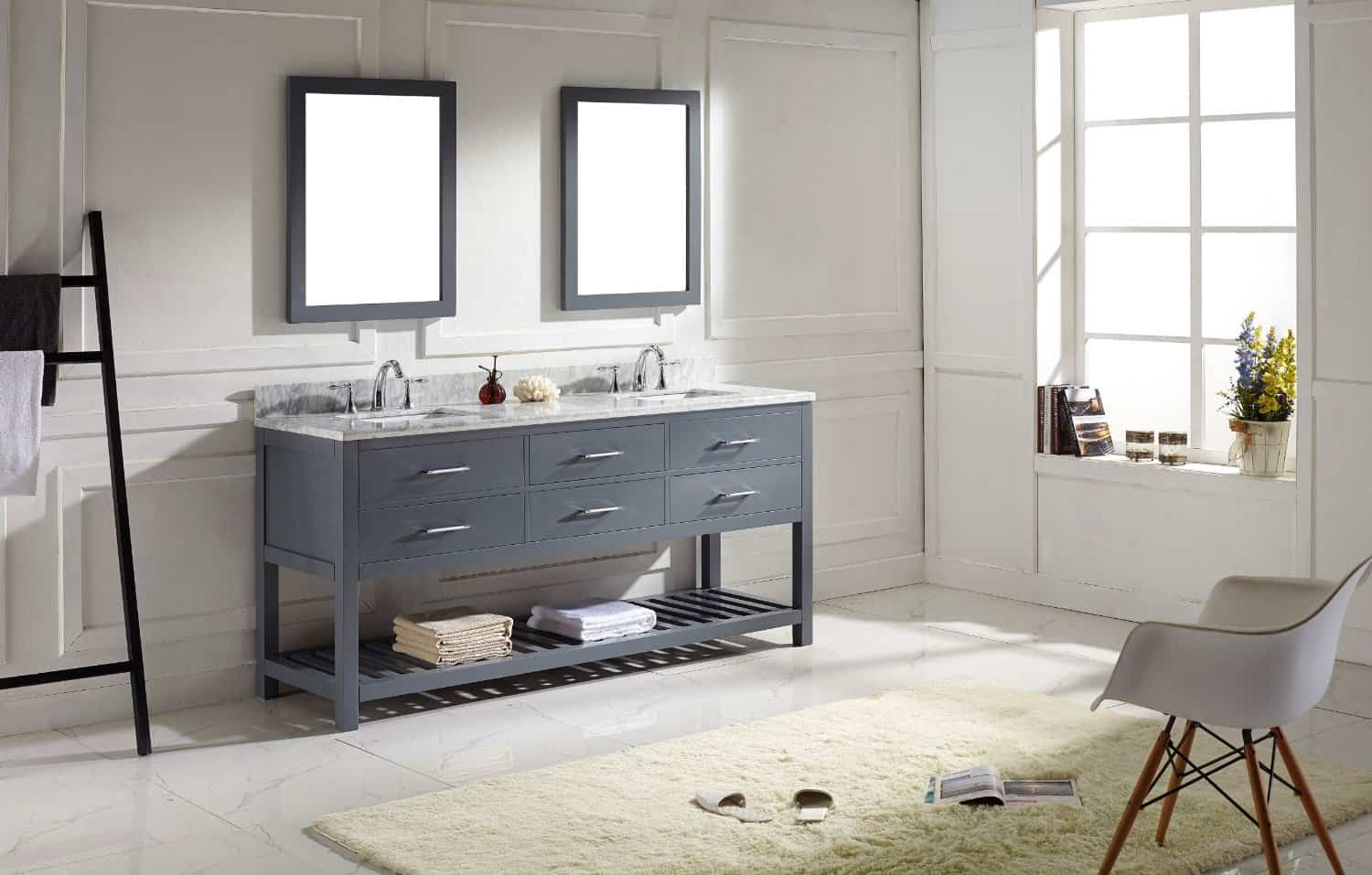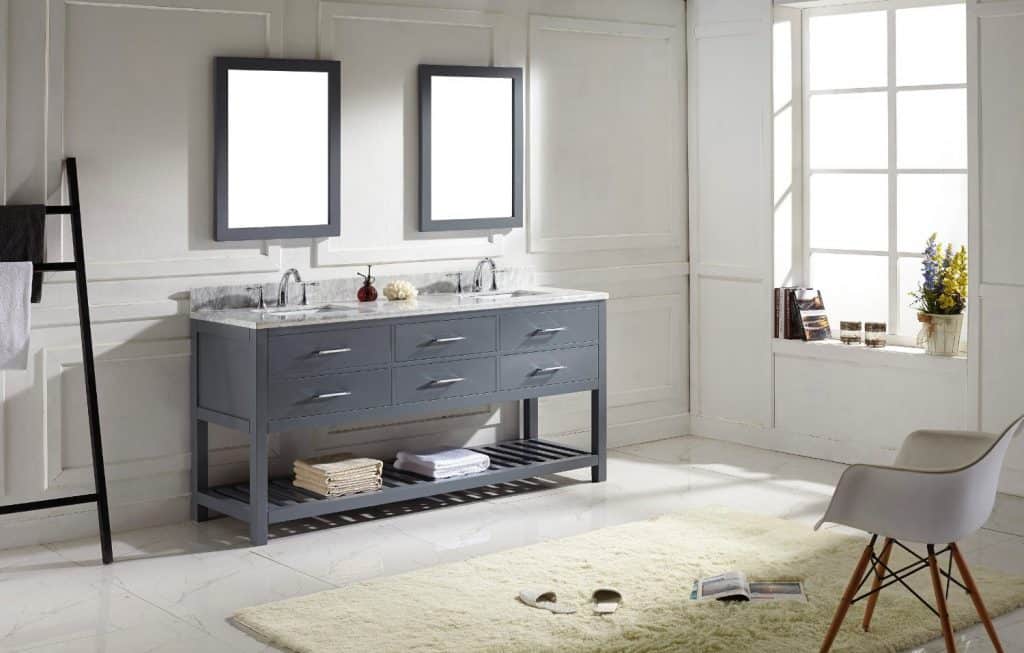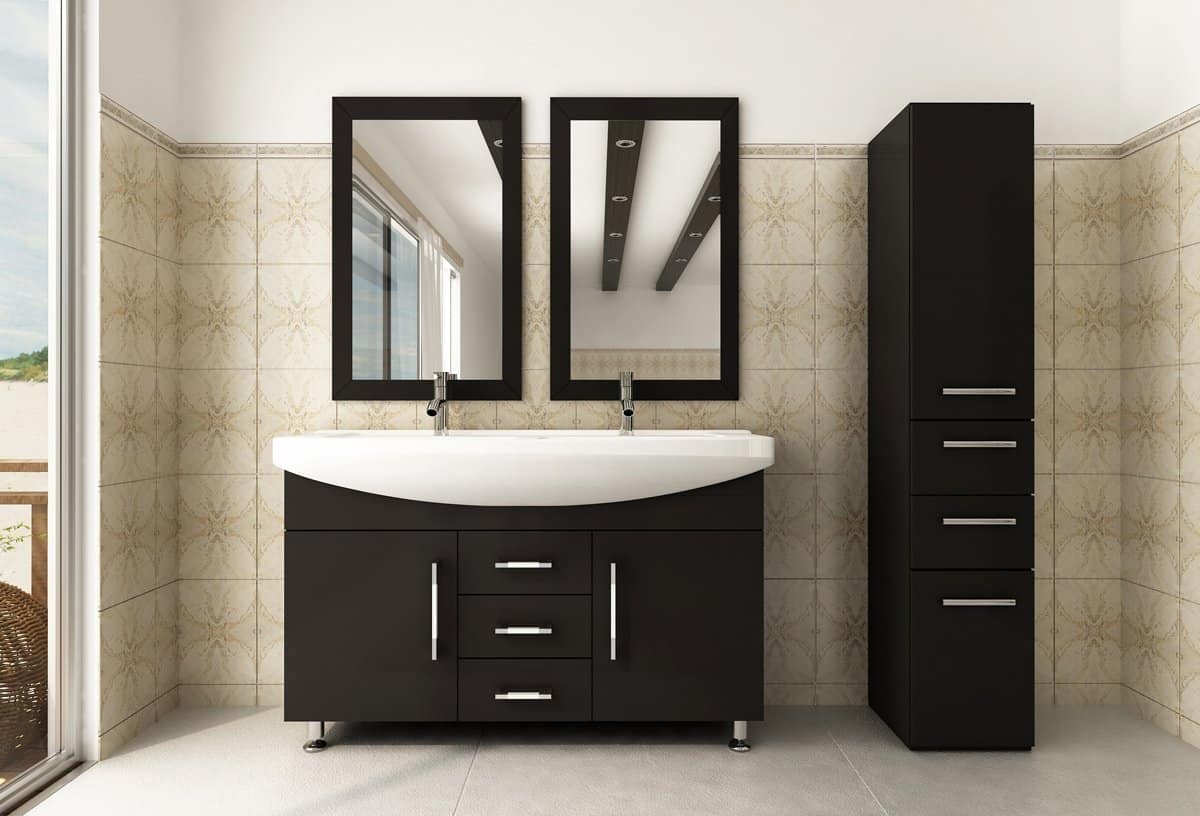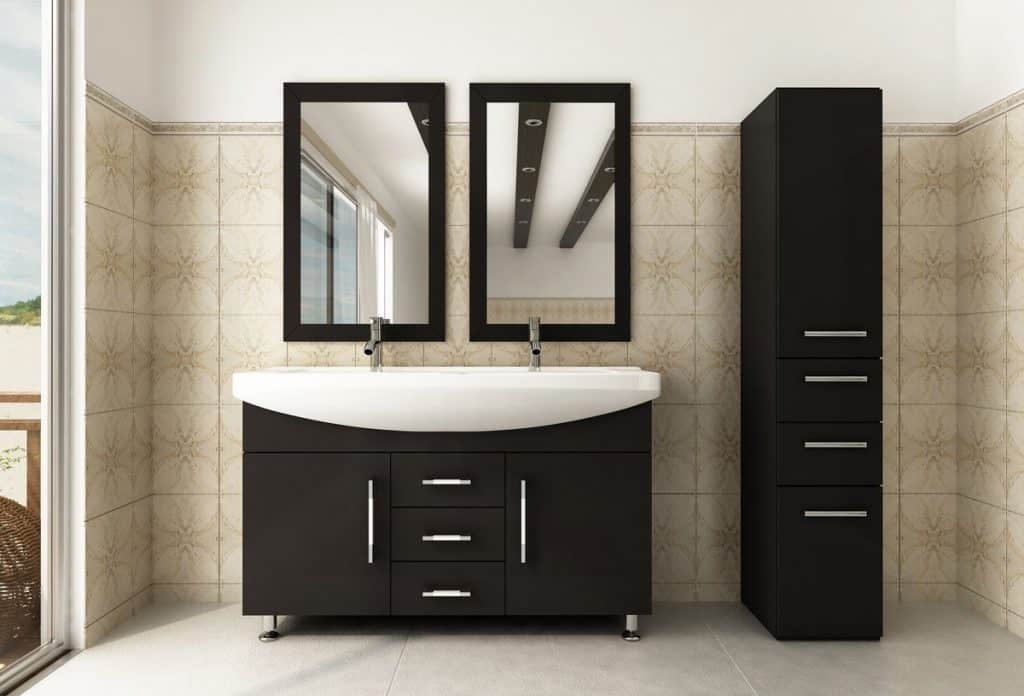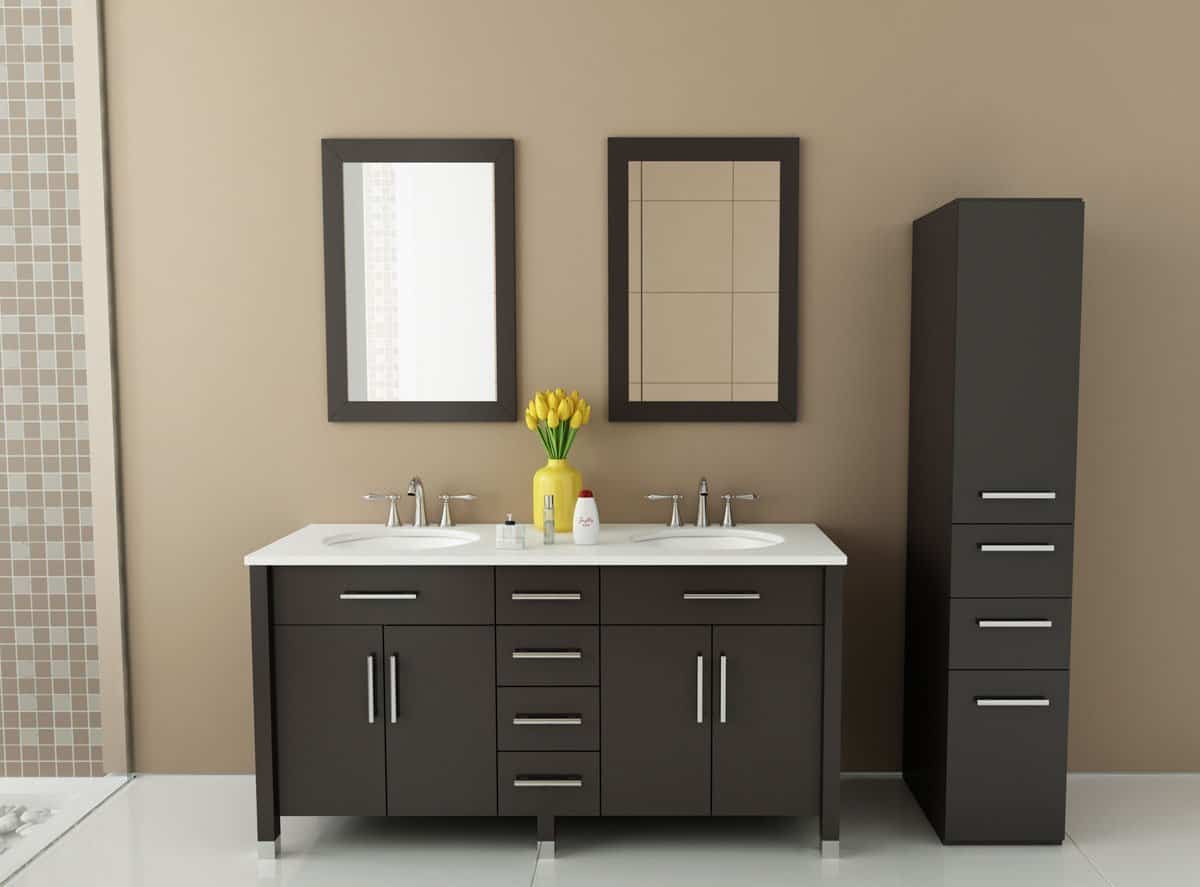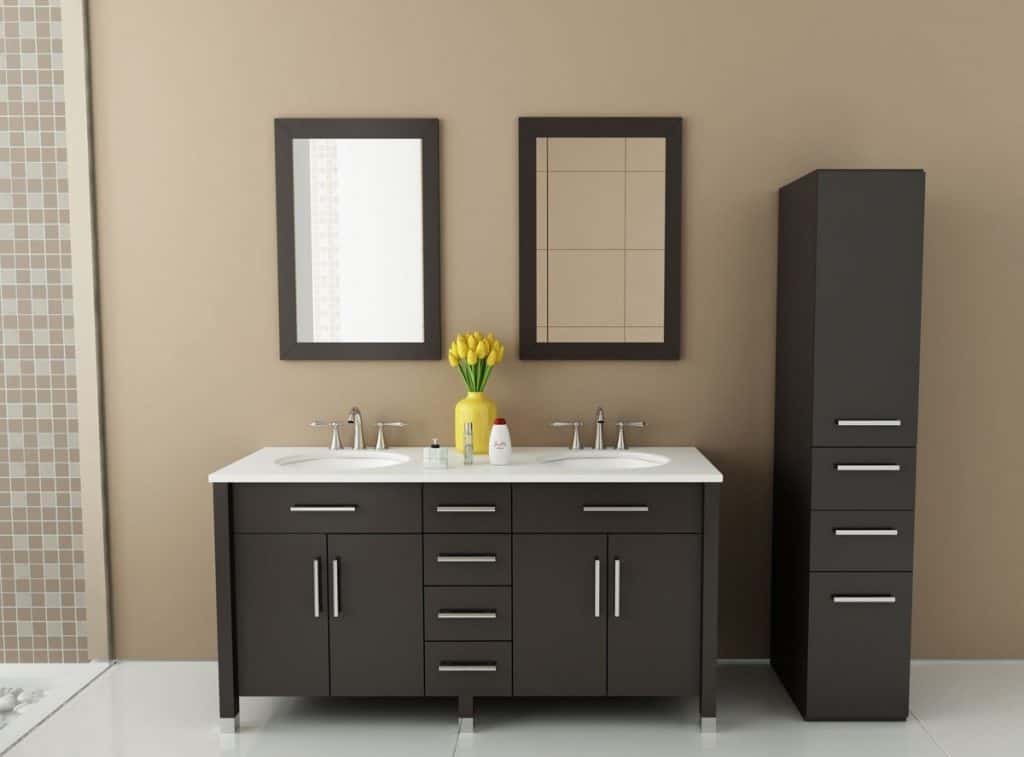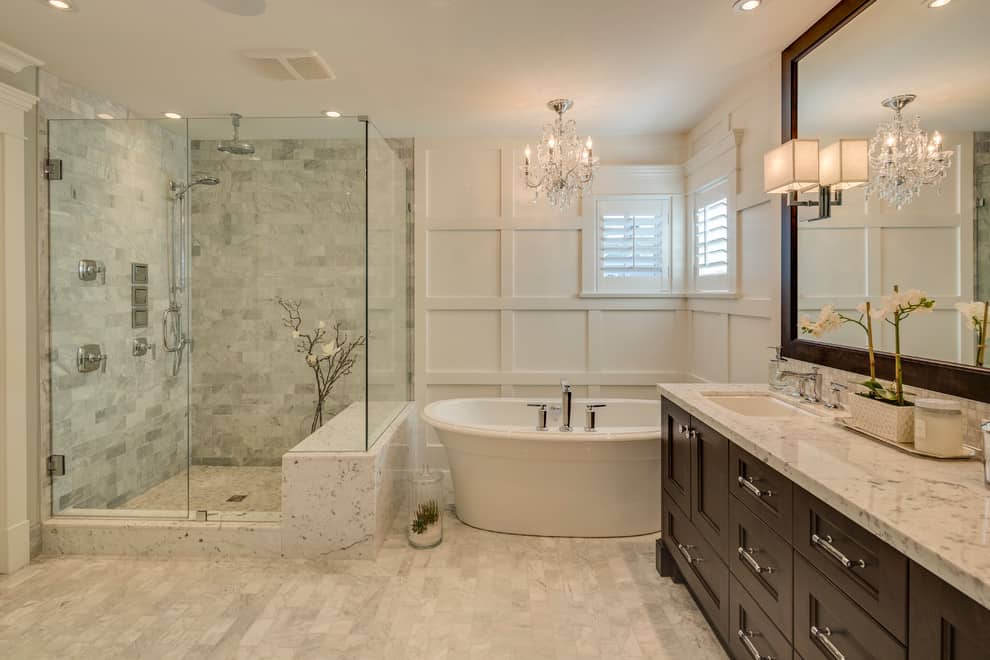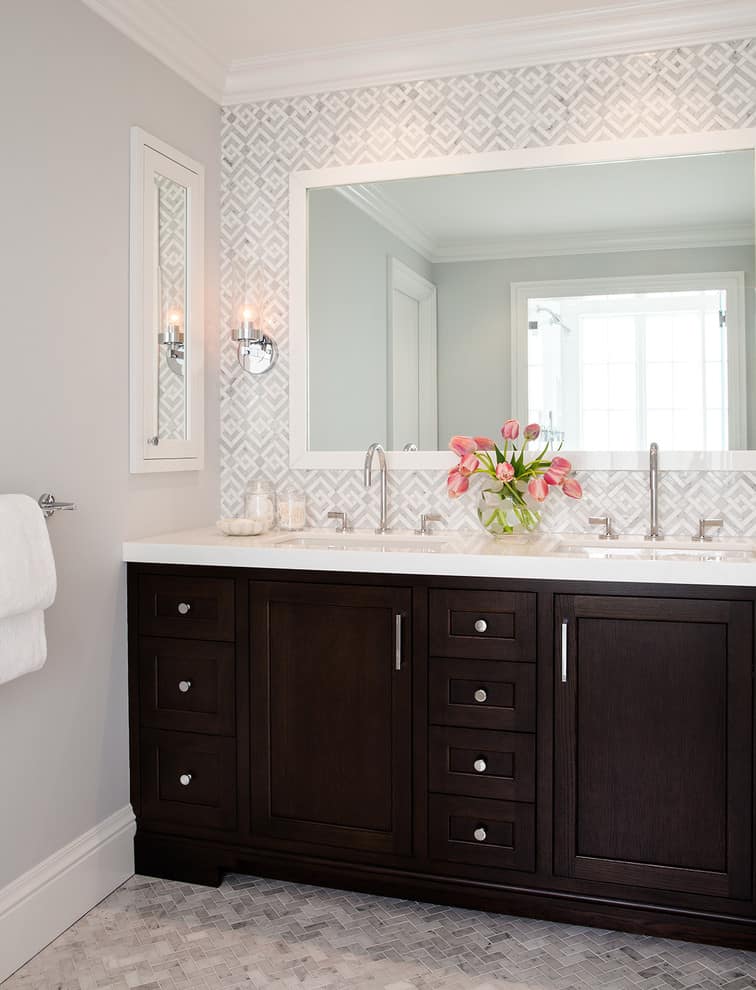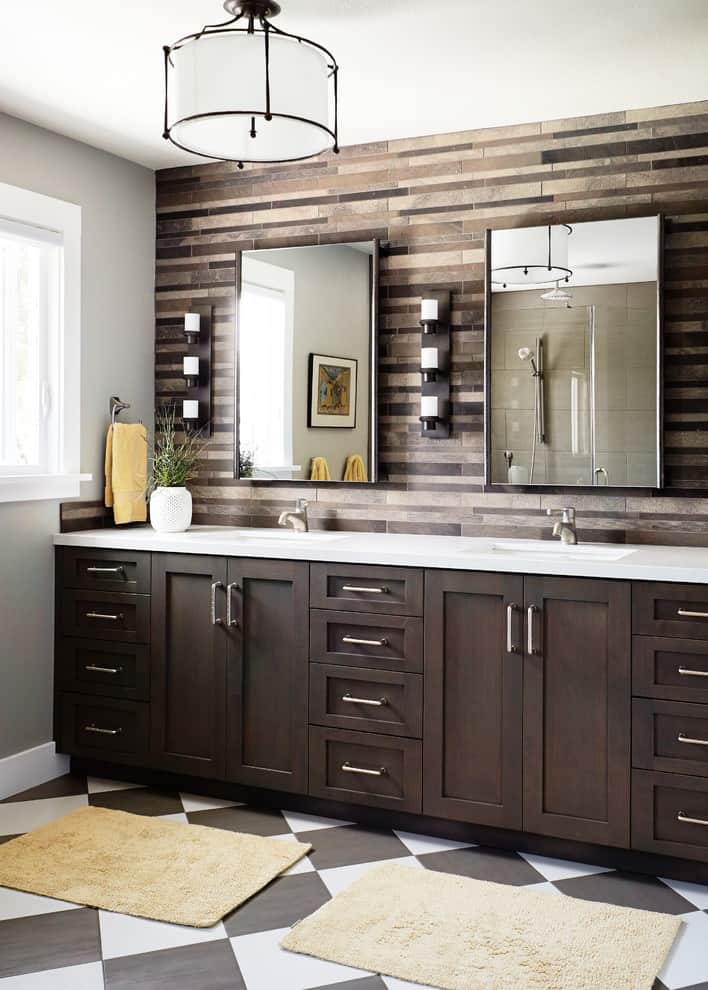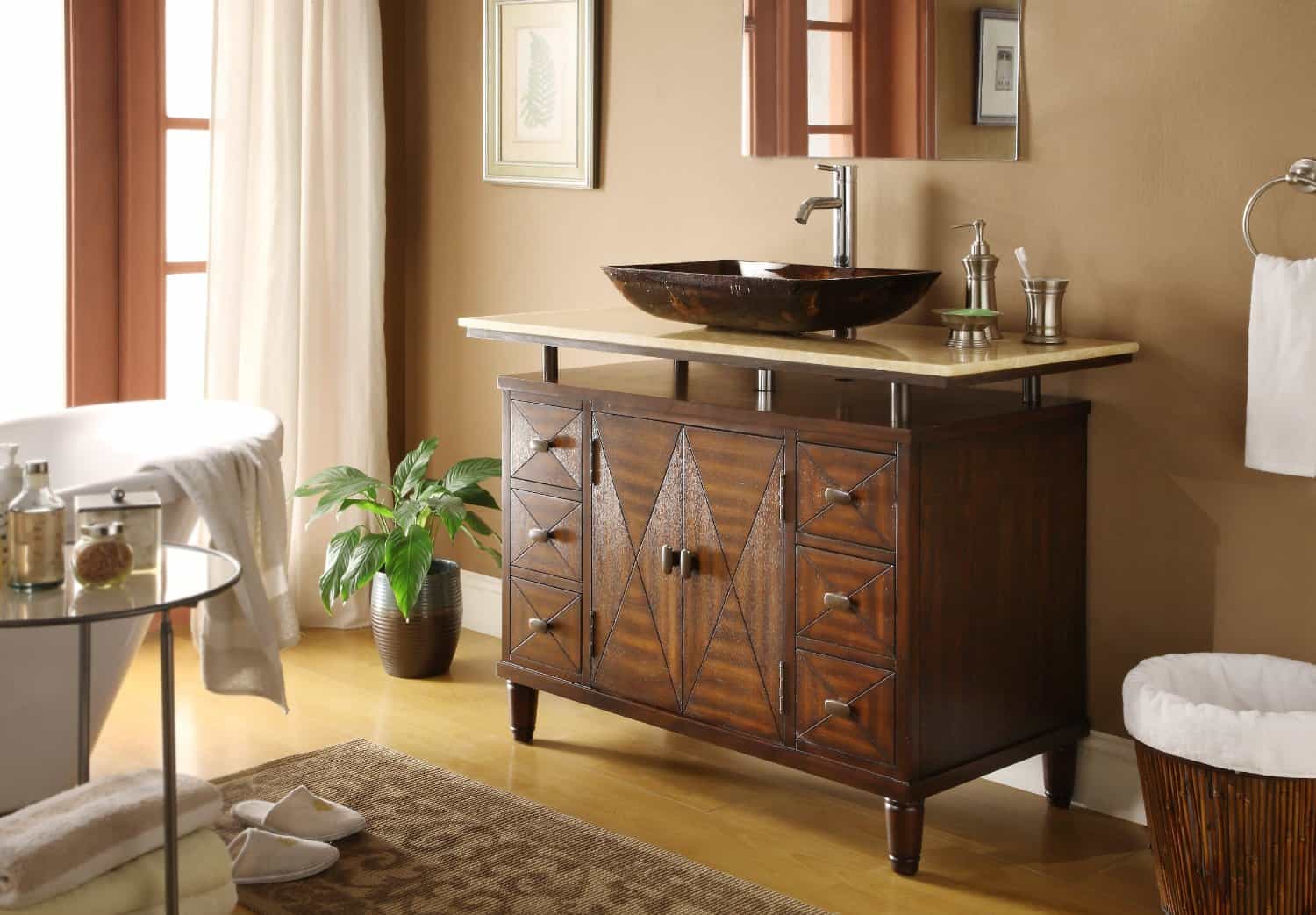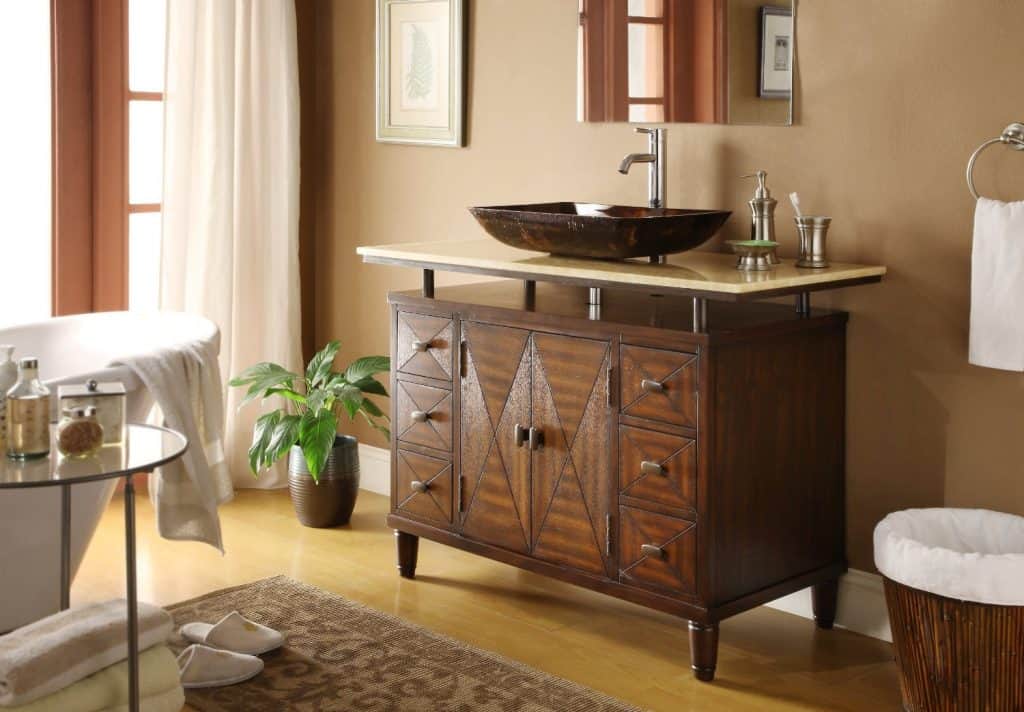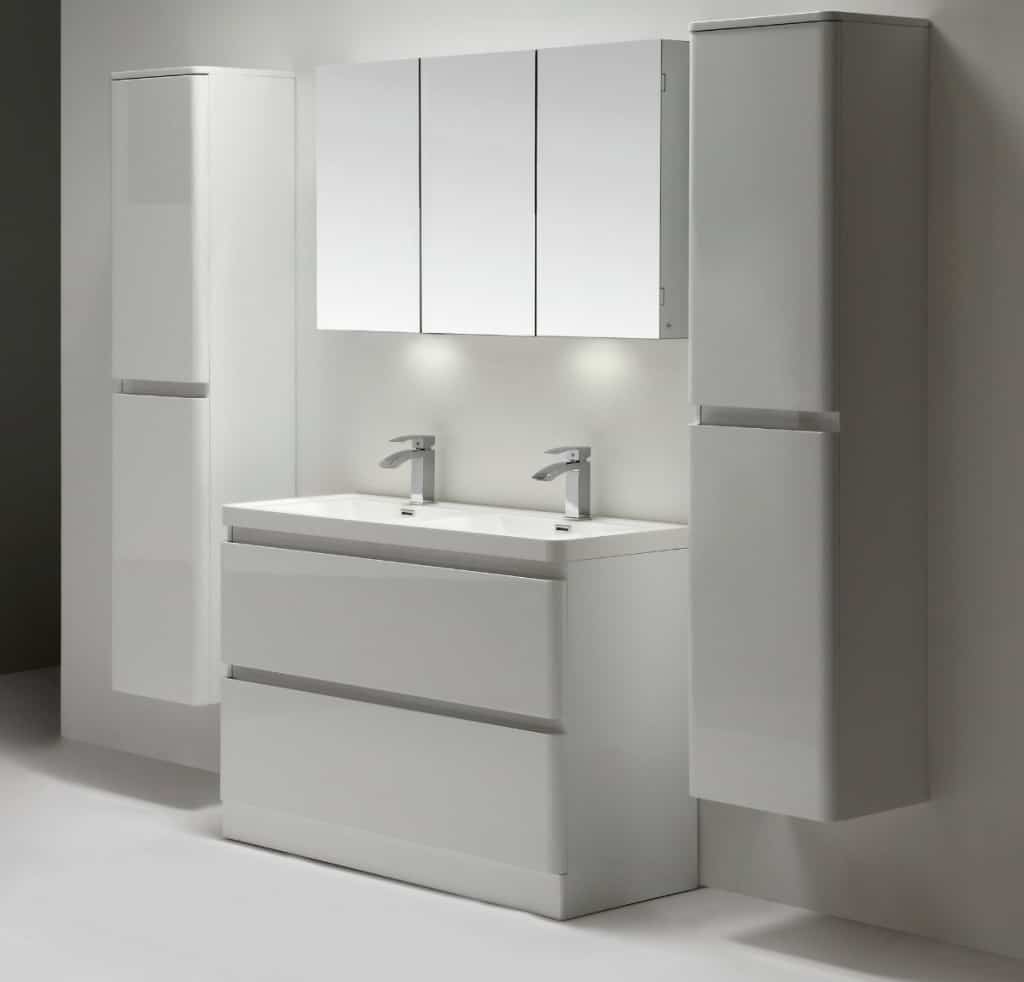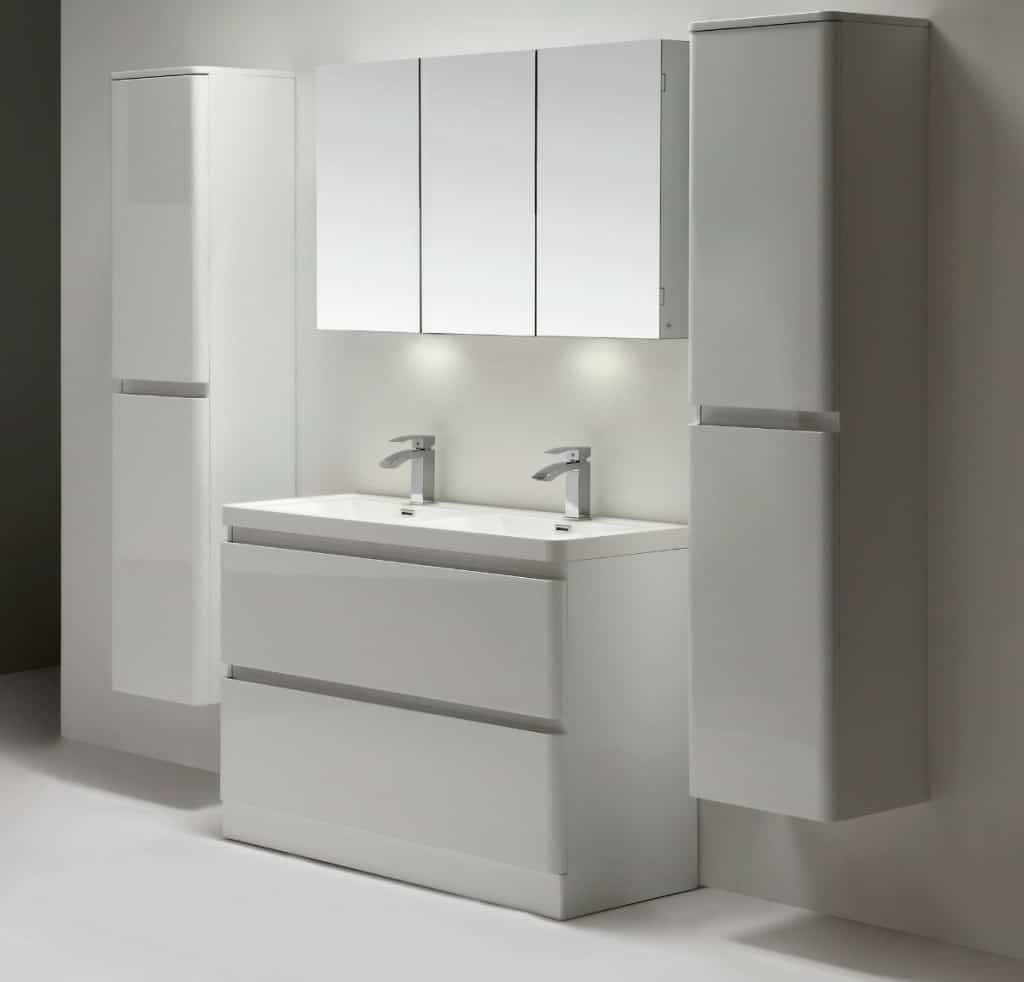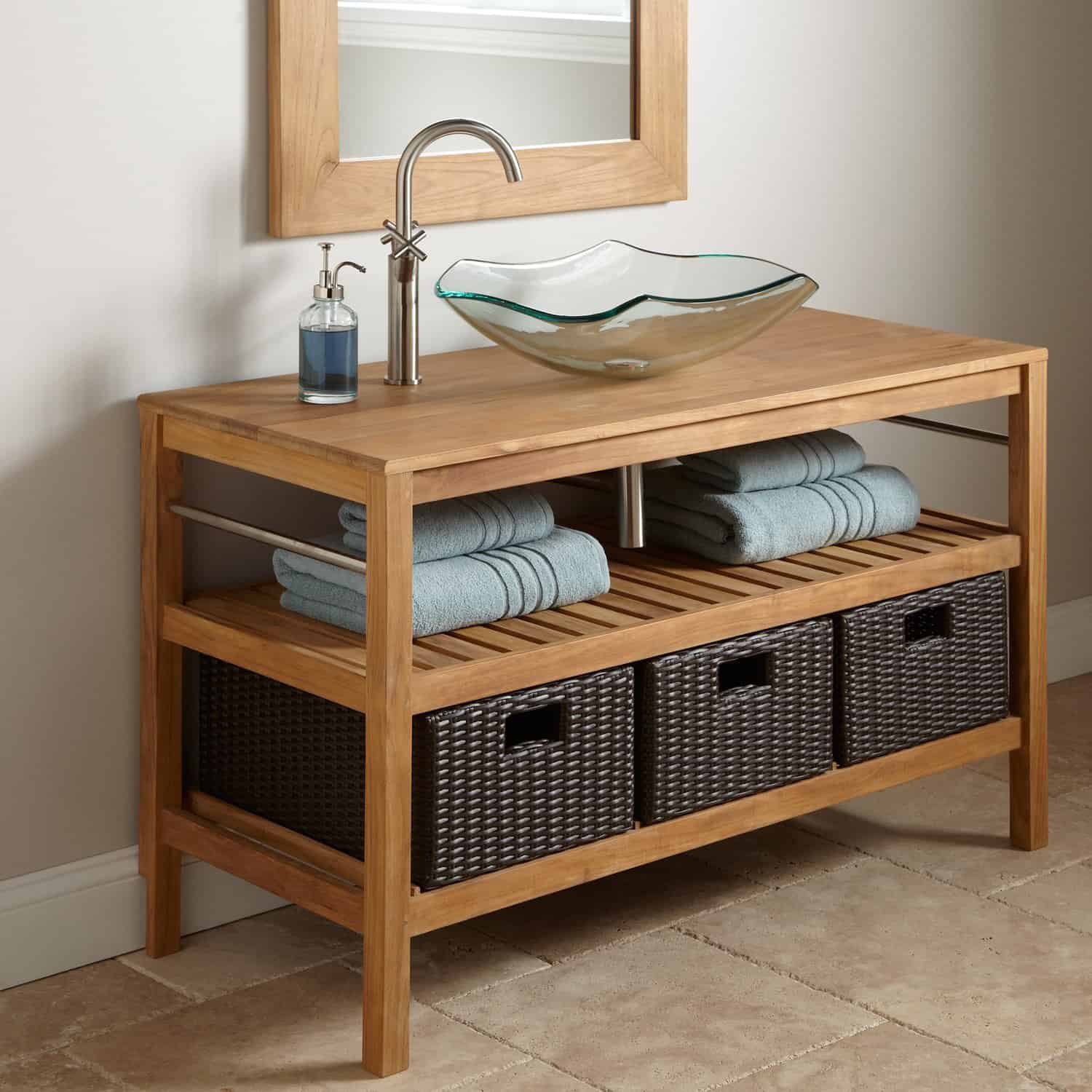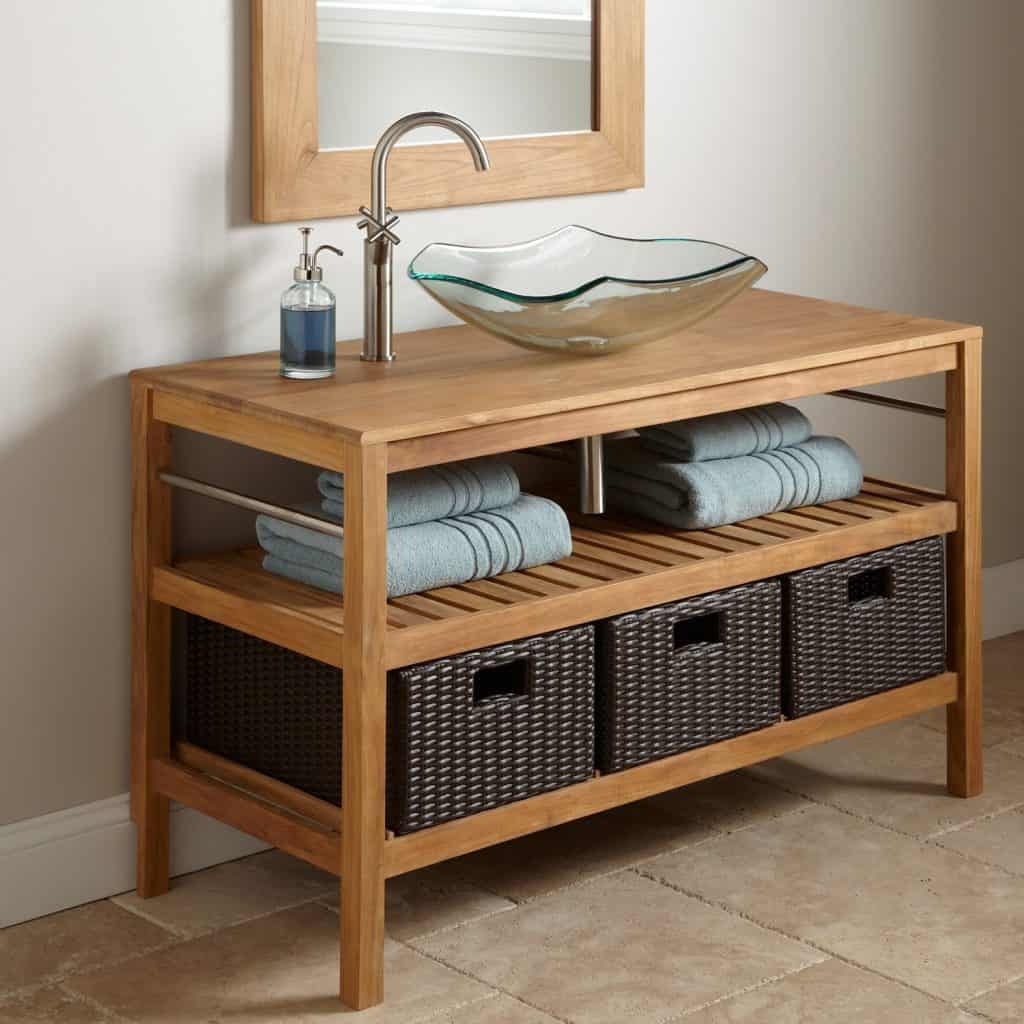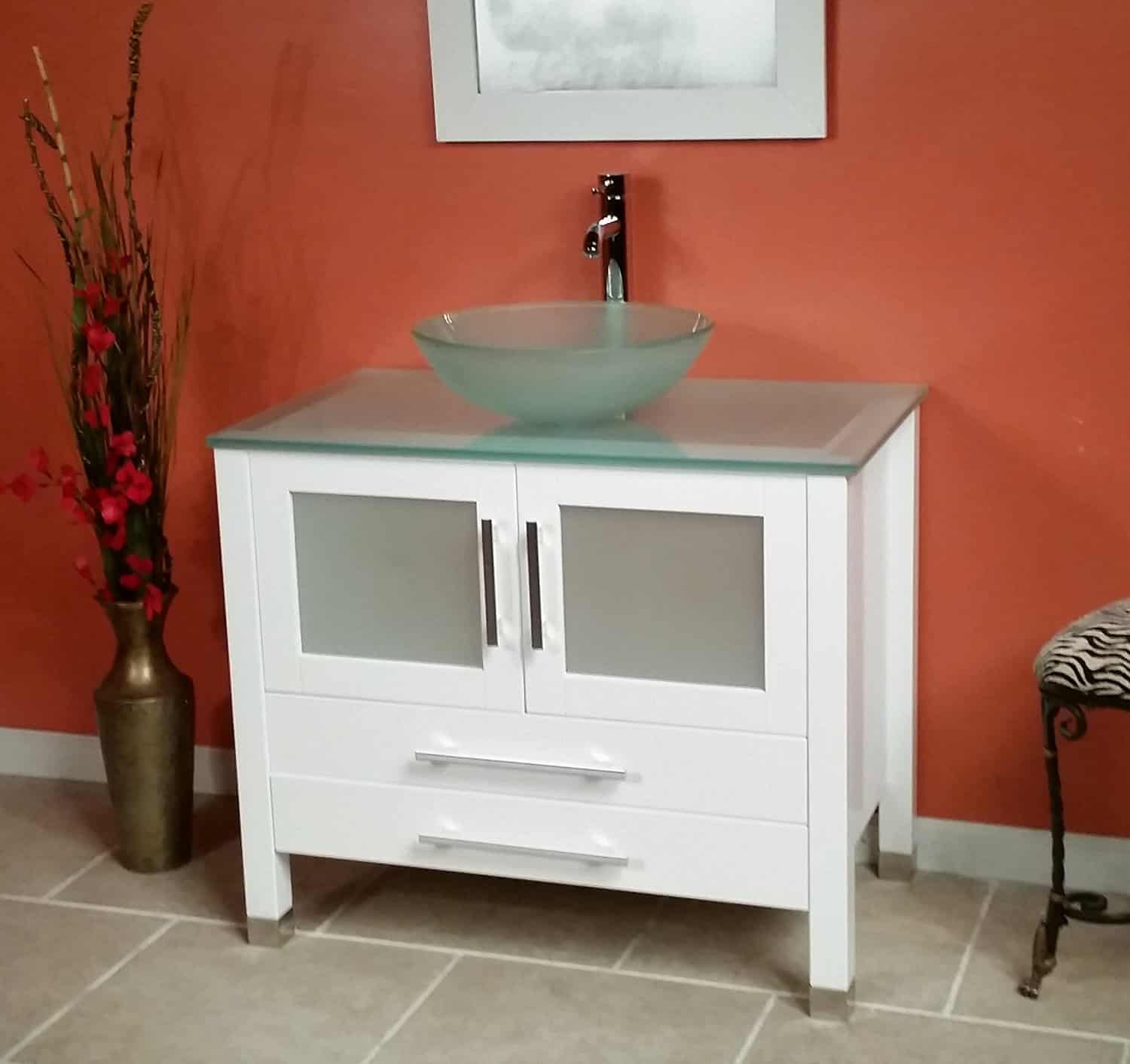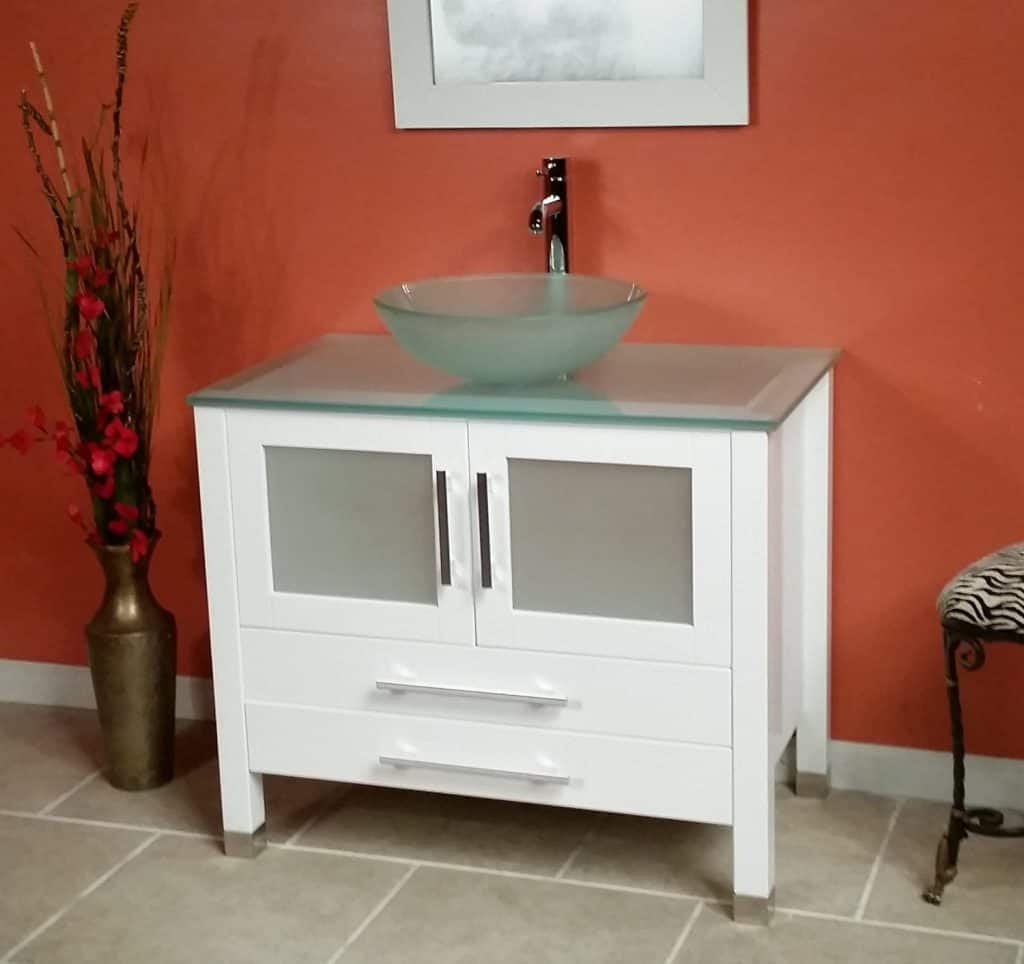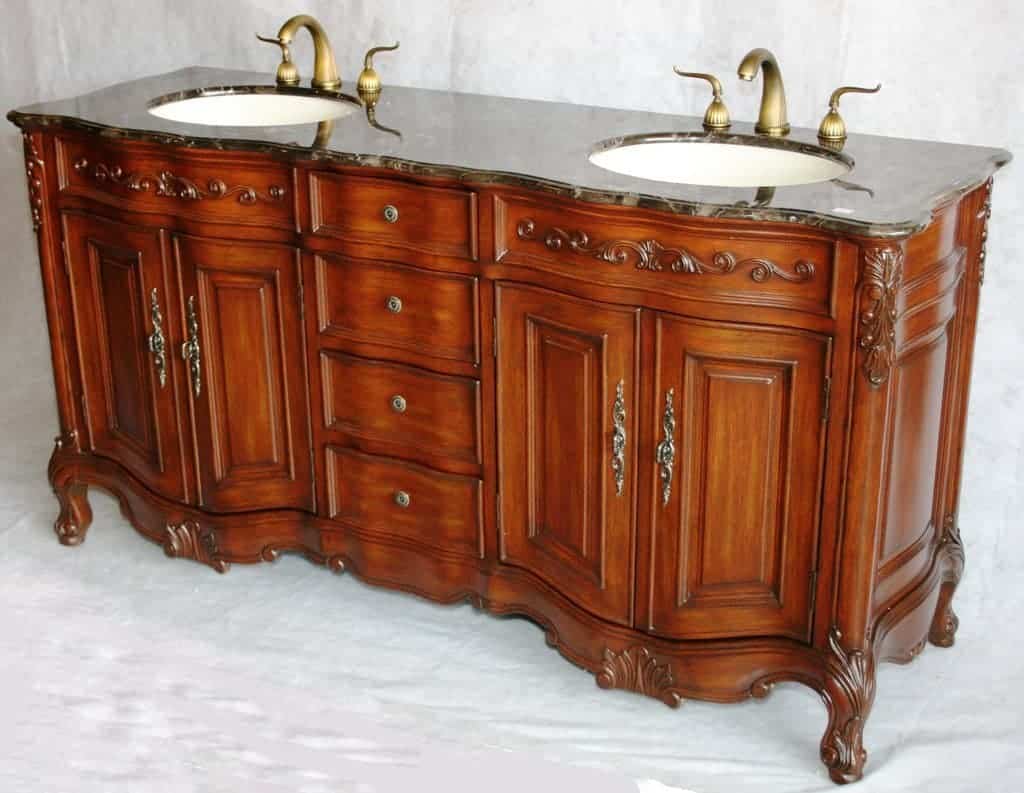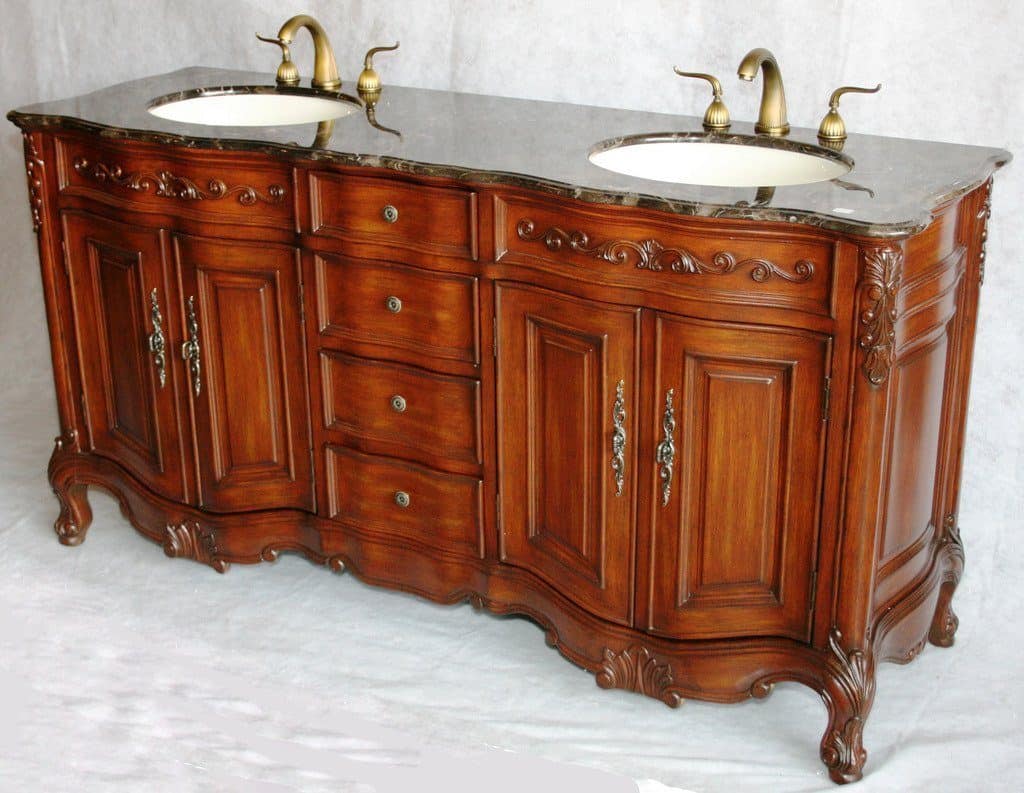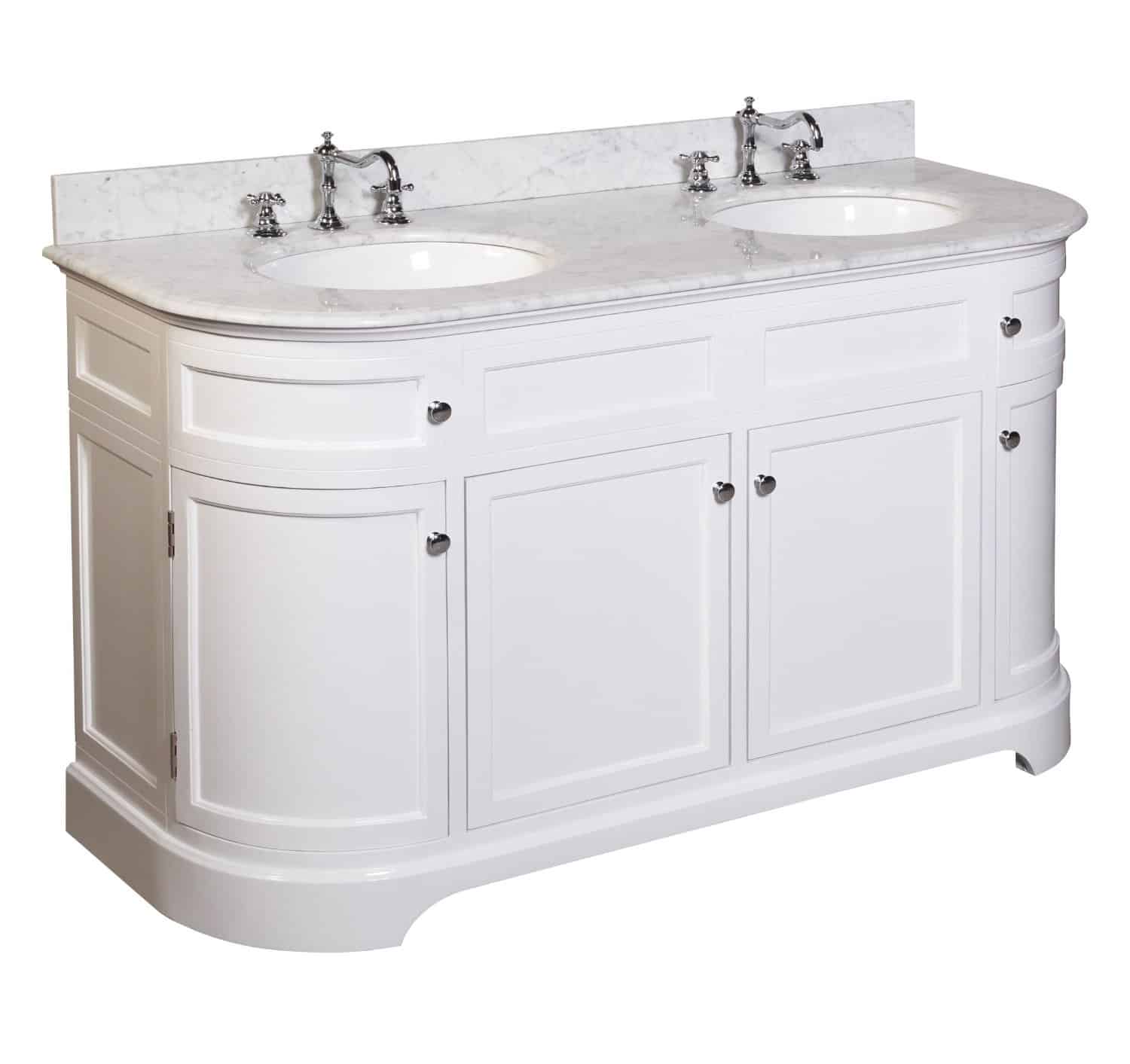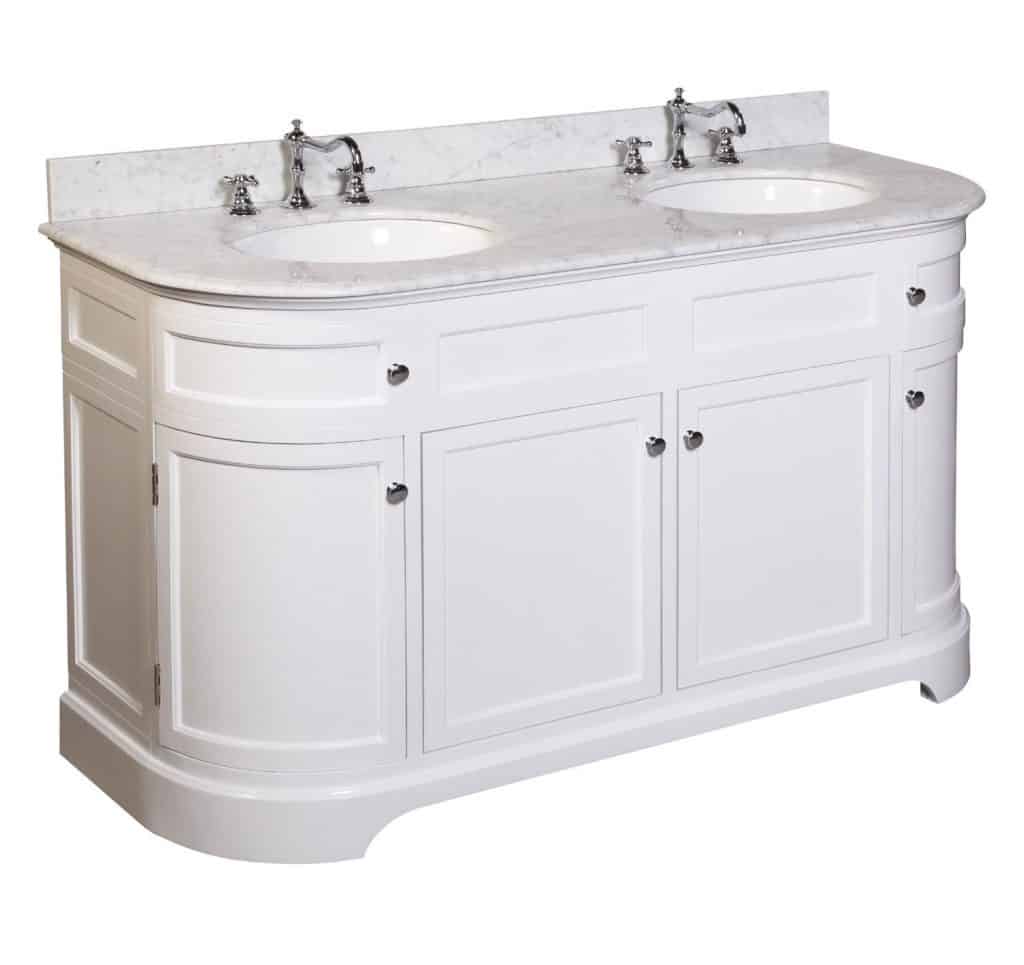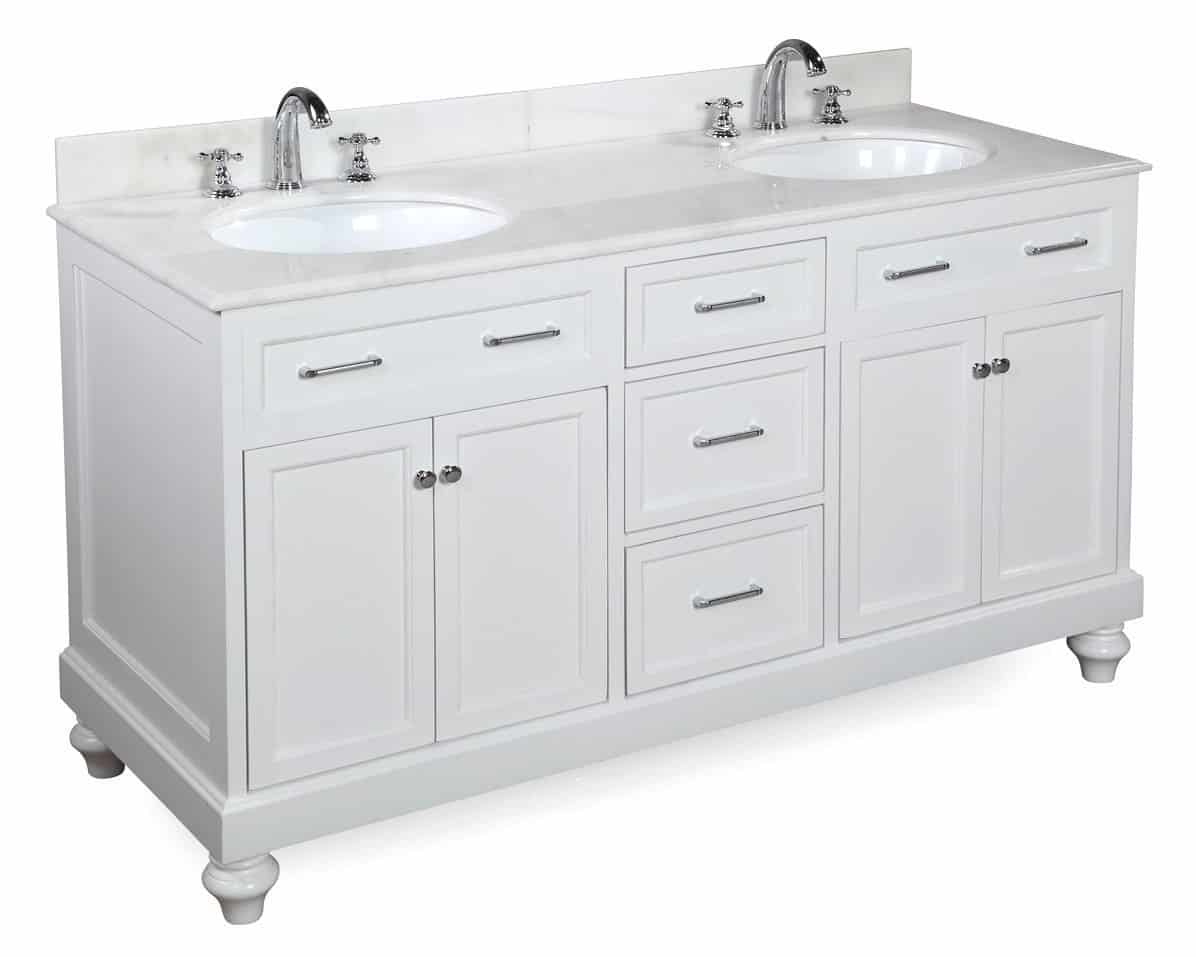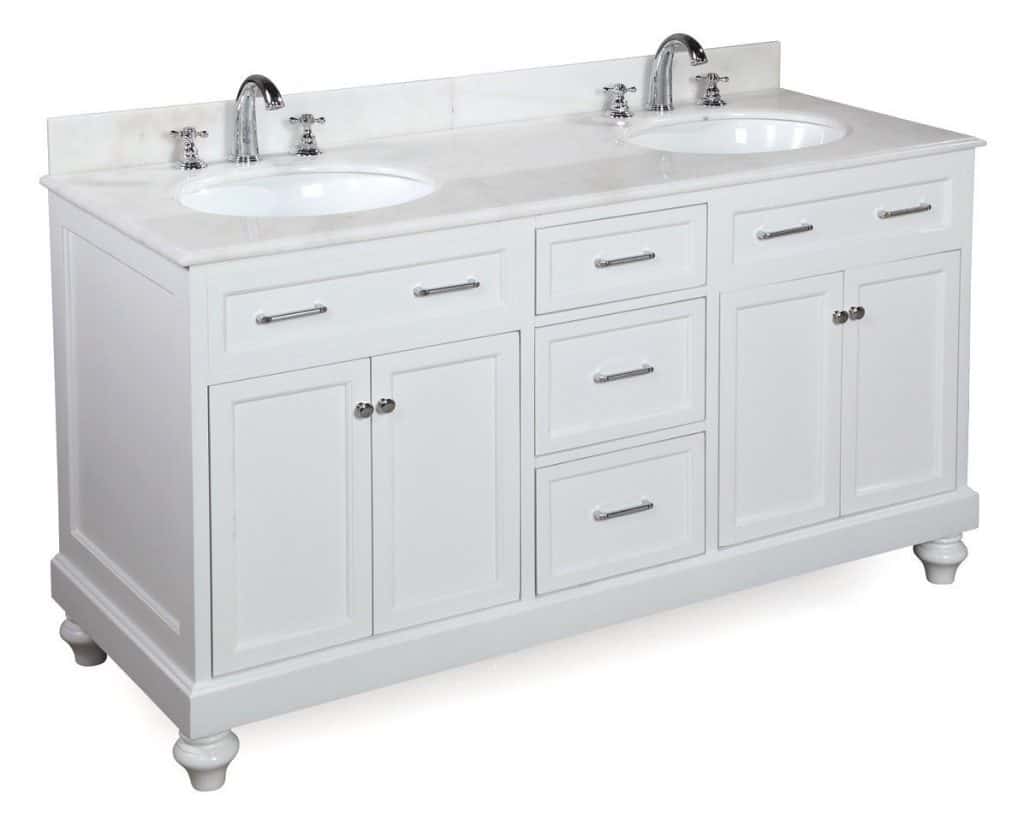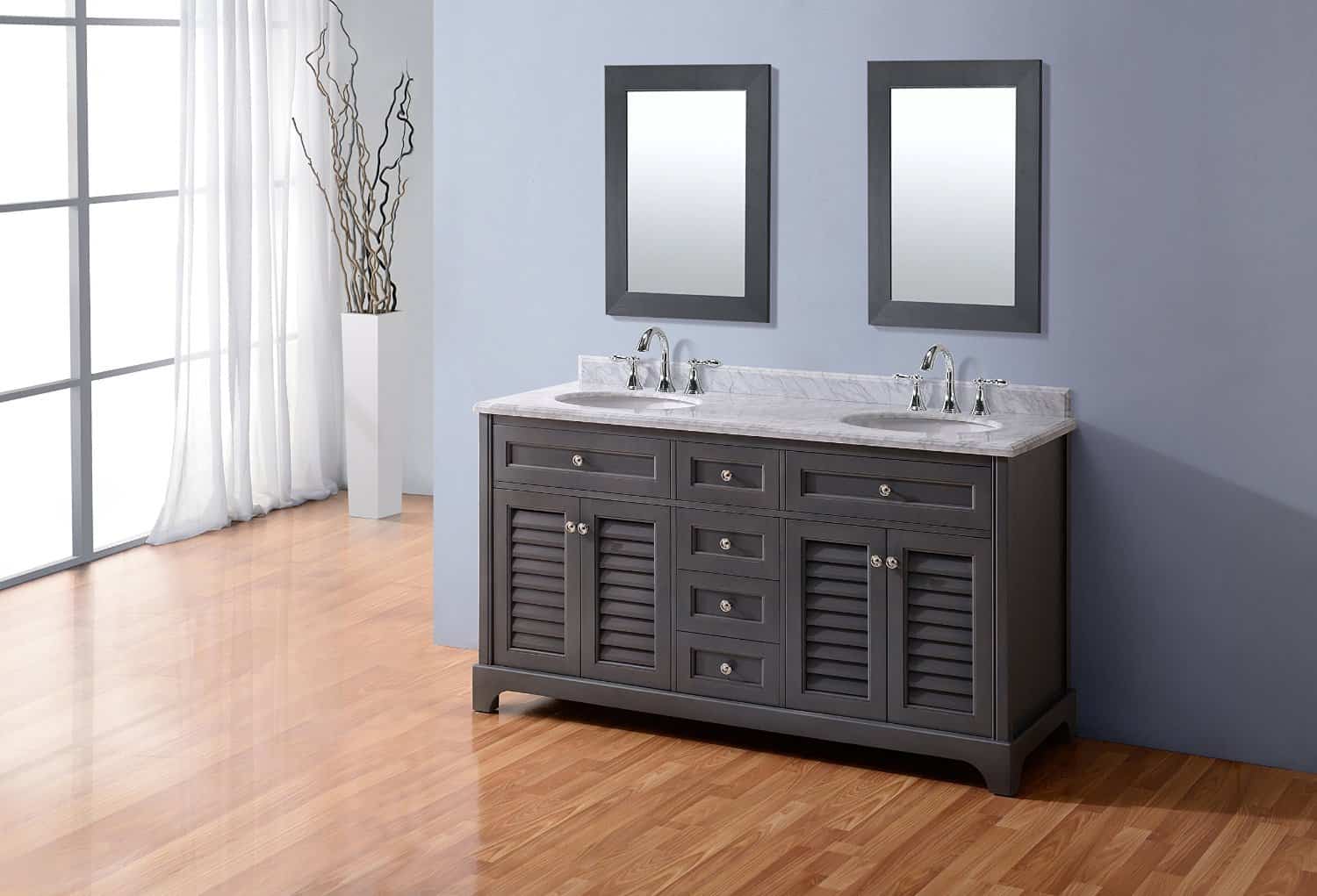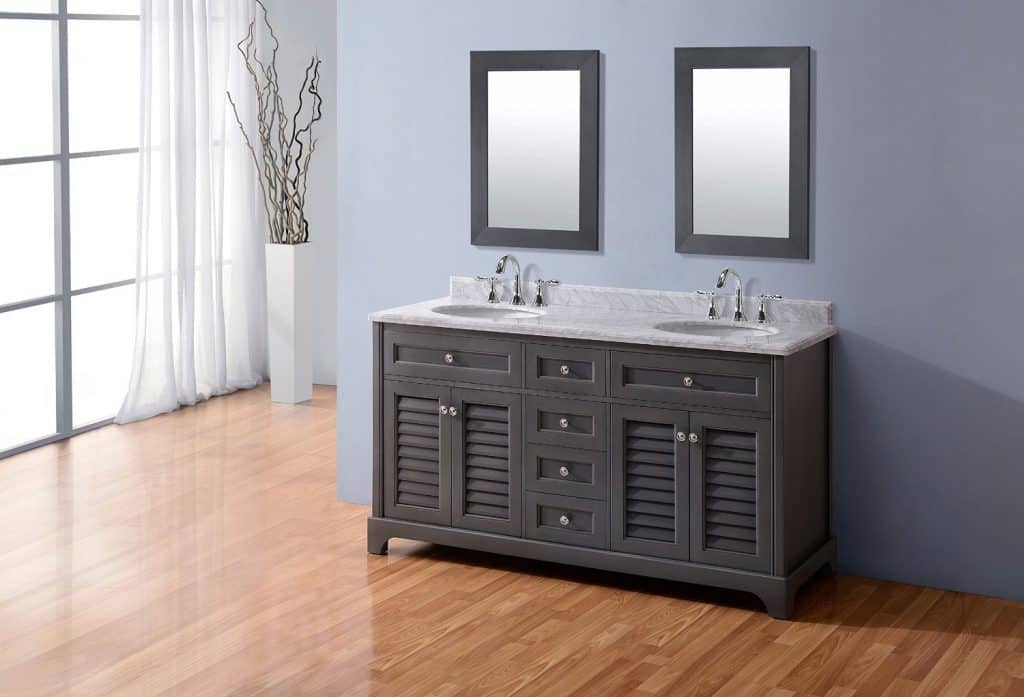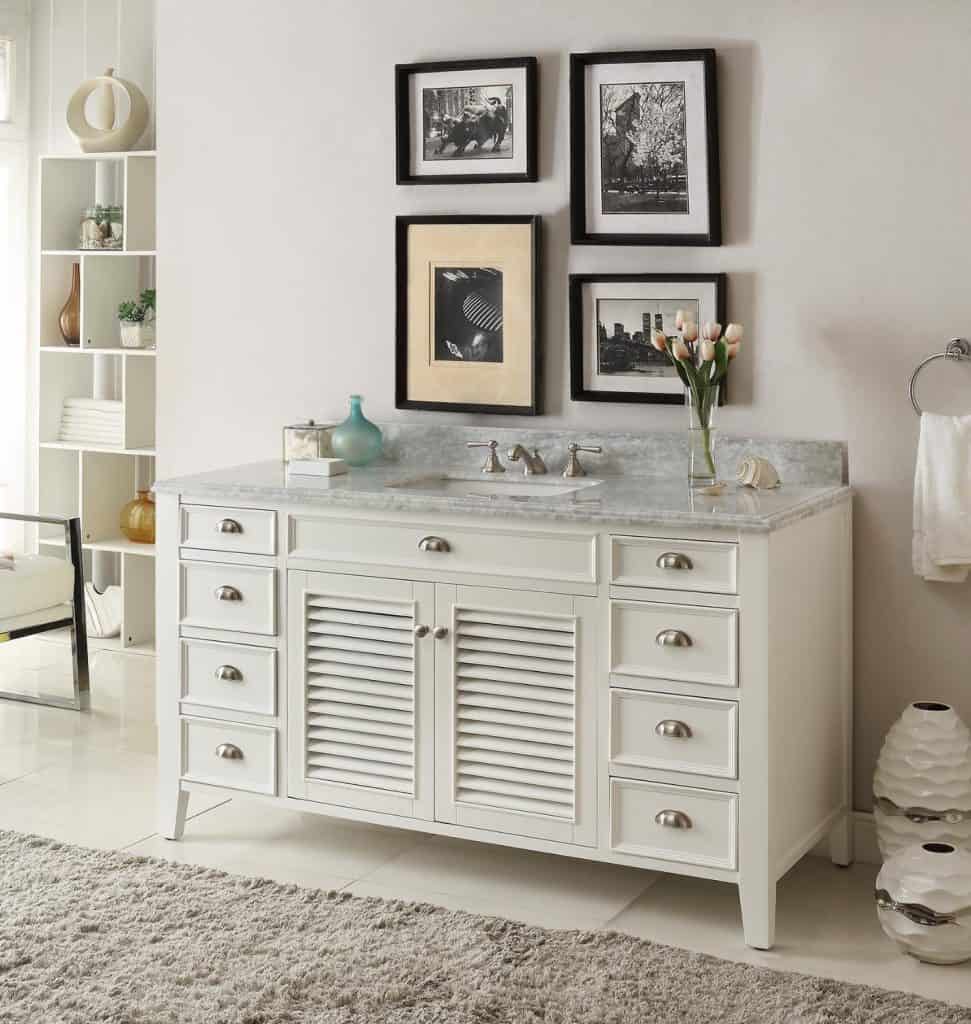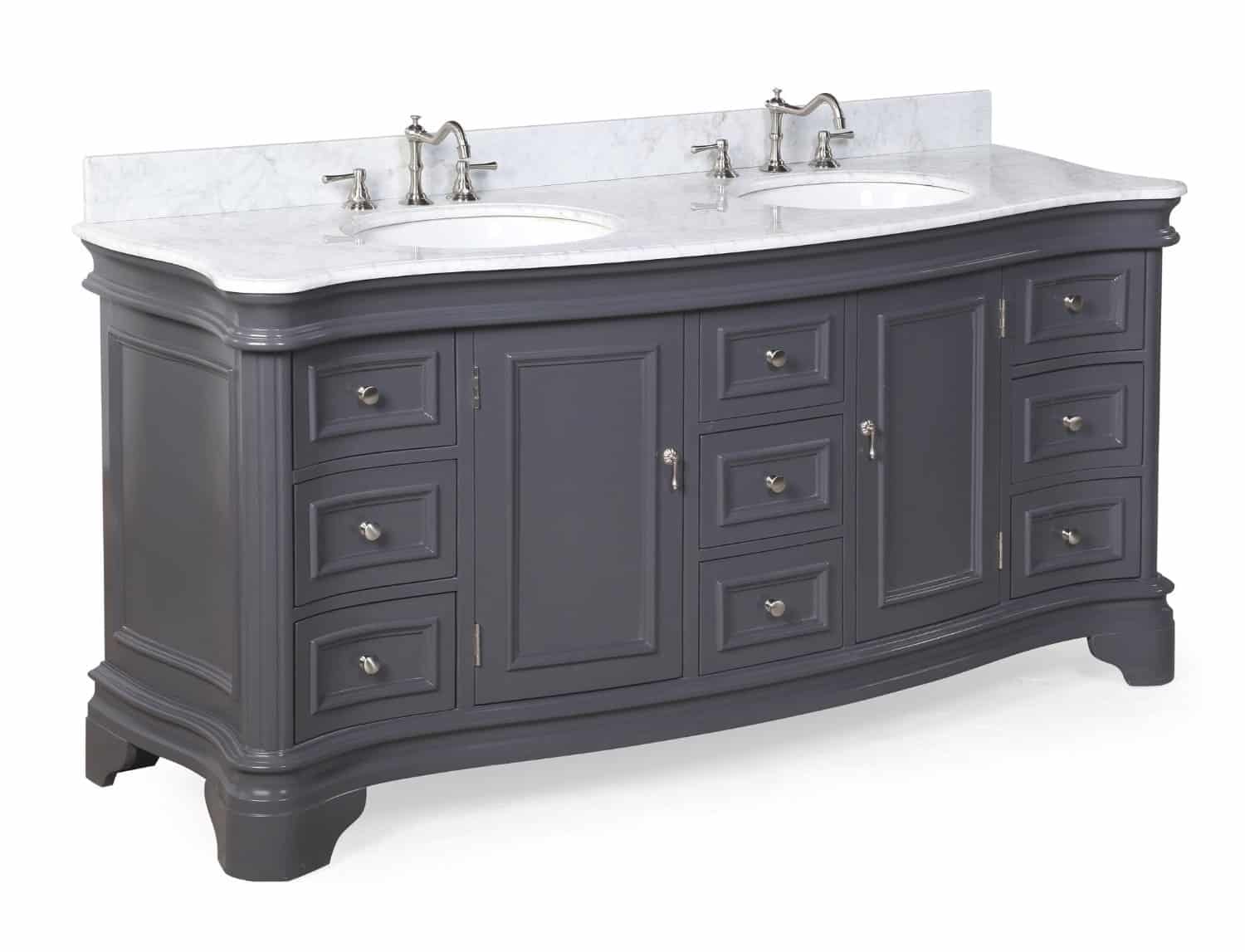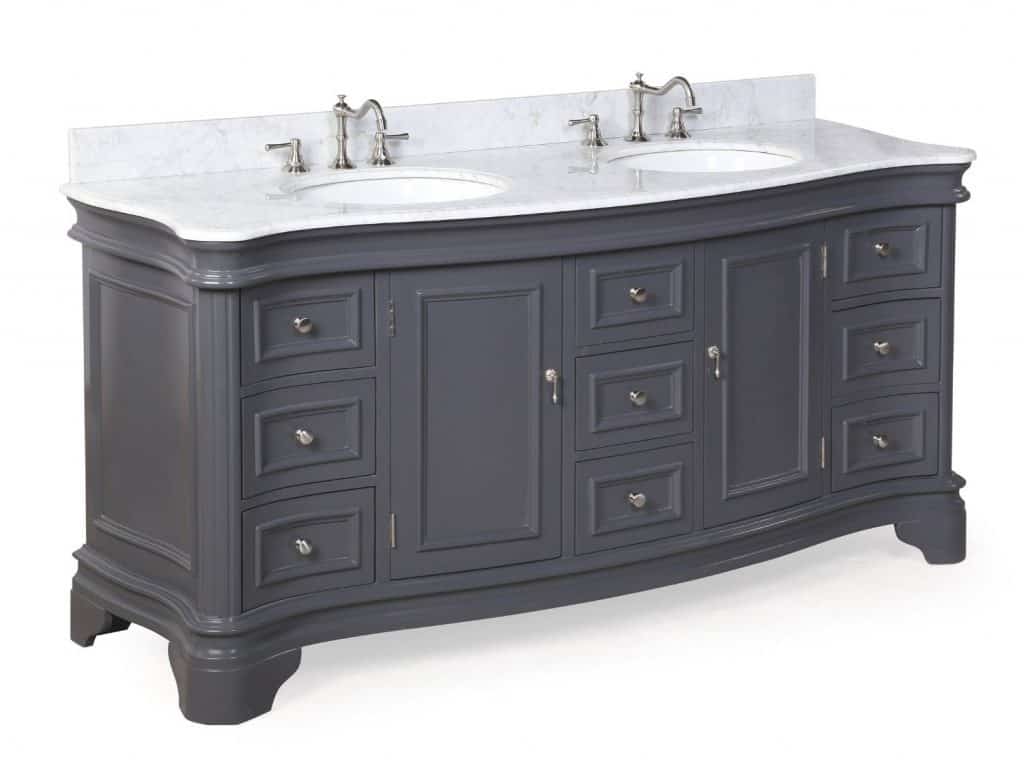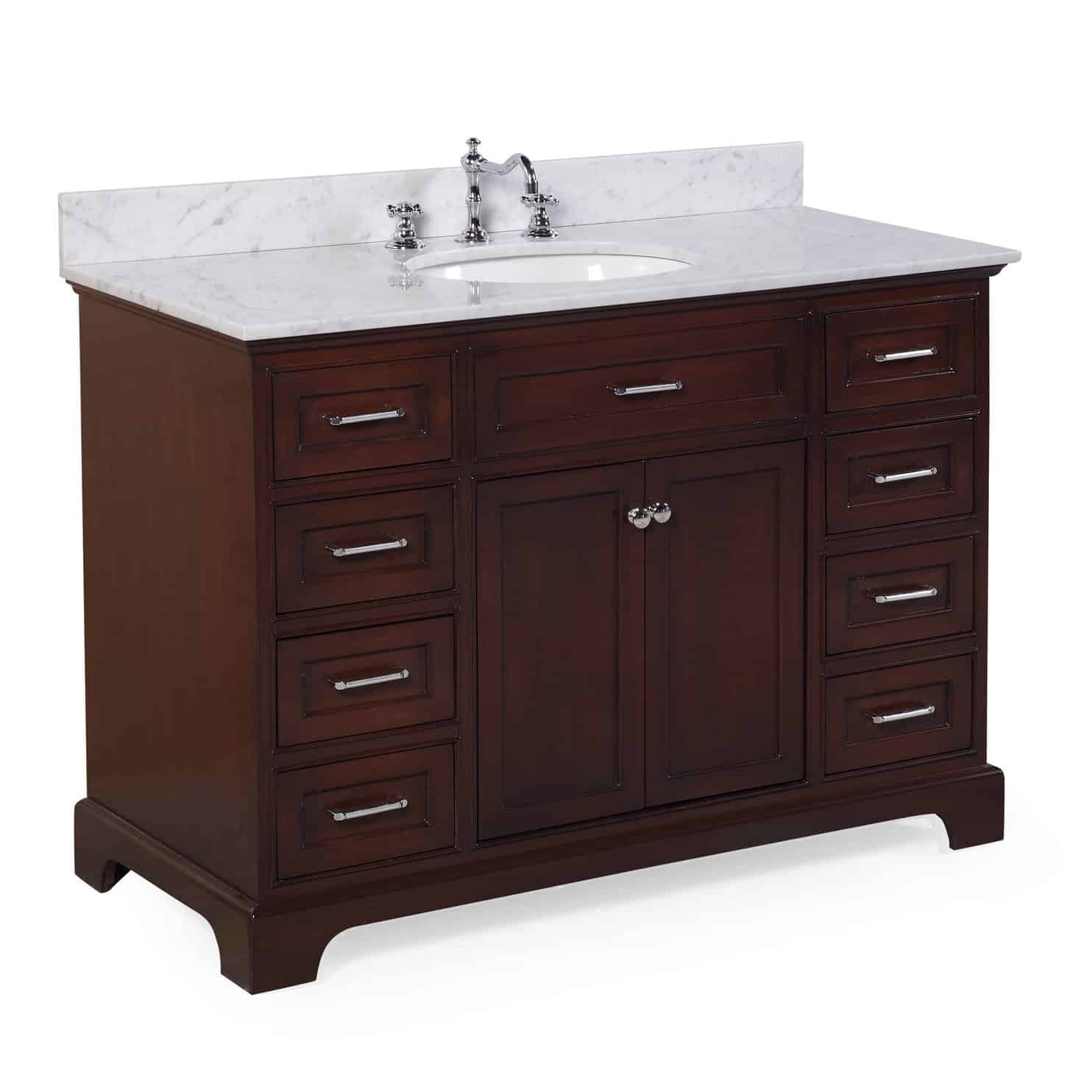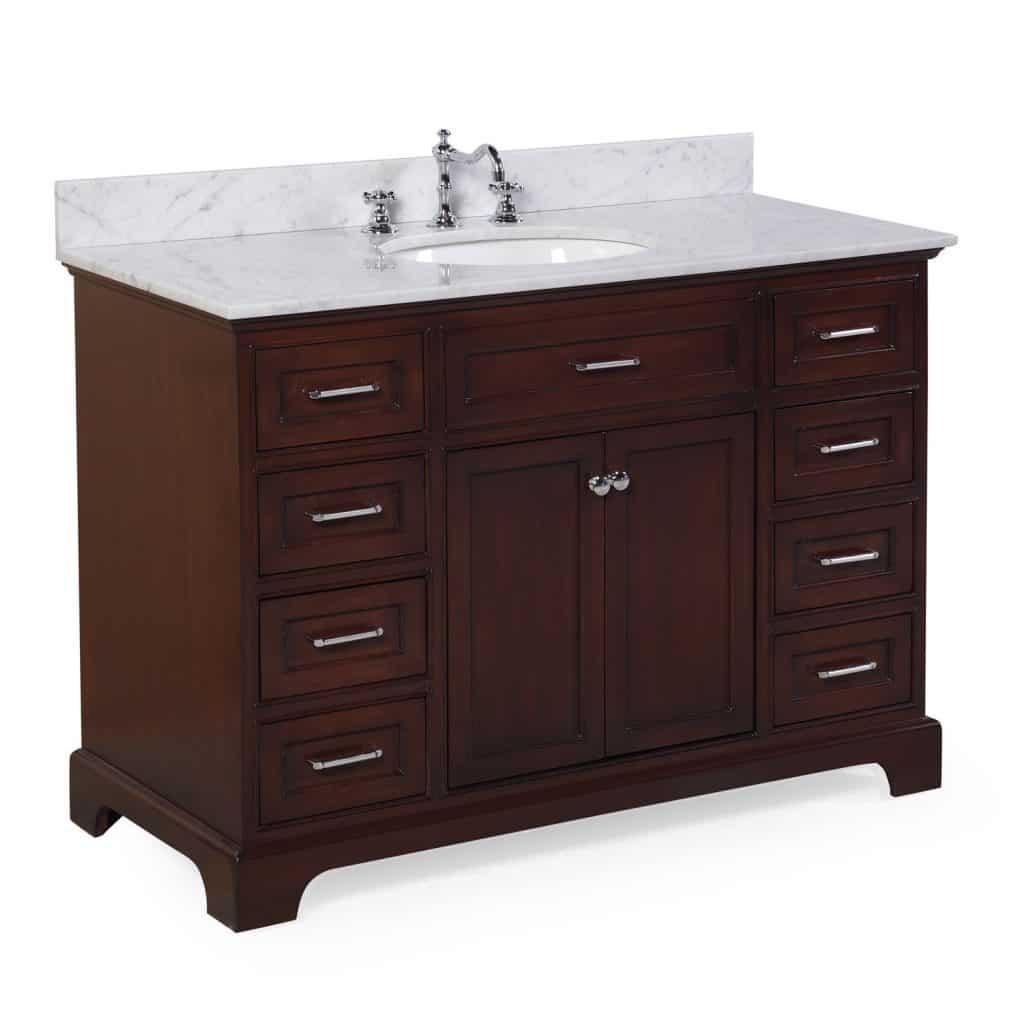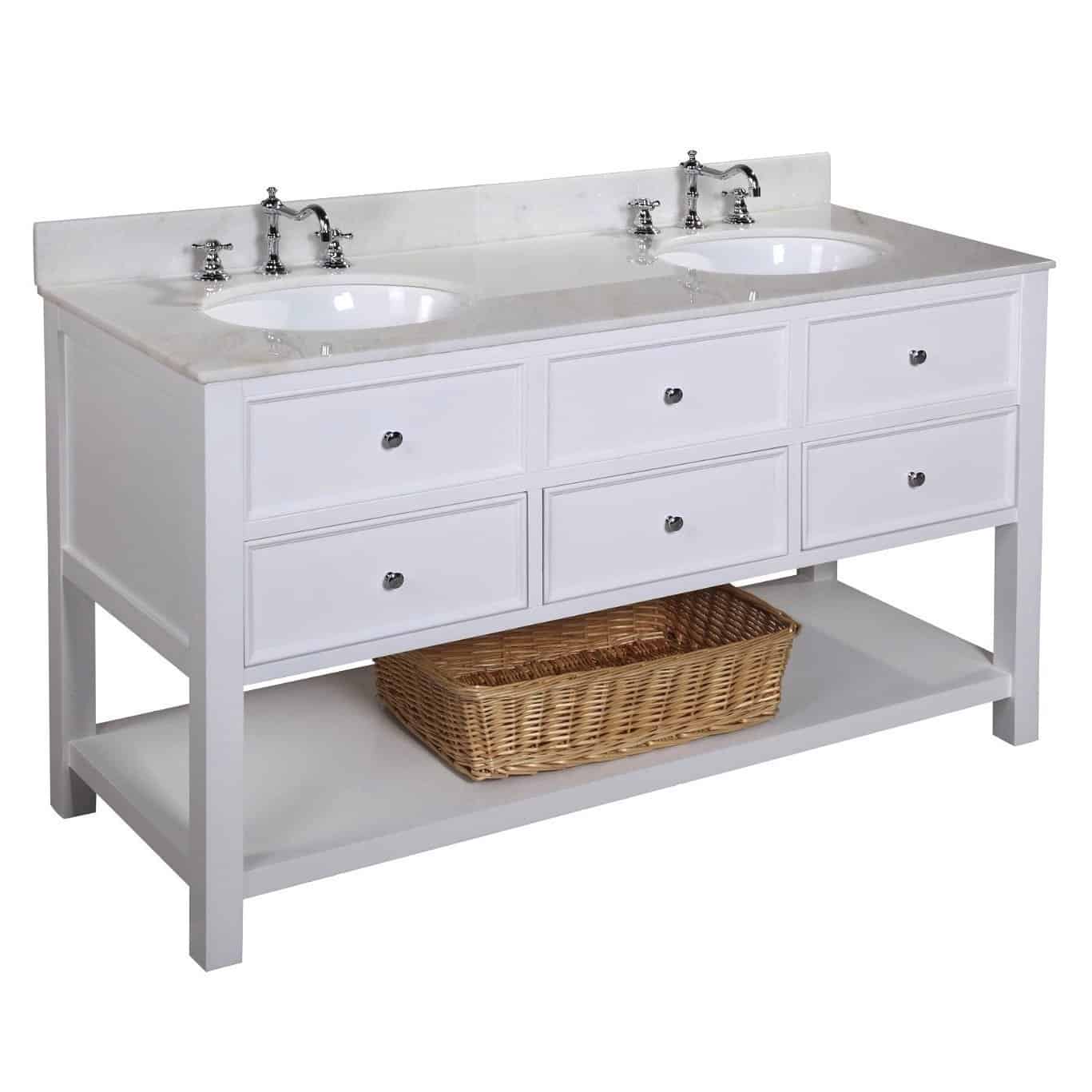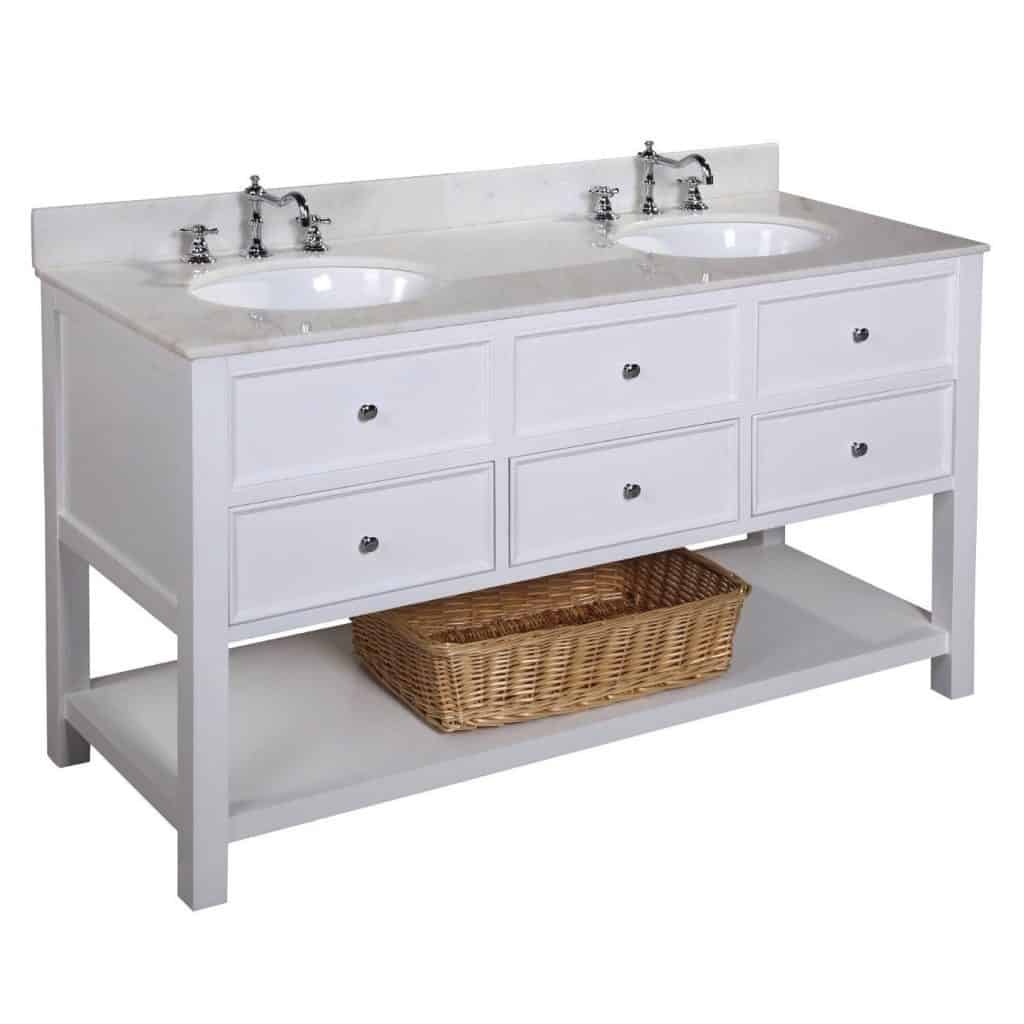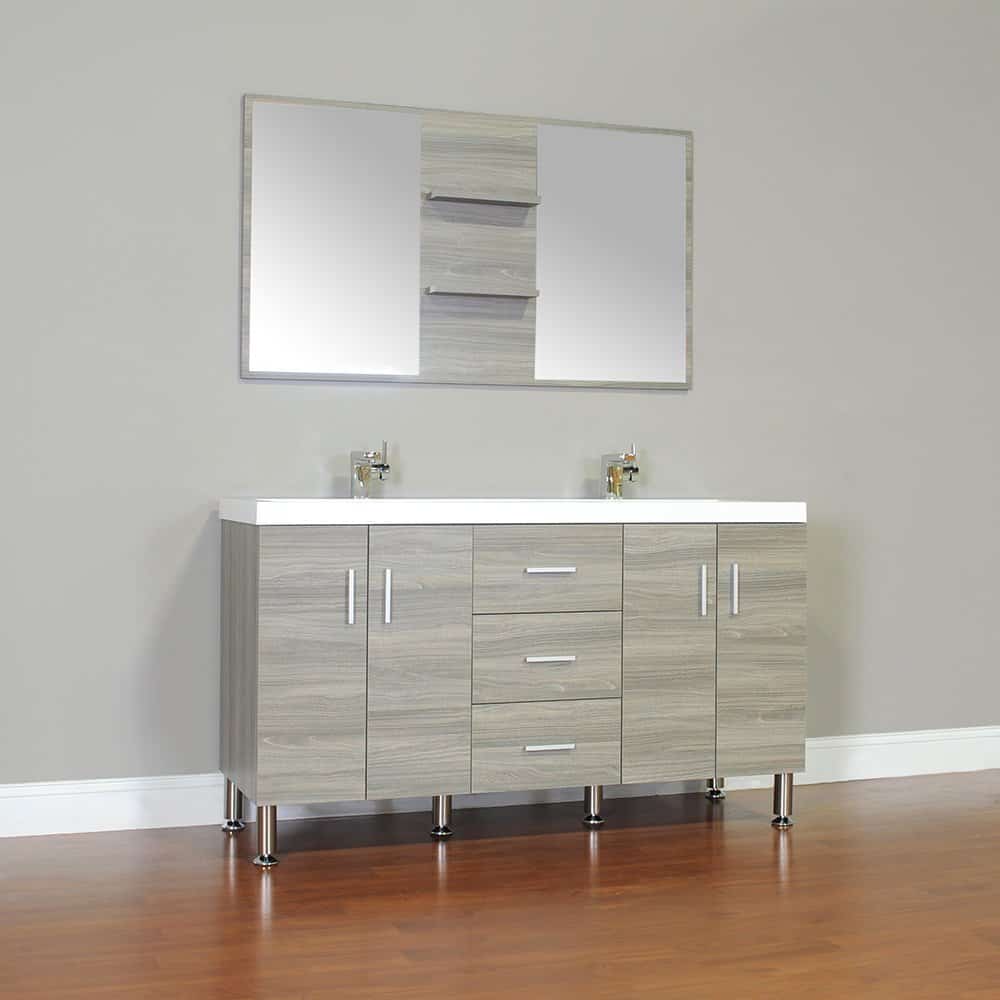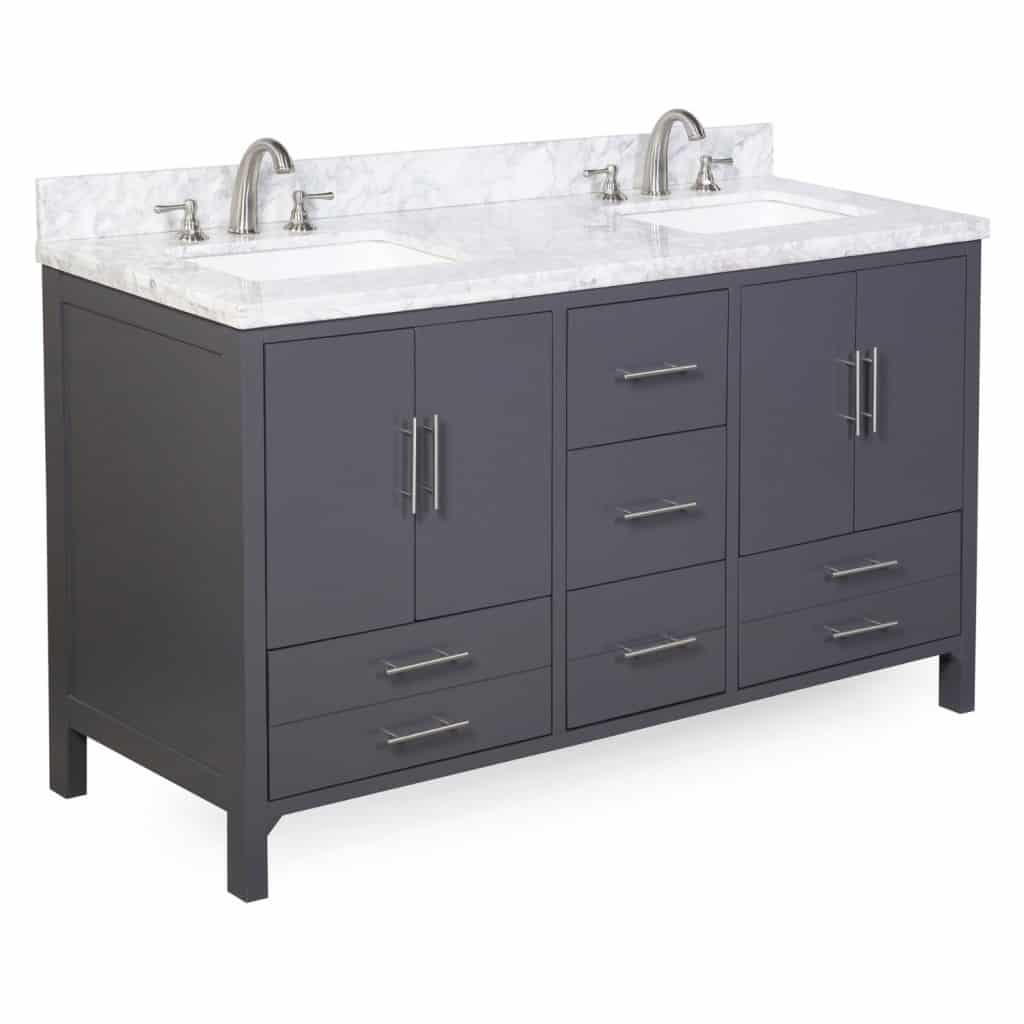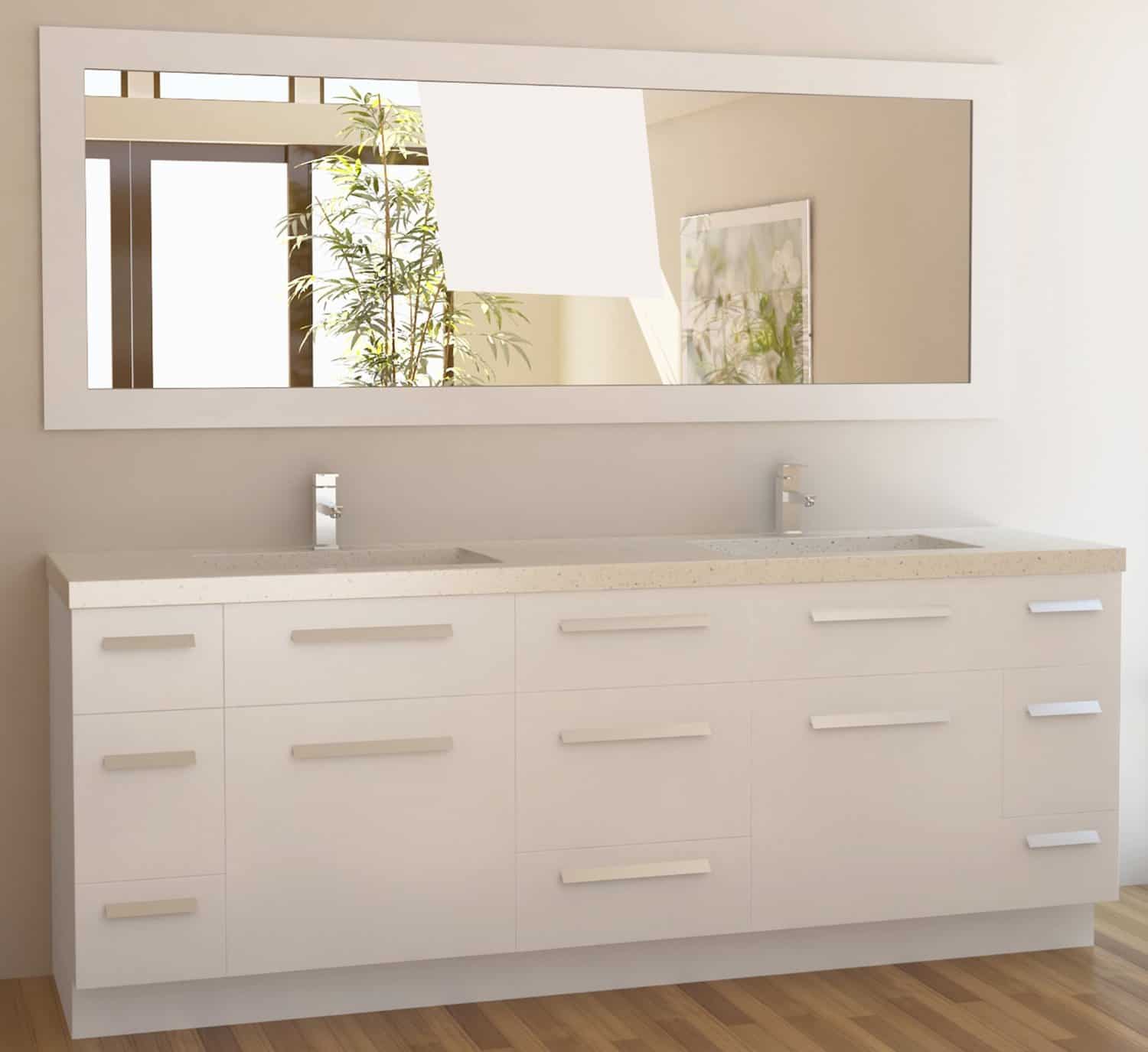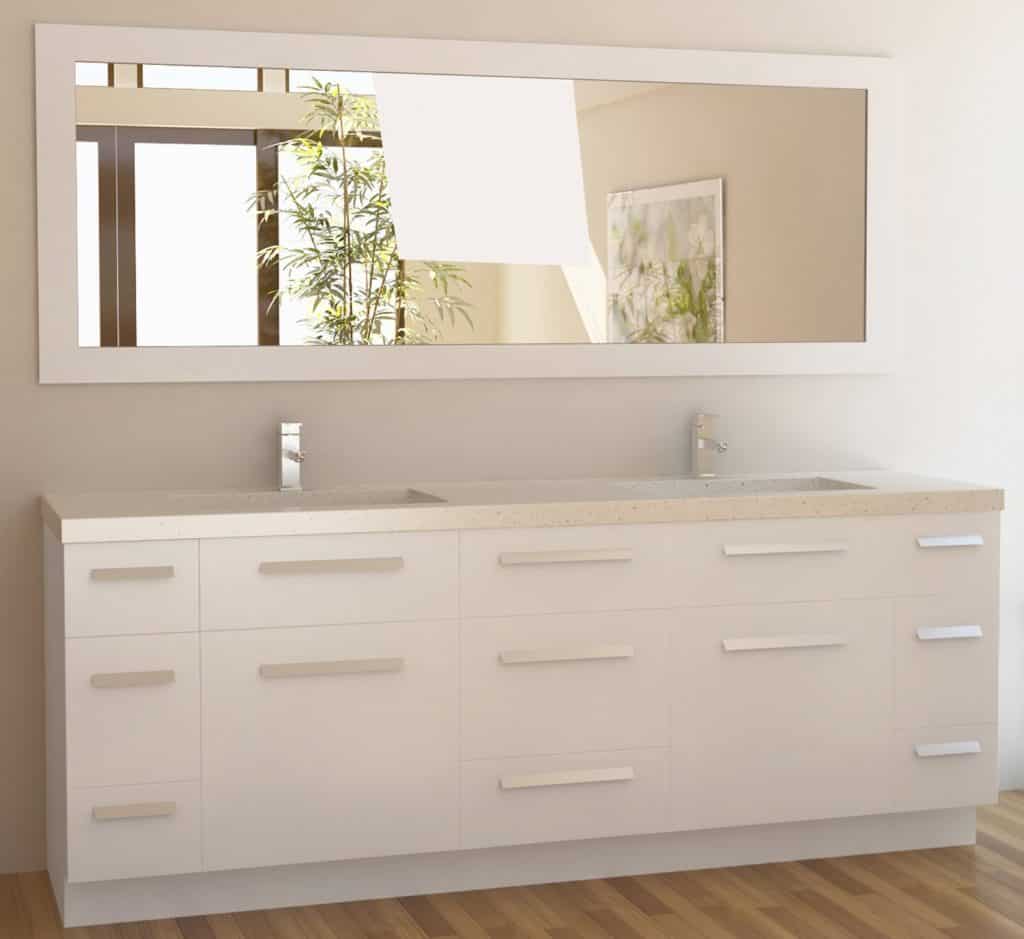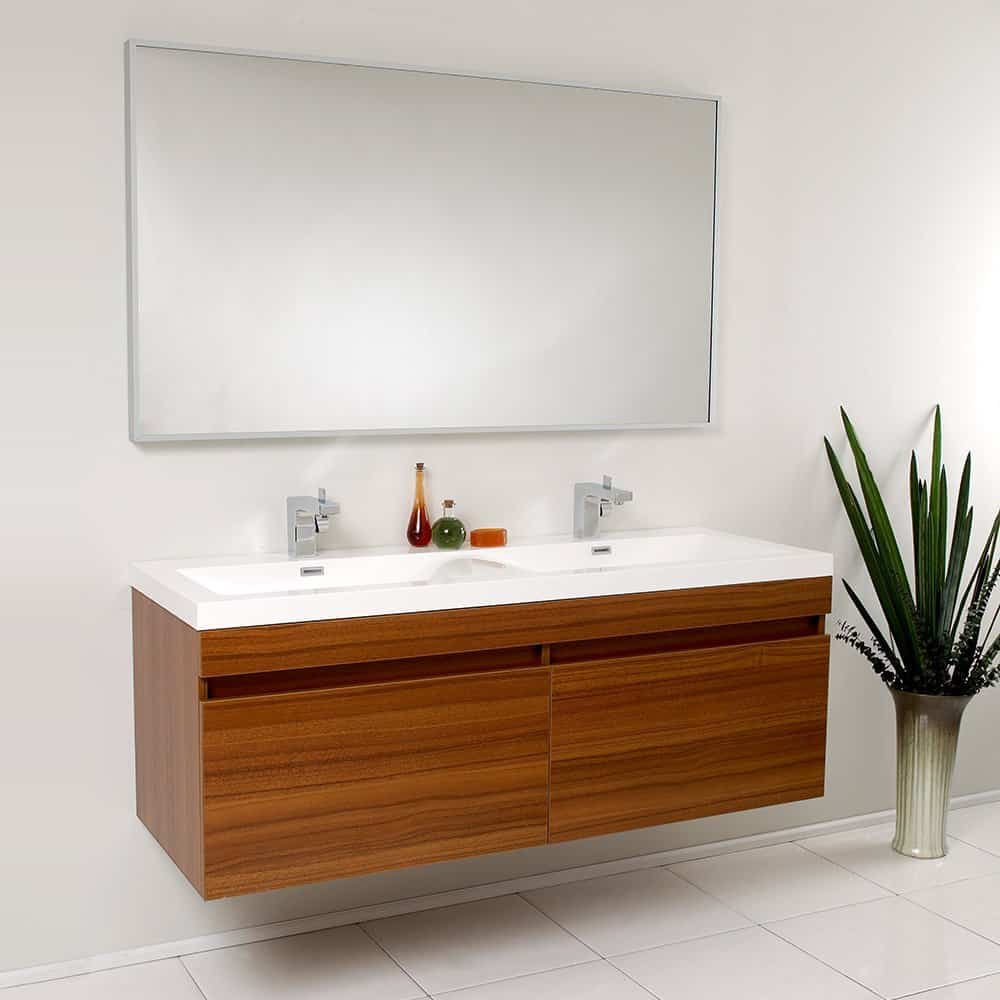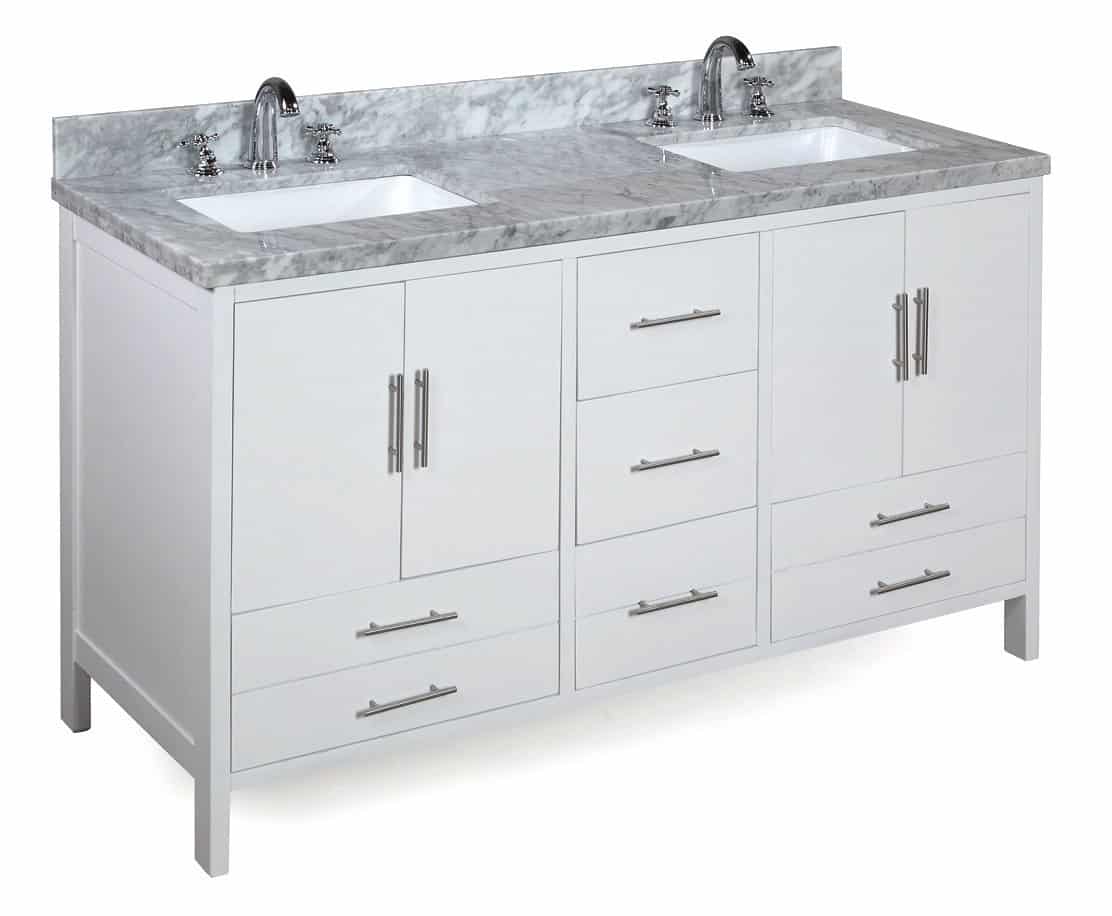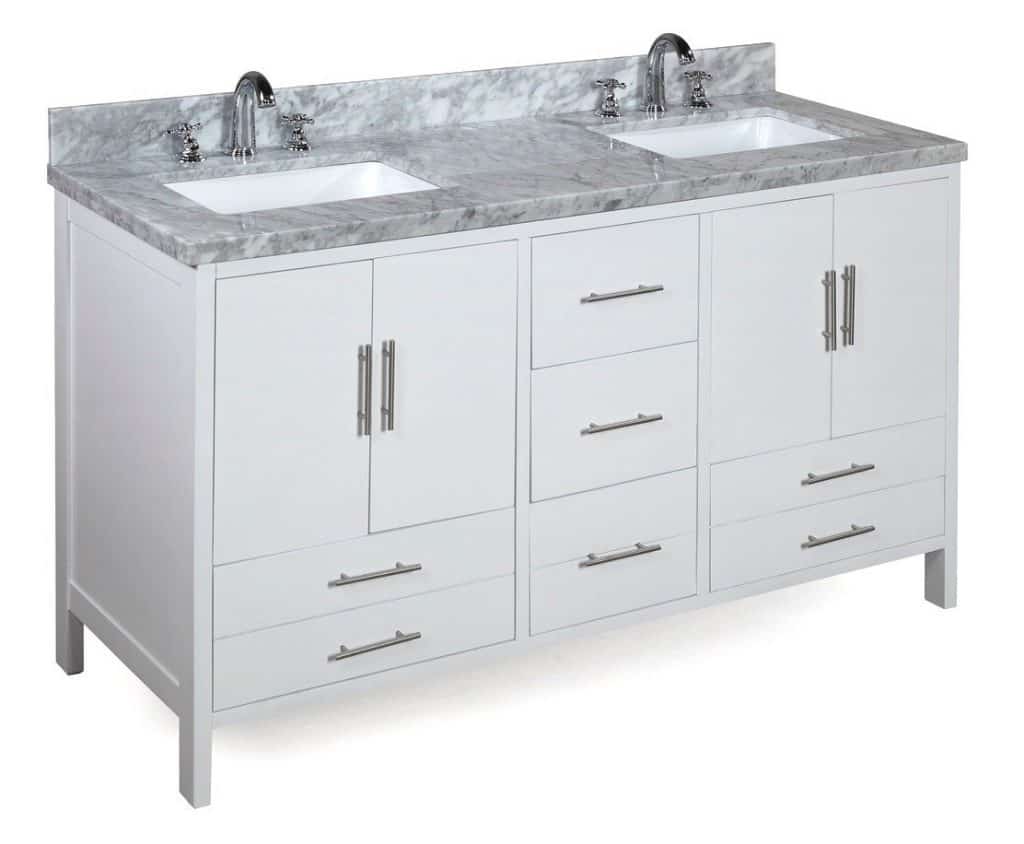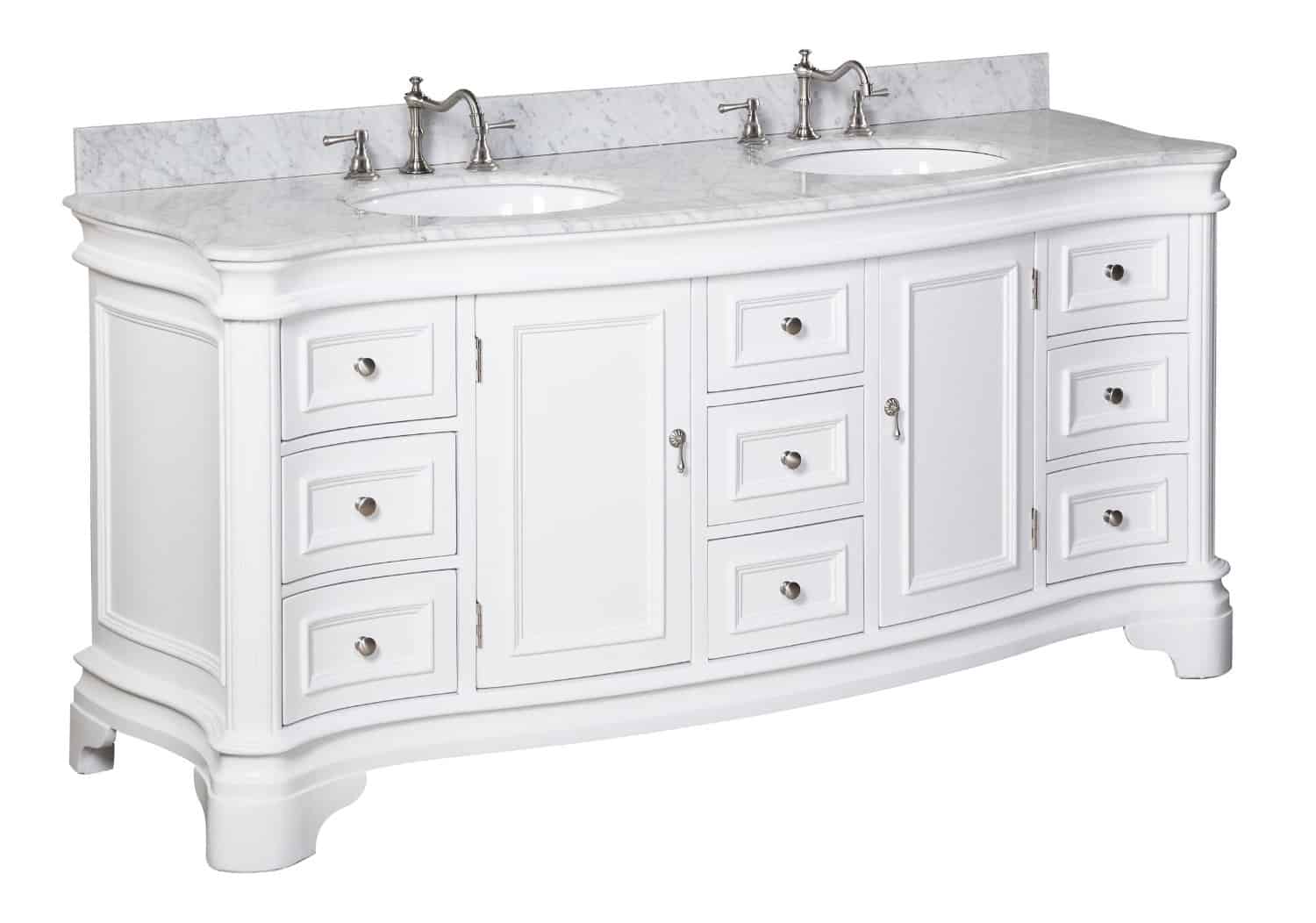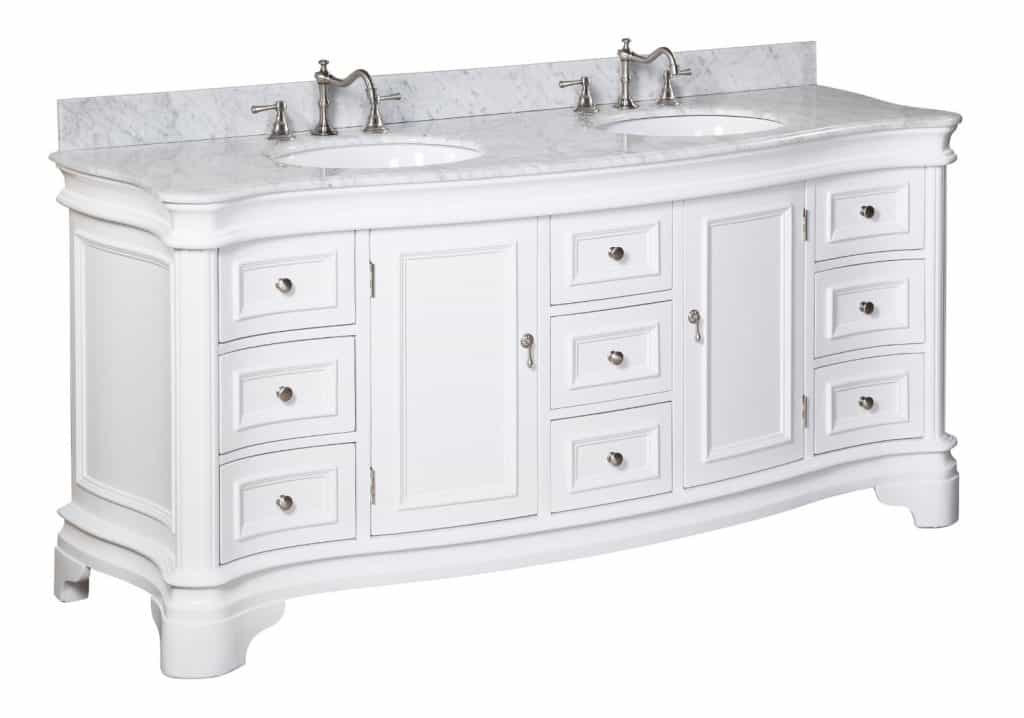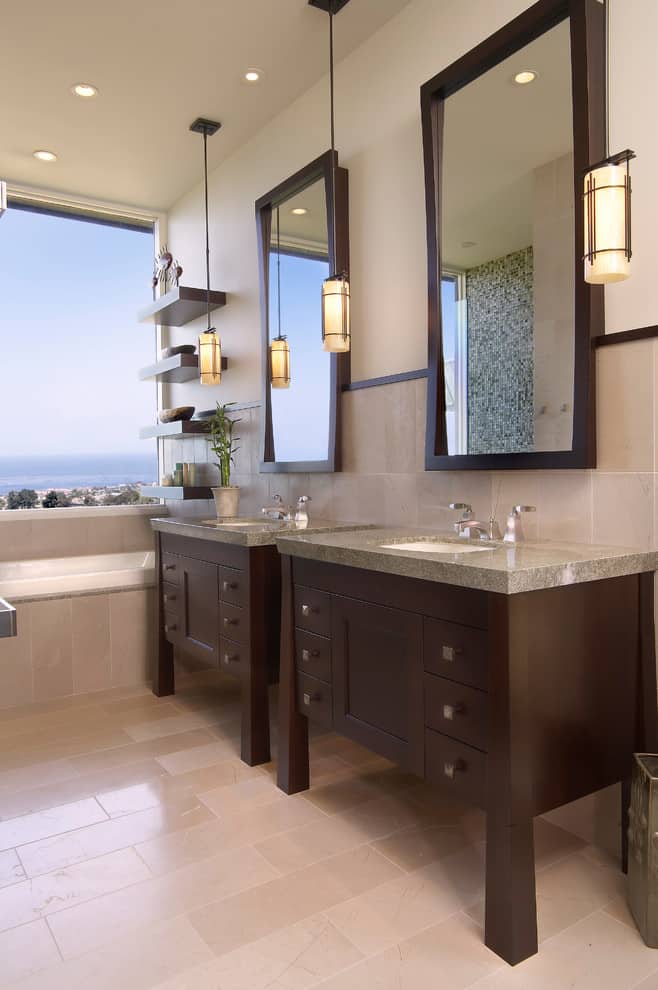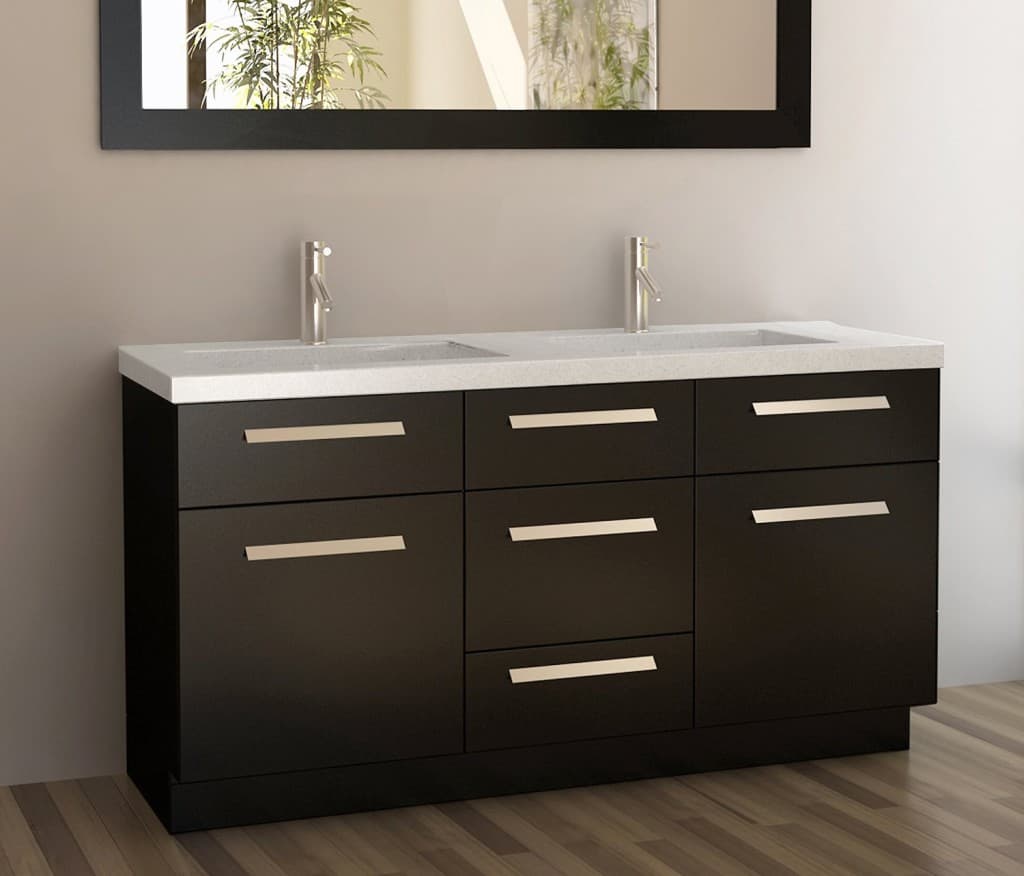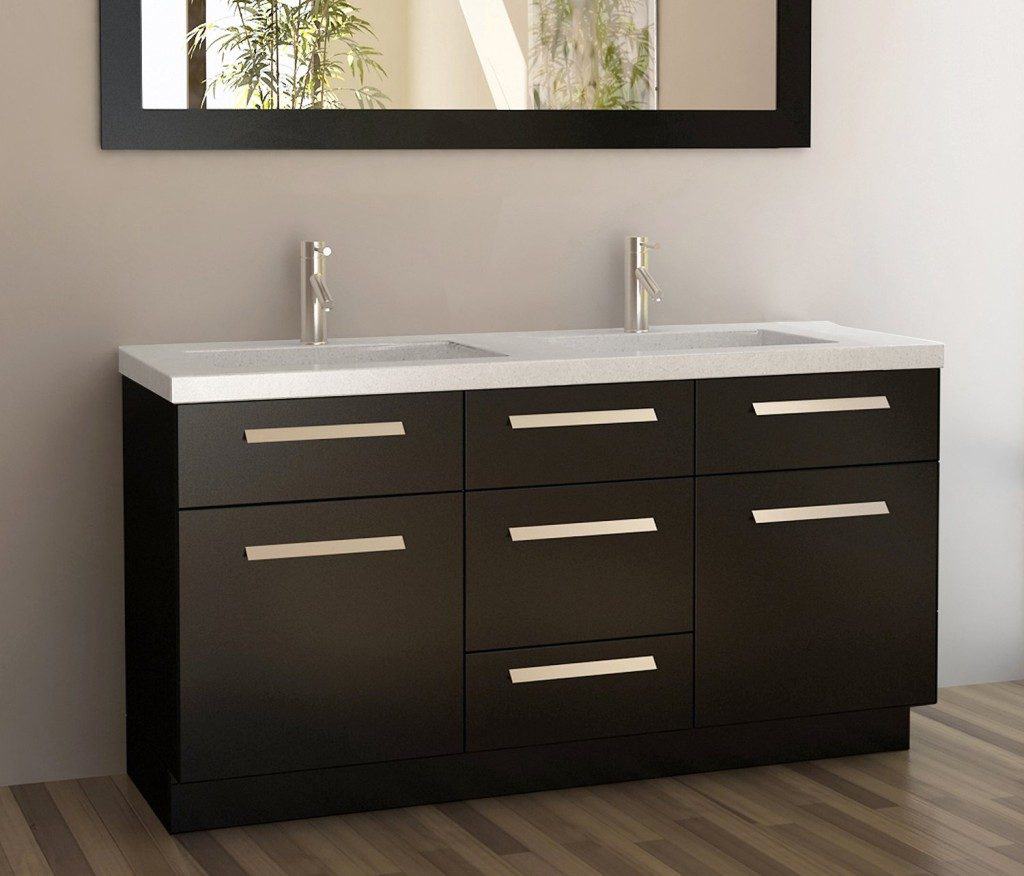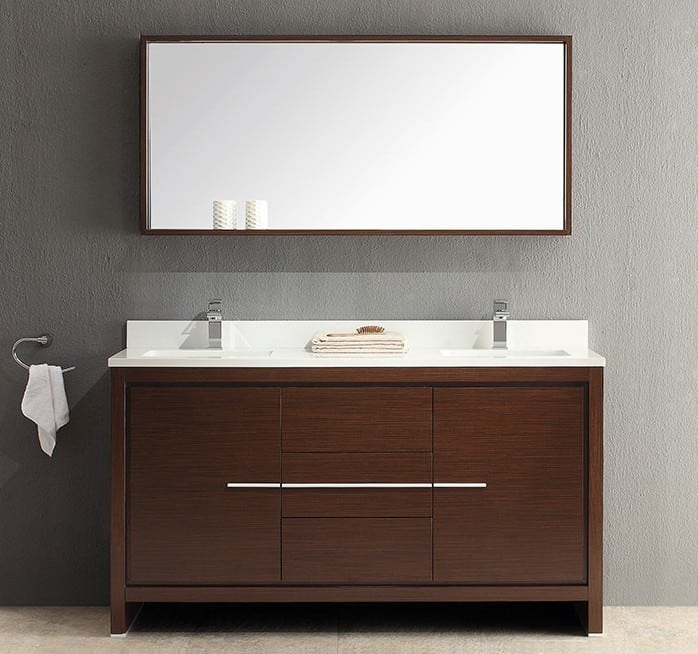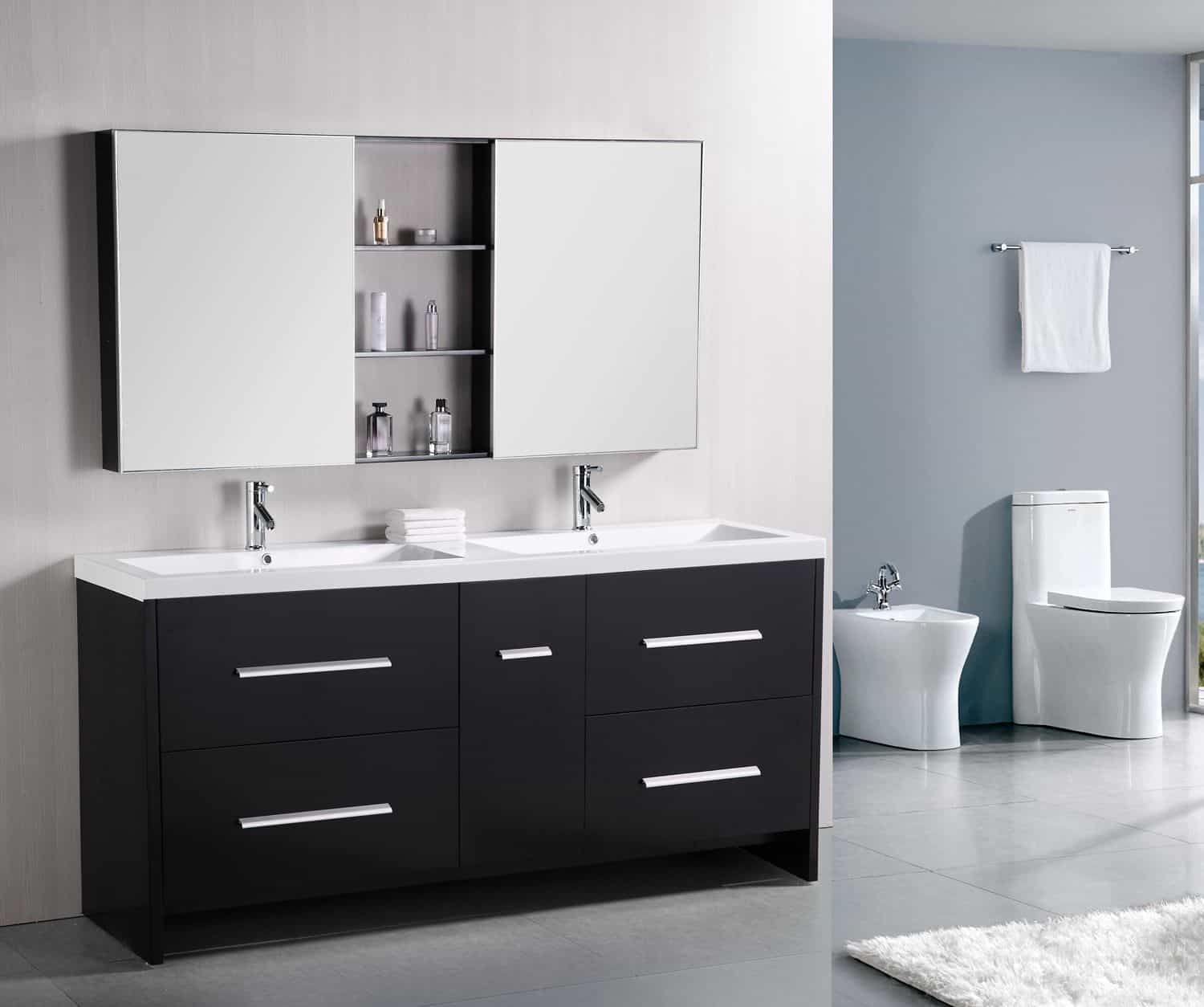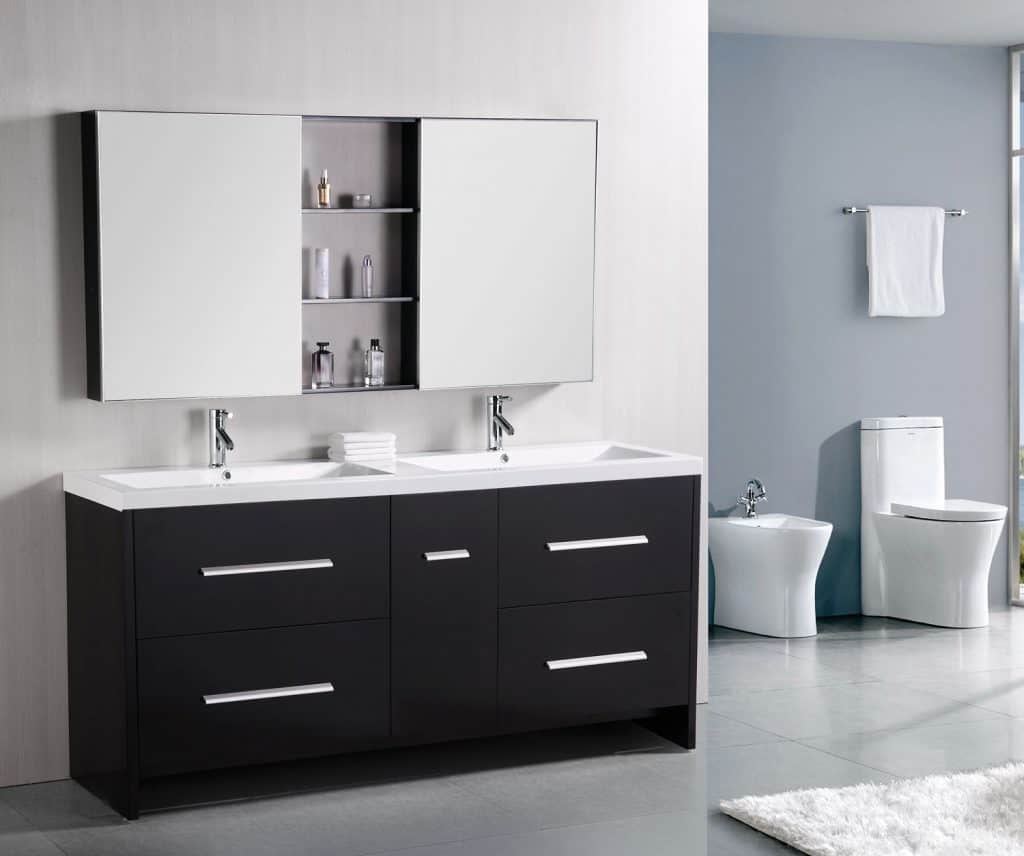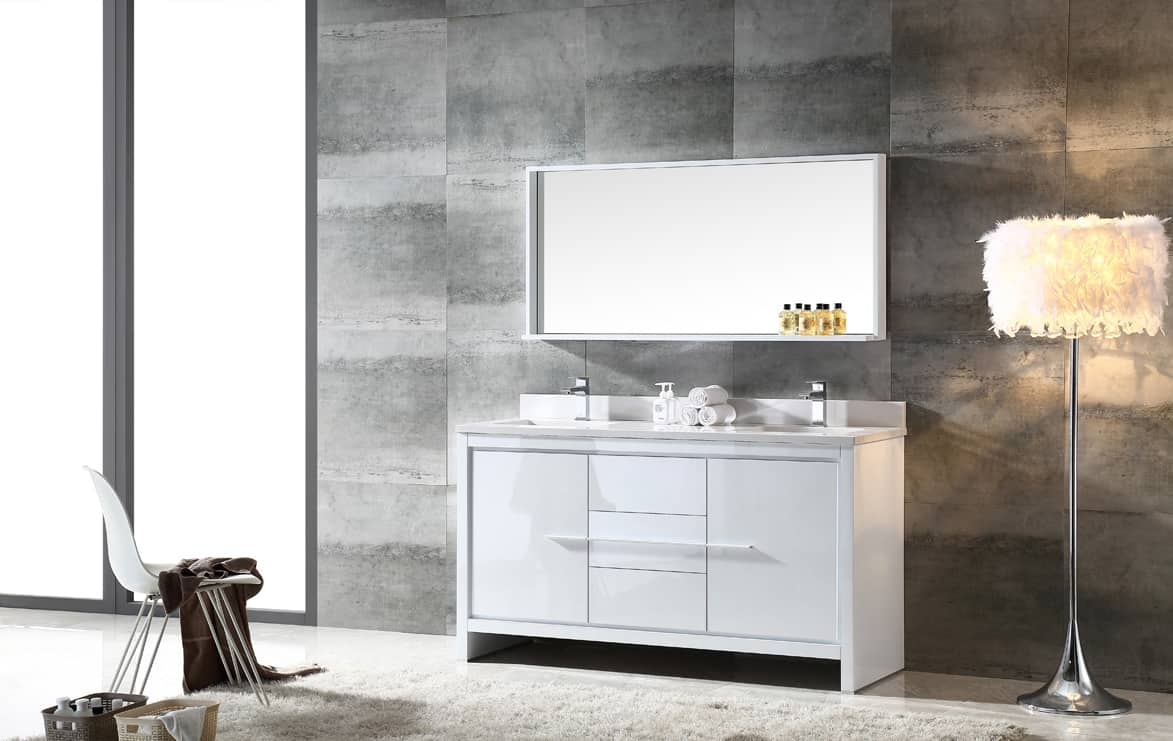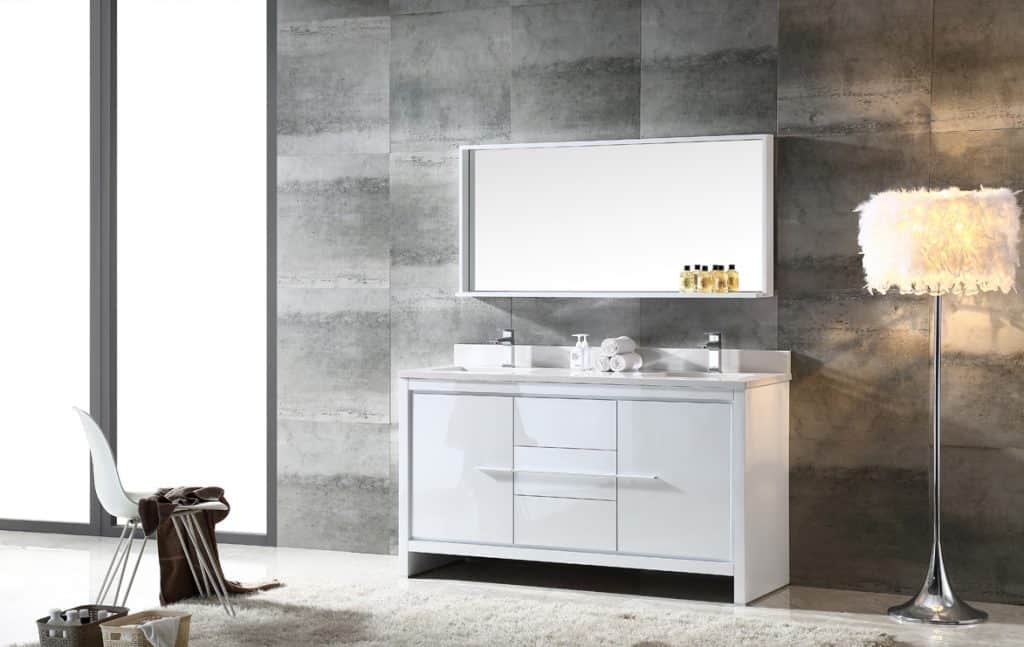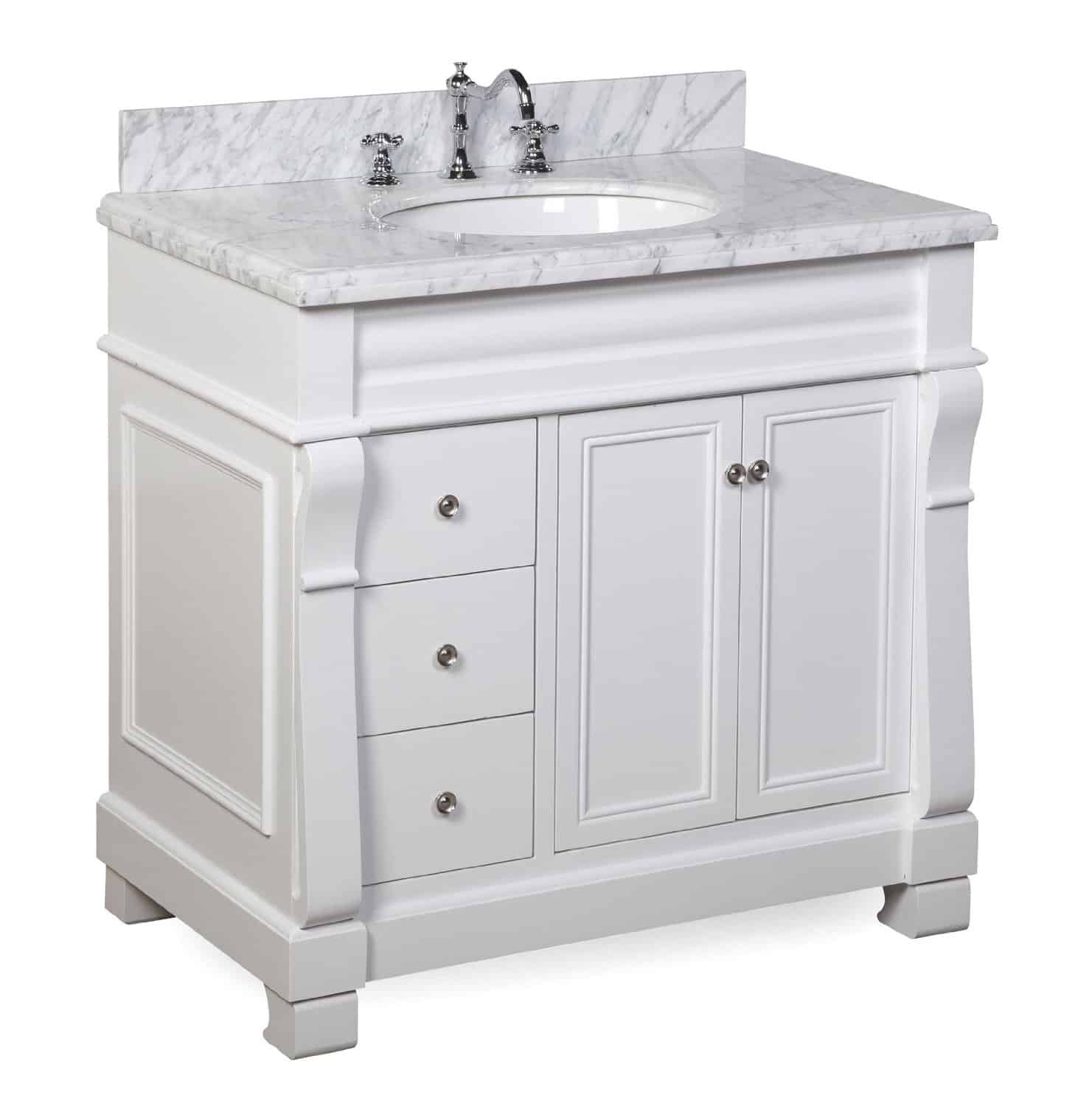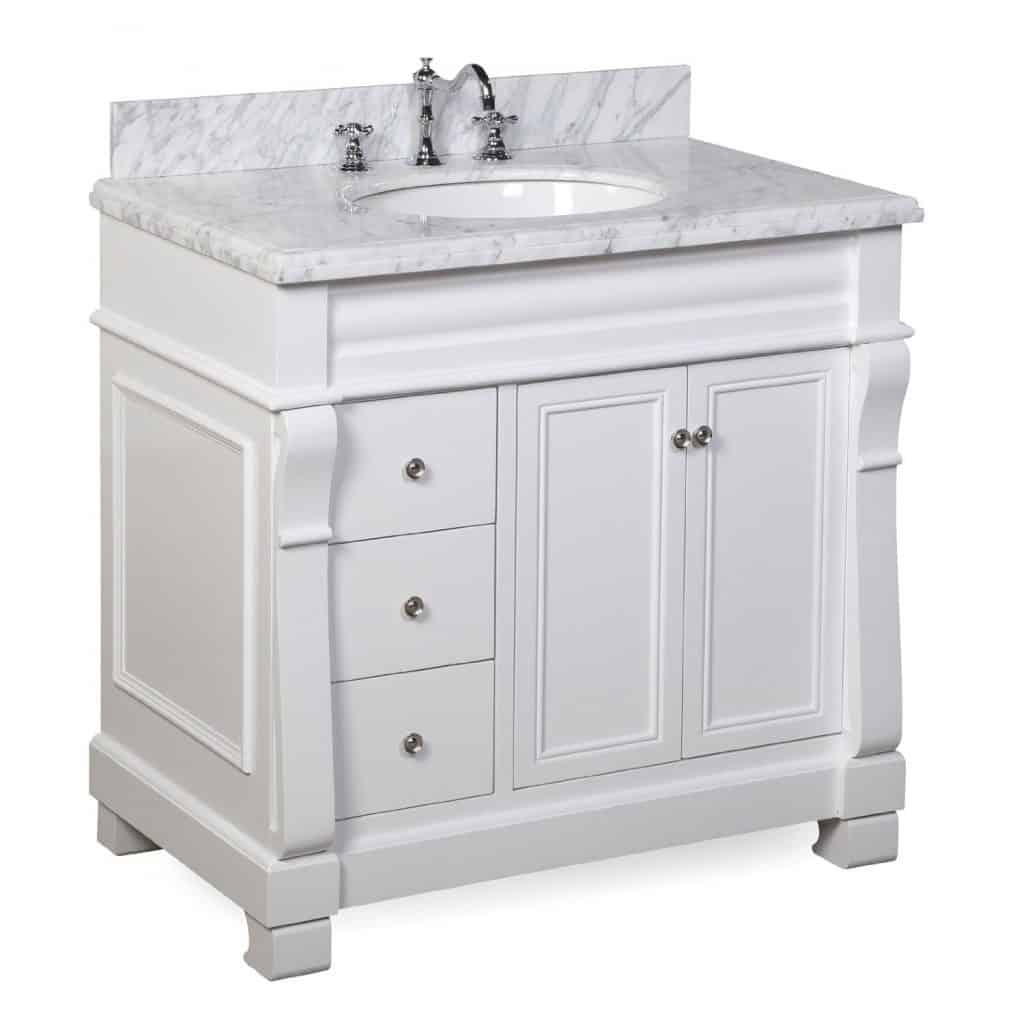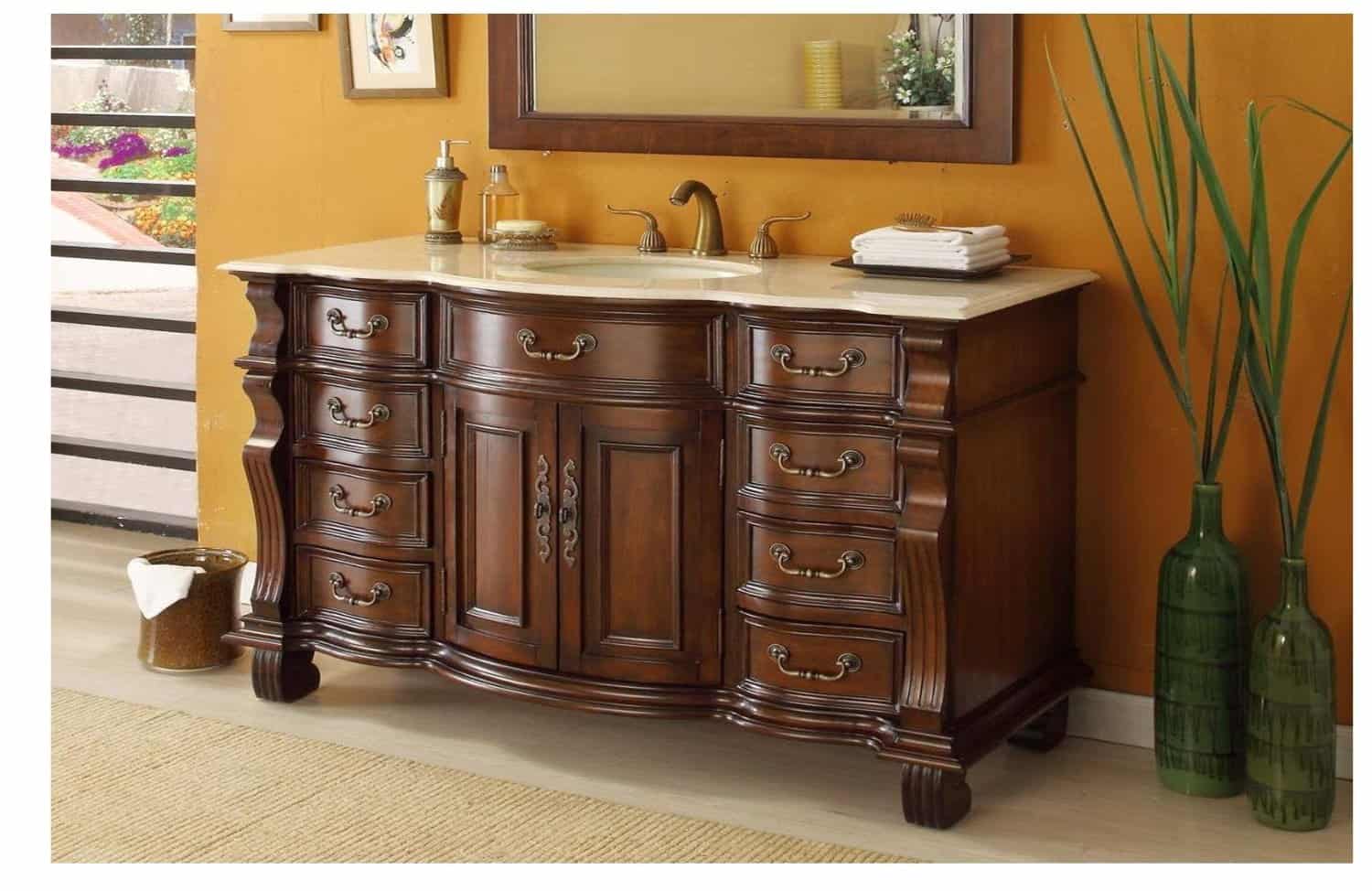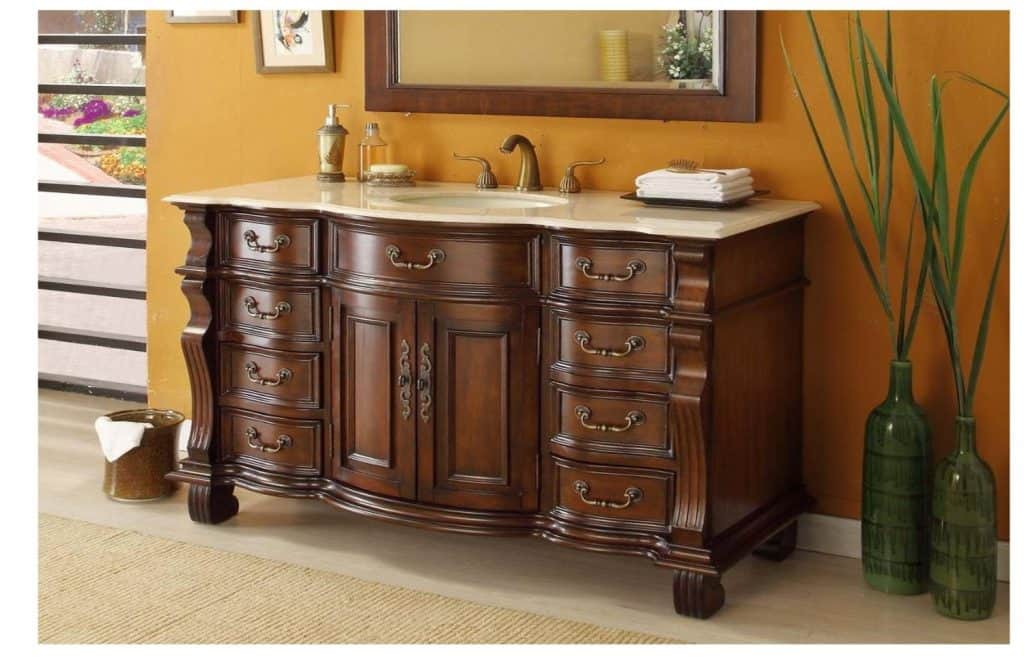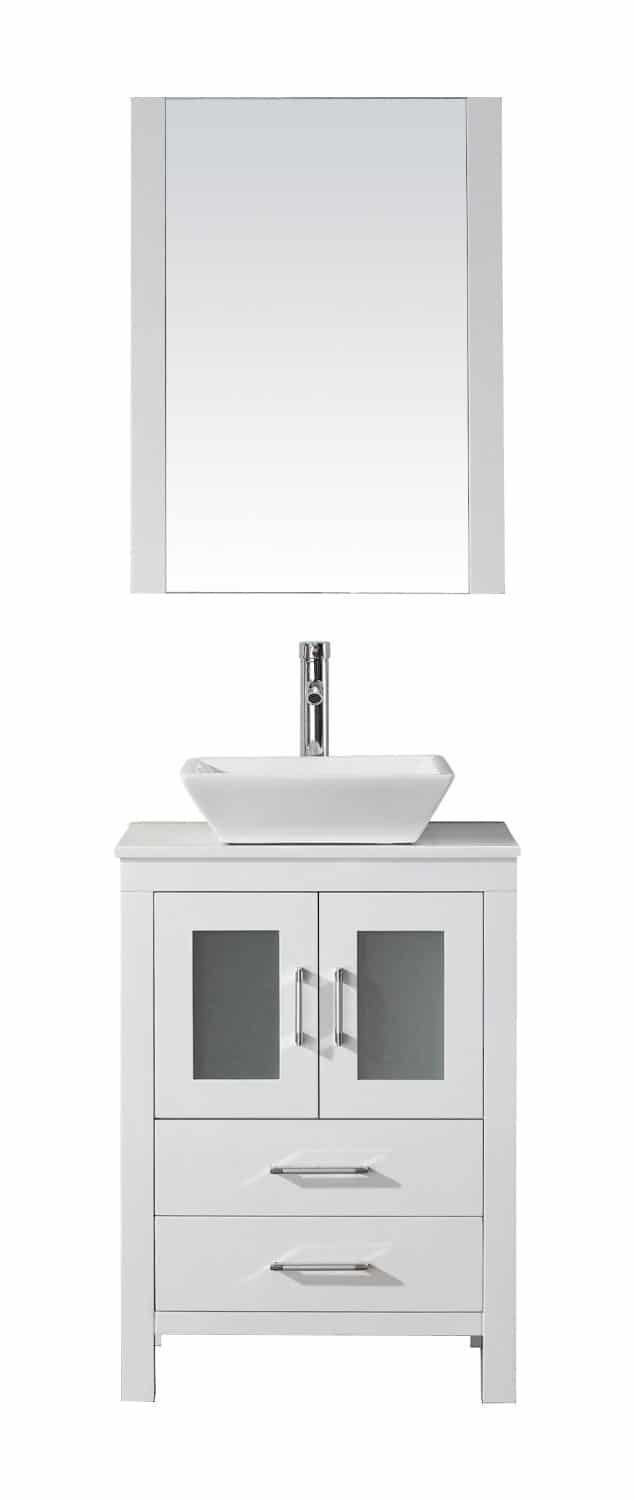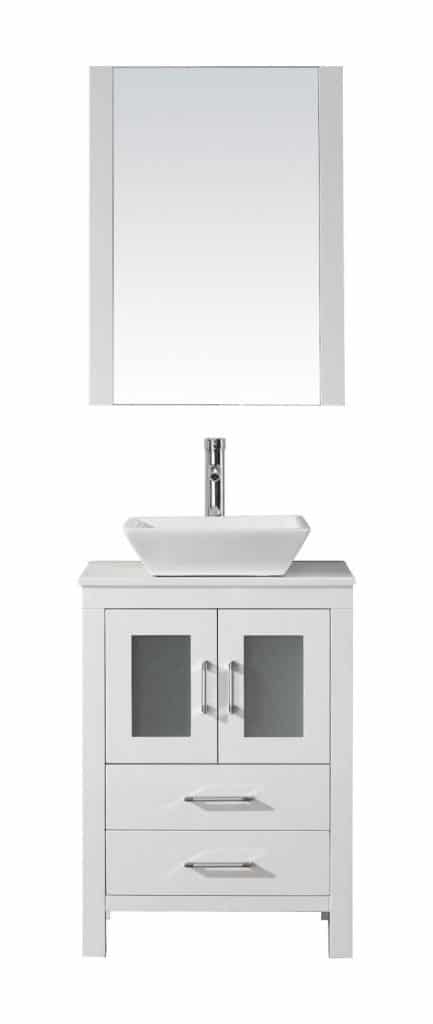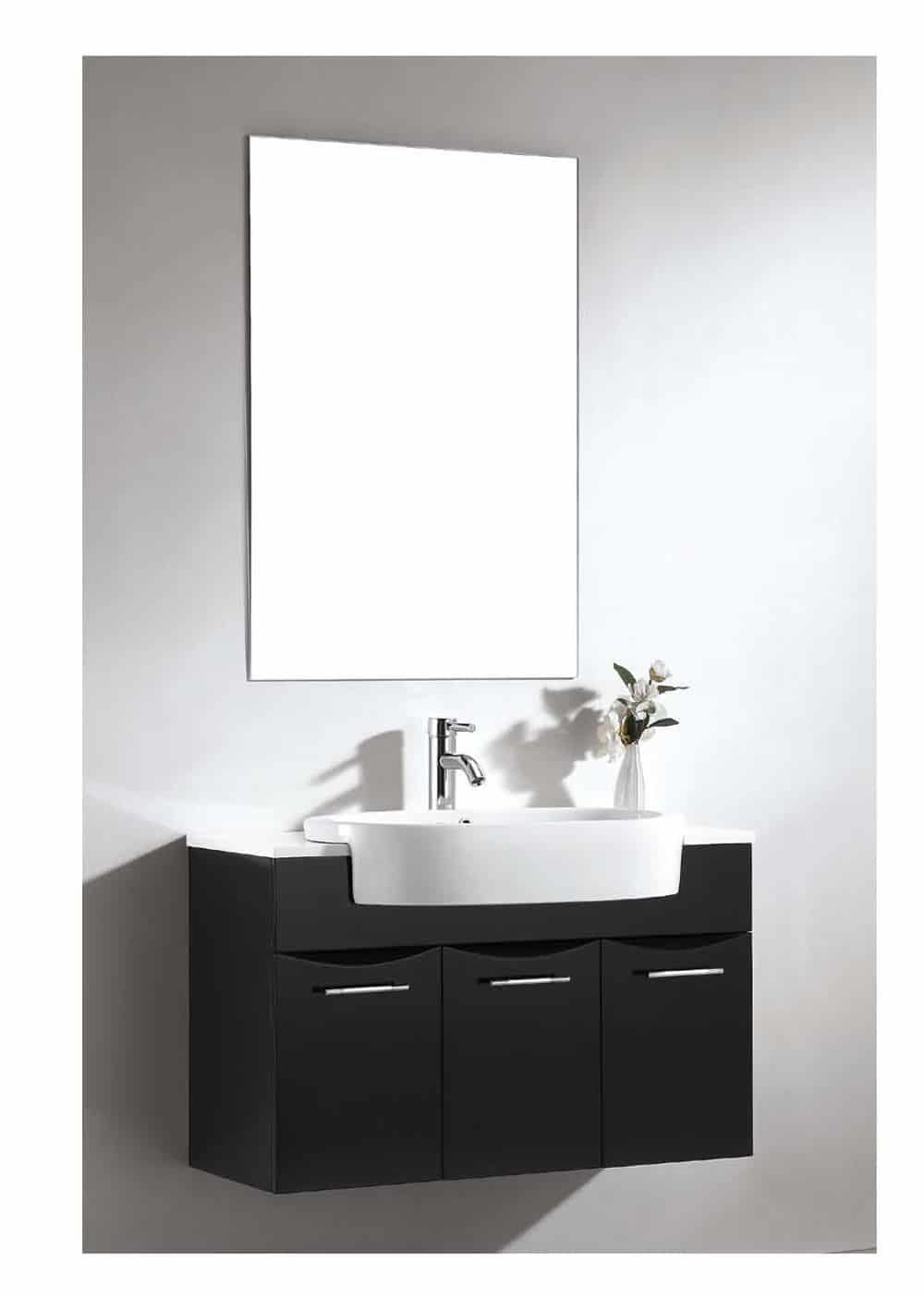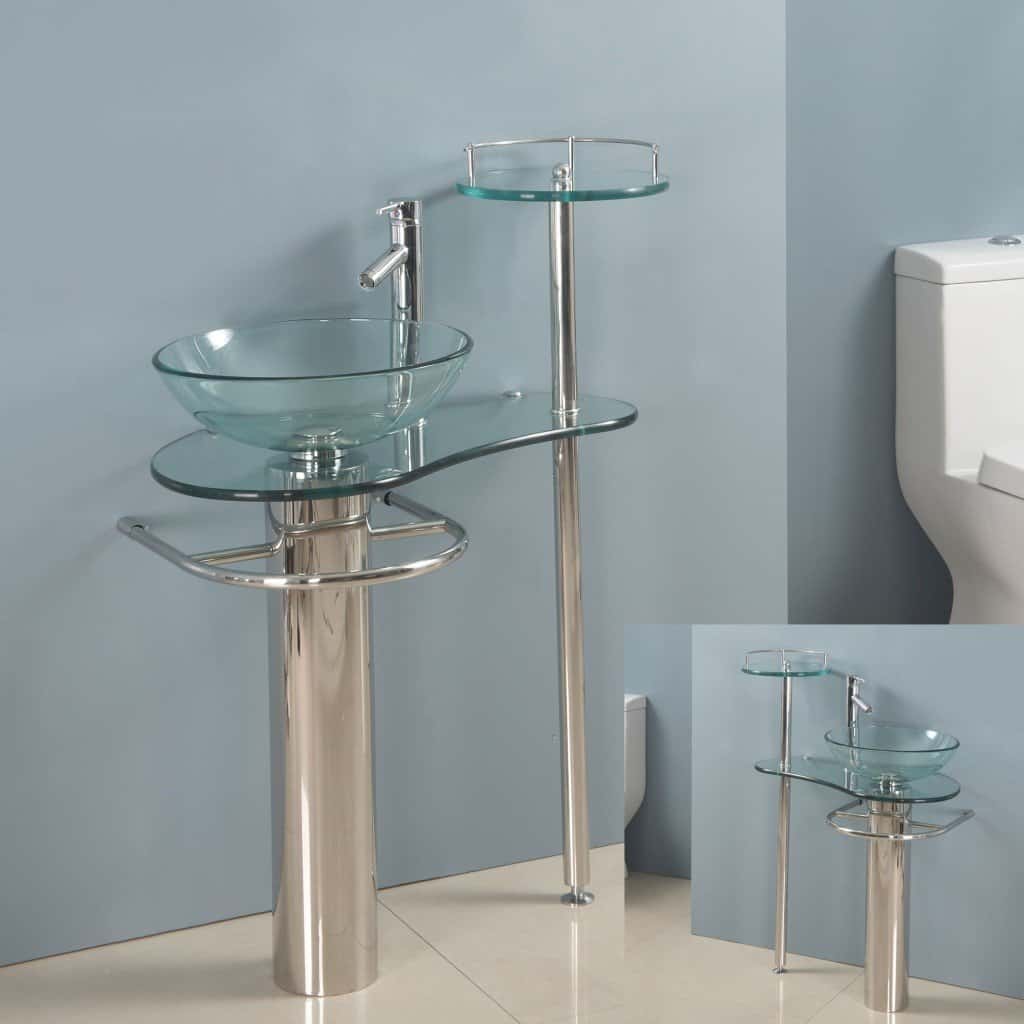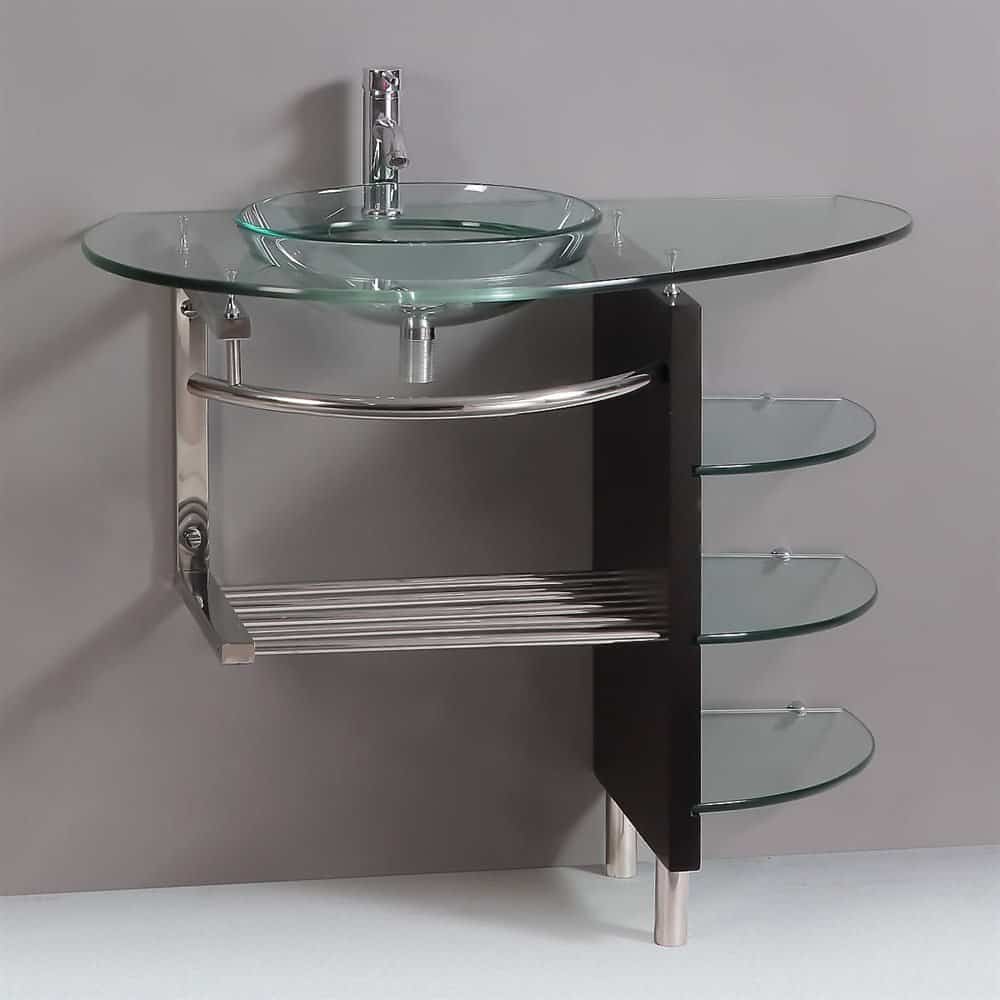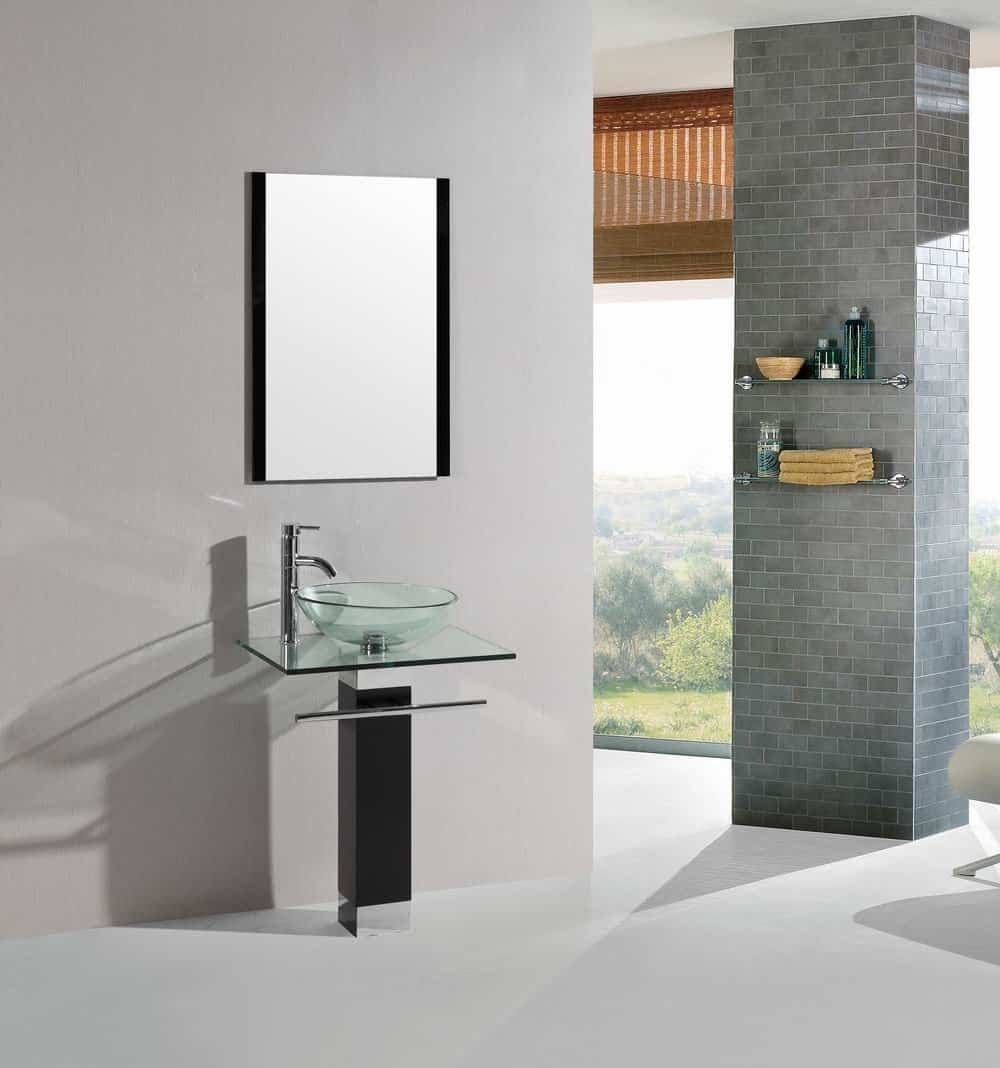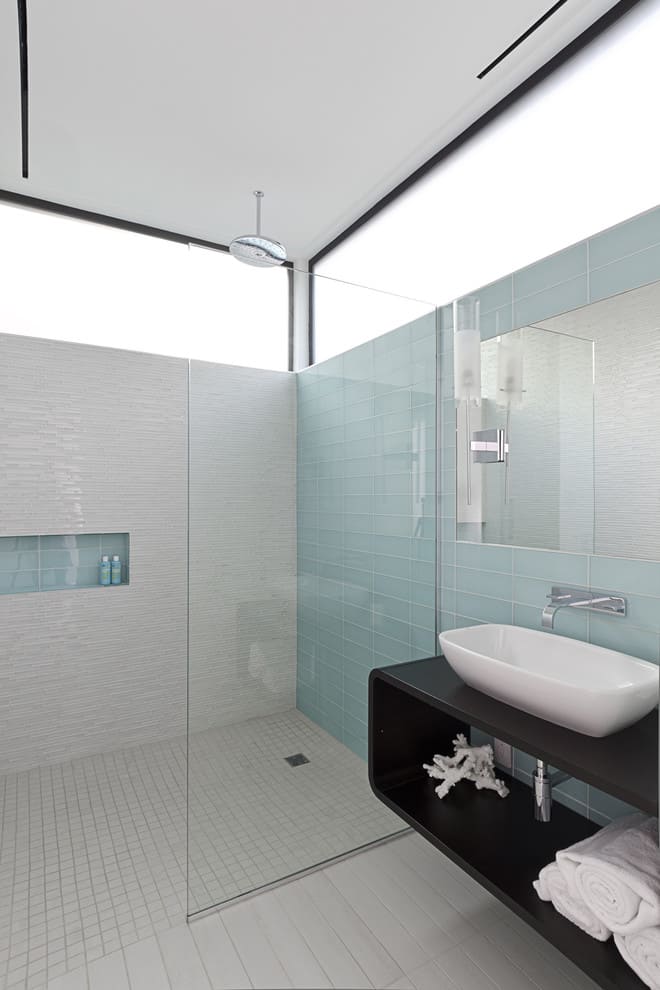 Additional Information:
---
Bathroom Ideas for Storage, Cabinets, and Furniture
Here are some popular ideas for bathroom cabinets and storage.
Mirrored cabinets with floor to ceiling length mirrors are particularly suitable for small bathrooms as the mirrors help create an illusion of extra space. These extra tall spaces can also be used for storing laundry baskets.
Folding or sliding doors with soft closures for cabinets help add an extra wow factor to your bathroom. Many homeowners are also known to forgo the cabinetry with ornate panels and trim in favor of flat-front cabinets.
Open shelving is a huge trend in bathroom cabinets where towels, bottles and other attractive accessories can be displayed openly.
Medicine cabinets have also undergone a facelift in that they are bigger and deeper and also have places to plug in appliances.
Handle-less drawers and doors with electronic push function are trendy.
Selecting Bathroom Furniture
Bathroom cabinets and vanities aside, there are many different kinds of bathroom furniture pieces available today. With so many options to choose, you can use the following pointers before buying any pieces:
The amount of space available and how you intend to use it
Bathroom furniture can take up a major portion of your renovation budget. Furniture can cost anywhere from a few hundred dollars to a few thousands. So make sure you choose wisely.
Shopping online can actually help you stretch your renovation budget as there are many deals and discounts when you shop at the right retailers.
Watch the trends. A major trend in bathroom furniture today is matching it to the other furniture in your home. So, cabinets matching your kitchen cabinets or the wet bar or even the built-ins in the living room and so on.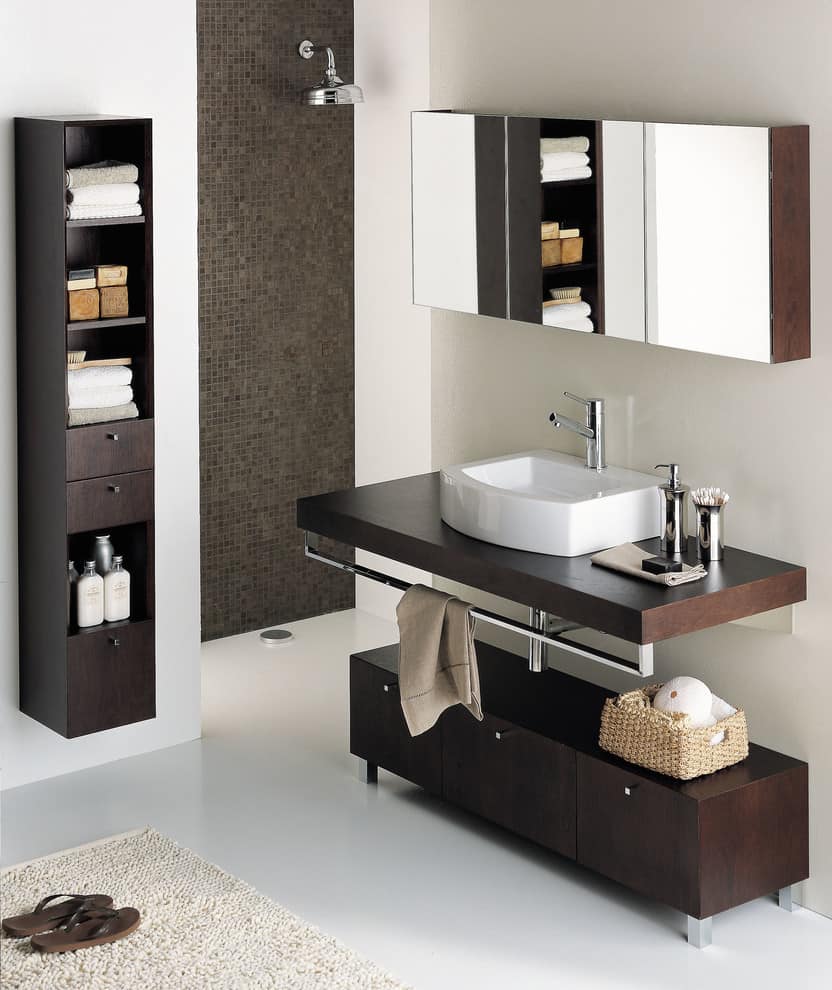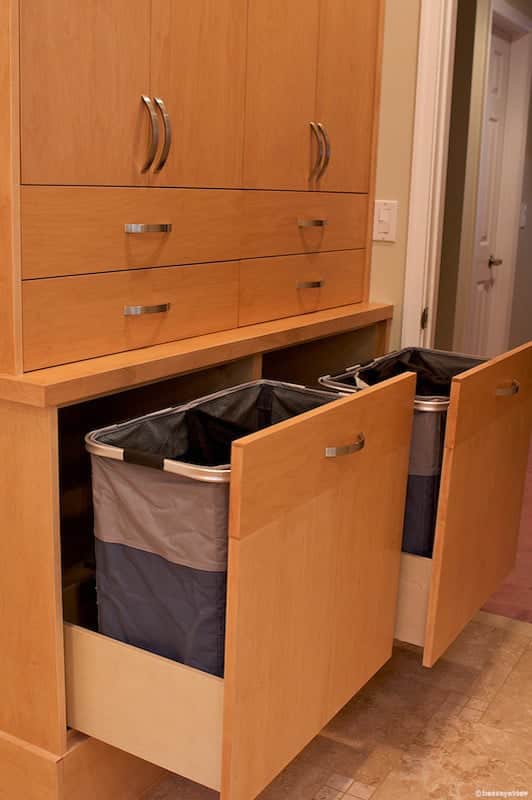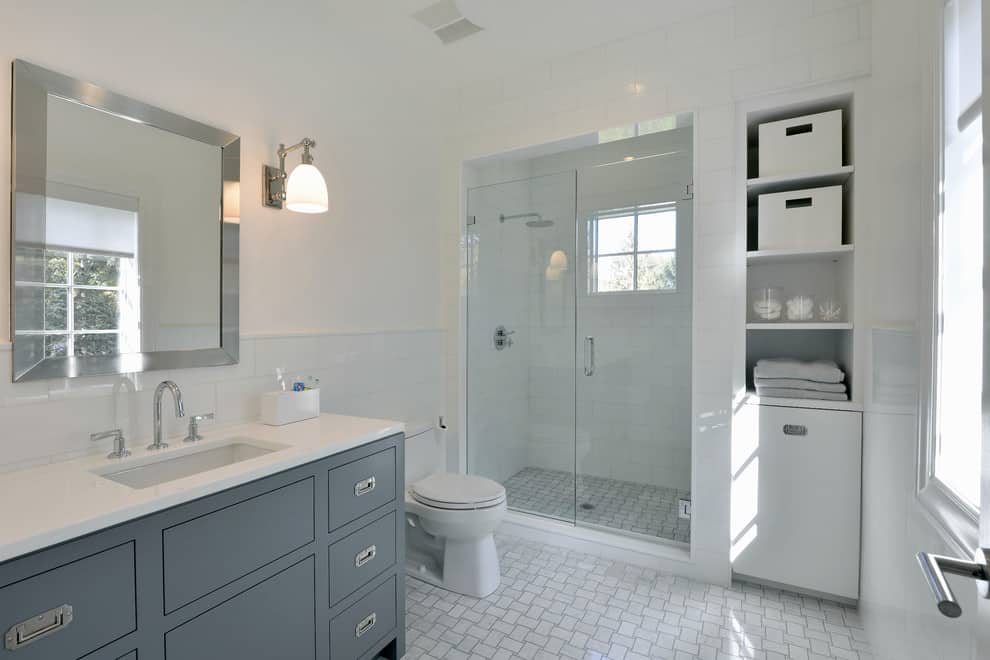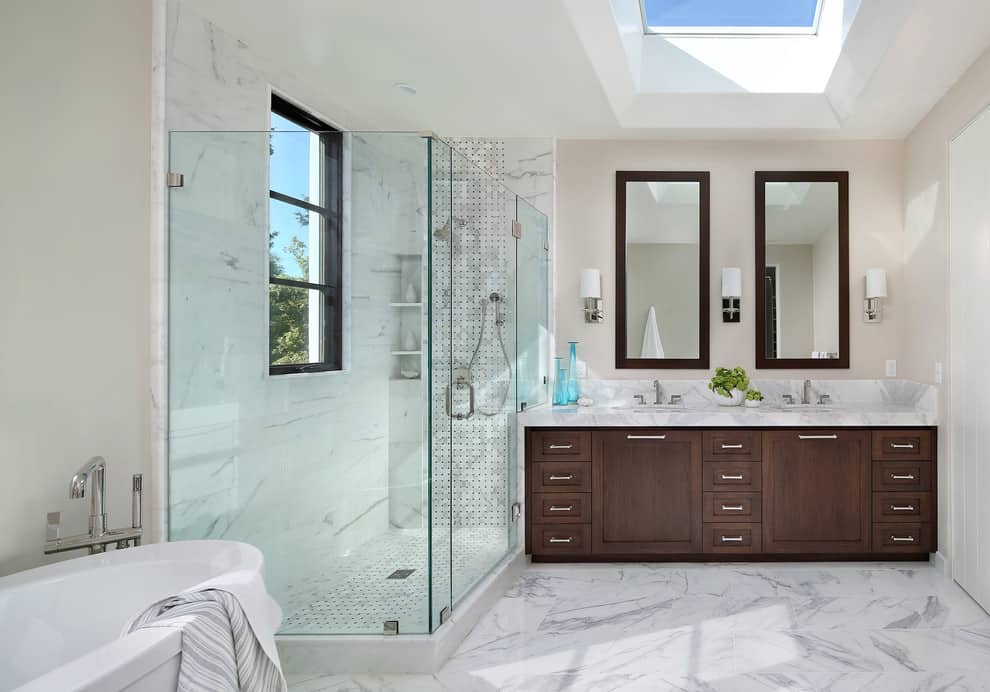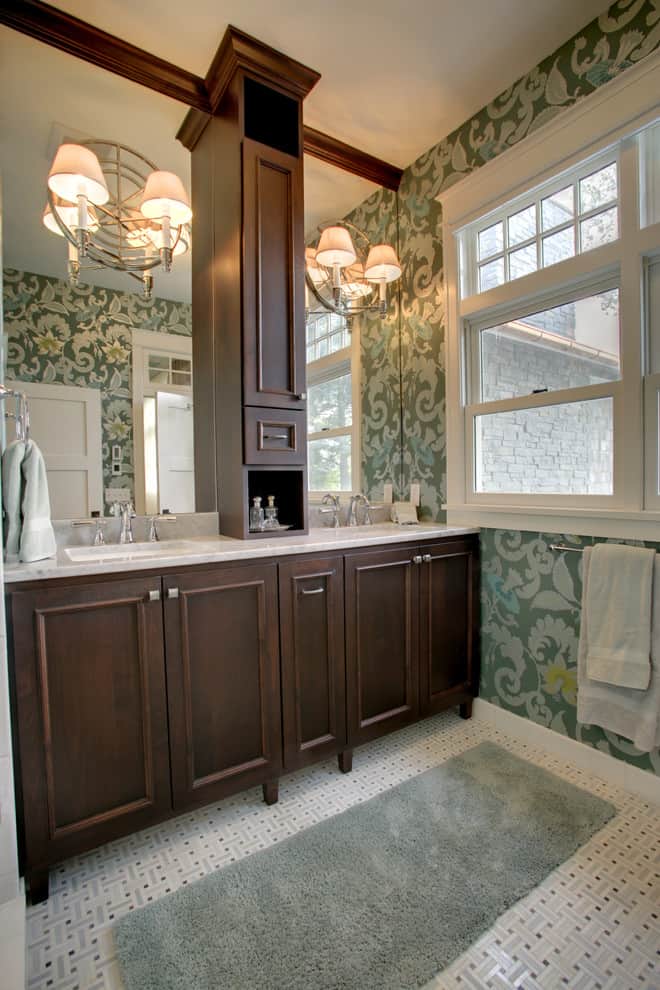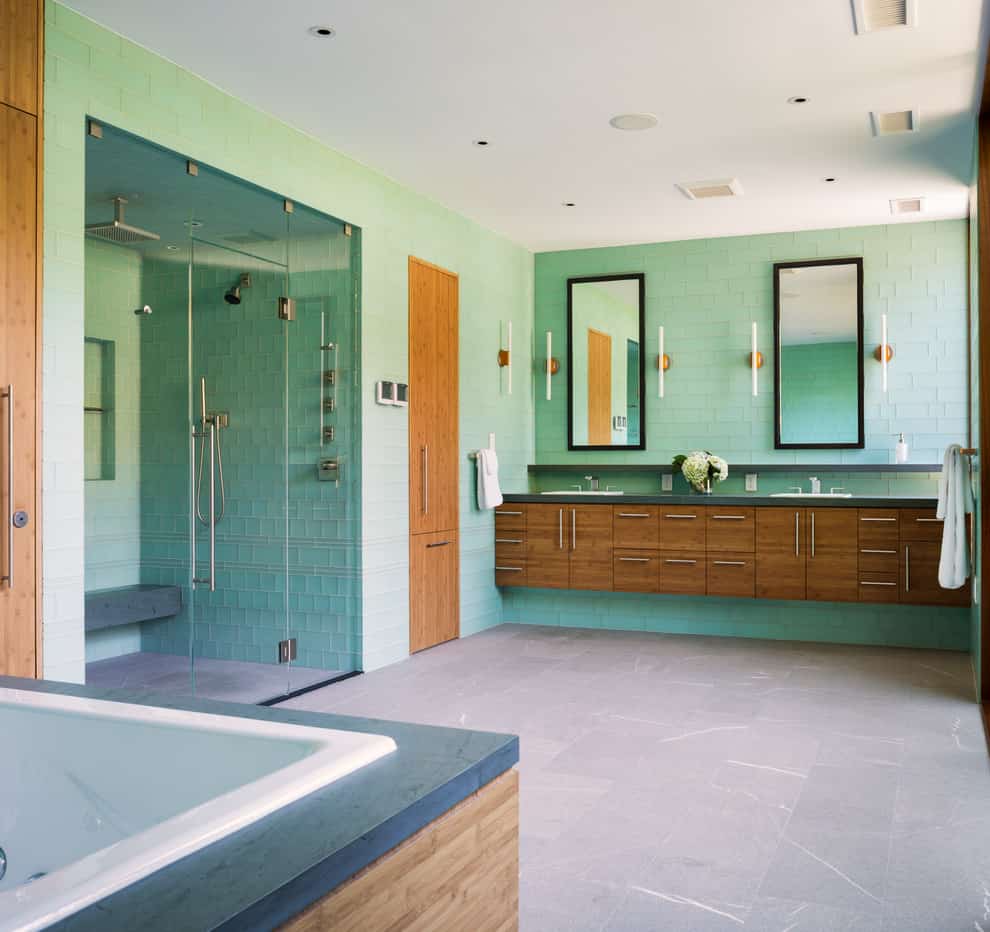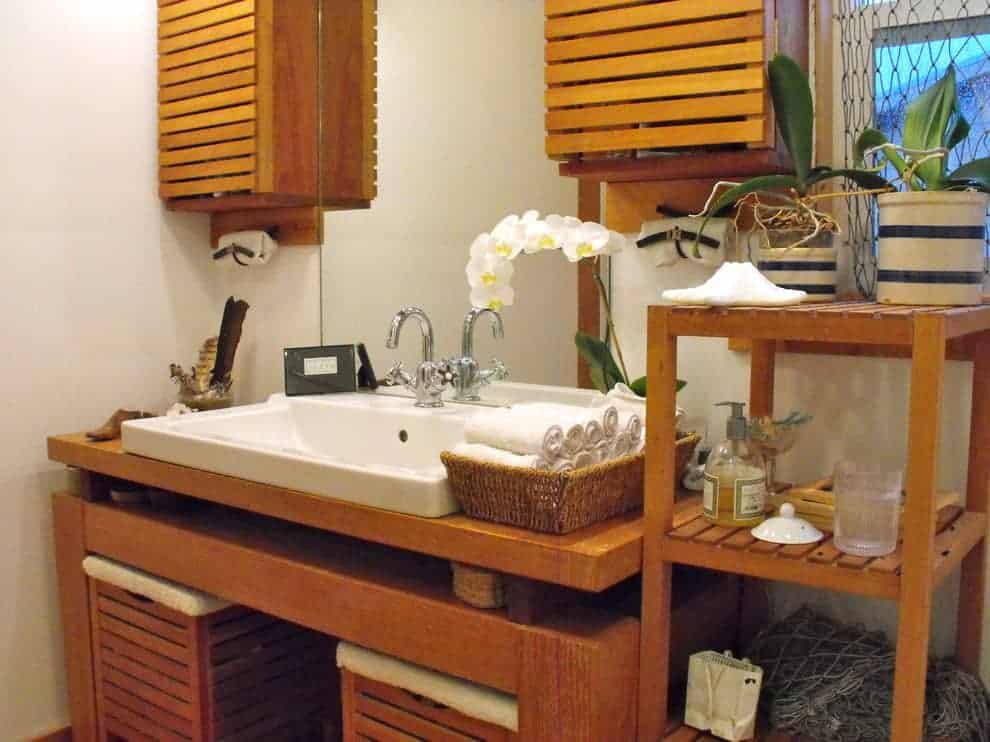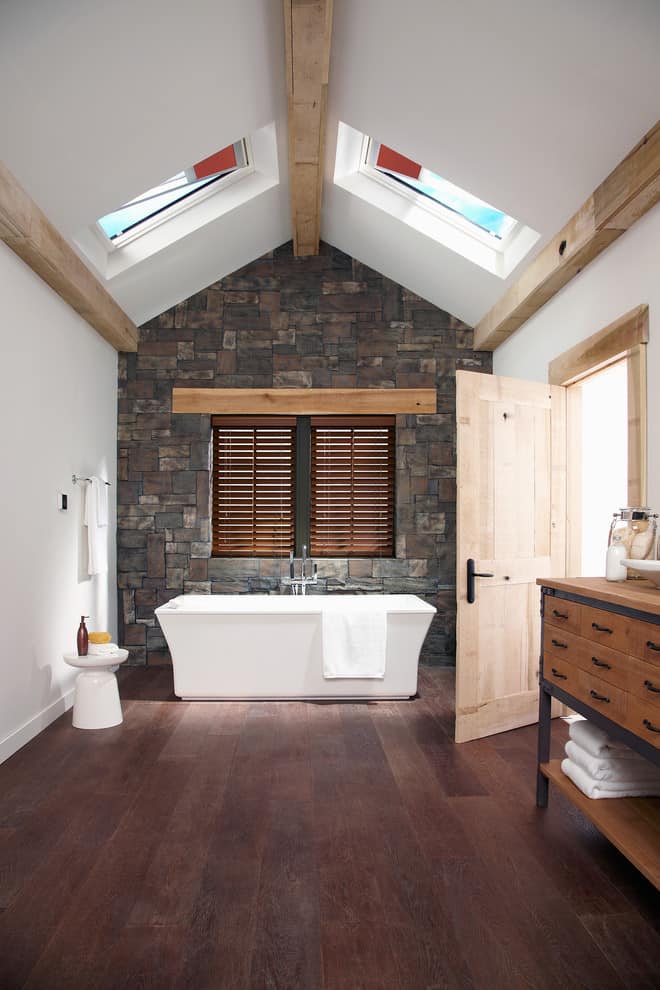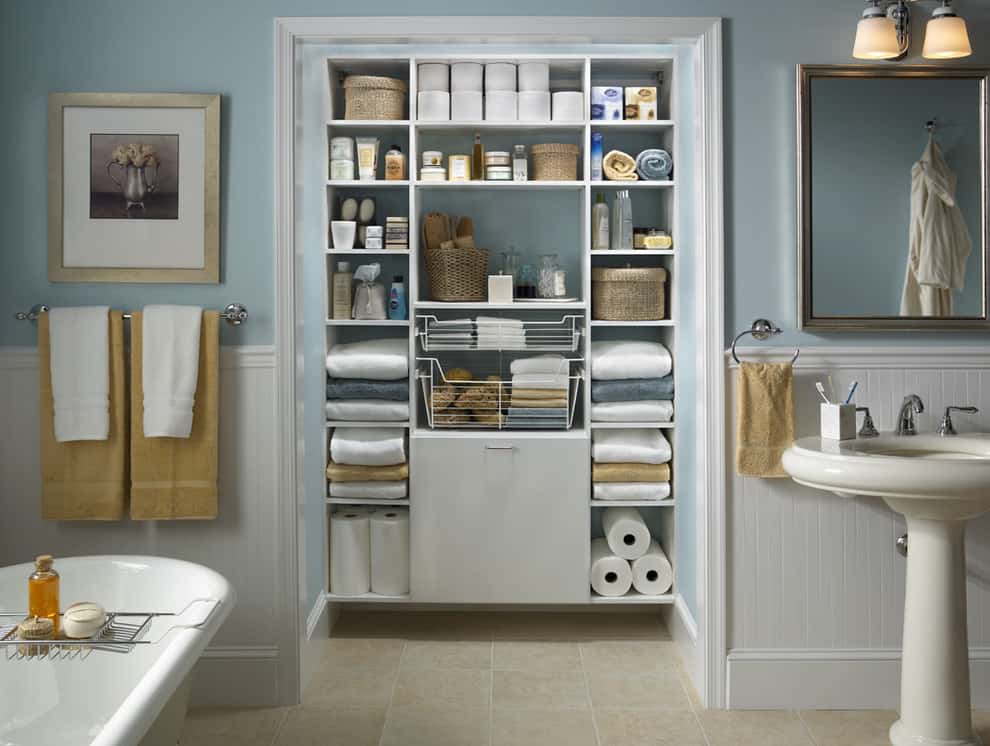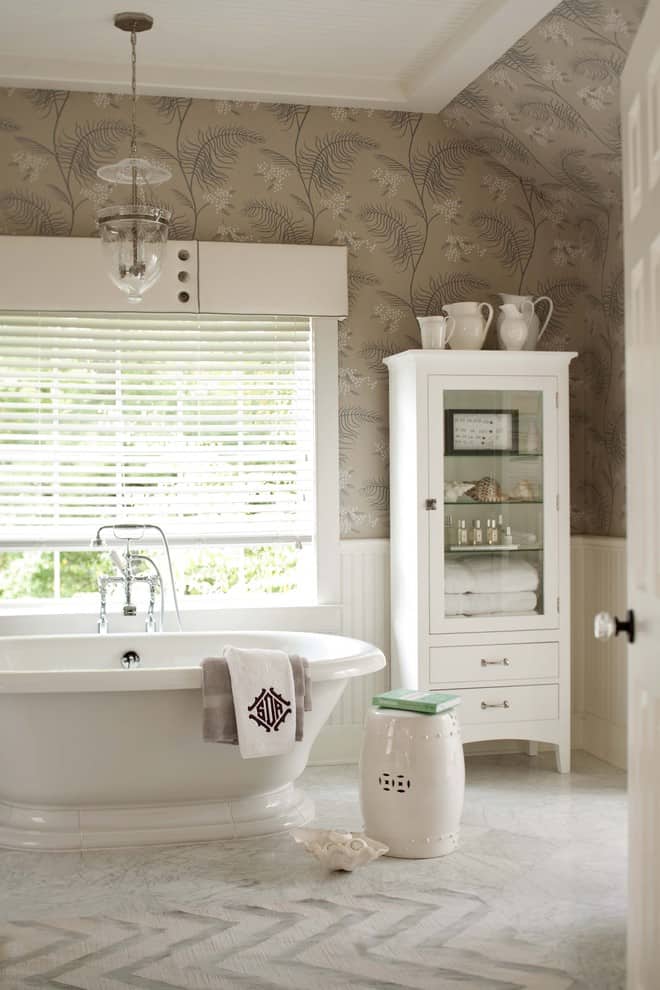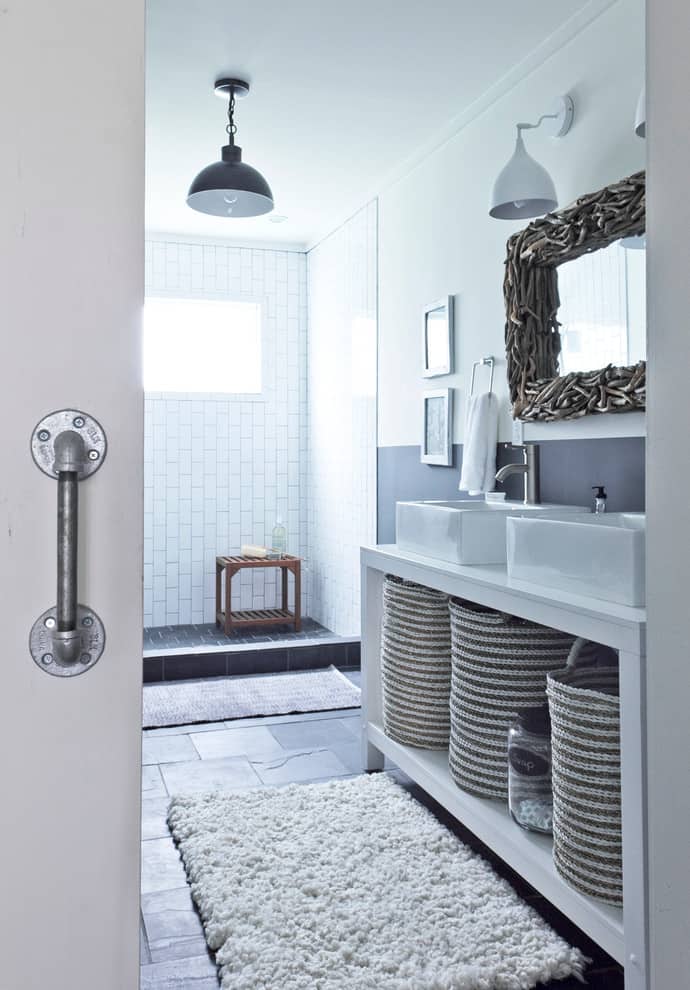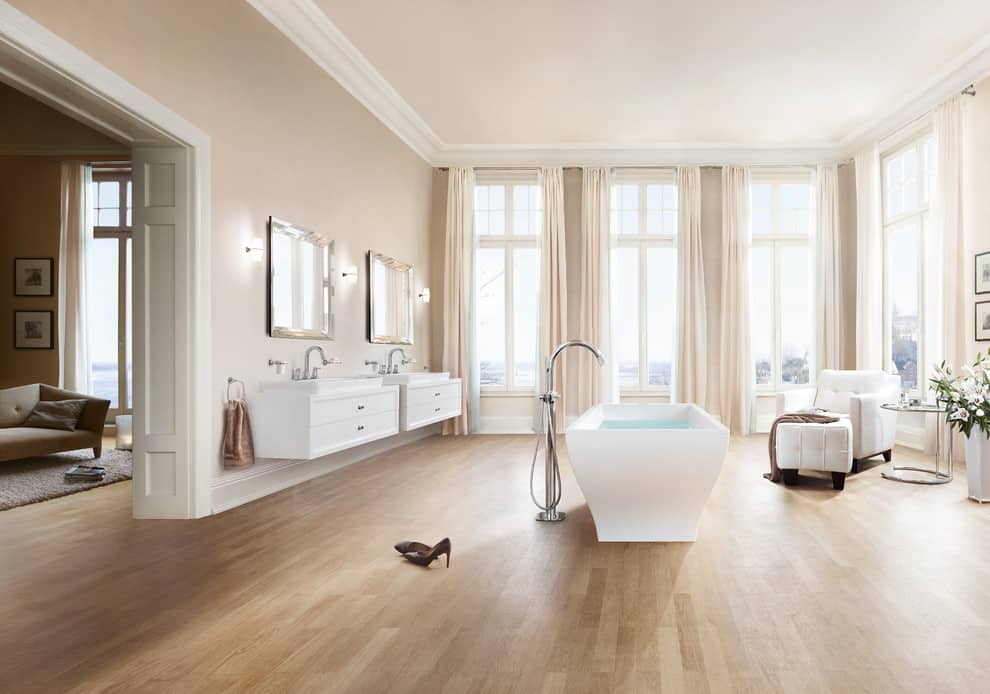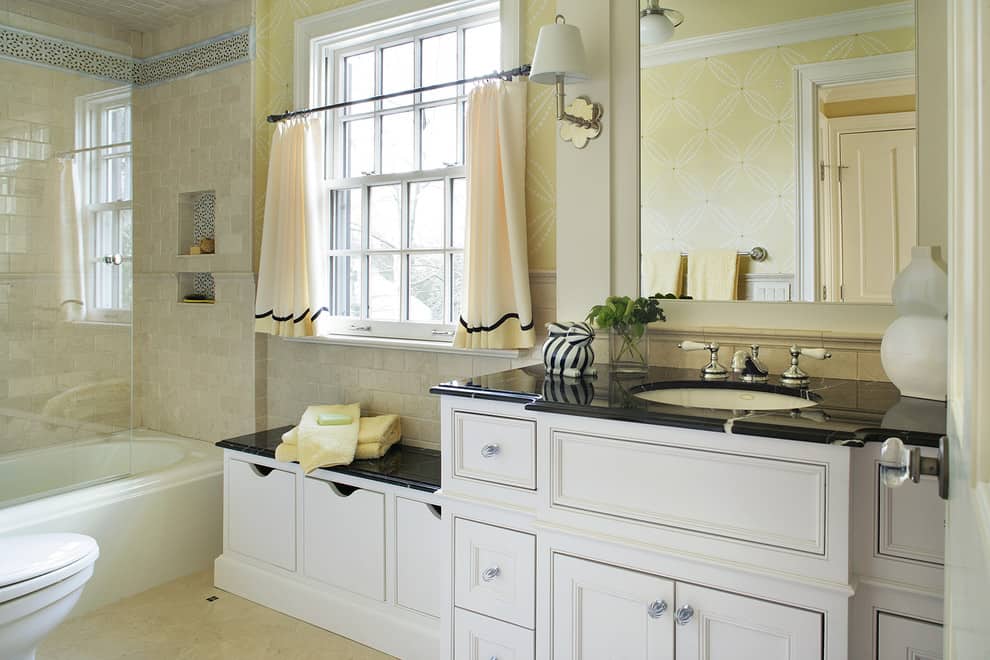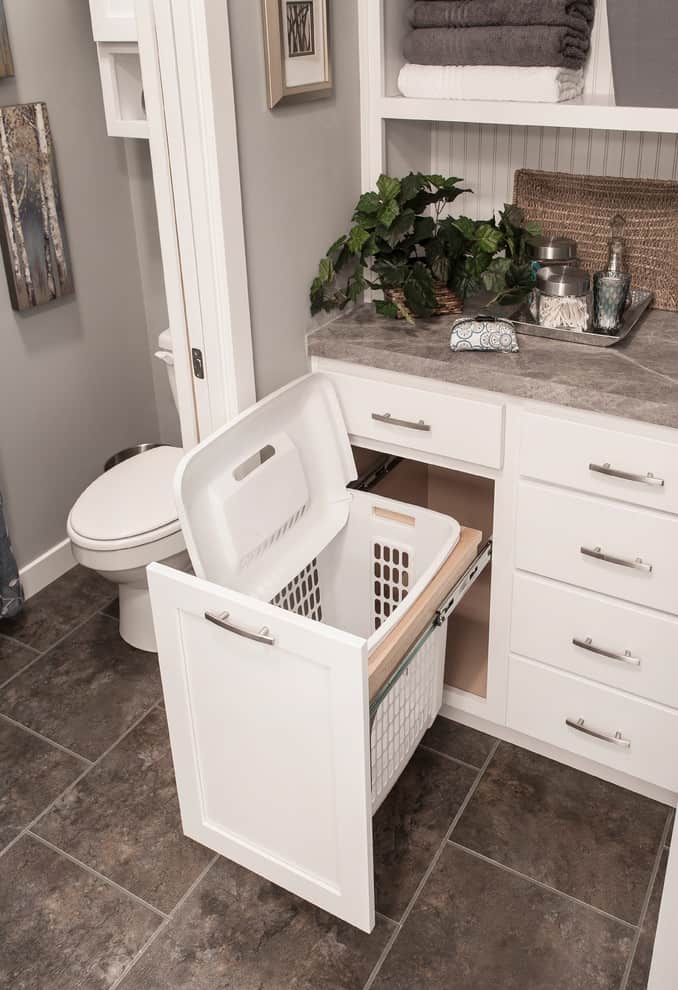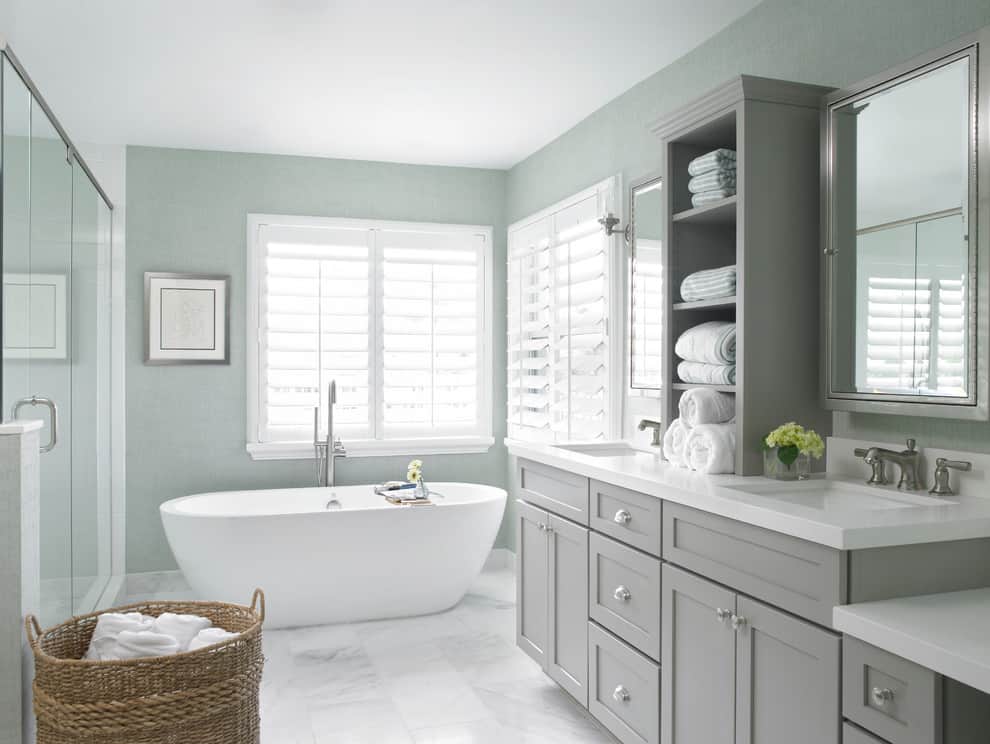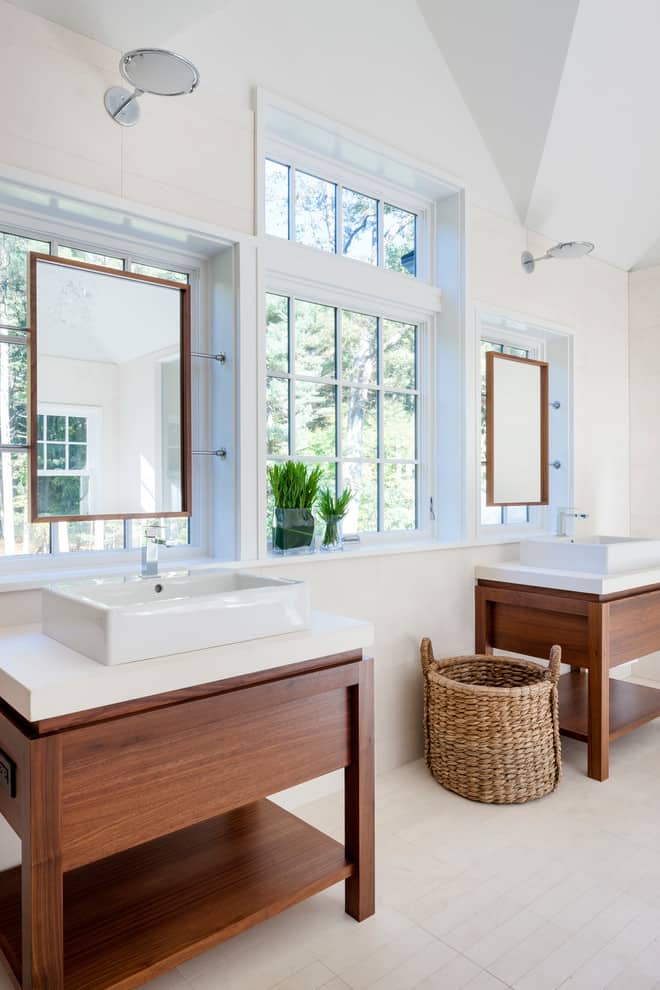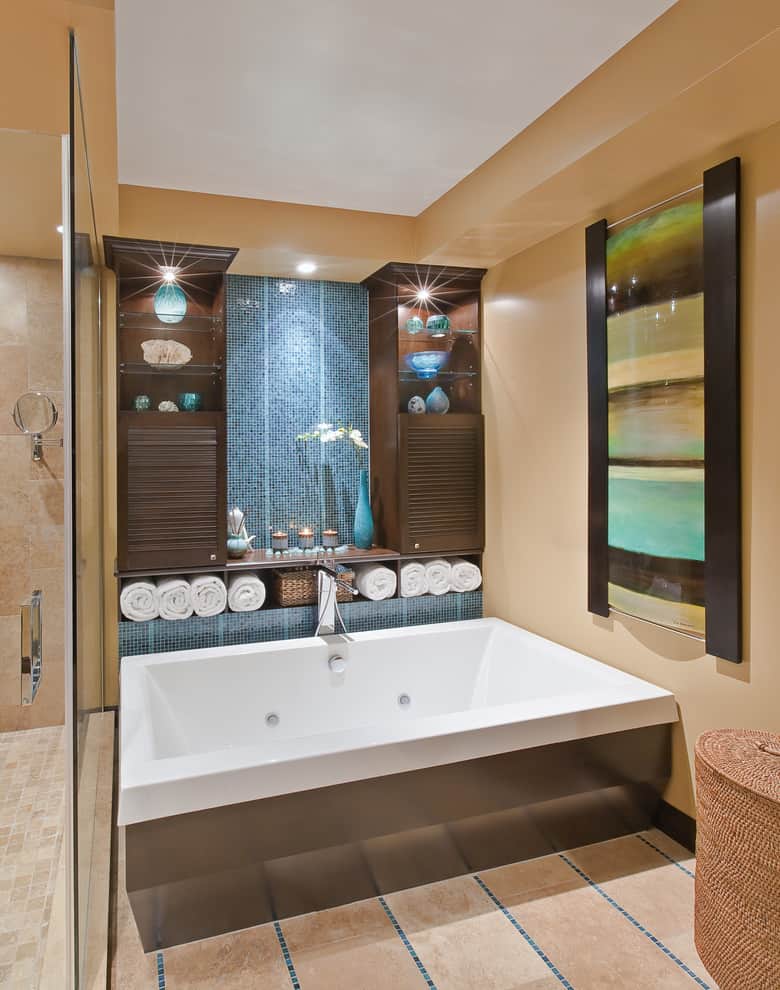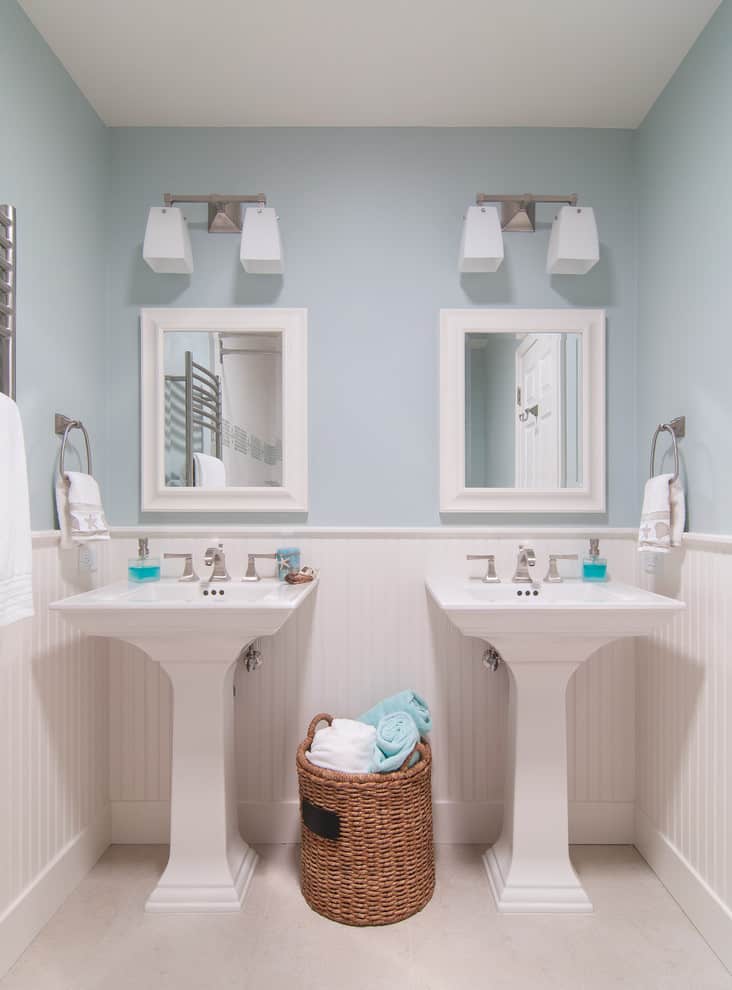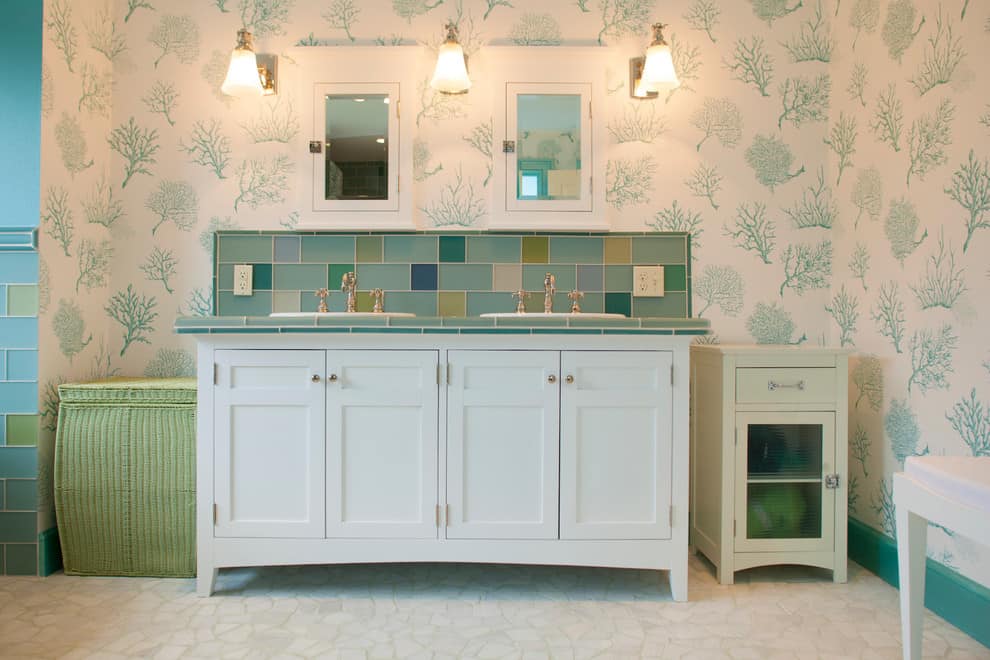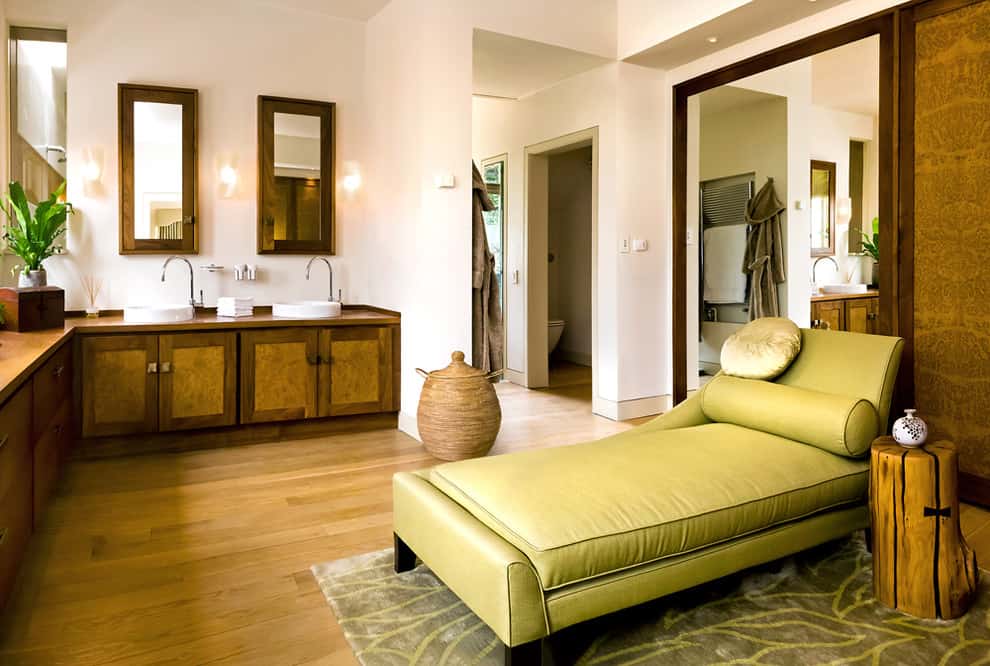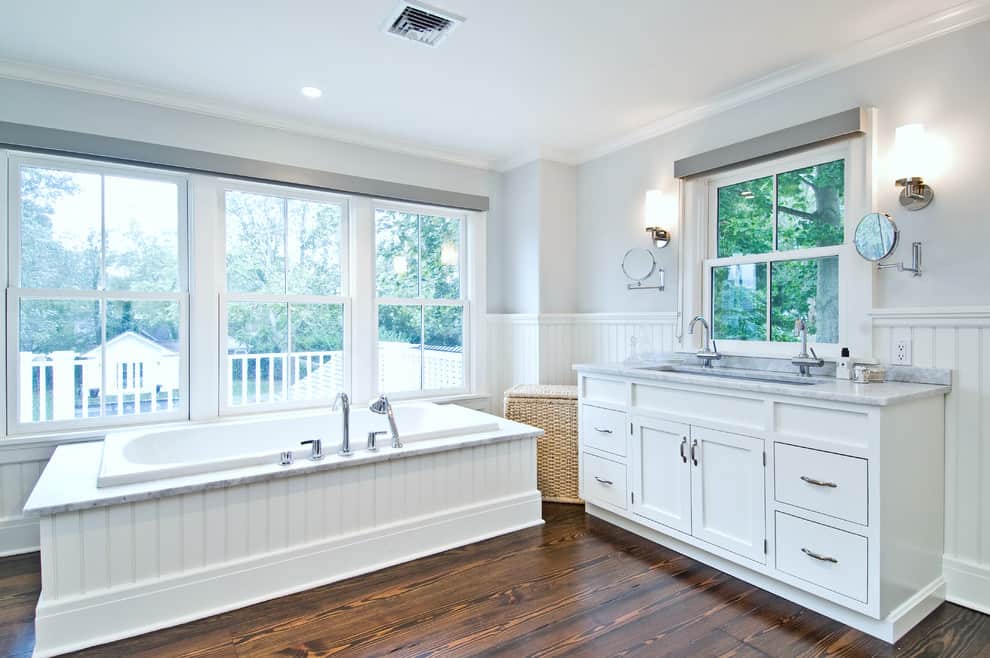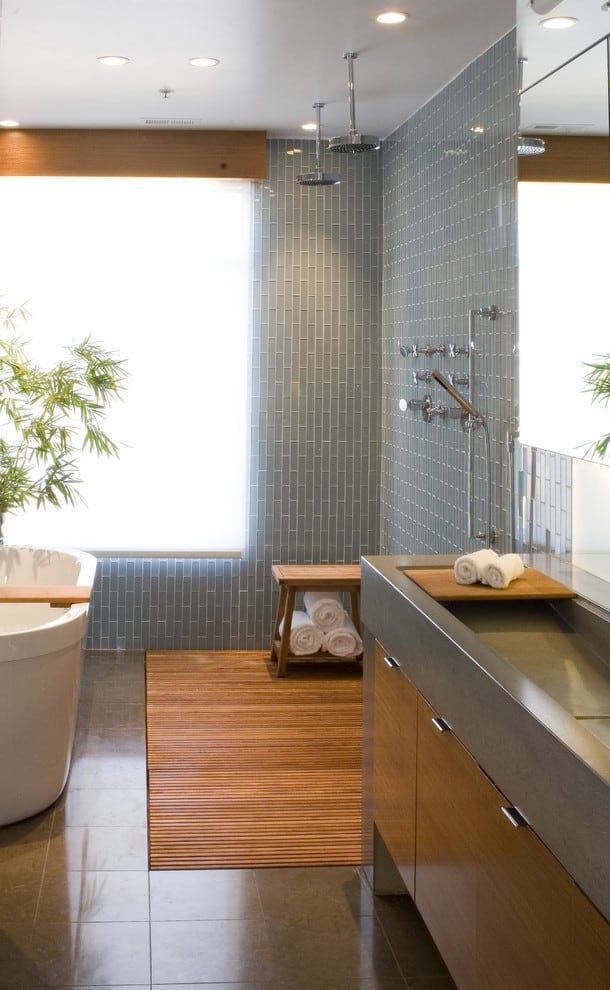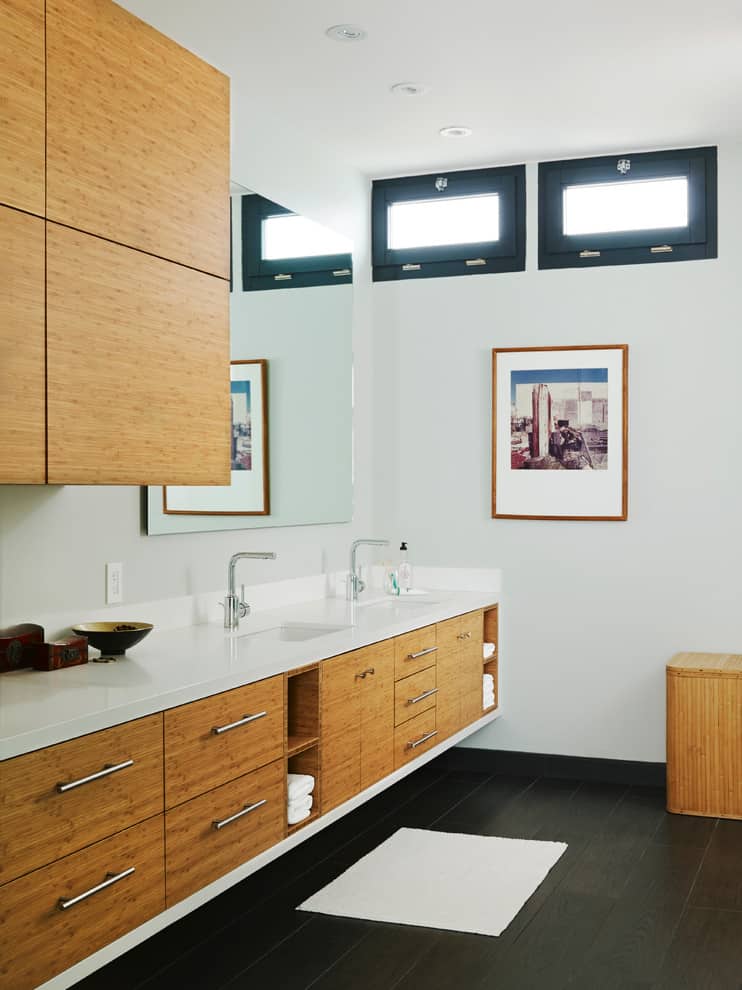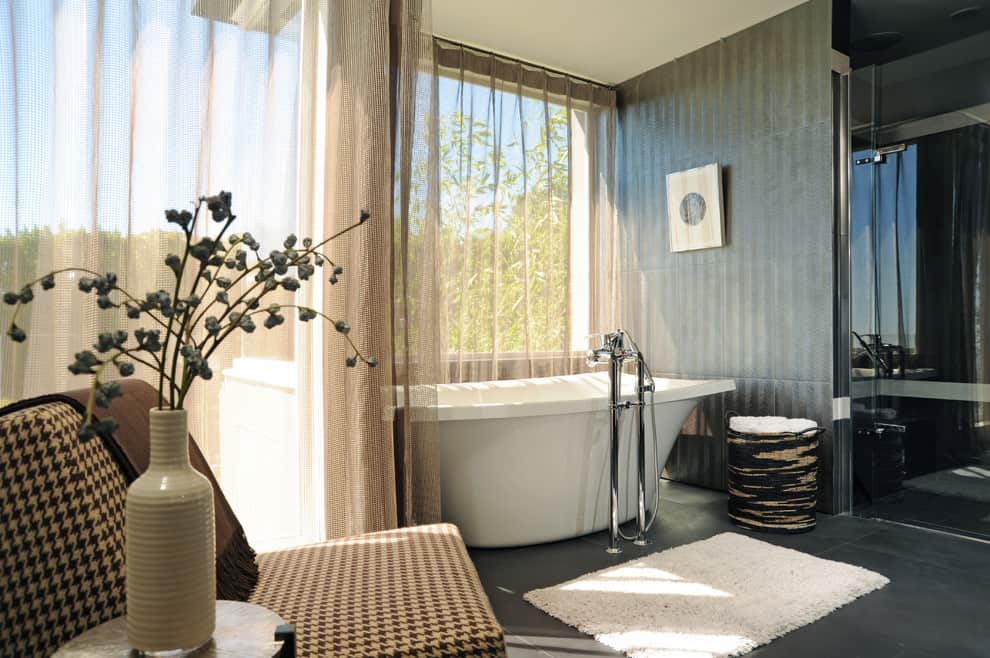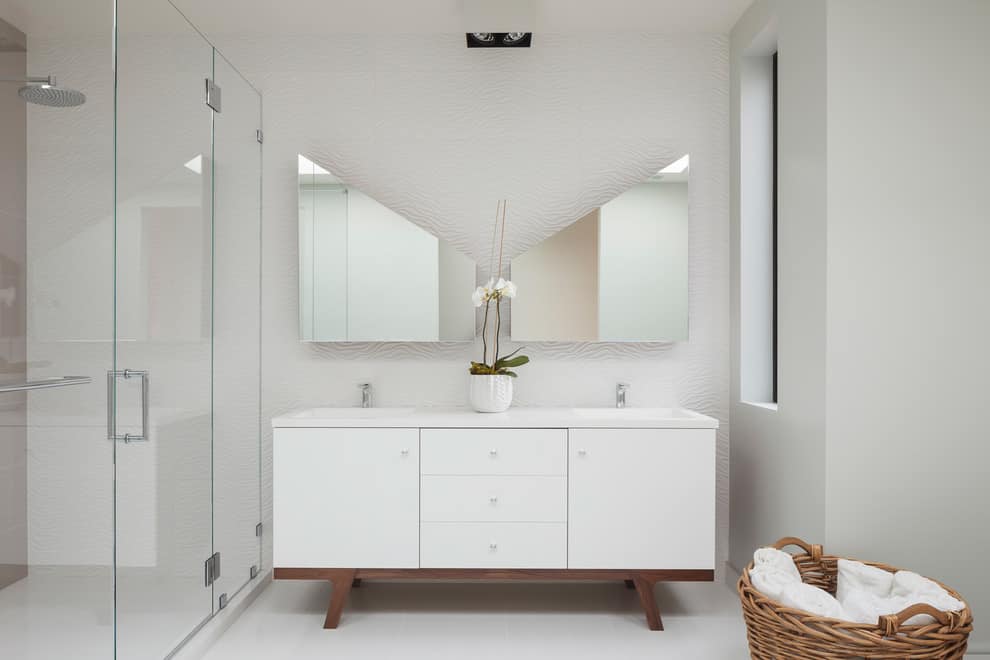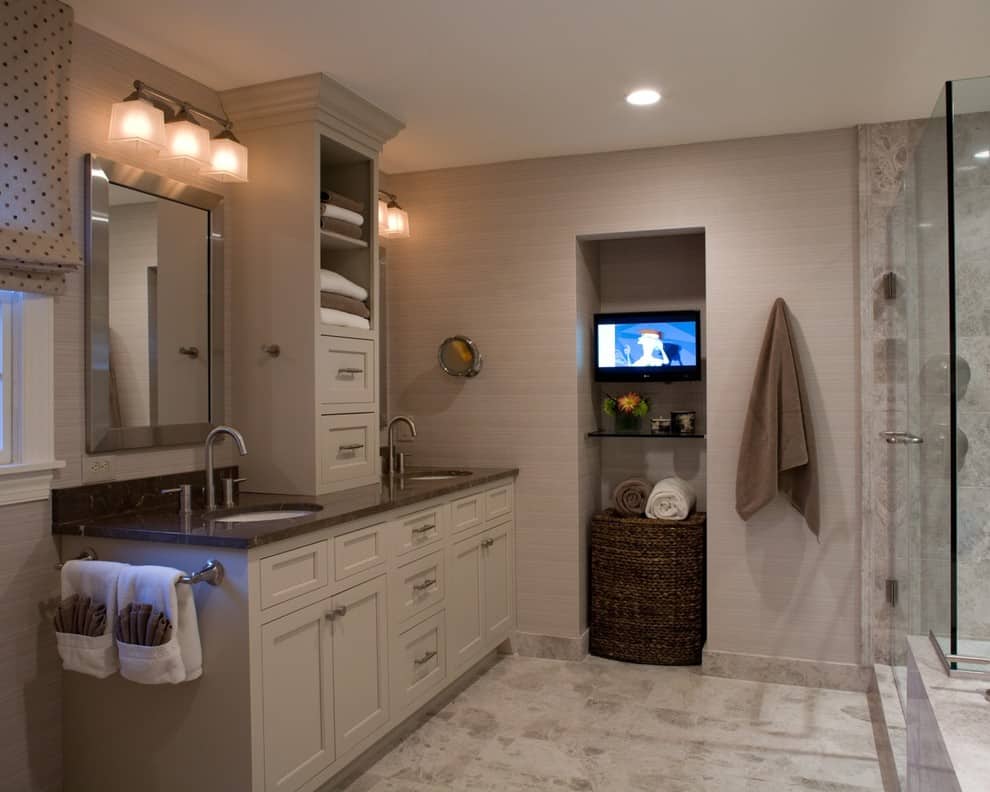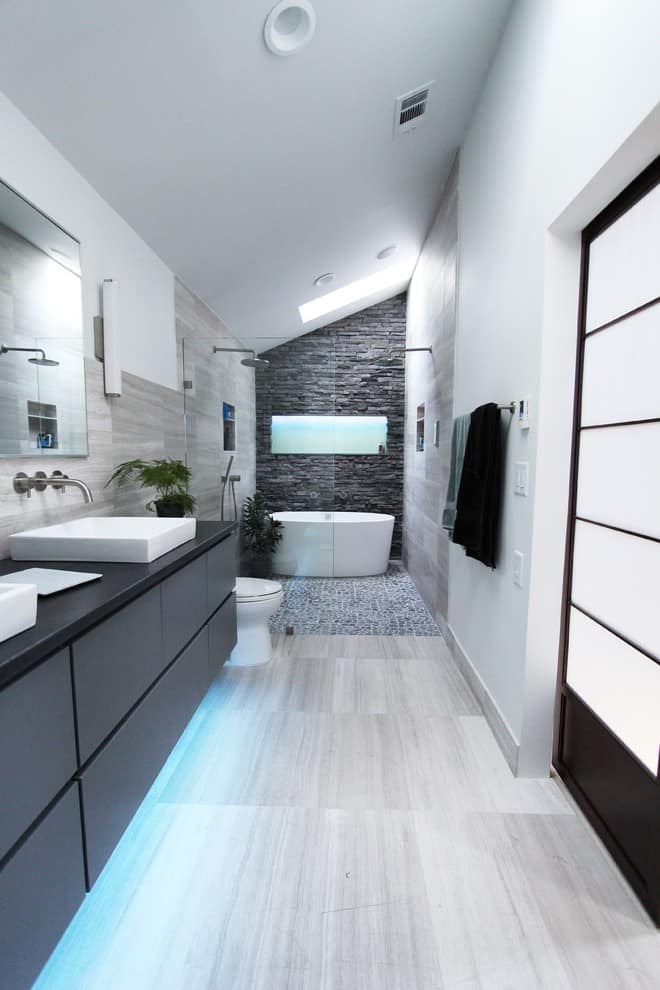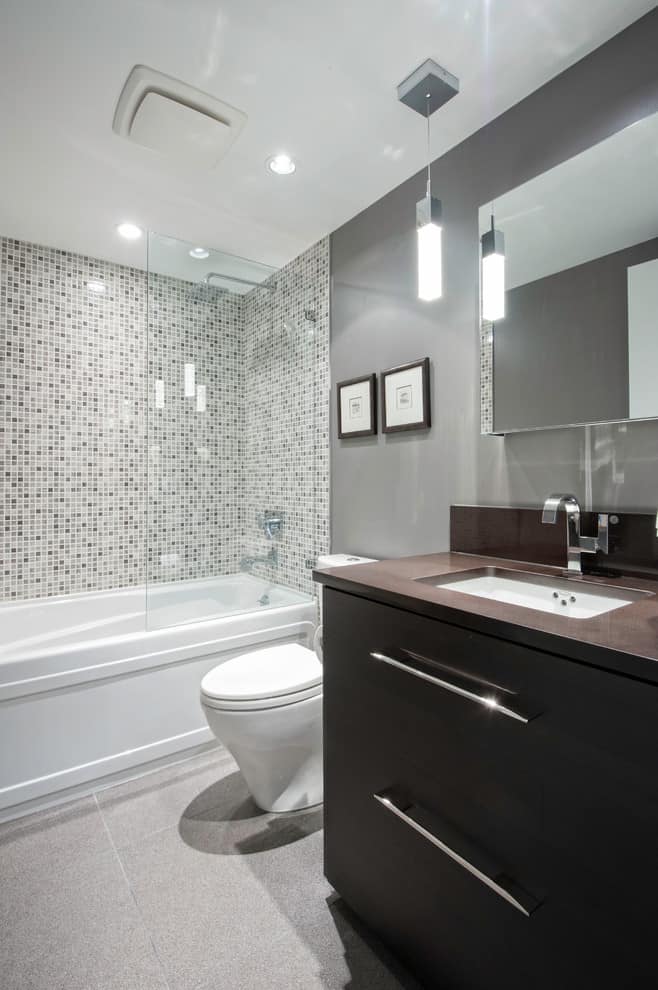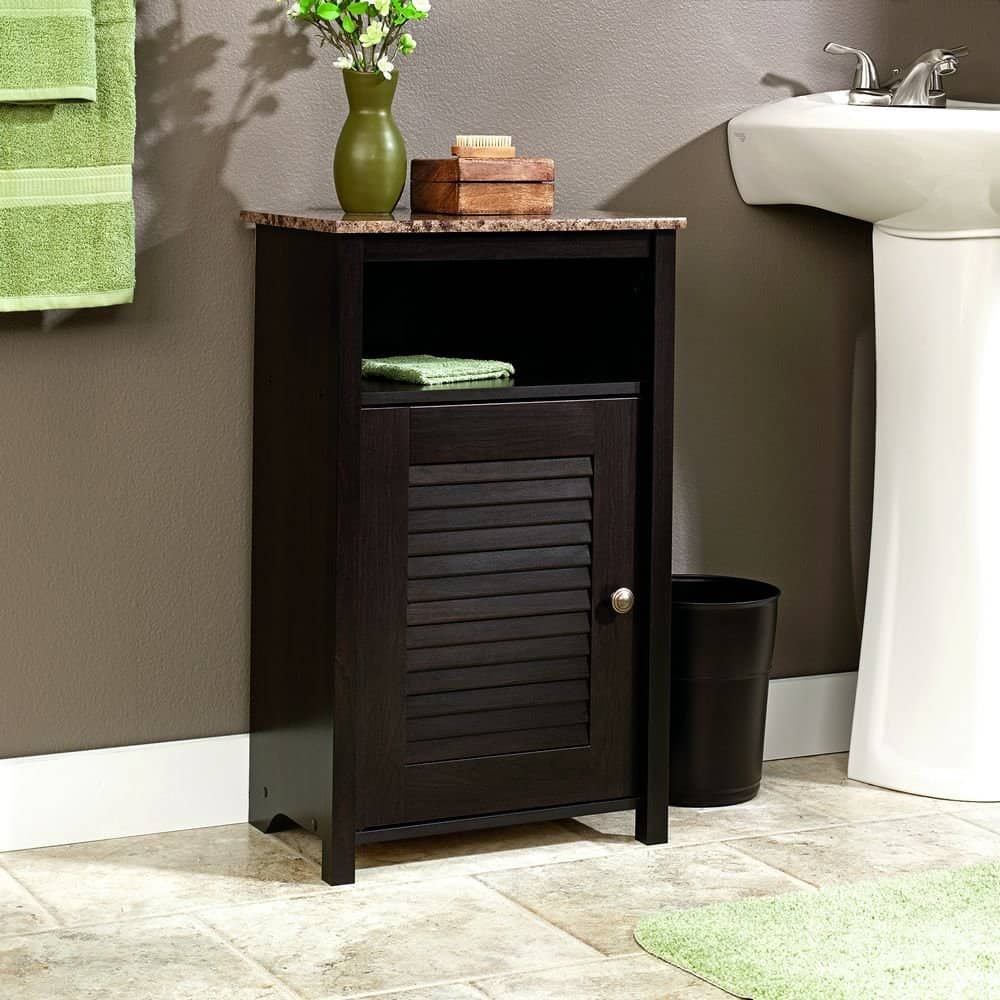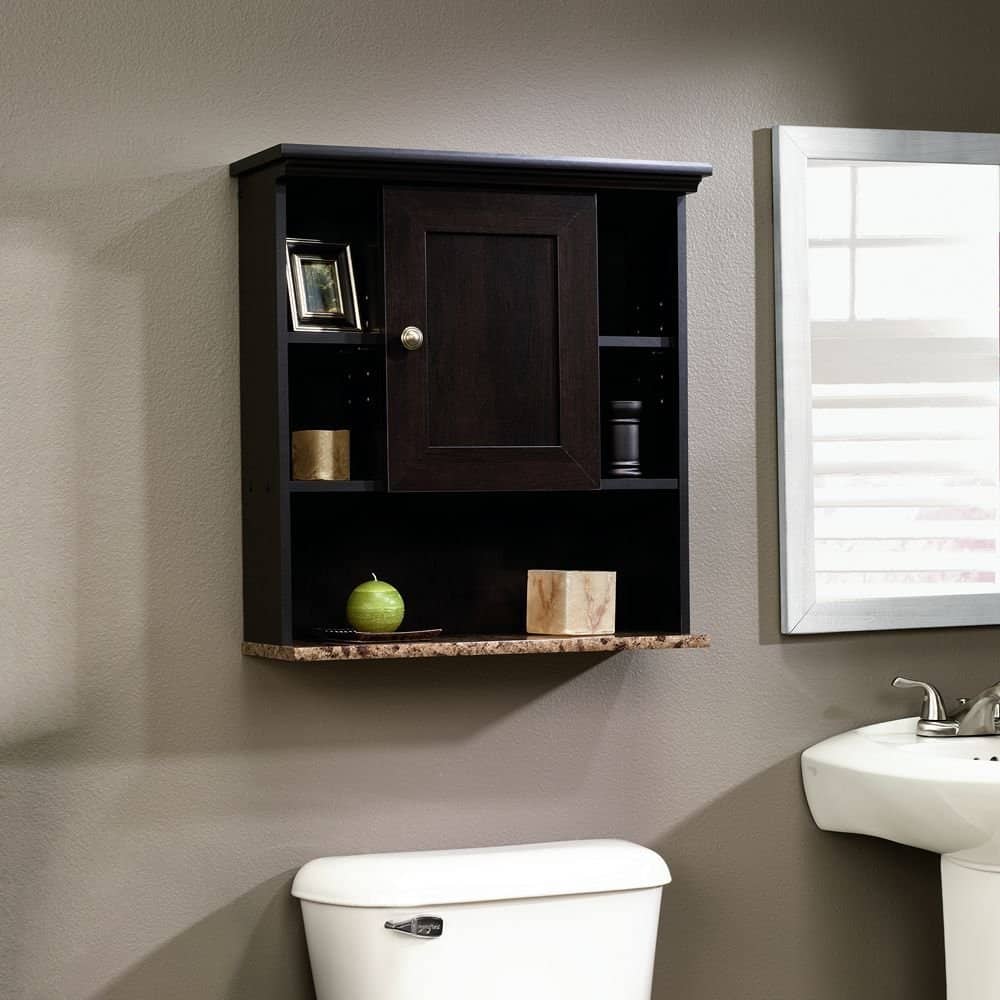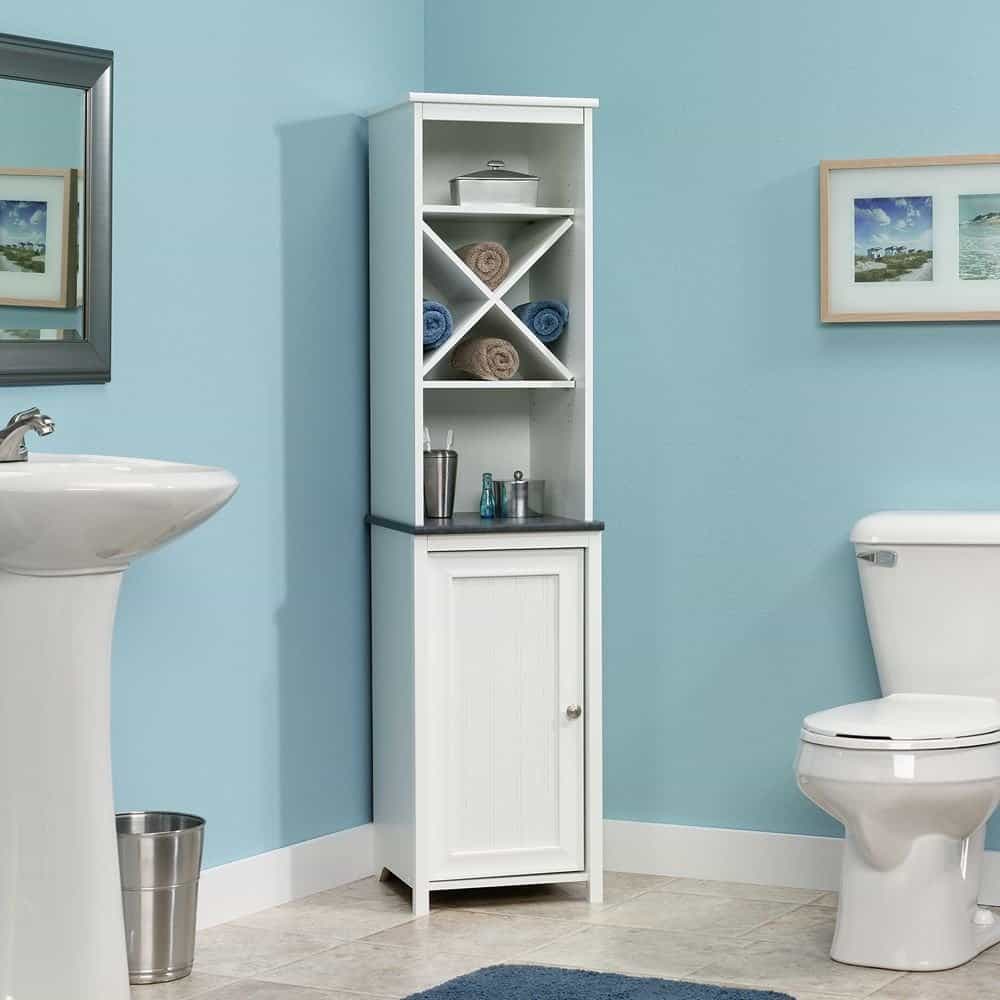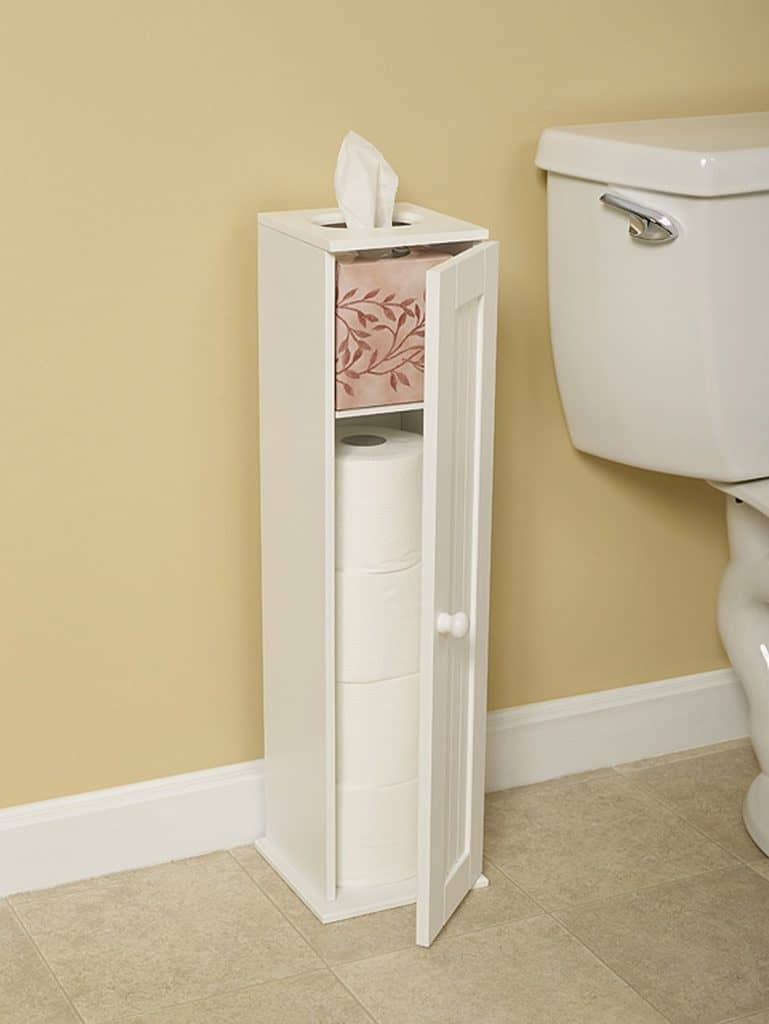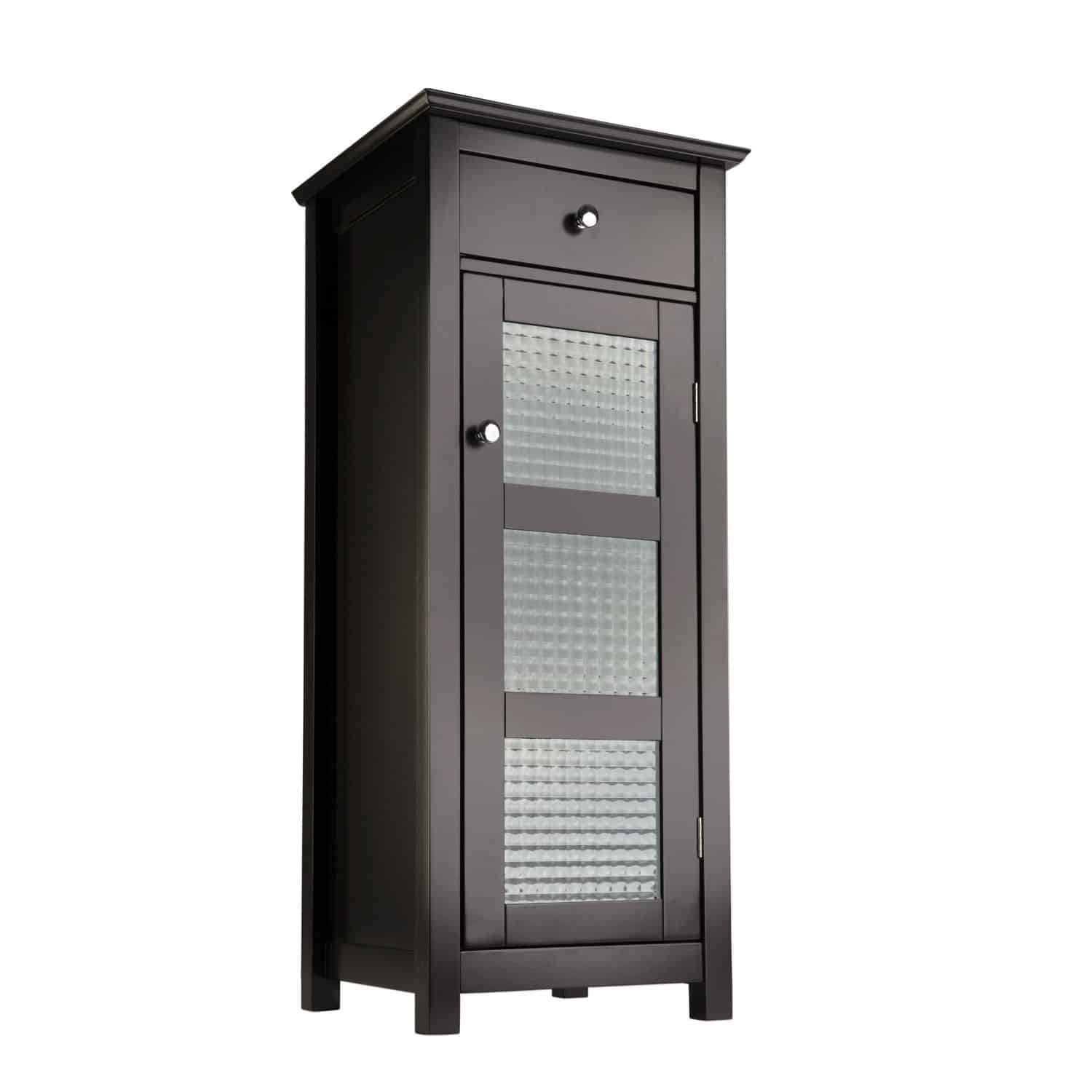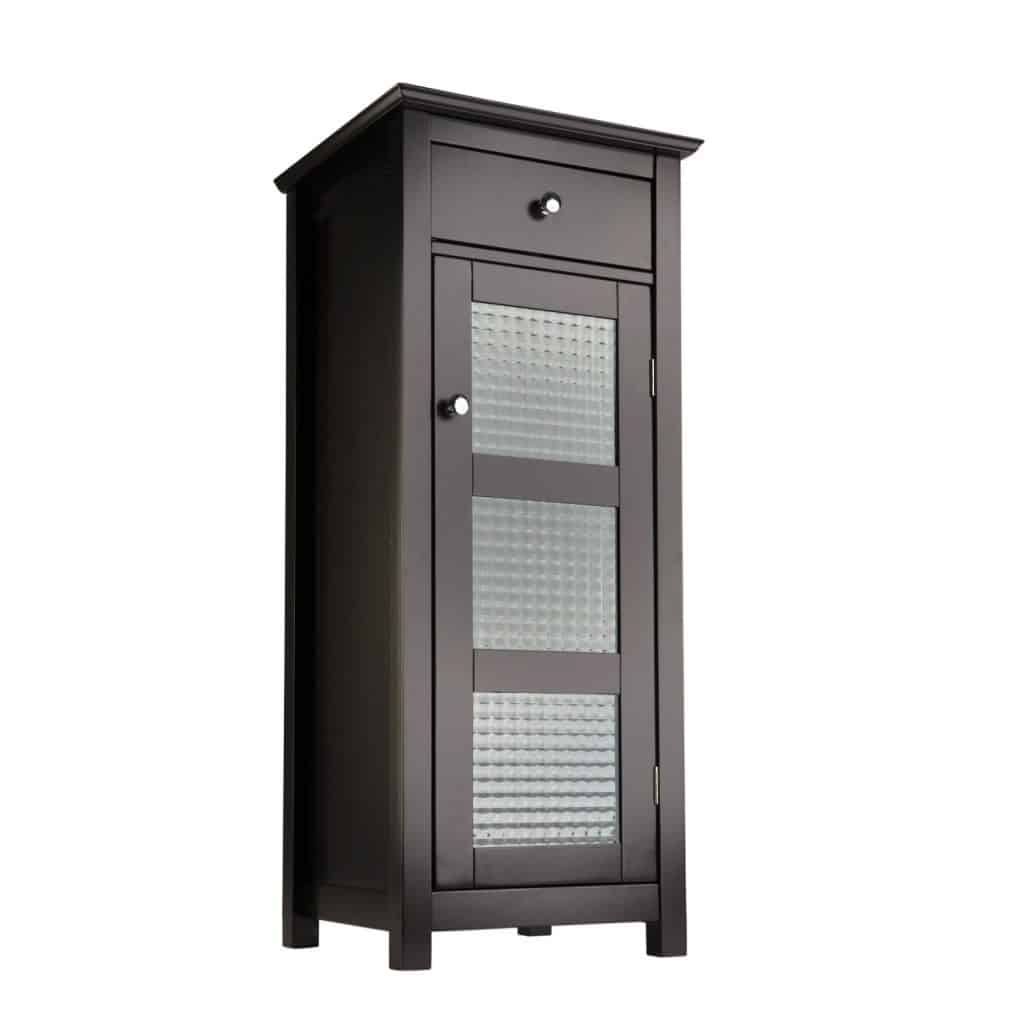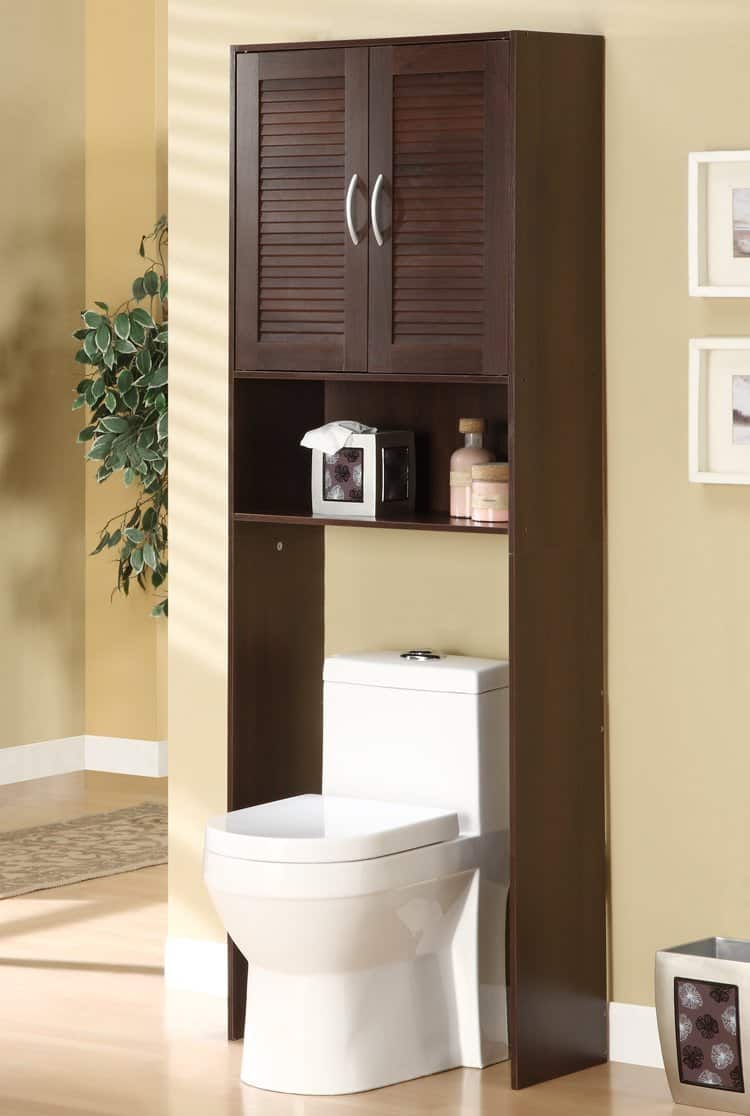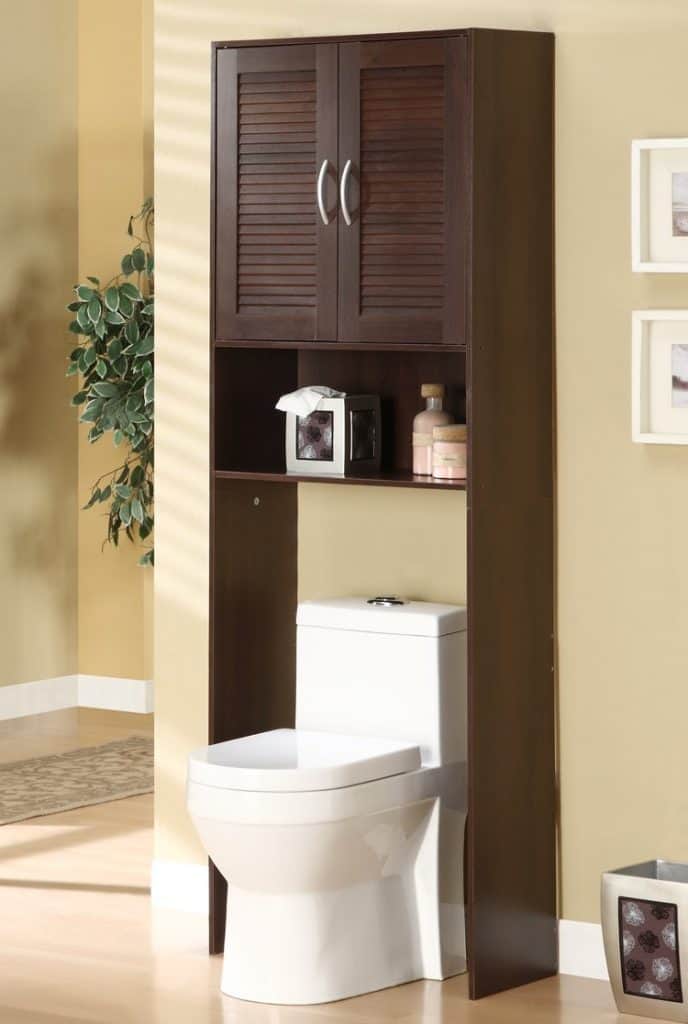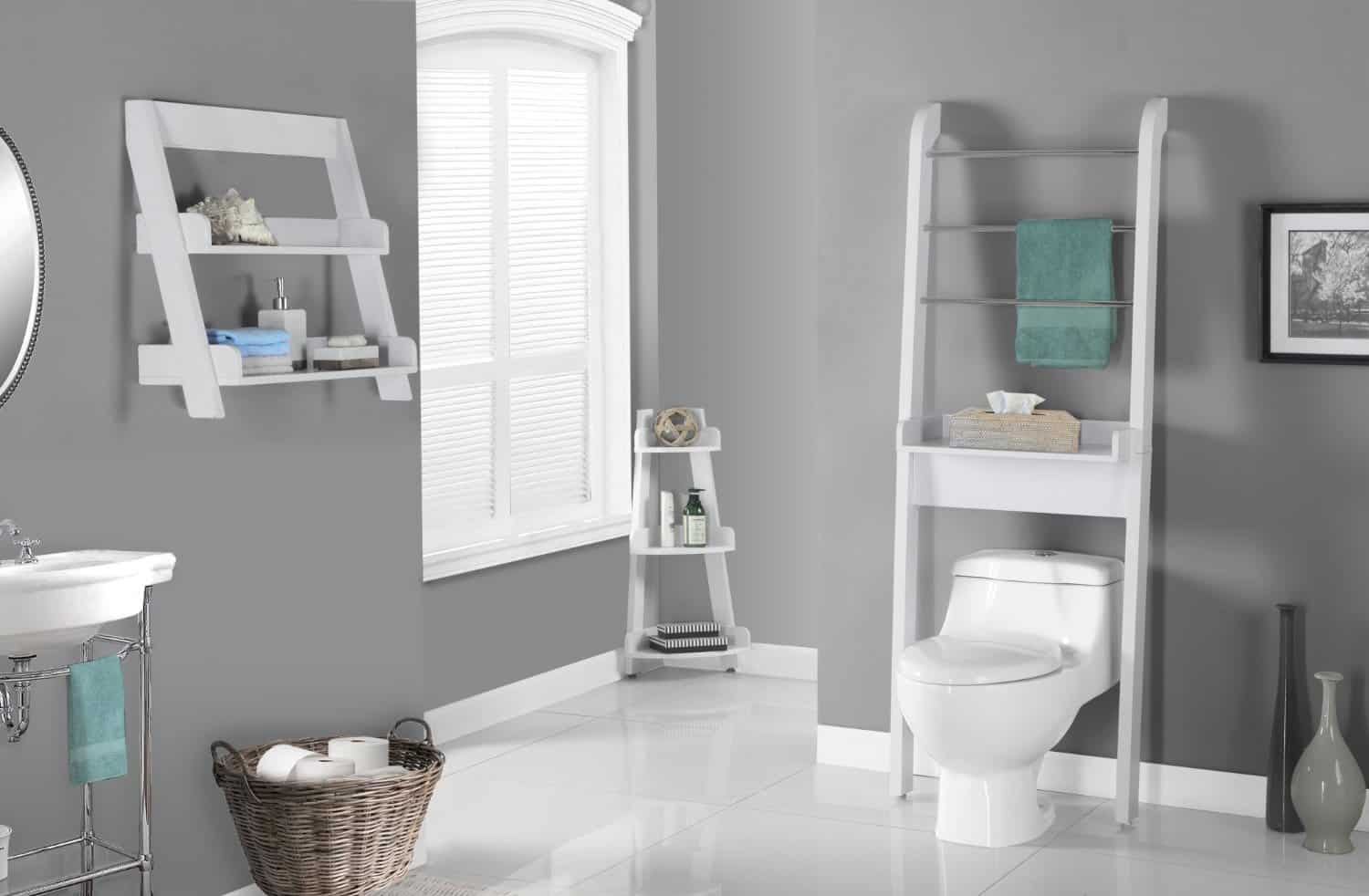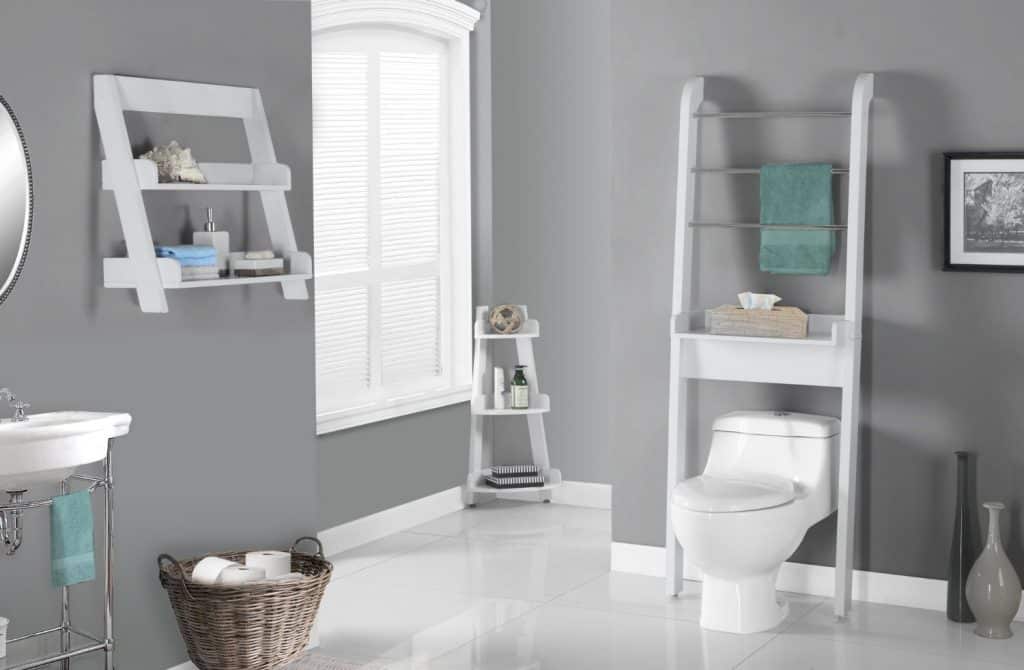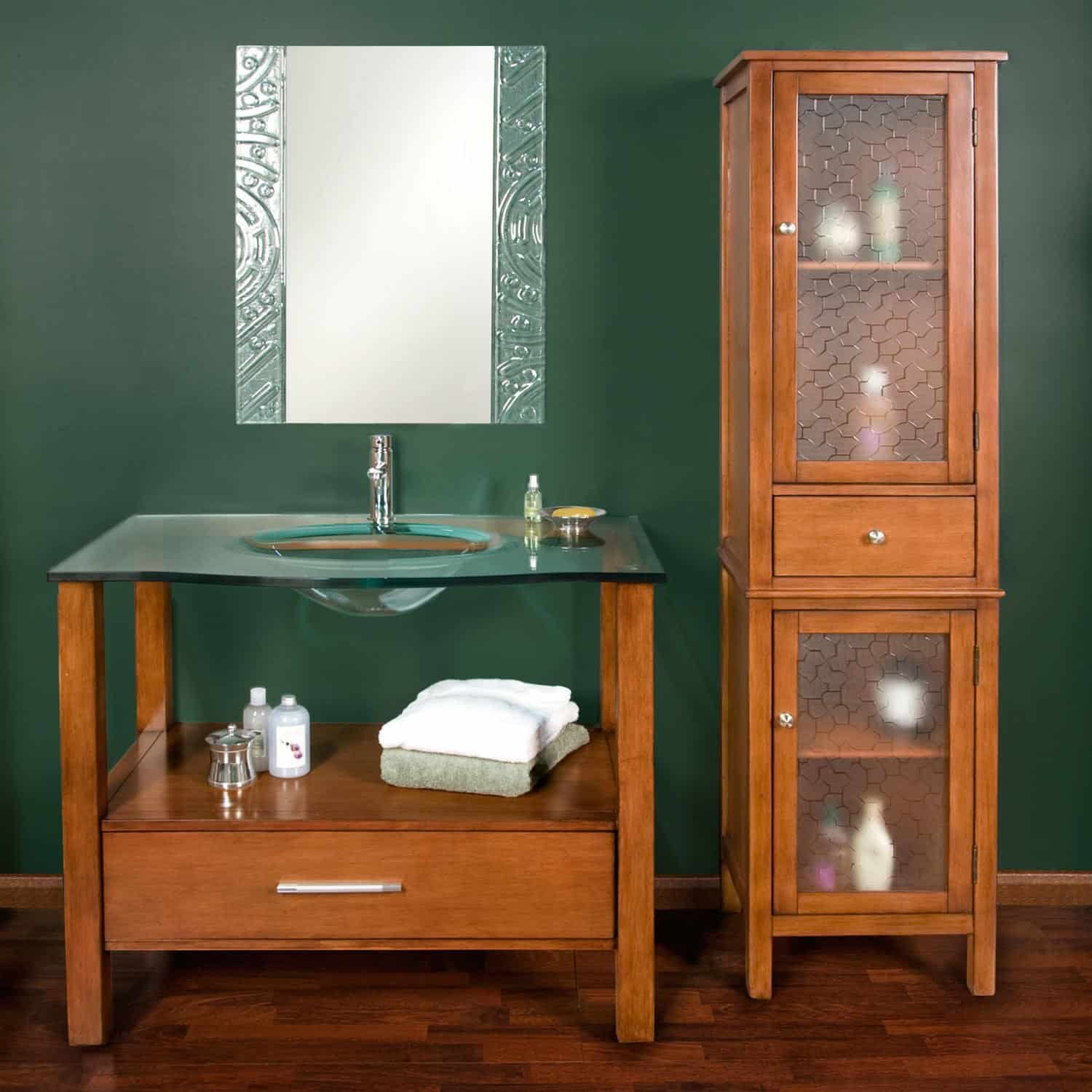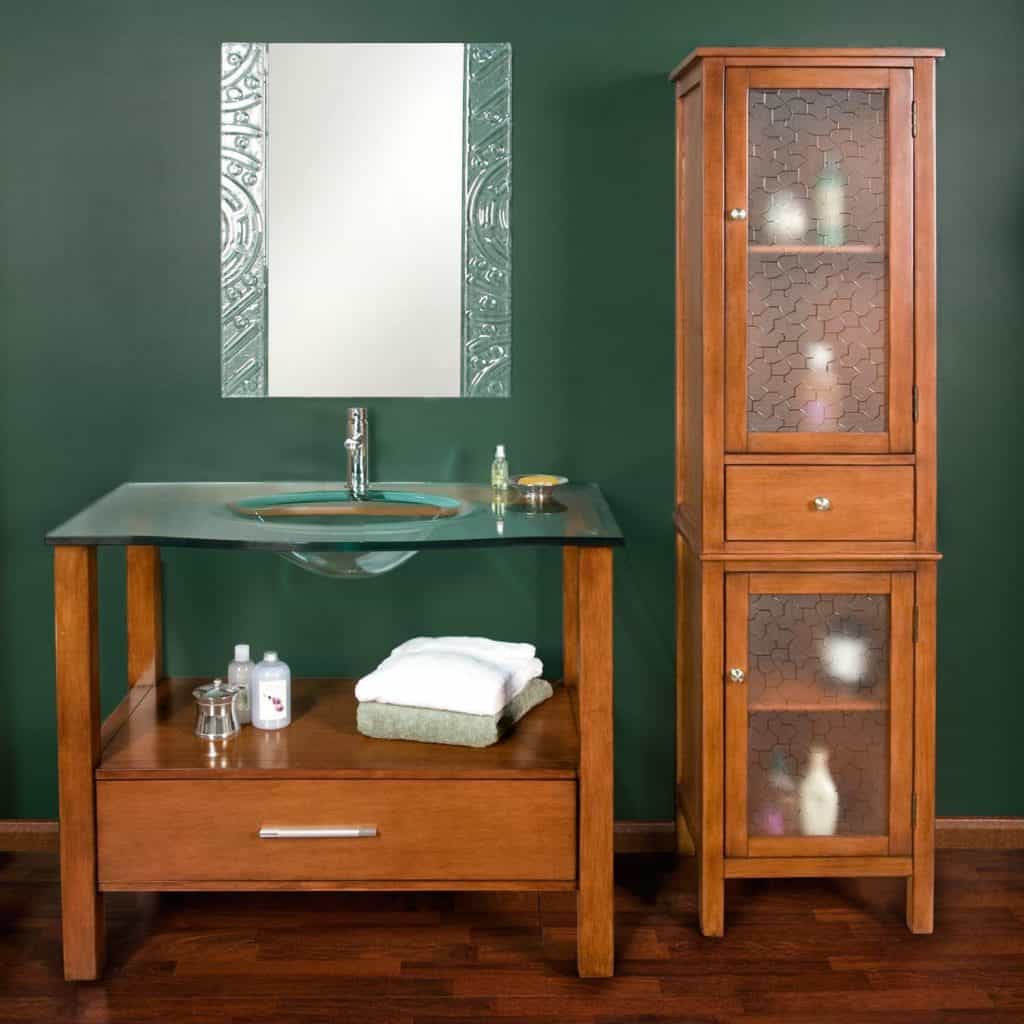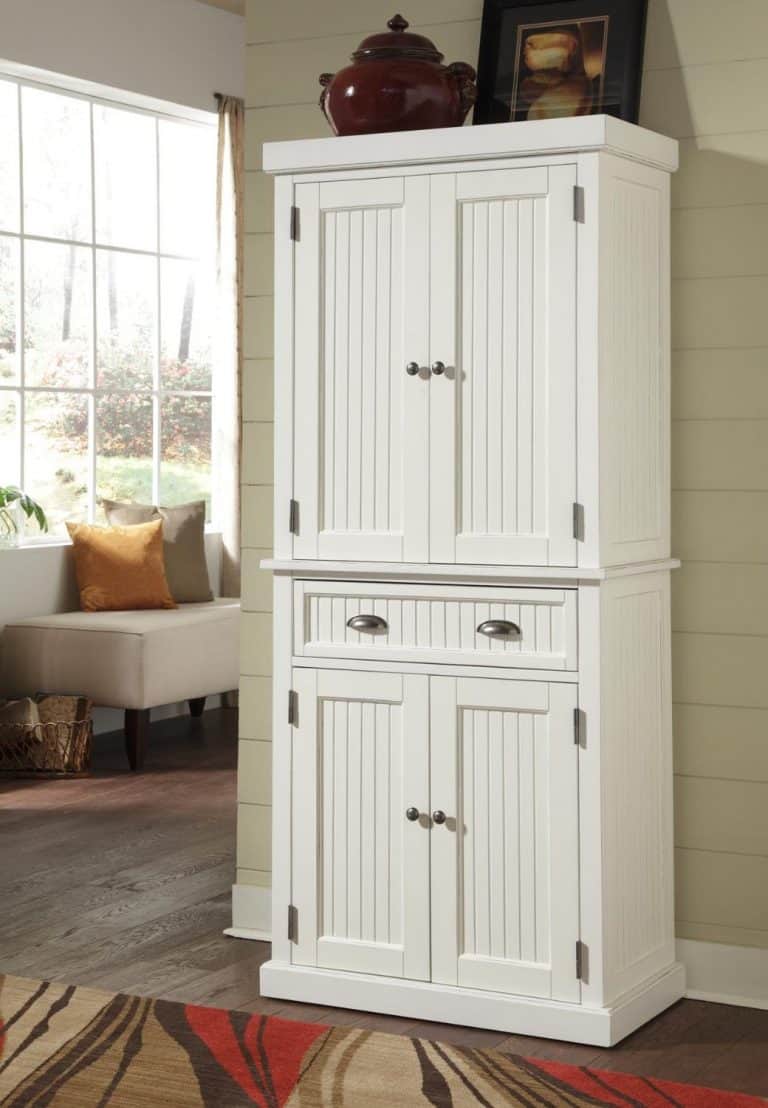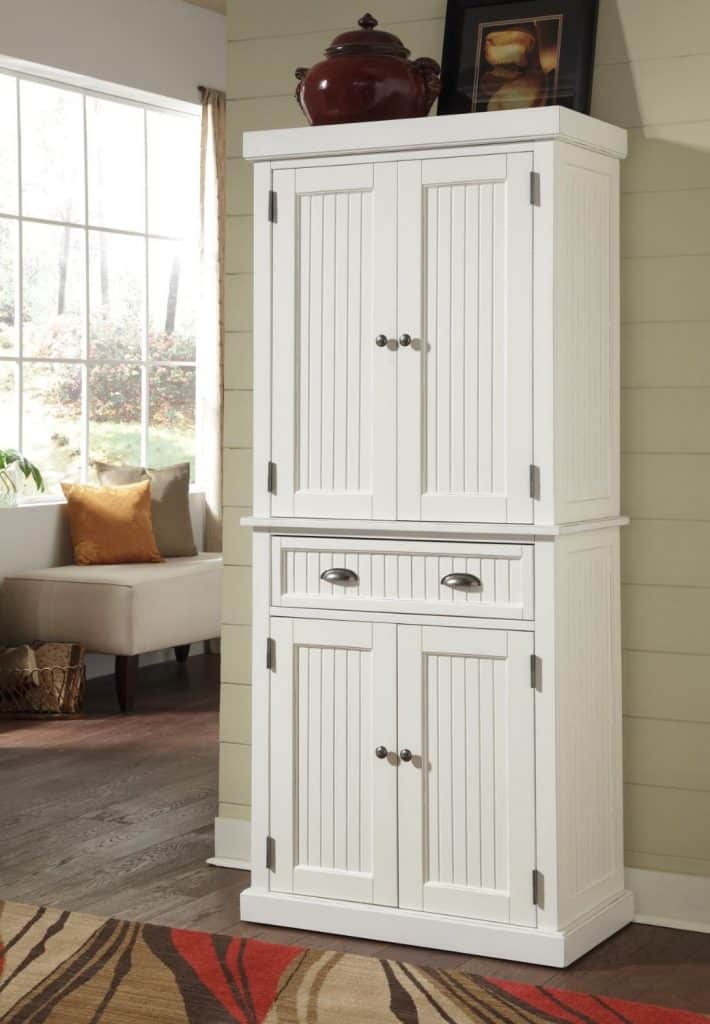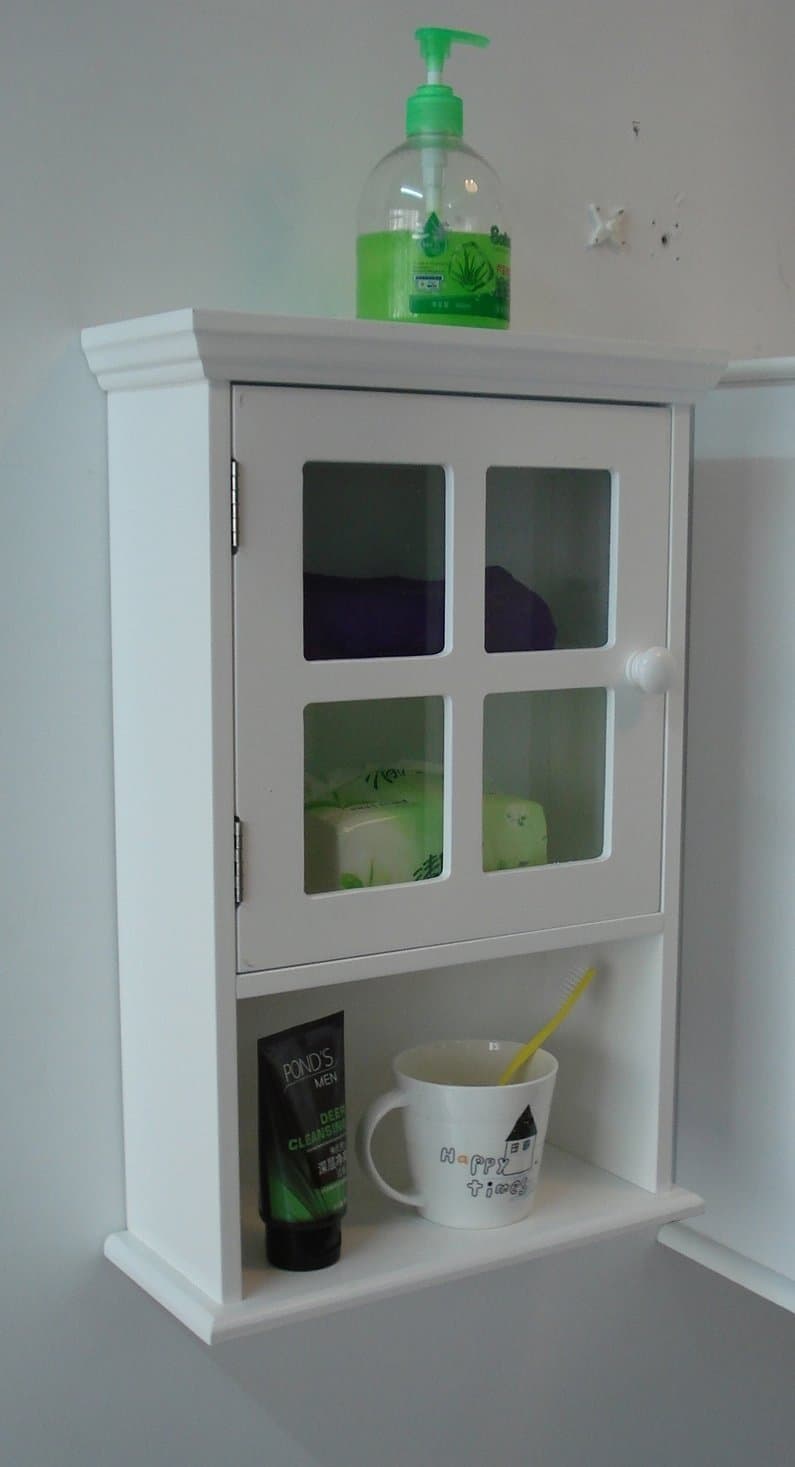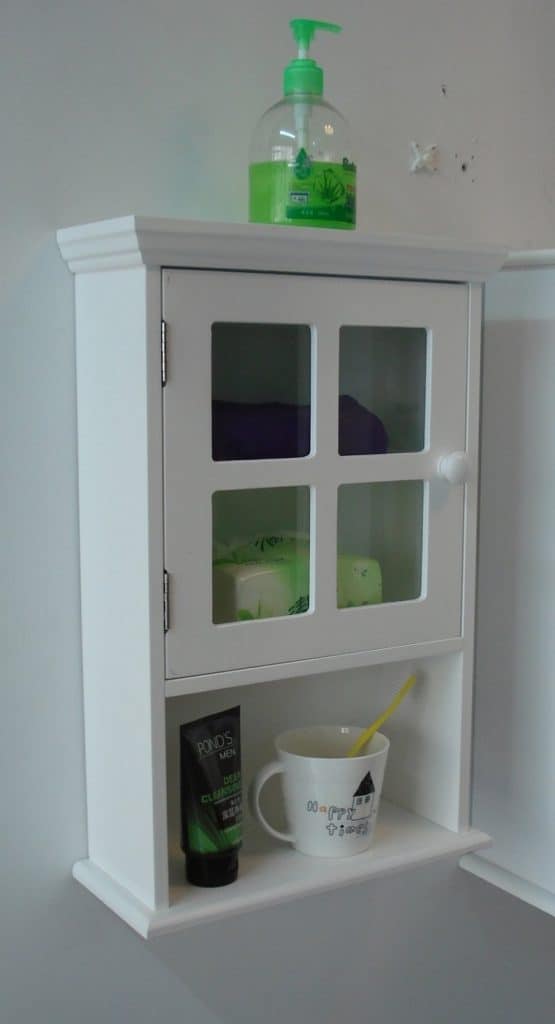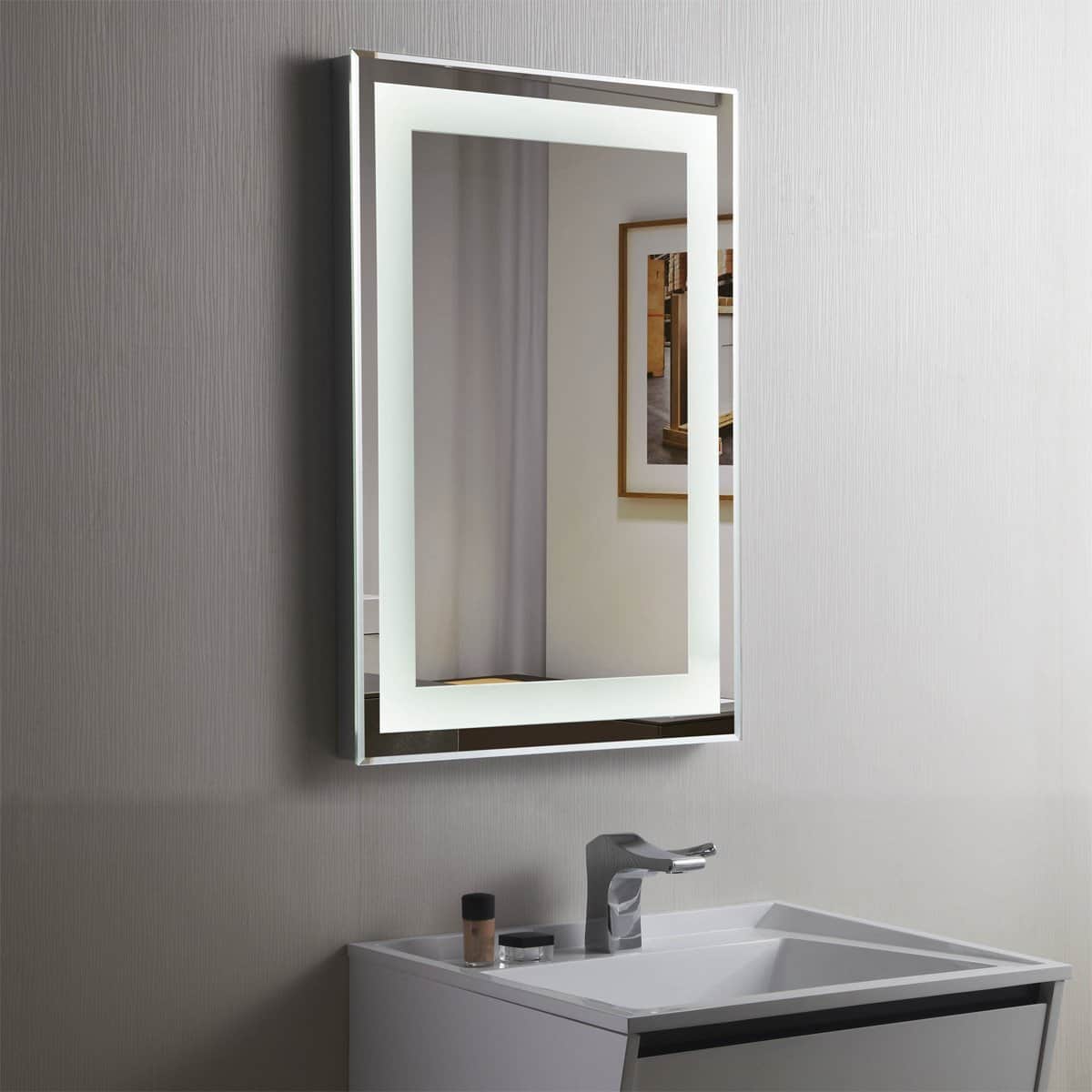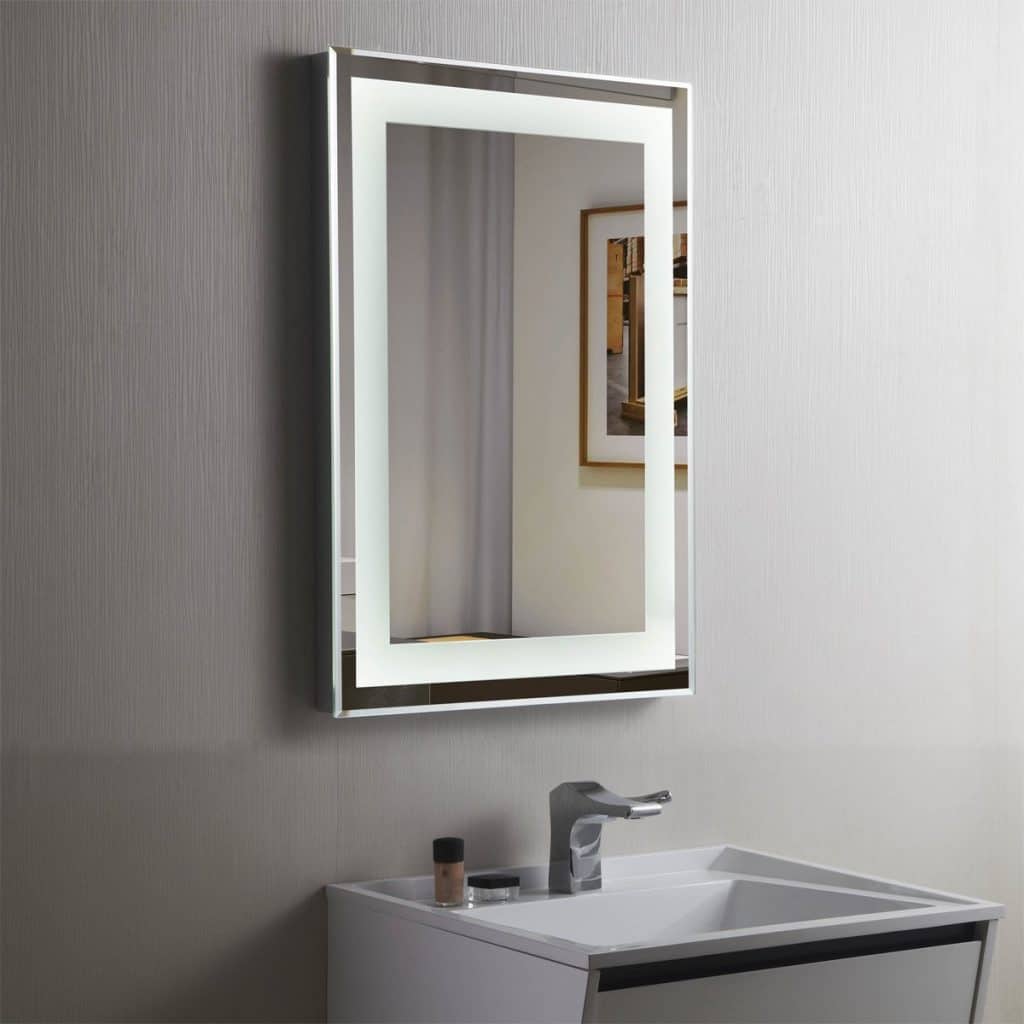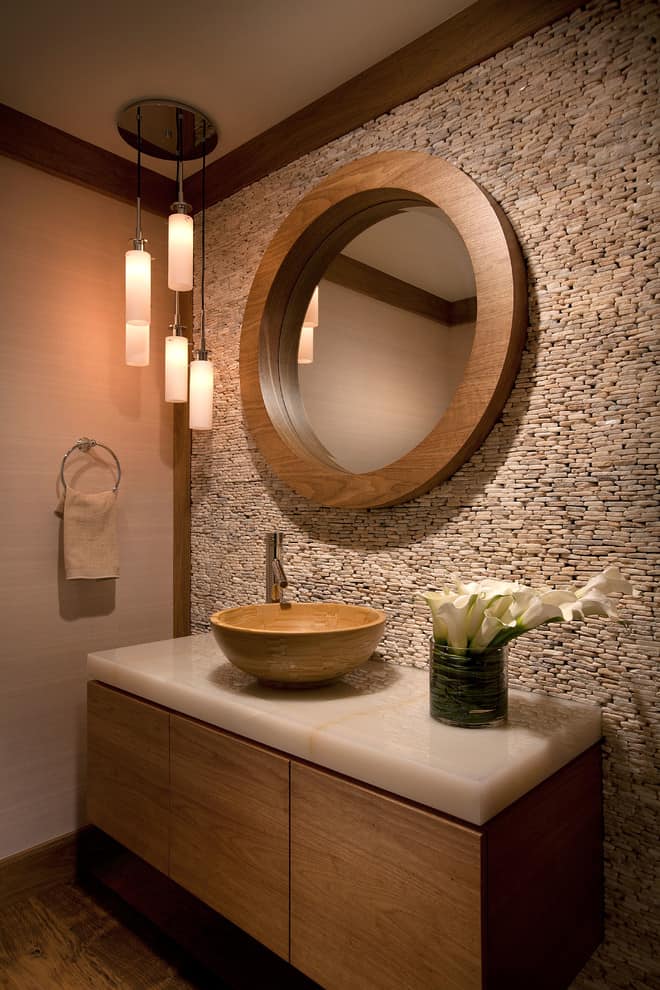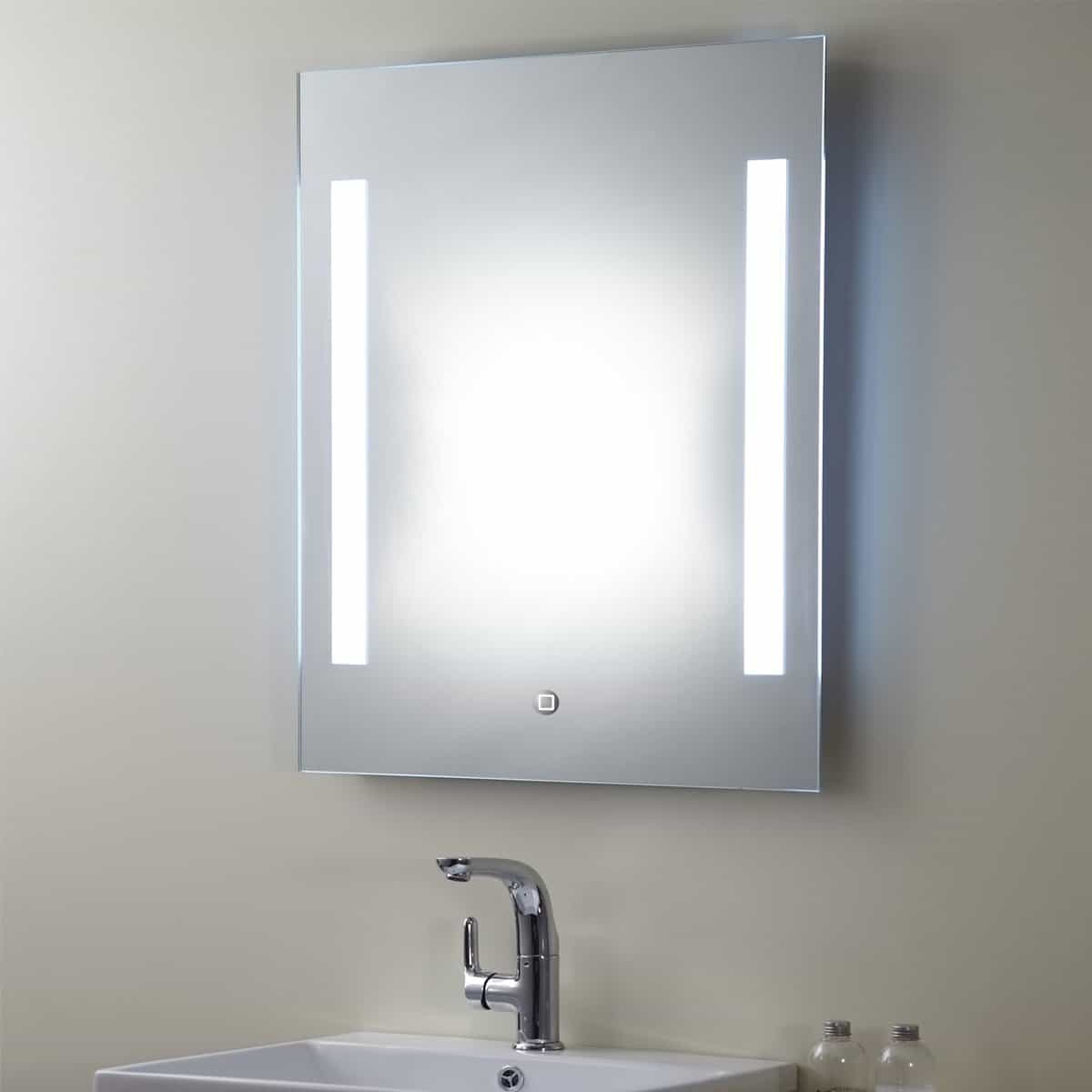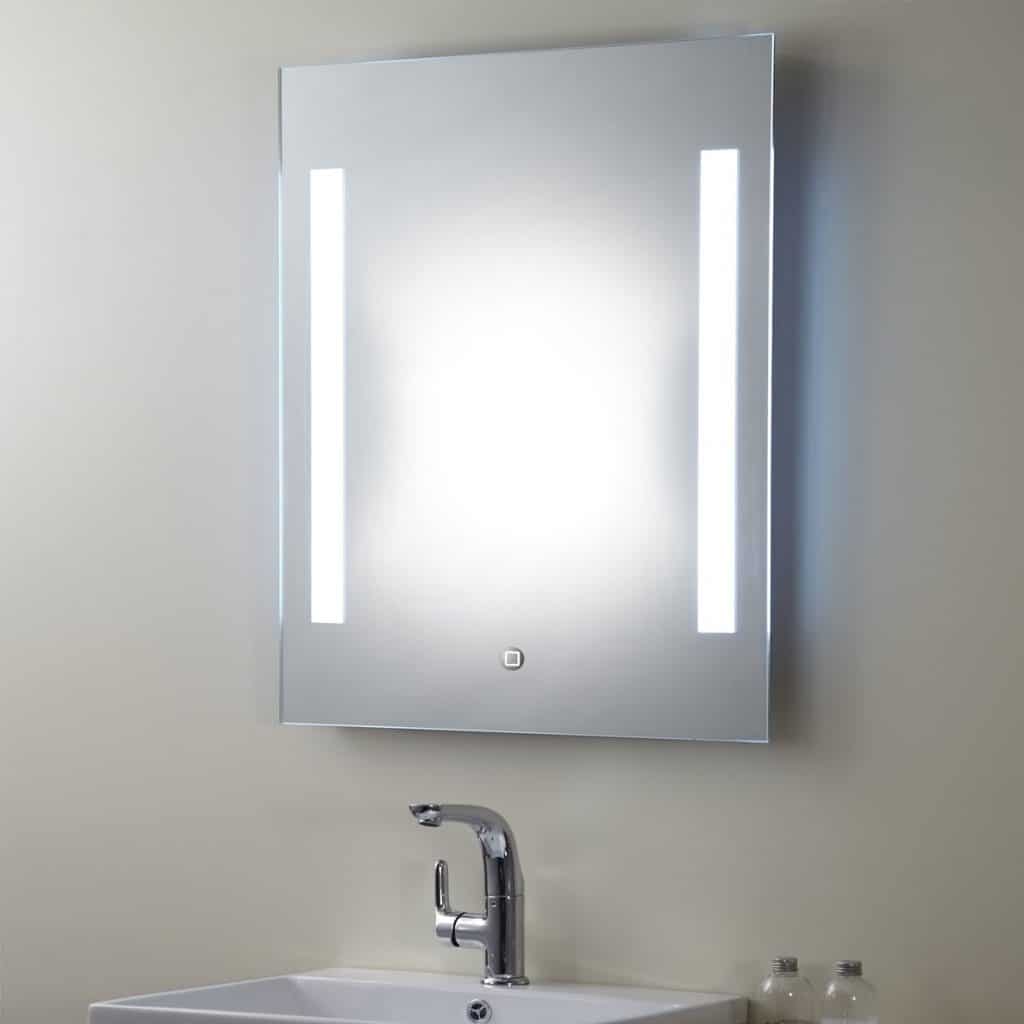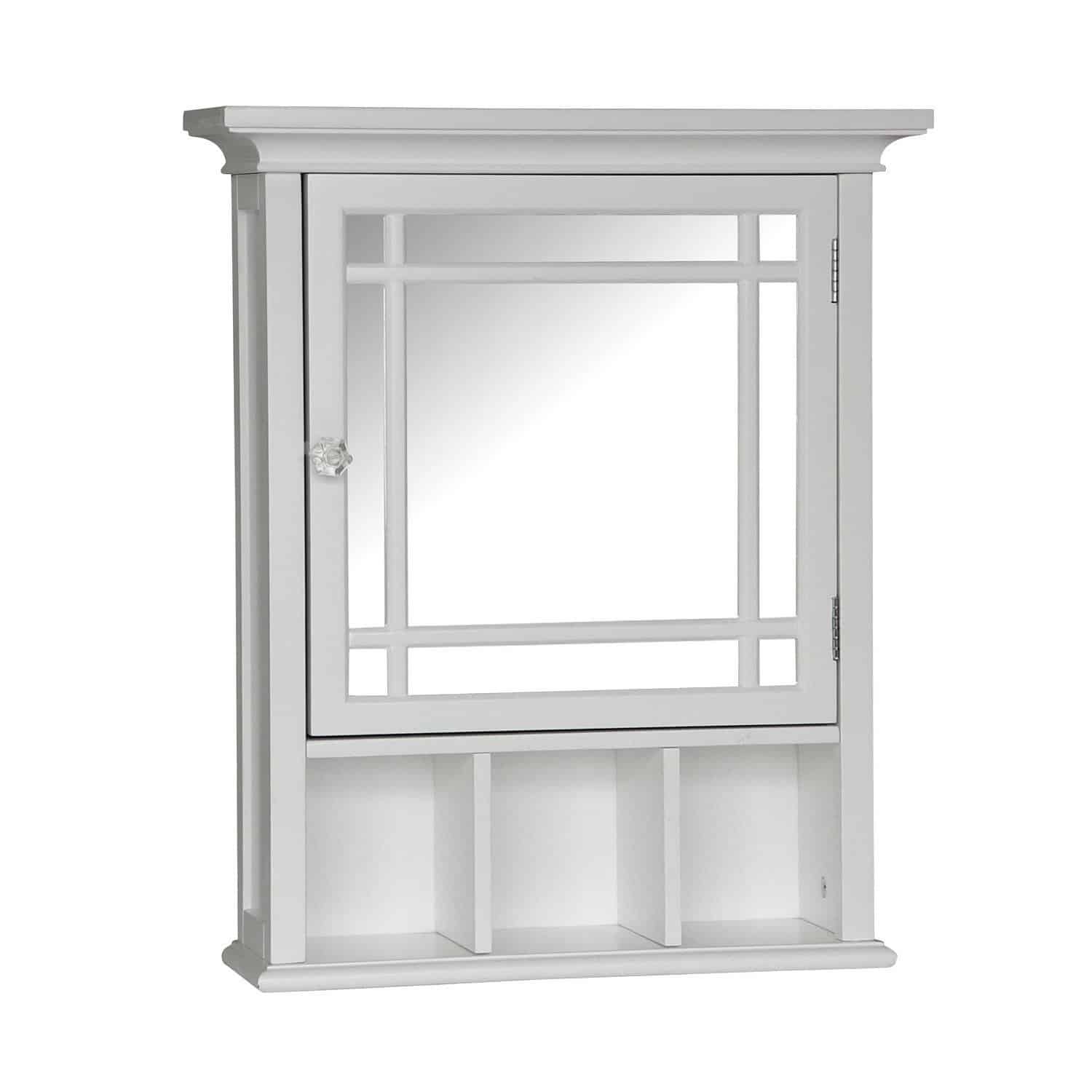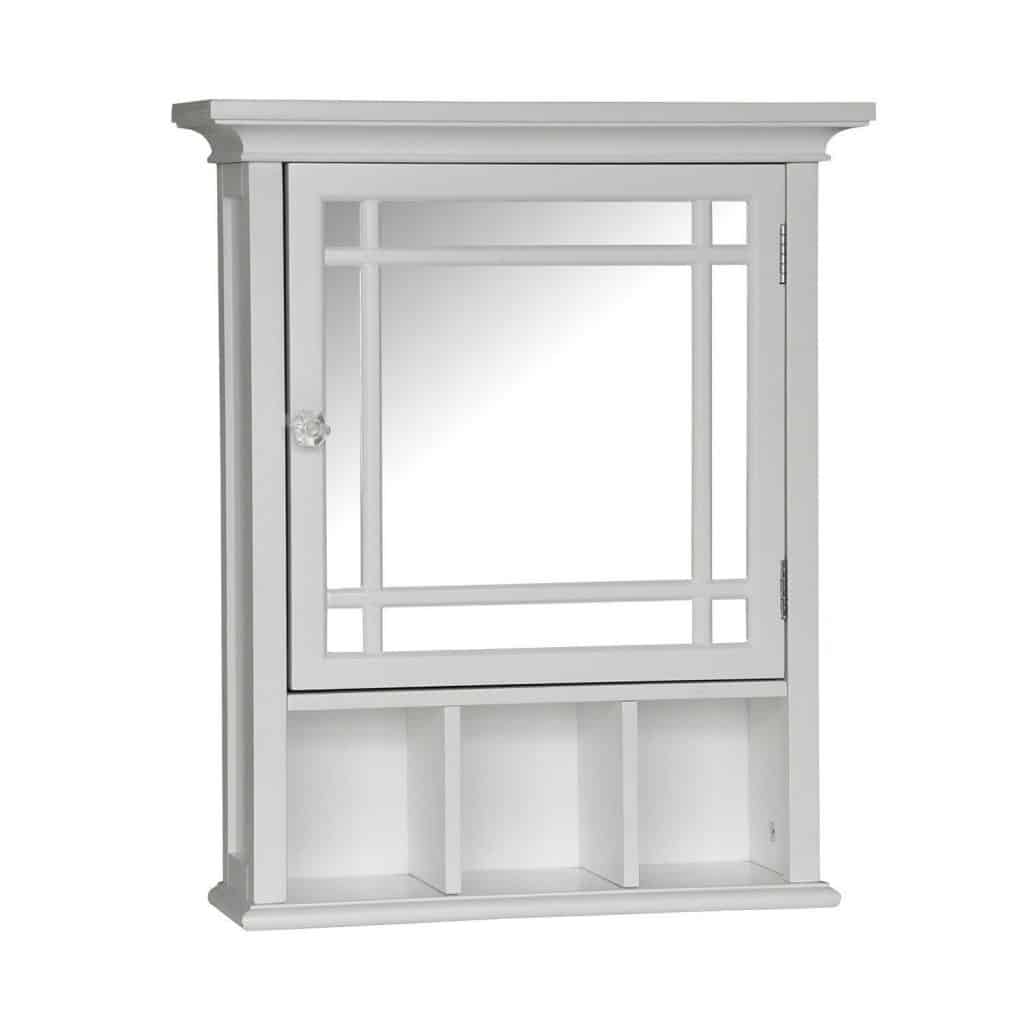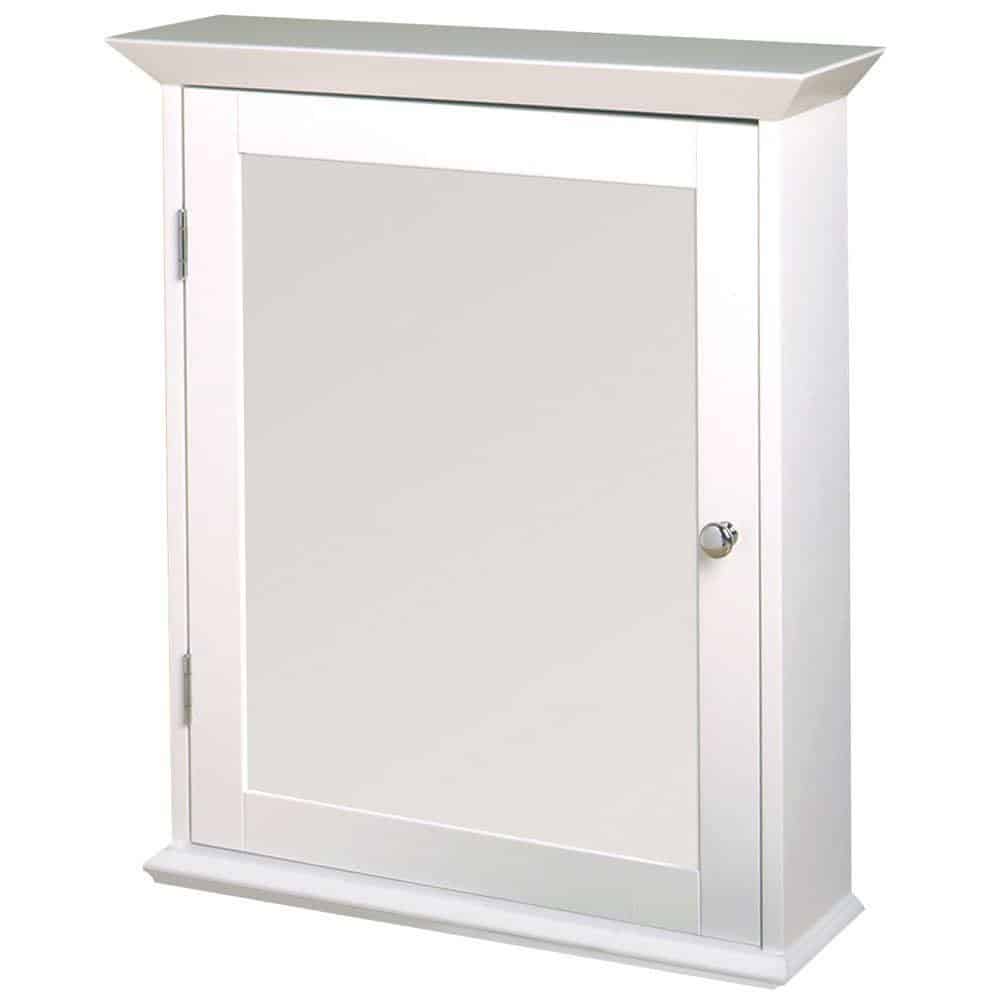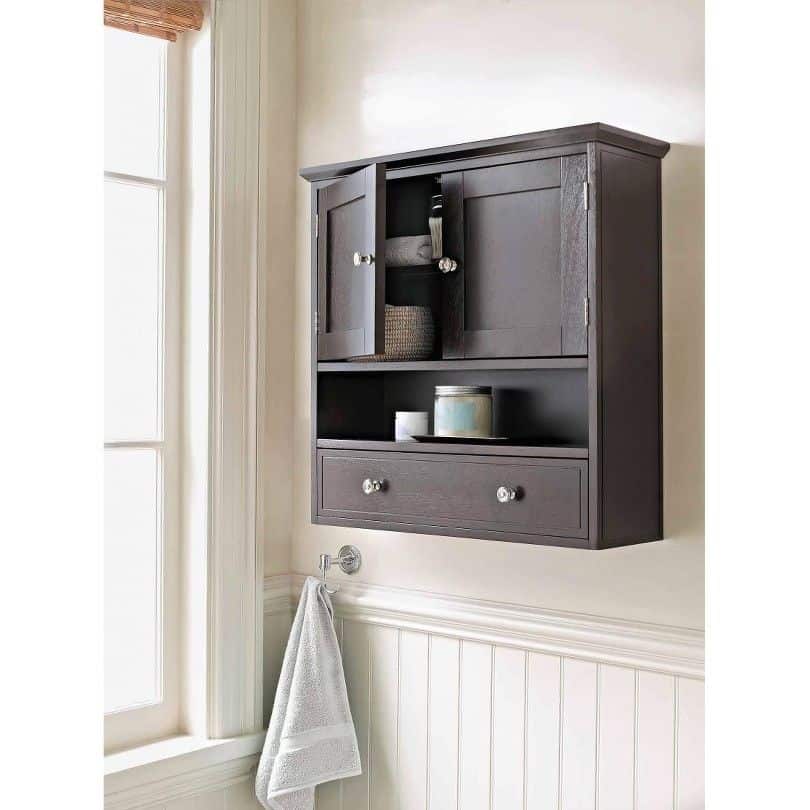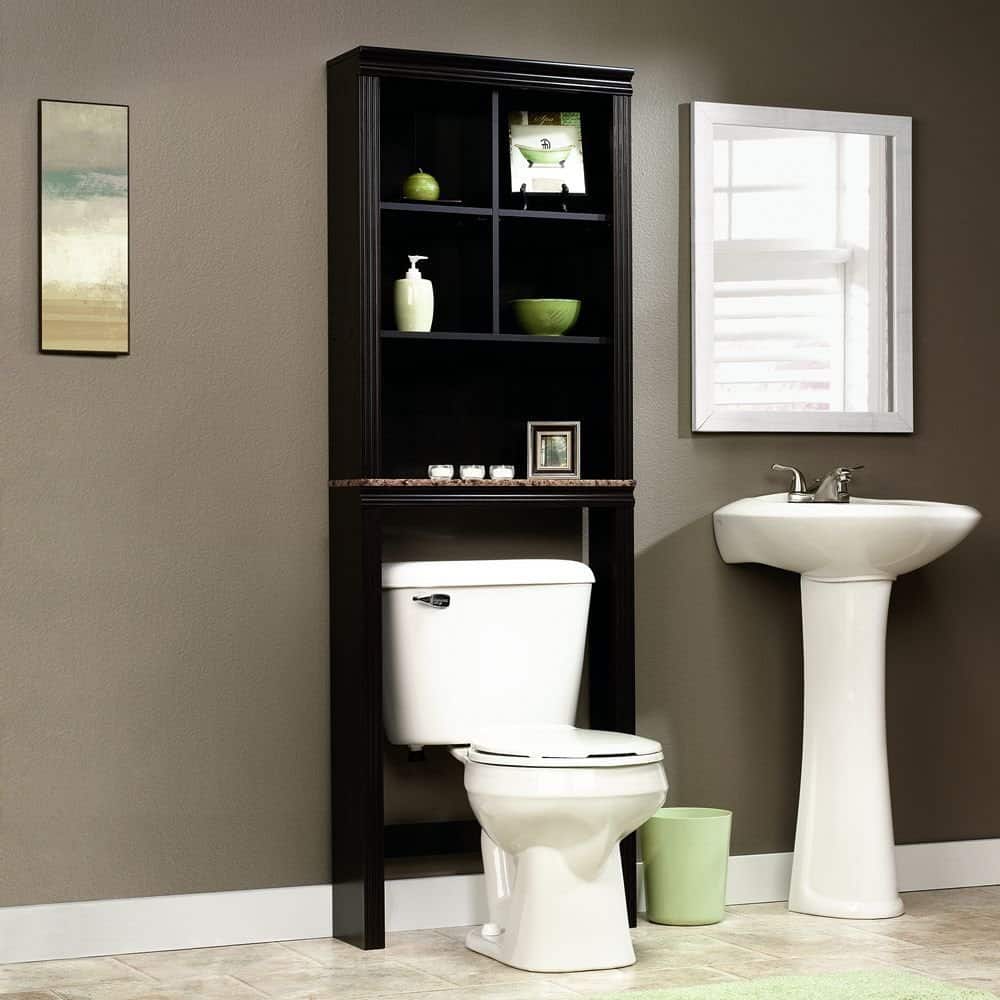 ---
Bathroom Ideas for Tile and Flooring
Here are some modern trends in bathroom tiles and bathroom flooring
Slip-resistant bathroom flooring and tiles are much in demand.
Wall tiles that extend all the way to the ceiling. Wall covering tiles help you add texture and patterns on the walls.
Mosaic tiles are in style. Think different natural stone materials like limestone, or marble. Glass mosaics in multi-colored hues and metallic finishes are also in style.
Hardwood mimicking tiles help add warmth to the bathroom. The latest technology is actually allowing tiles to look like wood, so much so that they are hard to tell apart.
Of course, subway tile is another hot trend in tiles for bathrooms this year. You can go for the classic layout or alternatively go for vertical, transitional as well as other graphic layouts of subway tiles.
One of the most popular bathroom decorating ideas includes pebbled bathroom floors. In addition to offering an outdoorsy natural feel, walking on the pebble rocks will balance your Chakras and even provide an acupressure of the feet each time you step into your bathroom!
Additional Information: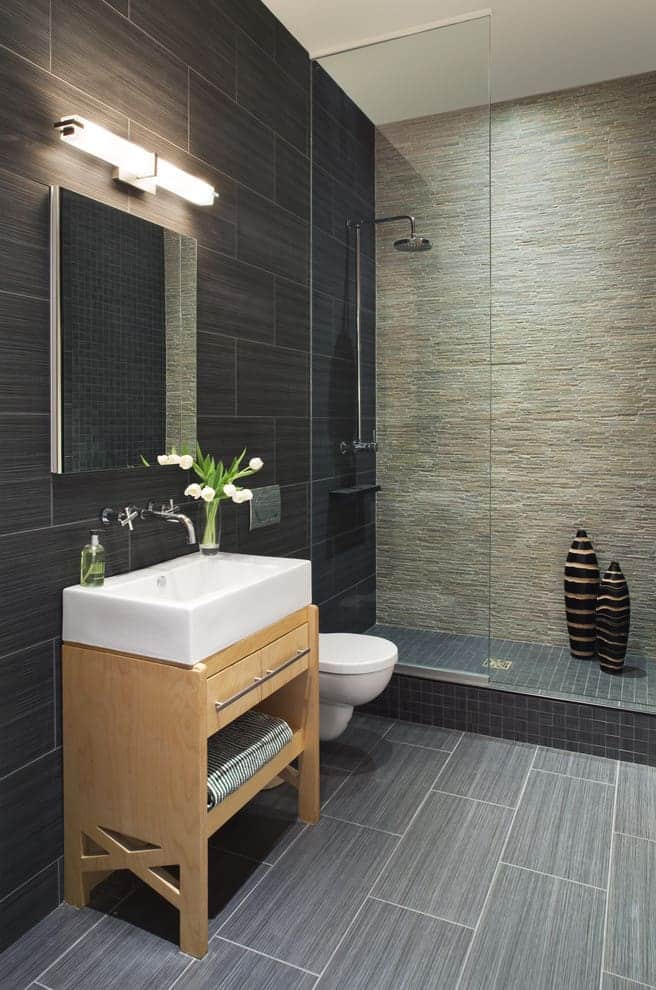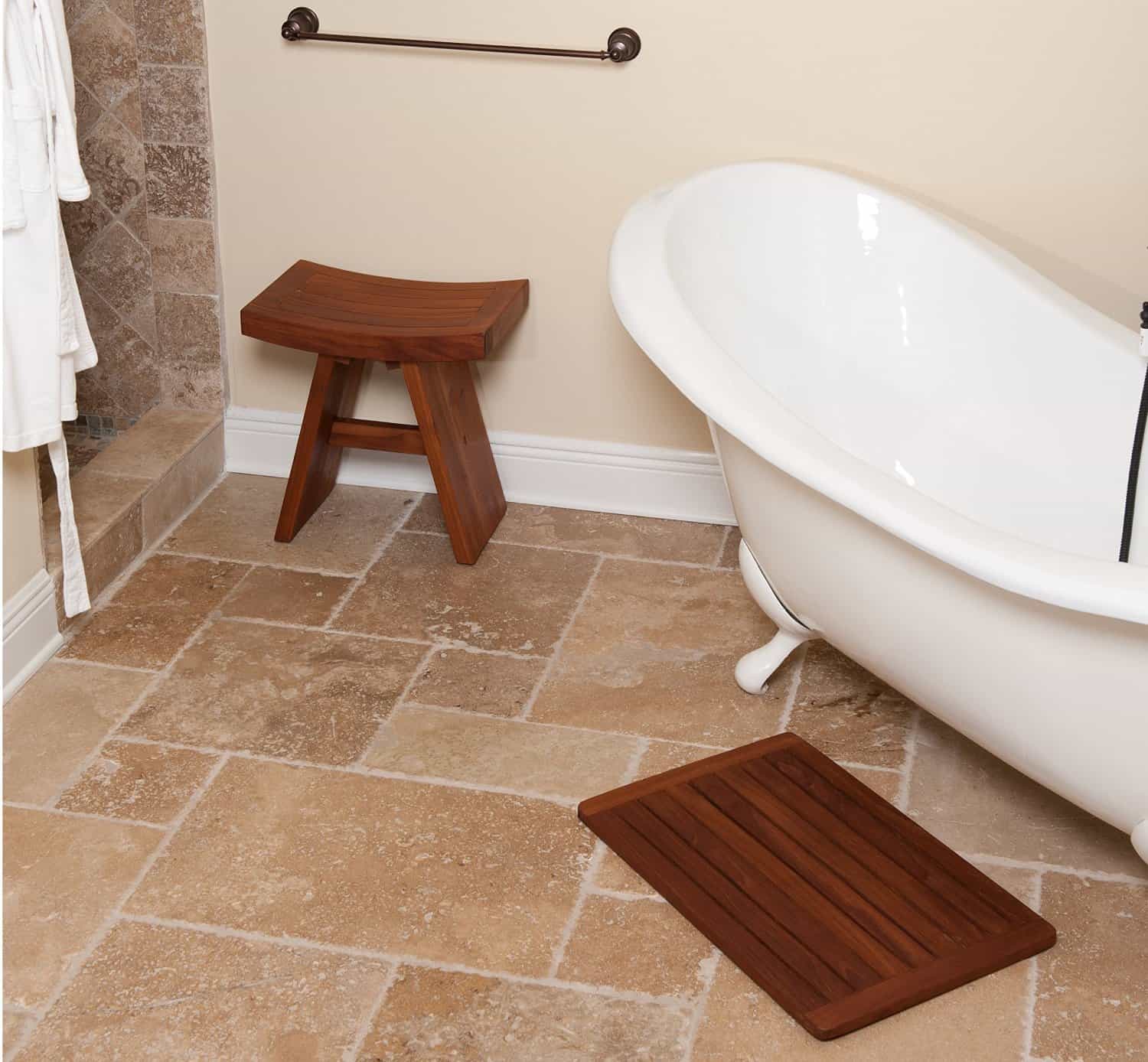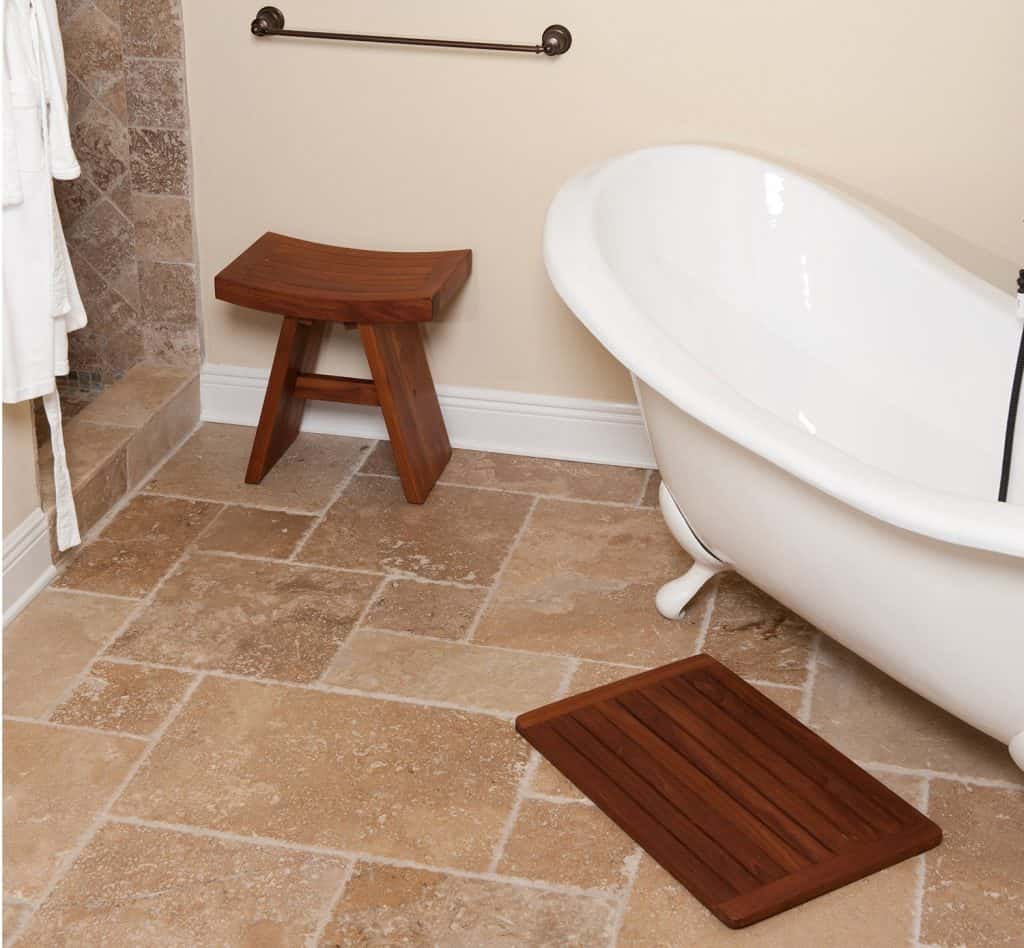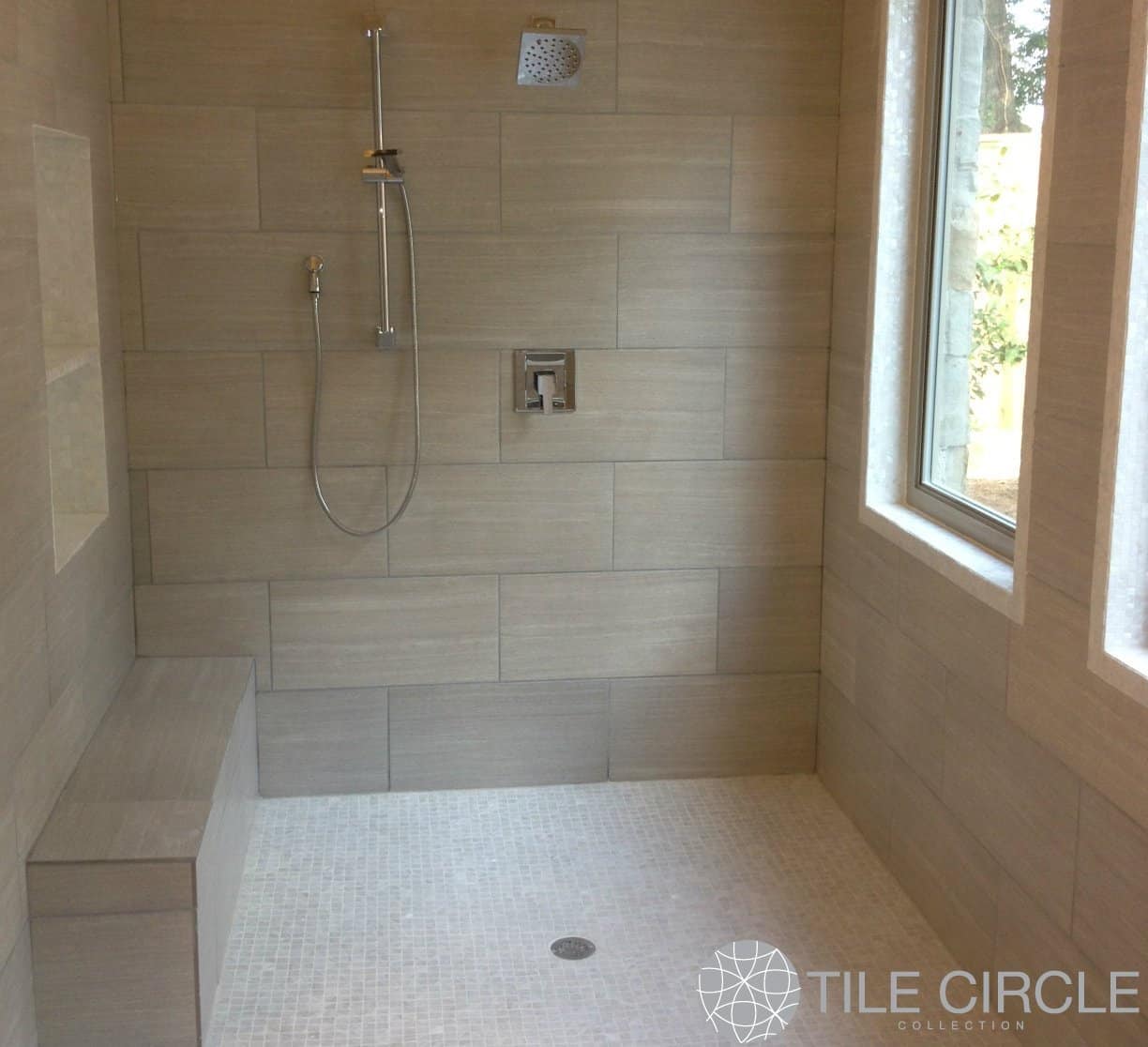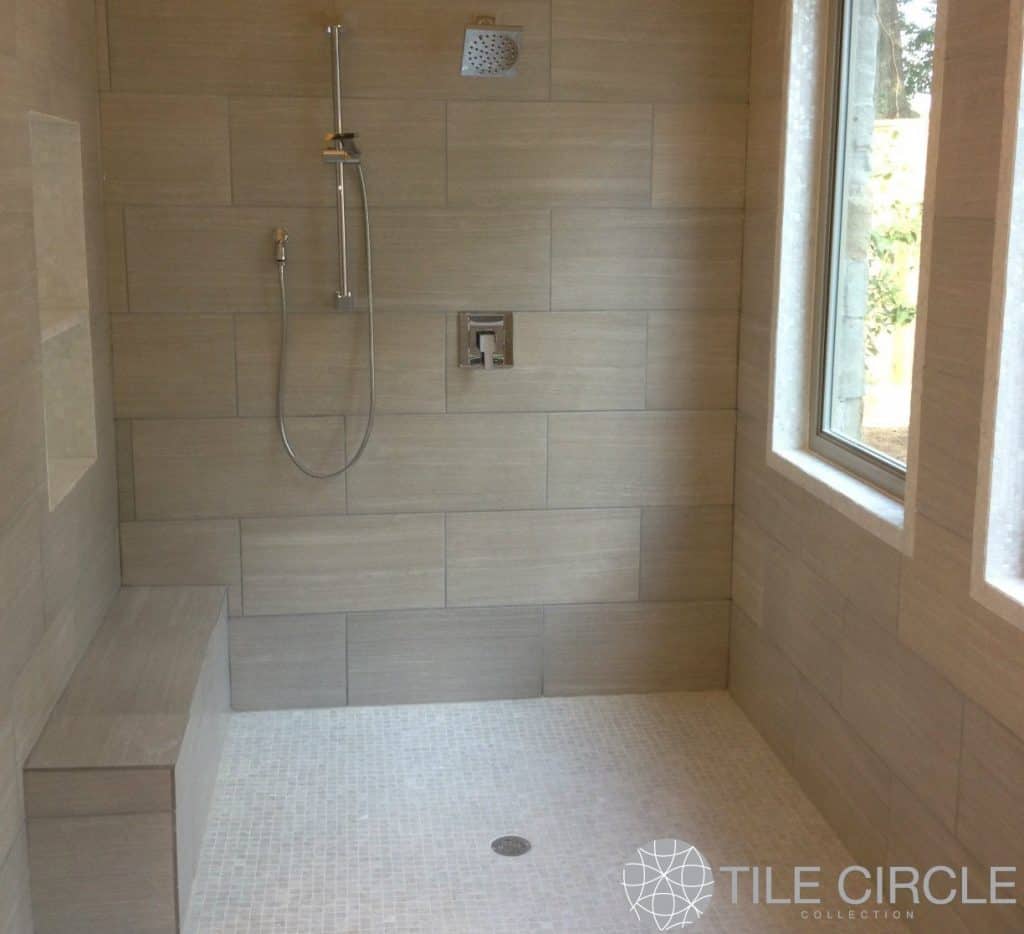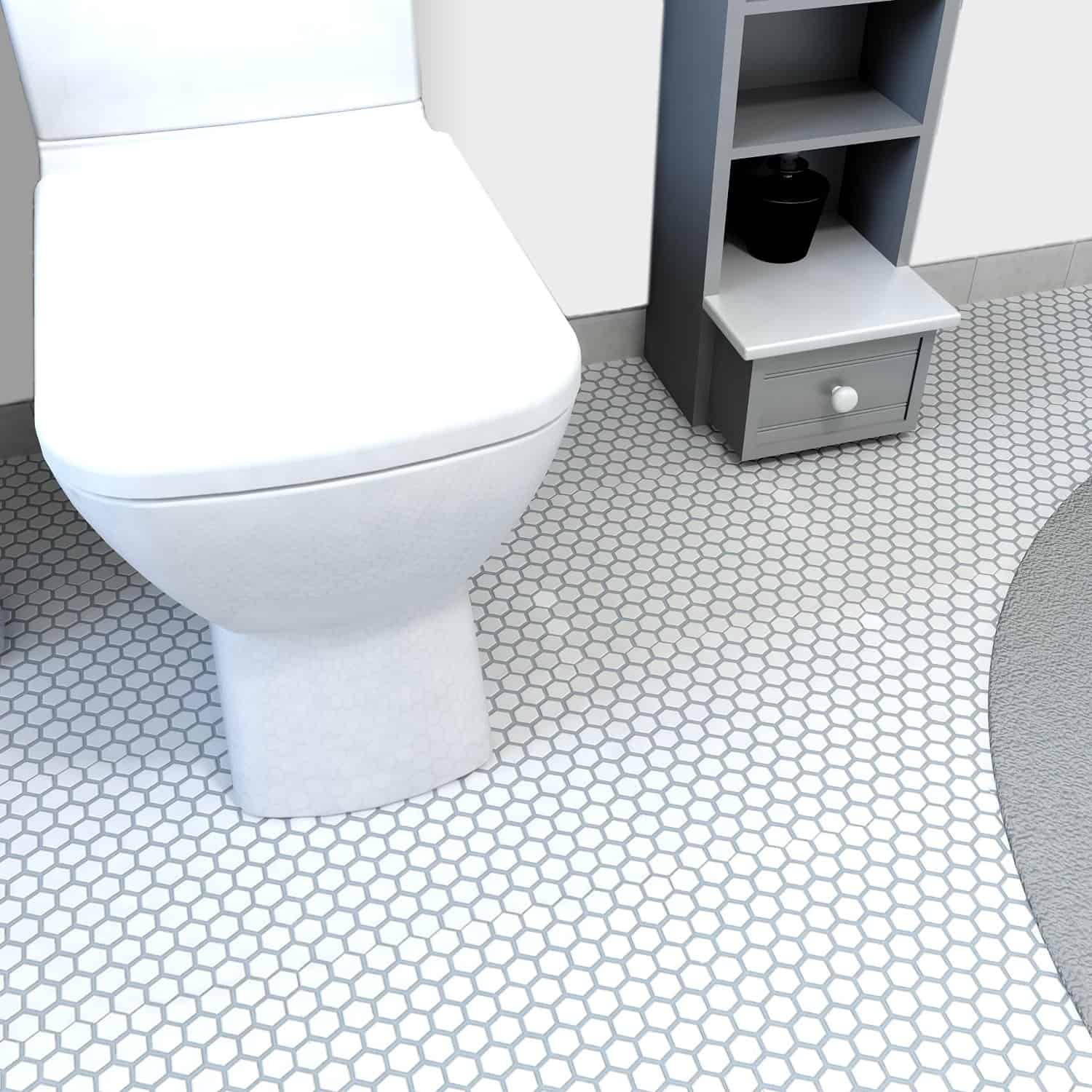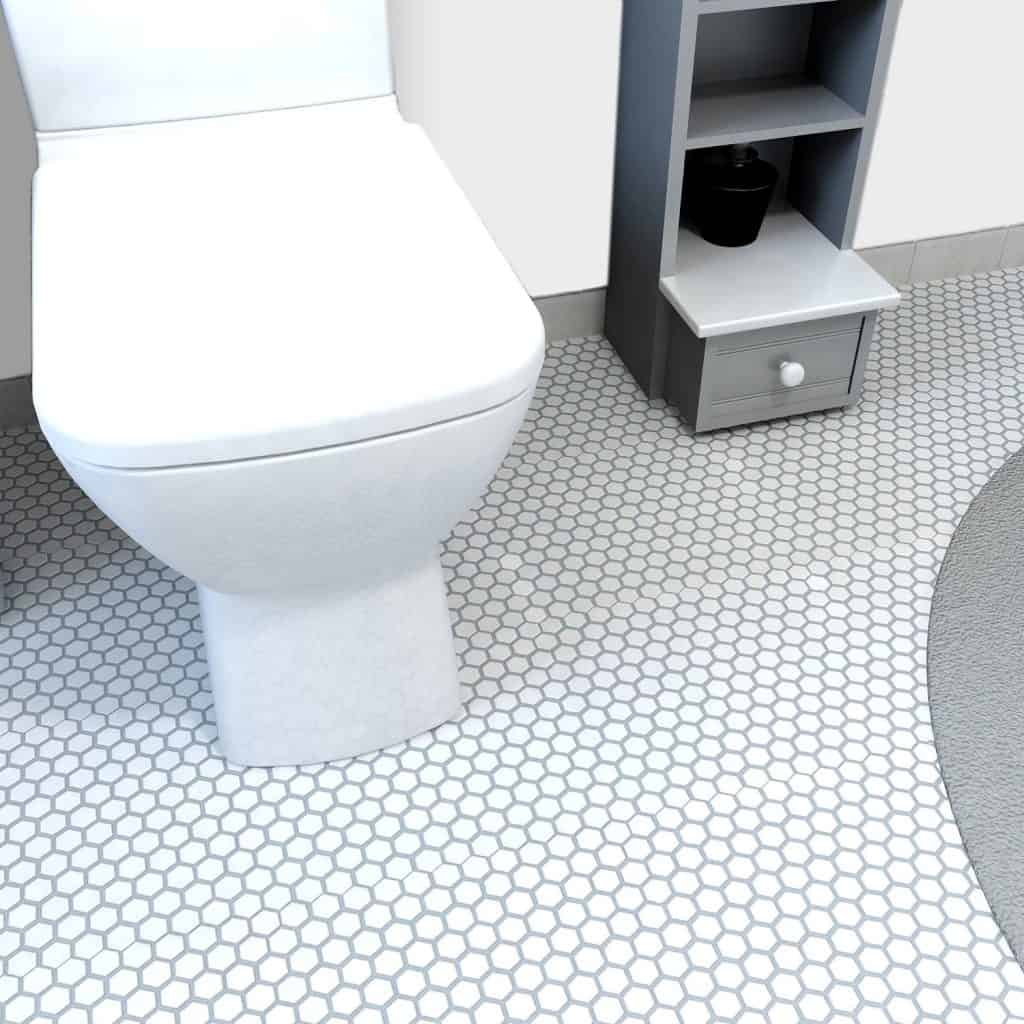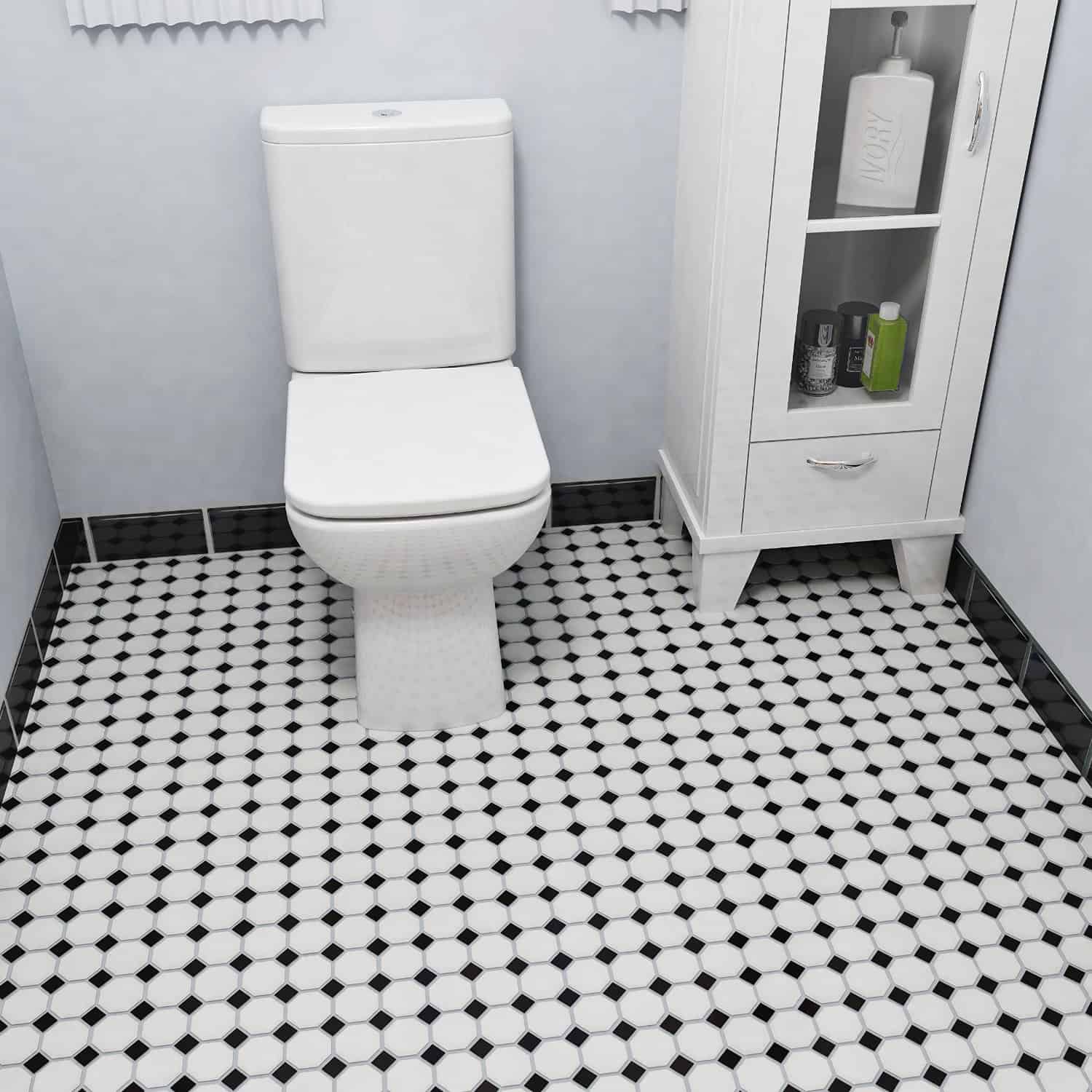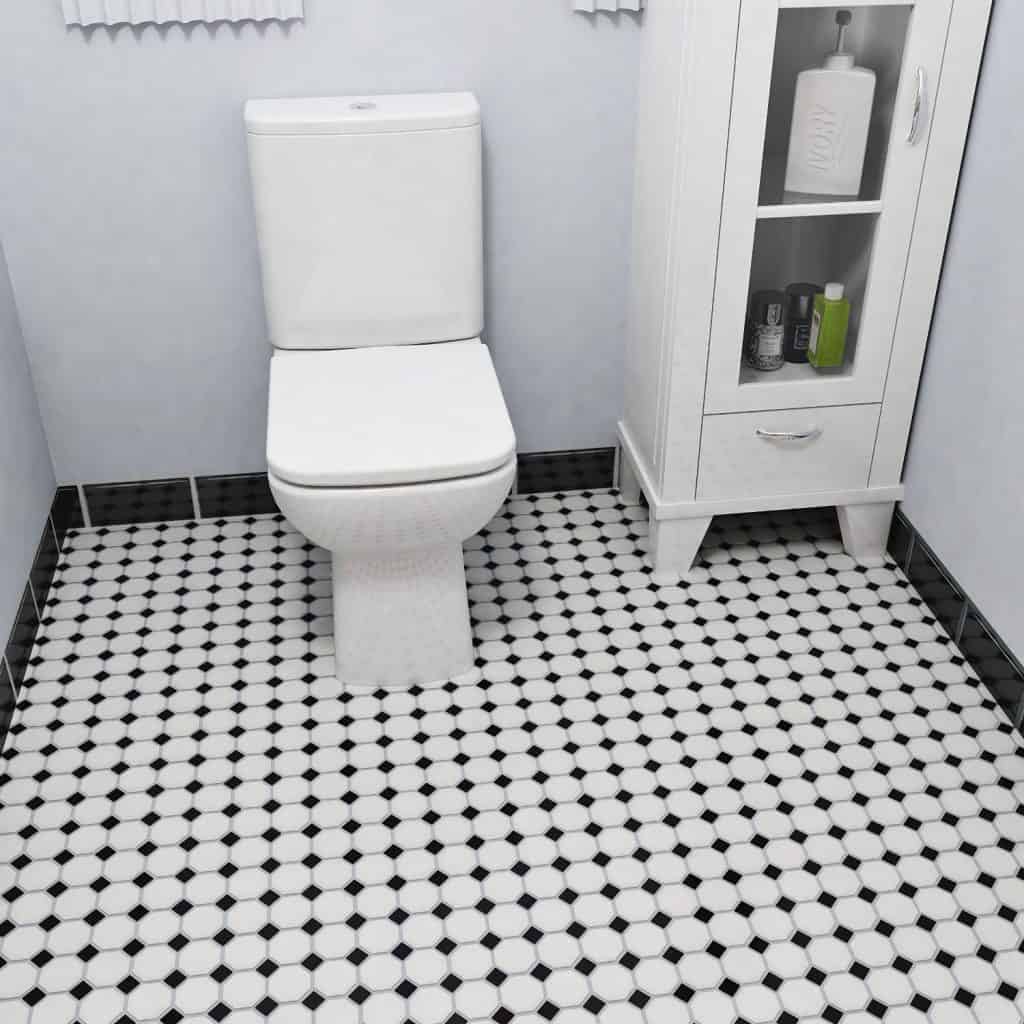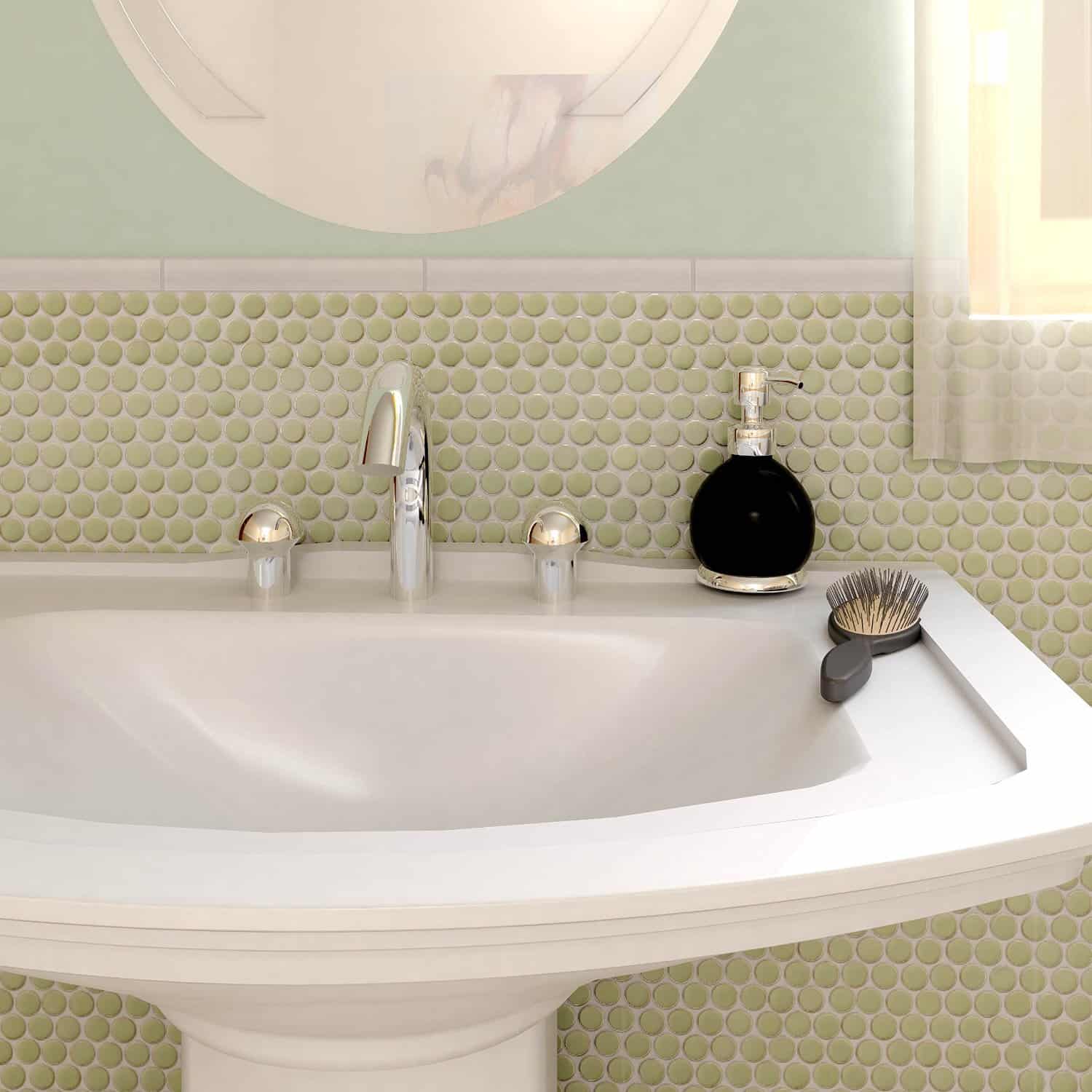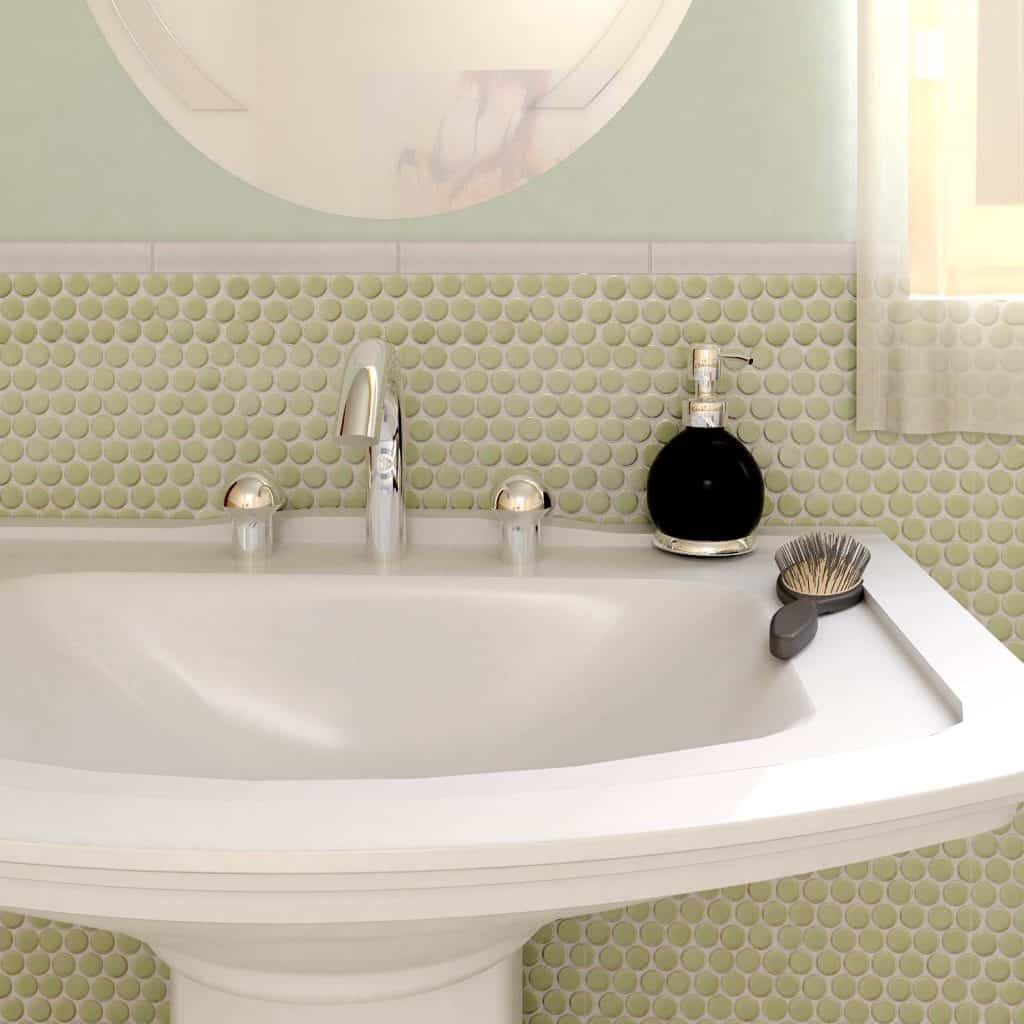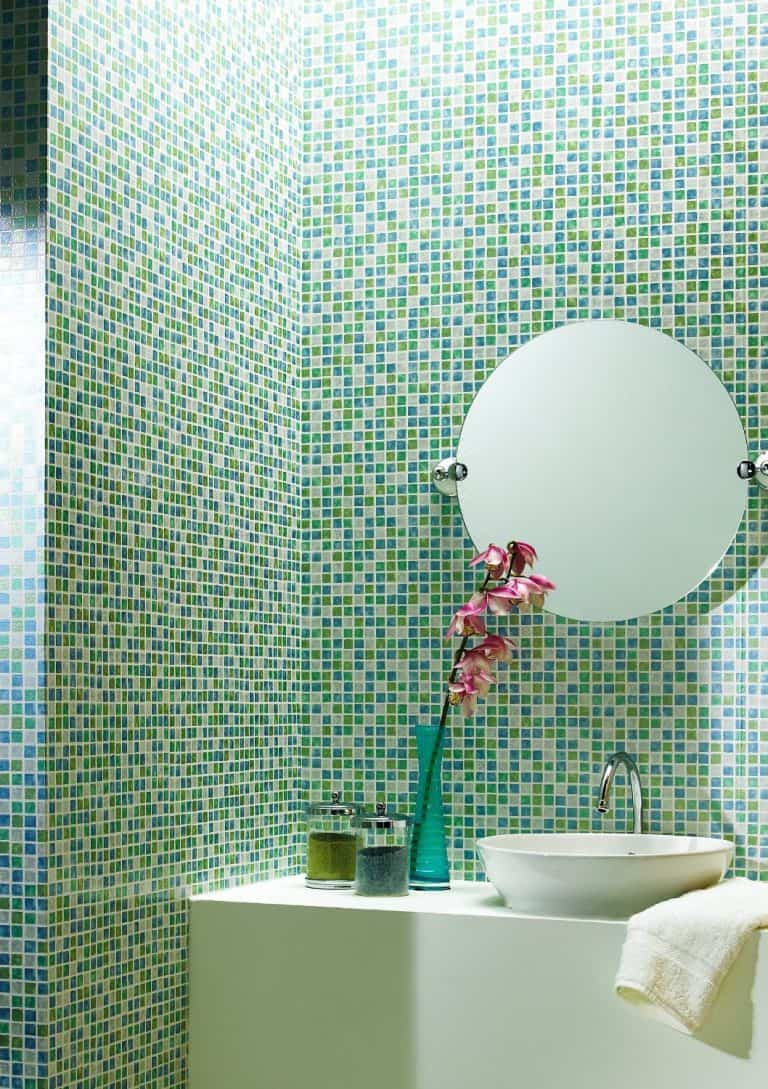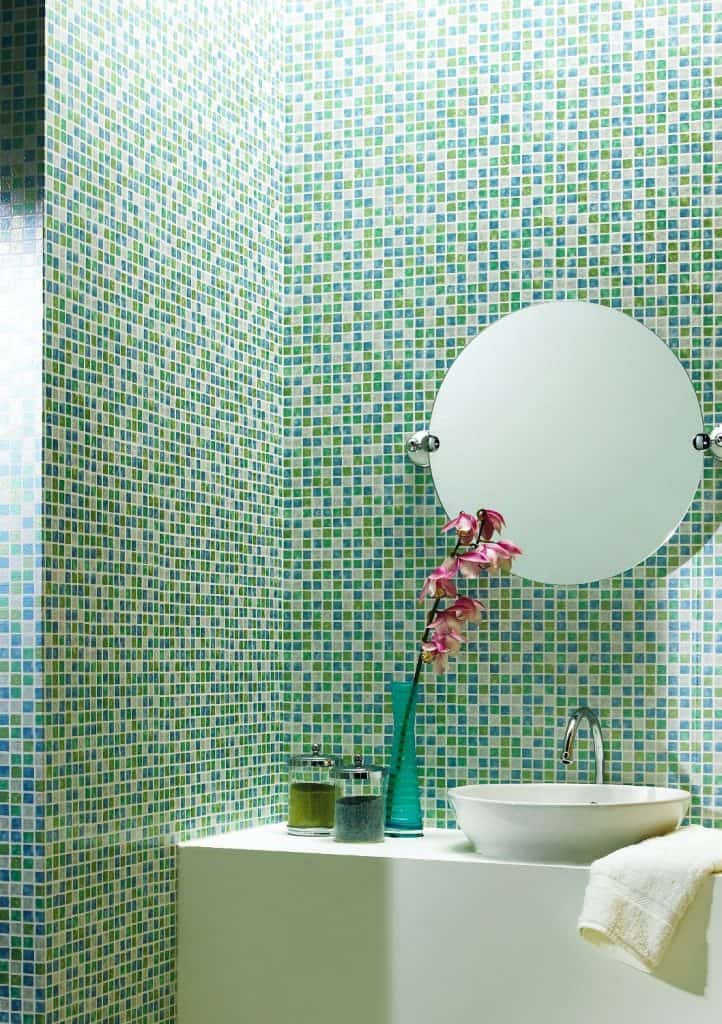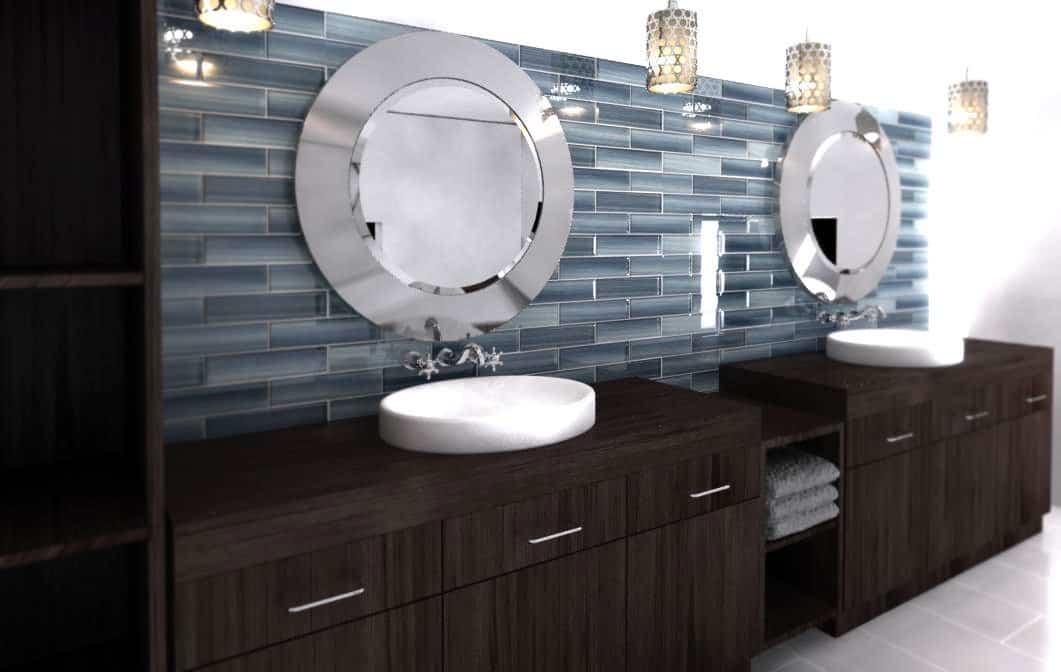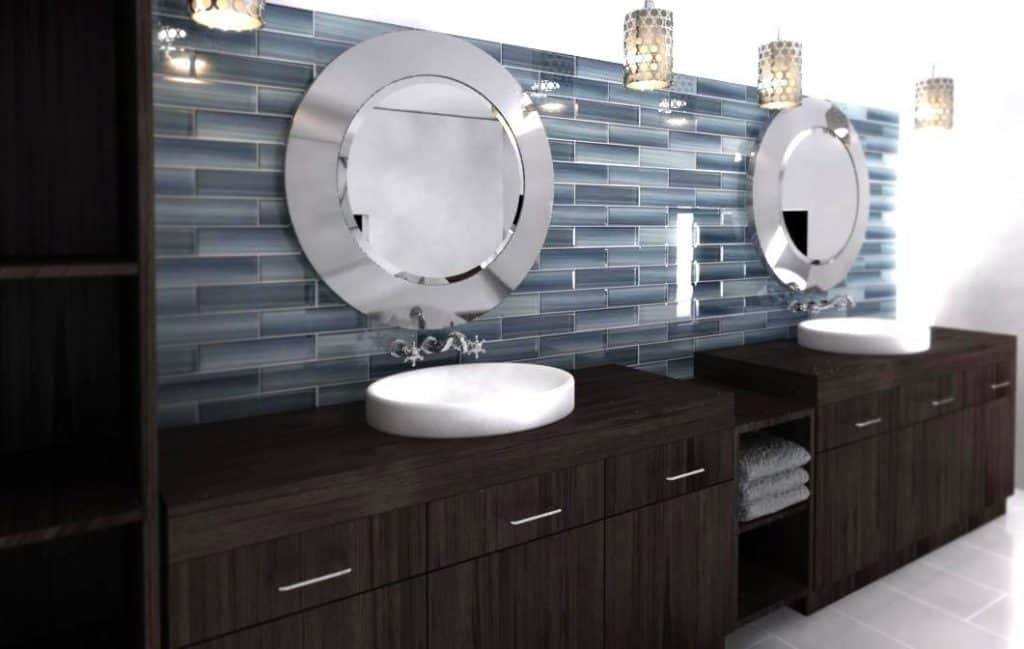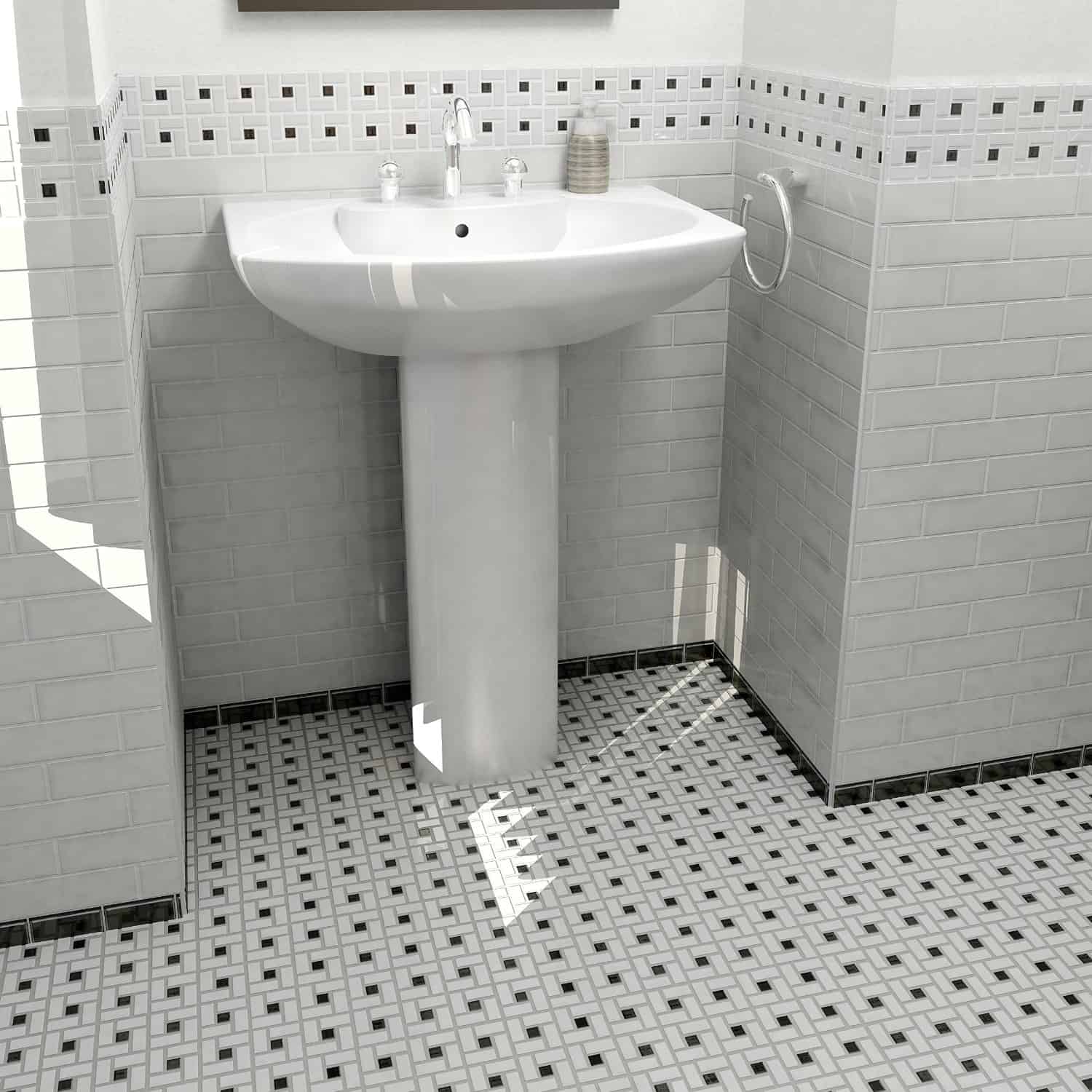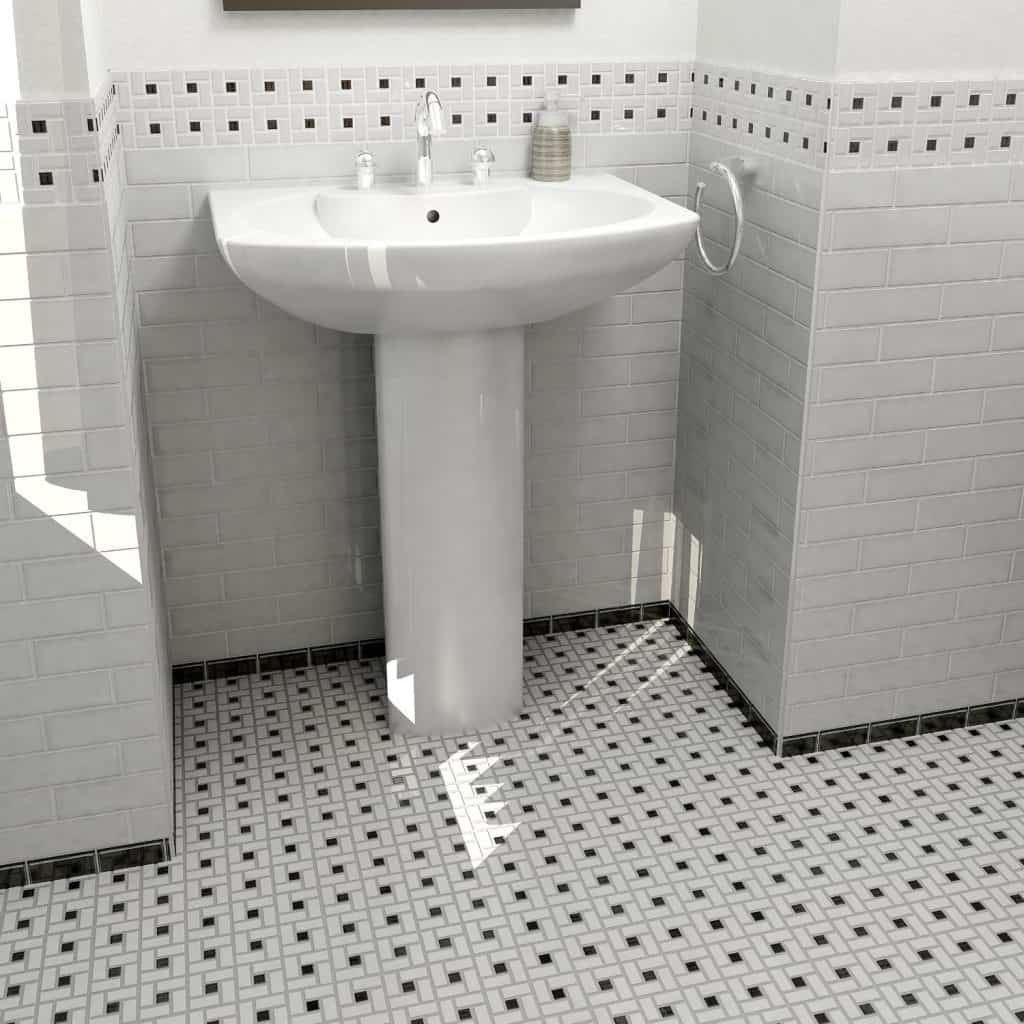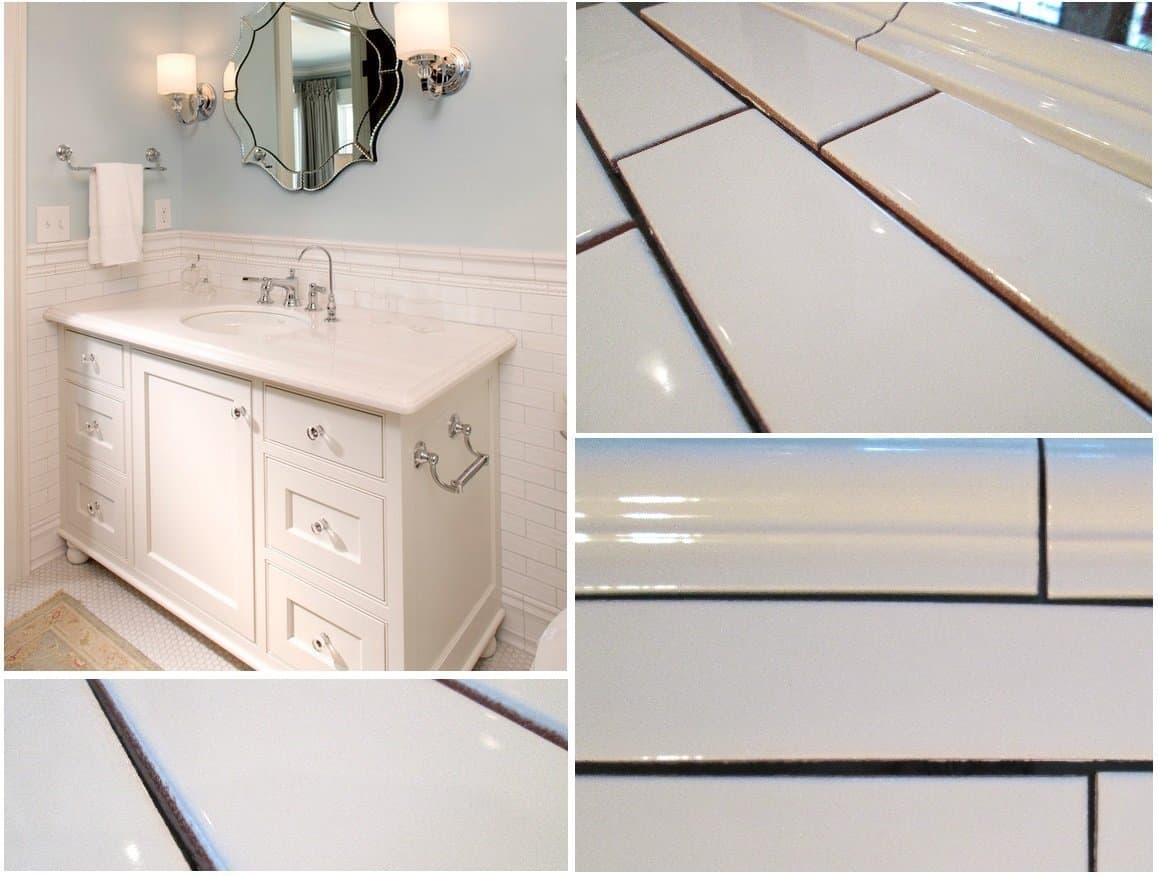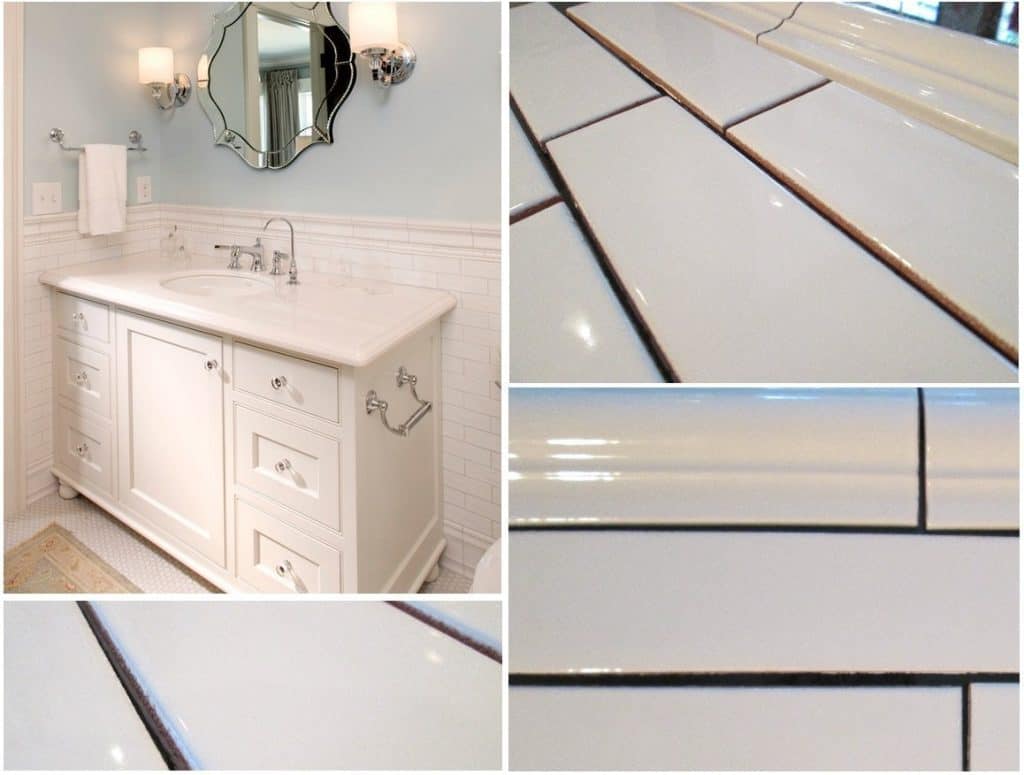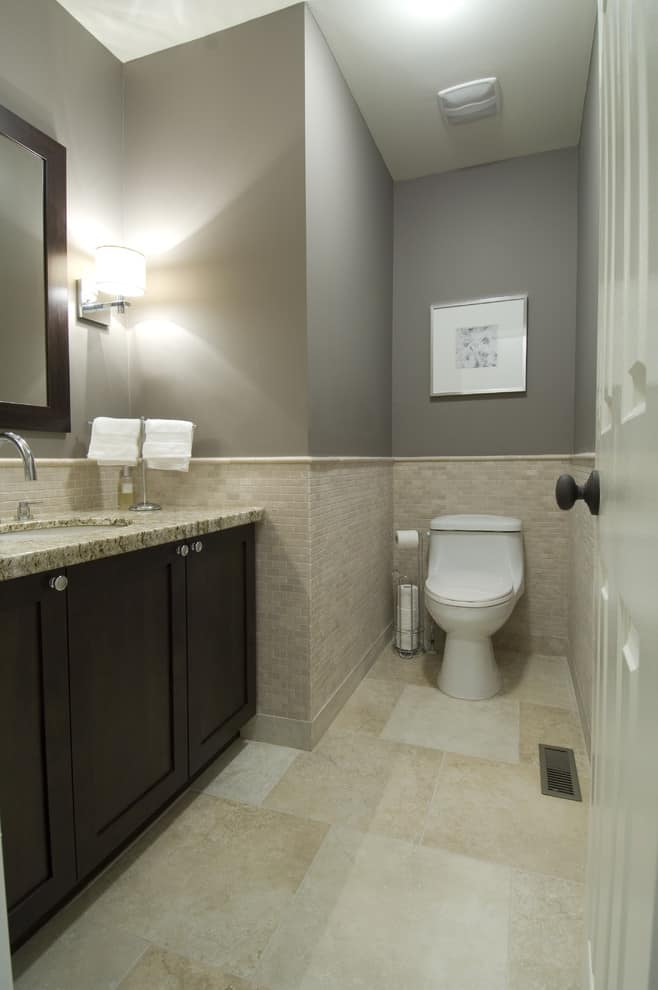 ---
Bathroom Shower Ideas
Shower units can be separated from the tub.
Yes, you heard that right: after installation, you still get a single unit but, in effect, the shower acts as a standalone cubicle with a door while the tub is adjacent to it in L-shaped design.
Stone mosaic tiles on the backside of the shower with an enclosing glass door adds elegance to the shower area.
A wall mounted shower with handheld and rain-style shower head plus a cute little bench in the shower area can give a spa like feel to the bathroom. The benches can even be fitted with drawers for extra storage.
Additional Information: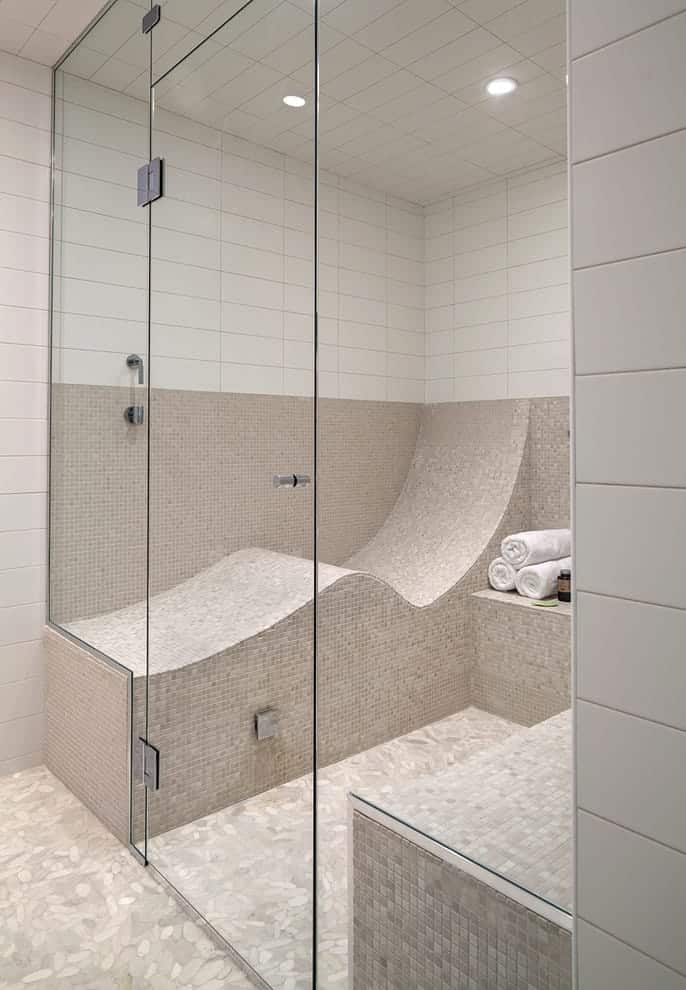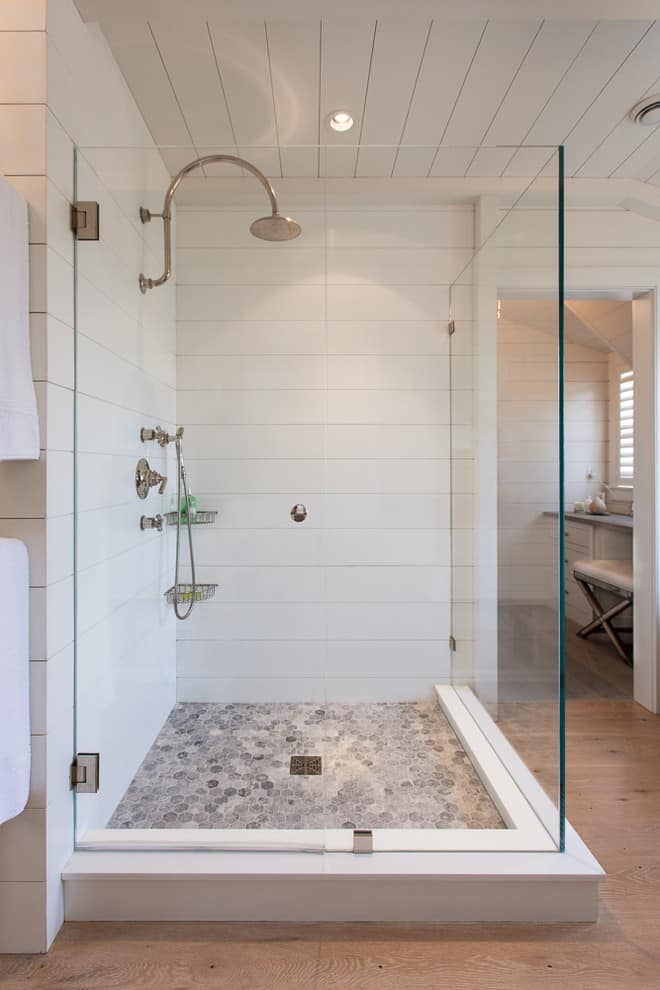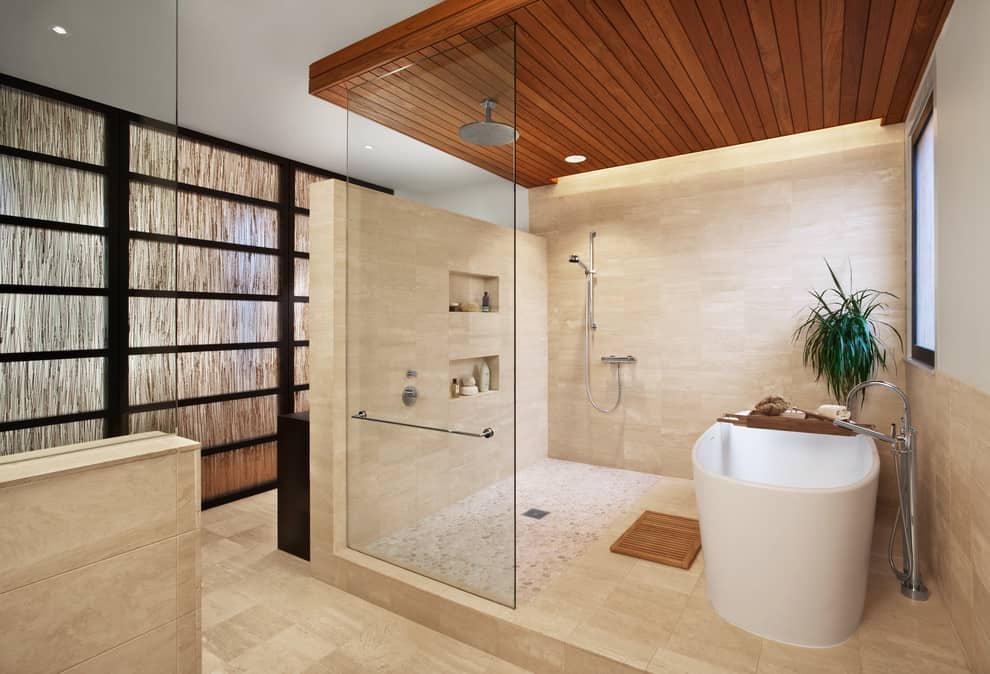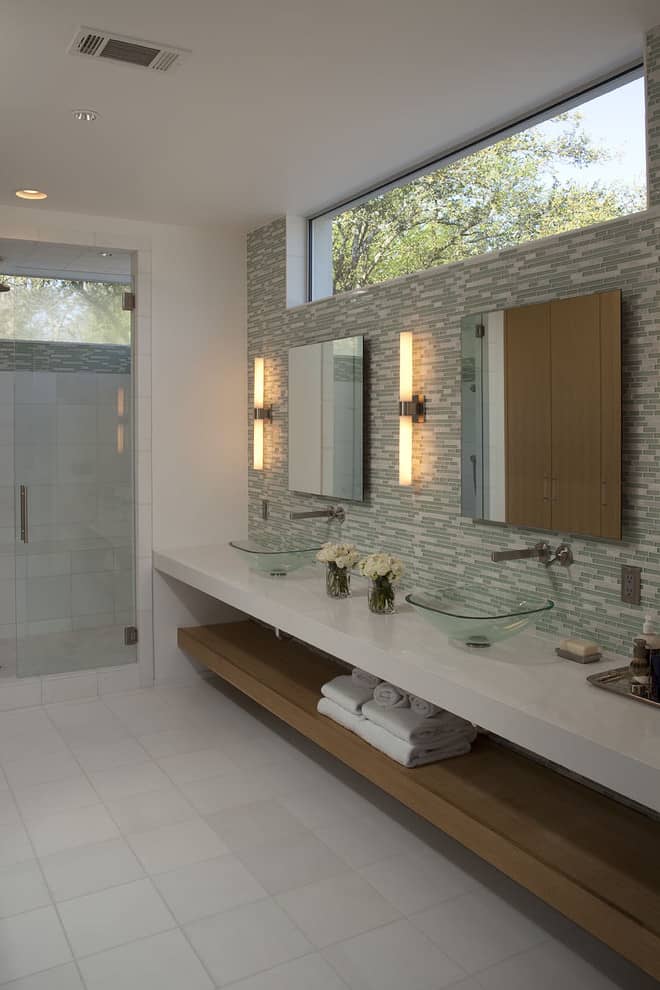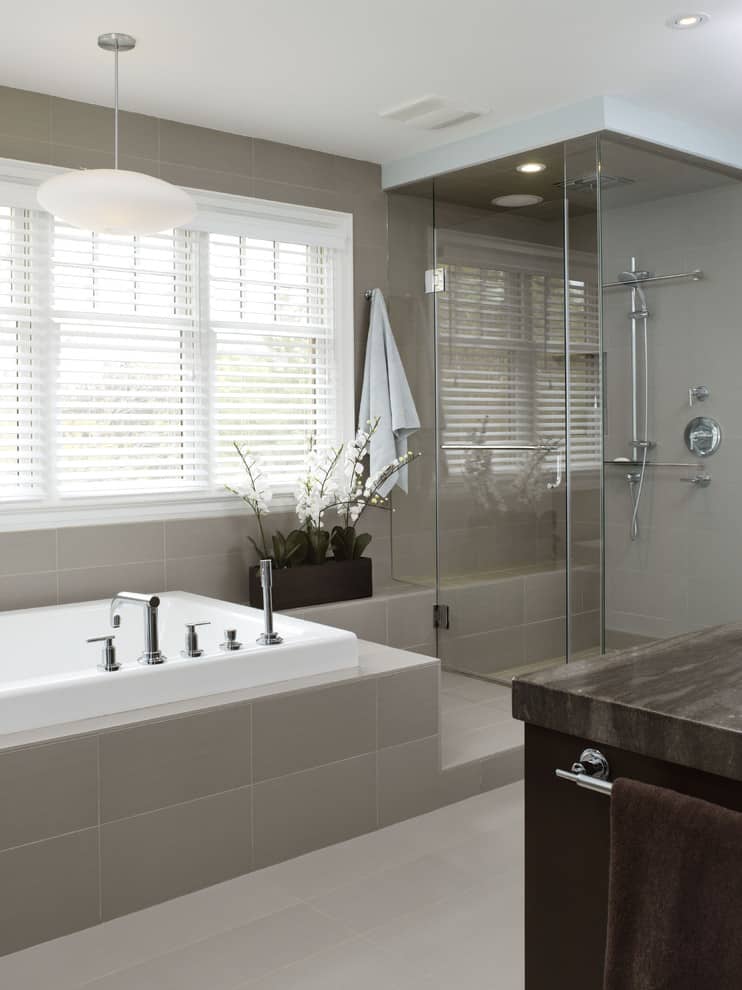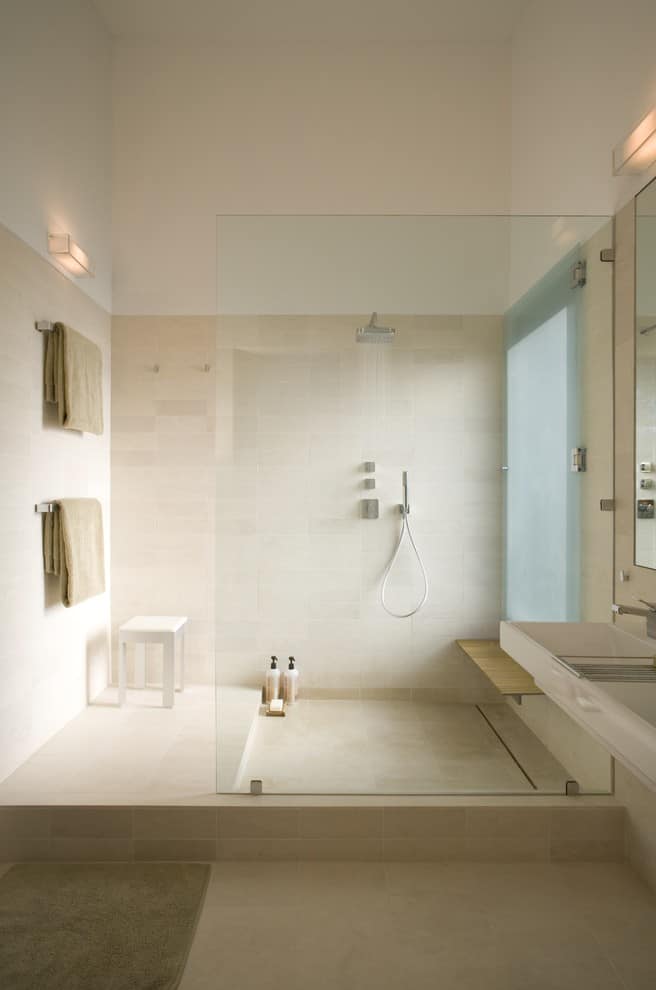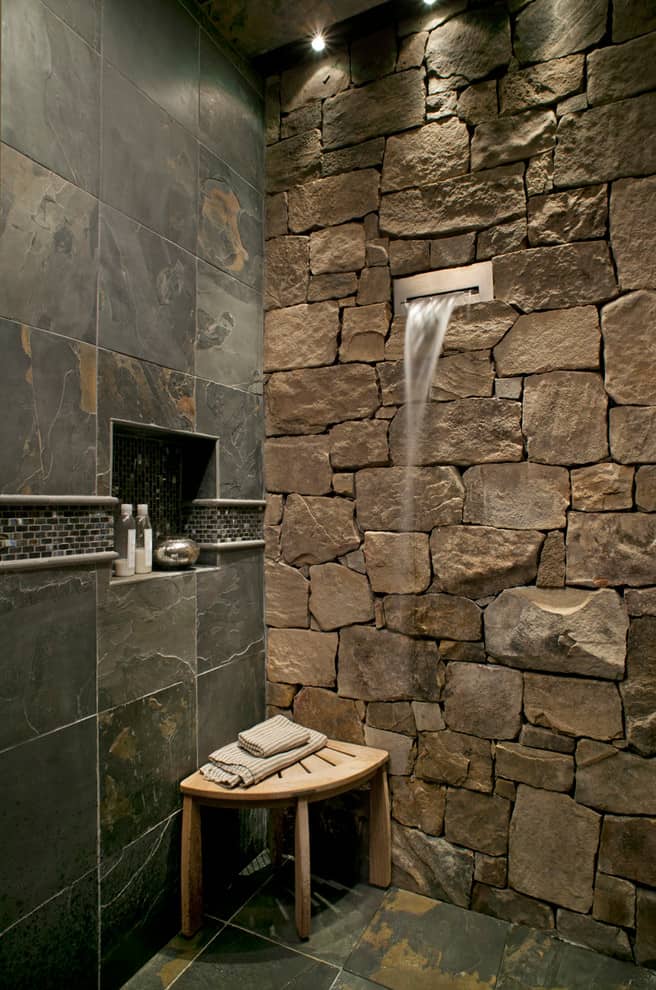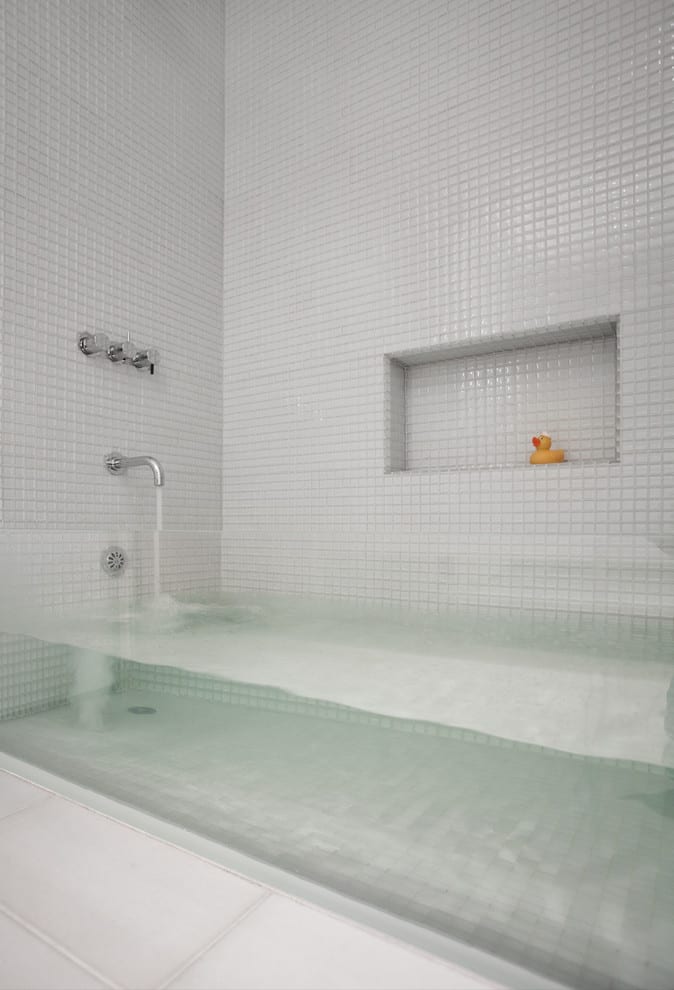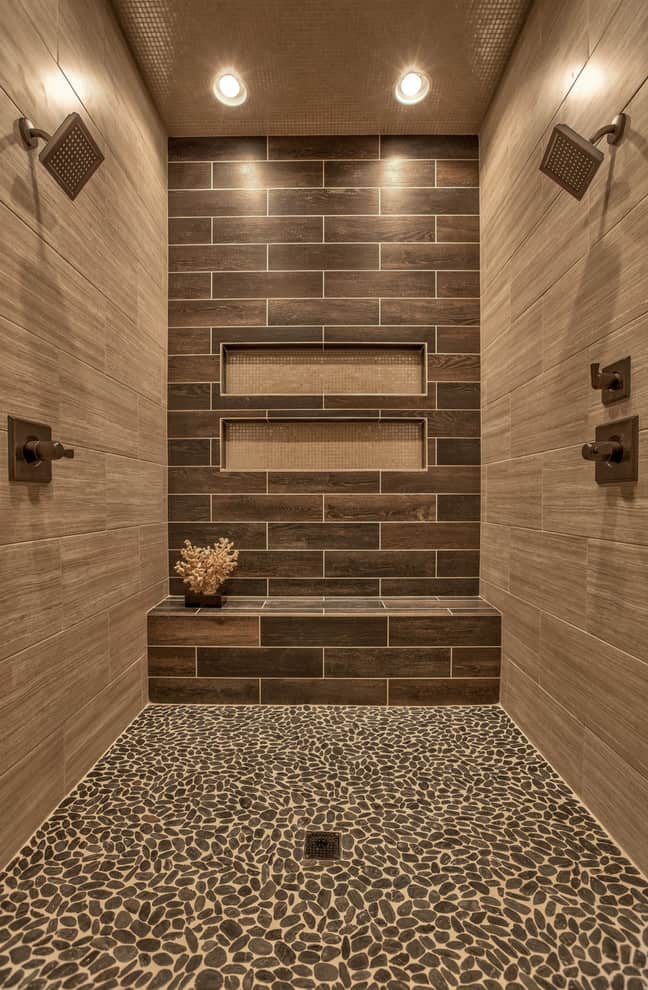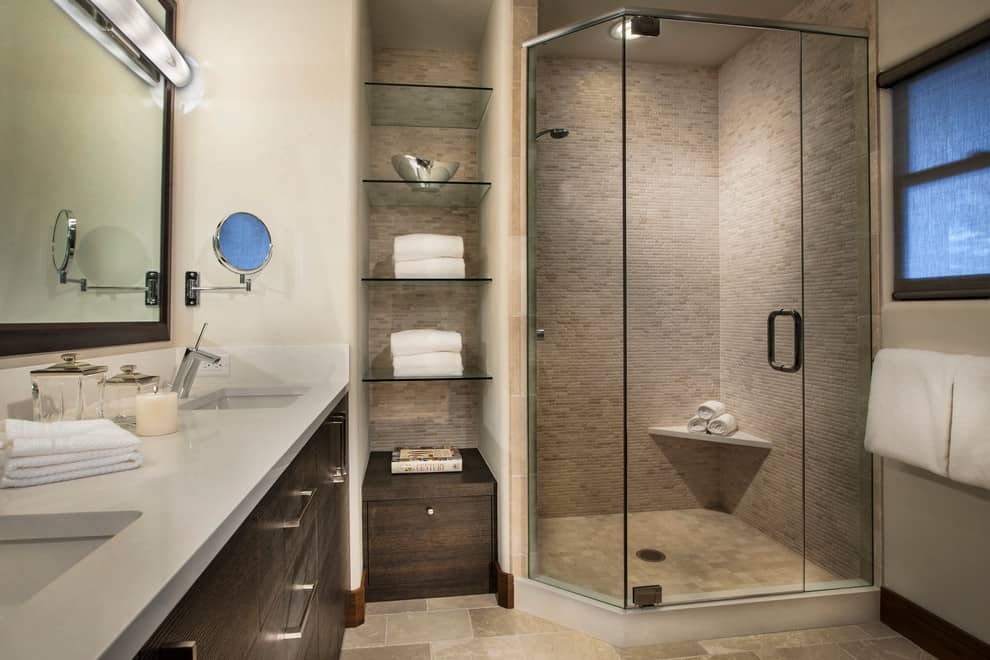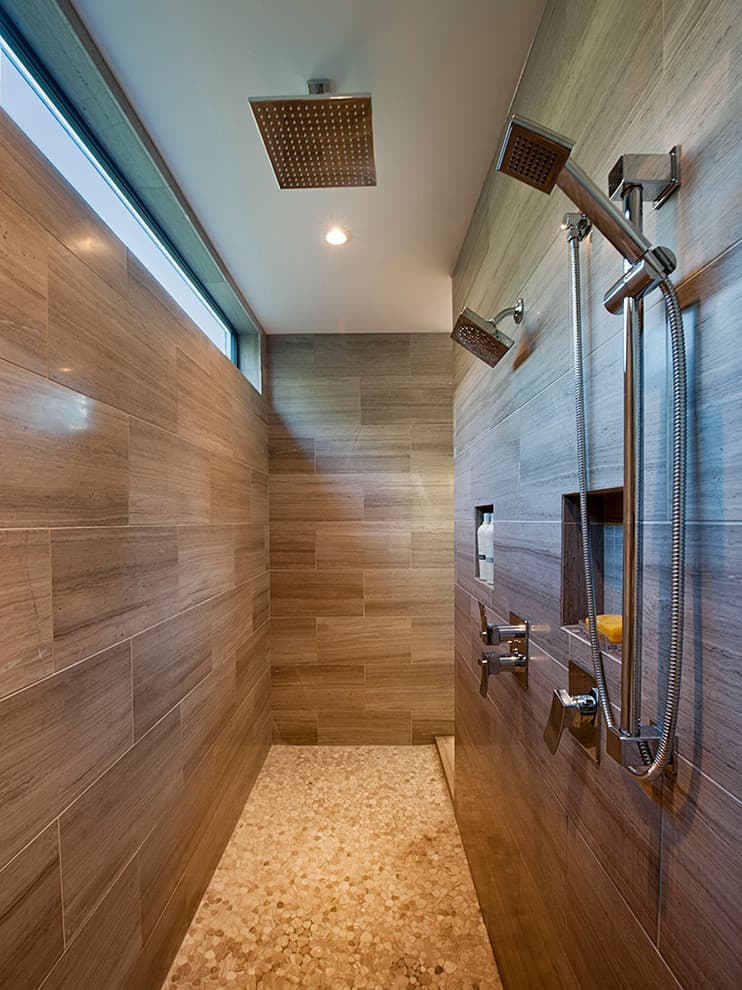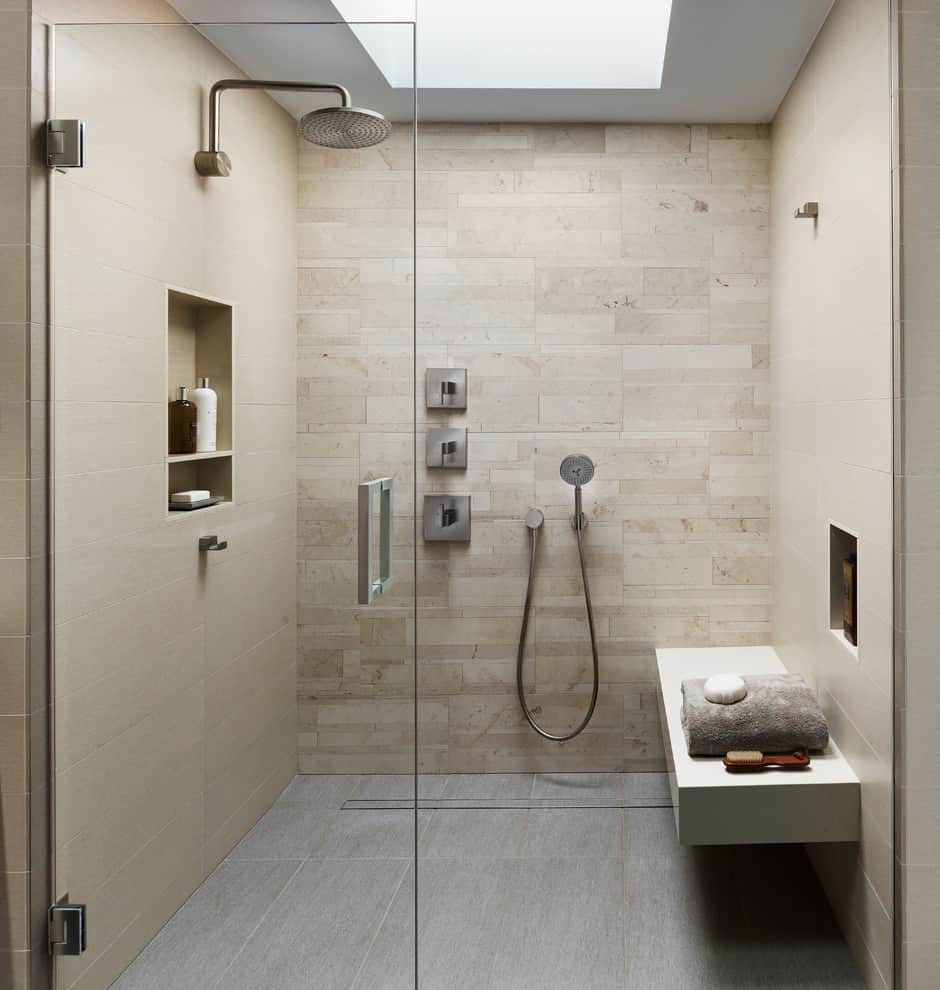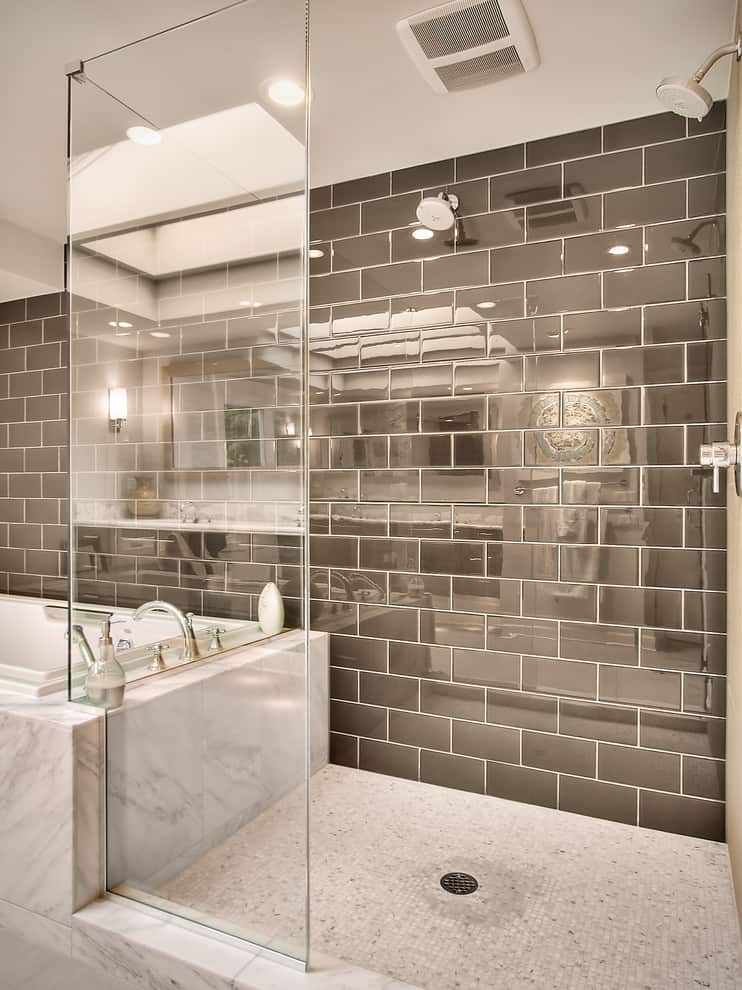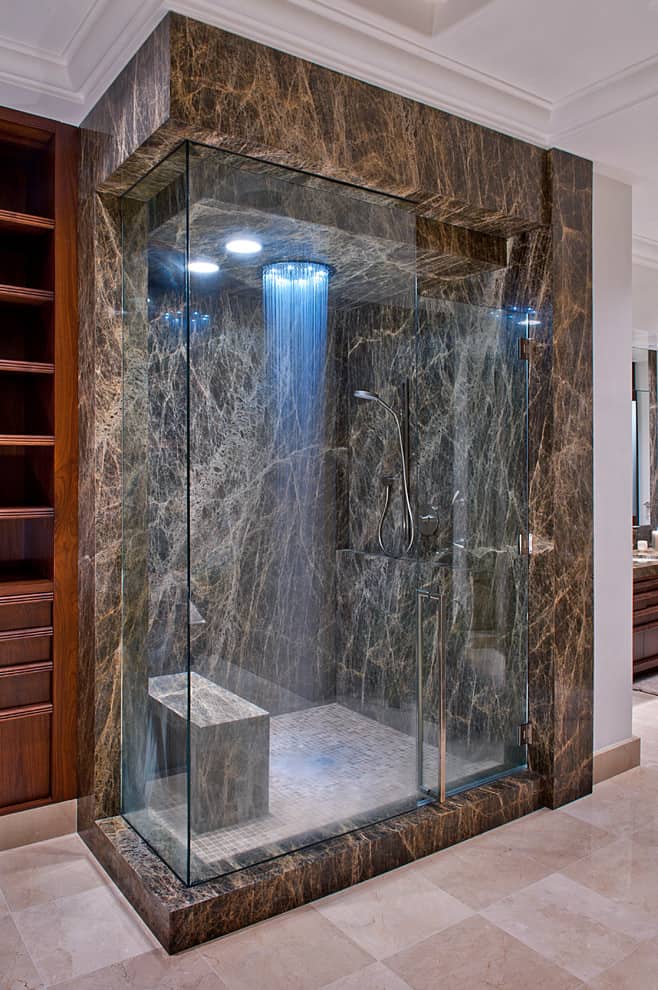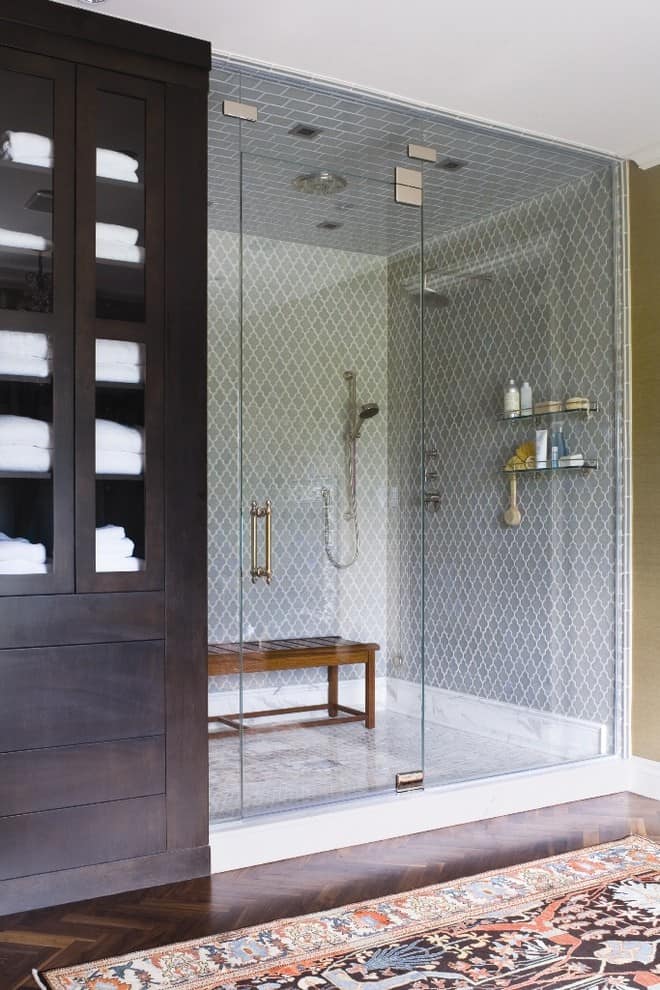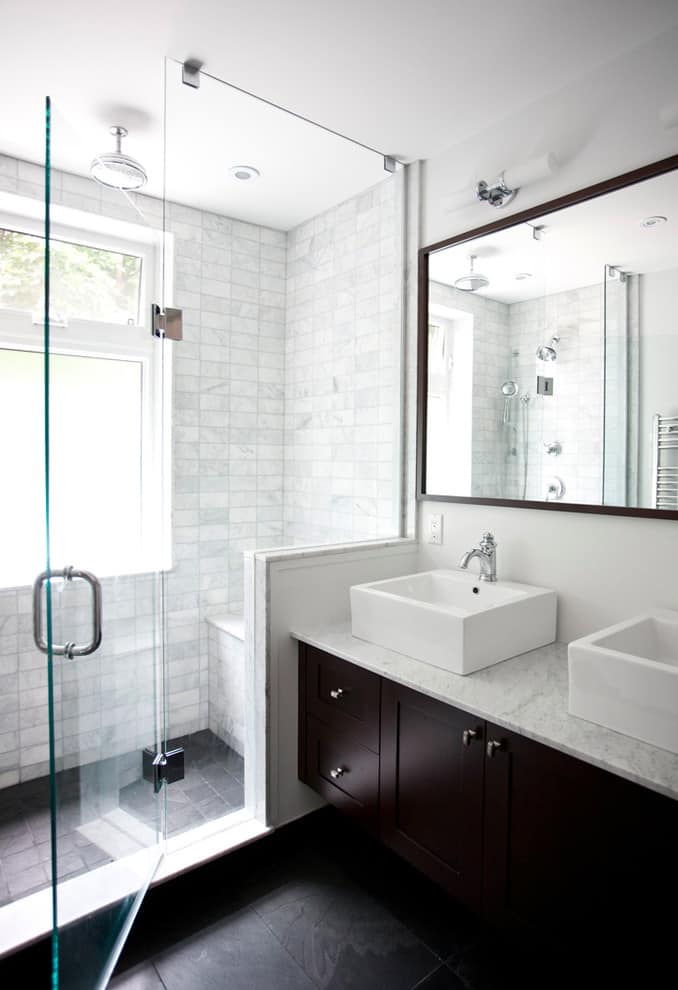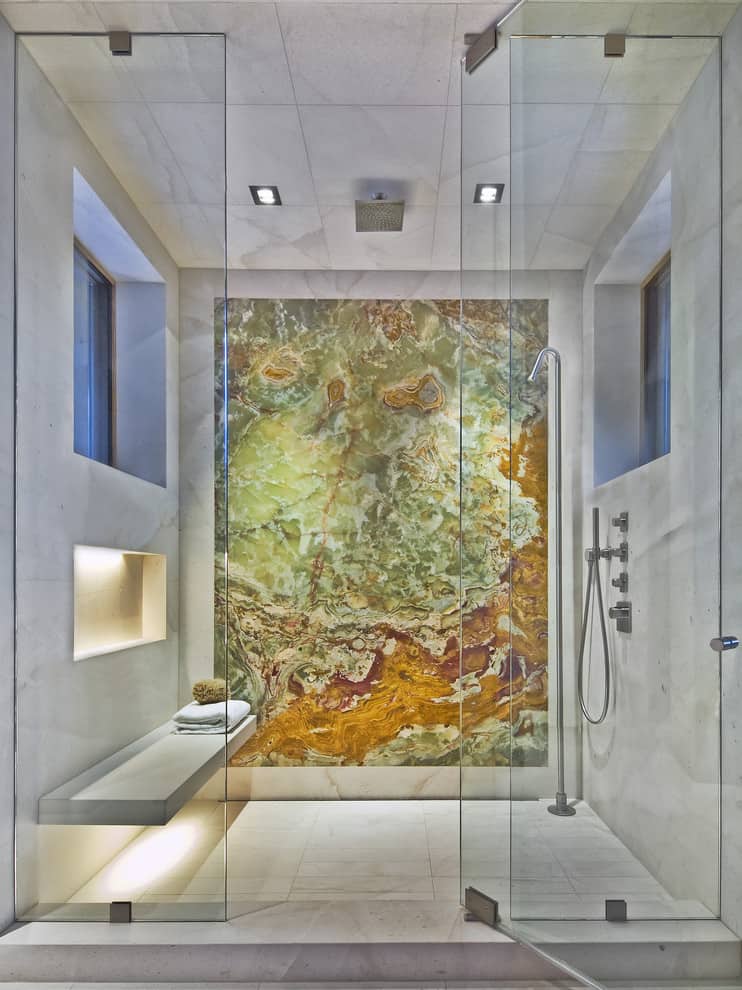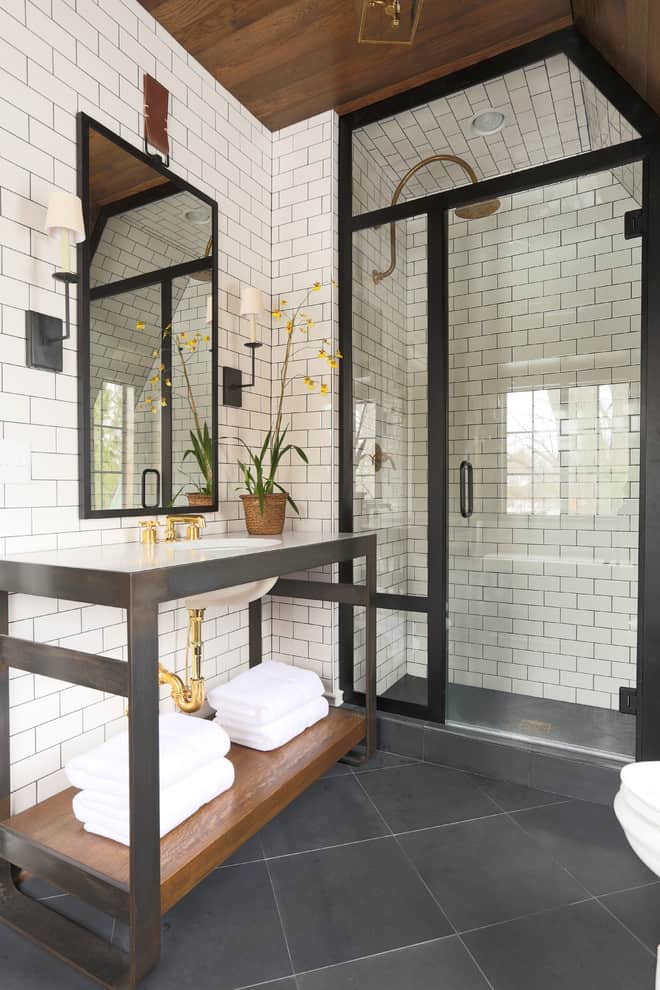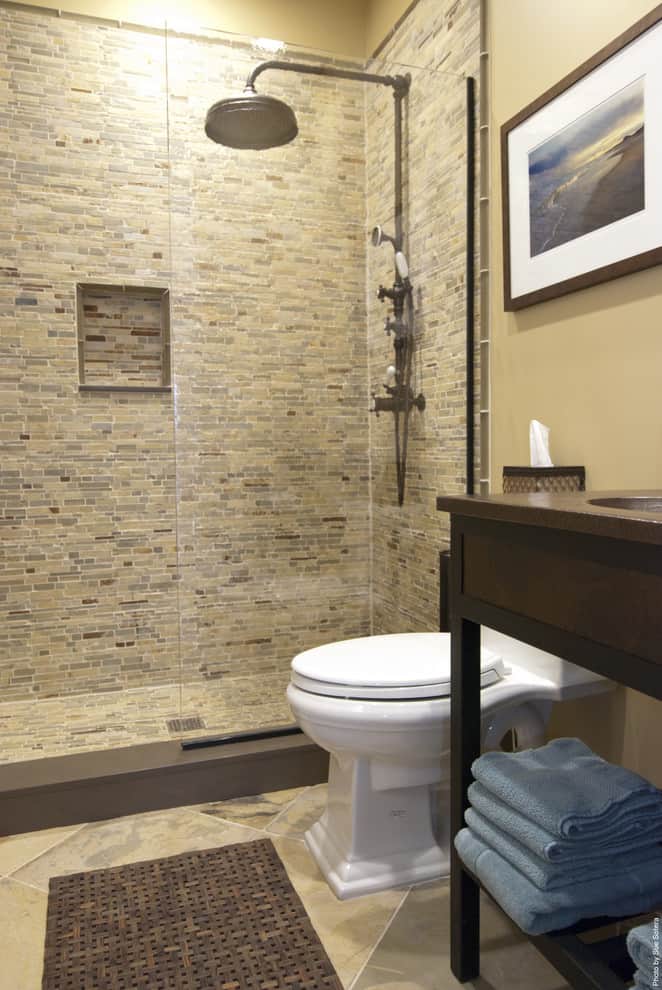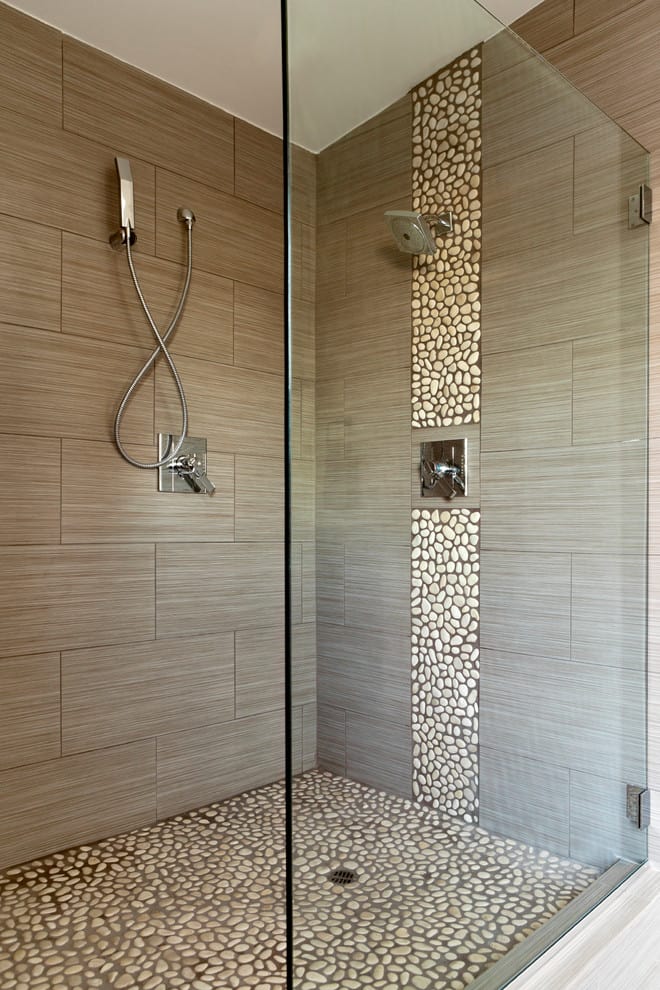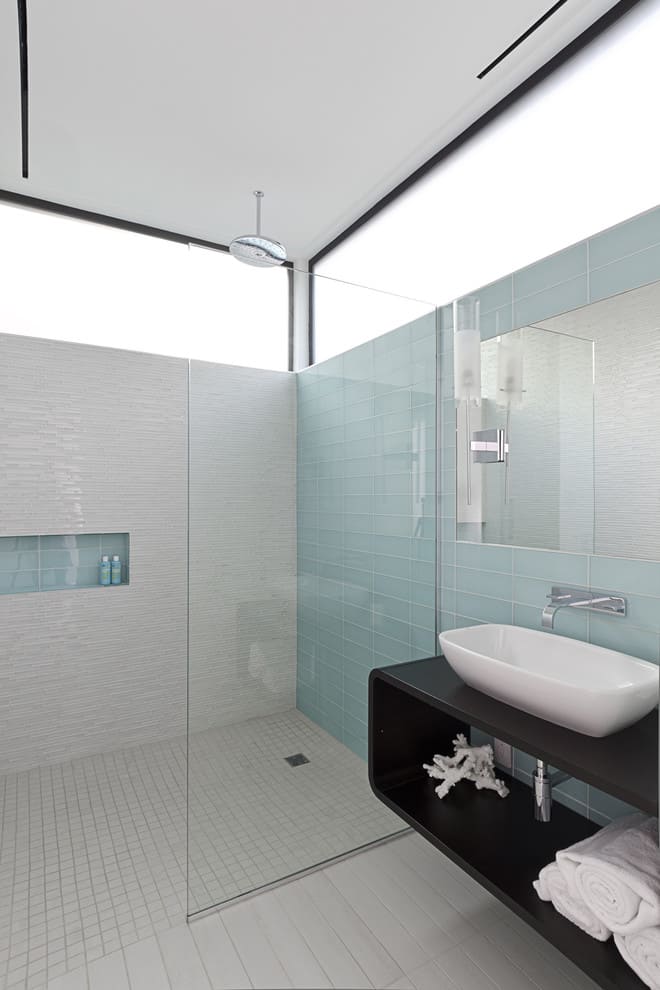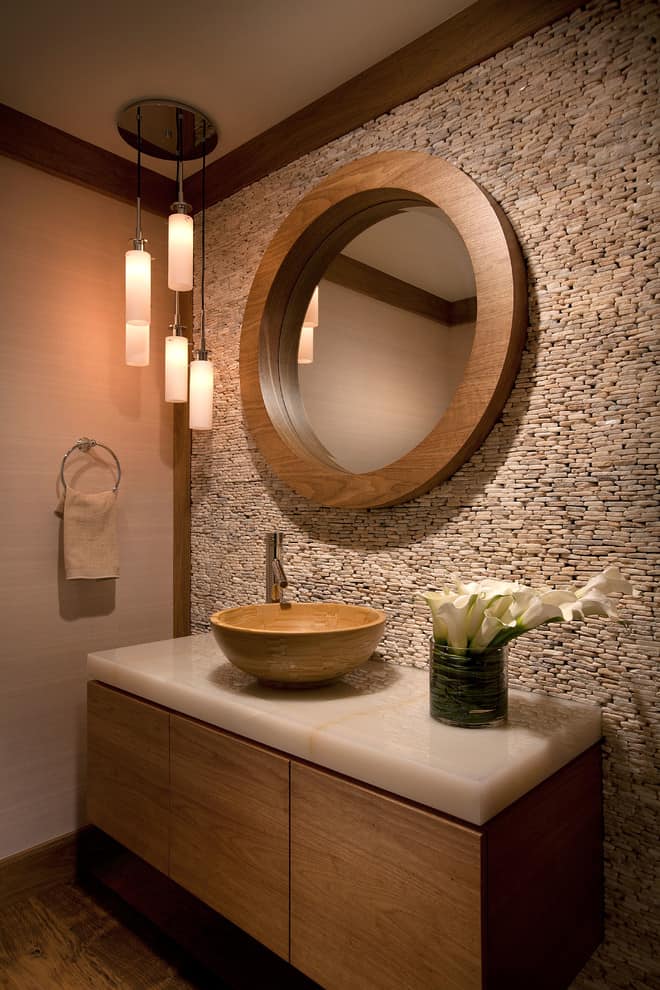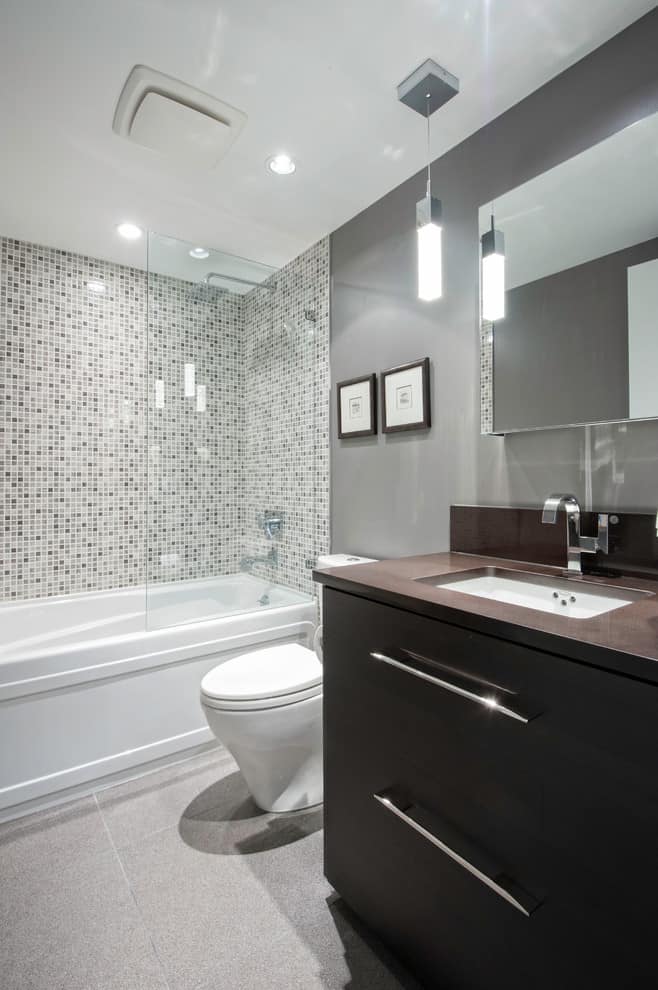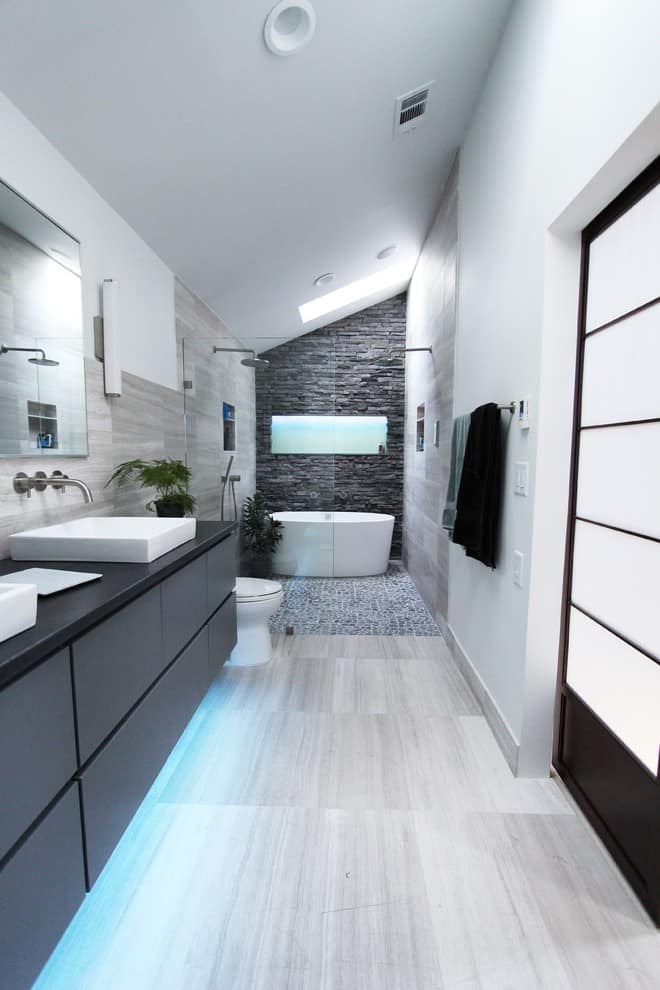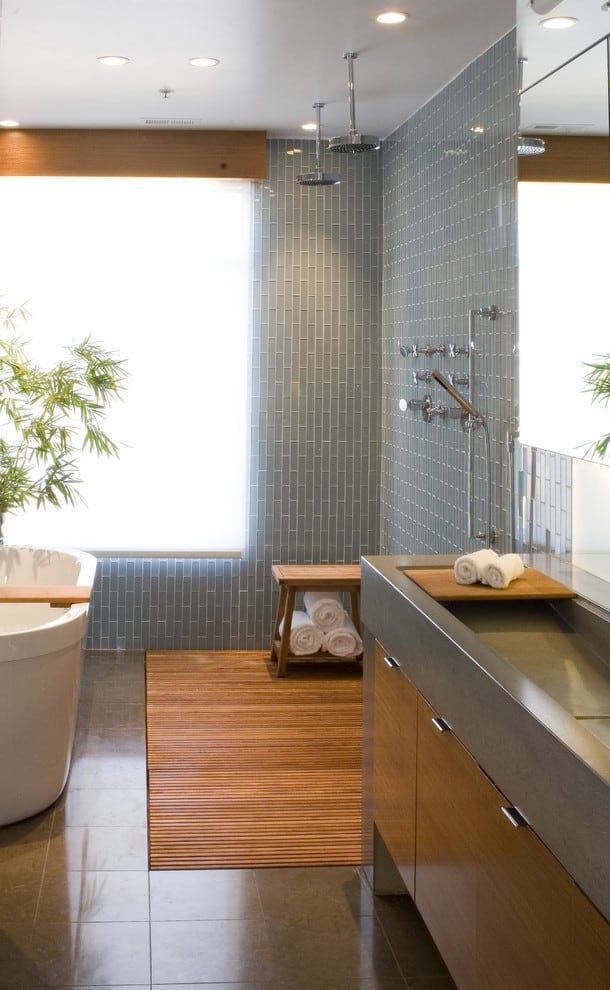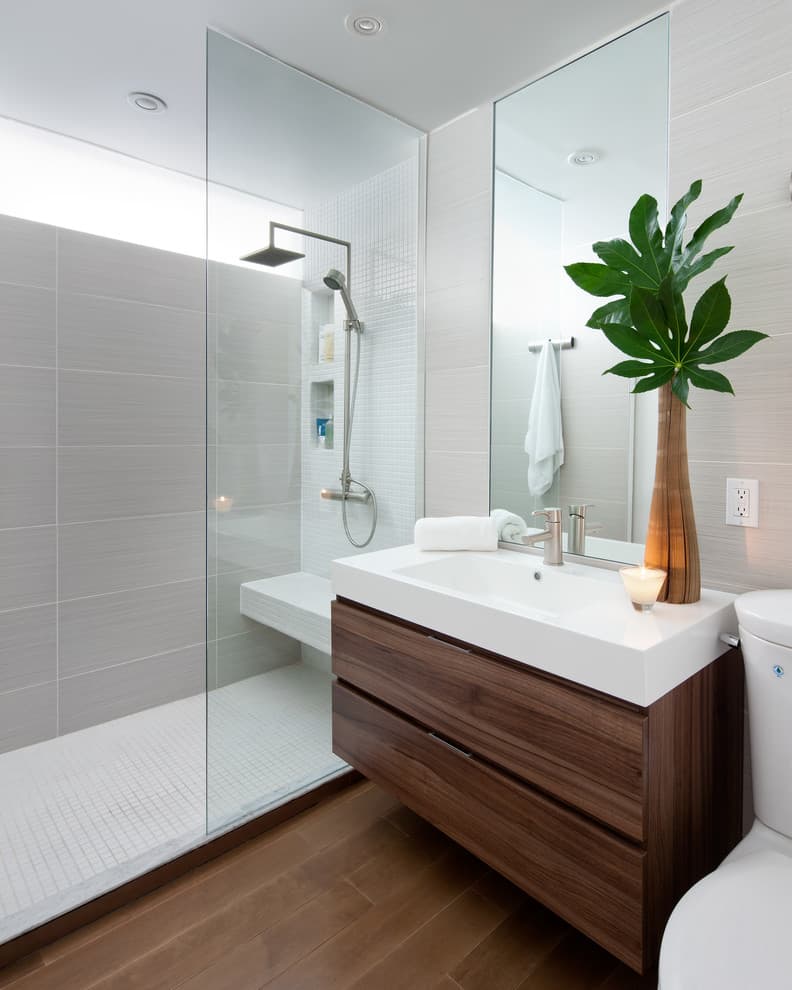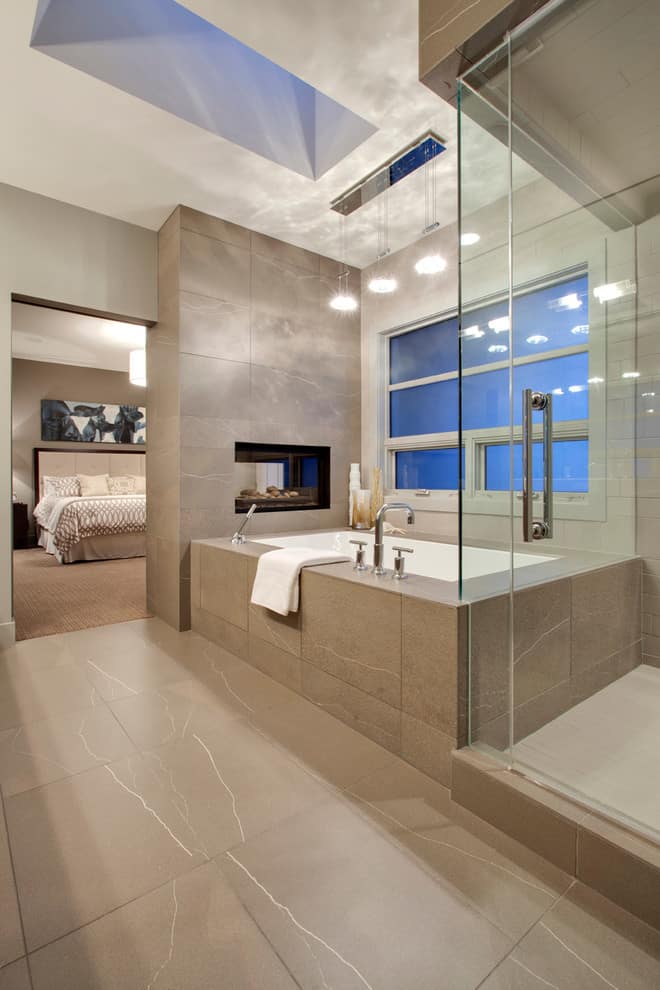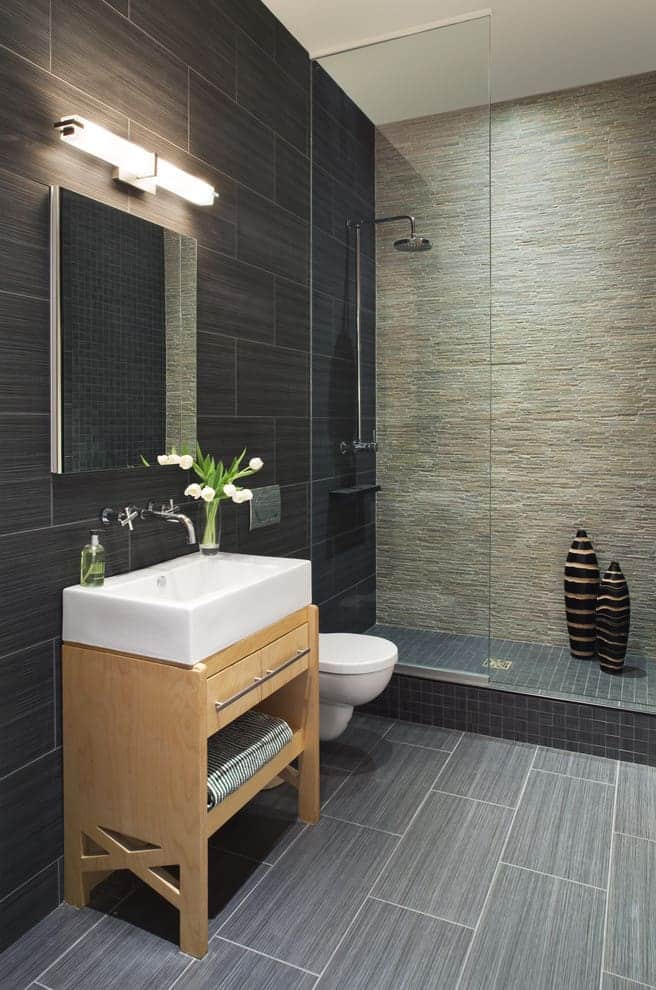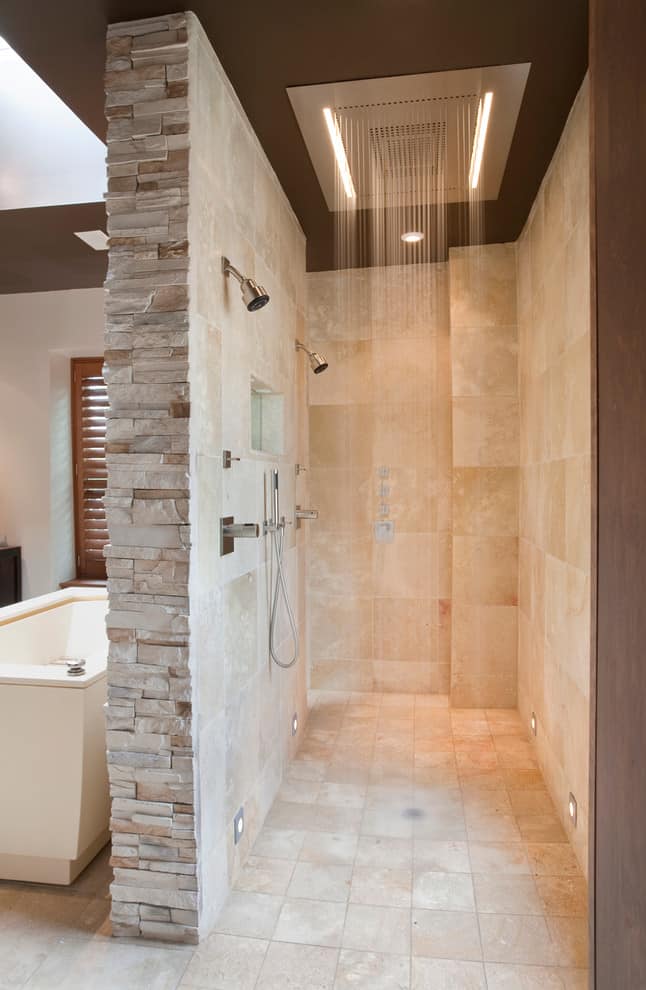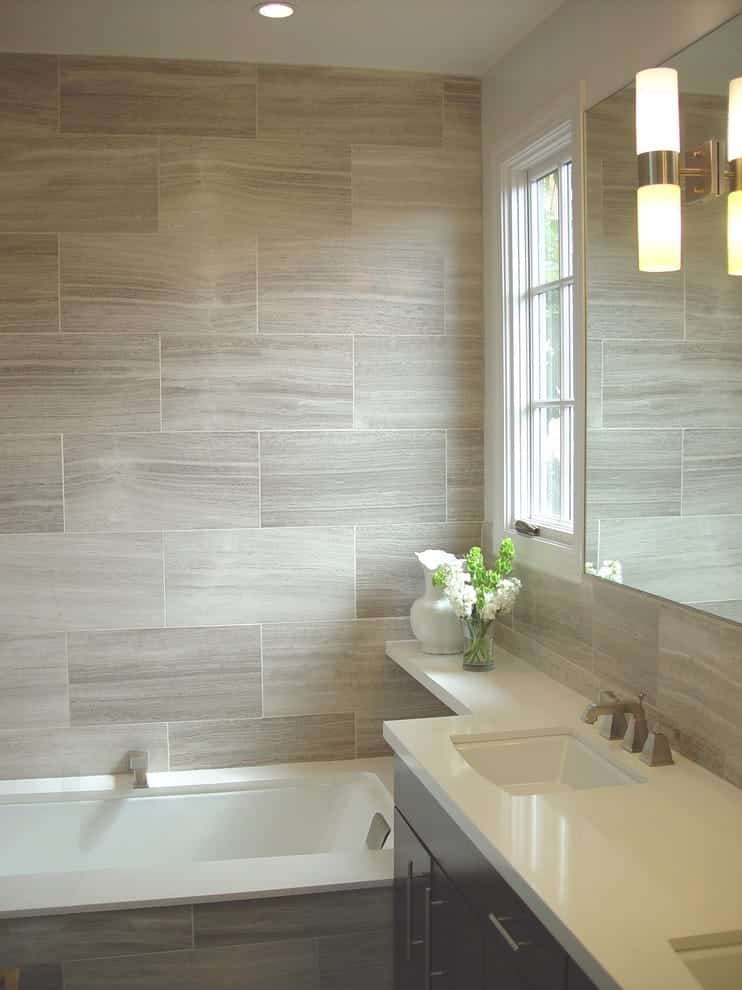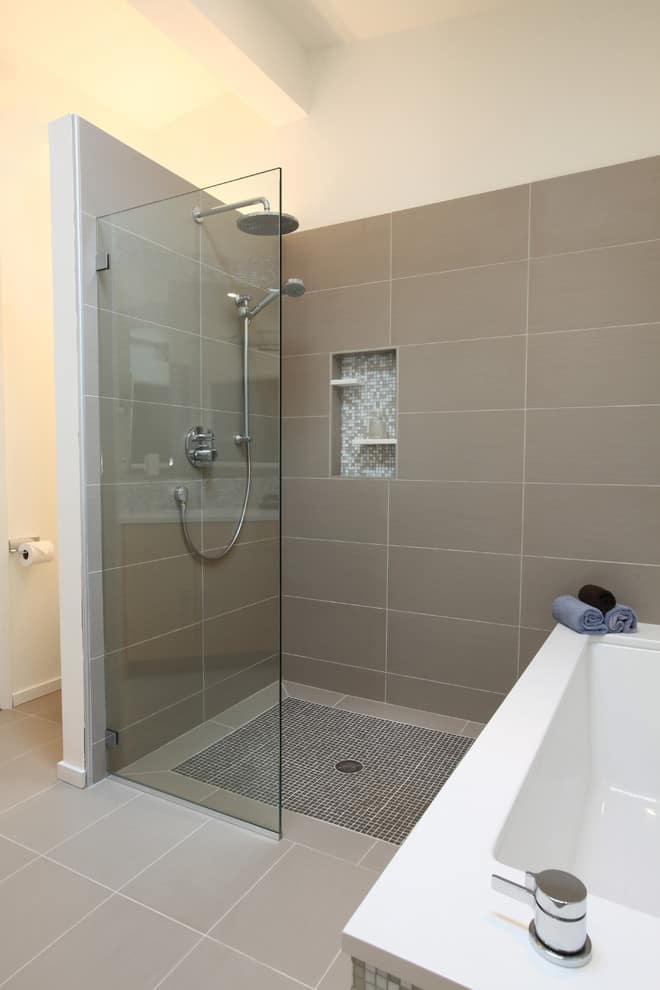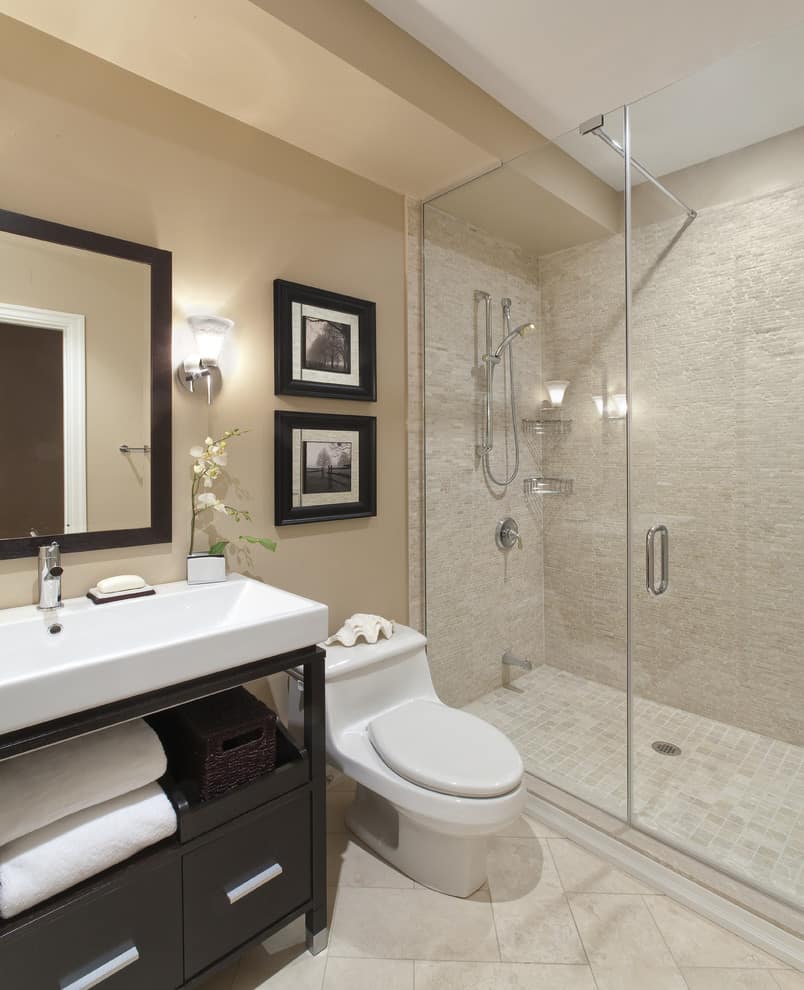 ---
Bathroom Ideas for Fittings & Faucets
Bathroom fittings that are wall mounted are highly popular as they have lesser contact with water resulting in lower maintenance.
The shape of current bathroom fittings are getting softer. More designers recommend fittings that do not hurt and injure. Softer bathroom fittings are either tilted at 7 degrees or may be curved or lozenge-shaped.
Water and energy efficient bathroom fittings are also much in demand.
Chrome finished bathroom fittings can add eye candy to your bathroom. After all, who does not like shiny, radiant and immaculate fittings that resist grime and tarnishing?
Additional Information: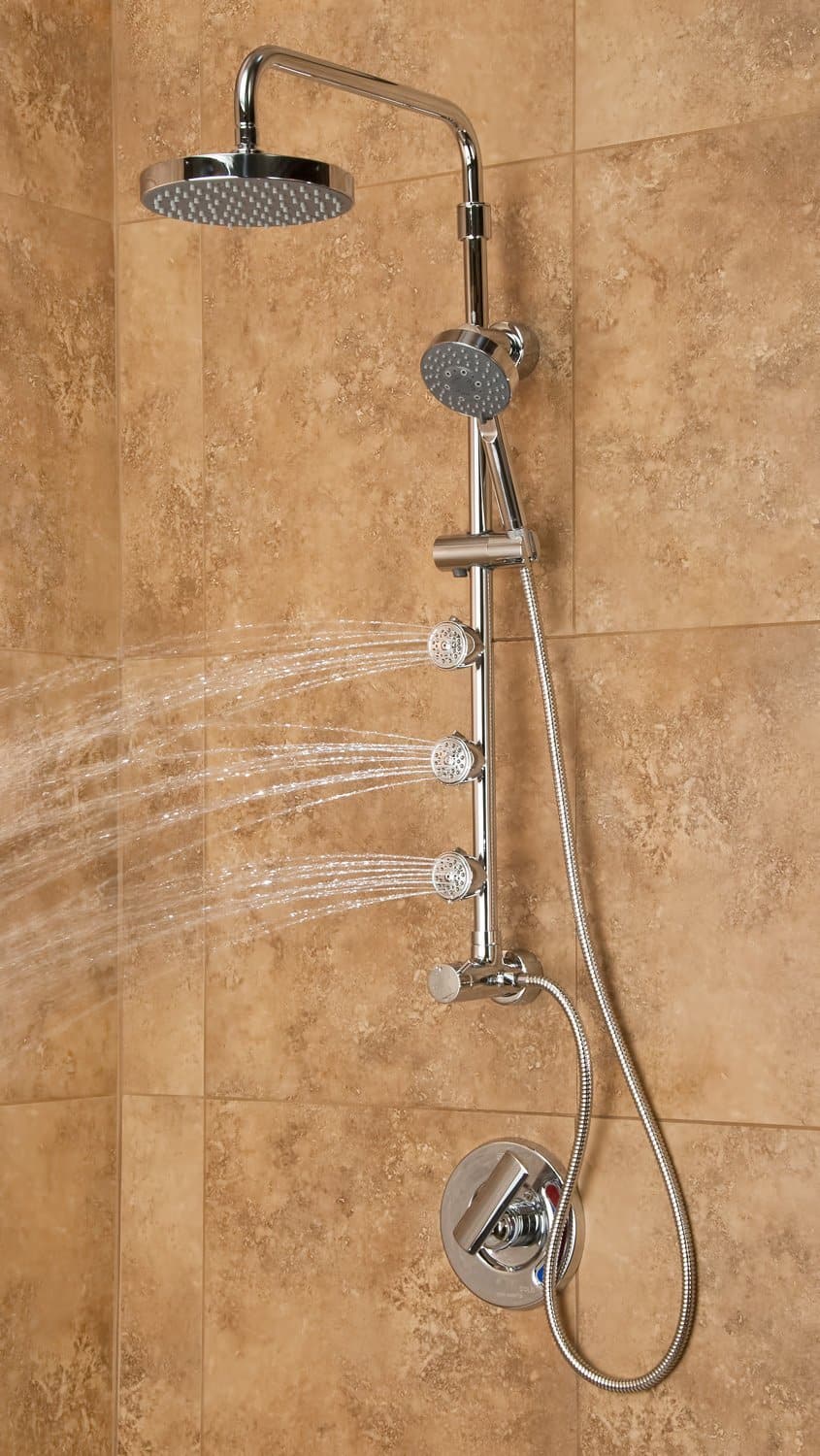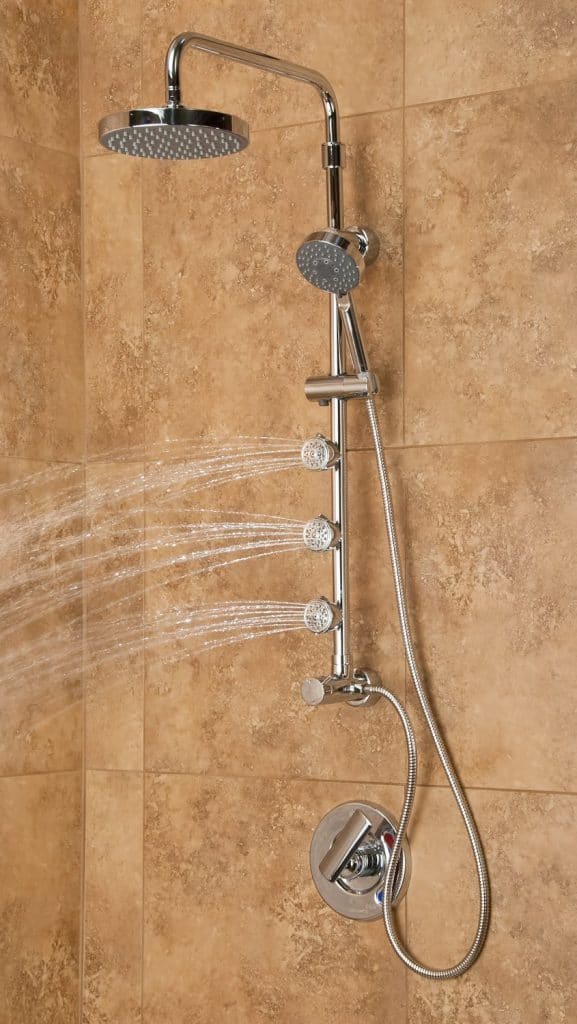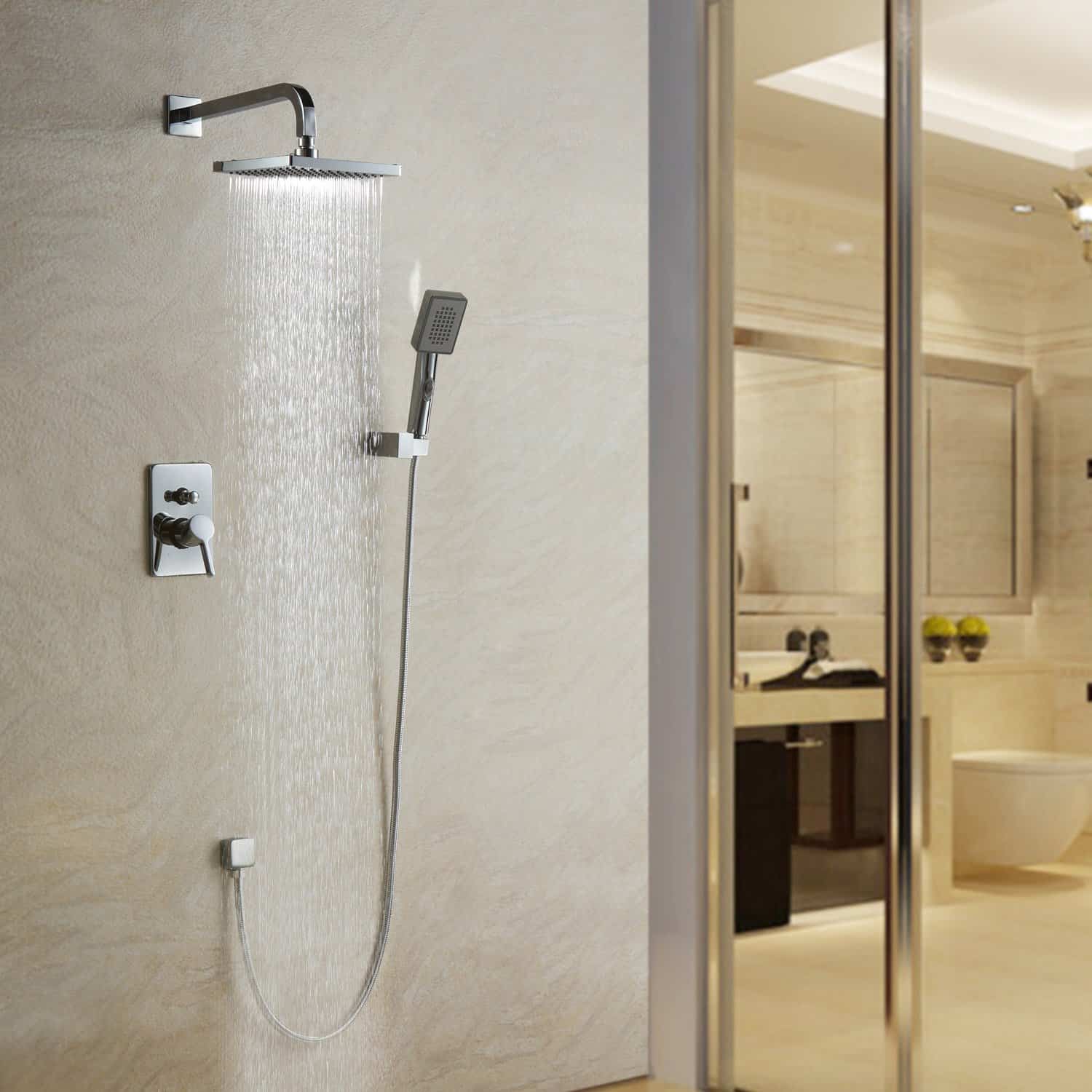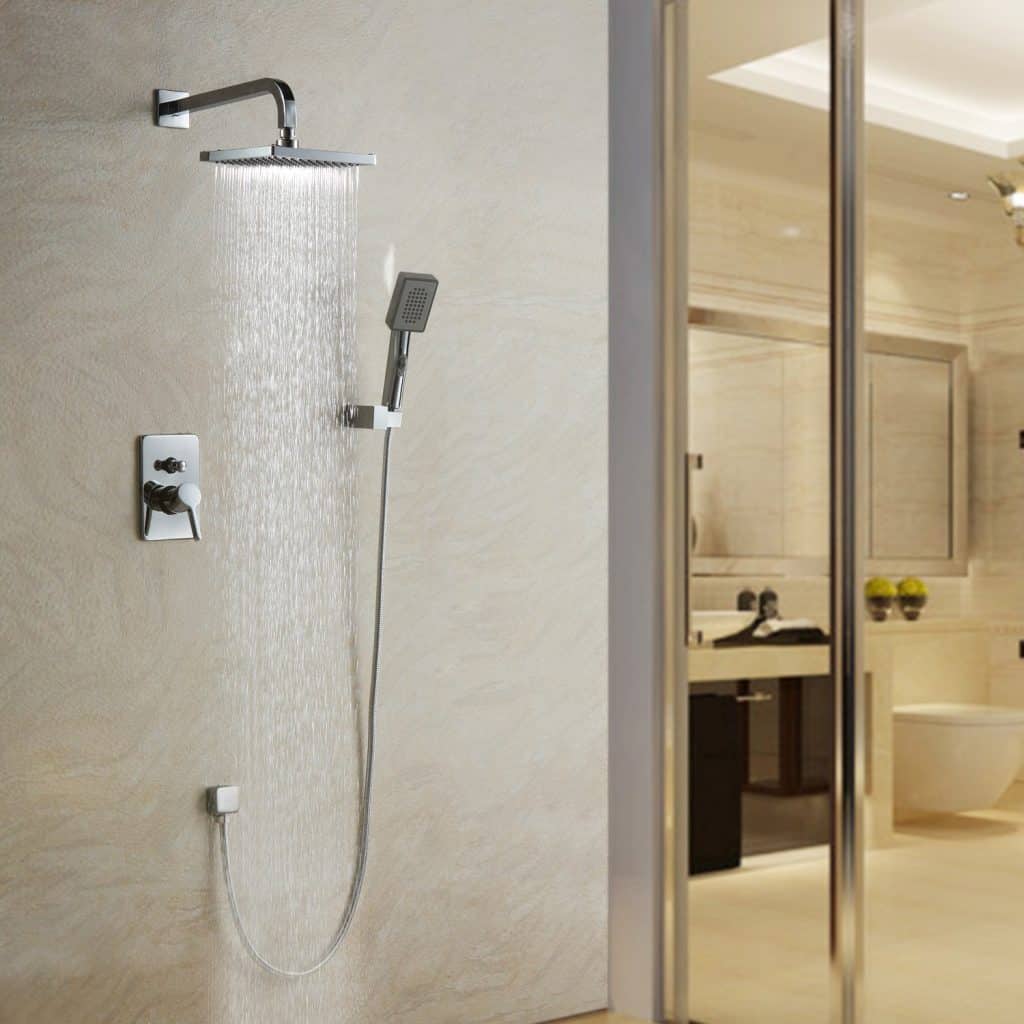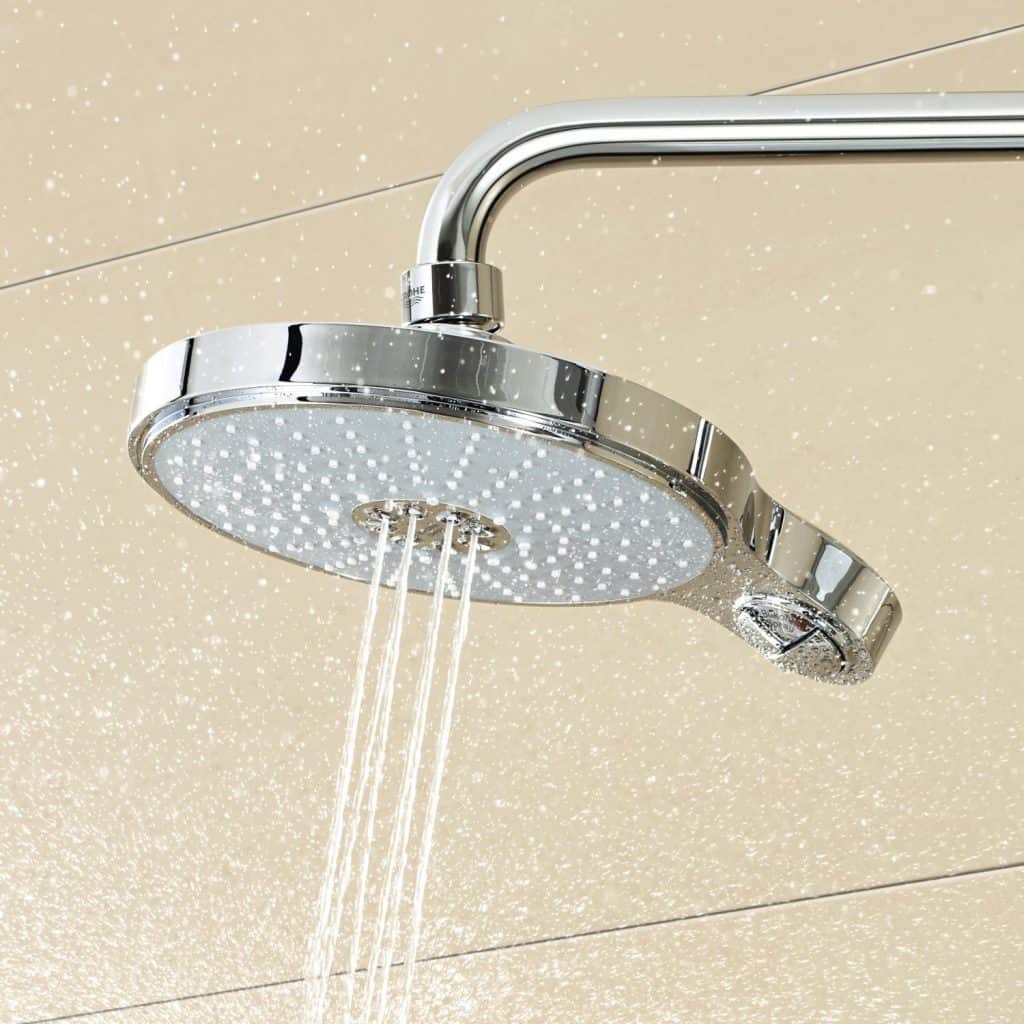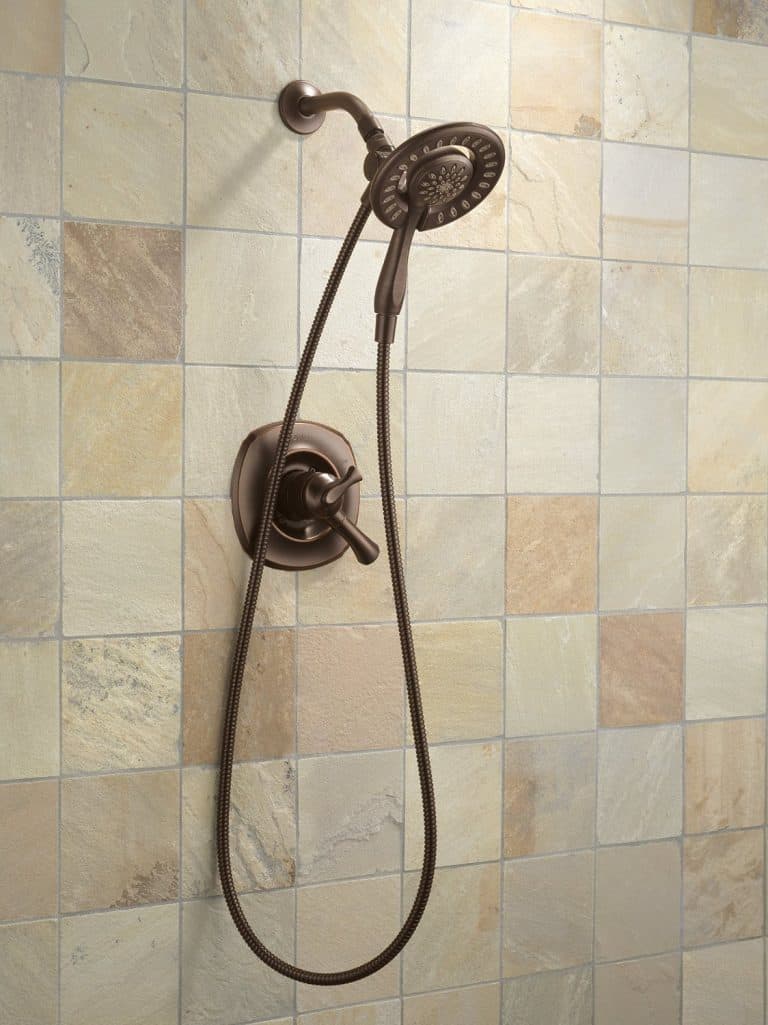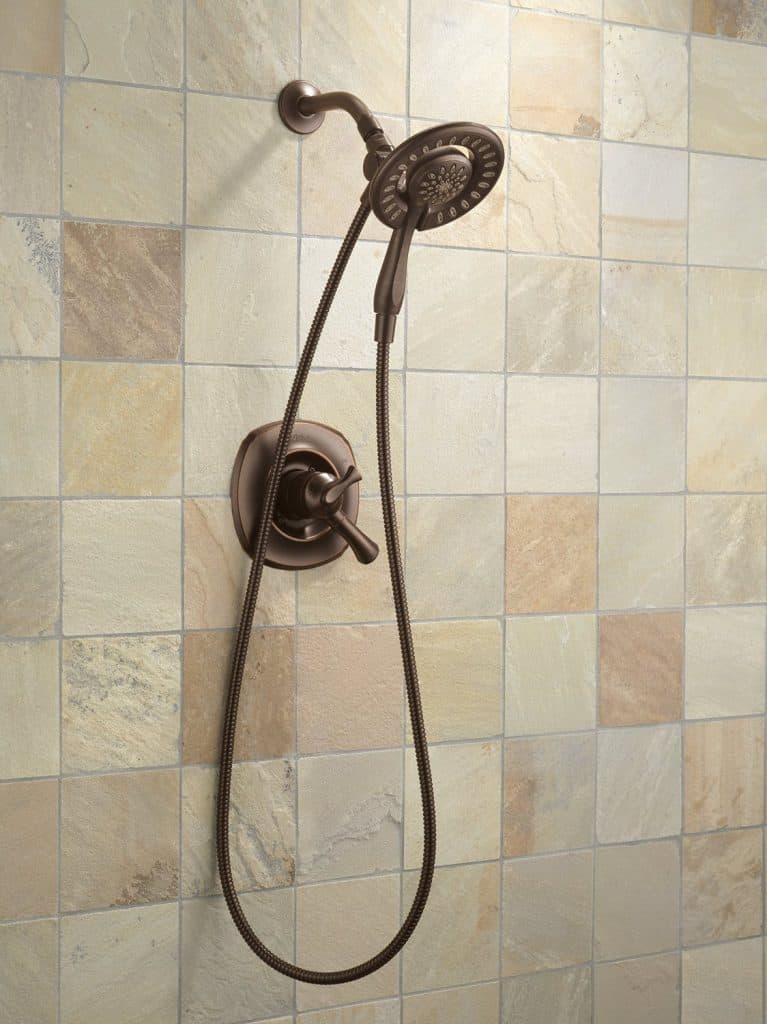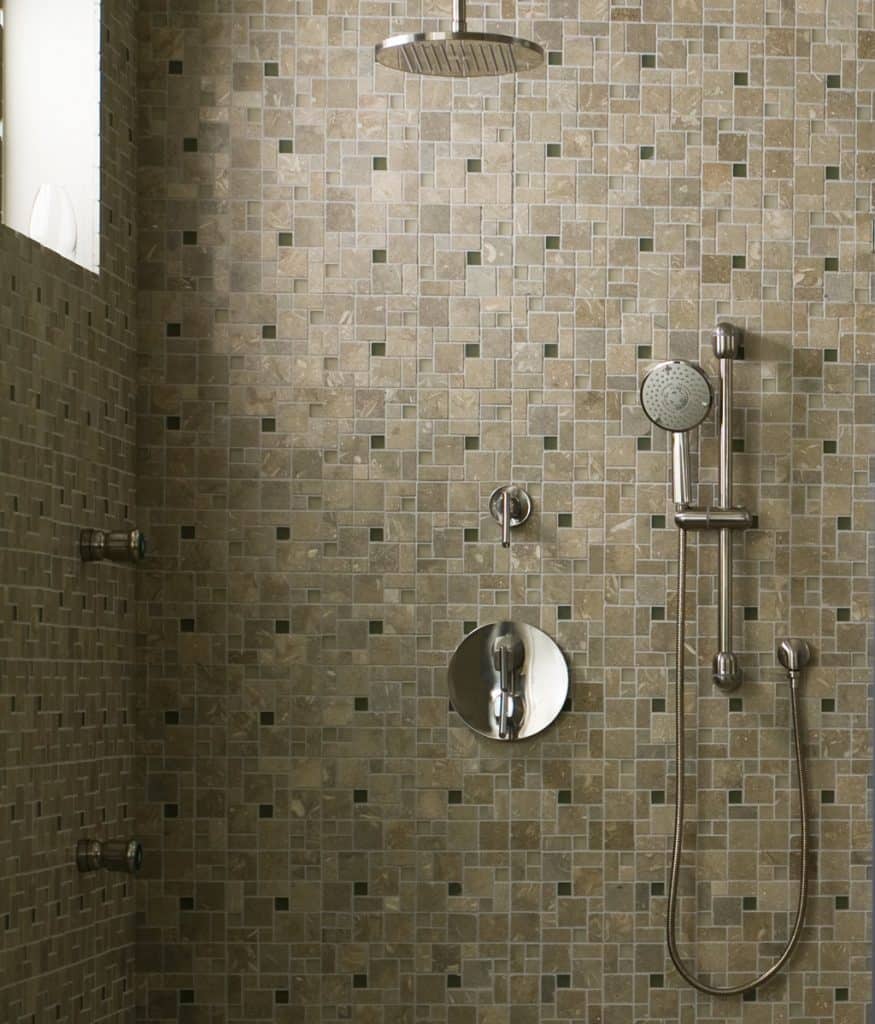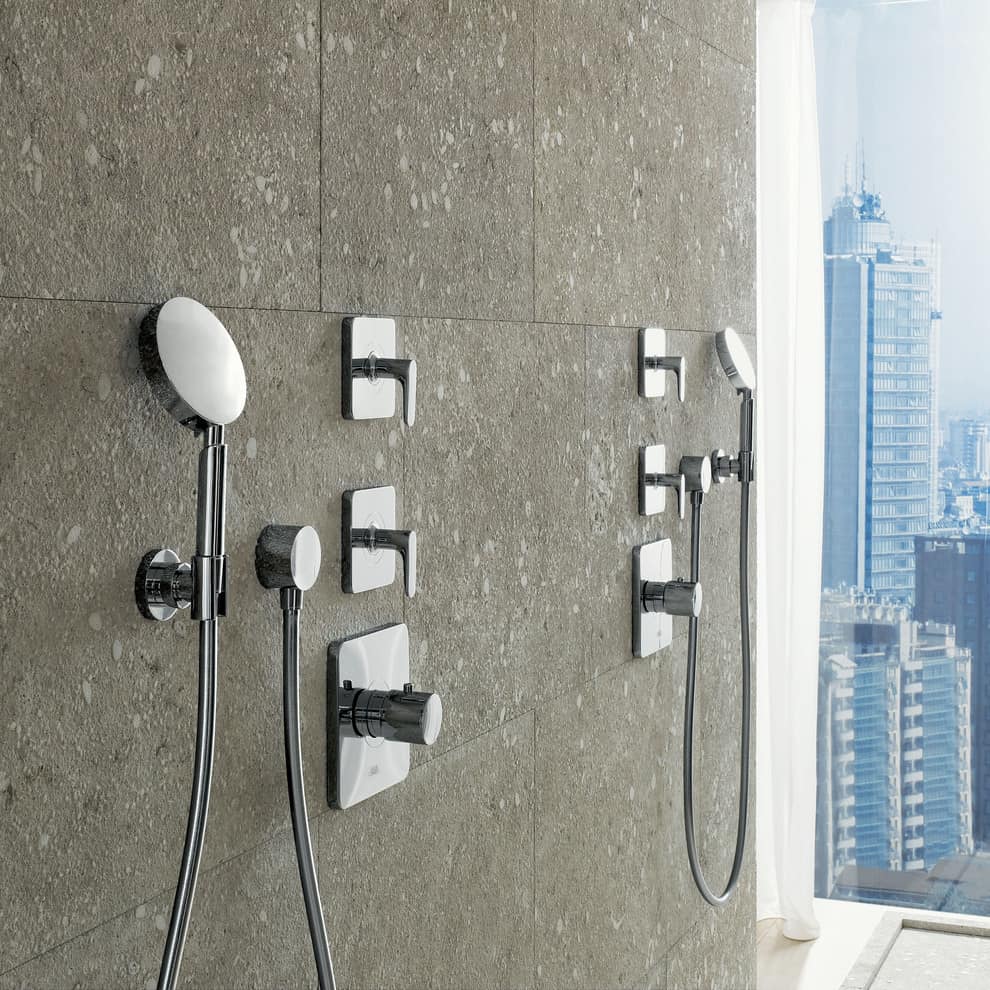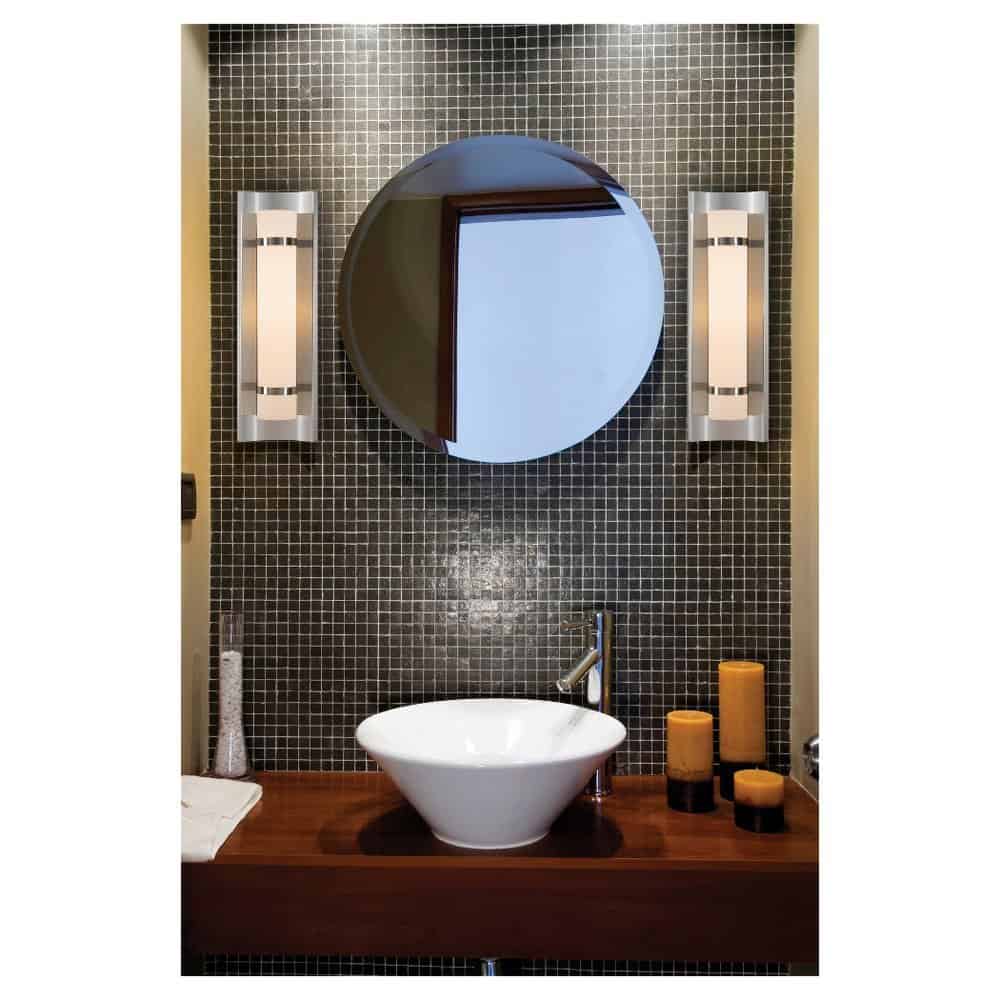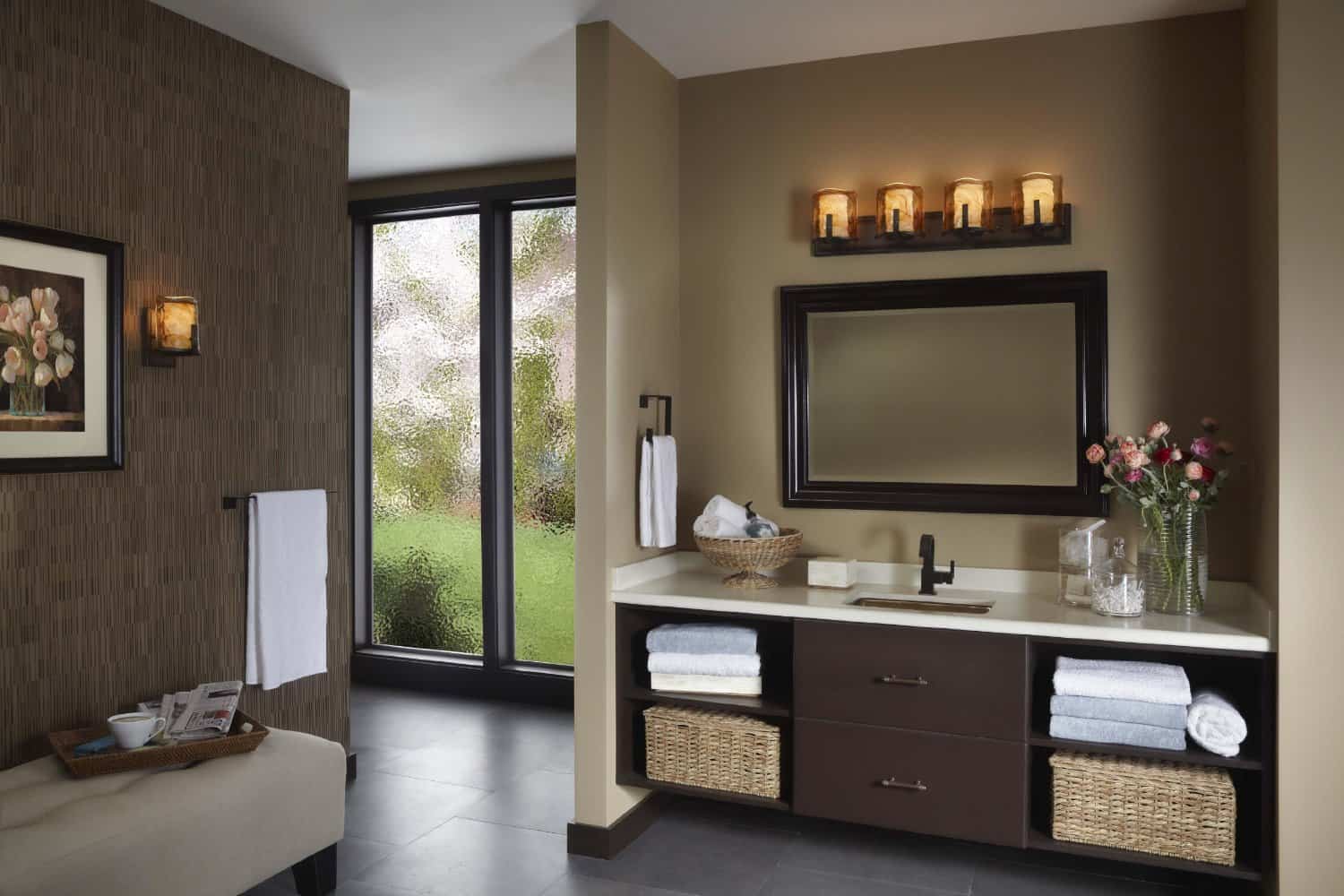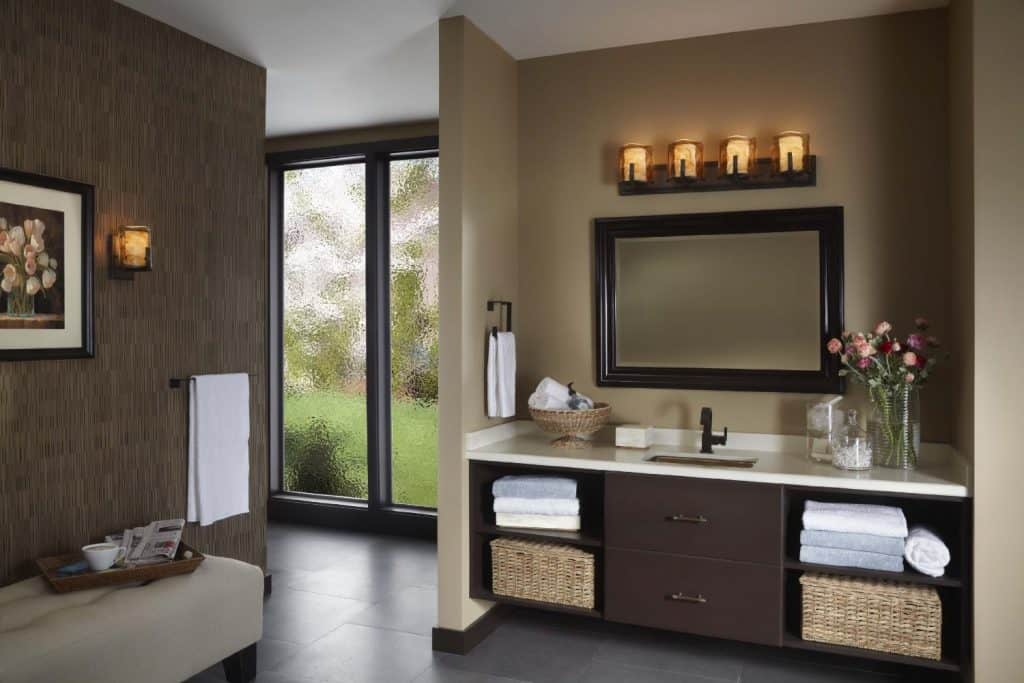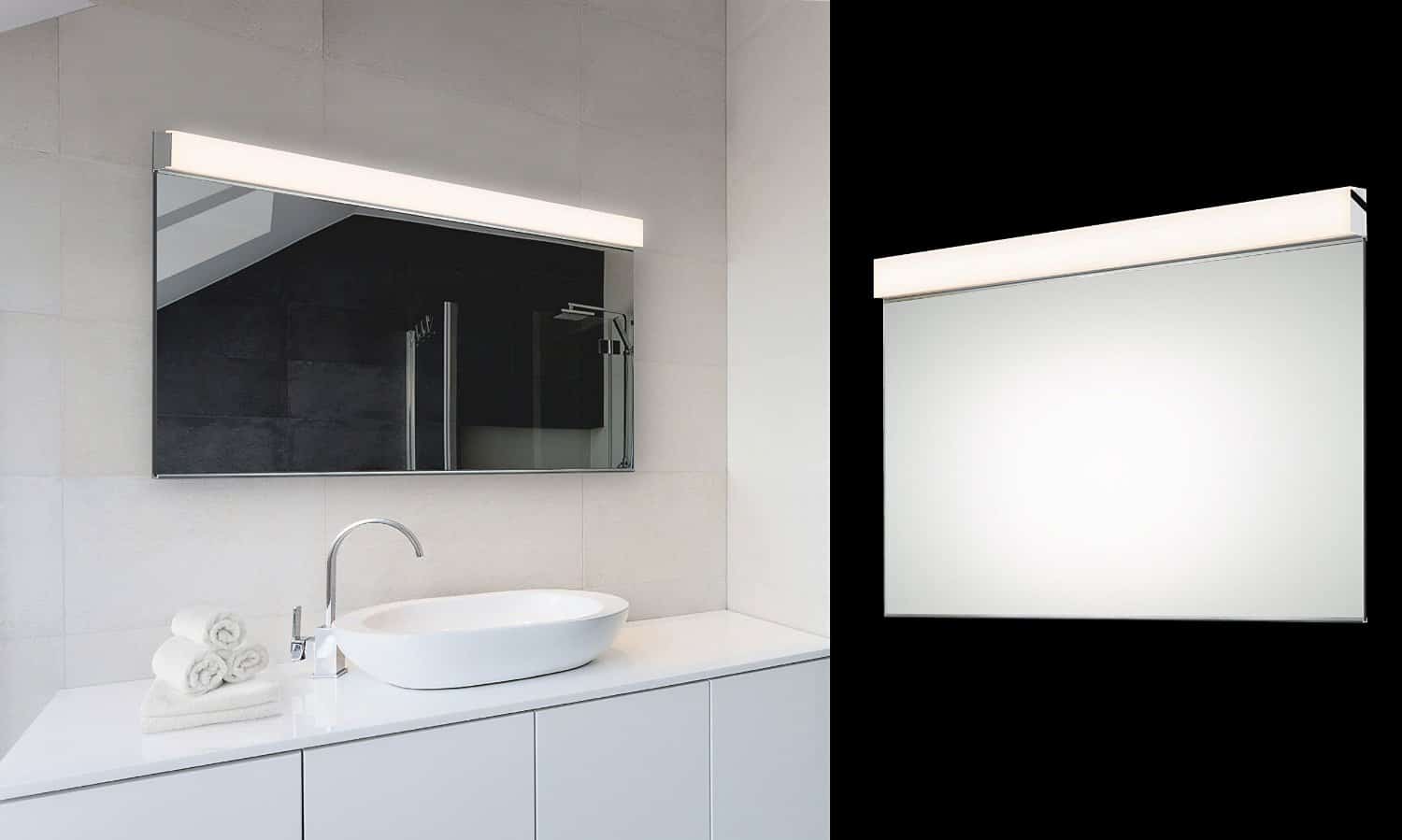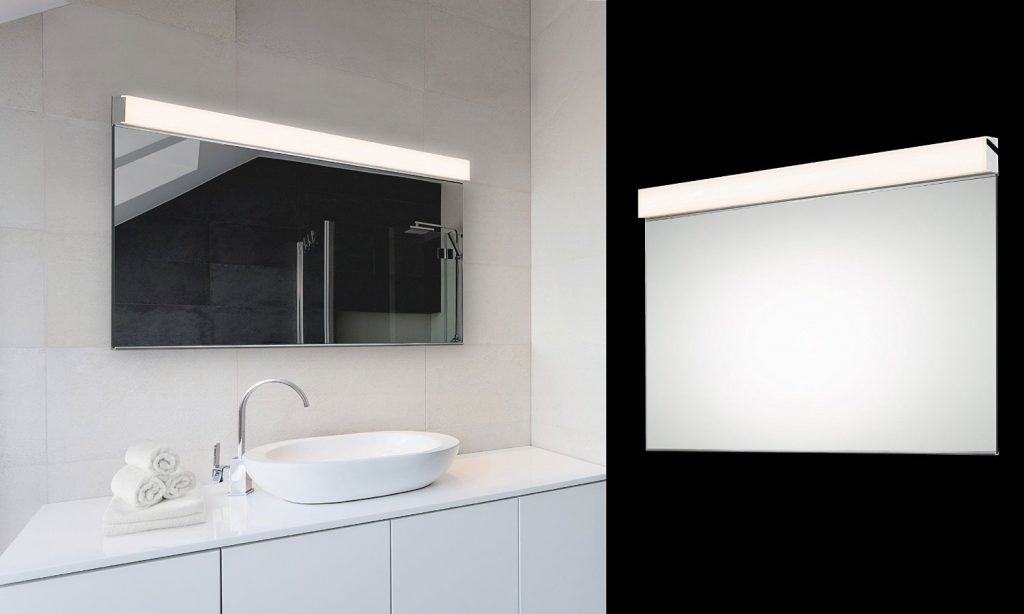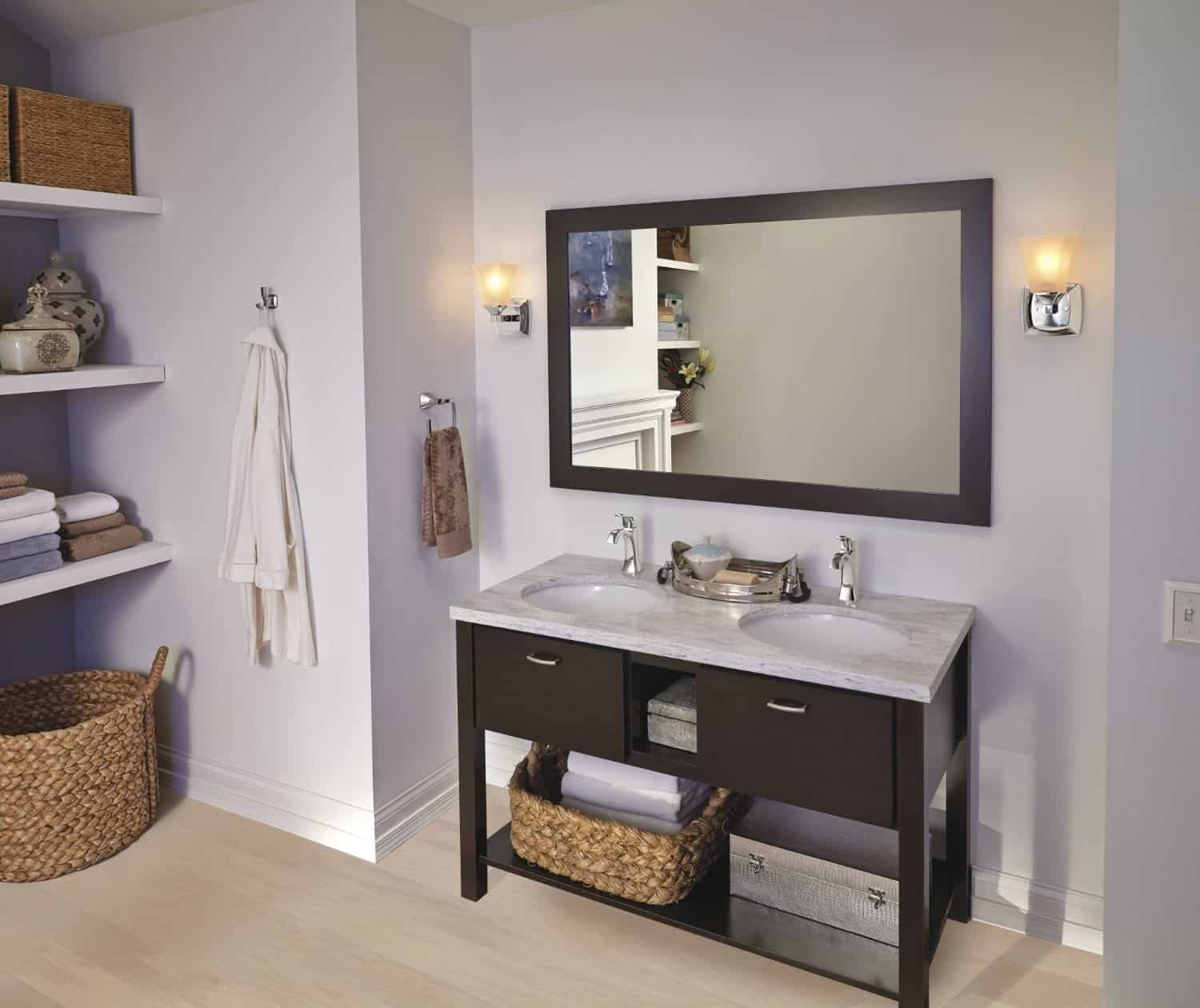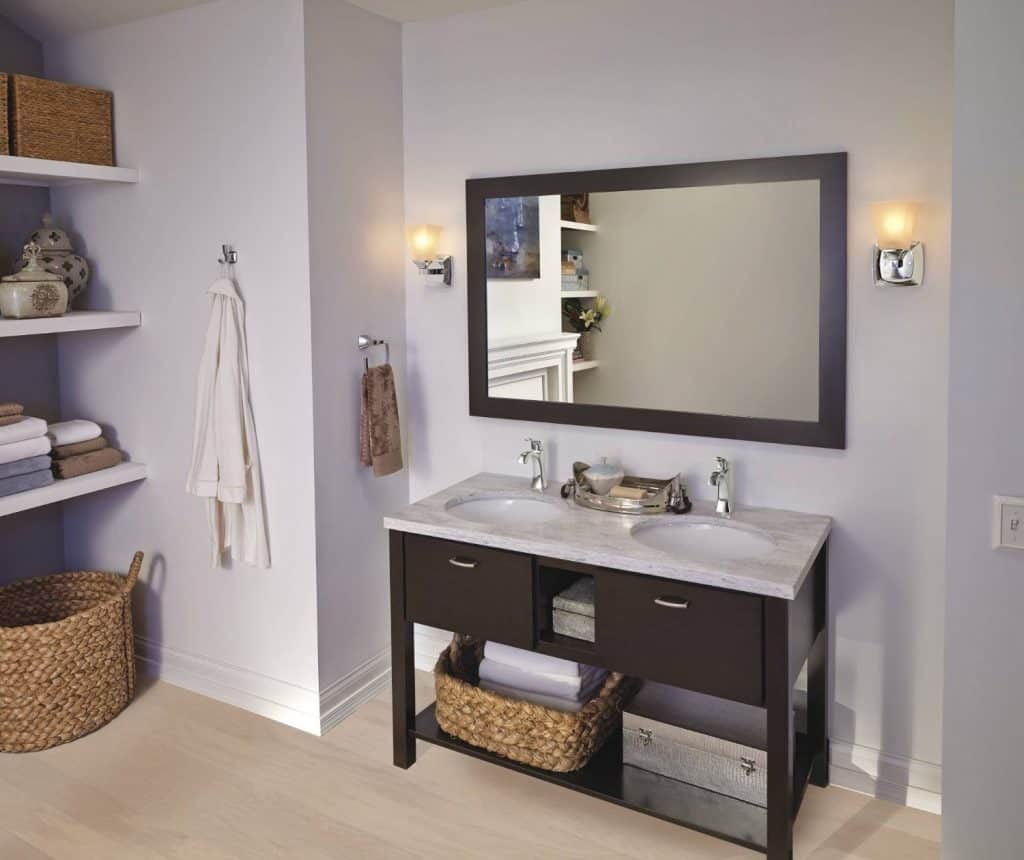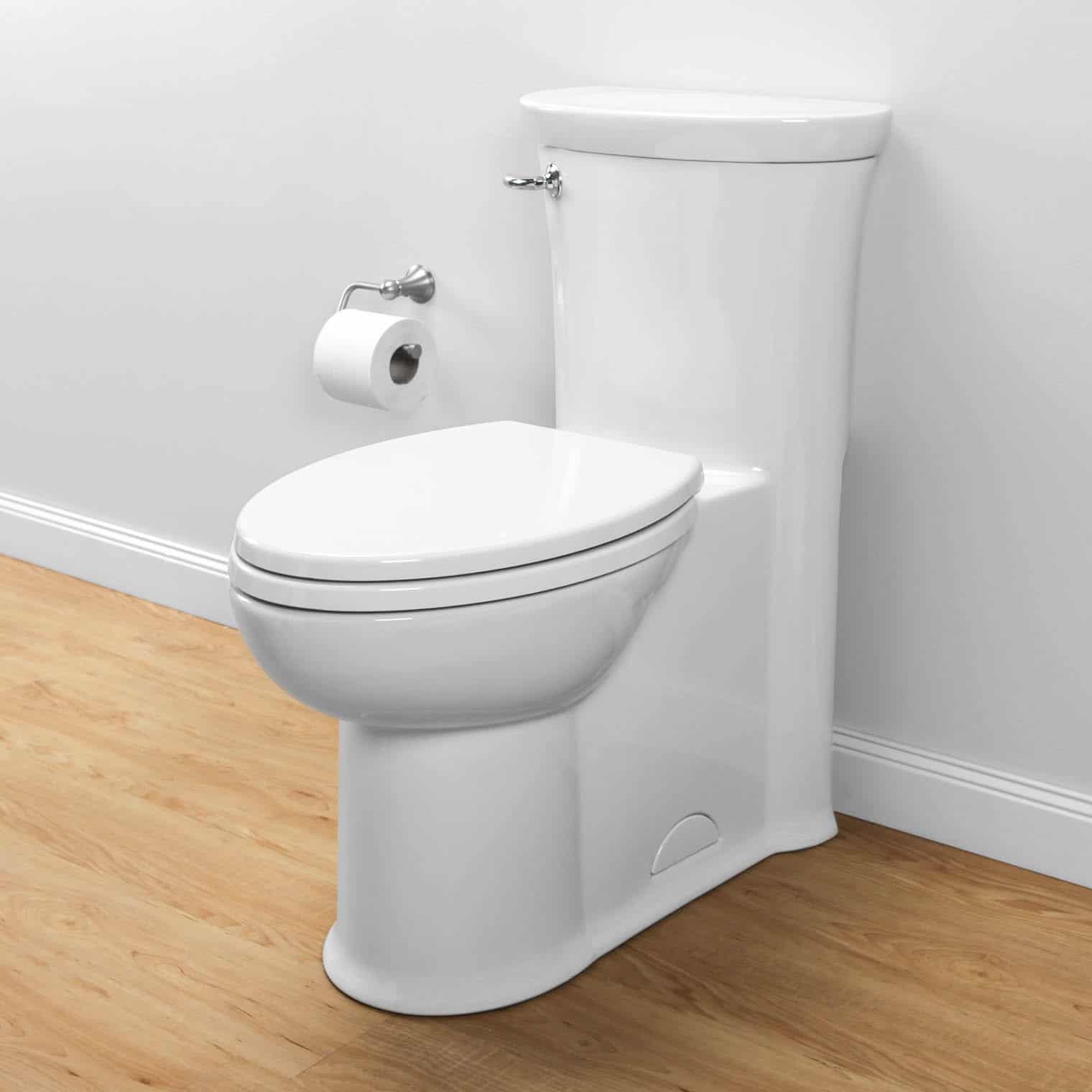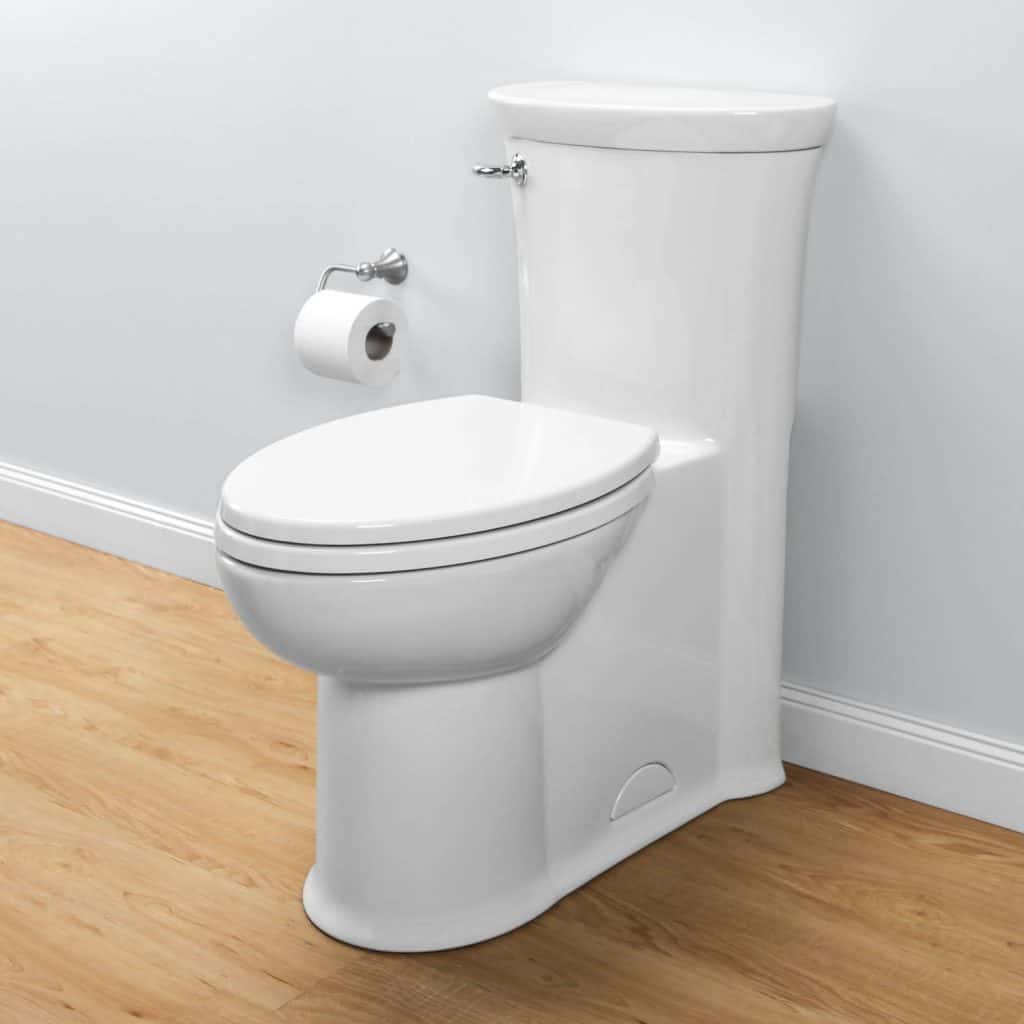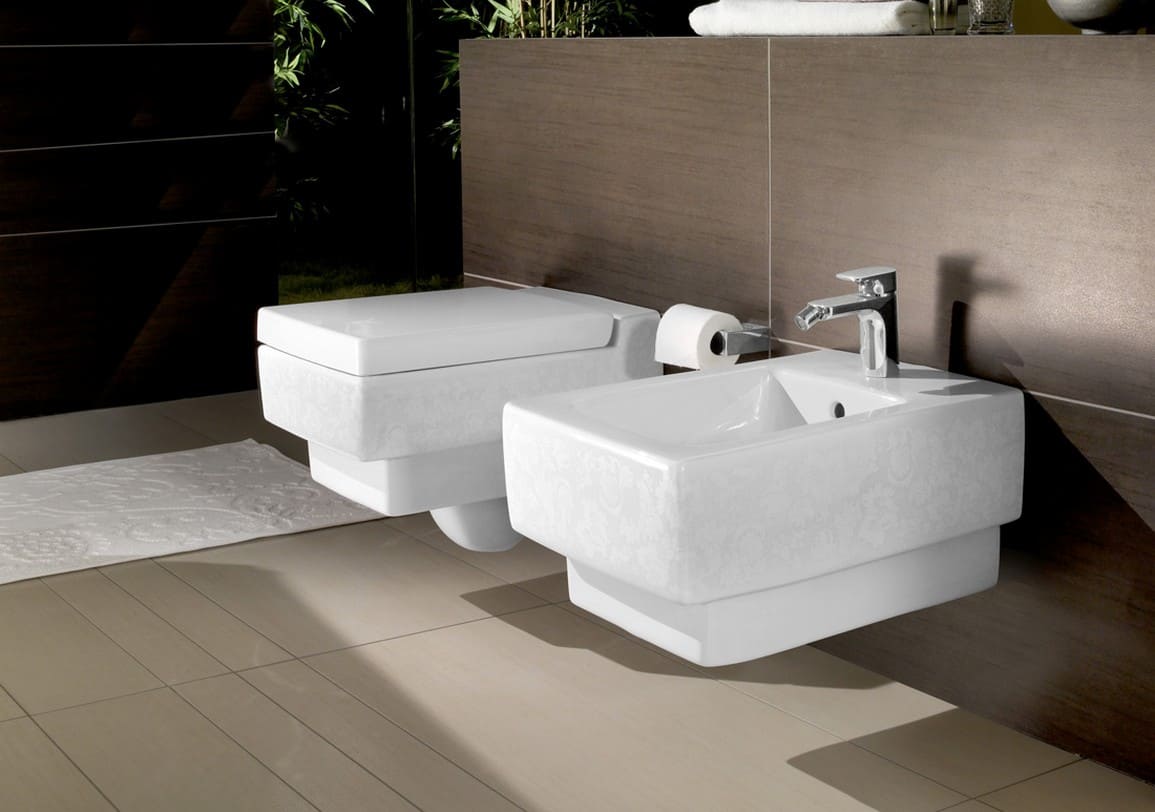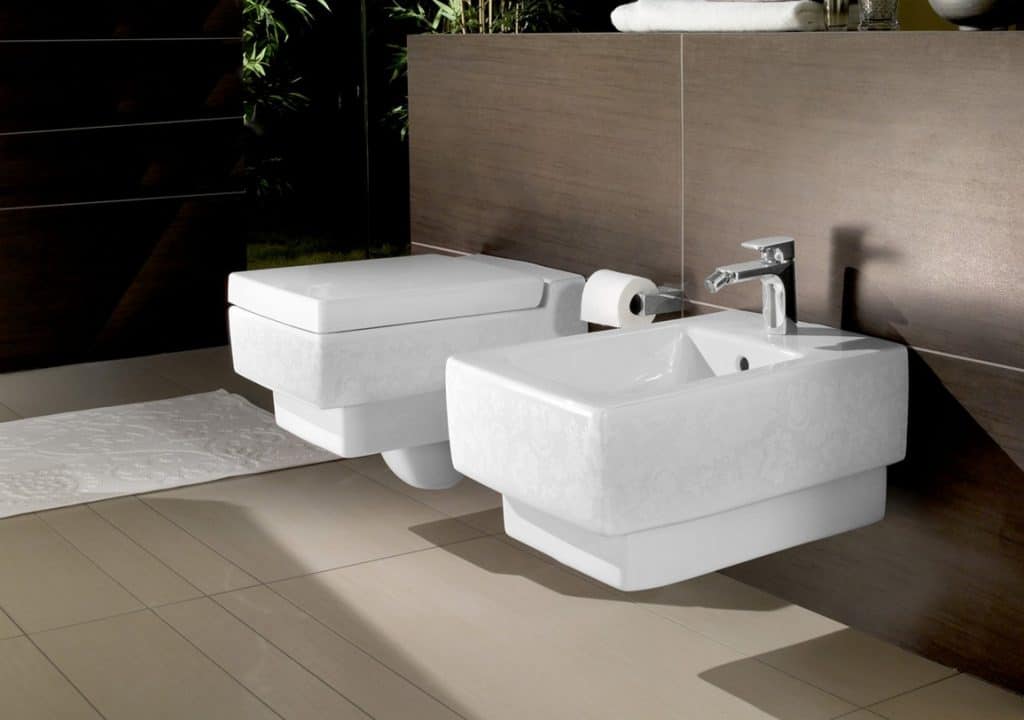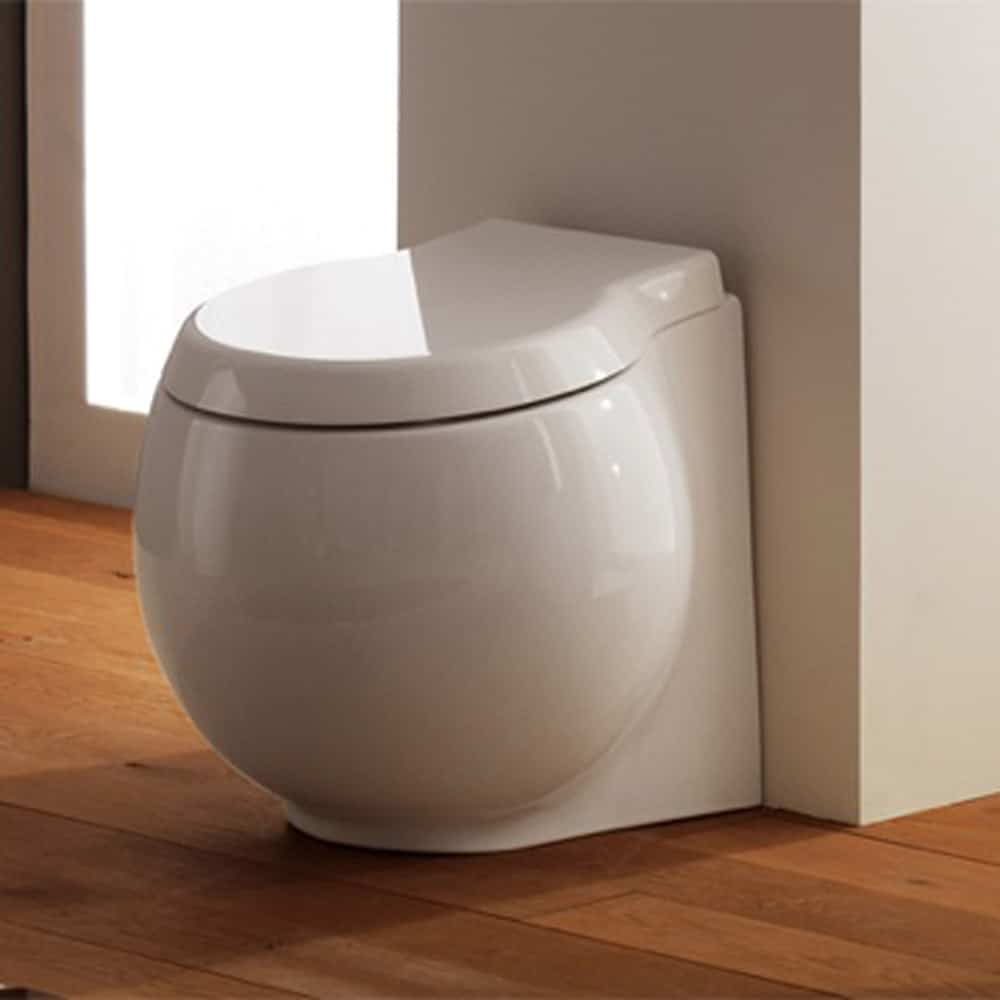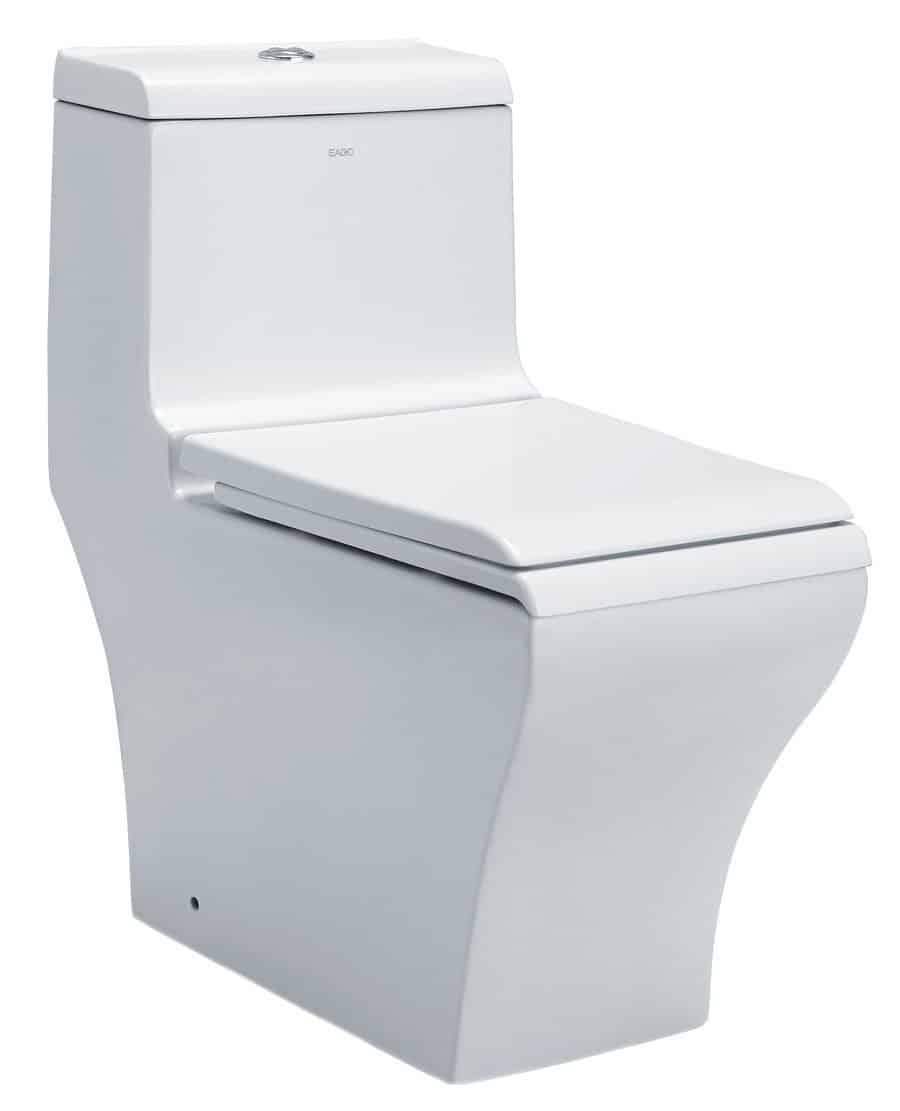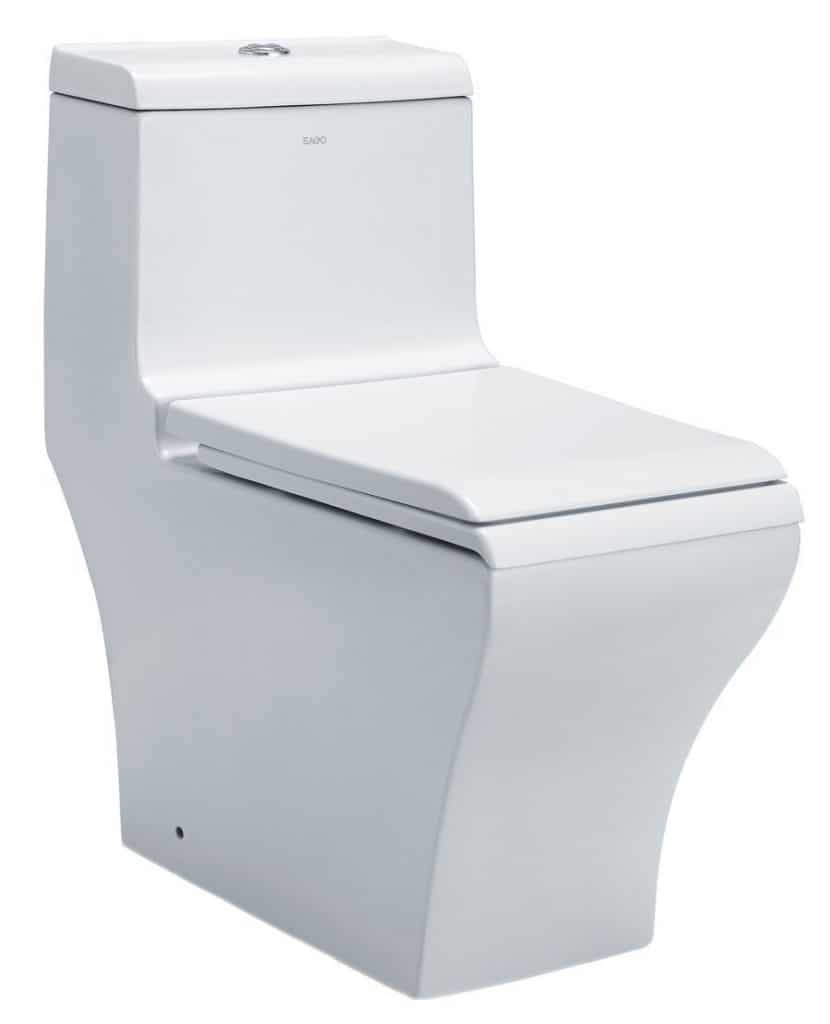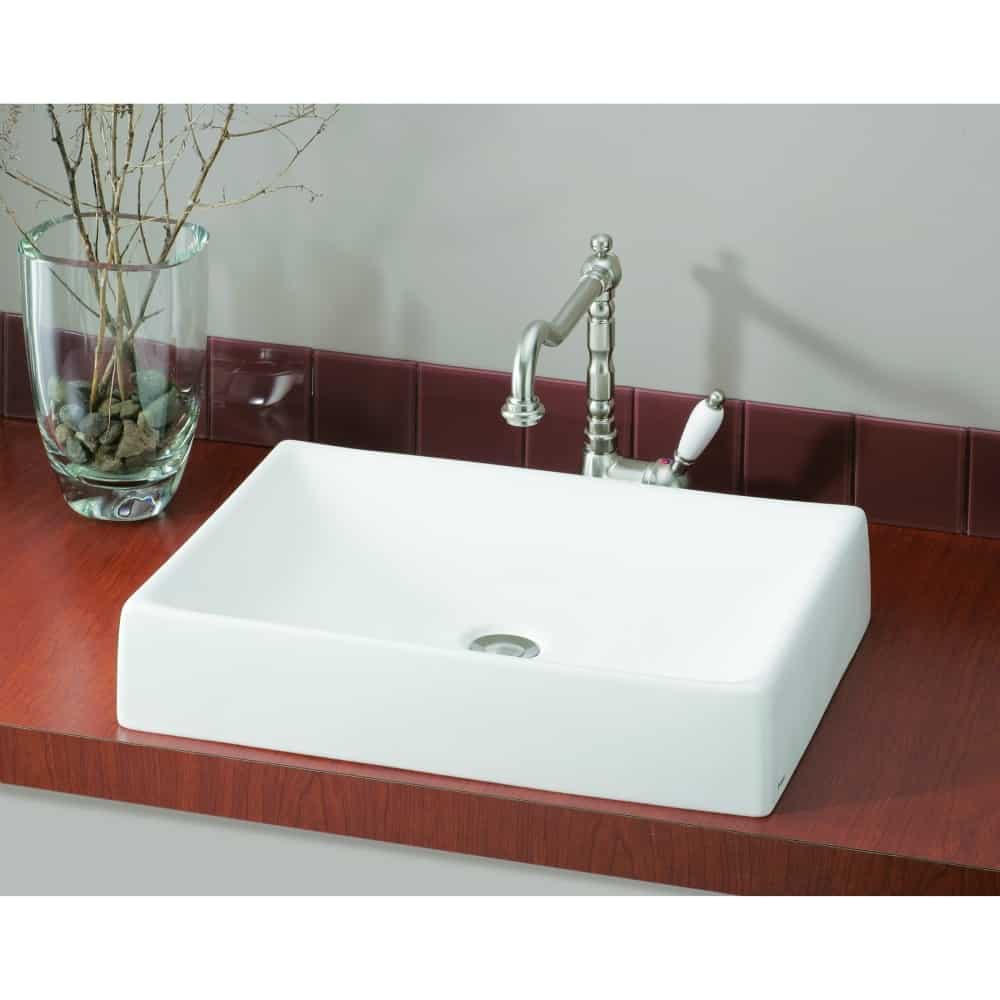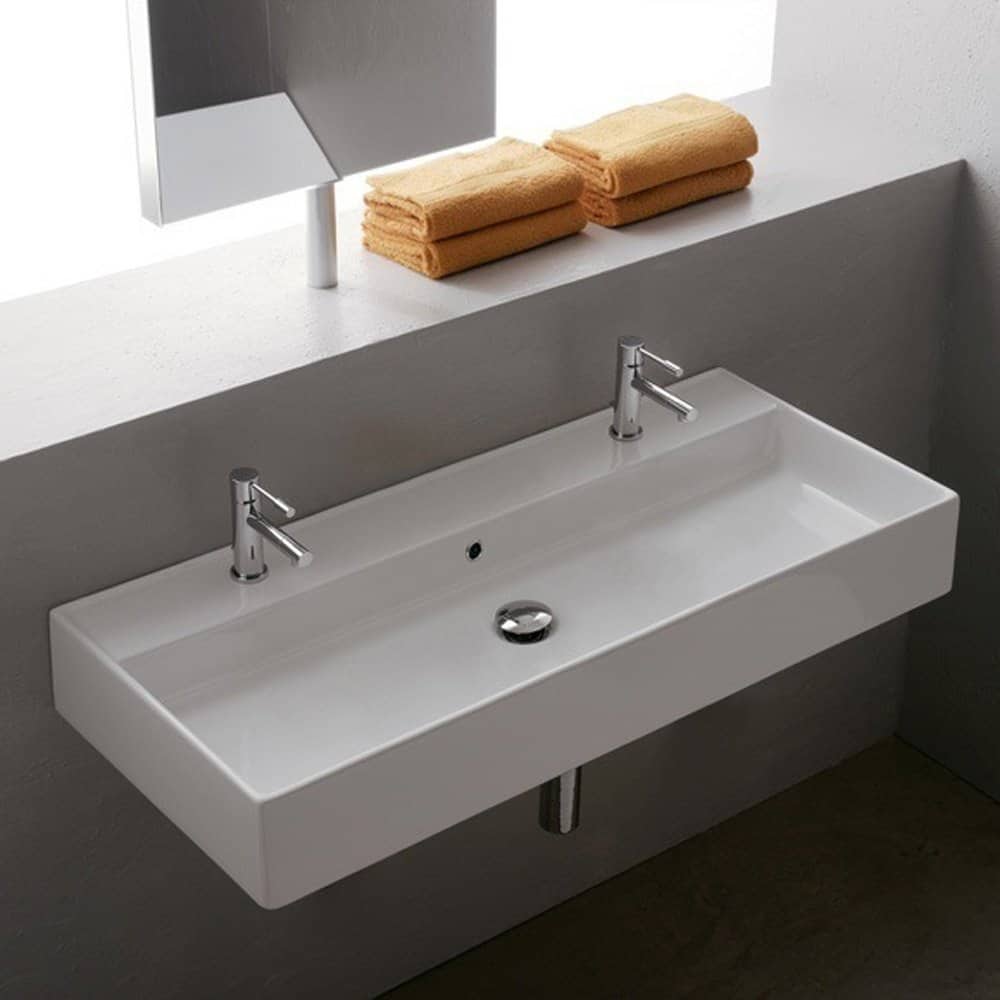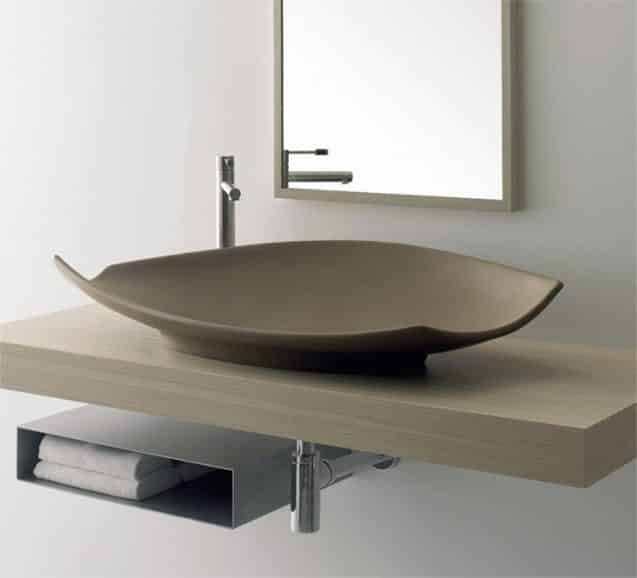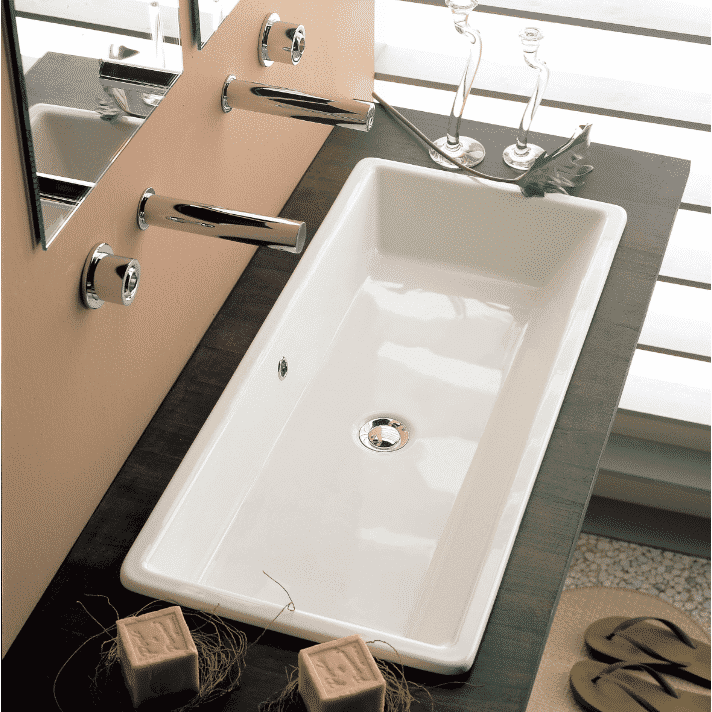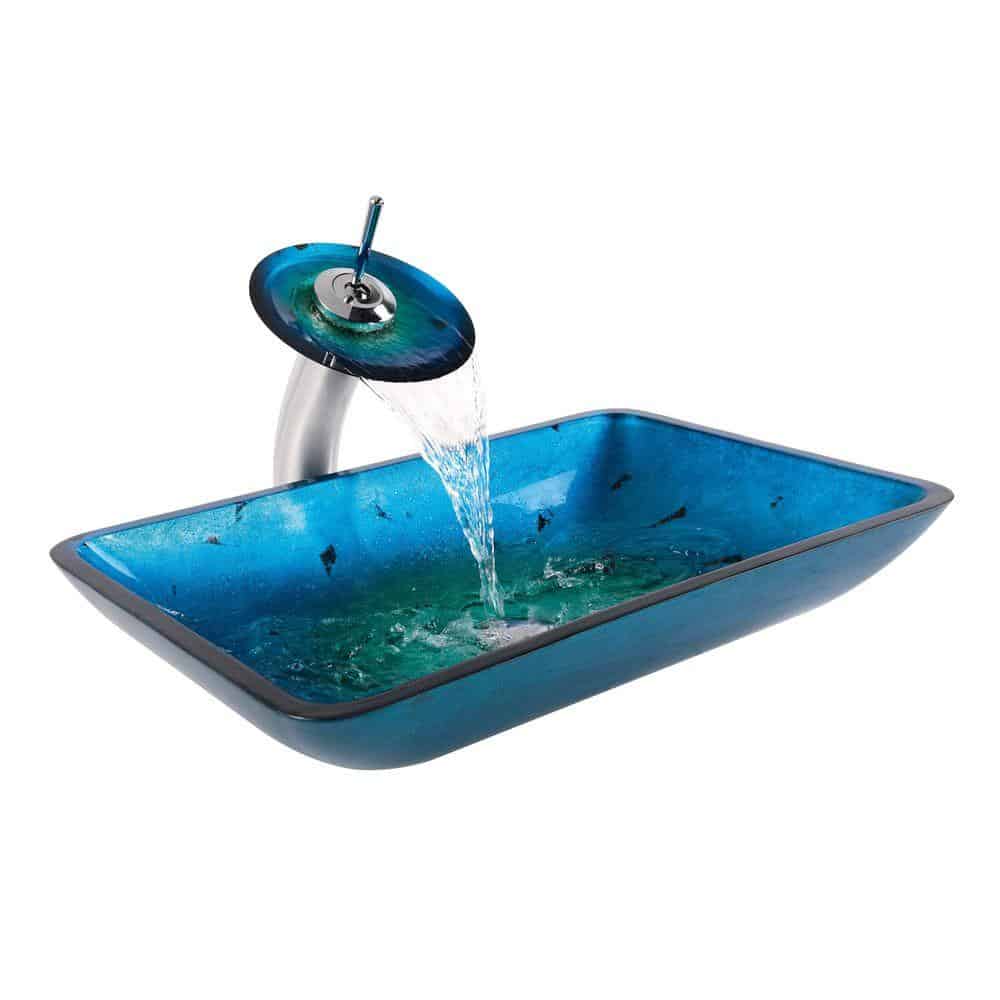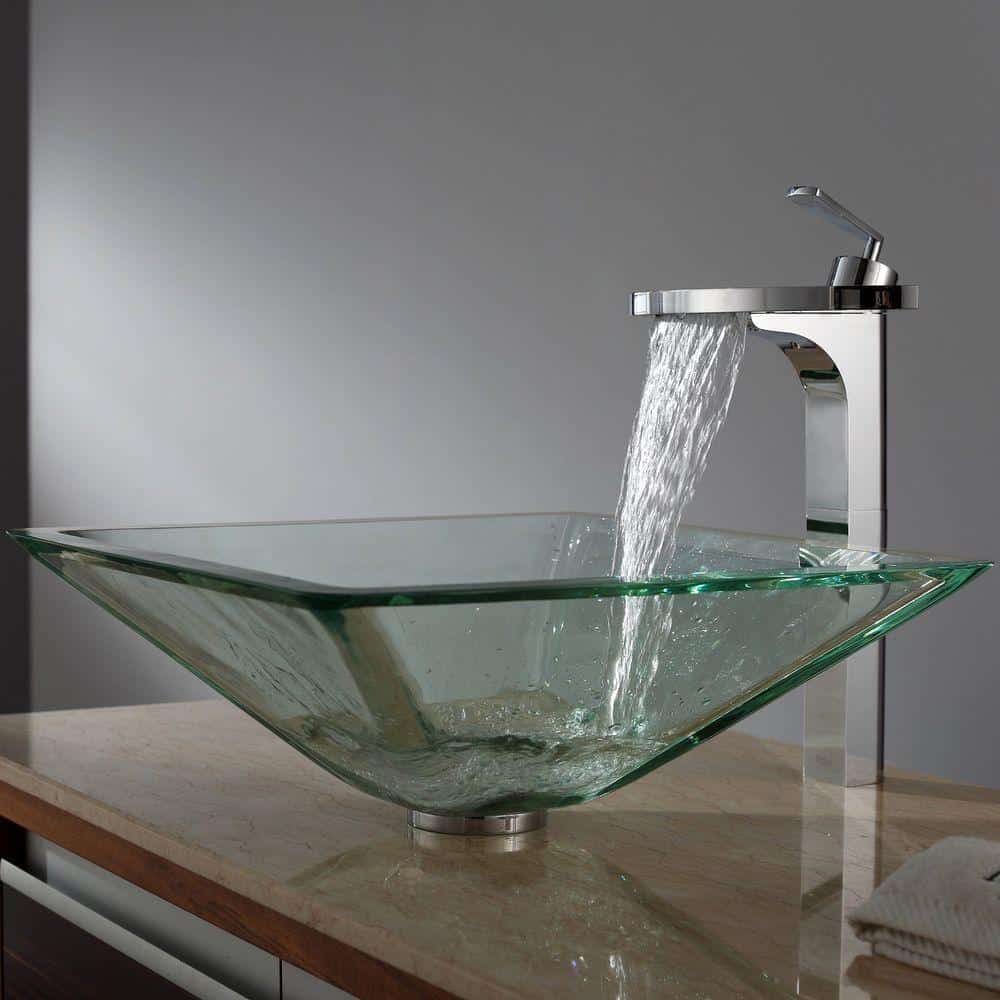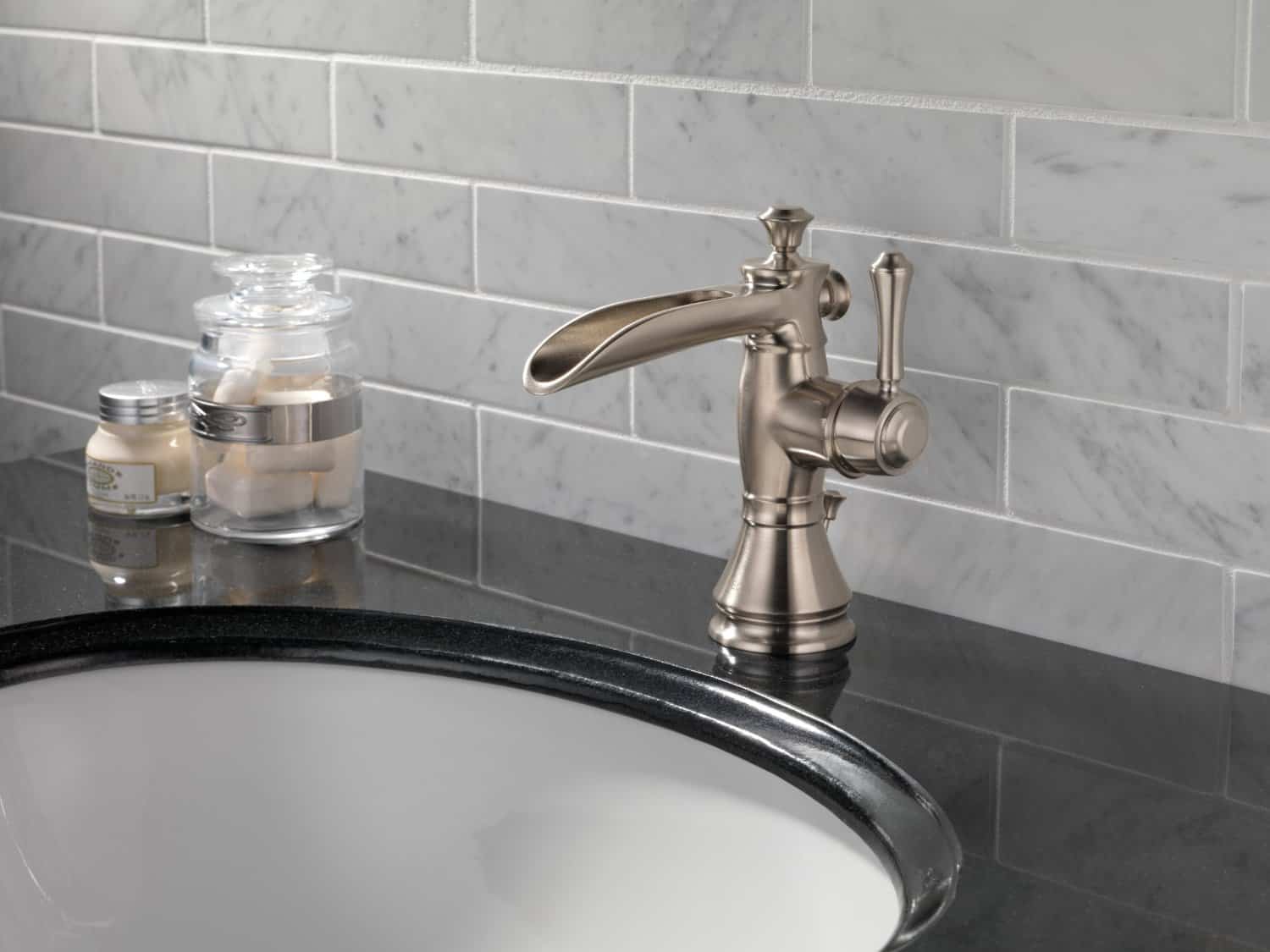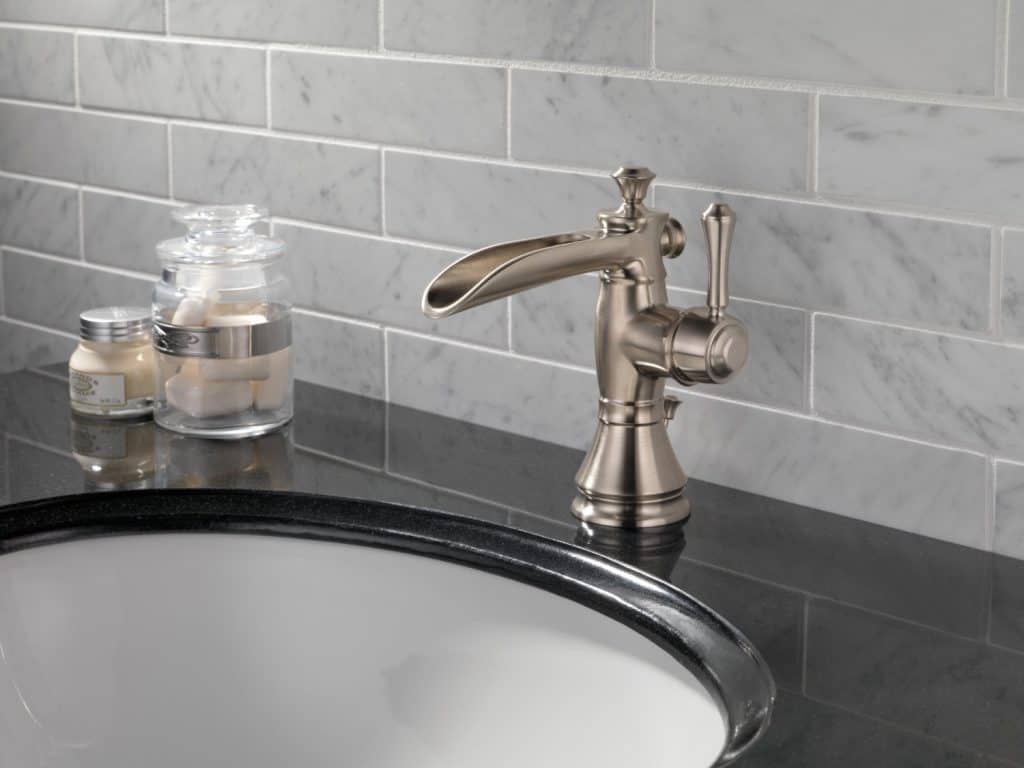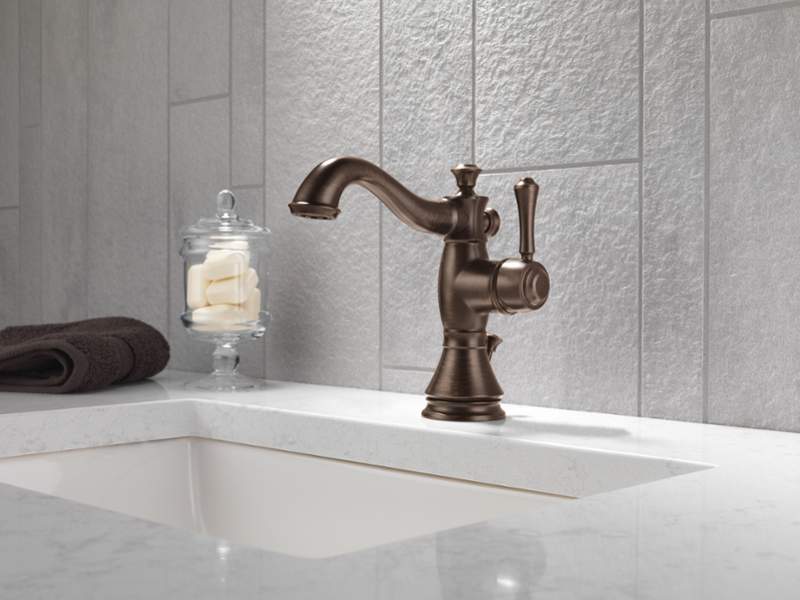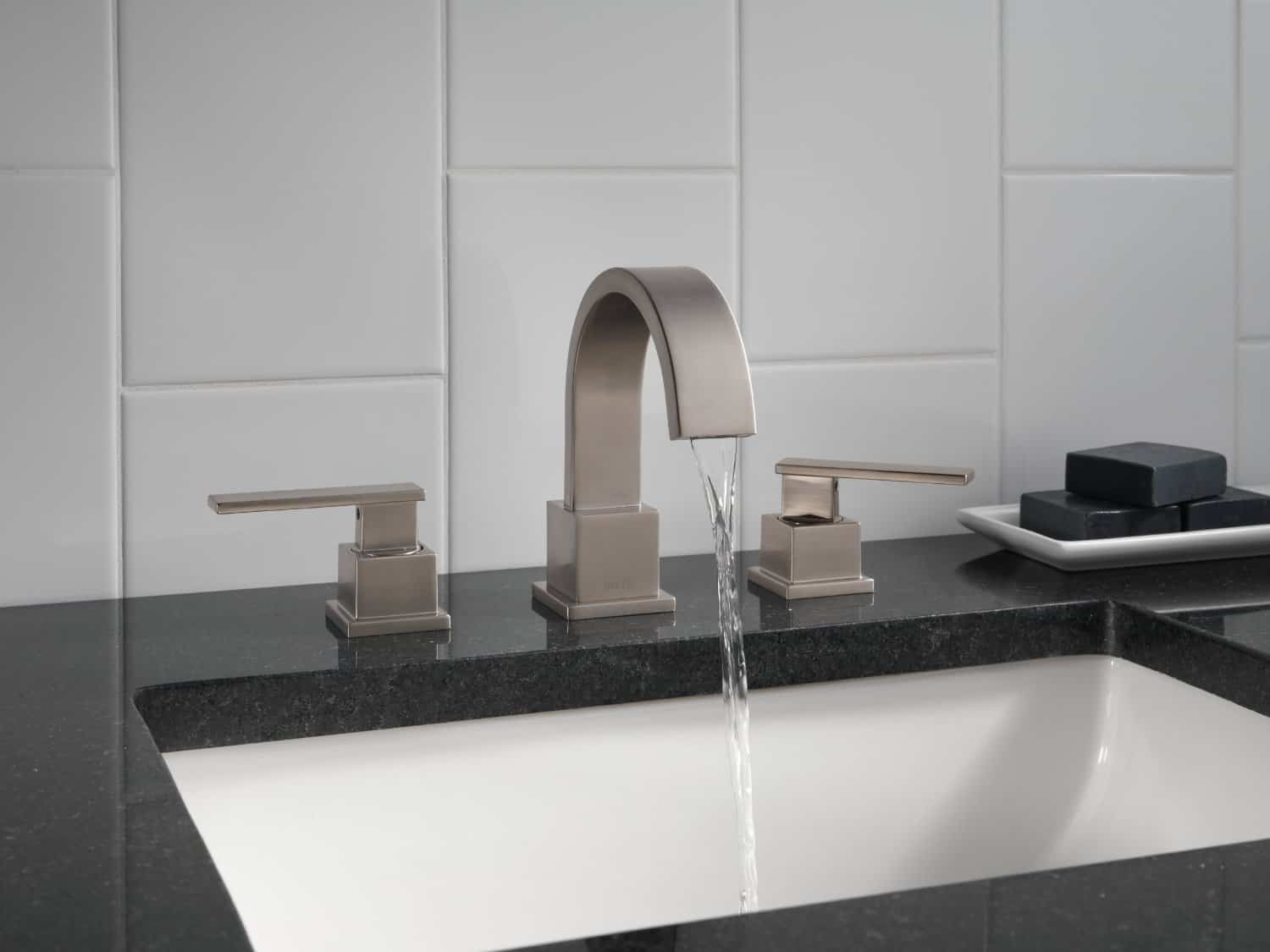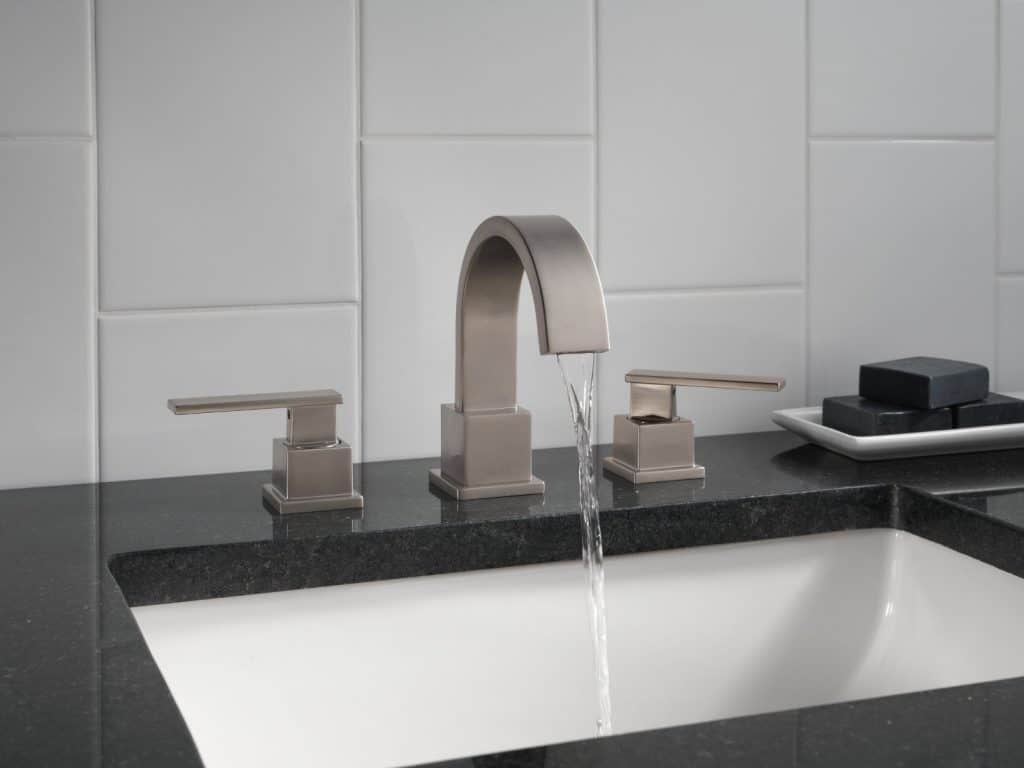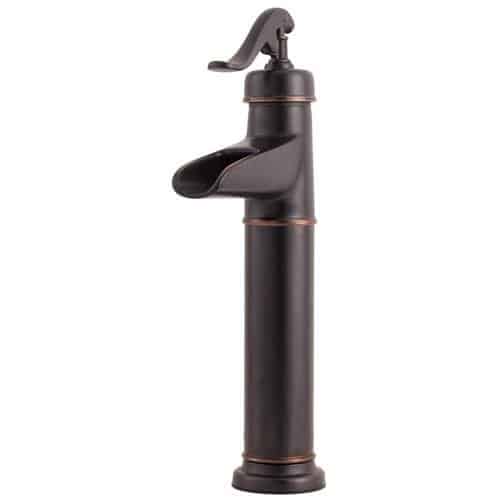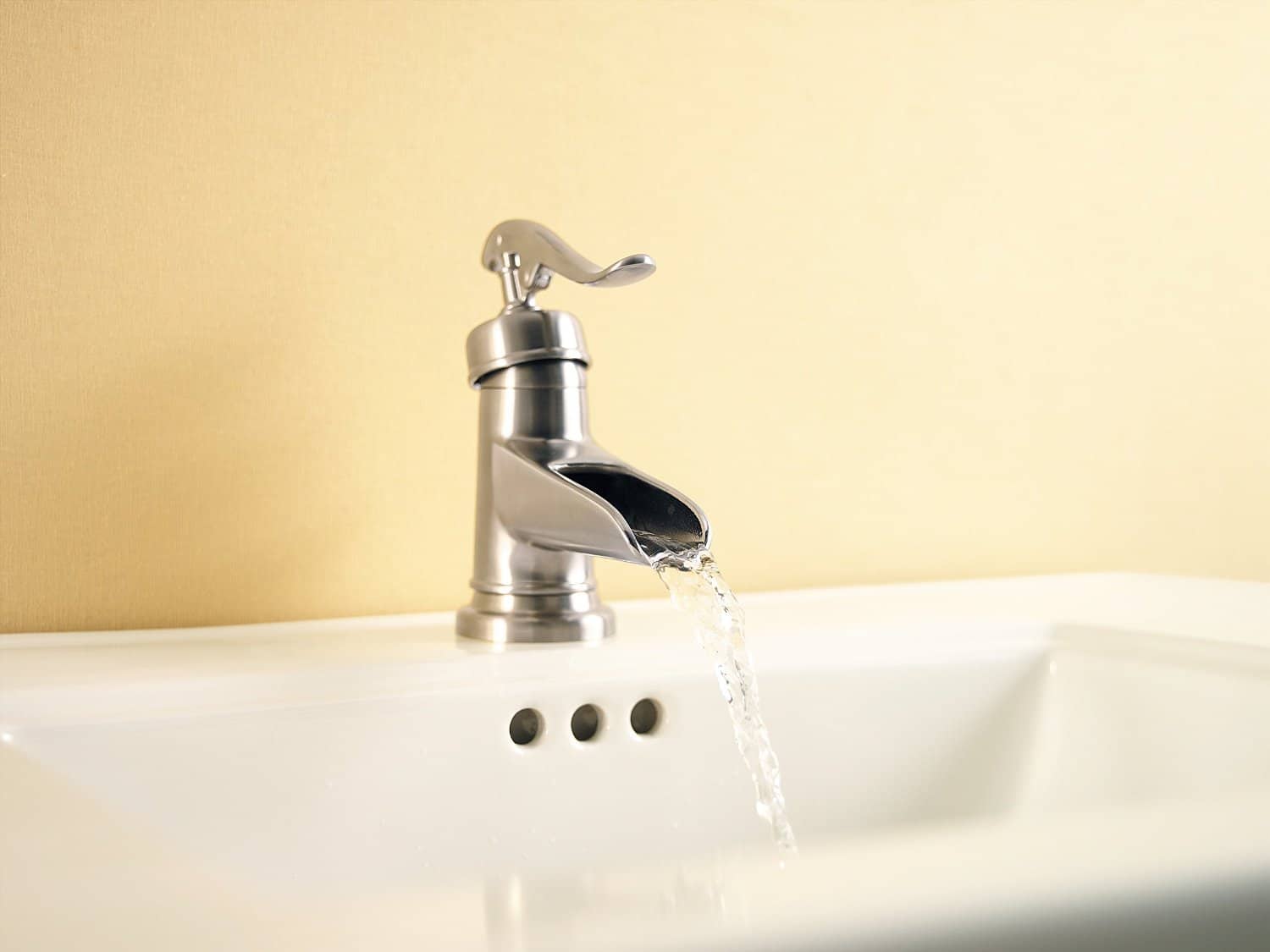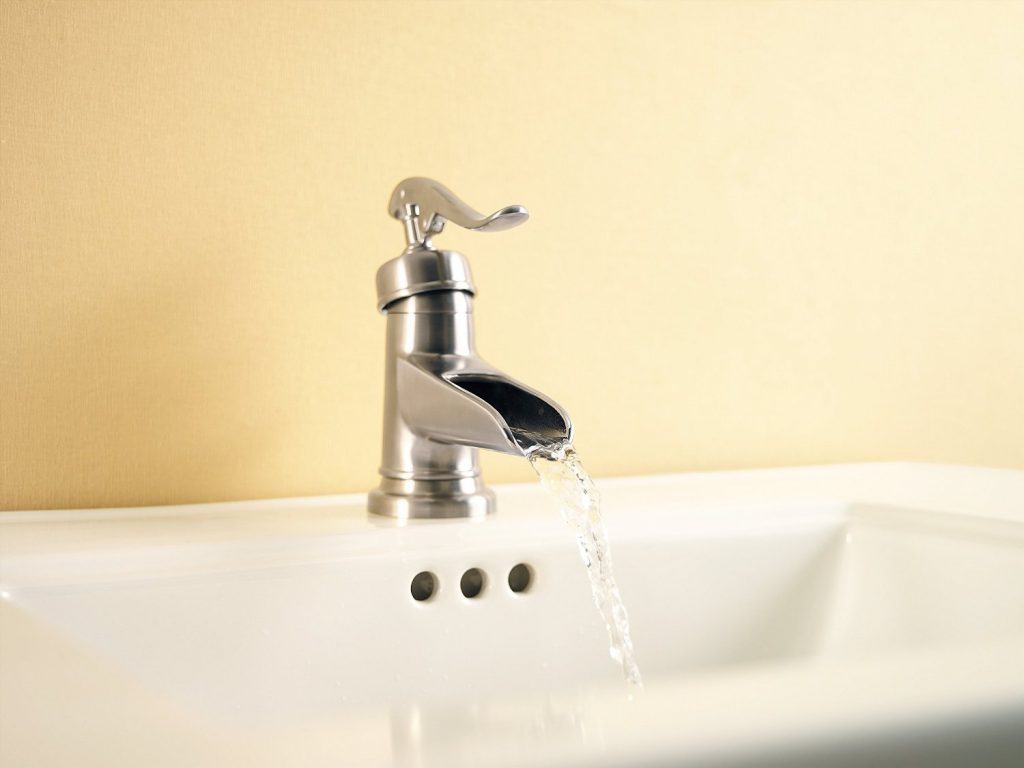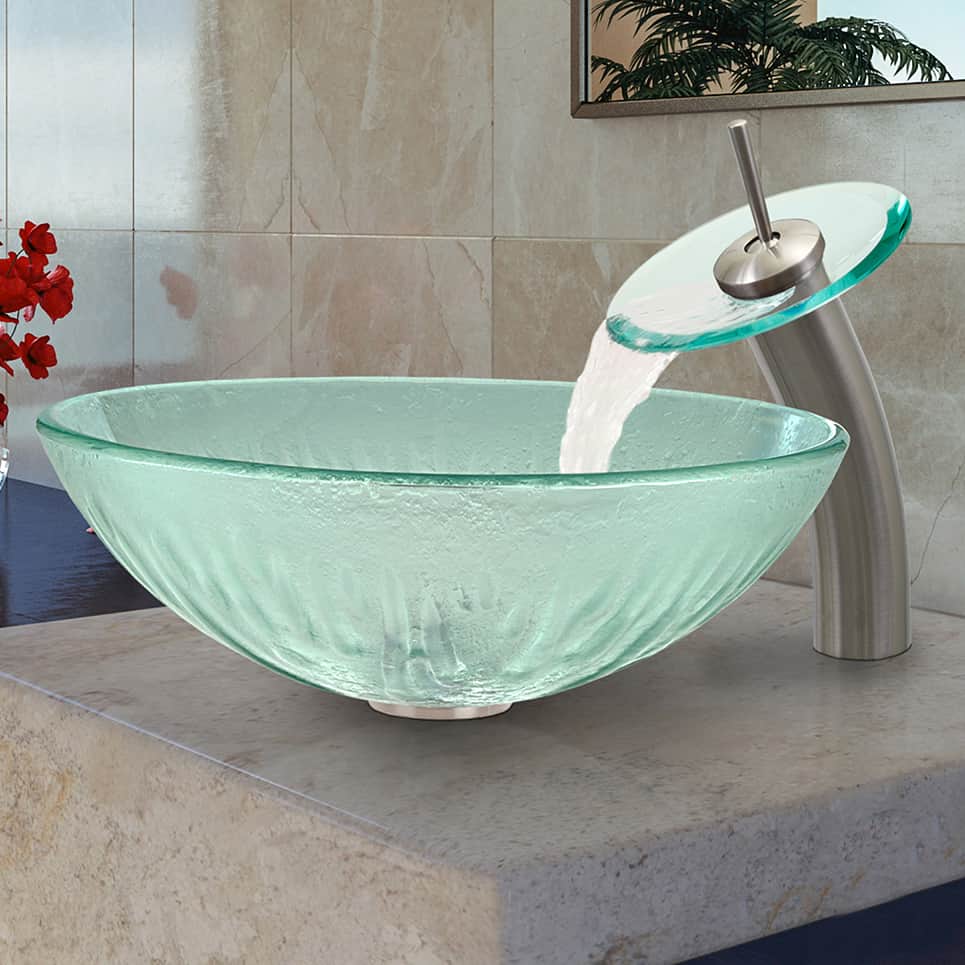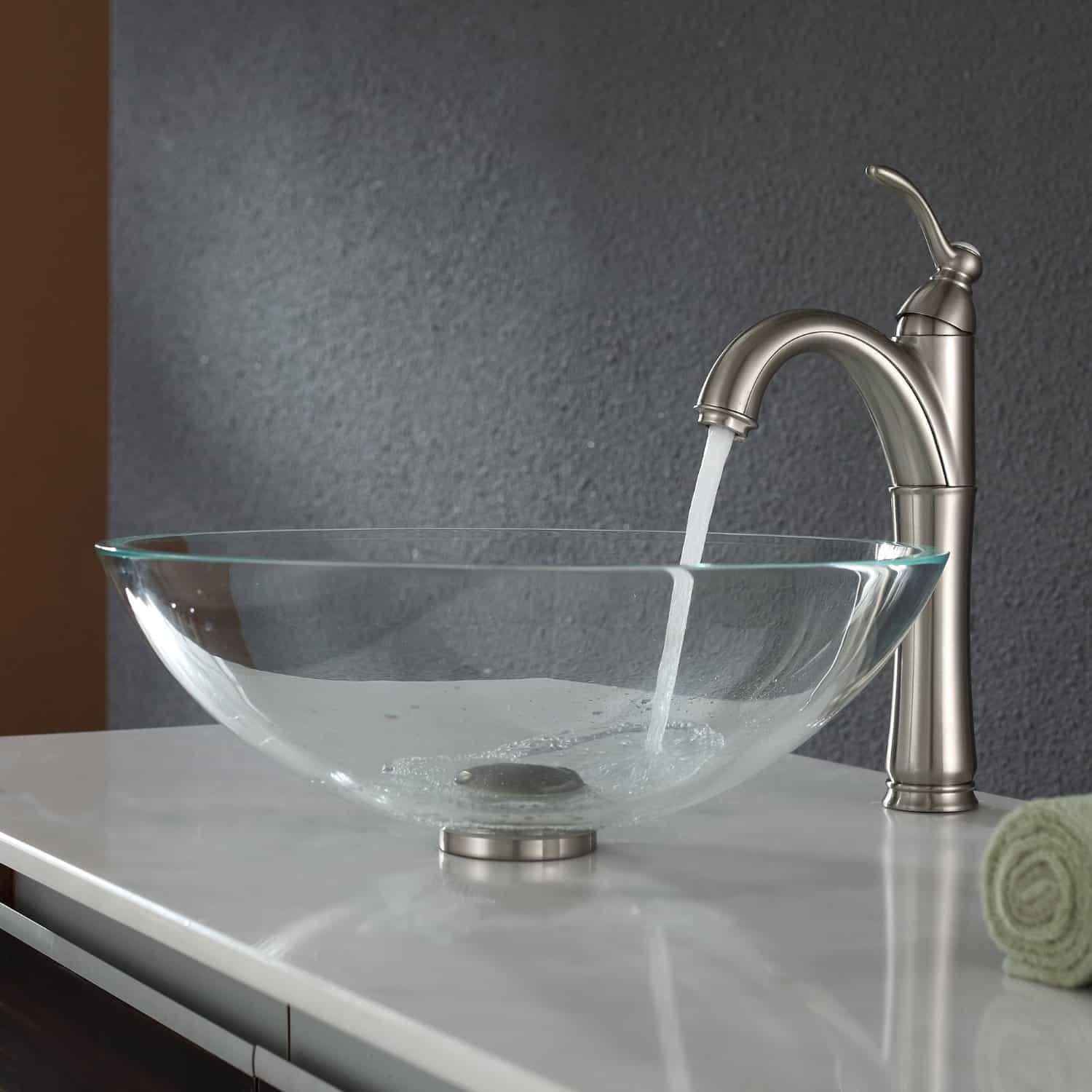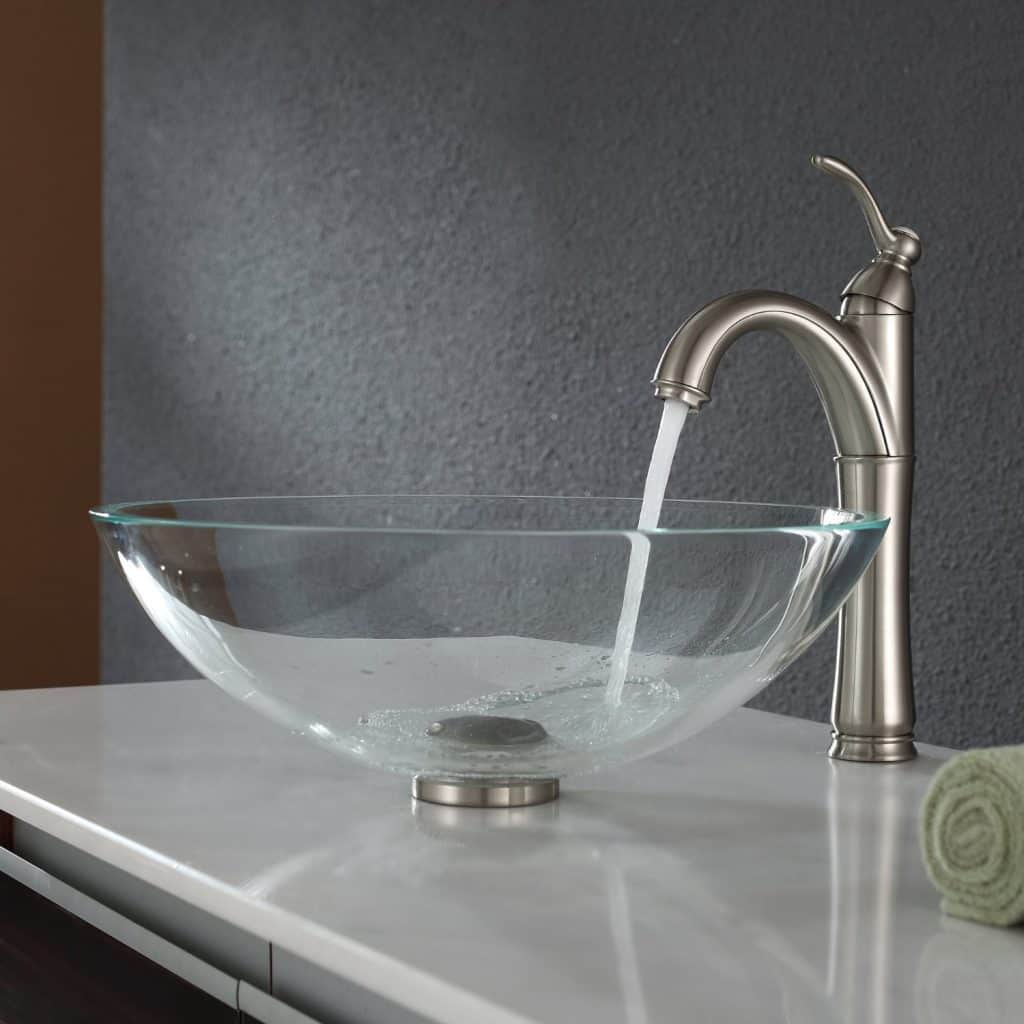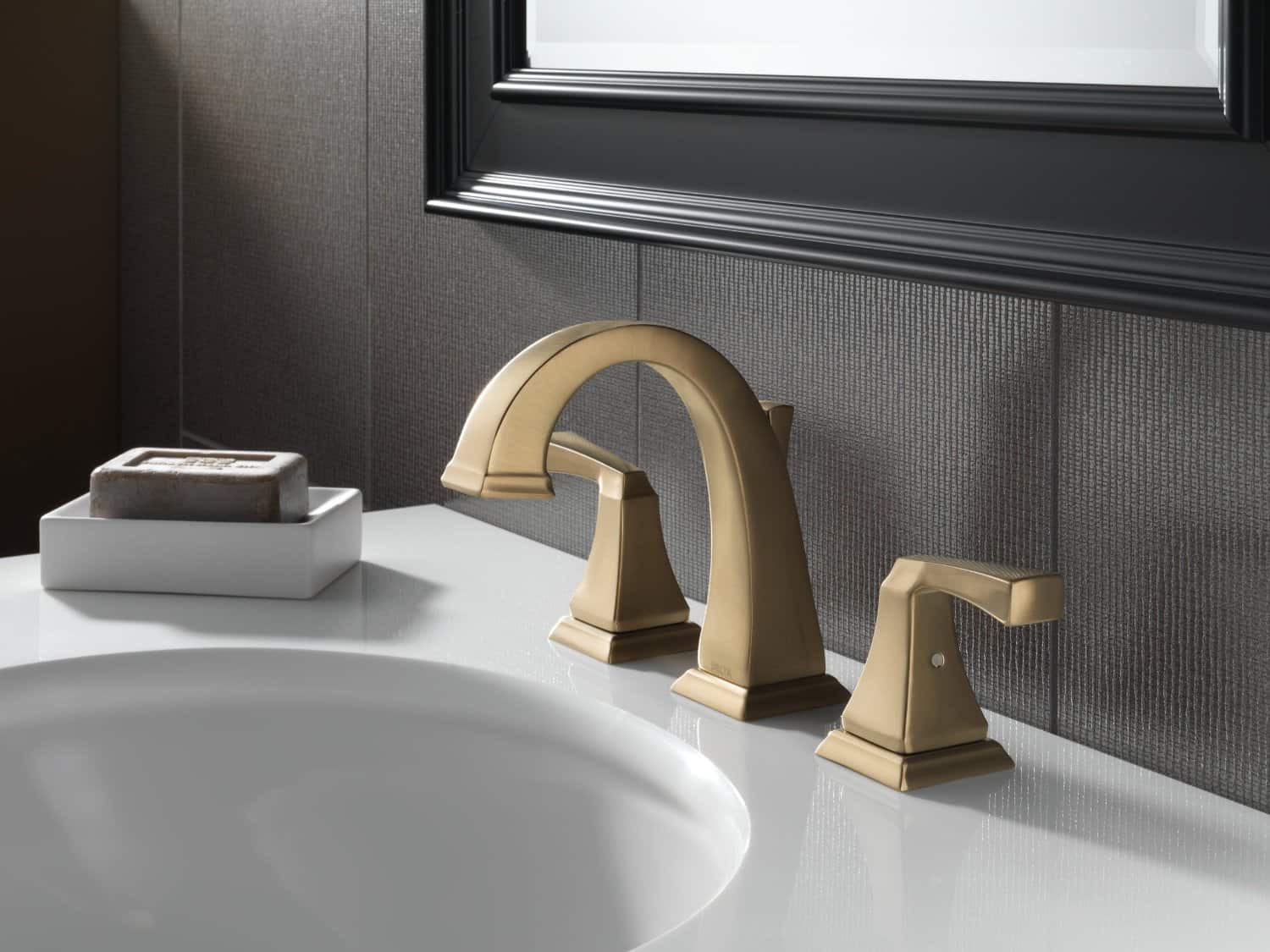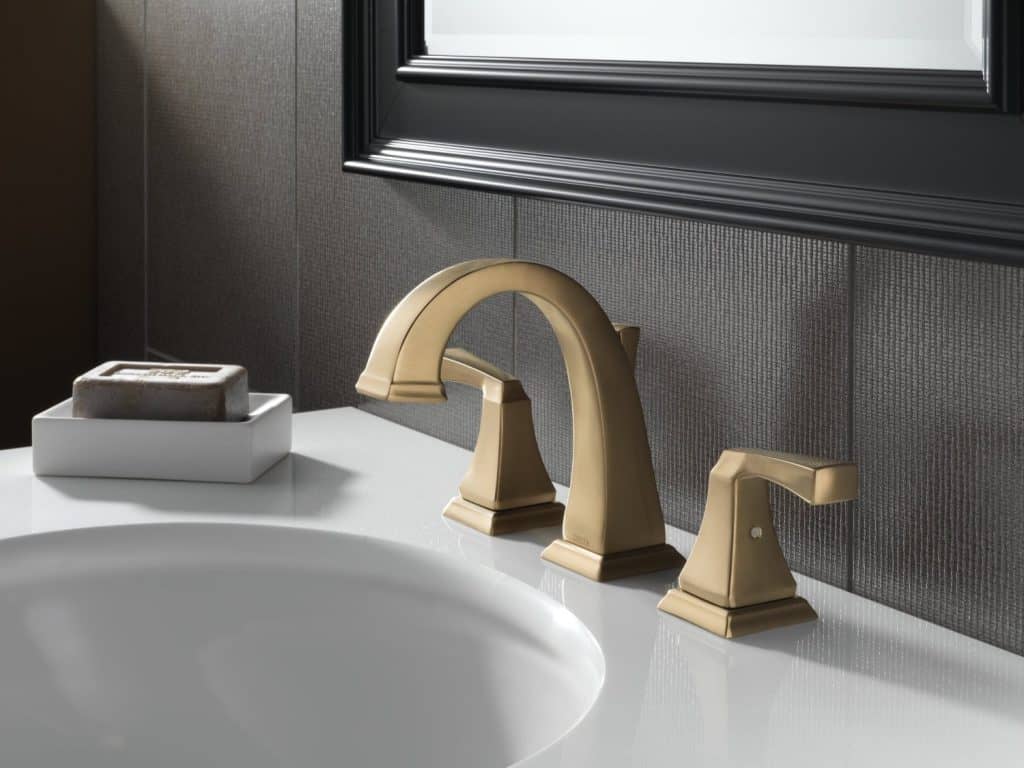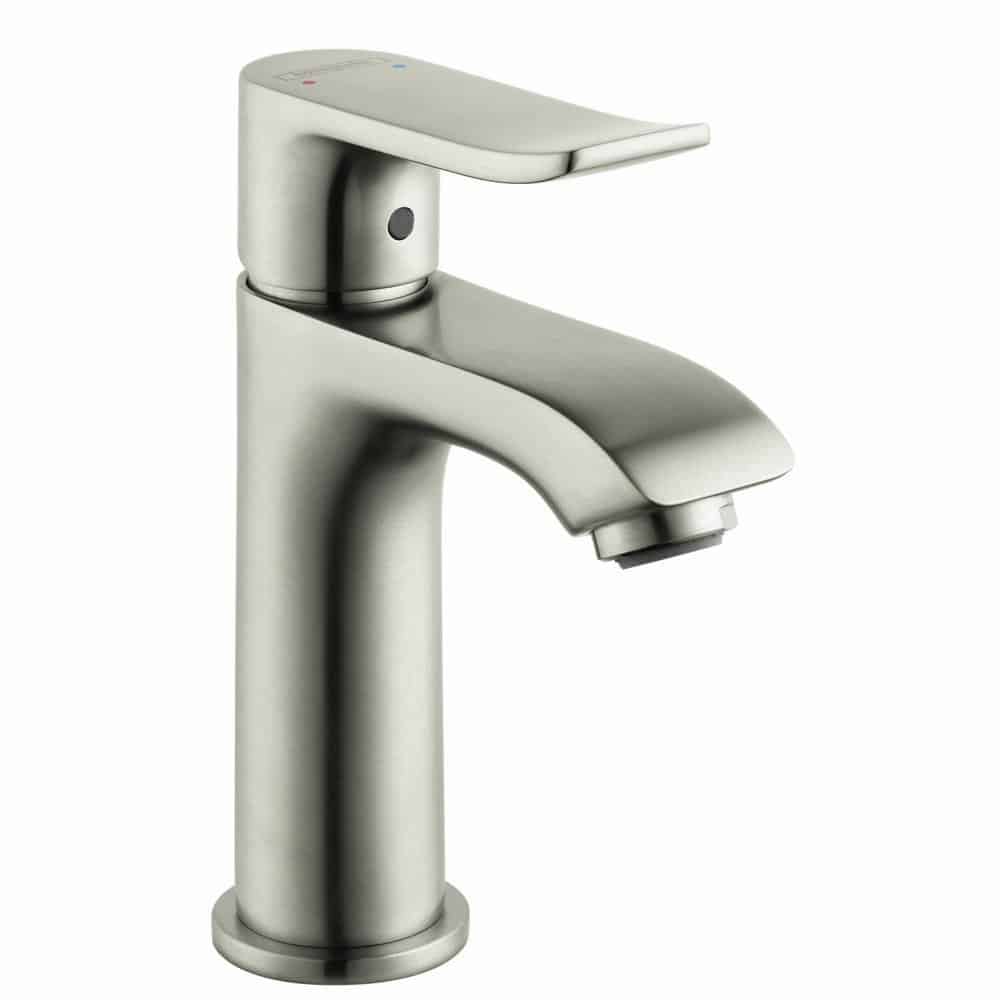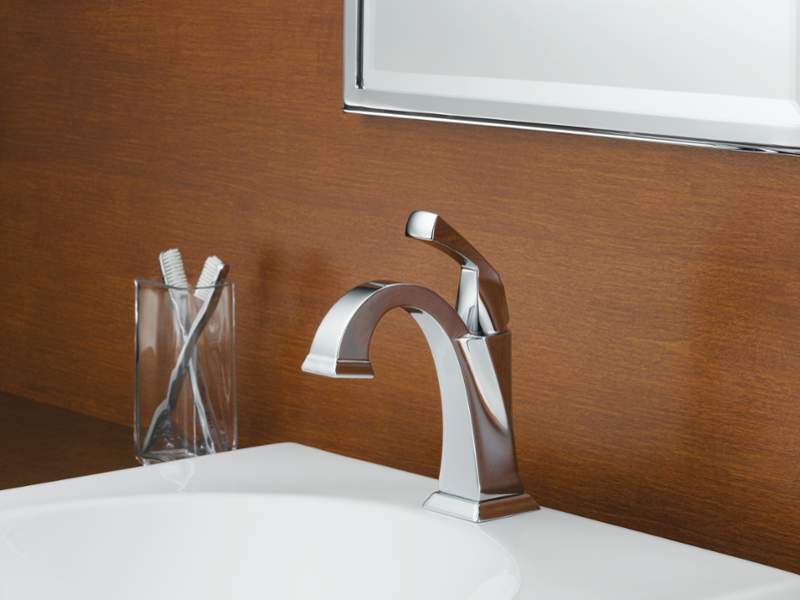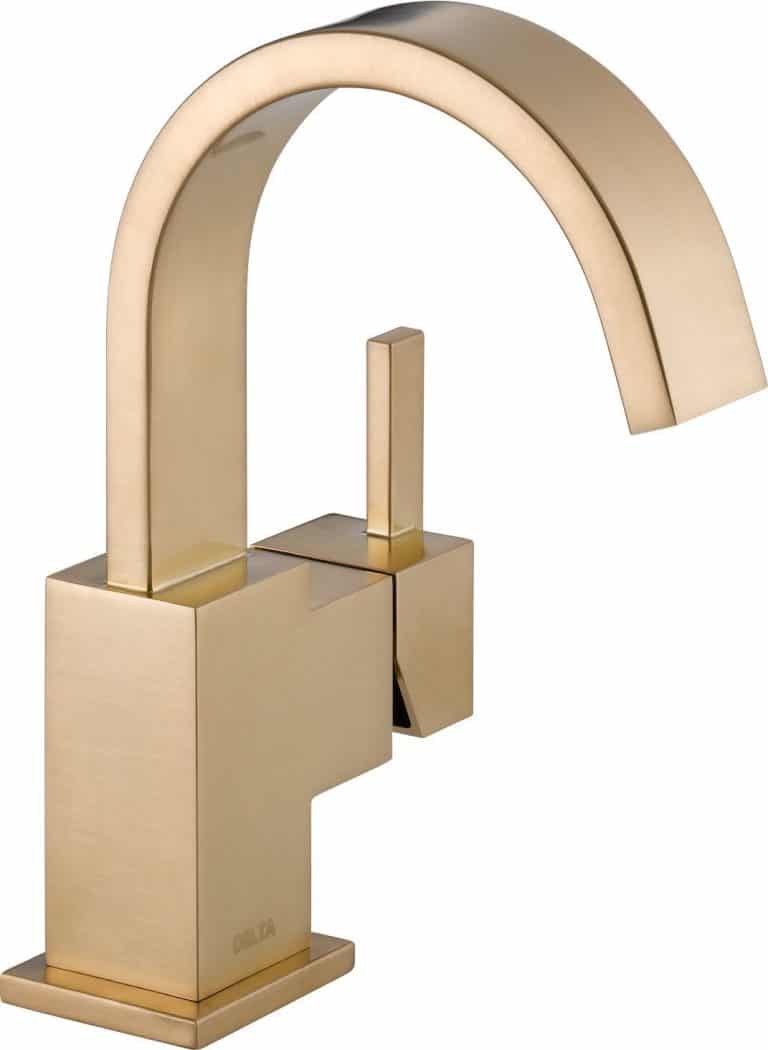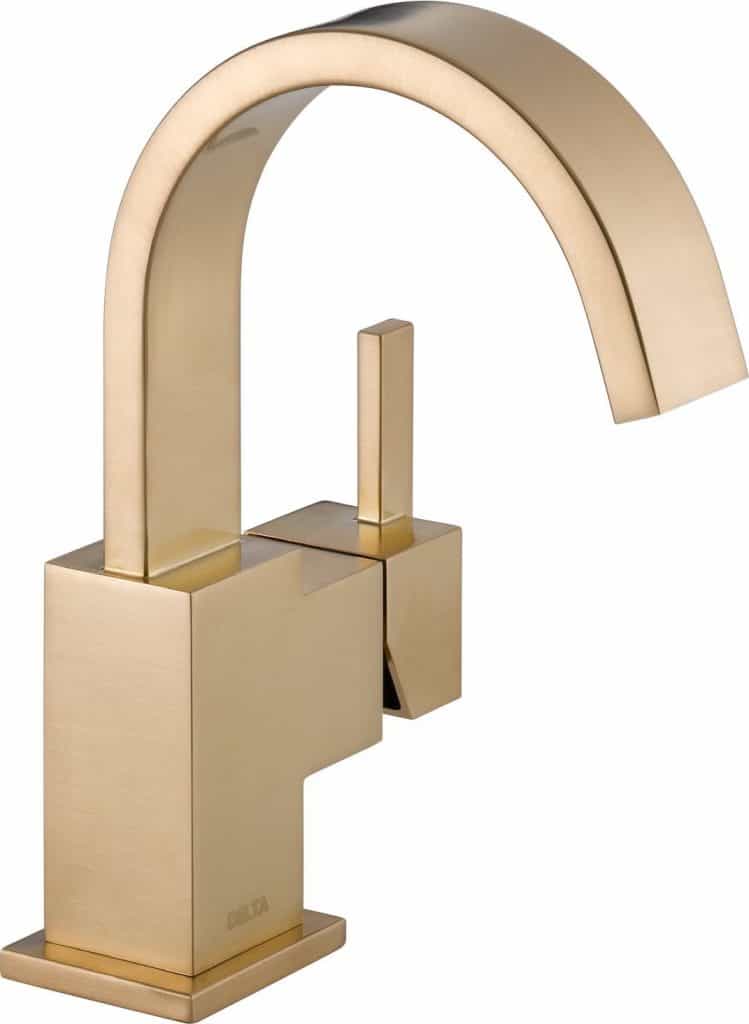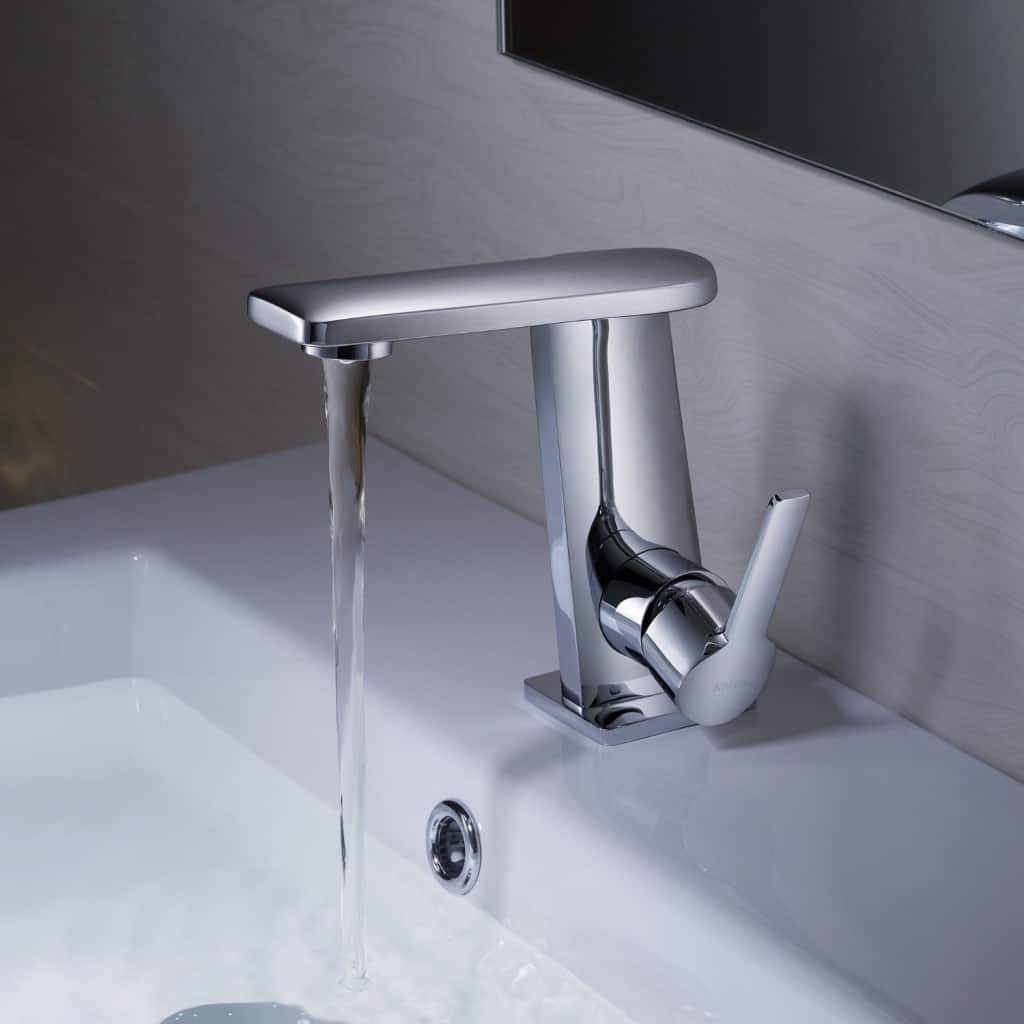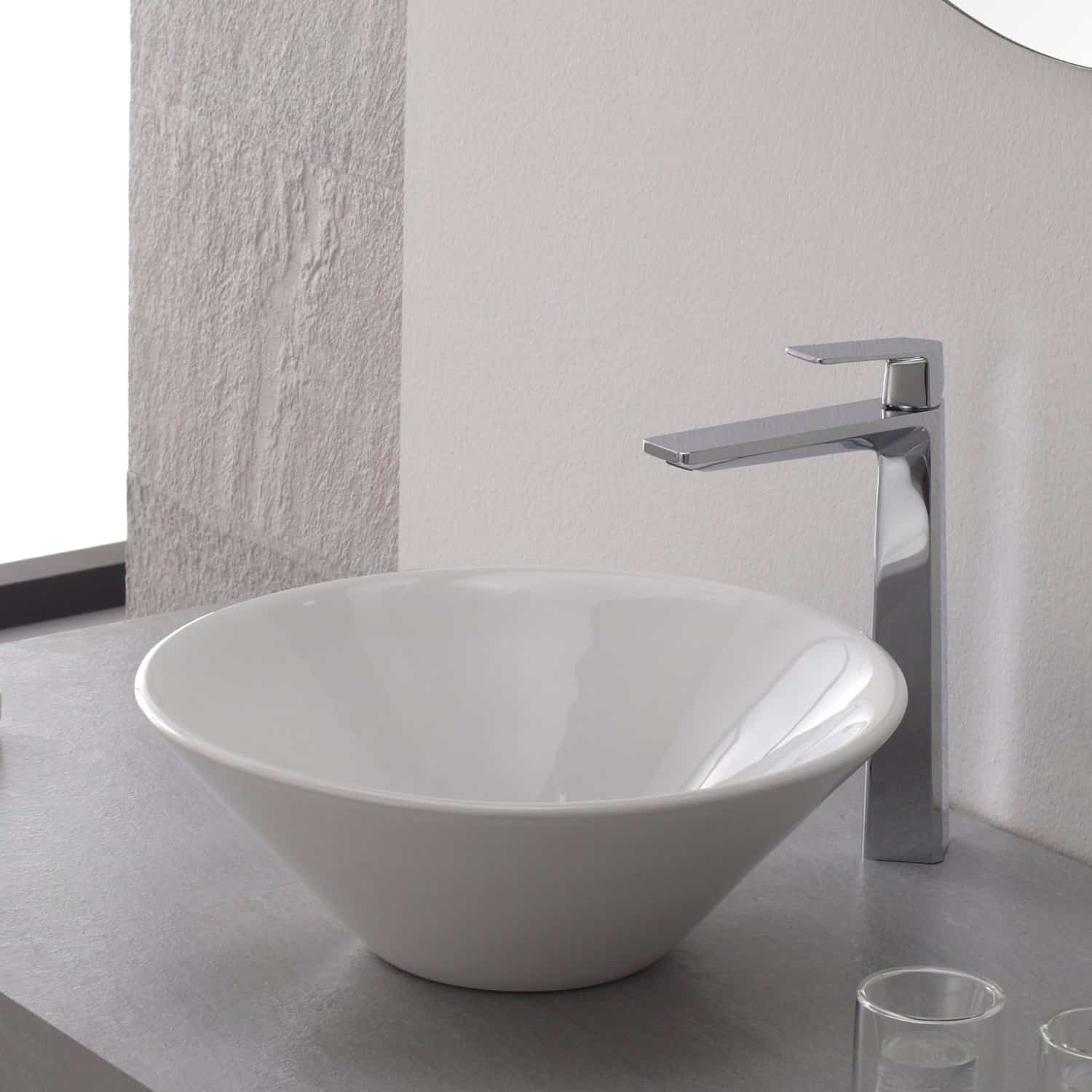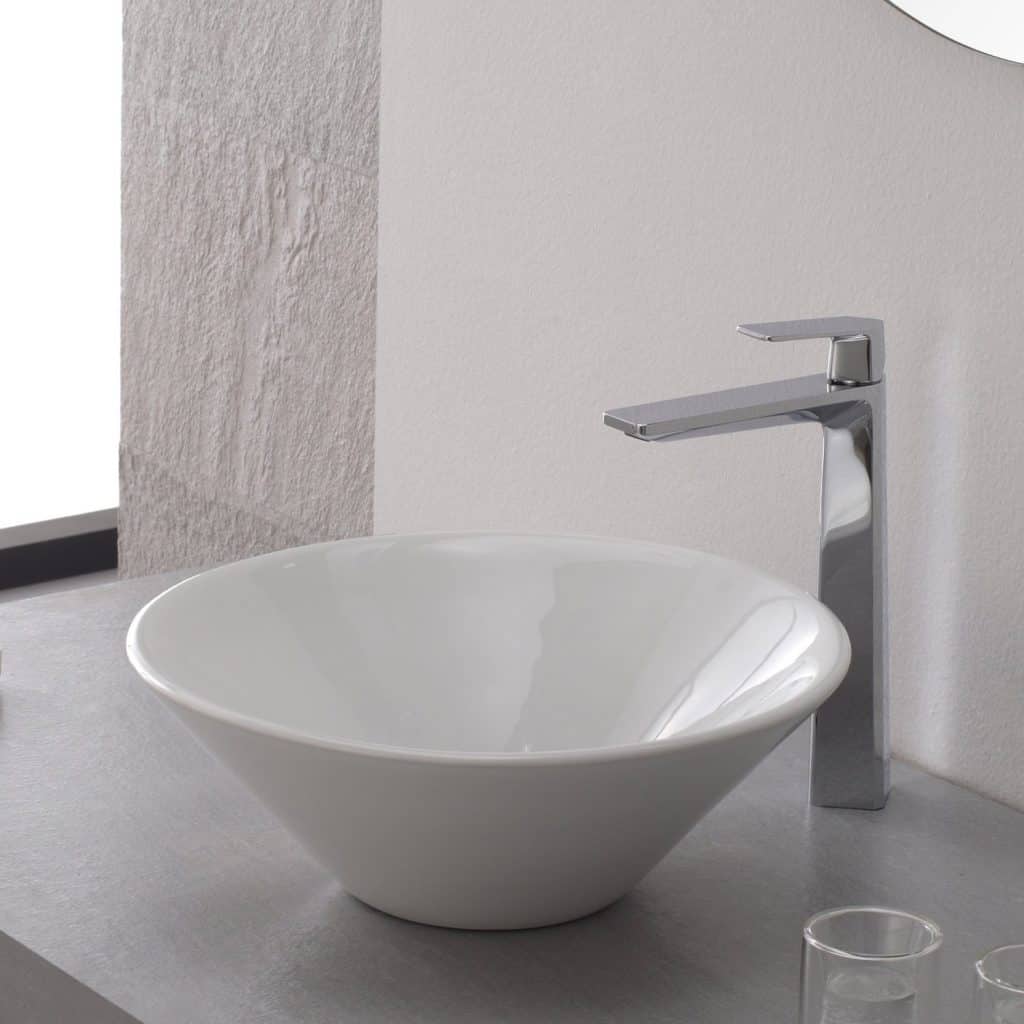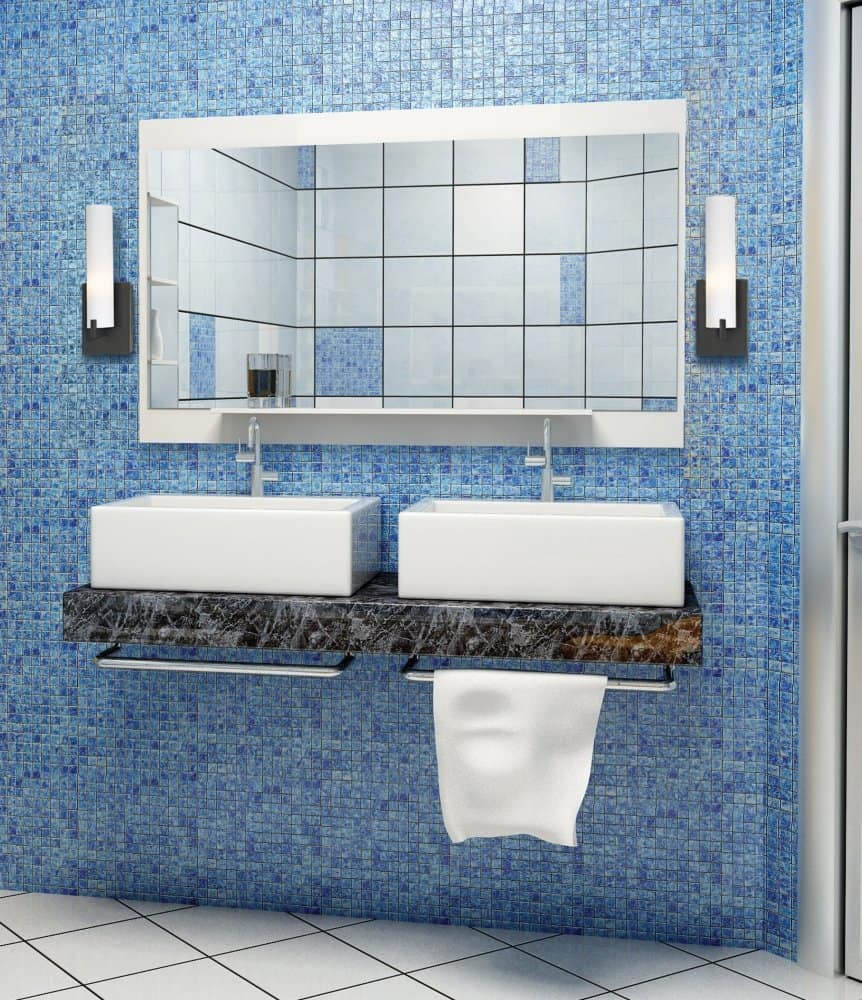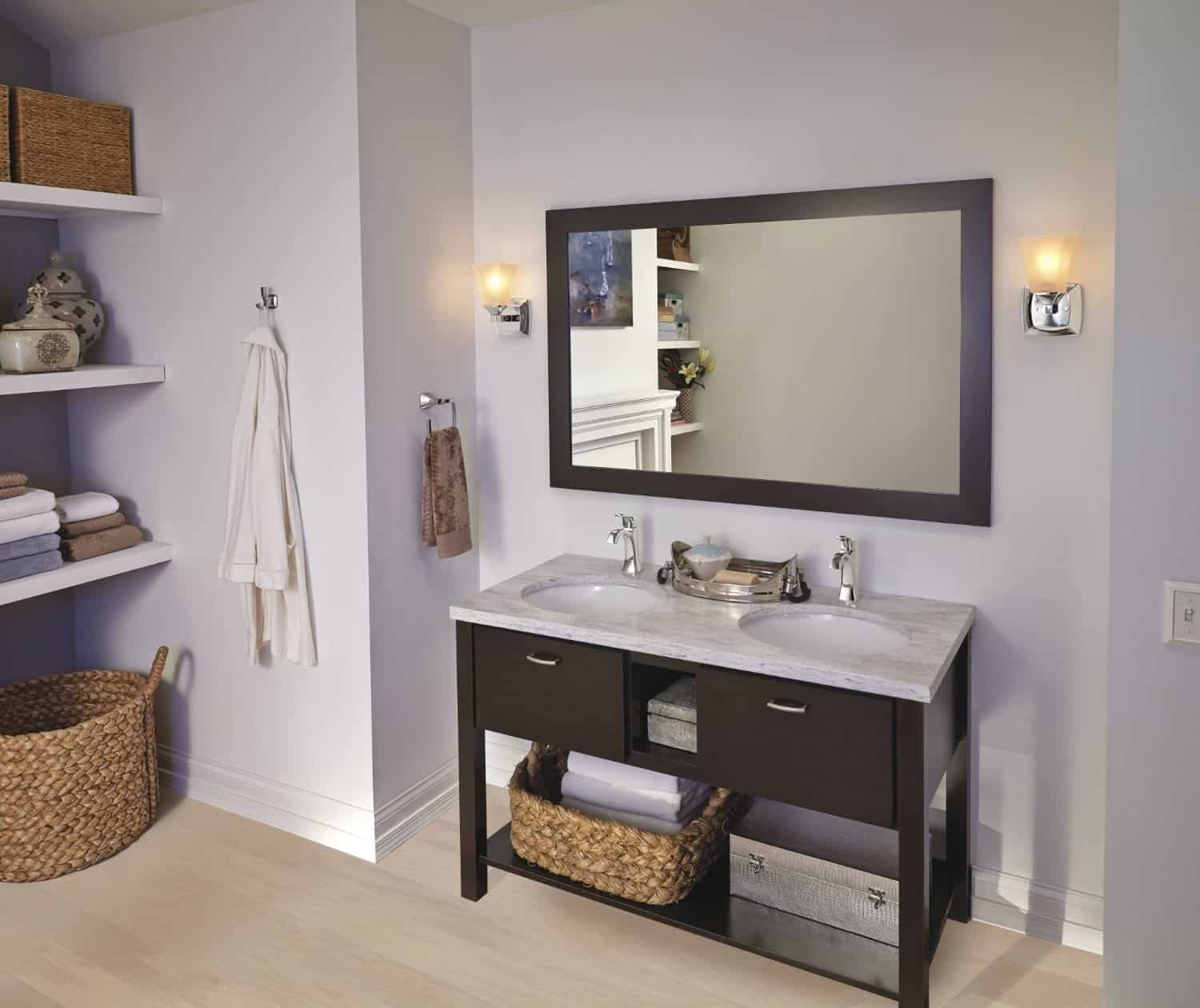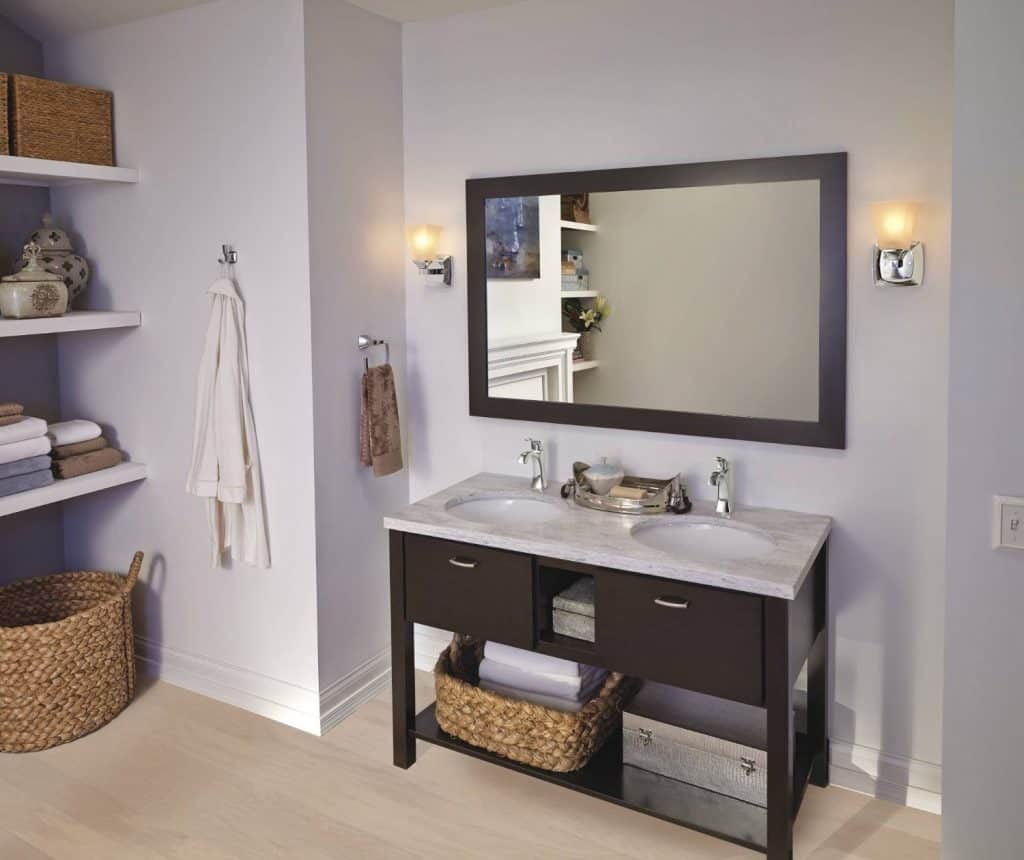 ---
Ideas for your Bathroom Accessories
There is a huge range of accessories available on the market and you must decide carefully when planning the function and style of your bathroom.
Make the most of the storage for accessories and use wire baskets for storing extra stuff.
Circa 1900s brass mirrors, beautiful French style collapsible tripod tables and other antiques can give a vintage feel to the bathroom.
Install simple towel rails just alongside the wall of the bath area making it an easy-to-reach item once you are done.
Add a seaside feel to your powder room, by painting it blue and accessorizing it with towels, soap and toothbrush holders in the same or similar hues. You can add starfish, seashells and other nautical elements to the decor to support the theme.
Oriental style themes are also popular as they help create a natural spa like environment. Install a wooden bathtub and accessorize using Chinese or Asian themed light fixtures or bamboo accessories.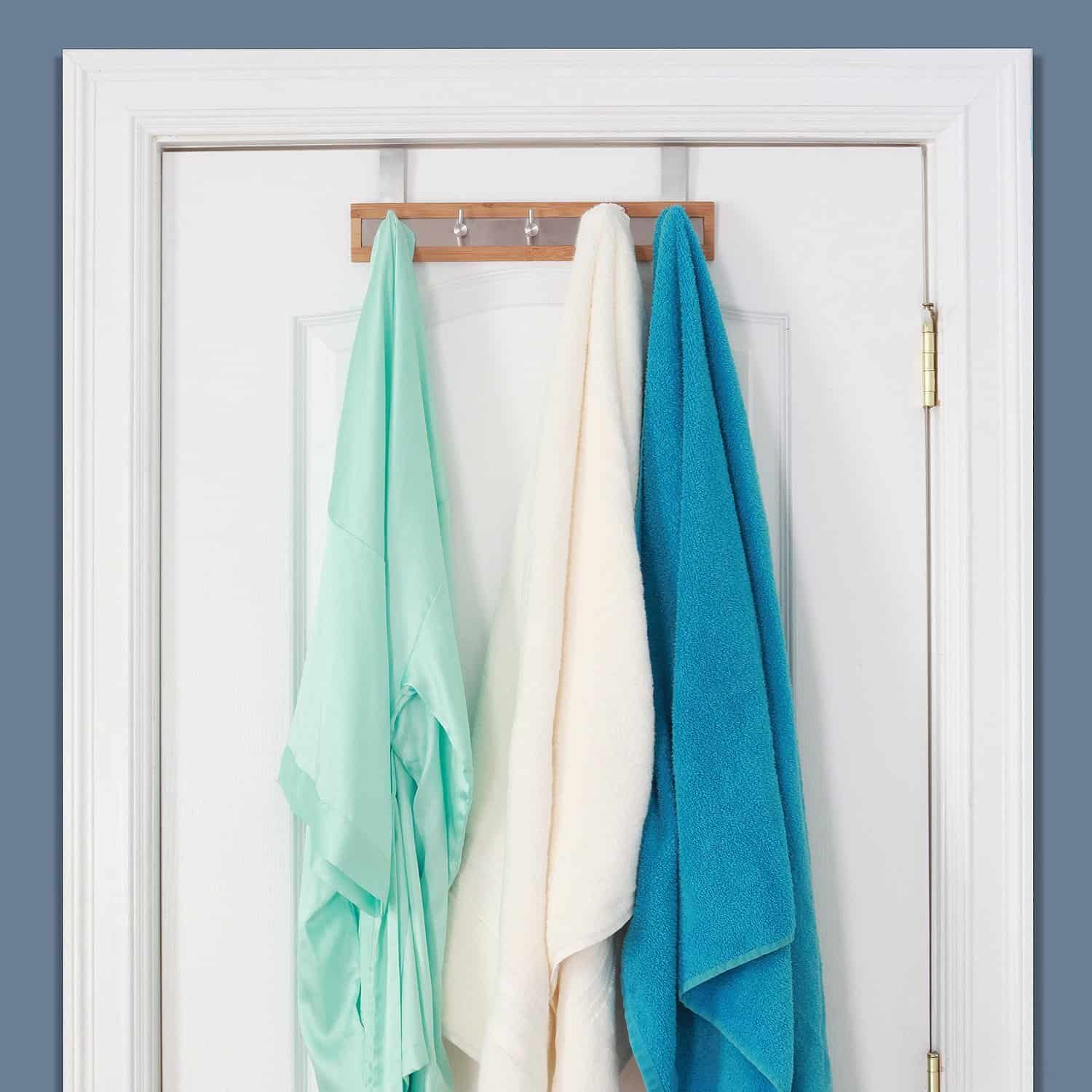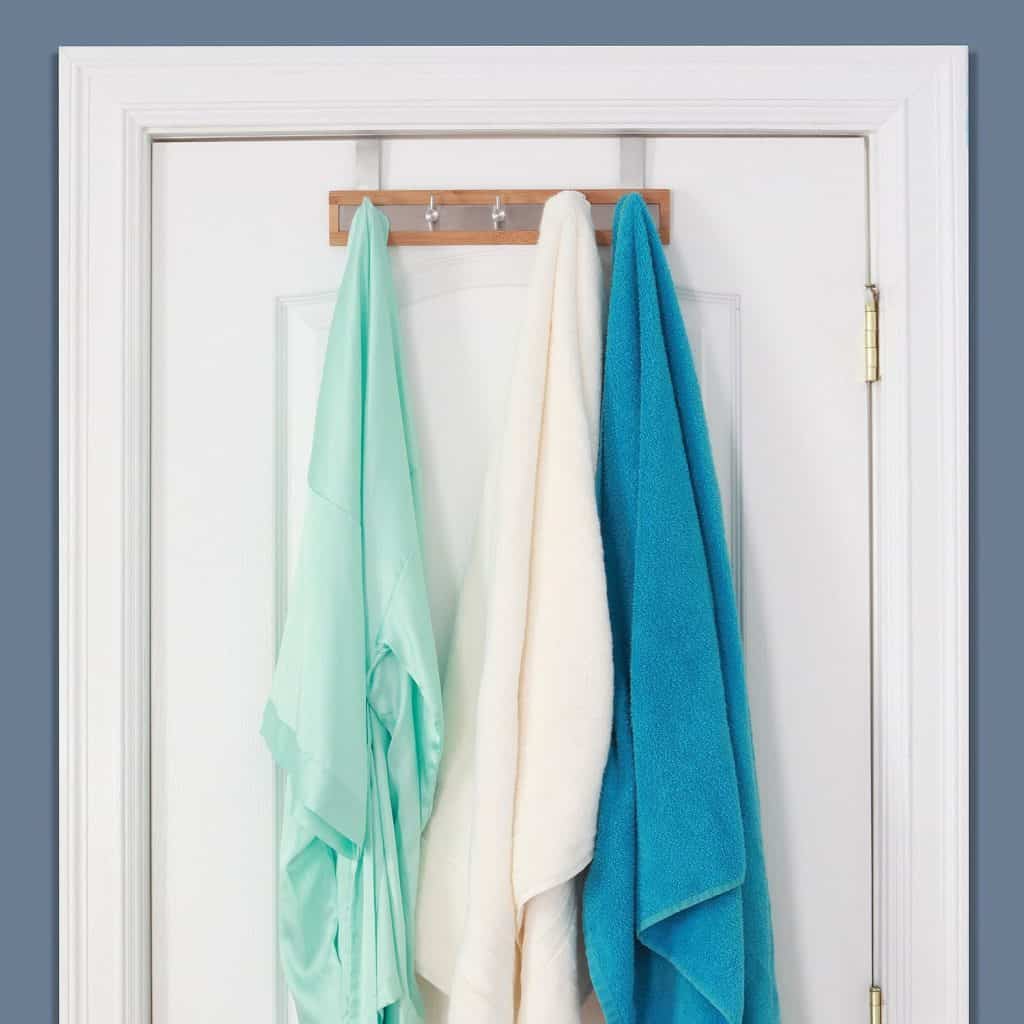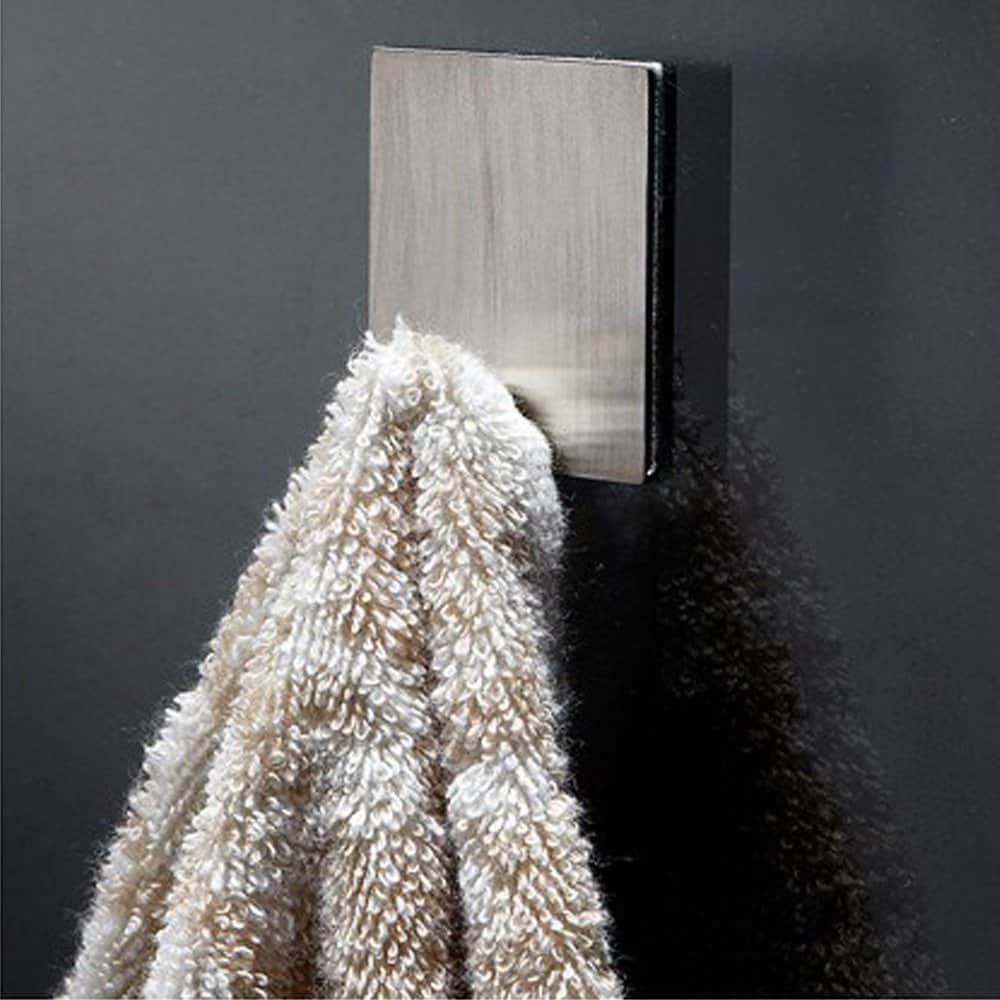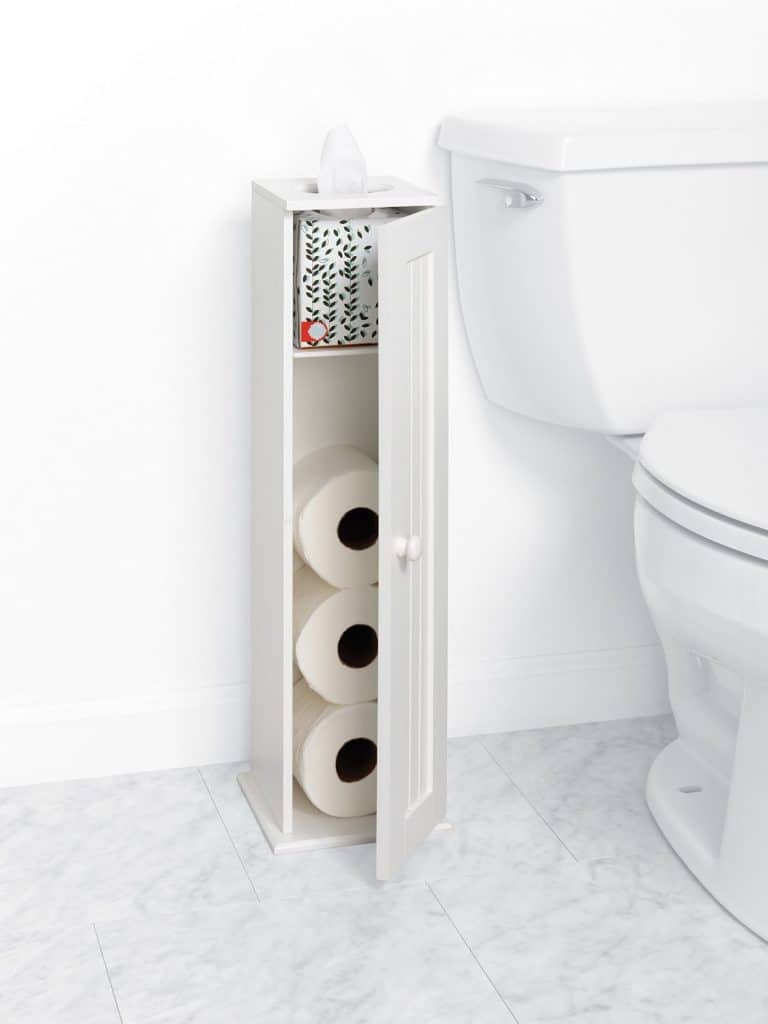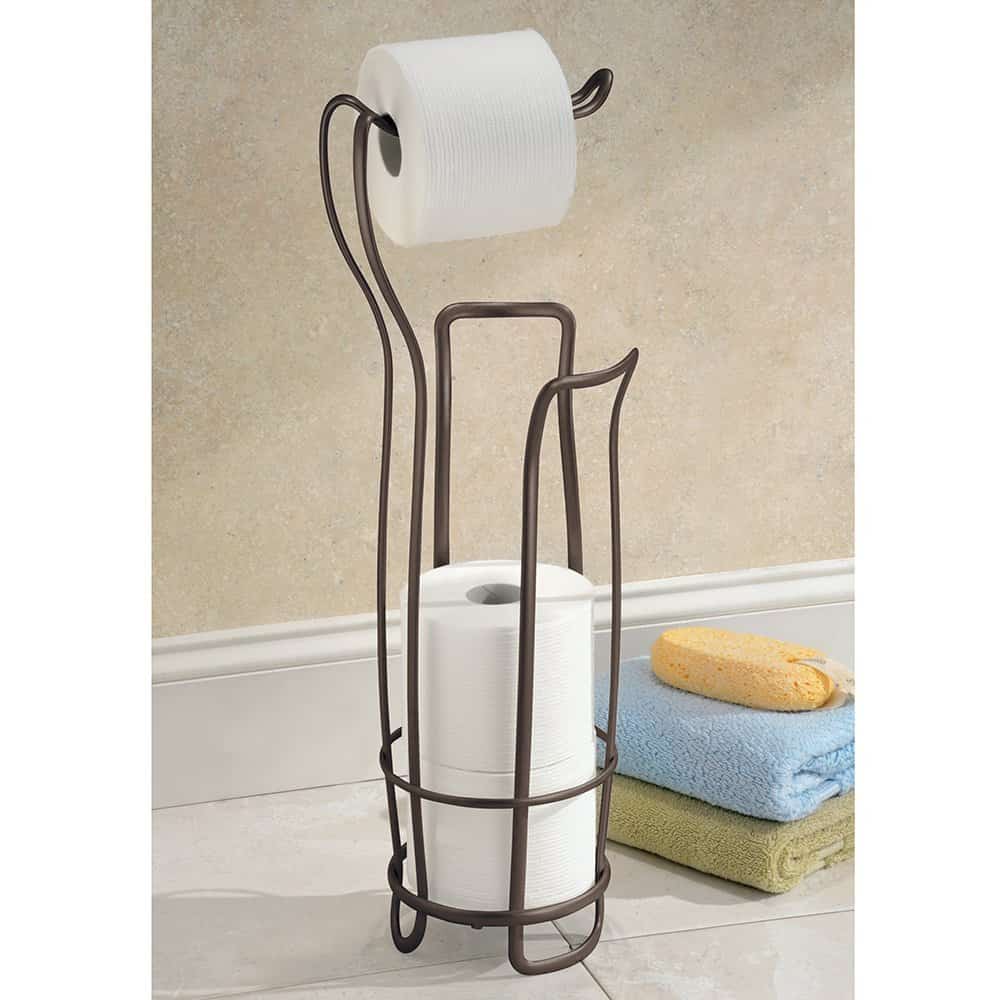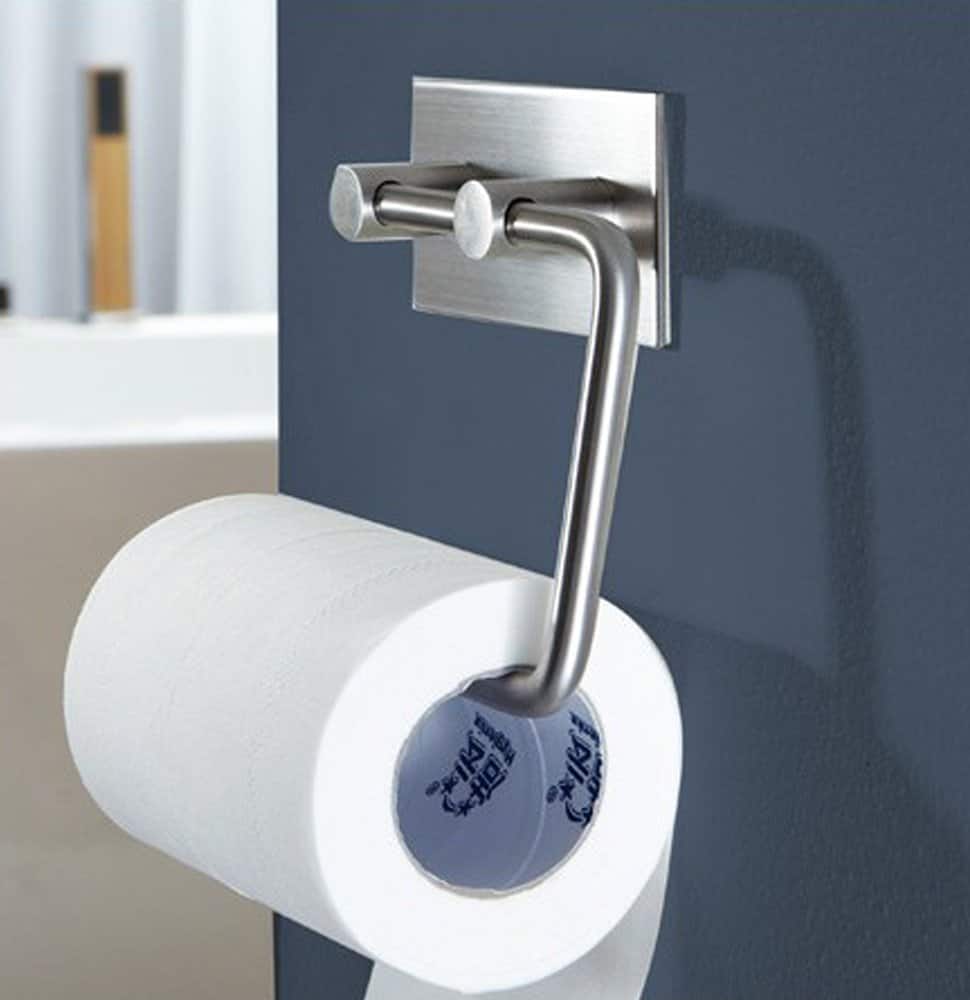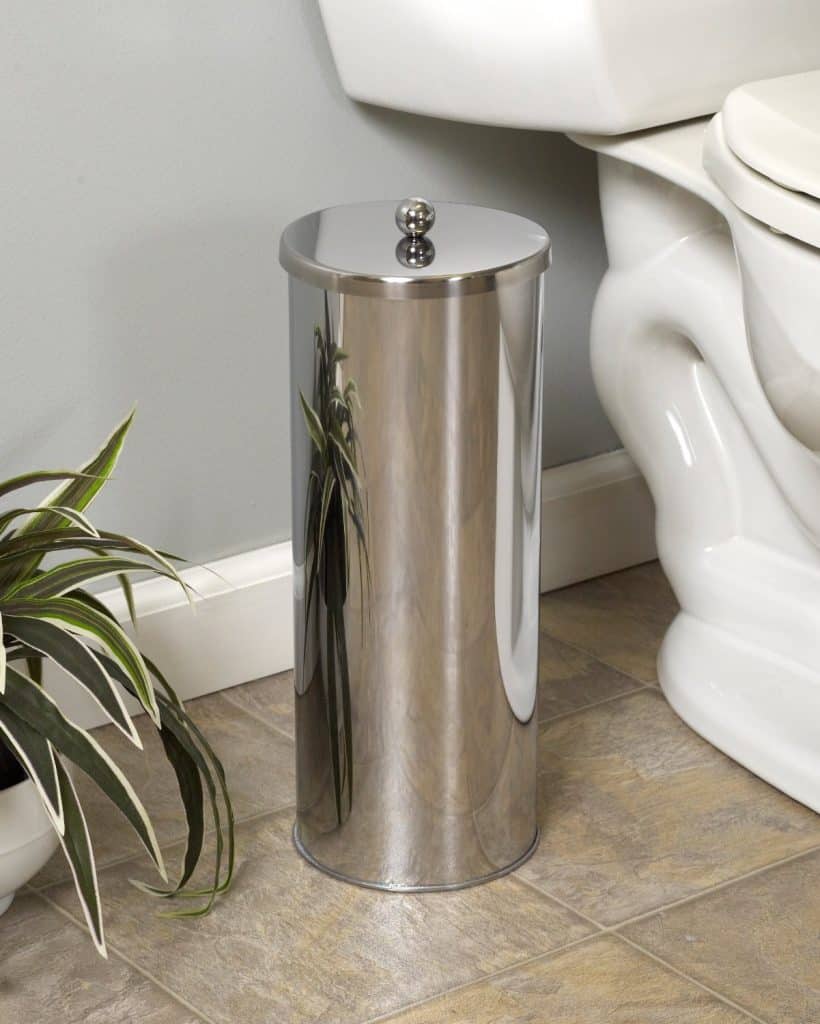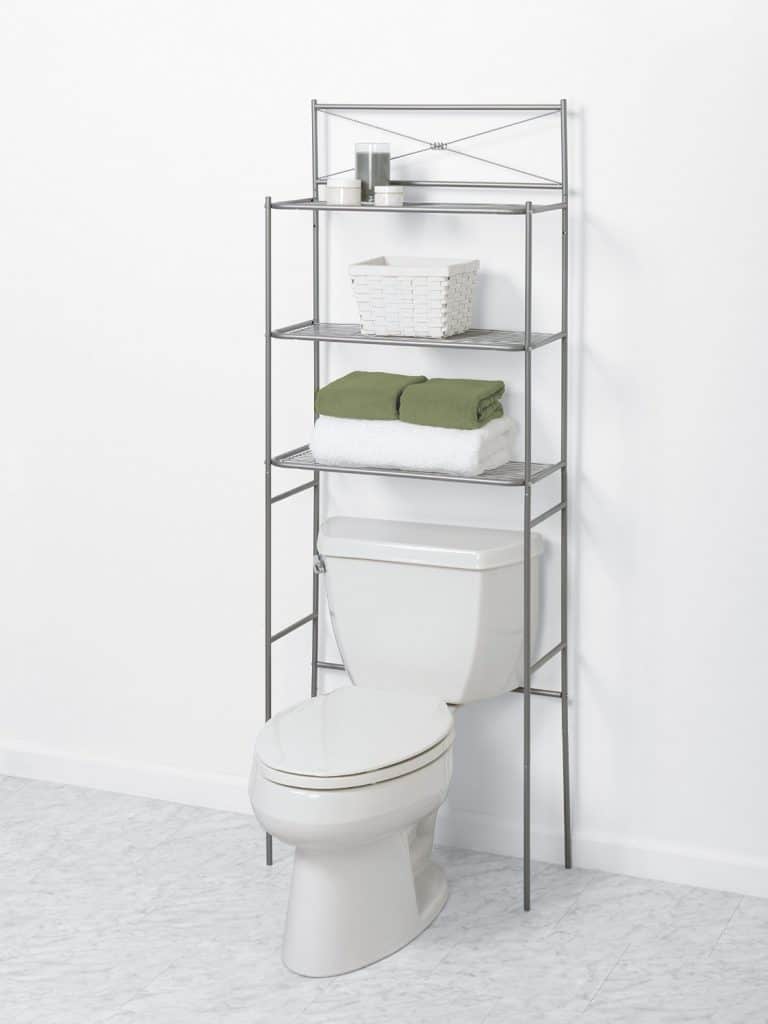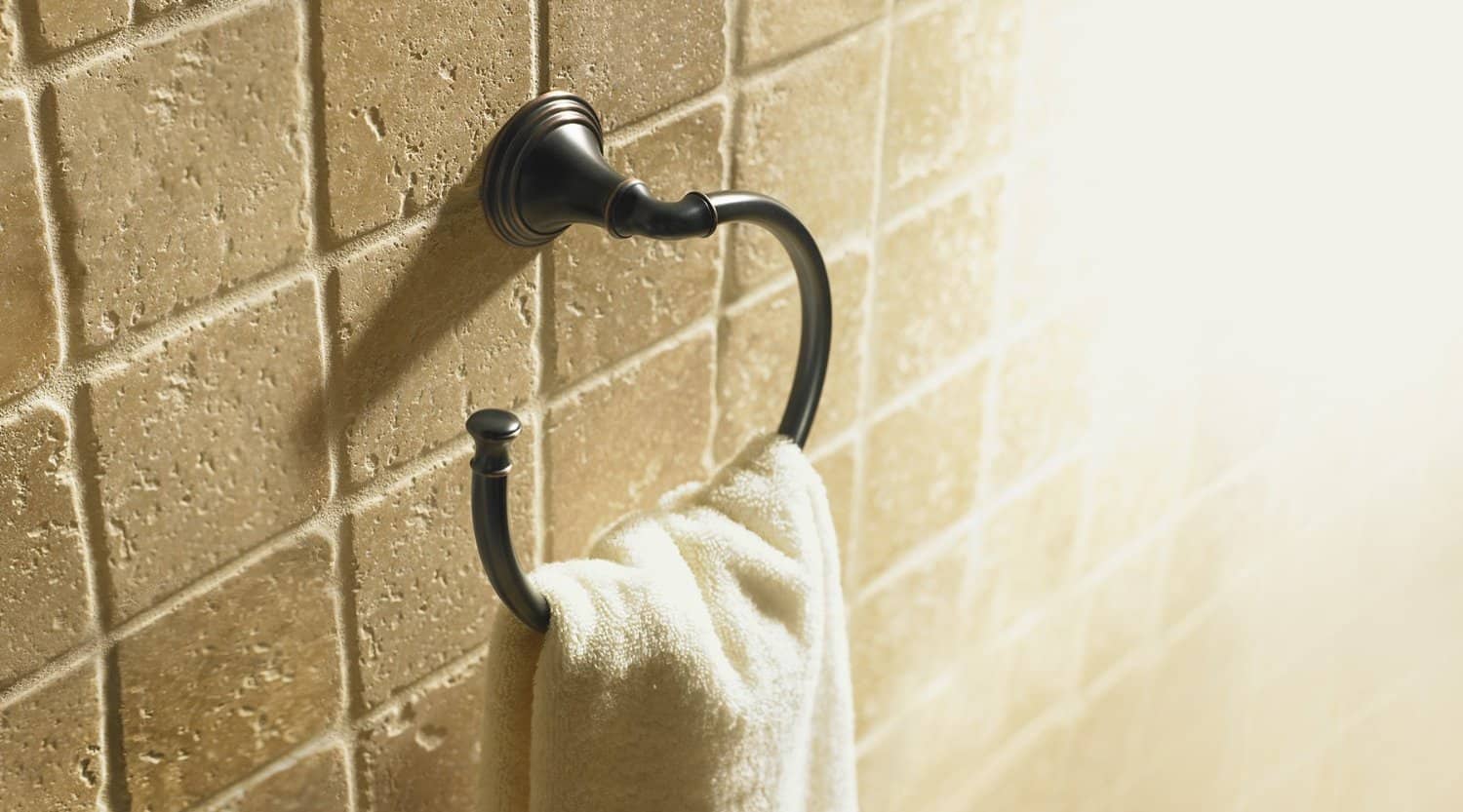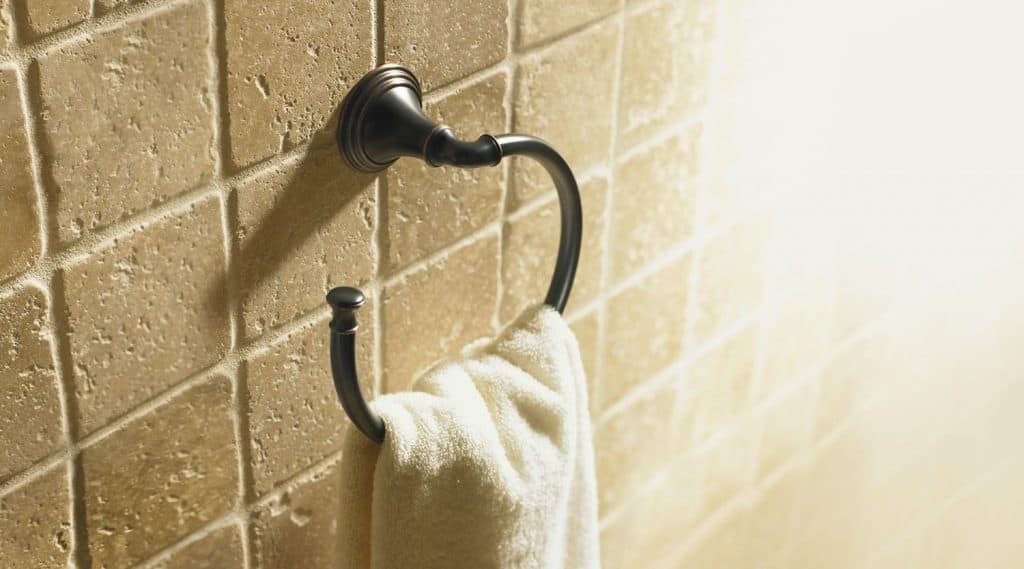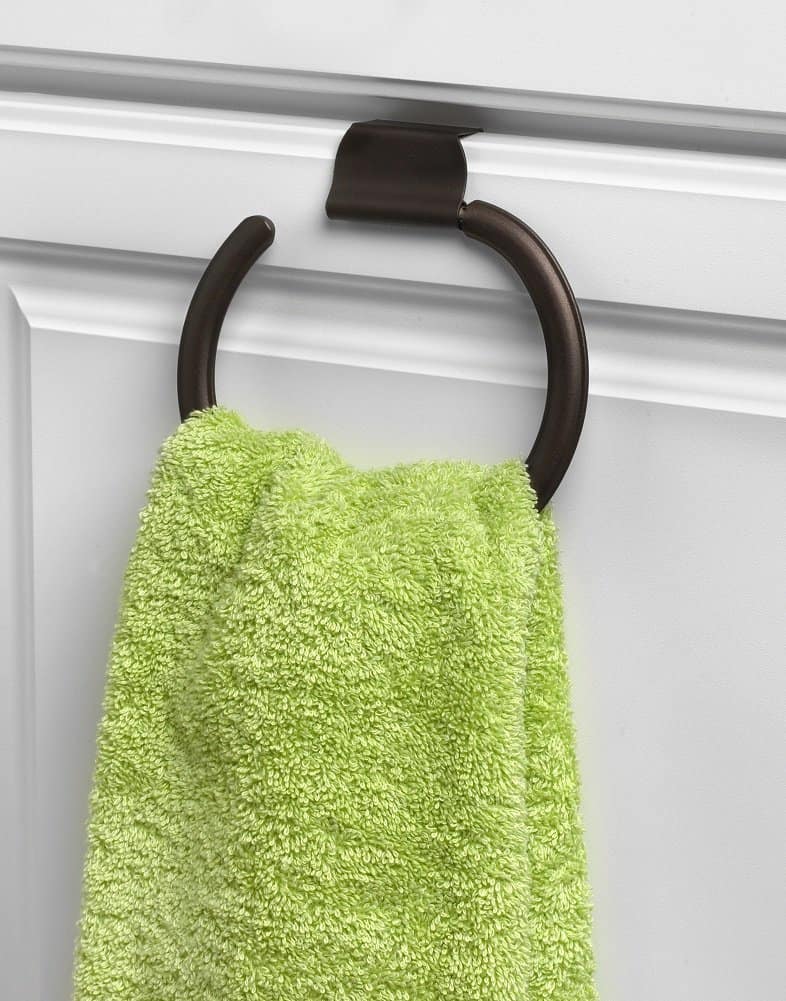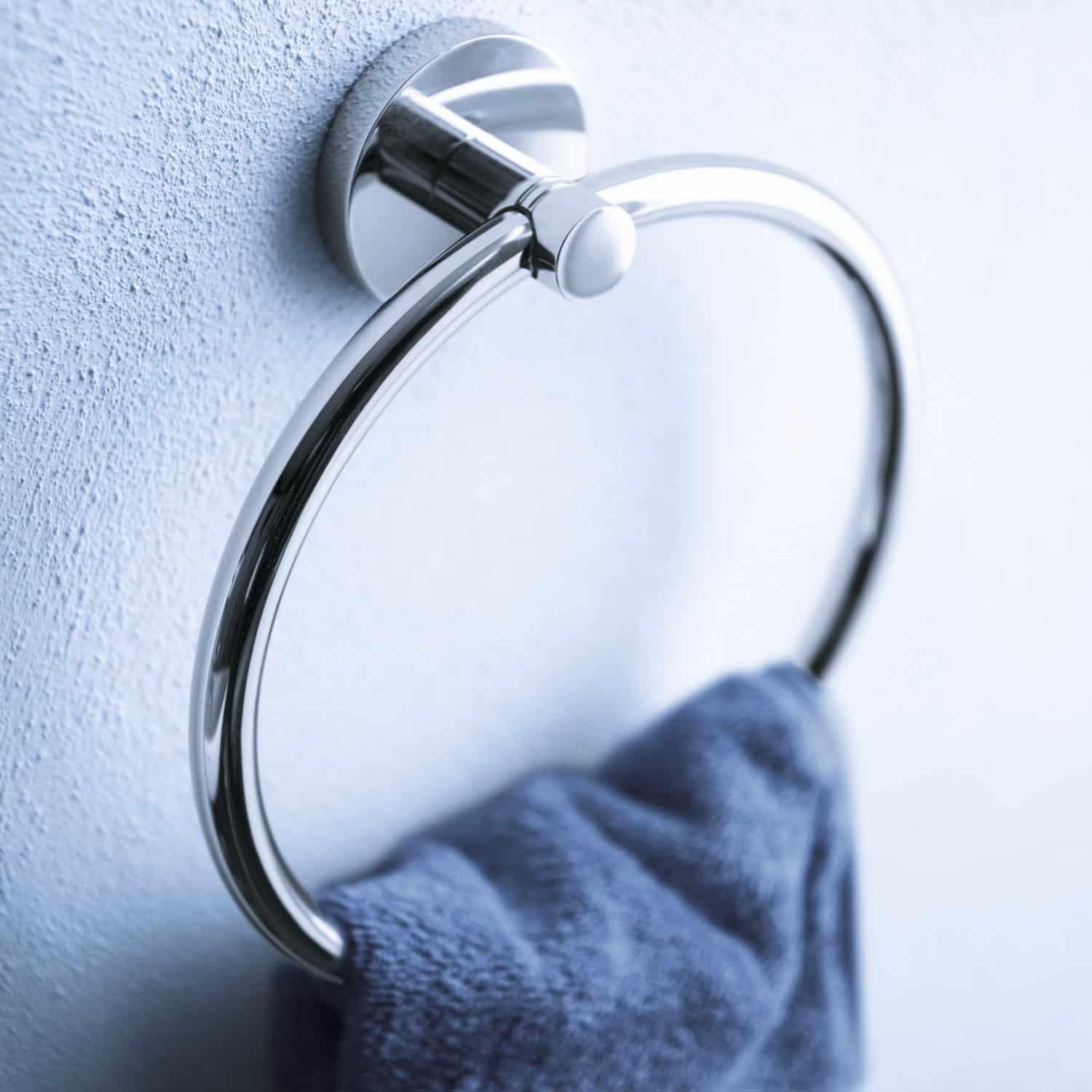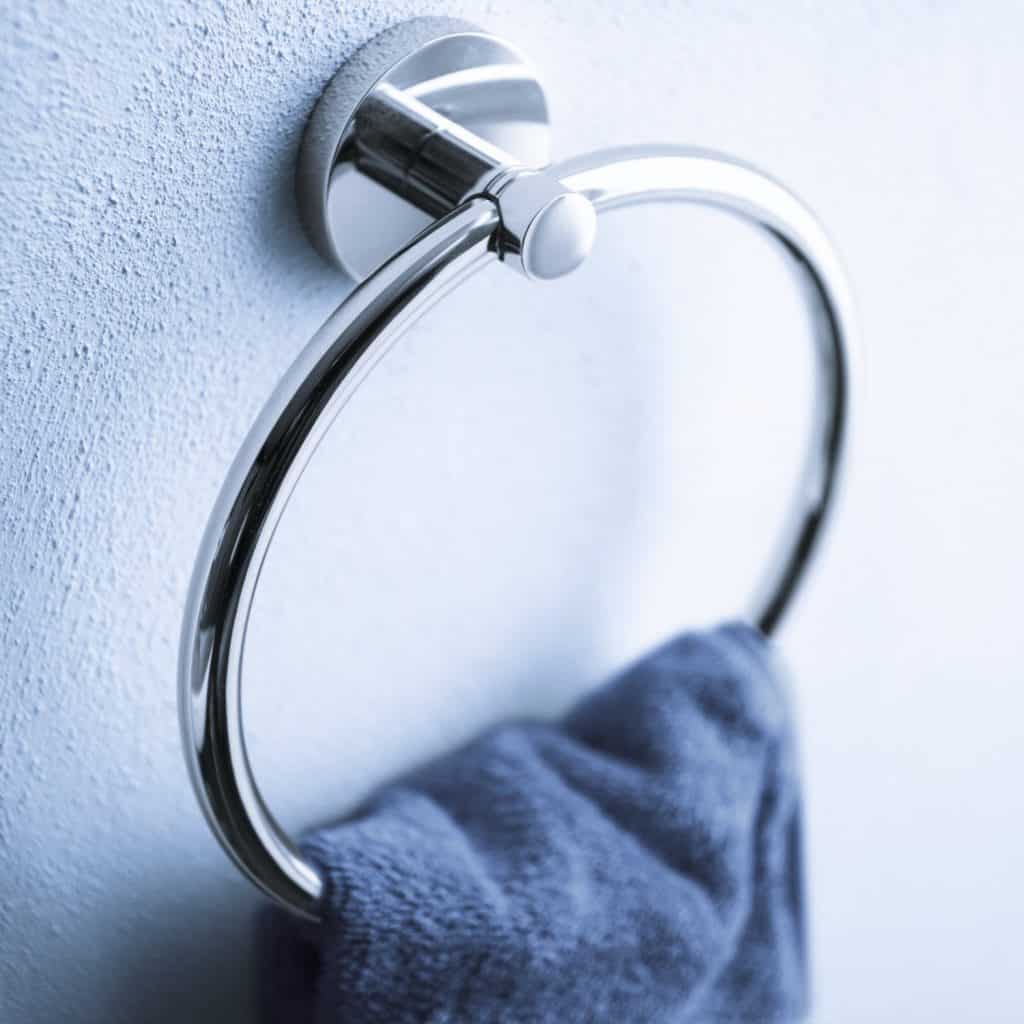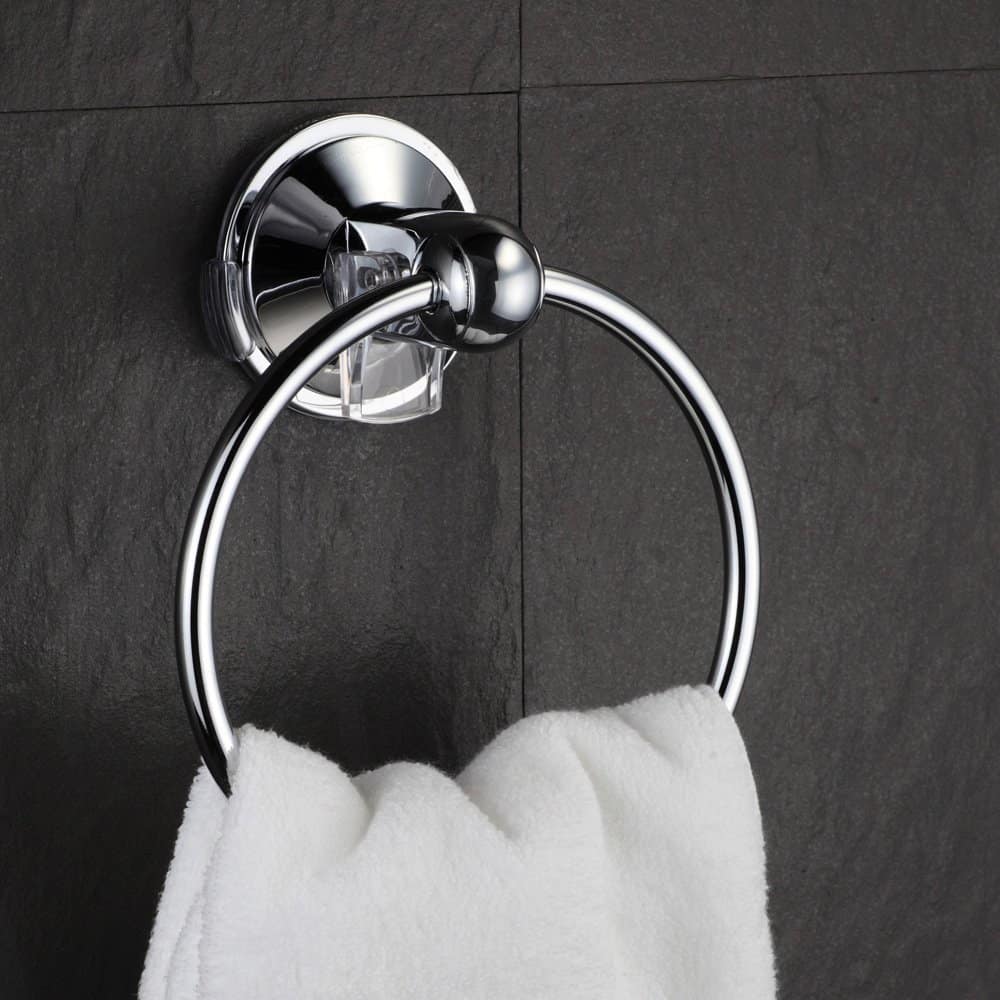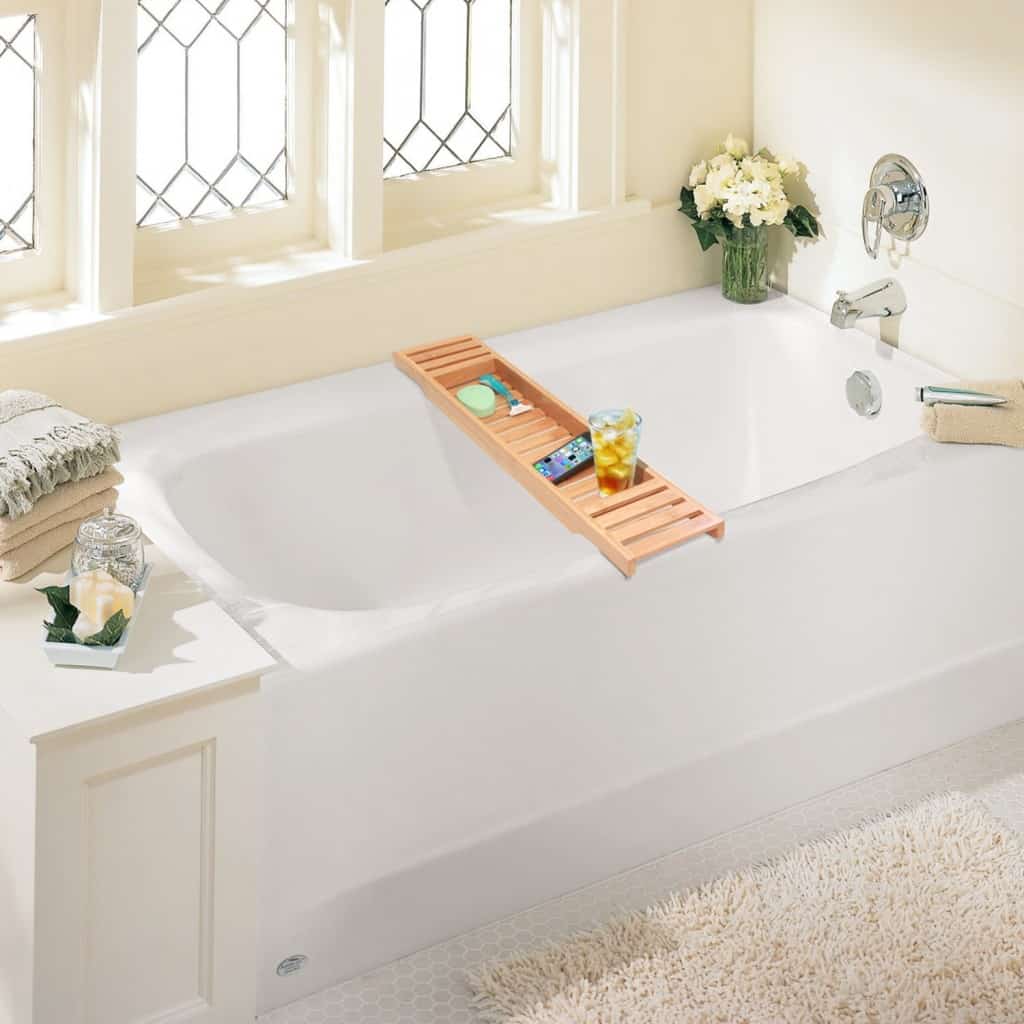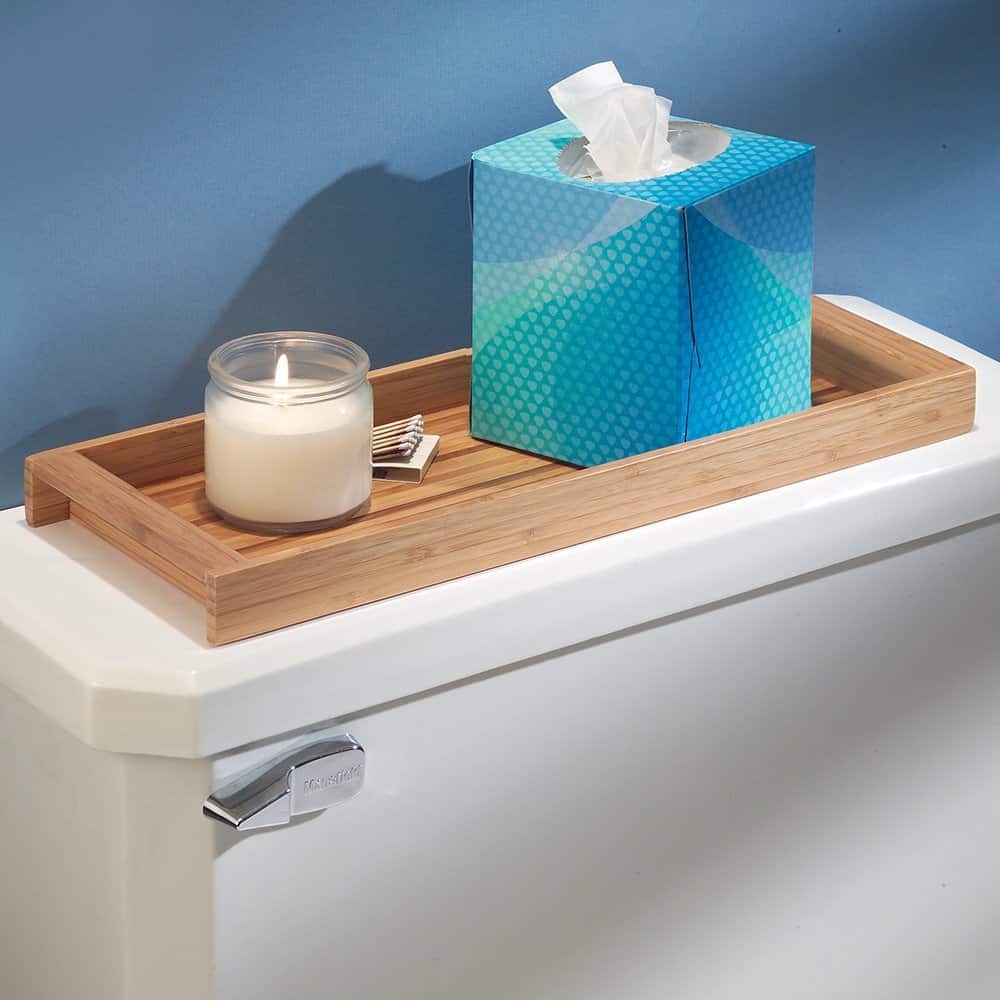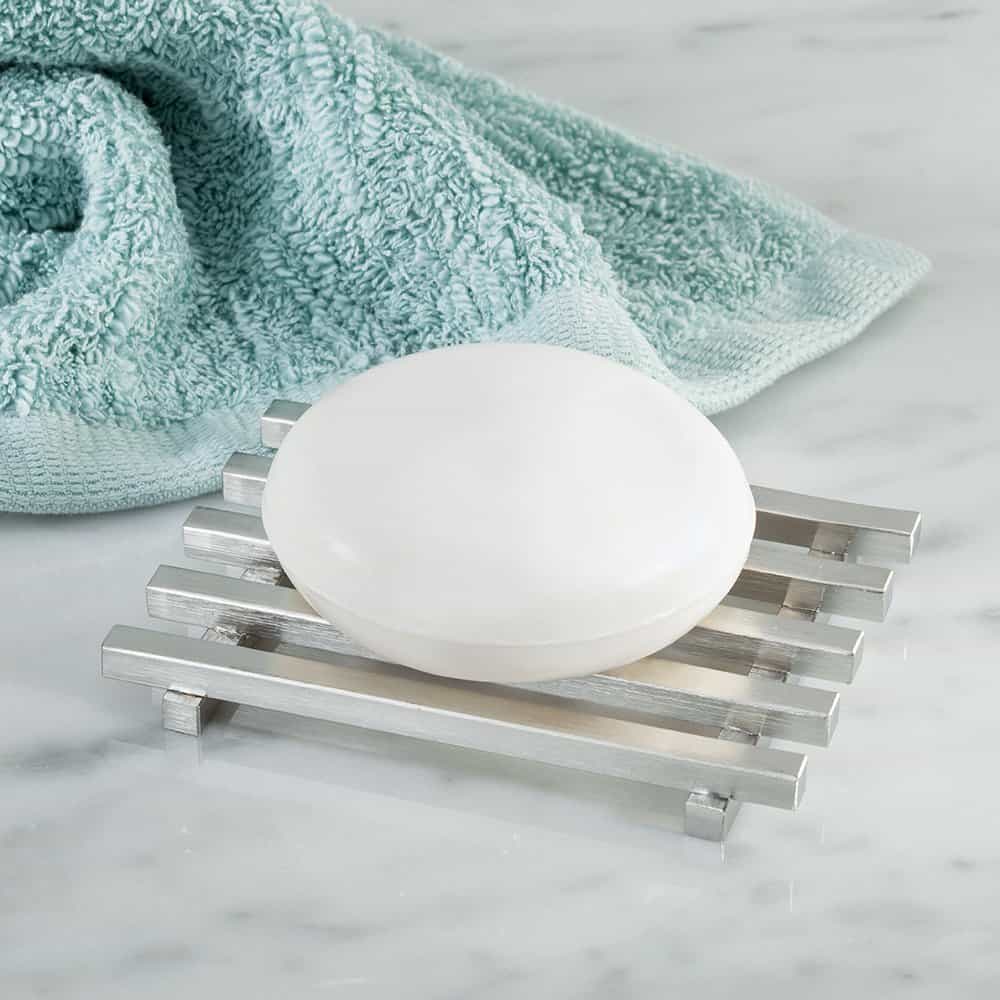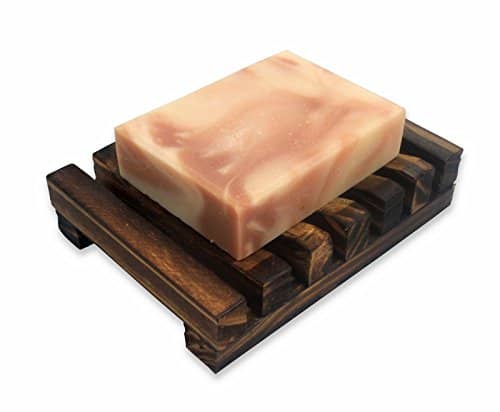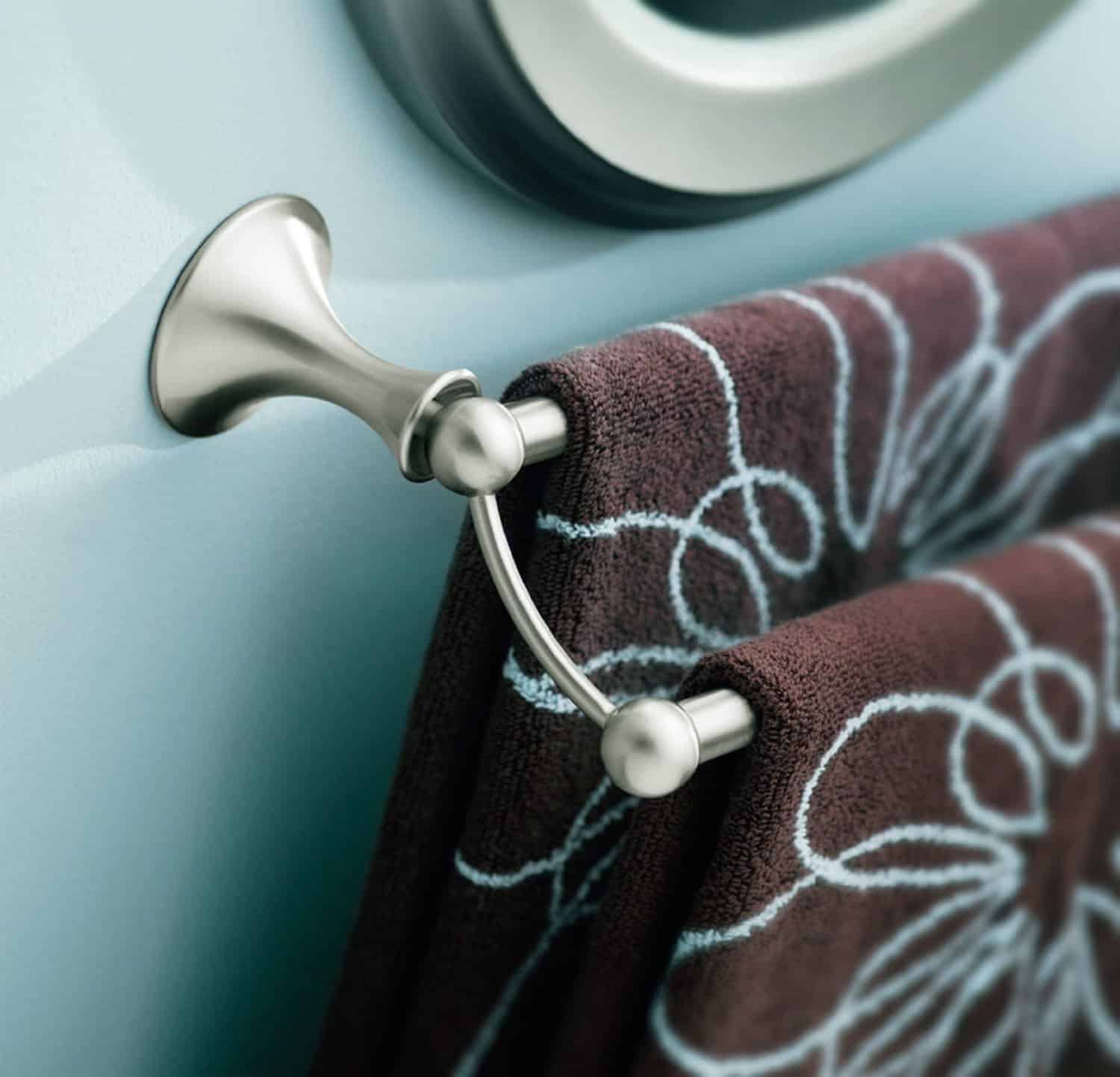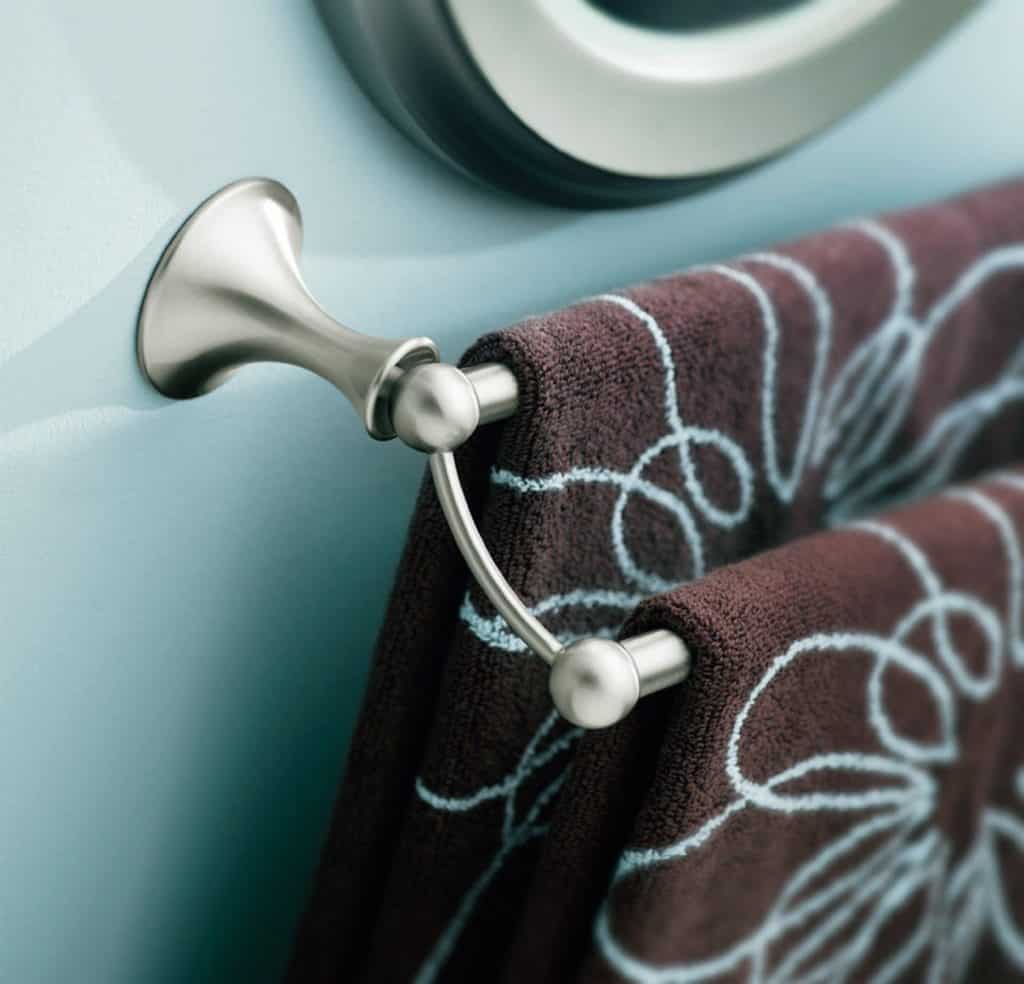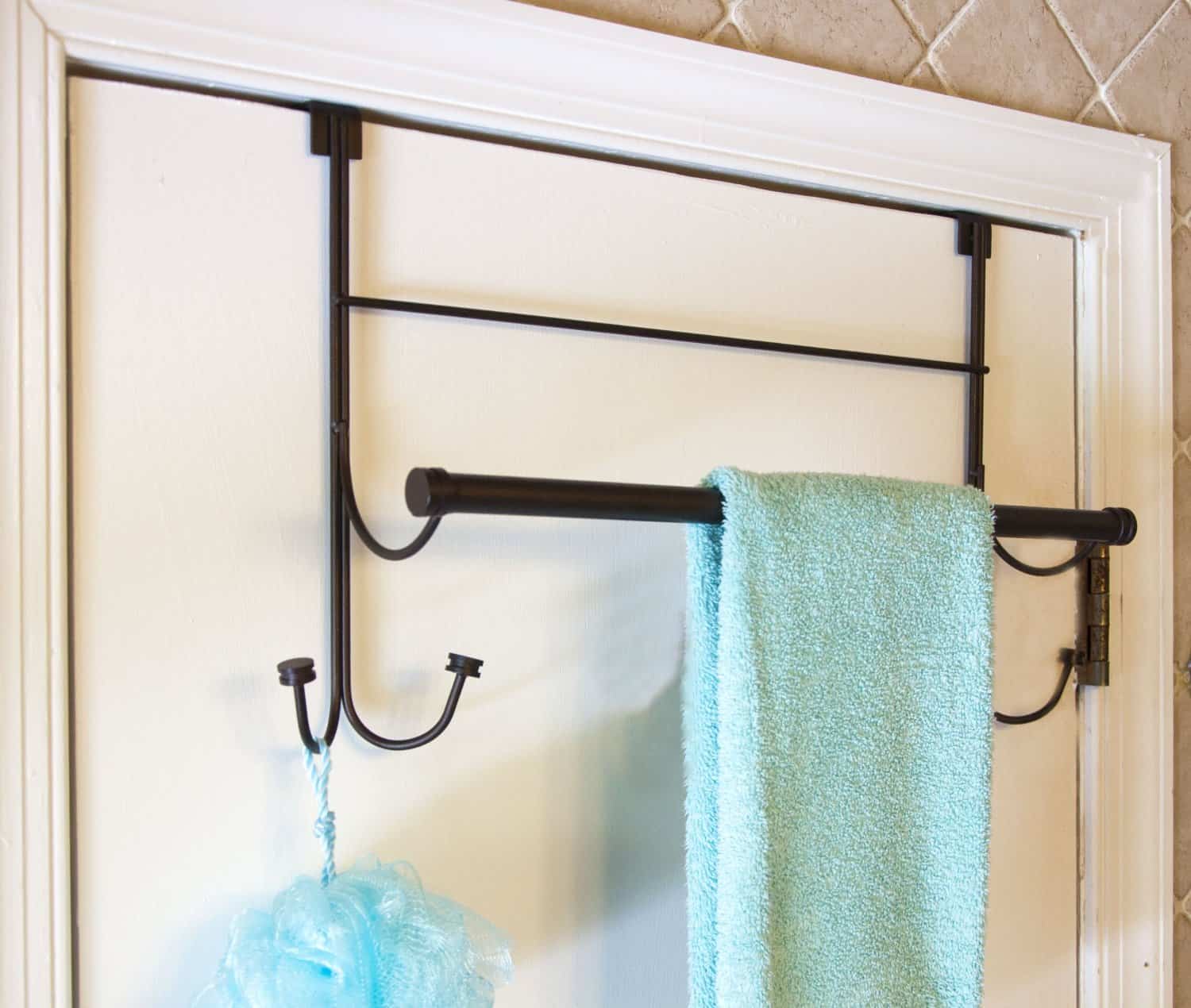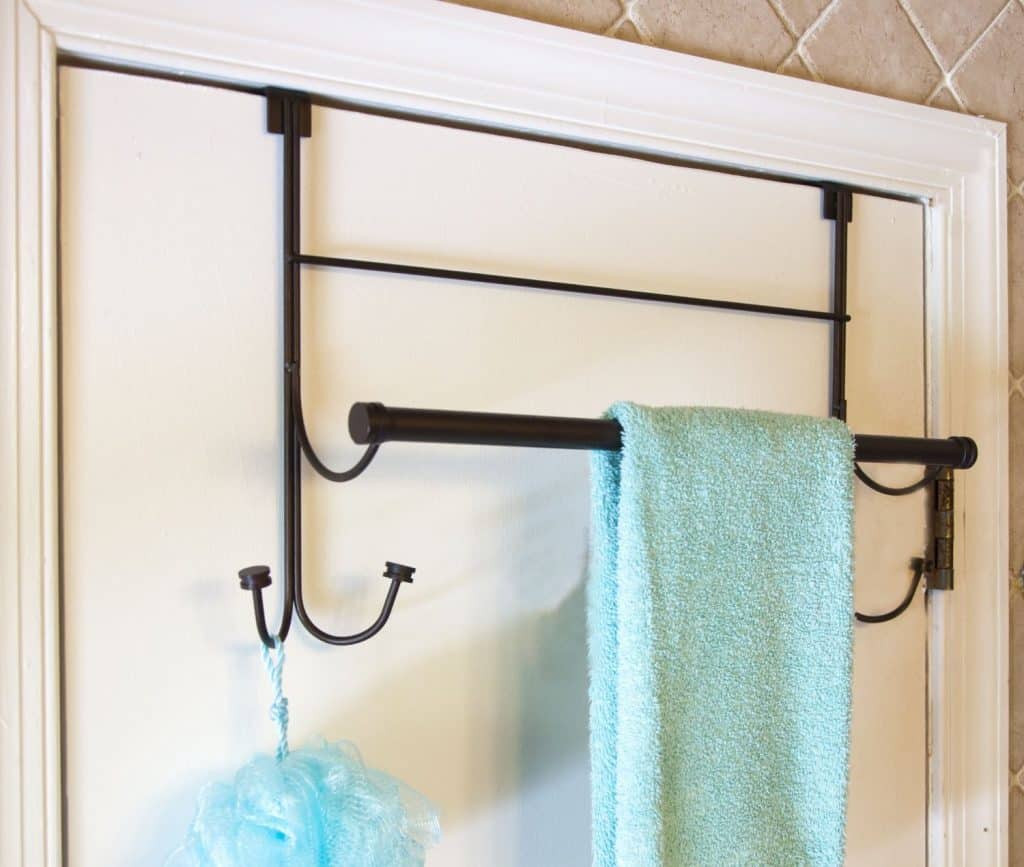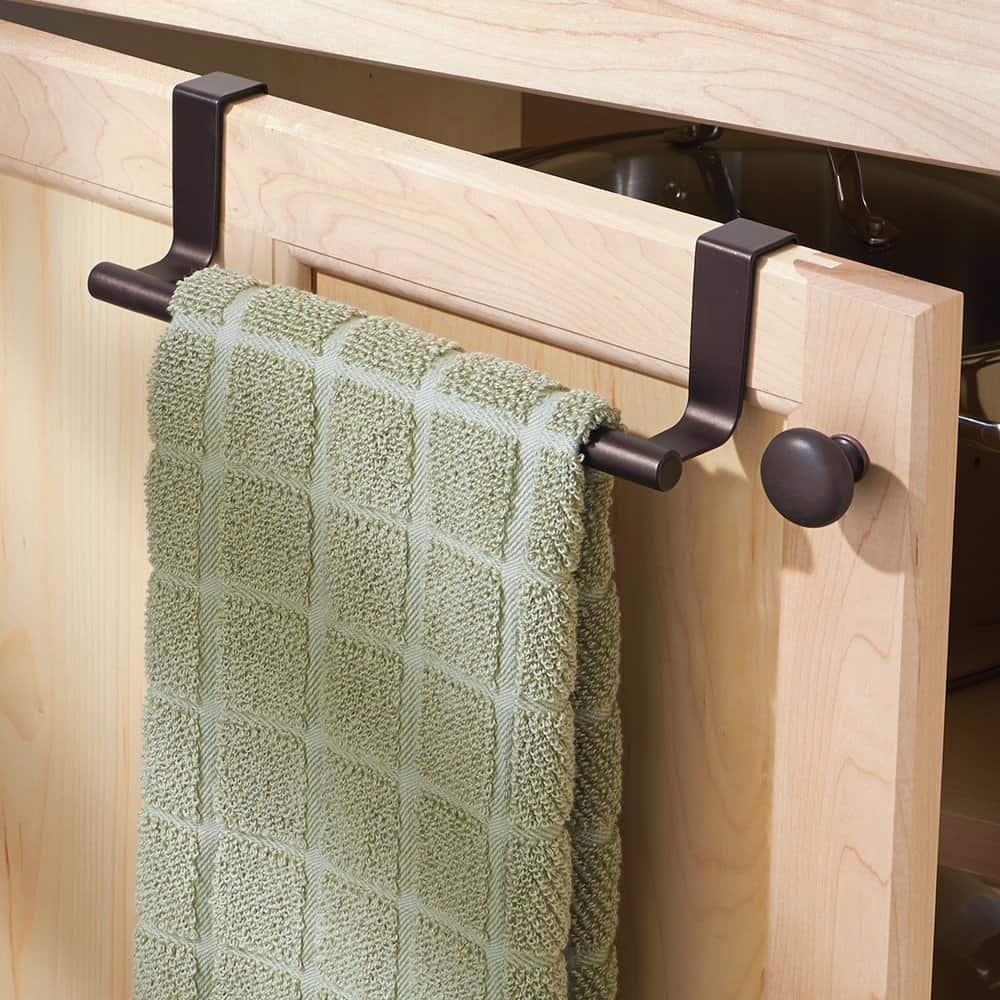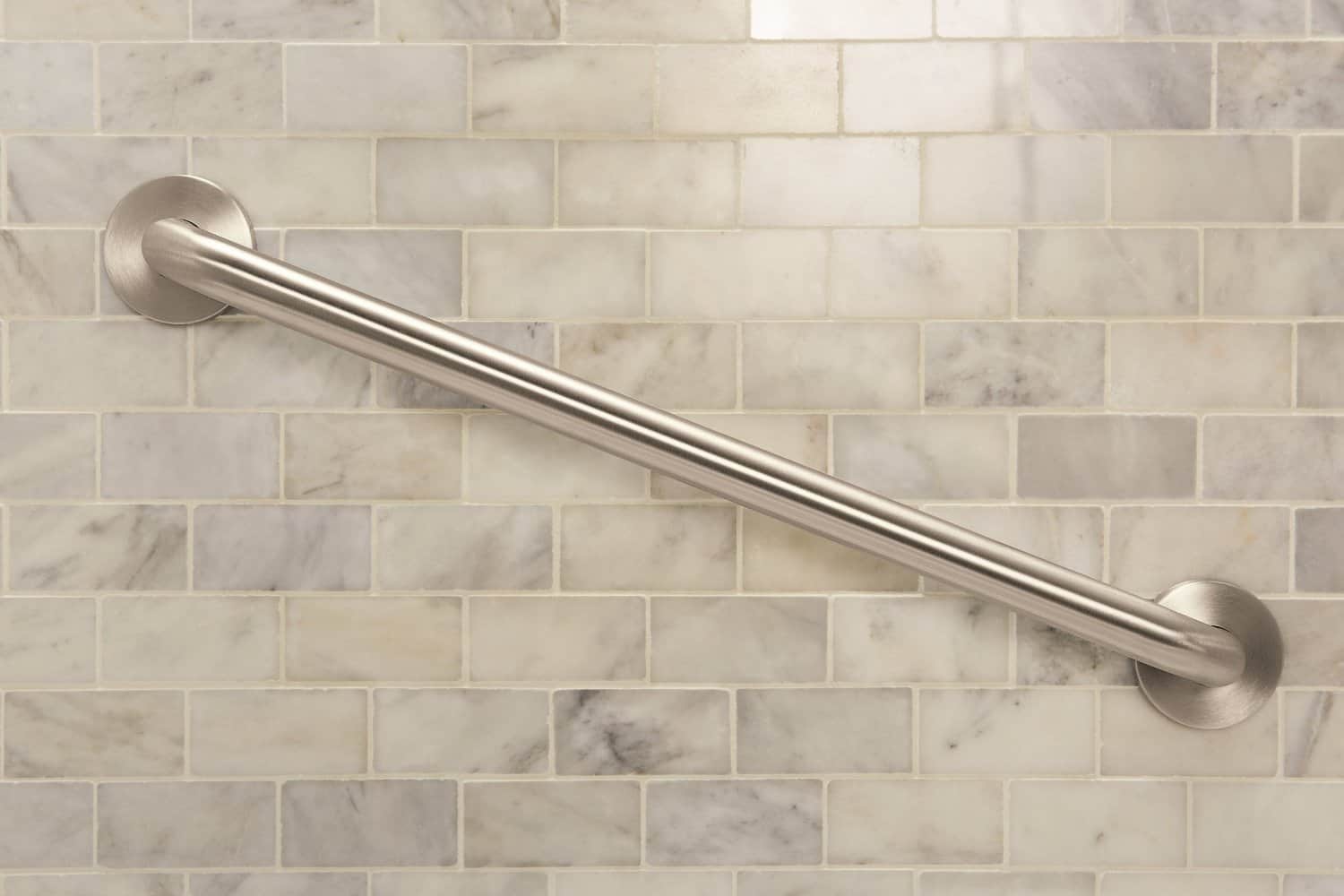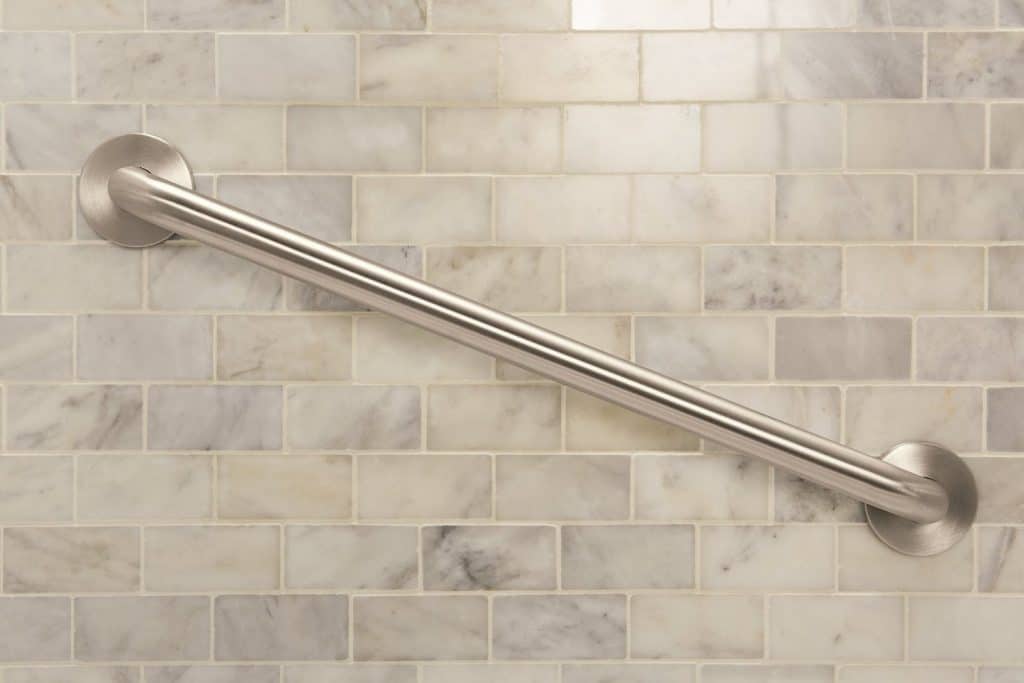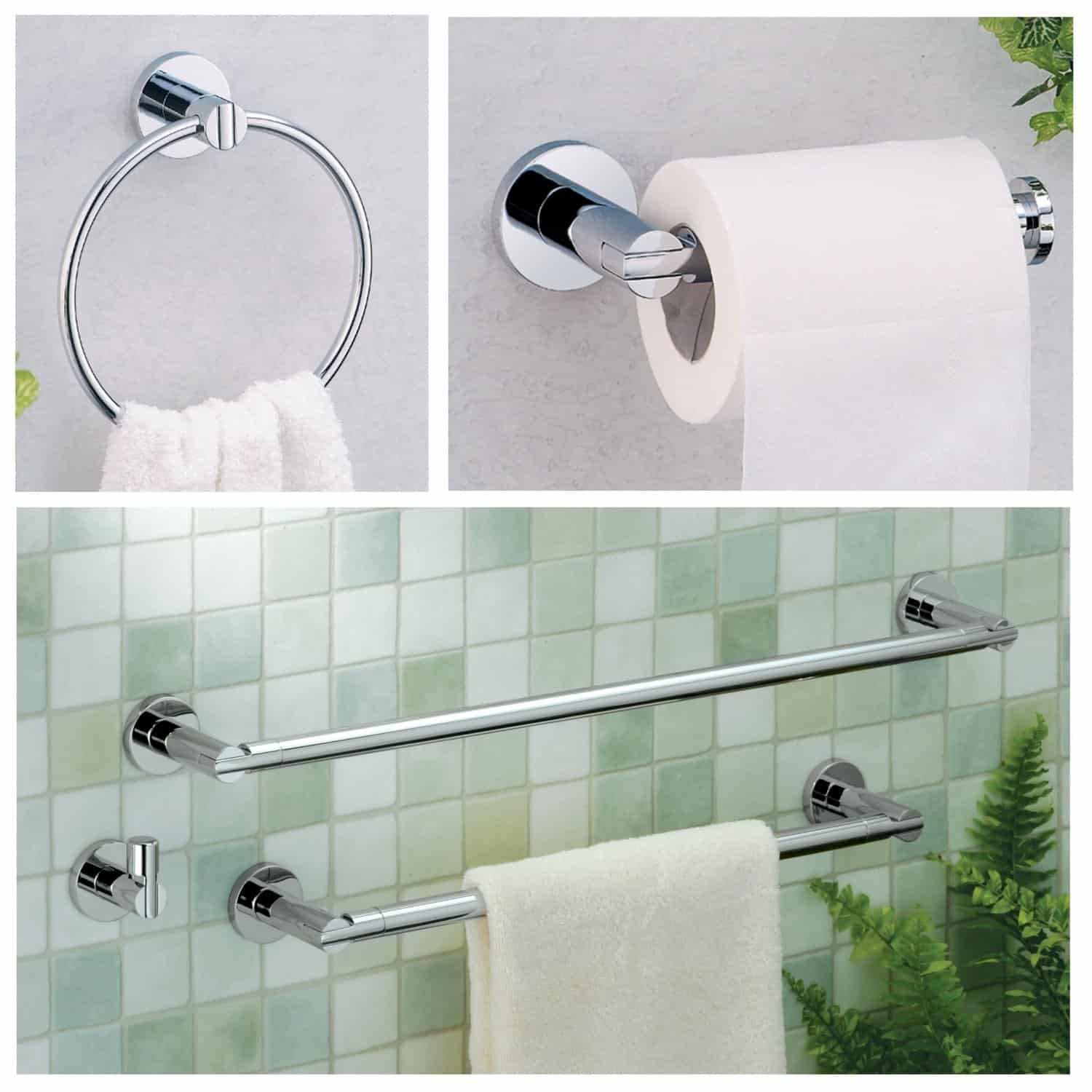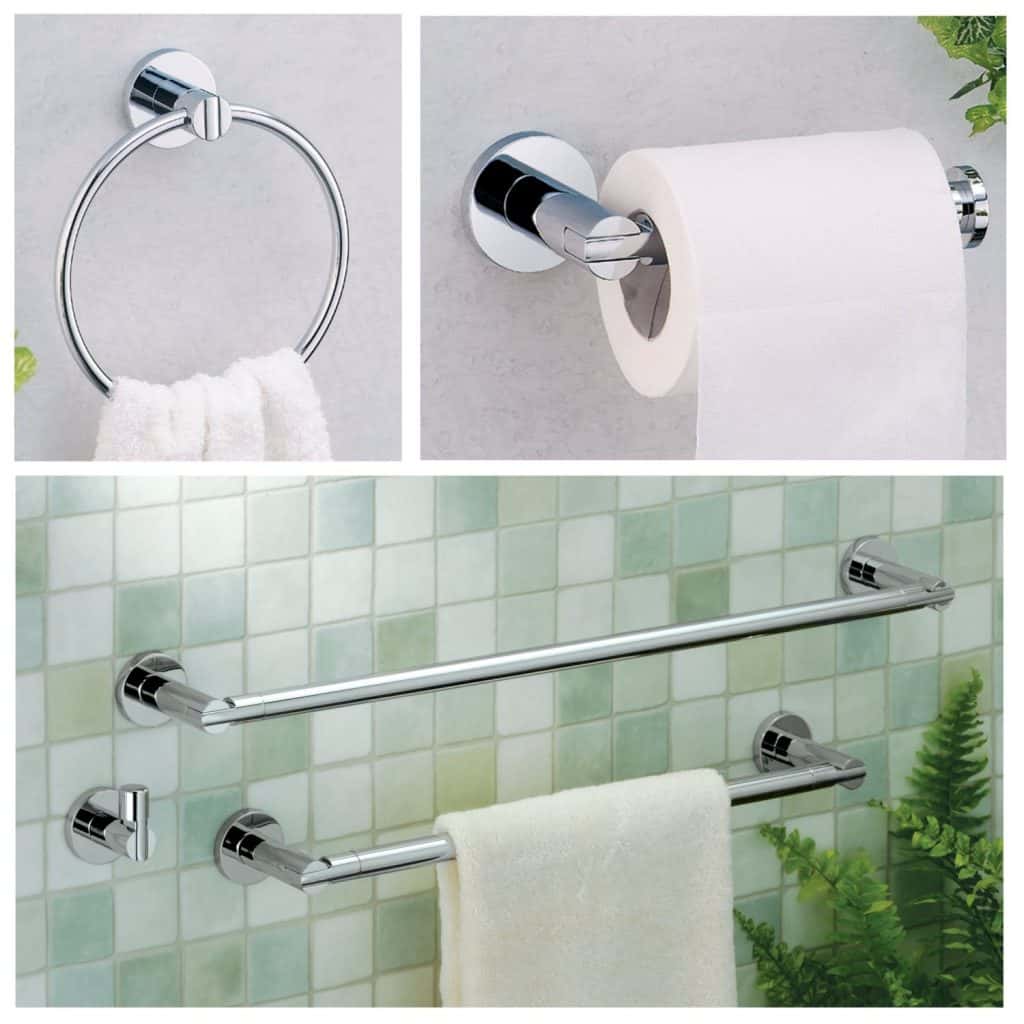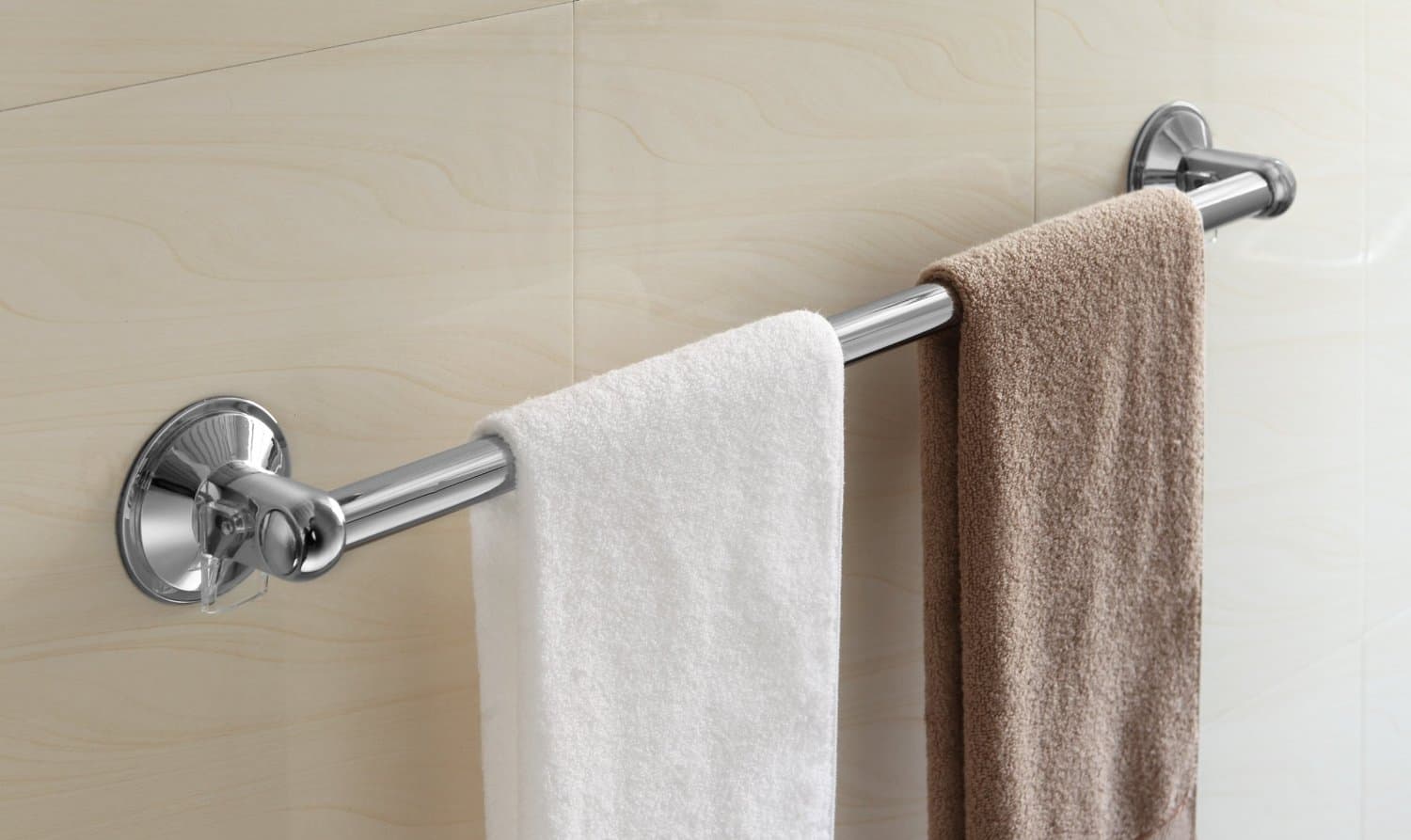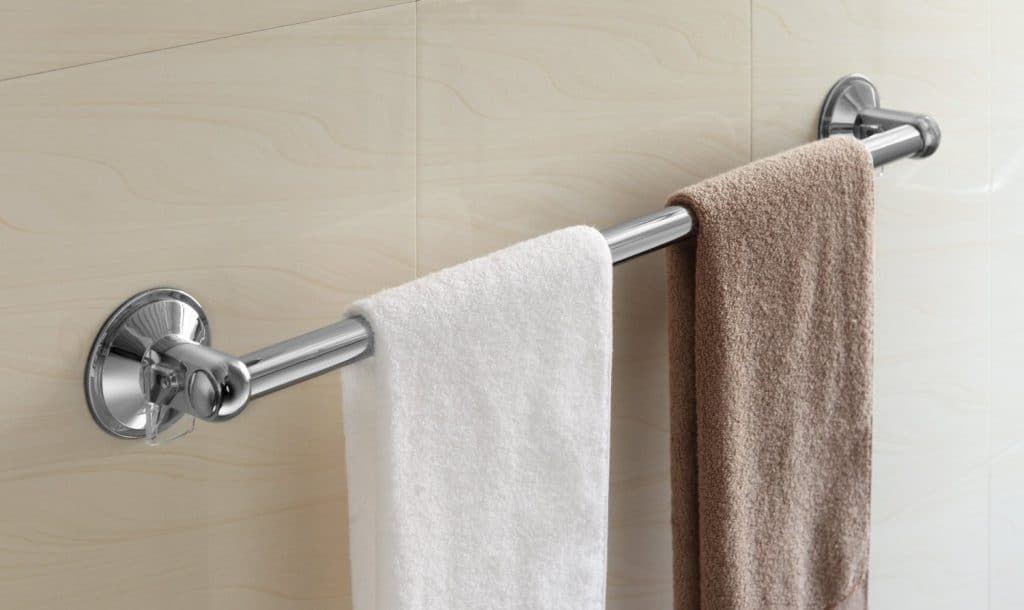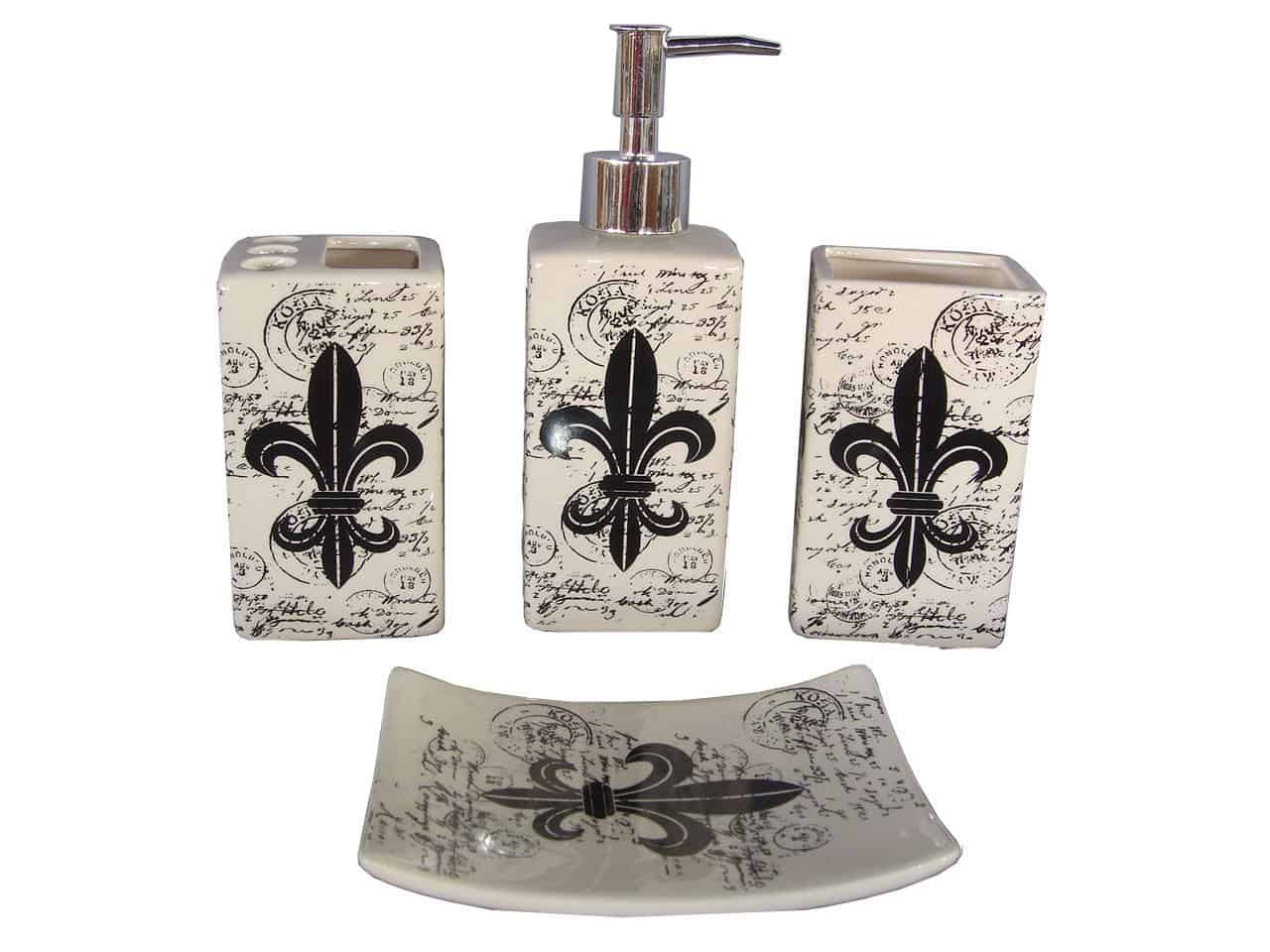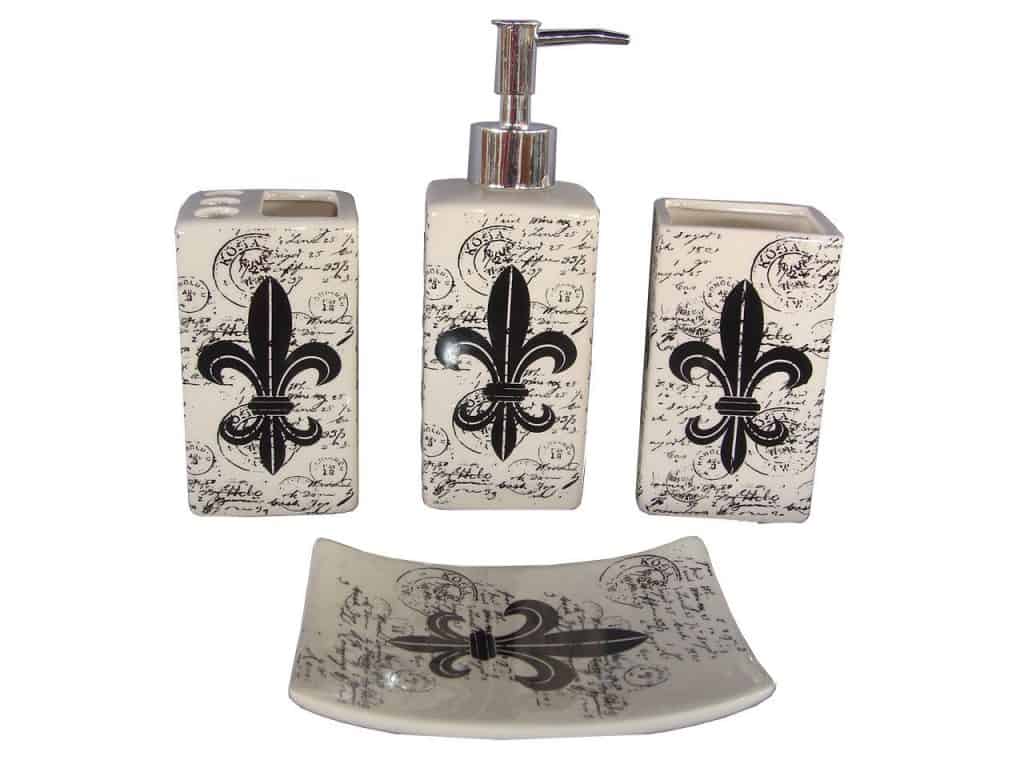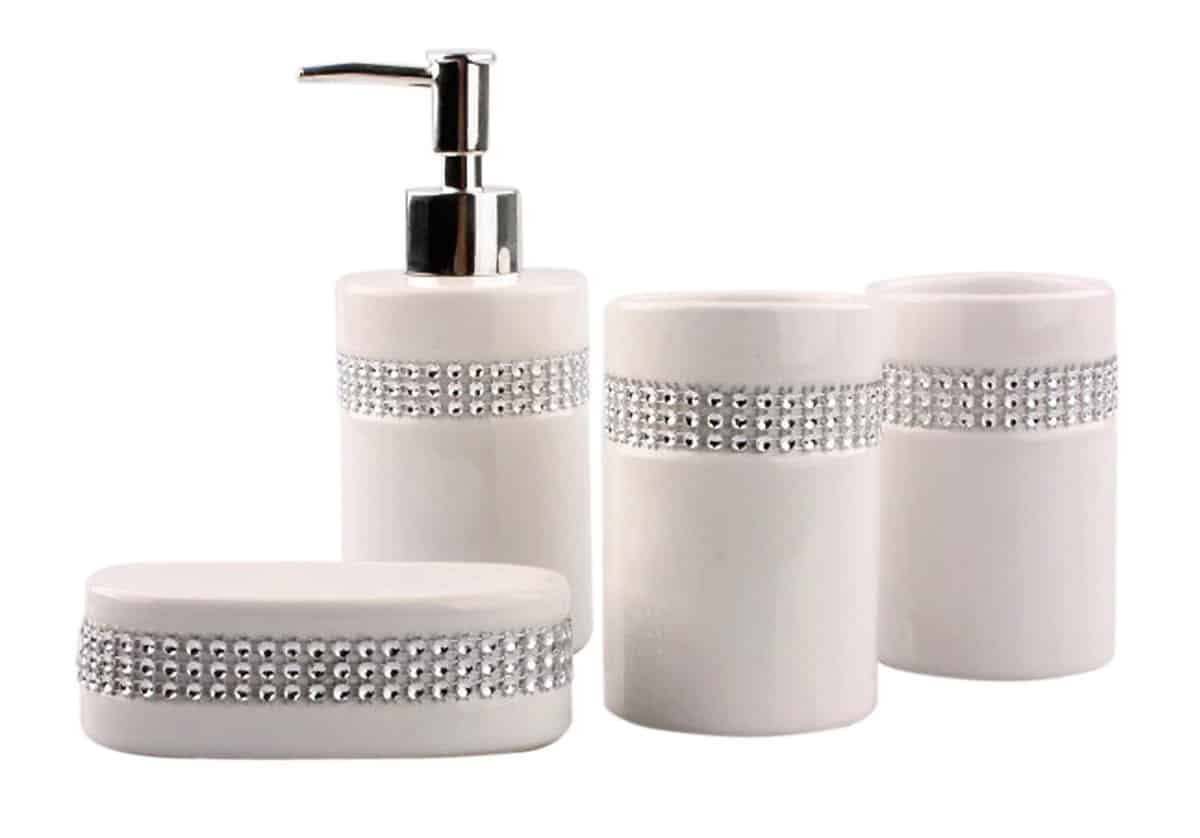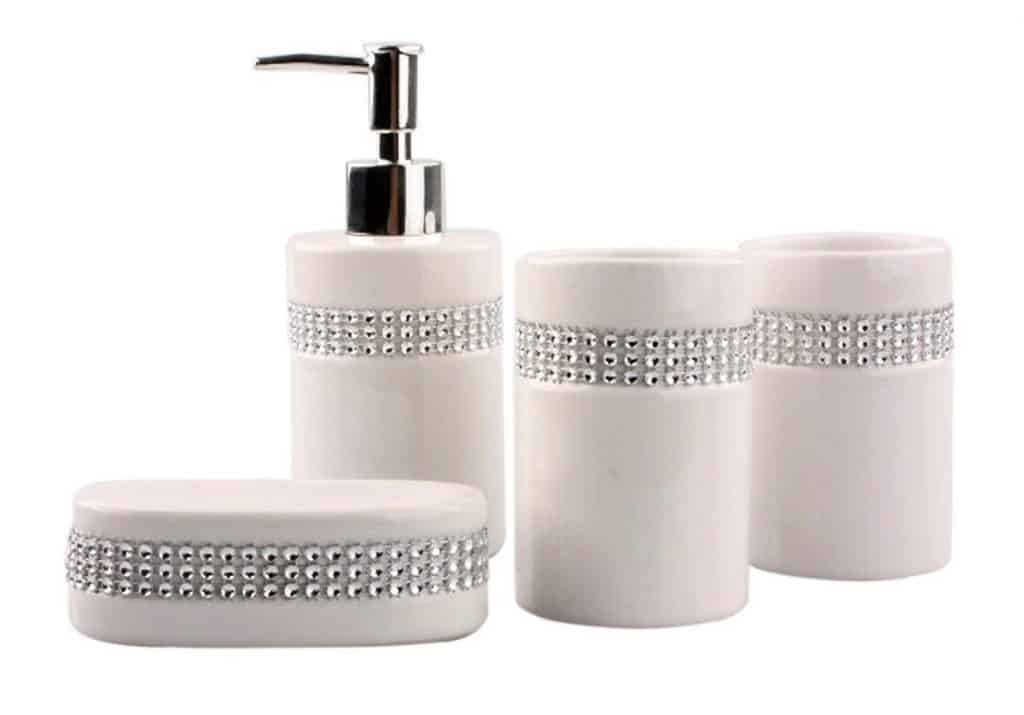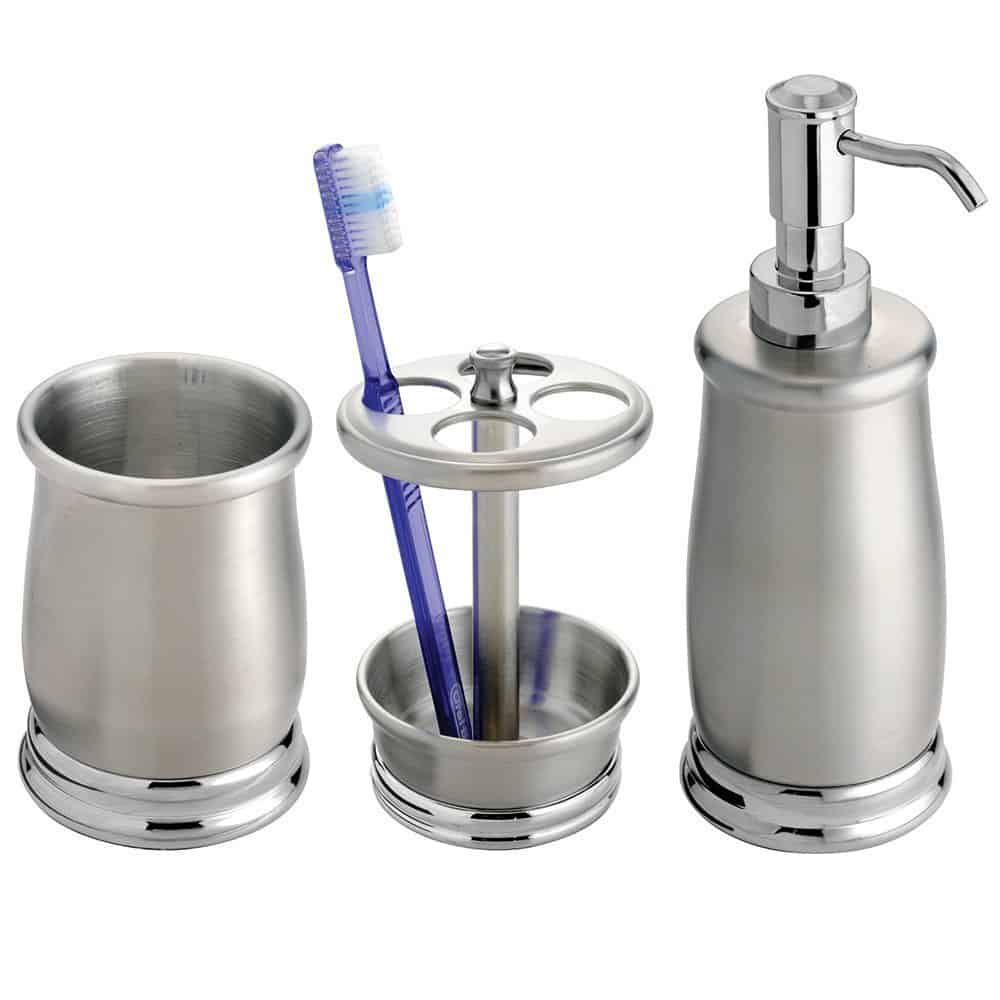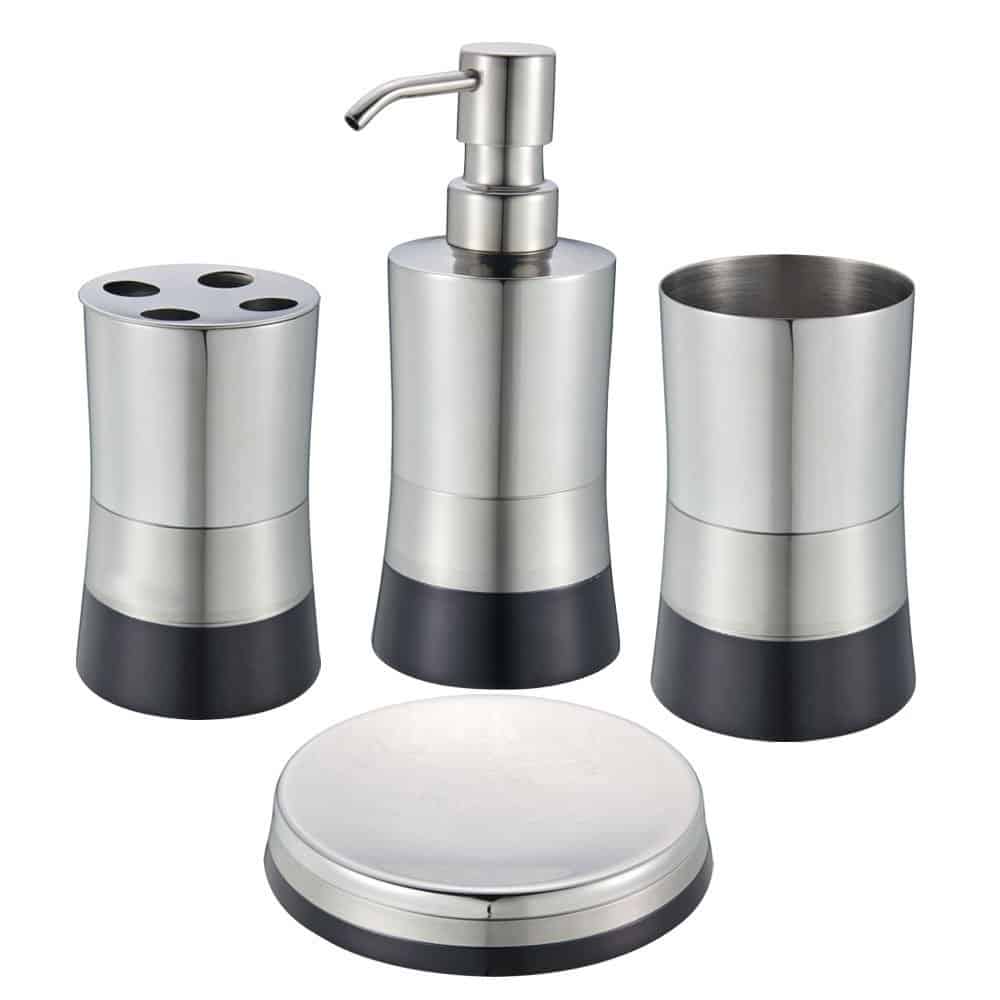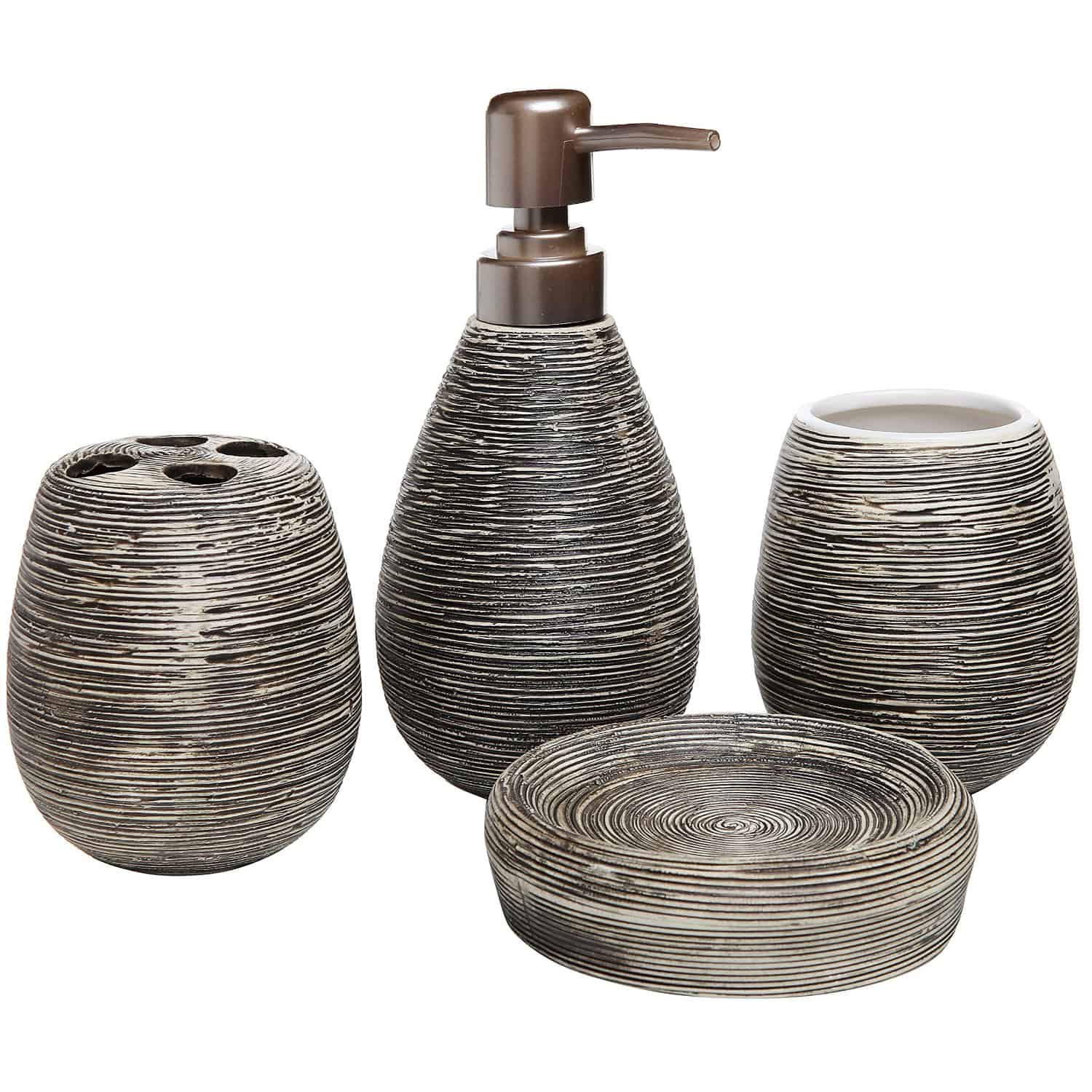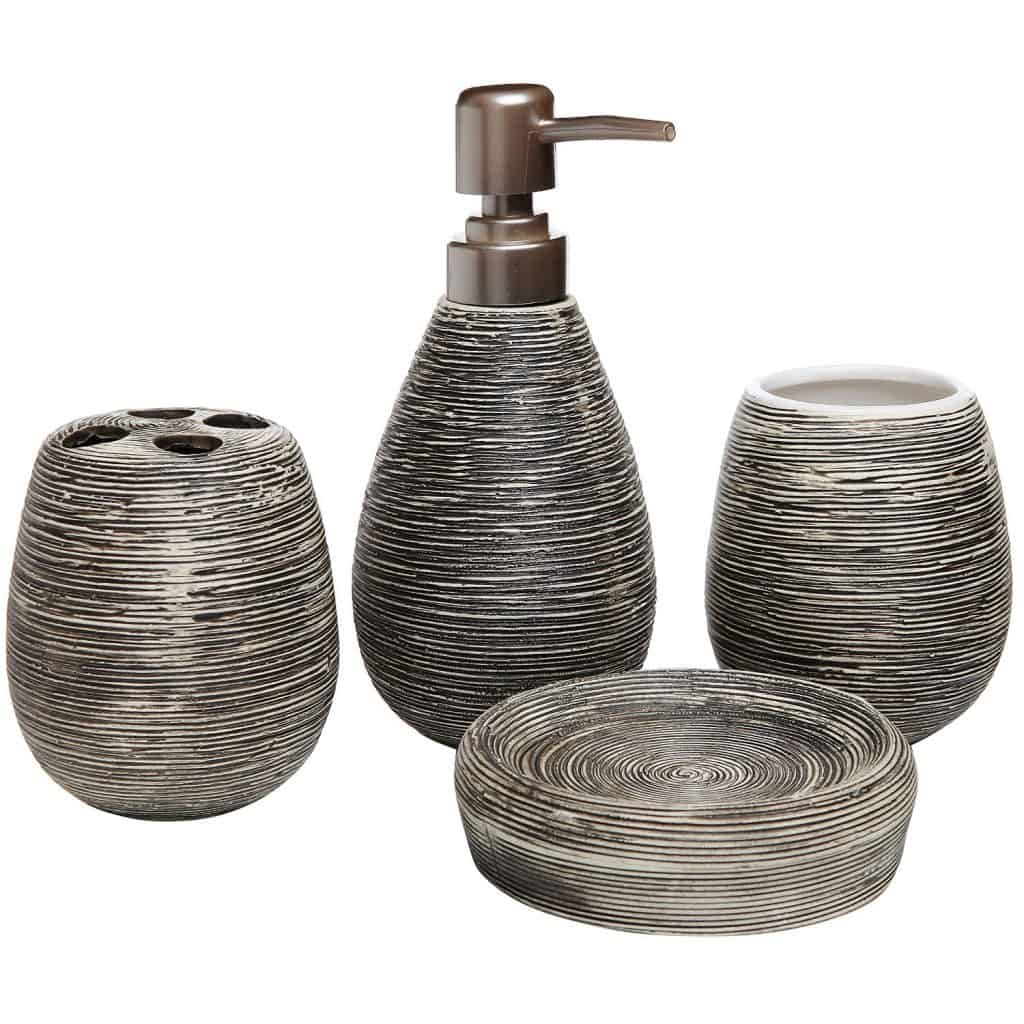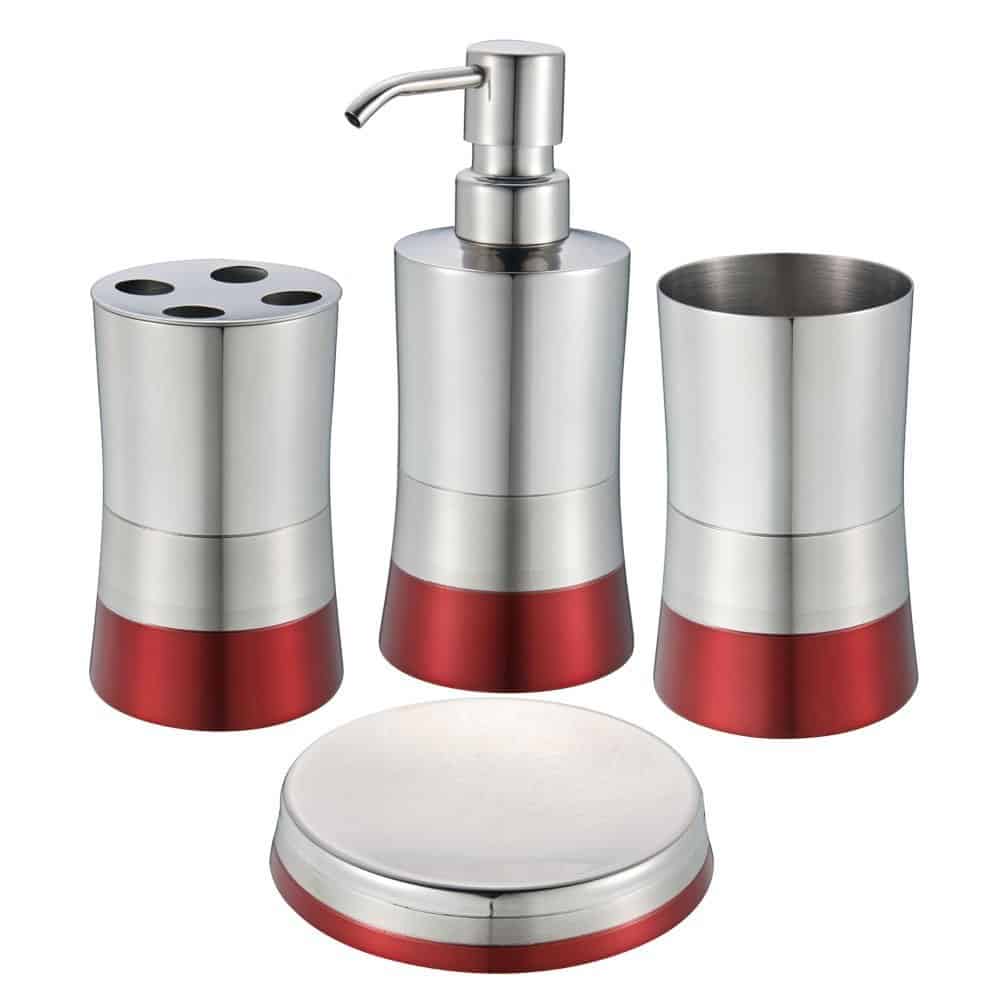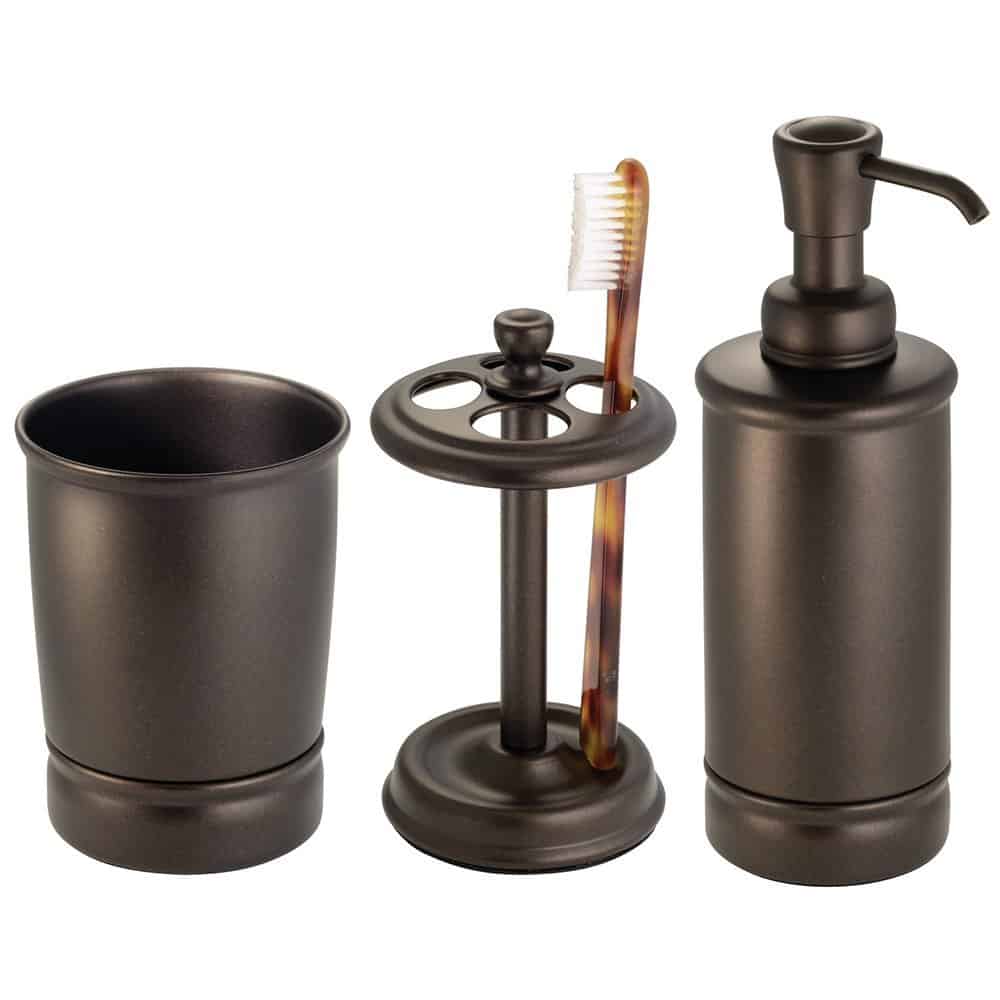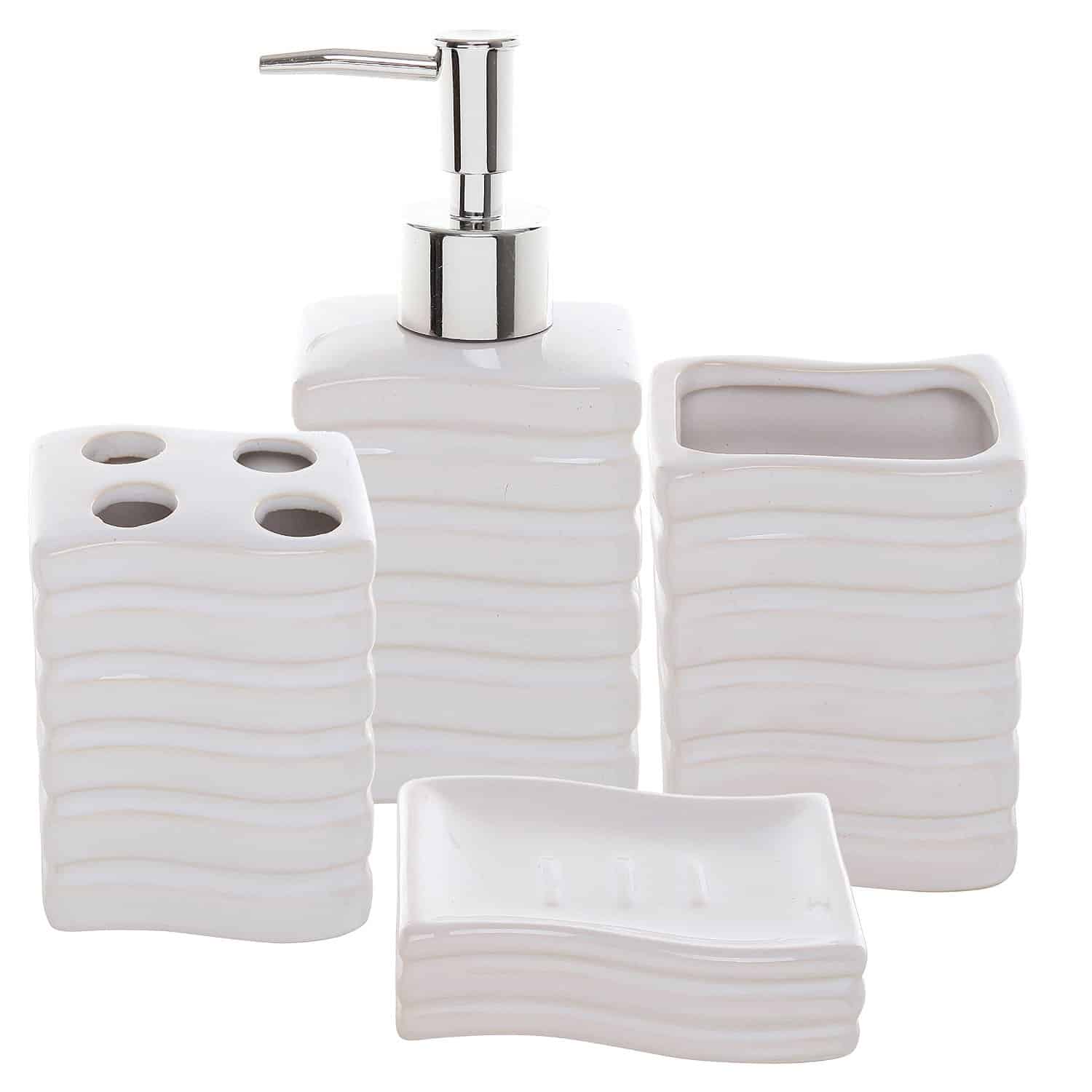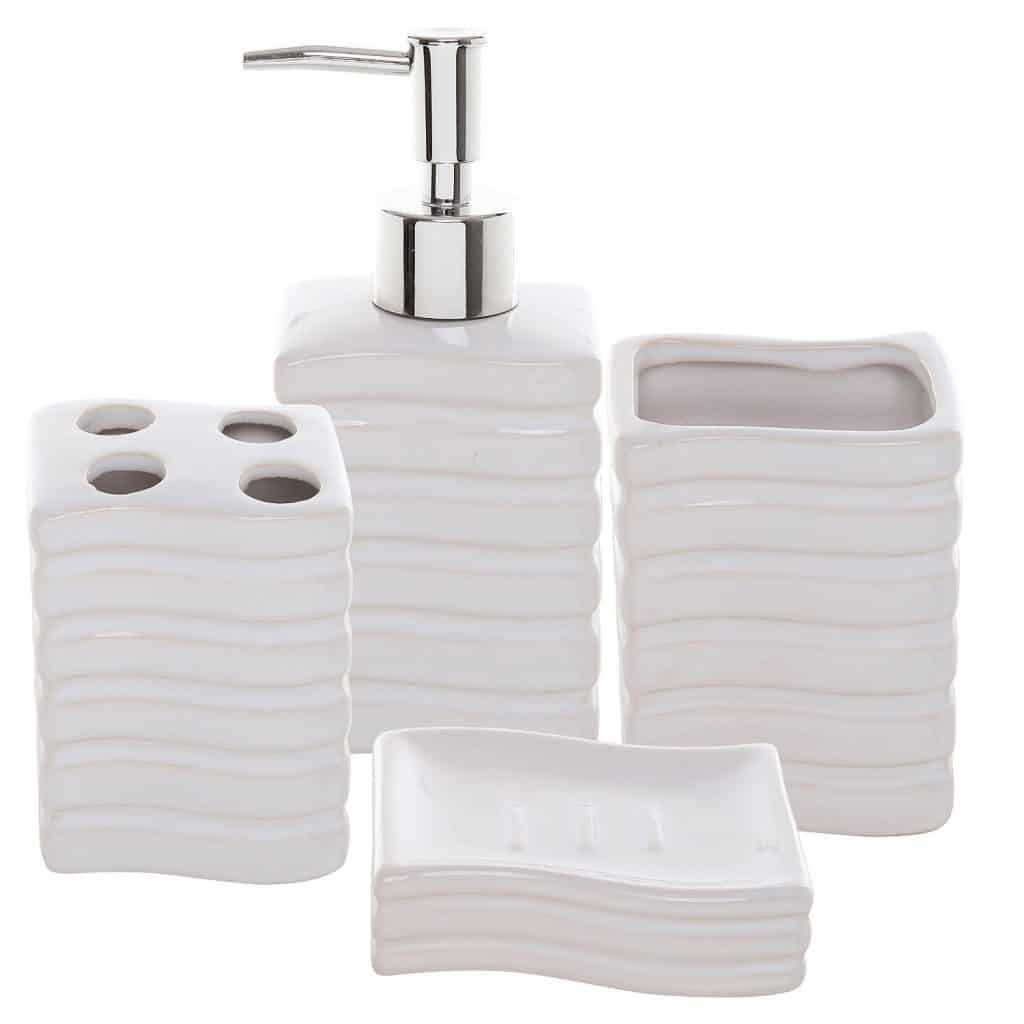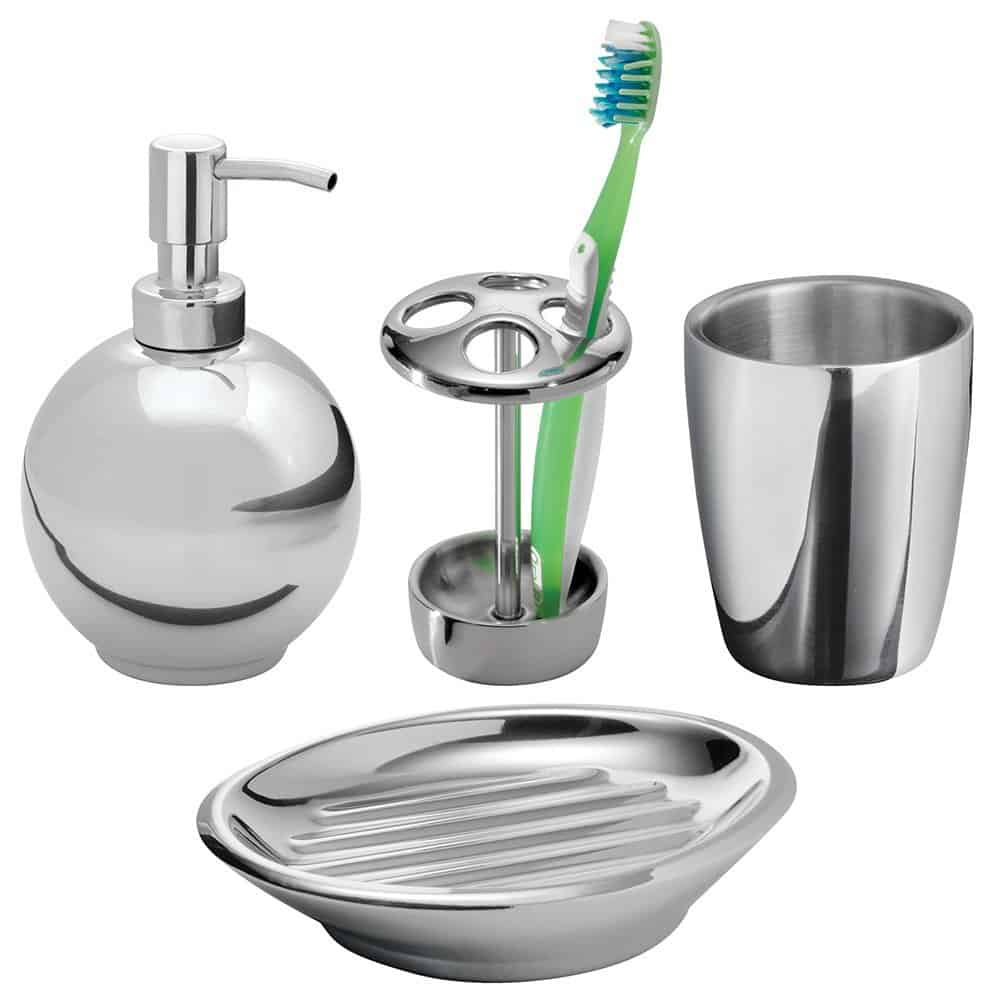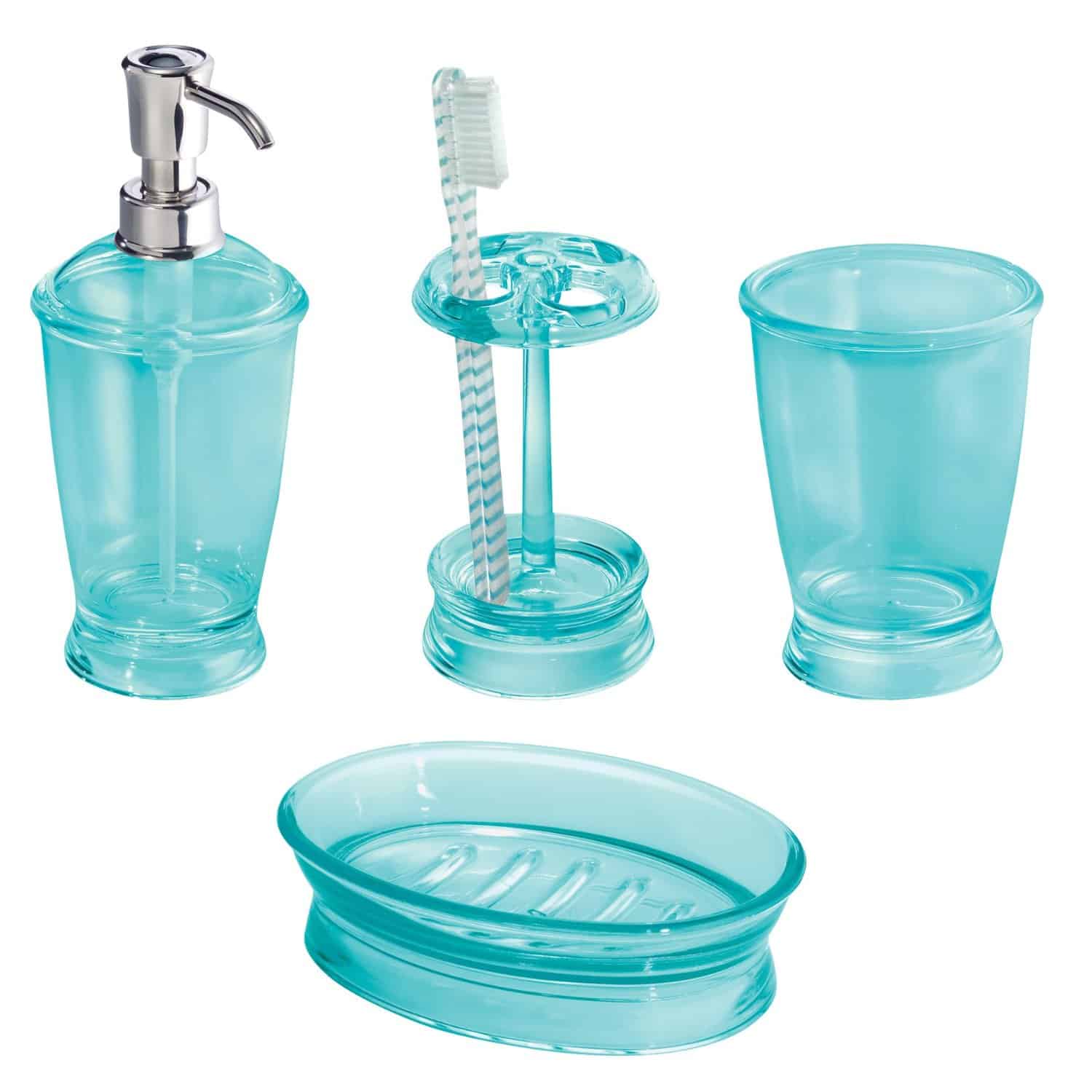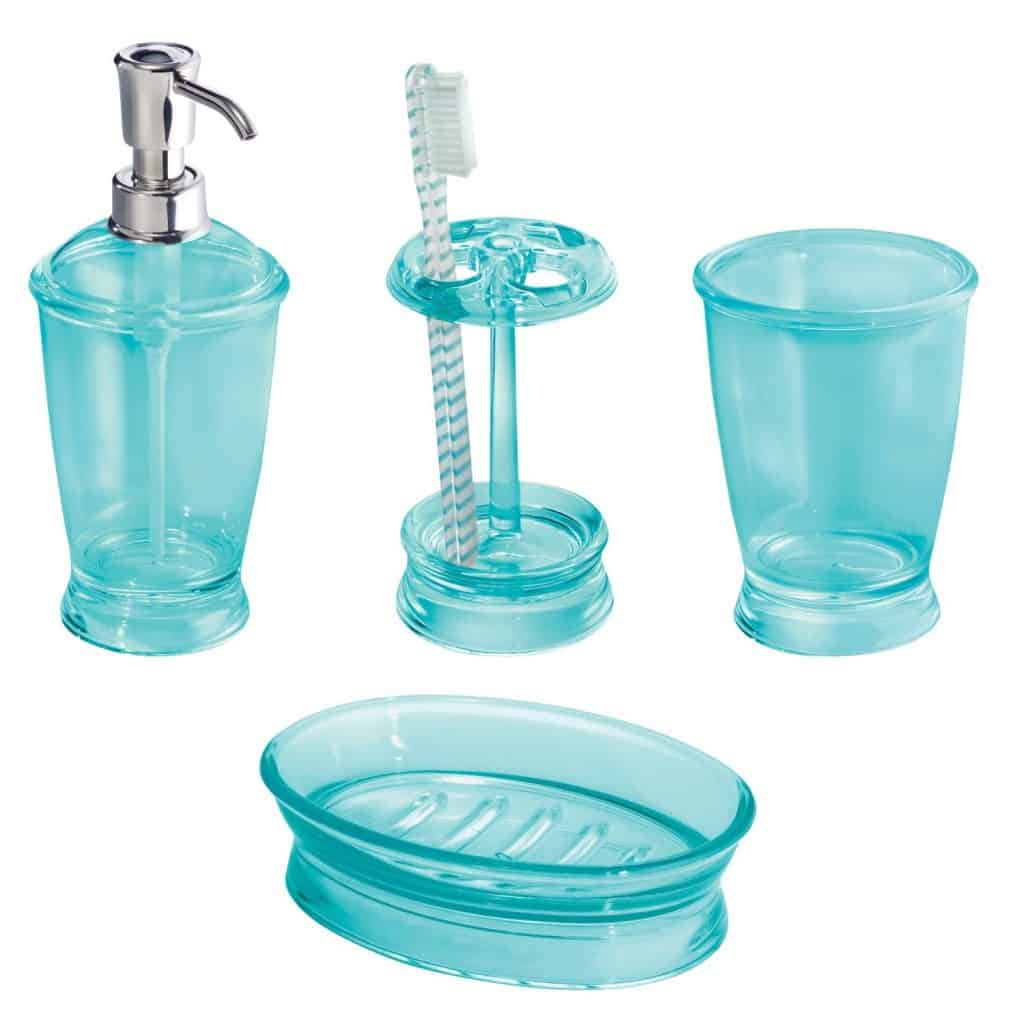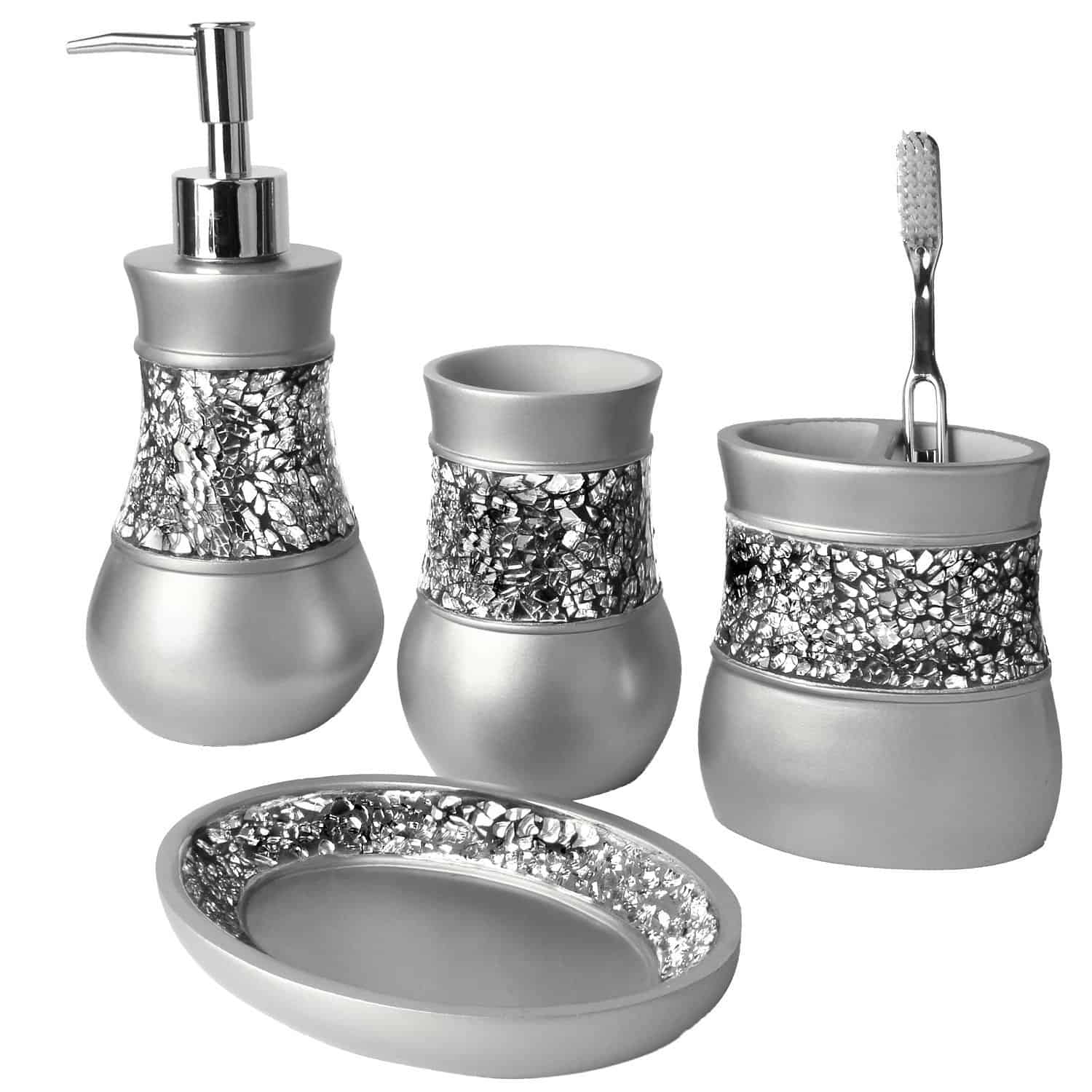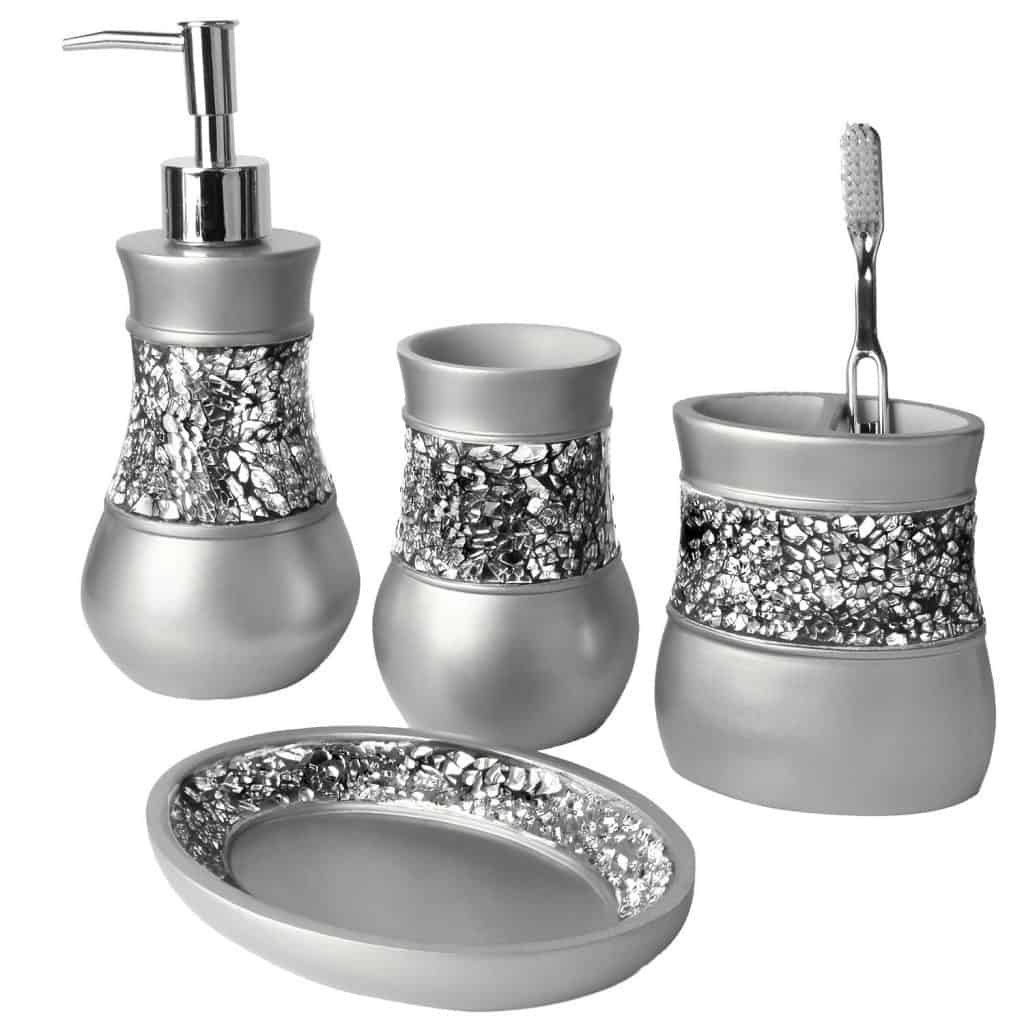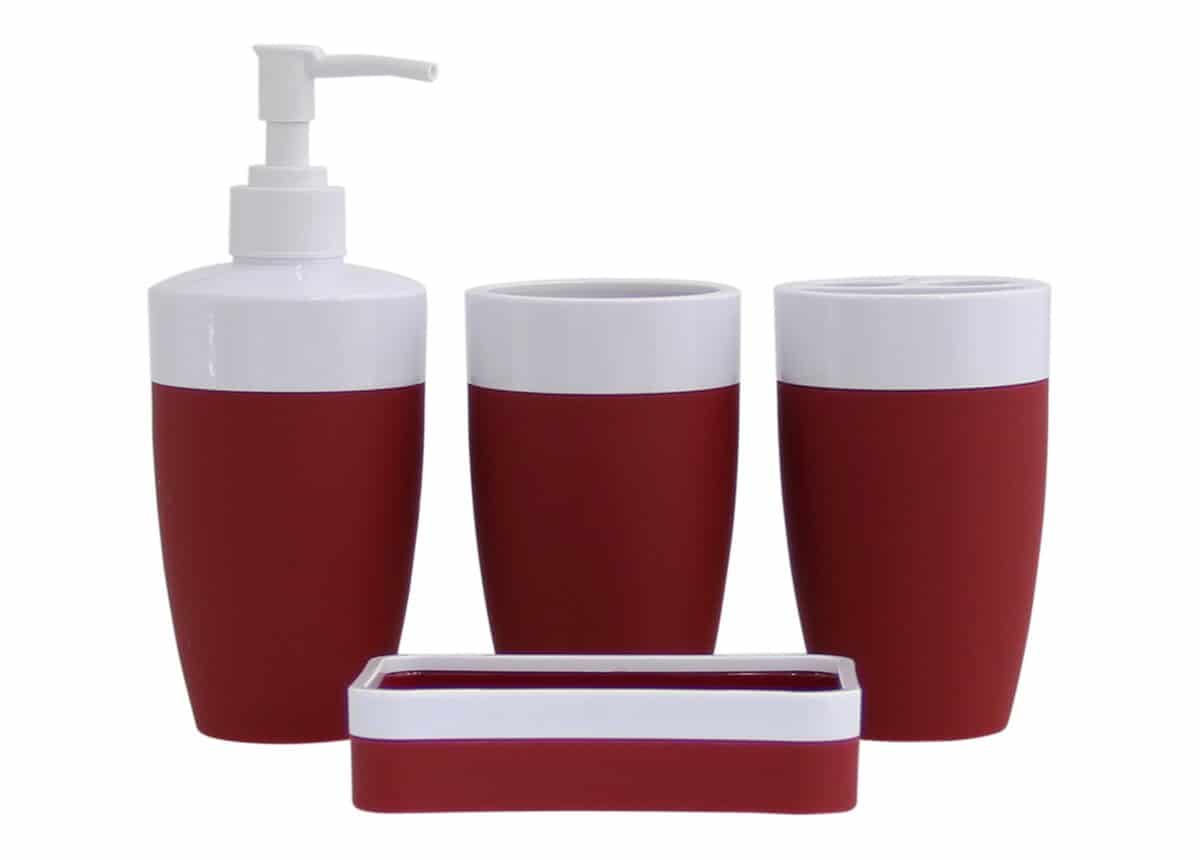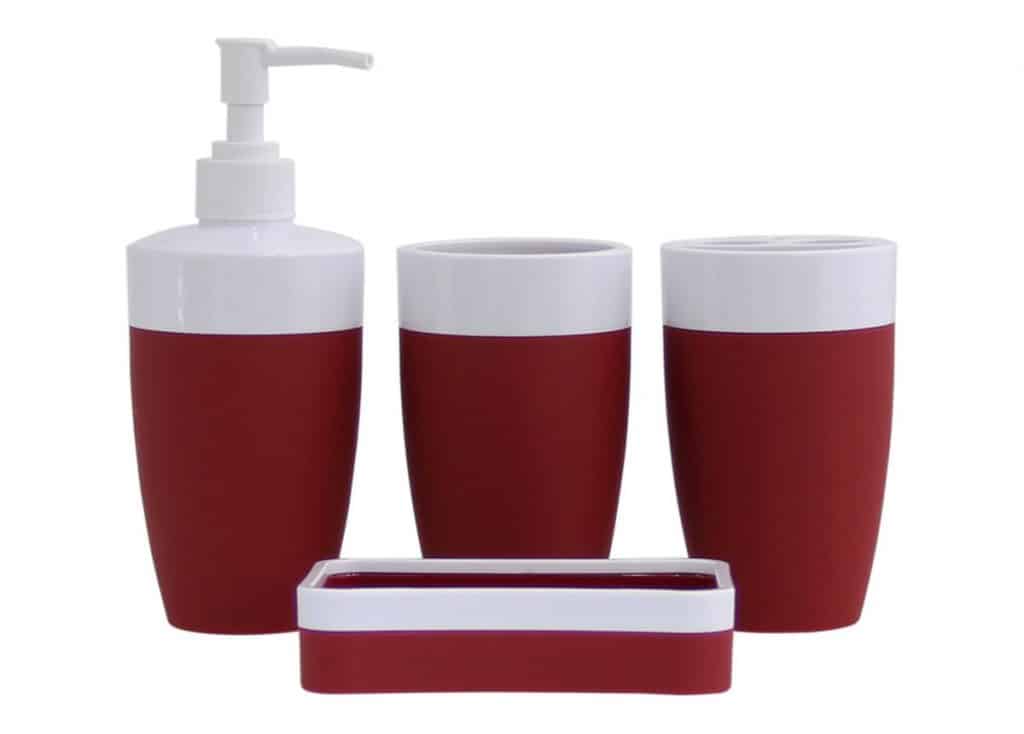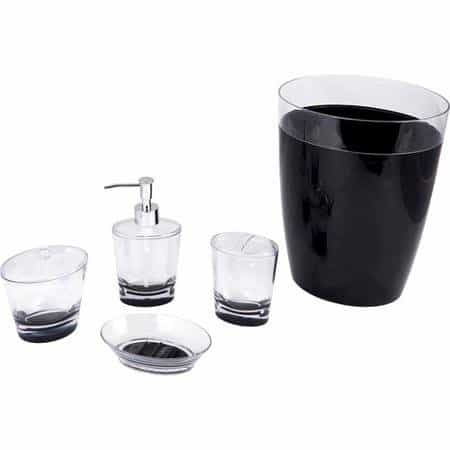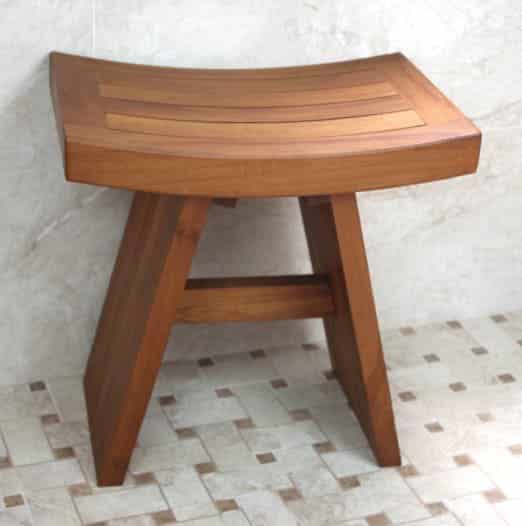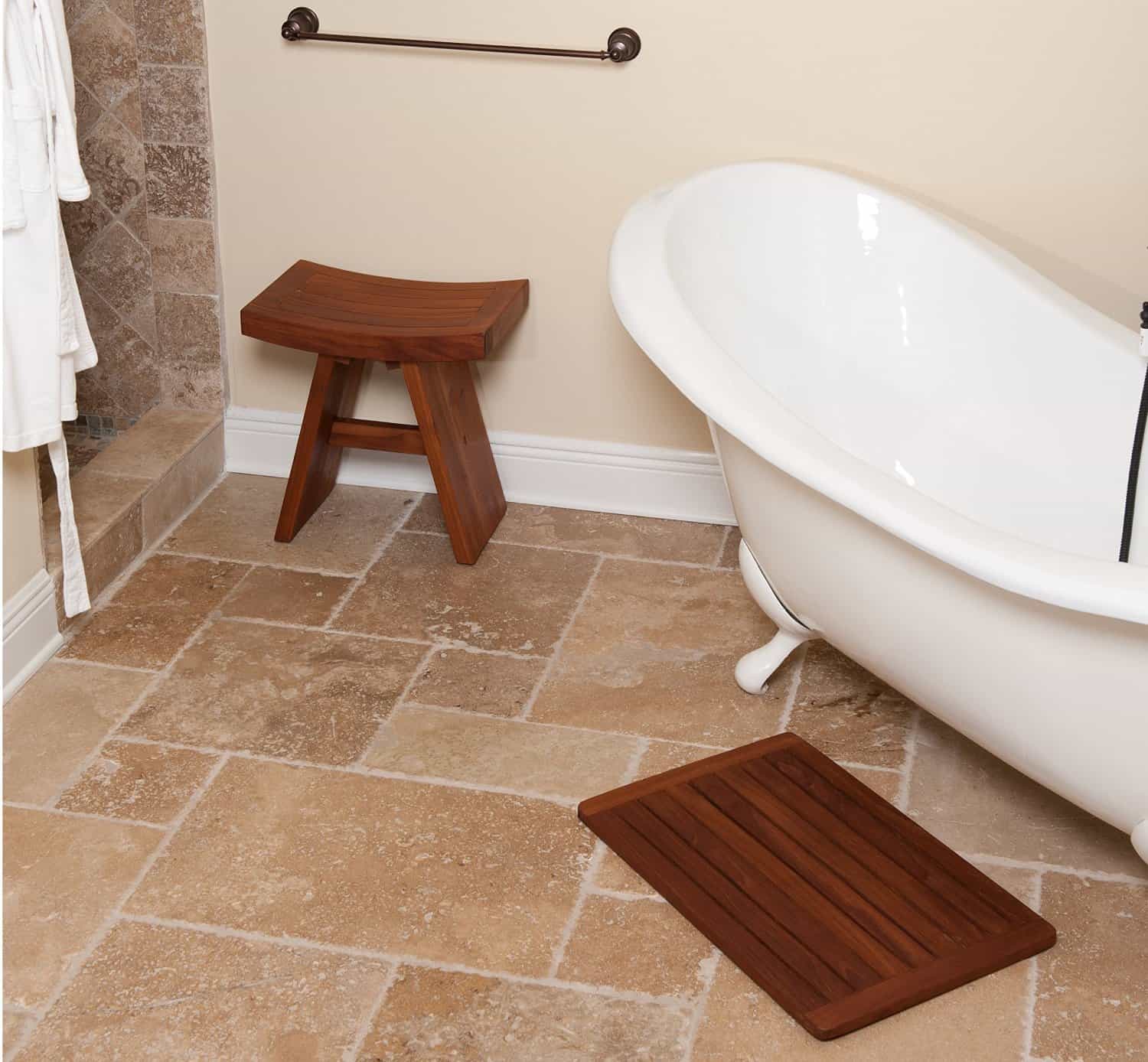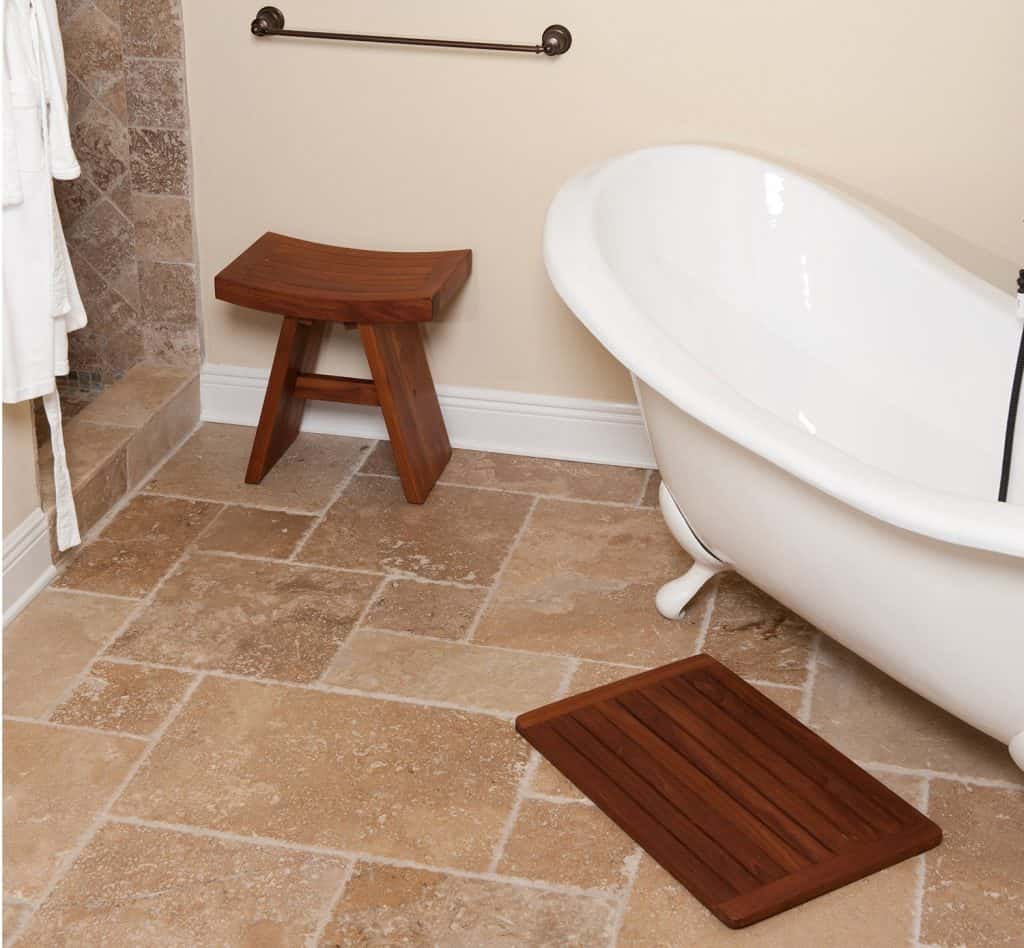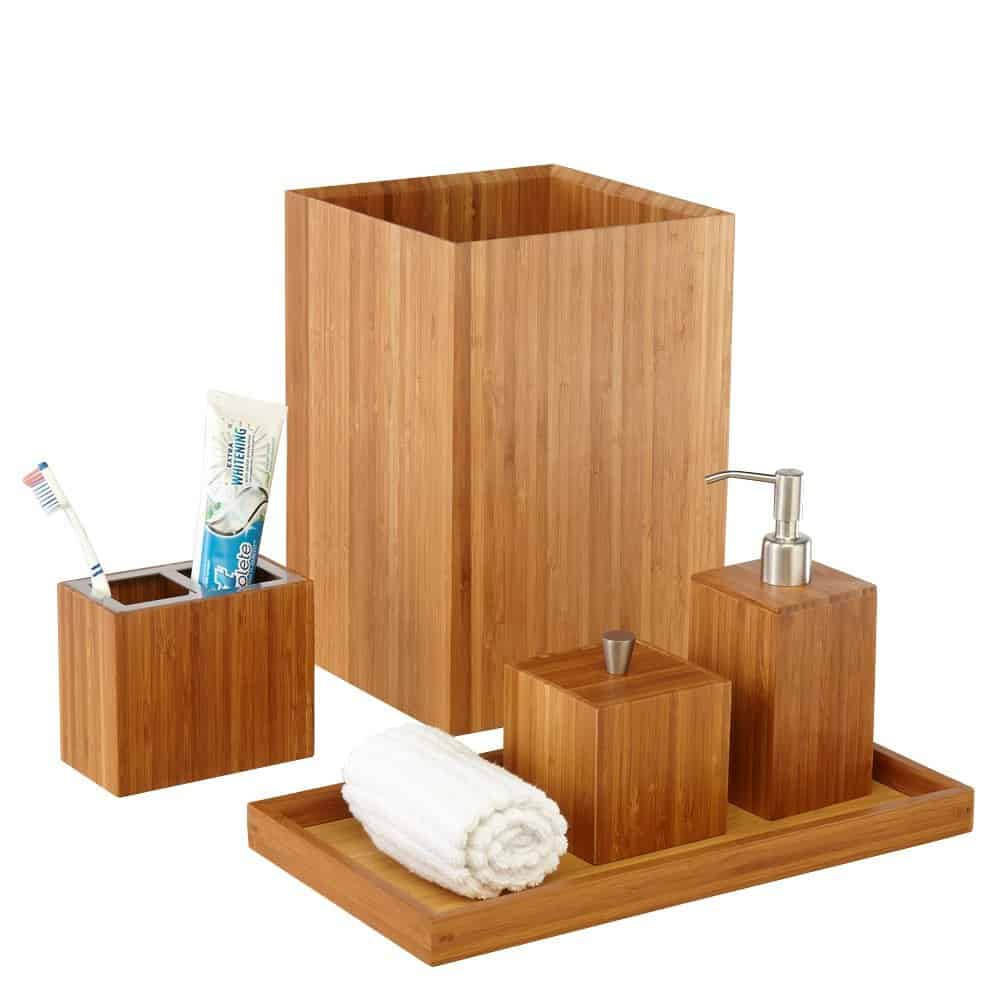 ---
Popular Bathroom Decorating Ideas and Design Trends
Gray is the hottest color in bathroom tiles. Clay, taupe, and other neutrals are not too far behind. Experts also recommend adding classic neutrals with pastel blues and greens as backdrops in backsplashes or for other elements of the bathroom. Neutral color schemes create a serene and relaxing atmosphere.
Vanities with soft closing drawers and cabinet doors are in. Many homeowners also go for electronic push buttons to open mechanisms for hands-free operations.
Task lighting and mood lighting are important as they both play an important role in enhancing the atmosphere of the bathroom.
It is always best to pay more for the highest quality accessories, handles, and materials since your bathroom is a room that is going to be used every day for years to come. Hinges and drawers with lifetime warranties will ensure peace of mind.
---
Planning Your Bathroom
Have you ever heard of or seen the following in a bathroom?
Bathrooms with fireplaces built in.
Chandeliers and upholstered furniture apart from the sink, vanity and tub/shower stall.
Heavy drapes or other bathroom design ideas that literally blur the lines between bedrooms and bathrooms
Not everyone has the luxury of spending on such expensive and elaborate bathroom ideas yet, you can still find a wide range of bathroom fixtures and materials that can take your bathroom to a whole new level without costing a lot of money. All it takes is a lot of planning and the help of a professional.
So how do you go about planning your dream bathroom?
Planning your bathroom should always begin with these considerations:
Where is the bathroom located?
Is it to be used as a powder room near your living room where you entertain guests?
Is it a child's bathroom, guest bathroom, or the master bath?
Would it be used by an elderly person or someone having limited physical capabilities?
These questions can help guide you in selecting the right materials, fixtures, colors, lighting elements and other design elements for the bathroom project.
For example, you would not want to install water-sensitive elements (like upholstered bathroom furniture) in a bathroom used by your young kids, nor would your teenager complain too much if the cabinet material used is plastic laminate instead of expensive marble.
On the other hand, aesthetics would be more important in a master bathroom and in some cases (depending on your personality), it might even overtake the functionality of the bathroom.
So, regardless of whether you are upgrading through a renovation, or are building a bathroom in a new construction, start by making all these basic choices:
How much space does your bathroom have?
What fixtures and materials are most useful for the intended purpose of the room?
What is your budget?
These questions will decide the success of the bathroom design idea.
---
Budgeting: Expect the Unexpected
A bathroom renovation (or the remodeling of any room, for that matter) is like a guessing game; you never know what to expect until you are in the thick of things. You could, for example, run into some plumbing issues that if left ignored could lead to severe water damage.
So do be prepared to keep aside some contingency funds as well as extended remodeling schedules in the event these unexpected things occur.
Remember: problems can be solved, so don't get too overwhelmed by these things.
---
Get Help With Your Bathroom Ideas and Hire a Pro
One of the earliest decisions you should make is hiring a designer or a renovation contractor. This is especially required if you are having a big bathroom project (along with a big budget).
If however, yours is simply a cosmetic upgrade in a limited remodel, then you could do without an architect or a designer.
In case of an older house, then remodeling could involve a lot more than simply hacking the walls. You would want to ensure that the house is able to take the extra structural load and changes without causing the ceiling or walls to cave in.
Even if you hire a pro, do be prepared to be actively involved in the renovation rather than simply saying yes or no to his/her suggestions.
Start by clipping photos of bathrooms you like and, if your schedule permits it, collecting information about things like toilets, fixtures, cabinets, shower-heads, tiles and other major materials you may like to include in the bathroom. Be sure to visit local bathroom showrooms and create a workbook to organize your ideas in a single place.
---
Who to hire?
You can choose from the following of professionals:
Architect: These are highly trained, charge by the hour or the percentage of the total project, will generally oversee all the work.
General contractor: Talk to several before hiring one, make sure you ask for liability of insurance and also check for references. Also verify how they handle the change orders.
Designer: It is best to hire an interior designer for major cosmetic upgrades since they specialize in colors, furnishings, etc.
Above all, make sure to check their portfolios!
---
Essential Features of Basic Bathroom Layouts
Most modern bathroom layouts are characterized by the following features:
A bathroom should ideally never have more than one access door (except for Jack & Jills)
There should generally be an entrance alcove off a hallway for added privacy
Bathrooms should have either square or rectangular layout with length no more than twice the width
There should be a clear central area where you can dry off
Fixtures like tubs, toilets, etc should generally be located towards the edges in the alcoves with the most private areas farthest from the bathroom's door.
The windows should allow ample natural light
For larger spaces, there may be custom cabinets combining shelves, drawers, hanging spaces and even walk-in closet with pull-out features containing ironing boards, or other supplies.
Consider all your storage needs in the early stages of planning so you can decide whether to create an additional room or alcove adjacent to the bathroom for use as a walk-in dressing room.
Also, when thinking about the bathroom's layout or design, make sure you think ahead and make it safe and convenient with easier accessibility for the elderly.
---
To Sum it all up…
Once you have collected ideas and visited showrooms, it is time to decide how you will implement your bathroom project from start to finish.
Sit down with your designer or contractor and get valuable insight about the various aspects of the project,  like the bathroom layout, space planning, storage, cleanliness, and maintenance.
Assuming you have set aside an initial budget, get the professional to advise you on practical matters so you can be realistic and yet achieve your dream bathroom.
Make sure that your budget takes into consideration everything that may arise in the project including the adjoining hallways, bedrooms, door installation, and repainting considerations to integrate with your new bathroom.