In the past, many bathrooms were designed with a tile floor that could be easily cleaned. However, tiled floors are no longer an ideal choice for today's bathrooms because they can quickly become dirty and unsanitary.
Wood is a beautiful natural material that has been making its way into more and more bathrooms lately. Not only does it give the space a warmer feeling, but it's also very easy to clean and maintain!
Wooden floors are also perfect to highlight a focal point such as the pedestal sink in this bathroom. If you're thinking about adding a wooden floor but aren't quite sure how it will look, check out these beautiful bathrooms for some inspiration.
Wood Floor Bathroom Images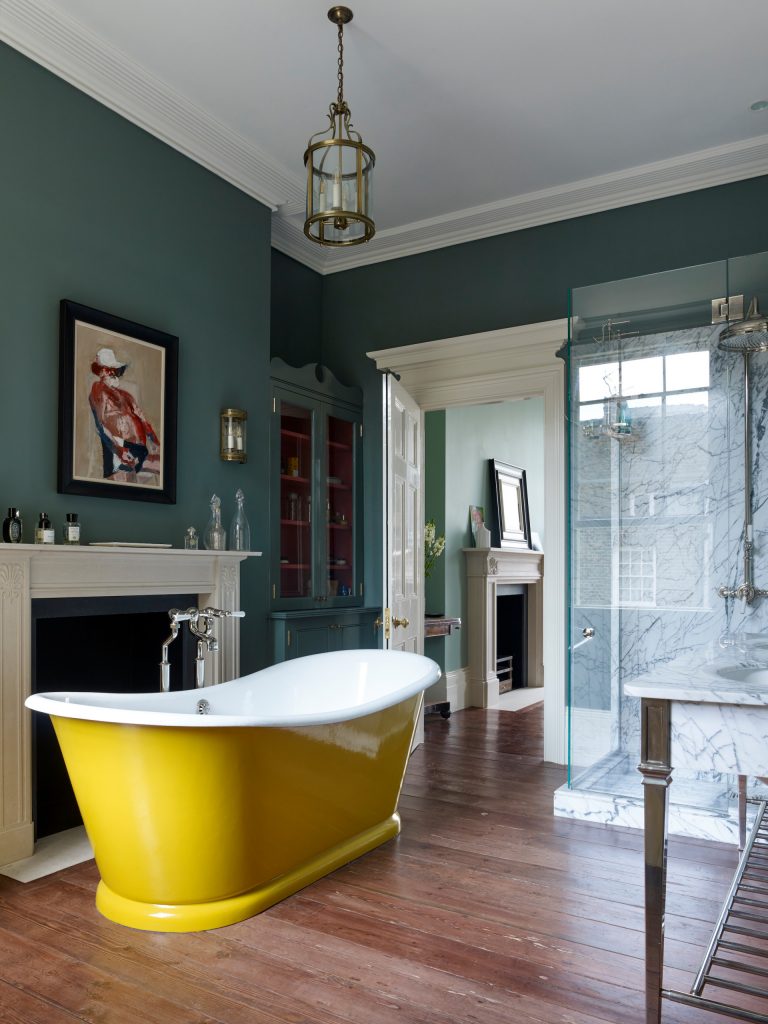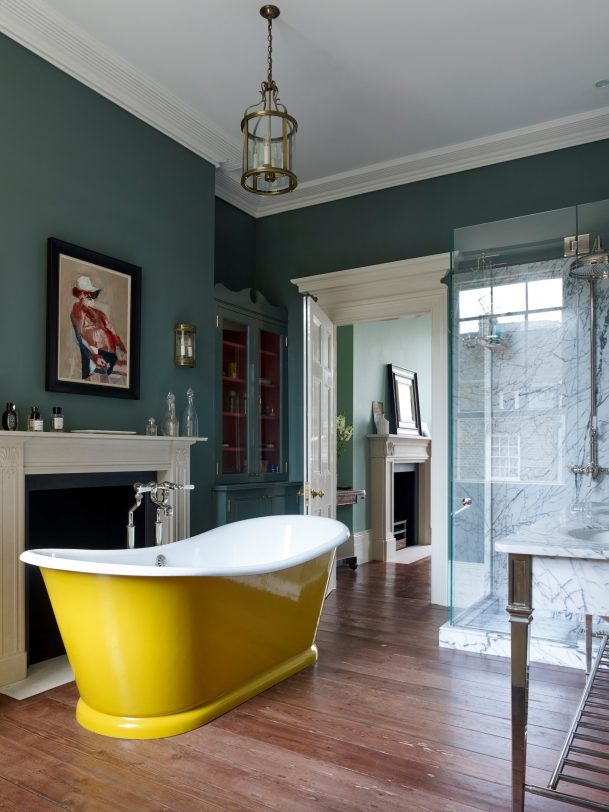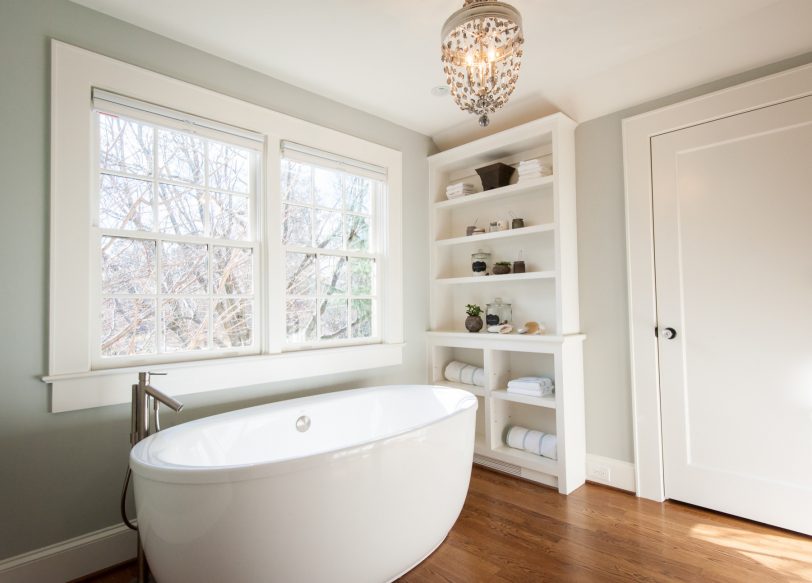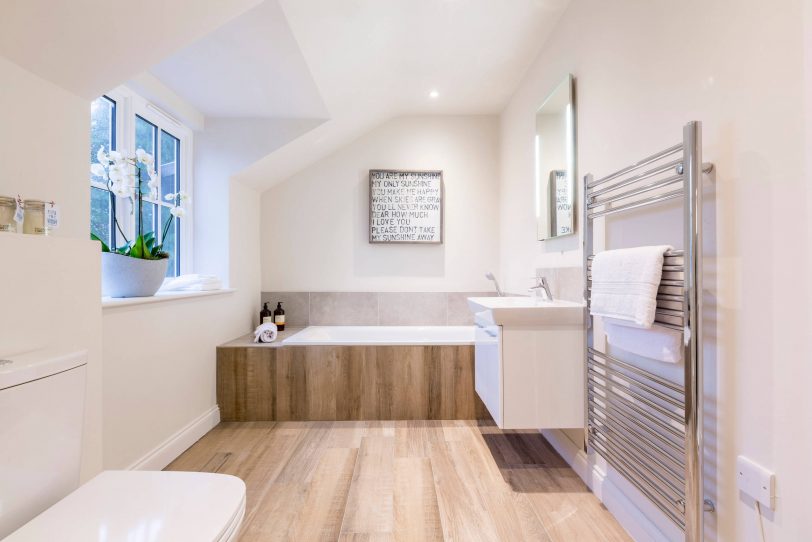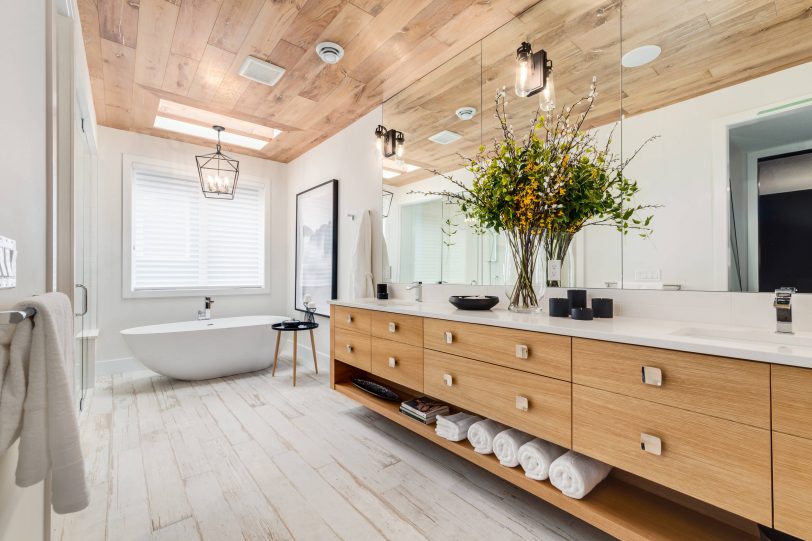 I hope this article has given you some ideas about how you might want to approach designing your own bathroom with hardwood floors. If you're looking for a new flooring idea for your bathroom, consider adding wood.
Related Questions
What are the Pros and Cons of Wood Flooring in the Bathroom?
Before you decide to install flooring in your bathroom, consider the pros and cons. For example, a wooden floor might look beautiful but because it is susceptible to moisture it requires extra care and maintenance. This also means that your bathroom flooring must be waterproofed before being installed. This may seem like an extra expense and hassle but it is important. Wooden floors are susceptible to water damage and mold which are both unhealthy for you and your family.
Now that you know why a wood floor is not the best choice for your bathroom, let's look at some of the advantages of installing this type of flooring. Let's start by looking at how easy it is to clean a wooden floor. With very little time required, you can keep a wooden floor looking new and shiny, and improving the look of your bathroom.
Wood also comes in a wide variety of materials which means that you can choose the perfect look for your space. A wood floor also adds texture to your bathroom which makes it stand out from other types of flooring.
Another benefit to adding a wooden floor to your bathroom is that they are available in different colors and styles. With all of the choices out there, you can go with something totally different from what you have in other rooms in your home. Wooden floors will add warmth to your bathroom which helps make it feel more inviting and cozy.
Pros:
Wood gives a room an ambiance of warmth and comfort.
It is less slippery compared to tile or linoleum floorings.
It is easy to maintain as it can be either waxed or stained.
Wooden floors do not require specific cleaning solutions and detergents and can be just washed with water.
It can be used either polished or unvarnished.
It is a natural flooring material and is better for the environment than synthetic materials that may cause allergic reactions.
Wooden floor is easy to fix and replacing a damaged plank is also relatively easier as compared to repairing tiles.
For small bathrooms, wood flooring can create a feeling of openness and warmth that other materials don't offer
Cons:
Installation of wooden flooring in the bathroom can be expensive. It requires professional waterproofing before it can be installed and this means more cost.
Wooden floors absorb moisture easily so it may sink or expand, causing cracks in the floor. These cracks may be unsightly and annoying to the eye, especially if they are jagged or uneven in shape.
Wooden floors may require more maintenance such as waxing or polishing because of their porous nature.
It is a natural material so it expands and shrinks depending on the weather conditions, especially high humidity.
Wooden floors will dent and scratch more easily compared to other floorings such as ceramic tiles.
Certain bathroom flooring types are more prone to moisture or water damage than others. When you're considering a new wood floor for your bathroom, there are some factors that will influence your decision of which type of wood to choose as well as how and where it's installed.
Wood Flooring in Wet Areas
When deciding whether or not wood is right for your bathroom, be aware that certain wood types like cedar and redwood are highly susceptible to water damage, which makes it inappropriate for wet areas that come into contact with moisture.
However, all is not lost because there are other woods like walnut or oak that have the best resistance to moisture making them suitable for bathroom flooring. A highly trafficked area like the bathroom should have an extra protective coating of finish on it to protect it against moisture and staining, so keep this in mind when shopping for new floors.
Wood Floorings in Shower Areas
Most wooden shower floors are just planks laid over the top of a waterproof subfloor. The flooring is sealed with an epoxy coating that protects the wood and helps it to resist mold and mildew as well as water damage.
This type of floor covering does a great job, but there are many who complain about how slippery smooth finished wood can become when wet, making shower floors dangerous for anyone
Are wood floors in a bathroom a bad idea?
If you're concerned about moisture, maybe. Wood is a natural material that can be made mold and bacteria resistant through proper sealing, but if moisture gets into the wood and then it sits for any length of time without being cleaned (and I'm sure it will in a bathroom), there is danger of mold growth and a potential health hazard.
What are some wood flooring alternatives for a bathroom?
If you're concerned about mold and moisture damage, tile that looks like wood with a wood-like texture is probably your best option. Tile in general can withstand more moisture than wood planks because the grout lines are always exposed to air. The natural water-resistant properties of tile make it a good fit for bathrooms, especially where there is plenty of moisture.
LVT (luxury vinyl tile) flooring is another good alternative to wood flooring in your bathroom. When you think of vinyl, you probably think of cheap and flimsy doors or countertops that would scratch easily. Luxury vinyl tile is a premium product that looks like real wood and comes in many different styles so it's not as simple as "plank" shape. The texture applied to the surface makes the tiles feel like real wood and the material itself is very durable and water-resistant.