Are you looking for stylish doorless walk-in shower ideas and designs for your bathroom? A walk-in shower design has many benefits over traditional tub-shower combos. You can simply walk right into the shower enclosure (which is also great for people with disabilities). There are no shower doors! You can take your bathroom from shabby to chic in the blink of an eye. The walk-in shower is also called a doorless shower.
Doorless showers can fit virtually anywhere. No matter how big or small the bathroom, a walk-in shower is likely going to fit right in. Walk-in showers have one benefit that puts all other shower options to shame. Walk-in showers can be designed and styled with an endless array of materials, looks, colors, and finishes.
Take a look at my curated list of 36 Stylish Doorless Walk-In Shower Ideas and see what strikes your fancy. There's a doorless walk-in shower design for everyone.
Single Pane Doorless Shower (Most Popular)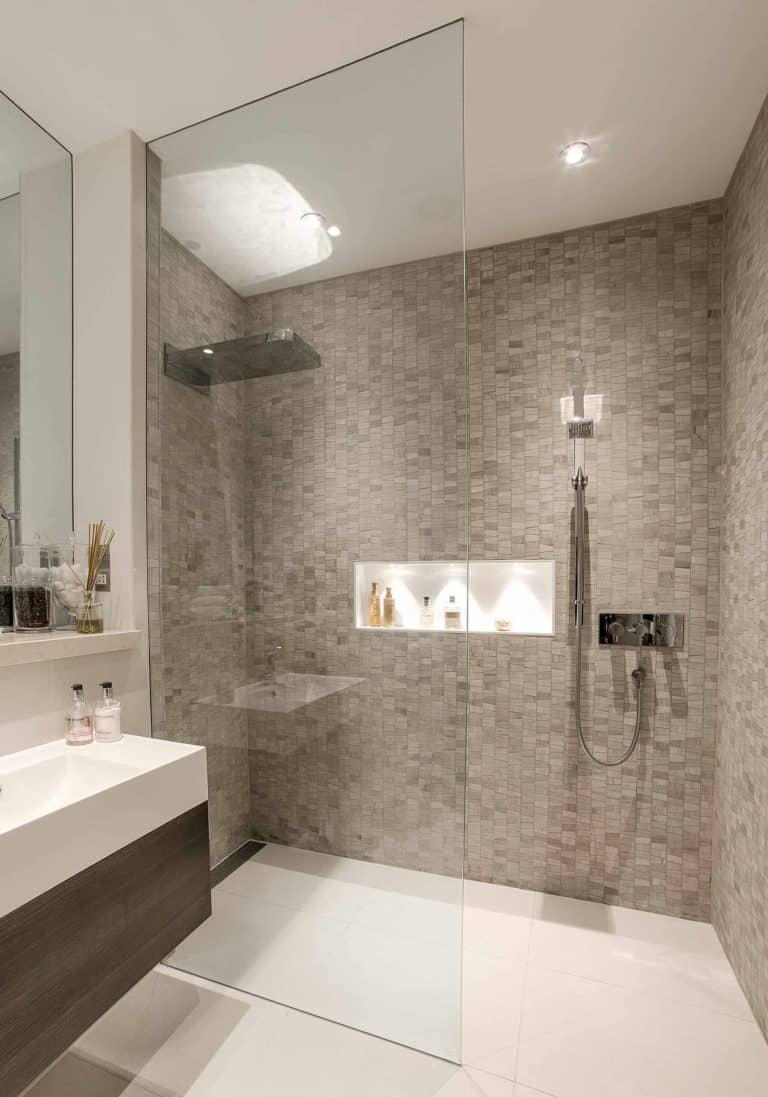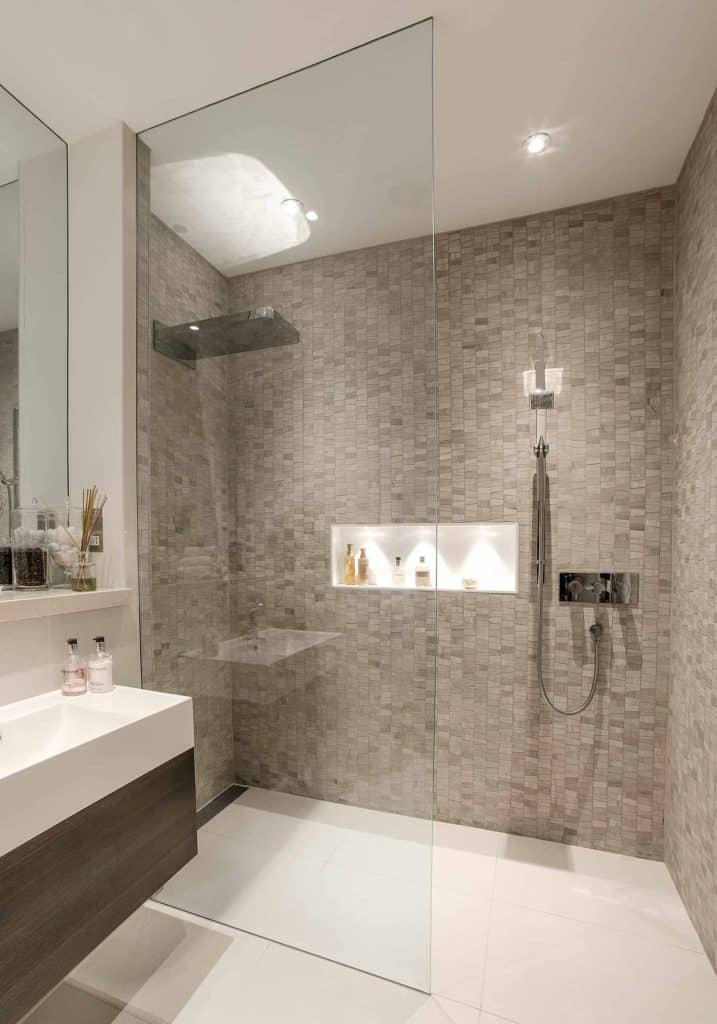 To craft a sense of openness, all it takes is a single pane of frameless glass artfully situated between the bathroom and the shower space. A change of tile along the wall (or floor) can also create separation by changing up and demarcating the visual quality of the room.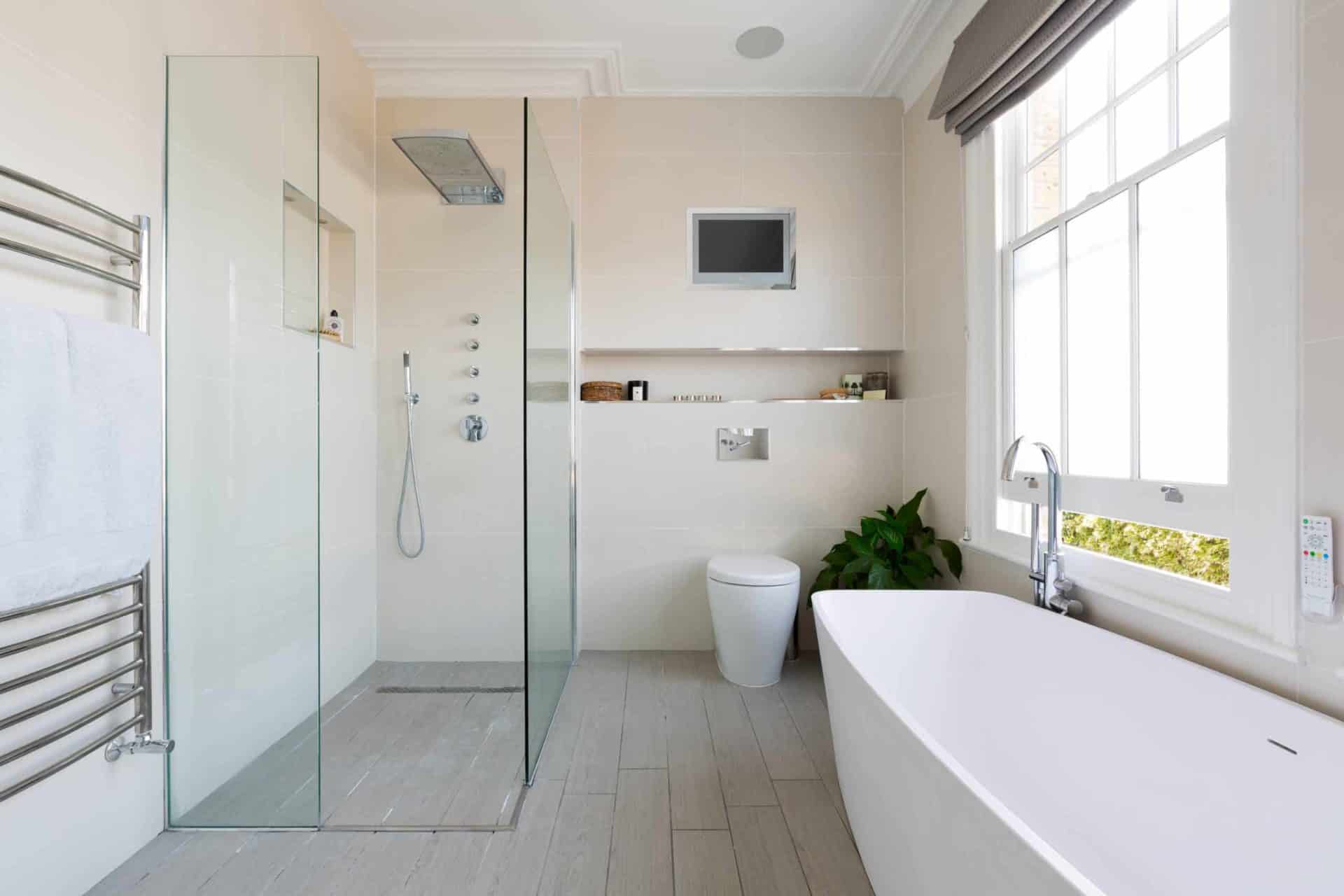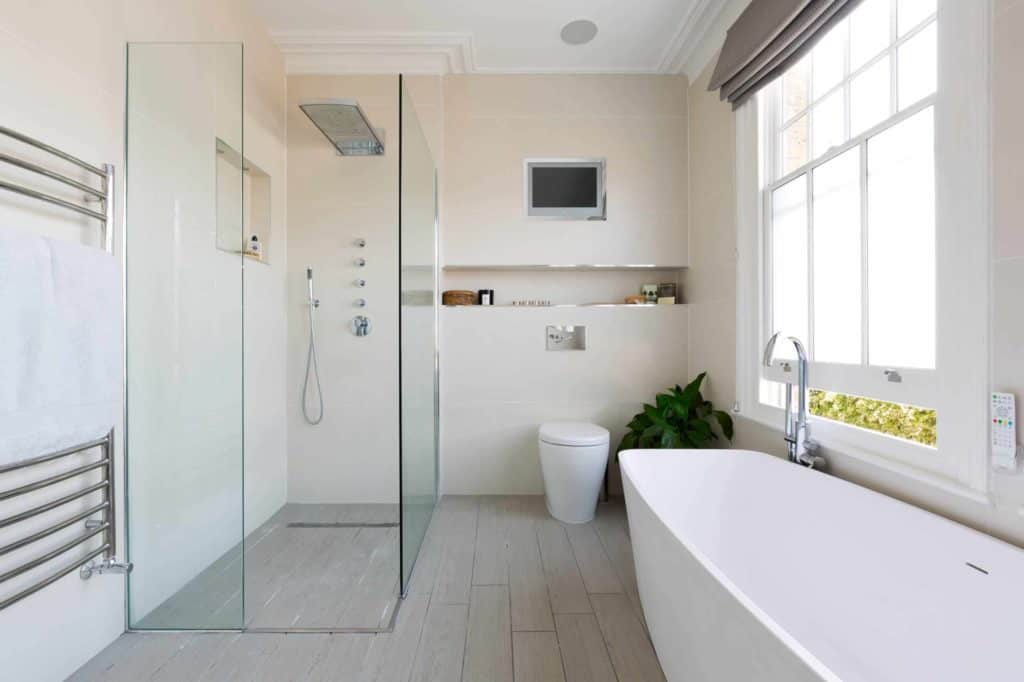 This works well even in smaller bathing areas, where space is at a premium. Simply install a glass pane wherever fits your bathroom's needs best and experience the beauty of contemporary design with the utmost simplicity.
Open Floor Plan Shower Without Doors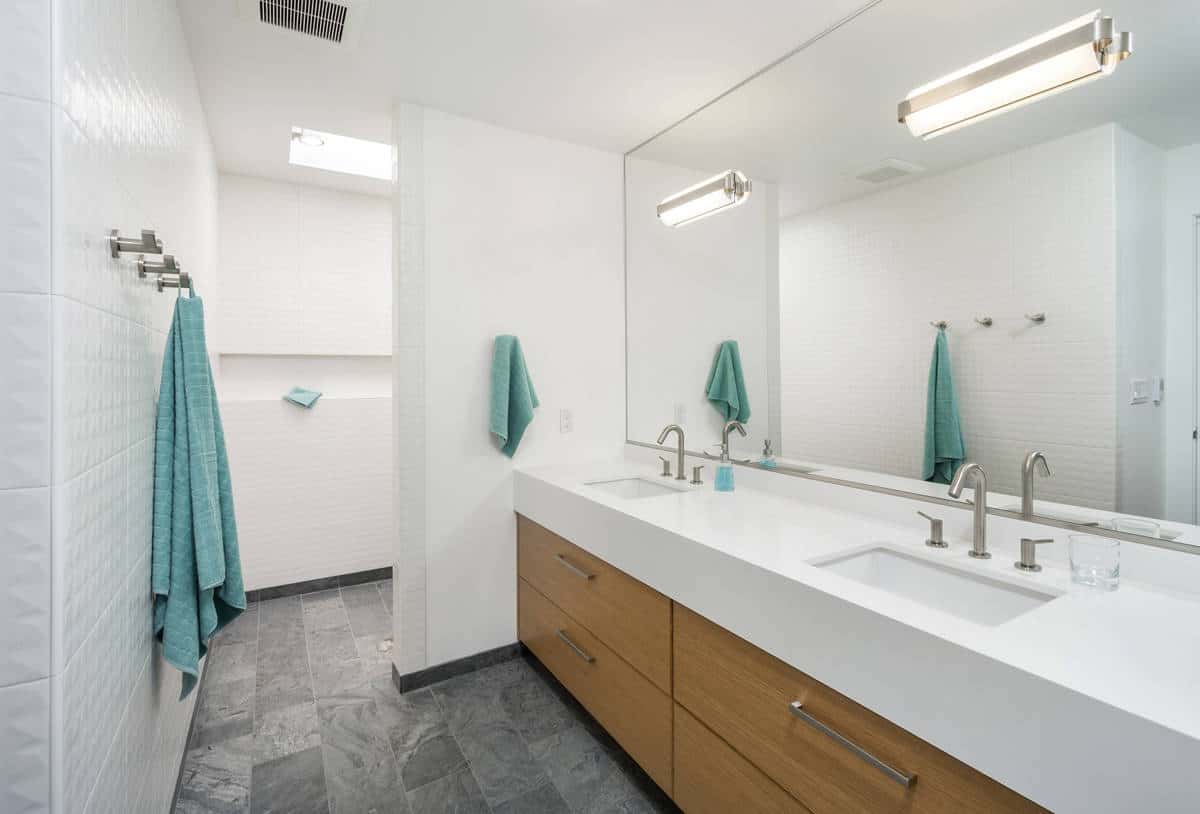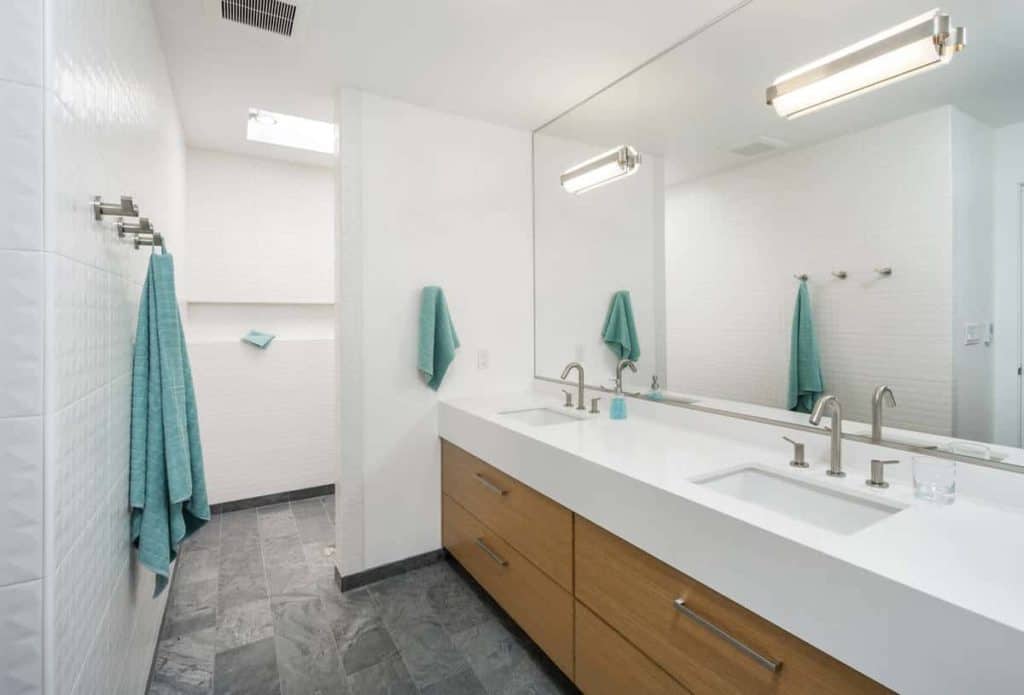 All too often, the shower feels set apart, as if it wasn't meant to take up the same space as the rest of the bathroom. With an open floor plan walk-in shower, you can say goodbye to such restrictions and boundaries.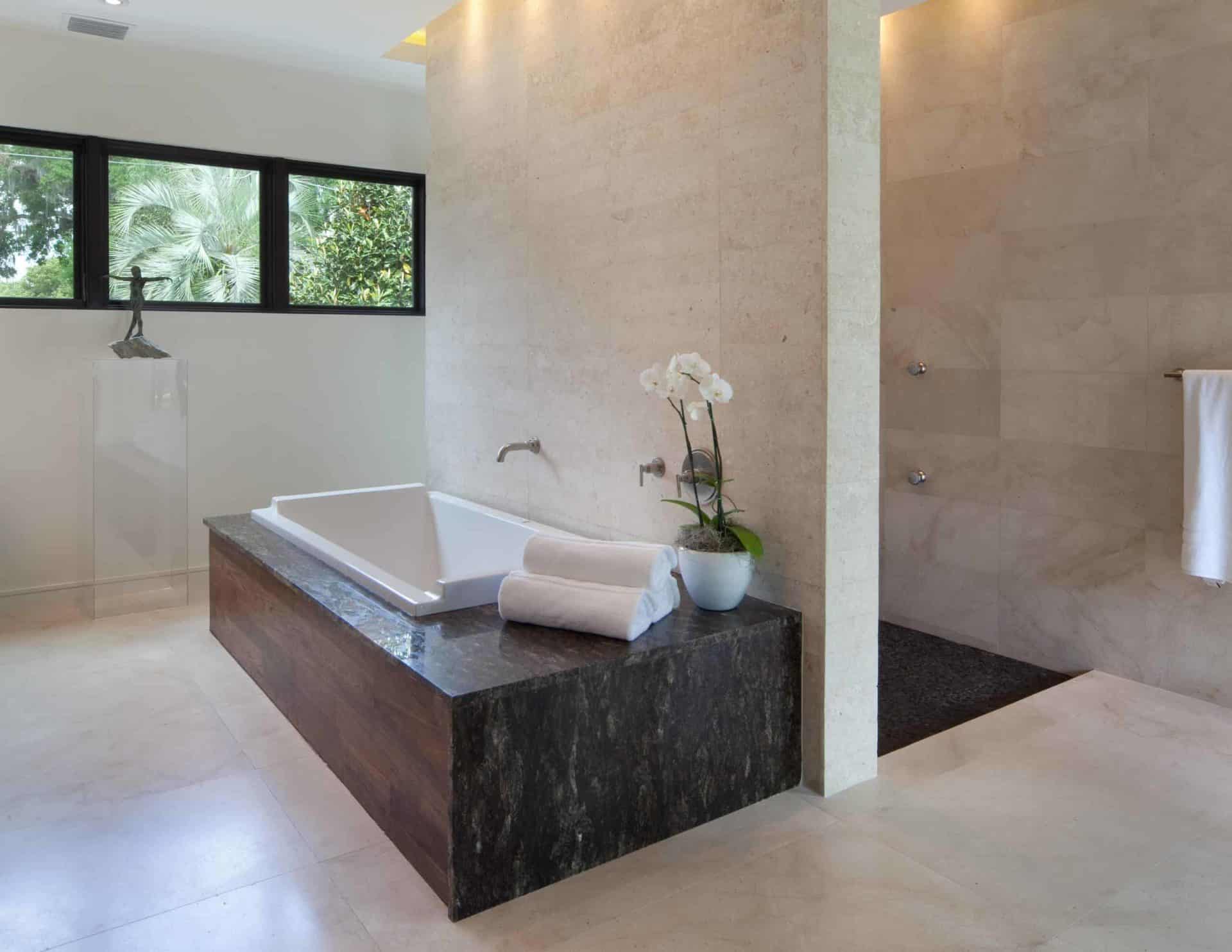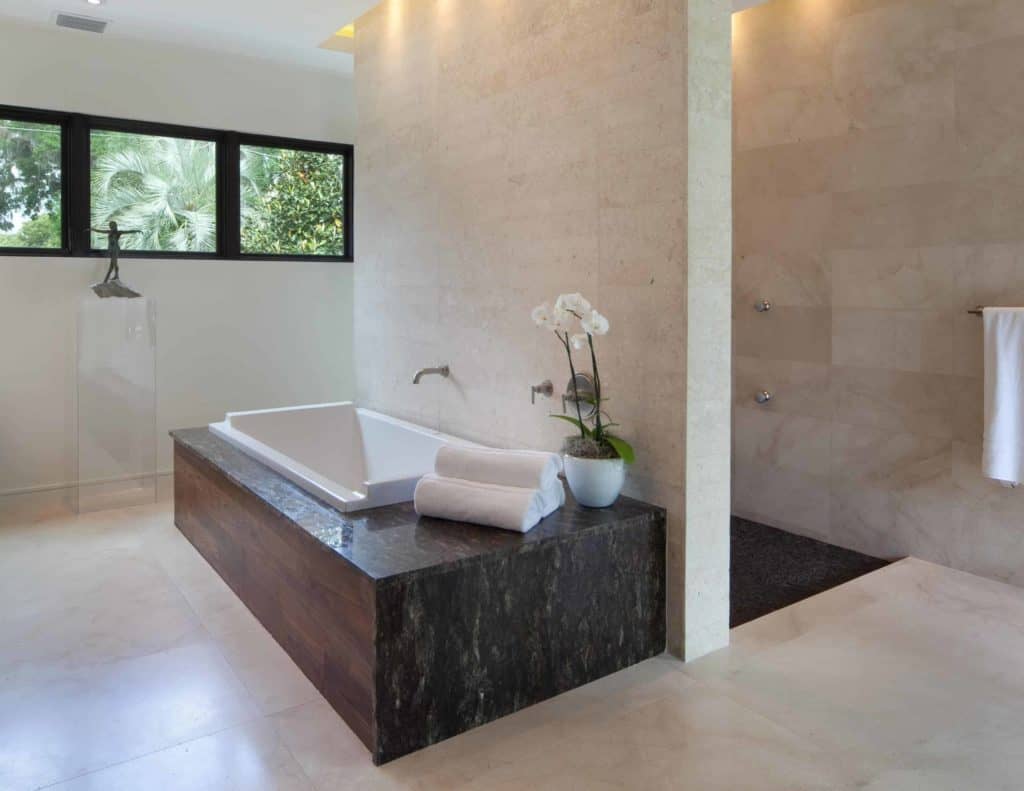 Literally step from the counter to the shower without ever opening a door or feeling as if you've left the room. Open floor plan showers instill the elegance of modern design writ large across the entire bathroom space.
Minimalist Single Panel Shower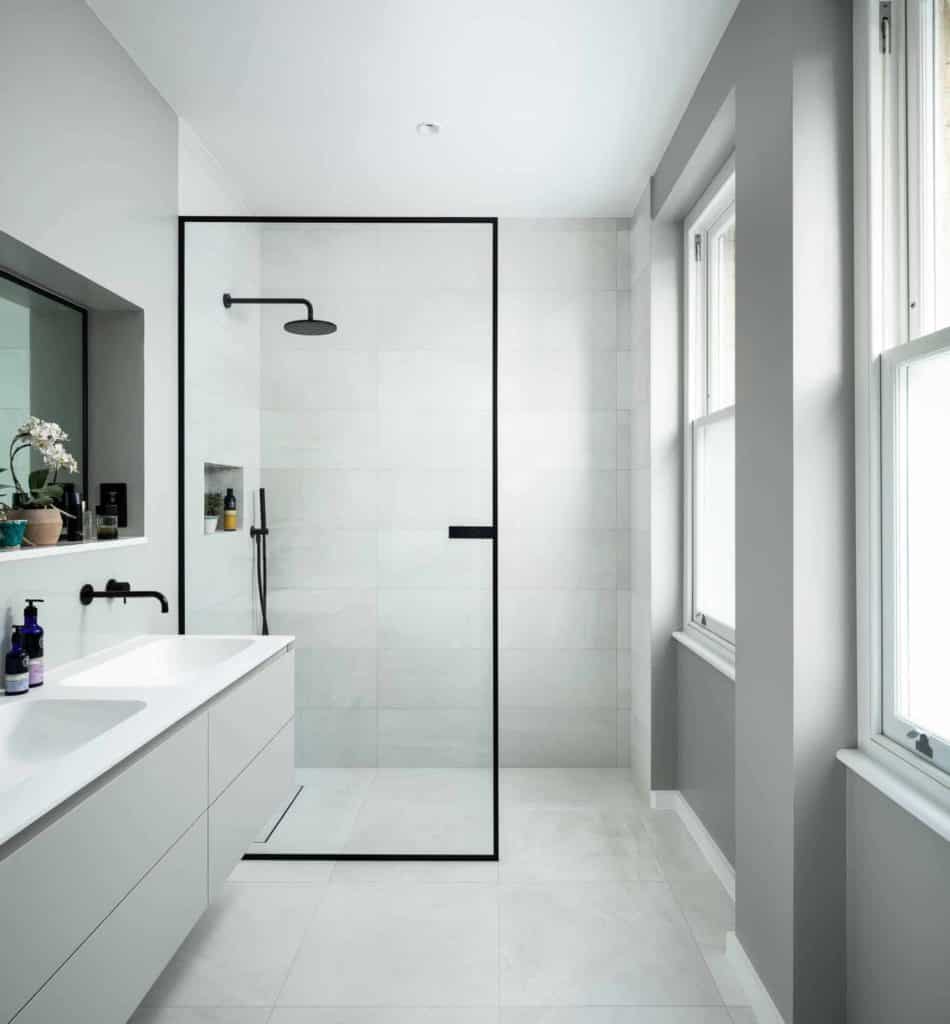 Sometimes, the best solution is the simplest one. In this bathroom design, you have one style of tile laid out over the floor and walls, and a single piece of framed glass separating the shower area from the sink and counter.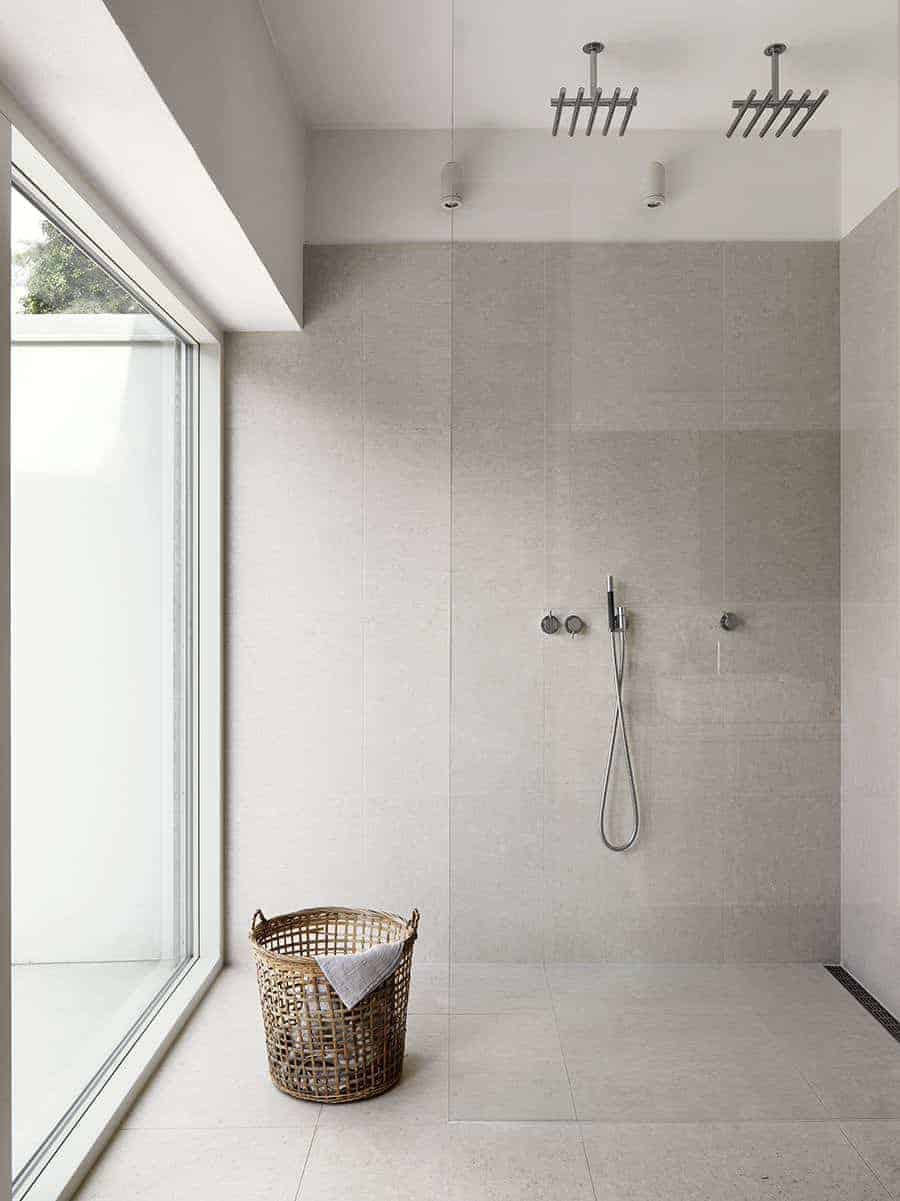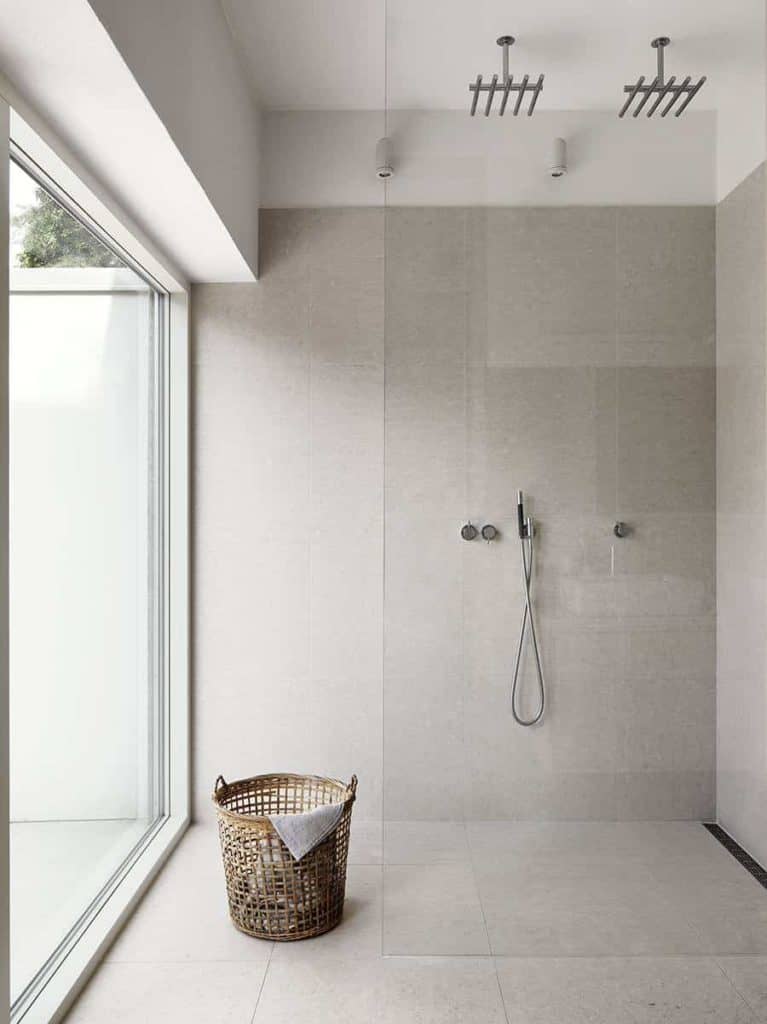 Because of this, you get a sense of intense cleanliness wherever you look. The eye can travel anywhere, and everything will look immaculate. Such is the result of one or two materials used extensively to create a unified, impeccable bathroom look.
Central Glass Dual-entry Idea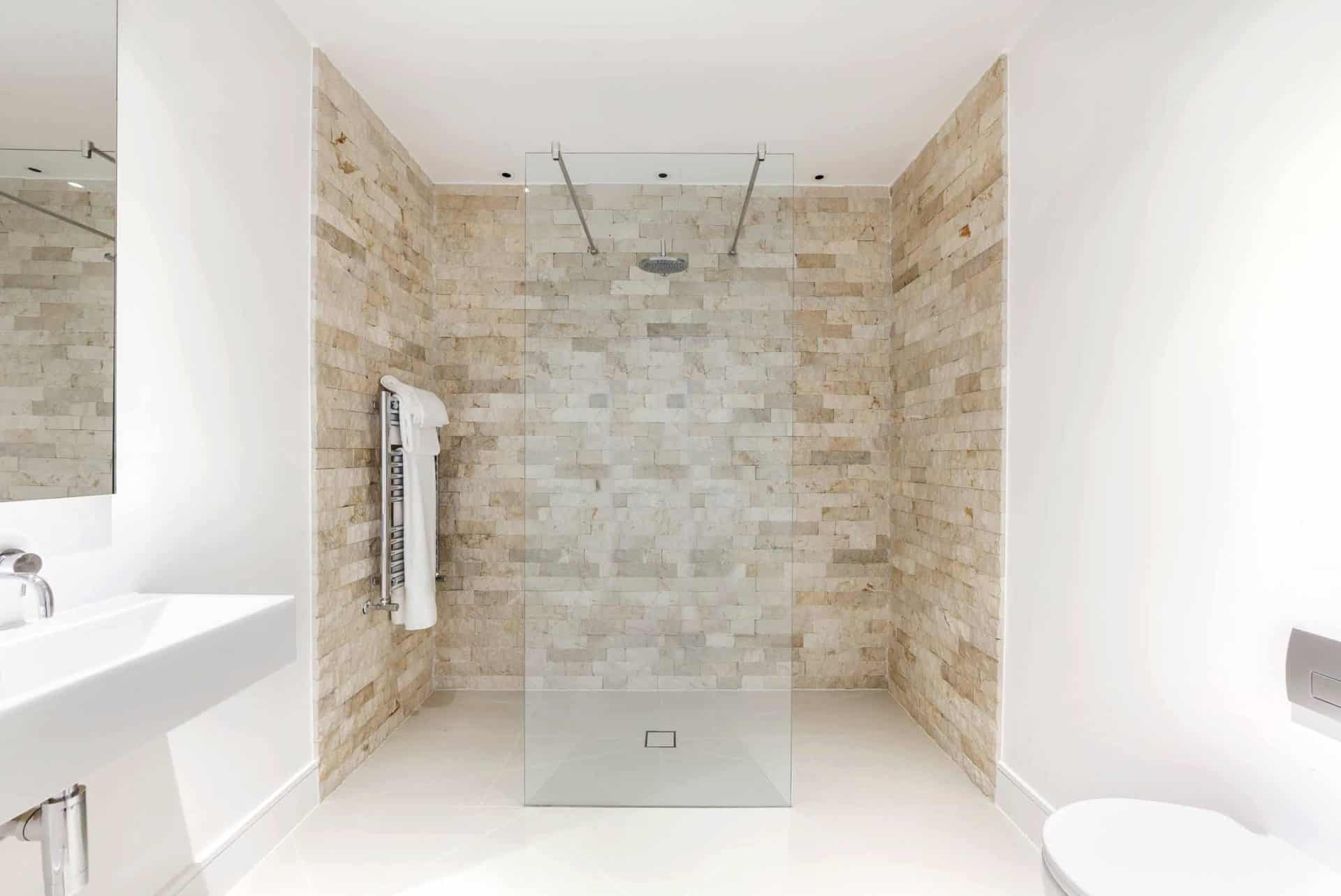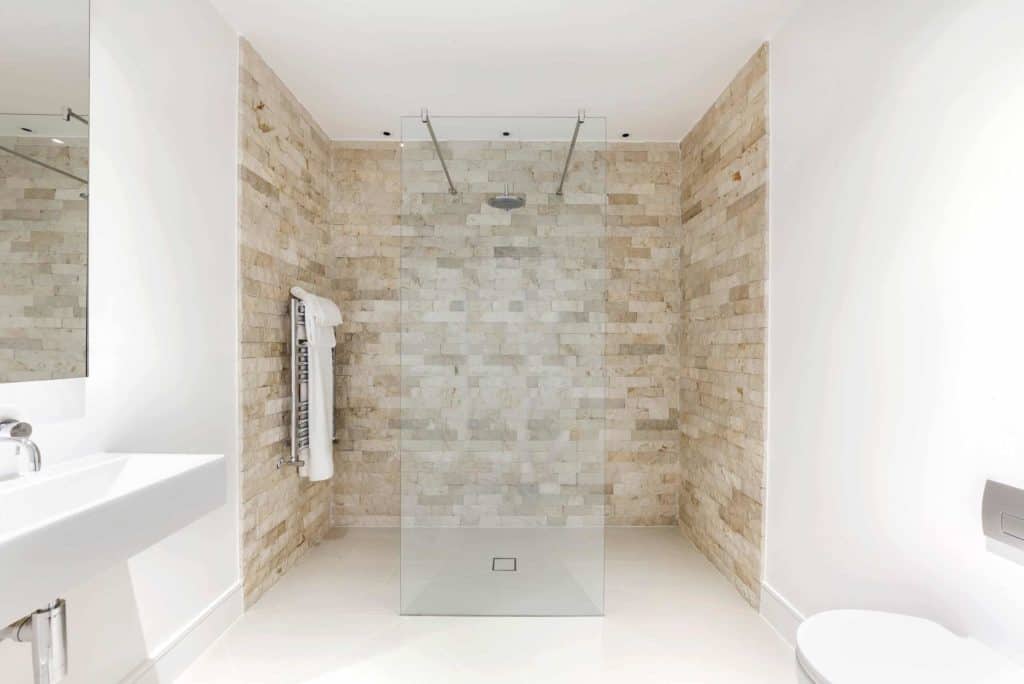 Put your shower at center-stage with a central glass dual-entry shower. A sheet of glass positioned at the center of the shower's edge creates two entry points, while also showing off the beautiful tile and shower head on display.
Due to the seamless nature of this design, these particular walk-in showers make the bathroom feel like one large space, as opposed to several separate areas cordoned off by walls and doors. To build in visual contrast, you can also make use of multiple different types of tile as well.
Read Also: Shower Tile Ideas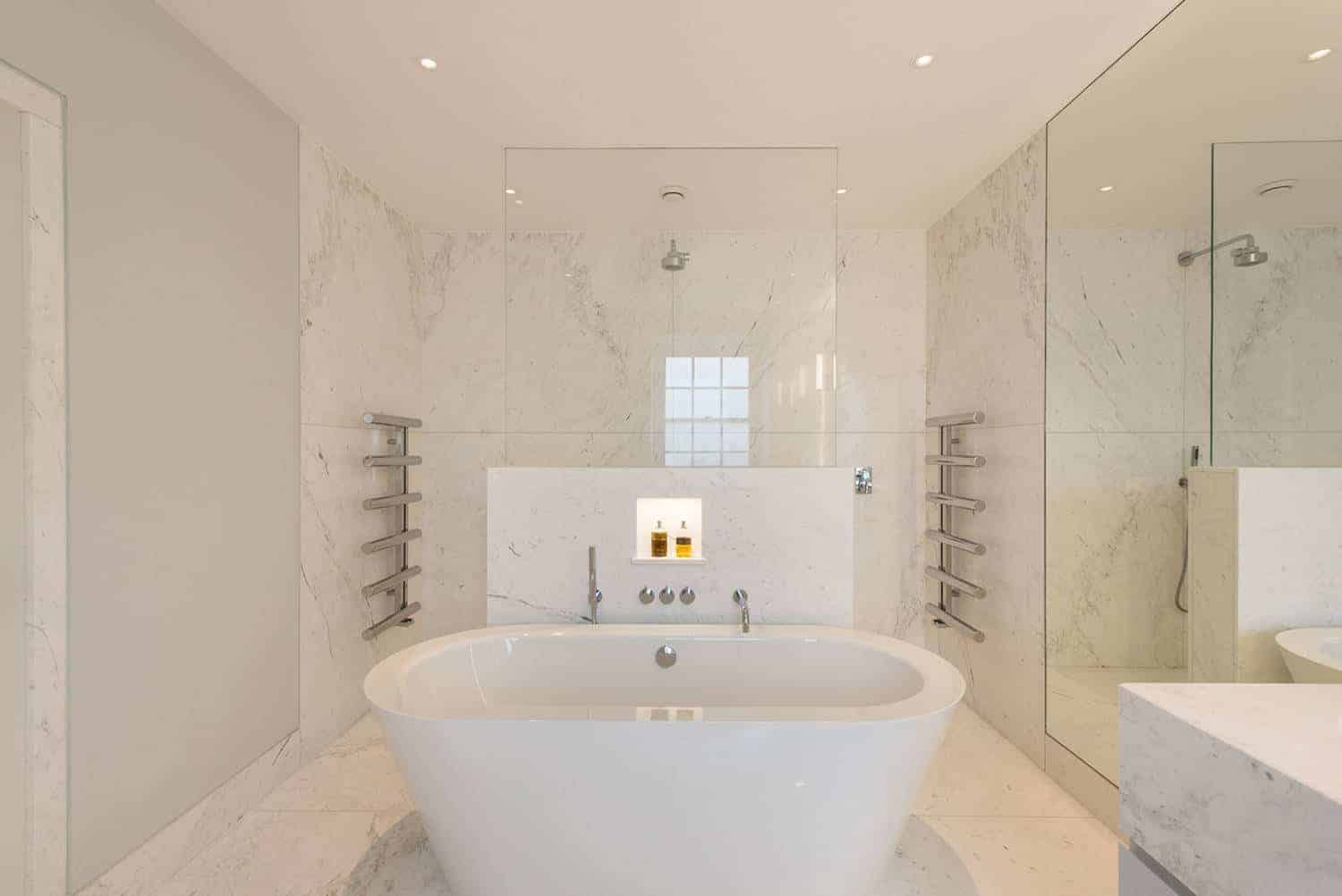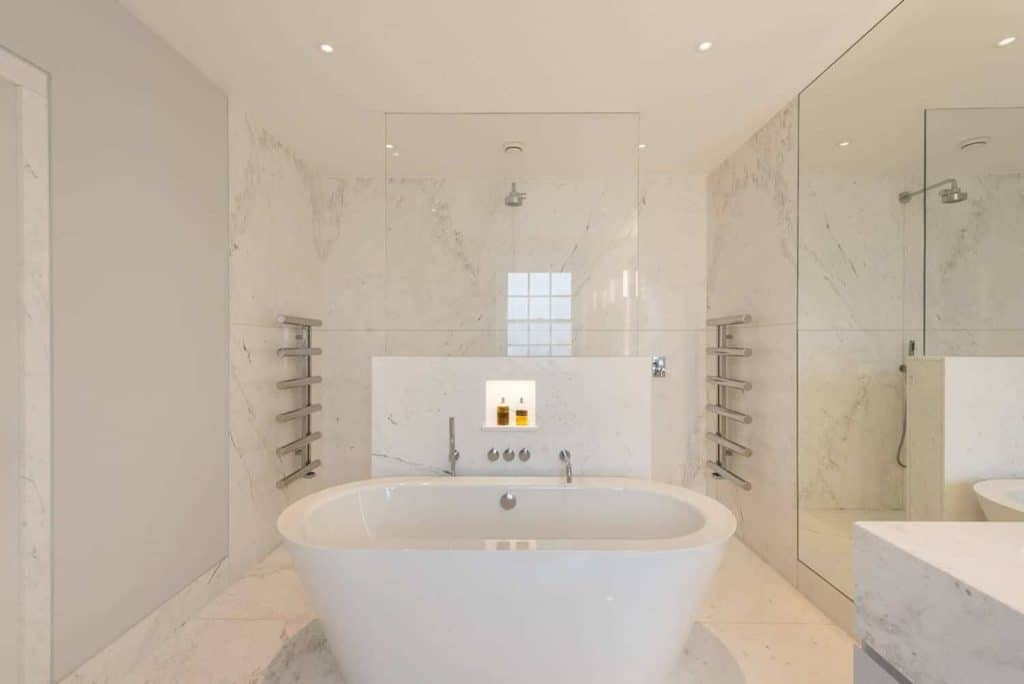 When it comes to luxury, few styles proclaim it more boldly than a two-sided doorless shower. Not only do you get to experience the spaciousness of a walk-in shower, but you also get the grandeur of being able to access the outside world at the same time.
With enough area, you can also include gorgeous oversized tile work. If your space permits such a design, you have the ability to create a focal point for your entire home without ever leaving the bathroom.
Doorless Shower for Couples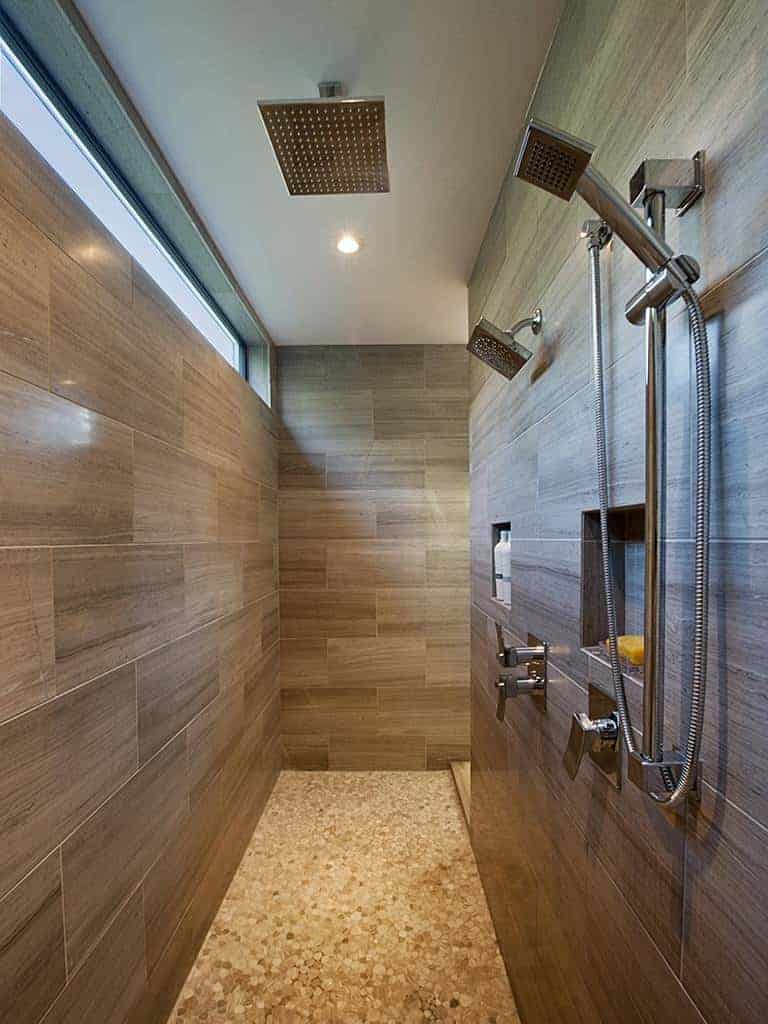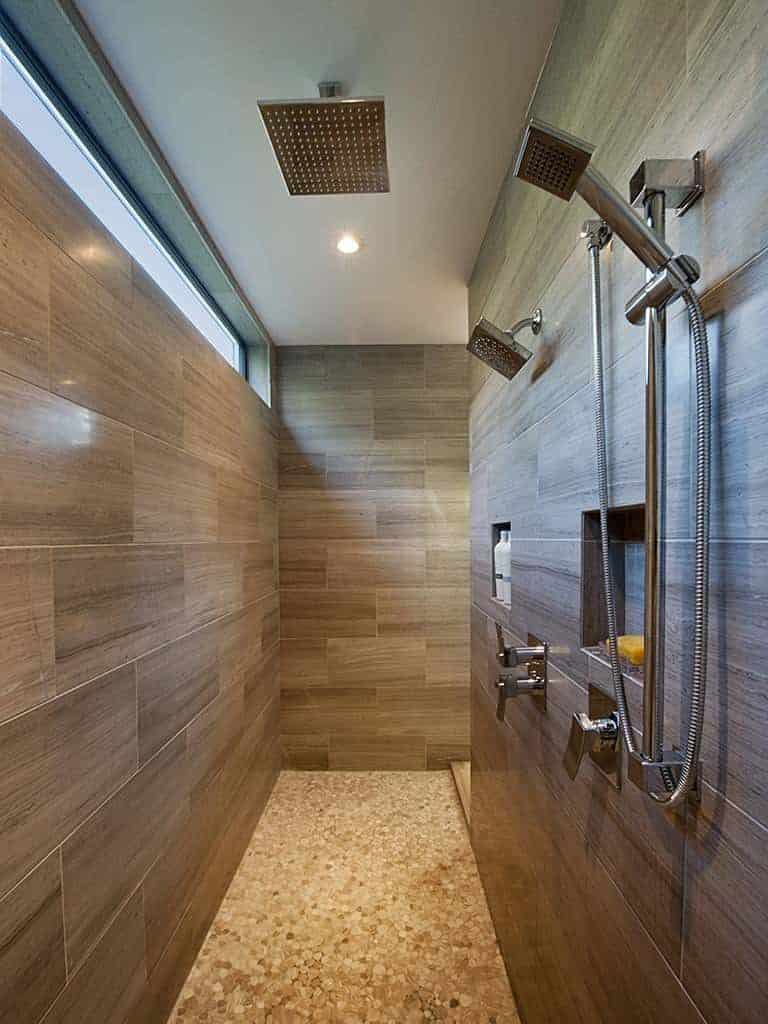 Create an intimate space that doubles as a modern addition to your home and bathroom in one fell swoop. This couples alley shower stretches the length of the room and provides enough space for two people to shower at the same time.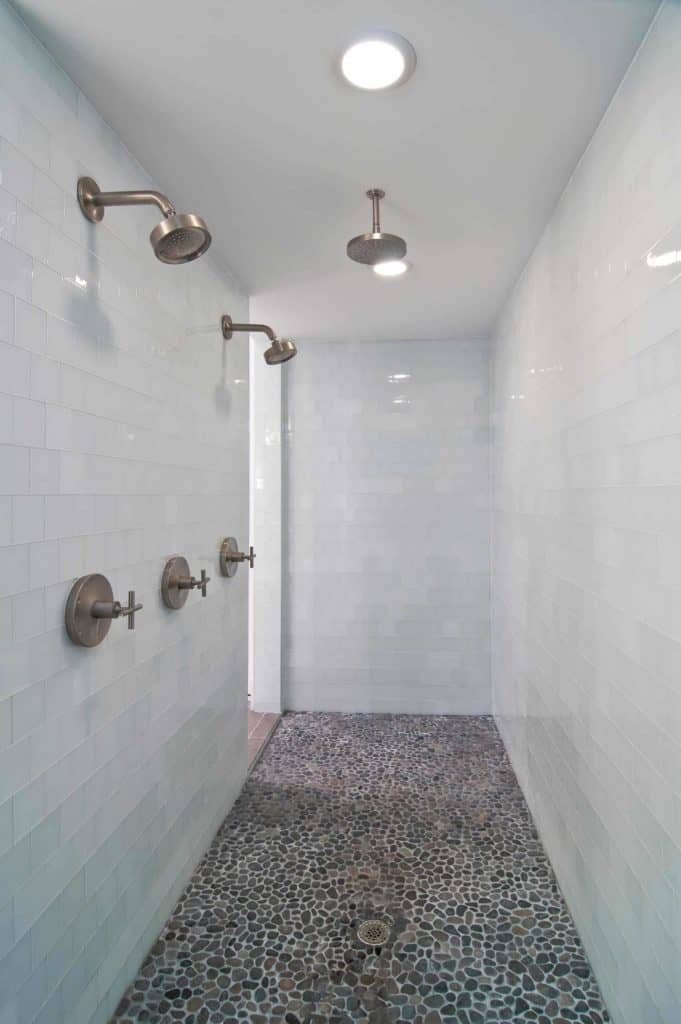 With two individual showerheads and one dominant overhead rainfall shower fixture, you and your partner can simultaneously relax and enjoy the pleasures of contemporary design and personal intimacy.
Seamless Double-Pane Partners Shower Design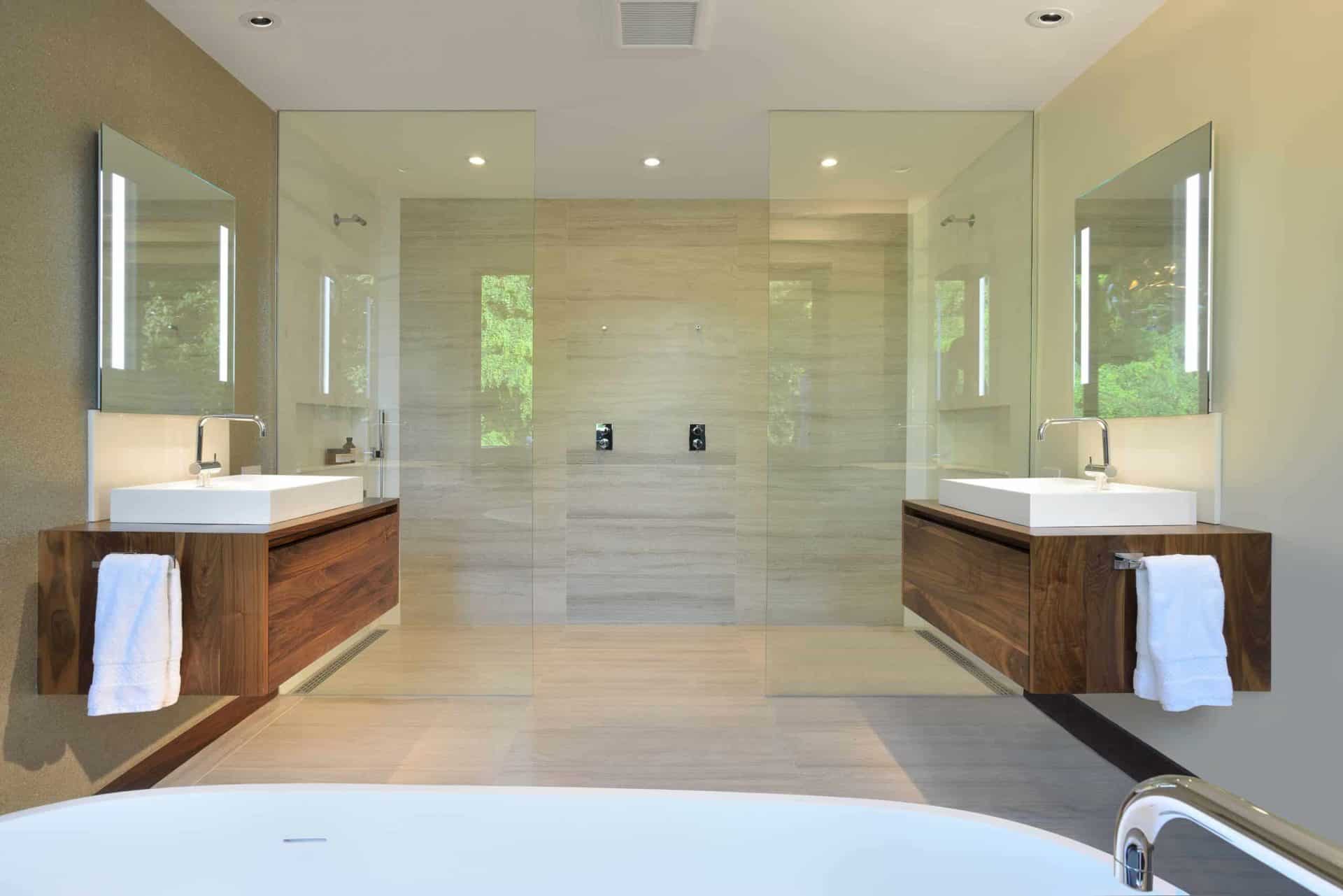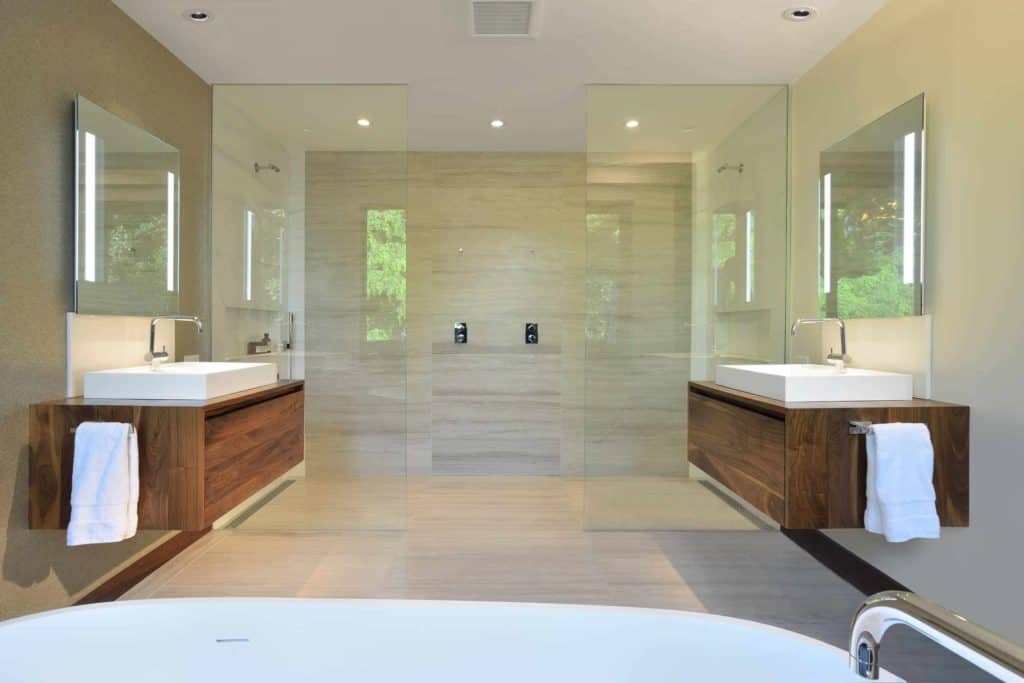 This elegant option is for couples that desire both warmth and personal space in their shower. The seamless double-pane partners shower appears to the naked eye (no pun intended) as simply more bathroom space. Upon closer inspection, one notices the two beautiful panes of glass and the extension of the tile into a dedicated shower space like no other.
The give and take between brick, metal, wood, and stone components works magnificently within a greater scope of modern architecture for your home. Specifically, the white and gray tones of the floor distinguish markedly from the wooden countertops for visible distinction from one material (and space) to the next.
Mid-Century Modern Concrete Doorless Shower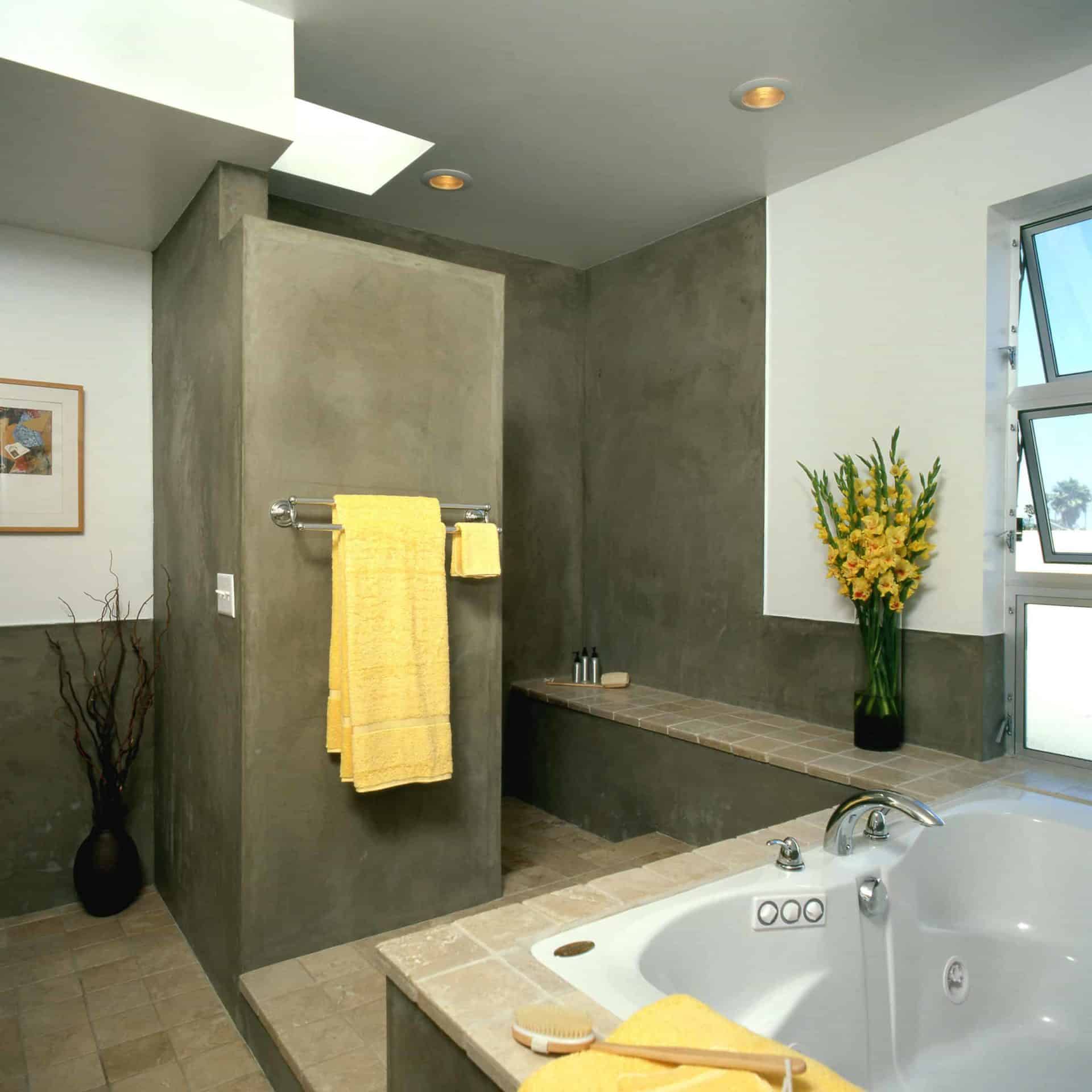 Glass isn't everything. If you want sharp lines and stark simplicity in your bathroom, look no further than the midcentury modern shower.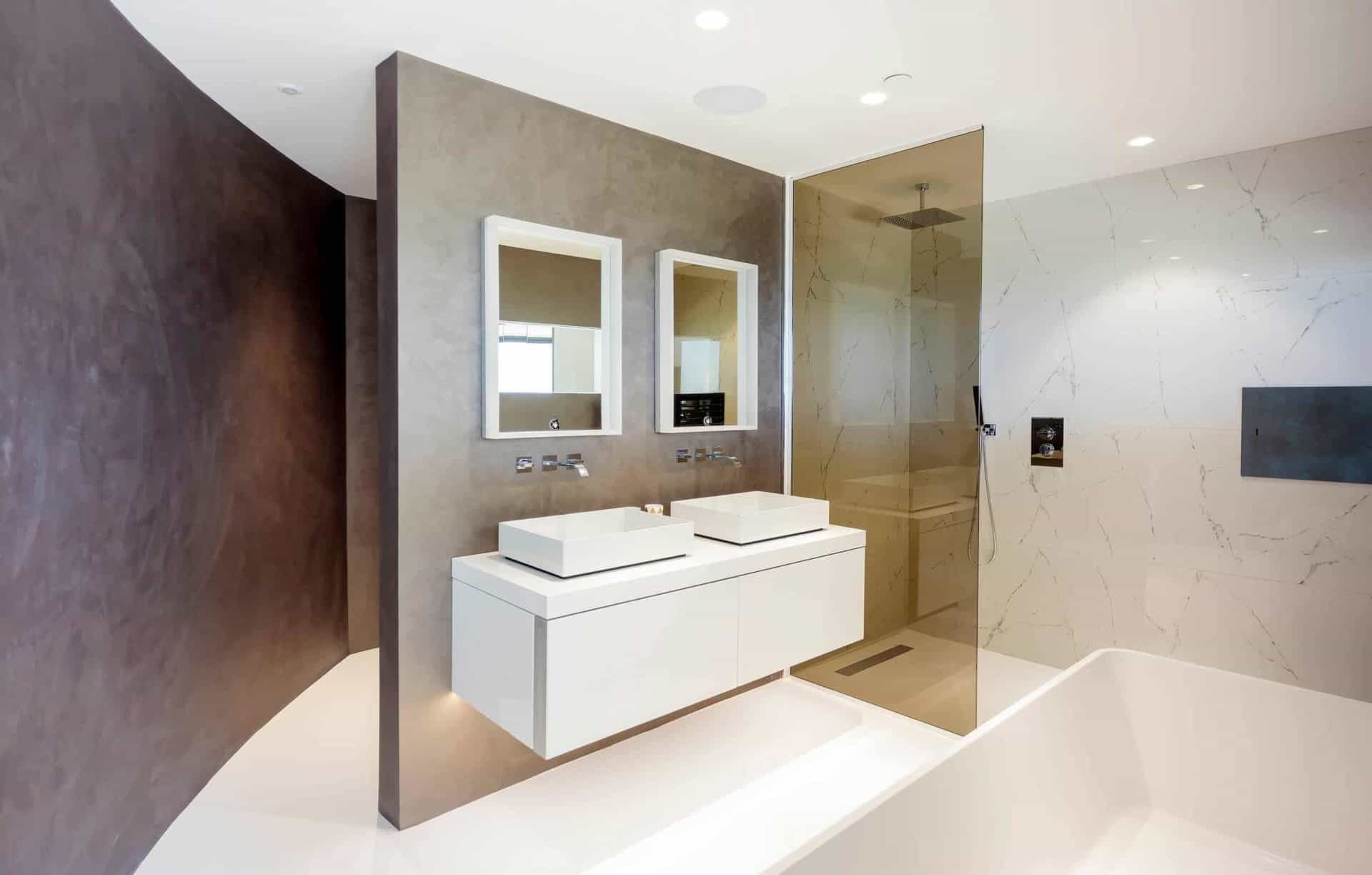 The thick concrete finish calls to mind the designs of Frank Lloyd Wright and other giants of the 20th-century architectural world while providing a strong sense of privacy at the same time. Like stucco, the concrete can be finished to bring out multiple shades of gray in the detail. As an alternative, it can also be easily painted to match the rest of the bathroom's style.
Industrial Subway Shower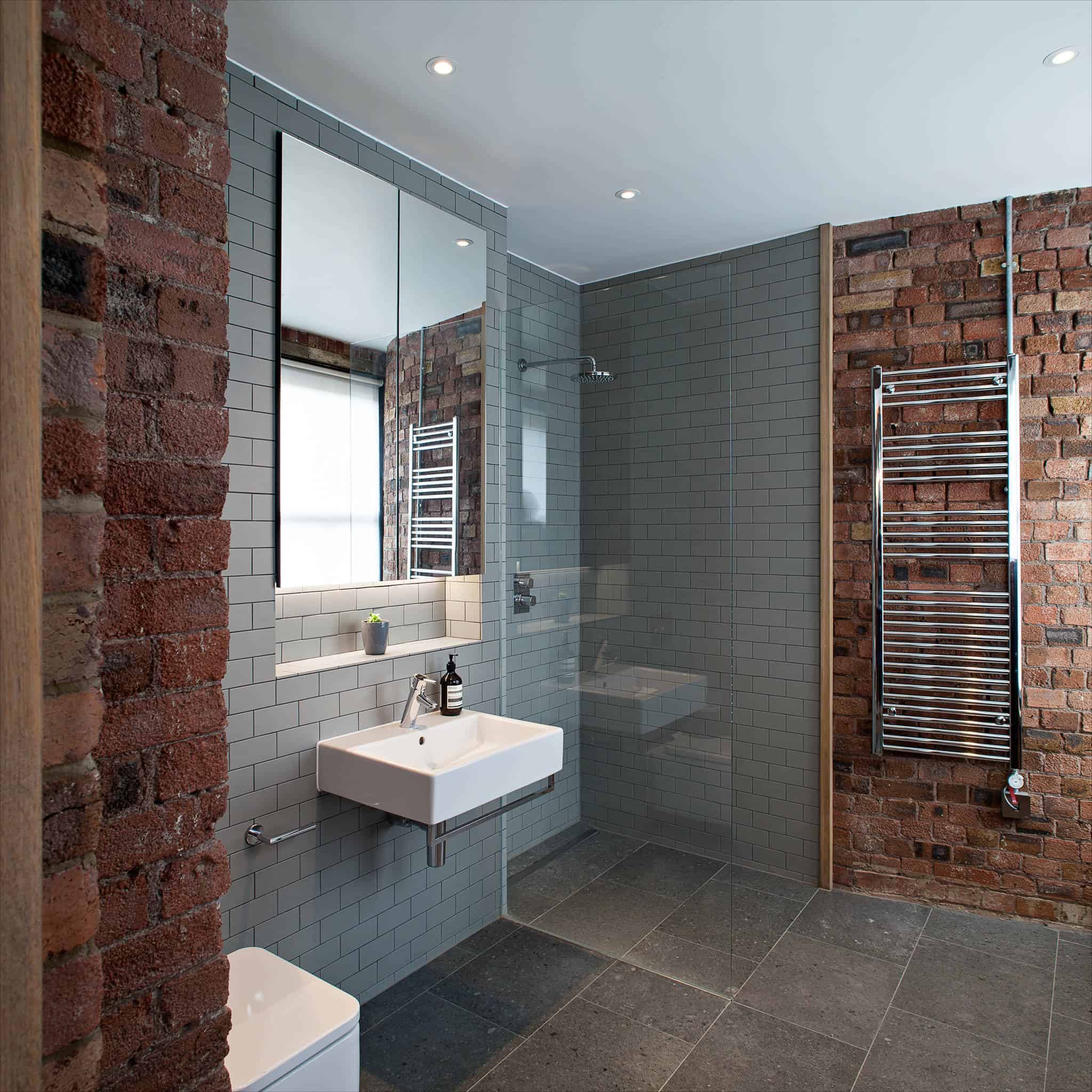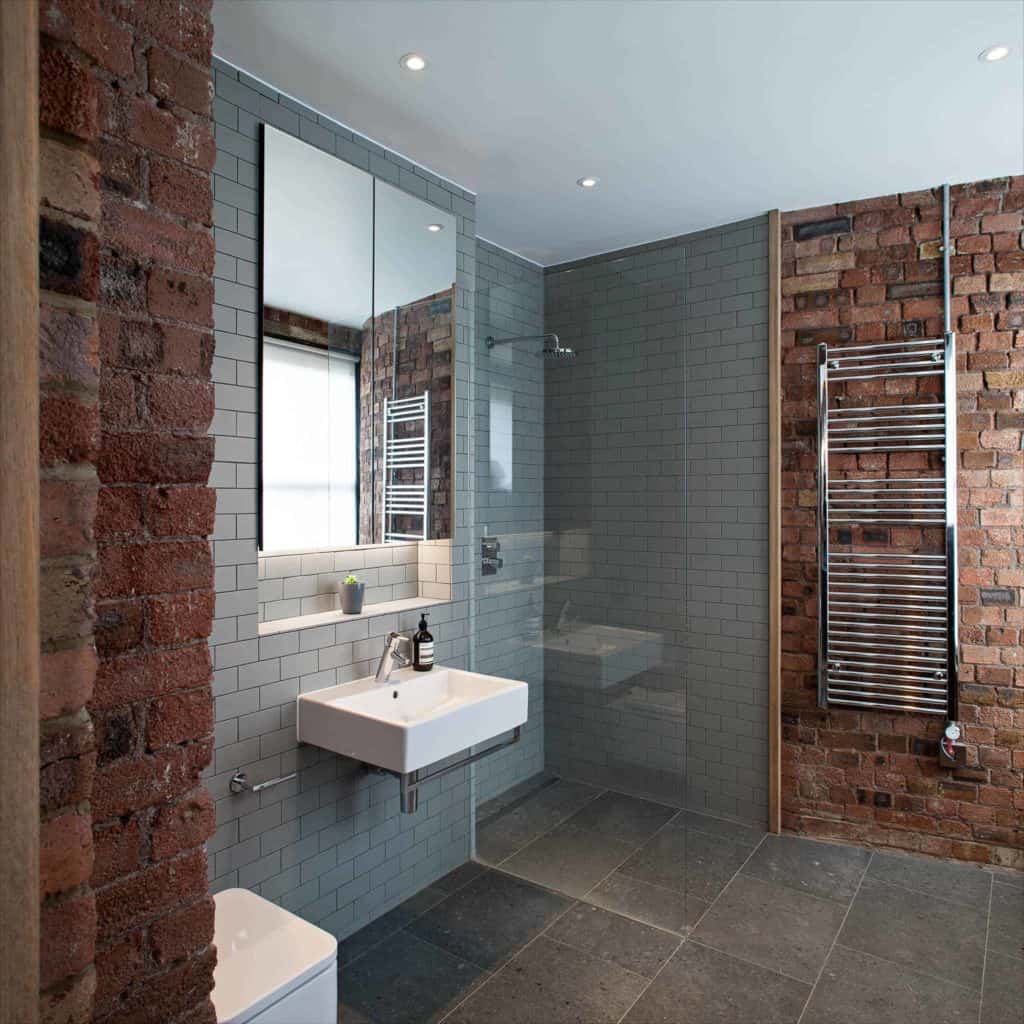 The use of multiple wall finish elements in a bathroom can produce both the look and the feel of something else entirely. With components like brick and subway tile, you can give birth to a fully industrial design aesthetic, even if you don't have a ton of space at your disposal.
The key here is the use of distinct materials that live in the same world. The roughhewn nature of the brick juxtaposes with the clear and smooth subway tile, ultimately making the whole bathroom feel at once unified and, importantly, striking to look at.
Transitional Tile Galley Shower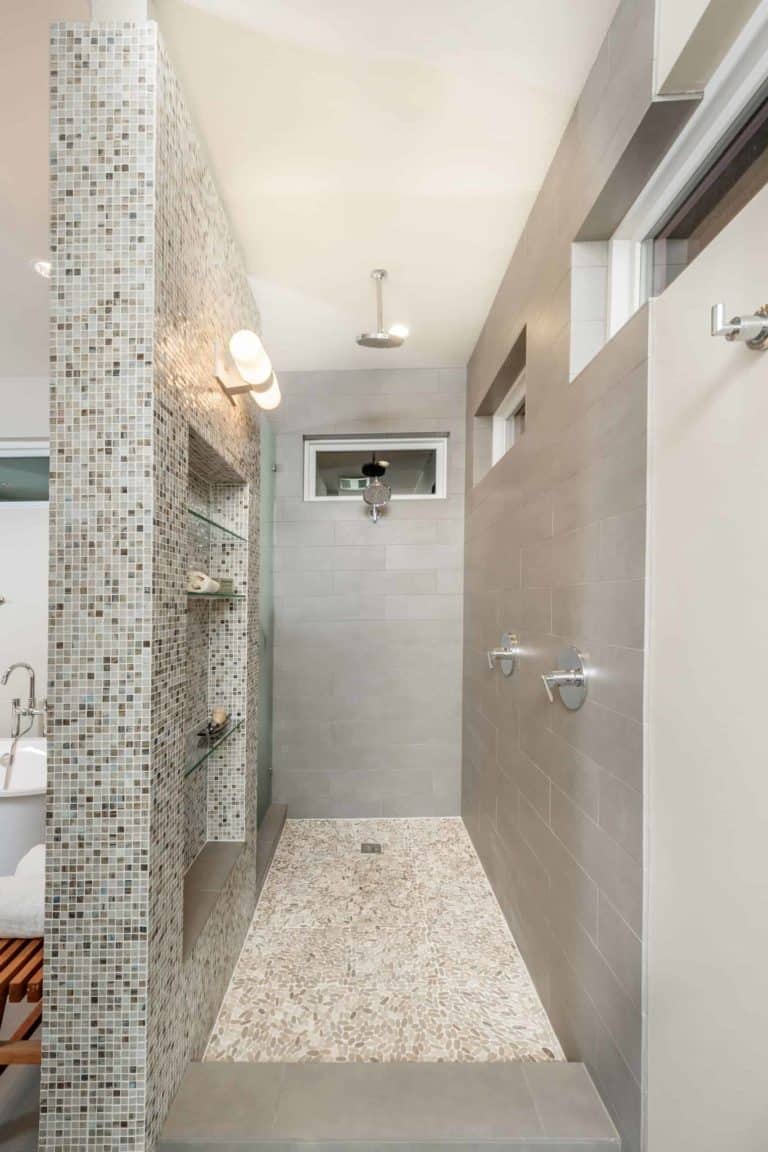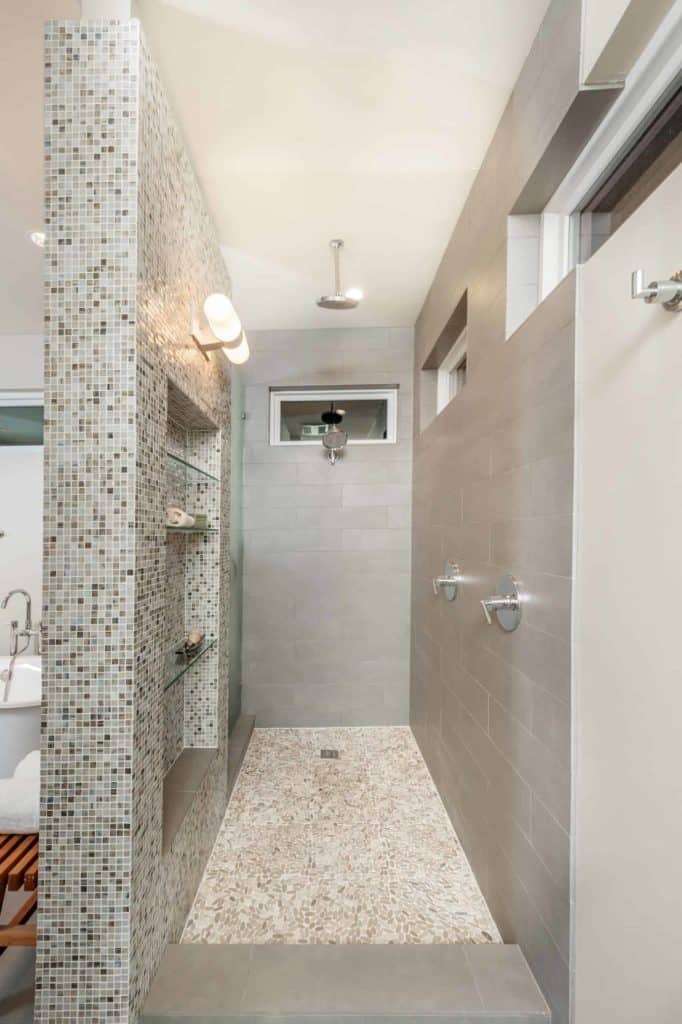 An easy way to add variety and texture to your bathroom is through the use of multiple forms of tile. Here, we have gray tiling in addition to porcelain and pebble. The varied tile work effortlessly increases the room's complexity without becoming too "busy".
In a doorless galley shower, you also get the benefit of length. The size gives you more room to breathe in the shower area, of course, but it also extends the breadth of the bathroom as a whole.
Upscale Faux Gym Shower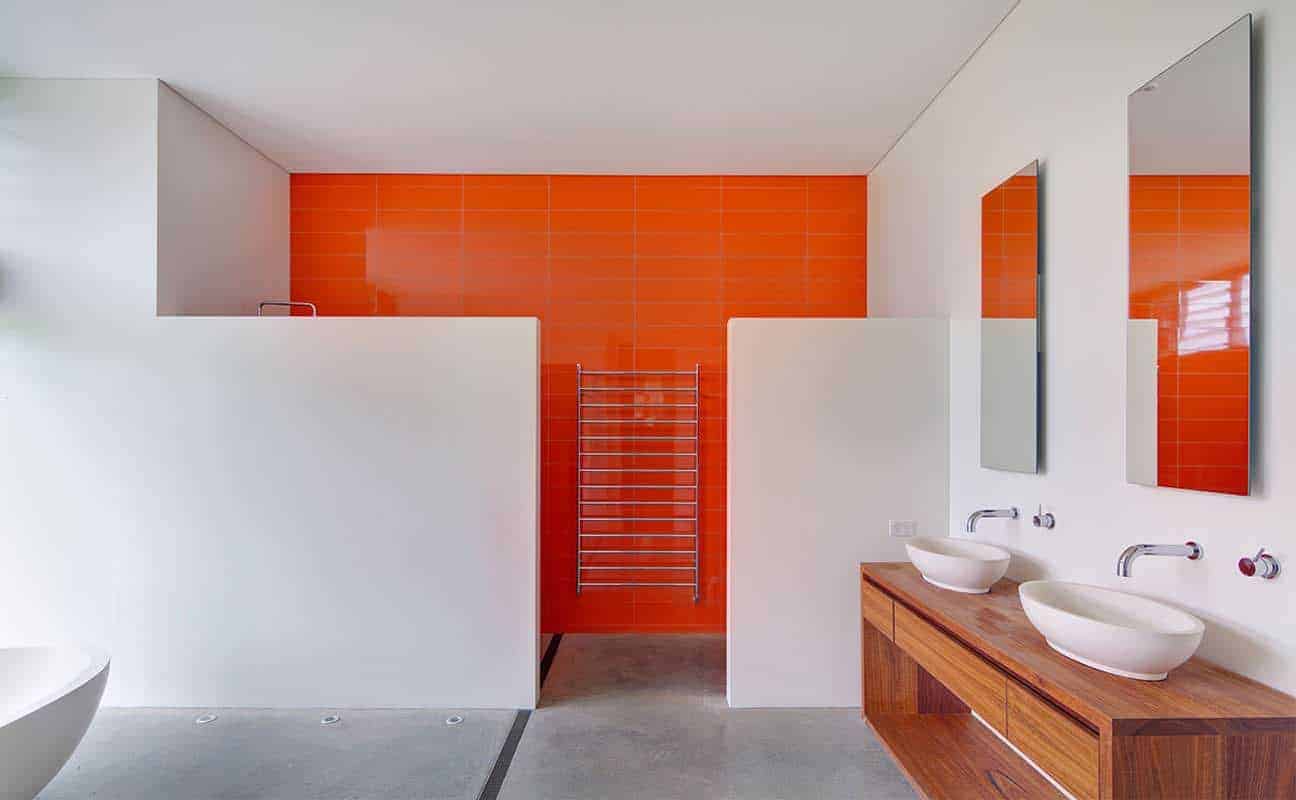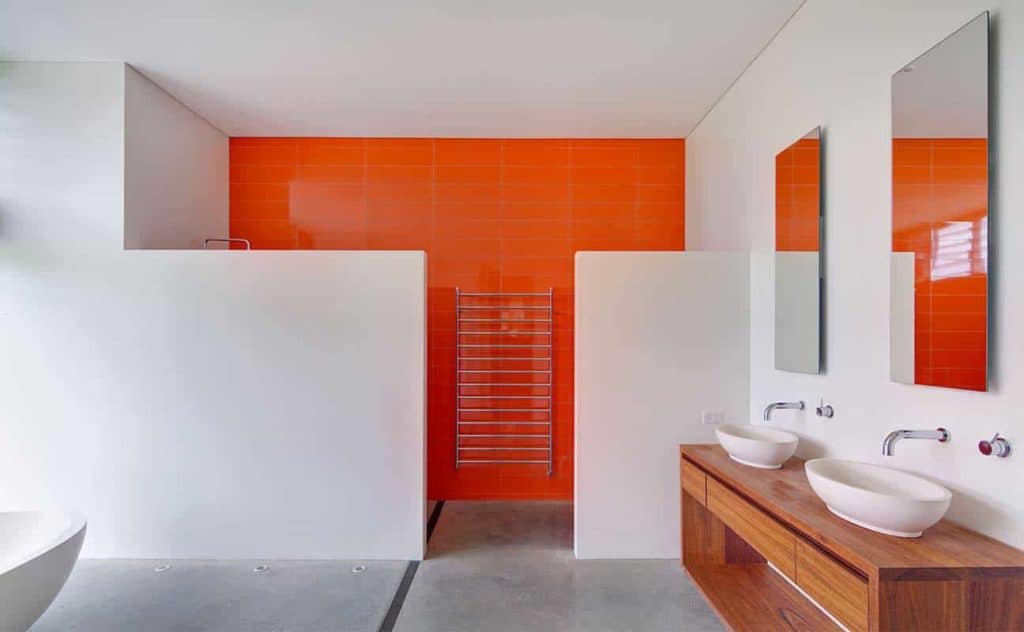 Bright colors are always a strong choice. They stand out from the crowd and bring attention to themselves, and they do the same for any room where they're utilized.
Along the same lines, other bold choices used in the same space can enhance the use of orange or purple or other generally unorthodox palette options. With a faux gym shower, you take a concept from a typically commercial environment and apply it domestically.
Features such as an extended towel rack and opaque, white partition walls bring a sense of high-end locker room luxury into the home. This is a great option for those trying to hit a home run off the beaten path.
Ultramodern Minimal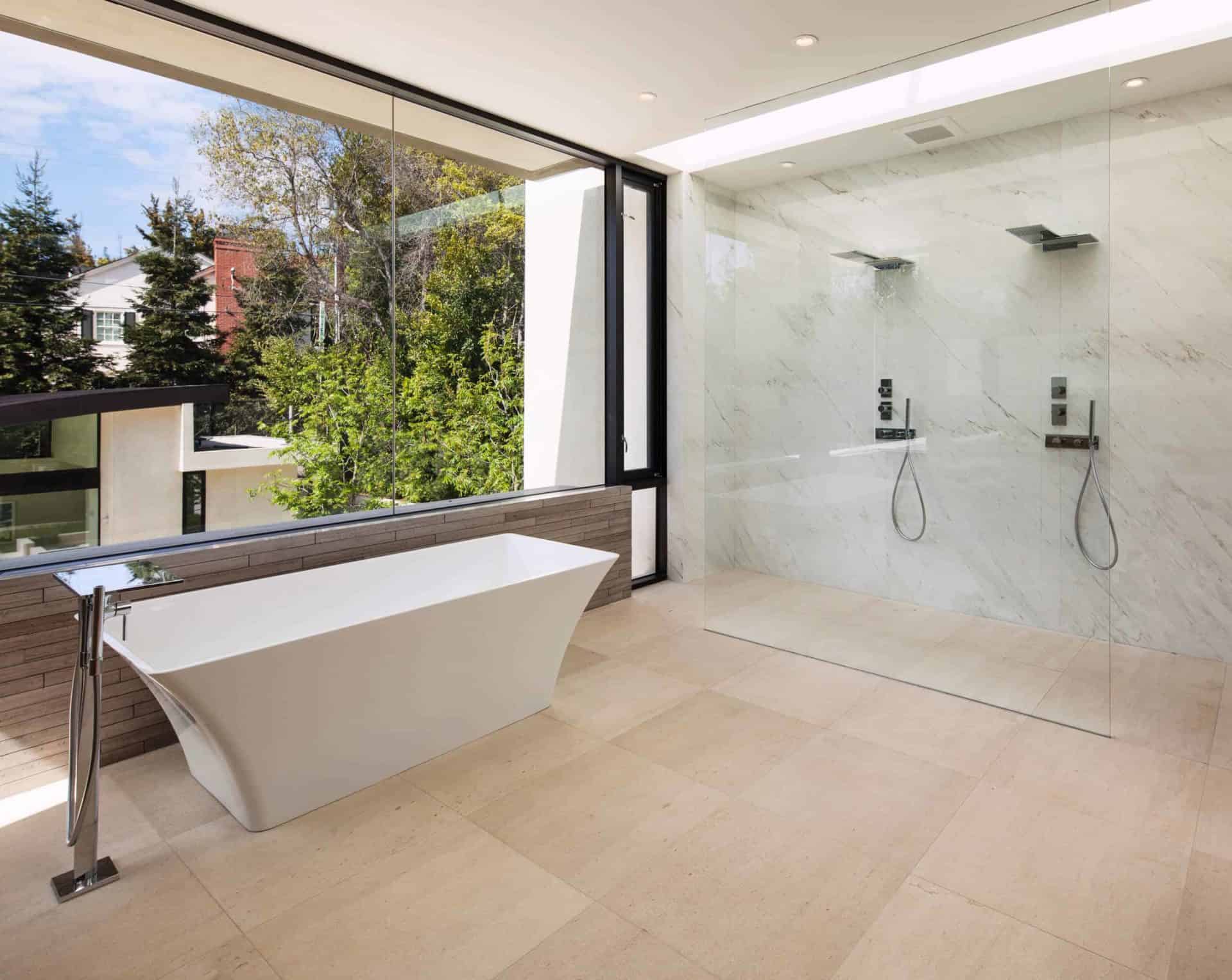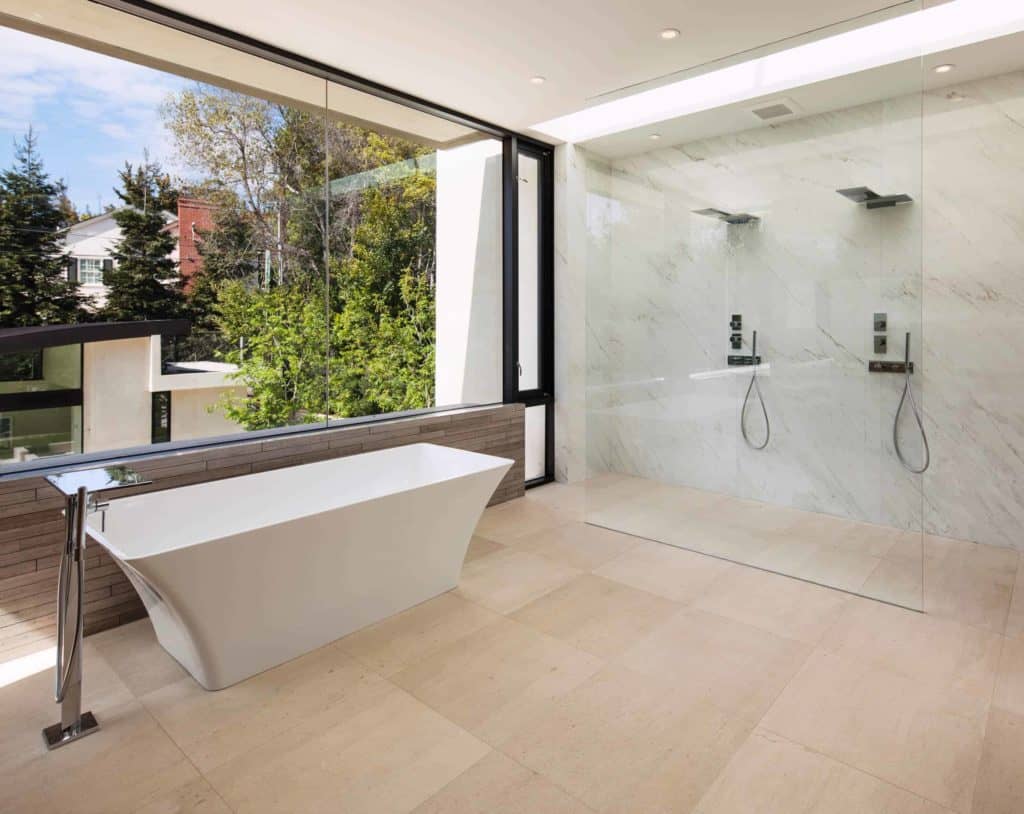 Make use of a larger space with big modern tile, oversized stone slabs, and a floor made of rich travertine. A single sheet of crystal clear glass is all that separates this side-by-side walk-in shower from a contemporary bathtub of equal brilliance (and nearly equal in size!).
Like a lot of great modern architecture, this particular doorless shower design is deceptively simple. Straight lines, clear visibility, and high-finish materials contribute to an overall look of luxury. When people see it in your home, they'll be utterly delighted by its presence.
Hotelier Pebble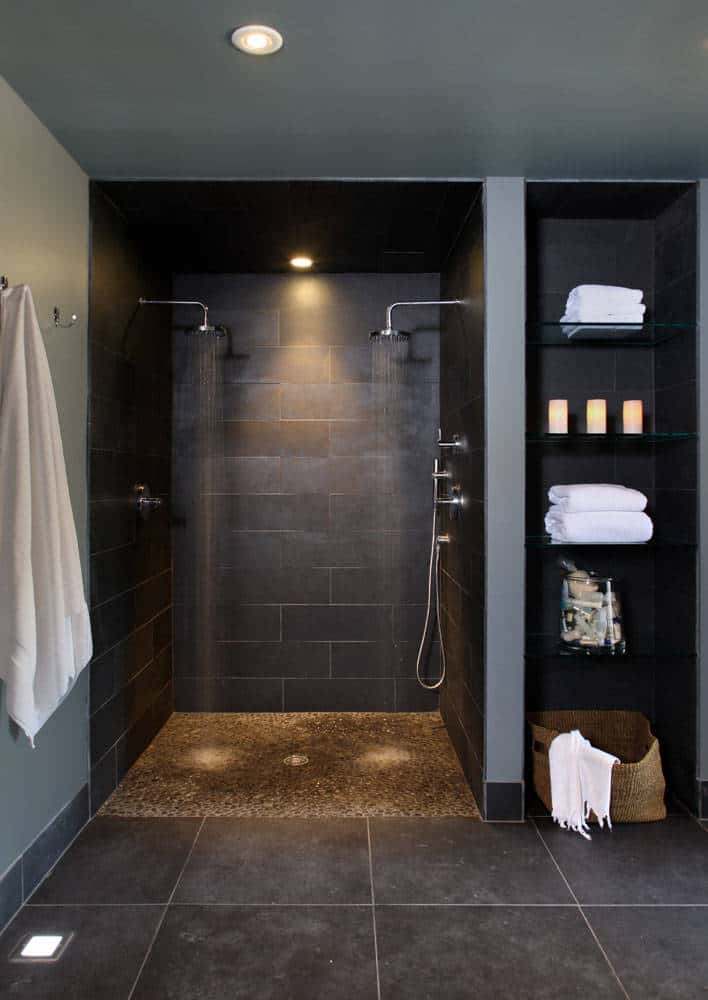 One might almost expect to see this shower design in a fancy hotel more than a home (which explains the name). The pebble flooring makes for a breathtaking contrast with the black tile use on the ground and the walls.
Shelving located directly adjacent to the shower itself is both convenient and a great place to add a dash of creative decoration. Or you could use this space to give yourself the deluxe hotel treatment: shower bombs, gels, scented candles. Anything is possible in this gorgeous double shower design.
Subway Single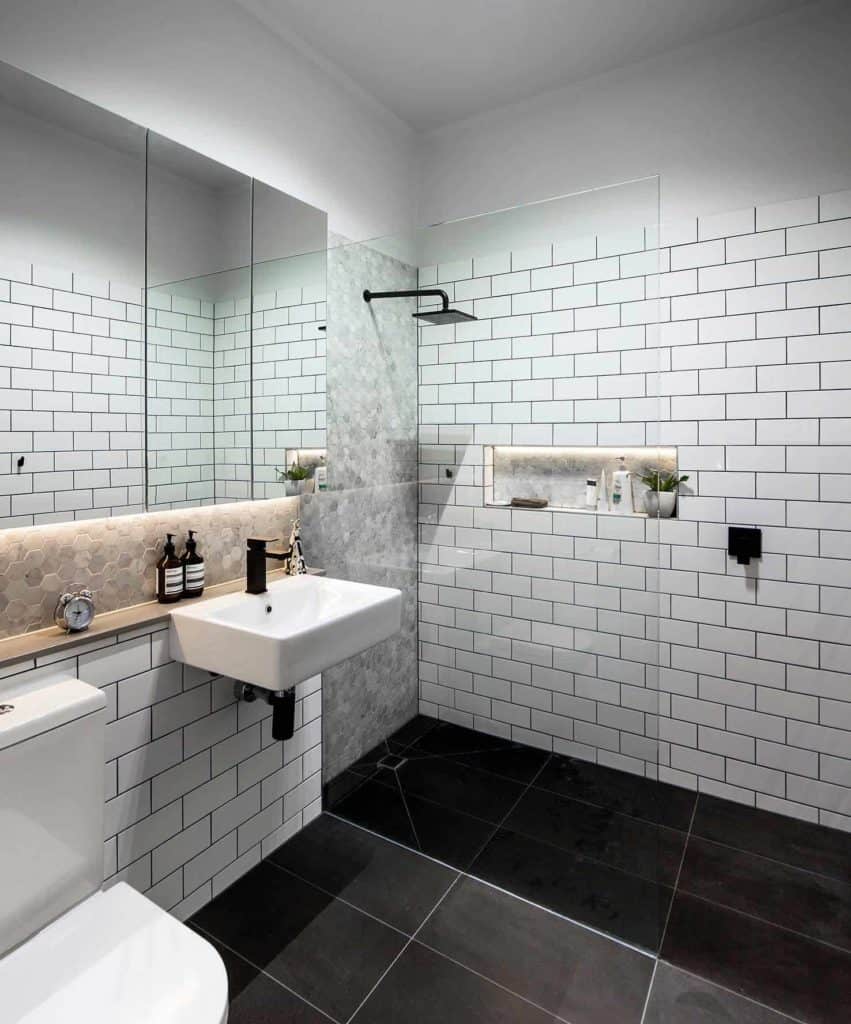 Suave. That might be the best word to describe this sleek shower design. Great for a bachelor pad or a newly renovated condo, polished white subway tile complements this minimalistic single shower perfectly.
Mixed tiling creates instant contrast, and the solitary recessed shelving within the shower itself breaks up the unity of the wall with a smooth and modern flair. And don't think that's just for soap either! A well-placed, green succulent supplies just the right dash of color this sort of room might be looking for…
Three-Quarter Shower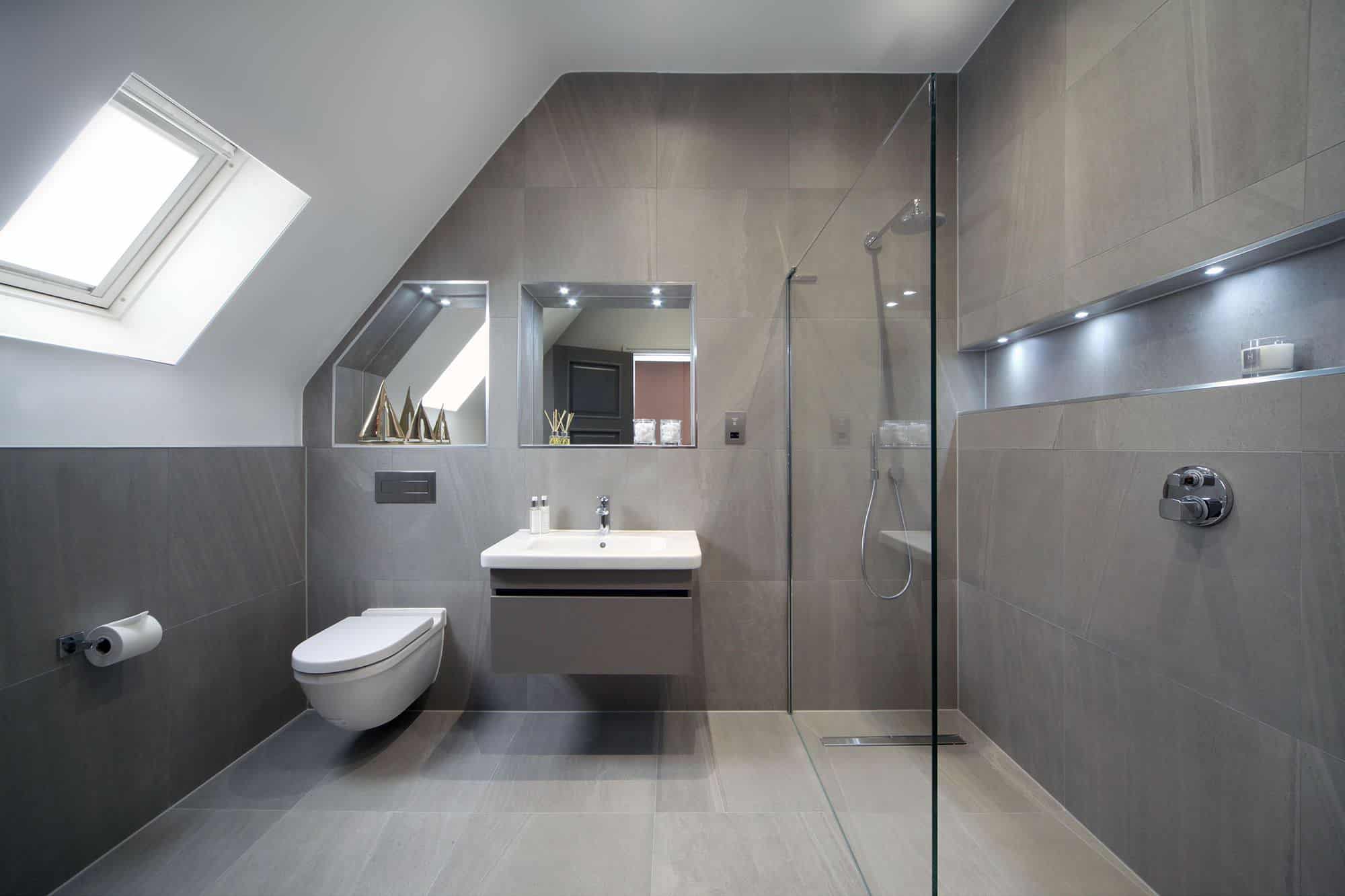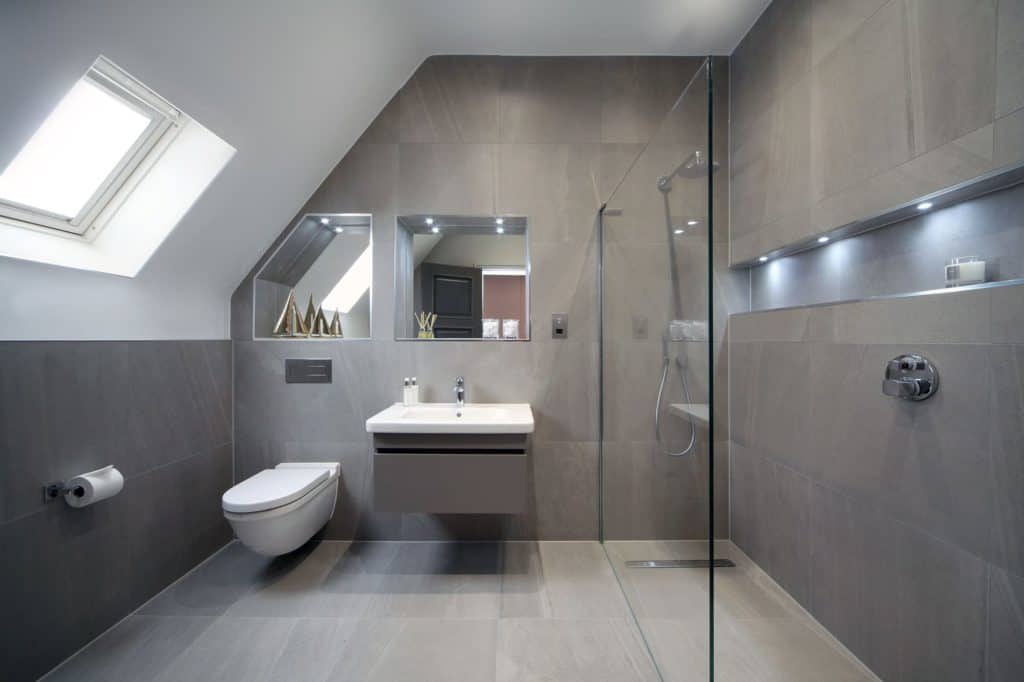 Who needs a bathtub? Not you, that's for darn sure. This bathroom features wall-mounted everything unified by a singular tile front on all splash-zone surfaces, connecting every inch of the space to every other.
With a shoulder height recess shelf, you can keep your soaps and other shower supplies handy, while also adding a little decoration to give a splash of color to the otherwise hazel atmosphere.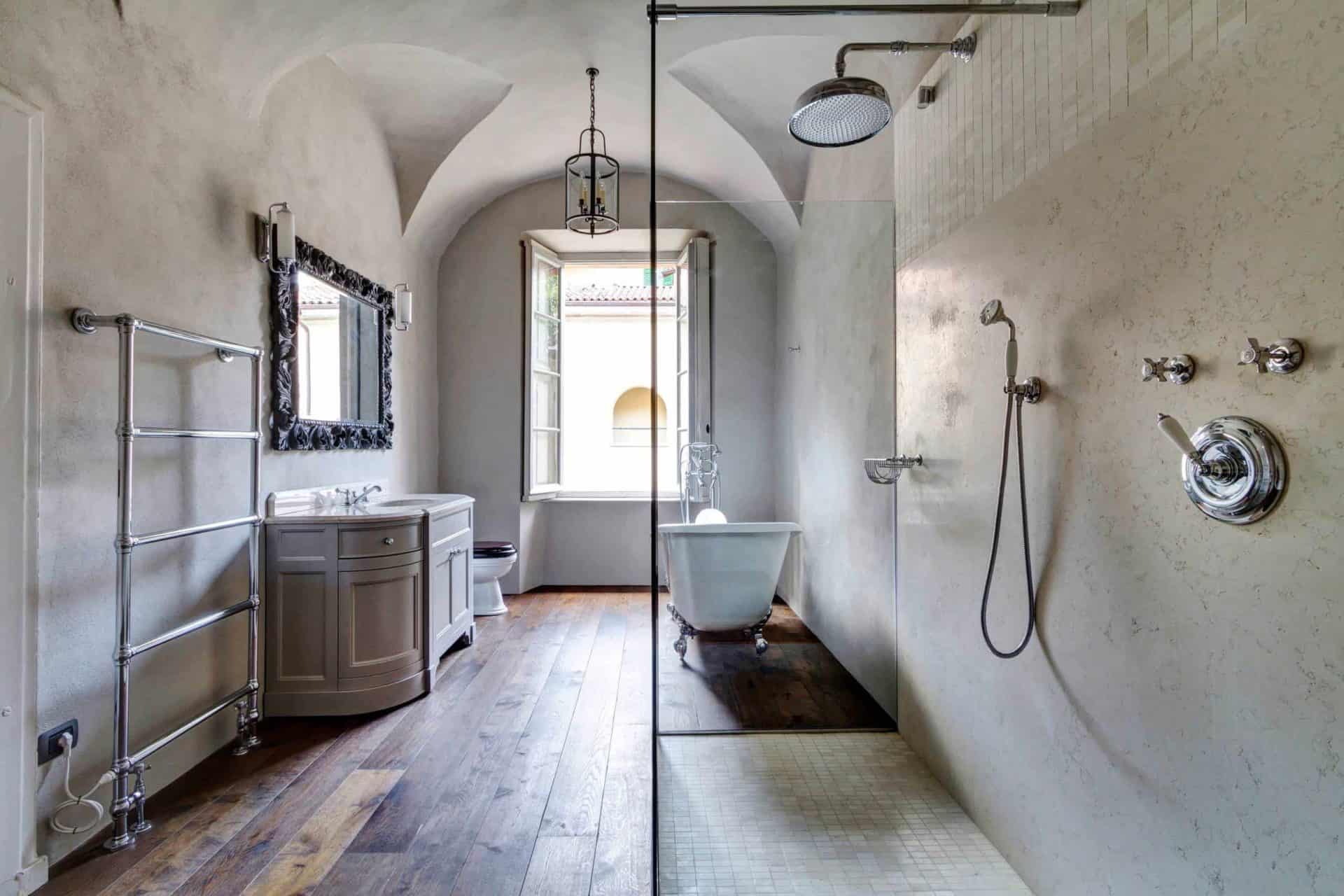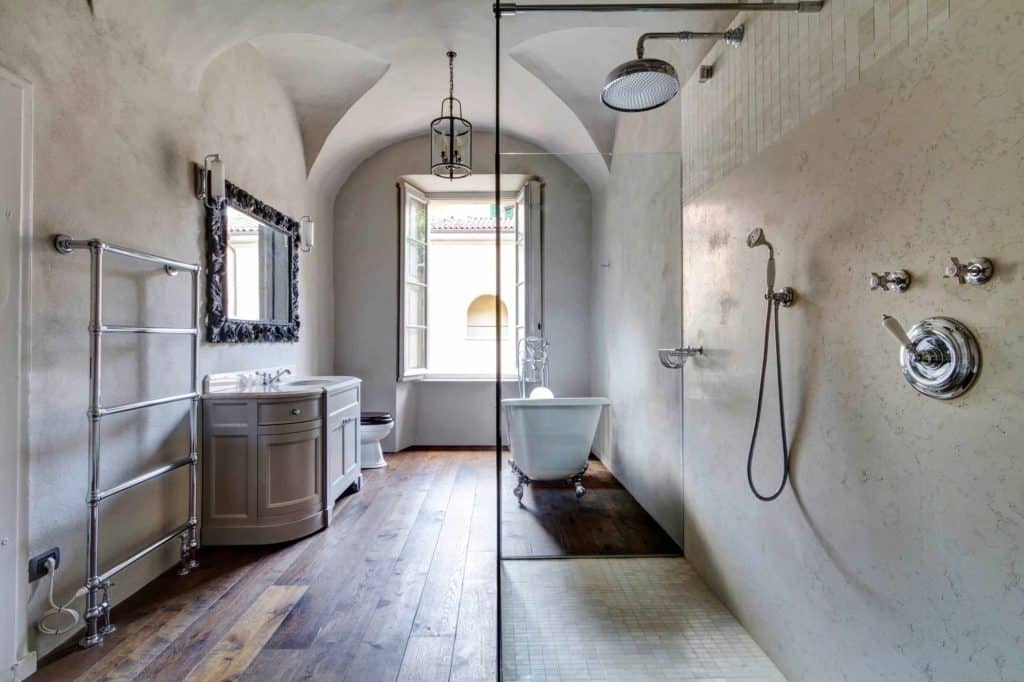 If you're seeking simplicity and unification, this might just be your ticket.
Ultramodern Open-Air Shower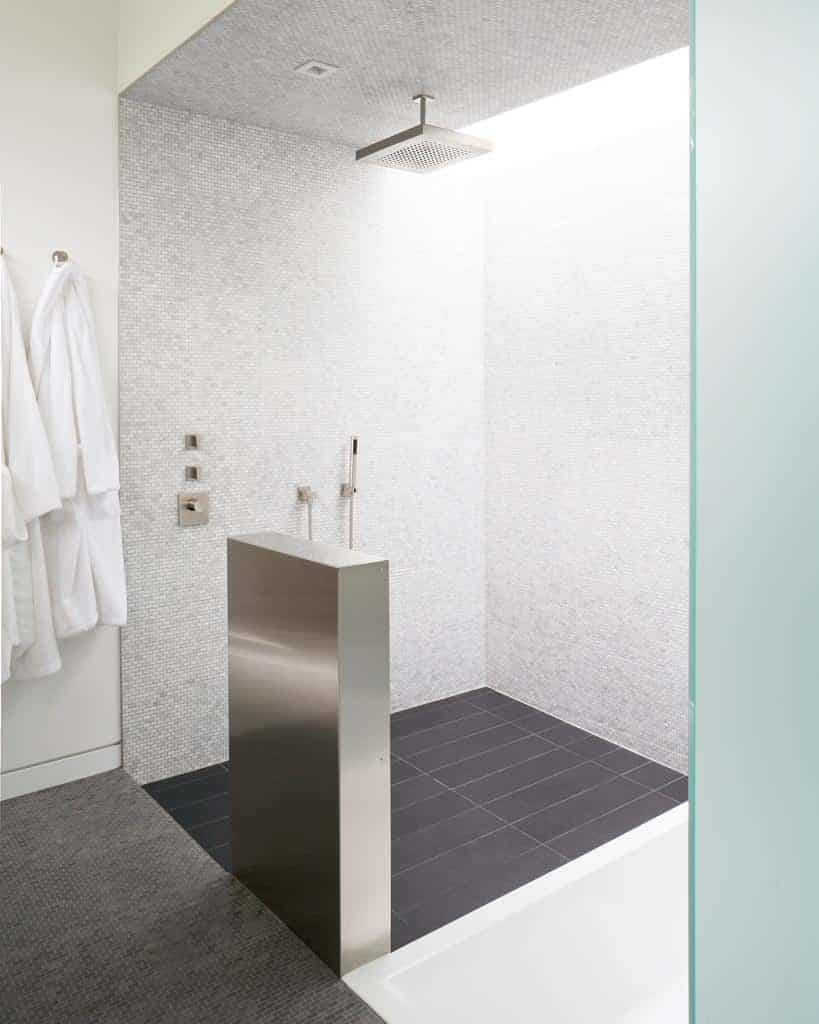 There are no windows and no doors… No, this isn't the opening to Haunted Mansion at Disneyland. This is a description of the world's most modern shower ever invented.
The white, miniature tile work along the wall stands in contrast to the long, dark, solid tiles lining the shower floor. For shelving, a thick block of metal stands, statue-like, off to one side, providing yet more contemporary distinction to this singularly distinguished shower space.
For a bathroom that's modern and futuristic all at once, try the ultramodern open-air shower. Windows and doors are overrated anyway, don't you think?
Shōji Rain Shower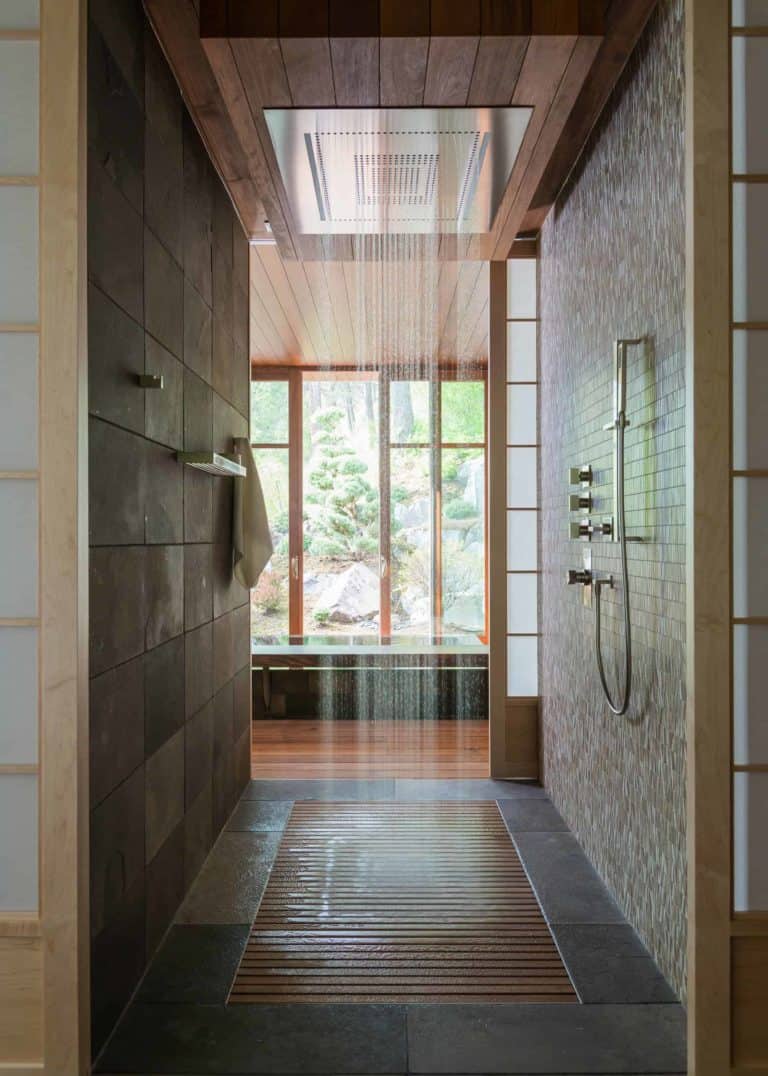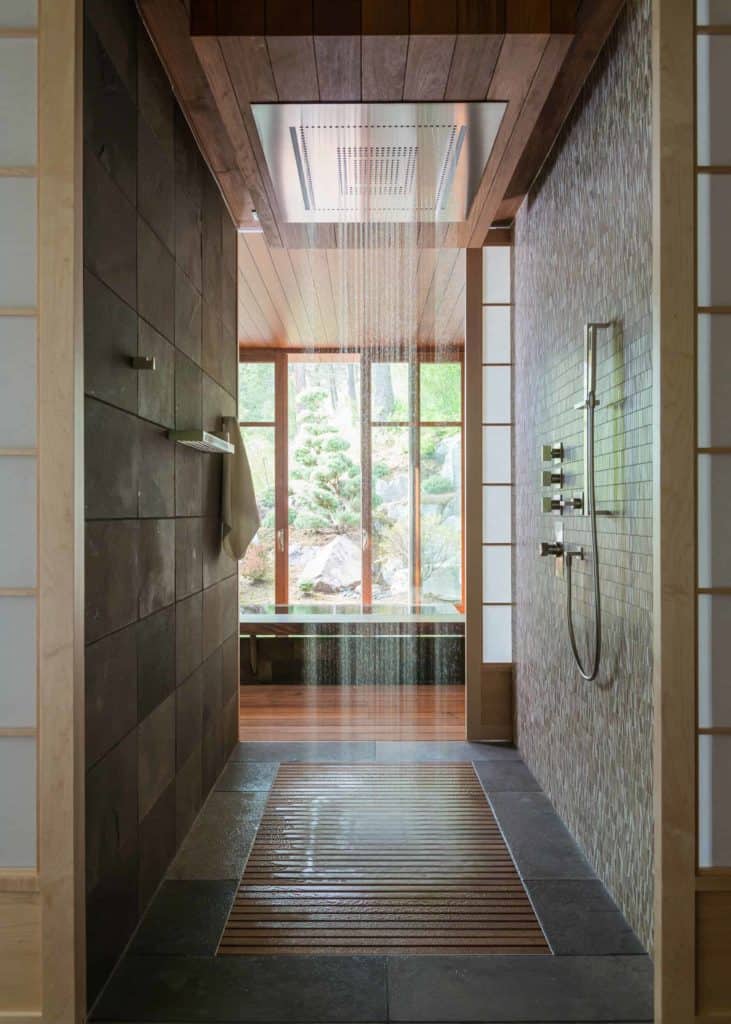 The name is a mouthful, but this shower is unlike anything you've ever seen. Also, given its size, you might expect this shower design to be a communal operation.
The truth is that you can have a singular shower experience like no other with a customizable, oversized, rainfall showerhead. Sliding shōji doors and bamboo flooring complete the look.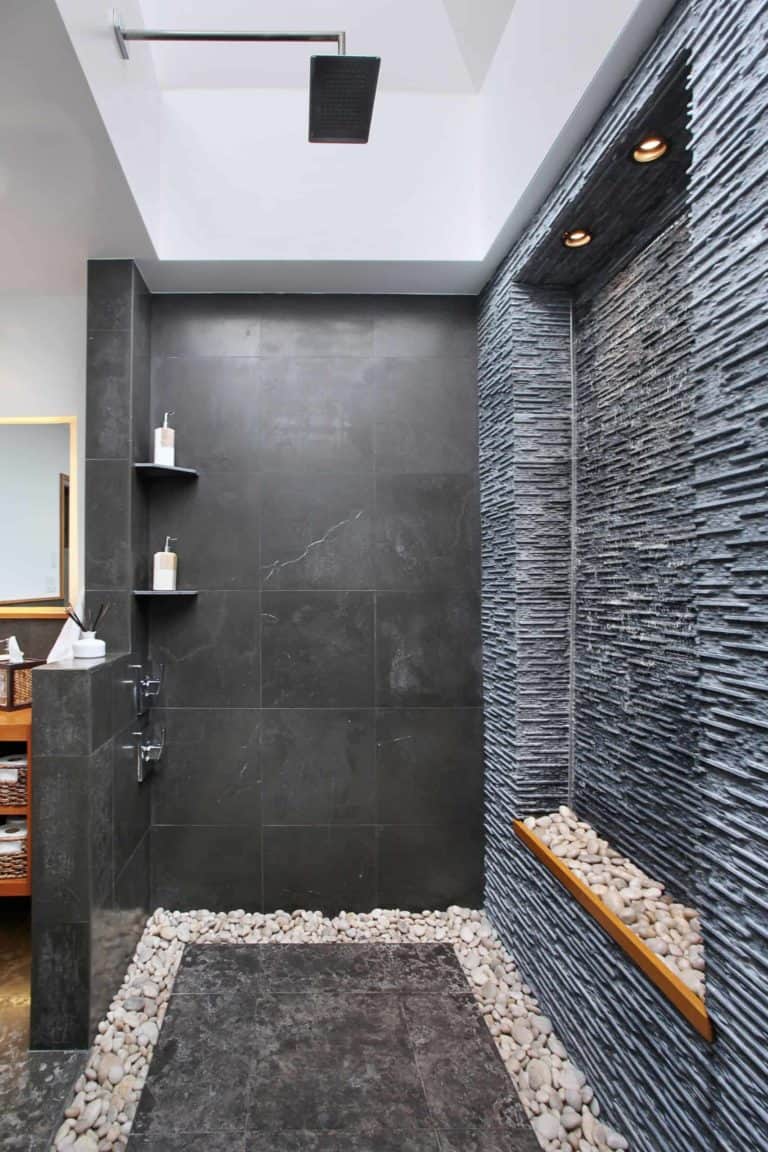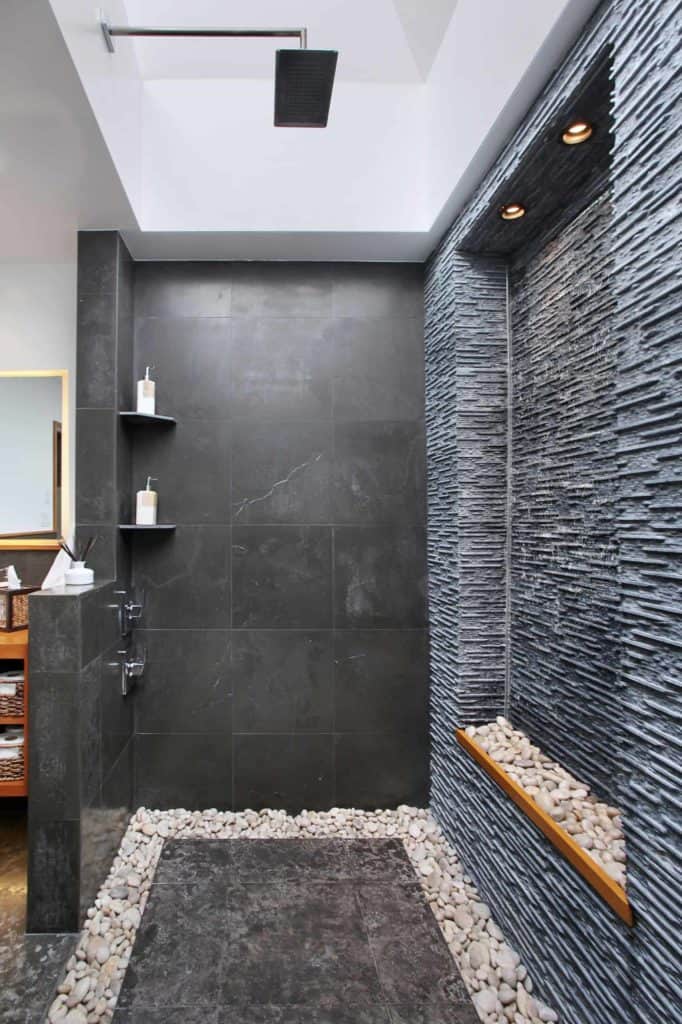 Give yourself something to look forward to each and every day with this incredible Japanese-inspired shower design.
Modish Compact Doorless Shower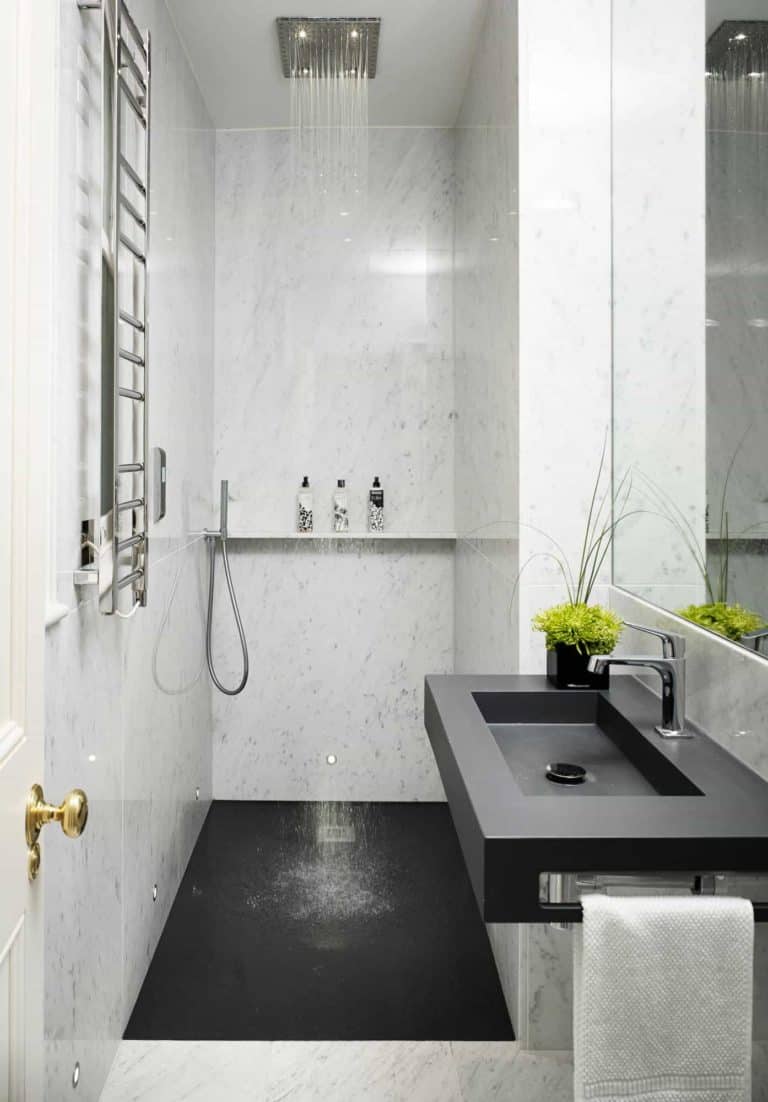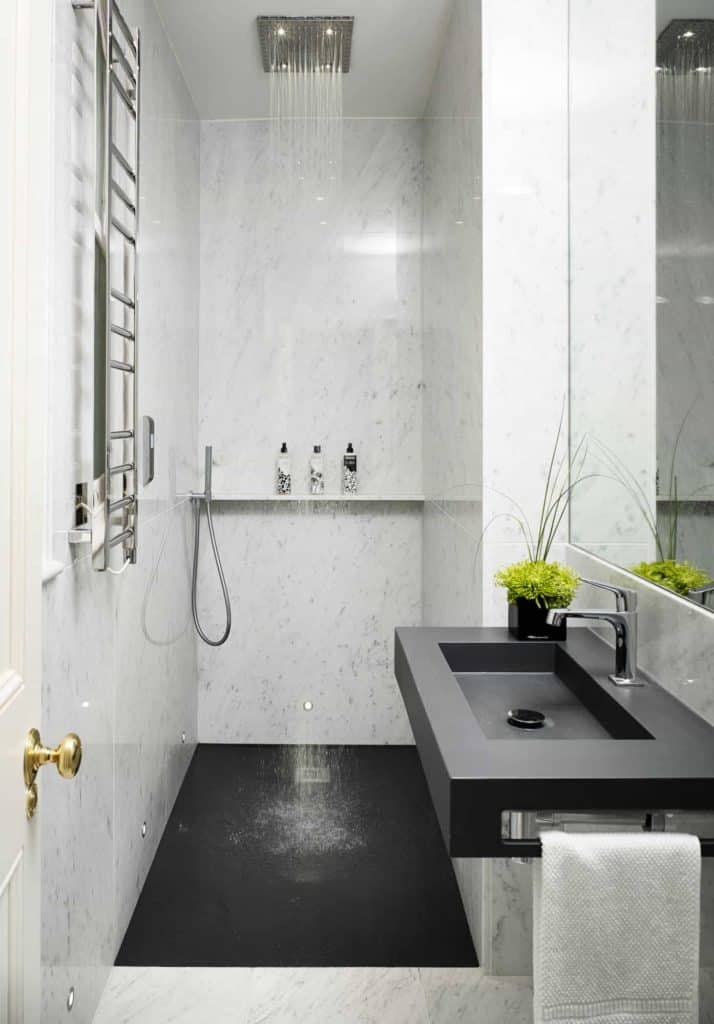 Take your bathroom by vogue storm and rip a trendy page right out of the tiny home design playbook. While multiple tile styles can add contrast, a small space doesn't typically need it.
Using just one material can actually make a more compact space seems much larger than they actually are. With this look, you can have the simplicity that a small bathroom space deserves, plus all the clean lines and luxury you could possibly want.
Branched Shower Design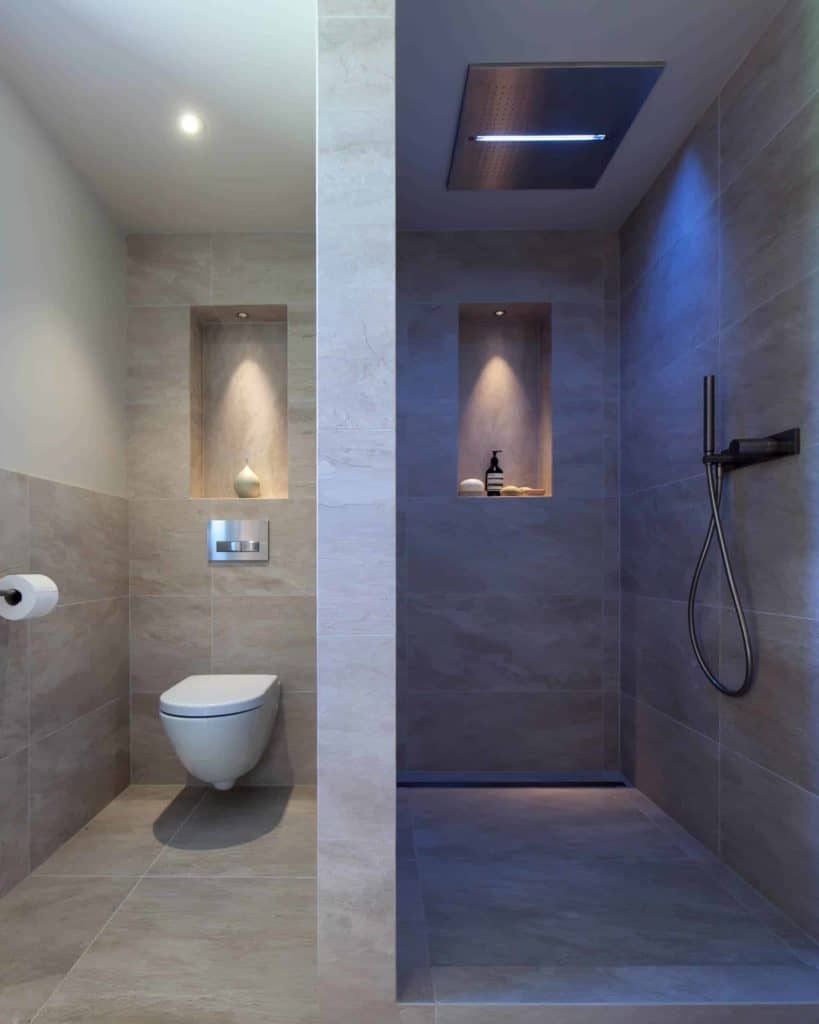 This bathroom design contains two sides — or "branches" — that lend it a solid and sturdy feel, as each side supports one-half of the components. What really sets this shower design apart is the seamlessness of the entire unit.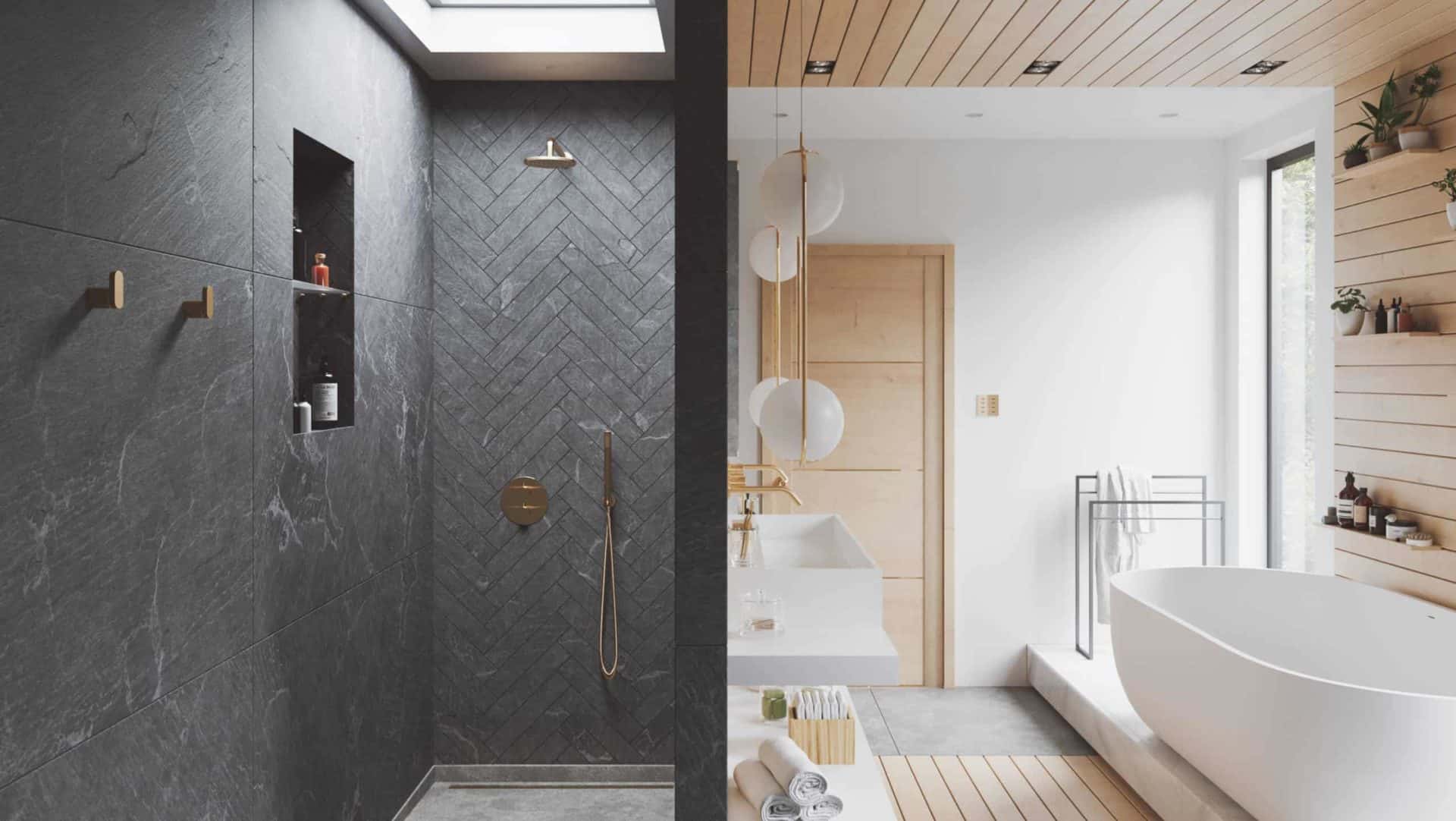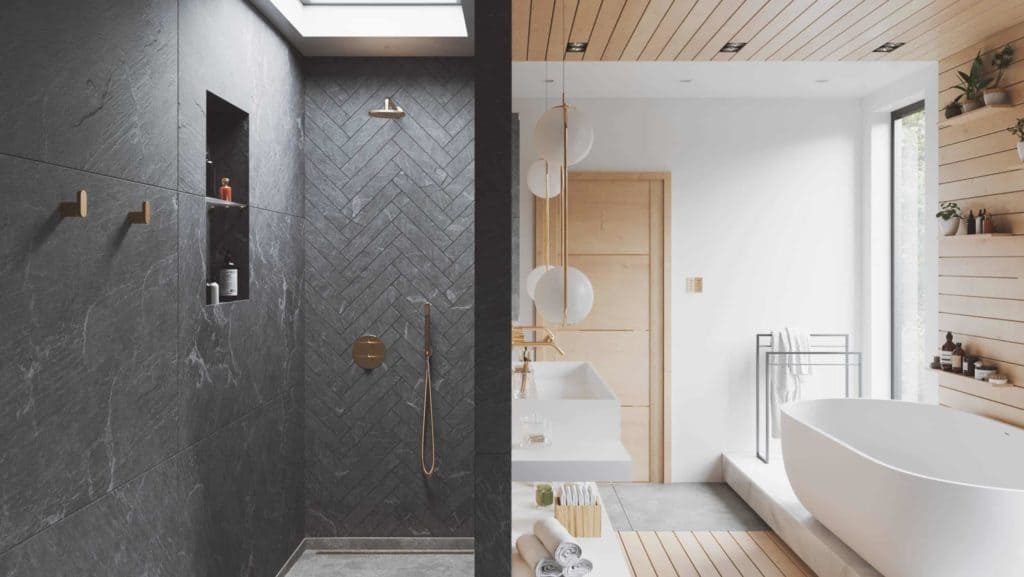 The same oversized tile is used throughout, making it cohesive and unitary from start to finish. Minimal fuss equals minimal mess, visually speaking. If clean and clear is your goal, this could be a great way to go for your bathroom redesign or renovation.
Unified Mosaic
Sometimes you want to create a single unified look throughout the entire bathroom. One eye-catching way to do this is to use one tile mosaic one the whole floor, the tub, and even on some of the walls.
This allows for a complete visual flow from one end to the other. Additionally, you can essentially turn the entire bathroom into your shower playground.
Indoor/Outdoor Garden Shower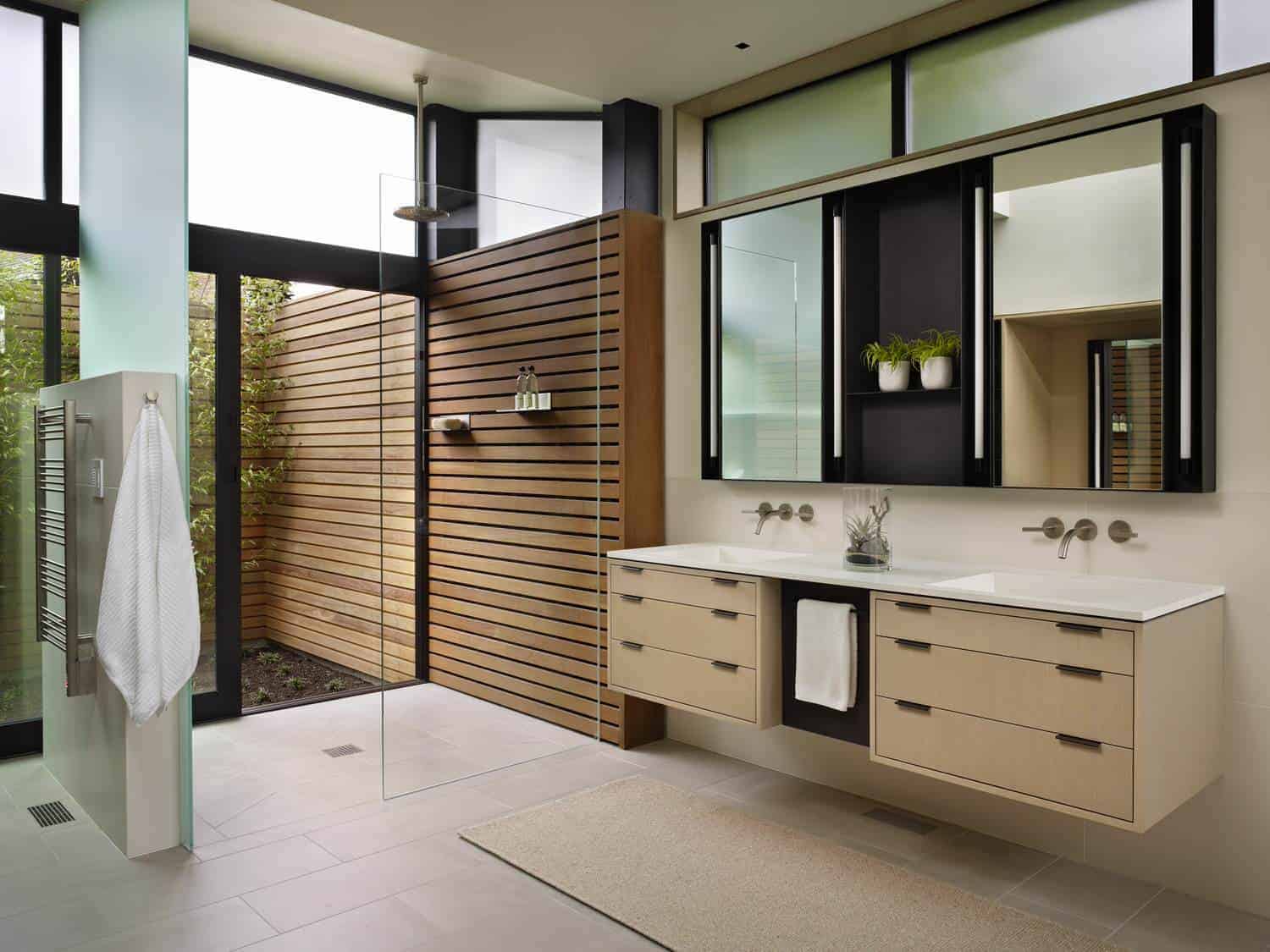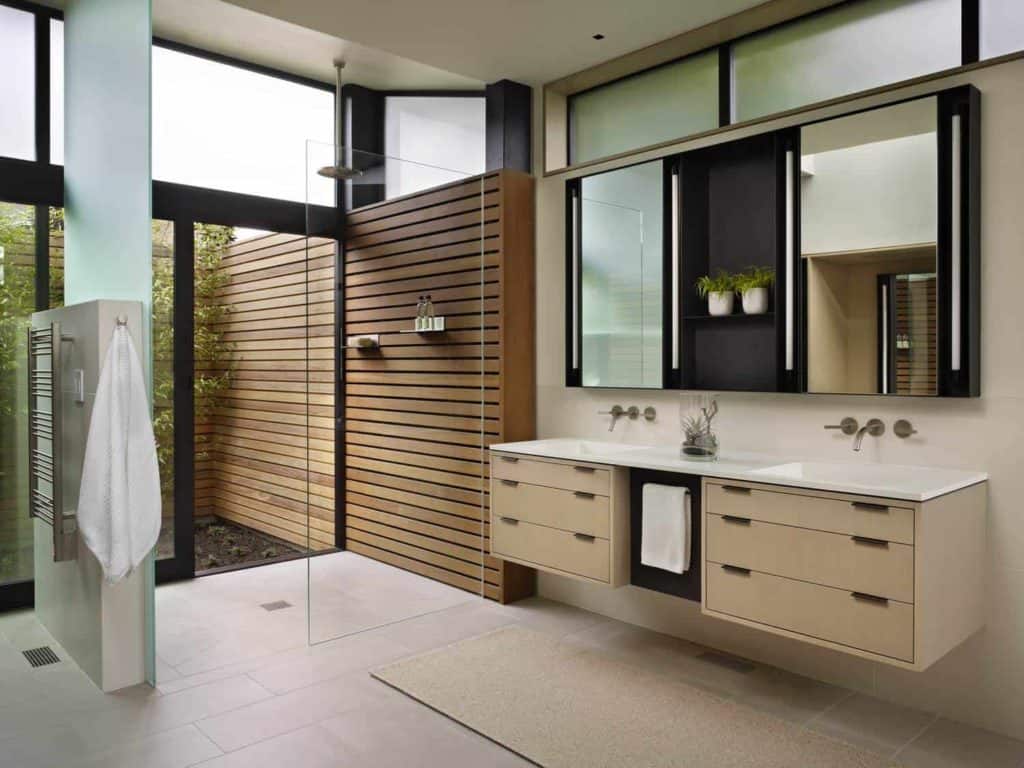 If you've got a green thumb or just enjoy the open air, put an indoor/outdoor garden shower on your ground floor. All you need is a single pane of glass to separate the shower area from the rest of the bathroom, and a sliding door to the outside.
There's nothing like bamboo or wooden slat walls to extend the feeling of the outdoors into the shower itself. Just one or two minimal shelves give you a little storage without detracting from the overall look and appeal of this space.
Urban Industrial Chic Shower Design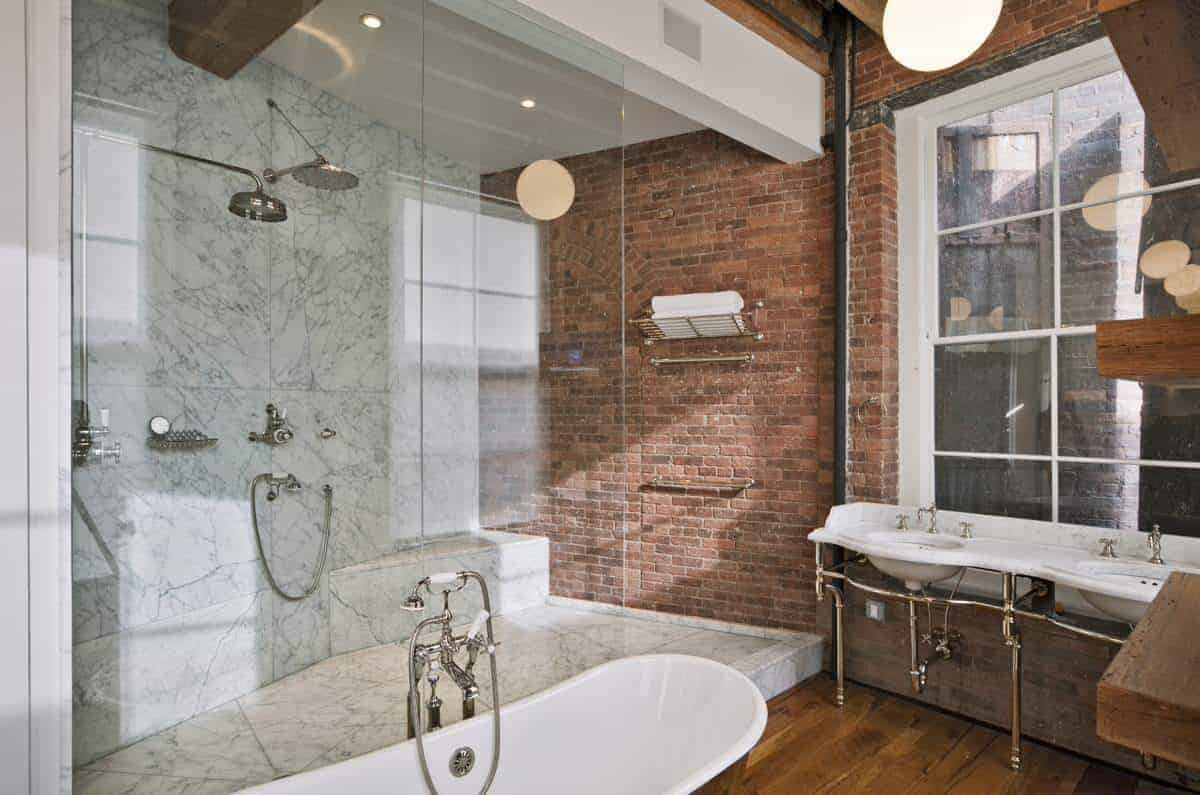 When you can't decide on one material…just use all of them! When executed well, multiple elements that easily stand alone can also work seamlessly together to build a unified urban look to your bathroom.
Repurposed brick, marble slab, and reclaimed barn wood are unique components that can form an industrial, urbanized look while remaining totally chic. The optical variety carries the eye from one surface to the next, where there's always something new to discover and enjoy.
Transitional Pebble Tile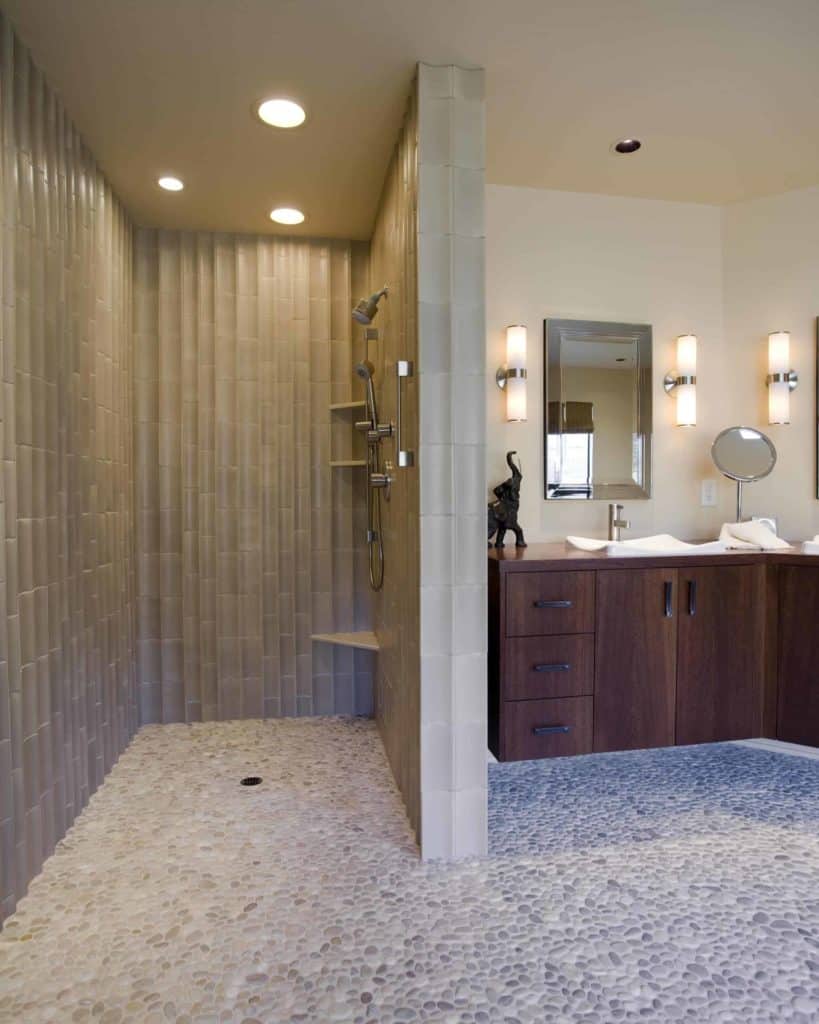 There's something about being to walk into the bathroom and directly into the shower area without opening a door or even crossing a threshold. It's open and airy and makes the space feel especially large, no matter how many square feet it might be.
Porcelain pebbled flooring works brilliantly in this floor plan, because it can be used for your general floorspace as well as the splash zone areas. Throw in a shaded vertical tile along the shower wall to emphasize the room's height and break up the visual tone of the space at the same time.
Metropolitan Doorless Tub and Shower Combo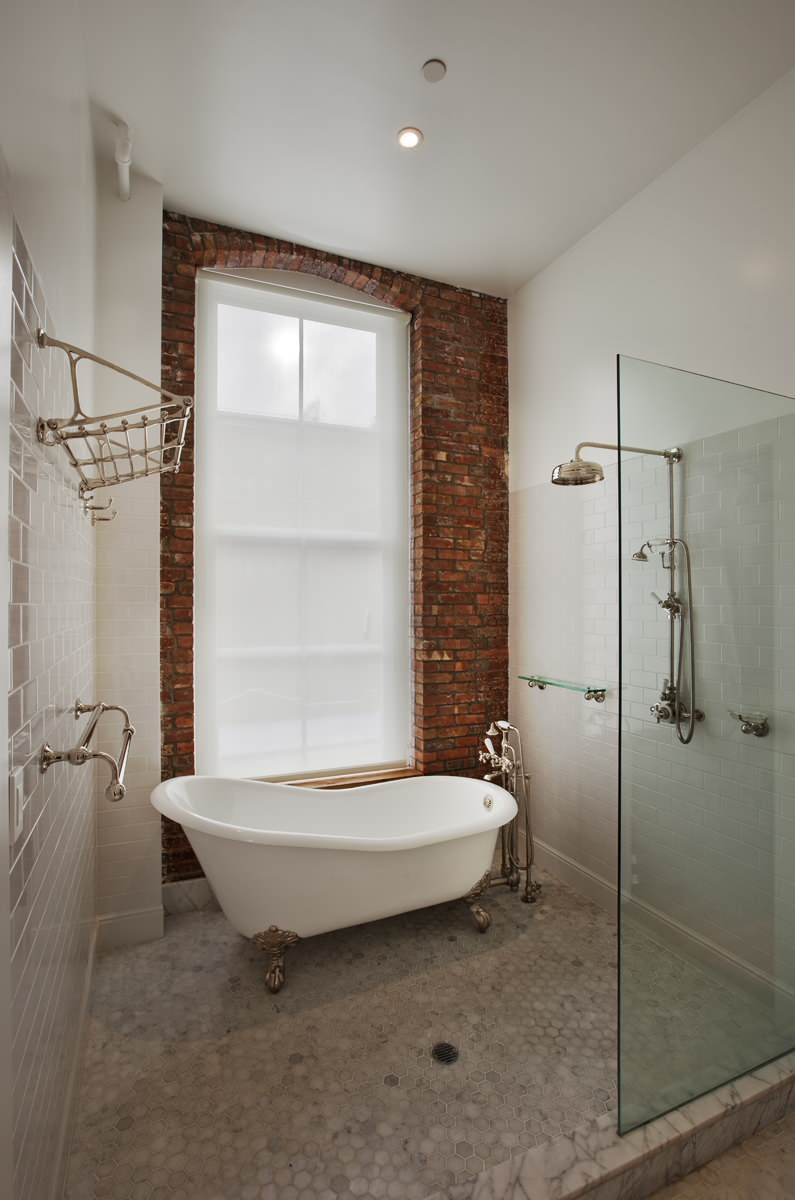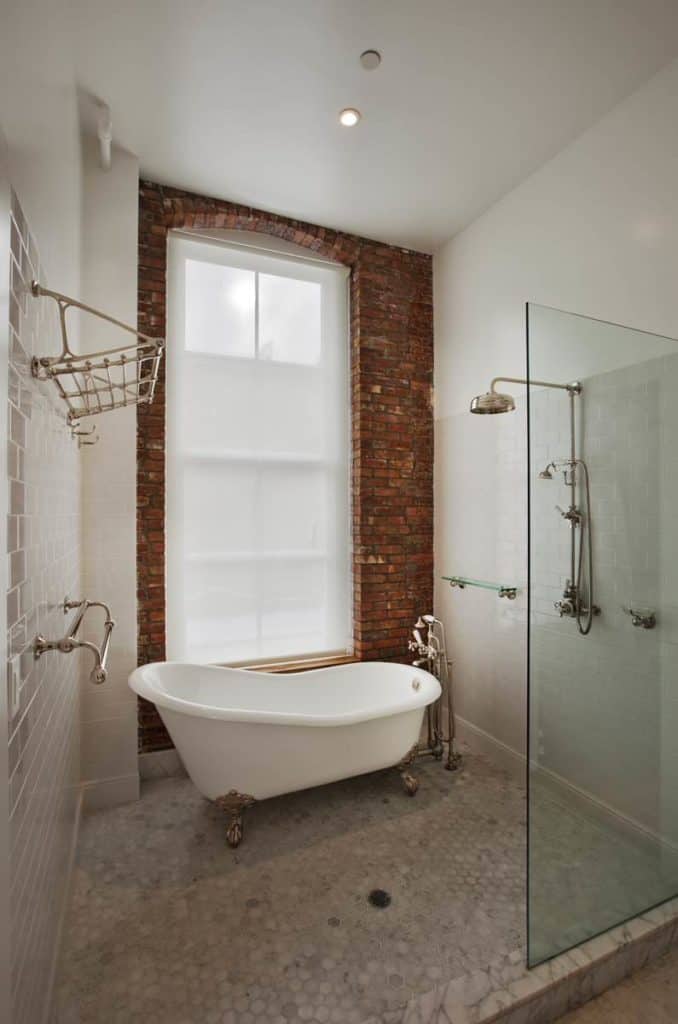 If you're just as likely to hop in the tub as take a shower, why no simply combine them both into the space physical location? Sure, you could put them in the same room, but a more striking choice places the bathtub inside the actual shower.
Not only will this unique layout get oohs and ahhs from your neighbors and friends, but you may find it quickly becoming the new norm in your social circle. Such is the ability of a novel floor plan that simplifies as much as it entices.
Chic Block Idea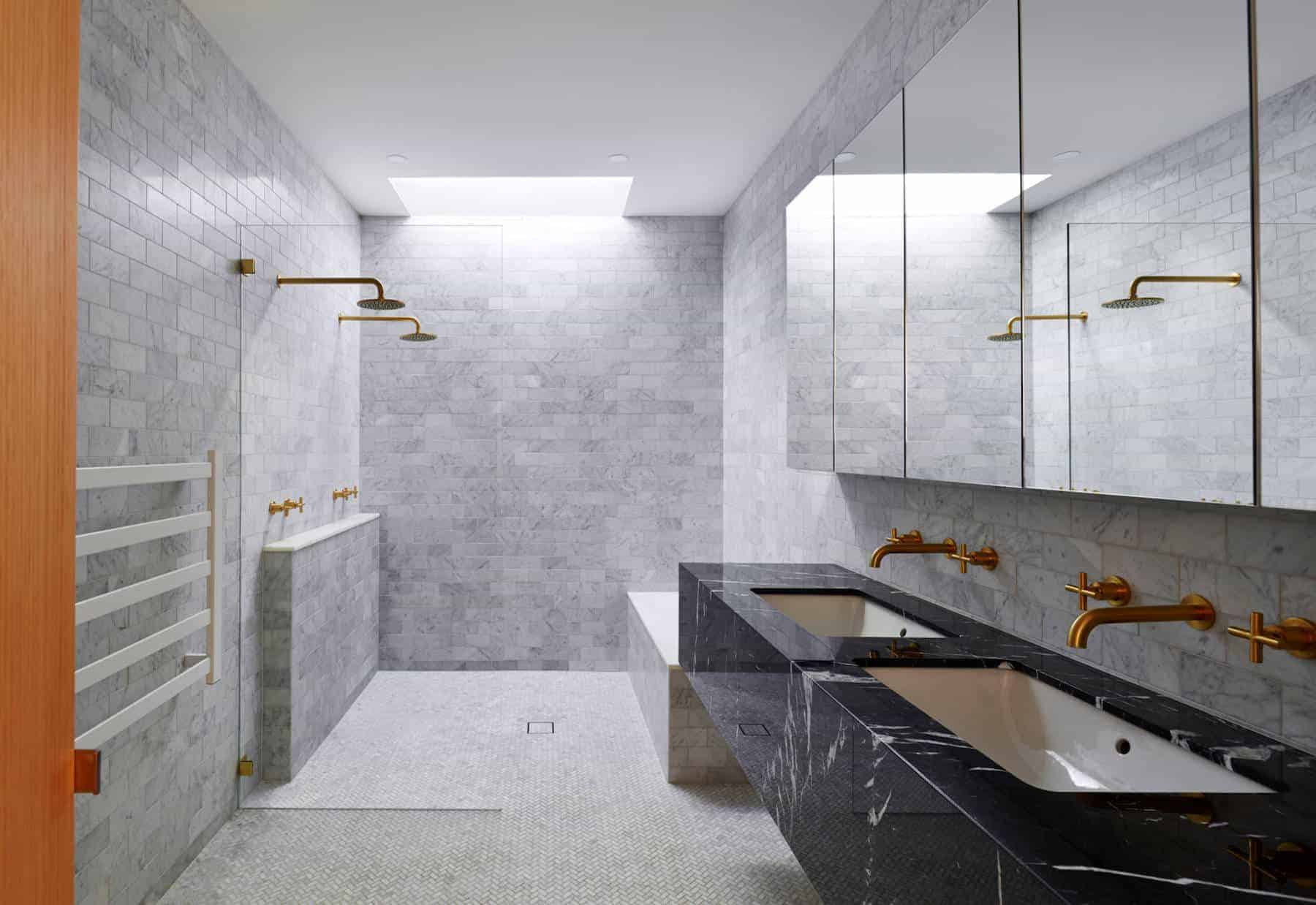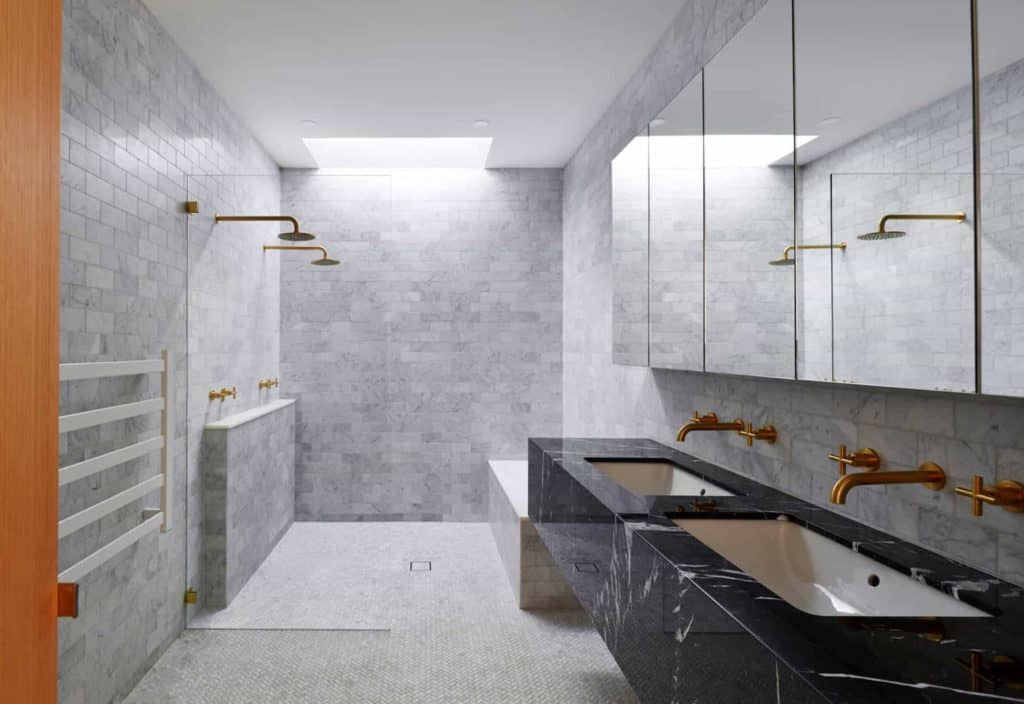 It's possible to be trendy and chic while also instilling a sort of austere vision in interior design. To achieve this look, combine two fashionable materials and utilize them laterally throughout the space.
The rich completeness of the marble complements the understated complexity of the subway tile perfectly. Neither one calls too much attention to itself, instead building a full picture of a bathroom with intentional style and luxurious dreams.
Marble on Marble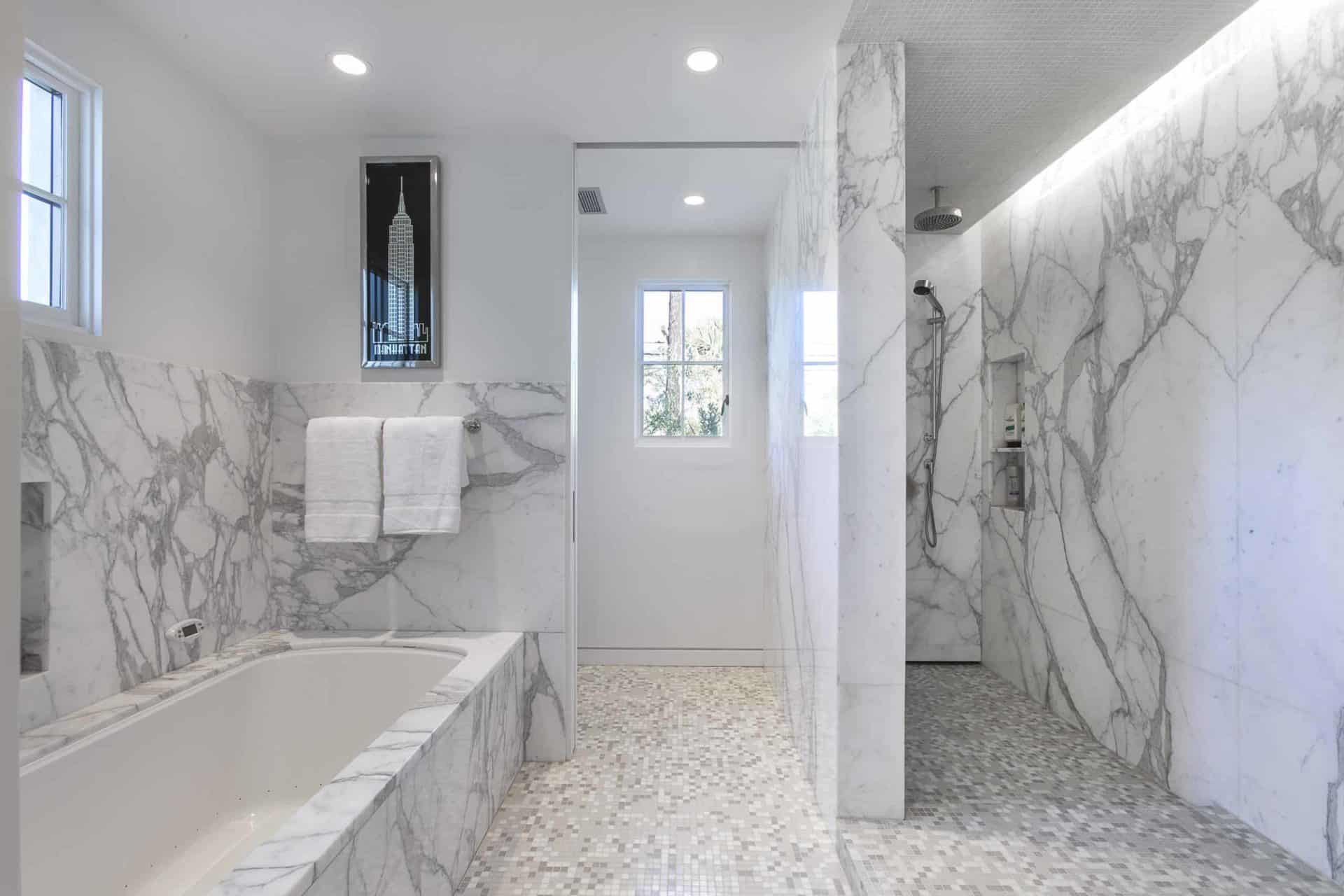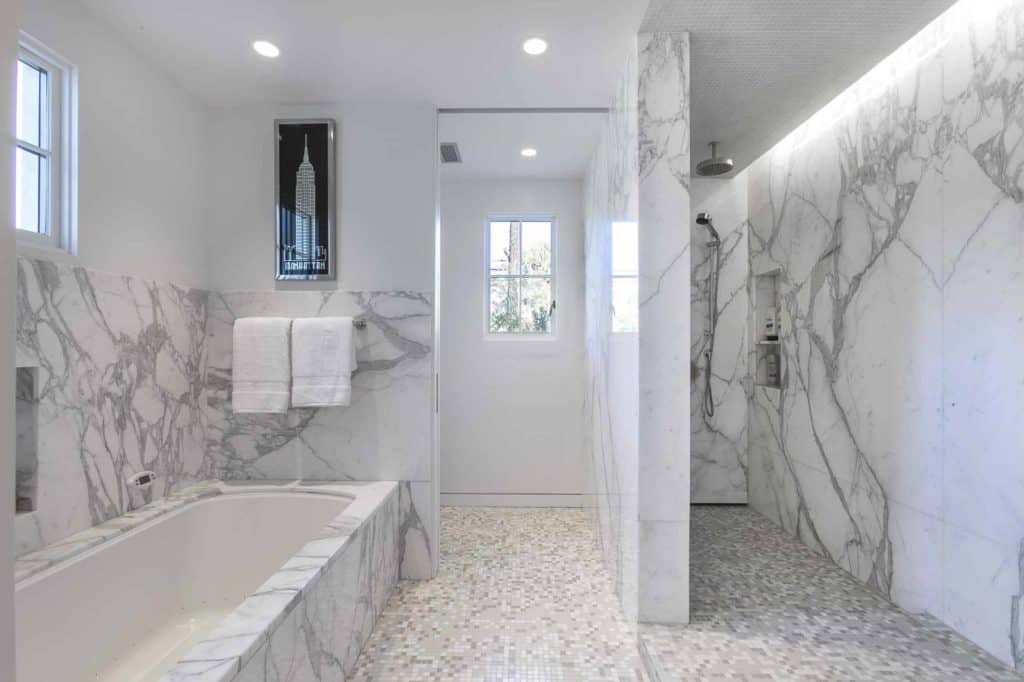 If you have a favorite material (especially one that looks great anywhere it goes), then you can use it as the focal point of the entire space. Take marble for instance: because of the glossy veneer and the variations in texture, even one color or finish can bring an entire character to the room.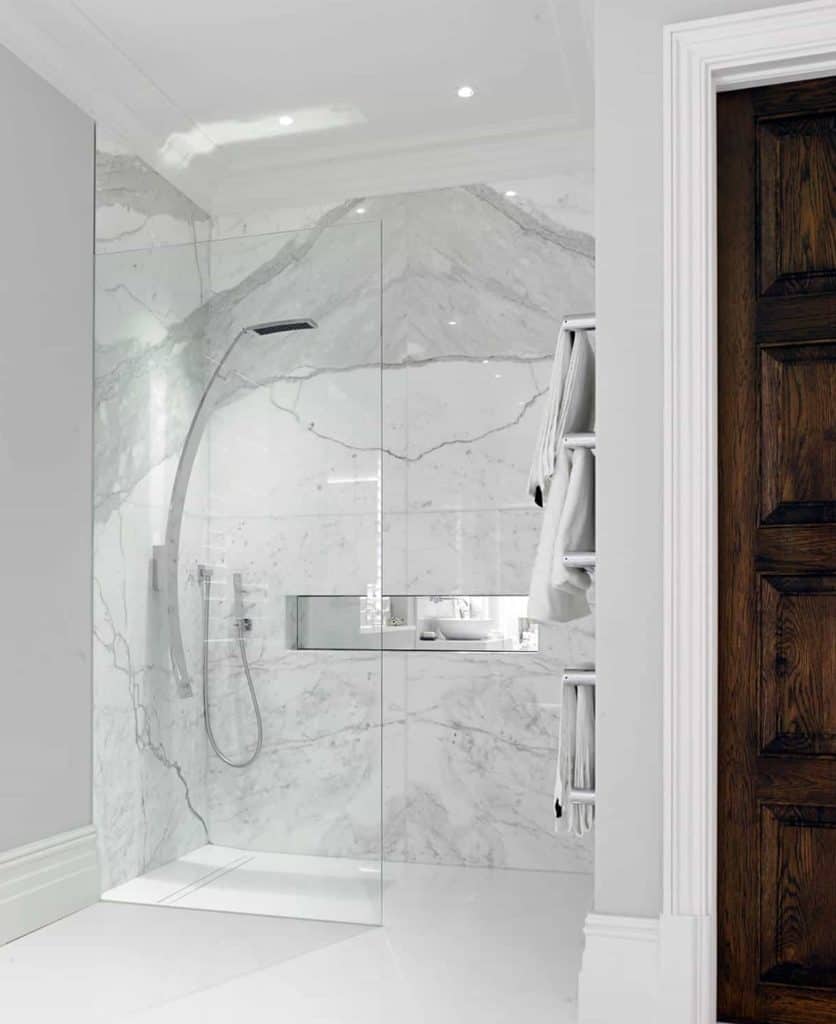 In other words, don't feel like you simply have to use multiple materials. If there's one you love, you can always find a way to implement it into the space without overdoing it — in truth, that's part of the fun of the design.
Compact Curvature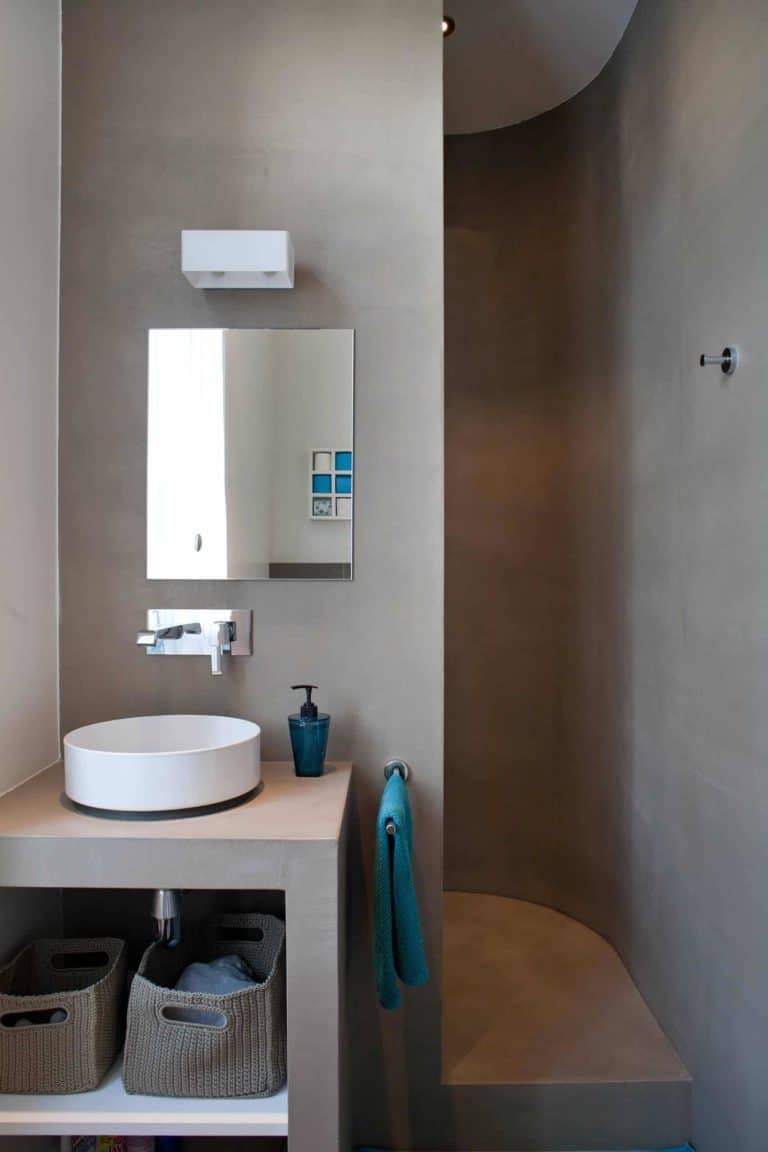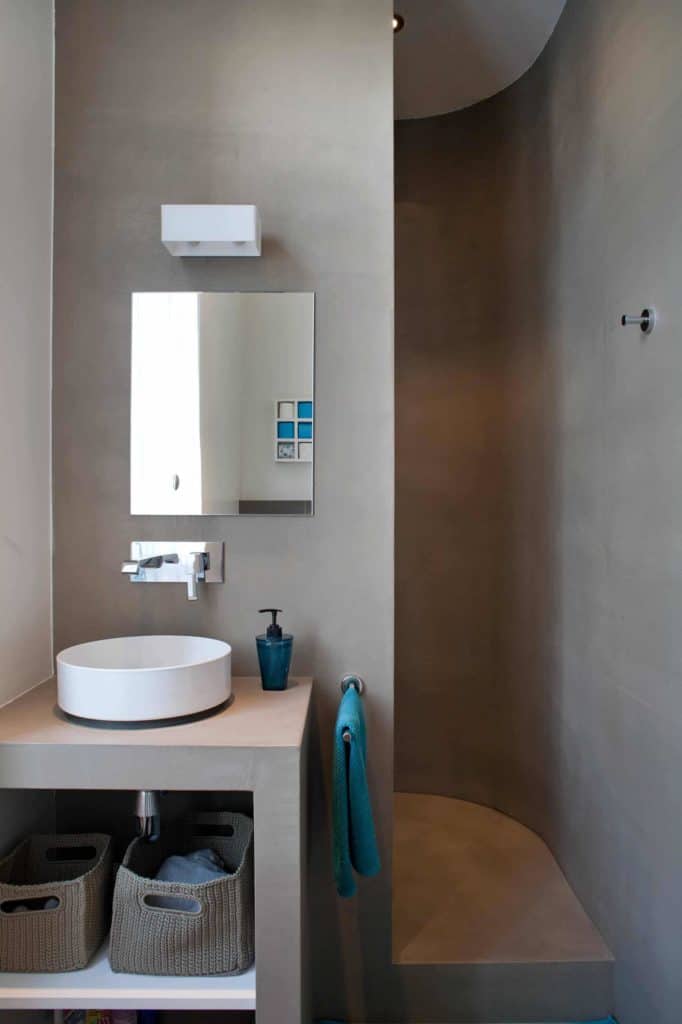 Small spaces often necessitate invention in the form of calculated design choices. You need to maximize the space but you also want to tailor its design to your tastes and personal sense of style, color, and texture.
With a compact environment, you can get away with things like curving the shower around the back of the vessel sink. People will think you're a genius (and let's be honest, it's completely true).
Spanish Tile Stucco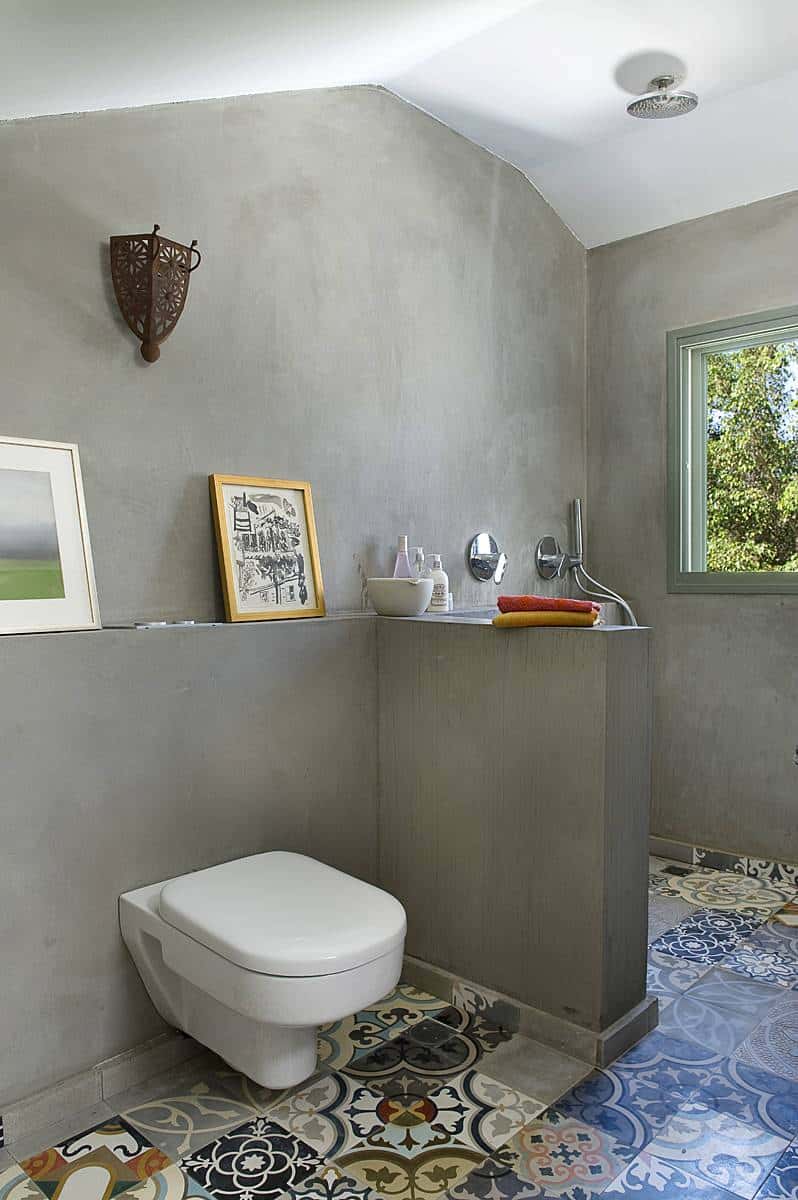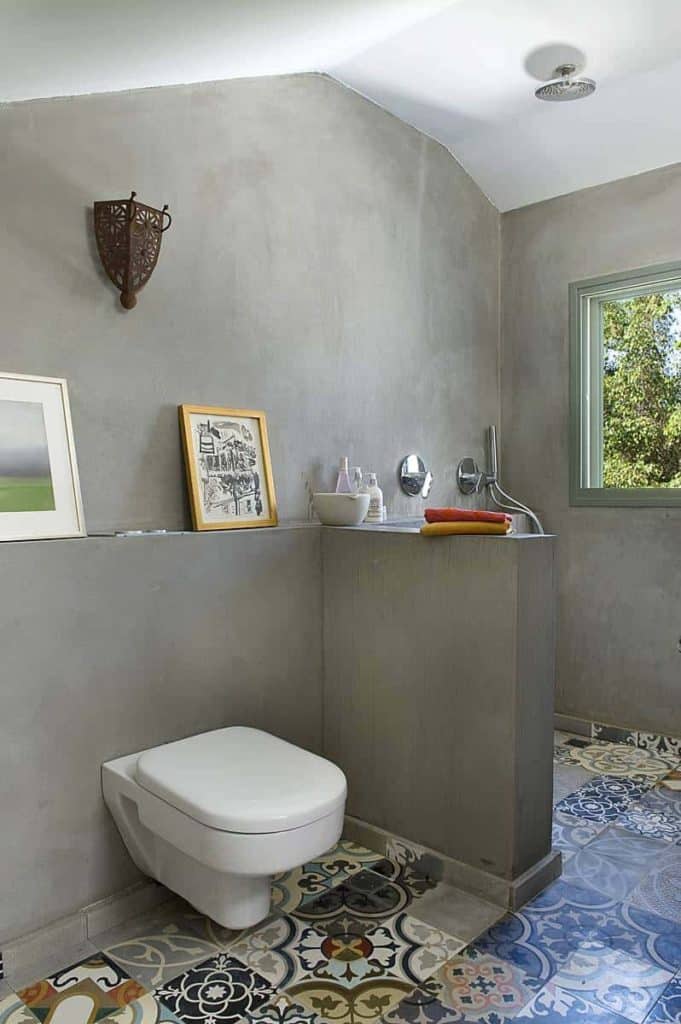 Another eye-catching option for those in need of a little flair in the bathroom is to incorporate unconventional styles in the tiling. Introducing components like Spanish tile into the floor (or walls, or both!) can contribute a ton of flavor with minimal fuss, clutter, or construction.
What's more, stucco walls with a matte finish make the flooring stand out, even more, allowing the room to have a living, breathing character that pops as soon as you walk into it. This can work in both larger or smaller bathroom spaces to make the shower area stand out from the crowd with ease.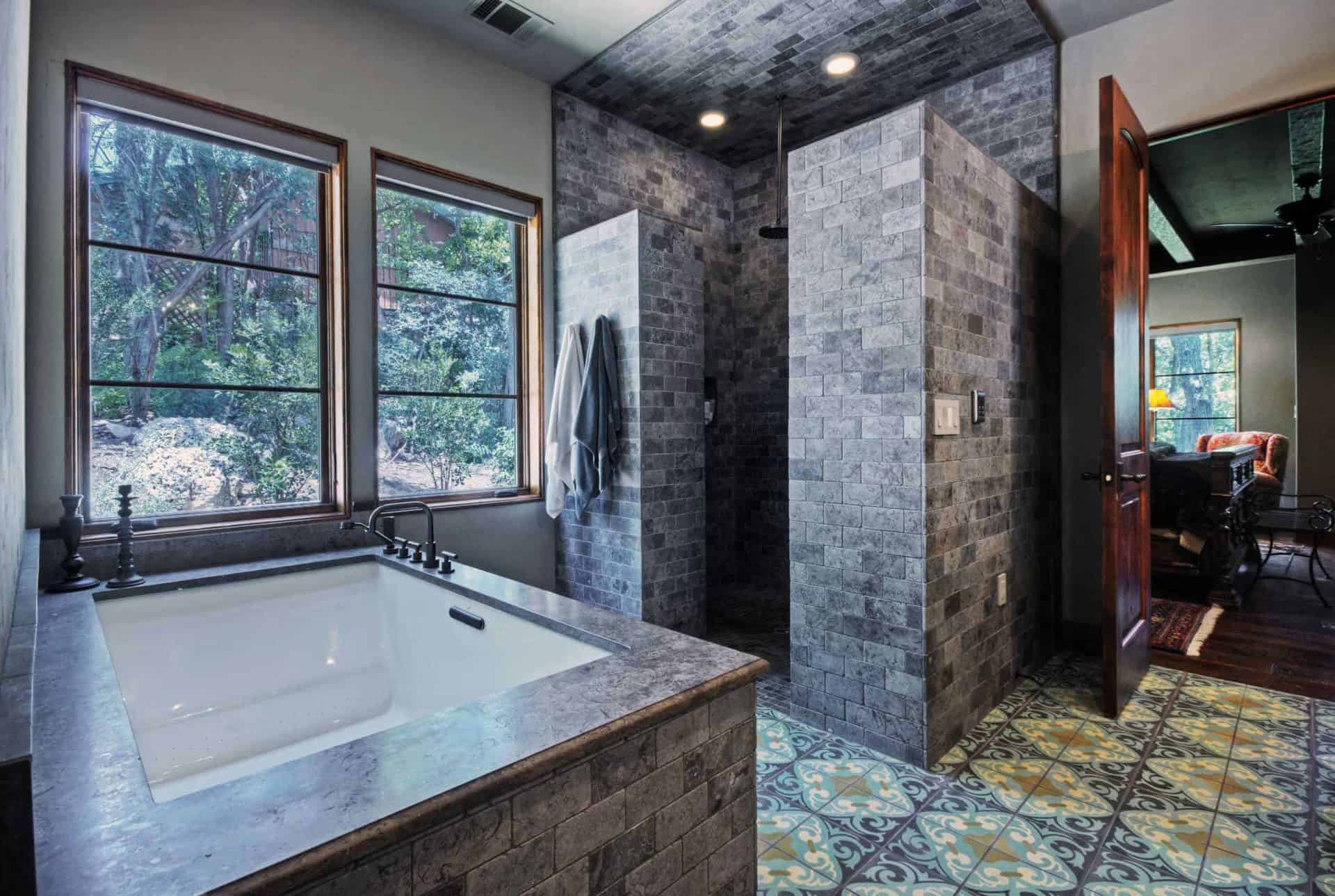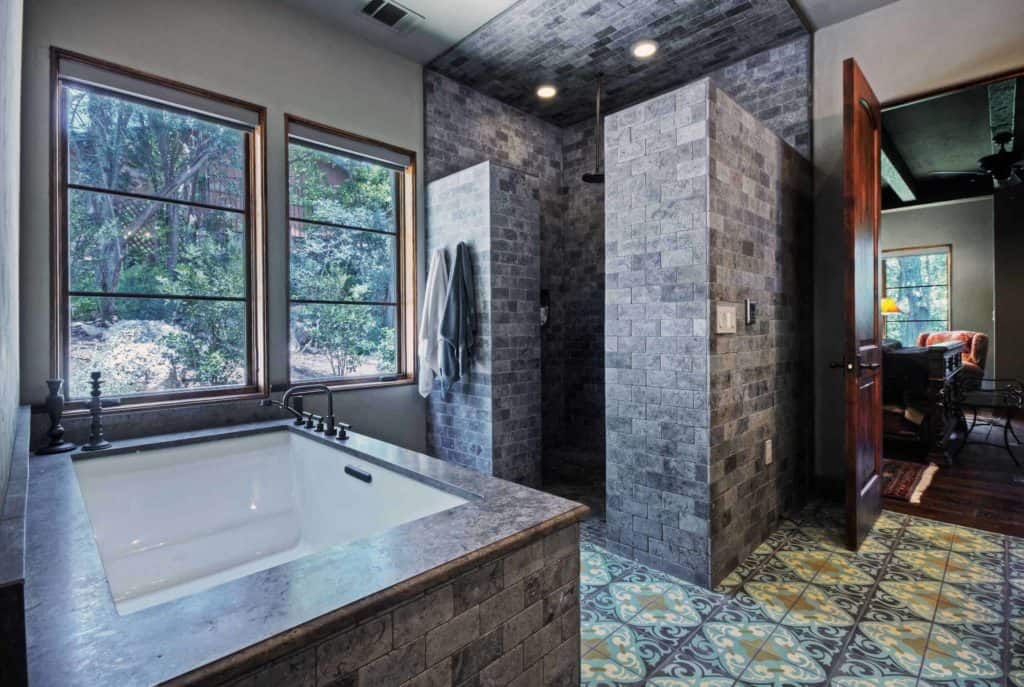 Pair two contrasting elements and colors to construct a bathroom that's full and complex. The Spanish tile on the floor instantly takes you out of the present day and into another time and place altogether.
At the same time, the dark brick along the walls that enclose the shower ultimately provides a comforting break from the world screaming for our attention at all times. Together, these elements combine to produce an incredible bathroom look that will stand the test of time.
Ultra-Minimal Concrete Open Shower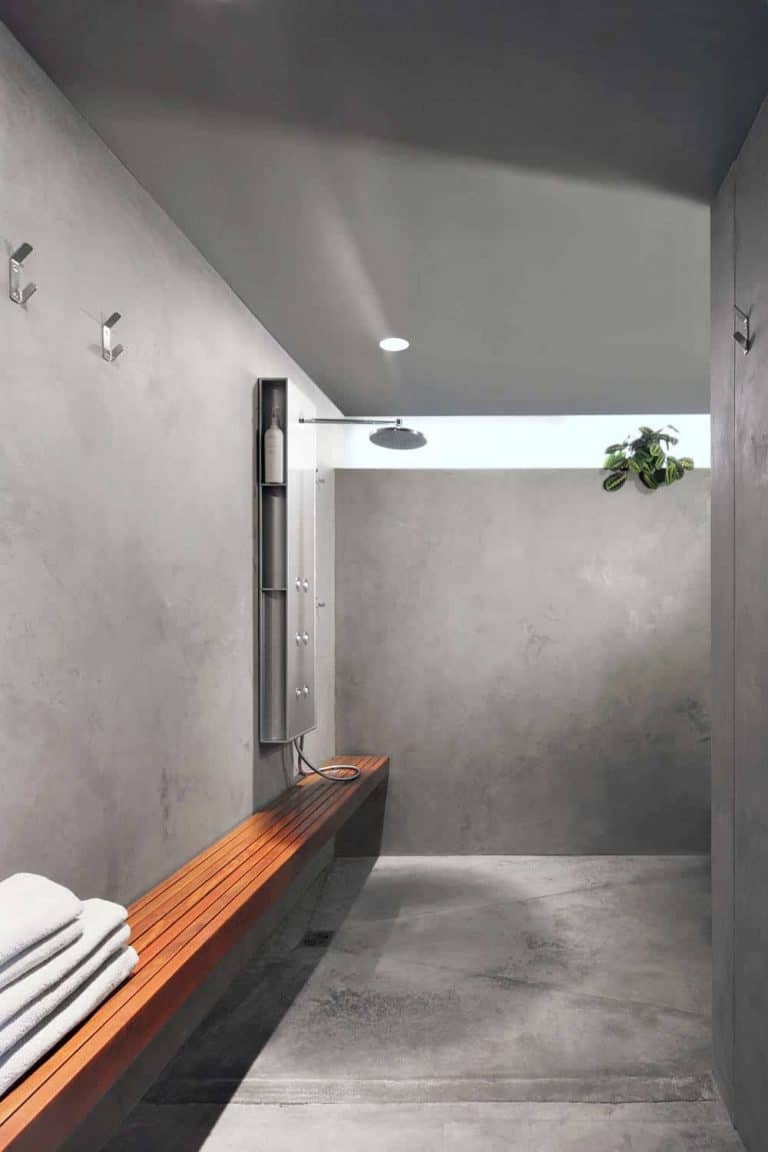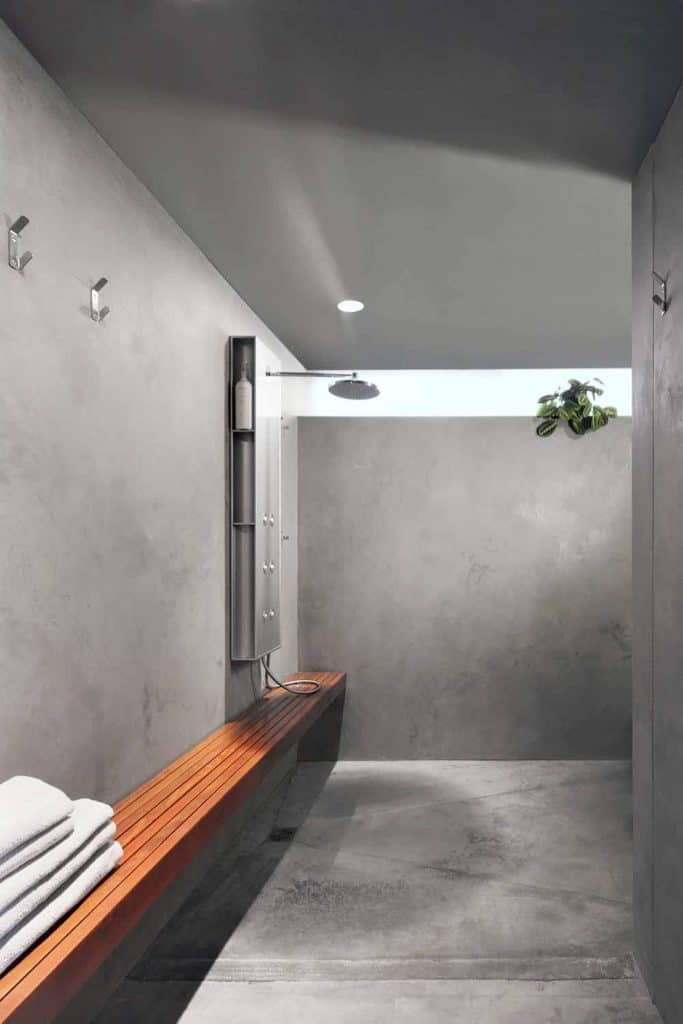 Sometimes, the fewest materials create the biggest splash (no pun intended) in the shower area. If you take something clean and austere like concrete or plaster, you can build an entire space out of that one material. Nothing says intentionality and hard-boiled style like a monochrome finish throughout the entire room.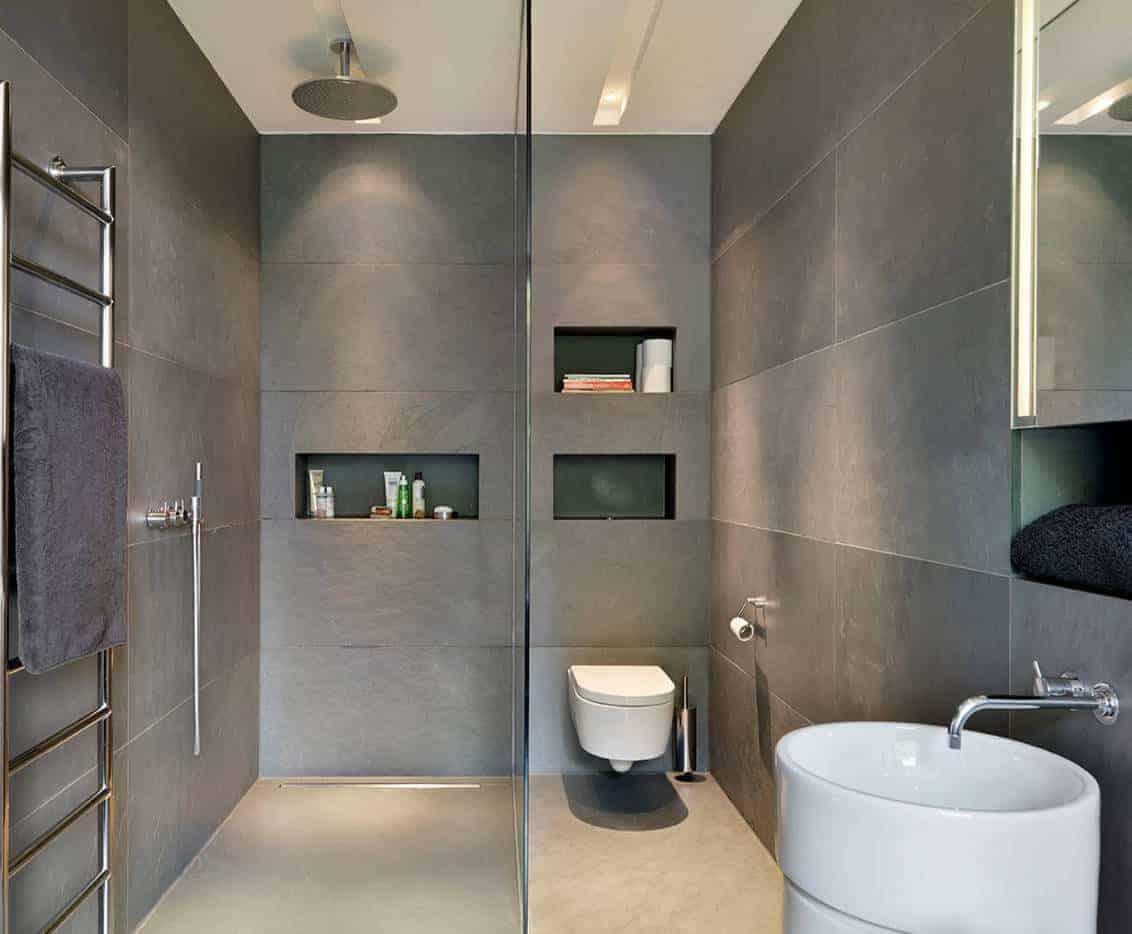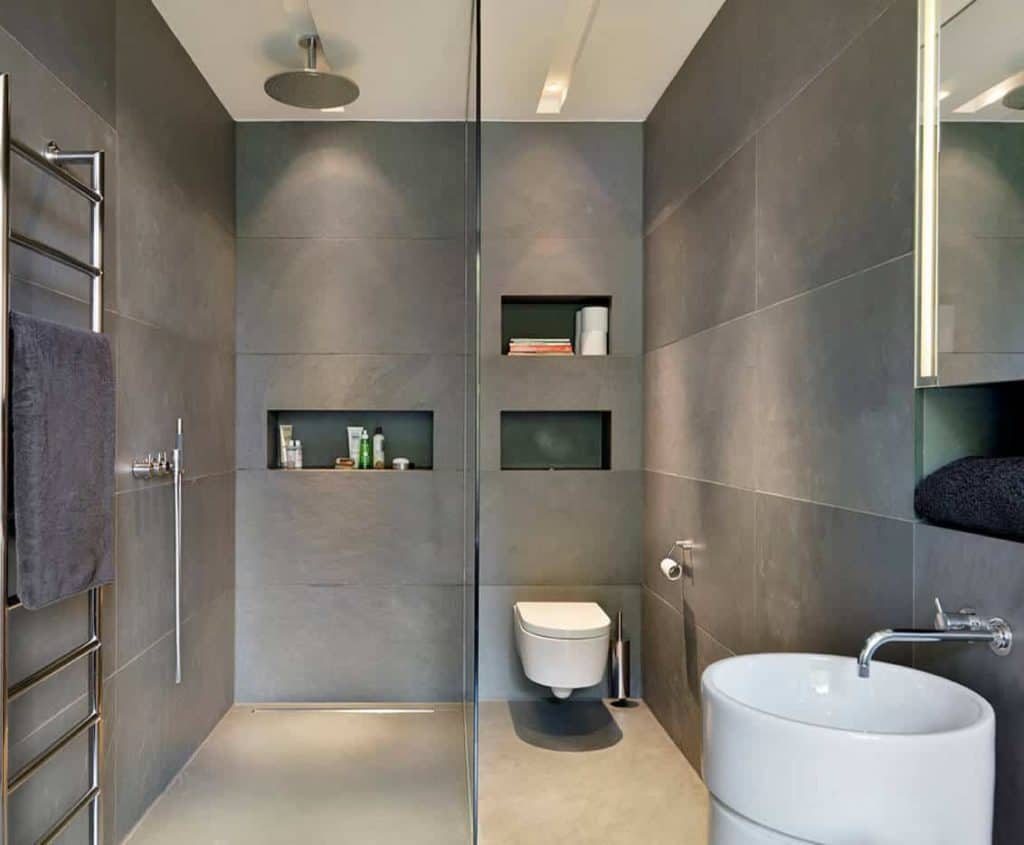 Throw in some wood (like the bench shown here) to engender a little variety and practicality at the same time. The brown from the woodgrain will transfix the eye and create an anchor point for the shower itself.
Shades of Beige Concept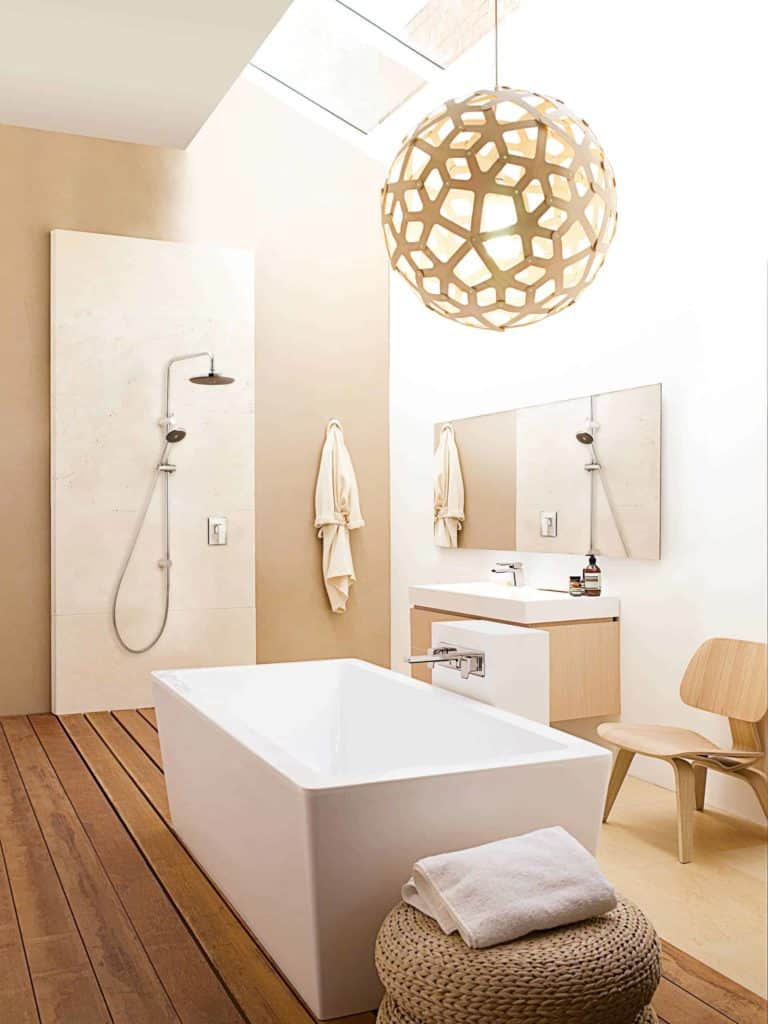 Some people want to bring the hotel life to their own home. If that sounds like you, then here's an option you'll want to consider: modern, clean lines, and varied shades of beige and white. The effect is homey and upscale at the same time, a place both lived-in and immaculately designed by hand.
With the elevated wood slats and the hanging globe light, you can subtly fabricate the feeling of an entirely separate space without any additional doors or walls. The shower and the bathtub coexist side-by-side in this space, unifying the bathing experience from start to finish in the lap of luxury.
Omni-tile Open Shower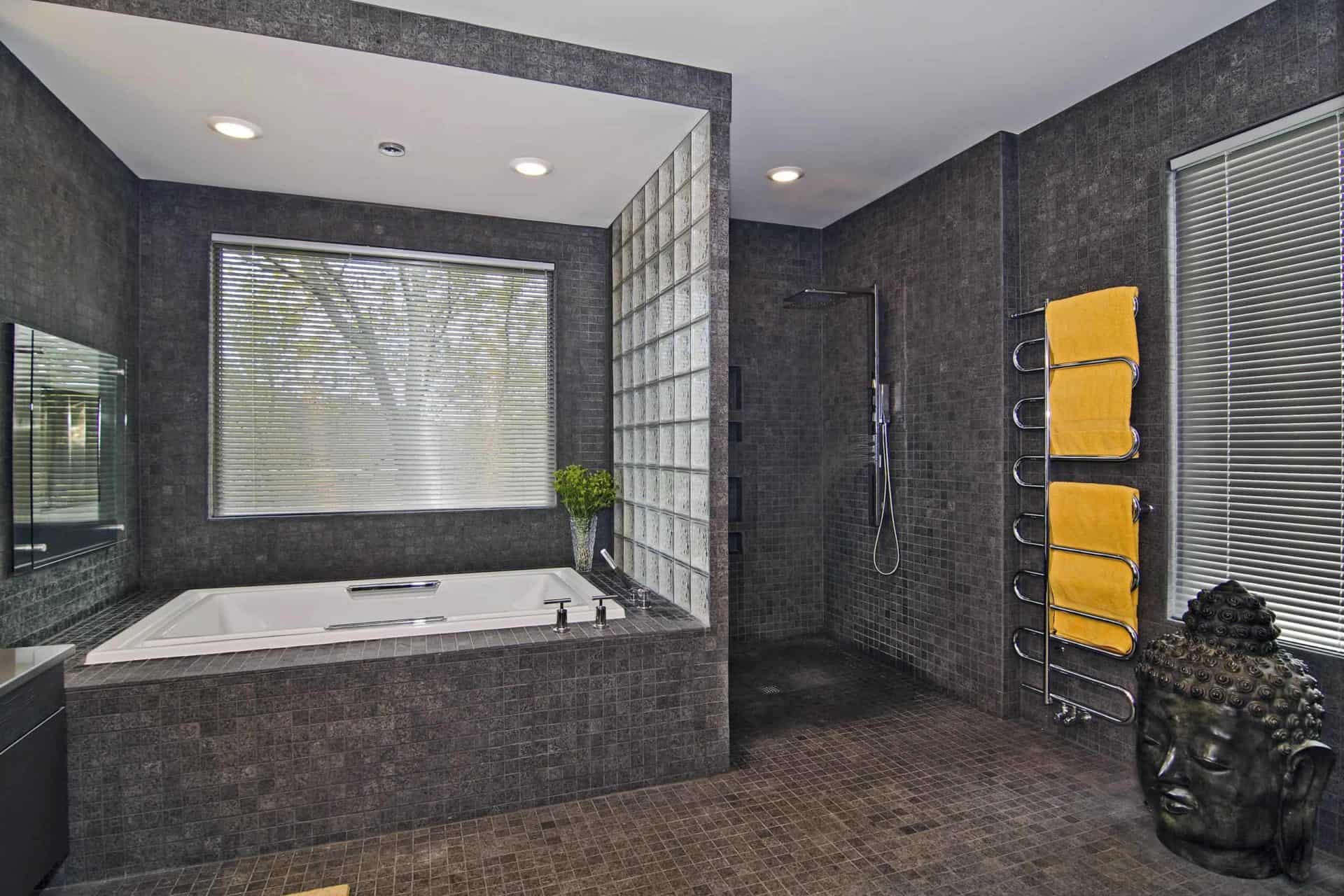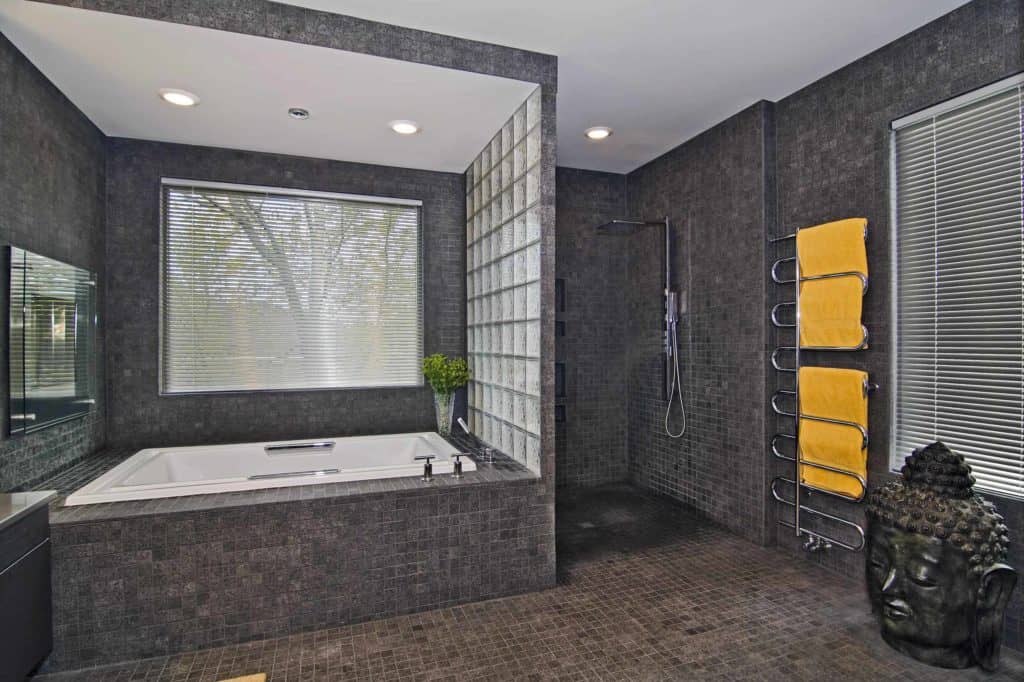 There's rarely a thing as too much tile. The beauty of this component is that you can literally put it just about anywhere, and it will work perfectly. Consider this open shower design option, in which dark tiling lines the floors and walls, right up to the ceiling. It's a lot of tile, to be sure, but it isn't remotely too much.
The magic of tiling — especially in the bathroom area — is that it works as both a feature or an accent, often doing both at the same exact time. Here, nearly every surface has a facade of tile, but the little pieces throughout — yellow towels, fogged glass windows, a bronze figure — break up the monotony beautifully without any commotion.Oversized Grey Tile
In small spaces, big and bold design choices can produce a feeling of large-ness throughout (see: Which Small Bathroom Tile Size Will Make a Bathroom Feel Bigger?), even when space is at a high premium. Using oversized tiles is an easy way to elongate the sense of area without doing too much or overworking the space.
Add to this by installing a single glass panel to provide separation for the shower area without visually blocking off that portion of the room. This also acts to make the space feel even bigger and contribute an expansive sense of openness.
Rustic Industrial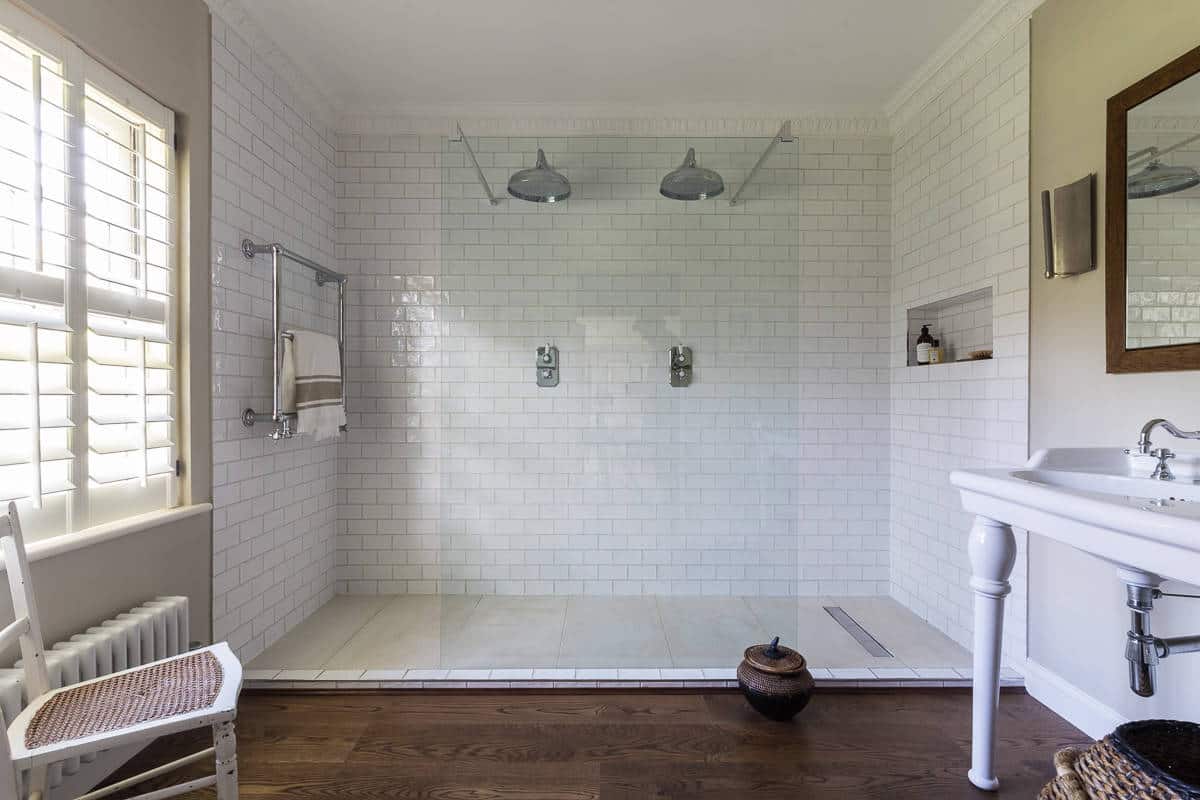 There's a reason that Chip and Joanna Gaines are so popular. Their designs resonate with millions of people. Take a little bit of the rustic life and infuse it with industrial elements, and the result is absolutely stunning.
That's what we have here. White subway tile and dual oversized shower heads complement one another with a pristine grace that speaks of two worlds fusing into one. If you can't get enough of the country life, but also love the industrial aspects of design, then this style may just be the perfect one for you.
Geometric Shower Tile With Bronze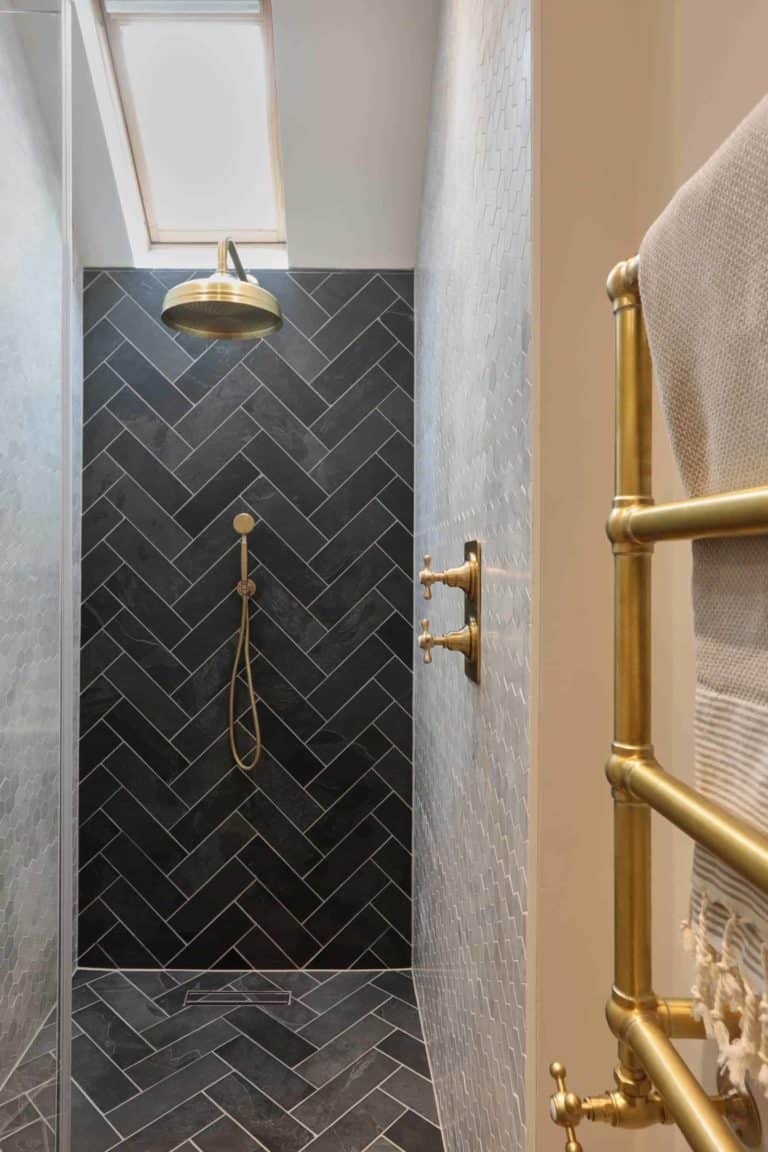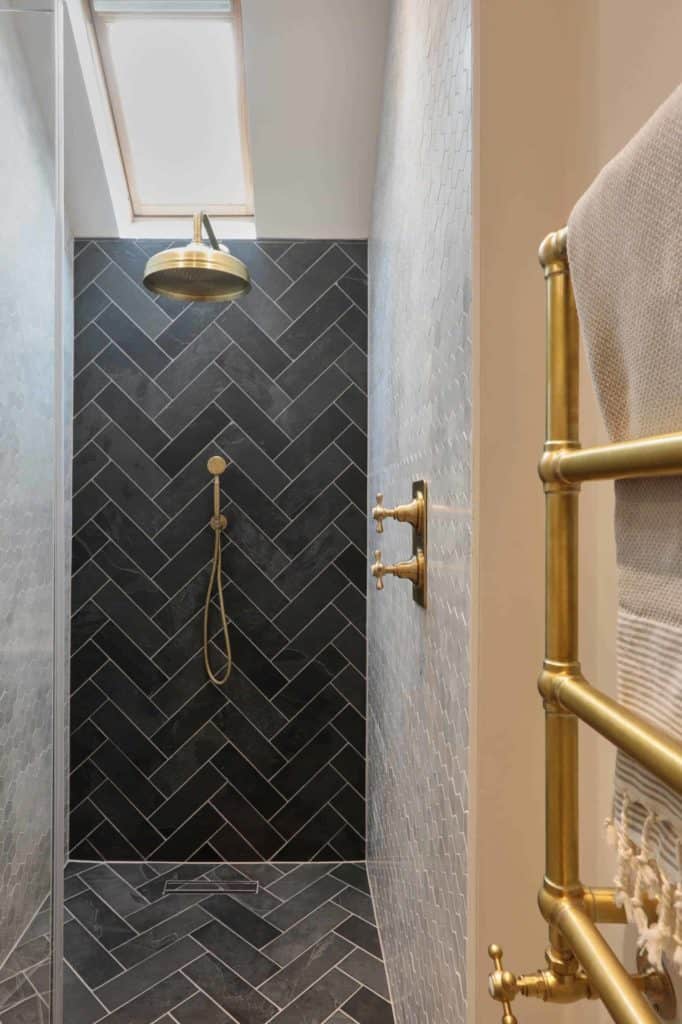 If the title of this design sounds like a work of art, that's because it is. Modern interior decorating has the luxury of adding visual elements and style that blend into an artistic whole that's both functional and aesthetically pleasing to the eye.
With the zigzag of geometric tiling elements along the floor and one wall, even the tiniest hint of bronze will electrify the space. Some might say bronze had its heyday back in the eighties, but this design proves that notion dead wrong. Add some geometry and glitz to your bathroom to make the room unforgettable.
Earthy Vertical Tiles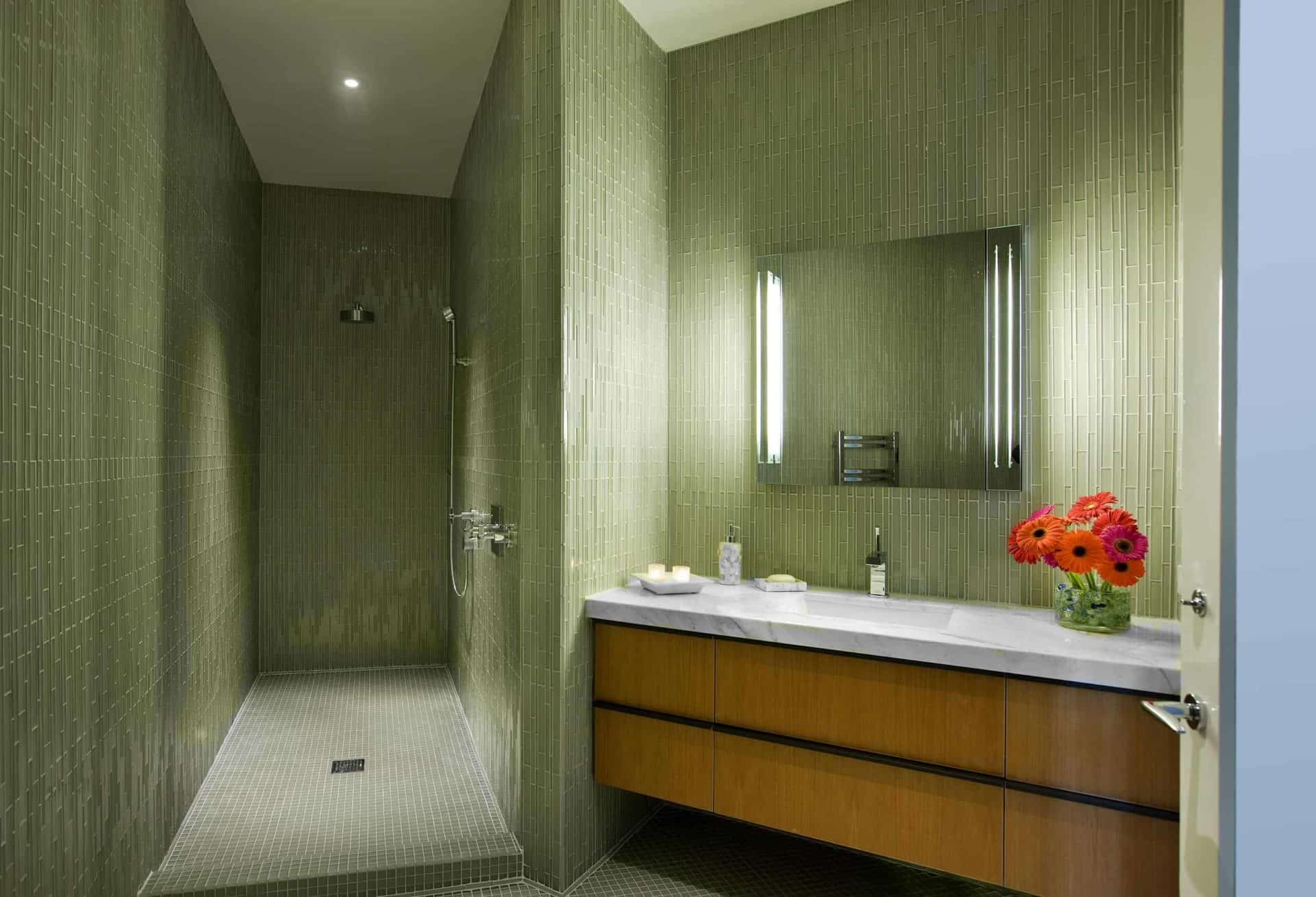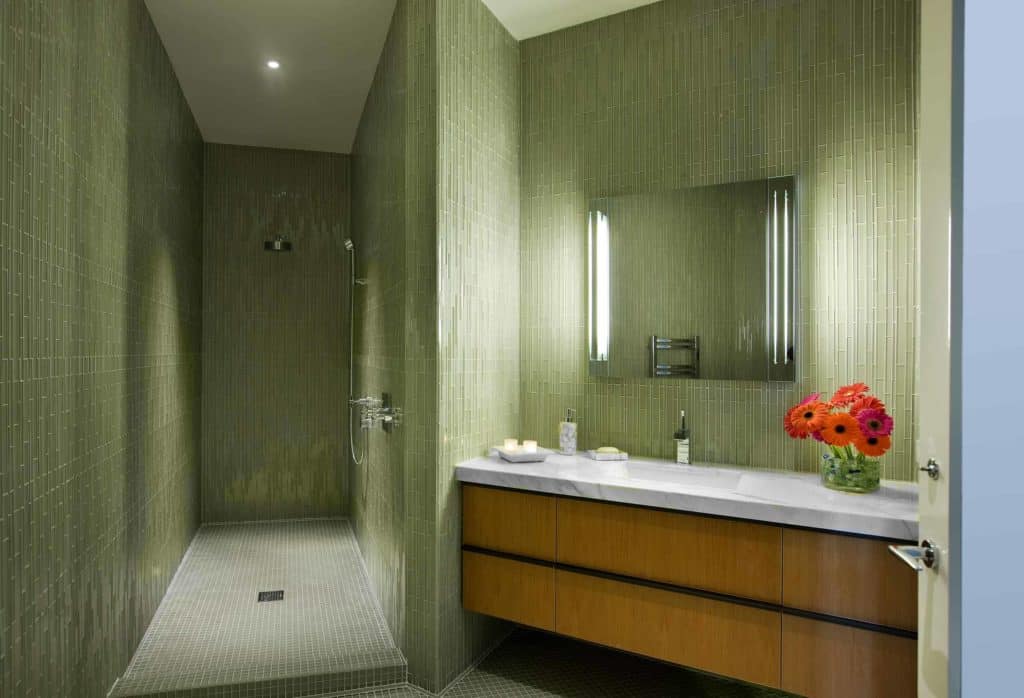 You can bring the outdoors inside with ease by implementing a few key elements into your bathroom design. For one, vertical tiles elongate the height of the space, calling to mind the sky. At the same time, the use of earthy tones such as varying shades of green and a hint of brown immediately instill a sense of the world outside your four walls.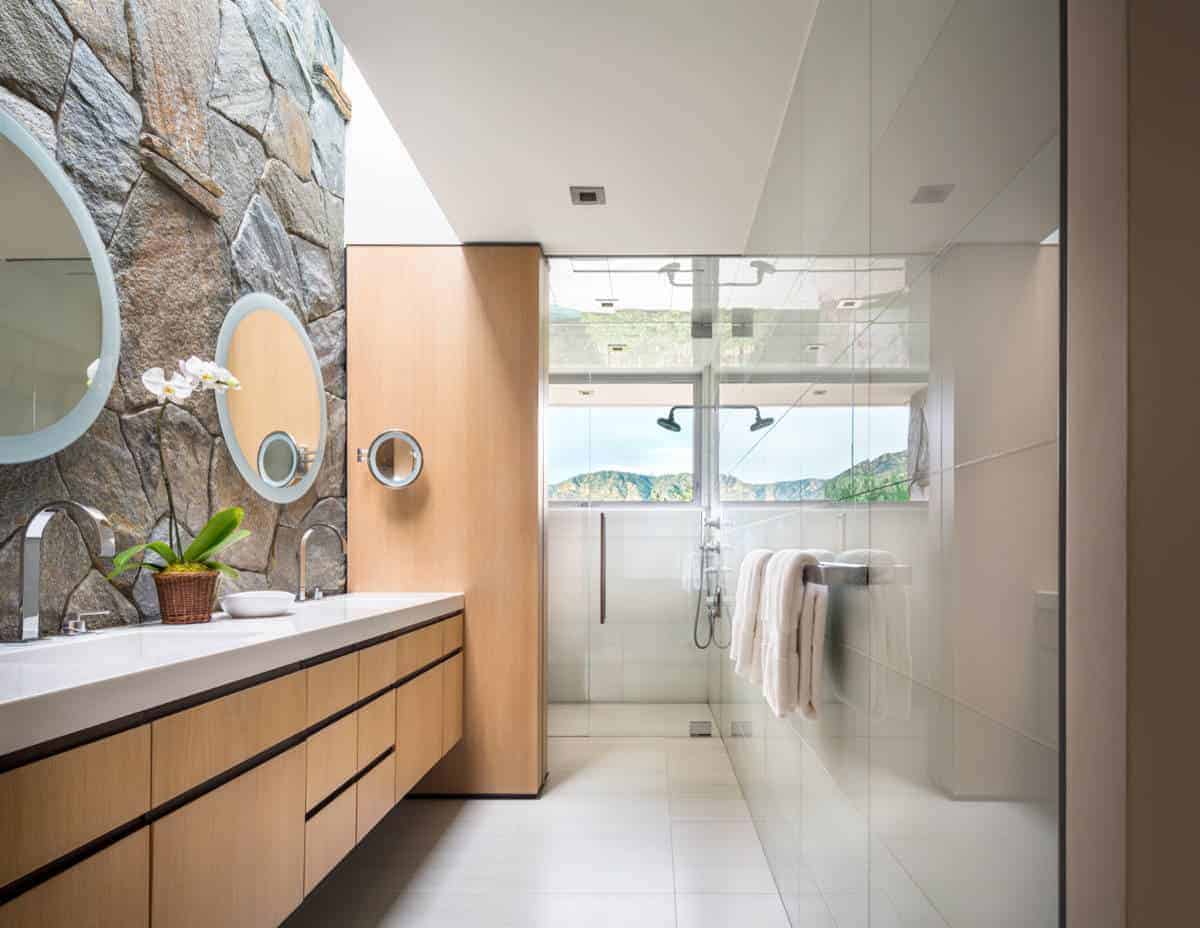 Finally, choose shower fixtures that blend into the surrounding tile of the wall to complete the earthy yet refined picture. With these straightforward components, your shower will become a transporting, outdoorsy oasis.
---
Whether you're into concrete or marble slab, subway or Spanish tile, modern or traditional fixtures, the walk-in shower can accommodate all of these tastes and more. Mix two or more of these looks to make the style completely your own and giving your space a unique and beautiful look year-round.
Read more about Doorless Showers: