Looking for Tips & Ideas for choosing window treatments for sliding glass doors? You can choose window treatments for sliding glass doors such as curtains, blinds, shades, shutters, cellular shades, and even specialty treatments. But what will look the best in your home?
Sliding glass doors are an aesthetically pleasing way to bring lots of natural light into a room. They are also a highly efficient way to gain access to an outdoor area.
Yet, as wonderful as sliding glass doors are, finding sliding door window treatments that don't detract from their usefulness can be quite a challenge.
After all, what good are sliding door window treatments if they limit the amount of sunlight that gets into your room or makes it difficult to actually use the door?
Luckily, there are some great window treatment options available.
Types of Sliding Door Window Treatments
Sliding glass doors offer abundant natural light and easy access to the outside. These perks create a bit of a double-edged sword when it comes to window treatments for sliding doors. Your window treatments should not negate the functions of your sliding doors, meaning you don't want to block out too much light and you don't want to obstruct your ease of access through the door.
Luckily, there are several options of window treatments you choose once you establish your specific needs and wants.
Vertical Sliding Glass Door Blinds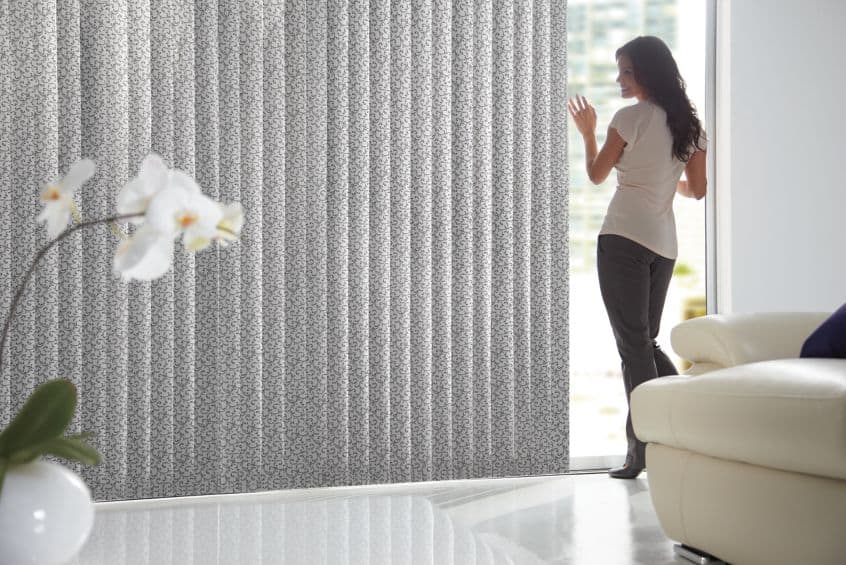 Sliding door blinds are the most common window treatments and provide the best solution for privacy concerns in a home where sliding doors and French doors are used. Sliding doors are attractive and efficient, but they need to come with the proper kind of treatment to preserve privacy and filter sunlight.
But choosing the wrong kind of sliding glass door blinds can ruin the beauty and efficiency of a sliding door. So in order to keep this from happening, you need to know the different choices you have when it comes to sliding door blinds. Sometimes having tons of choices can be overwhelming, but it is a blessing in this case if you know what options you have.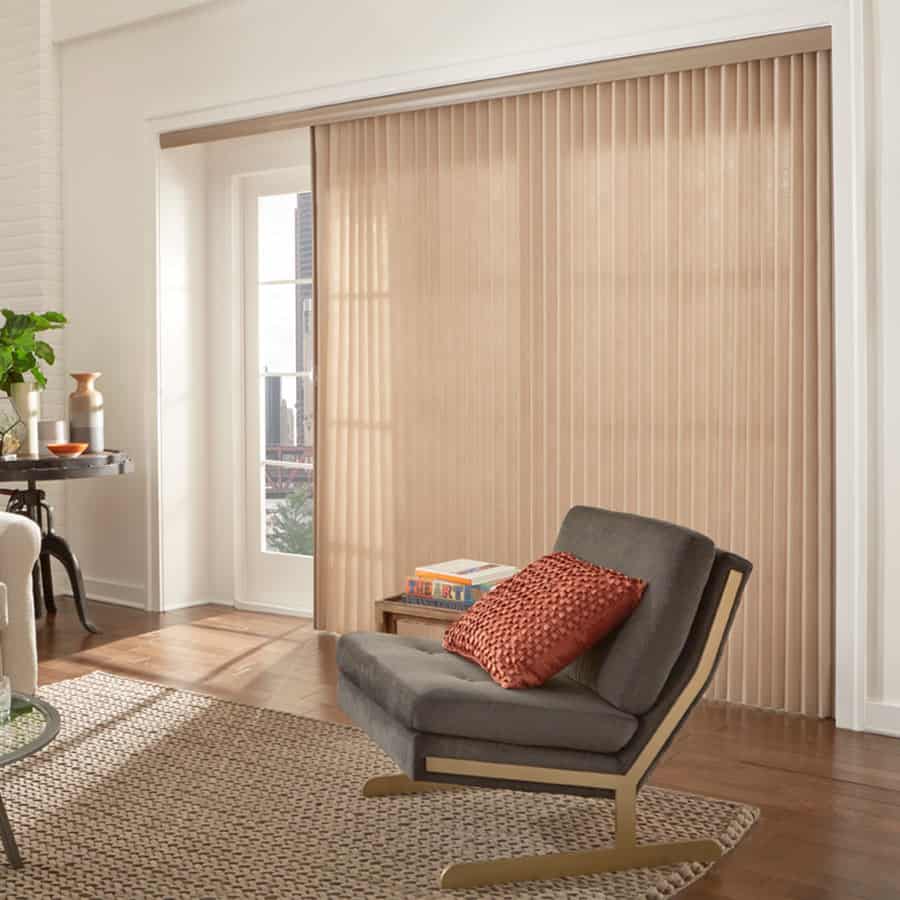 Blinds are commonly made of PVC plastic, Faux Wood, Real, Wood, and Fabric. They are constructed using slats or vanes that can be adjusted using a cord, a wand, or a remote control. Their slats slightly overlap, making the blinds and shades very easily adjustable. Because they are easily adjustable, sliding glass door blinds can provide privacy whenever you want it. You can also control the amount of light that can get in your home.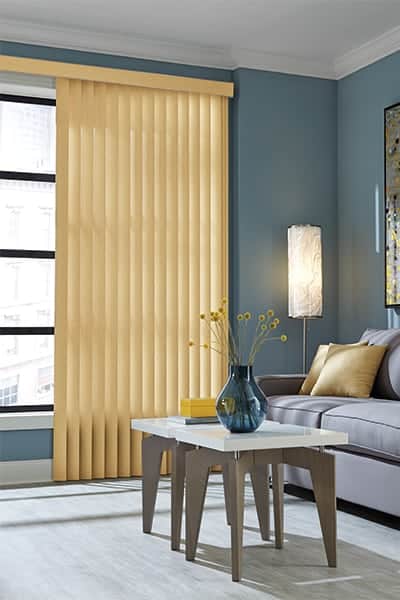 They lie flat against the sliding doors in the closed position. And in the open position, they can be arranged to let in as much or as little light as you desire. Plus, when the slats are drawn completely open, they fit neatly against each other out of the way of your indoors to outdoors travels.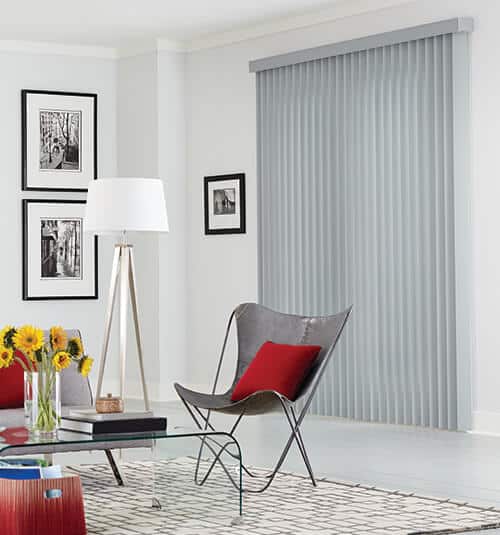 Slat Sizes
When it comes to sliding door blinds, the most important decision you need to make is choosing the size of the slats. They come in 1-inch, 2-inch, and 3.5-inch sizes.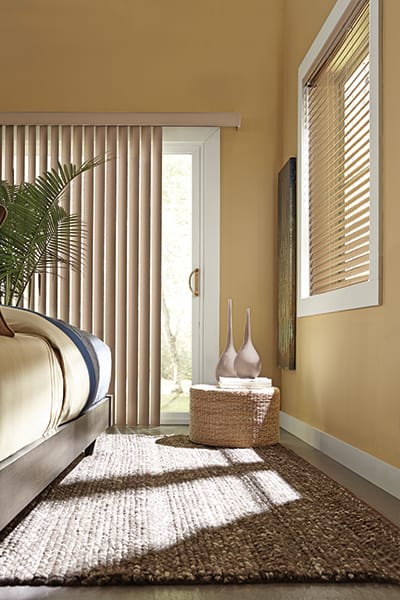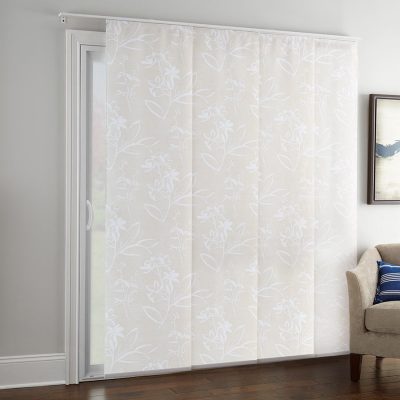 Most homeowners choose 3.5-inch slats because it gives a modern look. Those who prefer treatments that require less maintenance and are cheaper should choose 1-inch slats. If you want to maintain an old-fashioned theme in your home, 2-inch slats should be your choice.
Colors
Sliding door blinds come in a wide variety of colors and materials. If you are going to change the color scheme of your room, it is best to choose a neutral color sliding door blind. But, if you want your sliding glass door blinds to look prominent, pick a color that will stand out against the wall or your door.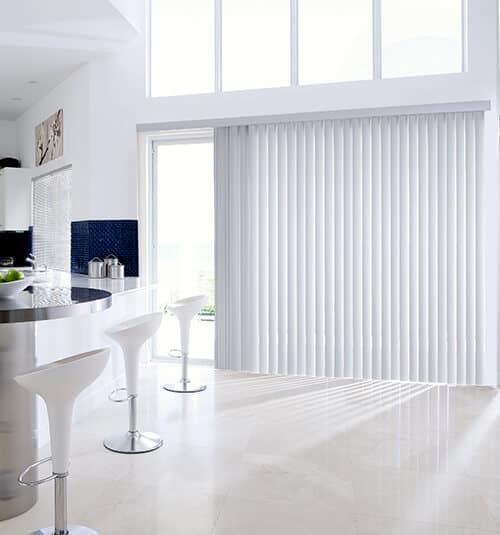 Pro tip: Most interior designers avoid using blinds and curtains as the basis of a room's color palette. Let the room color and decor determine your blind color.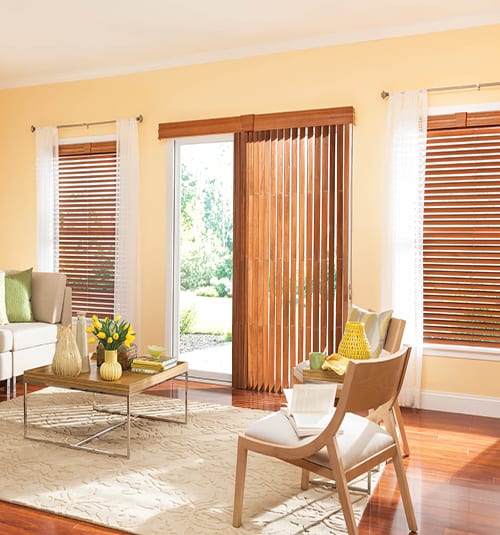 Vertical blinds or shades are the most popular choice because they offer total control of the light allowed into the room and they are cheap. They are easy to install and maintain and are perfect for sliding doors. Plus there are lots of blind styles available.
Sliding Glass Doors with Built-in Blinds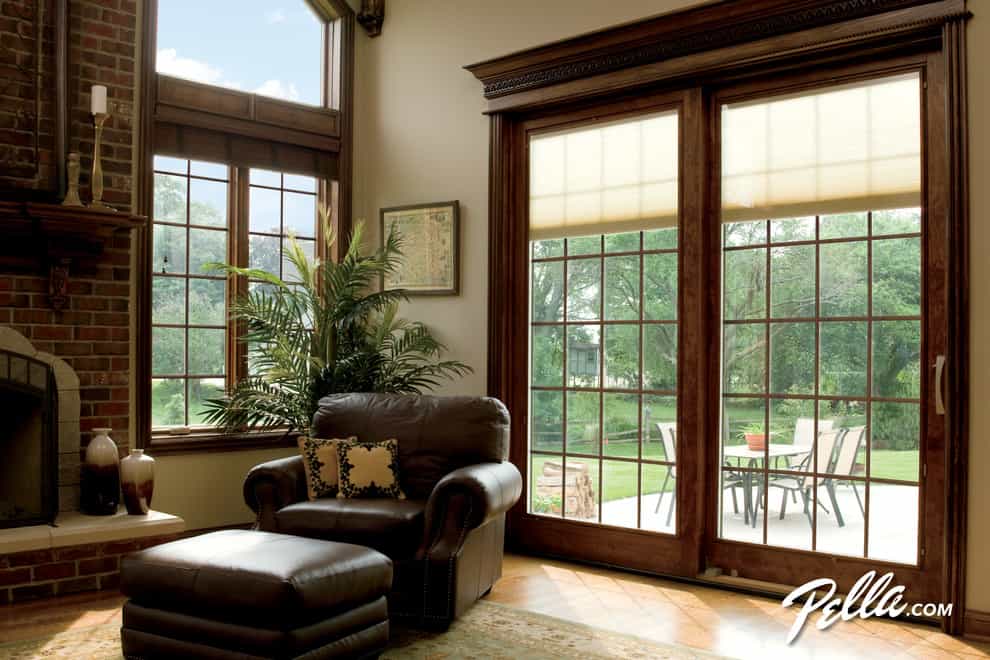 Because of the many problems people have with vertical blinds (they break, get dirty, they make noise, most are ugly), you can now buy specialty sliding glass patio doors that have horizontal blinds built-in. The horizontal blinds are sandwiched between two pieces of glass and controlled by a slider knob. These ingenious sliding glass door blinds are impervious to dust and dirt, they look great, and they open and close at the flick of a switch.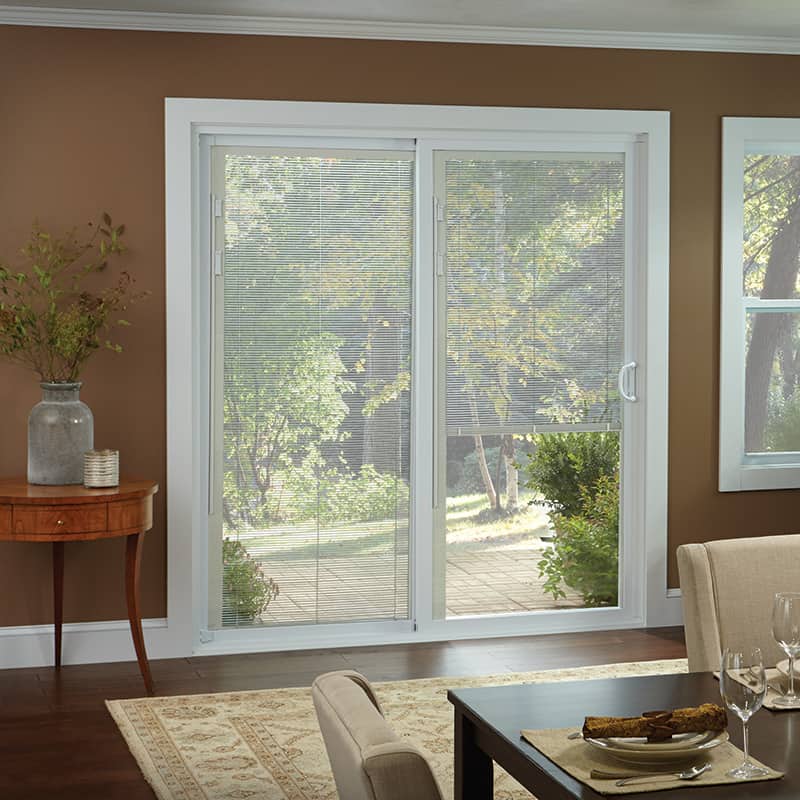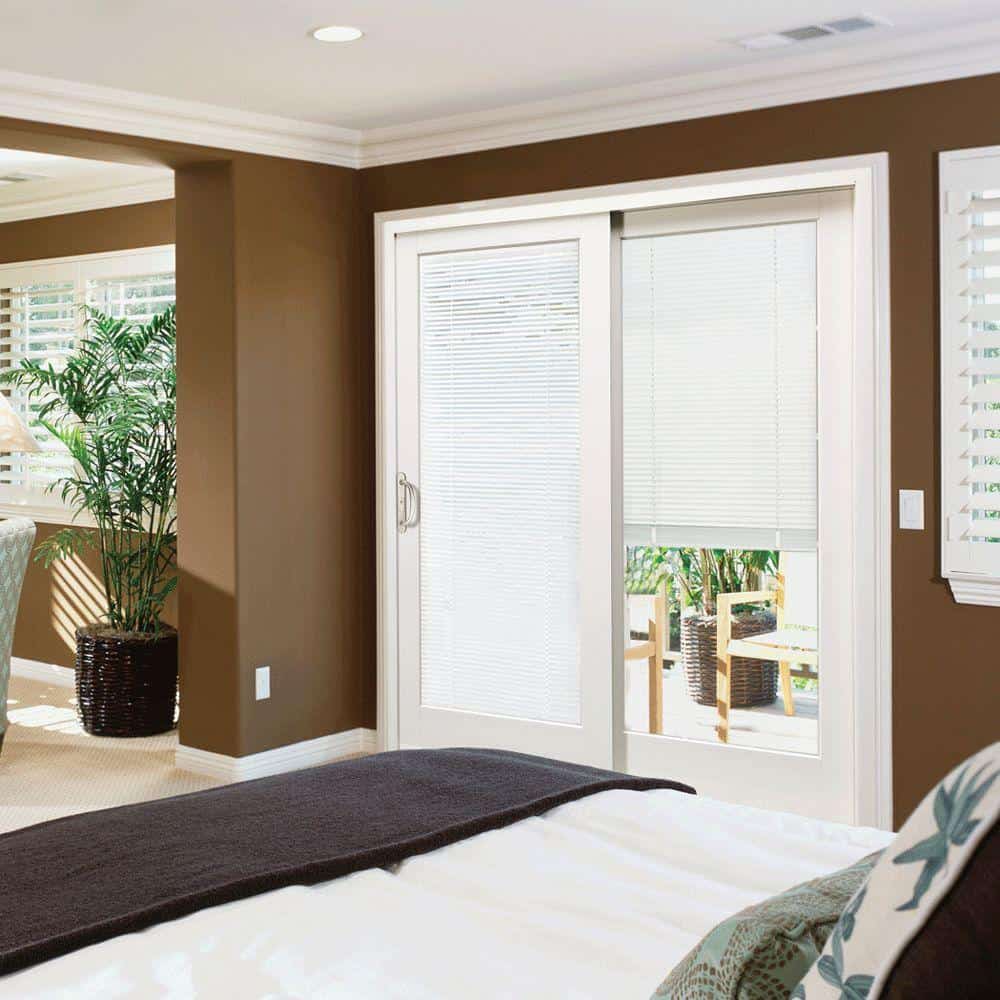 ---
Sliding Glass Door Curtains
The quickest and easiest choice for sliding patio door window treatments is curtains. They can add style and drama to your room while providing light control and easy access to the door. Curtains come in many fabrics, colors, patterns, designs, and motifs.
Curtains for sliding glass doors protect a room from sunlight and also decorate the room. But they also have an important safety function, they make people realize that there is a window there. If you have kids, then you know what I mean! I've had kids and sometimes even friends walk right into a closed glass sliding door. It's kind of funny but could be dangerous. 🙂
Sliding glass door curtains should be able to be tucked away to prevent people tripping over them when passing through the doorway. So be sure to choose one made of a material that is easily stored away behind a tie or sash.
A glass door is often an important source of light, so also consider using a translucent material which will allow light into the room and maintain your privacy. Light colors, such as grays, creams, and light blues are ideal for translucent curtains.
If you like to leave your sliding glass door open to let a breeze enter the house, then choose a lighter material. In this case, I prefer simple designs rather than overly decorated and intricate ones.
They are really easy to install too. With a quick DIY installation of a sturdy curtain rod, you can have your curtains up and brightening your room in less than an hour.
You can even dress up the curtains with a coordinating decorative valance that sits over the main curtain rod.
Pro tip: Check the weight of your curtain. Use a strong and secure curtain rail so that the curtain does not fall and break the glass.
Curtains for sliding glass doors can make a beautiful addition to your house, and also improve its safety for children and adults alike.
---
Sliding Panels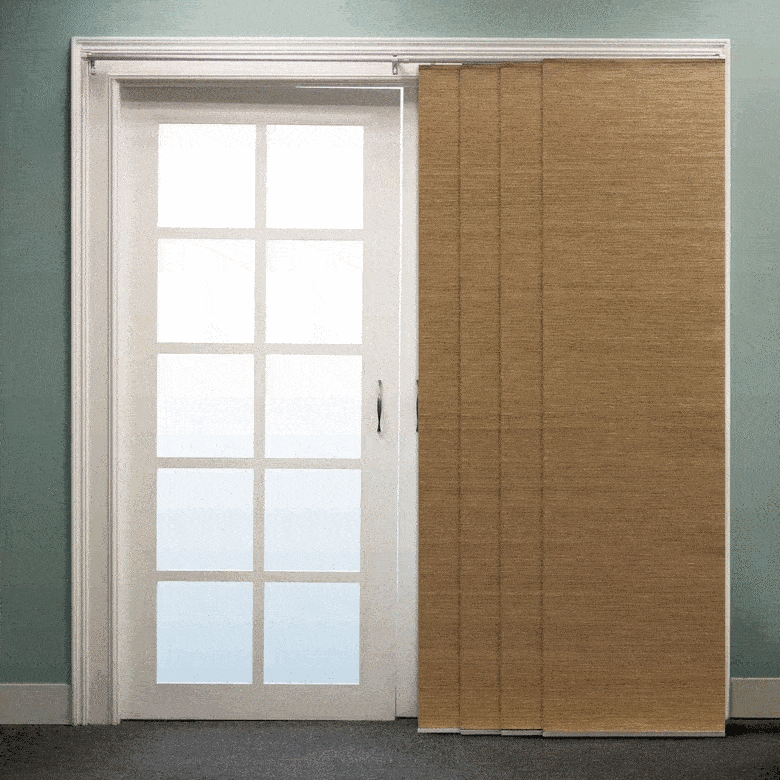 Sliding panels are another good choice for sliding patio doors. The panels operate on a track, so their workability with large areas of glass work perfectly for sliding glass doors.
---
Vertical Cellular Shades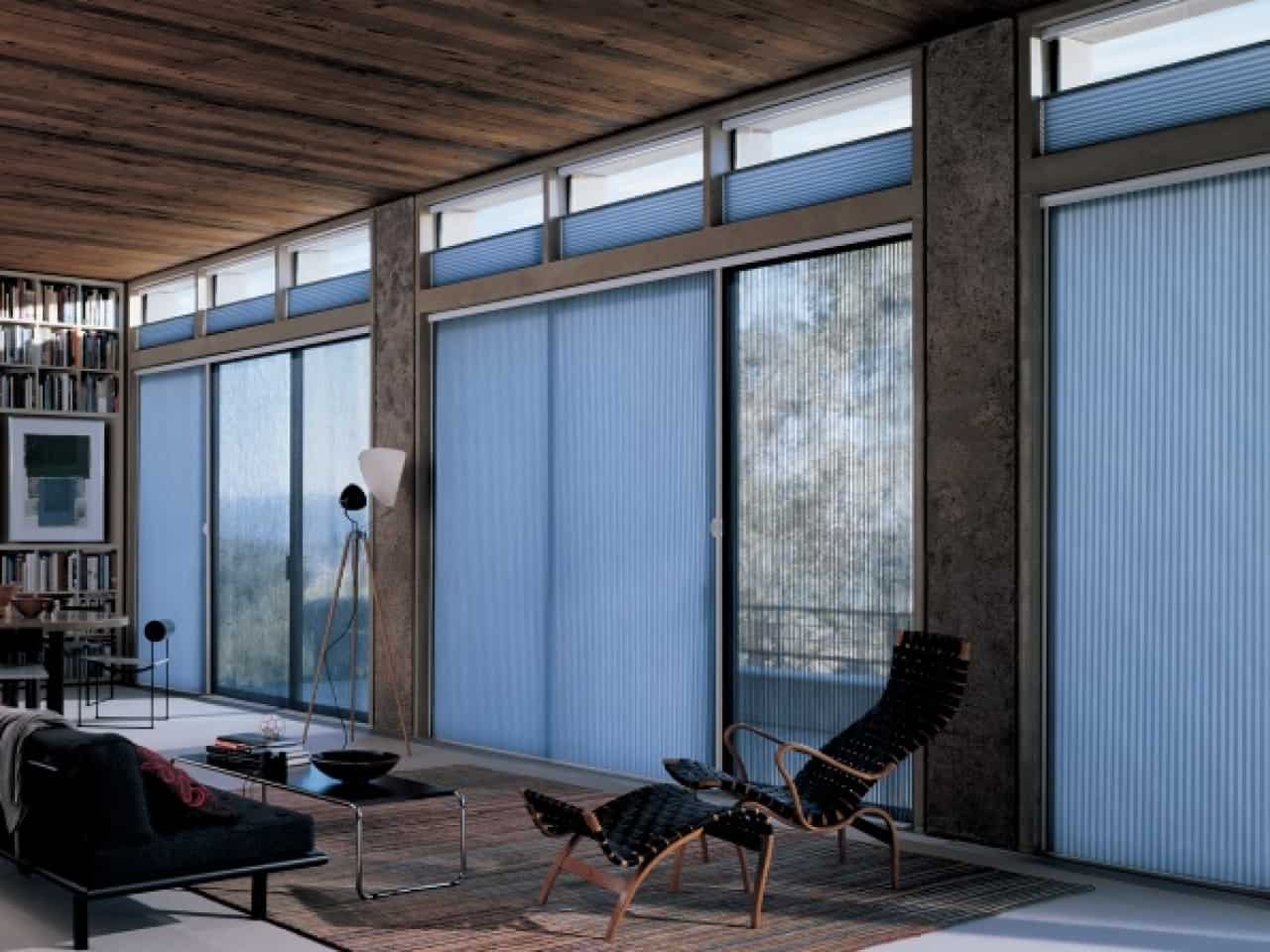 Cellular shades are a relatively recent product option. They can be transparent or opaque and they are designed as wide vertical pleats, forming an accordion-like shade.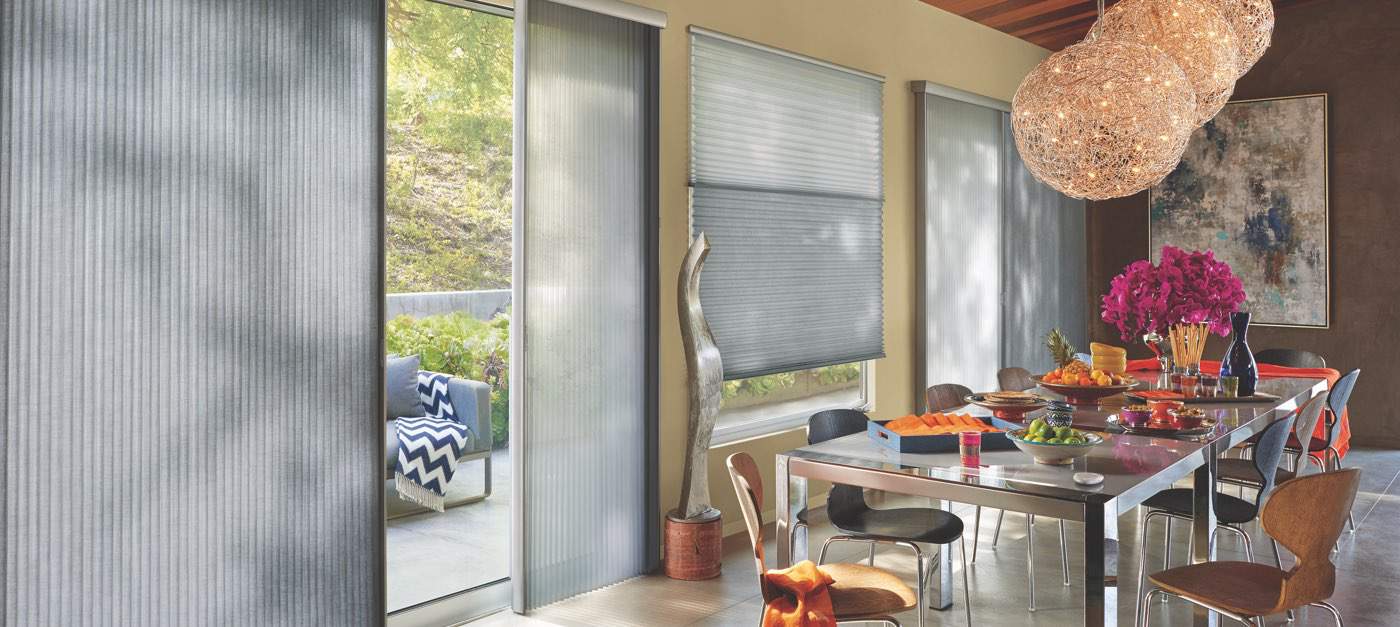 Vertical cellular shades are great for energy efficiency in rooms with large amounts of glass. They can be pulled open or closed, or gathered in the middle, as you see fit.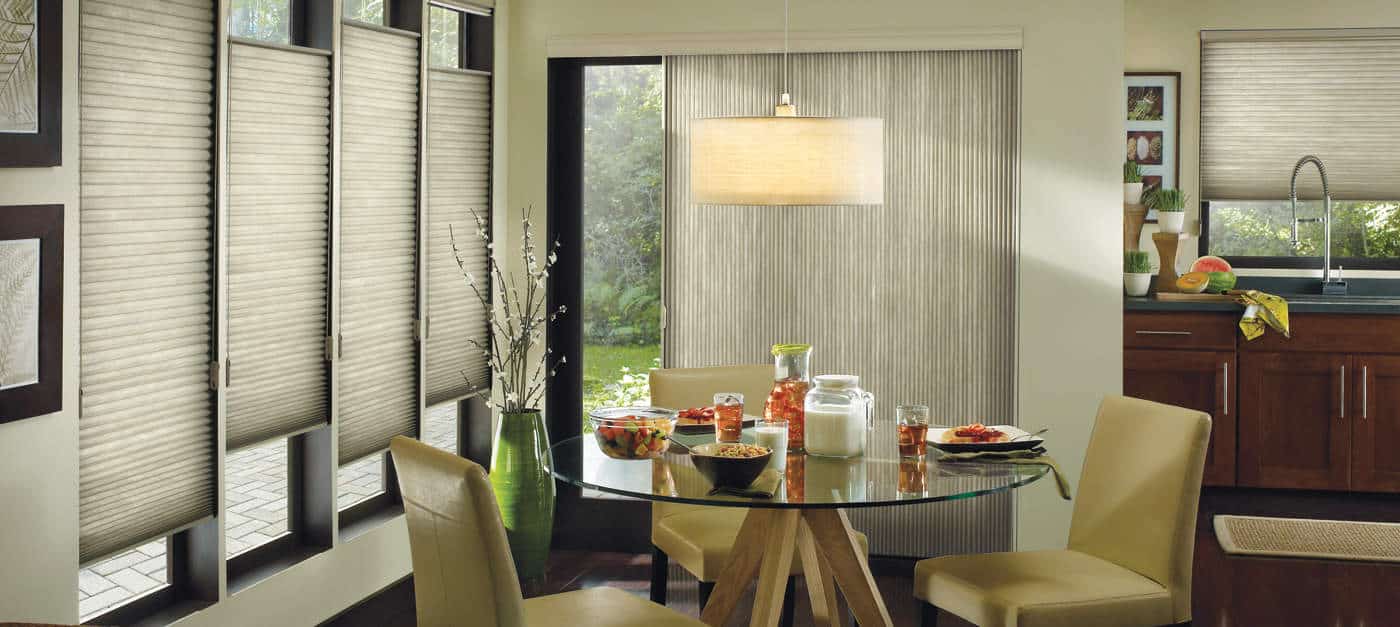 The best part is that all these types of sliding glass door blinds are available in a wide variety of fabrics, colors, and materials.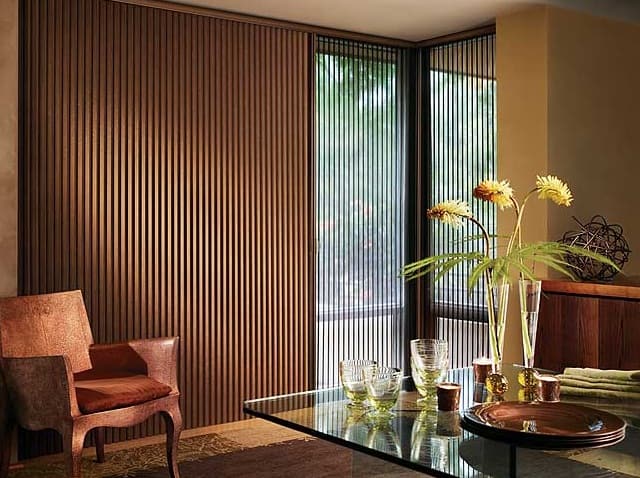 Here you can see how Vertical Cellular Shades work:
If you're interested in seeing how to install them, here are two manufacturer videos:
---
Plantation Shutters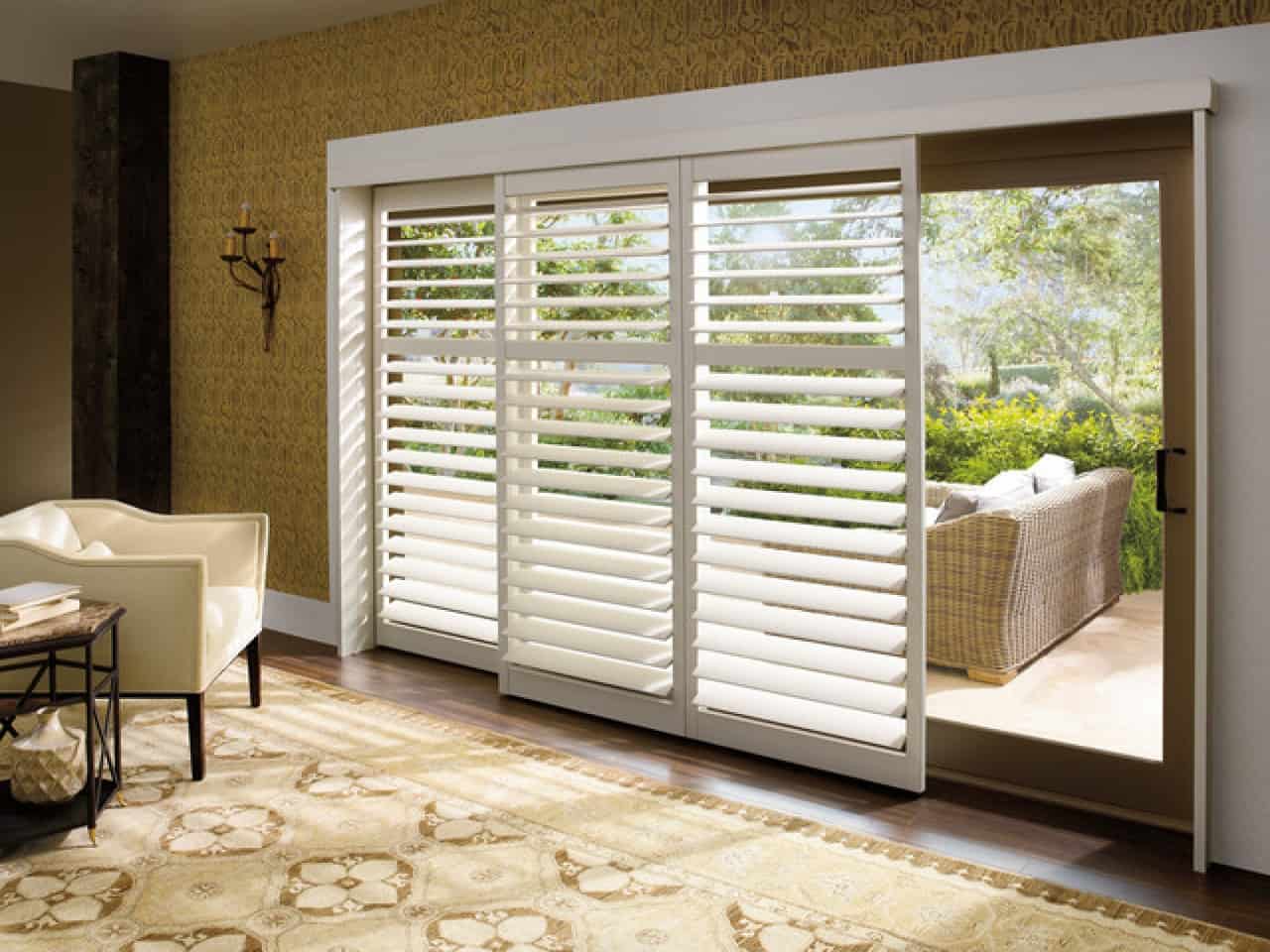 Another popular and quite stylish option for sliding glass doors is plantation shutters. With a track much like that of the sliding doors, there are some types of shutters slide open and closed. Others have hinges enabling them to slide open and shut.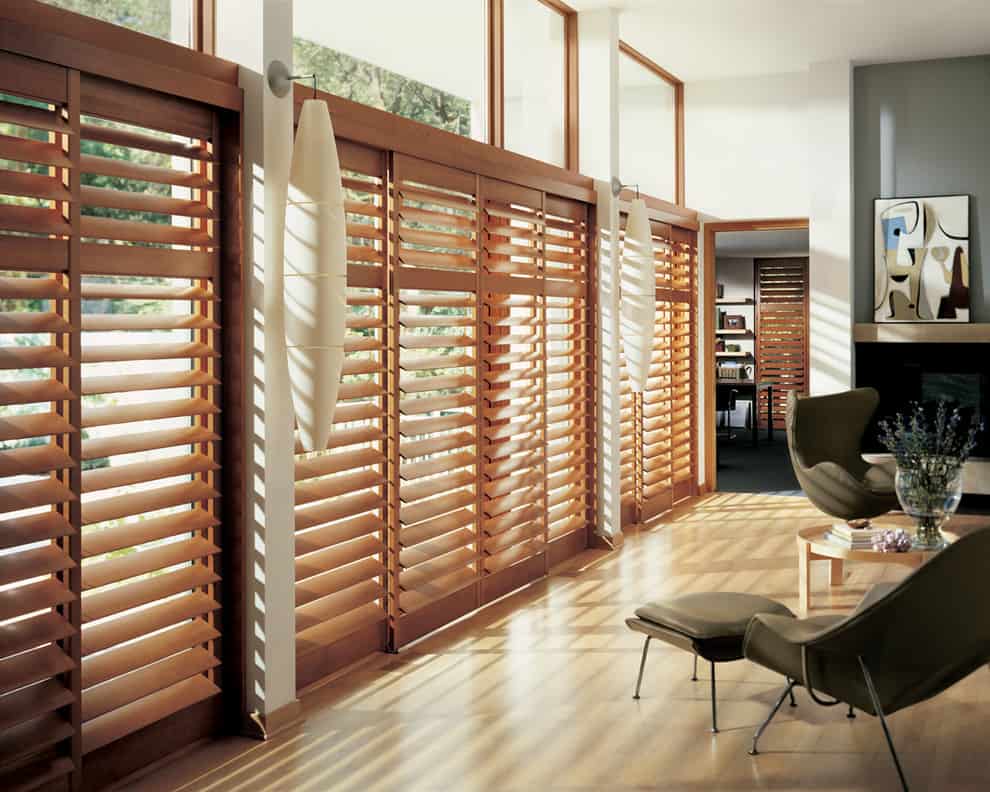 For light control, plantation shutters can come with wide or narrow louvers at your request. They rotate from closed to open to allow in as much light as you wish.
If you're considering Plantation Shutters, be sure to check out this nice walk-through video.
---
Read this Before you Buy Window Treatments!
When choosing window treatments, there are several vital considerations that will help determine the sliding door window treatments that are best for your room and will fit in with the overall feel of your home. The benefits of slider doors make choosing the perfect window treatment for sliding doors a potentially tricky process.
Here are some tips to remember to help you choose the right window treatment for your sliding glass door.
1. Match your Existing Window Treatments
First, if your sliding glass patio doors are in the same room with other windows, then be sure to coordinate your window treatments. It will look best if all your window treatment match.
2. Open in the Same Direction as the Door
Next, I always recommend that your window treatments operate in the same direction as your sliding glass doors. Meaning that if your door opens from left to right, then your curtains should also open that way. This obviously depends on the type of treatment you choose and rules are meant to be broken.
3. Think About Durability
The last tip, sliding glass doors are usually highly traveled areas. So you'll want choose window treatments that will stand up over time. Don't buy some cheap hanging plastic blinds, they easily crack and break with daily use of the sliding doors.
4. Think about Light Control
You'll want window treatments that preserve your ability to control natural light. Really, what good is the wide openness of sliding doors if your treatments hinder the light's ability to fill your room with its warmth?
5. Think about Easy Access
Access to the outside is another factor. You don't want to hinder the easy working of the sliding door with cumbersome window treatments that make it more difficult to access your outside area.
6. Think about your View versus your Privacy
Lastly, consider that sliding doors often provide a lovely view of the yard or deck, so it's important to choose something that won't block your view, but still allow you the option to have some privacy on those occasions when you wish to have it.
With all these factors in mind, take heart, there are many choices available to you
---
With options like curtains, blinds, shades, shutters, cellular shades, specialty treatments, your choices of window treatments are as fluid as your lovely sliding glass doors!
Now that you're armed with all of this quality information, you will definitely be able to find a window treatment for your sliding door that fits your needs, style, and budget.