Are you looking for tips & ideas for choosing a sliding glass patio door? Sliding glass patio doors are a great way to open up your outdoor patio space from your home. Sliding patio doors allow you to open up your home to more natural light. They give you better views of and access to your outdoor spaces.
A beautiful patio can make the perfect space for spending time together.  Sliding patio doors give you an open entrance to your home. So you can have easier indoor and outdoor access.
List of the Different Sliding Patio Doors Styles
It's been said that sliding glass patio doors (also known as gliding patio doors) are more than just doors. They are a design element. They are available in a variety of materials, styles, and set-ups. This gives you many choices for achieving the look you want in your beautiful home. They range from contemporary to traditional to every style between.
These days, sliding glass patio doors are made of lighter, slimmer materials. Usually with frames made of wood, fiberglass, or vinyl. These lighter materials allow for slimmer doors. This increases sunlight to your home and better access to a view of your patio or deck.
Traditional Sliding Patio Doors
Traditional Sliding Doors are doors that are made from one sheet of glass.
Sliding doors often consist of at least two doors with a standard 5 to 6 feet in width. The open either to the left or right.
French Sliding Patio Doors
French sliding patio doors consist of two sliding doors.
They open in opposite directions leaving a large opening.
Wide Multi-Slide Patio Doors (Pocket Patio Doors)
Wide sliding doors with extra doors are available. They can reach 8 to 10 feet or more in width.
Wide sliding patio doors open up the flow between your patio and home. This increases the value of your indoor/outdoor lifestyle.
They are a great source of natural light for your living space. The wide welcoming doors provide easy, free-flowing access to your patio or backyard area.
Stacking Patio Doors
Stacking patio doors don't stack into a wall like a pocket door.
They layer on top of the furthest pane of glass from the center.
Minimal Modern Sliding Patio Doors
Minimal Sliding Doors come in darker shades with a more matte finish. Black and brown are very popular choices. They offer a stylish contrast. They have a minimal yet dramatic style that adds to your home and patio.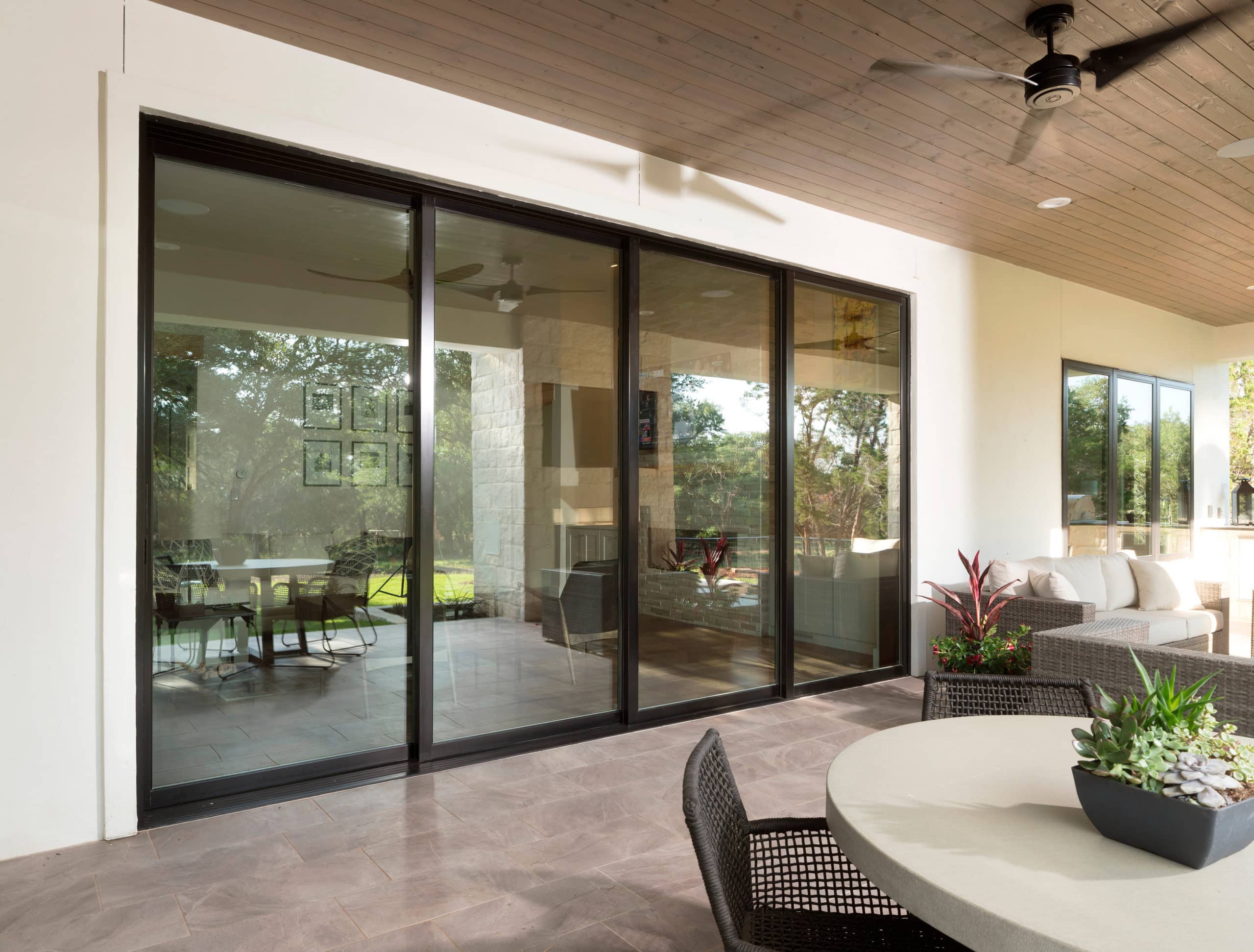 Custom Sliding Patio Doors
With custom-fitted sliding patio doors, you can have your doors created to fit the perfect size for your home. You can have a simple narrow two-door slider that is suited for a small room. You can have an elongated sliding door that stretches the entire width of your home!
You can make your sliding patio doors into a feature that wows and amazes.
The History of Sliding Glass Patio Doors
Did you know that sliding glass patio doors were once only available to rich people? That was in the days when the doors were created handcrafted from wood and hand-blown glass. They were only seen in the homes of the wealthy. The advent of modern manufacturing made sliding glass doors available to the masses.
Traditional patio doors opened in a French style. This took up additional space either inside the home or patio. Sliding doors made a welcome space-saving change from traditional French style patio doors.
What are Sliding Patio Doors Made of
Sliding doors were previously made of heavier materials. They were infamous for skipping off their tracks. They would often get stuck in a certain spot along their tracks.
Sliding doors have advanced vastly in the last few years. They have a smoother movement that is faster and sleeker. They are much more modern and minimal.
Rather than traditional white PVC frames, better materials are now available. There are different styles of finish, colors, and frame materials.
Benefits of sliding glass patio doors
Sliding glass patio doors have several benefits over other types of patio doors.
Energy Efficient:
With modern weather stripping and heavy-duty insulated glass, these doors are highly energy efficient. This saves on energy consumption. So you save money and the planet.
Security:
The heavy-duty insulated glass enhances the security of the sliding doors.
Save Space:
Another plus of sliding doors is their space-saving quality. They slide vertically along a single track. So you don't have to leave clearance for the opening of a swinging door. That space can be used for other things, like an end table or chair.
Dressing Up You Sliding Doors
Once your sliding patio doors are installed, you can add window treatments. This will enhance their style even further. You can try bold prints in heavy material to lighter, sheer fabric voiles and drapes. How you choose to frame your sliding patio doors is your personal style choice. They can make a huge impact on your home's interior design style.
Sliding patio door blinds are a modern and minimal way to decorate your sliding patio doors. Opting for blinds won't limit your choice of materials or styles. You can choose from ornate Venetian to a minimal roller blind. Blinds on your sliding patio doors give you greater control over the light and your privacy.
Are you after a more classic and traditional style? Try a window valance treatment. It is a stylish but timeless fixture to bring more color and texture to your room. It will also frame your sliding patio doors, turning them into a focal point of the room.
Wrapping it up
The choices for sliding glass patio doors are nearly endless! Whether you are building a home, conducting a remodel, or simply considering a replacement for your current patio doors, sliding glass patio doors are well worth a look.