Home bars are the way forward, they alcohol costs less, you have the comfort of your own home, surrounded by family and friends (and you can be as loud as you want), but the height of your bar stools will make or break it. You deserve to be comfortable, tables and stools can vary in size, but we're here to tell you what the ideal height of your bar stool should be.
So how tall should bar stools be? The average height of a bar stool and it should be 29 to 32 inches, and this is usually when the counter height is 41 to 43 inches. The heights can ultimately vary with bar stools; it can sometimes depend on the height of the table.
The reason why bar stools should be on average between 29 to 32 inches is due to standard counter sizes being 41 to 43 inches tall, for the barstools to fit comfortably Frontgate.com have confirmed that there need to be 9 to 11 inches between the bar stool seat and the bottom of the counter.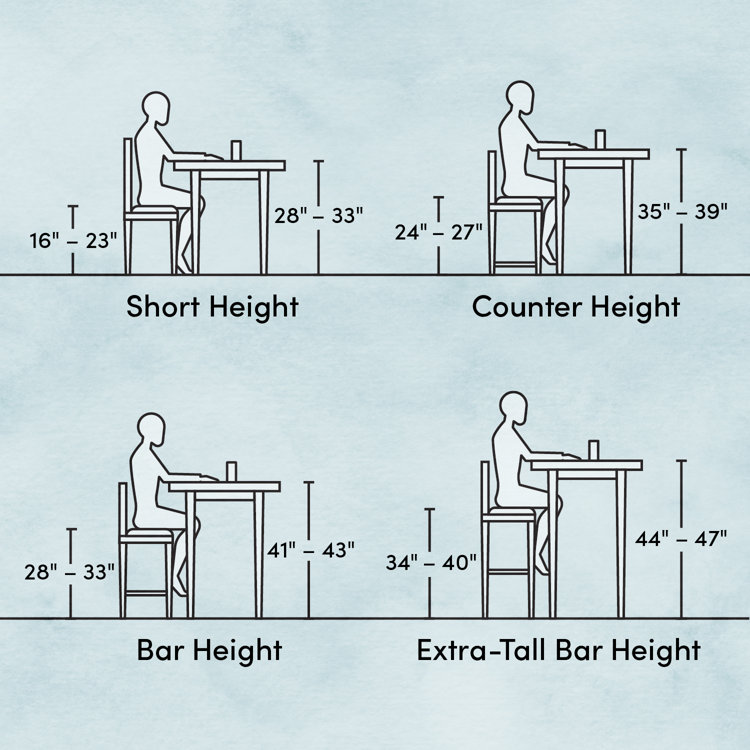 What types of bar stools are there?
Thankfully Wayfair.com has listed the different styles of bar stools and the descriptions of them (as well as the comfort level – always a wanted bonus).
Backless bar stool
This is one of those standard bar stools that you usually see in a bar, no back, no arms. Usually, these are made of metal, wood, acrylic, and are often not the comfiest stools but very much the cheapest option.
Bar stool with armrests
The wonders armrests can do, thankfully if you are looking for back support, then this is the right stool for you. However, the only downfall that you may come across with a bar stool with armrests is the possibility of it being too big to fit under your table/counter.
Upholstered seat bar stool
Upholstered seat bar stools are perfect for those who want a formal and expensive-looking bar stool in comparison to wood, acrylic or metal. Most often the comfiest option for a bar stool.
Swivel bar stool
Usually the favorite type, especially by kids, we know they all love to swing round and round on a swivel chair. But ultimately a swivel bar stool is very convenient, makes it easier to move around instead of having to physically get up and move your bar stool into the right position.
Where Can You Purchase a Bar Stool?
If you are looking at purchasing a bar stool then we would recommend checking out Amazon, they have a wide variety of bar stools with different heights, different styles, colors, etc. Some of our favorites which are being sold include: 
Nathan James
Nathan James is selling beautiful 24 and 29-inch bar stools via Amazon. What's even better is that they sell them in a variety of colors such as black, dark brown, dark gray, natural flex, and a tufted gray.
AC Pacific
If you are looking for standard bar stools with a back, then AC pacific has the perfect set of two in a range of colors. The colors available are distressed black, distressed white, matte black, Sanded Matte Black / Brushed Rusty Gold, vintage brass gold, vintage copper and vintage pewter. These can all be bought in either a 24 or 30-inch seat height and all of them would look perfect in your home.
Christopher Knight Home
If you are looking to spend a bit more money and want something that looks more luxurious in your home then we think you'll love the Christopher Knight Home swivel bar stool, it is a stunning bonded leather in the color brown. This has both a back and an armrest, perfect if you need a bar stool with back support. A bonus is that the seat height is the average and recommended height of 30-inches.
How Tall Should Bar Stools Be?
You'll find that you should be looking for bar stools between 29 to 32 inches as they are the average height. Most will be sold at this height because of that, but on the odd occasion, there will be other heights available if needed.
Realistically whatever size bar stools you end up wanting to purchase for your home is entirely up to your personal preference but also down to the size of the counter or table you own. You might find that the average bar stool size is too high for you or instead too low, which means you will need to find an alternative size.
We suggest that you should test out different sizes and come to the conclusion that way – remember that everyone has their own opinions so each to their own when it comes to decisions, pick what is going to be best for you and your home.