There are a ton of incredible basement lighting ideas to brighten up your finished or unfinished basement the way you've always wanted. I've looked at hundreds of lights and fixtures and designs to find the ones that will bring the best warmth and light to your downstairs space. Whether you're redecorating your existing space or finishing out your basement (see also Cool Unfinished Basement Ideas for any Remodeling Budget), there is something here for everyone.
In many homes, the basement tends to be one of the darker spots in the house. When you think about it, this makes a lot of sense. The basement is often built below ground level, meaning there's usually not a ton of natural light that will get inside and lighten it up.
The good news is that it doesn't have to be this way. You will create a warm, inviting, and exciting atmosphere in an unfinished basement with just a few simple and often surprisingly affordable lighting options.
You might want simple recess lighting or perhaps a perfectly selected chandelier, or maybe you have a tray ceiling that you want to use to its fullest potential.
No matter what kind of basement you have or design you've got in mind, I guarantee I've got the perfect lighting solution for you right here. With my ideas for basement lighting below, you will make the bottom floor of your home the envy of every other room in no time.
Look out, kitchen! The basement just might become my new favorite room in the house.
Classic Recessed Basement Lighting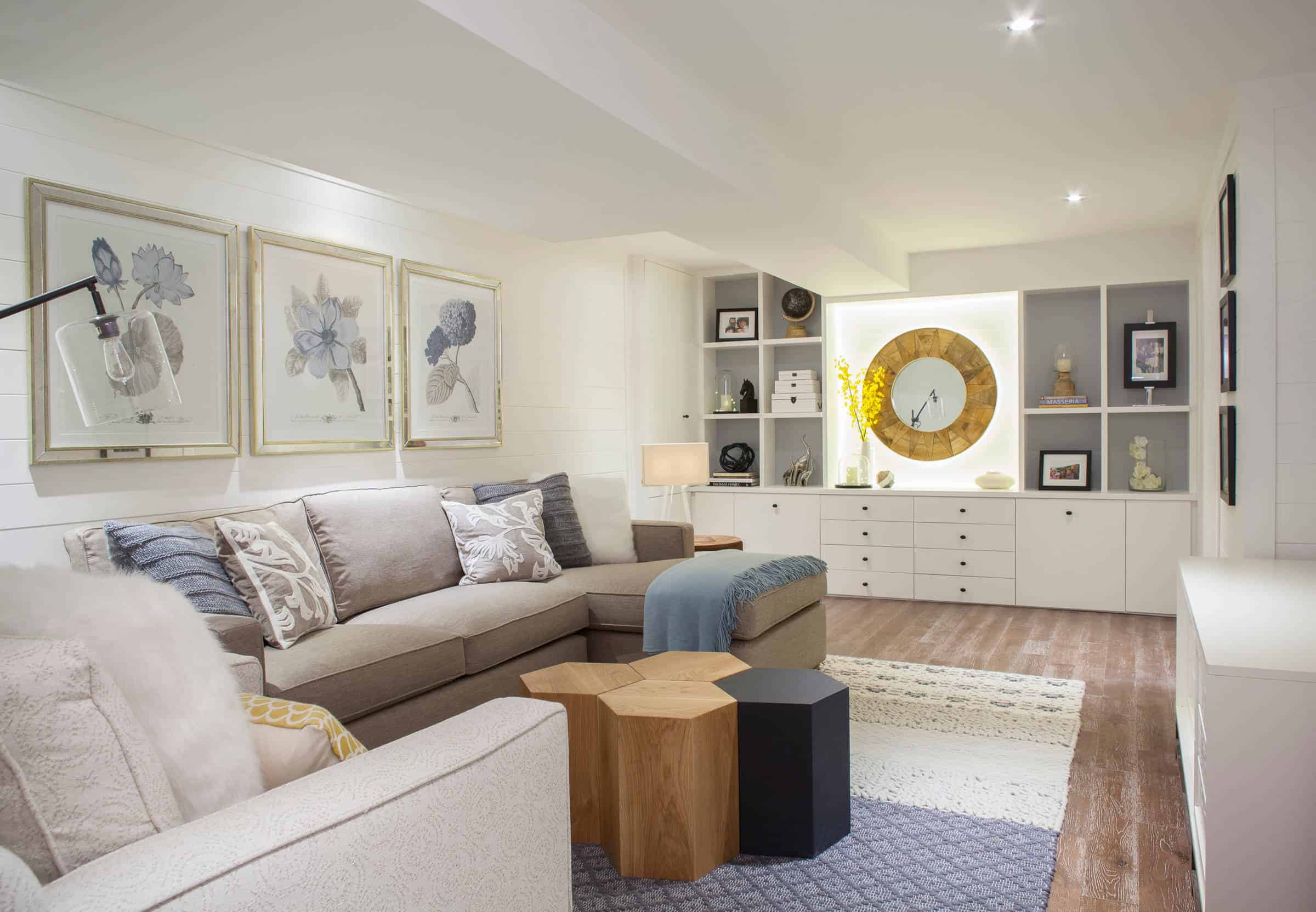 One thing that has stood the test of time as far as lights go is recessed lighting. Nothing has worked quite so well for quite so long as this particular classic form of lighting fixture.
A good reason for this is actually pretty simple. Recessed lighting works well in every possible space. What's more, this lighting creates a feeling of all-around brightness and coziness.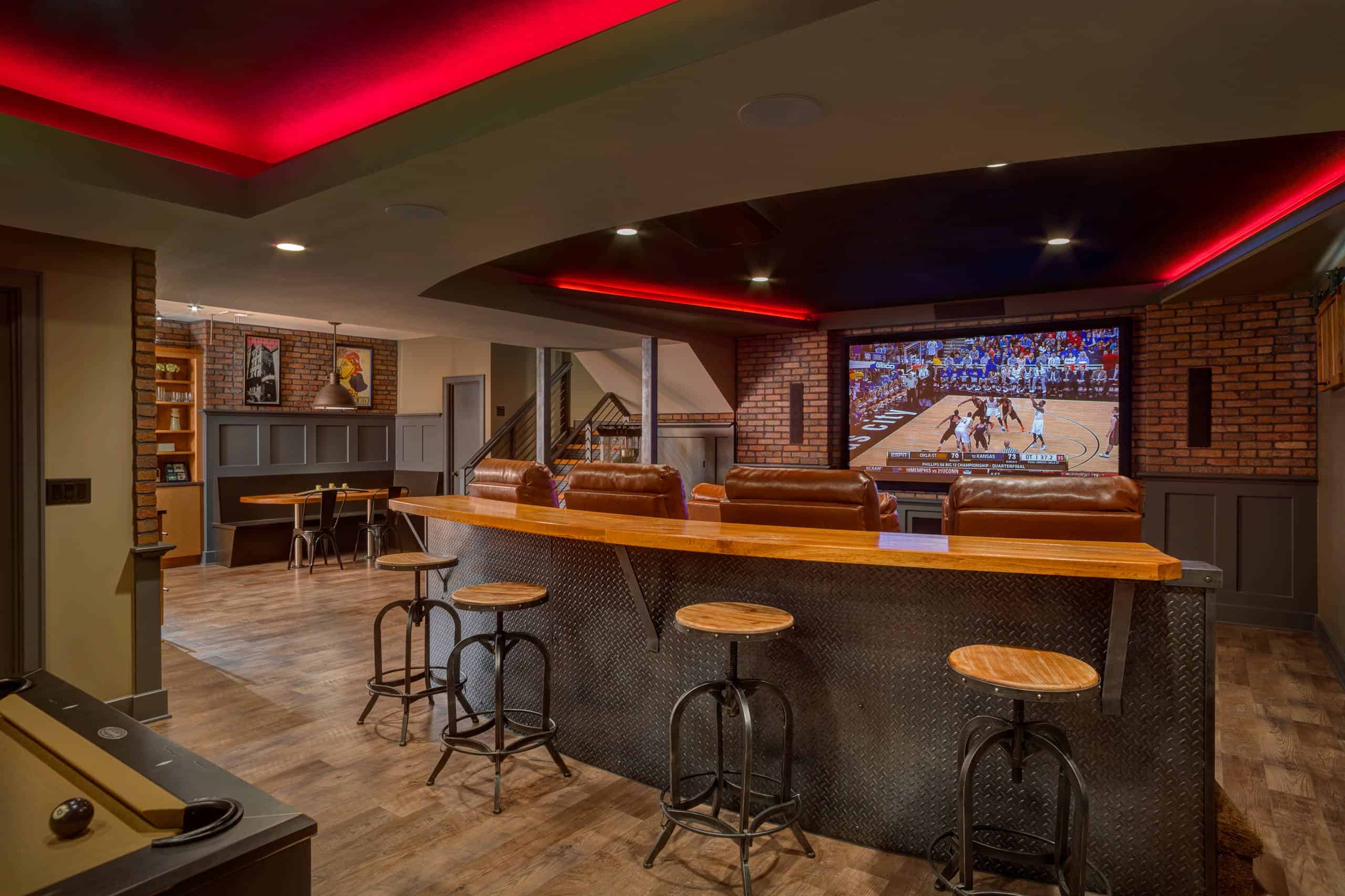 If you tend to like a traditional design feel, recessed lighting in the basement ceiling works great. On the other hand, if you prefer more modern aesthetics of RGB light fixtures in the ceiling, that works equally well here, too.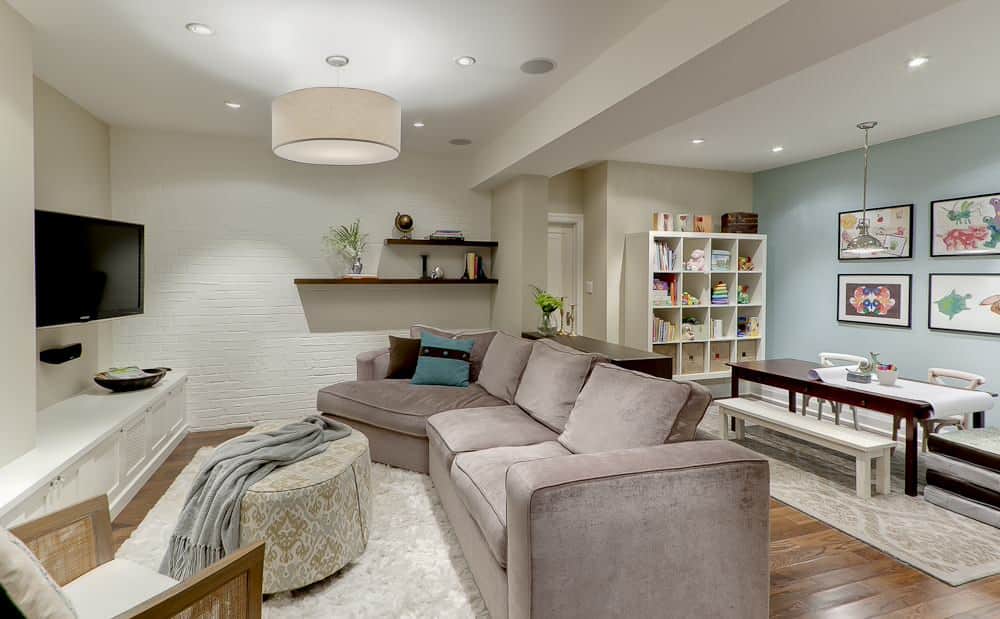 Whichever lighting ideas you like, from rustic to industrial, and everything in between: recessed lights match up with ease and they look great, too!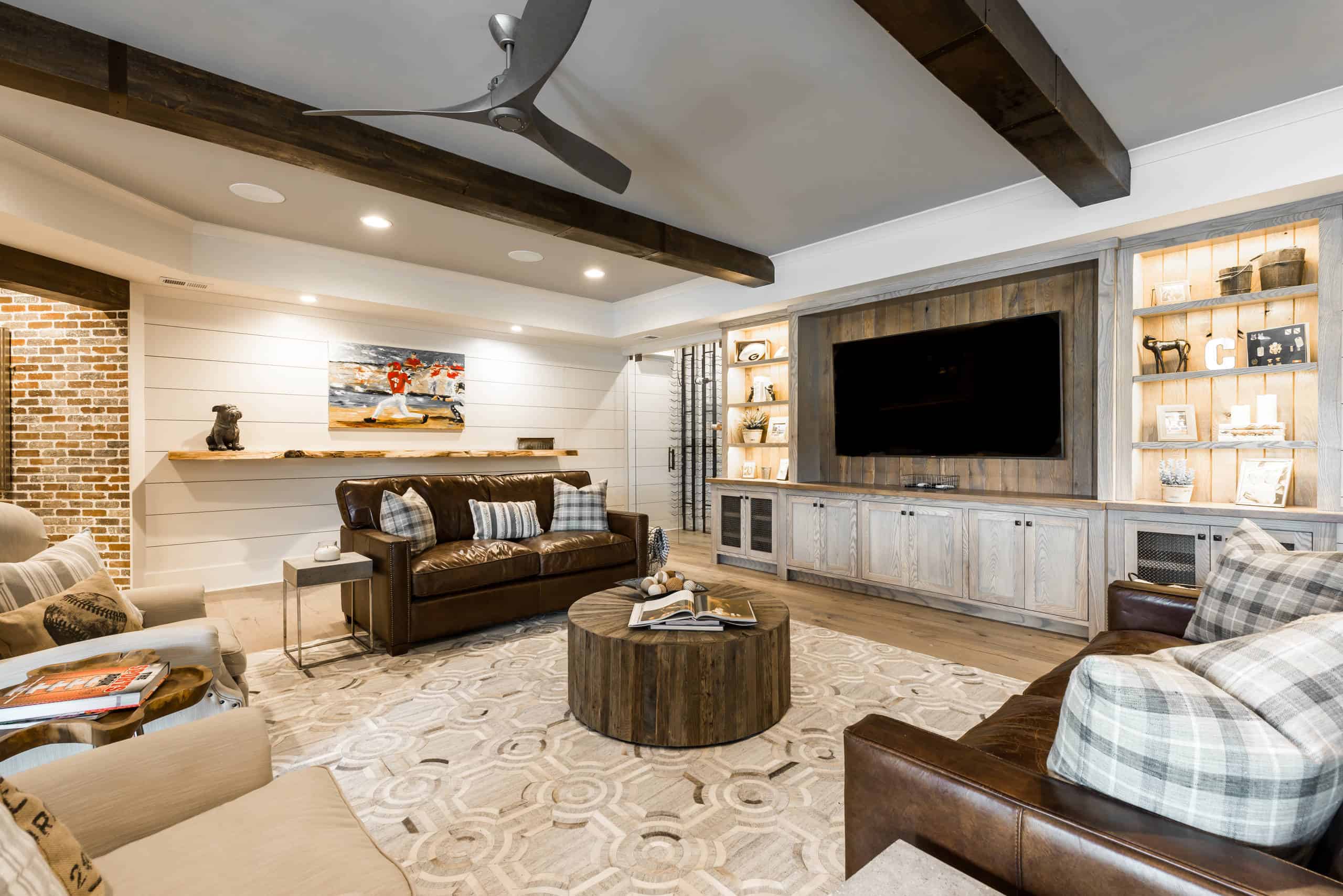 Put recessed lights over the primary seating couches or chairs, above a bar area, or even separate the recessed light fixtures with wooden beams or other ceiling features.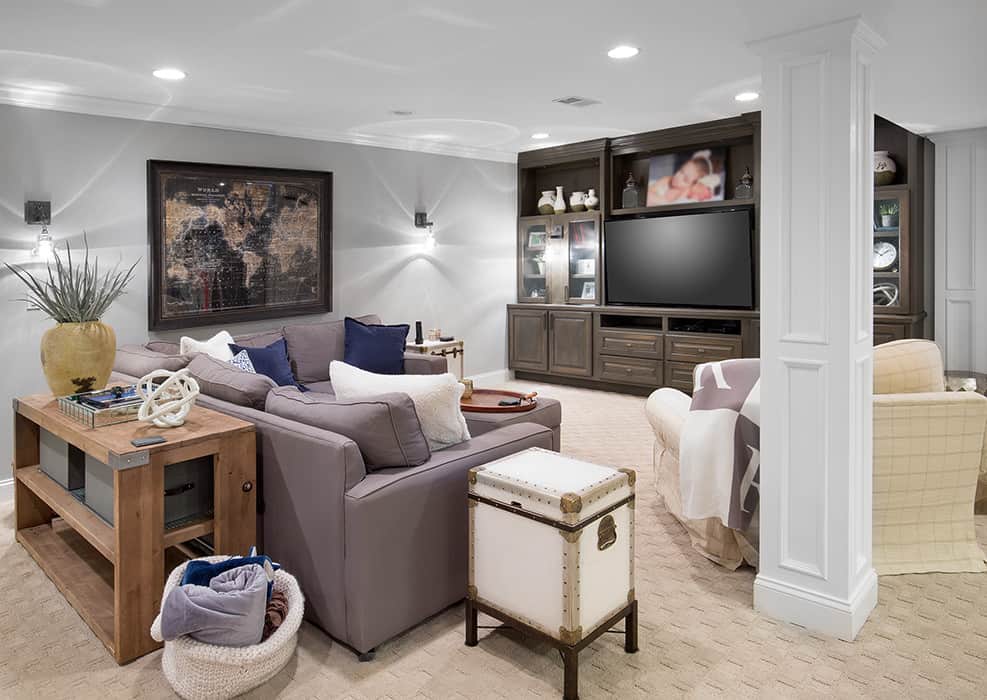 Recessed lighting works great for every single one of these basements. Even better, this lighting often does all this without costing an arm and a leg, making it incredibly affordable, too. It doesn't get much better than that.
Expressive Chandelier Basement Lighting
At the other end of the spectrum from recessed lights, you have more personal and expressive light fixtures. One unique lighting idea for the center point of your basement ceiling is a modern chandelier.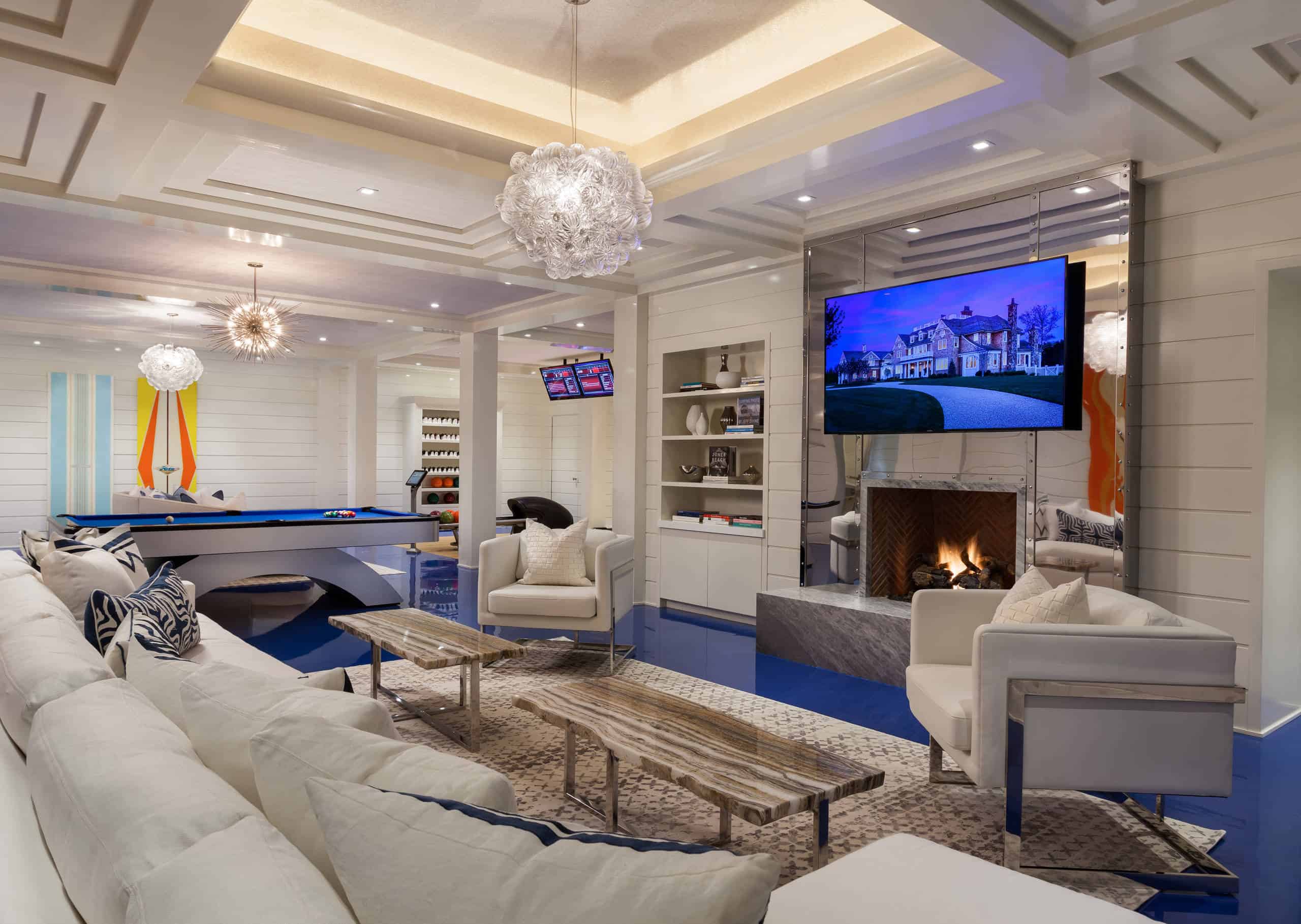 A well-chosen chandelier allows you to show off your personal side with flair and a dash of elegance. Nothing says uniqueness and personality in a basement area quite like a hanging light fixture picked just for you.
There are chandeliers made entirely of brass. Others are wrapped in glass enclosures that simultaneously soften the light as well as hide the lightbulbs underneath.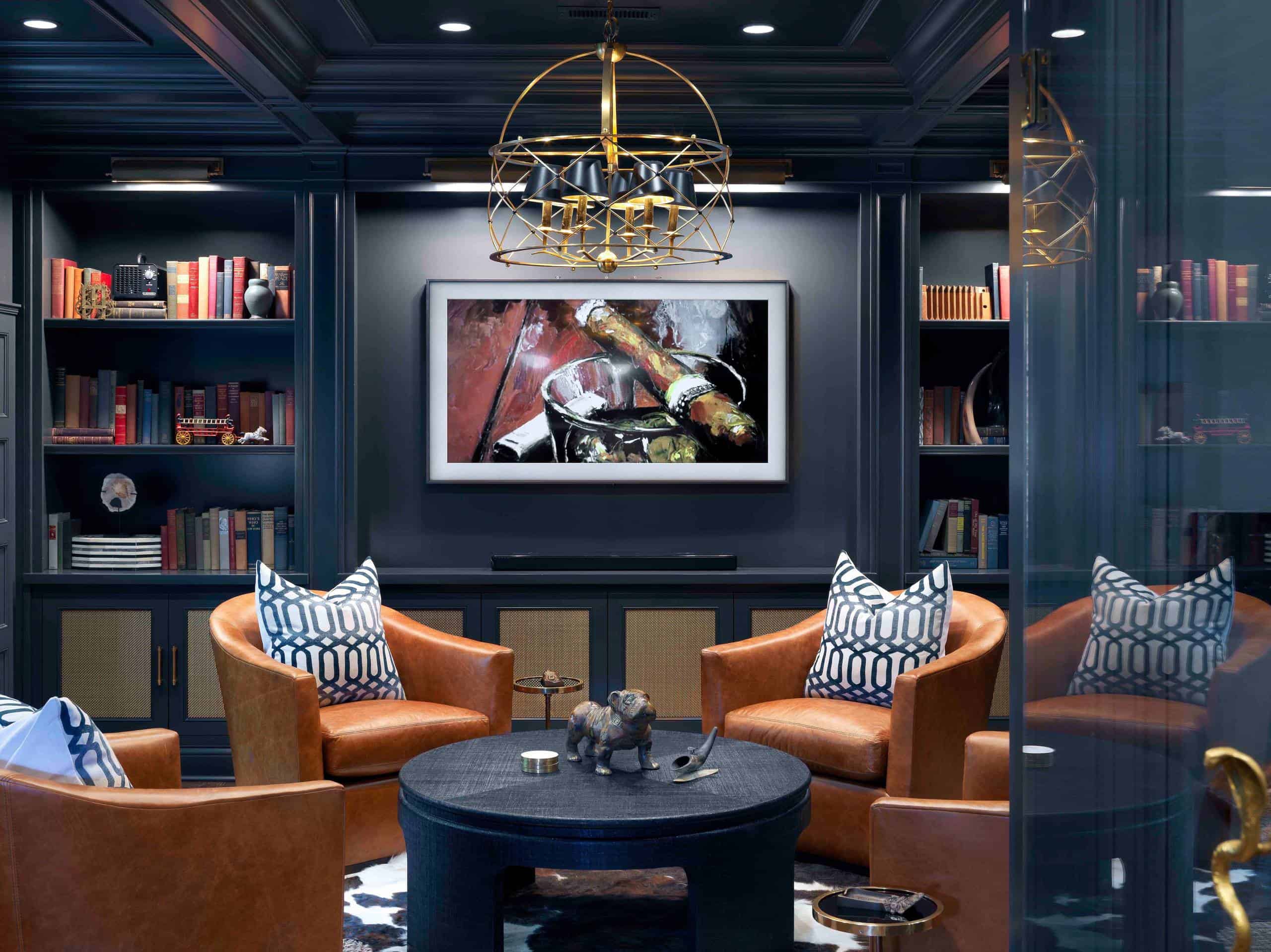 Unlike some other basement lighting designs, chandeliers pull double duty. They both brighten up the basement space and complement the existing interior design beneath it simultaneously.
Imagine it: walk down the stairs to your basement and see a remarkable, artistically designed chandelier that fits your space. What's more, picture the reaction you'll get from your family and friends!
At the end of the day, your perfect basement light fixture won't be exactly the same as anyone else. So, why not show off your own personal sense of style and panache at the same time?
Industrial Edison Bulbs With Unfinished Ceiling
Here's one of my own personal lighting ideas: Edison bulbs. These handsome light fixtures get their name from the inventor of the light bulb himself, Thomas Edison. With that in mind, it's no wonder that they create a warm vintage look wherever they pop up. In fact, Edison bulbs are a much "warmer" color than most of their other lightbulb cousins. Add to this the exposed filament inside the bulb, and you've got the perfect recipe for an antique look that's sure to impress.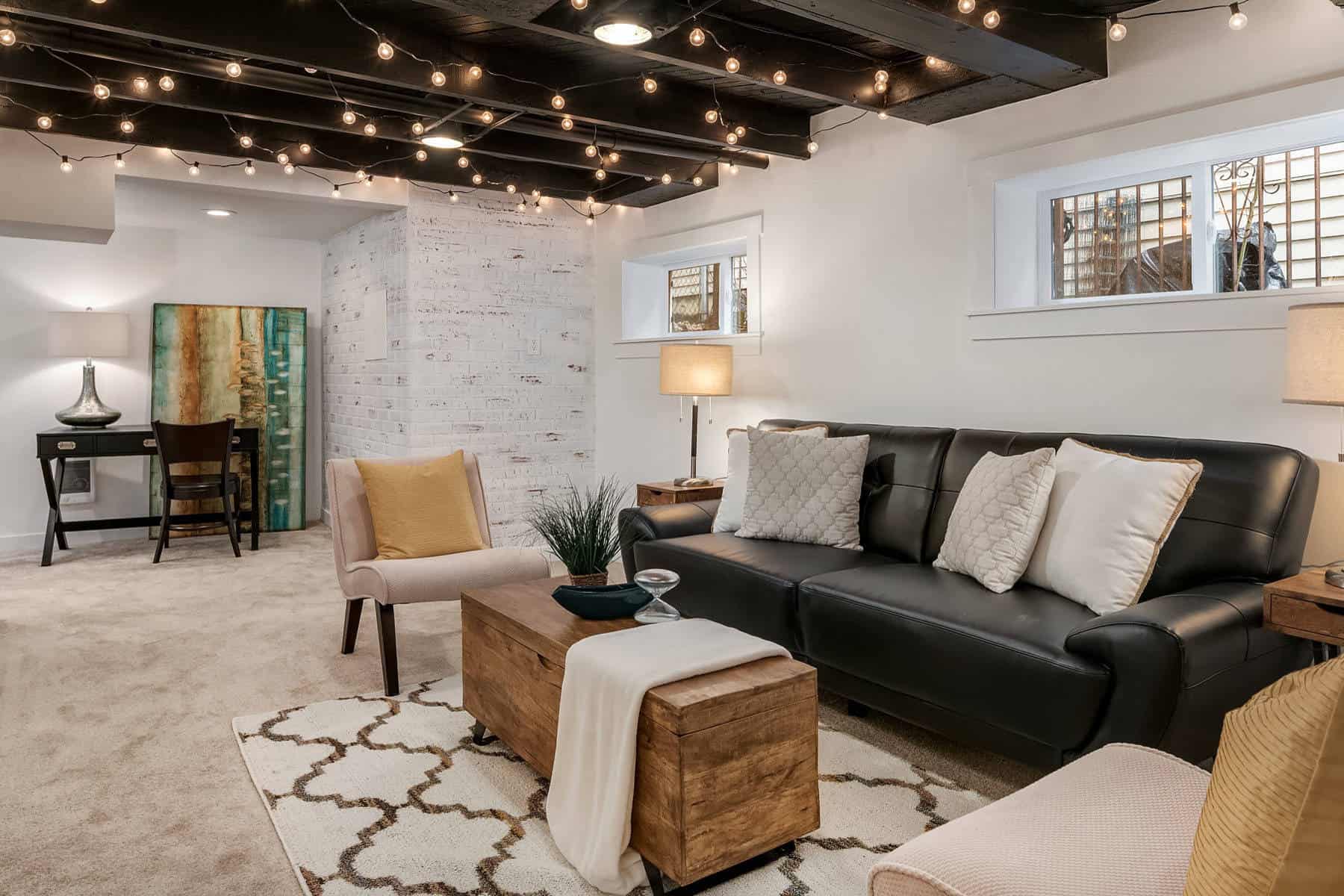 Here you can see string Edison bulbs hanging from a black-painted unfinished basement ceiling intermingles with exposed recessed light fixtures.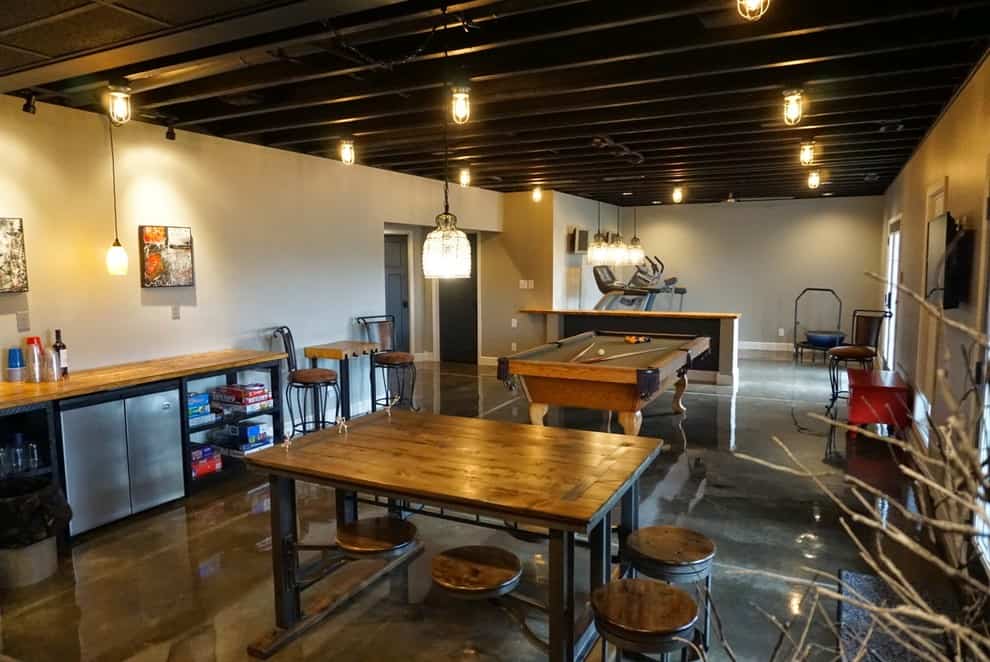 In similar rustic unfinished basement fashion, the black basement ceiling hosts industrial Edison cage lighting fixtures.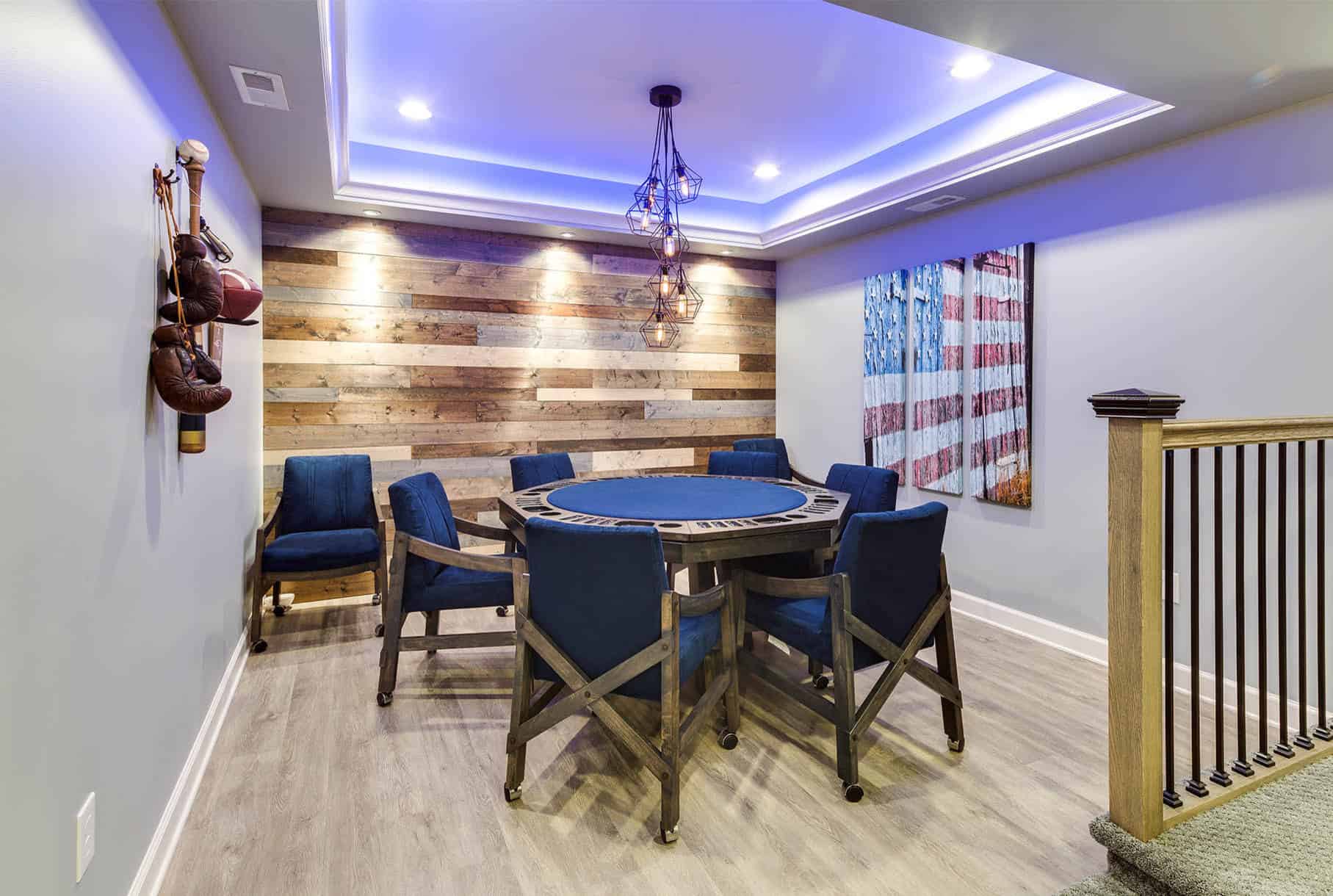 That being said, don't think Edison bulbs will make your basement look old! Actually, the opposite is true. These lighting fixtures tend to create an ambiance of modern industrial sophistication that shows off the rest of the basement in easy and warm tones.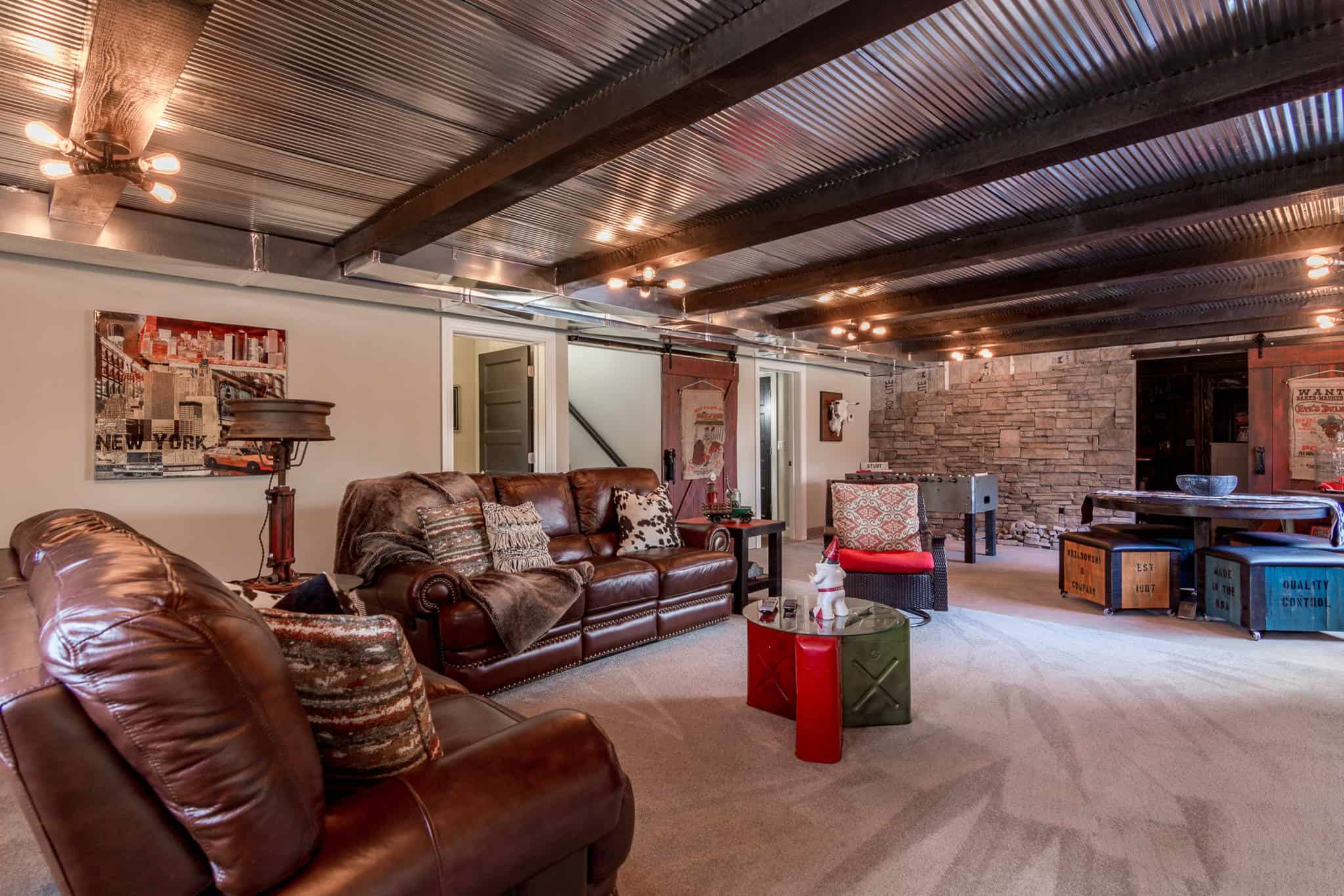 To make them even more design-friendly, Edison lighting fixtures come in tons of varieties. There's the single Edison bulb, industrial chandeliers, and even exposed string lighting similar to holiday lights, except that you don't have to pull these down every year!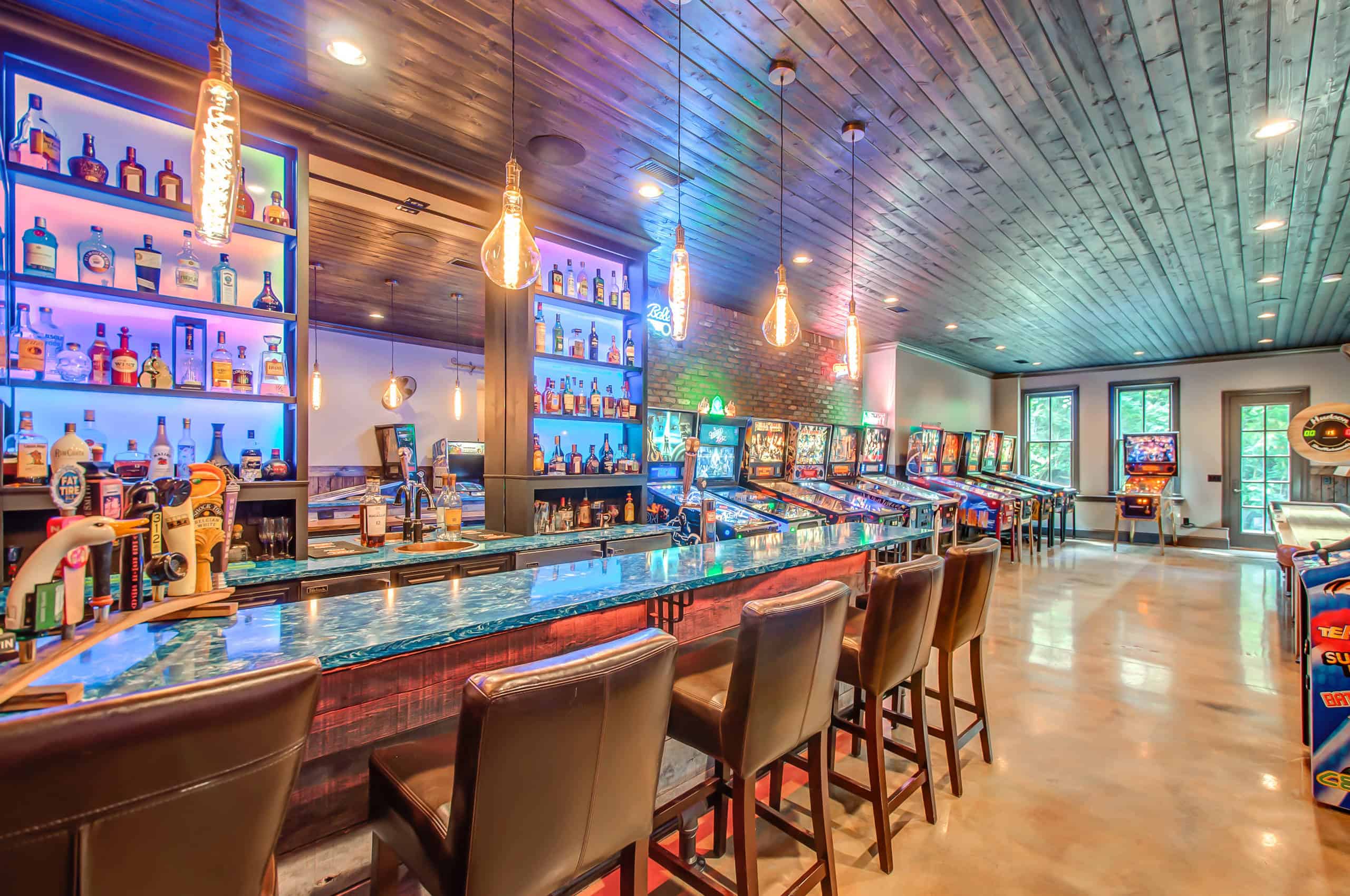 Another awesome feature of Edison bulbs? You'll be able to combine them with any other basement lighting aesthetic. They work equally well on their own as they do with other basement ceiling lights such as, recessed lighting, pendant lights, track lights, tray ceiling lights, and a whole lot more. These lighting ideas work great in unfinished basements too for a cozy and warm atmosphere!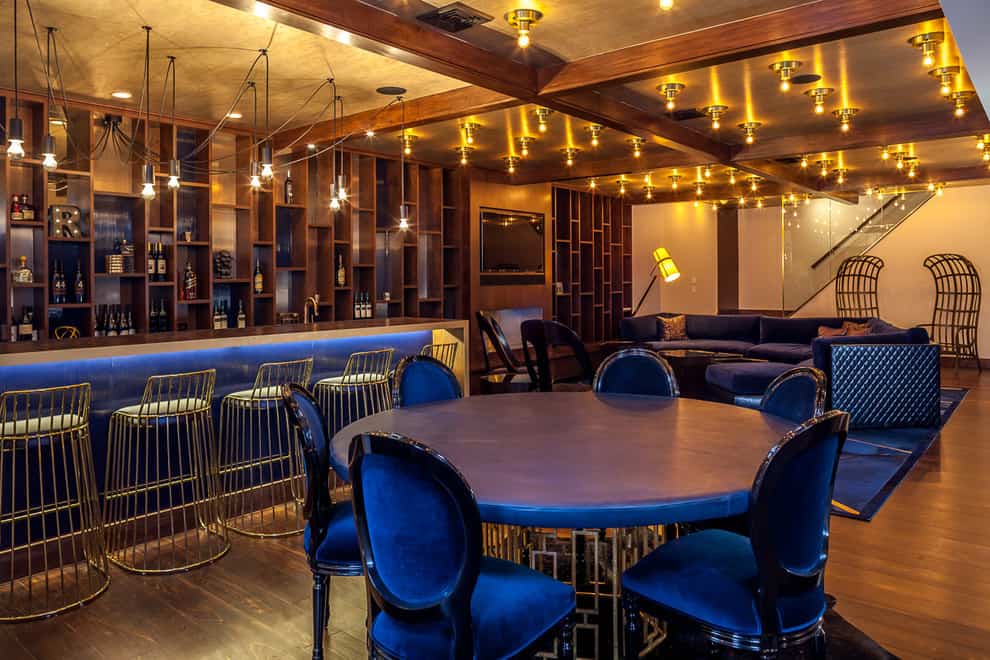 Chic Tray Ceiling Basement Lighting
For a chic and modern touch, the tray ceiling RGB lighting fixtures will make your whole basement ceiling shine. They will also add a unique style and beautiful glow to the whole basement.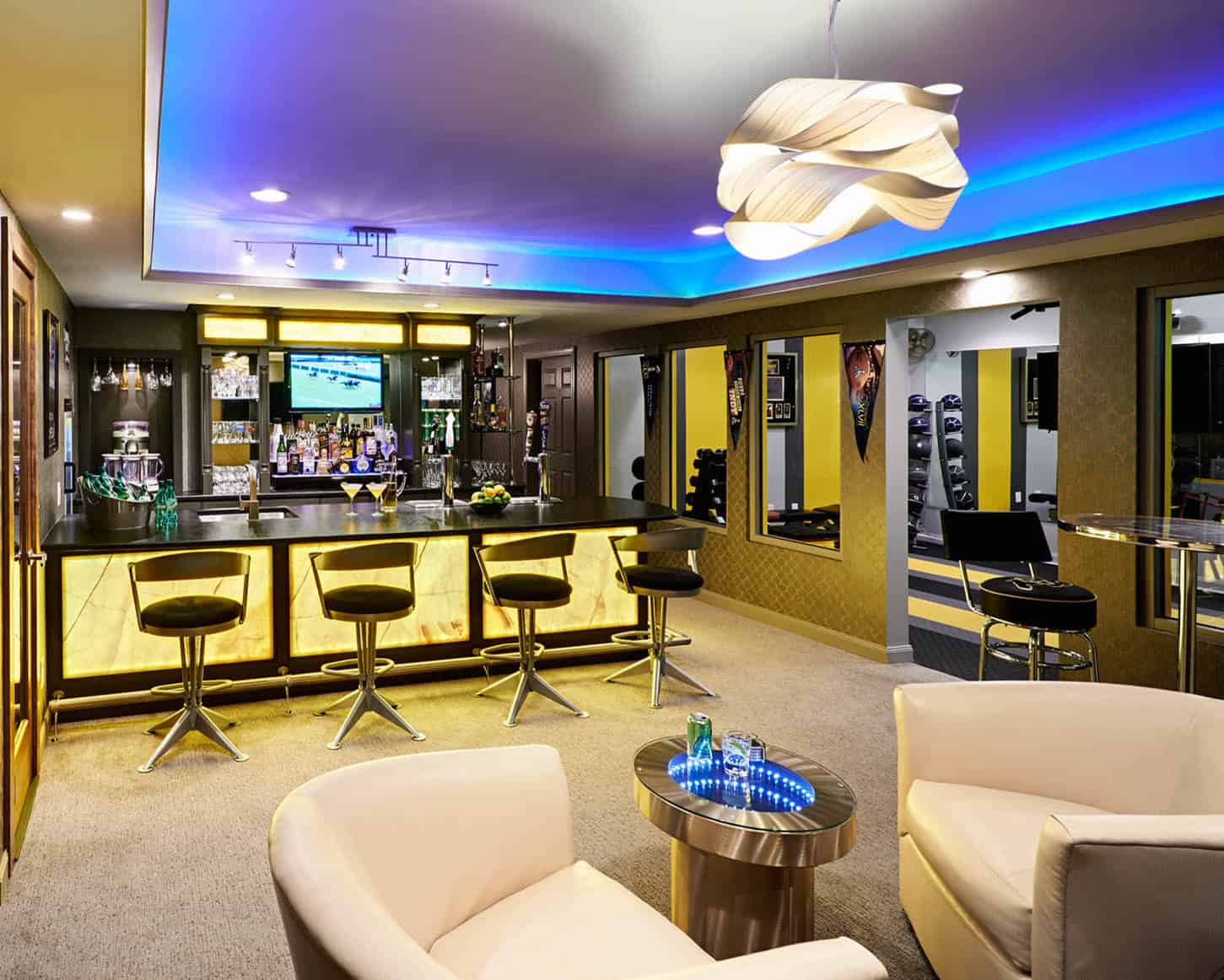 A tray ceiling is sometimes called a recessed ceiling. You can tell one as soon as you lay eyes on it because it looks like something out of a boutique art gallery. An entire section of the basement ceiling – usually rectangular in shape – literally pops up into the ceiling itself.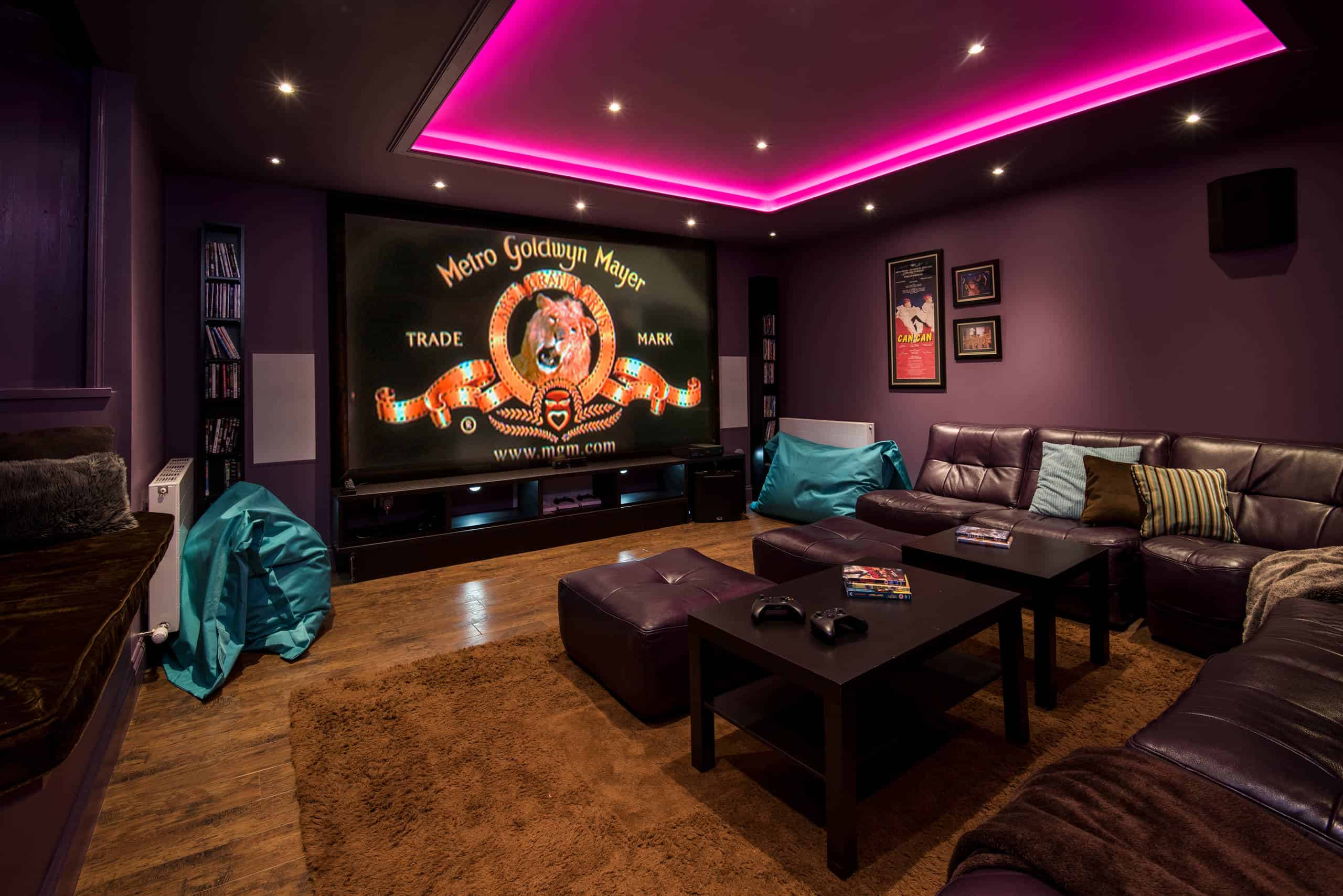 That being said, you can design a tray or recessed basement ceiling to be exactly the way you want.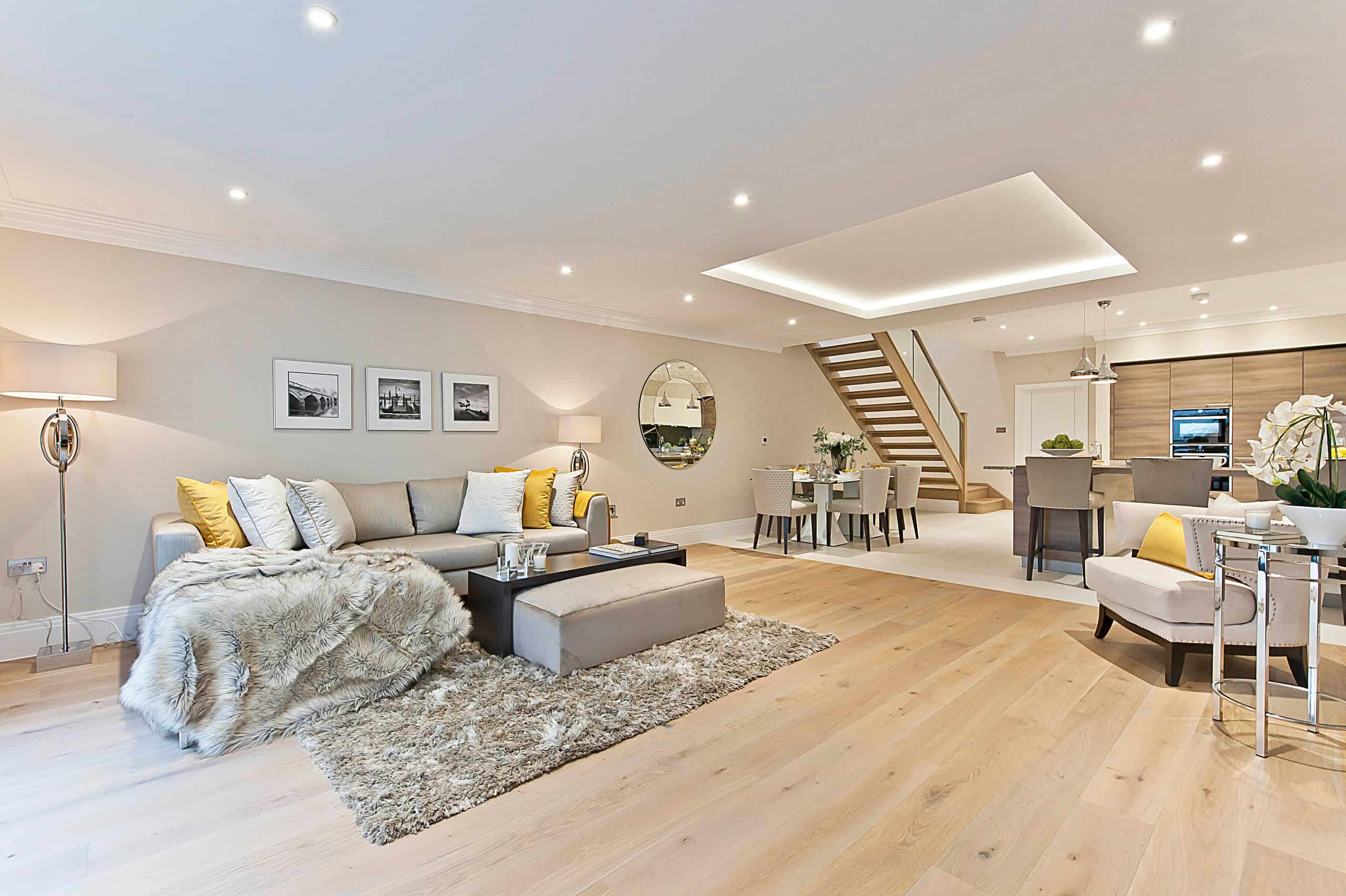 Simple and unadorned is one great option. Dress them up with cinematic or colorful lighting for a pop or splash. Some even opt for a more elaborate basement ceiling to stand out and take center stage.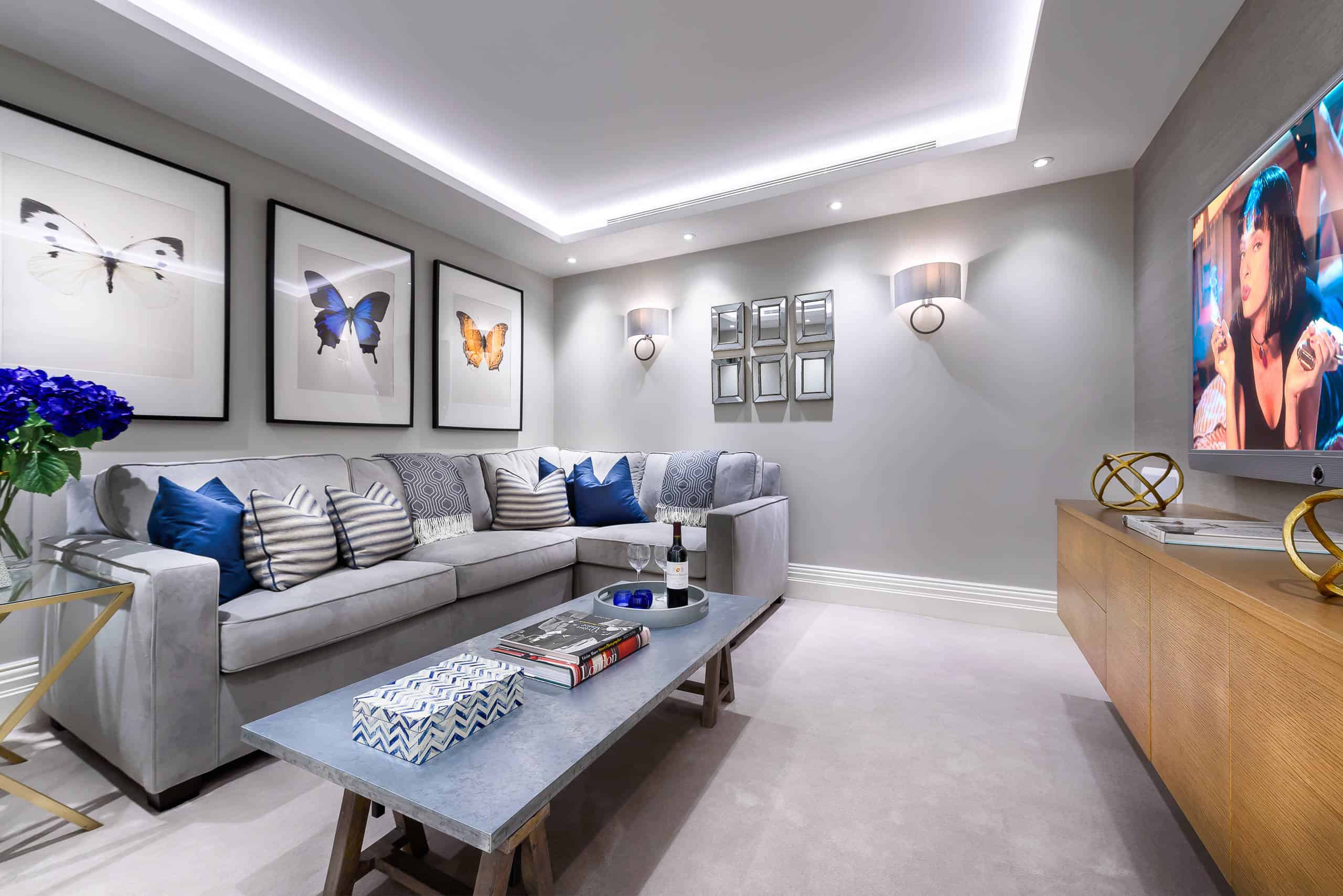 In other words, these lighting ideas are unique, in that they're an even match of traditional and modern. For that, a tray ceiling with recessed lights works like a charm.
Exposed Rafter Basement Lighting
There's a very good reason that many people these days absolutely love rustic interior design. Why, you ask? Because it's both fashionable and comfortable without sacrificing any on style.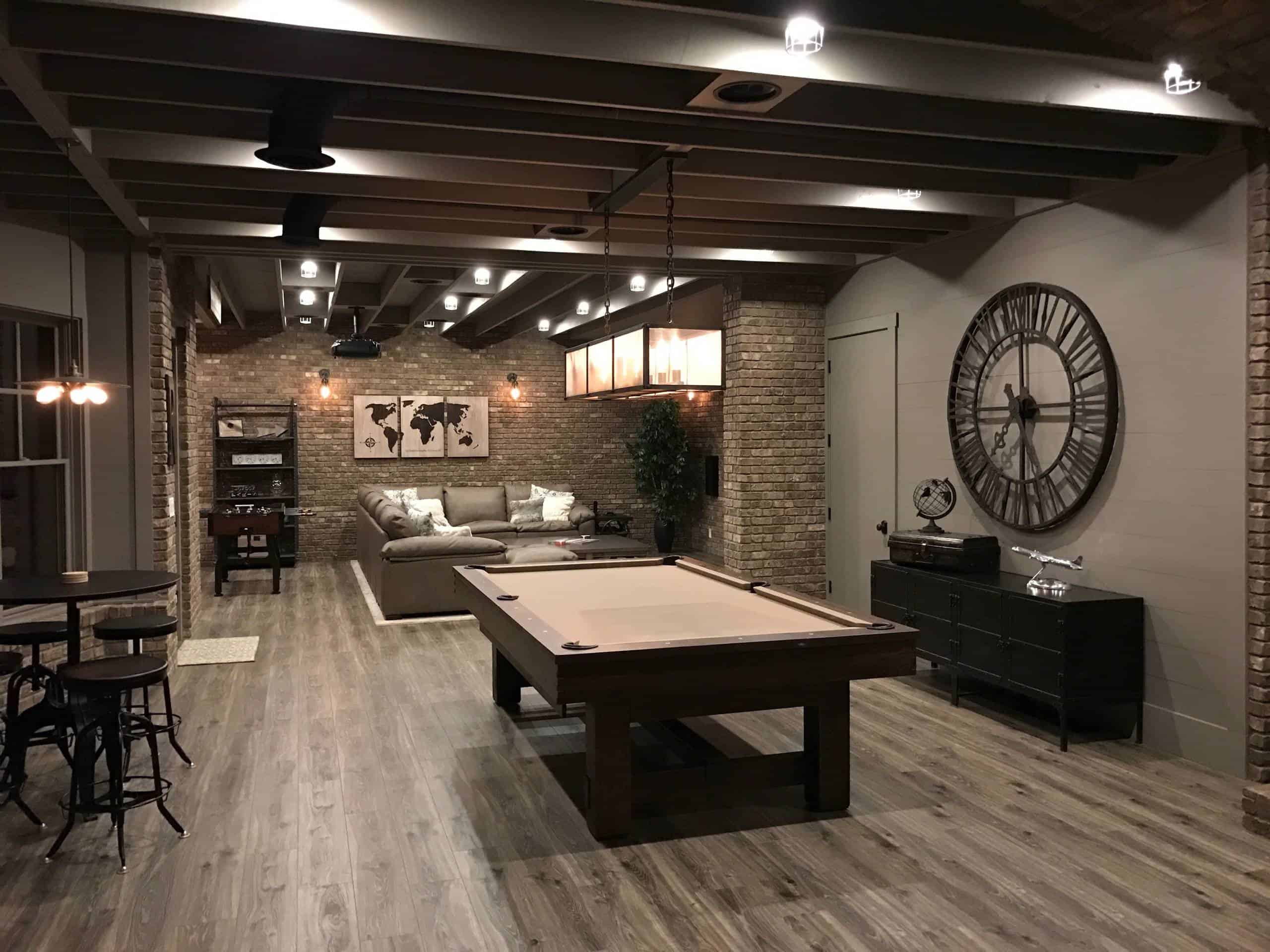 Joanna and Chip Gaines, of HGTV fame, have brought country interiors into the homes of people all over the country. So, it makes sense that this same aesthetic would translate to lighting fixtures and ceilings, especially in the basement.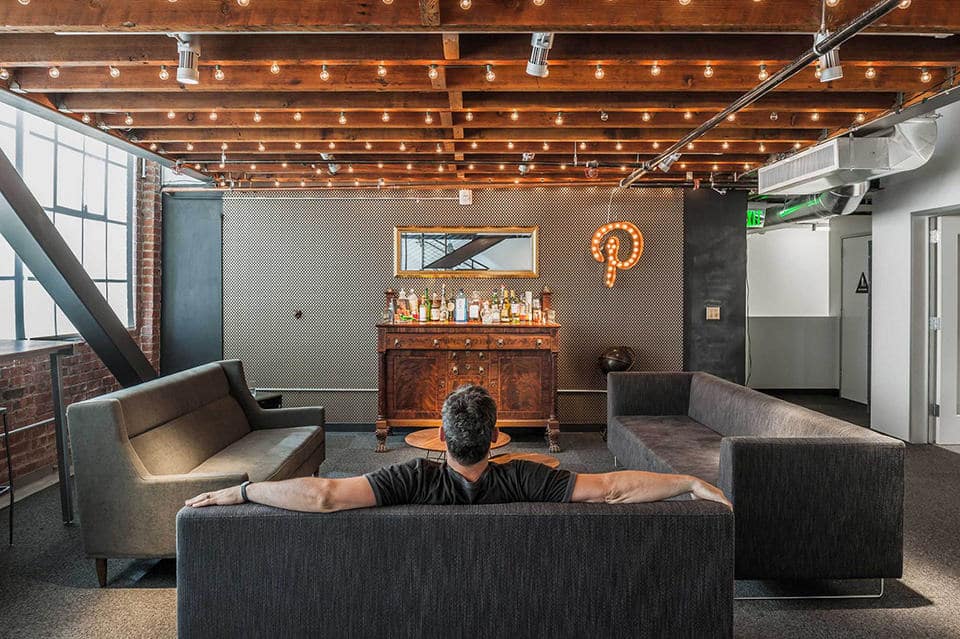 With exposed basement ceiling wooden joists or panels in a partially unfinished basement, you will create a chic rustic appearance instantly. Add in some simple recess lighting or even Edison bulbs, and you've got a basement that's fit for prime time! They can be super easy to install too.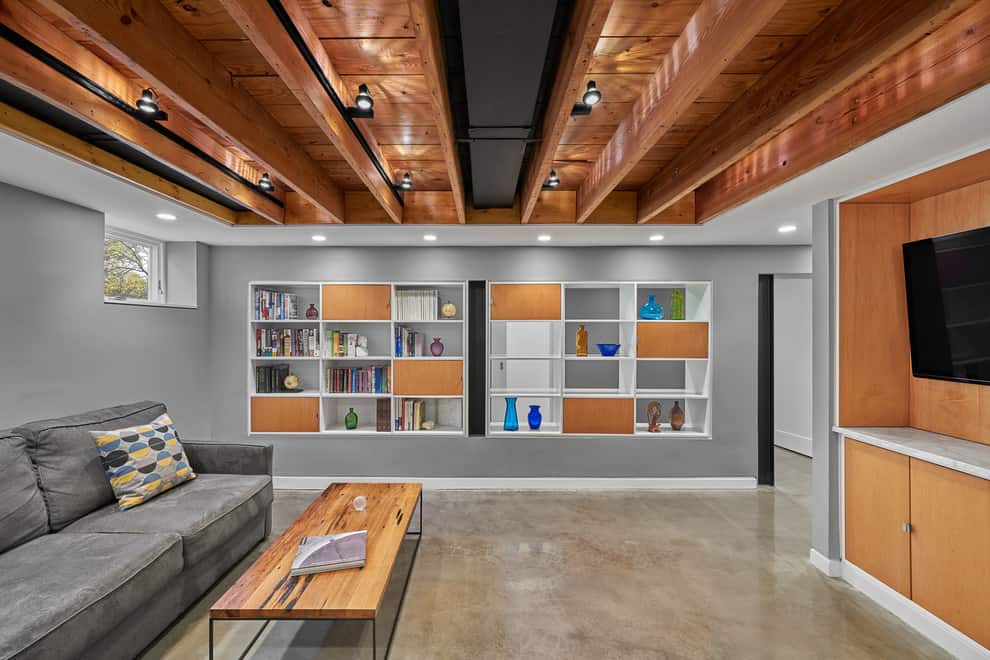 What's more, exposed joists basement ceiling light ideas will work just as well in a number of totally different interior decoration looks. Modern, traditional, man cave, you name it! You can install track lights between the joists.
Here's the bottom line… If you want a little bit of country in your unfinished basement, these rustic lighting ideas will do all the work without distracting from your home's own personal appeal.
Starry Night Sky Basement Lighting
Create a unique and eye-catching basement with what I call a Starry Night Sky lighting design. It can be dark and light at the same time.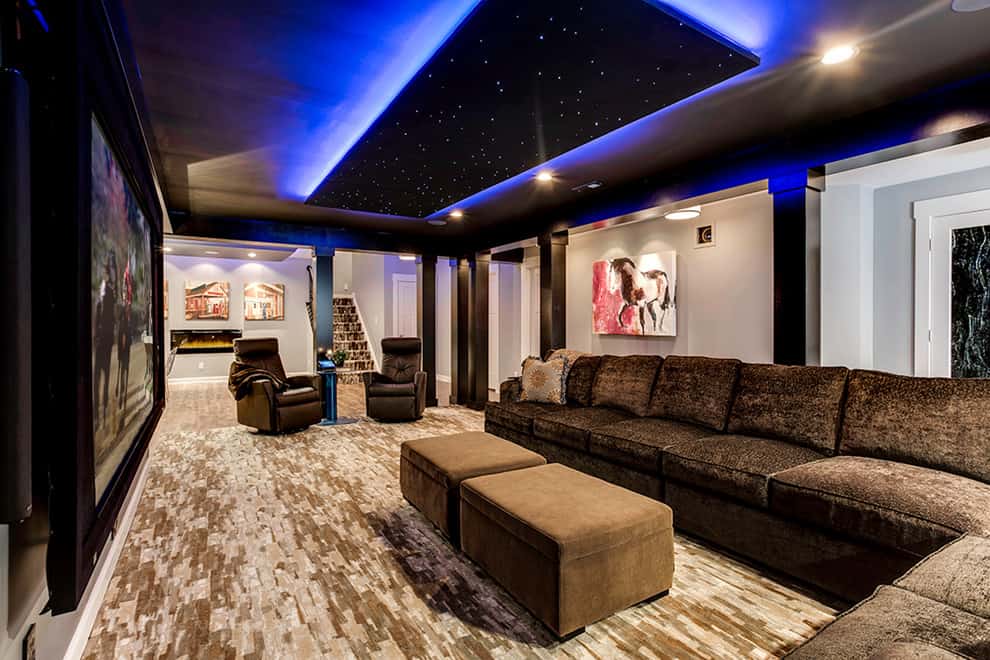 It's not hard to tell why such a title works so well for this particular style of basement ceiling lights.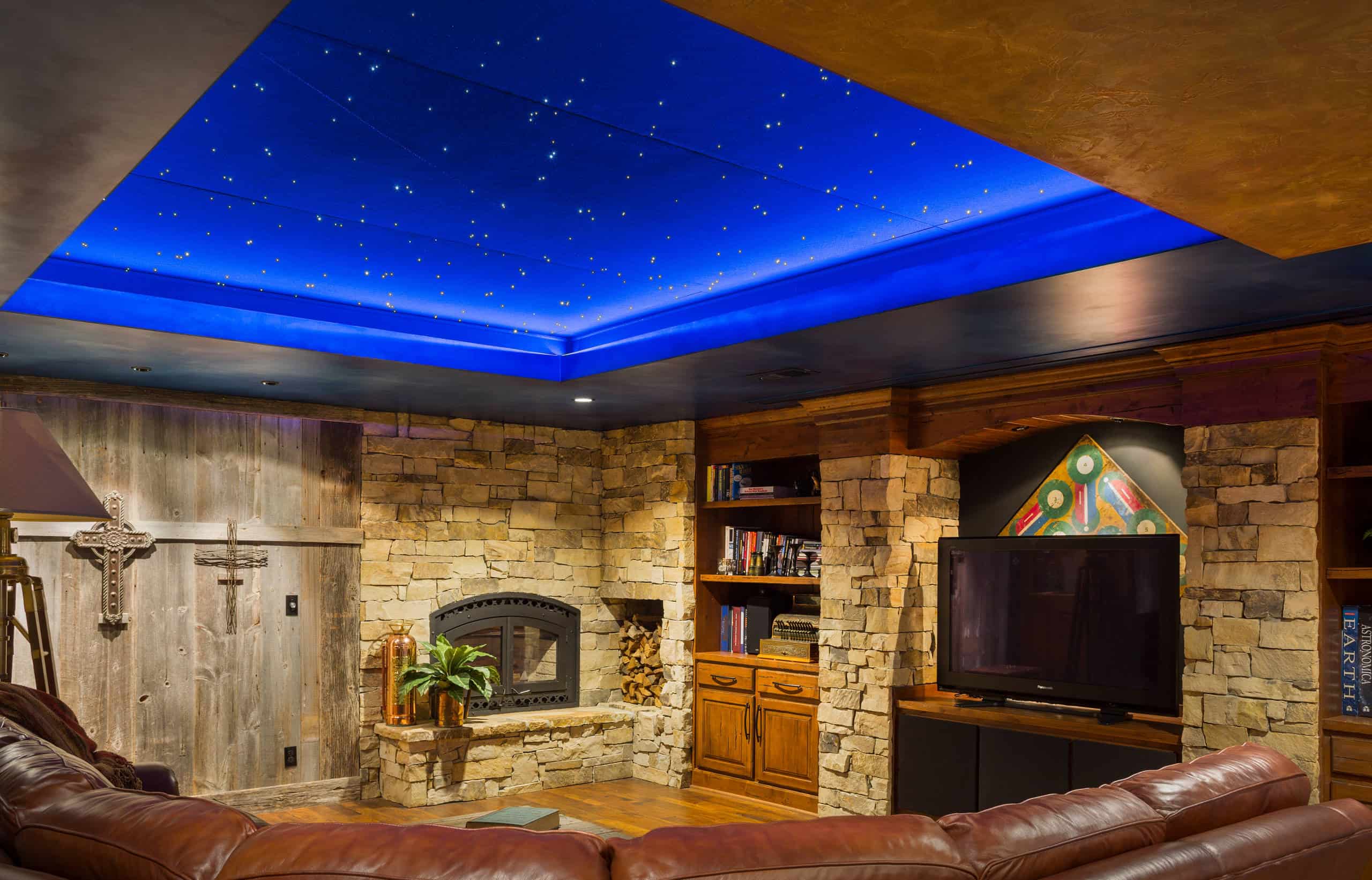 Like all the ideas and styles on this list, starry night sky lights will work in any basement ceiling, finished or unfinished basement. The light fixtures are designed to twinkle like stars.
With smaller lights atop a white or lighter coat of paint, the lights won't pull much of the room's focus. If you want a ritzy Las Vegas feel, use slightly bigger lights on a dark background to make them pop. (And if you want the whole galaxy to spin above your head, go to the Great Hall at Hogwarts!)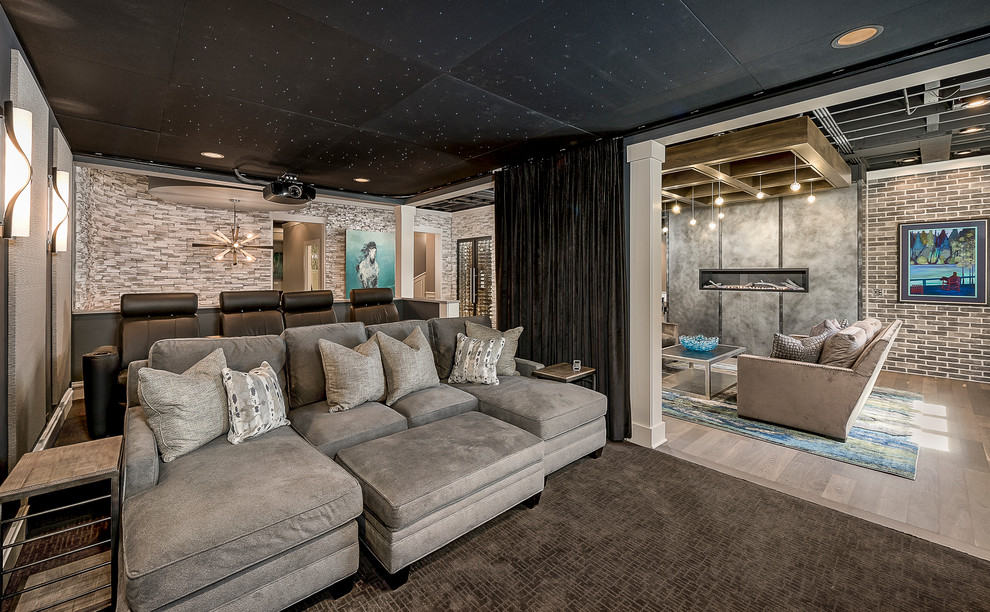 Of course, you might even do something right in the middle, incorporating a tray or recessed baceiling alongside your unique starry night sky lights, to create an elegant and natural twinkle from wall to shining wall.
Video Panel Walls Do Double Duty at a Glance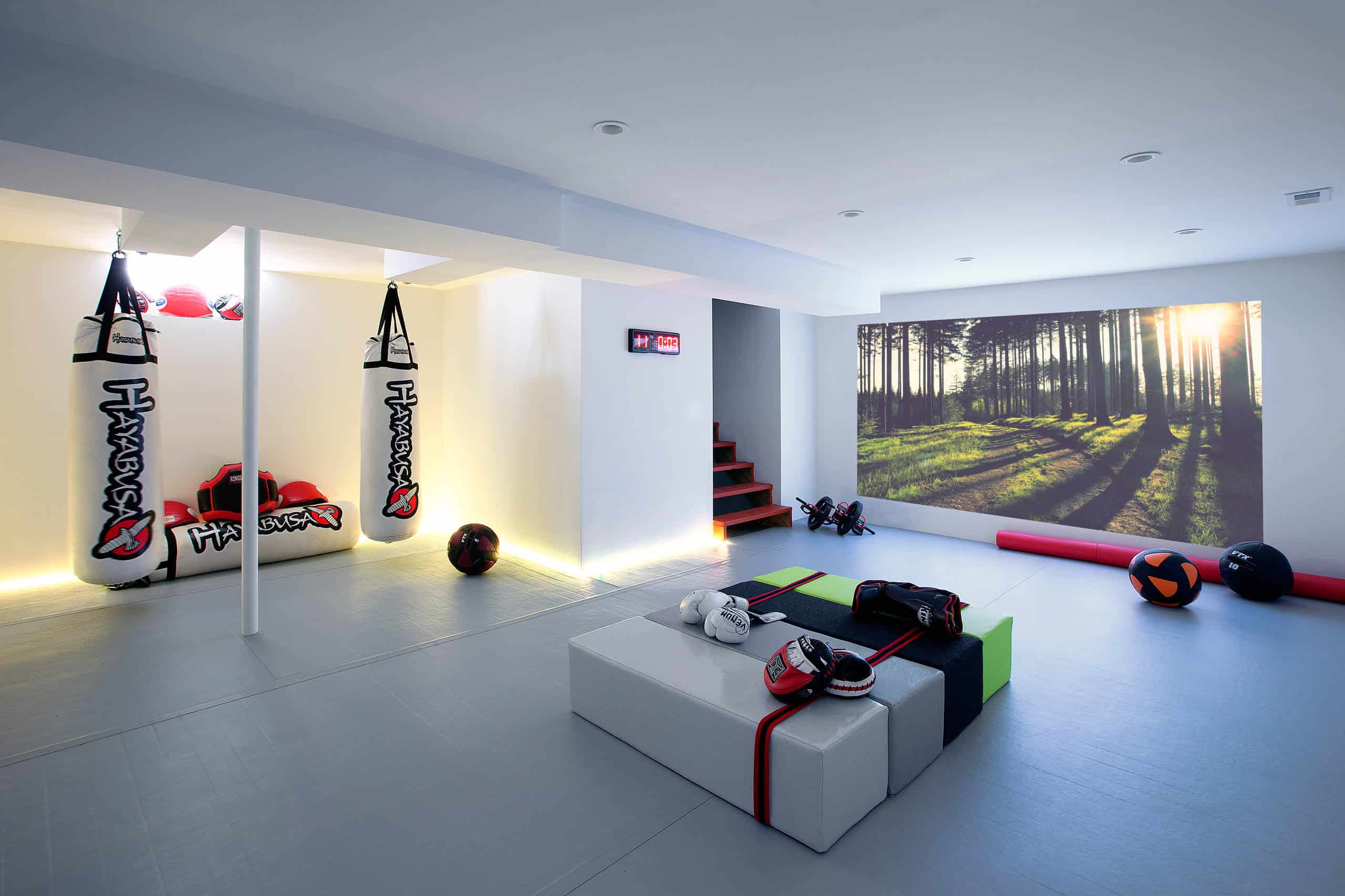 This final look is extremely unique. Even so, it will still work in every basement setting. This is because it's able to blend into its surroundings perfectly.
I'm talking about the video panel wall with recessed lighting. A video panel is a lot like a big movie screen. In fact, that's basically what it is!
The difference here is that this panel will do some of the work of actually lighting your basement space due to its large size and extra brightness.
In the photo here, you'll see that this video panel is installed in a workout/gym basement, but that's far from the only place it fits. If you've got a big, long wall in your home's basement, a video panel will transform it from unused to perfectly incorporated immediately.
Whether you use an actual physical screen or a white wall with a projector, the effect is largely the same. In a word: stunning.
Just like all the others on this list, if I do say so myself…
Conclusion
No matter what lighting ideas you love the most, there's a lighting fixture or motif that works perfectly for you and your home. This list is full of them, from the very traditional to the modern to the more ornate and elaborate.
As you know, the basement in every home brings its own unique set of challenges and opportunities. But, with the ideal set of ceiling lights, you'll do more than just bring light to the room.
You will create a space that is exclusively yours, expressive of your own personal style, and a great place to spend time, work, or just relax.
With that in mind, I always love to know what designs people use throughout their houses. Let me know which ones are your personal favorite below in the comments! Can't wait to hear from you about your own interior design and decoration journey at home.