We tend to think of bars as places we go out to. But, what if you could simply go downstairs and roll into the best bar you could ever imagine? With my 38 basement bar ideas, you'll be inspired to throw a party, learn to make cocktails, and watch the game with the guys. It's all possible in a basement bar!
Basements provide a unique opportunity to craft a compelling space in your home, visually appealing, useful in a practical sense, and immensely enjoyable (Read Also: Basement Ideas).  One of the key elements of these spaces and arguably the most exciting part of all is the bar.
Whether you're in the market for something sleek, unique, and all-natural, a game room or a man cave, there's a great basement bar idea for you and your home. With all this in mind, I'm going to walk you through the coolest basement bar ideas and designs.
Take a look below to find the best basement bar ideas and designs.
Please don't forget to let me know which one you pick! As you probably guessed, I love seeing home makeovers.
Wooden L-Shaped Basement Bar Idea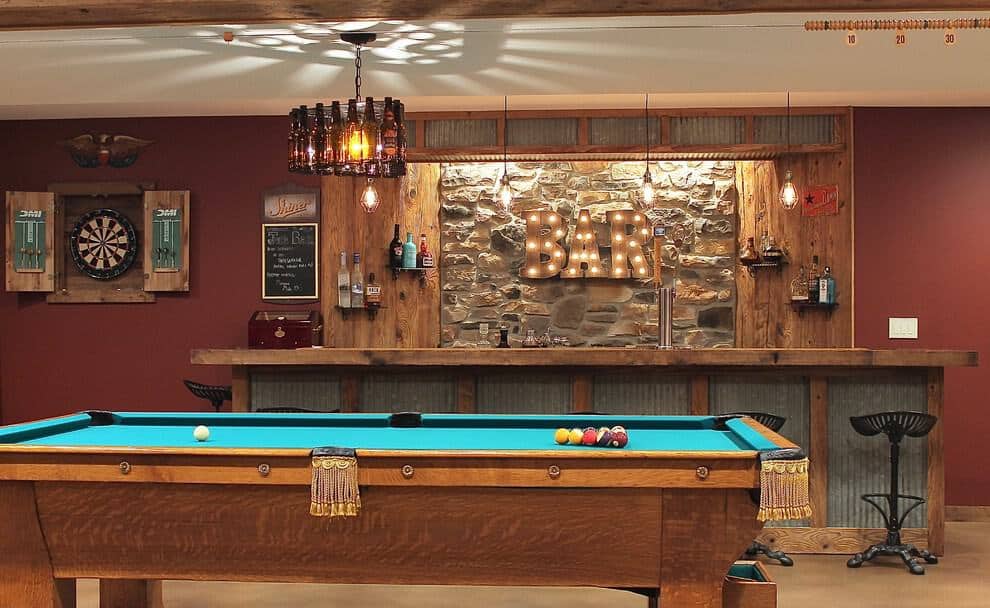 Here is what I love about this basement bar idea: literally everything. The rough wooden slats complement the aluminum siding to make the whole thing feel like a local restaurant.
At the same time, the glossy countertop finish on the surface provides a sense of comfort and polished style. Hang up some lightbulb lettering to complete the look of a rustic dive bar that's the talk of the town.
Chic Industrial Bachelor Bar Idea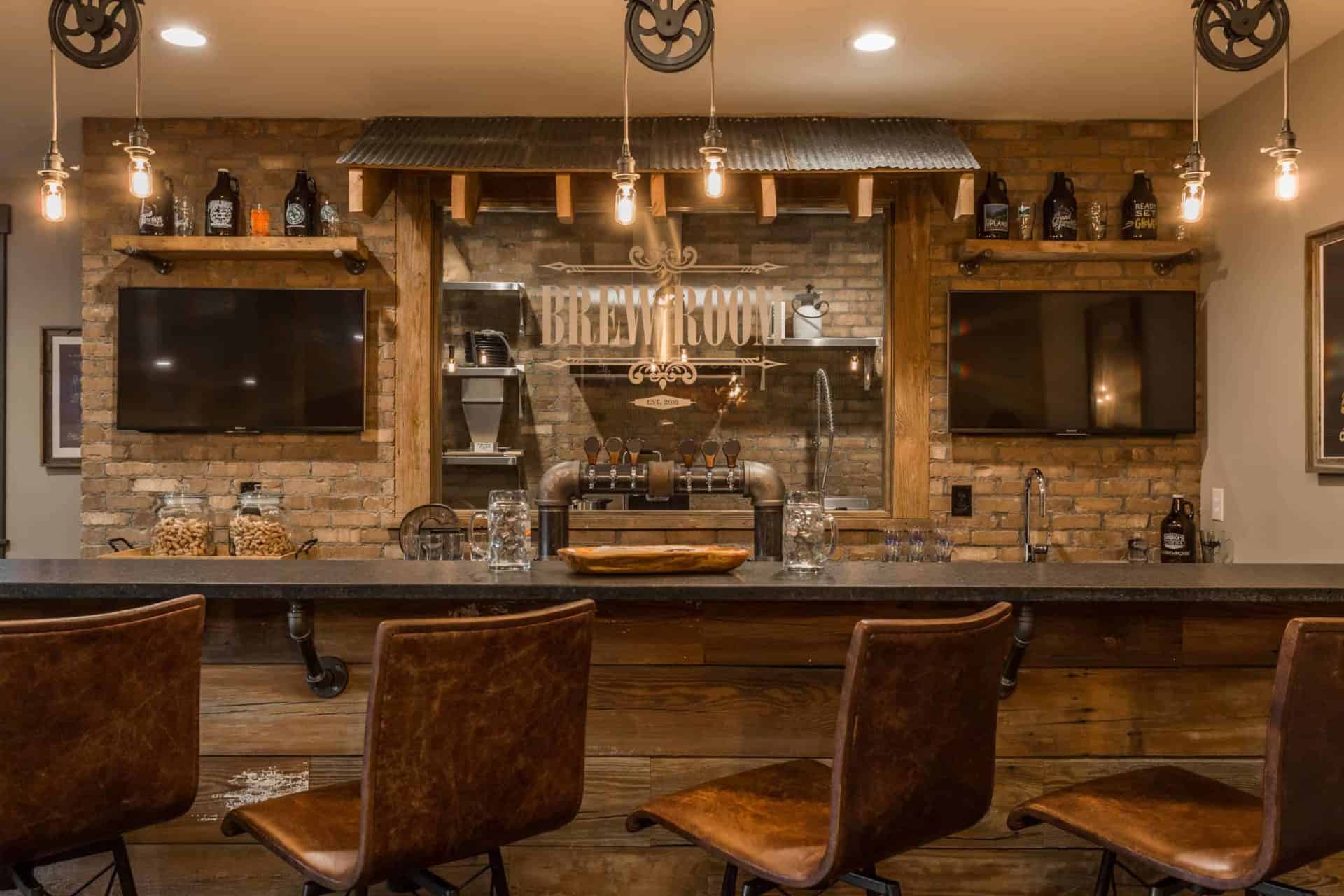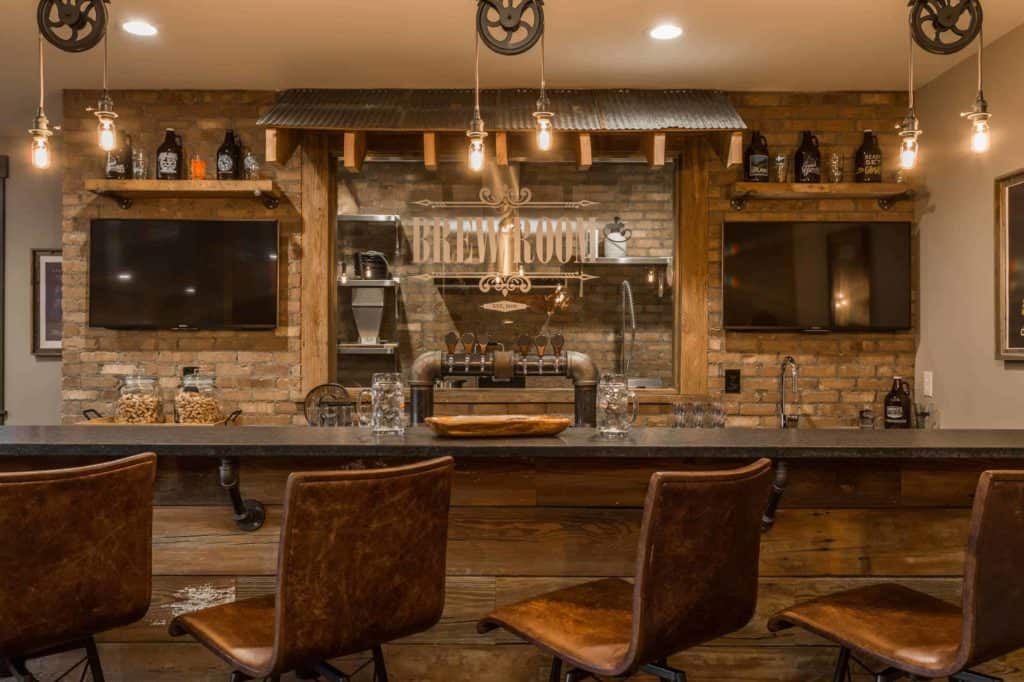 Who needs to go out for a drink when you can have all your friends over to your incredible basement bar? With the leather bar chairs, industrial piping, and hanging Edison bulbs, the space might as well be an uptown restaurant joint.
Use brick and wooden materials to solidify the entire look. Add in the mirror and personalized lettering to boot, and you truly won't feel like you downstairs in your basement anymore.
Sleek Modern Bar Idea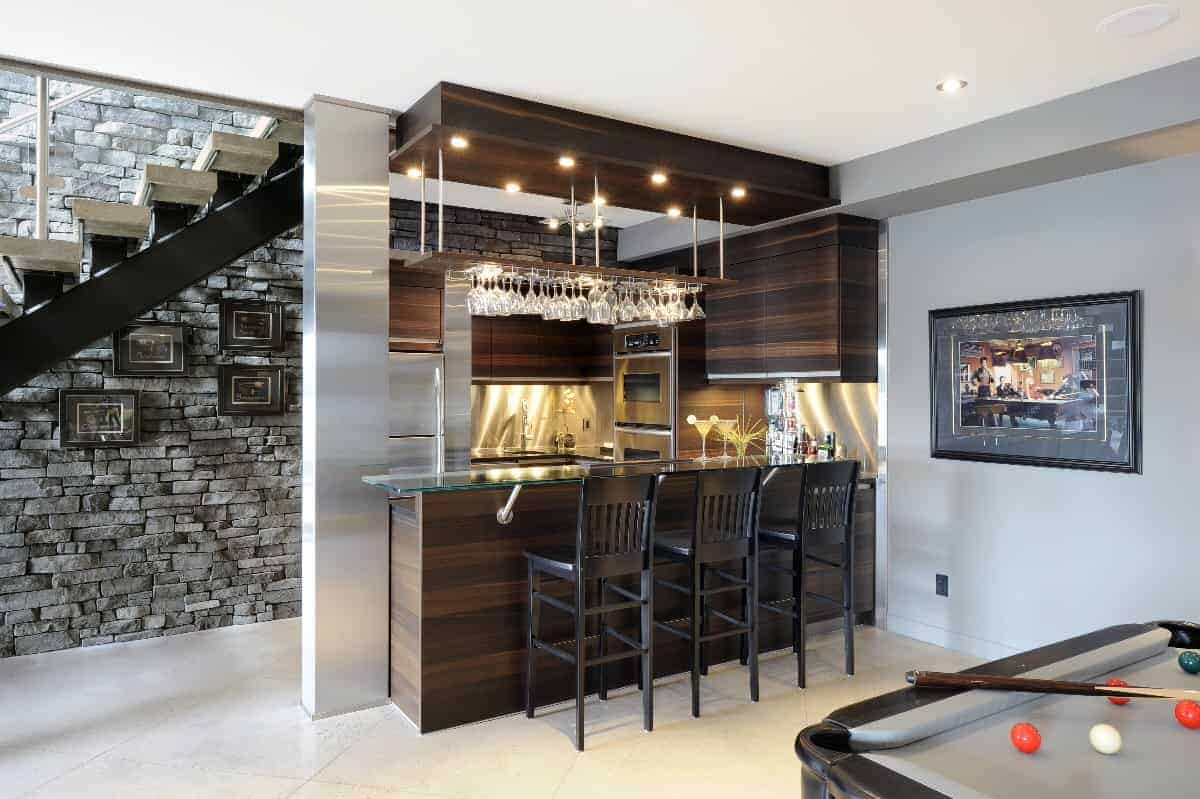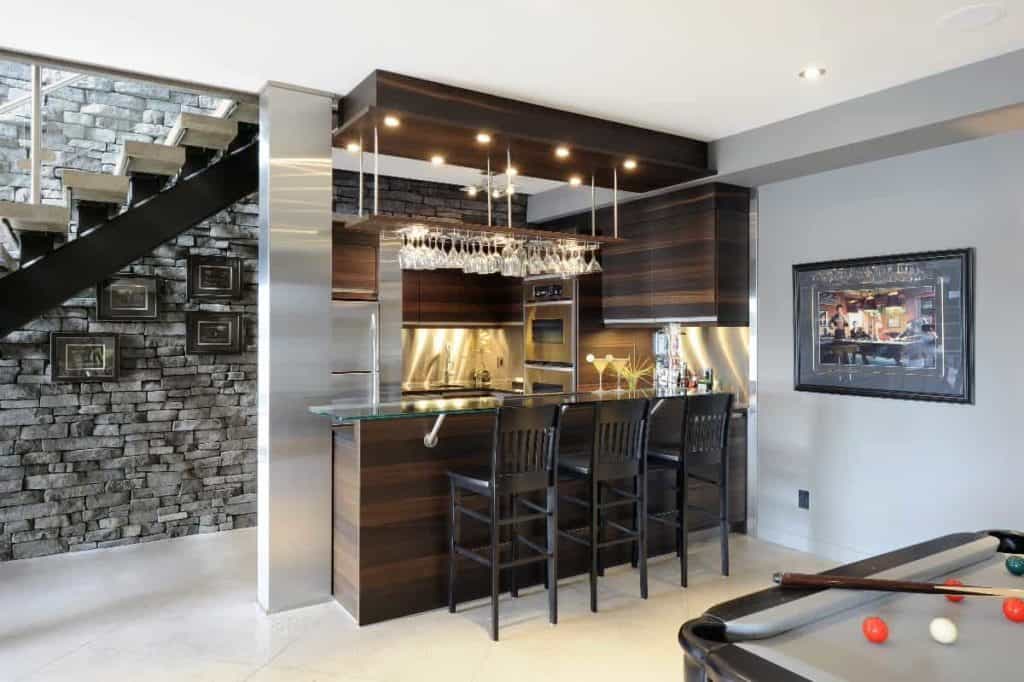 Glass and dark polished wood are a match made in heaven. For the ideal modern design to feature your basement bar, include nearly equal amounts of both — this highlights each material on its own as well as bringing the other to light naturally and effortlessly.
Take your bar up a notch by suspending a hanging wine glass rack from the ceiling. Finally, install dark wooden "rational" cabinetry; in other words, no pulls or handles, so the entire space appears seamless from one end to the other, whether it's glass or wood or some combination of both.
Elegant Man Cave Bar Idea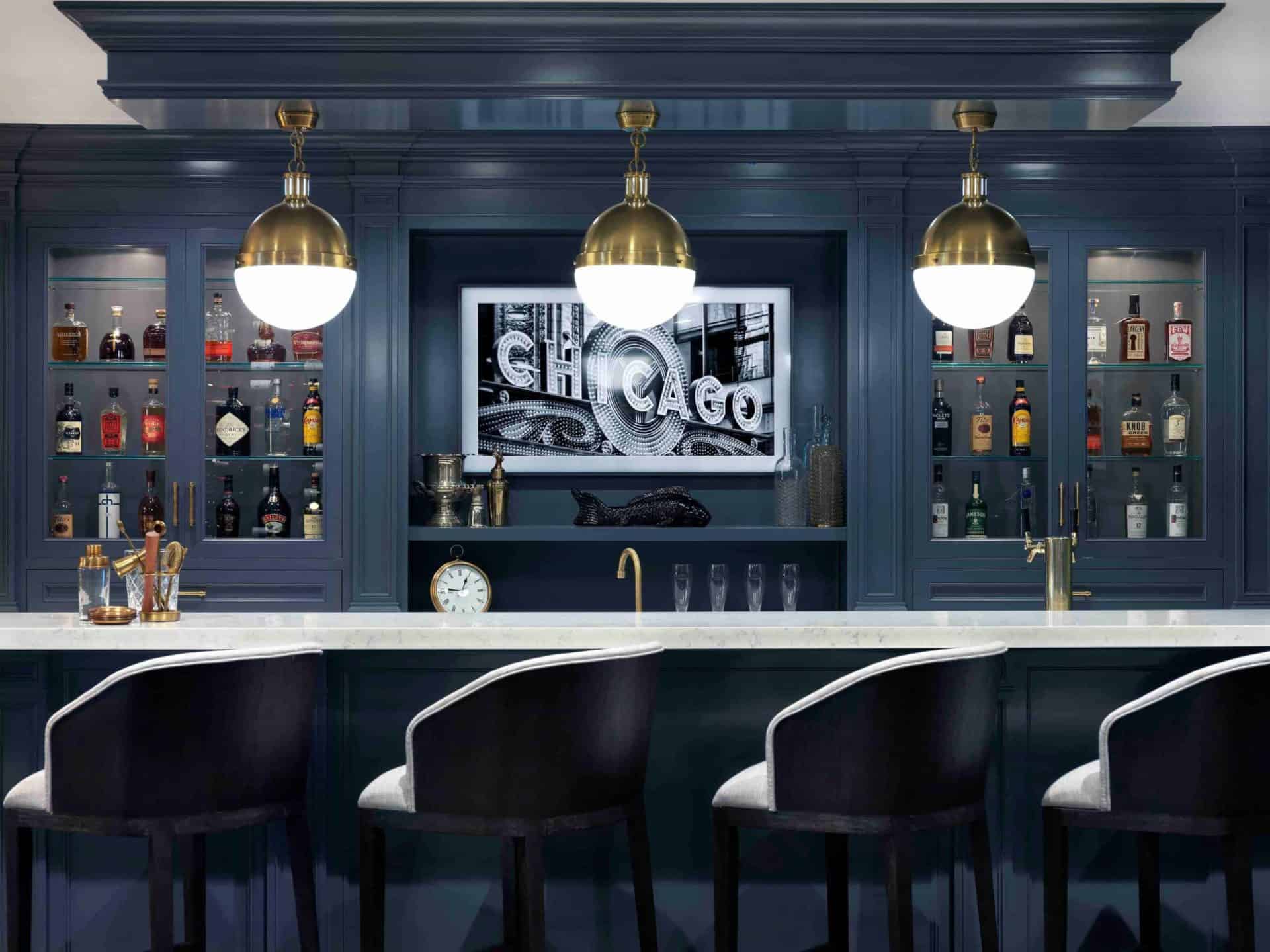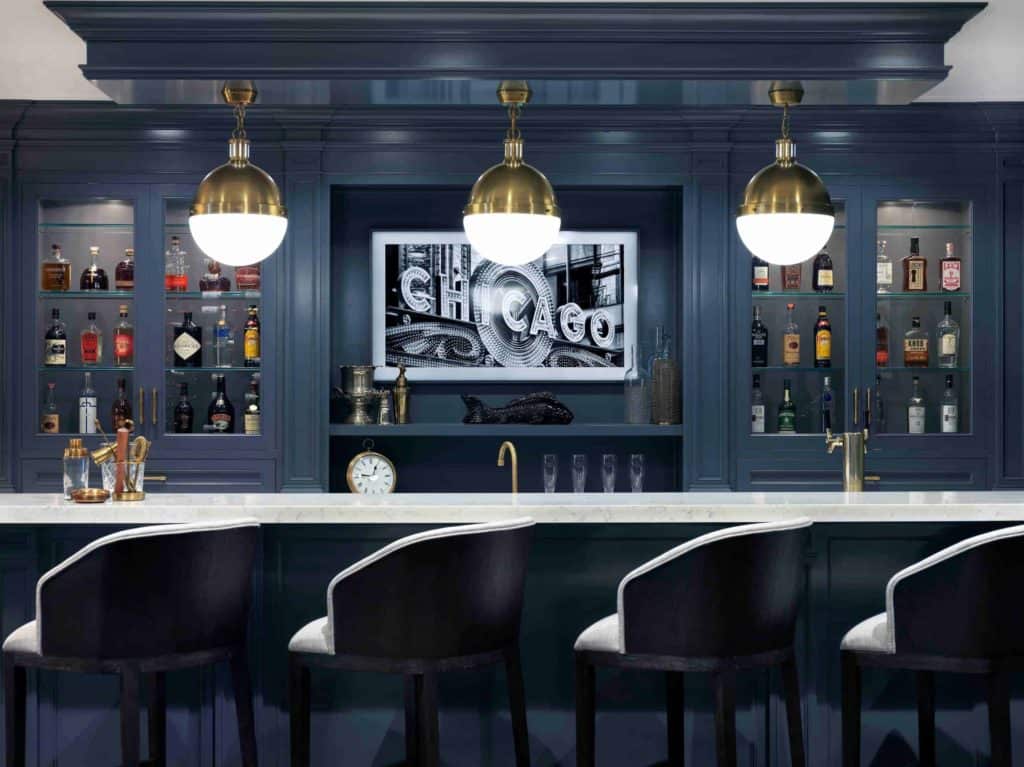 What's that you say? You want to have a man cave in your basement that also looks luxurious and elegant at the same time? Then look no further!
The best way to combine all the best features of a traditional man cave with components of luxury and fine living has to be marble or granite. This material functions as a sturdy bar countertop without losing that elemental feel that men crave in their cave.
Include transparent cabinets to show off your collection of fine spirits and wash the whole thing down with deep blues and hanging orb lights to complete the look. The only problem you'll have is keeping people from wanting to visit your basement instead of the local bar scene every weekend…
London Galley Basement Bar Idea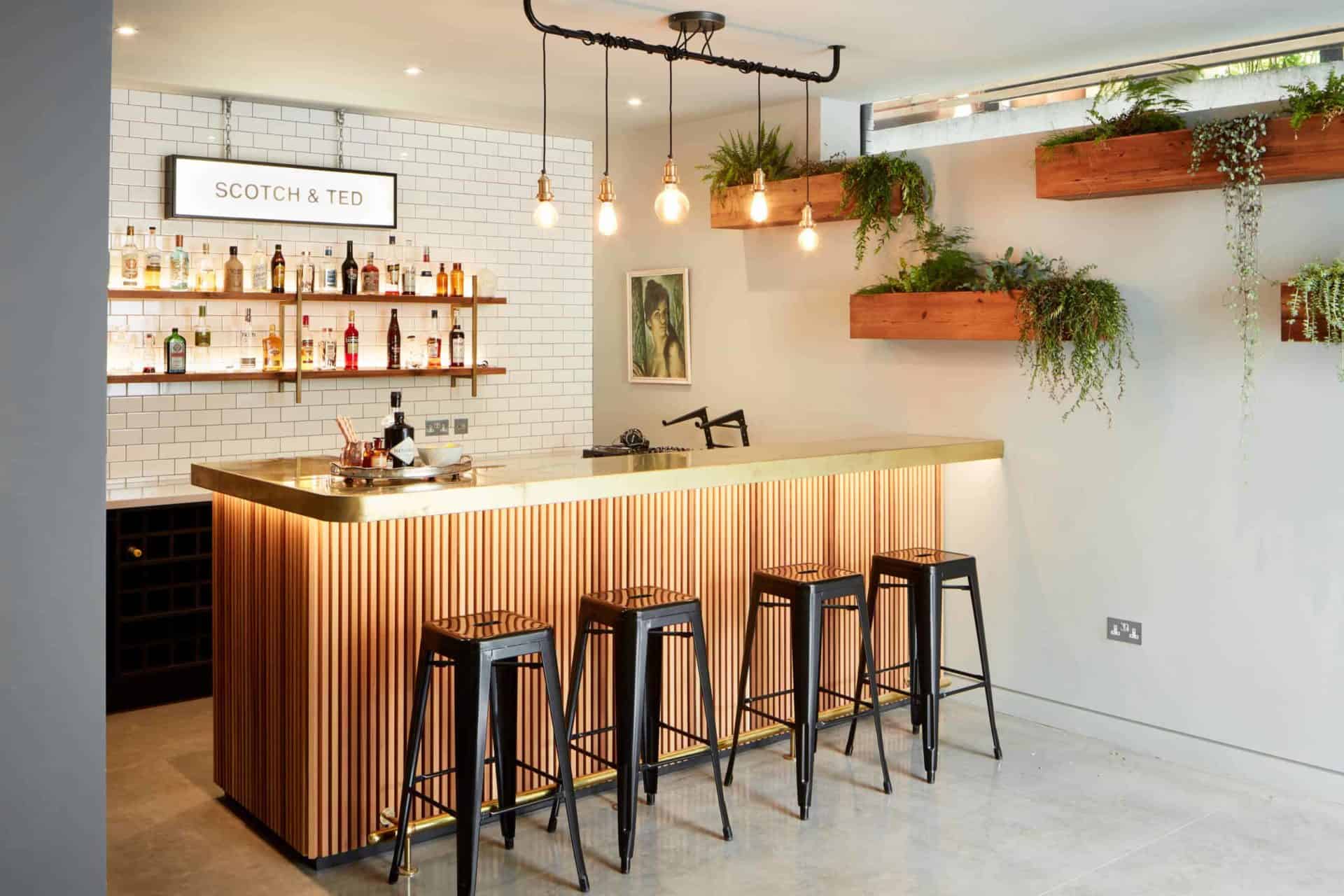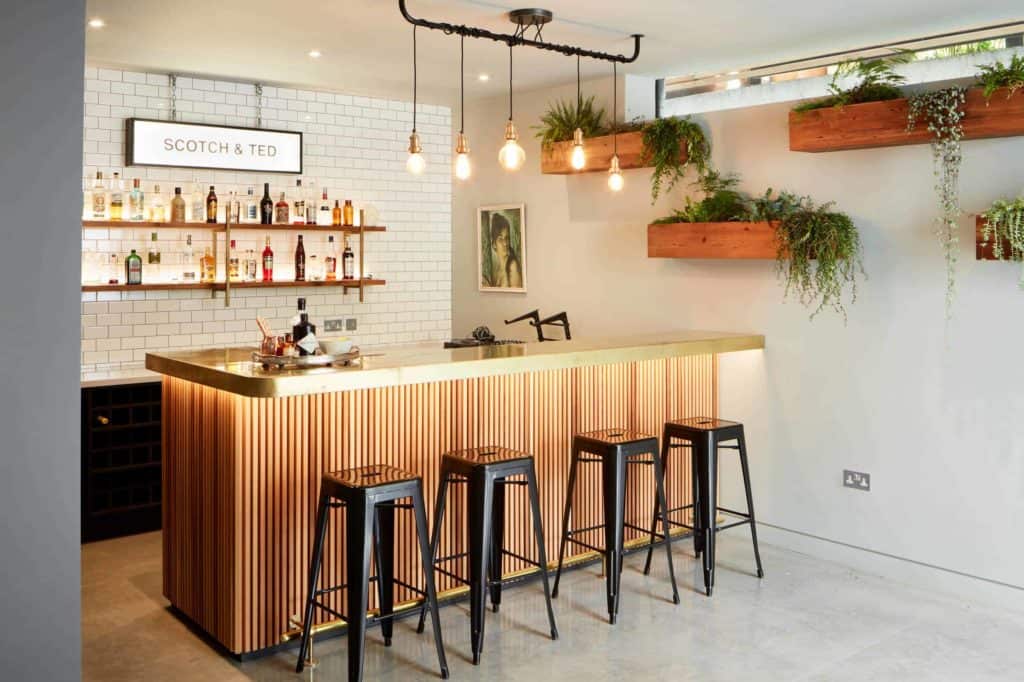 Edison bulbs and pristine, white, subway tile backsplash. Need I say more? Probably not, but I'm going to anyway. It's just in my nature.
Look, if you want to instill the cosmopolitan, worldly feel of a major British city in your basement bar, then you almost certainly need a little glitz and glamor. Sure, some of England's best-known joints are pubs, but that's not what we're going for here.
With gold adorning the major surfaces, you instantly conjure up images of soirees and fancy mixed drinks. Hang up a sign with customized lettering (maybe a drinky pun on your surname or hometown) to finish the ensemble.
All that's left is to pour up some homemade cocktails and enjoy the evening. (Don't forget to invite me!)
Mixed Materials Posh for a Small Basement Bar Idea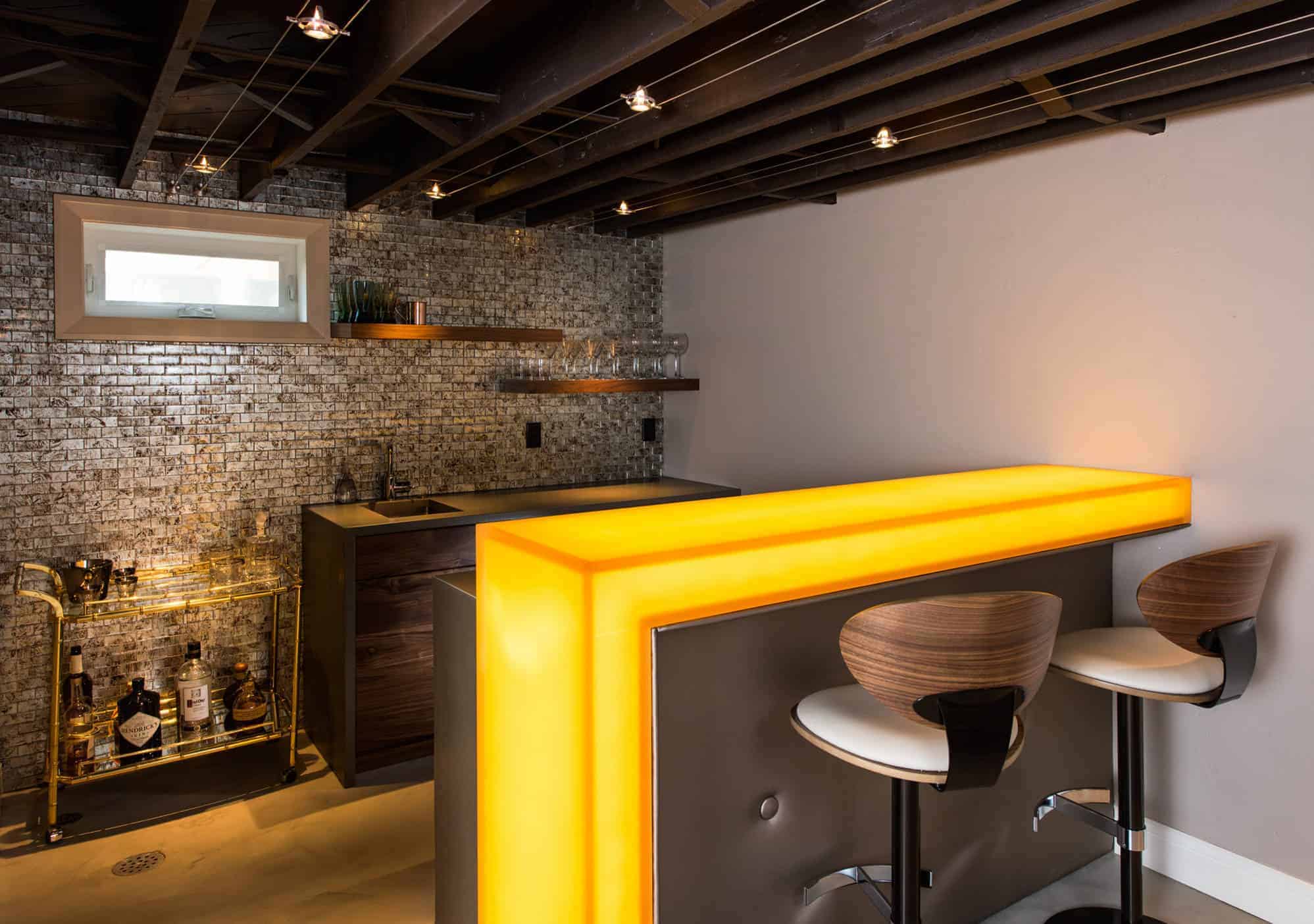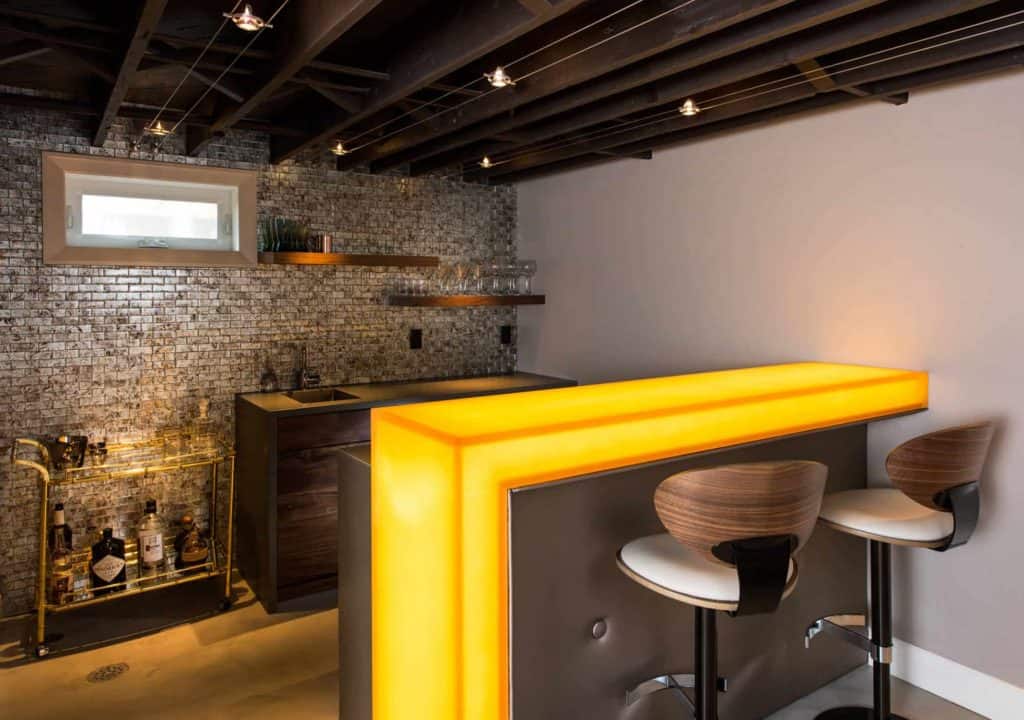 Sometimes, you just can't decide on one or two or even three primary materials. Honestly, why bother limiting yourself when you can achieve a fantastic basement bar design look by using a whole slew of different properties?
Here, we have concrete, wood, brick, leather, and even a little brass thrown in for good measure, yet somehow nothing feels out of place or extraneous. It's not a miracle — this is simply the effect of marrying multiple components in just the right sequence and amount.
Elegant Sports Basement Bar Idea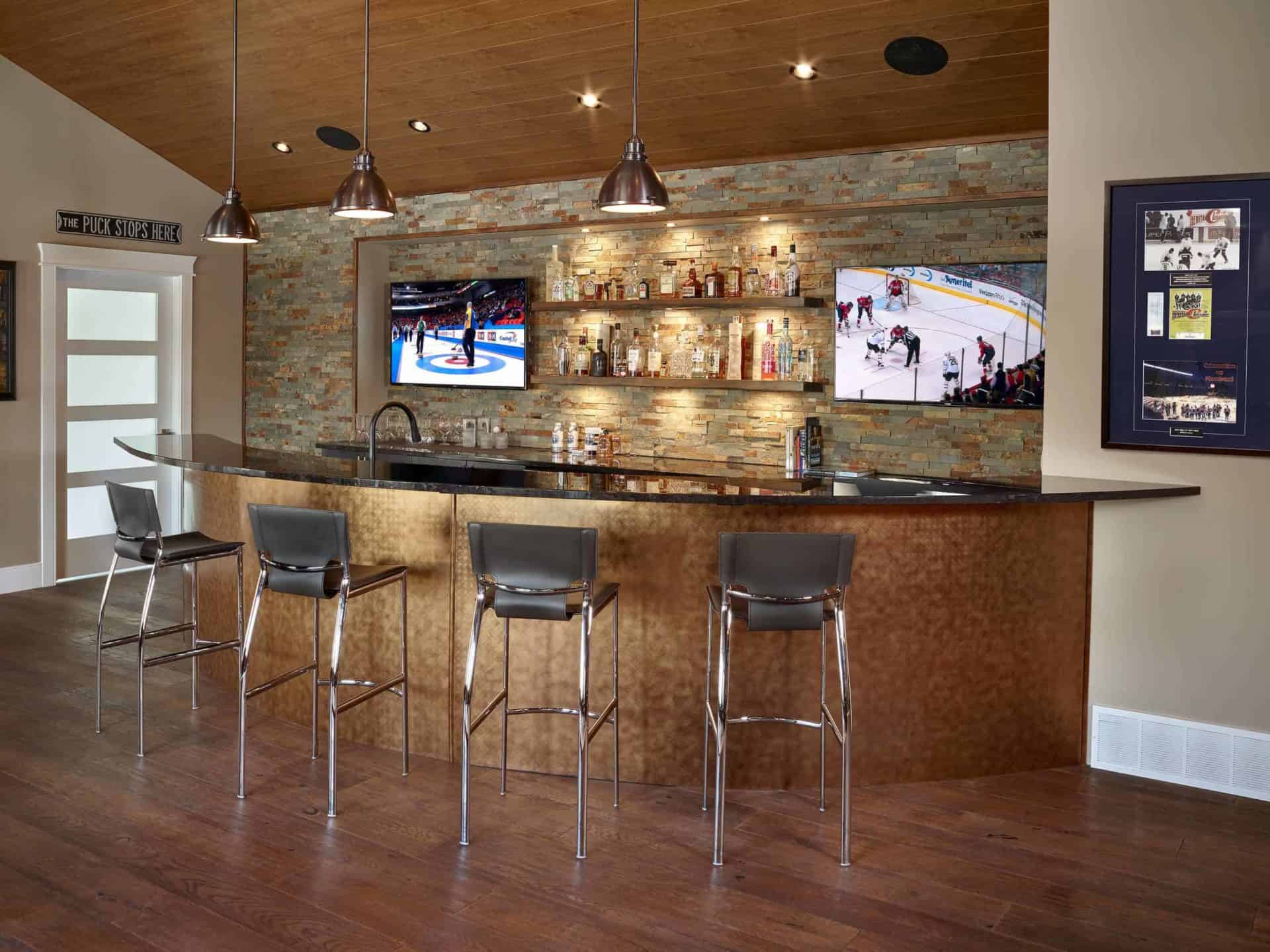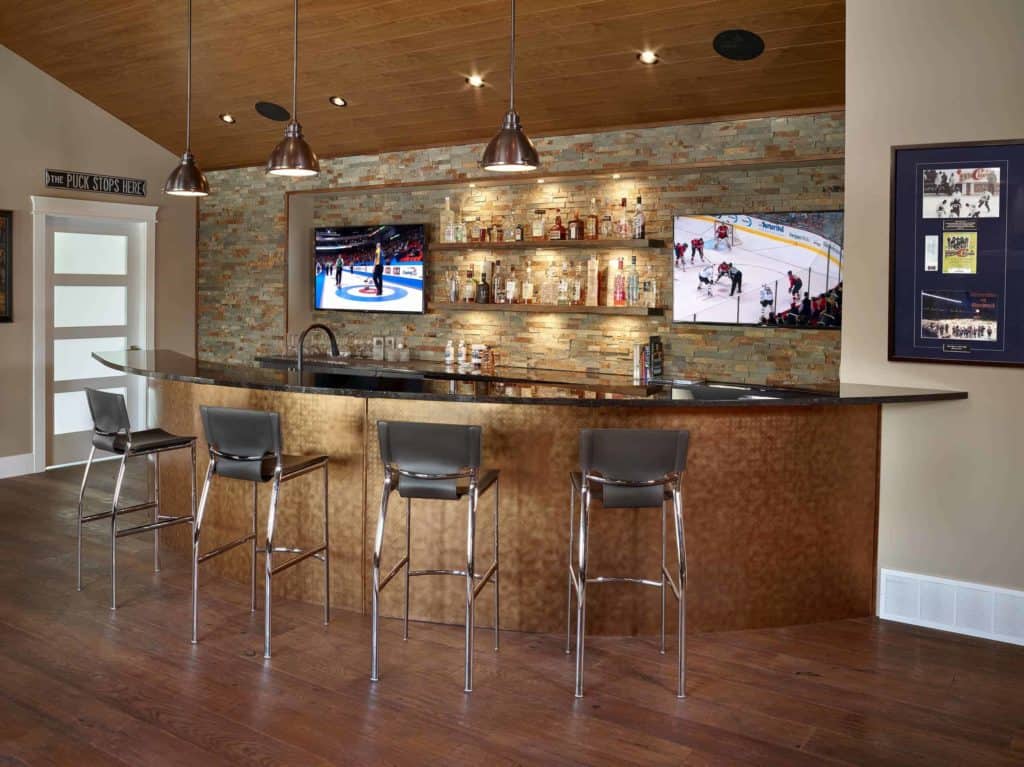 OMG. This is one of my favorites of the entire collection. Whether you're an NHL fan or not, you have to appreciate a rounded bar top. And there's tile literally everywhere — multiple styles!
If you are a hockey (or other sports) enthusiast, then the dual-mounted TVs and memorabilia on the walls will complete the look and feel of your very own sports bar in your very own basement.
At last, you don't even have to leave the house to enjoy the camaraderie of friends and fellow fans. Just call some pals and go downstairs!
Contemporary Industrial Pendant Bar Idea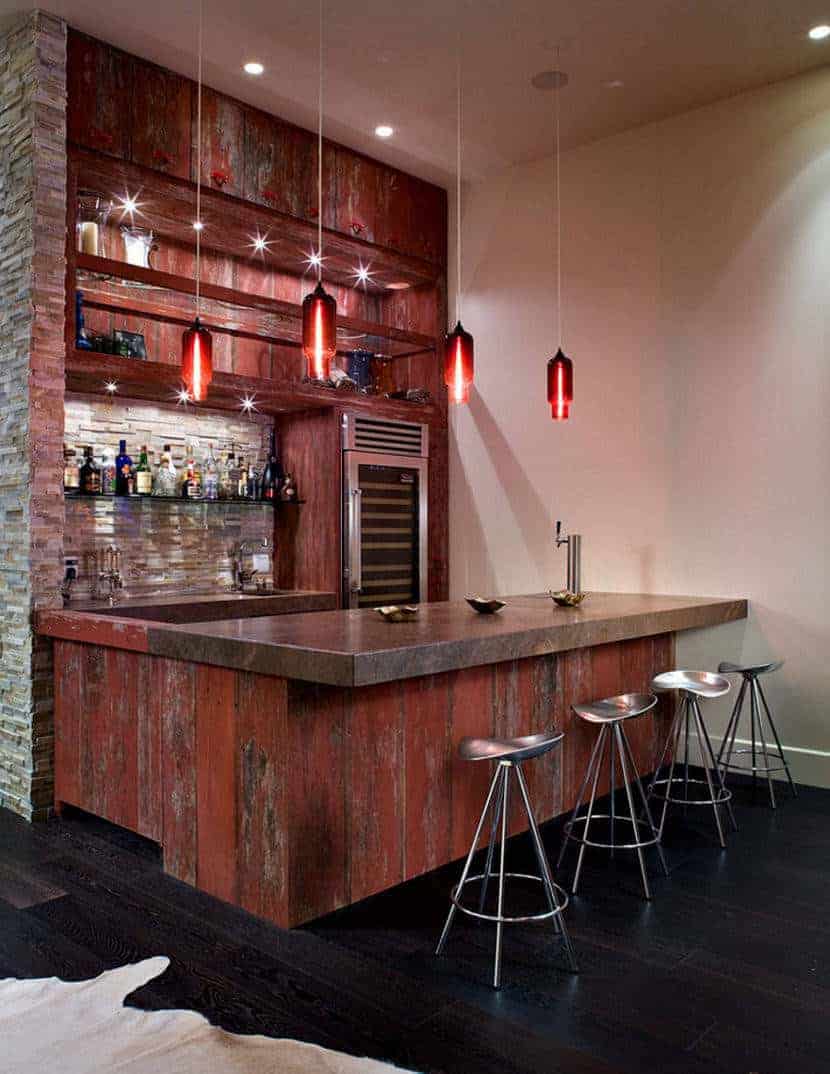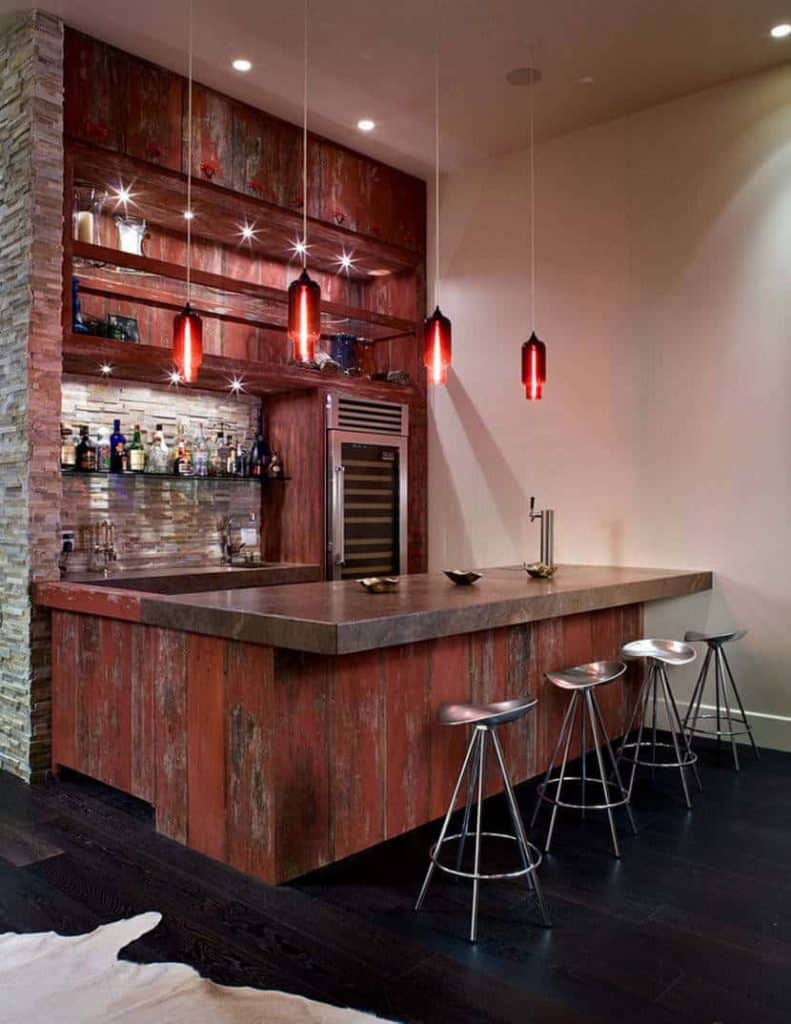 Contrary to popular belief, the bar itself doesn't have to be the most prominent feature of your basement bar design. In fact, a beautiful accent like these crimson glass pendants (Niche Pharos) draw the eye up while also highlighting — quite literally — the bar below.
The wedge countertop and reclaimed redwood slats underneath the buffet area contrast expertly with the metal chairs atop dark hardwood flooring. Contemporary and industrial all in one go. This design is absolutely a look that will stand the test of time.
Garden Variety Basement Bar Idea

There's nothing wrong with wanting to go simple. Often, simplicity is absolutely the best policy, especially with "extra" rooms like those in the basement.
With a high-table design like this one, you can use the same wood from your staircase and banister railing to match the bar itself.
This brings even more comfort and easiness to the entire space along with a perceived sense of overall unity and togetherness. Without spending a fortune in the process.
Classically Chic Bar Design Idea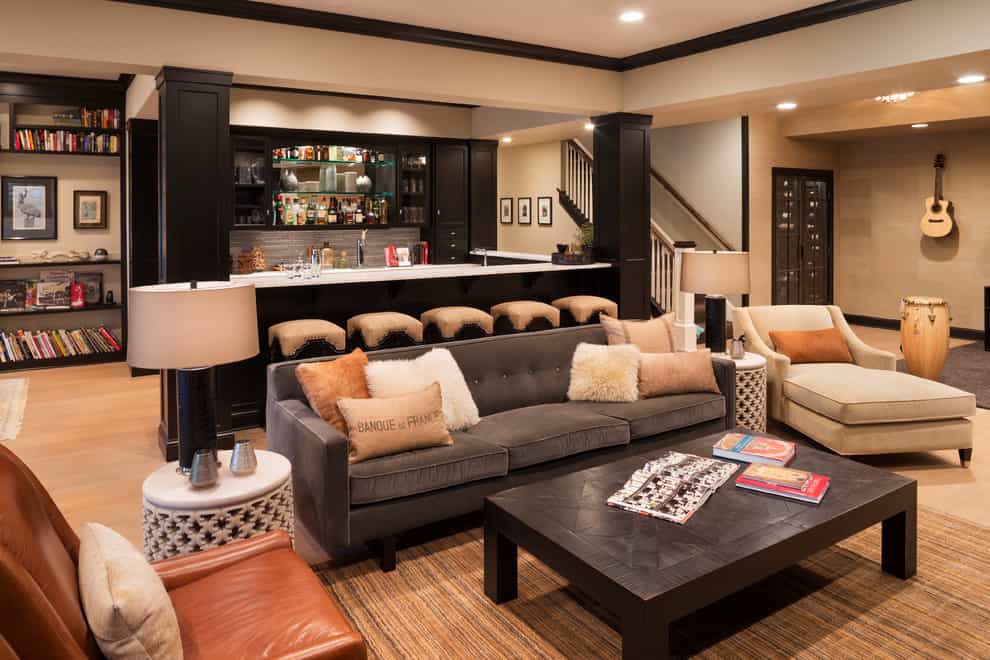 Hefty amounts of deep chestnut wood moor this basement bar design in place. Along with a marble countertop and industrial cloth seats, a full picture begins to emerge from the separate pieces.
Seemingly simple, this stylish hightop is the result of one central material anchored in place by small finishing touches: beige sackcloth, horizontal backsplash tiling, and glass mirrored bottle shelves.
Engender a timeless look with all the elegance of a bar in which you would freely enjoy spending each and every single night. Luckily, this one's in your own house, so you can do exactly that.
Minimal Wooden U-Bar Idea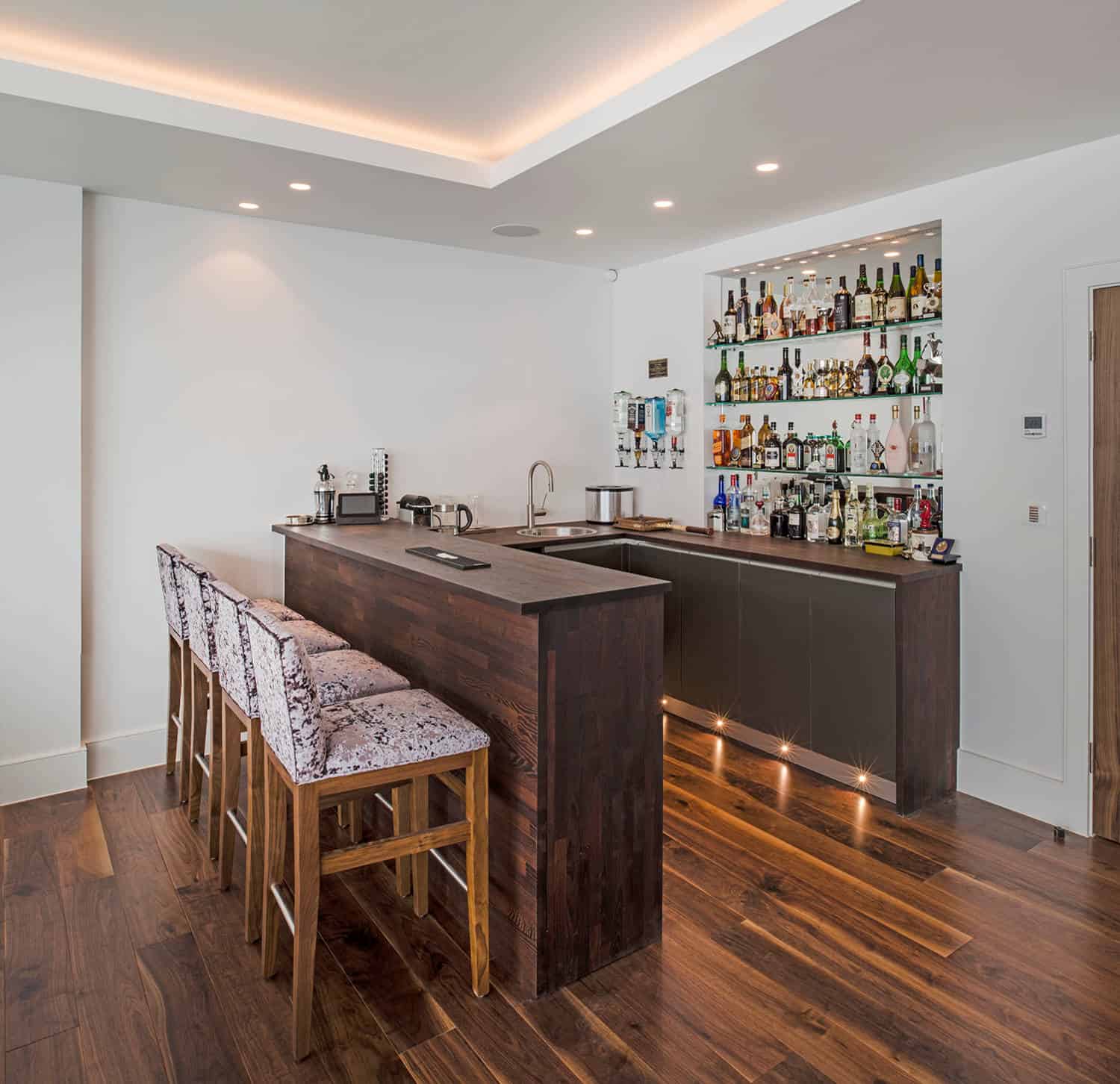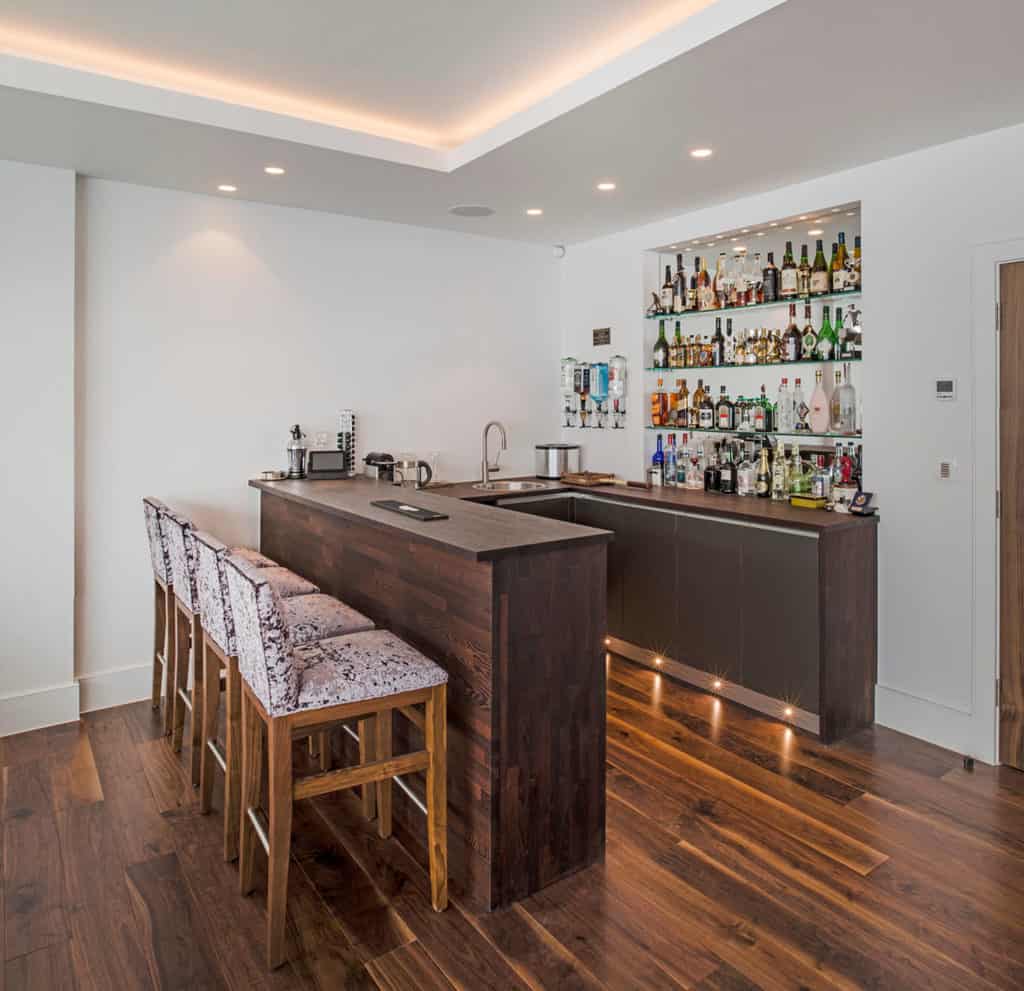 If you want to maximize all of your basement space, a bar provides a great way to make that happen. Along these lines, one of the most efficient buffet design configurations is a U-shaped bar.
This particular shaping lets you use every last inch of the basement room area available by utilizing the area in a highly practical way. Not only this, but U-shaped bar designs also have the extra benefit of simply looking and feeling clean all the way around.
Ensconced Glass Bar Idea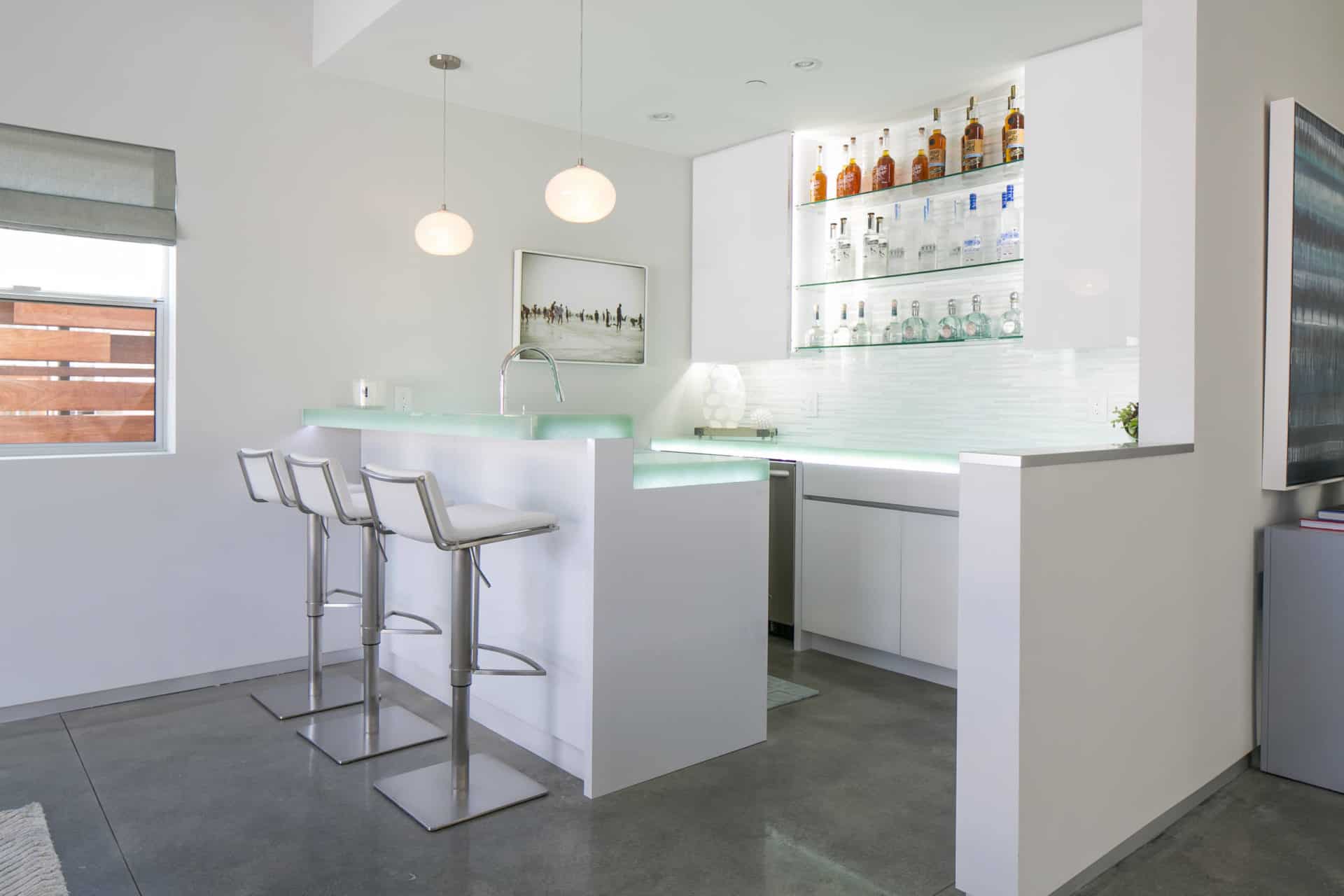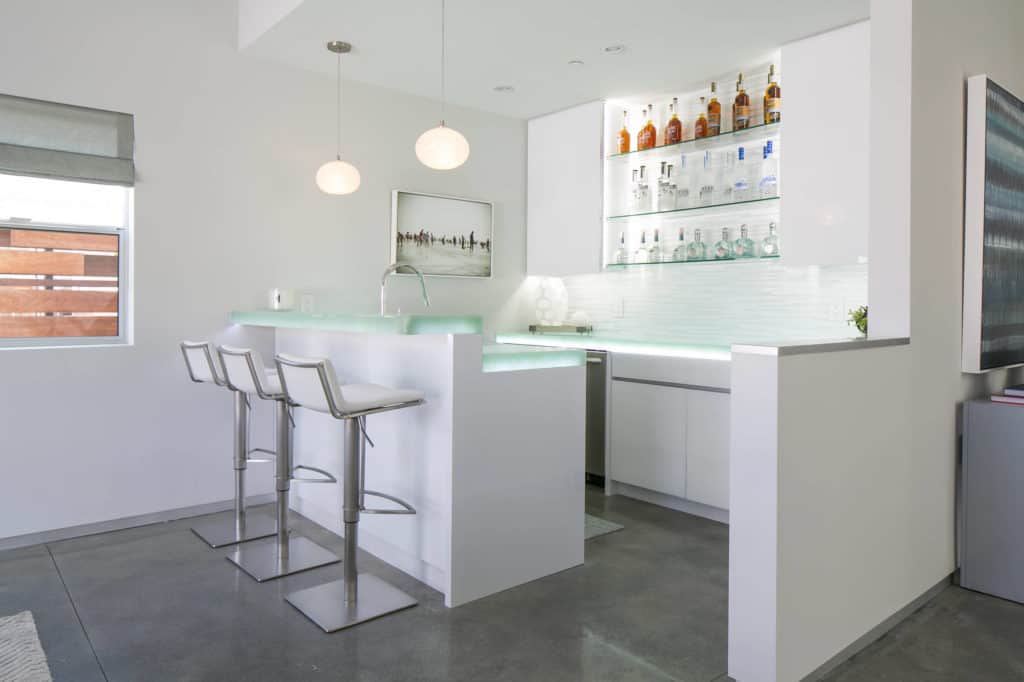 The pure at heart often value clarity at the expense of all else. This might sound like the beginning of a horoscope, but if it also seems like you, then take a look at the wonder of glass on glass.
Within this motif, you can essentially make every surface feel fluid and crystal clear. The addition of polished white for the cabinetry and a soft tile backsplash furnish the smooth elegance and grace that this space oozes out of its every nook and cranny.
To top it all off (pun intended), a high and centered glass shelving displays all your prized bottles — even if they won't last very long.
Open-Ended Marble Island Basement Bar Design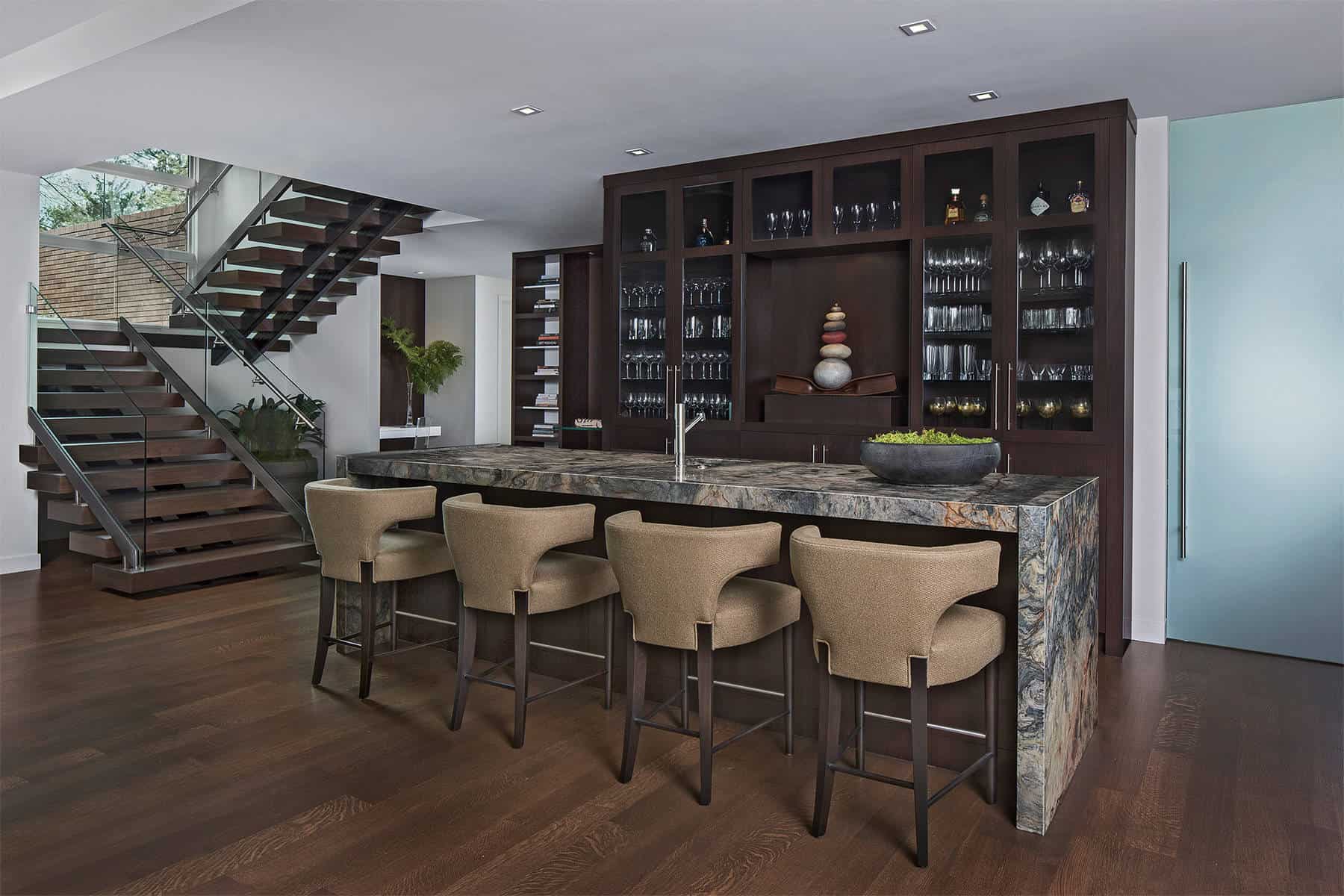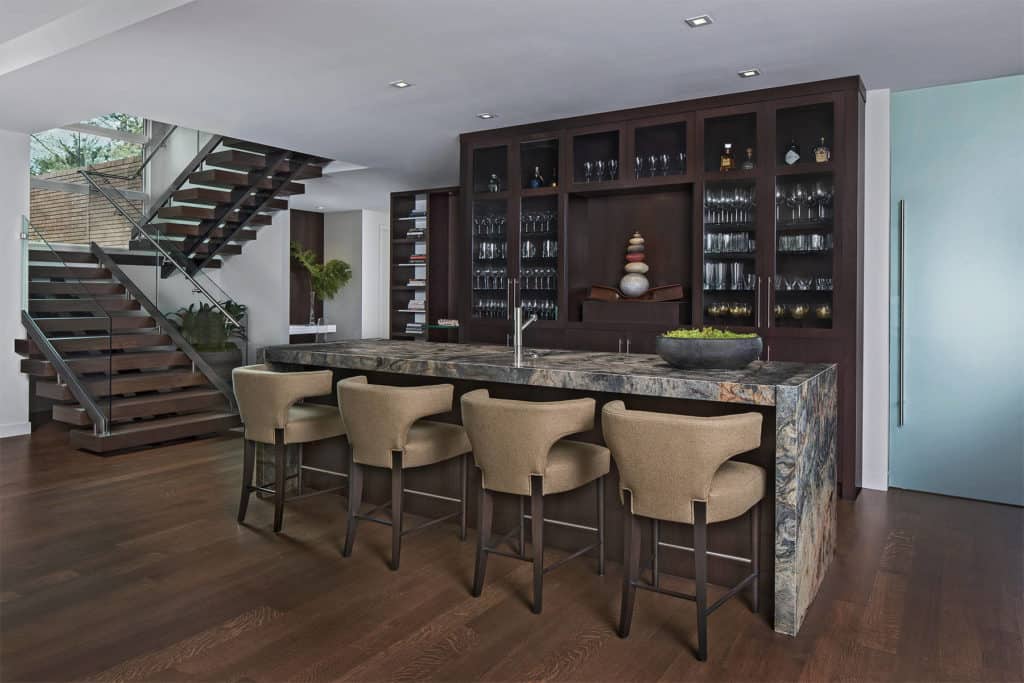 We tend to think of bars in terms of a single navigable end for entering and one closed side, often abutting a built-in wall or shelving unit. This doesn't have to be the case, though, as evidenced by this beautiful open-air bar design.
With both sides of the bar clear, the "bar" is actually more of an island. People can come and go as they please from whichever side they find most convenient.
Including an island in your basement makes efficient use of the space while also making prominent a featured material — in this case, marble — that's very pleasing to the eye.
Playful Galley Basement Bar Design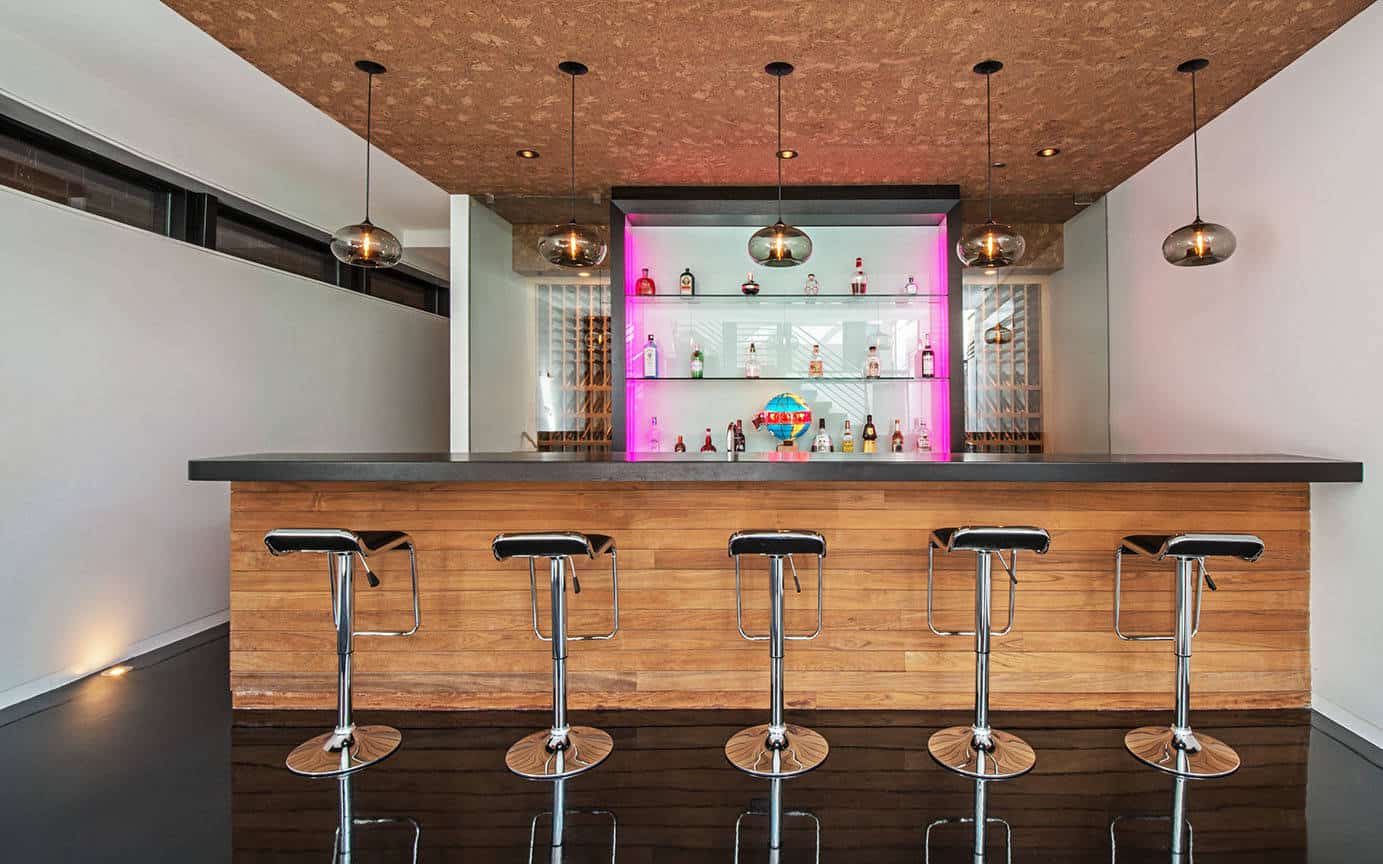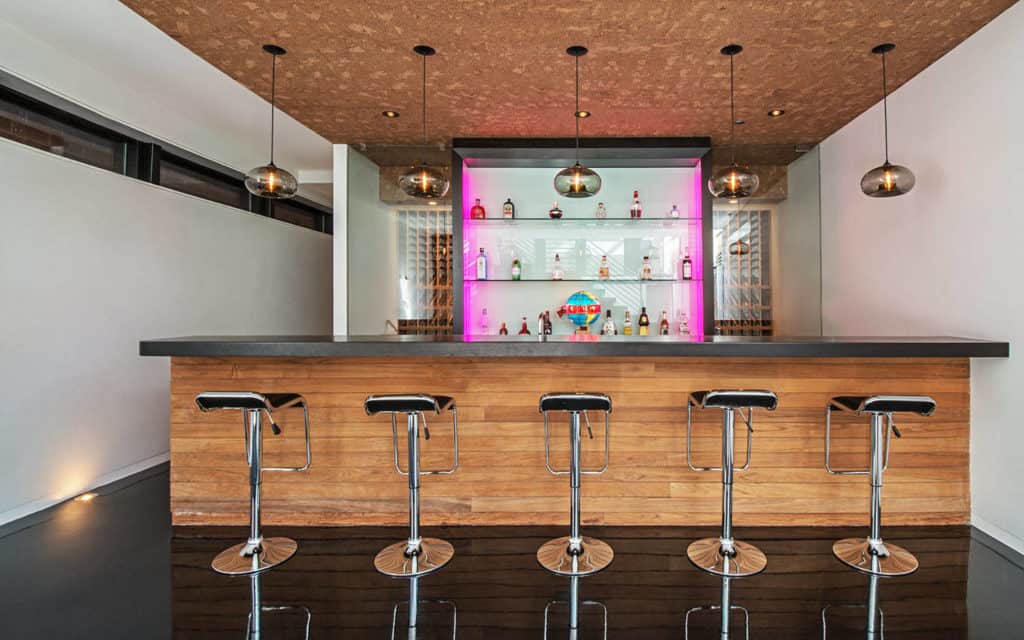 Who says basements can't be where all the fun happens? Not me, that's for sure! I think that bars can and should be a place to enjoy your surroundings as much as the people you have with you.
To do this, throw in some bright and splashy colors (pink!) alongside your more stable materials (wood and granite). The combination will spark interest in everyone that comes by, and it'll make you happy every time you see it. What could be better than that?
"Little Black Bar" Idea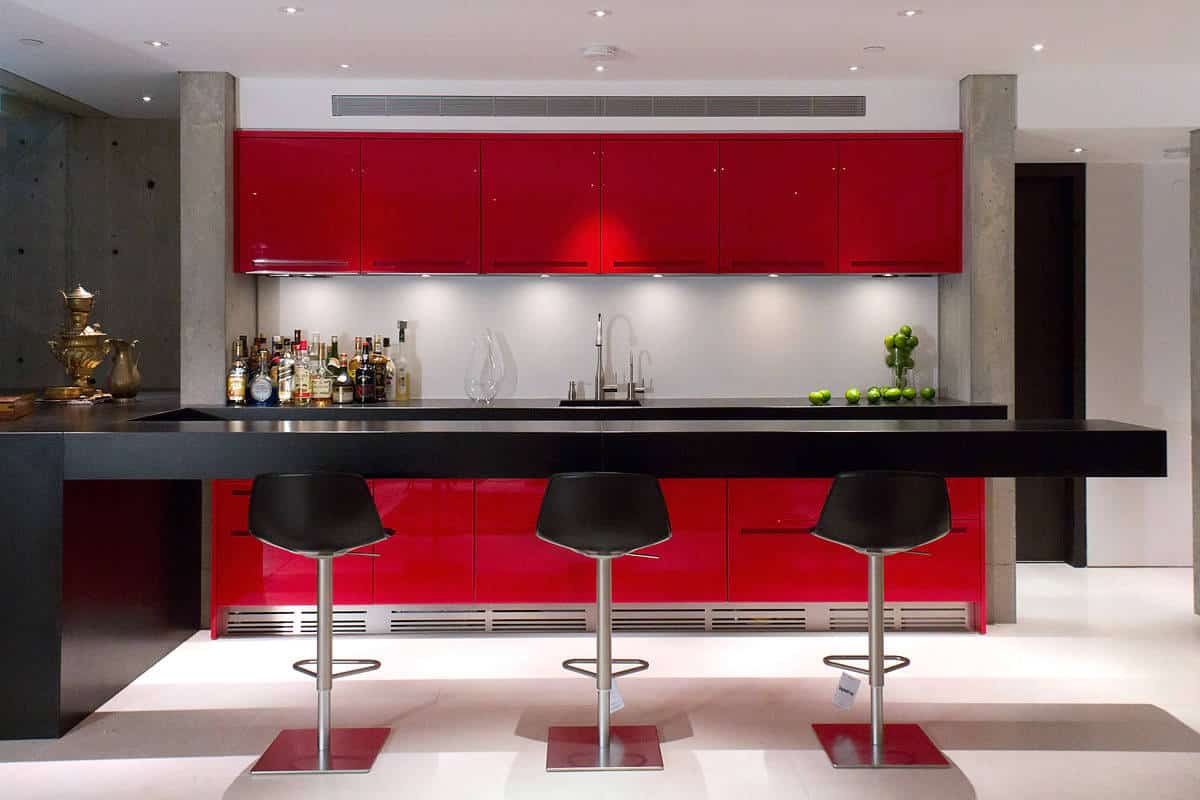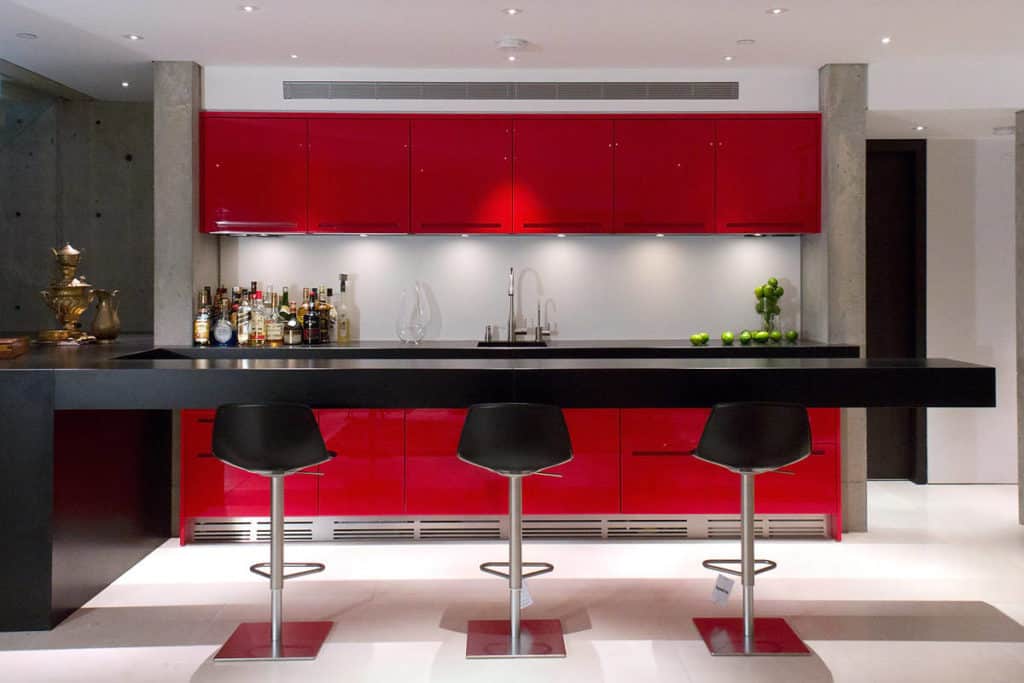 Surely, you've heard of the little black dress. Well, this is the LBD's equivalent in bar form.
The clean lines of this unique basement bar design are absolutely arresting, while the red is both striking and perfectly in tune with the overall feel of the room's design.
Just off to the left, the stairs leading to this basement appear cantilevered, matching the mid-century block-style of the quartz tabletop itself. This styling simply cannot be ignored, and, let's be honest, you wouldn't want to anyway.
Restaurant Style Draft Bar Design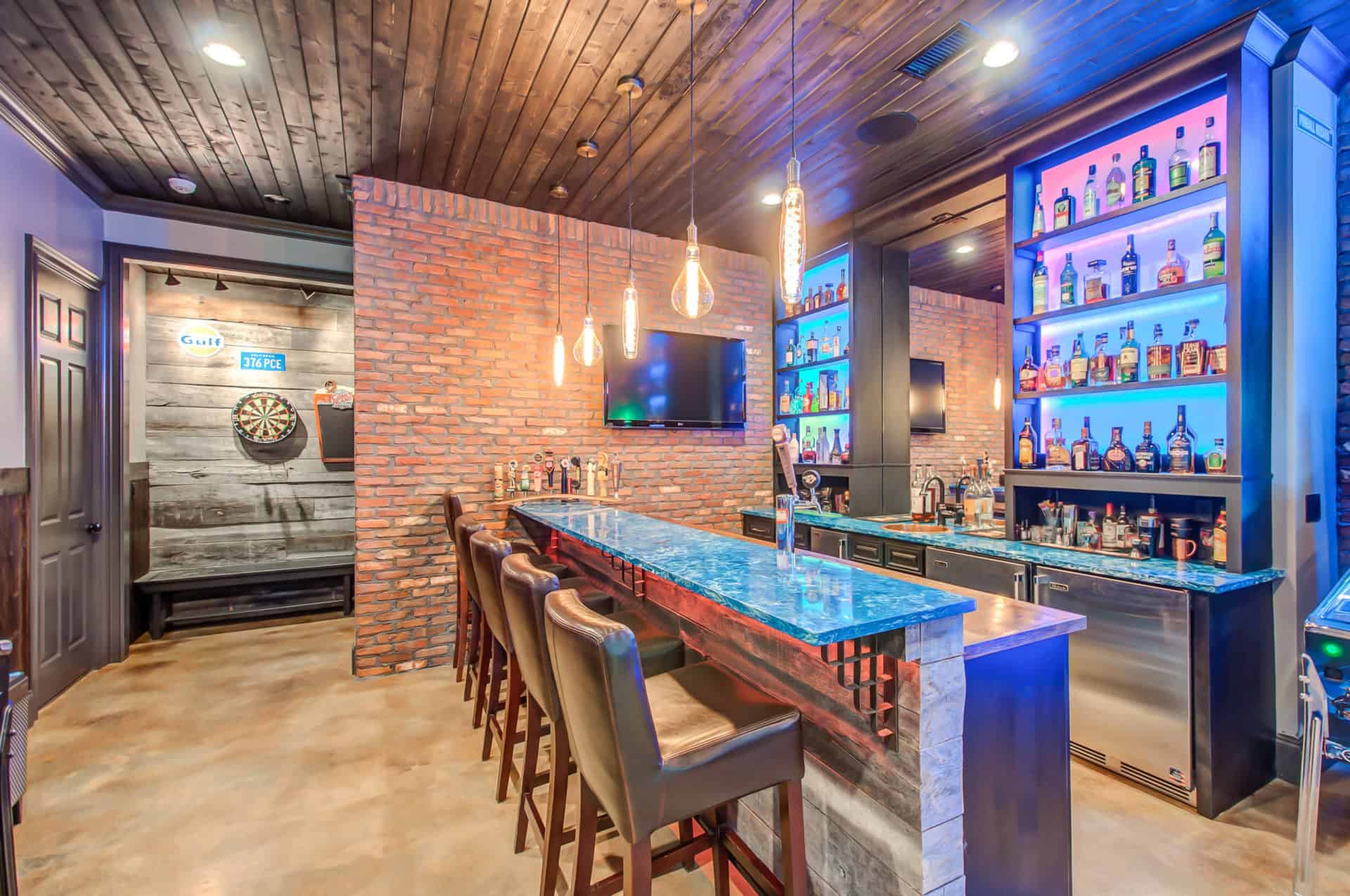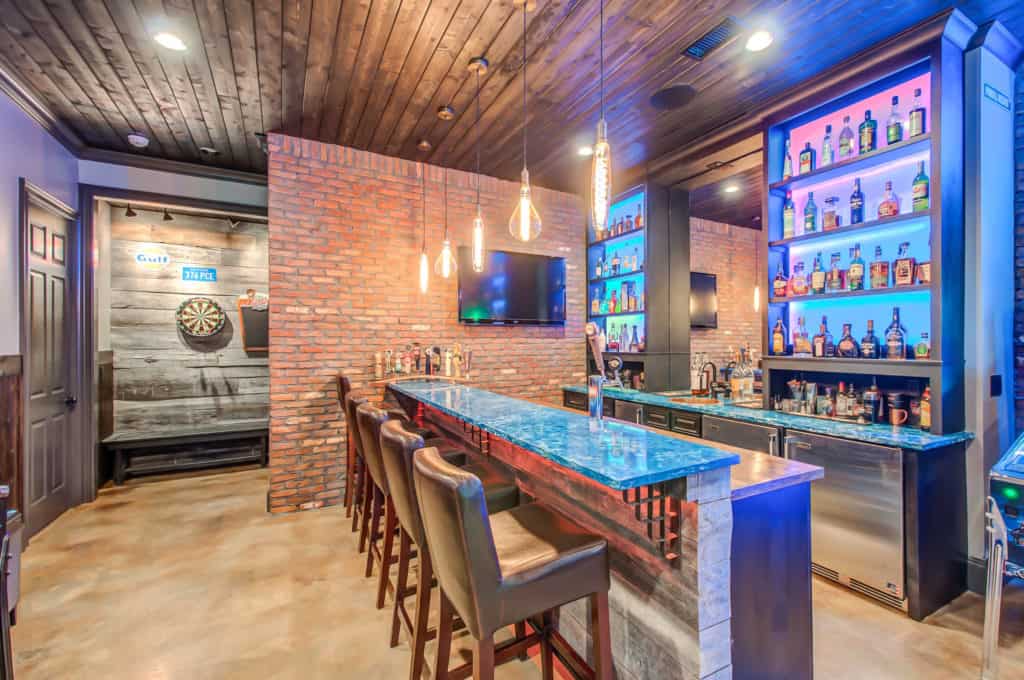 If you really want to bring the bar and grill to your home, nothing says that quite like having an actual draft beer there. That's what makes brewskis from a bar special, isn't it?
Allow me to let you in on a little secret, though: you don't even need the draft beer itself. Blasphemy, I know, but it's true!
You can simply have the draft beer pulls atop the bar as decorative elements, and it'll feel like your downtown at that favorite haunt every night of the week.
Transitional Galley Basement Wet Bar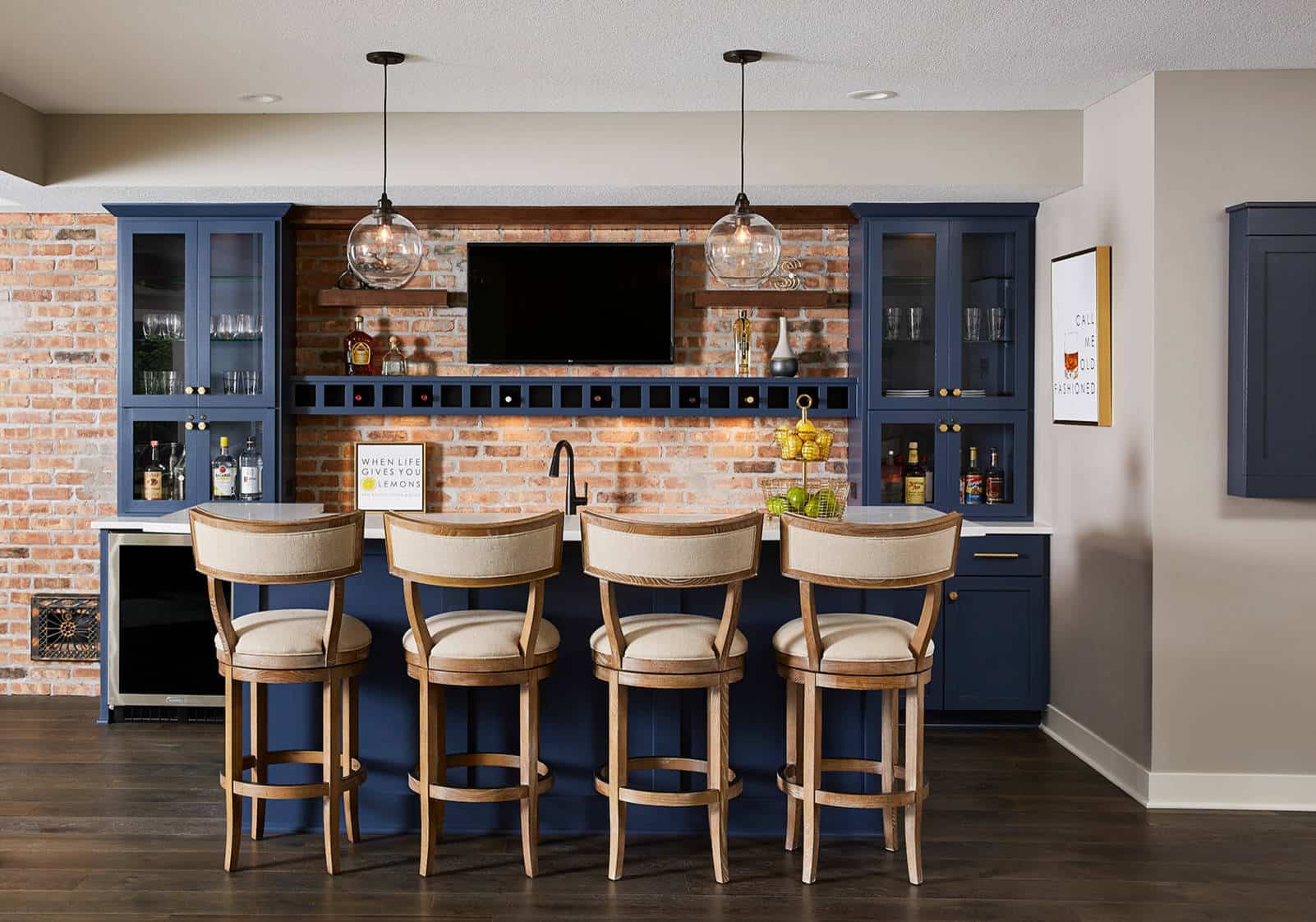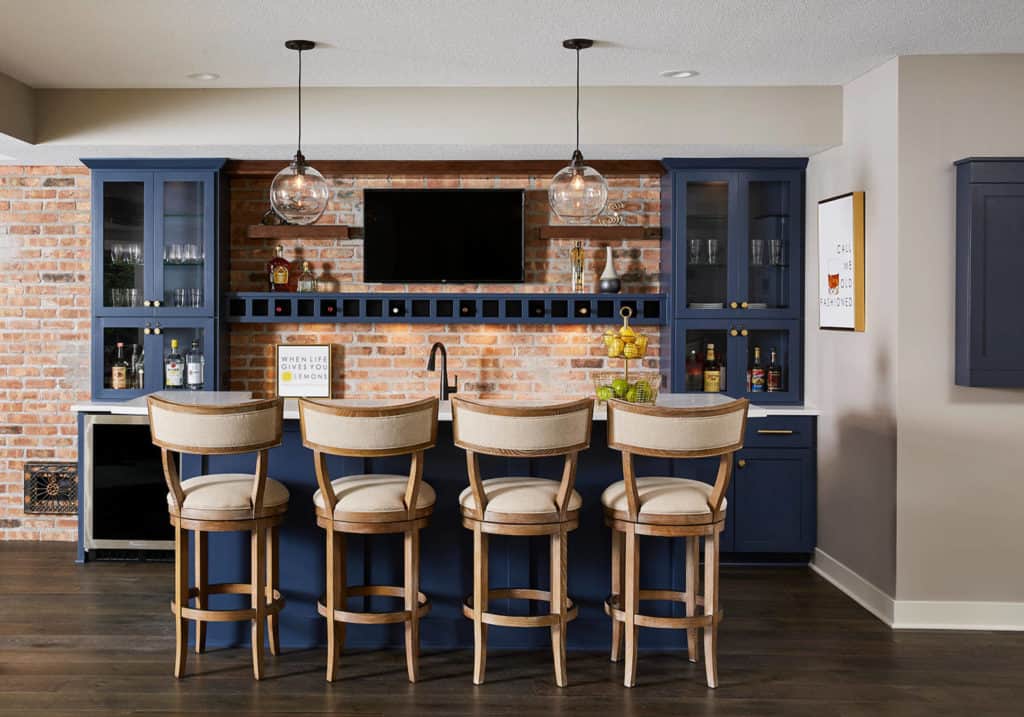 Sometimes, I walk into Pottery Barn and think, "Can I just live here?" If you've ever felt that way too, then you should look at this basement wet bar design.
The furniture speaks of both classic elements and comfort (in true PB fashion), while the navy cabinets and wine shelf accent the space beautifully.
Tile backsplash isn't for everyone. Use brick instead to bring in elements of industrial living and create a chic environment for your entire basement.
Hollywood Style Island Bar Idea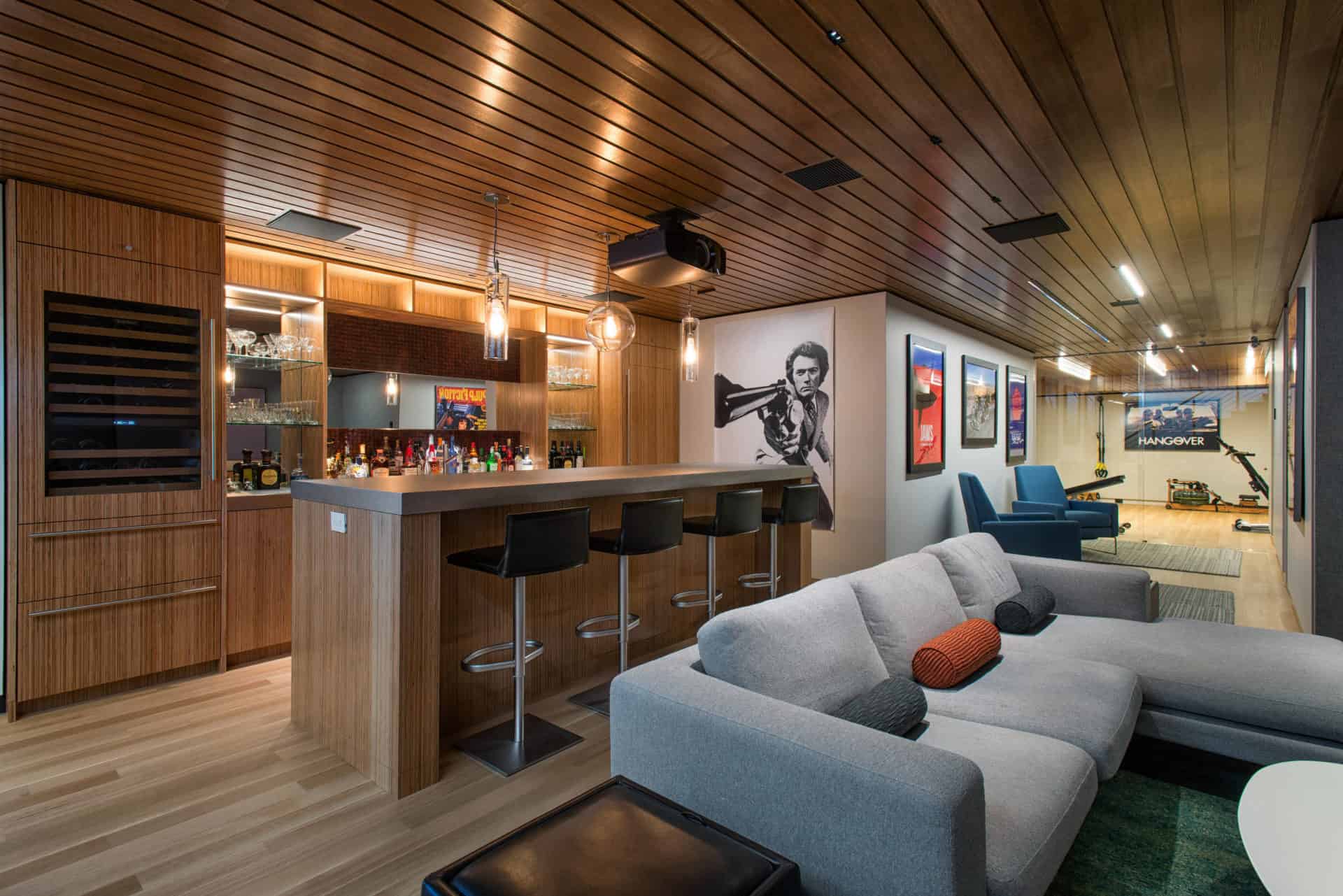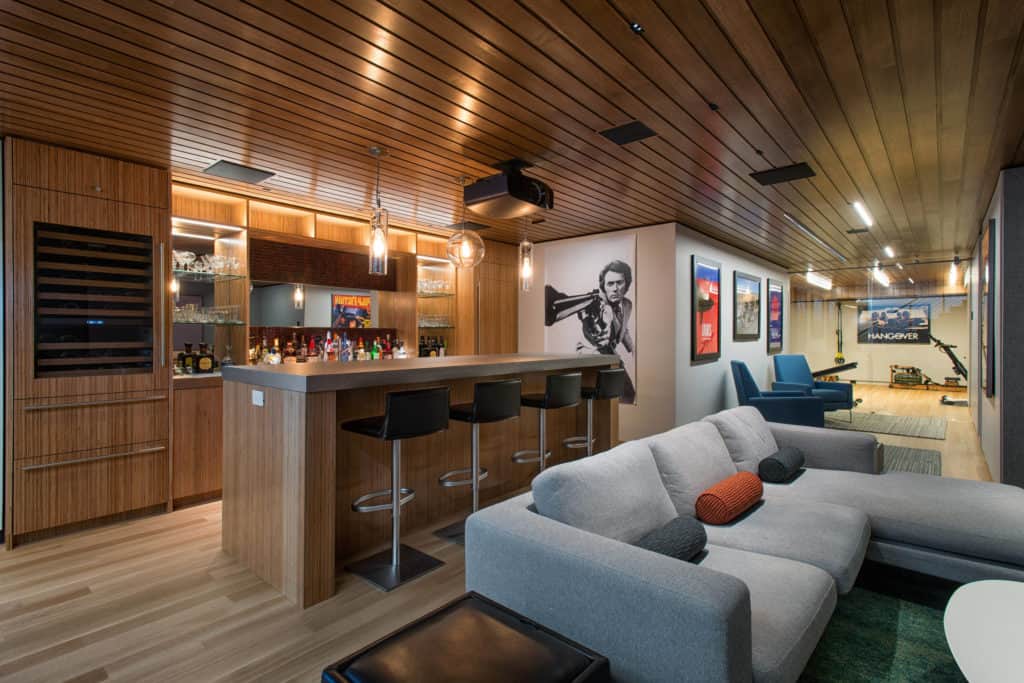 Los Angeles is calling. Hollywood wants their design back. My advice: don't give it to them!
This underground basement design feels at once like a celebrity's expensive trailer on set. At the same time, you could spend all day in here and never feel like leaving.
This is the power of soft brown wood, clean lines, and an overhead film projector. With cocktails and movies on-hand, what more could you possibly want?
Bling Bling Basement Bar Idea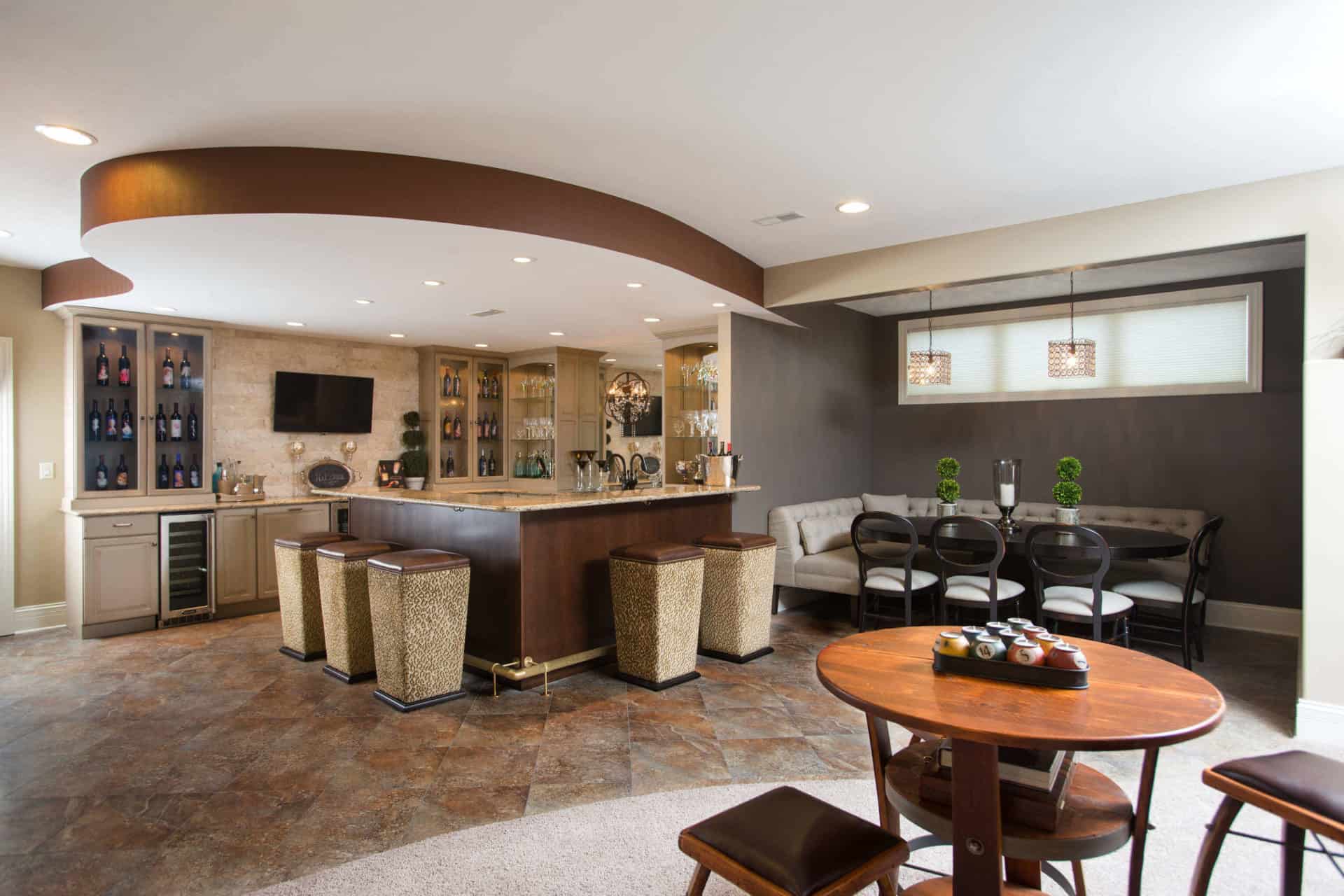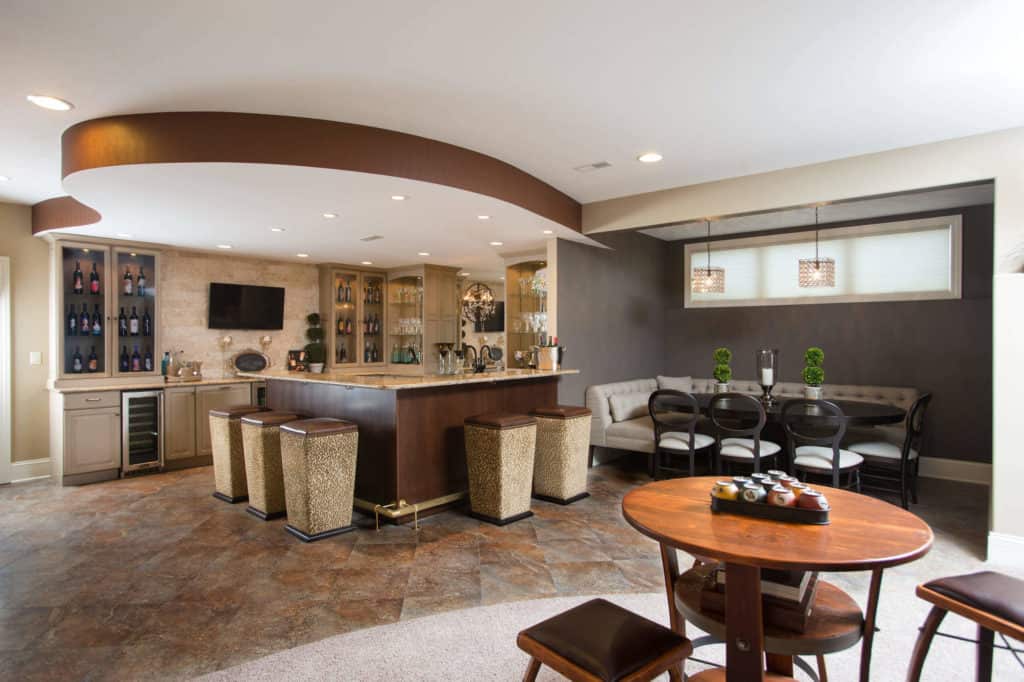 Typically, a designer will sketch out the space and then find elements that fit within that larger motif. Other times, however, a certain piece of art or furniture calls out to them and the whole process works in reverse to great effect.
That's precisely what's going on with this basement and its bling. The room began with those unique leopard-esque barstools and spread outward from there. It isn't difficult to see how (or why)!
The entire bar L-shaped bar area's glitz and glam emanates from those chairs and paints every surface with a strut and a shout. Hang an ornate chandelier in front of a wall-recessed mirror to expand the space and create yet more sparkle for your fanciest moments.
The Aviator's Basement Bar Design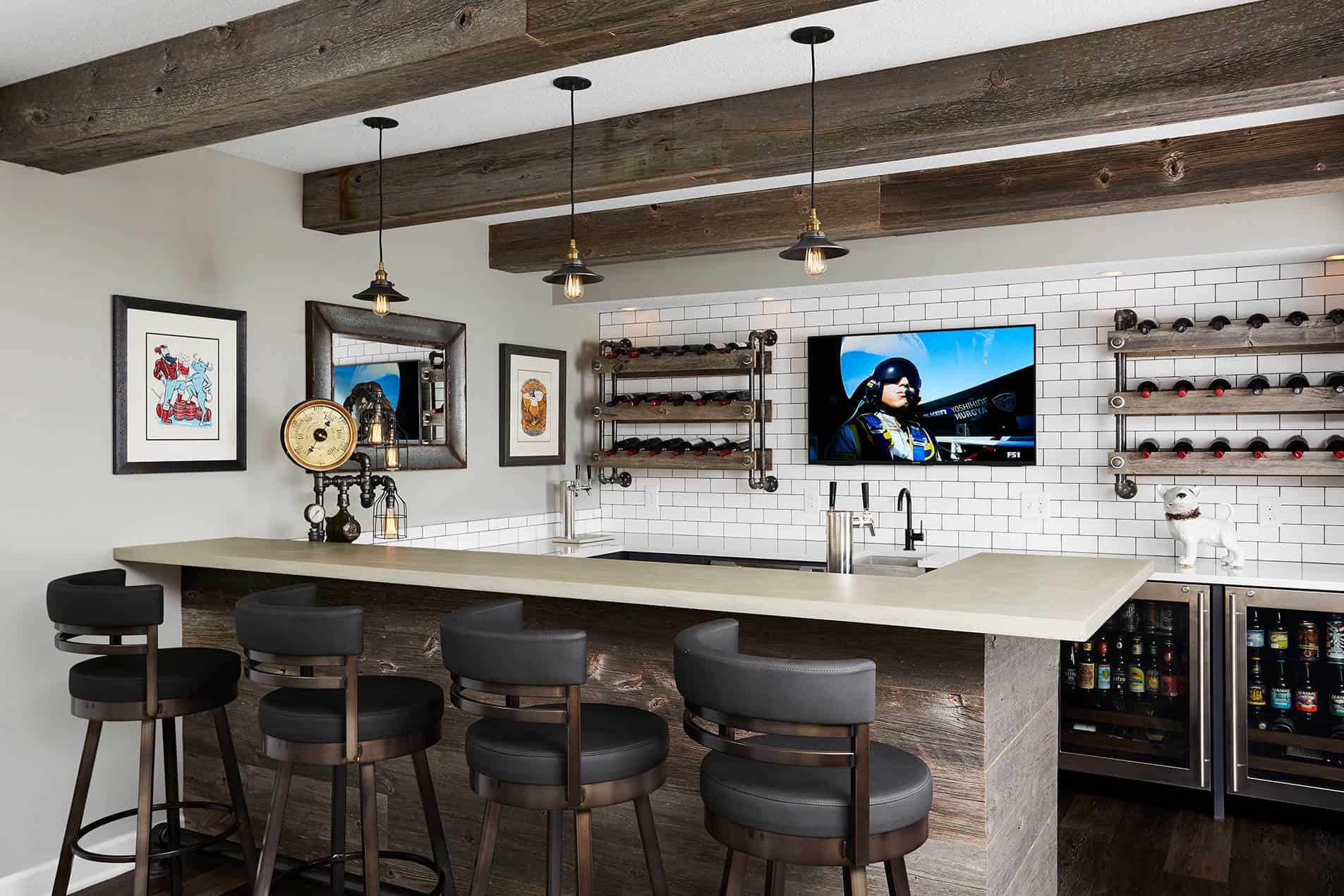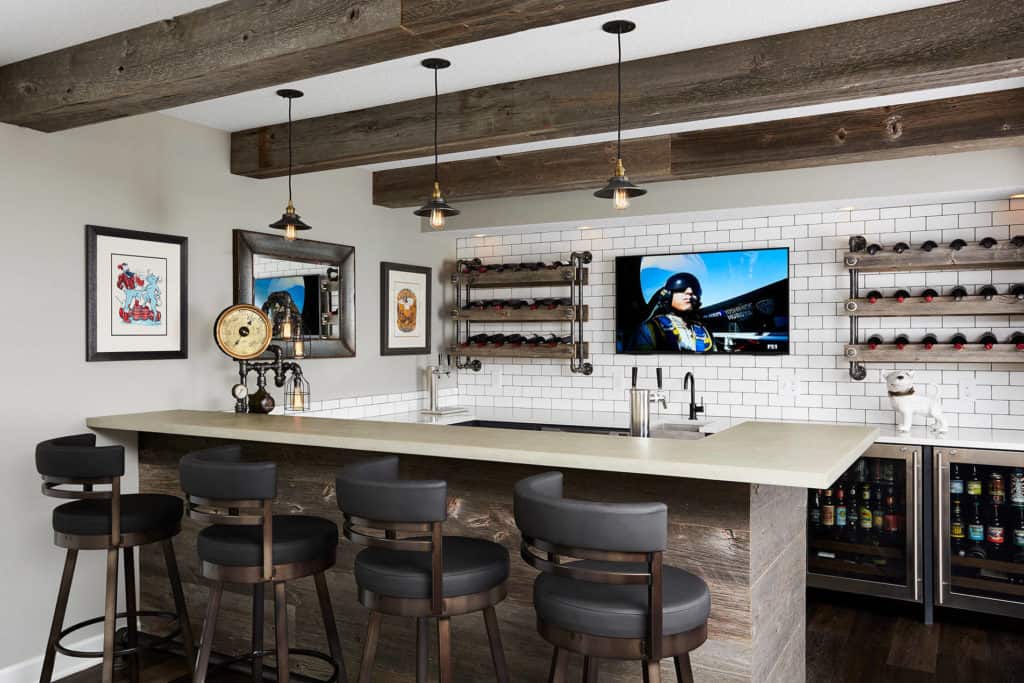 Not all basement bars are sports or booze themed. If there's a specific world that you adore, bring that spirit into your home with style. For instance, here we have an aviation motif that inspires every facet of this U-shaped bar.
From industrial piping and reclaimed wood to polished subway tile and even some aviation prints adorning the walls, the whole place feels like something you'd experience near a private hangar in the Rockies, doesn't it?
To really seal the deal, the bar makes use of shaker cabinets. These are distinguished by a unique five-piece facade with an embedded and deep-set central panel. Such cabinetry effortlessly draws in character and shape throughout.
Rustic Basement Tavern Retreat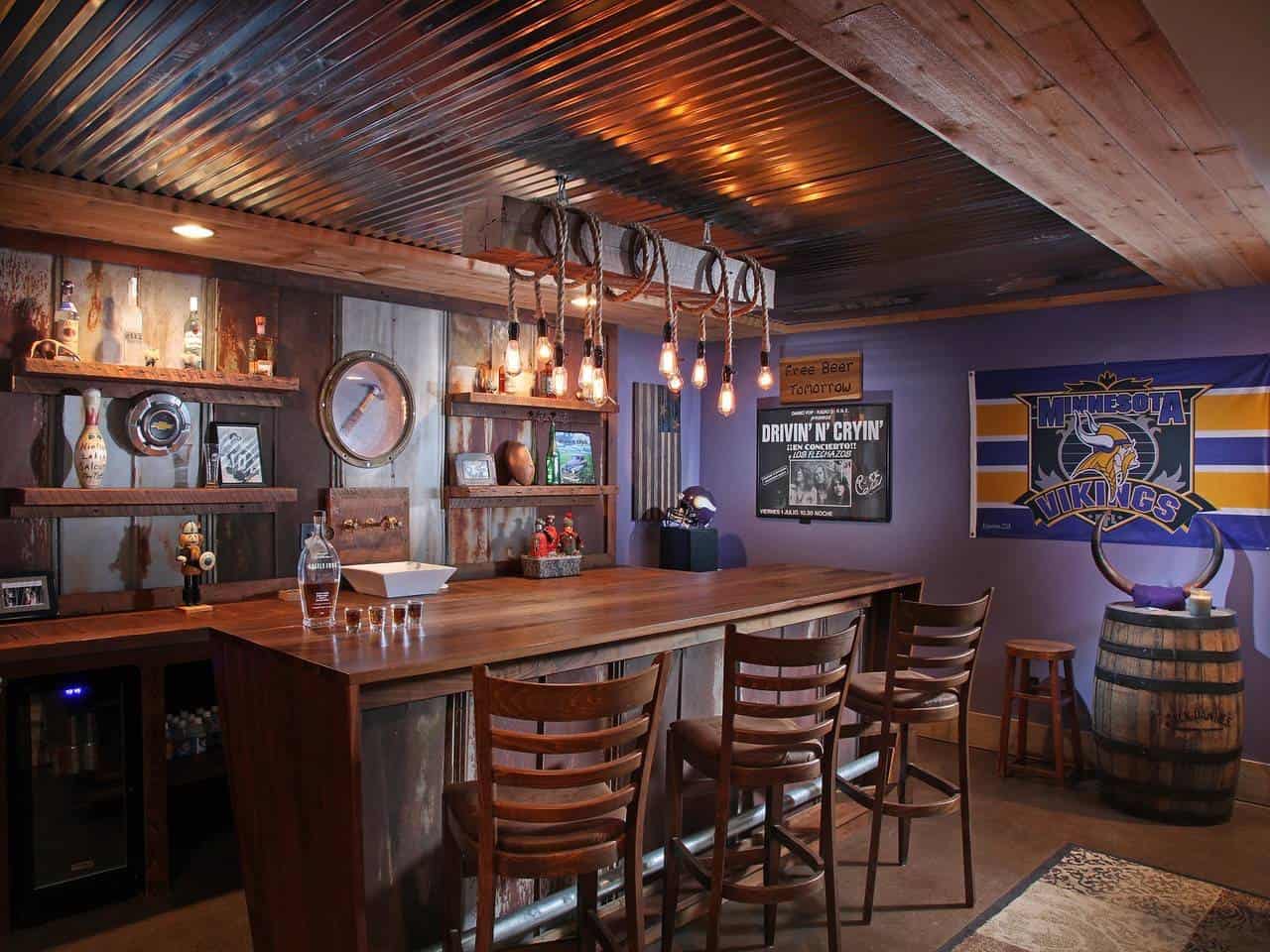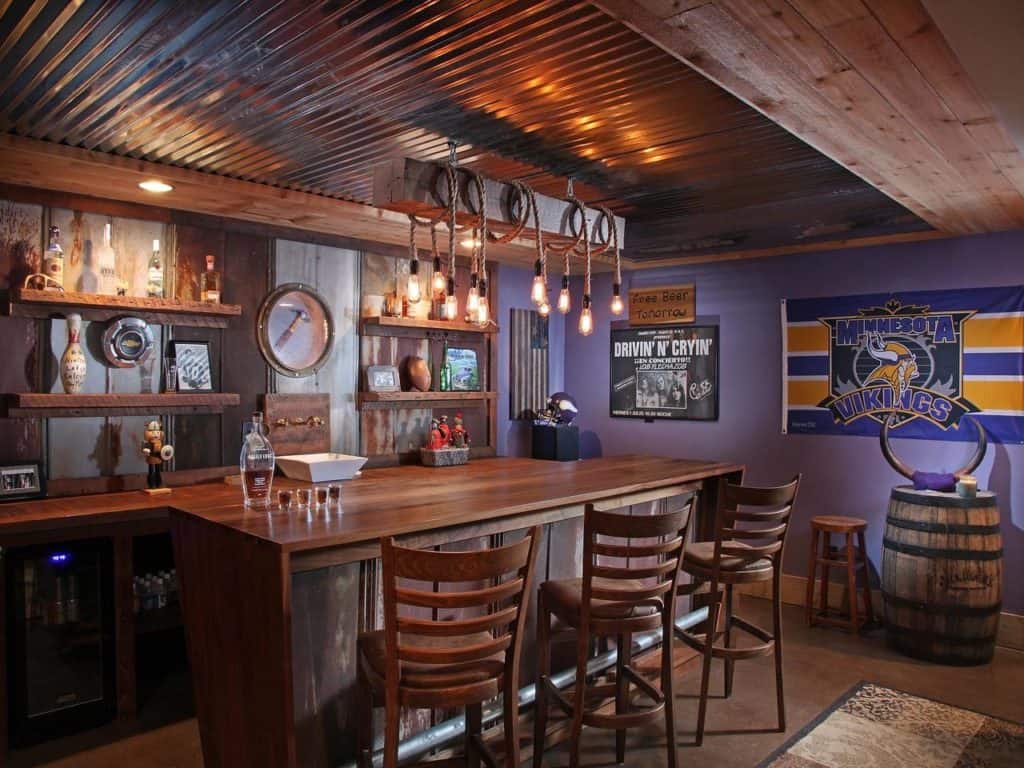 As I mentioned up top, one of the things I love about basements is that they can be truly transporting. Part of the reason for this is that basements frequently don't have windows to the outside world. As a result, you can sort of make the internal dynamic anything your imagination desires.
A picture-perfect example of this is the tavern basement. With this design, you can transform your downstairs hideaway into a Minnesotan roadhouse even if you live by the paddocks of Texas or in the swamplands of Florida. The bar is a huge part of that.
Incorporate roughhewn woody elements and vertical slat boards, simple wooden high chairs, and hang a few Edison bulbs from the ceiling with light rope to really bring the image together. A few posters of your favorite sports team(s) can make the room transport even further.
Cottage Basement Single-Wall Basement Wet Bar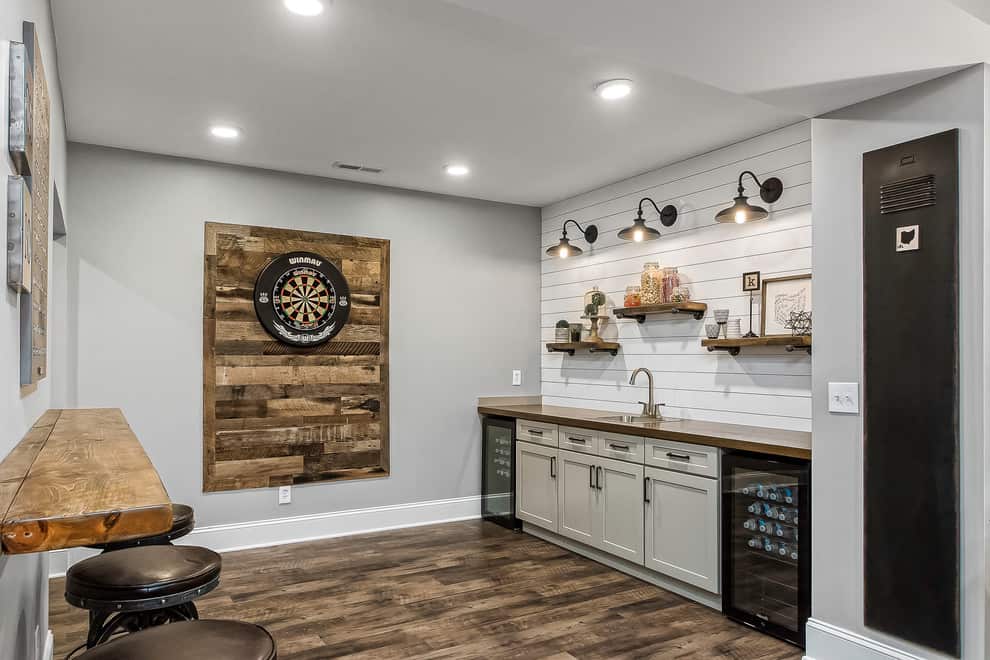 Whether space is limited in your basement or not, you can always opt for a small basement bar design that leaves the most room for activities. You might enjoy group games, pool, or just a solid mingle zone; whatever it is, a single-wall wet bar could be just the ticket.
As opposed to their larger, space-hog cousins, these simple wallflower bars have the ability to hide in plain sight. Further, they're easily accessible to everyone, so installing a mini-fridge (or two, or three!) is a brilliant choice here.
Use rustic lumber elements and exposed bulbs to create a farmhouse look. And don't forget to throw a dartboard on the wall; they're fun for everyone, look great, and take up practically no space at all.
Gothic Basement Bar Design Idea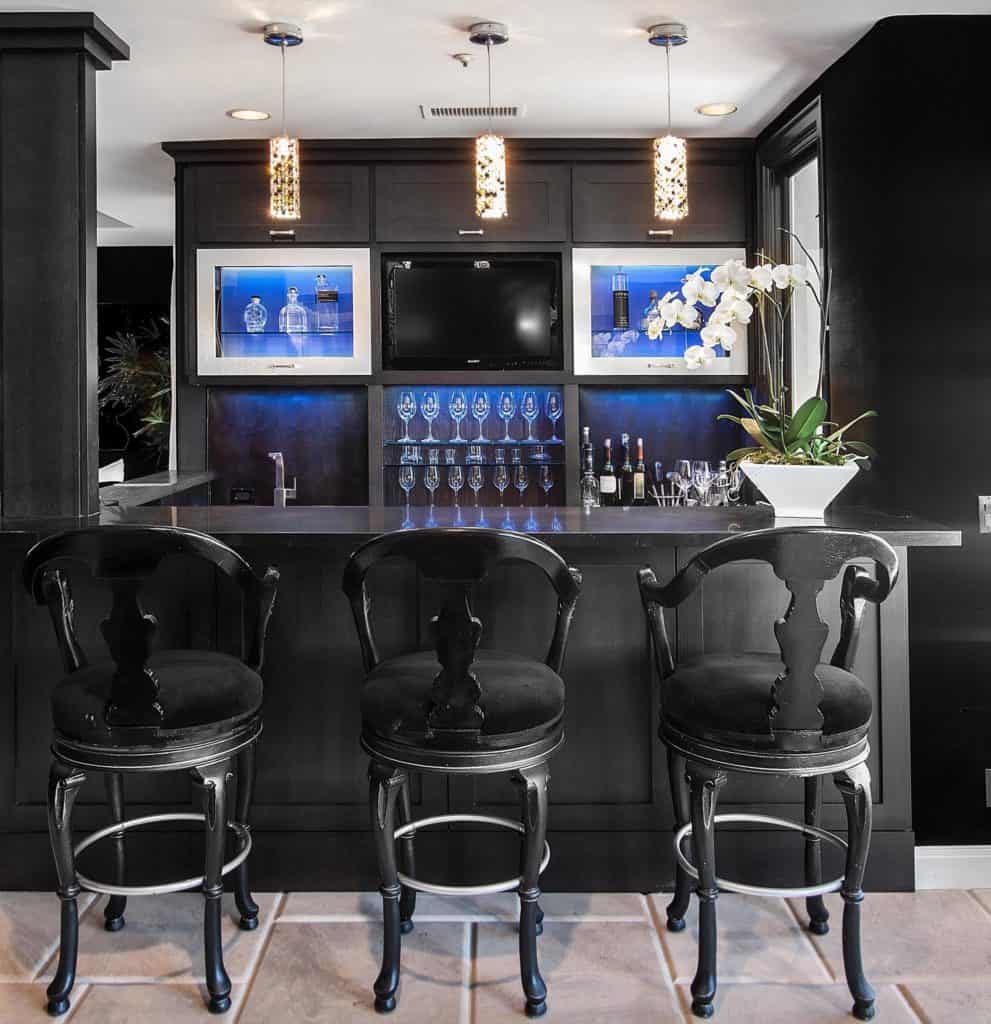 You know, black is this year's pink. So, if you gravitate toward all things dark and gothic (or wicked), don't hesitate from putting that energy into your downstairs bar area.
Basements might already be hidden from the sun, but that doesn't mean you can't embrace the darkness. Monochromatic color palettes have the unique ability to be both striking and concealed simultaneously.
All-black bar designs achieve this by incorporating non-black elements that almost disappear into their surroundings, such as an orchid or matching white cabinets. Touches like this enable the dark design to work in virtually any basement space.
Hotel Lounge Bar Design Idea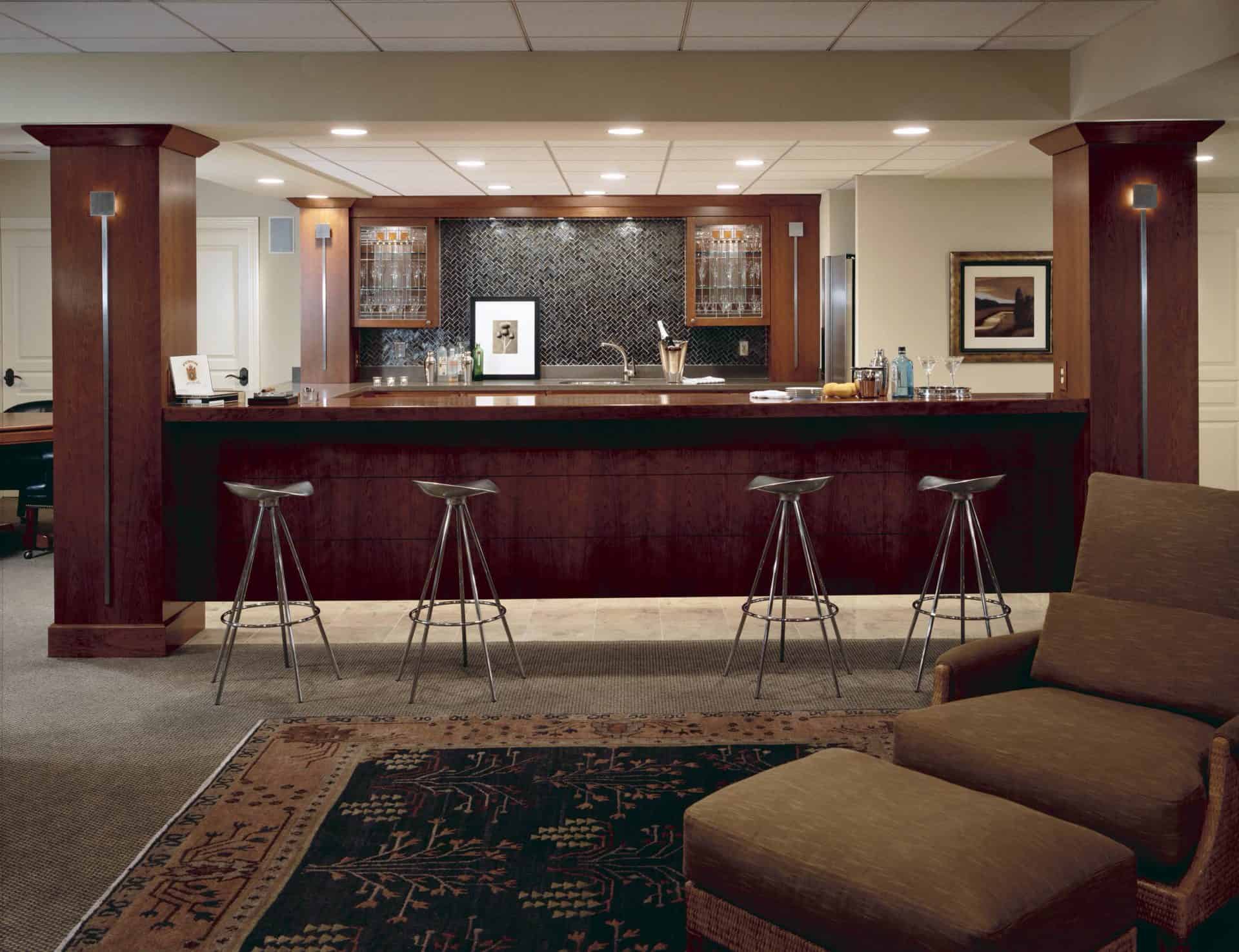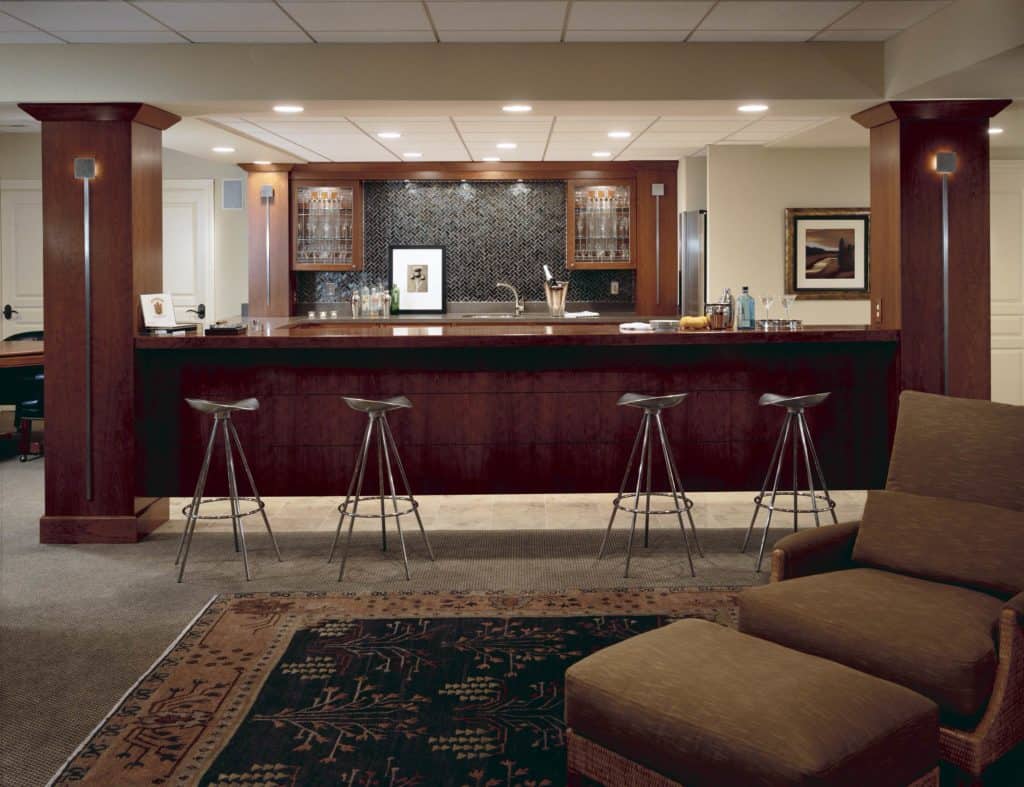 Like most people, I love traveling. That said, one of the most overlooked spots, in my opinion, is the well-crafted hotel bar. These are often given most of the hefty design work and can represent the town flair and even use locally sourced materials in some cases.
Take a page out of these finer establishments' playbook and build a hotel bar in your own home. It's the very epitome of class and sophistication.
Layers of glossy wood and rich oak make this room feel just like an upscale hotelier's place of business, with one notable exception: these are all yours, and you can visit this particular lounge whenever you want.
Found Materials Bar Design Idea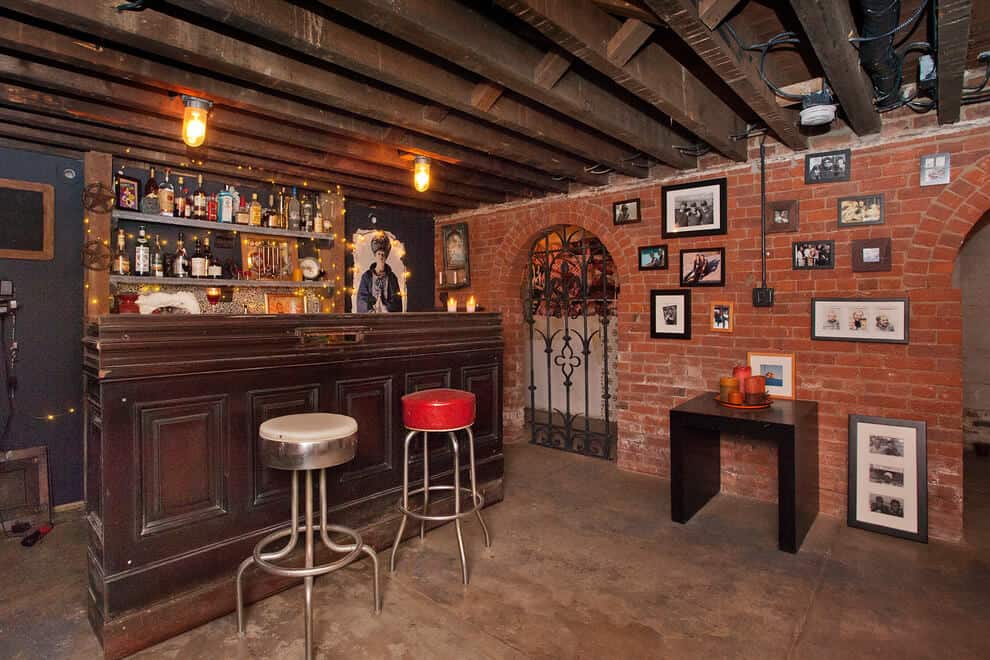 This final design is one of my favorites on the whole list, partly because it's nothing like any of the others. If you want something that really wows your guests (without going the fancy route), then try a "found materials" approach to your basement bar.
Here's what I mean: look for items at antiques shops, for sale by owner online, on hiking or camping trips in the woods, or even on the actual side of the road — I'm serious! These pieces can turn out to be unique, one-of-a-kind, and they almost always have a flair or a character that literally nothing else can authentically replicate.
With the bar itself, you can use just about anything that has height and a more-or-less flat surface on top. Also, these sorts of design motifs don't really require matching items, either.
The barstools can be different colors or even different styles altogether. The important thing here is that the bar ought to reflect you and your individual personality most of all.
---
How to Create Your Own Basement Bar
Basement bar ideas come in a wide variety of shapes, colors, and materials. That's one of the things that makes them so great. They work for any space, no matter how the size or how it's ultimately designed.
To put a bar in your basement, you'll need to set aside some space for it. You'll also want to decide how much of your beer, wine, and other spirits you want to display.
If this is the route you go, you'll also want to decide how to show them off to the world. Wine racks are great, but so are mini-fridges, wooden kegs, and draft beer pulls.
Decide on which materials you want to use (mix it up!), keeping in mind any theme you want to incorporate into the space. Your bar is your personal escape from the world, so it should be exactly like you want it.
And don't forget TV's! If you're a sports fanatic, nothing says basement bar like a couple of mounted televisions behind the bar itself. You can drink all night and shout at the referees, all without having the bouncer give you the boot halfway through the game!
What Makes Basement Bars So Great
For one thing, since basement spaces don't sit on the main floor of your house, these "hidden" rooms can be transformed into just about anything that your heart desires.
That being said, perhaps the greatest advantage of all for basement bars is that you can drink as much as you without ever getting kicked out. Talk about a major benefit!
The "problem" with basements is, in reality, a really fun one: how to make make your basement bar come alive.
After all, the goal is to turn your basement bar into the space you've always wanted it to be.