One of the most important things for putting on makeup is lighting. It is difficult to get all the right shades and lines where you want them in poor light. That is why a lighted vanity is highly recommended.
With so many on the market today which one should you choose though? You can find some of the best-lighted vanity mirrors below. Let's get started!
See Also: Ideas for Making your Own Lighted Vanity Mirror Unit
This is not just any old vanity mirror. All of the lights on this vanity allow you to see clearly and without any shadows being cast. It is one of the top of the line vanities on the market today. Not only is it great for all your mirror needs but it puts out the perfect amount of light. Check out some of its key points below.
Great aspects of the Vanity Girl Lighted Mirror:
It has high quality
Is salon grade
Bulbs are able to be dimmed
Beautiful designs
Highly rated
---
Do you already have a table top that you are accustomed to when putting on makeup? No need to uproot and move all of your makeup supplies. You can purchase this tabletop vanity. It is convenient yet has everything you need to be able to see clearly when putting on makeup. Check out some of its key points below.
Great aspects of the Best Choice Table Top:
Convenient
Easy to Move
Accessible
Bright
Easy to use.
LED lights
Tri-fold design that allows you to see every angle you wish.
---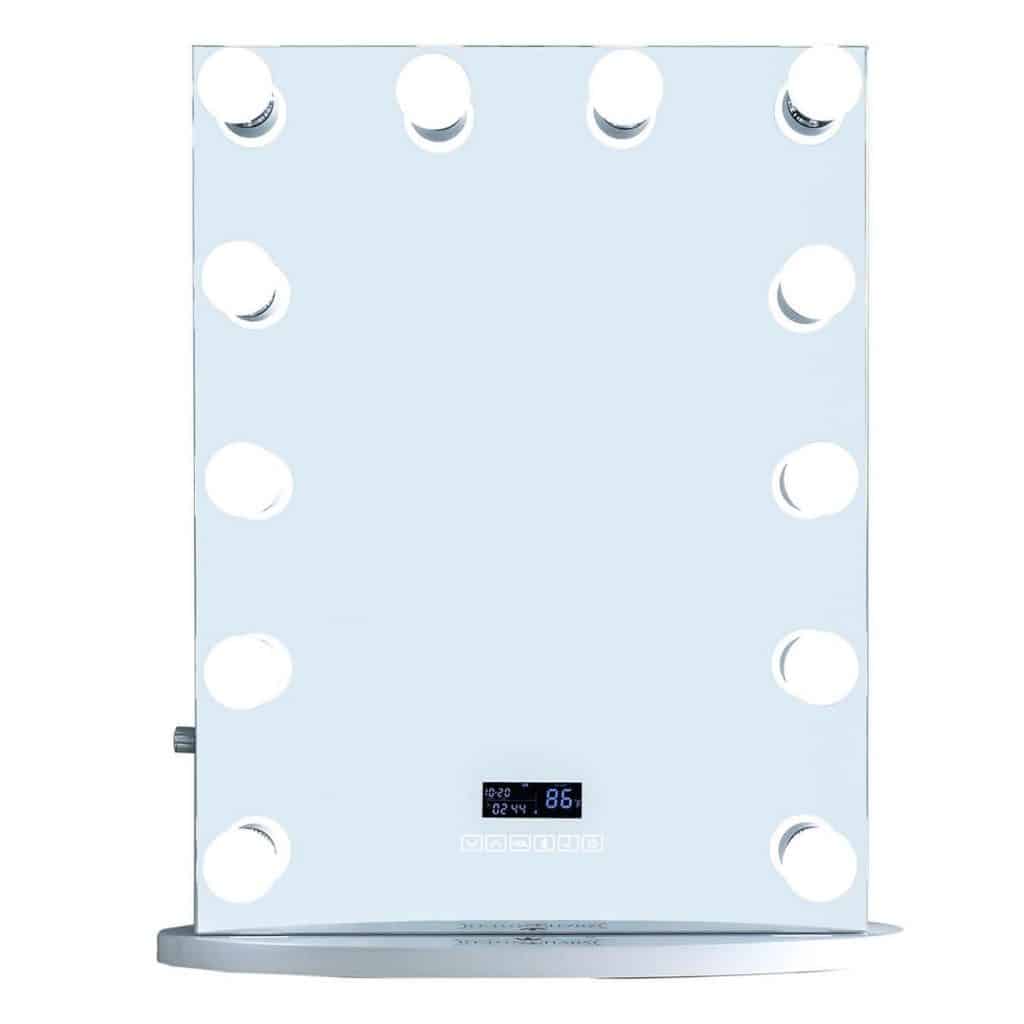 This vanity has lights that will not melt your makeup. It has LED lights that do not get hot. When trying to apply makeup or fix your hair, it is important! The endless border look is an absolutely stunning design to the makeup area. Apply makeup like a movie star!
Great aspects of The ReignCharm Hollywood Vanity:
Adjustable.
Lights are easy to dim.
LED light bulbs
Stunning design.
Bluetooth Audio Speakers!
USB Outlets and Dual Power Outlets
Has high quality.
---
If you are looking for a lighted vanity mirror that is compact but has all the great features of a large-sized vanity, then this is it! Not only is it easy to use it is able to fit into just about any suitcase. That means no more using poor lighting for makeup application no matter where you are at! Check out the features below.
Great aspects of the Bestope Makeup Vanity Mirror:
High quality.
Easy to use.
Suitcase compatible.
Led Lights.
Adjustable lights.
Has UV coating to protect mirrors surface.
---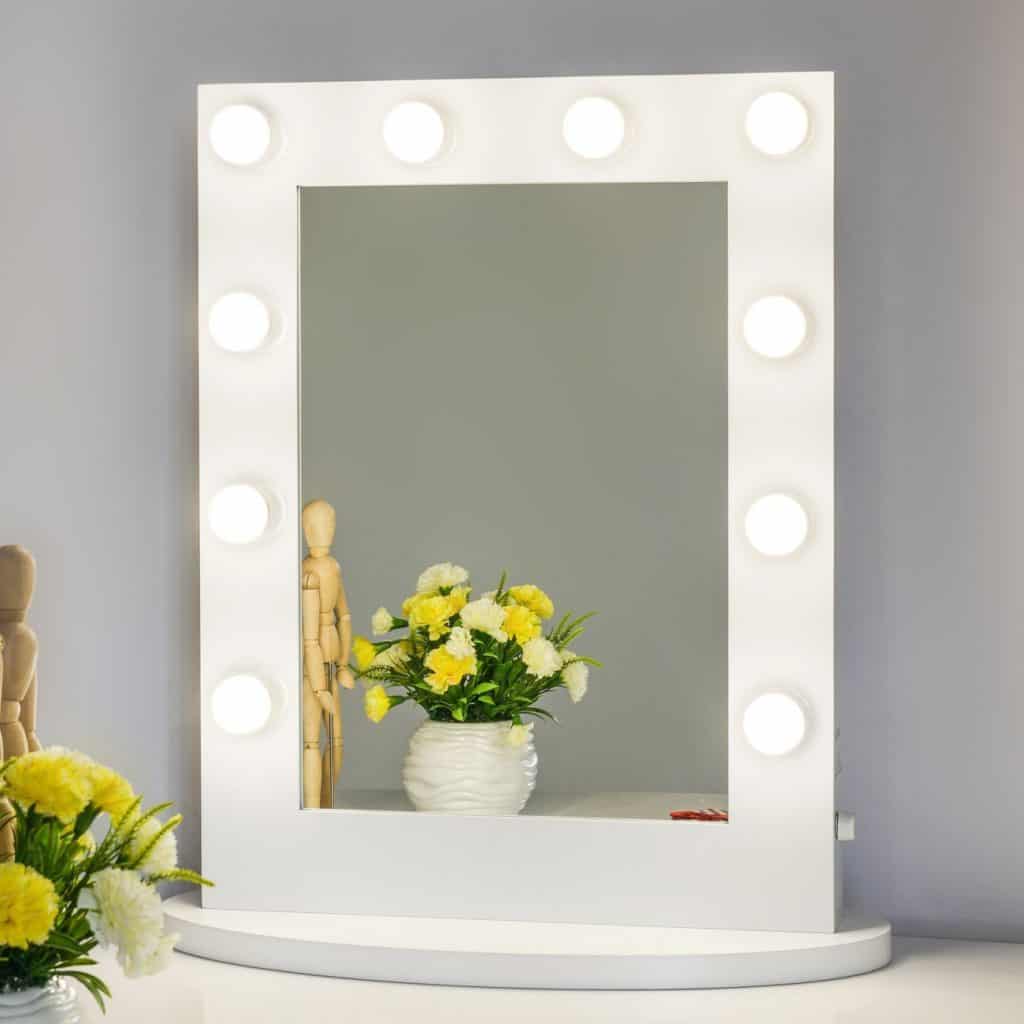 This vanity mirror has everything that is needed for the best time applying makeup. Not only is it ready to use, it is easy to move. You can place this vanity on any countertop you wish. This makes makeovers fun and classy on the go. It even has a dimmer switch to change the brightness in the LED lighting.
Great aspects of the Chende Table Top Vanity Mirror:
High quality.
Very durable.
Available for on the go makeovers.
LED Bulbs.
Has hook for easy hanging.
Has base for tabletop use.
Dimmable lights.
---
Are you someone who likes to have a well-lighted area when applying makeup? If this is something that you need then this Illuminated Cosmetic Mirror has it! The lights are perfectly spaced for the ultimate makeup experience. Not only is it able to supply the perfect lighting, but it also is simple to set up. So, you get two in one!
Great aspects of The Illuminated Cosmetic Mirror:
Gloss white
High precision
LED lights.
Adjustable lighting.
Easy to set up.
---
This lighted mirror by Conair is a very simple lighted vanity but has everything that one would need when applying makeup.  It has LED lights that light up the entire face. Not only that but one side is magnified for those hard to see applications. You can click this one on and off with easy too.
Great aspects of the Conair Double Sided Vanity:
Double Sided.
Has magnification.
Chrome finish.
Easy to move.
Halo light.
Easy to find replacement bulbs.
On and off switch along the cord.
LED Lights.
Rotates 360-degrees.
You can check out these all in the links for more information.
Before You Go!
Hopefully, you can now find the best-lighted vanity mirror for all of your makeup and hair needs. It is important having a mirror with proper light. All of the vanity mirrors above have been top rated to have the best light and magnifications. Thanks for reading!