These shower tile ideas will have you looking to redesign your bathroom! Did you know that changing the shower tile pattern for your bathroom can transform the entire look of the bathroom?
Not every look will fit into every bathroom and that is why it is important to have a large set of ideas to choose from.
Below are some ideas that can transform any bathroom into something new and spectacular.
44 Modern Shower Tile Ideas To Make Your Bathroom Amazing

1. Staggered Rows Mixed with Organized Rows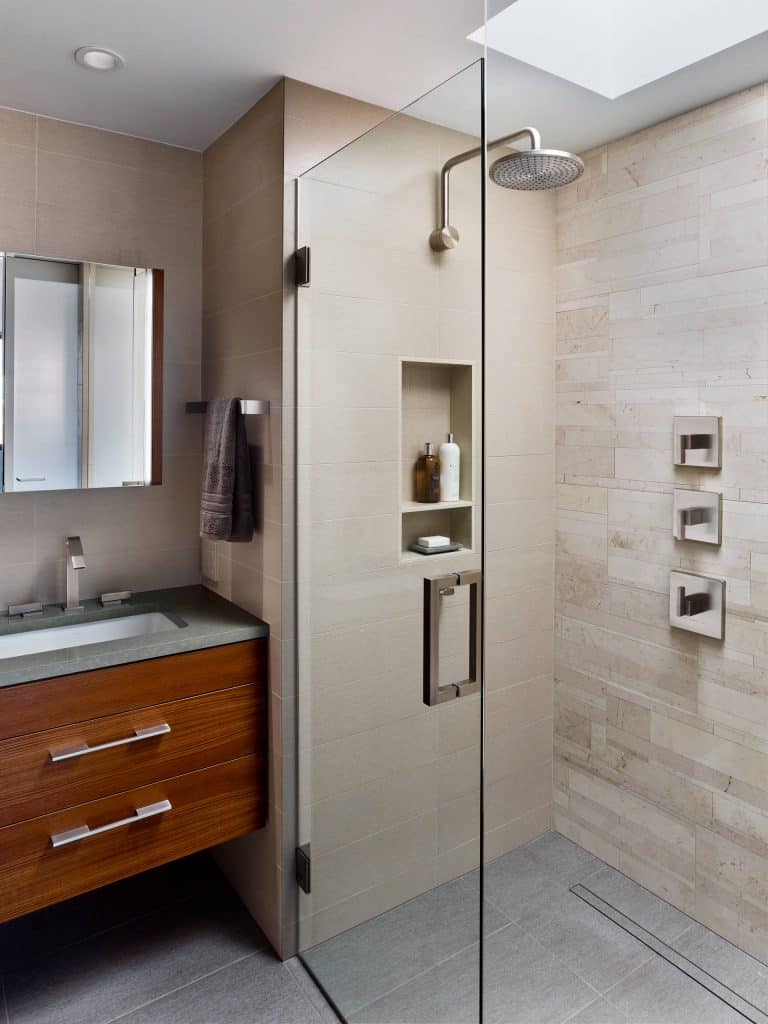 You Don't Have To Go Symmetrical. Not everything has to be lined up perfectly to create a beautiful tile pattern. In fact, some shower tile patterns are purposely put into a disorganized look. This can be done by staggering the tiles with different colors or even shapes. The ideas are truly endless.
2. The Hawaiian Straw
3. Green Raindrops Shower Tile Ideas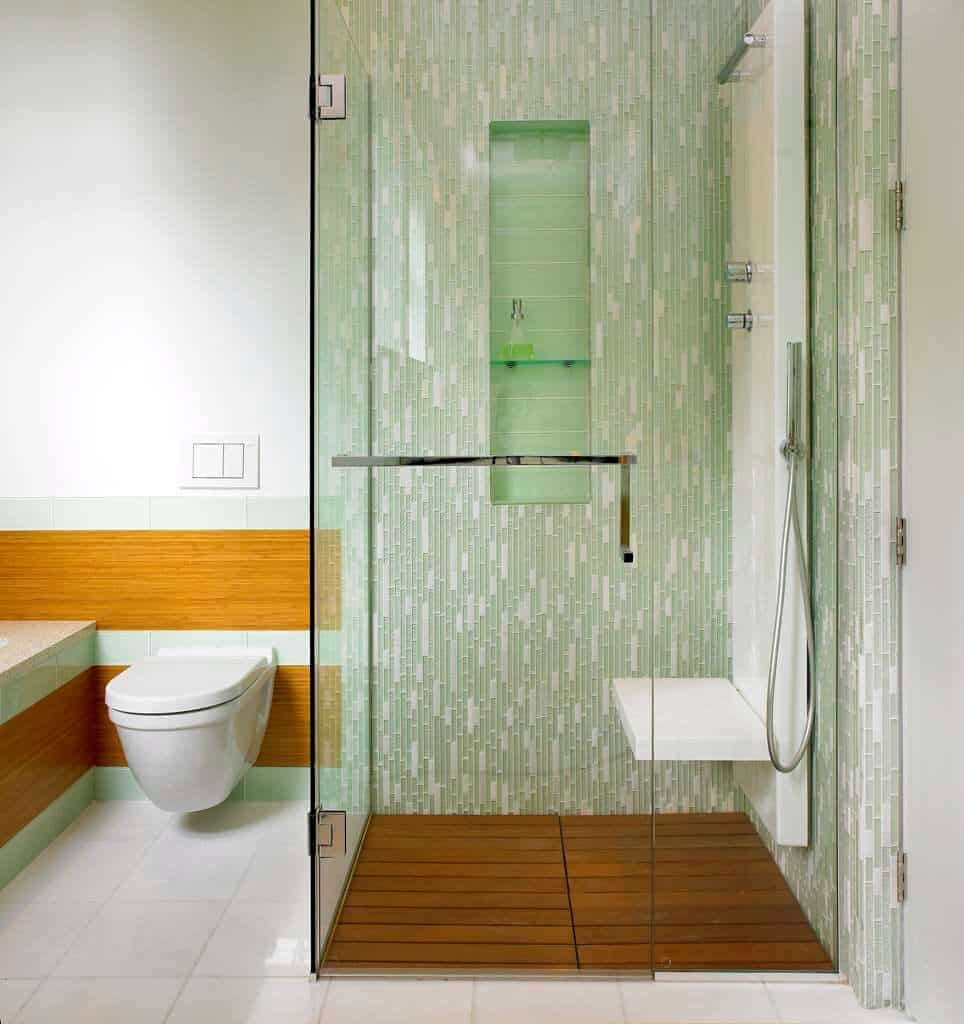 4. Scales of Grey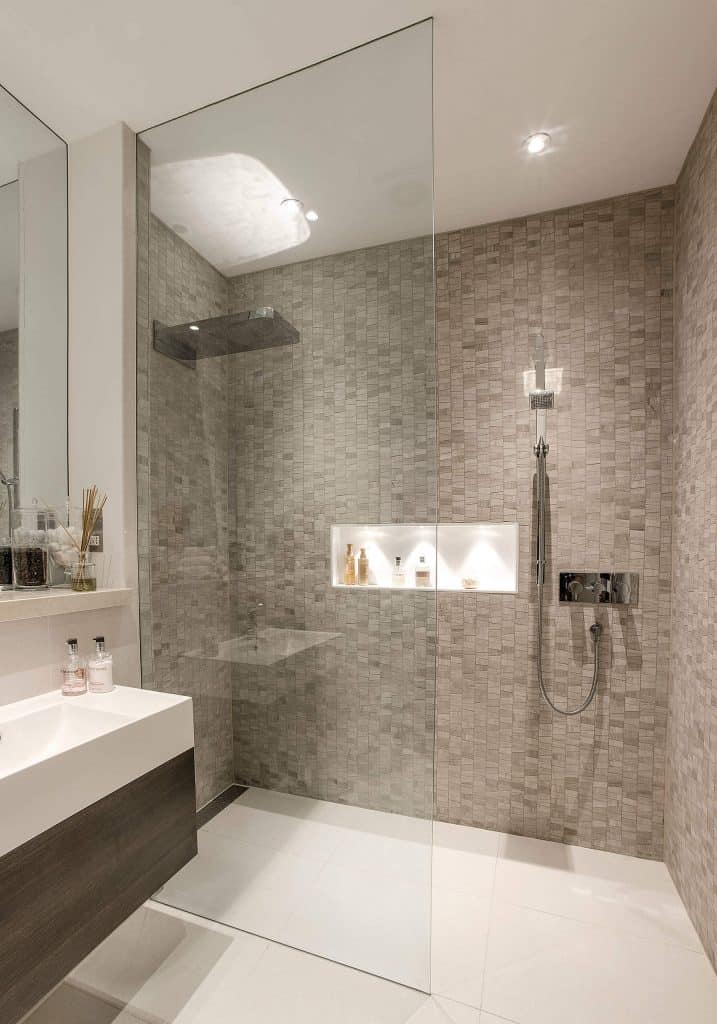 5. Triangular Shades of Blue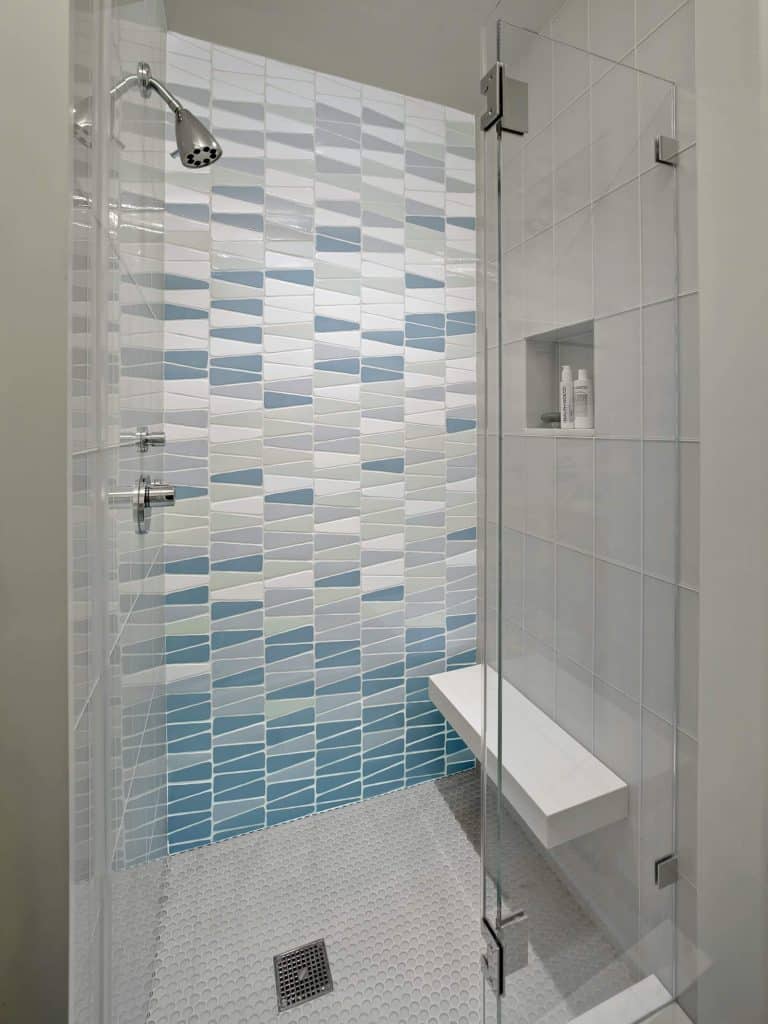 6. Checkered Tan with Solid White
A Checkered to Solid Color Shower Tile.  Another shower tile idea is a solid color that meets up with a solid pattern. This can be a checkered area of different colored small tiles and then an area that has one single color. This can help make certain areas of the shower sand out by the change in a pattern. The ideas are endless for this type of shower tile and can be laid out according to the your preference.
7. Large Marble Rectangles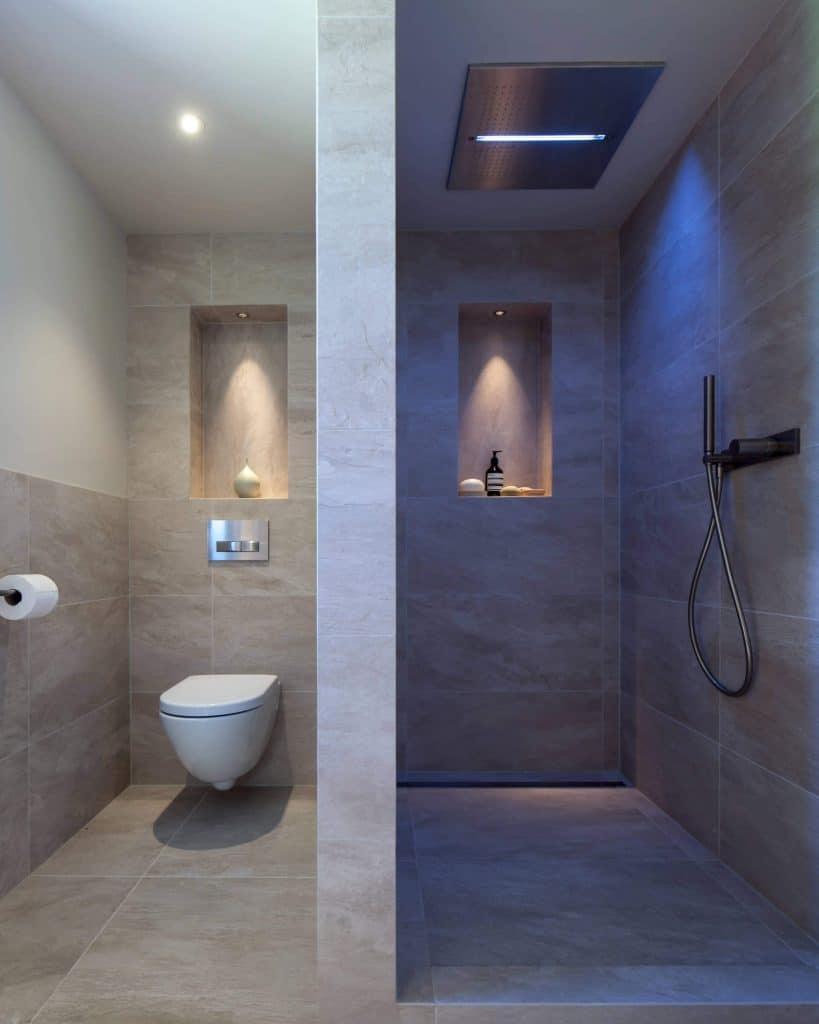 8. Shifting Planks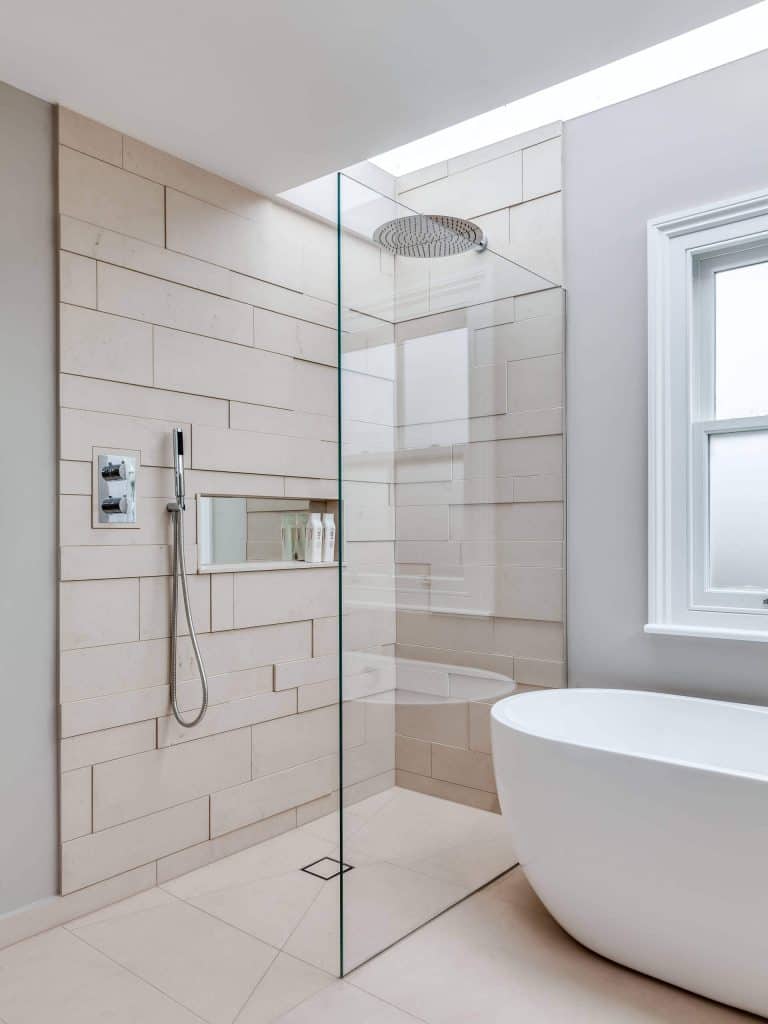 9. Blue Tile Waterfall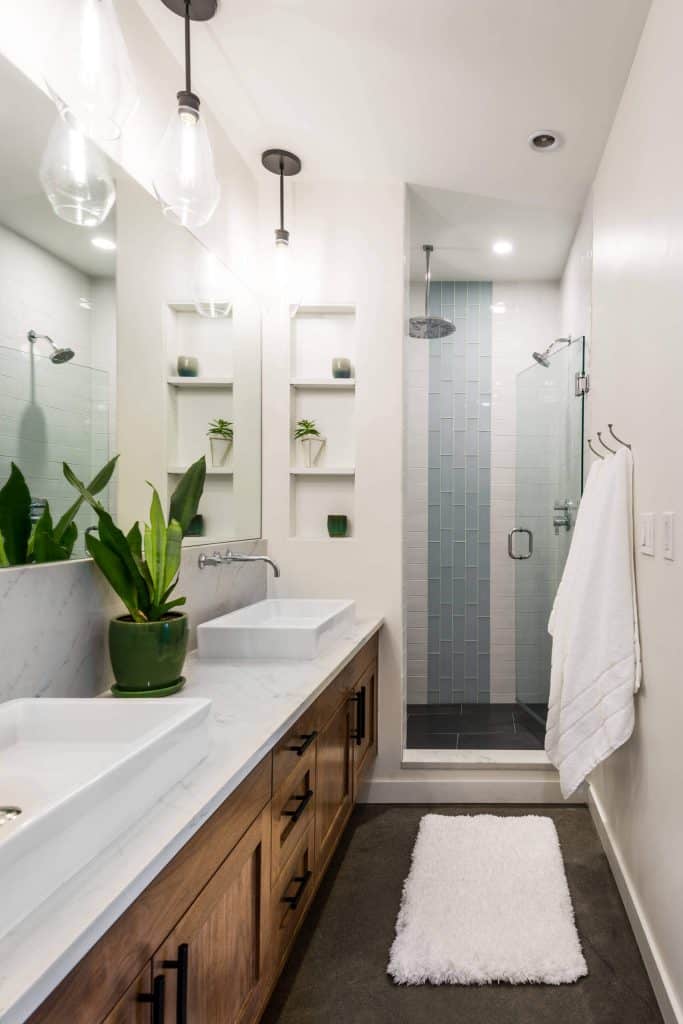 10. Solid White Crisp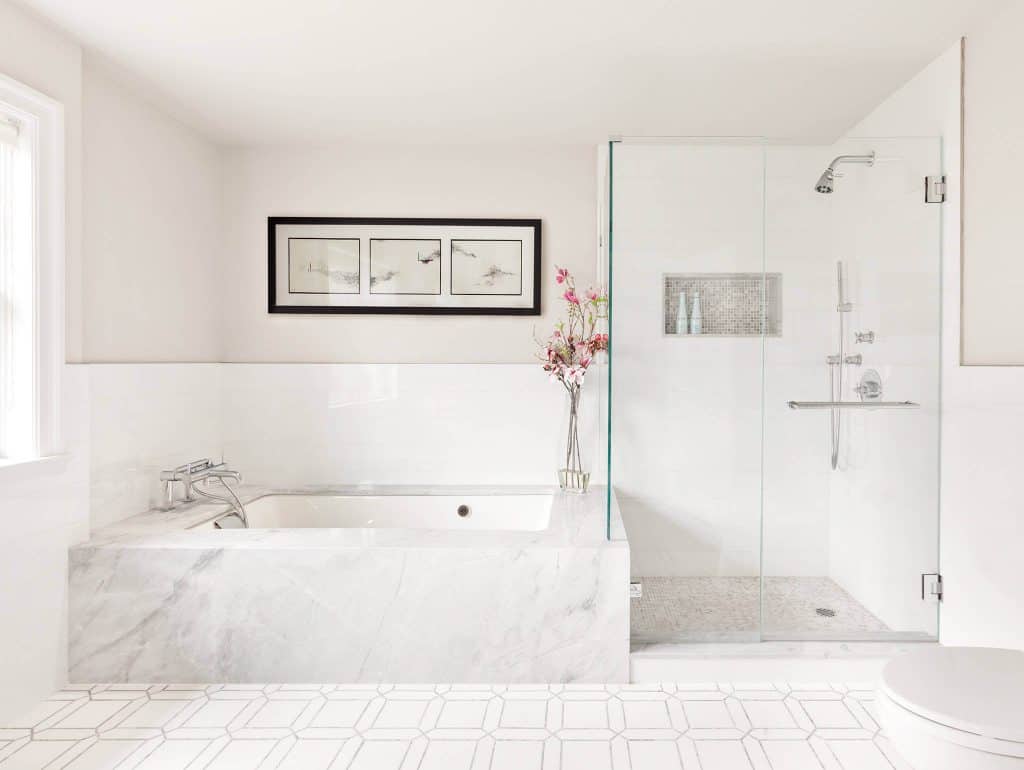 A solid color of tile in the entire shower except for on or around the built-in niche, then lay out a checkered look of two tones of tile.
11. Honeycomb Brown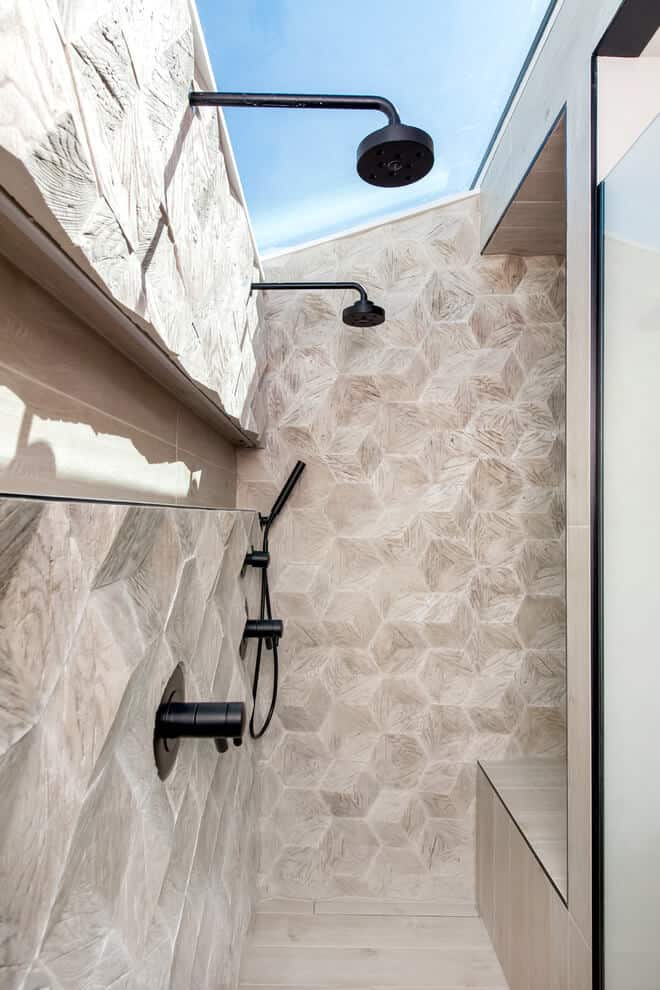 12. Extruded White Brick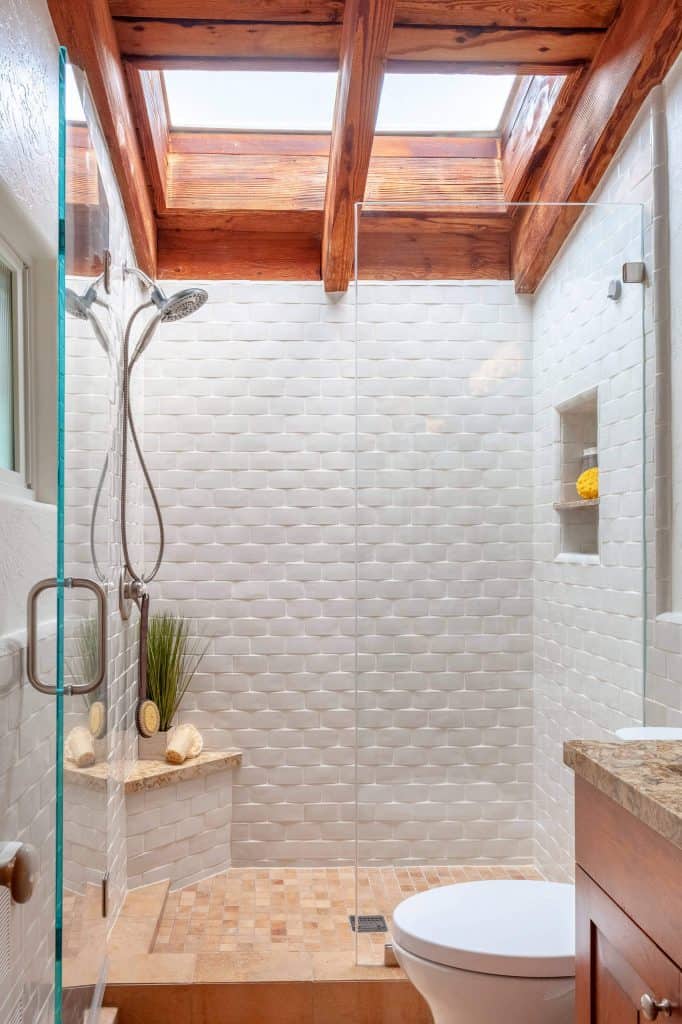 13. Chevron Shapes

14. Tall Standing White Tiles

A checkered pattern except for around certain areas like the faucets or maybe even a shelf. This can be reversed also.
15. Contrasting Built-in Niche Centerpiece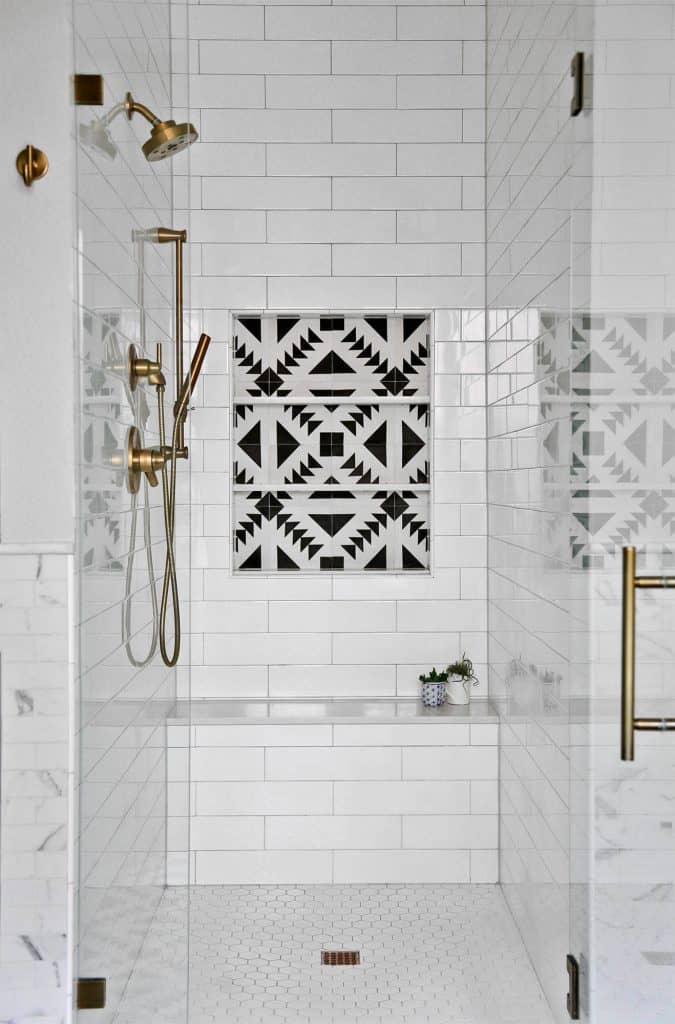 To create a beautiful masterpiece in the center that is even more eyepopping, you can have a staggered look of tile with a set pattern in the center. For example, you can choose to do a letter to represent your last name or even just a diamond design or particular shape with a set color.
16. Rustic Alley Way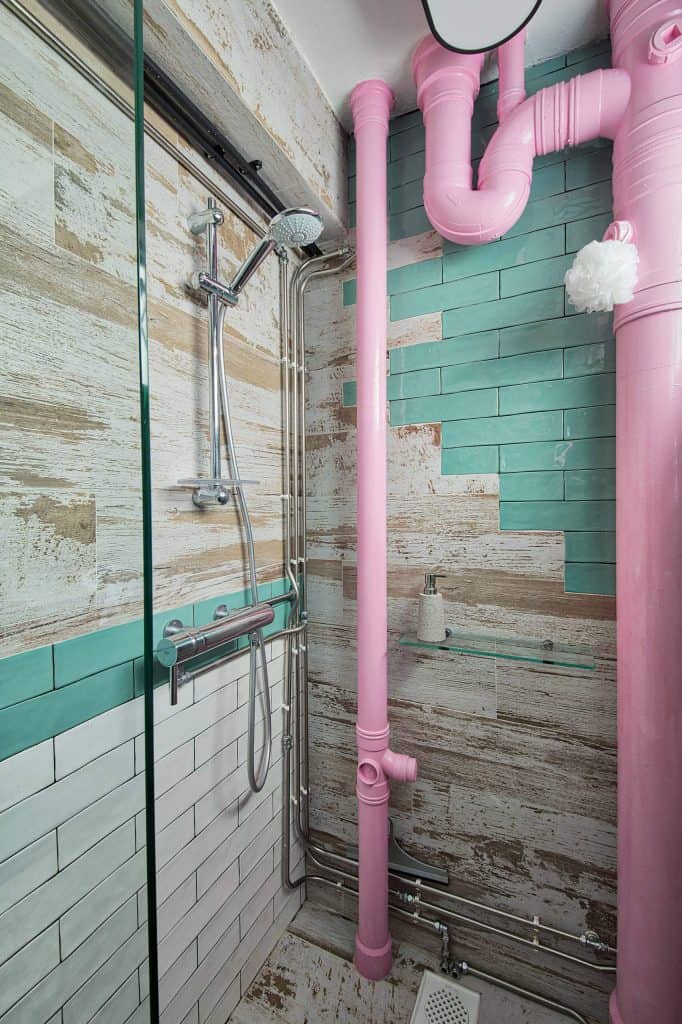 17. Outdoor Oasis – Flattened Pebble Tile Base

18. Freckled Pebble Tiles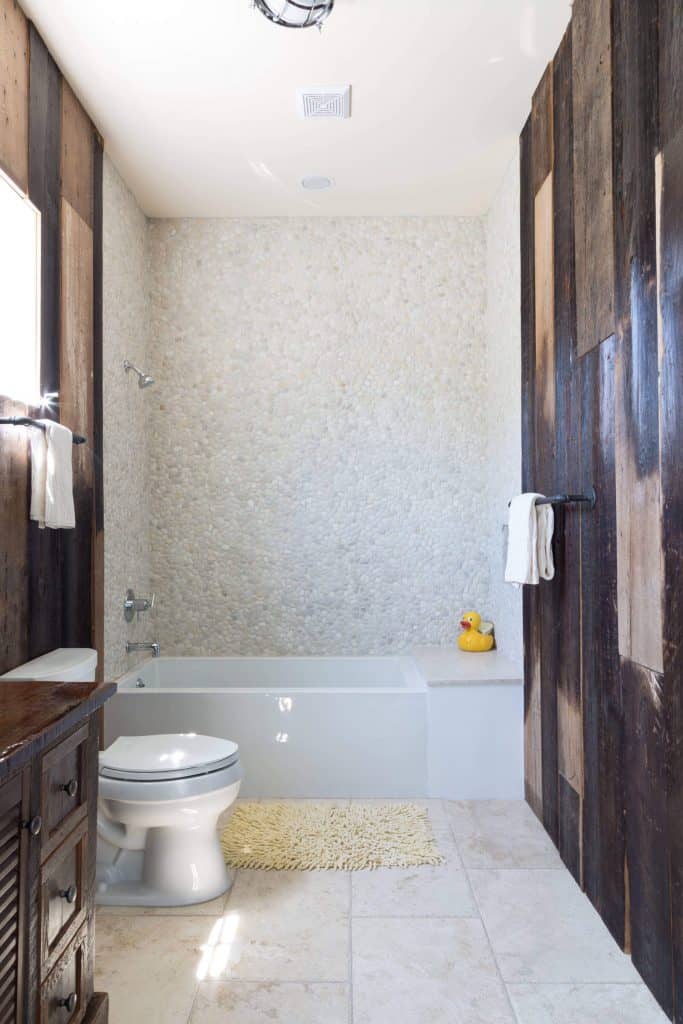 19. 3 Texture Title Mix – River Stone, Marble, Faux Tile Wood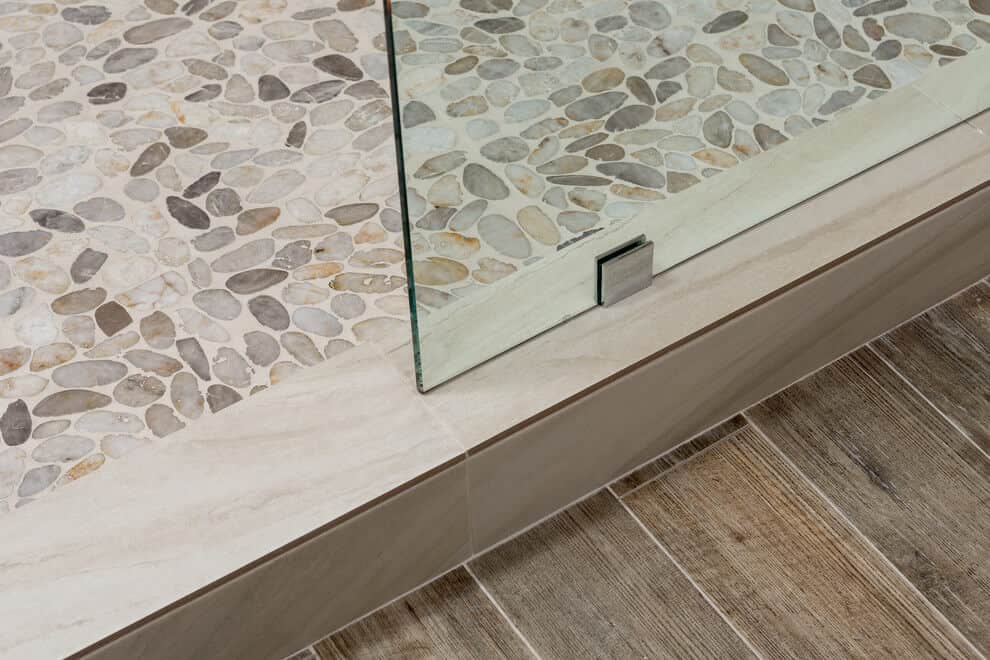 20. Polka Dotted Tan Pebble Tile With Faux Wood Tile Shower Tile Ideas
21. Shiny Metallic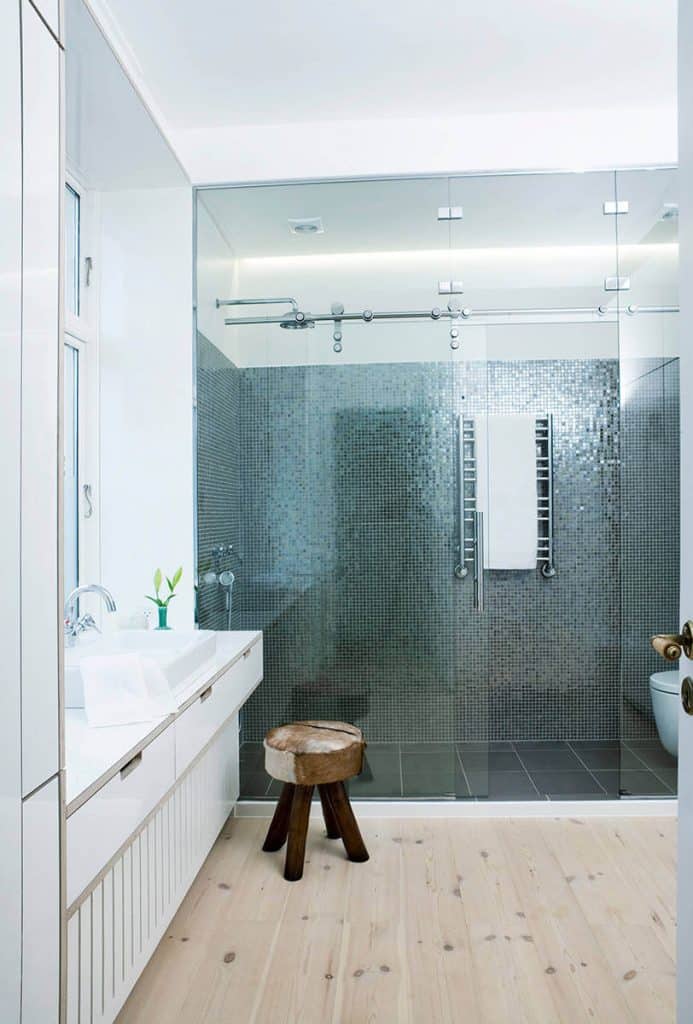 22. Small  Pixel Tiles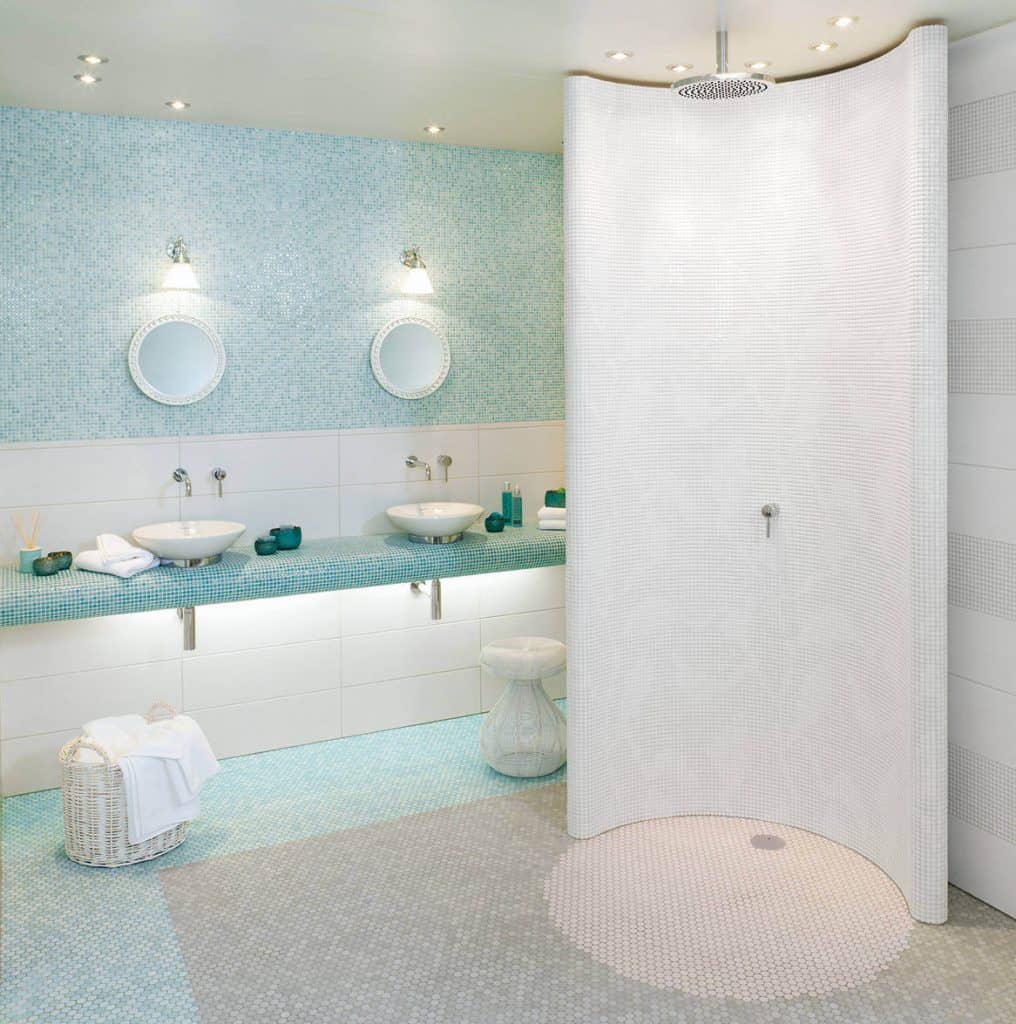 23. Monochrome Polygonal Tile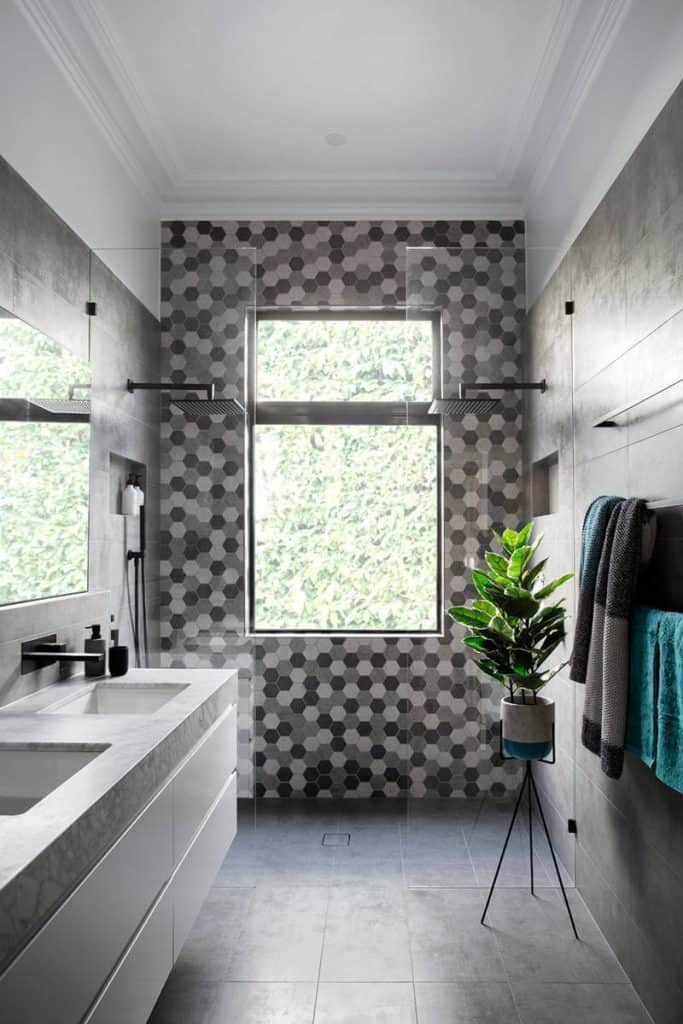 24. Blue Subway Tile Contrast with 1×1 White Tile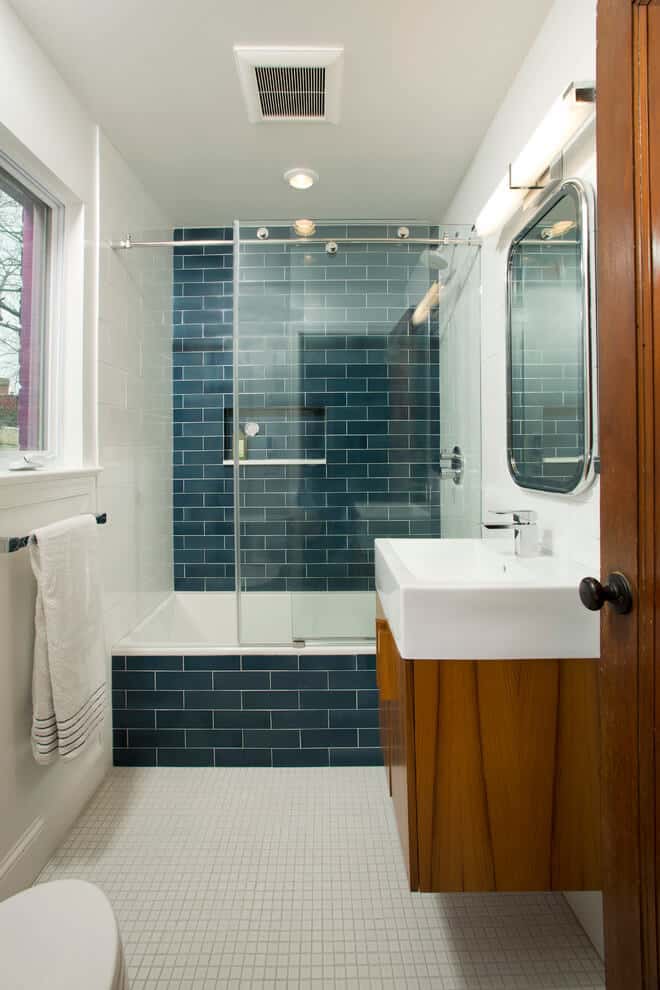 Using a Two-Toned Tile Pattern. A pattern that involves two different colors can definitely transform a bathroom shower tile. Consider, something that has two of the similar colors but of a different tone. This can create a tile pattern that is less boring and more fun. Also, colors can be of a different contrast all together. This can transform the showers look completely.
25. Slant Pattern with Center Attraction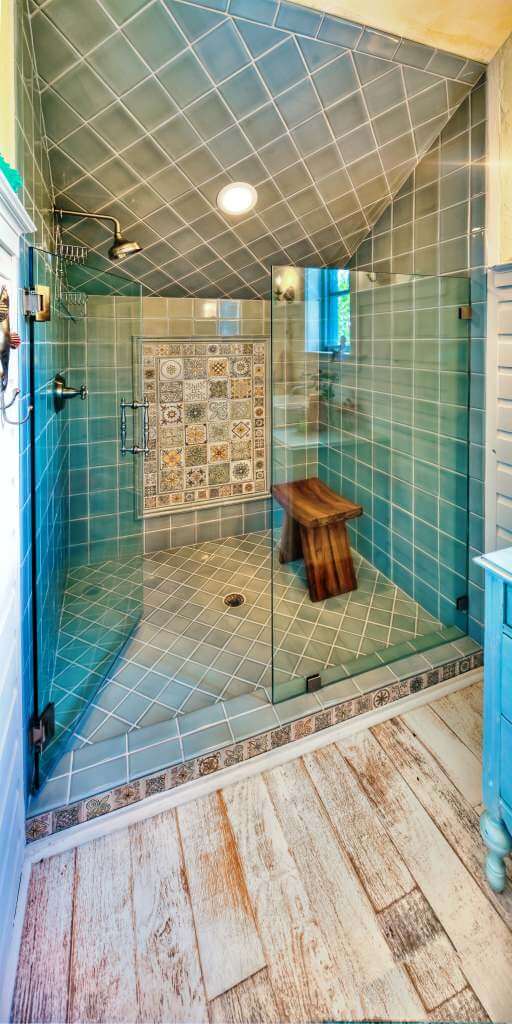 26. Go Green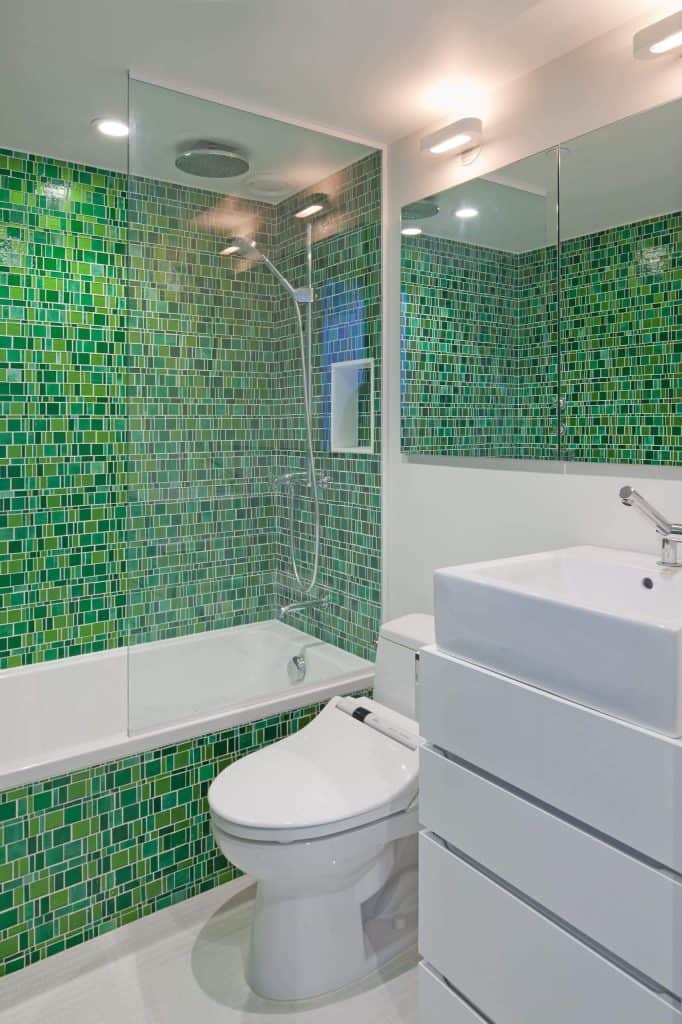 27. Pac-Man Kids Shower Tile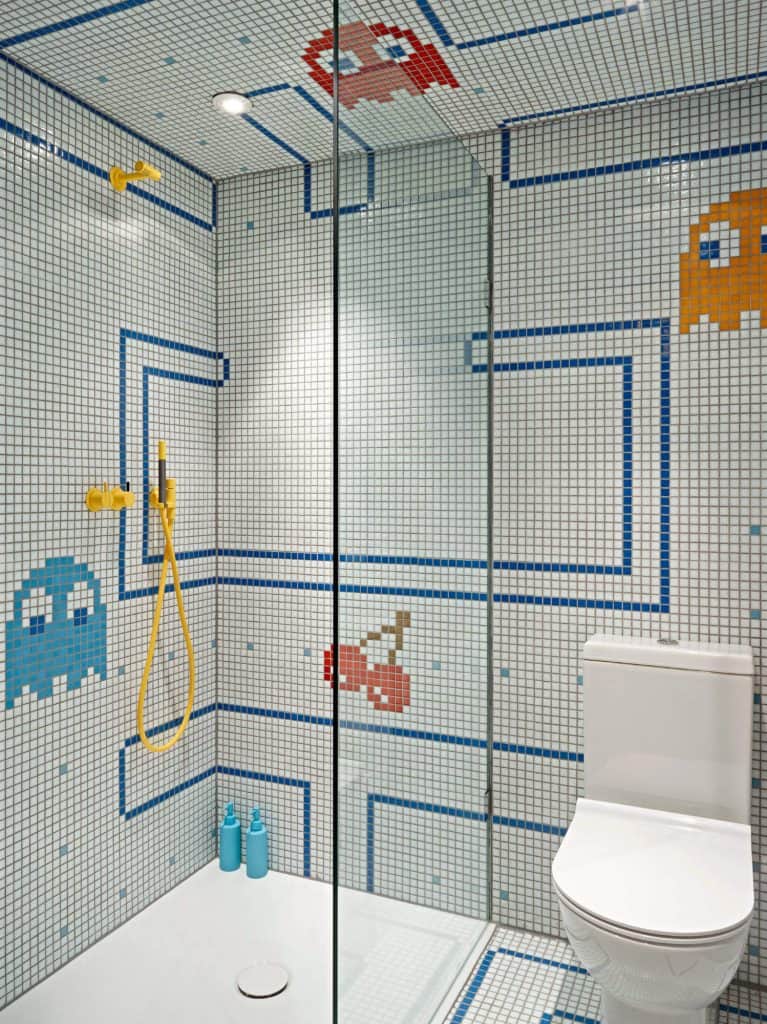 28. Rocky Path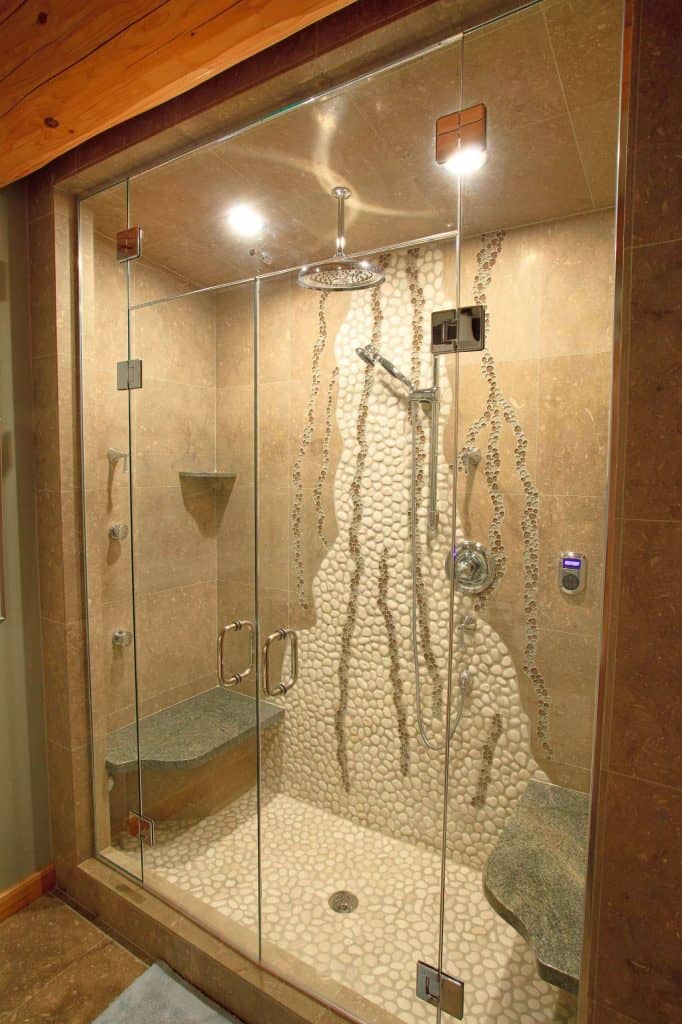 29. Peacock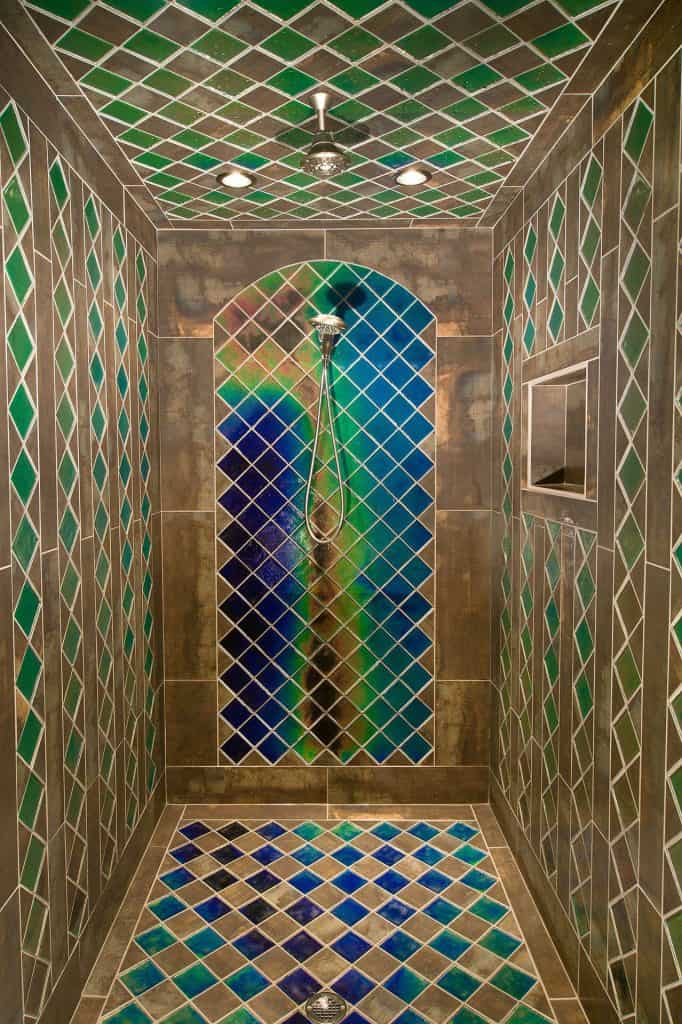 30. Yellow 70's Tile Design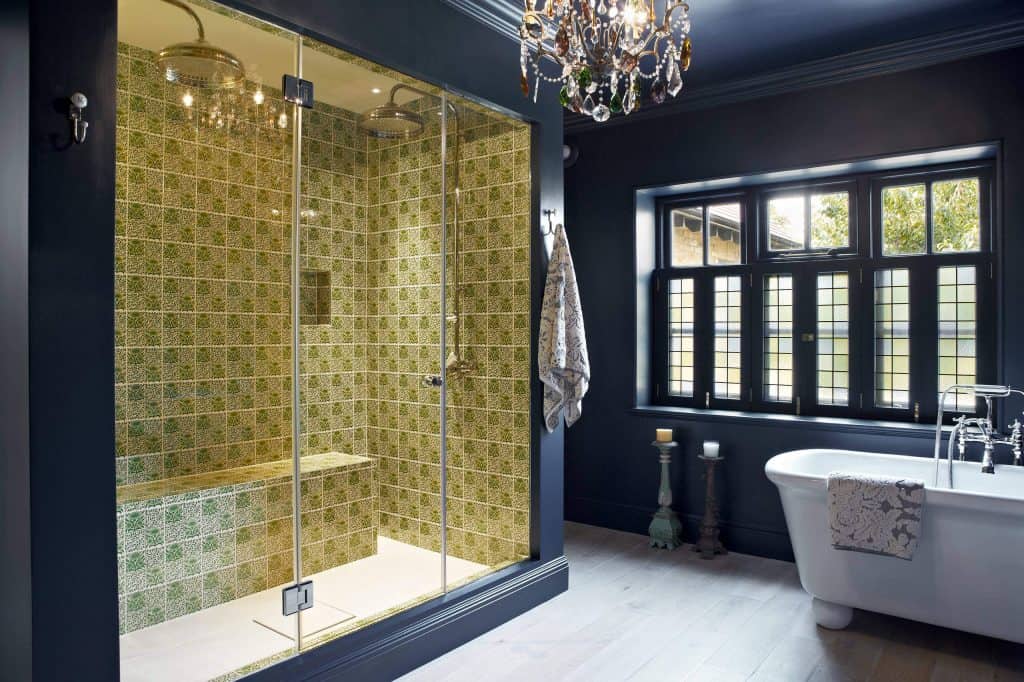 31. Faux Wooded Tile Shower Idea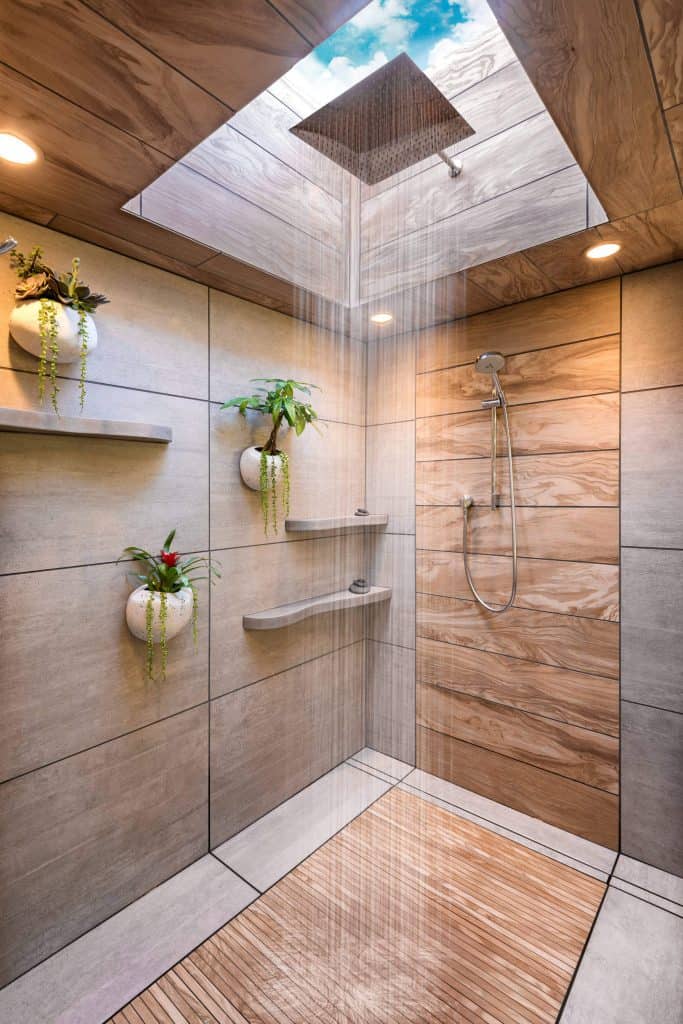 Is That Really Tile? One way to really change the entire look of bathroom shower tile is to purchase a set of tiles that do not even look ceramic or like shower tiles at all. There are endless designs on the market of shower tiles that can customize any shower to perfection! Shower tile can be purchased with an appearance of wood which creates a modern touch.
32. White Rectangles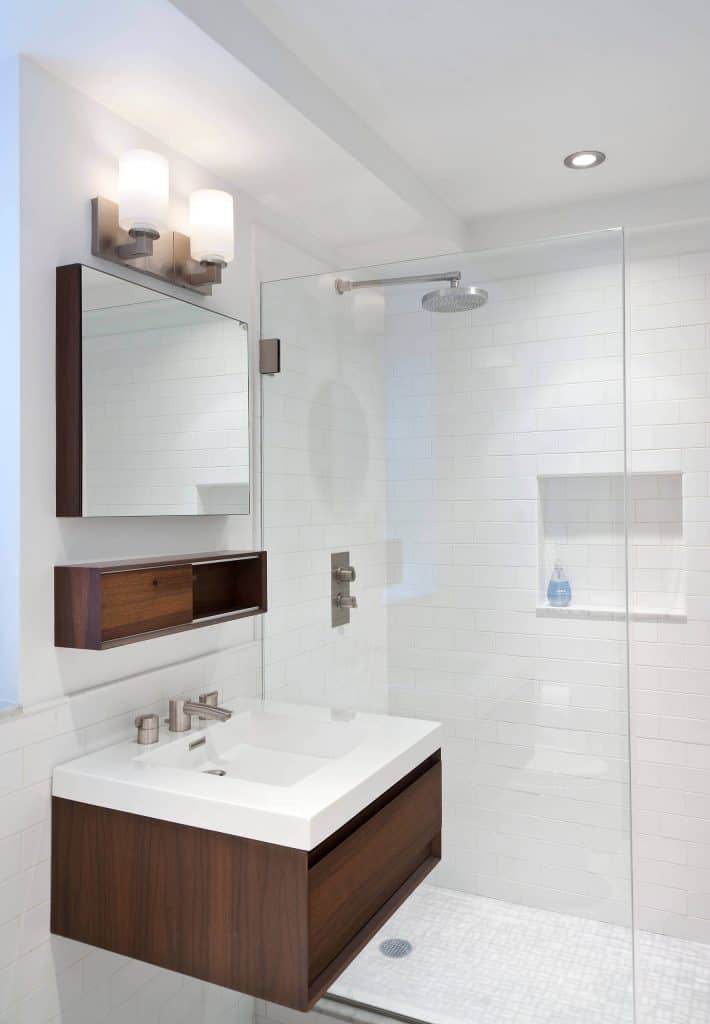 Go Completely Solid with Favorite Colors.  Another way to change up a bathroom shower tile pattern is to go completely solid. It is all about preference of the individual! One way to change that shower tile is to choose a color that fits the bathroom. Even some vibrant colors can fit well into a shower tile setting. Solid white shower tiled bathrooms have been owned by many.
33. Tan Staggered Shower Tile Ideas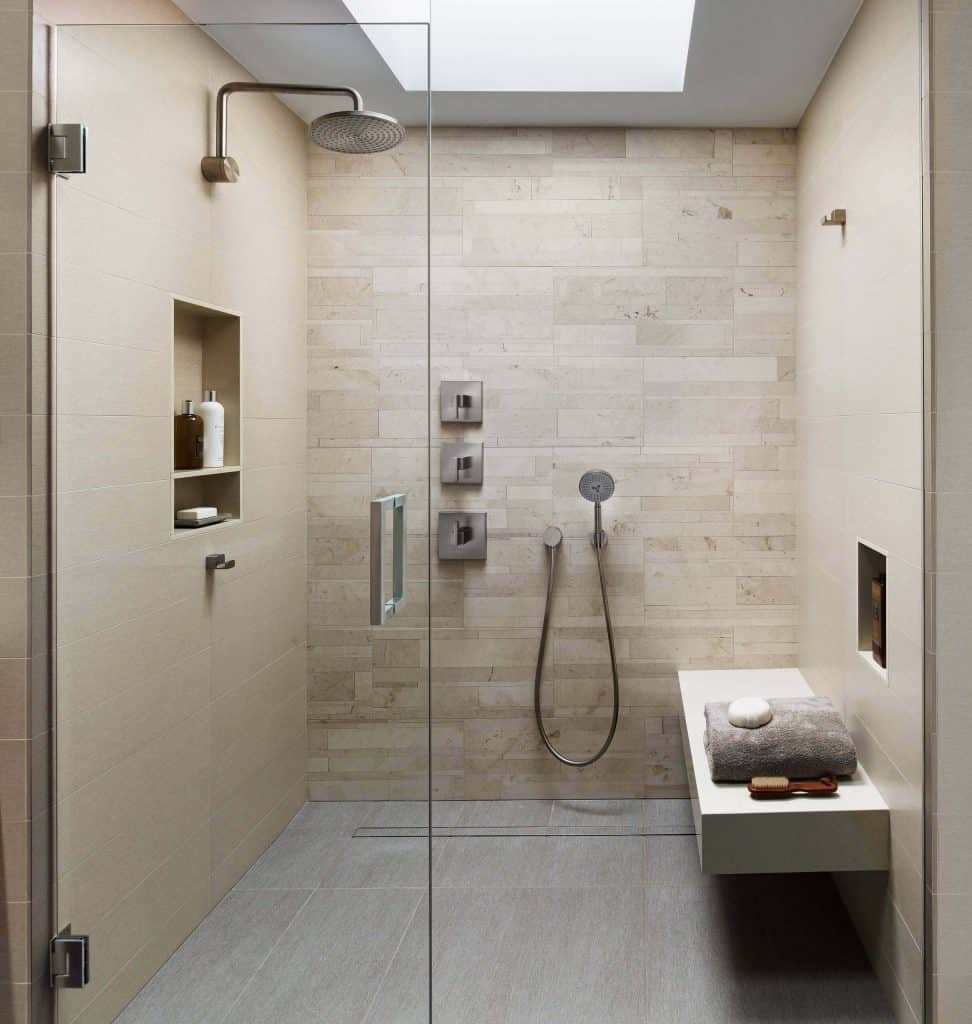 34. Thin Grey Stripes with Pebbles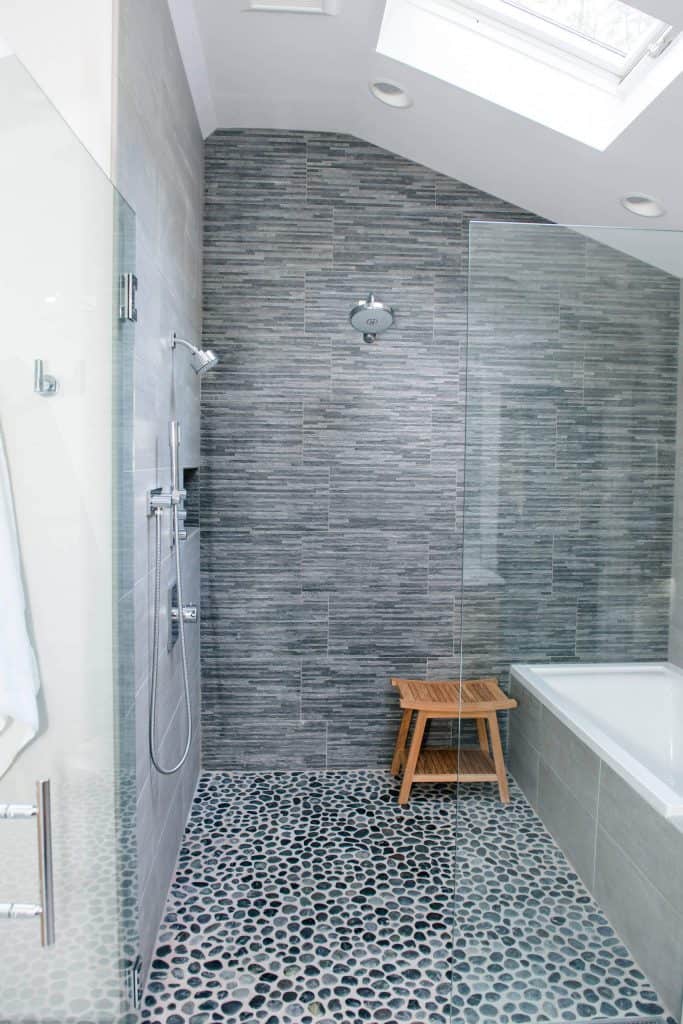 35. Bricked Travertine Shower Tile Ideas
The floor and/or ceiling be of contrast between a solid and checkered look.
36. Sprinkles of Fun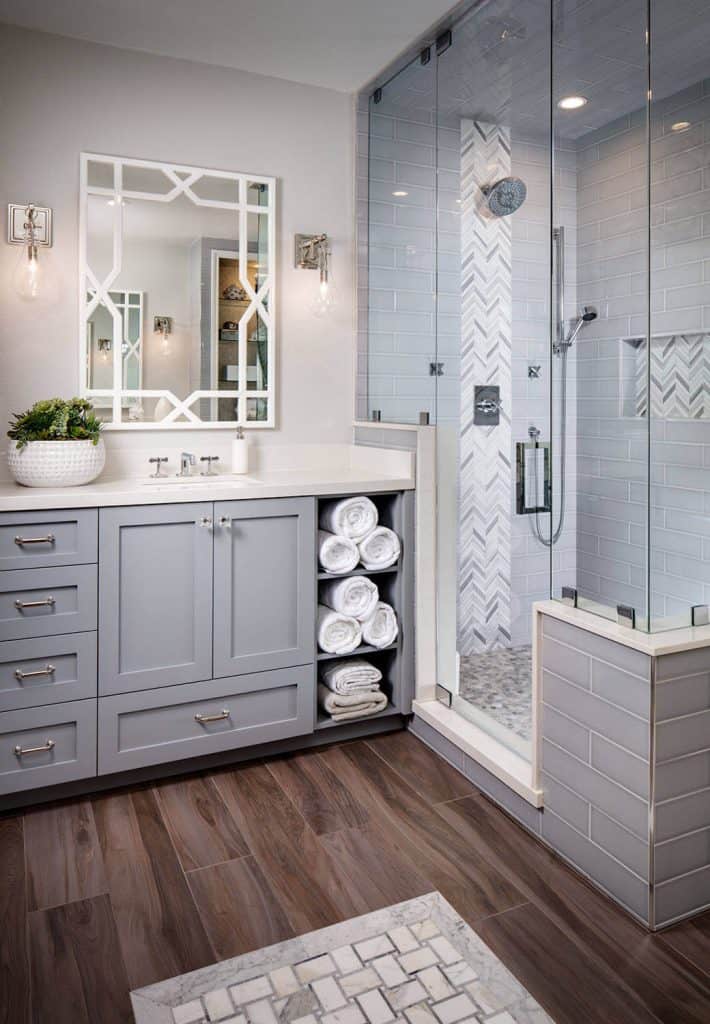 Another way to change some things up with just the shape of the tile is to turn some of the tile pieces in with different colors. This can really make some of those pieces of tile stand out more than the other and even transform the entire look.
37. Slight Color Variations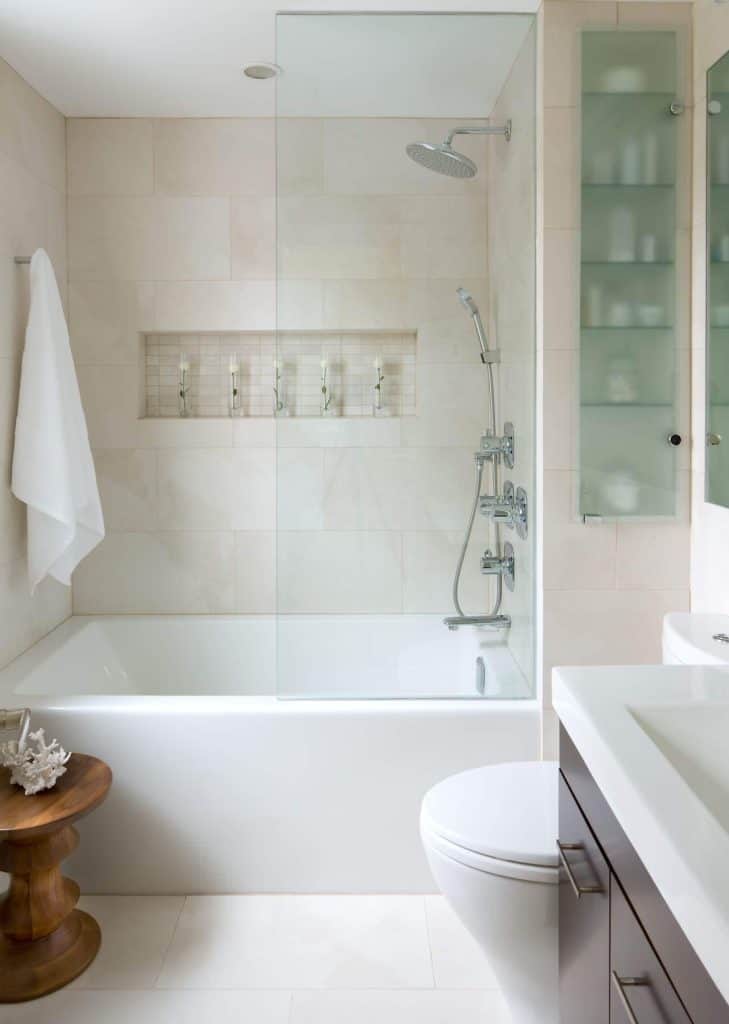 38. Beautiful Stone Tile Mix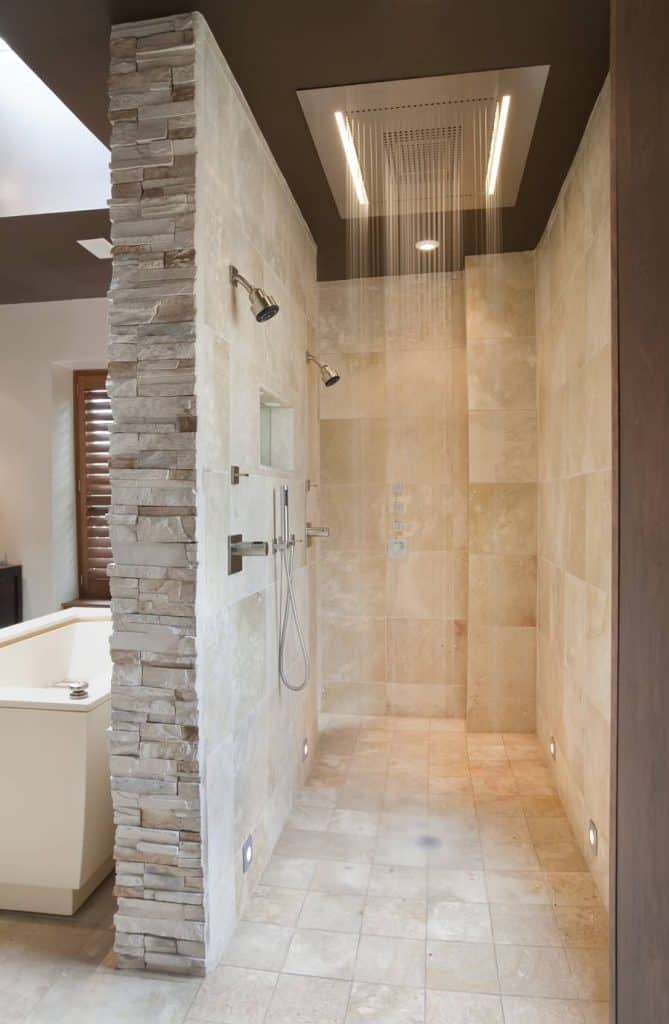 39. Small-Scale Narrow Extruded Rows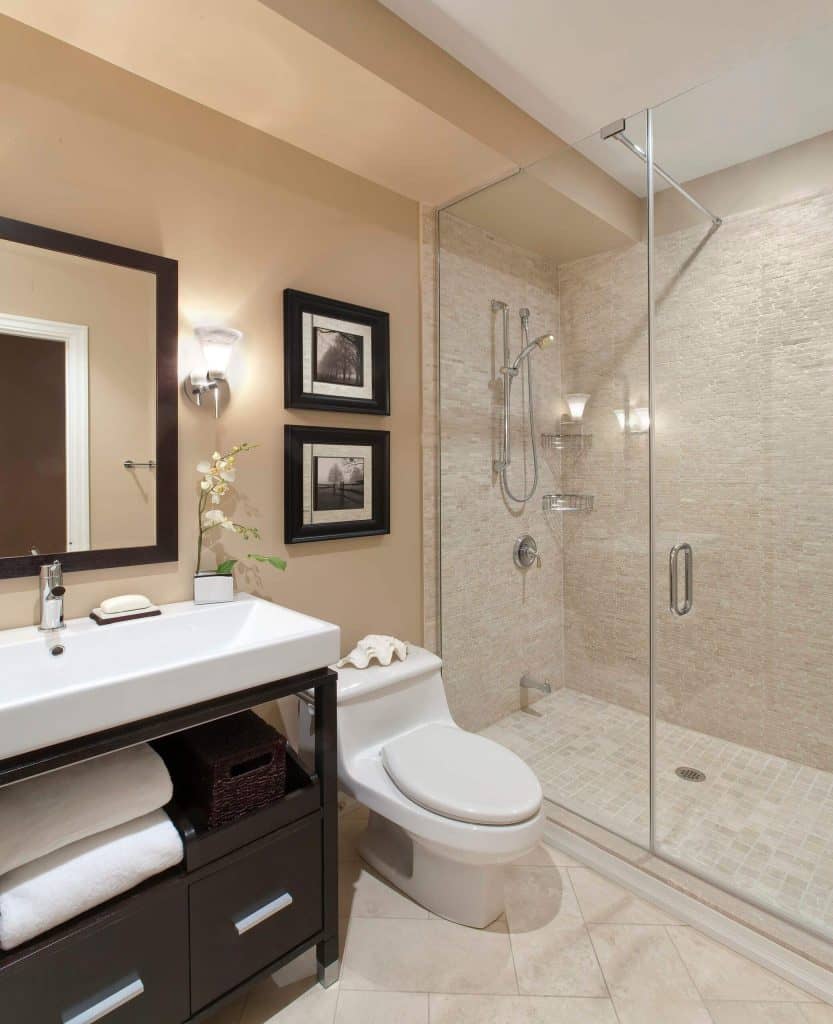 40. Diamonds Designs with Subway Tile
Different Shapes Make A Wonderful Pattern. Sometimes the color of the tile does not even need to be changed to transform a bathroom's shower tile. One way to mix things up a little bit and add a unique and elegant look to a shower is to change up the shower tile with some mix match shapes. The tiles can change from square to rectangle or even a broken tile appearance can sometimes be chosen to change things up a bit.
41. Vertical Glass Subway Shower Tile Ideas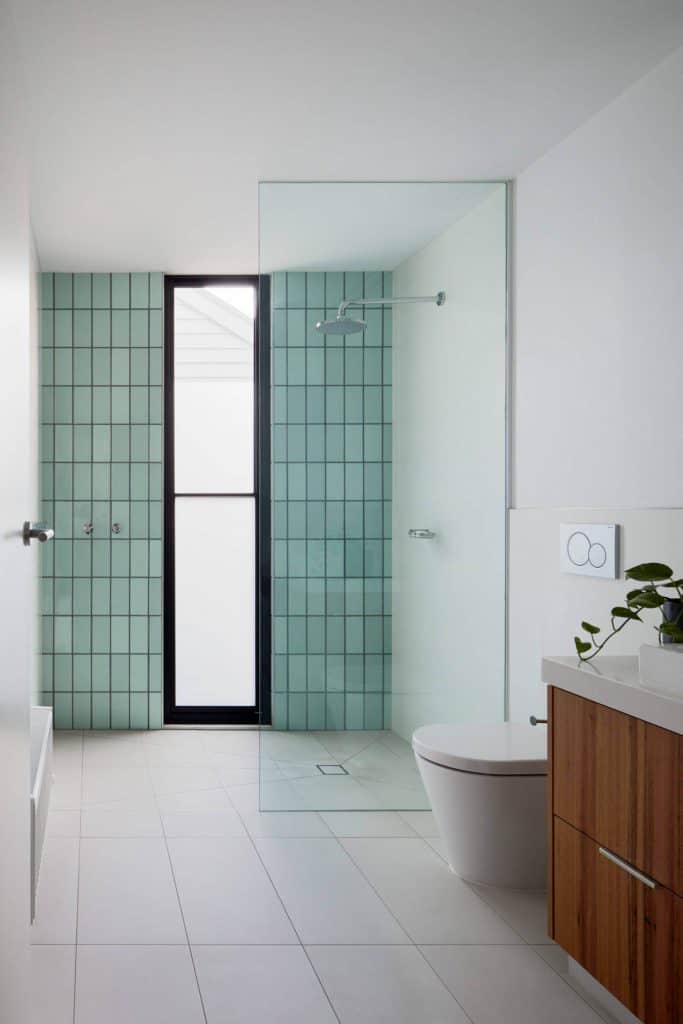 42. Translucent Polygonal Tile Pattern
43. Moroccan Inspired Tile Pattern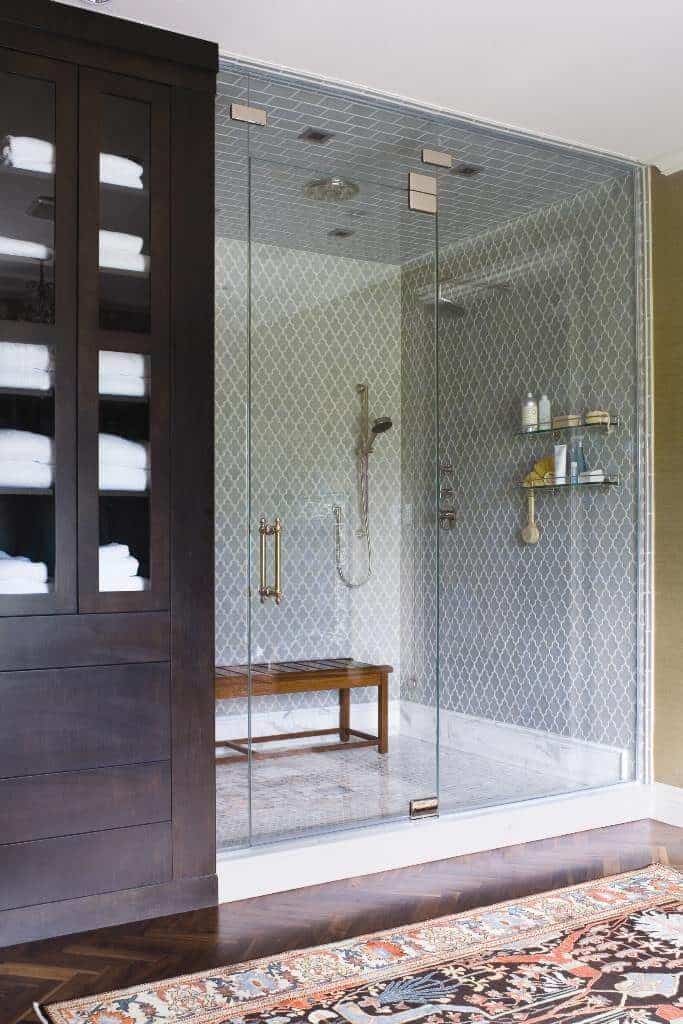 44. Mini-Teal Subway Tile