A lighted vanity mirror table is on every girl's wish list. It is usually seen on fashion television shows where a makeup artist works with models in front of mirrors surrounded by light bulbs.
It's the fantasy of every want-to-be starlet or diva (even if only in your imagination): applying luscious make-up, styling voluminous hair, and spritzing with flowery perfume while gazing at yourself in the mirror of a gorgeous, functional, and comfortable dressing table vanity.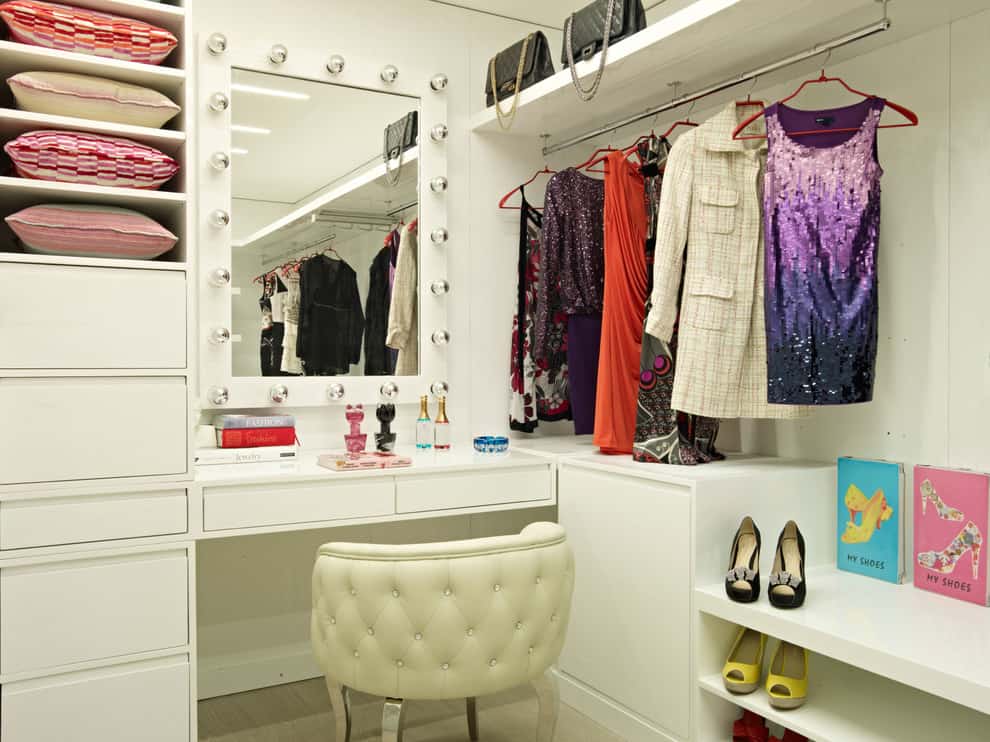 Such a luxurious piece of furniture brings to mind the glamorous stars of old Hollywood, as you sit coiffing your gorgeous curls, powdering your nose, and channeling your inner Marilyn. Such a wonderful addition to your boudoir, a makeup vanity is beauty and functionality wrapped into one.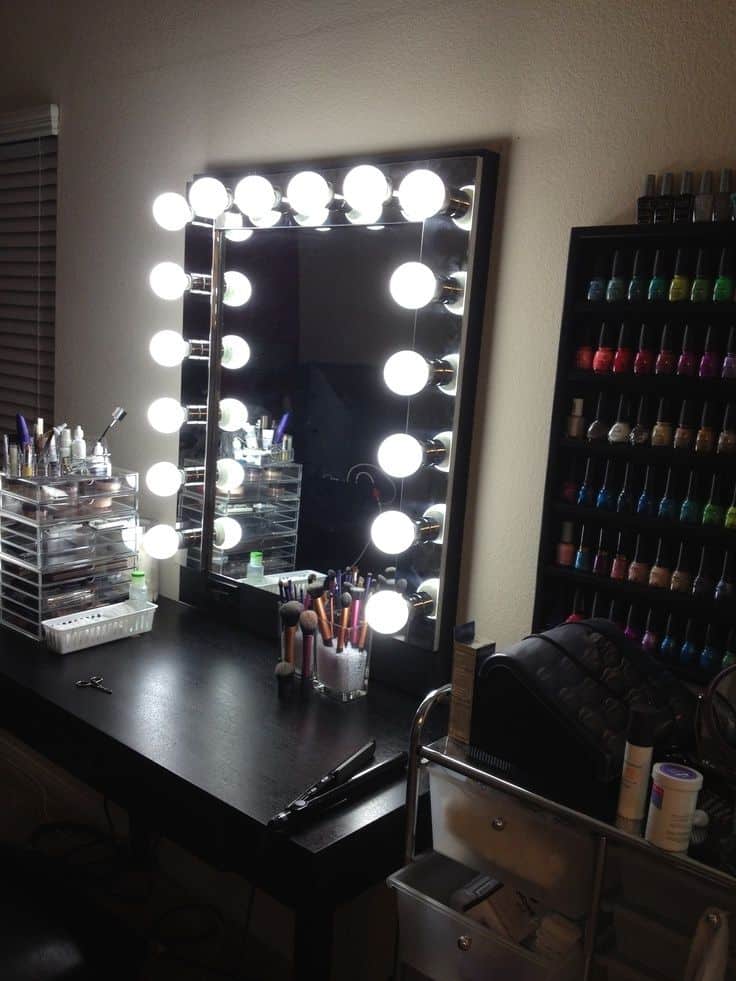 It is so much more meaningful and fulfilling than merely doing your makeup at the humdrum bathroom counter.
While you may never appear on the big screen (or the small screen), you too can experience the lavish indulgence of having such a place to prepare for your day or nighttime activities.
You work hard and you play hard. You deserve a luxurious space in which to pamper yourself and make yourself as beautiful on the outside as you are on the inside.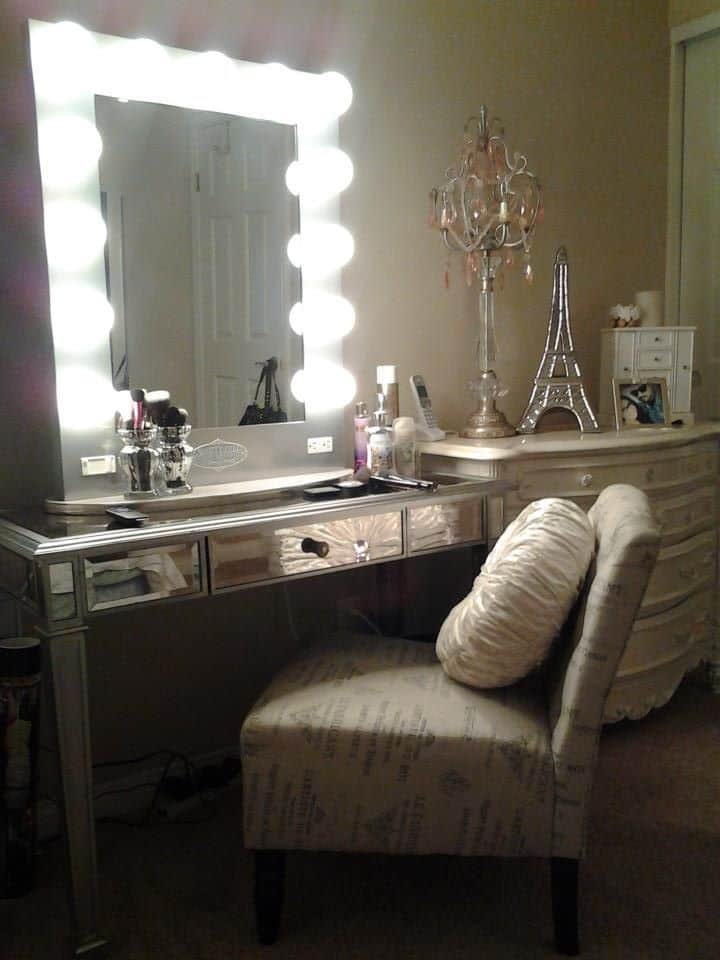 ---
Building your Own Vanity from Scratch
First, we'll take a look at building your own vanity mirror with lights from raw materials, then in the next section, we'll start with an existing piece of furniture.
Materials
28×34 inch plywood sheet
2 pieces 32-inch board pieces
Undercoat/primer
Paint brush
Paint
18×30 inch mirror
Pencil
6 pieces lamp sockets with plug-in cords
Drill
Screwdriver
Construction adhesive
3-inch screws
2-inch screws
Zip ties
Light bulbs
Power strips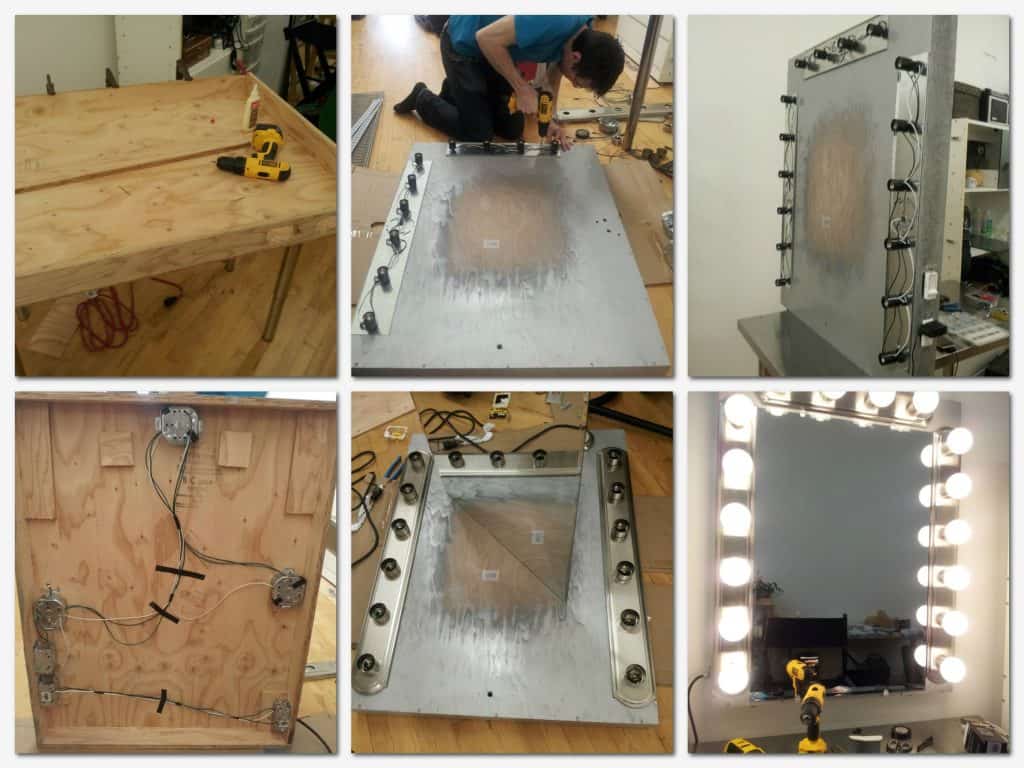 ---
Too much work? Why make your own when you can just buy one instead? Read this…
---
Procedure to build this mirror with lights
Apply two coats of primer to the surface and sides of your 28×34 inch plywood sheet and the 2 pieces 32-inch board. Leave to dry for 2 hours.
Apply the colored paint evenly. You can choose any color for your lighted vanity table.
Lay the plywood piece on an even surface like your floor or a wide table. Make sure that it is positioned in the center. Mark the outline with a pencil. Set the mirror aside in a safe place before continuing your work.
Position the 6 lamp sockets onto the plywood piece. Place 3 pieces to each side, making sure that the space between them is even. Mark their outline with a pencil.
Make a ¼-inch hole on the center of each circle using your drill.
Hold the plywood sheet against the spot where you wish to place the vanity mirror. With a pencil, trace each side of the sheet.
Insert the cords through the holes then screw the sockets to the plywood sheet.
Apply the adhesive to the back of the mirror then press it in place on the plywood.
Attach the electrical power strip under the mirror using the mounting screws.
Drill three 1/16 holes through each wood board. Screw them to the wall using your 3-inch screws. Make sure the painted parts are facing away from the center.
Drill four holes through the wood towards the wall boards. Secure using the 2-inch screws.
Connect the six electrical plugs to the power strip. With its switch turned off, connect the strip's cord into an electrical outlet.
Attach the light bulbs into the 6 sockets. Turn on the power strip switch to light up your vanity mirror.
The ample lighting from your lighted vanity table makes the application of makeup easier. This DIY project will not dig a hole in your pocket, unlike designer-made vanity tables.
A Roundup of My Favorite DIY Vanity Tutorials
You don't have to follow my advice or instructions. There are already to lots of great DIY Makeup Vanity Table tutorials out there. Here is a roundup of the best ones I discovered.
---
Choosing a Vanity Mirror to Buy Instead
If you want to own a vanity table with lighted mirror, you need to determine your most pressing needs before picking one from the store. Lighted vanity tables have many uses. Most women use it when applying makeup every day and for special occasions. Others need it when doing their morning and evening beauty regimen. A lighted vanity mirror makes a huge contribution to a woman's appearance so it is necessary that you know how to pick the perfect one.
There are two types of mirrors used in a vanity table.
Single-sided mirrors are just regular
Double-sided mirrors have two sides: a regular mirror on one side and the special mirror which provides a magnified look on the other side.
When choosing a double-sided mirror, you need to determine how magnified the special mirror should be to make your beauty routines more comfortable.
Another desirable feature is the mirror's rotating ability. This will help you get into a comfortable position when you need to check every single part of your face in your vanity mirror.
Size can also play a big role in the appeal of a vanity table. You will be more comfortable working on your face in front of a mirror that is big enough for your frame but does not take up too much space in your room.
Here are some great mirrors you can pick up on Amazon: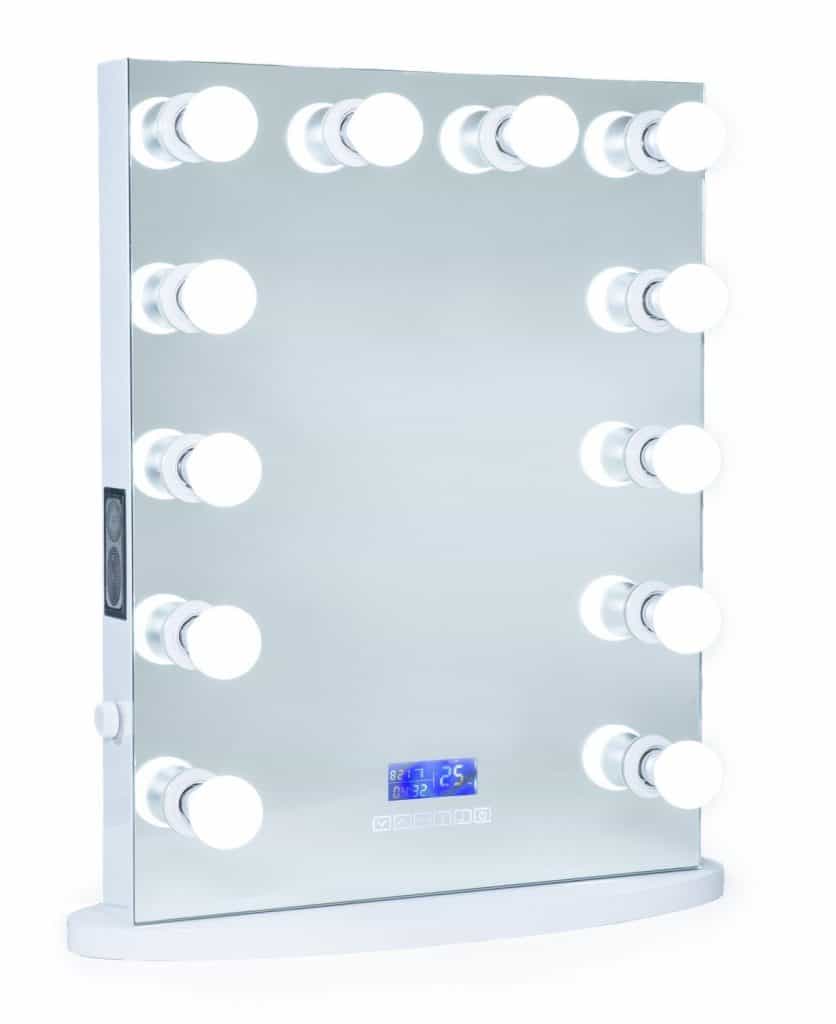 ---
Vanity Mirrors with Lights
When applying makeup, you need the correct amount of lighting so you don't end up looking like a joke when you go out. It is best to use a vanity table with a lighted makeup mirror whether you like putting makeup on in your bathroom or your bedroom. A mirror with lights will help you apply the right amount of makeup in the right areas of your face.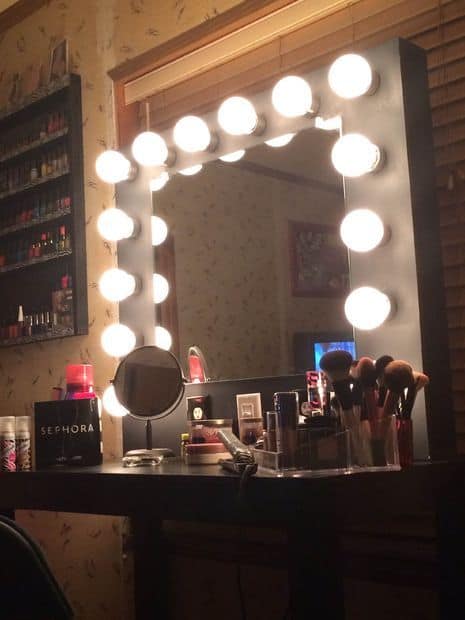 You don't want bulbs that do not illuminate enough. But bulbs that are too bright aren't very desirable either. Top bright of bulbs will distort the view of your natural look.
With that problem in mind, it would be best if you choose a lighting that has a dimming switch. That way you can adjust the light according to your preferences.
For instance, you need the bulbs to give off some sort of natural light when you are applying makeup, but you will need it to shine brighter while you are plucking your eyebrows or flossing your teeth.
---
Bonus Tutorial – Making a Vanity from an Old Dresser
Little girls who love imitating their mom will enjoy having their own vanity table. It is a great place to display their favorite things like hair accessories, jewelry, and other important items. They will have fun prepping up every day in front of a table with a mirror especially if it is beautifully decorated.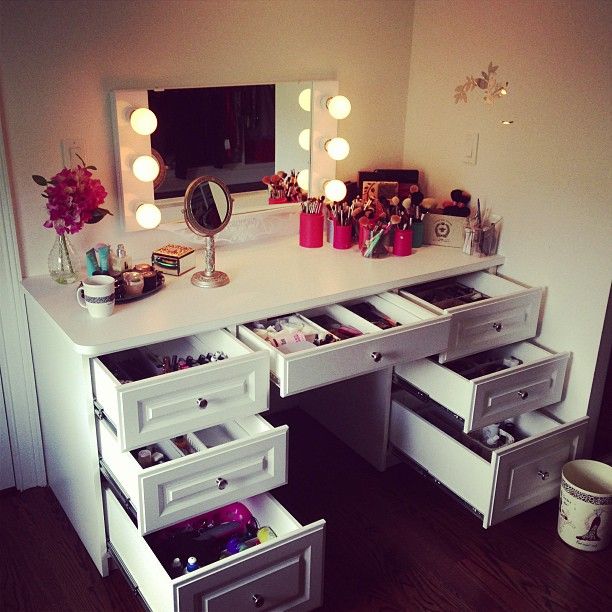 Vanity tables can be placed in bedrooms or bathrooms to provide beauty and convenience. With a mirror placed on top, girls can have fun applying makeup, styling their hair, or dressing up for an occasion.
Vanity tables are not only for grown-up women. If decorated with cute little accessories, a vanity table can surely become a little girl's own prized possession. Make your little girl feel like a star by helping her decorate her own vanity using some items that may just be lying around in your home.
Rather than throwing away an old dresser, why not turn it into a vanity for you or your daughter? Recycling an old furniture piece is a noble thing to do for the environment. So, here are few ideas to help you out in this project.
Cut It.
To create enough space for you or your girl's legs, cut out the middle section of the dresser. Attach thin boards to create walls. You might need to remove the bottom drawers to create space for the chair.
Sand and Paint It.
Does the dresser look worn out? Don't fret. All you need is paint in your girl's favorite color.
First, sand the dresser then apply primer and paint. You can use either a plastic or latex primer.
Pink is usually the favorite color of little girls. This color is perfect for their vanity table especially if the room already has a pink color theme. If your daughter's room has patterned wallpaper, paint the vanity with a plain but beautiful matching color. If her walls are bland, you can get creative on the vanity by creating stripes or polka dots. You can also create a lacy effect using doilies that you can purchase from arts and crafts stores.
You can also turn it into shabby chic furniture which is perfect for a girl's bedroom. You can do this by painting with a pastel base color then adding a little white paint over it. Decorate the vanity table with trimmings and accents.
Also, Washi tapes have been popular for a while now. They are tapes in decorative patterns and are often used when wrapping gifts, working on arts and crafts and creating décor wherever possible. You can use the washi tape to cover the entire vanity except for the mirror. You can also do the same with colored papers dipped in glue to create a decoupage.
Add a Mirror
What differentiates a vanity from a desk is the presence of a mirror. You can find mirrors from yard sales, flea market, and thrift shops. Decorate them accordingly to fit the personality of your daughter. If you don't find anything you like in those places, you can look around home improvement stores for a wall-mounted mirror. See below about choosing a mirror…
Replace the hardware.
Some kid's vanity tables look a little boring. To make them look more interesting, you can remove the old drawer handles and replace them with knobs in interesting shapes like flowers, butterflies, or cute animals. Paint them in a color that goes well with the whole vanity table.
Add a Chair
To complete a girls vanity set, create a dainty vanity seat from a piano bench. For the upholstery, choose a fabric that matches the vanity or just let your daughter pick.
Decorate it.
So what can you do to dress up your girl's vanity table? Collect stickers, keepsakes, and postcards can serve as additional decor for your girl's new vanity table.
You can place a glass on top of the vanity table and arrange stickers or birthday cards under it.
Remember that you can only place flat items under the glass. The vanity table will turn into some sort of mood board for your little girl to keep her inspired.
Love It.
While your girl may still be too young for make-up and the likes, it does not mean that she will not enjoy having her own vanity like moms. This can be a great gift for her birthday. She can use this when she is playing Barbie with her friends. It is easy to turn a dresser into girls vanity with just a little creativity and patience on your side. Don't settle for store-bought vanities that may be identical to your neighbor's. Your effort in making this project will surely not be forgotten by your girl. She will talk about it when she grows up.
---
A Little Bit of Vanity History
You might be surprised to know that the fascination with the vanity didn't begin with the Hollywood of old. It actually made its appearance near the close of the 17th century as a venue for apply blush (known then as rouge) and donning beloved pieces of jewelry.
Known throughout its history as the vanity (no explanation needed there), the dressing table, and the poudreuse—from the French word for powder—these lovely pieces are often seen in bathrooms as an extension, lowered, or even separate section of the bathroom countertop with a mirror of its own.
However, some designers are actually keeping with the more traditional look by utilizing furniture pieces as the vanity. These furniture-inspired dressing vanities also lend themselves to having a special place in bedrooms, where they can be in close proximity to clothing and other accessories. In addition to the great beauty they add to those spaces, vanities also offer many functional aspects.
Yes, your dressing table vanity can be practical, as well as beautiful! Just like you. So much more than just a table, today's dressing vanities offer such amenities like drawers, adjustable mirrors, comfortable chairs, and counter surfaces that—while looking rich and gorgeous—can be easily wiped clean of stains and spills. Many vanity enthusiasts adorn their dressing table counters with lovely framed photos of loved ones and fresh, fragrant flowers to inspire them as they dress.
---
Final Thoughts
The best part of having a dressing table vanity is that you can customize it to be exactly what you want it to be—antique, shabby-chic, modern, vintage, and retro. With the right vanity, chair, and mirror, you can create any look your desire to compliment or offset the décor of your bathroom or bedroom.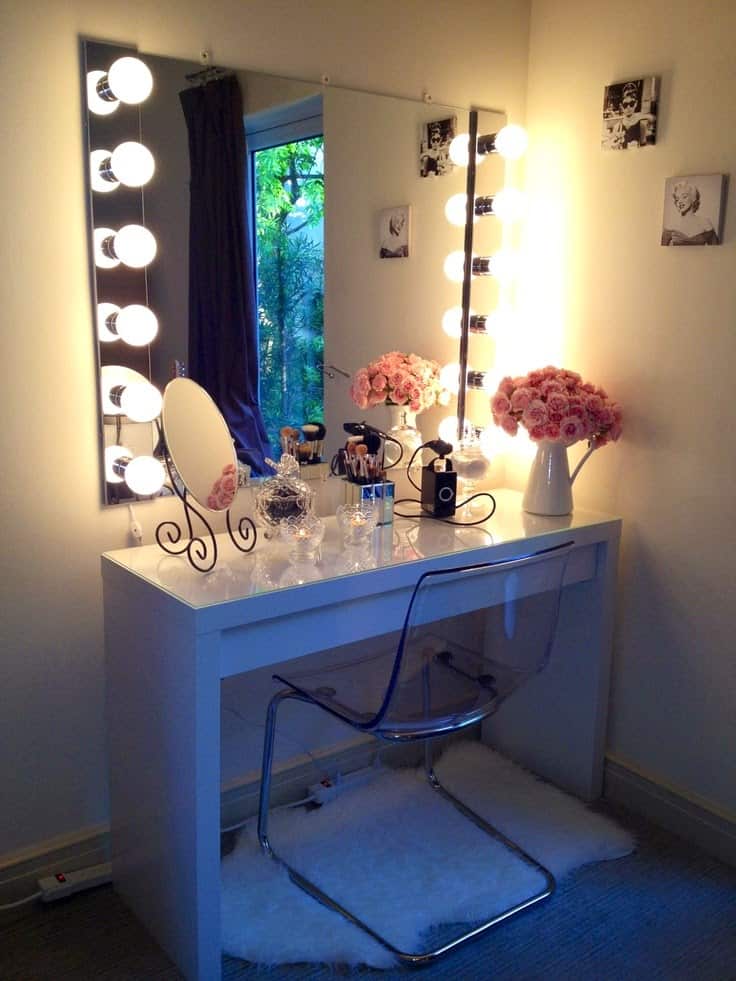 You can be whomever you want to be—the sensible one… the glamorous one… the wild one… the ingenious one. And your dressing table vanity can go right along with you on the journey of self-discovery and be whatever you envision it to be, as well. The only limits are your unique imagination and your enduring style.