Choosing the correct colored rug to go with your couch can make or break the look of your living room. But what happens if you have a blue couch? What color rug will complement the couch without detracting from it?
If you have a dark blue or navy blue couch, choose a gray, earth tones, russet, aqua, or ivory rug. If you have a light blue couch, choose a complementary airy blue, white, lavender, or a gray rug. Your rug color should make your dark blue couch appear bold and your light blue couch appear soft and subdued.
You want your rug color to work with your couch, not against it. After all, color is great, but you don't want a clown house. We'll show you how to coordinate your blue couch with a rug that will not only make a statement but create a homey feeling.
Matching Your Blue Couch to the Right Palette
Blue is a primary color. Nothing is mixed with it to achieve its color. But blue combined with other hues, will create many other pigments that complement the original blue. Because it is used to mix various colors, it's a versatile base. Depending on your style, match bold colors or subtle shades and create the perfect combo with your couch.
Don't Be Afraid to See Red
Red makes a dark blue couch pop with drama. It's bold. Explore the different shades and patterns available. If you have a pattern in your couch, then keep your rug, simple. But if your couch is a solid blue, have fun by complementing it with brilliant patterns. A dramatic patterned rug can bring a contemporary style to your space. Keep in mind; your rug doesn't need to be a true red. A slight orange hue will give your couch flair. And finally, a traditional oriental rug will provide an elegant feeling. Several rugs that we think add that touch of panache when paired with a blue couch include:
Safavieh Mahal Collection Red and Navy
We have the perfect elegant match with this rug. The red pops, but the navy combined with the traditional look, gives it an elegant feel.
Overdyed Helode Orange Vintage Oriental Medallion
Wow! The combination of the orange rug and blue couch will wake up your space. But don't worry, because of the vintage design, this rug will impress your guests and be comfortable to live in.
Safavieh Milan Shag
Simple but to the point. This is straight-up red. Because it's a shag, its cushy on the feet. You'll enjoy both the look and the feel.
Gray Brings out Subtle Tones
An elegant way to complement a blue couch is by choosing a gray rug. Blue and gray together is referred to as livid. These two colors work well in combo. They are subdued, so you can use tasteful accessories to add a touch of brightness. Some rugs that would look great coupled with a blue couch include:
Geometric Ogee Trellis Distressed Area Rug
From the Safavieh Madison Collection this gray and navy rug is perfect to tie into your blue couch. It has the best of both worlds. With its bold design, it's sure to add a contemporary flair to your home.
Unique Loom Sofia Traditional Area Rug
If tradition is more your style, than this is the perfect match for your blue couch. And here's a bonus, this rug happens to be stain-resistant and a snap to clean.
Silver and Ivory Contemporary Chic Damask
From the Safaieh Adirondack Collection this beauty combines silver, gray's elegant cousin, and ivory; two colors that work perfectly with a blue couch. Although it has a contemporary bent, it's not so modern that even a traditionalist will appreciate it as well.
Comfy, Cozy Earth Tones Make Your Home Relaxing but Vibrant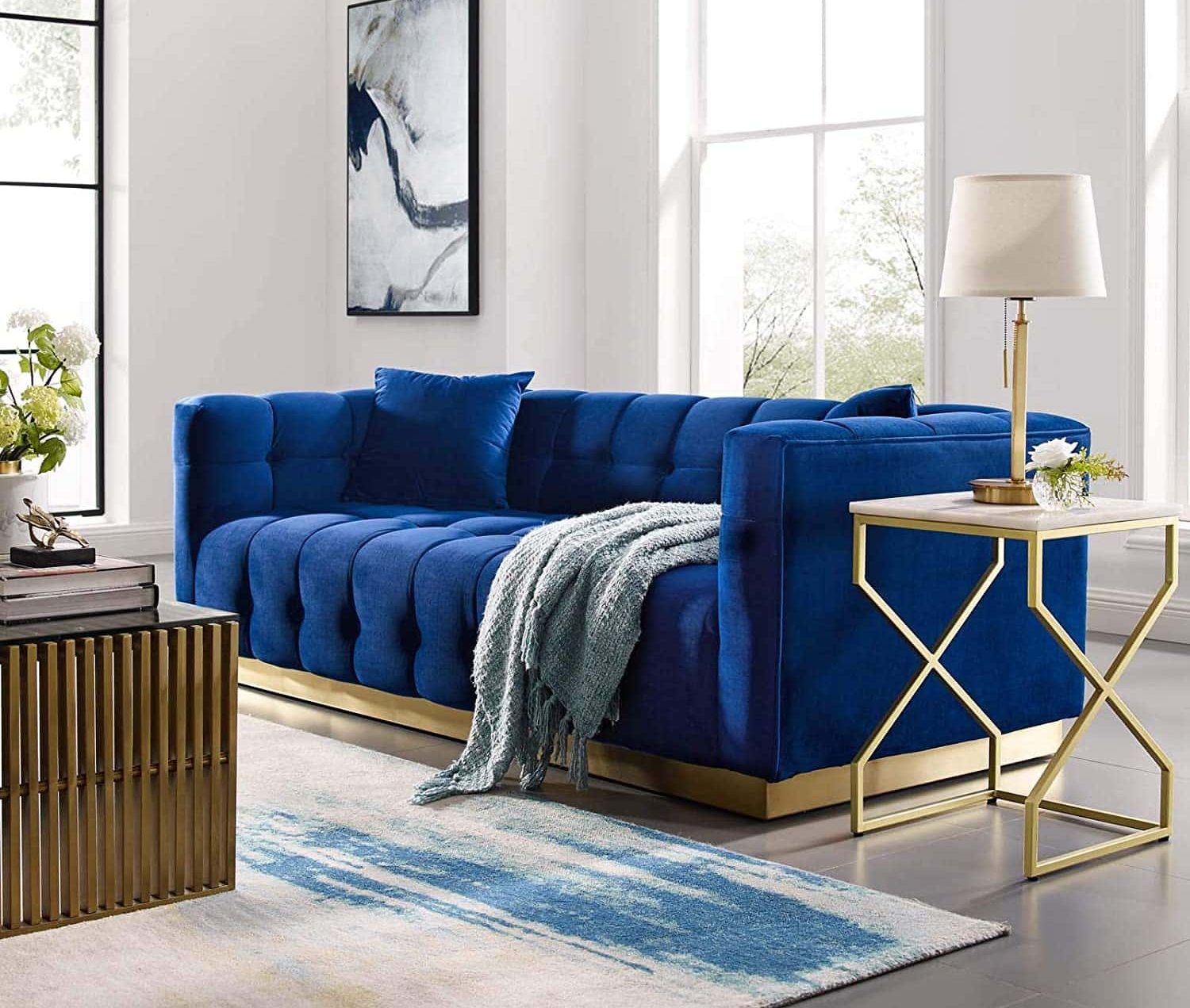 Earth tones, as the name implies, comes from the earth's color palette. One color that is found in nature is blue. Your blue couch will look even more warm and inviting when paired with other earth tones like:
Since we've already touched on red and orange, let's explore the possibilities when using tan and aqua.
Aqua falls between blue and green. And though it's not thought of as a traditional earth tone, it certainly is found in nature. Aqua can be both bold and stunning when teamed with a dark blue. The combination is often found in the Caribbean, and it has a definite island feel. A navy couch will be brightened up and look festive when paired with an aqua rug. Add a few colorful pillows into the mix, and you'll be ready for Mai Tais and Yahtzee. Some rugs that we like to pair with a blue couch include:
Aqua Blue Area Rug
From the Safavieh Milan Shag Collection, this fun shag brings the beach to your couch. It's extra thick and comfy cozy. Made in Turkey, you'll want to keep it out of direct sunlight because, like a lot of rugs, it will fade.
Vintage Distressed Medallion
This jute backed polypropylene rug has a traditional Persian look. If you're into shabby chic, this is for you.
Unique Loom Imperial Collection
Modern Traditional Vintage Distressed—That's a mouthful, but one of our favorites to go with a dark blue couch. It's fun and elegant at the same time. Great for high traffic areas and kid-friendly.
Keeping with the cozy, warm theme, pair your blue couch with a tan rug. One option we recommend is a jute rug. They're usually hand made and come from hearty stock.
A jute rug is sure to last for years under heavy traffic. Another great option that brings mother nature to your couch is a natural seagrass rug. Like the jute rug, the seagrass offers a warm, durable option. They both create a comforting and natural ambience.
Light Blue Couches Need a Soft Touch
A light blue couch will be overpowered by an aqua or red rug. But a light blue couch looks great paired with both seagrass and jute. It looks fresh and inviting. To give your light blue couch a clean look, use an ivory or gray rug. Both will add an elegant style to your space.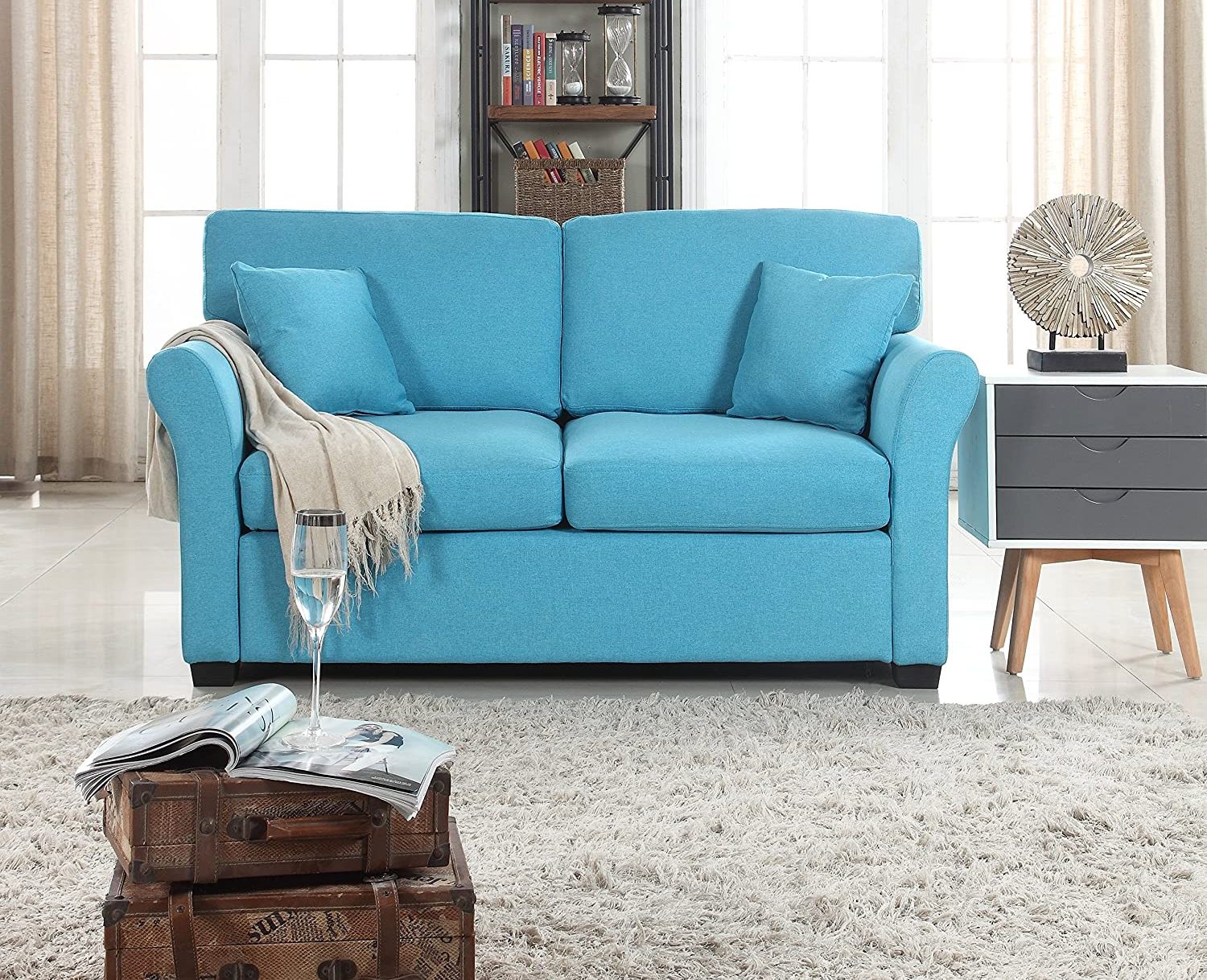 Other colors that can make a stunning combination with a light blue sofa include burnt orange and lavender rugs.
Materials Used are as Important as the Color
An area rug grounds the look of your couch. We'll go one step further and say it also grounds the look of your space. The rug's color needs to complement the biggest piece of furniture in the room, the couch. But it also takes on the responsibility of pulling the rest of the room together. This goes beyond just pretty colors. What material your rug is made of will set a tone. Will it be soft and cushy like shag or textured and durable like jute? And then there's the traffic. If you're talking kids and pets, you won't want a hard to maintain wool rug. Materials available include:
Wool—Soft and cushy on the feet, but not great when it comes to heavy traffic. Wool rugs need to be sent out to be cleaned. Do you have the time for that? And from a cost standpoint, they're on the high side.
Cotton—This affordable option is easy to clean. But the downside is you lose the wool feel. Cotton just isn't as plush.
Natural fibers—Jute and seagrass fall under this heading. They have a warm and earthy look. But the downside is, they're textured, so they feel rough on bare feet. Be careful with that glass of wine; natural fibers are difficult to clean.
Synthetics—Although not plush, this budget-friendly option is a practical choice. It's easy to clean and wears like iron.
Embrace Your Blue Couch's True Color
You have options when it comes to choosing a rug for your blue couch. Determine if you want a traditional or contemporary look, then choose a rug that fits your vision. Don't worry about matching; look for a color that complements and enhances your couch.