Growing up is hard to do, but it can be easier if you have a safe space to express yourself. Coming up with beautiful teen girl room ideas that also reflect your teenager's creativity can be both a good bonding experience and a great time to put together an awesome bedroom.
There are a lot of different teenage girl bedroom idea directions you can take bedroom design in. From modern, all-white rooms taken straight out of Pinterest to patterned wallpaper with a retro inspiration, the possibilities are endless.
Time to get the inspiration flowing with these 51 Best teen girl bedroom ideas and designs!
1. Pretty in Pink Teen Girl's Bedroom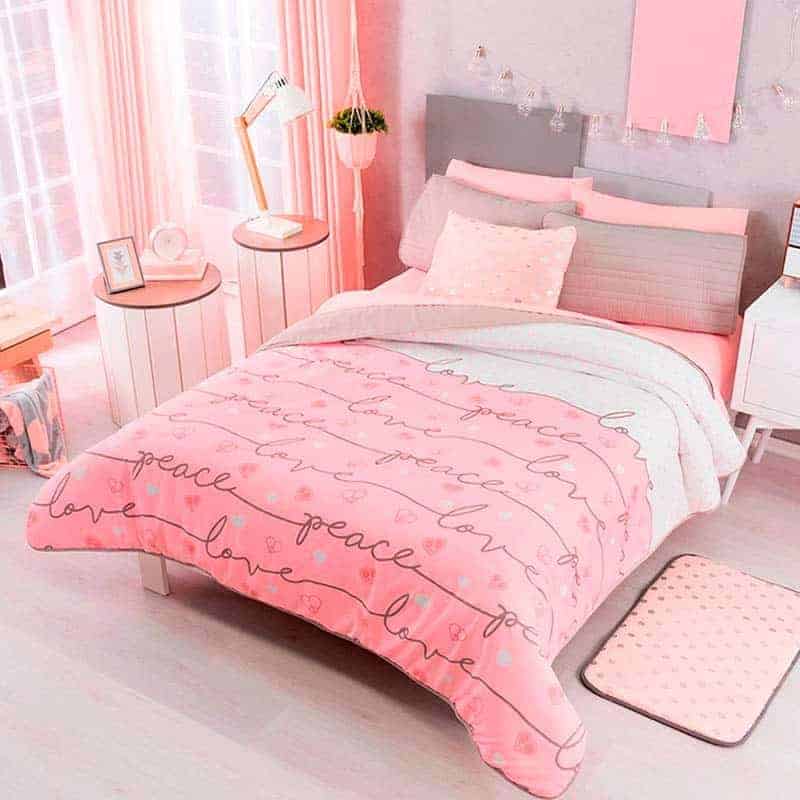 A classic idea, this bedroom embodies the theme of pastel pinks and all things feminine. The grey pillows still have a warm tone to them as well, making them appear pink-hued and continuing the color theme. This room is simple, without too much clutter, letting the color be the star of the show.
2.  Simple and Bright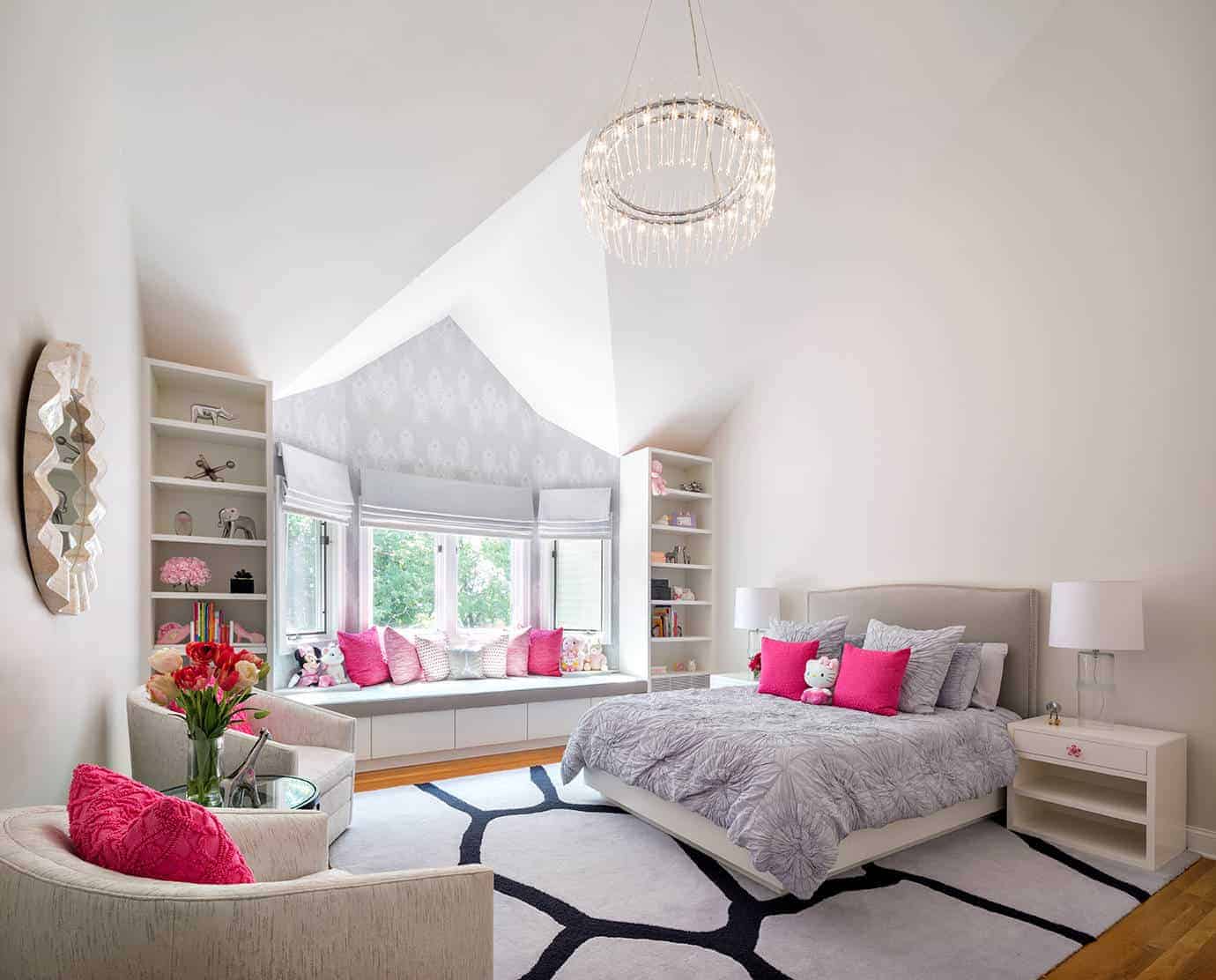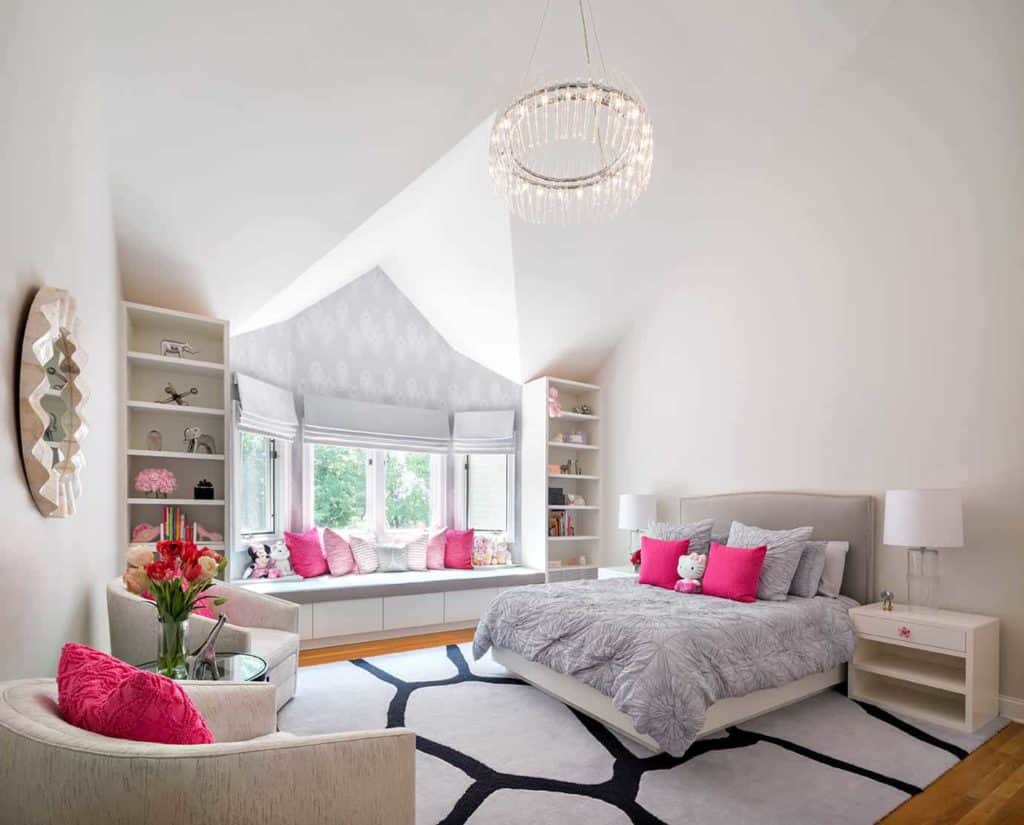 This teenage girl's bedroom uses the high ceilings and large window seat to give a simple and open feeling. Using lighter colors throughout the room, coupled with the natural light from the window, allows the bedroom to feel bright and lively.
3. Teen Girl's Writing on the Walls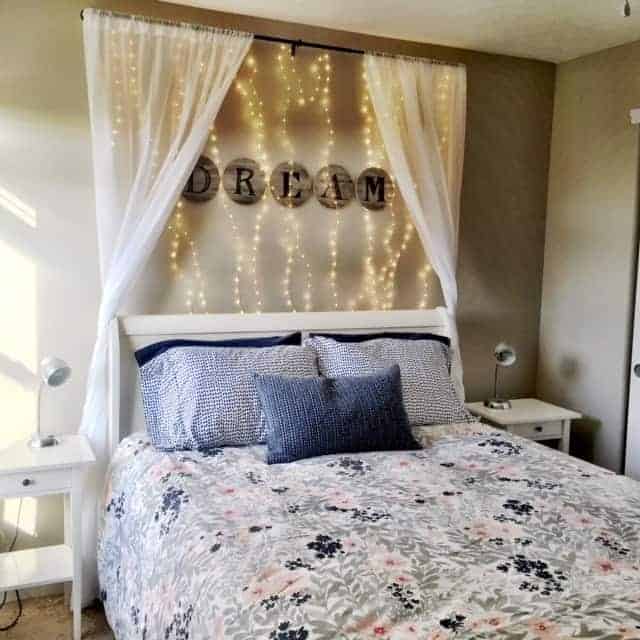 This small bedroom space has a warmth to it thanks to the bedspread and wall decor. The patterned bedspread gives the room a homey feeling while the lights and word on the wall give some character. Adding the laps and bedside tables is a nice touch to pull the bedroom together.
4. Teenage Girl Room Ideas with Patterns Everywhere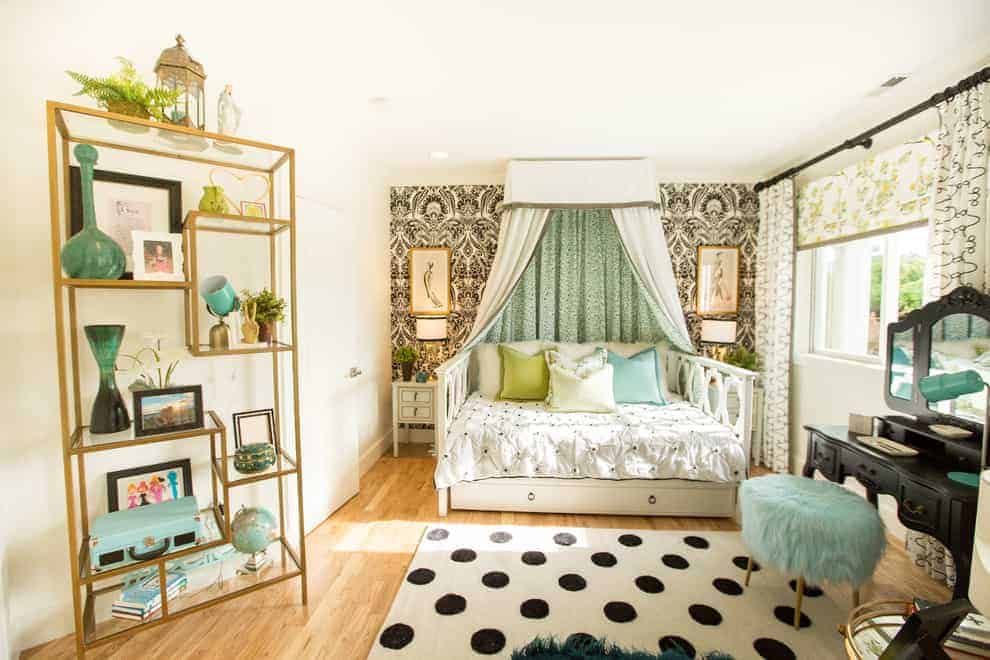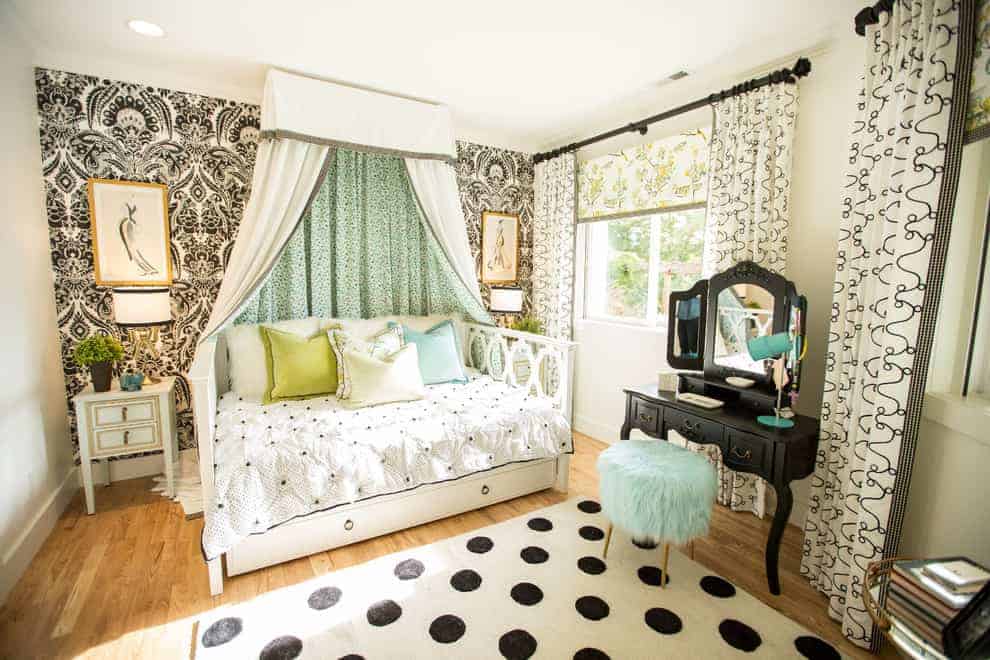 Patterns can make or break a room and, in this case, they work well to bring everything together and aren't making the bedroom too chaotic. While each of the patterns is different, they all contain only black and white and are set against more neutral areas in the room so that they are not overbearing. Adding the solid accent colors of blues and greens gives the bedroom color while adding a sense of balance in contrast to the patterns.
5. Cozy and Compact, Very Small Bedroom Idea For a Teen Girl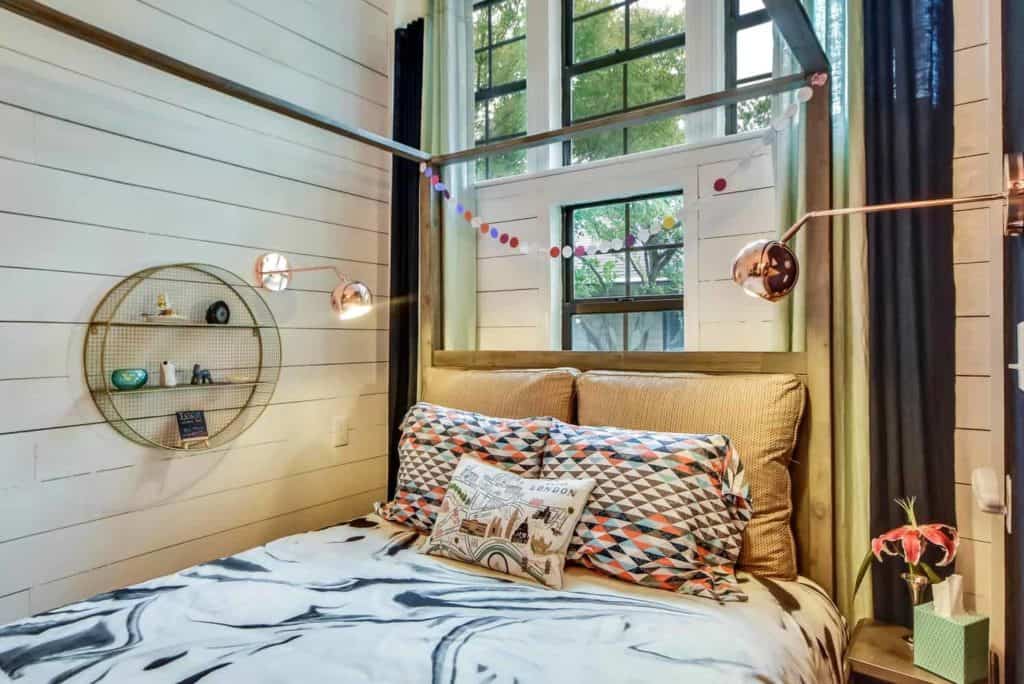 Large, or even medium, spaces are not necessary for a stylishly designed bedroom. This small teen girls' bedroom utilizes the space perfectly by having the bed take up most of the room. Doing this gives the bedroom a cozy, cabin-like, feeling that can give the warm character and warmth.
6. Patterned Headboards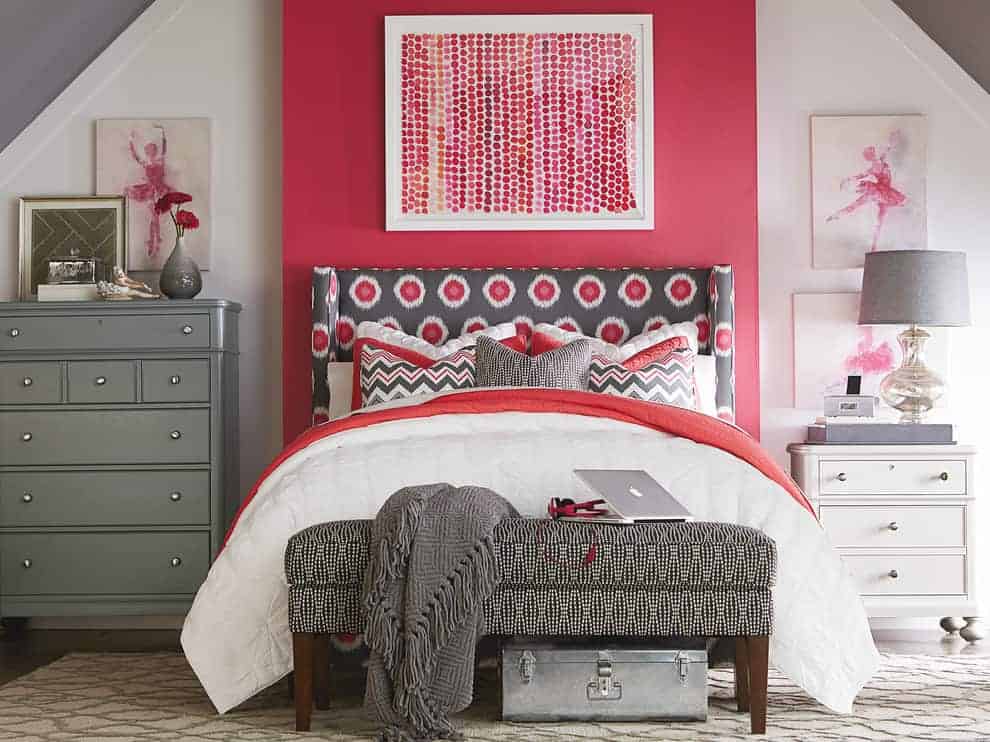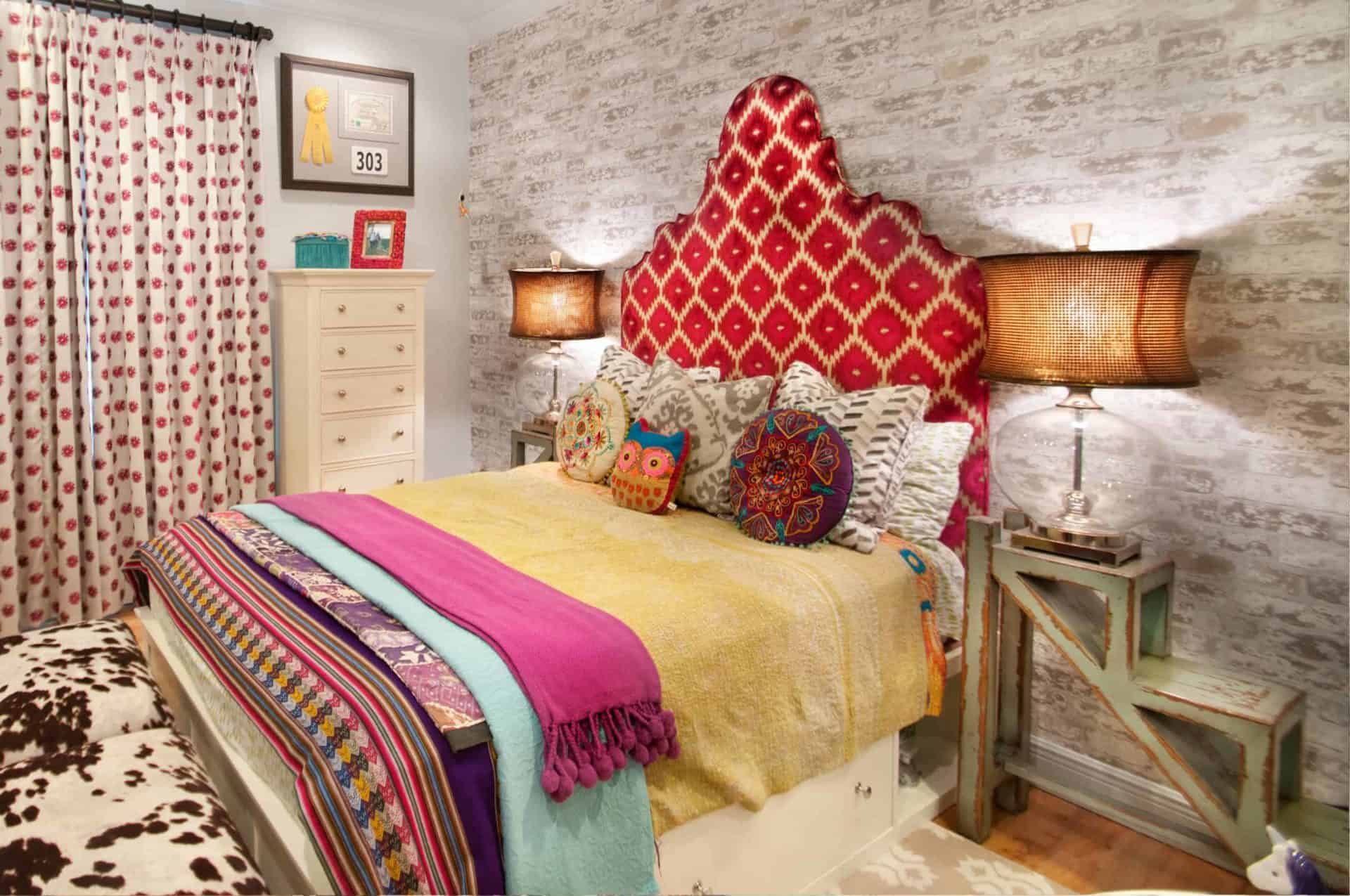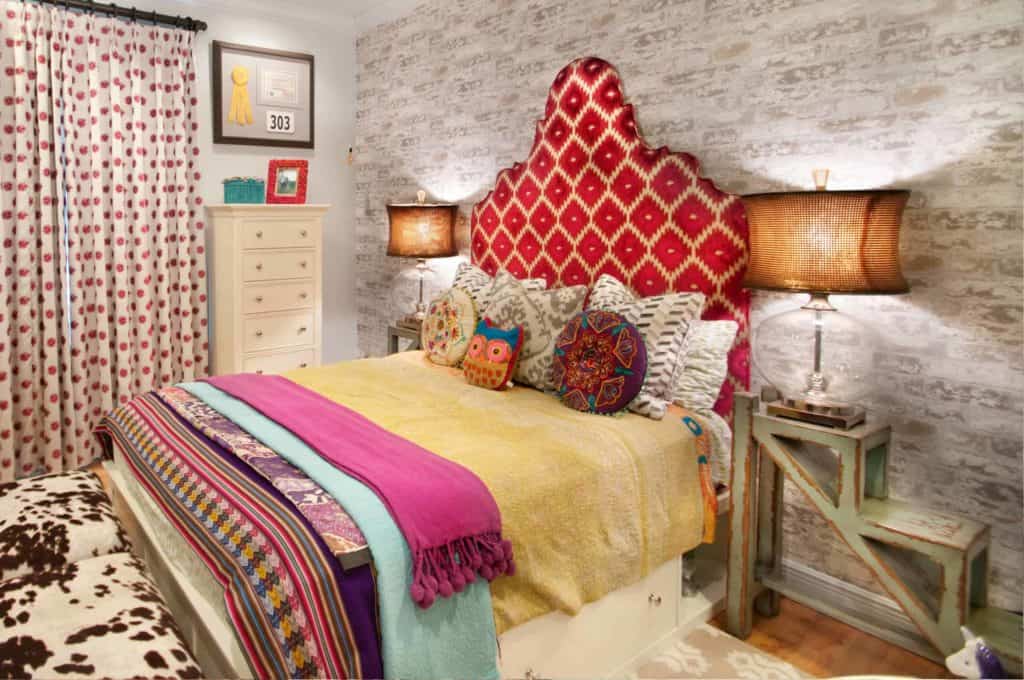 Headboards are a practical addition to a bed that can give the bedroom some color or helps play into the pattern of the room. Both of these examples do just that, balancing out the room in their own ways.
7. Teen Girl Bedroom Ideas with Art Above the Bed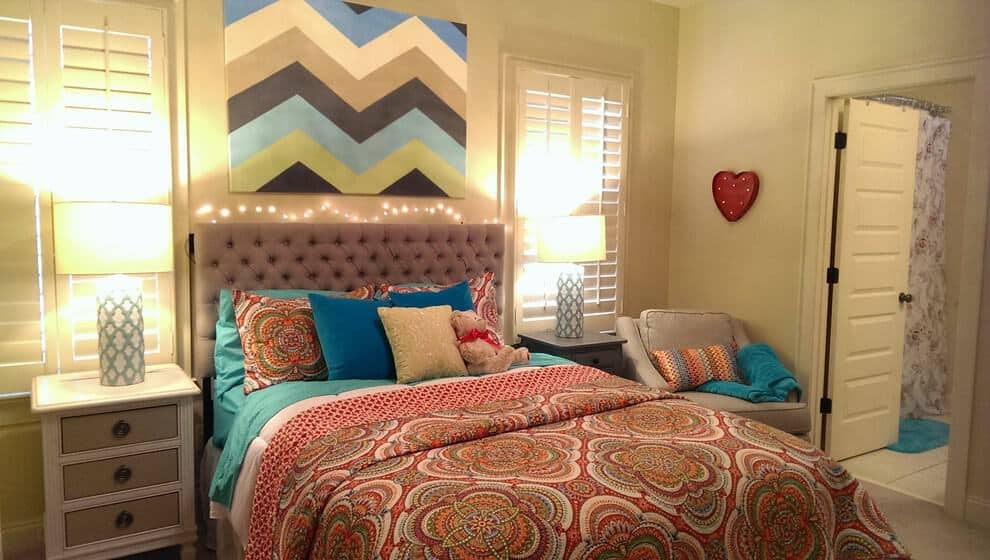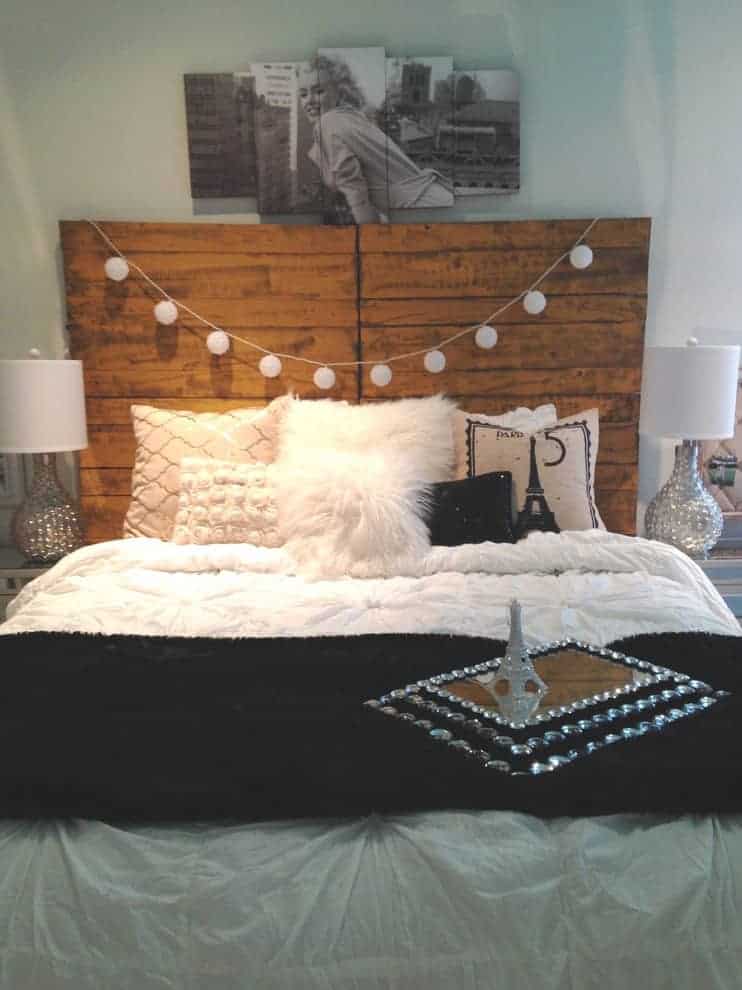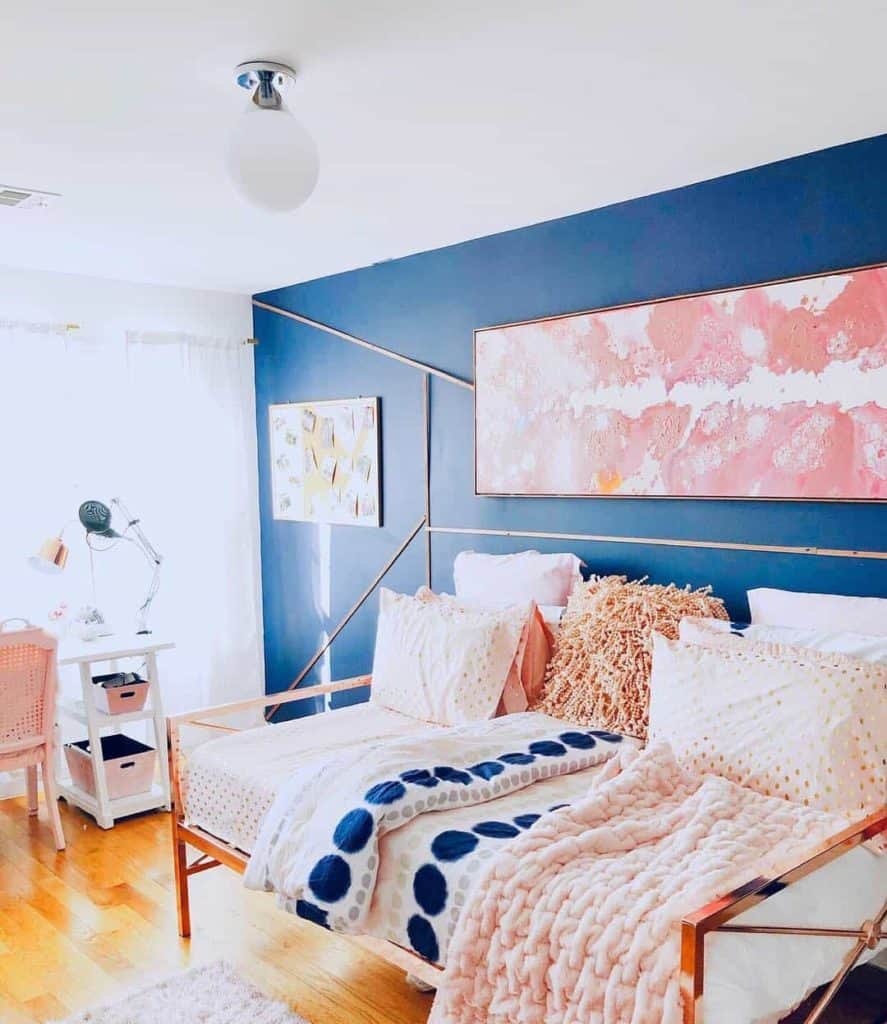 Adding something above the bed can make a difference in the look of the room and inspire inspiration just being there. Whether it's a painting or photograph, if the art speaks to your teen it will naturally add character to the bedroom. It can also help break up the monotony of a blank wall or adding something exciting to an accent wall.
8. Accent Walls that Pop For the Trendy Teenager Girl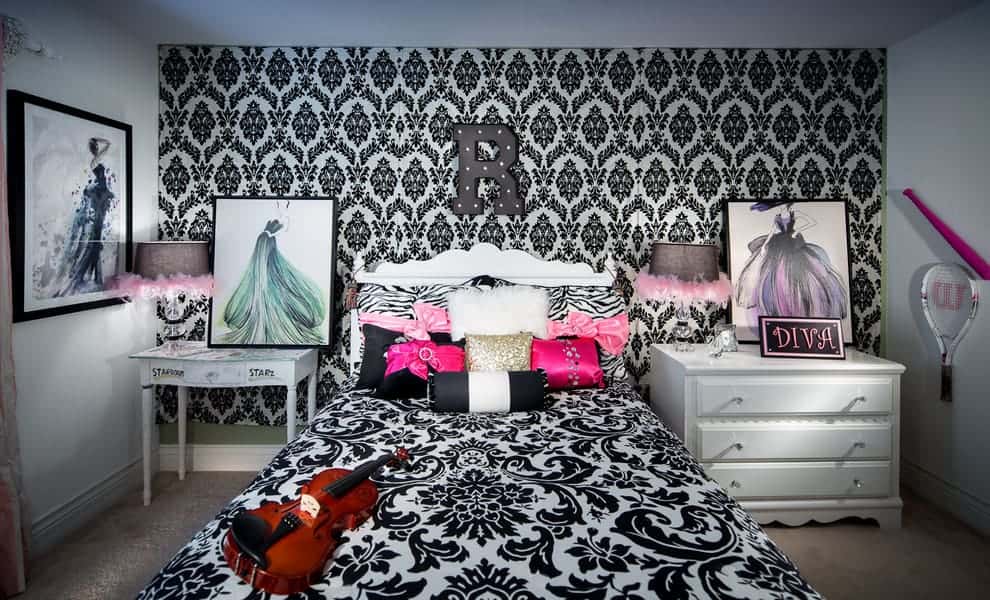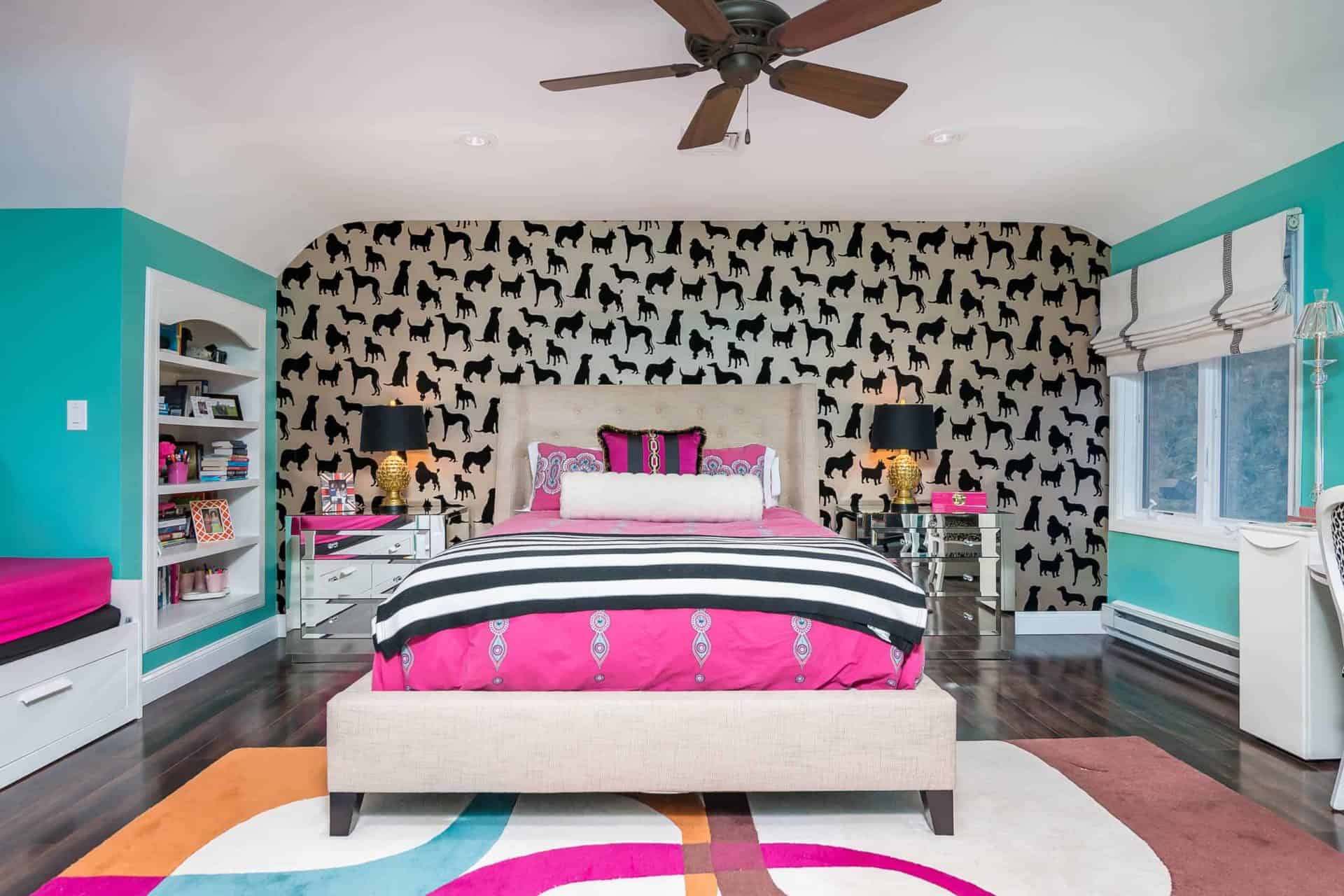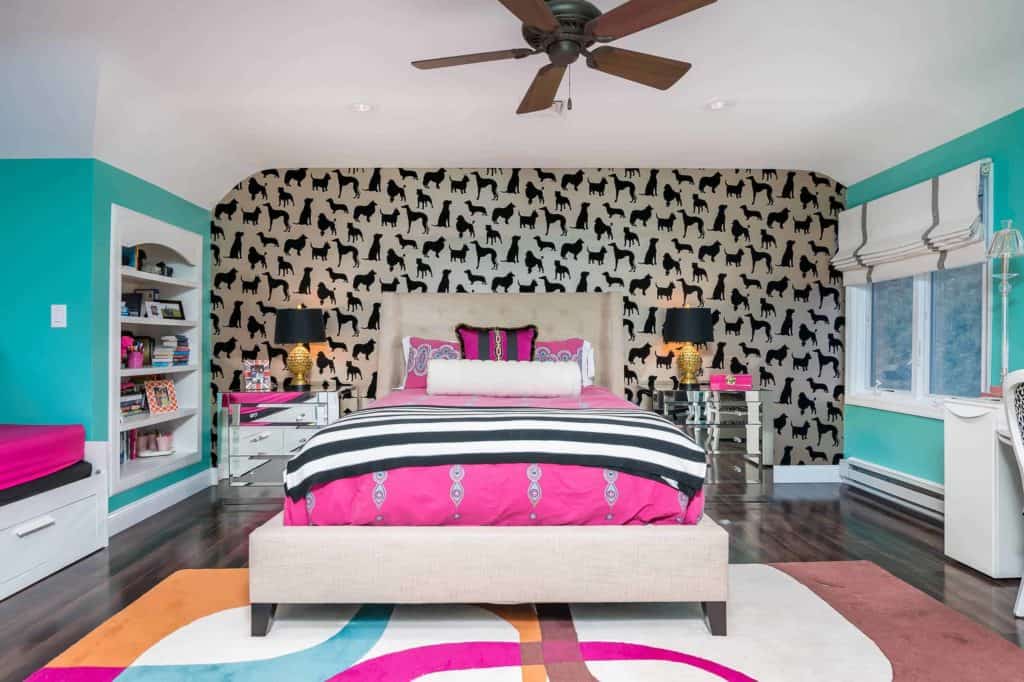 Accent walls can do amazing things for a teen girl's bedroom, especially one with an interesting pattern or color. These rooms use a uniquely patterned accent wall to make the room exciting without overpowering the room with an all-over pattern. Each of these bedrooms also does an excellent job coordinating the furniture and other decors with the accent walls as well.
9. Flower Accents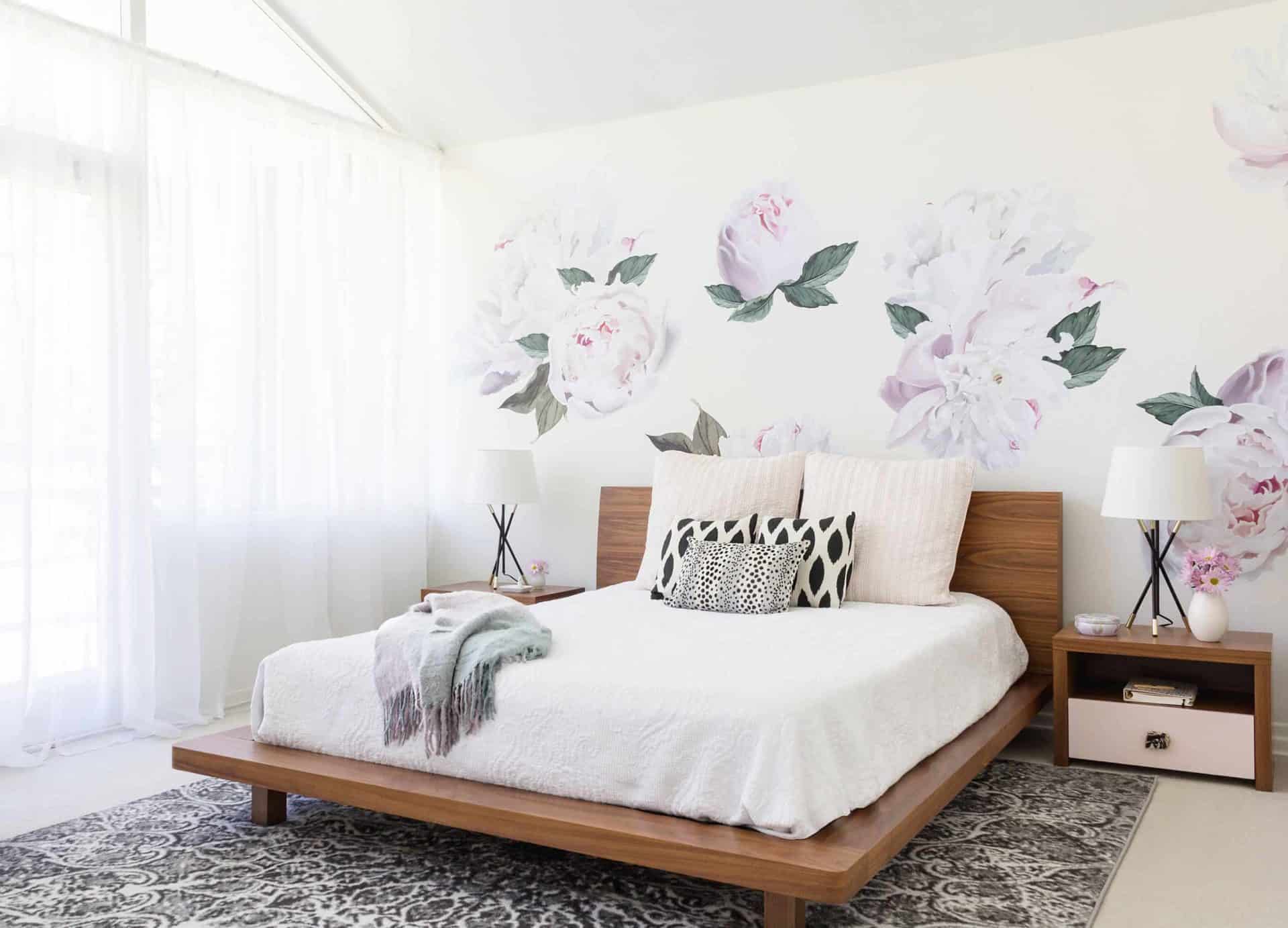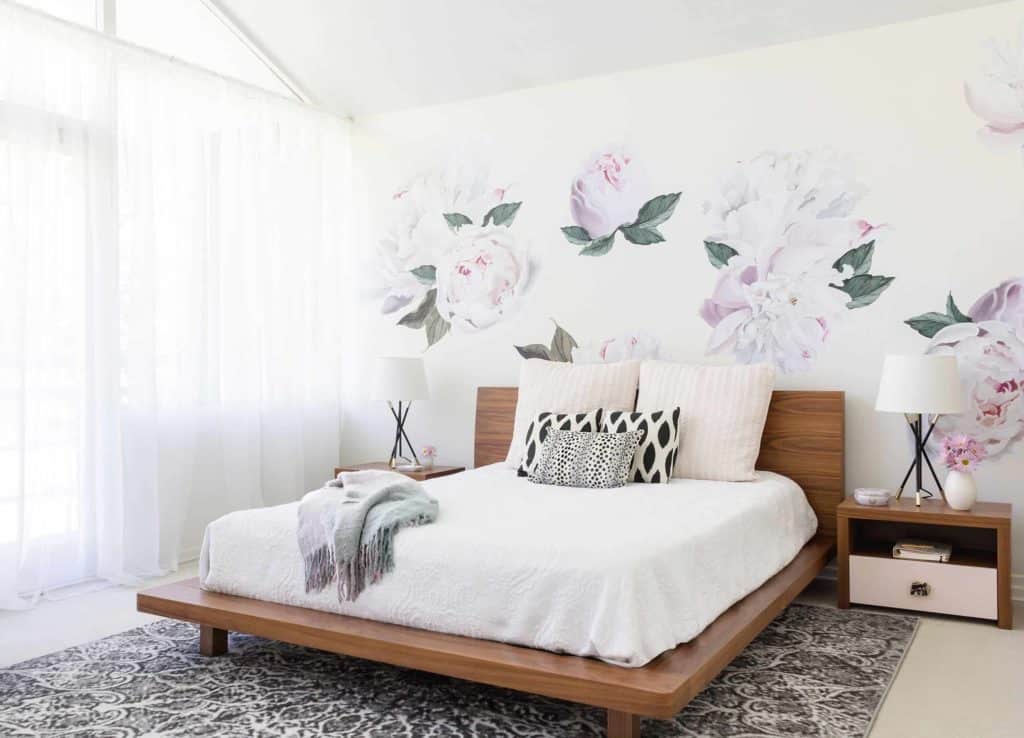 This room is a great example of a simple design with a single accenting theme that makes it stand out. The all-white is broken up by the addition of lightly colored flowers on the accent wall as well as on the bedside table.
10. Different Angle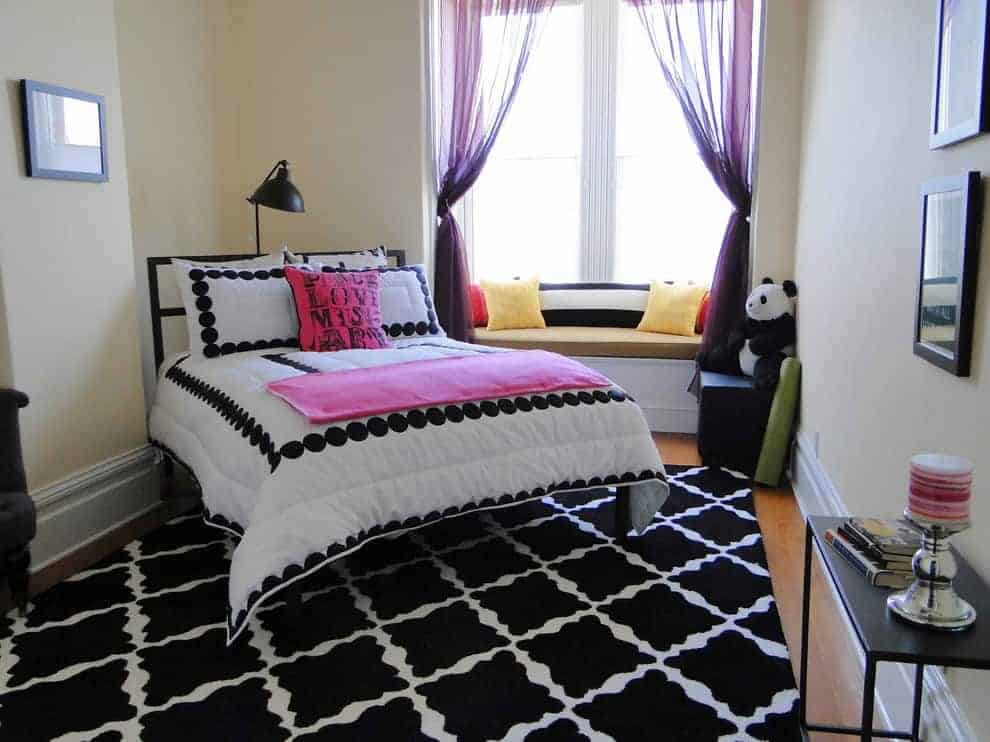 There isn't a rule book for design, okay maybe there are some, but there's nothing saying you have to put a bed against a wall. This example breaks all of the "rules" and gives the bedroom a more open feeling while allowing for some great natural lighting with the window.
11. Just a Pop of Color in this Teen Girl Bedroom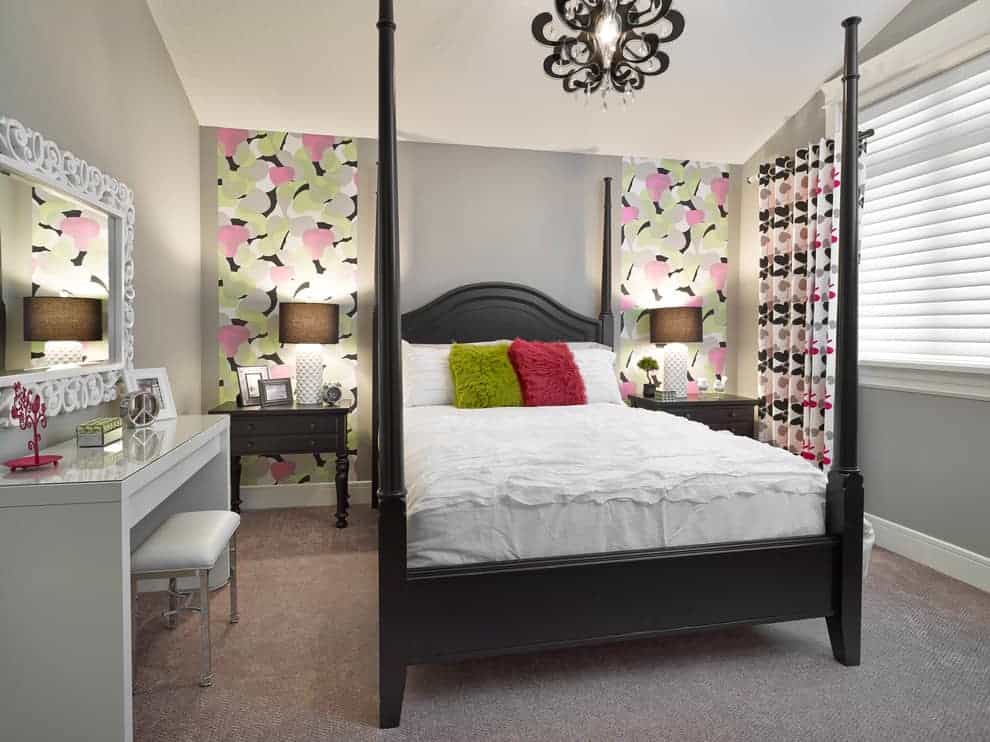 This primarily solid, muted bedroom has a splash of life given to it thanks to the color on the accent wall and curtains. Adding a colorful pattern in small amounts can really bring some life into the room and give it a balanced feeling.
12. Teen Girl Bedroom Ideas with Wood Panel Accents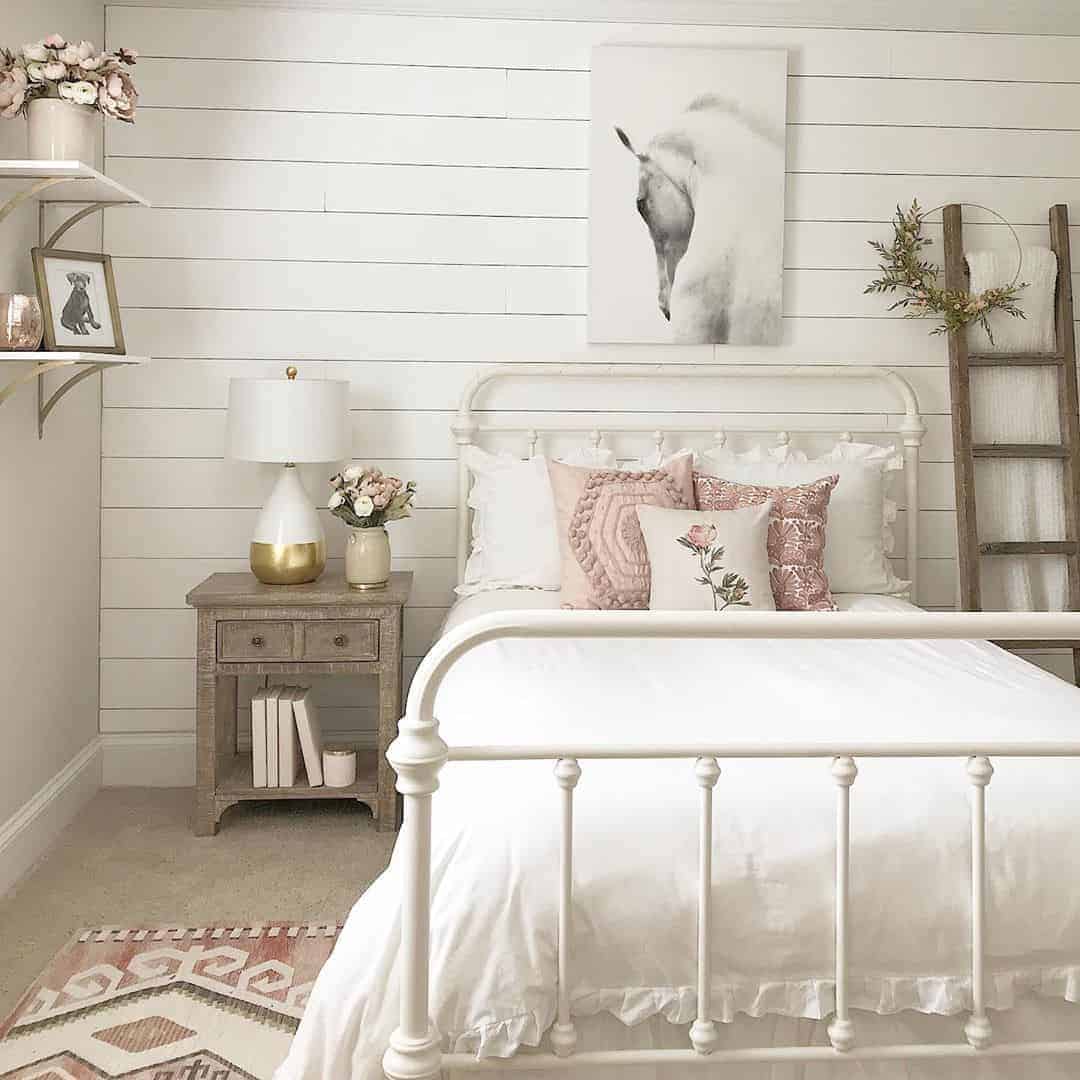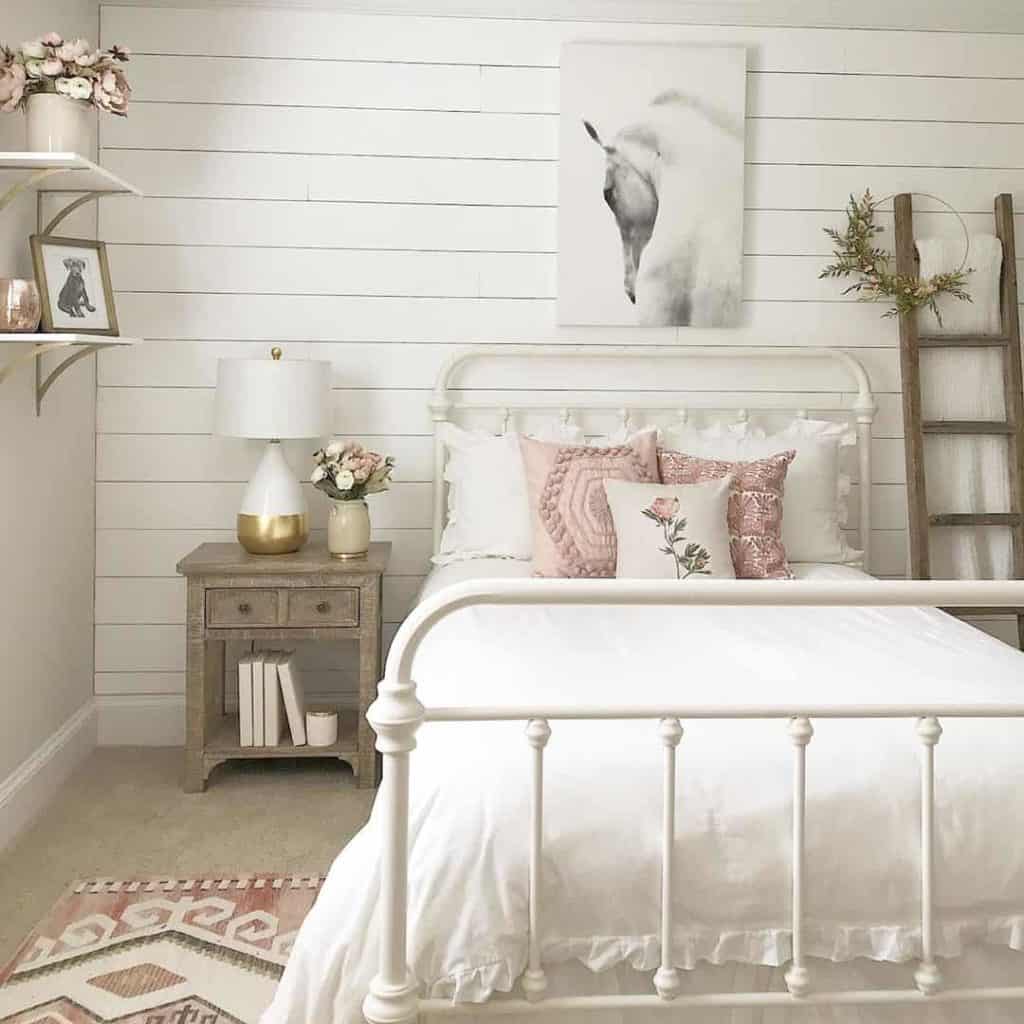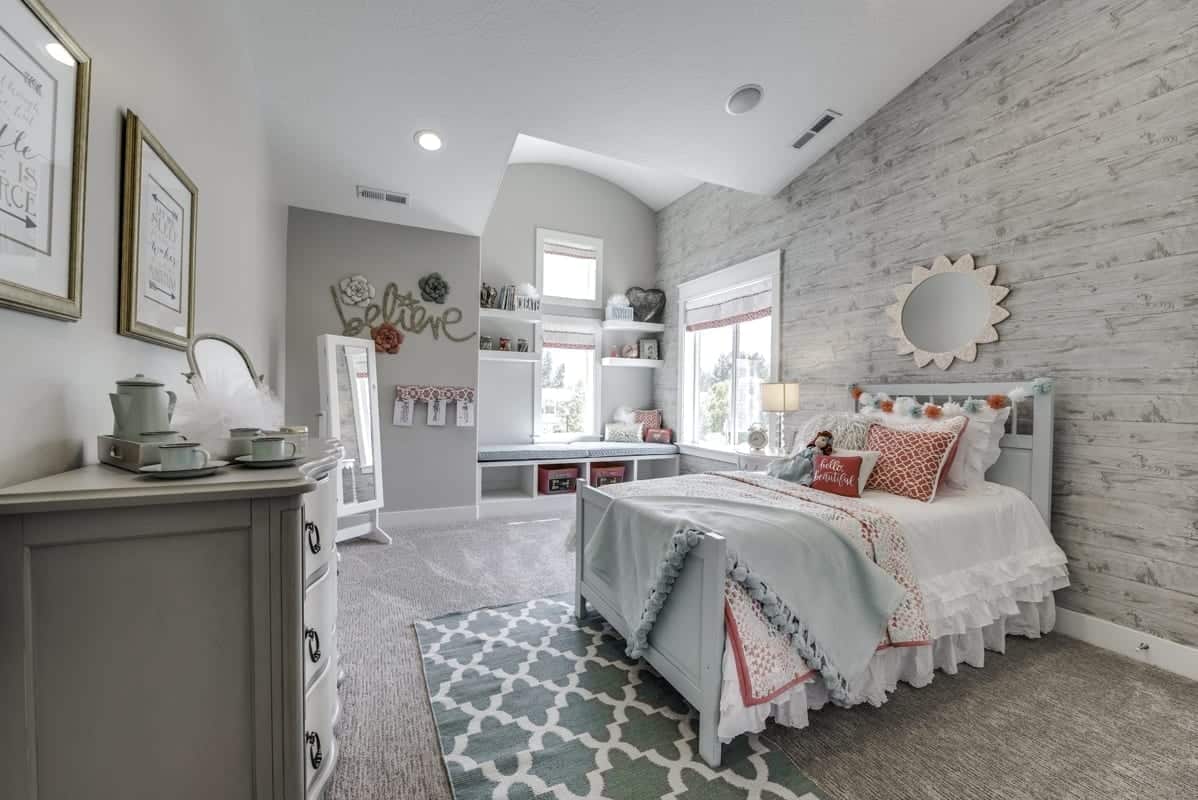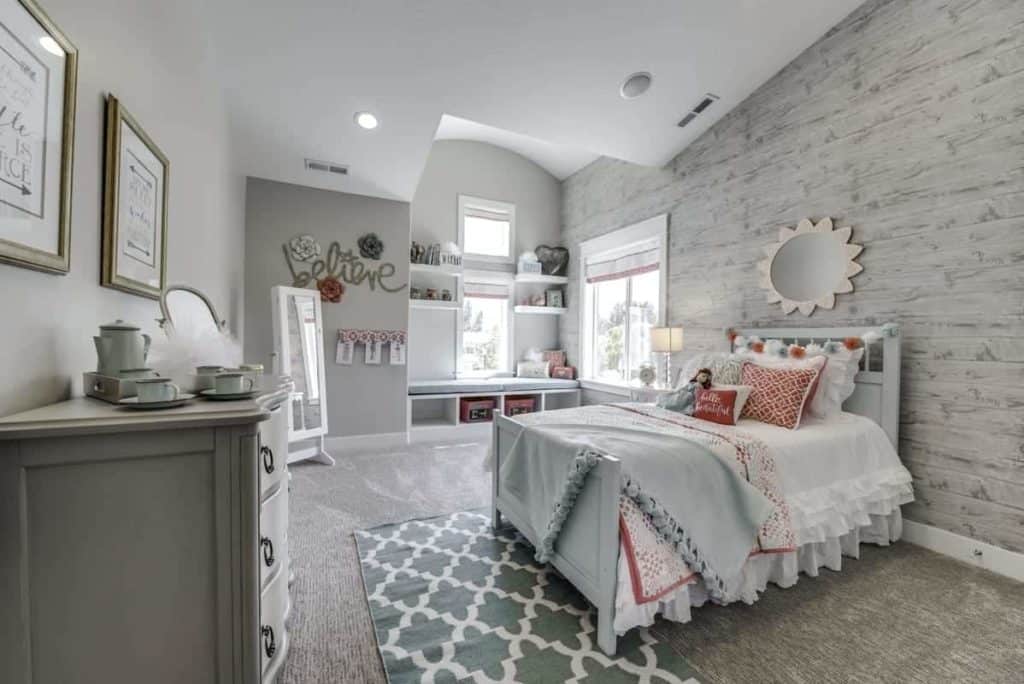 As we've seen in this list, accent walls can be a nice addition to a bedroom. One way to really set a room apart is by creating an accent wall that is an entirely different material, in this case, wood, to give it a unique texture. All of these bedrooms have used wood paneling on an accent wall in different ways to achieve a similar result.
13. Teenage Girl Room Ideas with Bright Walls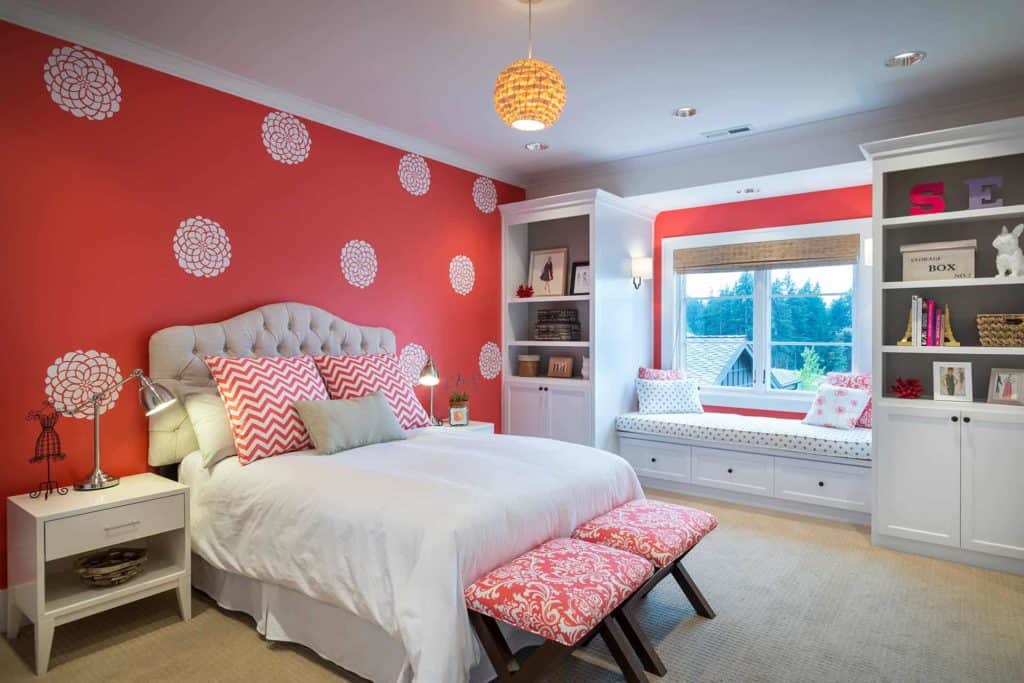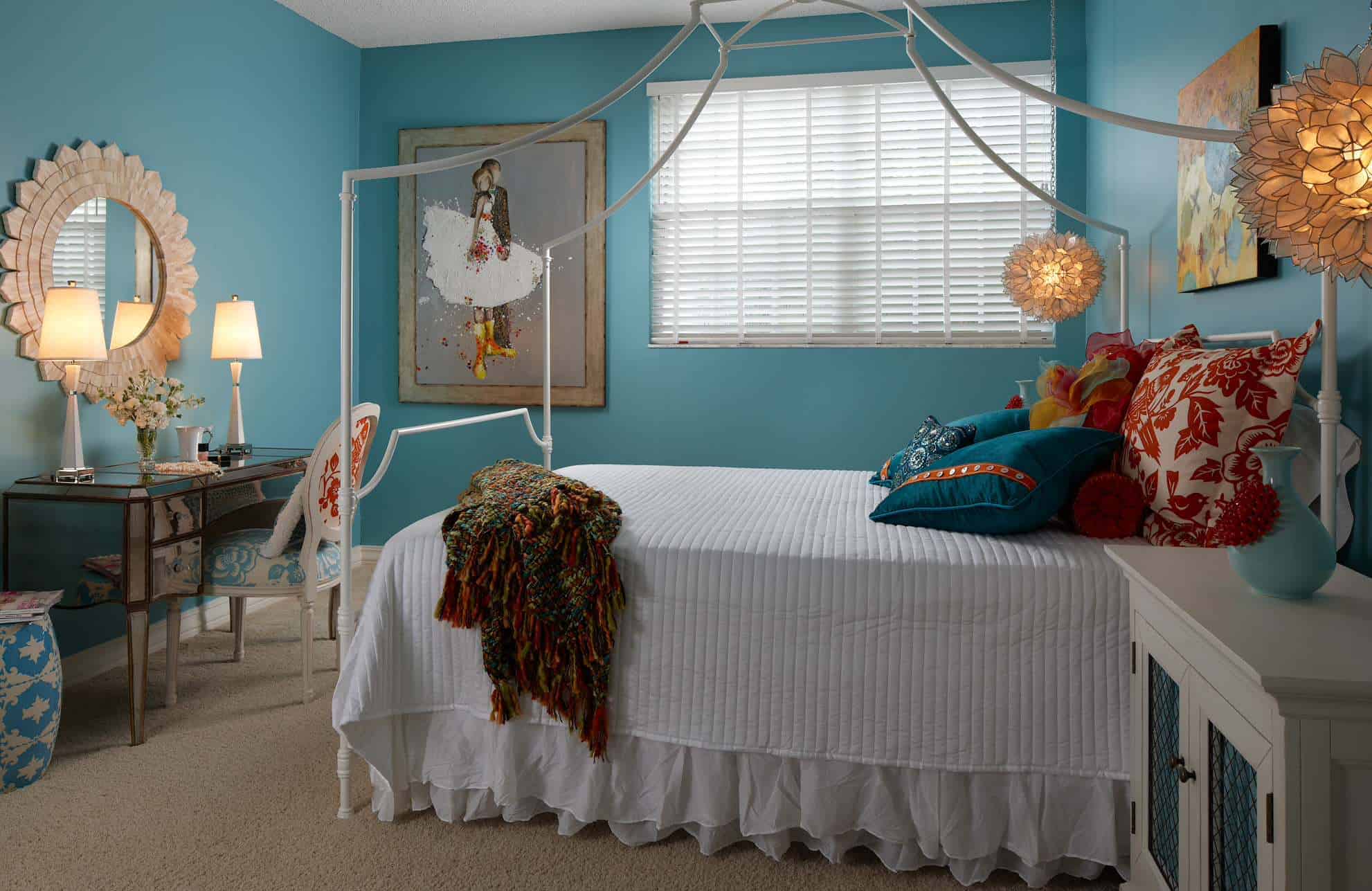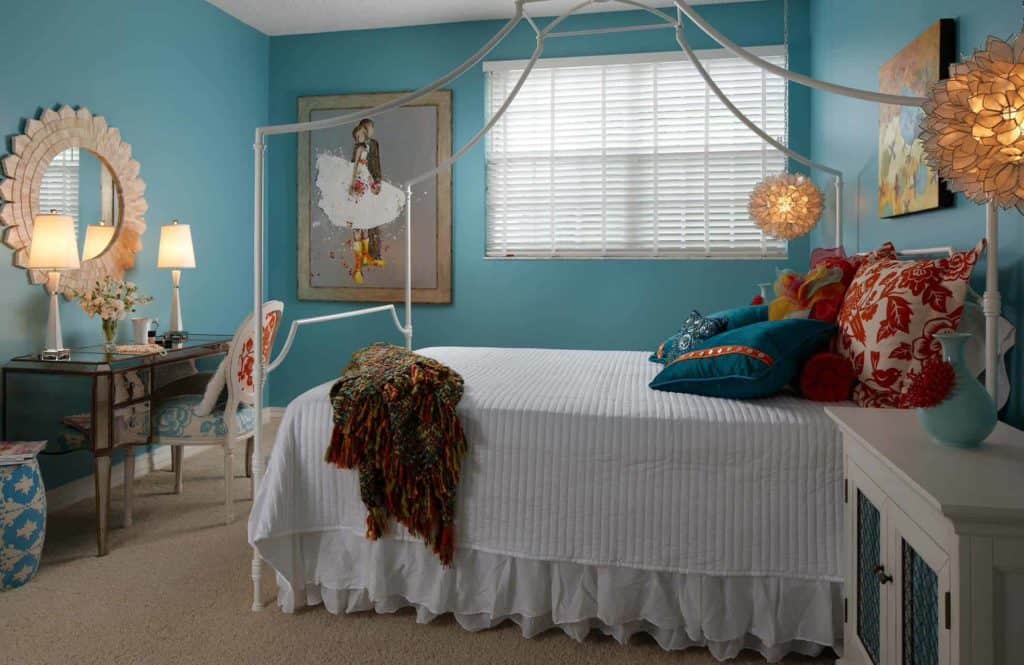 Both of these bedrooms take a bright, vibrant color and use it on the walls without it being overpowering. The key to making this work is having white or muted colors on the furniture and bed. Just like with these rooms, this can allow for a balance that won't make the room feel too loud.
14. Charming and Simple Teen Girl's Bedroom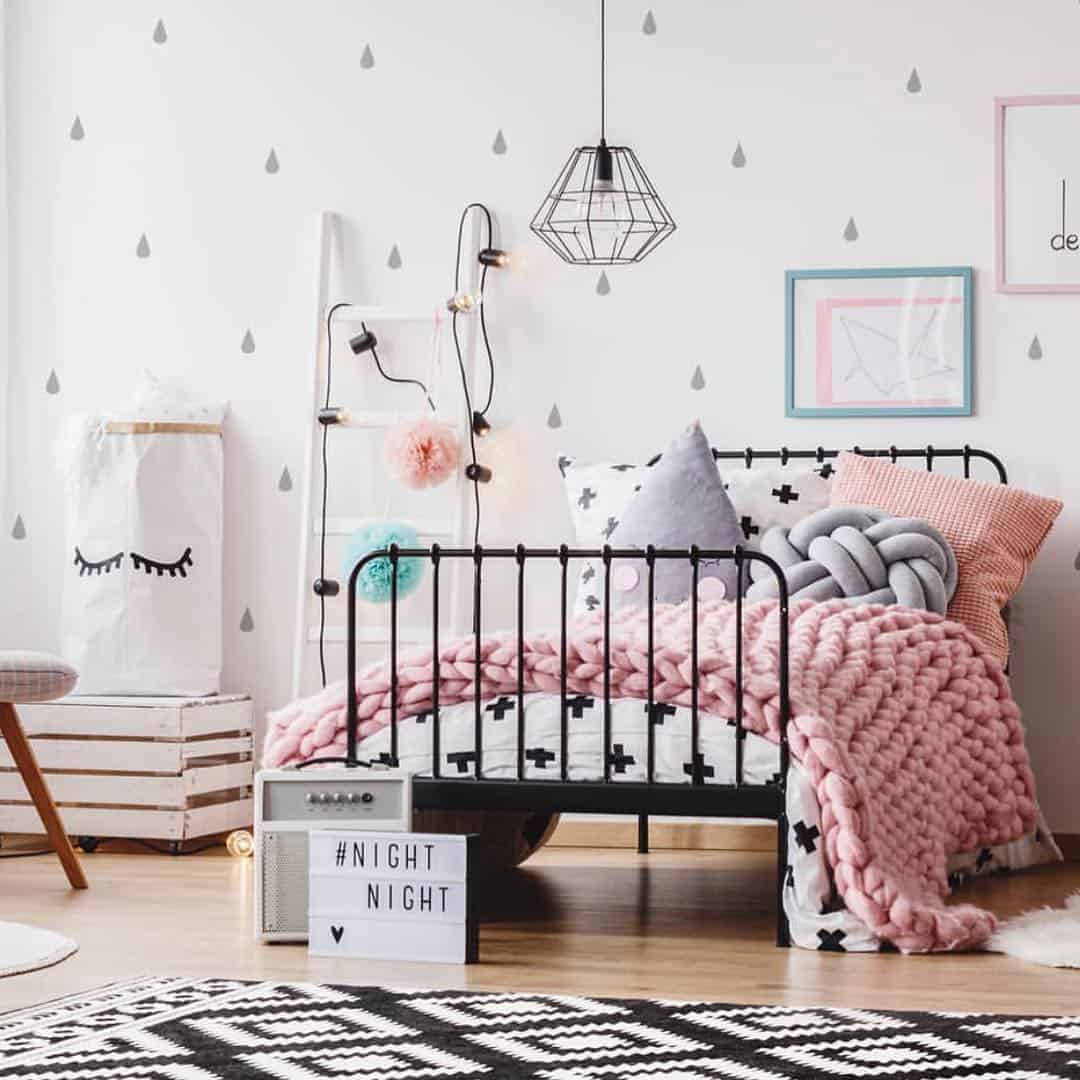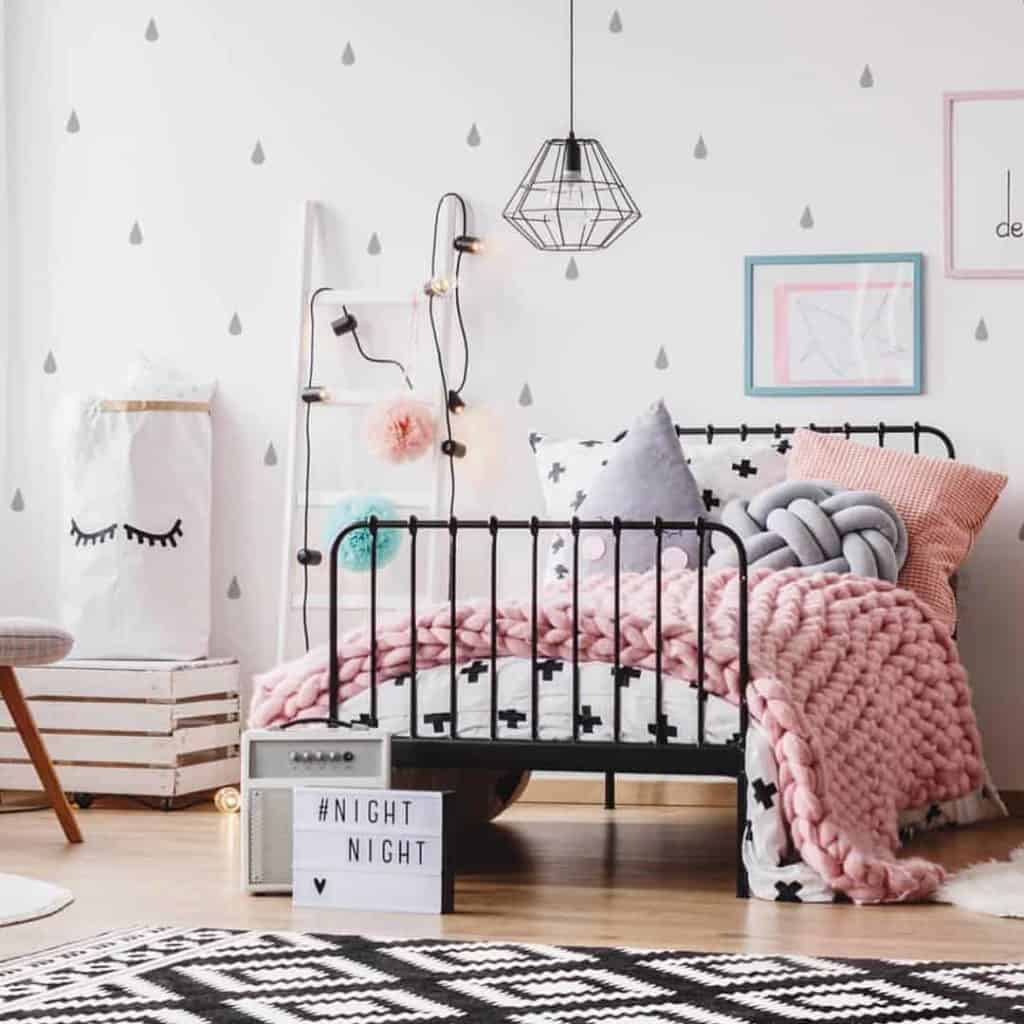 This teen's bedroom uses small details and pastels to create a charming look. The small patterns aren't overpowering either, which makes the room still feel balanced without too much going on. If you want a minimalistic feel with some added charm then this is a great example.
15. A Touch of Modern Art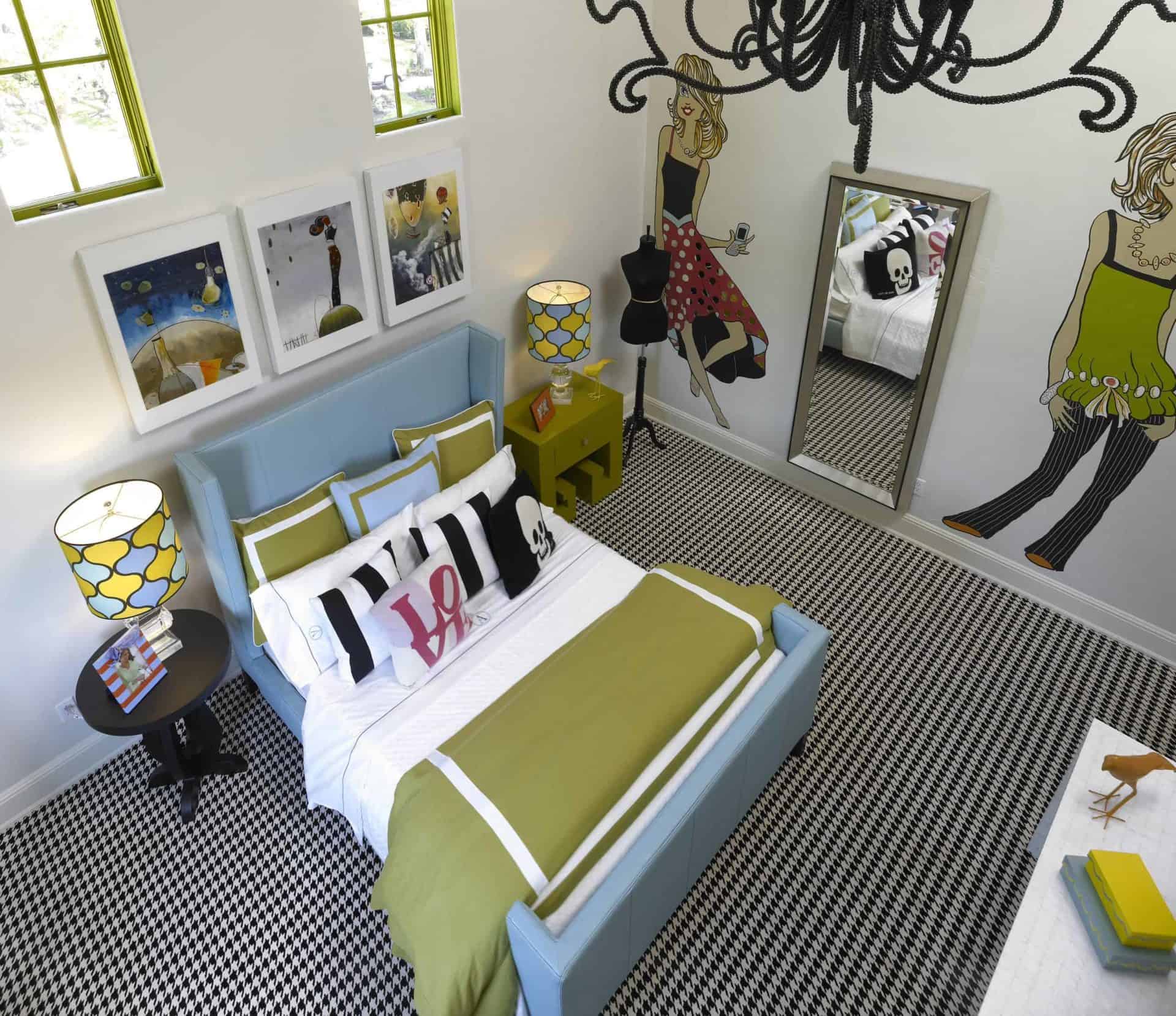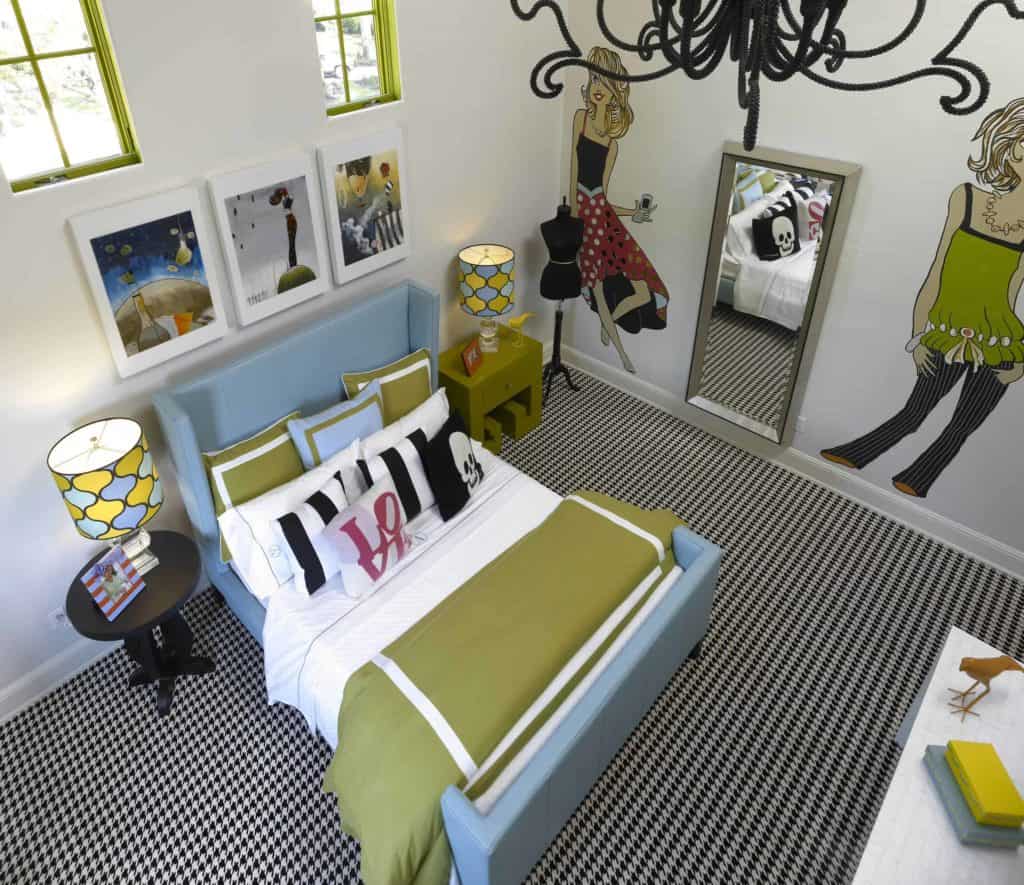 Adding a painting or two above a bed is a great idea, as we mentioned earlier in this list. But adding a painting onto the wall itself can give the bedroom a unique feeling with an artistic flair. This room in particular also adds a modern feeling with the patterned floor, lamps, and general color scheme.
16. Shared in Style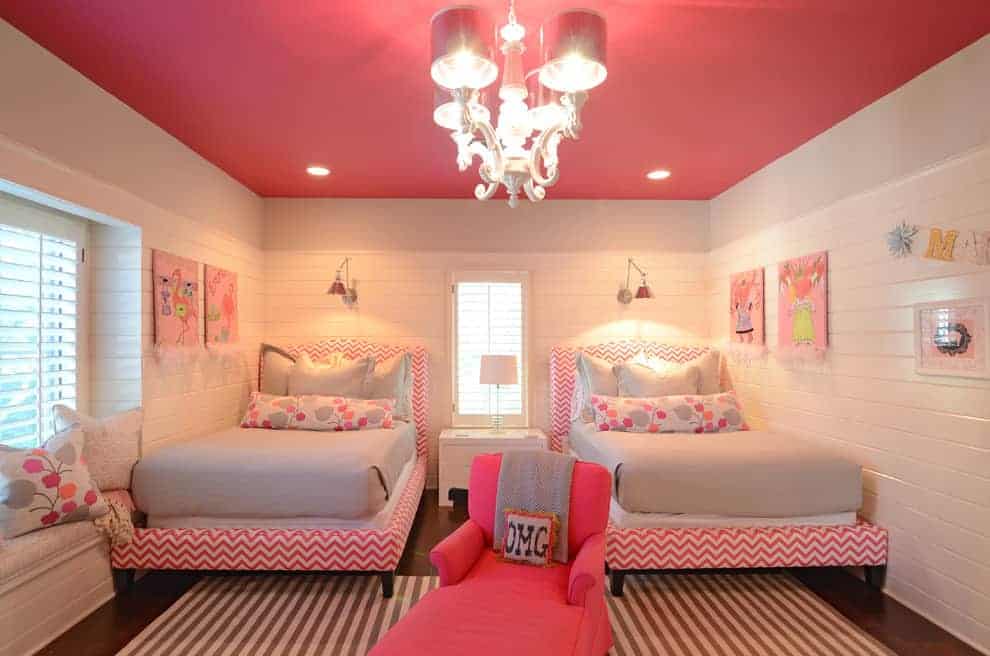 If you've got two teenage girls sharing a bedroom then you might be in for double the trouble when it comes to decorating. The good news is, you can still make a stylish room for two by creating mirrored areas to the bedroom. The two sides here look nearly identical which adds more balance and harmony than your house has with two teen girls sharing a room.
17. Deep Colors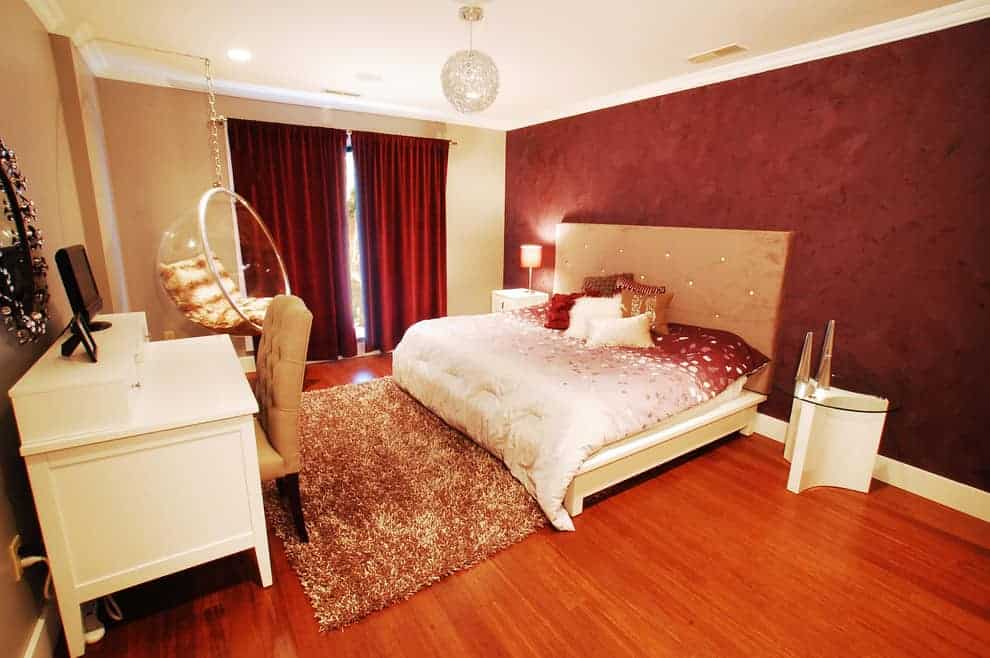 Using deeper jewel tones with light or white furniture can give a bedroom a more mature feeling. The use of the accent wall and curtains here to pick up the jewel tone also come together to make the space feel grown-up.
18. Teen Girl's Room – Shades of Grey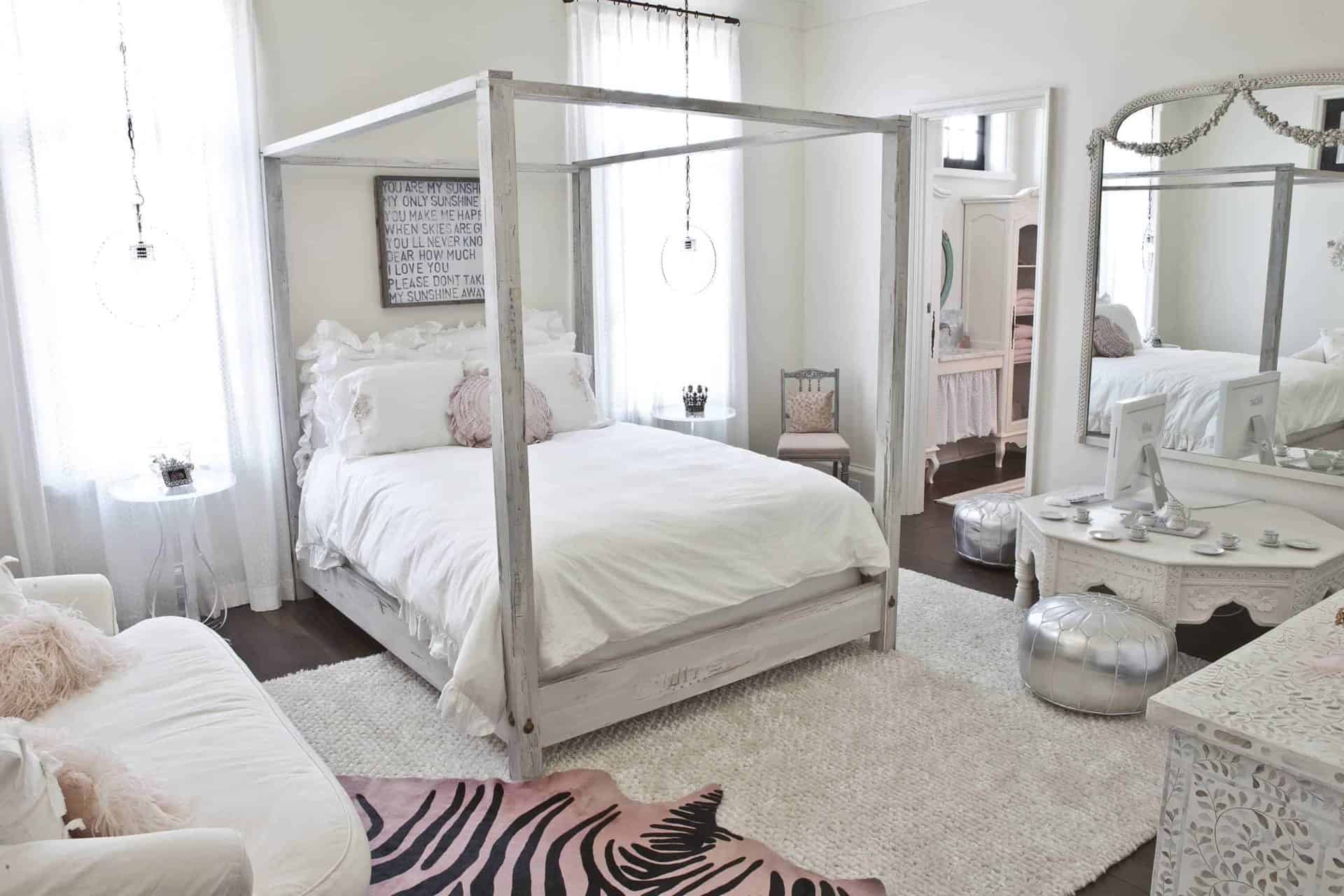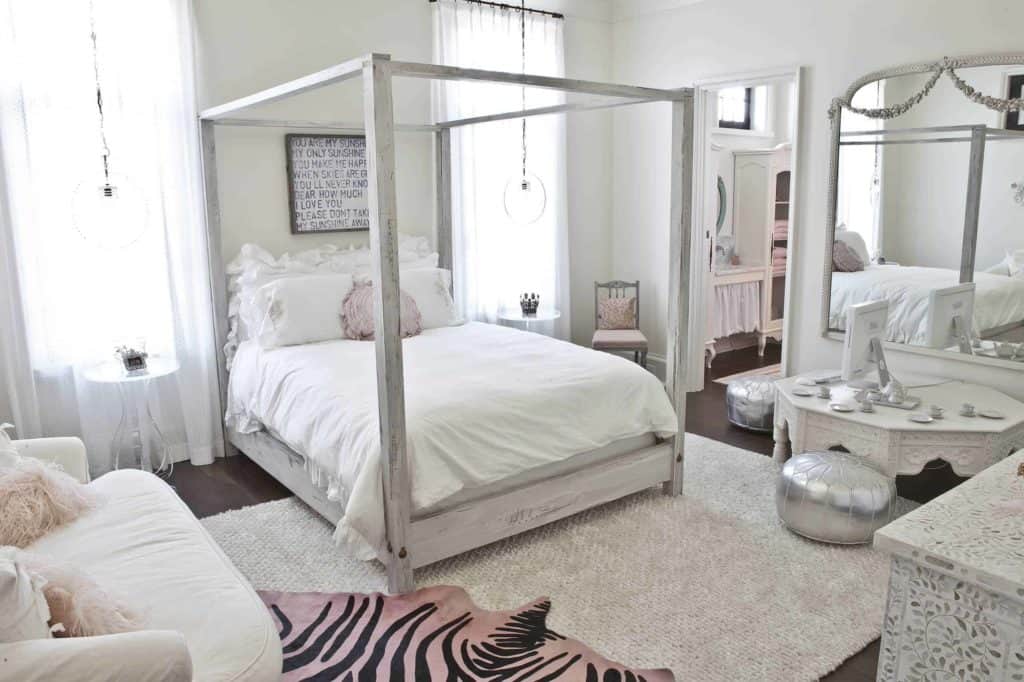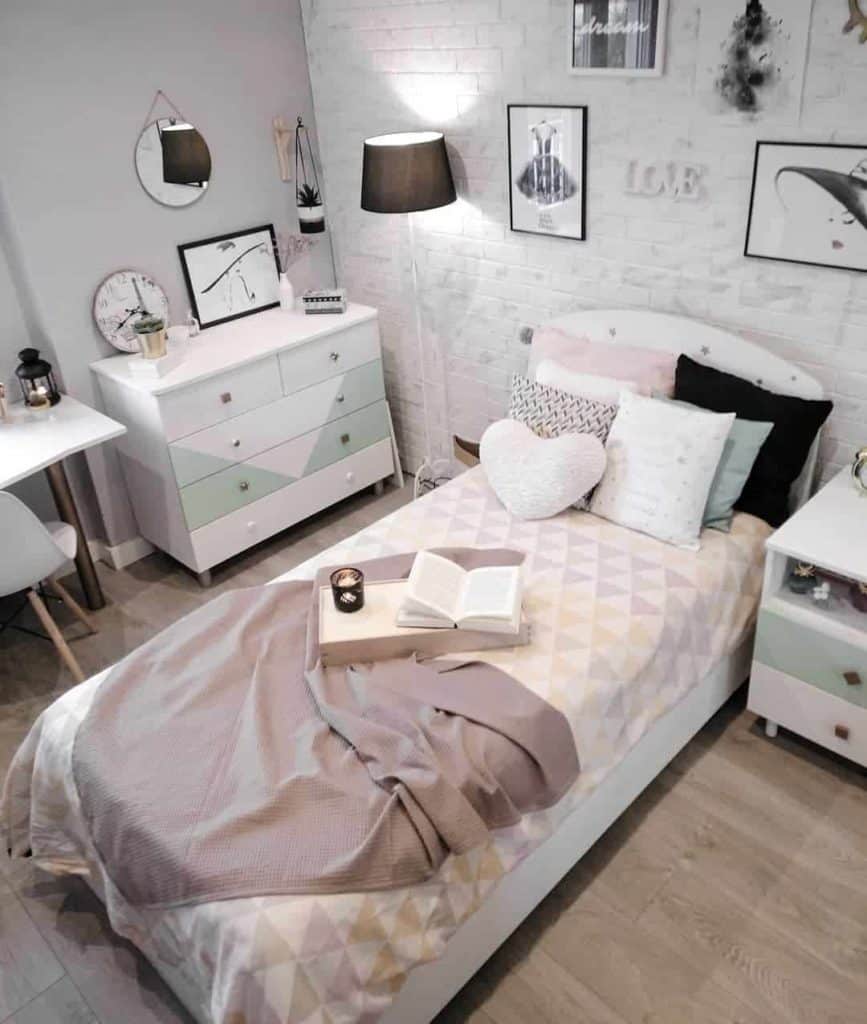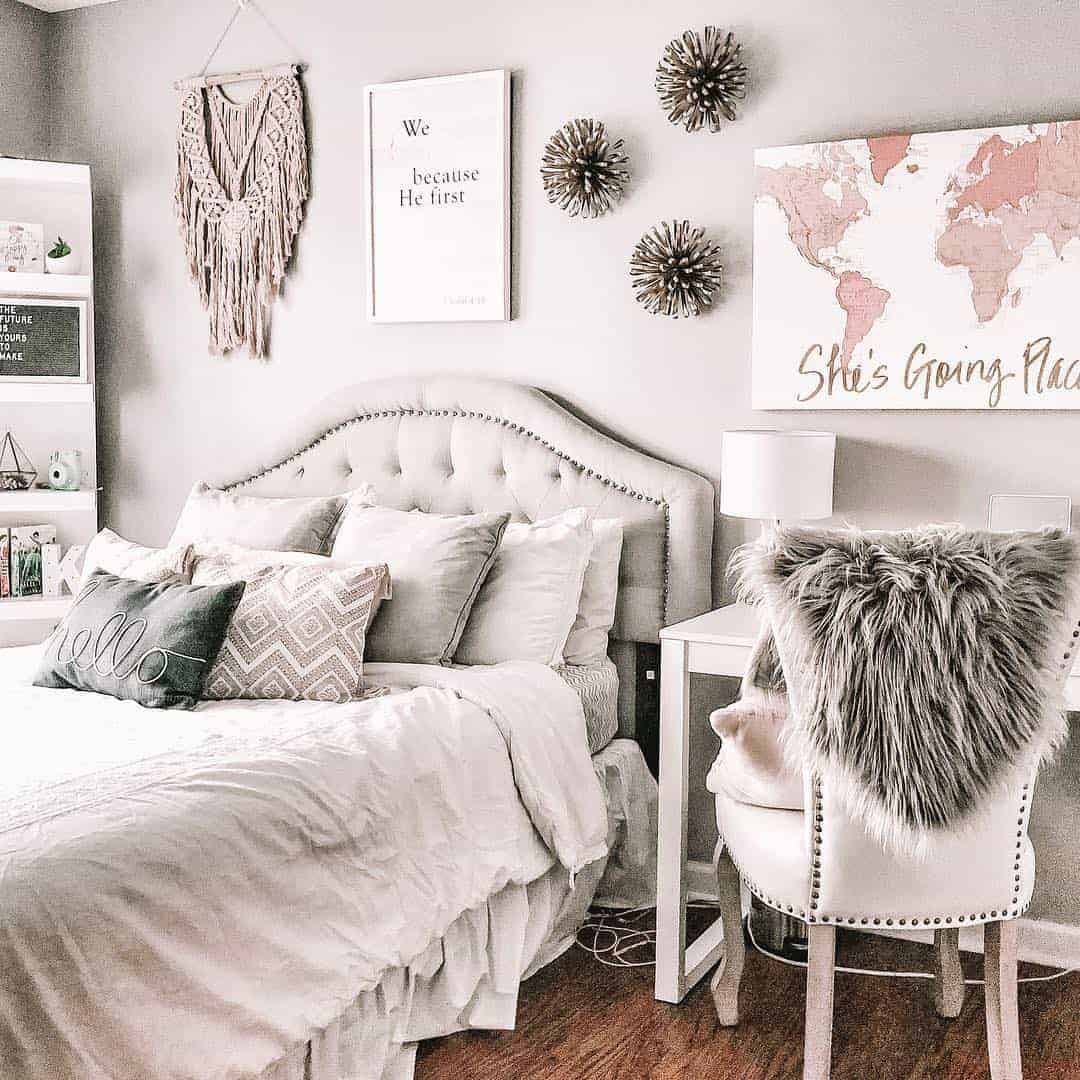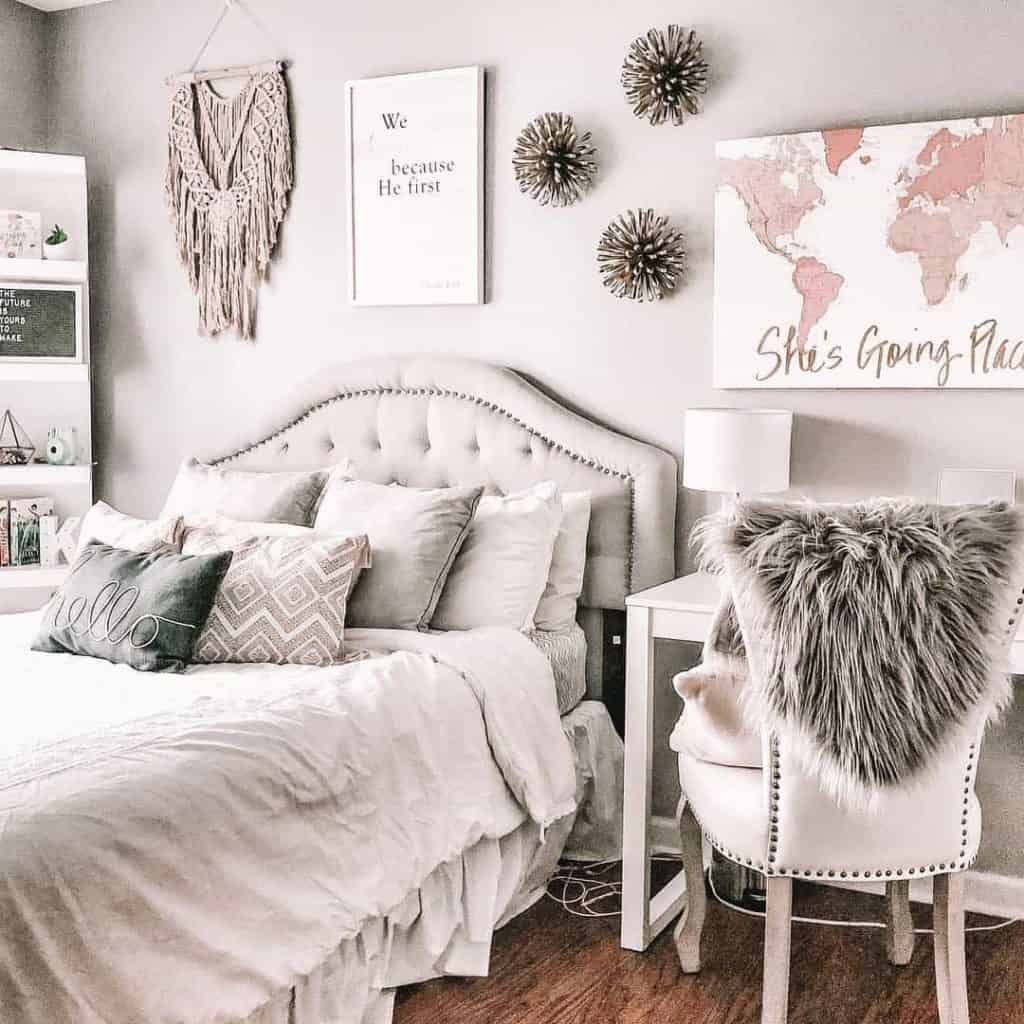 Greyscale is a nice color pallet to use for a neutral and calming space. Each of these teenage girl room ideas shows how you can use a grey with a few pops of color to give a bedroom some warmth and comfort. Having a wooden floor also adds some extra color in the room to keep it from feeling to monotone.
19. Window-Focused Girls Bedroom Ideas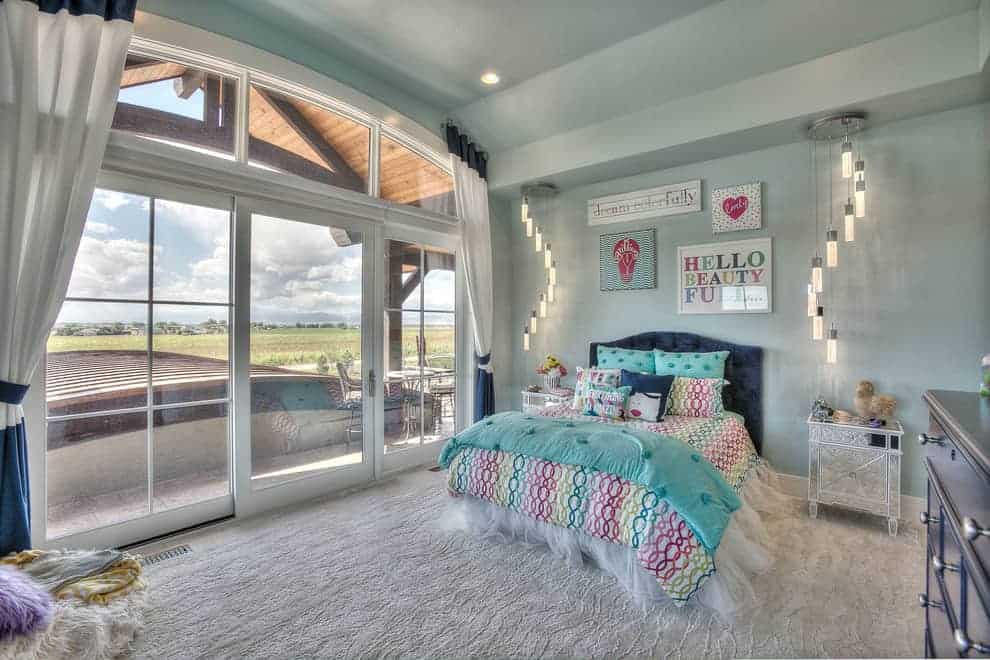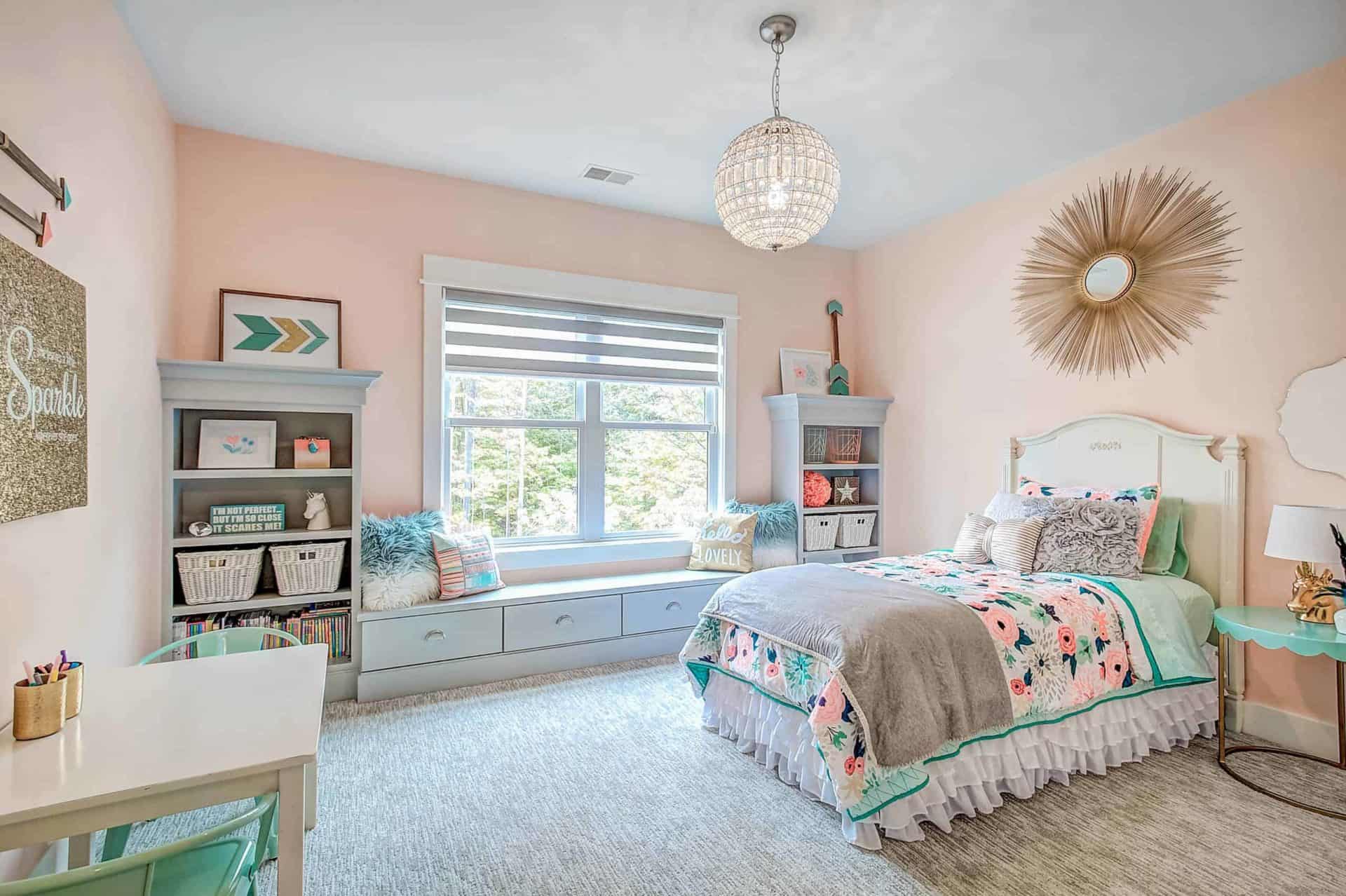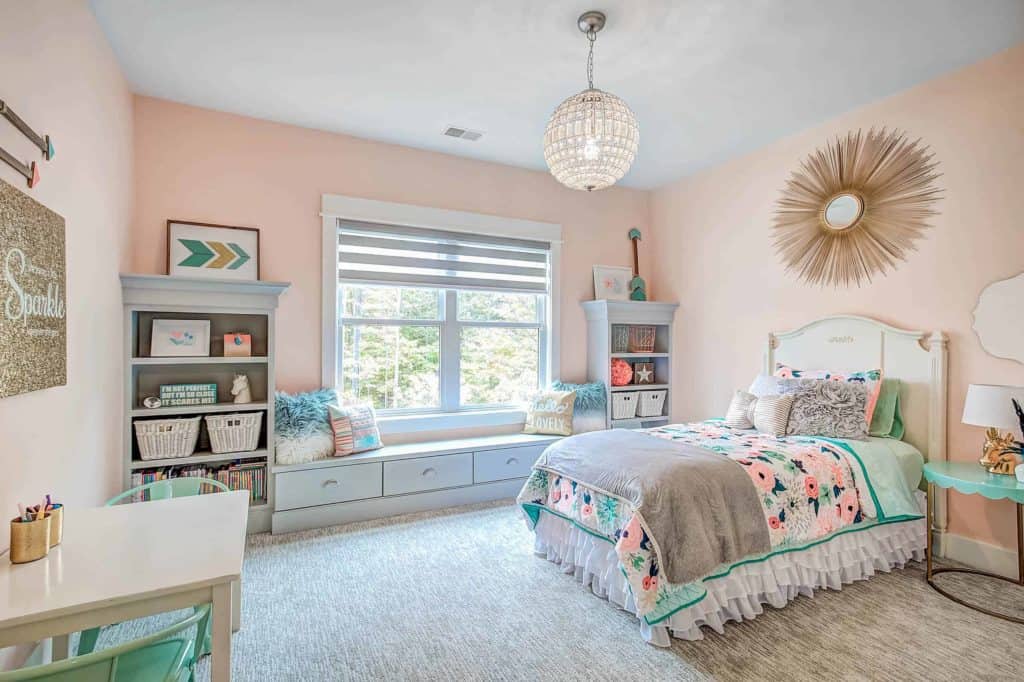 While both of these examples have differently sized windows or glass doors, they do both utilize a great feature for a teenager's room. Having a large window-focused wall adds natural light and a unique feeling to the bedroom. It also, of course, provides a great view of wherever the window leads to.
20. A Themed Feeling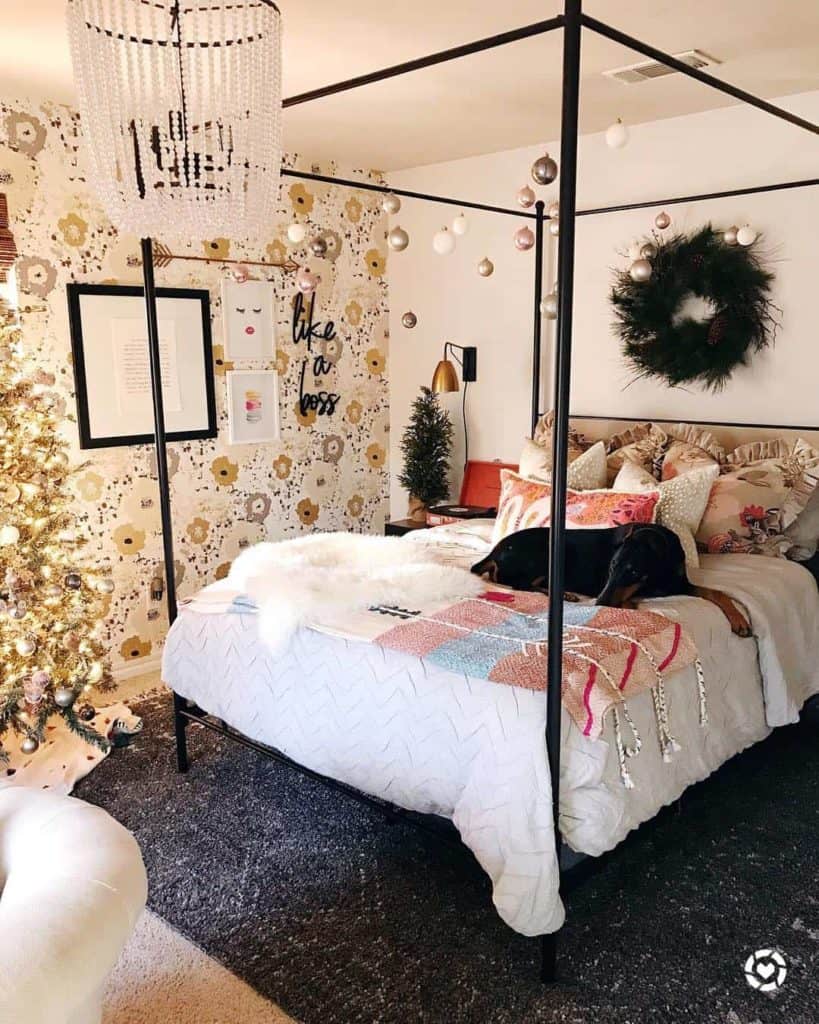 This bedroom takes the idea of a Christmas theme to the next level with the color and decorations. It's a great example of theming a bedroom for special occasions in a way that feels unique and personal.
21. A Touch of Nature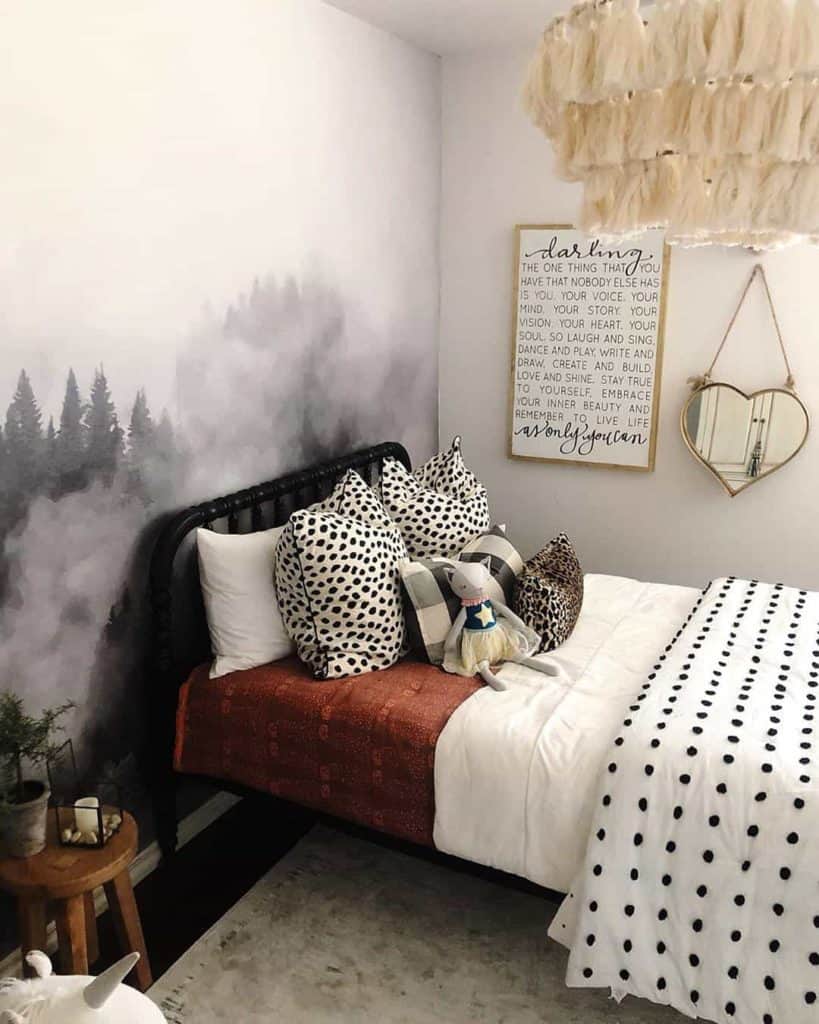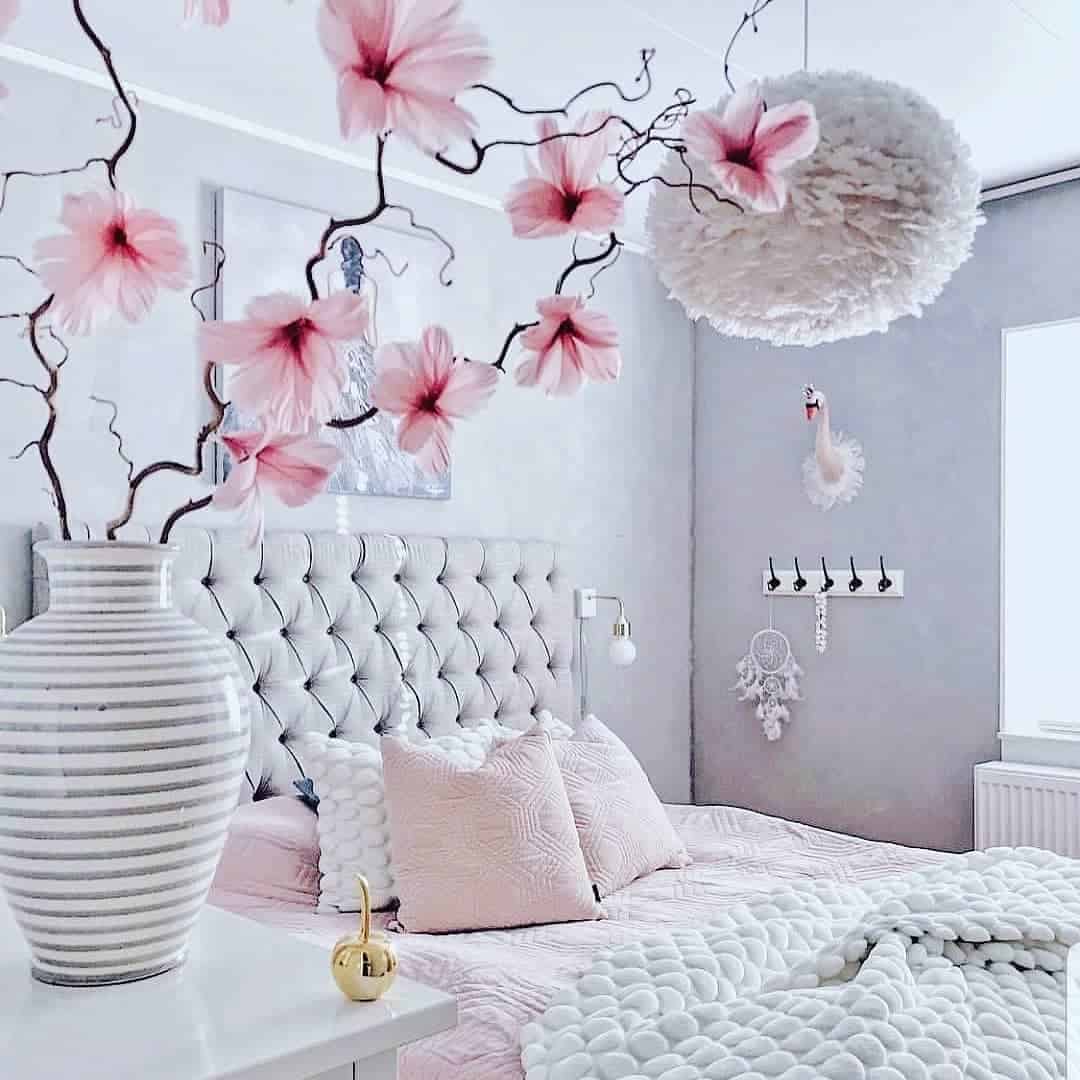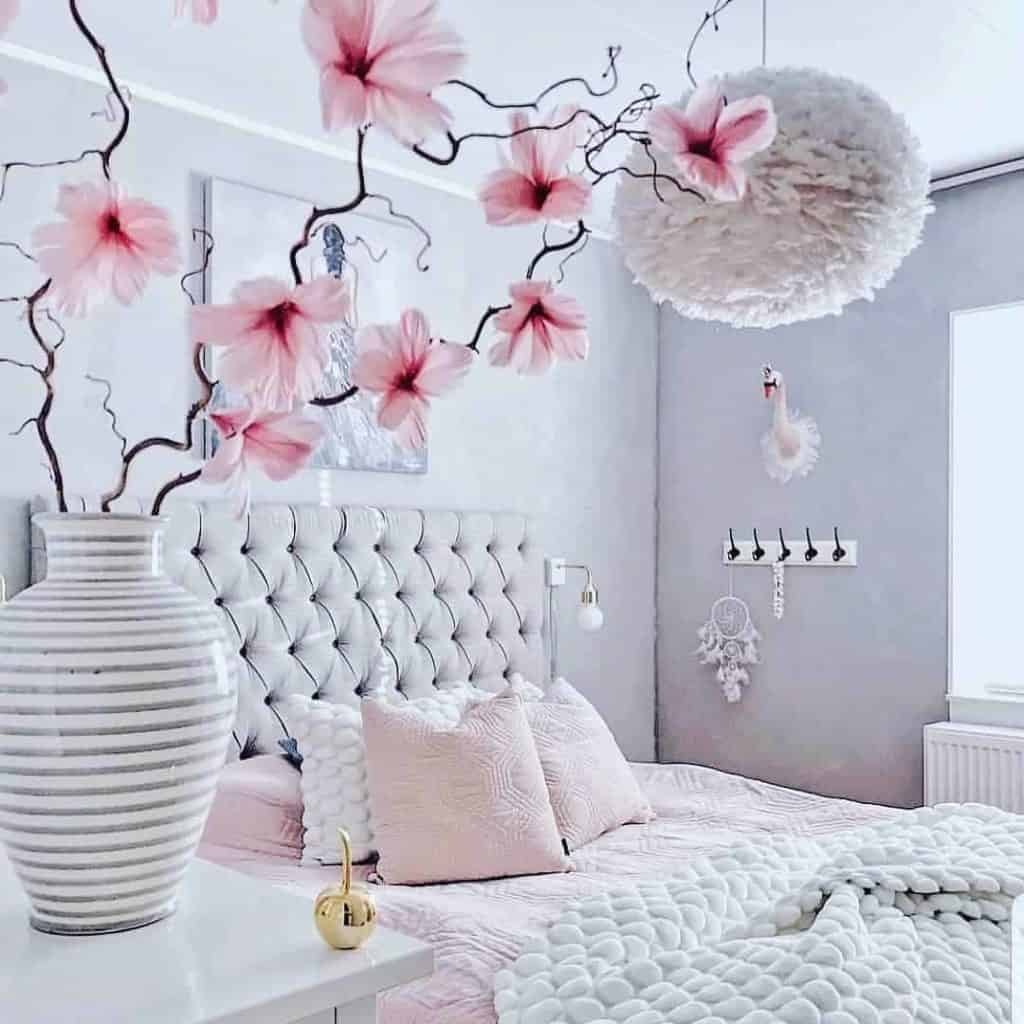 If the teenage girl's bedroom you're working with doesn't have a window, or if the view outside isn't anything special, this may be a direction for your bedroom. Adding a plant can bring some life into the bedroom, like with one of these examples. But you could also go for an outdoor feeling, like with the other example, to make the bedroom feel like it is in nature itself.
22. Rugs the Bring a Bedroom Together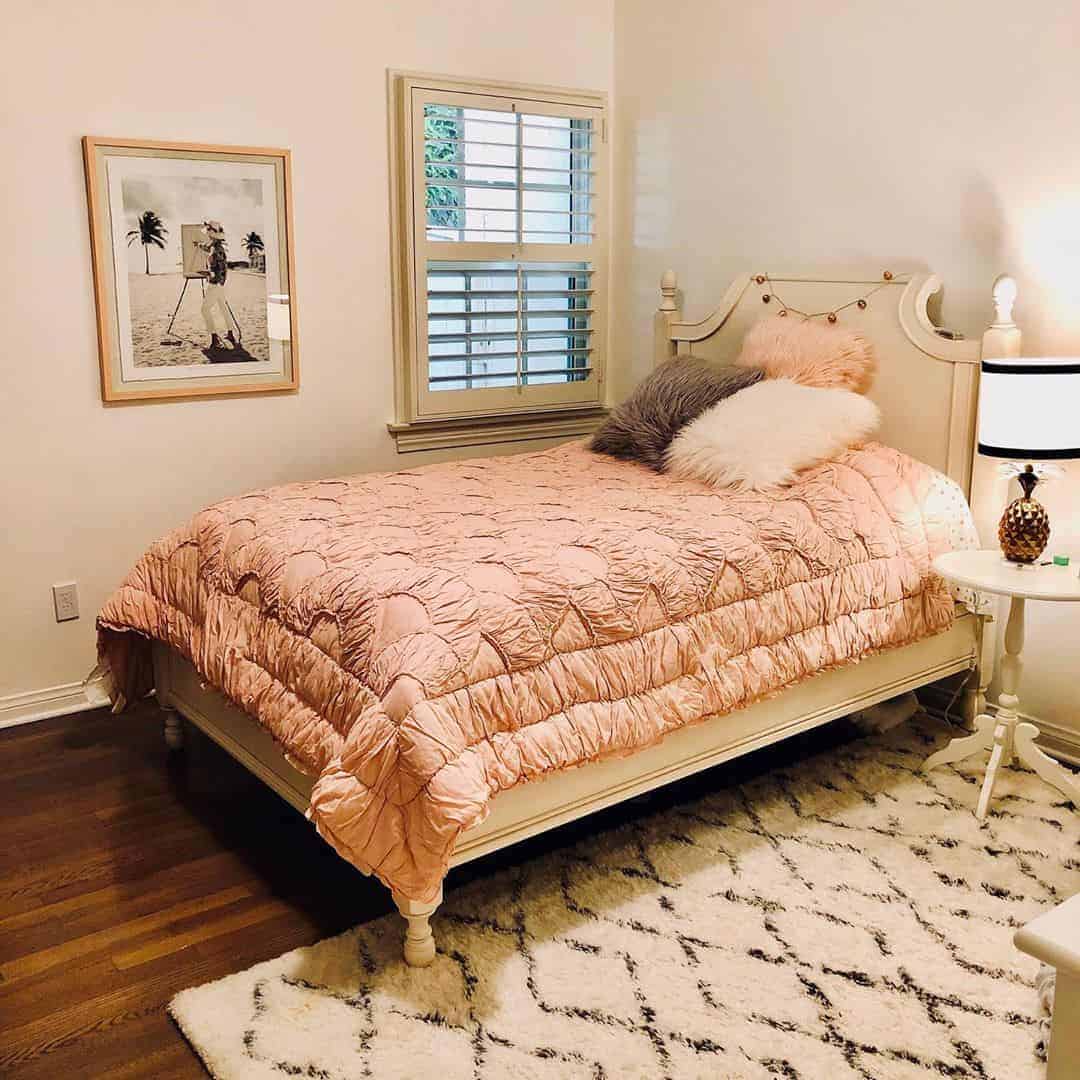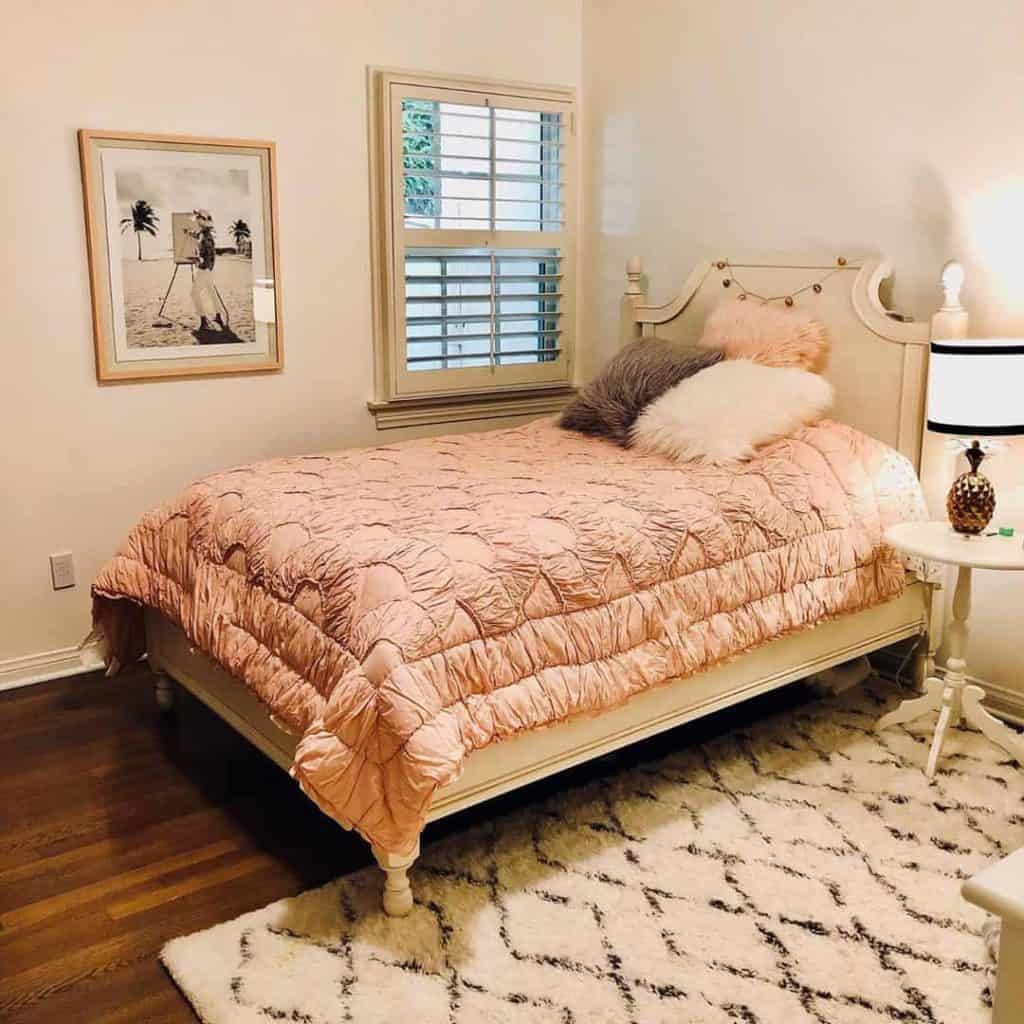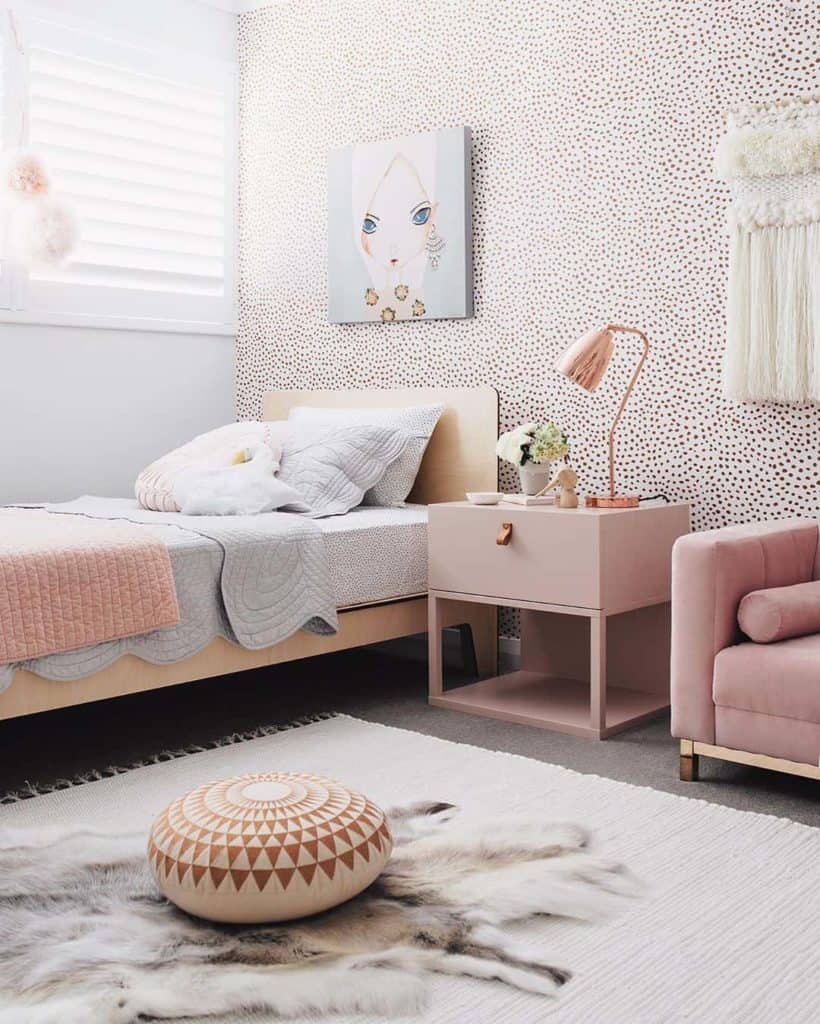 Adding a stylish rug to the floor can be an easy solution that makes the bedroom feel more complete. Each of these rooms uses a rug that differs from the obvious color scheme or theme but still fits in well with the bedroom. Don't be afraid to go with a bolder rug to add a pop of something unique to the bedroom.
23. Hanging Seats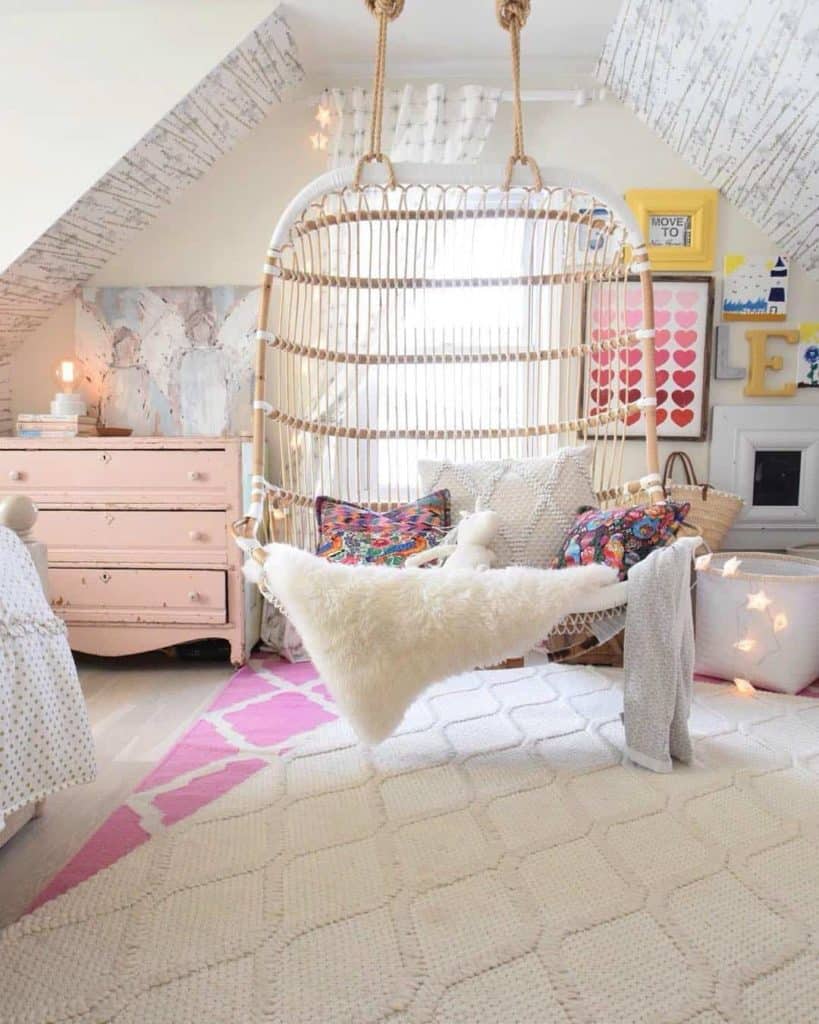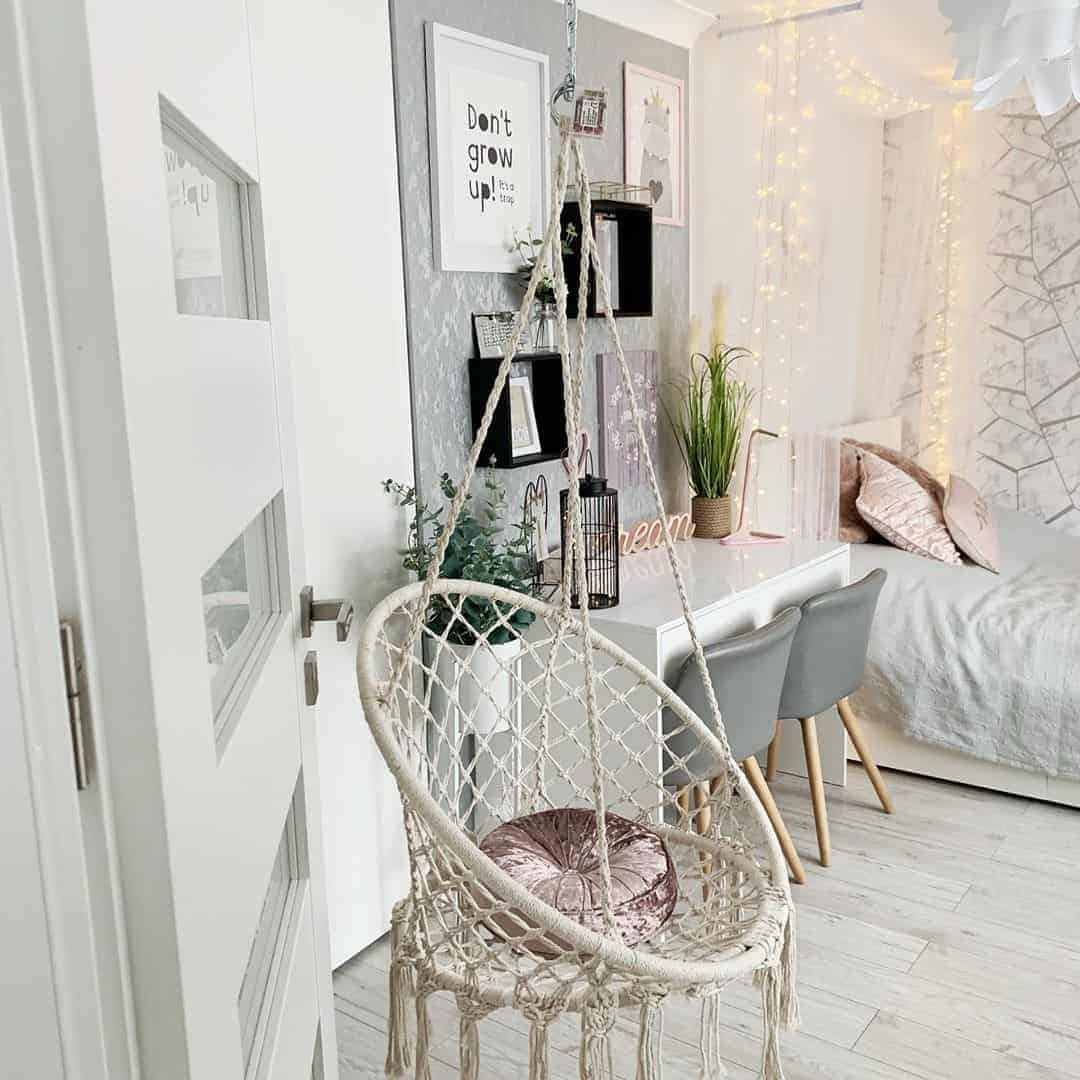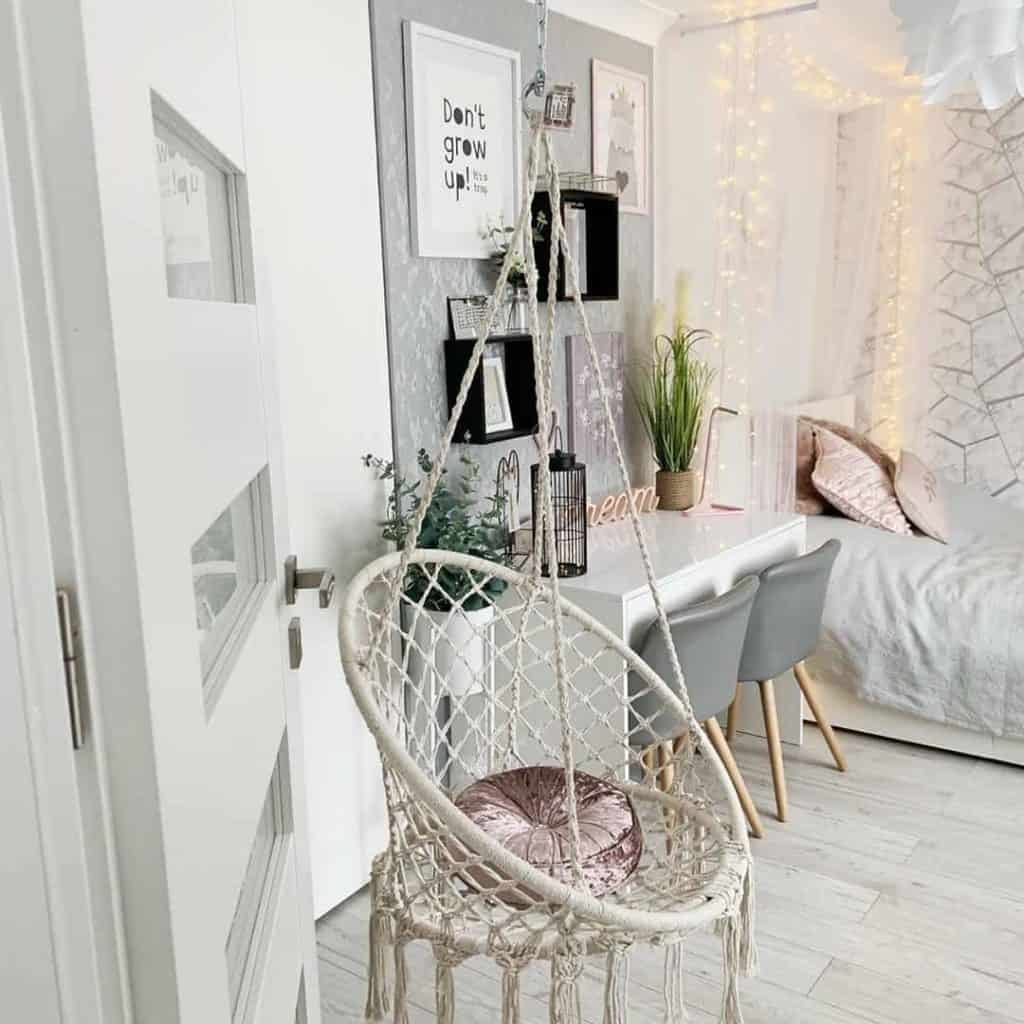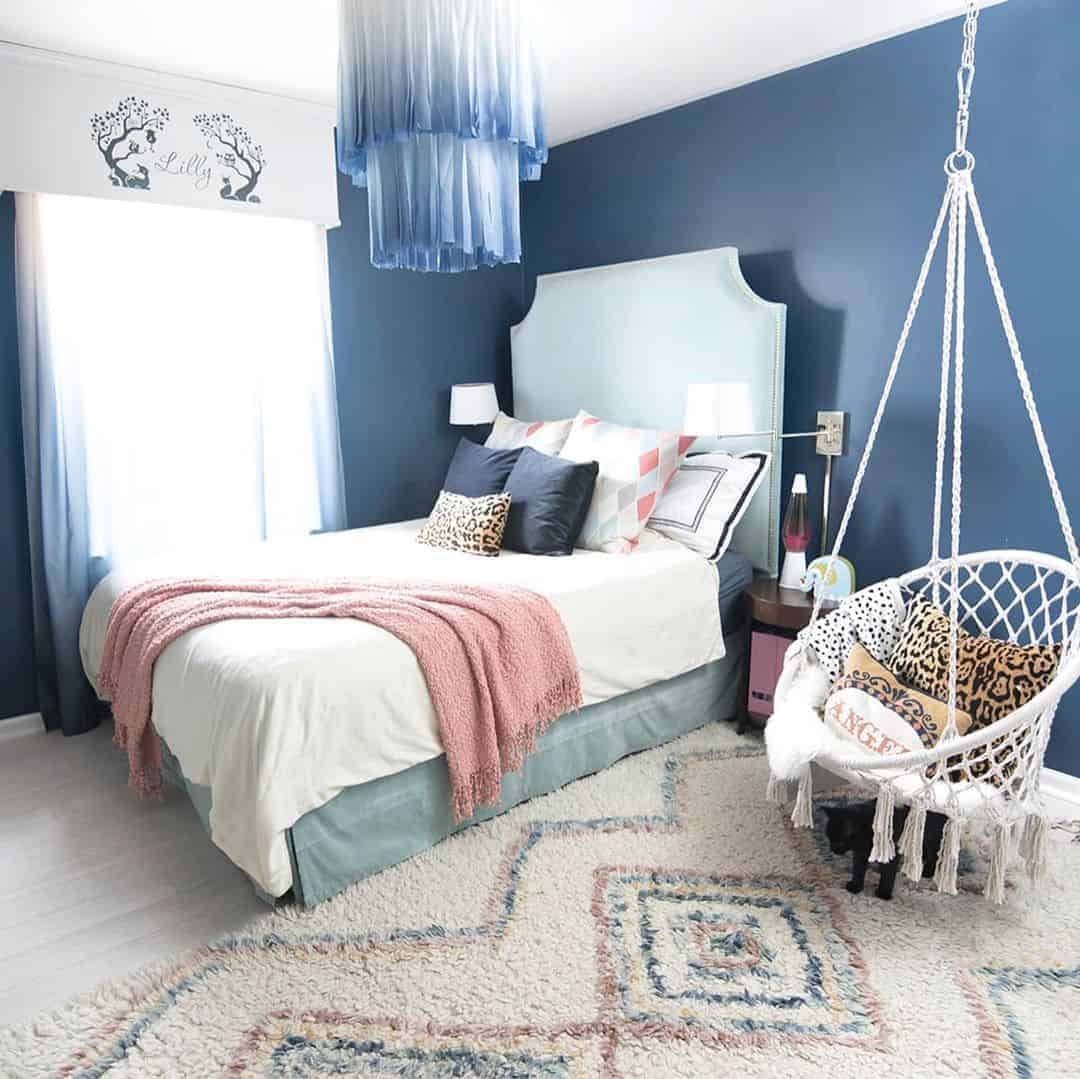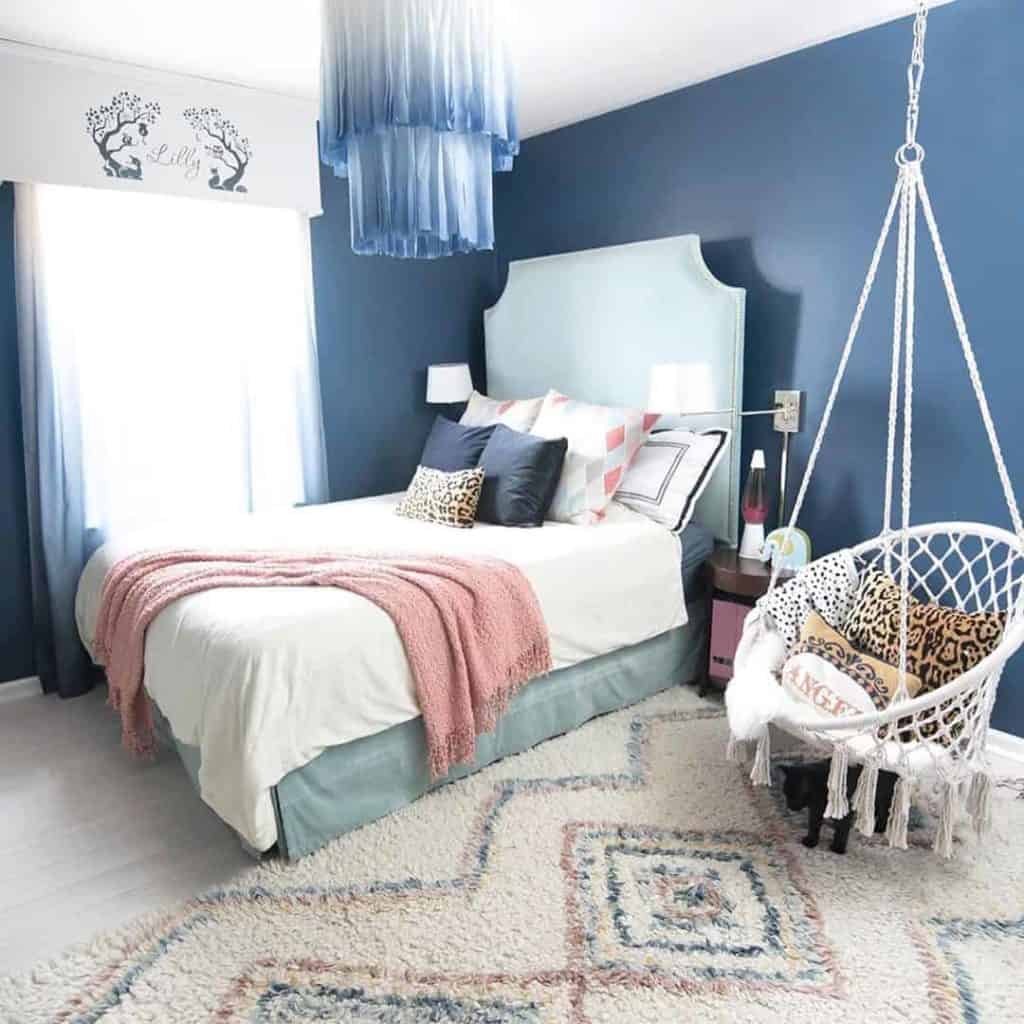 Gone are the days of traditional chairs, hanging chairs are much more unique and add some style to a bedroom. Whether you go with a larger option or a smaller, more subtle choice, these are an easy addition to make a room look much more trendy.
24. Ladders Leading Nowhere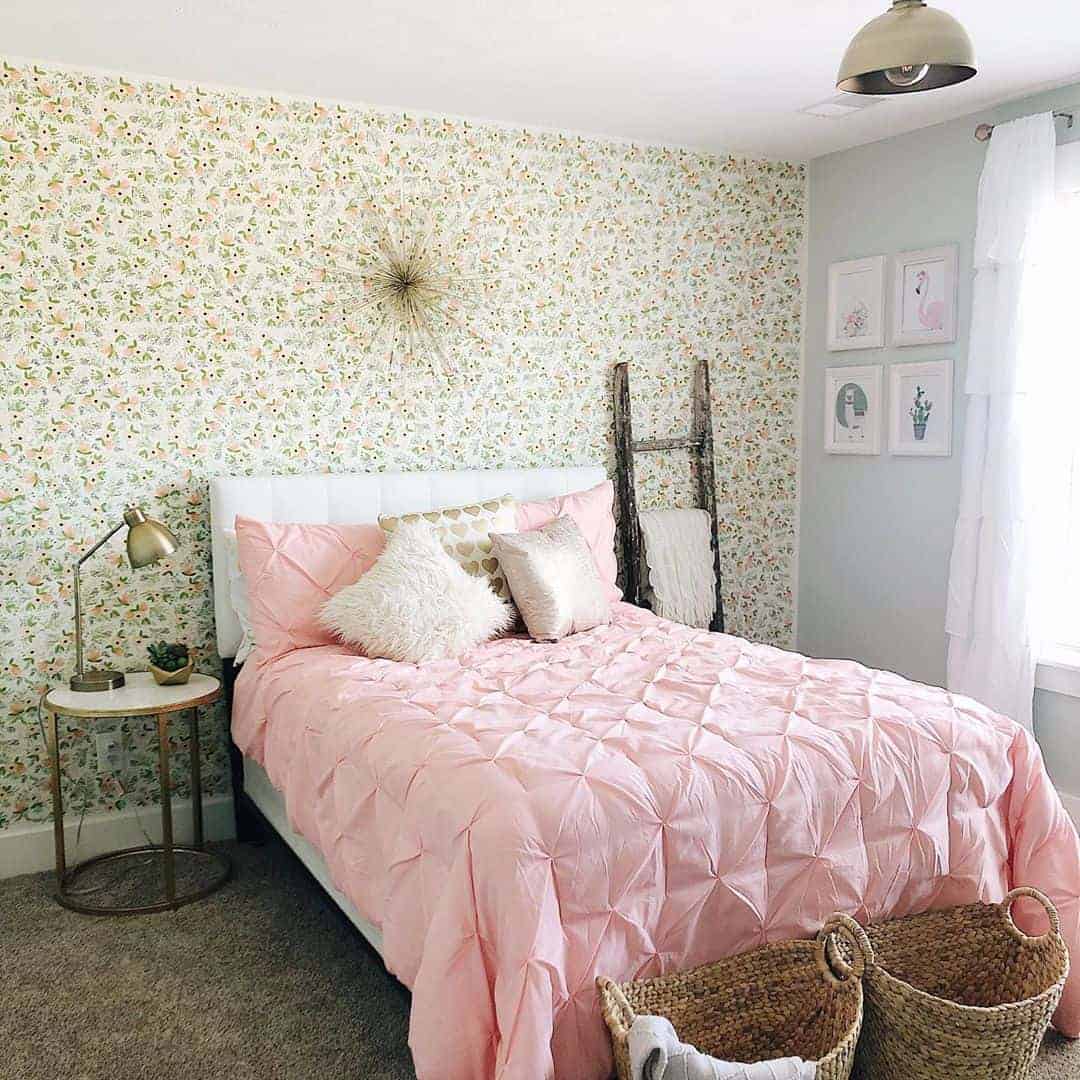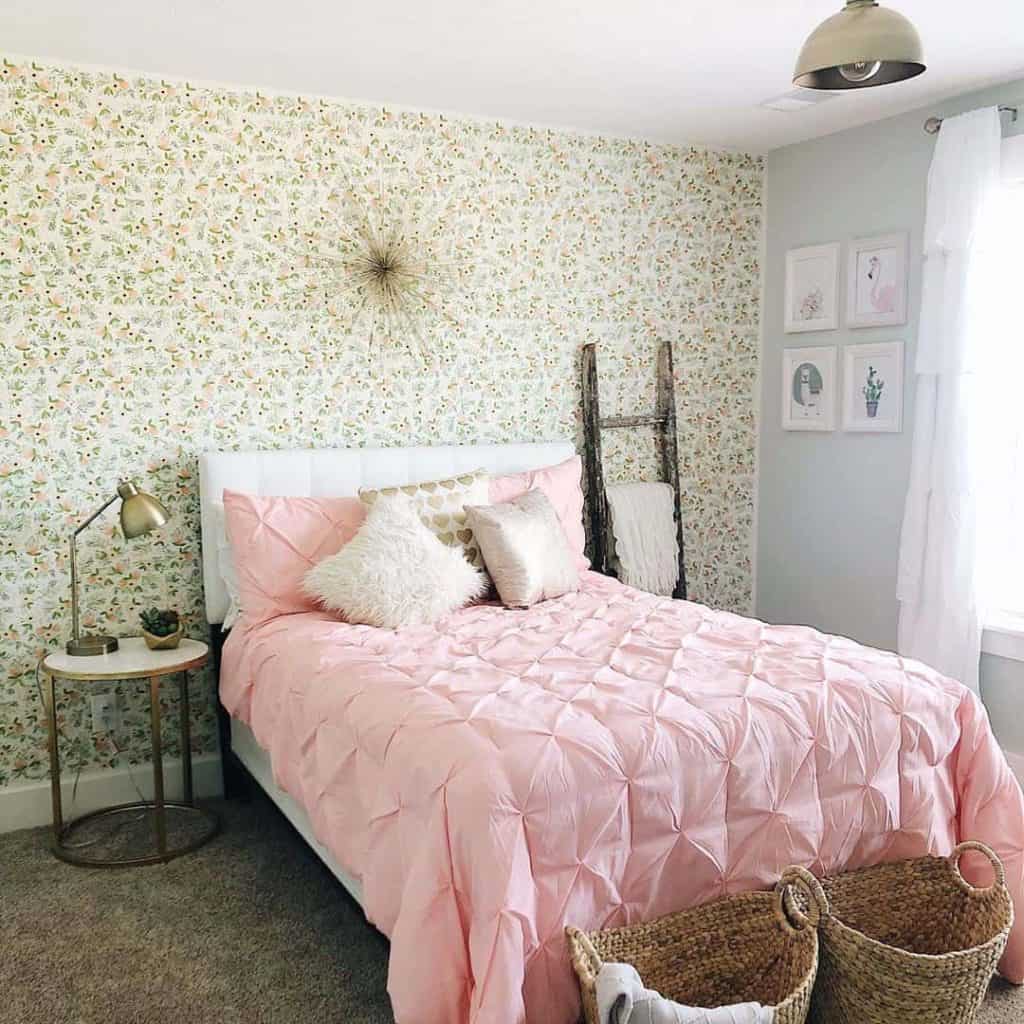 Just like with traditional seating, traditional shelving is in the past. A trendy, stylish addition to a bedroom can be a small ladder used to hang other decorations on. In these two examples, you can see how adding a rug gives the ladder a different feeling than leaving it nearly bare. Many flea markets will carry small ladders such as these and can give your teenager's room a unique touch.
25. Accenting Textures
We've explored accent walls and colors in this list already, but what about textures? Including a specific texture throughout the bedroom can add character and life to the overall decor. In this case, the accents are small but still apparent so that they still play into the room's theme.
26. Busy Walls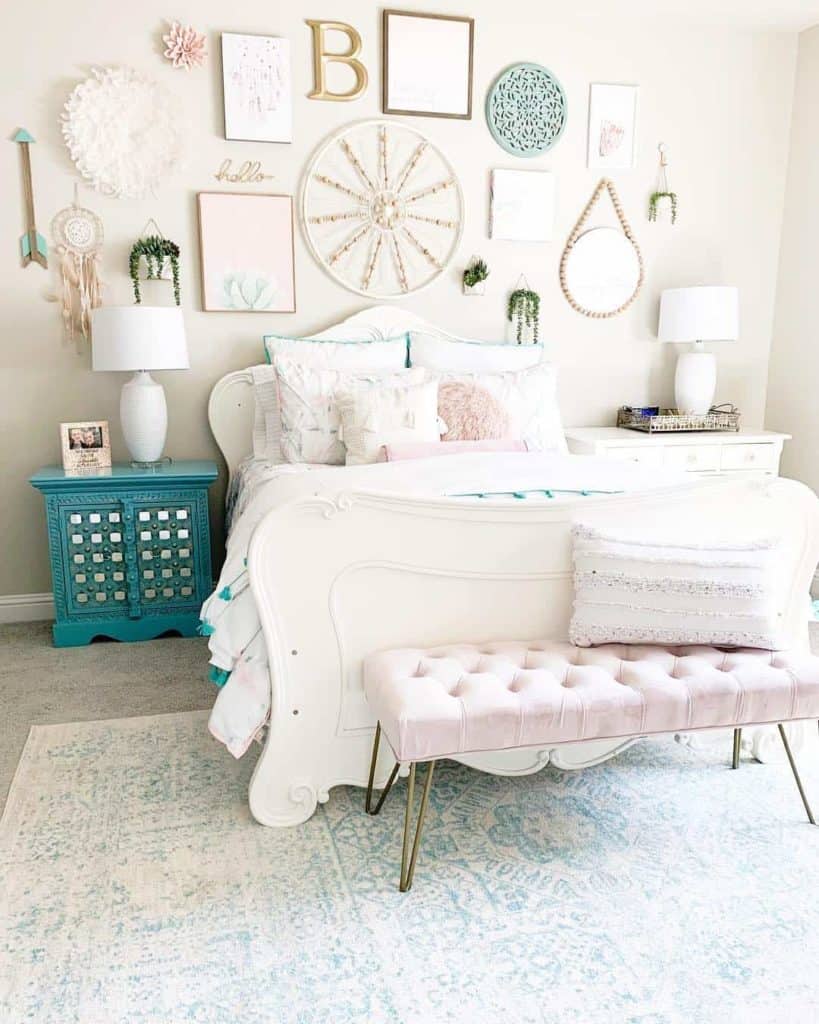 When you decide to make a busy wall, it can be a fine line between overcrowded and stylish. The key is finding items and prints that complement each other in size, shape, and color. This is a perfect example of something that could have looked messy or overcrowded but instead looks great thanks to some careful selection.
27. Dorm Style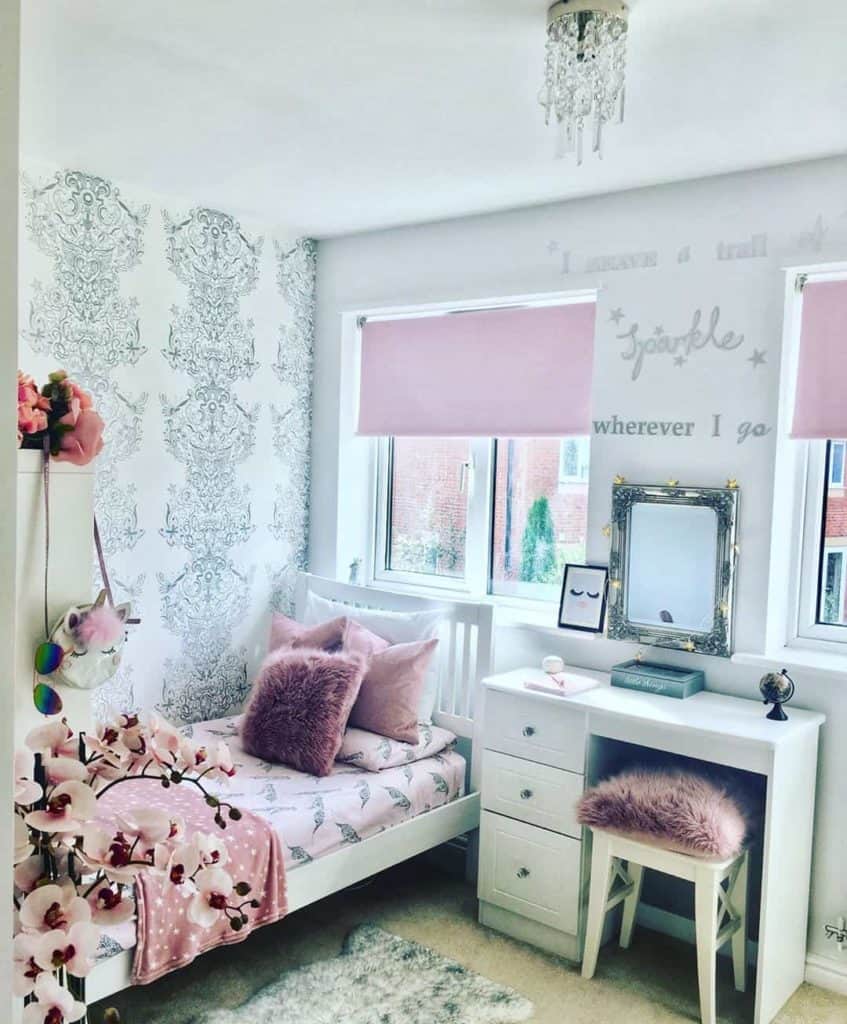 A small space doesn't eliminate the ability to create a stylish bedroom. Both of these teenage girl room ideas take on a dorm-style of design with a lot more trend and a lot fewer college parties. Don't be afraid to play with the order and organization of a room to see what works best.
28. Teen Girl's Bedroom Using the Space Wisely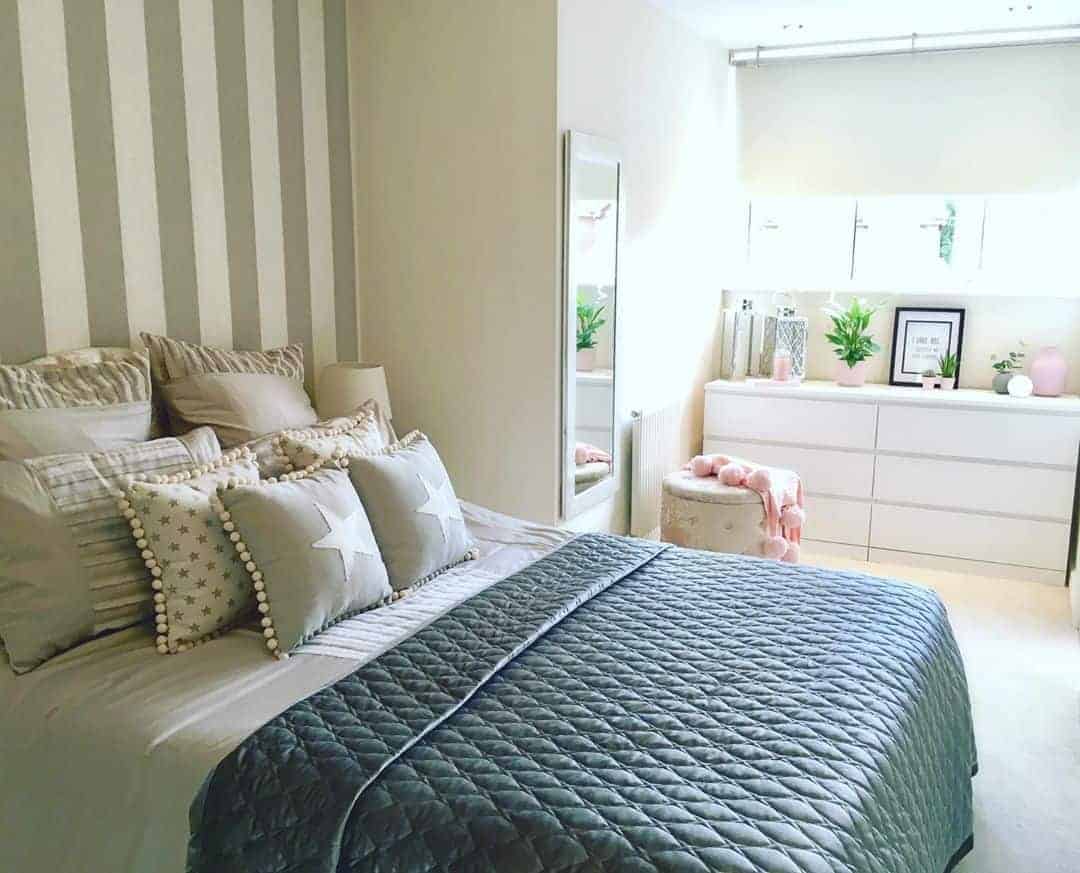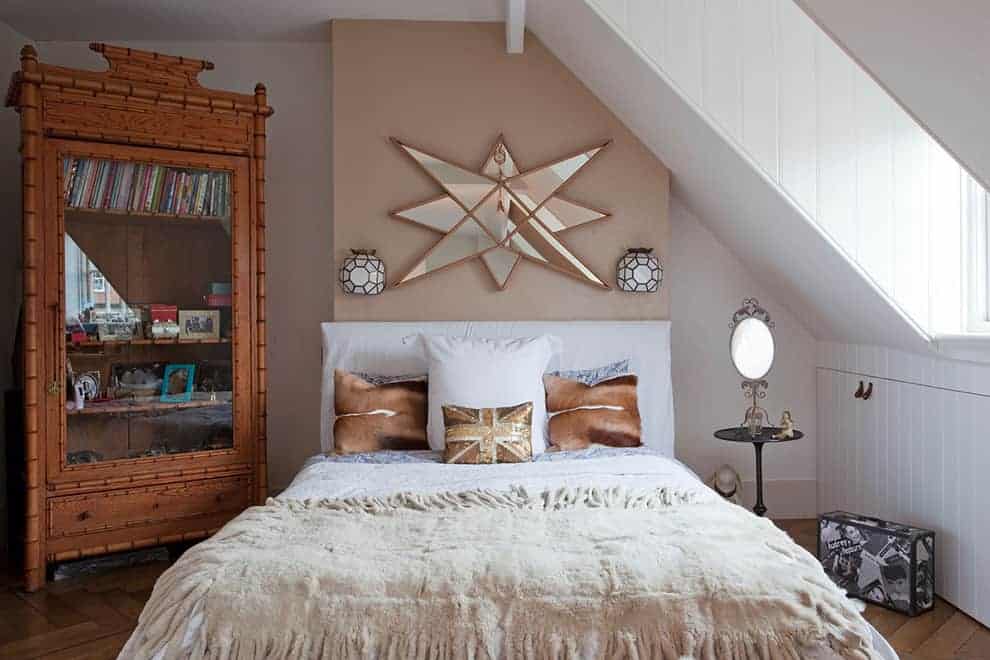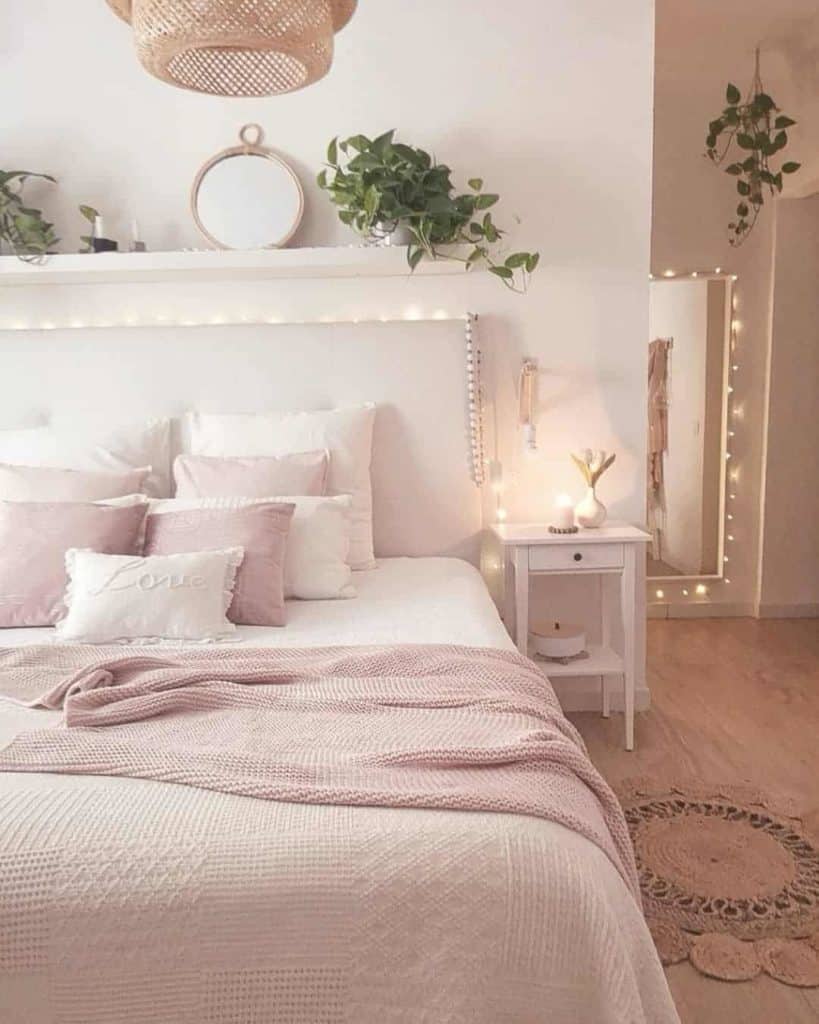 When the construction of a bedroom creates unwanted walls or slanted ceilings that get in the way of your decor ideas, you'll need to learn how to work around them. Each of these teenage girl room ideas are rooms with odd construction to cater to the overall design.
29. Flower Power Teen Girl Room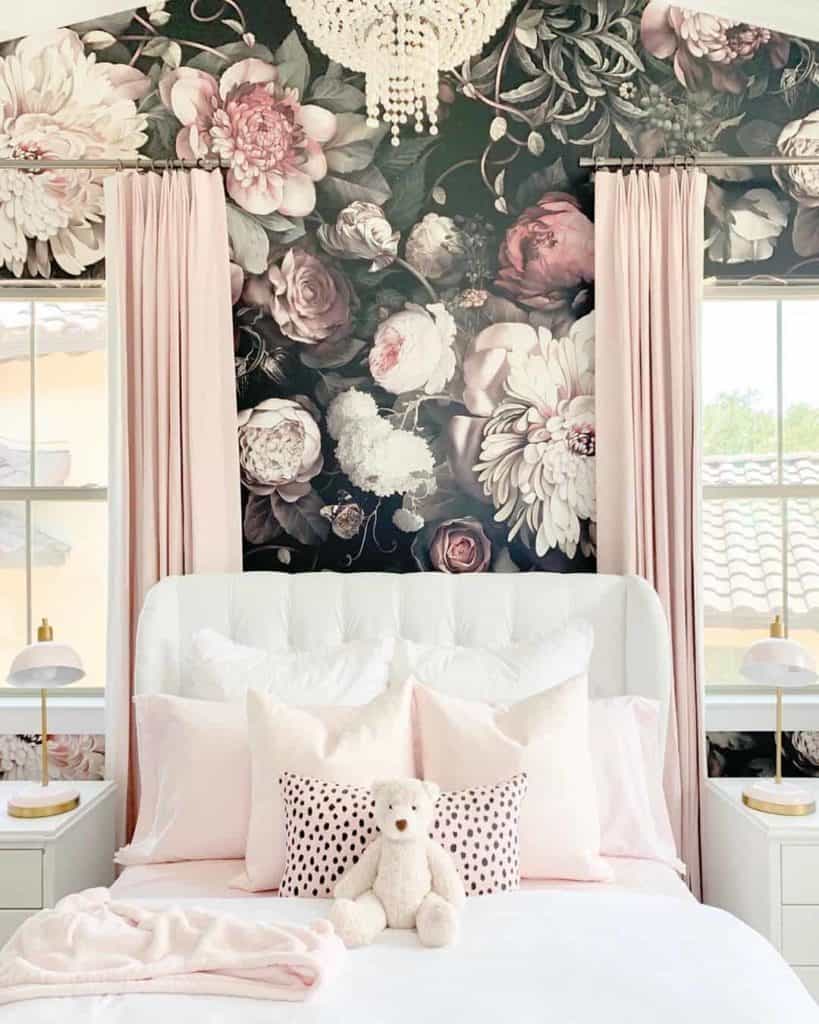 This teen girl's bedroom takes a busy wall design and makes it feel balanced. The use of pale colors, matching the flowers on the wall, on furniture makes the bedroom feel stylish and trendy. If you're thinking of creating a busy accent wall then this is a great example of how to make the room still feel balanced and manageable.
30. Pastel Ranch Teen Girl's Bedroom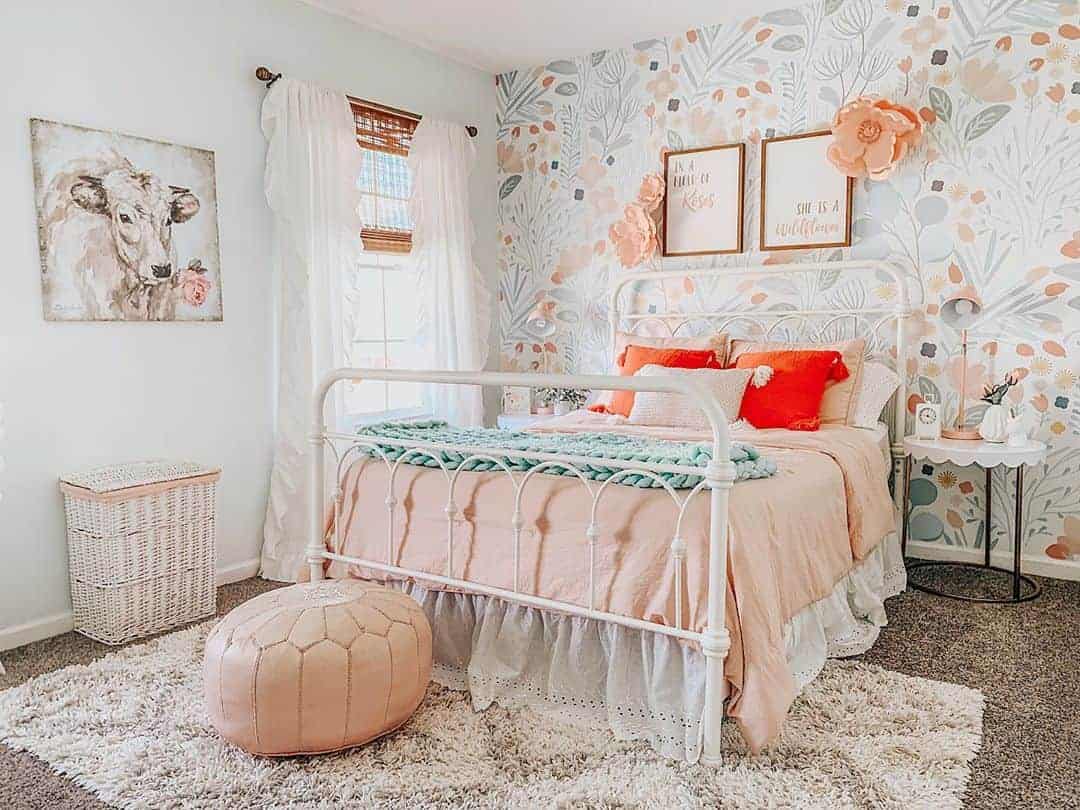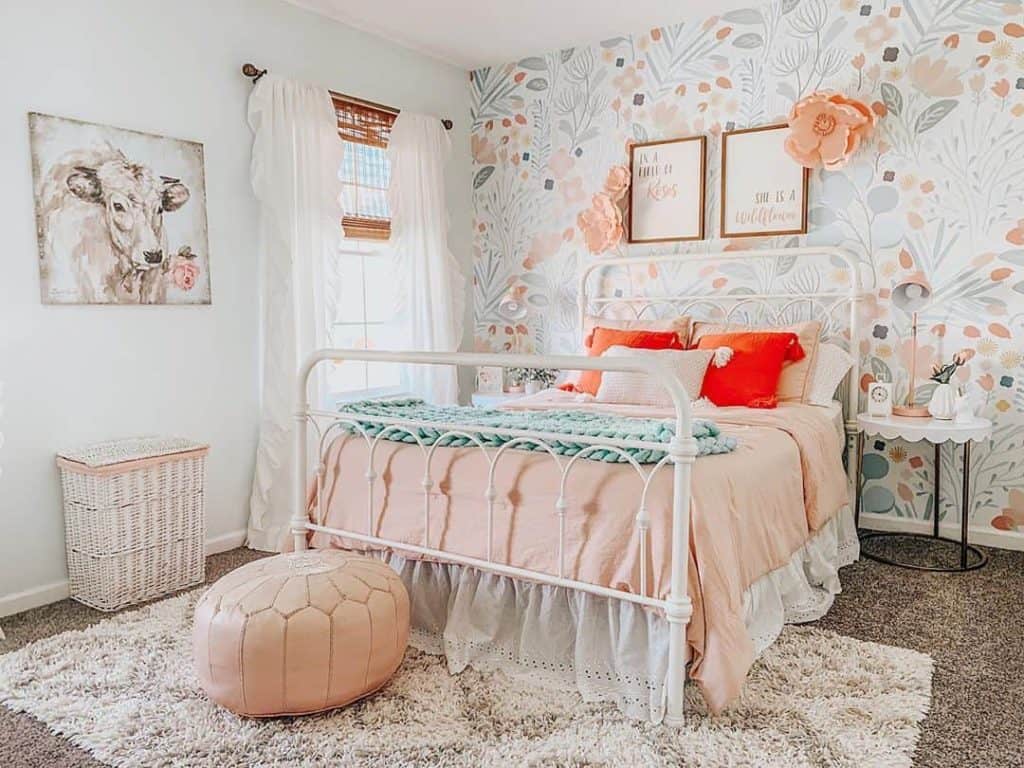 Combining styles and themes can be tricky but, when done right, it has a great payoff. This girl's bedroom takes a flowery, pastel style and combines it with some rustic or ranch-inspired elements. Because each theme is represented a little more subtly, everything can still come together and look stylish.
31. Mismatched Style Teen Girl's Room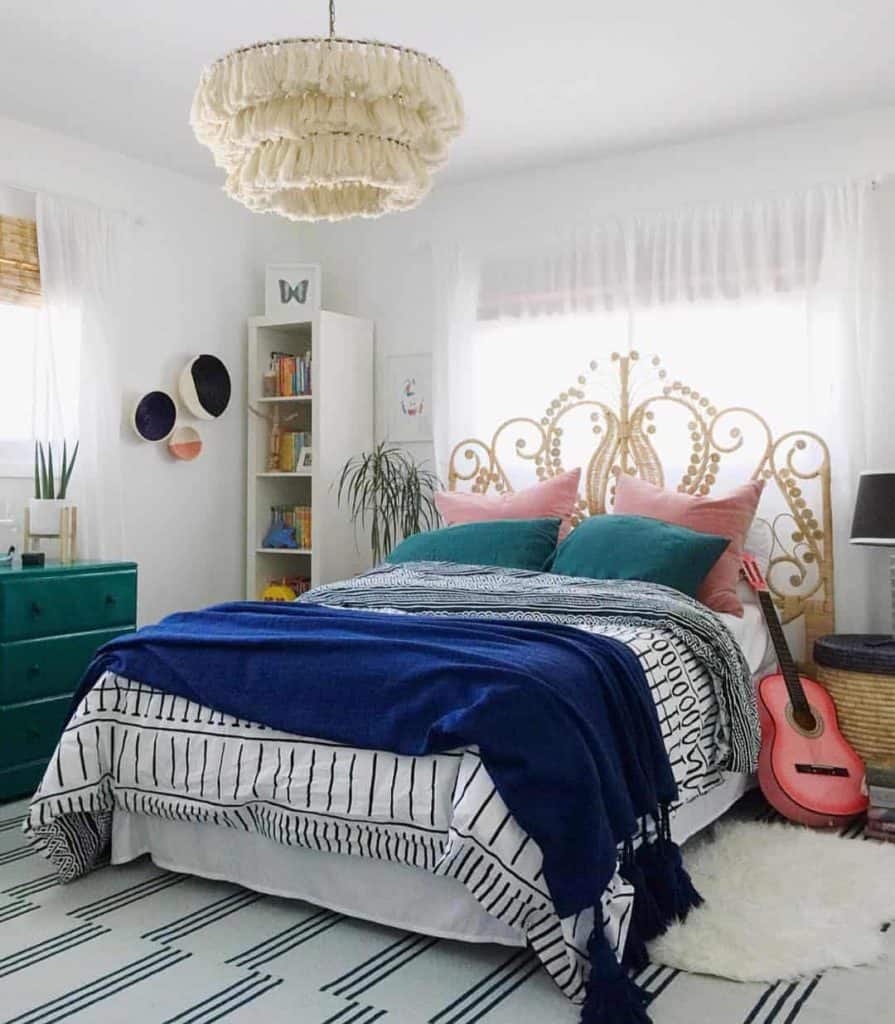 A clear theme isn't always necessary for a stylish bedroom. This example uses different textures, patterns, and colors to give the room a homey feeling while still being unique. If you want to attempt a style like this, don't be afraid to let one piece be particularly unique, like the fuzzy chandelier in this bedroom.
32. Inspiration on the Wall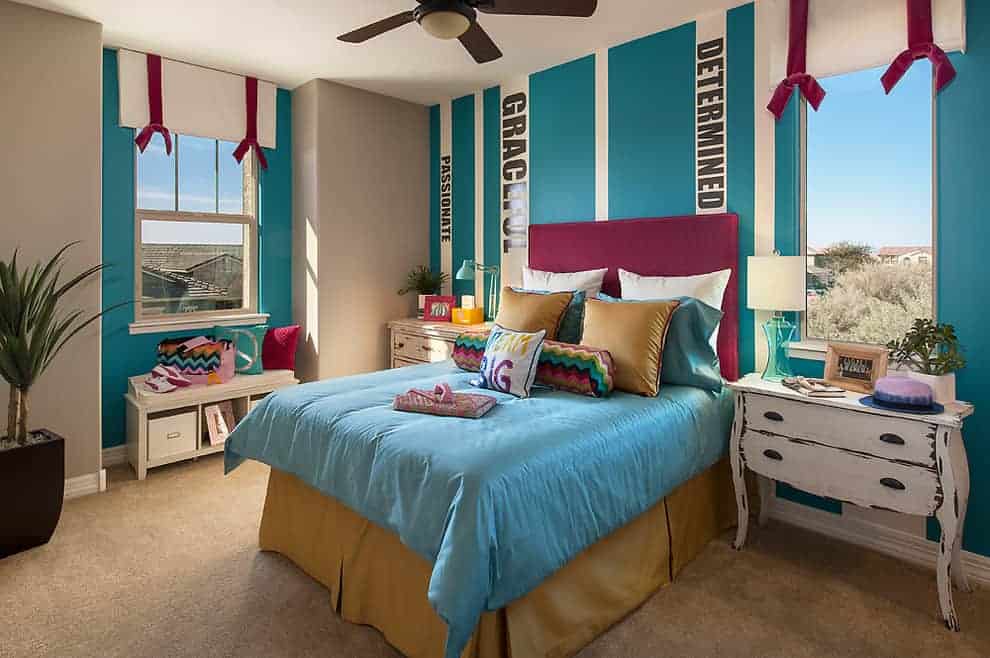 This bedroom for a teen girl uses a unique block pattern on the wall giving it depth. However, the overall design of the walls becomes inspiring thanks to the words added between some of the shapes on the wall. A design idea like this can be made easier with vinyl letters or words.
---
How to Design the Perfect Teen Girl "Approved" Bedroom
The first step in designing the perfect space is talking to your teenager about their interests or design preferences. Almost everyone will have some sort of Tumblr or Pinterest set up that you can check for design interests.
Next, you'll need to decide on a color scheme, theme, or general idea of what the bedroom should look like and feel like. Many times this can start with the paint color or wallpaper pattern. You can begin to incorporate the other items you'll want, like chairs or dressers, to see how their colors will accent the room.
You'll also need to decide on the furniture in the room. Depending on the size of the space you could have just a bed and dresser, or a whole set of bedroom furniture. Figuring this out early on will help you decide how to get started.
---
All of these teenage girl room ideas show just how unique a bedroom can be. No matter what direction you take your teen girl bedroom in, we hope you were inspired by these rooms. What are you planning to include in your new room? Let us know below!