When transforming your bedroom into an aesthetic room, you can go all in and incorporate all of the design and decor features I mentioned in my article: 21 Creative Aesthetic Bedroom Ideas Trending on TikTok and Pinterest Now.
How To Make Your Room Aesthetic
The combination of aesthetic fairy string lights, hanging vines, neon signs, and fuzzy rug decorations can seem daunting to piece together, but it's not as difficult as you might think! Mixing and matching these aesthetic room decor ideas make it nearly impossible to mess up. But we get it, you want to design your own room and you want to look creative and unique. You can have a bedroom that looks like it was put together with ease, just follow these 16 aesthetic room ideas to design your perfect room.
You can make a more subtle aesthetic room by picking and choosing your favorite decor pieces and incorporating them into your existing room style. You don't have to worry about using a variety of textures, materials, and shapes—in an aesthetic room you can play around with as many of these ideas as you'd like.
Aesthetic Room Decor Essentials
Whether you plan on scouring the aisles of thrift stores or making a quick run to Target, there are a few must-have aesthetic room decor pieces to take your style to the next level. Create a seamless design by picking up:
Decorative vines
Fairy string lights
Full-length, Lighted, Leaning Mirror
Hanging plants
Macrame wall hangings
Fucky planters
Tapestries
Neon signs
Removable wallpaper
Records
Wall Flowers
Layered rug
Polaroids
Clothing Racks
Mix Patterns on your Bed
Decorative Vines
You can decorate your bedroom with the vines outlining your windows, around your headboard, or wherever will help add some spunk to the room.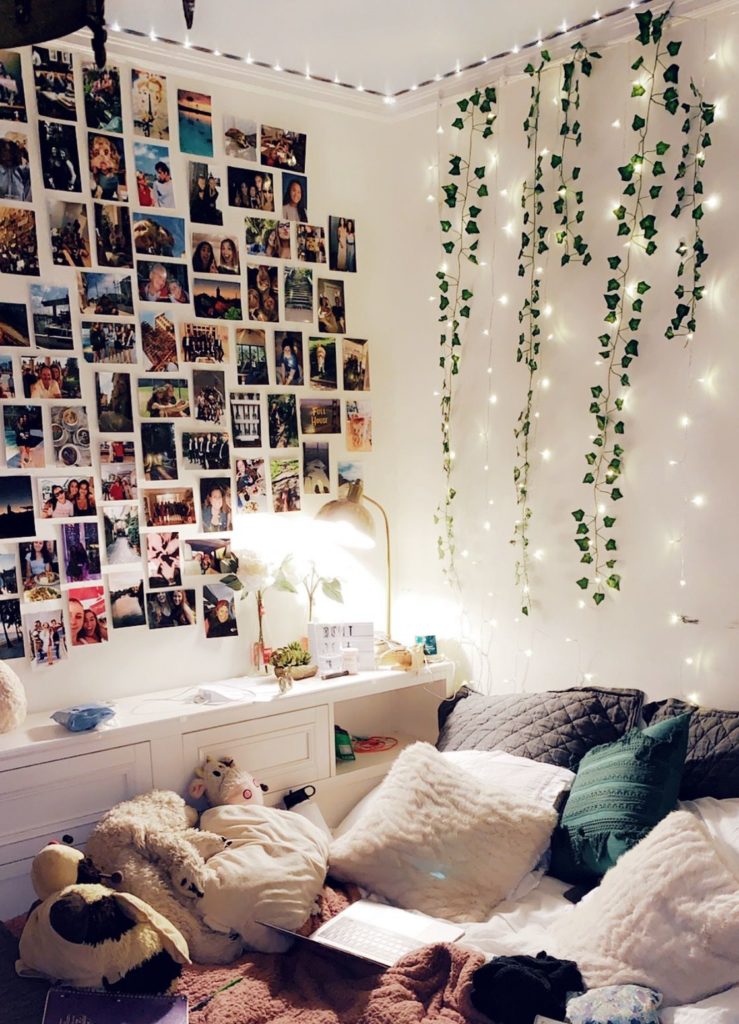 Fairy String Lights
Whether you use one strand or string together multiple strands, you'll create a dreamy boho style bedroom where you can unwind and relax.
Full-length Mirror
Make your room look even more aesthetic by leaning the mirror against the wall instead of hanging it up.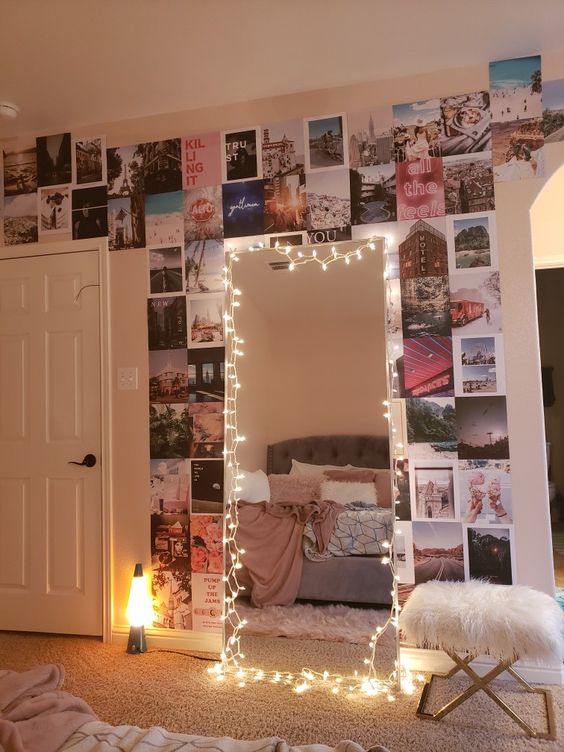 Hanging plants
Plants will give your room decor an effortless natural vibe, and if you really want effortless, you can invest in some faux plants (no judgment here!). Put them in planters made of different kinds of materials to add more texture and color to your room.
Macrame wall hangings
You can add as many or as few handwoven macrame wall hangings to your walls as you'd like. Or better yet, you can use macrame curtains to beautify your windows! You can find some handmade macrame pieces on Etsy, or you can pick one up on your next trip to Target.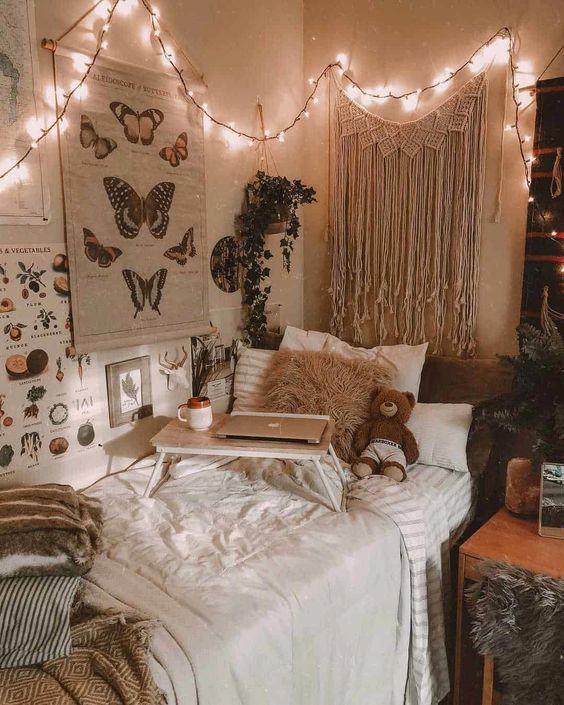 Planters
Don't be afraid to mix and match different sizes, styles, shapes, and colors. Use them as a way to express yourself by playing with all types of planters—rattan, woven baskets, or colorful clay!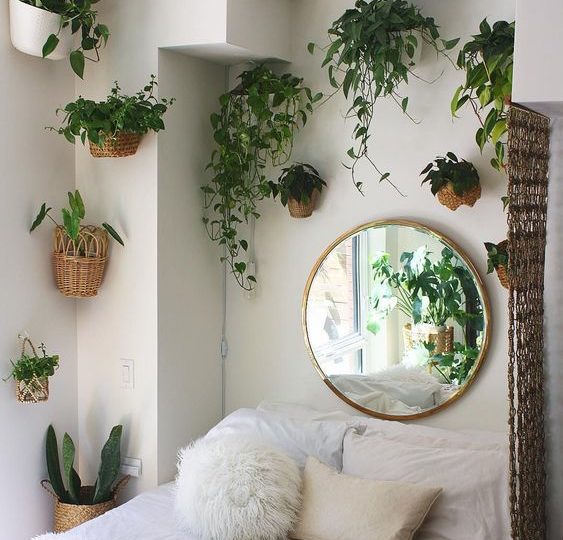 Tapestries
With so many patterns to choose from, you'll easily be able to find a tapestry that matches the exact aesthetic you're hoping to achieve!
Neon signs
Your fairy string lights will help build the ambiance, but a neon sign will enhance the funky, eclectic vibe you have going on. You can add your favorite quote or shape glowing in your favorite color!
Removable wallpaper
If you aren't a big fan of commitment, there's removable wallpaper. It makes it easy to mix and match wallpaper patterns or change up your bedroom as often as you please. If you're feeling really daring, you can even paint on the dalmatian spots yourself!
Record on the Walls
Add Records as wall art in mismatched patterns to make everything look like it was seamlessly thrown together with ease. Find ways to incorporate all the albums you love on the walls so you can always be surrounded by your favorite music!
Layered Rugs
Add layers to your room decor by putting together multiple rugs in the same space. Use them to tie together the room by matching your throw pillows and blankets to the colors within the rugs!
Wall Flowers
Flowers add a romantic, dusty pink rose color to your bedroom.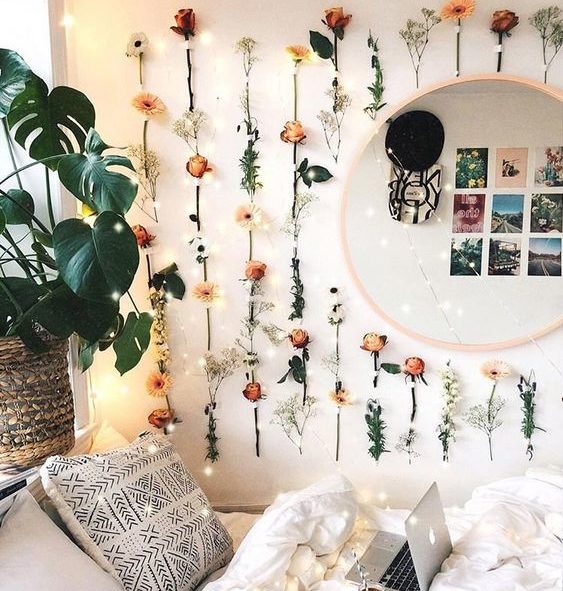 Collages
Collages add unique shapes to your room's walls to create an eclectic vibe like no other.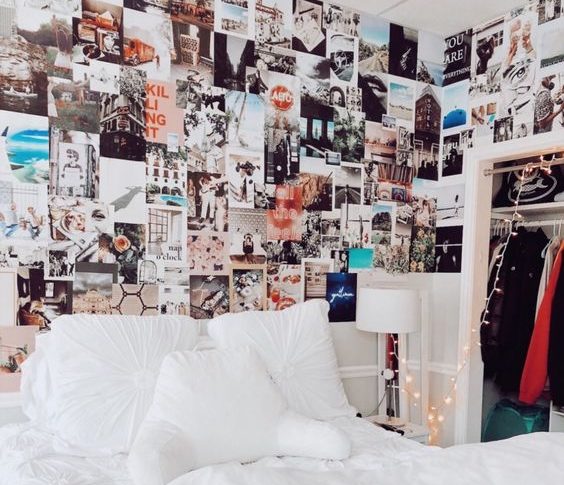 Polaroids
You can hang Polaroids individually in any pattern of your choosing or along a string with clothespins to add even more flair.
Mix Patterns on your Bed
Mixing patterns can seem difficult to do. If I could give you any advice, don't tiptoe around patterns. Go all in.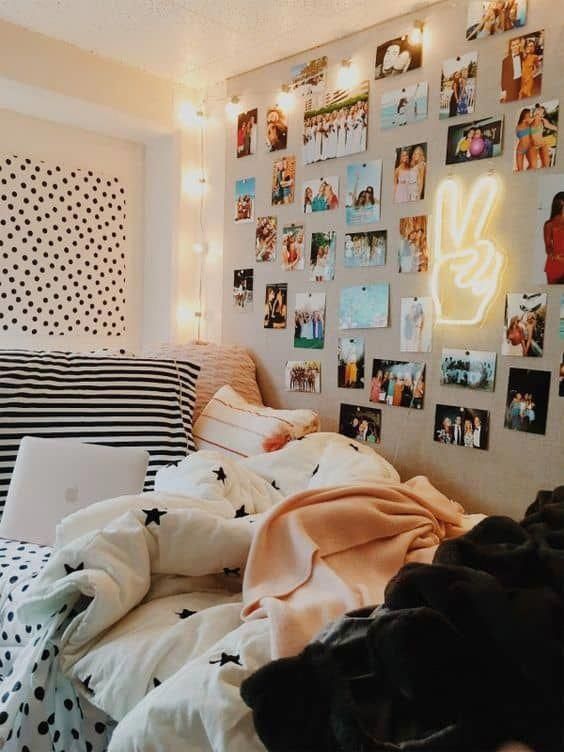 Exposed Clothes Racks
Having your wardrobe organized out in the open adds a low maintenance feel to your room which really adds to the aesthetic vibe.
Aesthetic Room Ideas & Themes
Don't worry about overdoing it on the bedroom decor. The biggest advantage of the aesthetic decorating style is that it's so forgiving. Just watch these videos and you'll get the idea!
You can keep all your favorite bedroom furniture pieces and wall decor, and mix and match in the new decorations.
https://www.youtube.com/watch?v=lc9tv-DoCU8
The mix of aesthetic room decor such as greenery, ambient lighting, funky patterns, and wall art will transform your room into an aesthetically-pleasing oasis you'll never want to leave.