A lovely way to enhance the walls of your home is by incorporating wainscoting ideas along the baseboards and walls. This simple decorative element can breathe new life into just about any room in practically any style.
Wainscot features were initially used as a functional component in homes. Today, however, we see them as an element of elegant interior decoration that infuses color, size, and shape in a wide array of environments. Due to its widespread utilization in modern architecture, some might find a home without at least some wainscoting somewhat of an anomaly. In fact, in many homes, wainscoting seems to exist in just about every room. The same is true even in many apartment buildings and condos.
All that being said, this doesn't mean that it's always used well or incorporated into interior design in an effective or aesthetically pleasing way. For that reason, we've put together the 34 most inspired wainscoting ideas that you'll love to use in your own home.
Take a look at these Wainscoting Designs and let us know which ones you like best. There's definitely something for everyone!
#1 — Classic White Cottage Wainscoting Ideas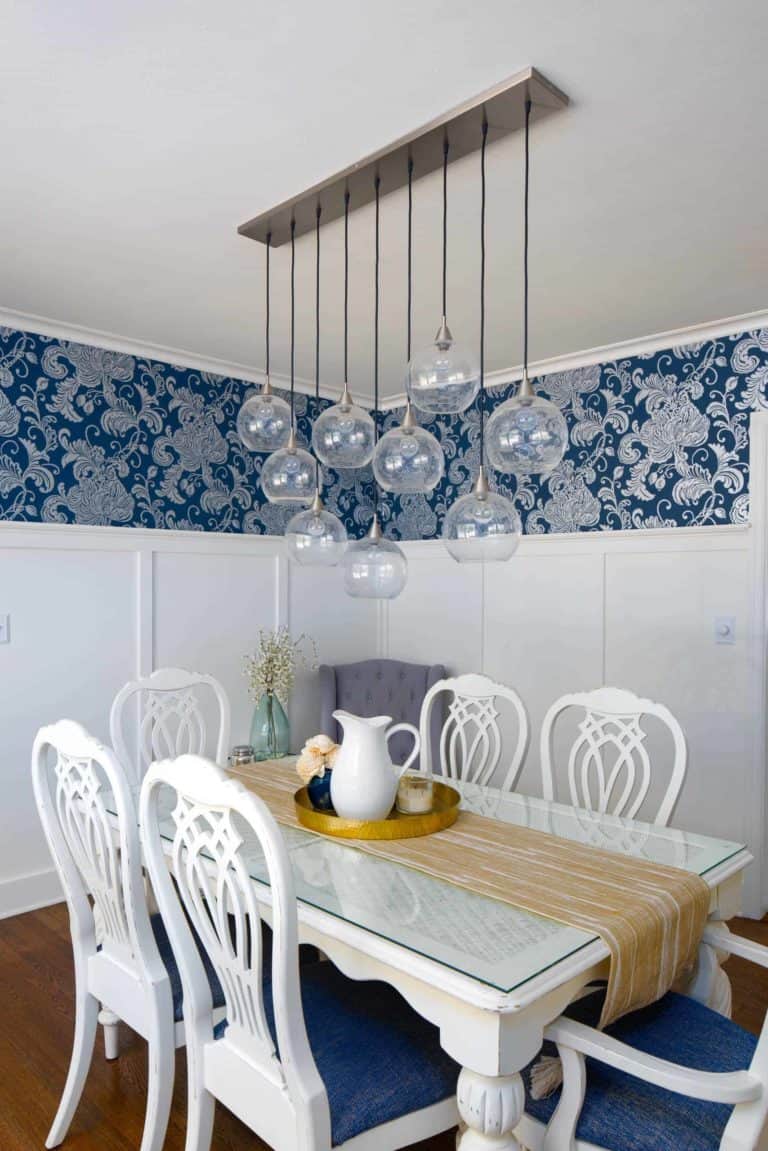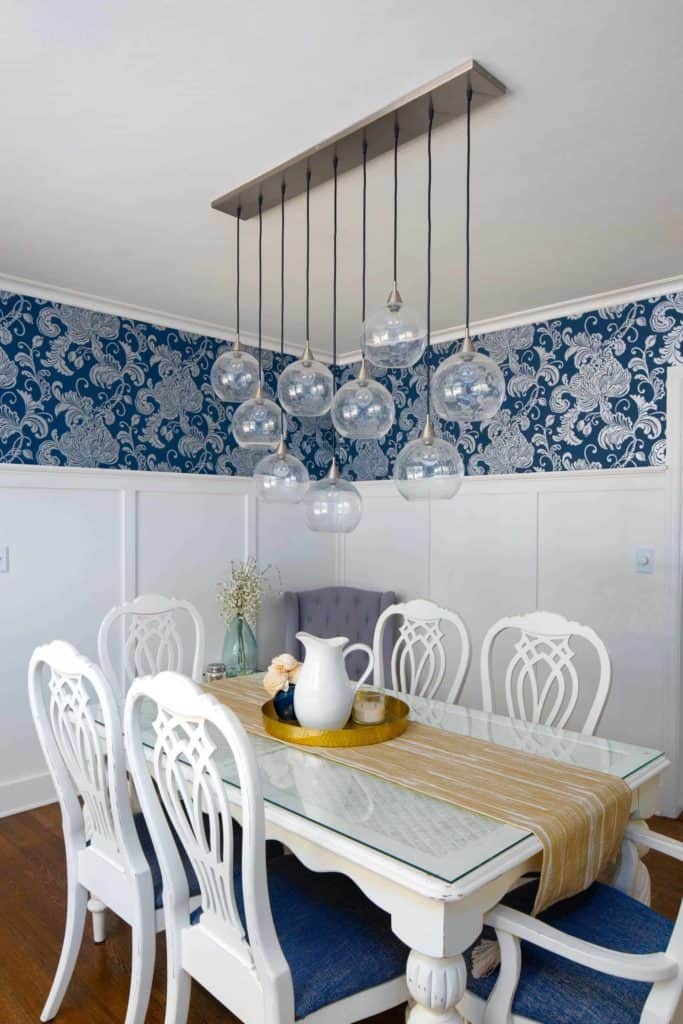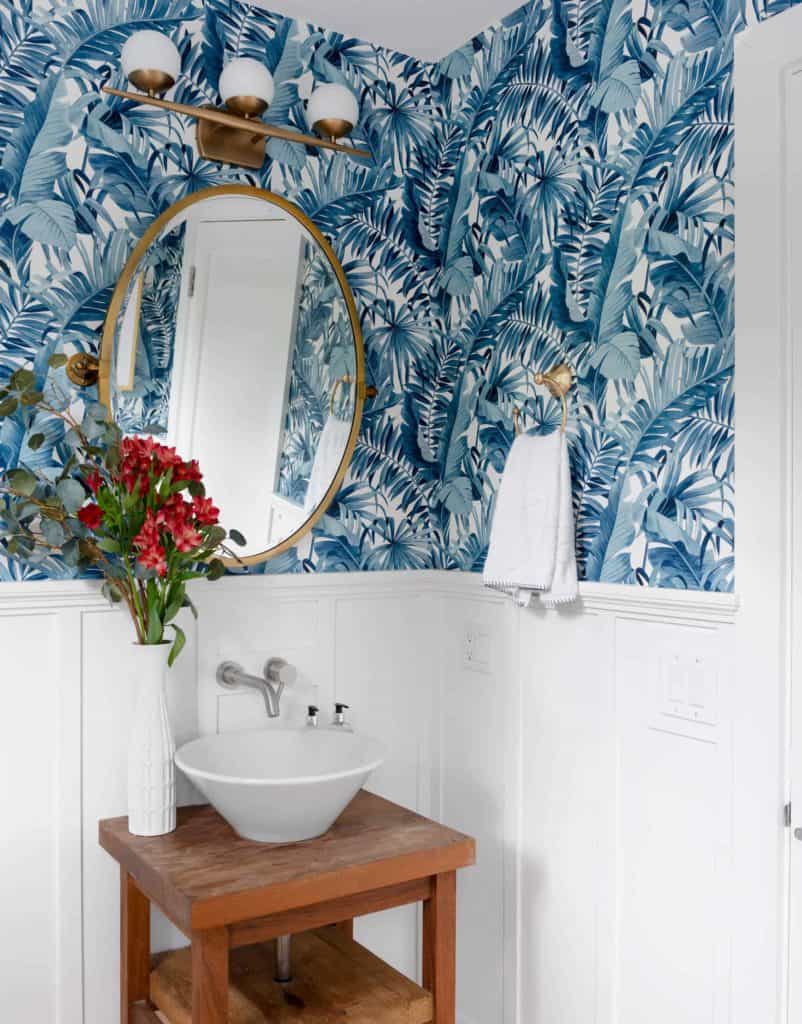 Create a timeless look with simple white wainscoting around the walls of your dining room or kitchen nook. This effortless paneling style easily complements nearly any style you want to achieve.
#2 — Tall Panel Wainscoting Ideas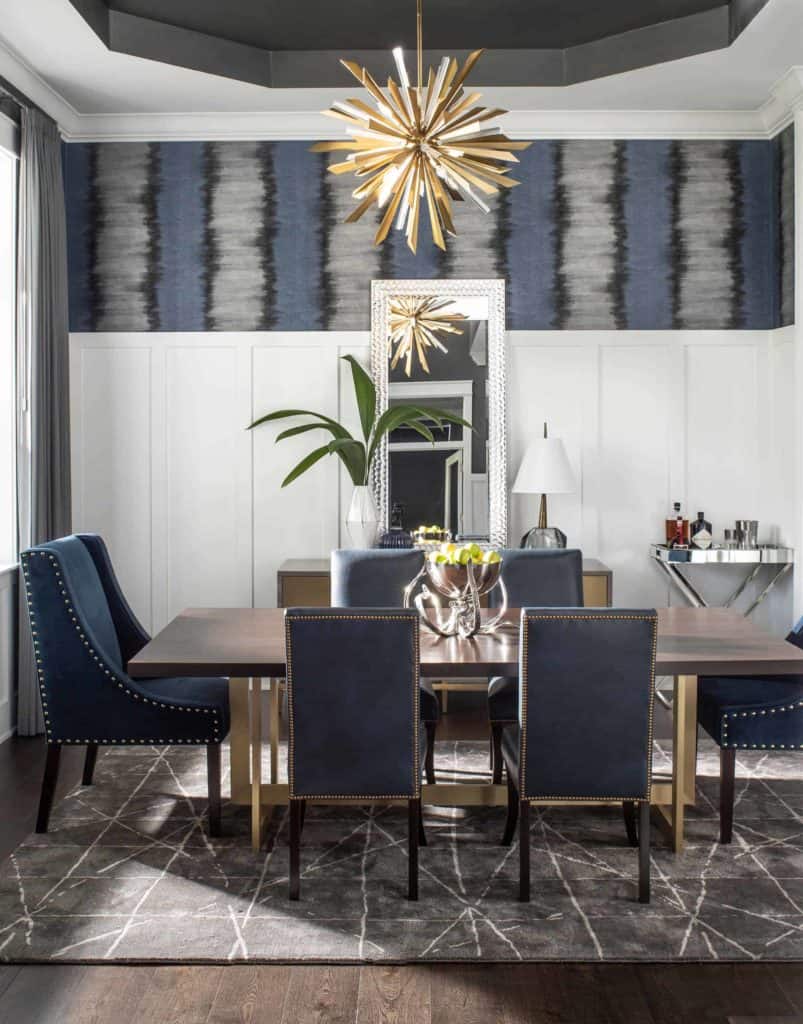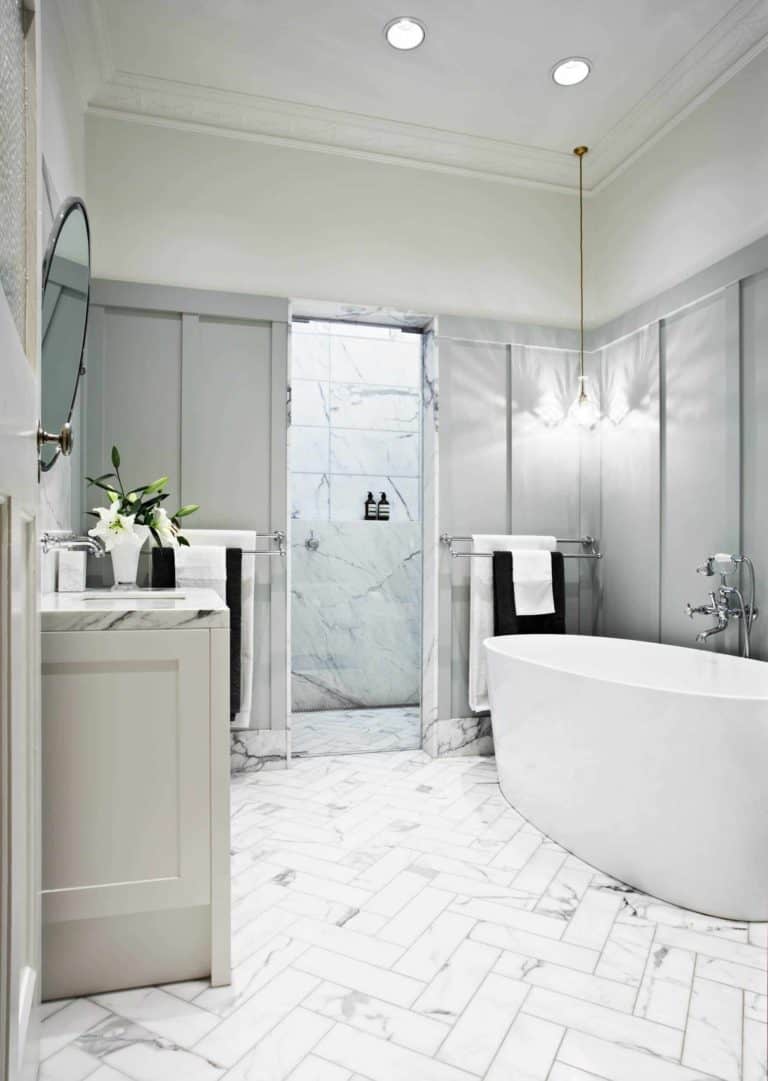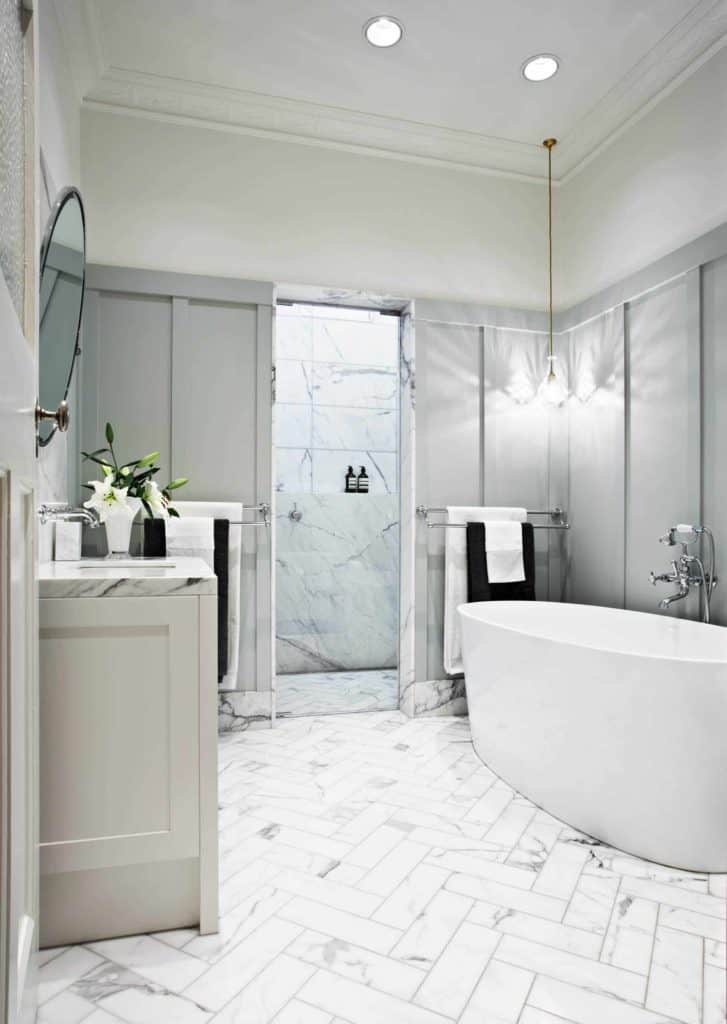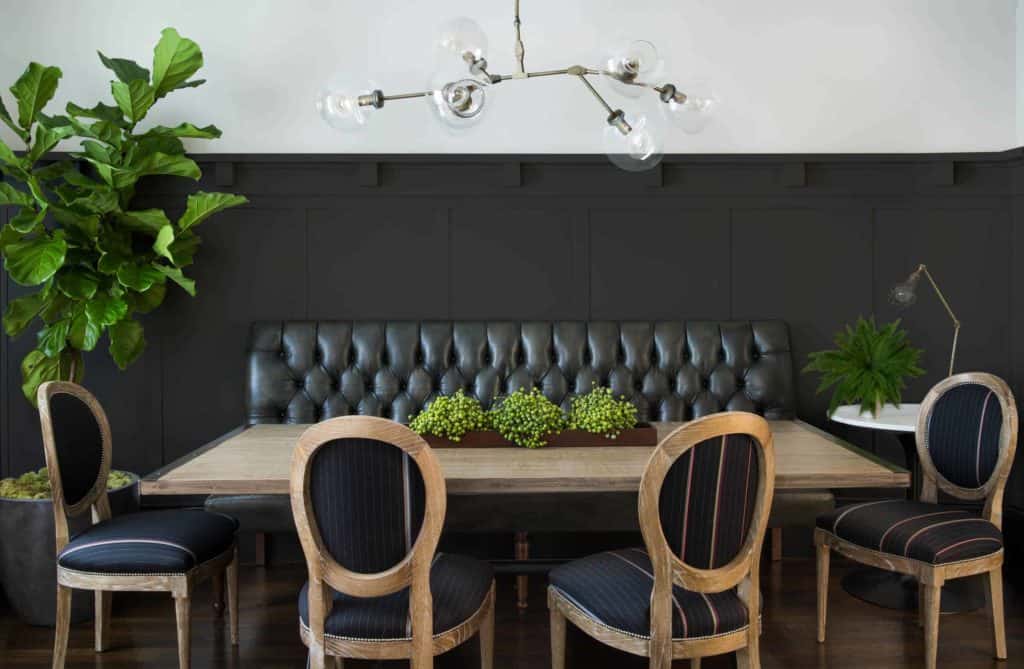 If your room has high or lofted ceilings, extra tall wainscoting panels can dress the walls and bring attention to the beauty of vaulted ceilings with clarity and life, no matter what room you decide to highlight.
#3 — Rustic Green Wall Paneling Idea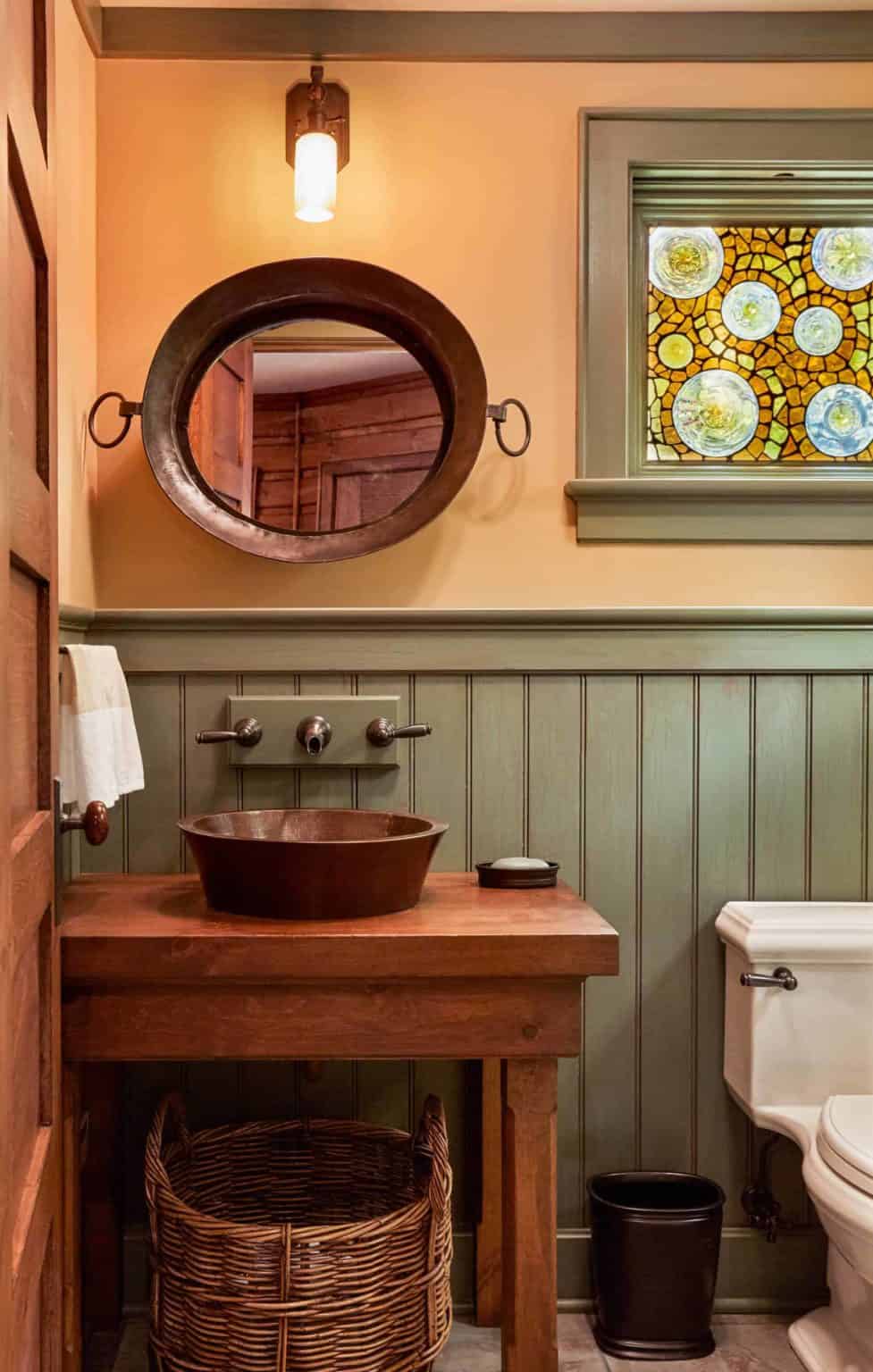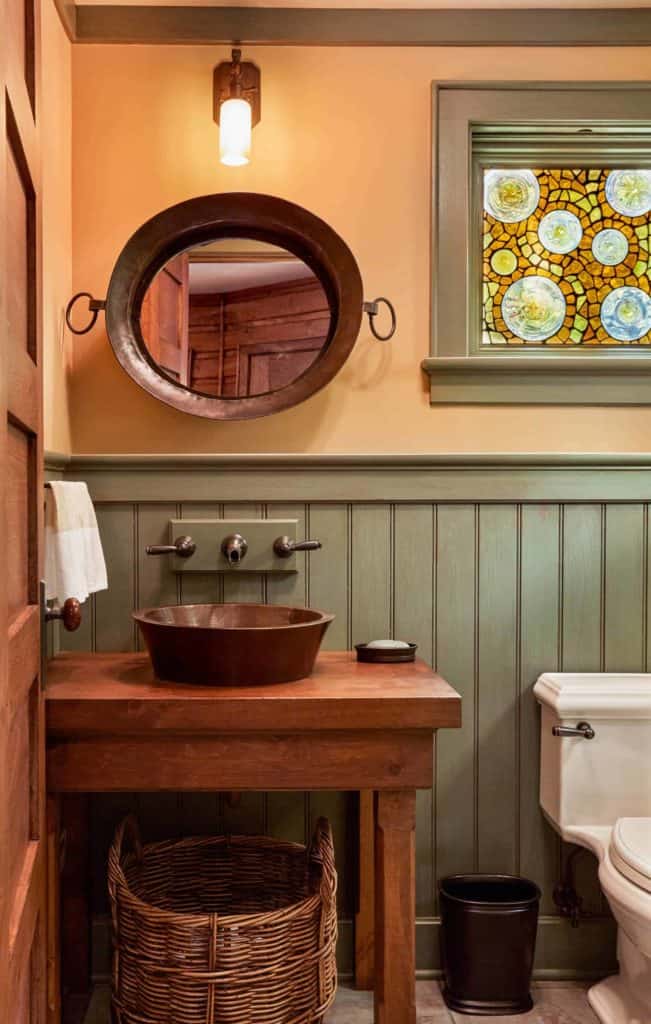 Nothing quite says rustic or provincial like a perfectly weathered green wainscoting adorning your walls. Try this style in your bathroom to give the area a homely and comforting appearance.
#4 — Industrial Chic Wainscoting Idea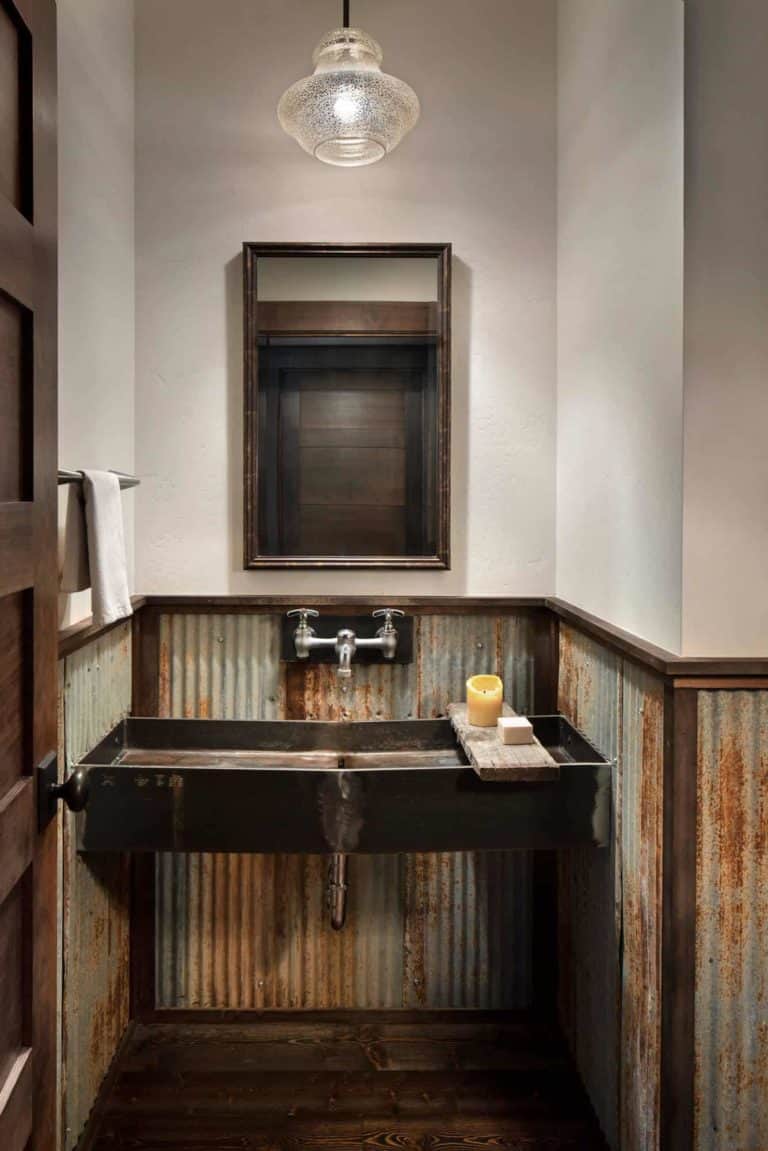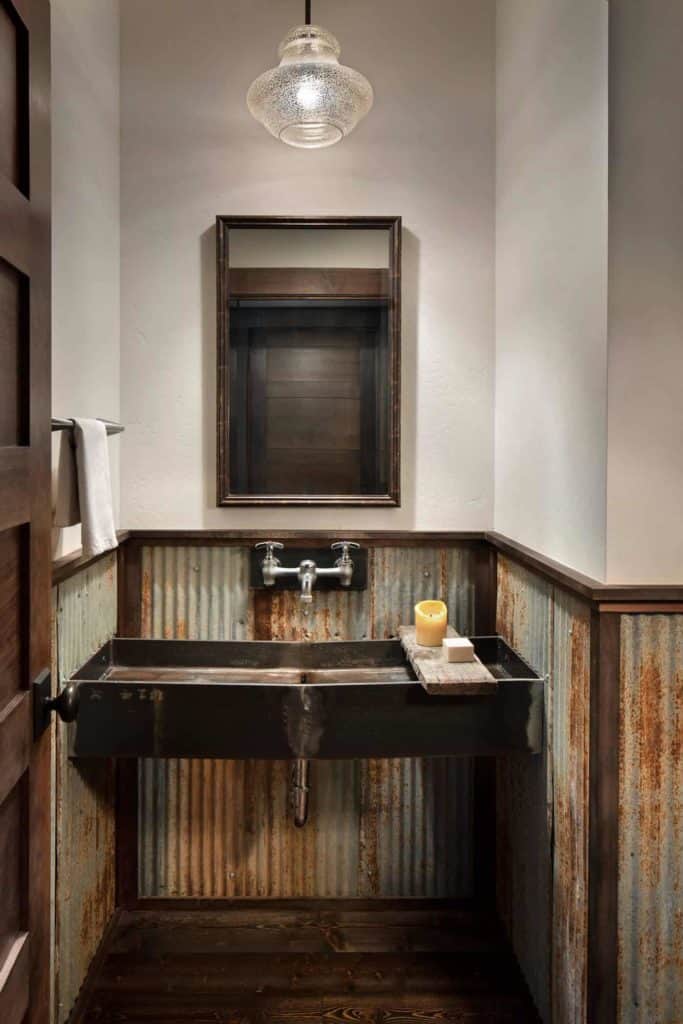 Keep in mind that not all wainscoting needs to be made of wood. One particular replacement material comes by way of metal, especially in the form of repurposed or distressed aluminum.
#5 — Oblique Lines in Relief Ideas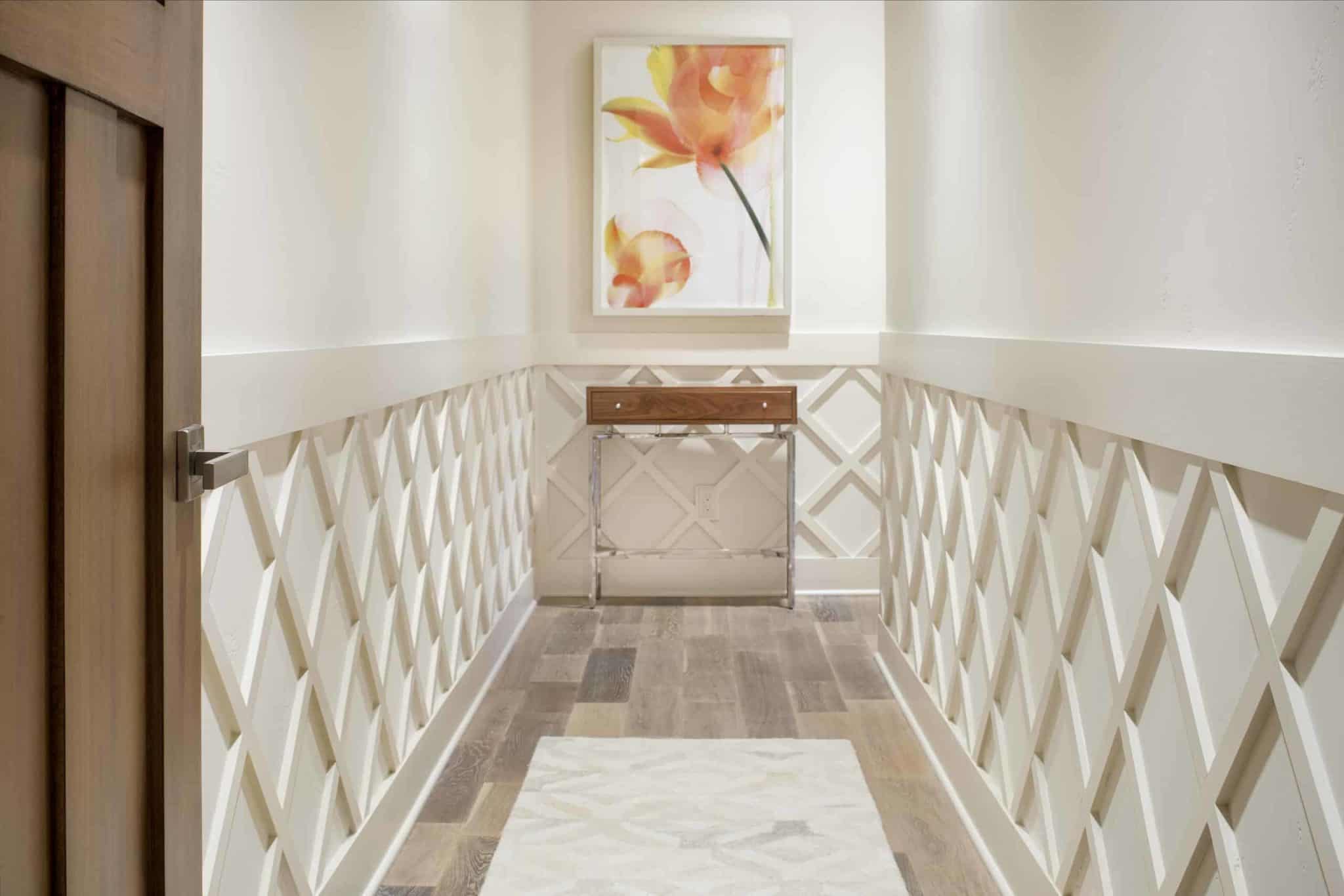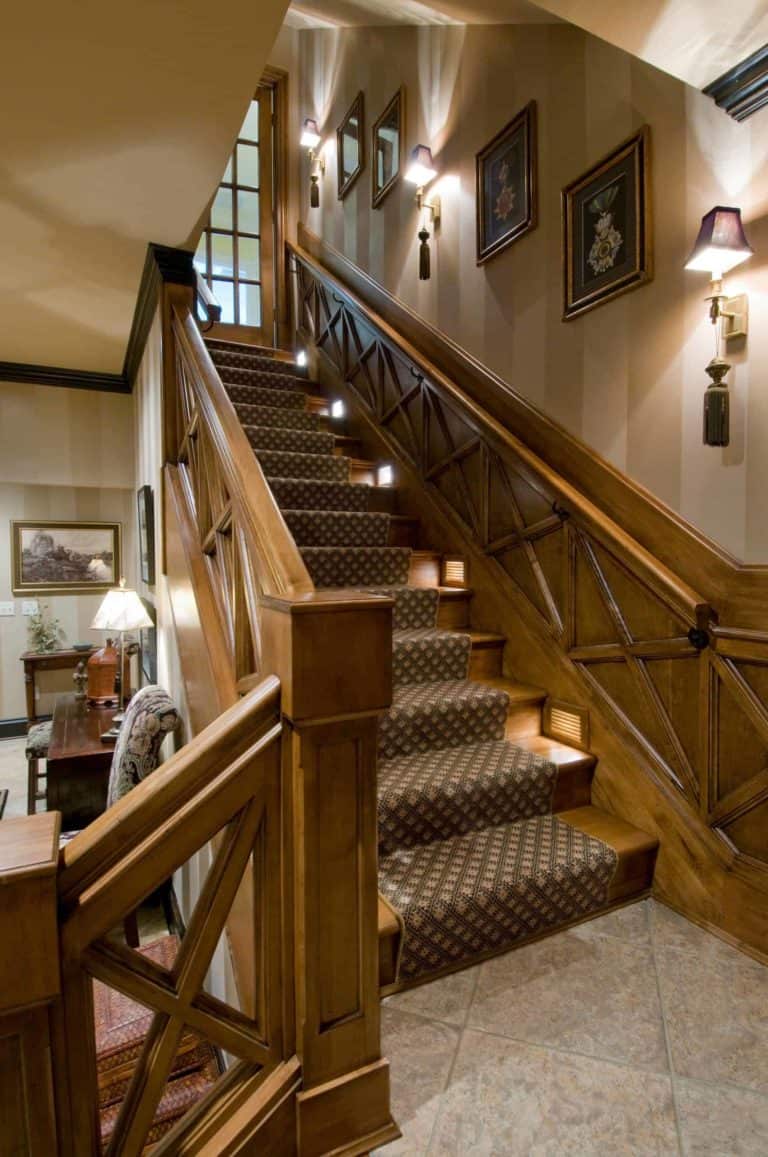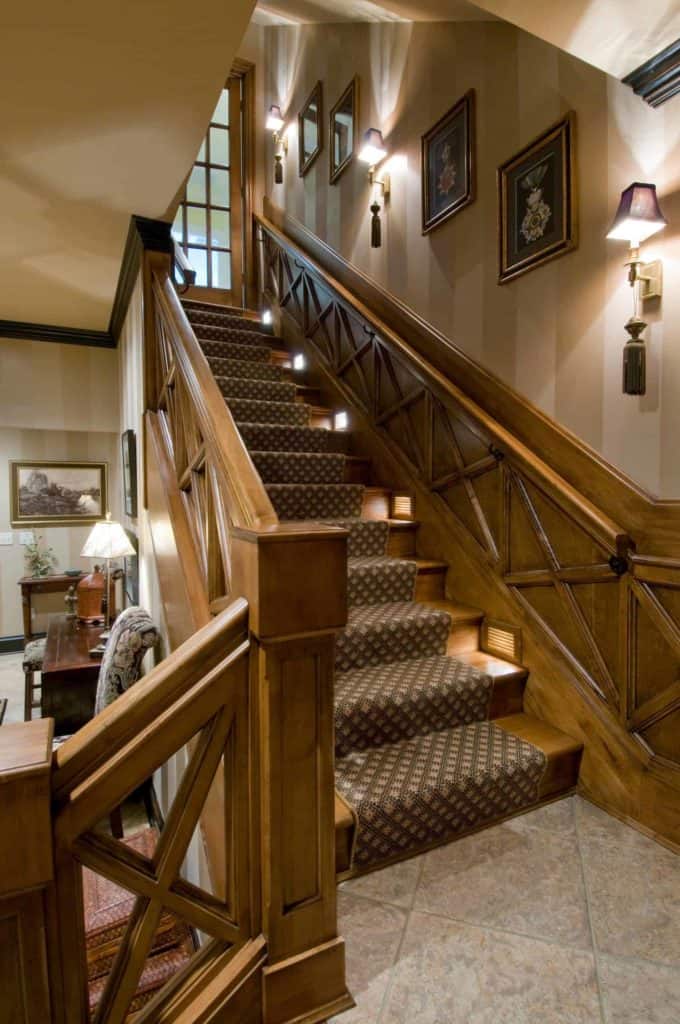 To bring the walls into focus without calling too much attention to them, you can craft plain white criss-crossing lines that intersect in a repeating pattern. This look works incredibly well in long hallways or along stairs that need a bit of panache.
#6 — Chevron Panel Wainscoting Ideas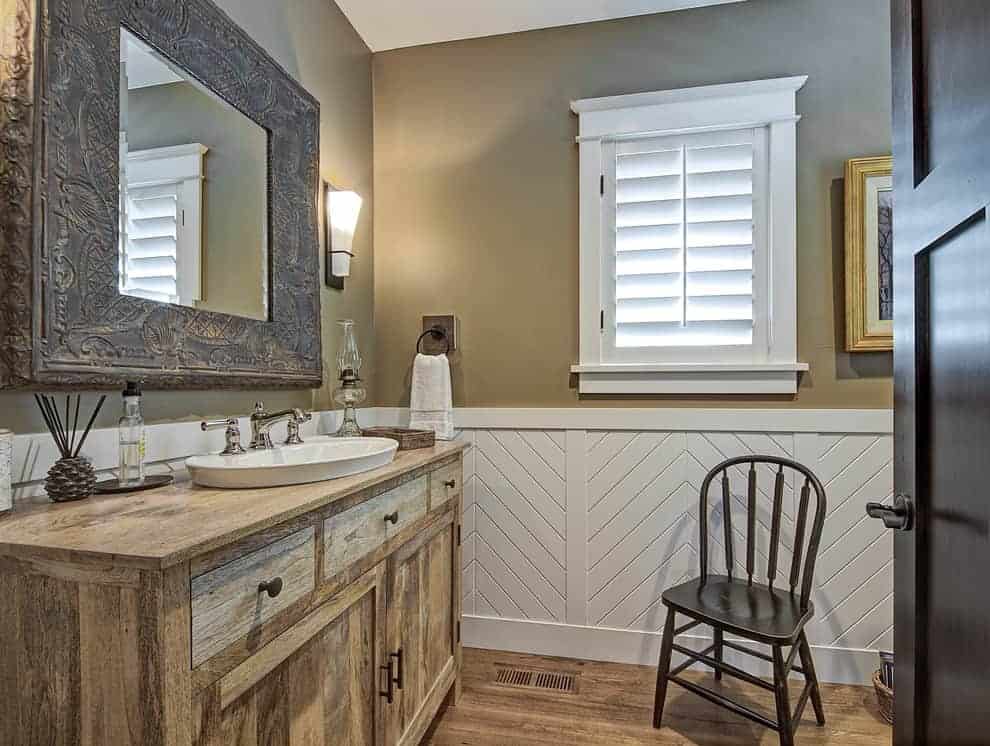 If the look you're after calls for simplicity, but you also want to achieve a bit of intrigue, employ a simple chevron pattern (with or without a bifurcating line). While seemingly straightforward, this design creates movement while simultaneously drawing the eye around the room.
#7 — Art Deco Inspired Wainscoting Ideas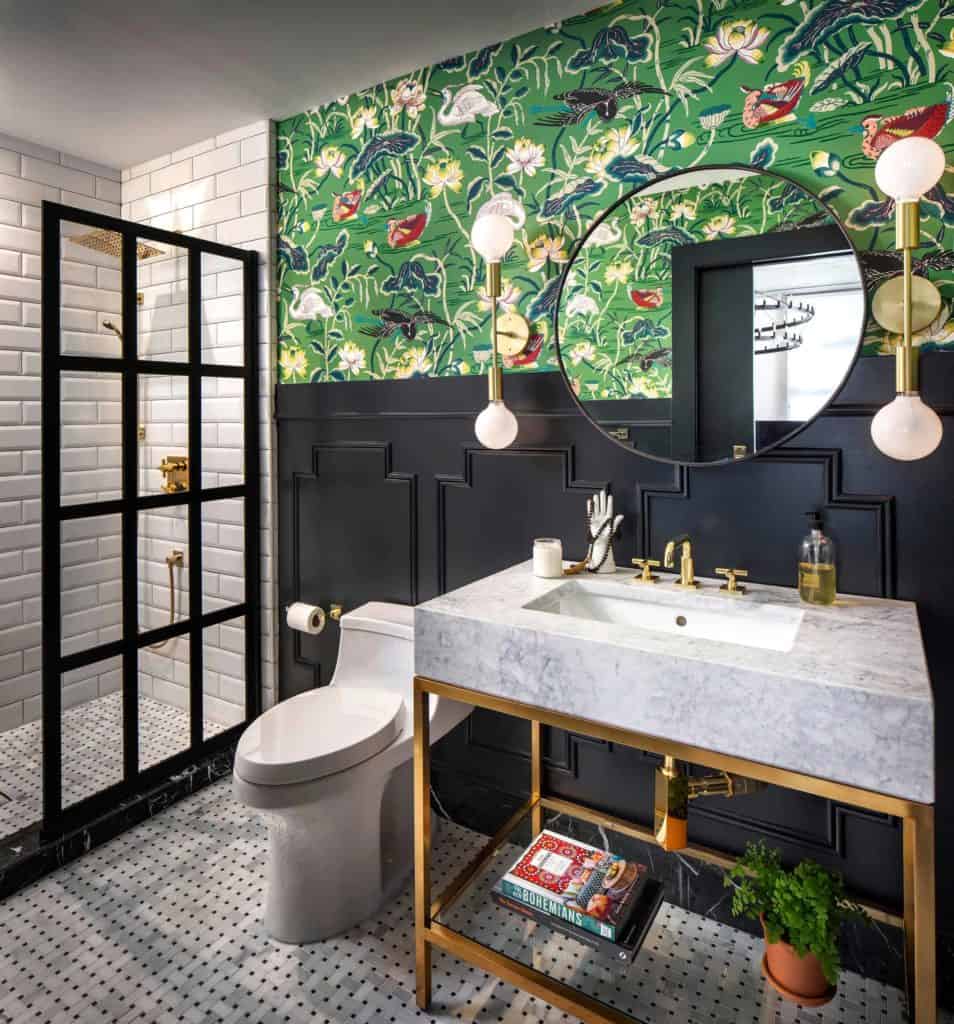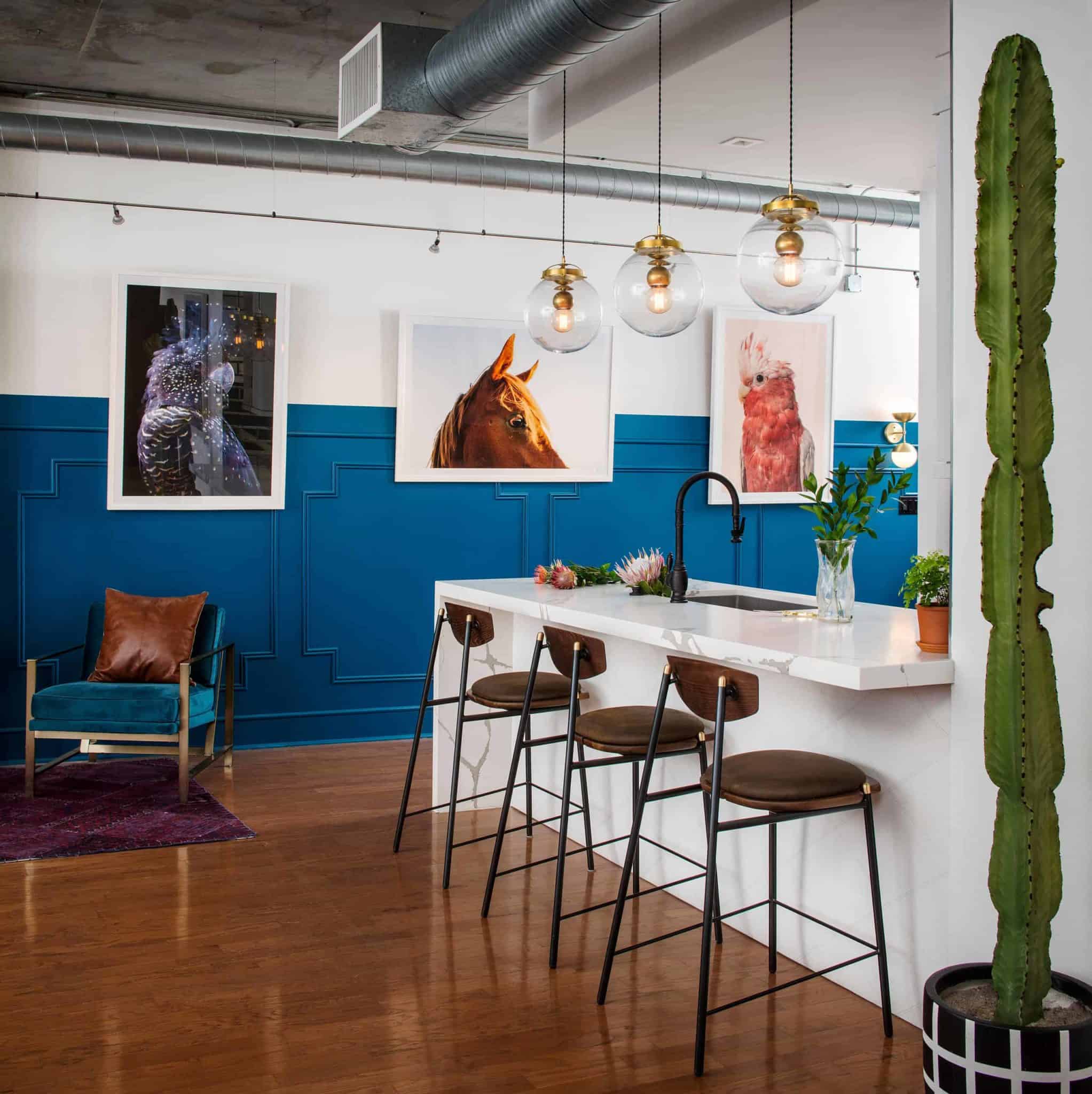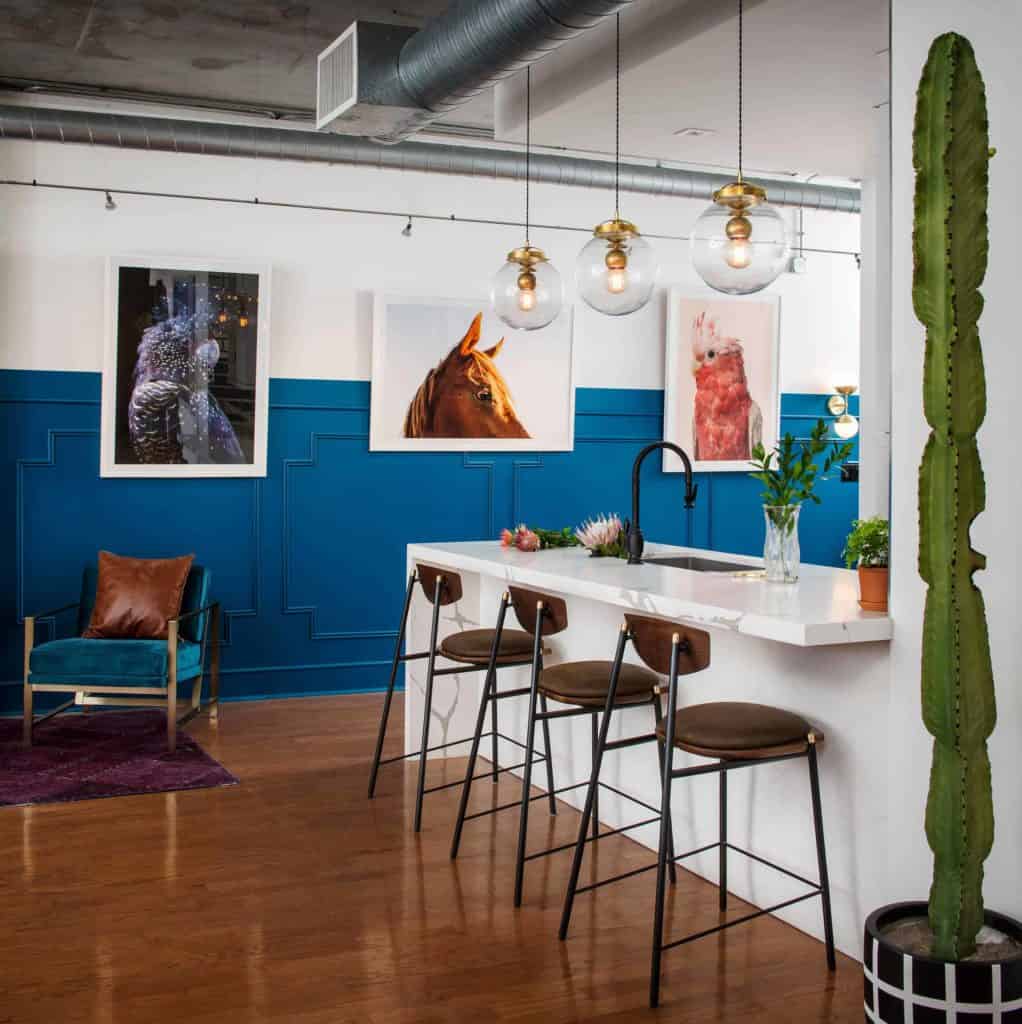 While many homeowners opt for white, other colors can be just as striking, if not more so in the right circumstances. In an art deco-inspired space, install wainscoting with raised geometric patterns to complement any environment, be it a bathroom or finished basement.
#8 — Faded Rustic Chic Paneling Idea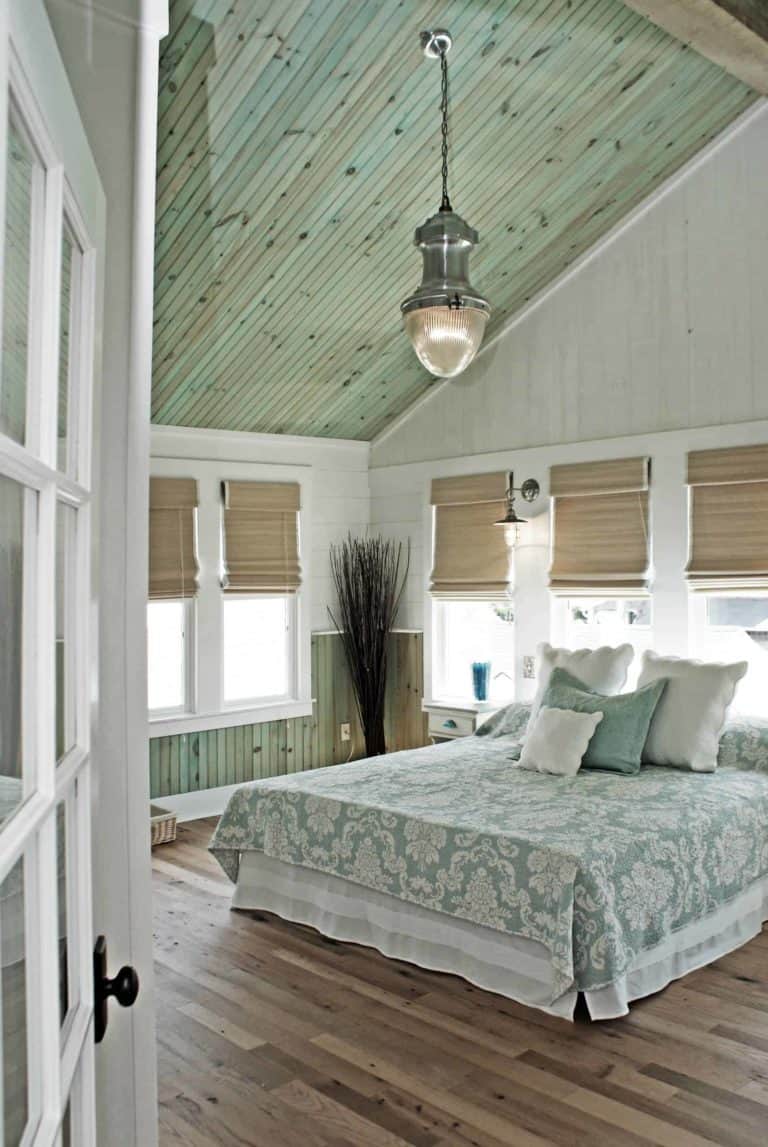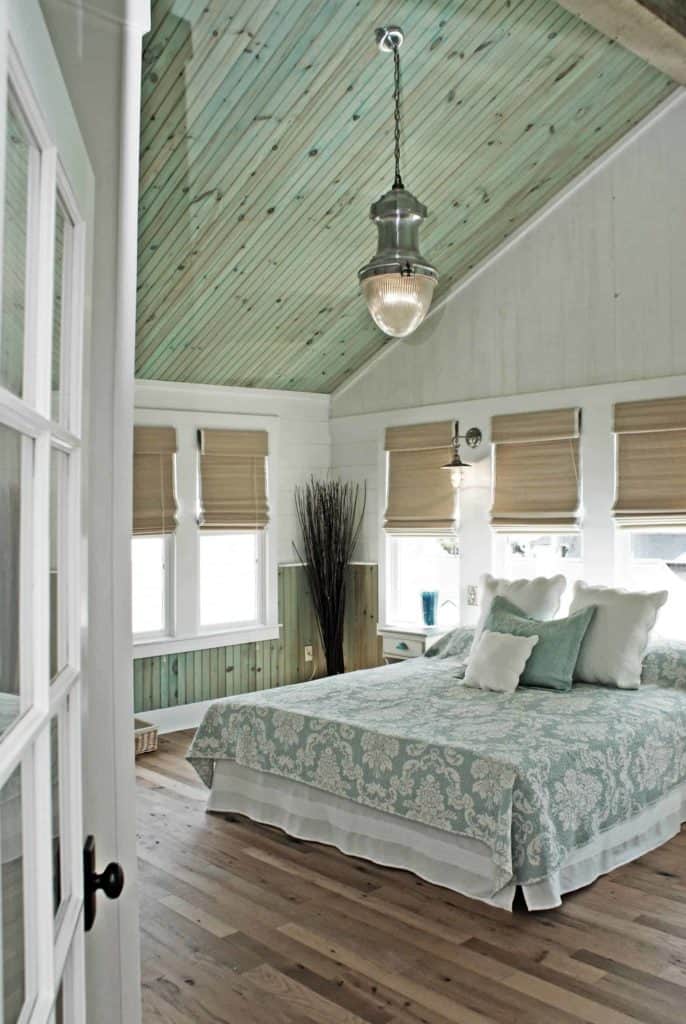 In some instances, you can match the ceiling with the wainscoting to tie the whole room together and build a cohesive appearance throughout. This works particularly well for looks specific to a certain design aesthetic, such as a mix of rustic and chic wooden elements.
#9 — Mahogany Wood Wainscoting Ideas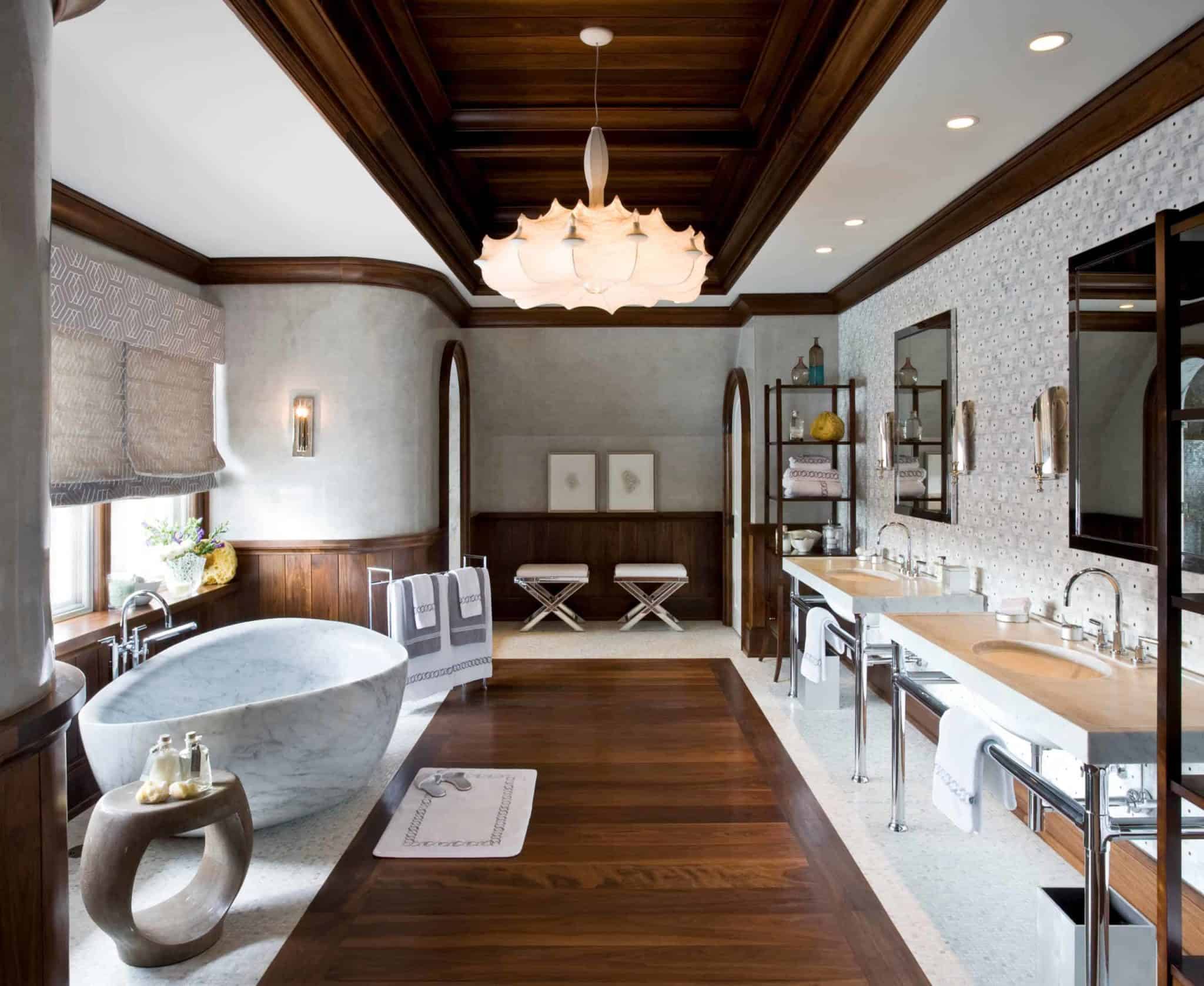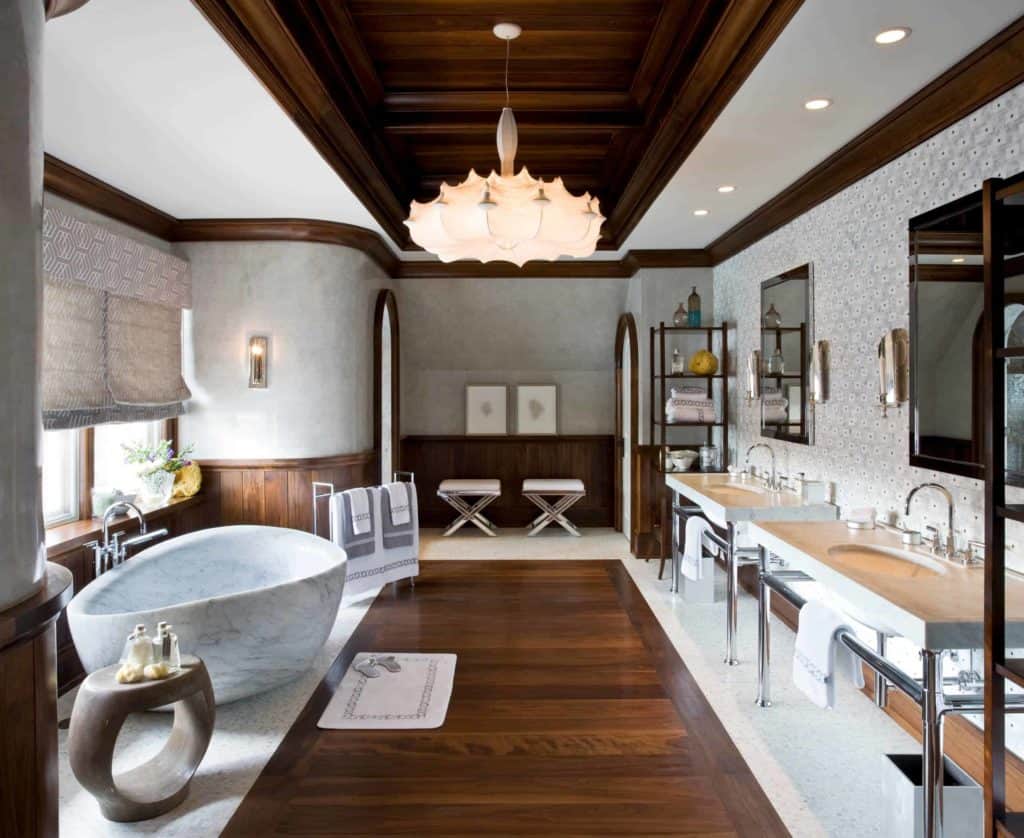 If, like Ron Burgundy, you're the type to have a library filled with many leather-bound books, then consider adding to the sense of sophistication with mahogany wood wainscoting. Use curves instead of right-angles to really drive home the look and feel you want.
#10 — Nursery Room Wainscoting with Wallpaper Print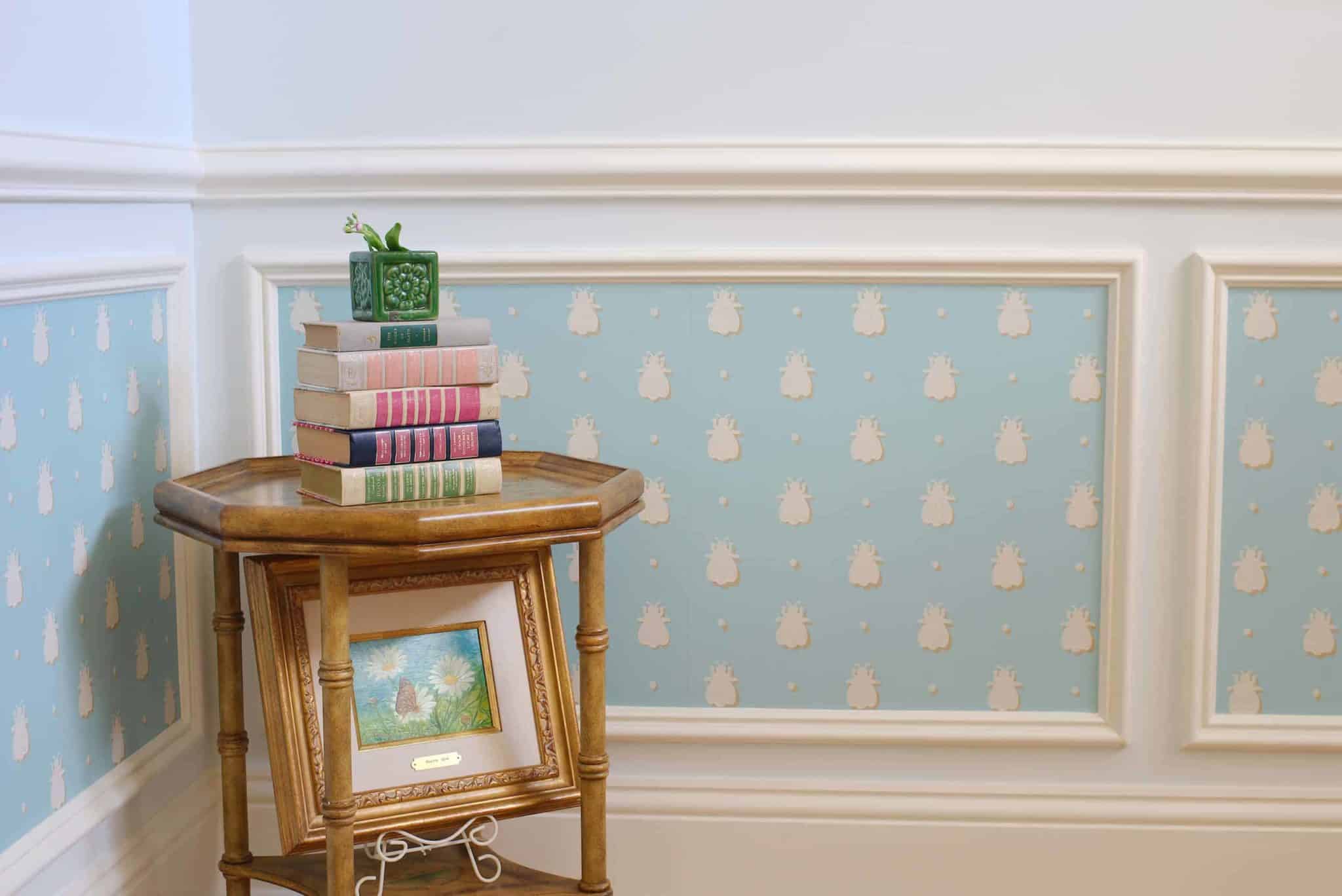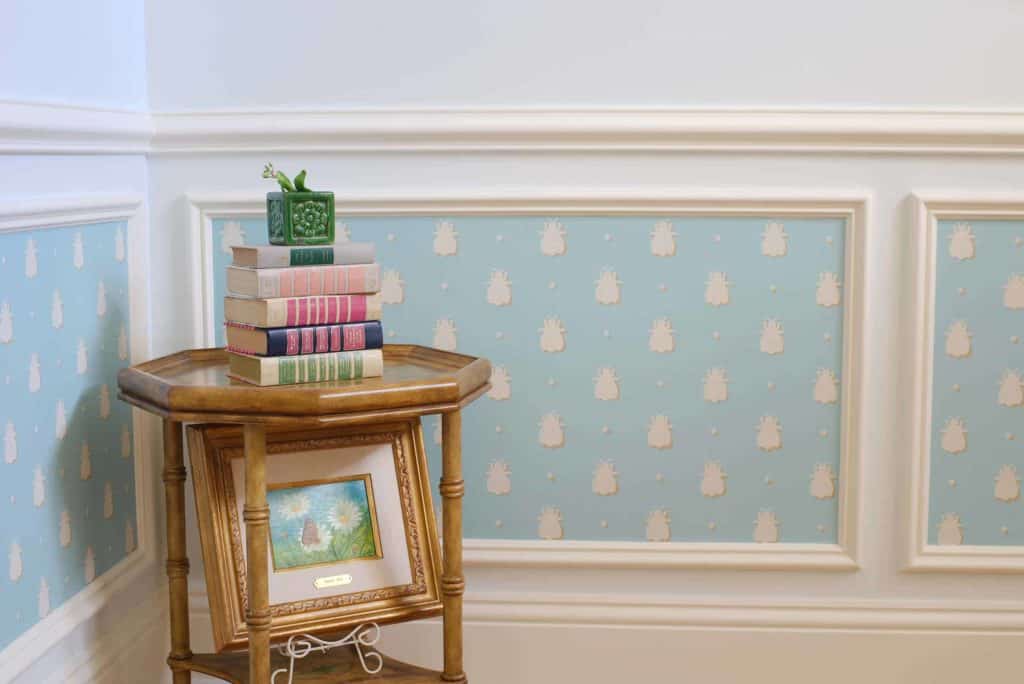 Some people might think that a room can either have wallpaper or wainscoting, but not both. This couldn't be further from the truth. In any room that needs a little extra pizzazz, craft rectangular shapes within the paneling and install wallpaper within those "frames". While this idea goes for nurseries, it can bring life to virtually any space.
#11 — Regal Powder Room Paneling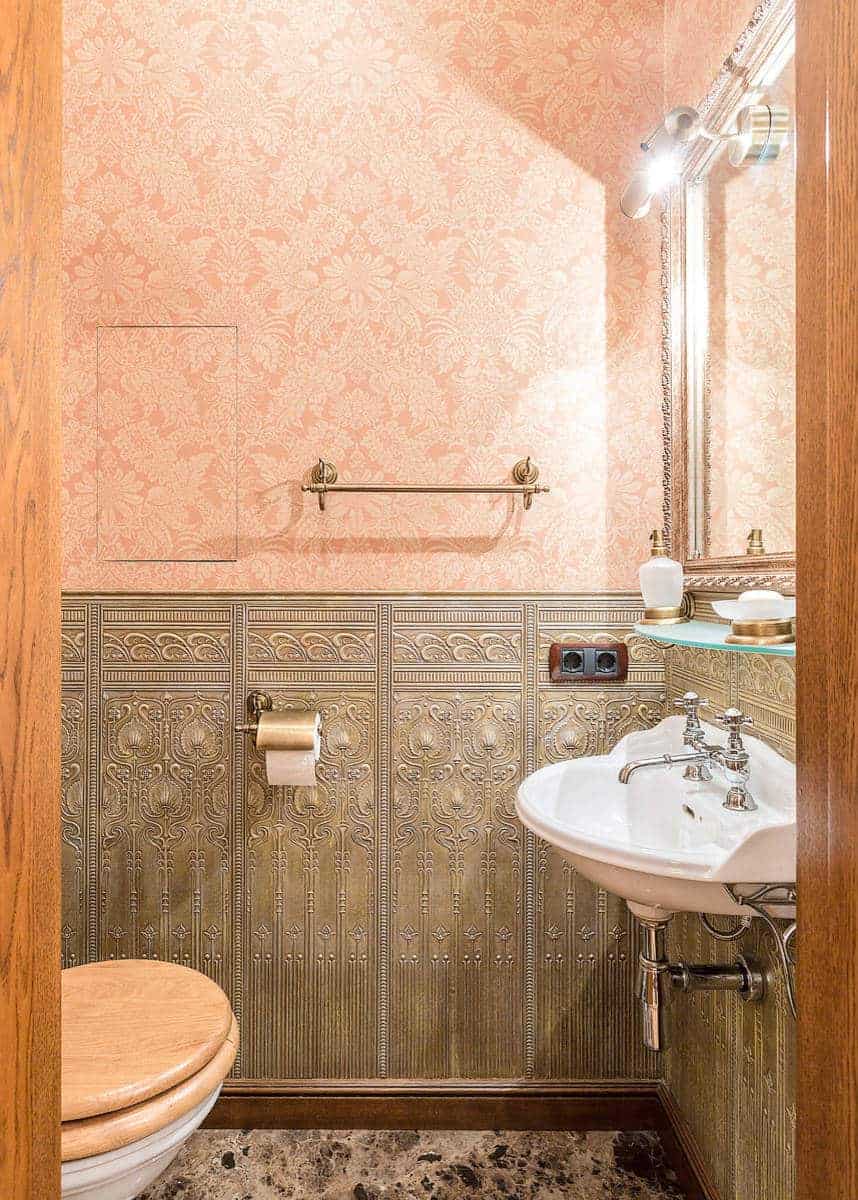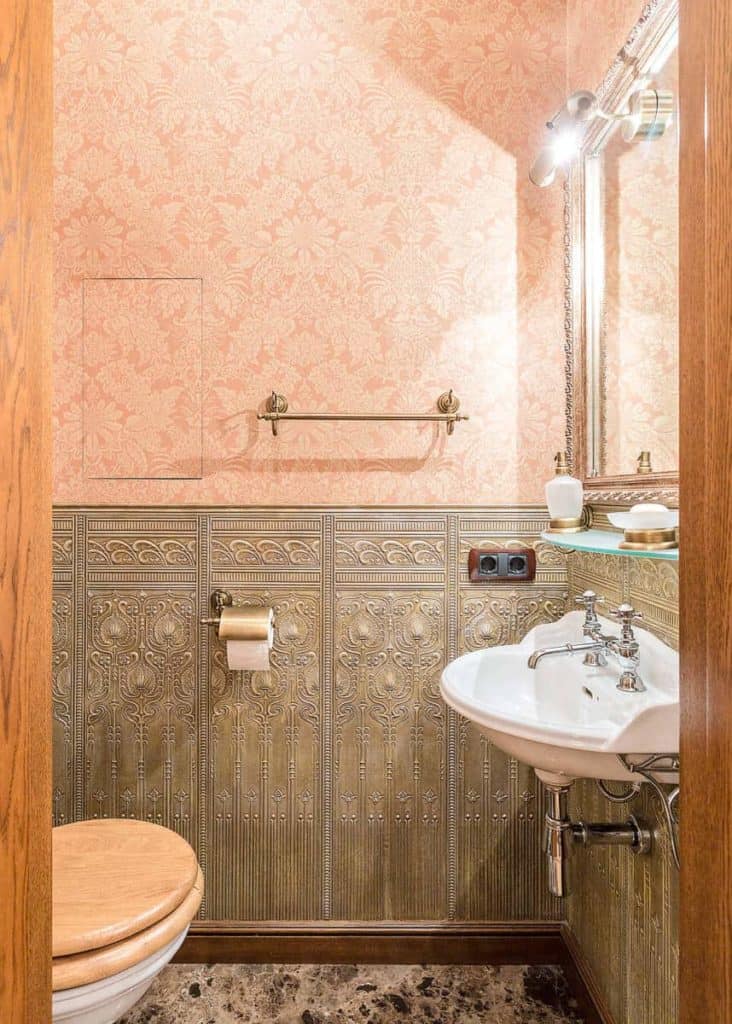 Wainscoting is remarkably versatile, as is evidenced by its use in practically any style, including more opulent looks like this one. Shapes, spirals, and other patterns create mystique and intrigue throughout the room, especially in smaller spaces like bathrooms or vanity closets.
#12 — Gorgeous White Marble Wainscoting Ideas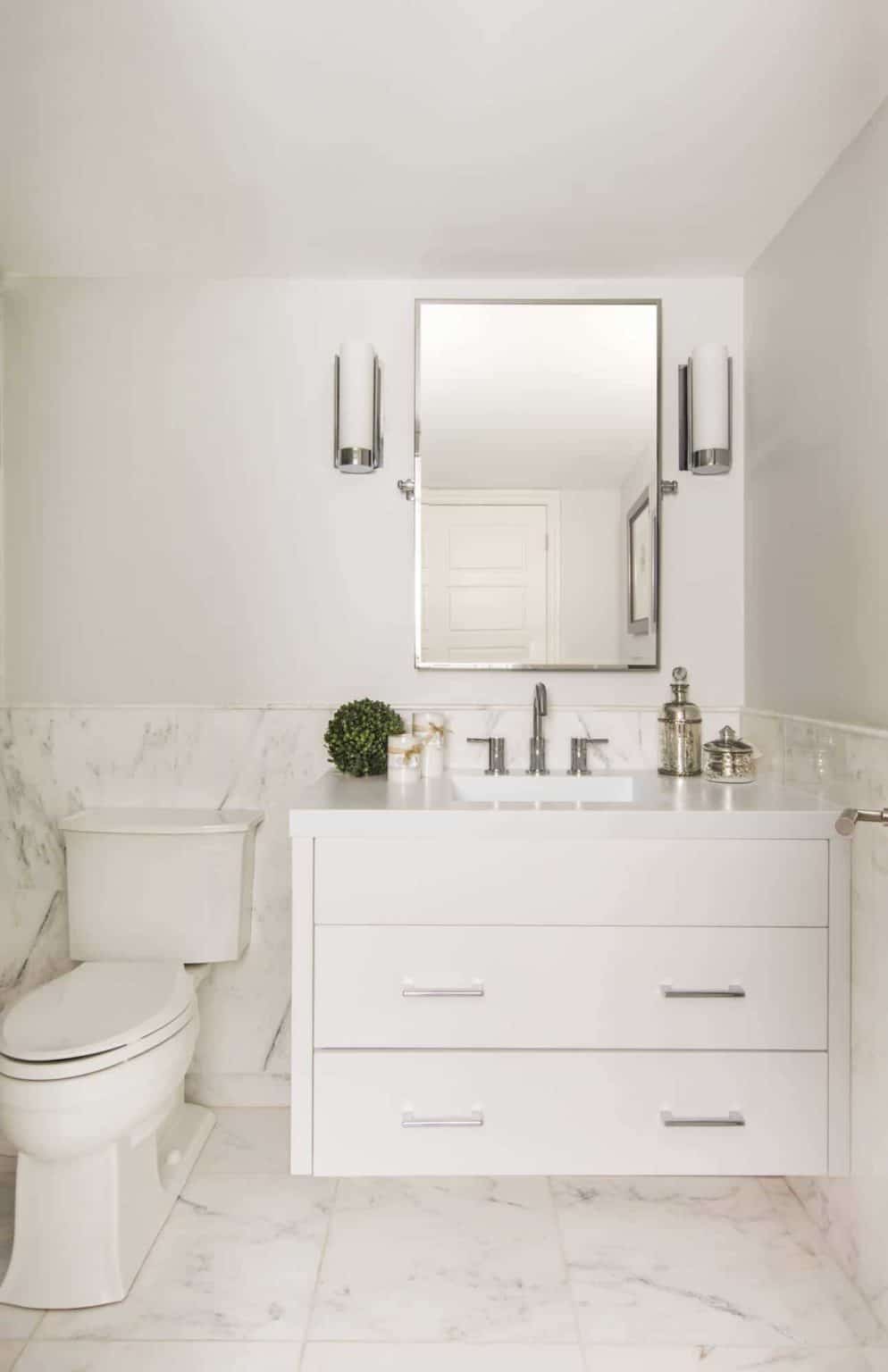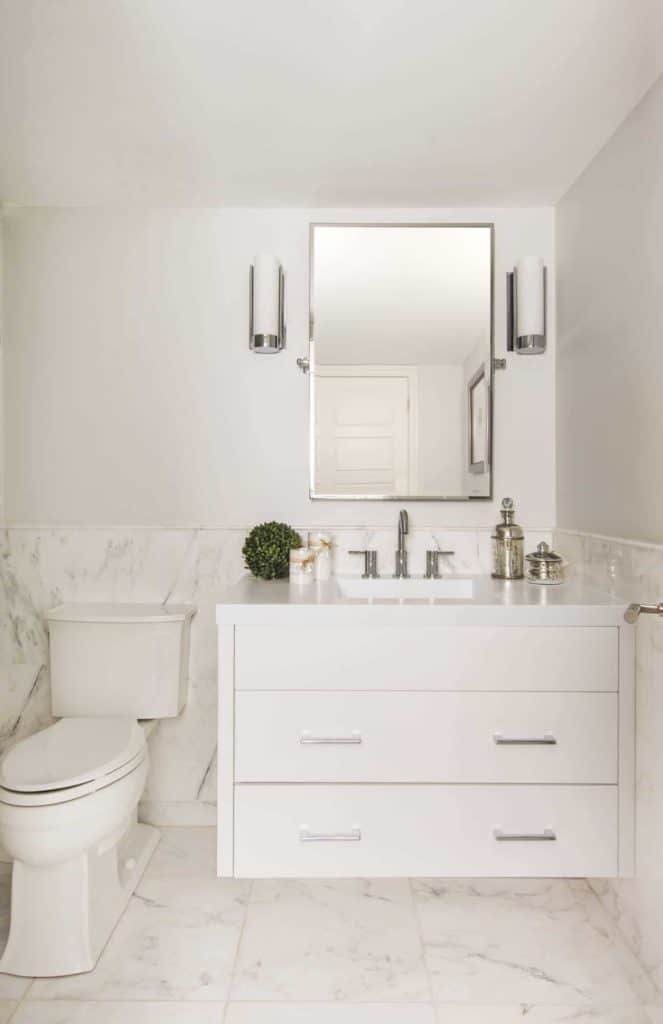 Clear the way for modern luxury! Few things shout elegance quite like marble. To gift your bathroom (or other space) a little more richness, use marble or quartz wainscoting instead of traditional wood. You won't regret it.
#13 — Contemporary Coffee Colored Paneling with Vertical Stripes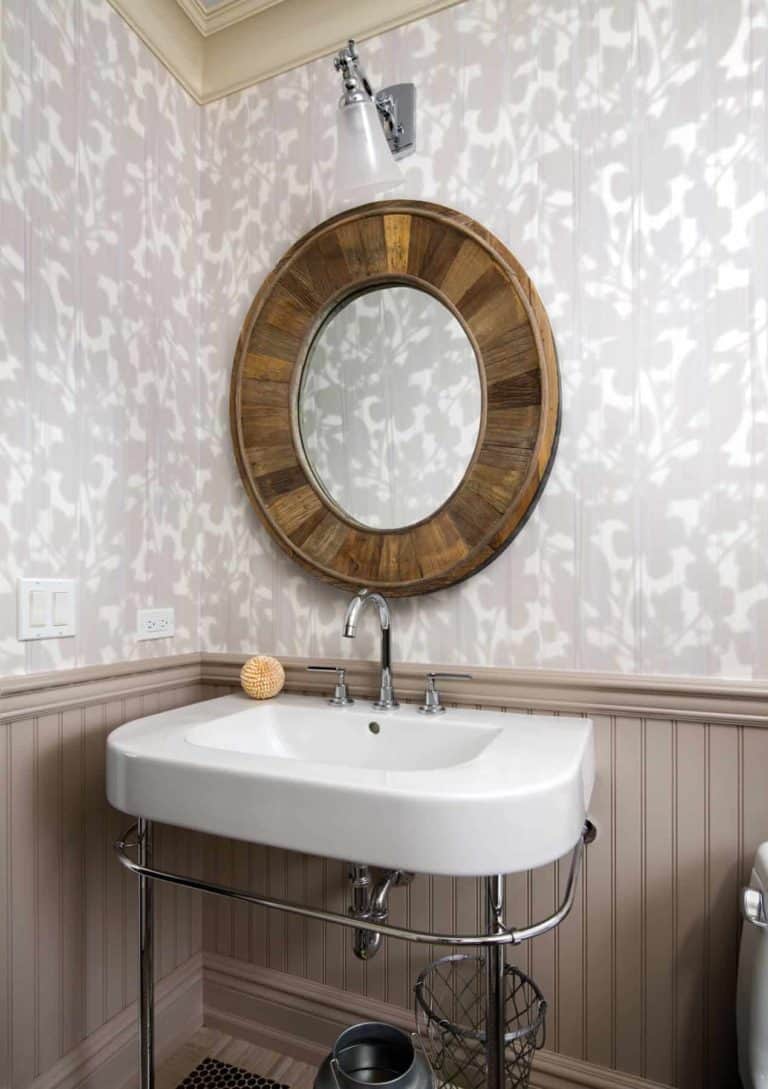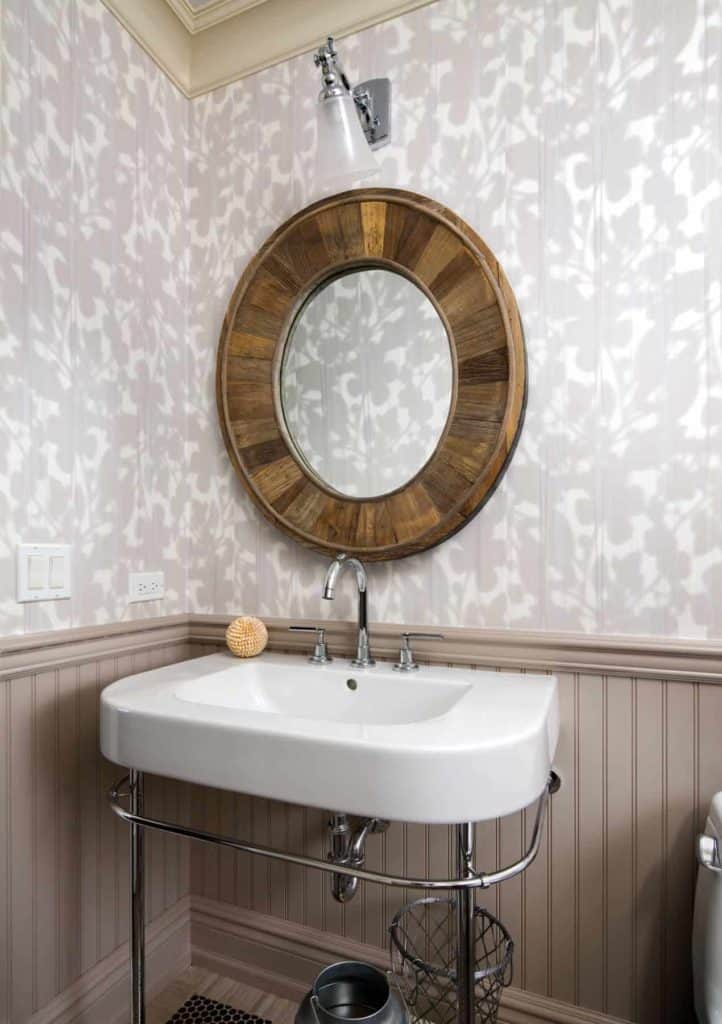 If contemporary is more your speed, don't feel the need to force something extravagant. Instead, use simple, traditional, vertical lines with a bit of beige or coffee coloring to elevate this classic look.
#14 — Wainscoting with Backsplash Idea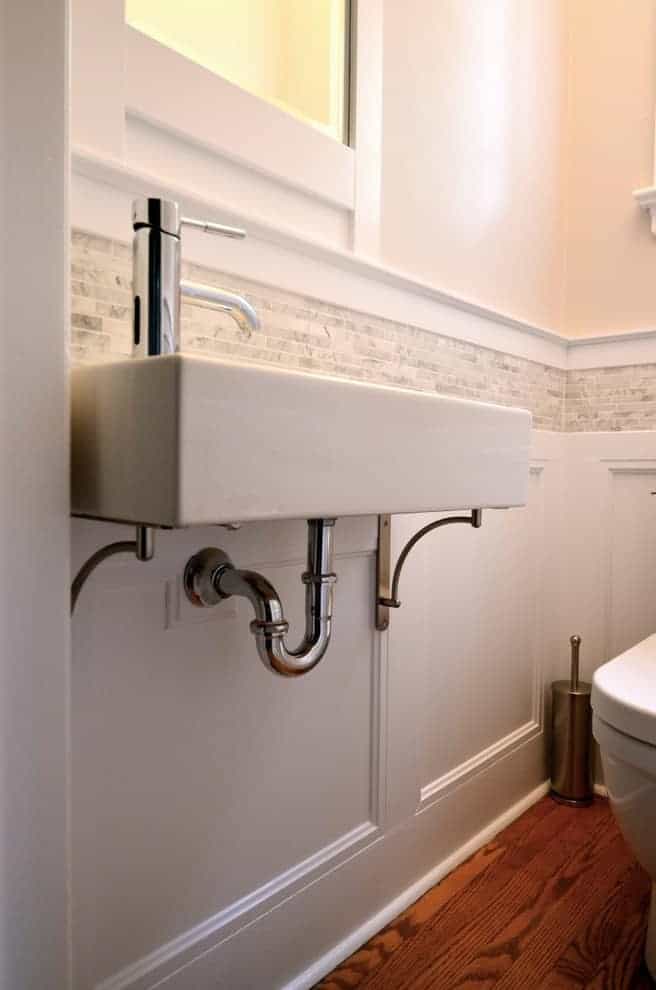 Another misconception about wall paneling comes in the form of mixed materials use (again!). Here, we can see that wainscoting and backsplash can be utilized in the same space without one overpowering the other. On the contrary, they complement one another perfectly.
#15 — French Colonial Wainscoting Ideas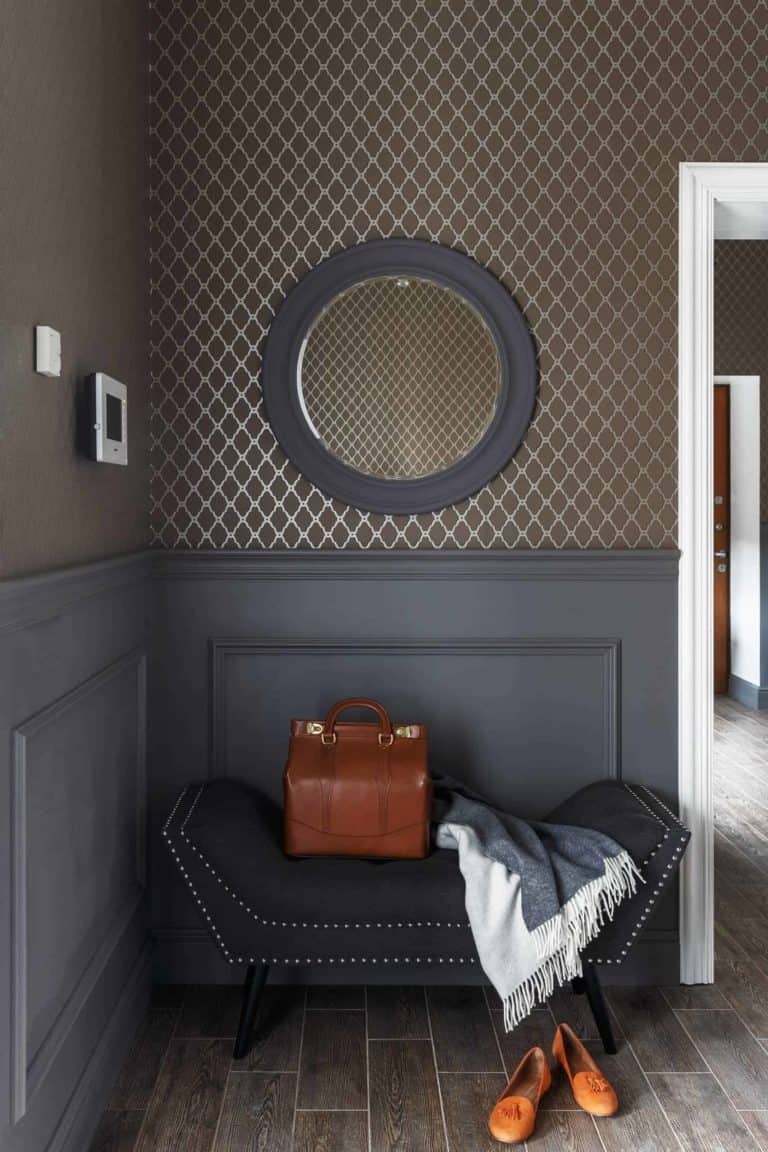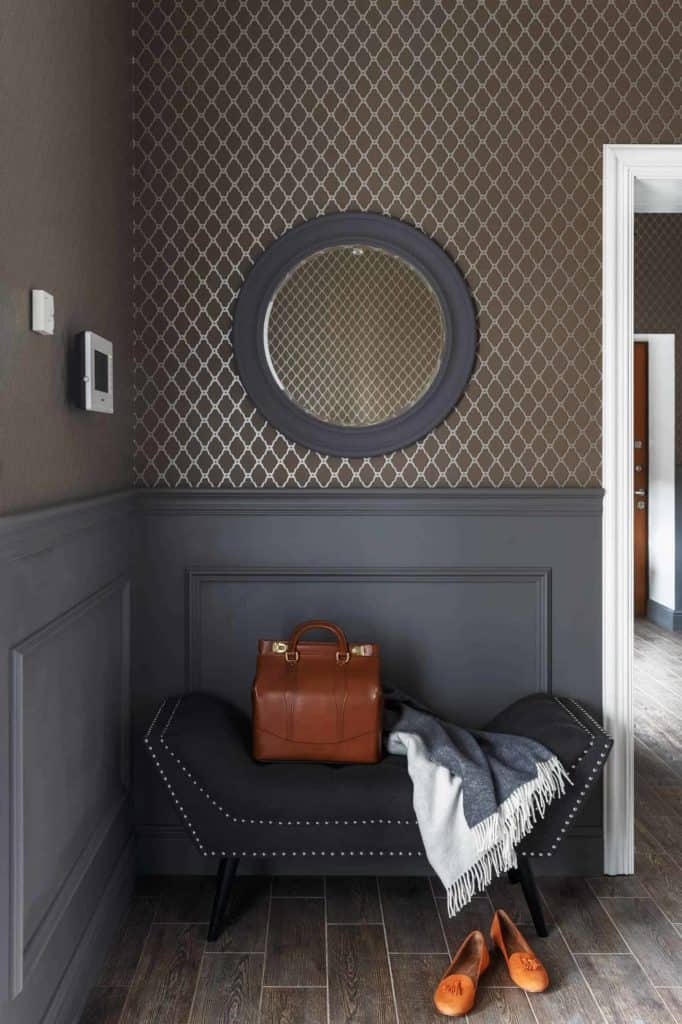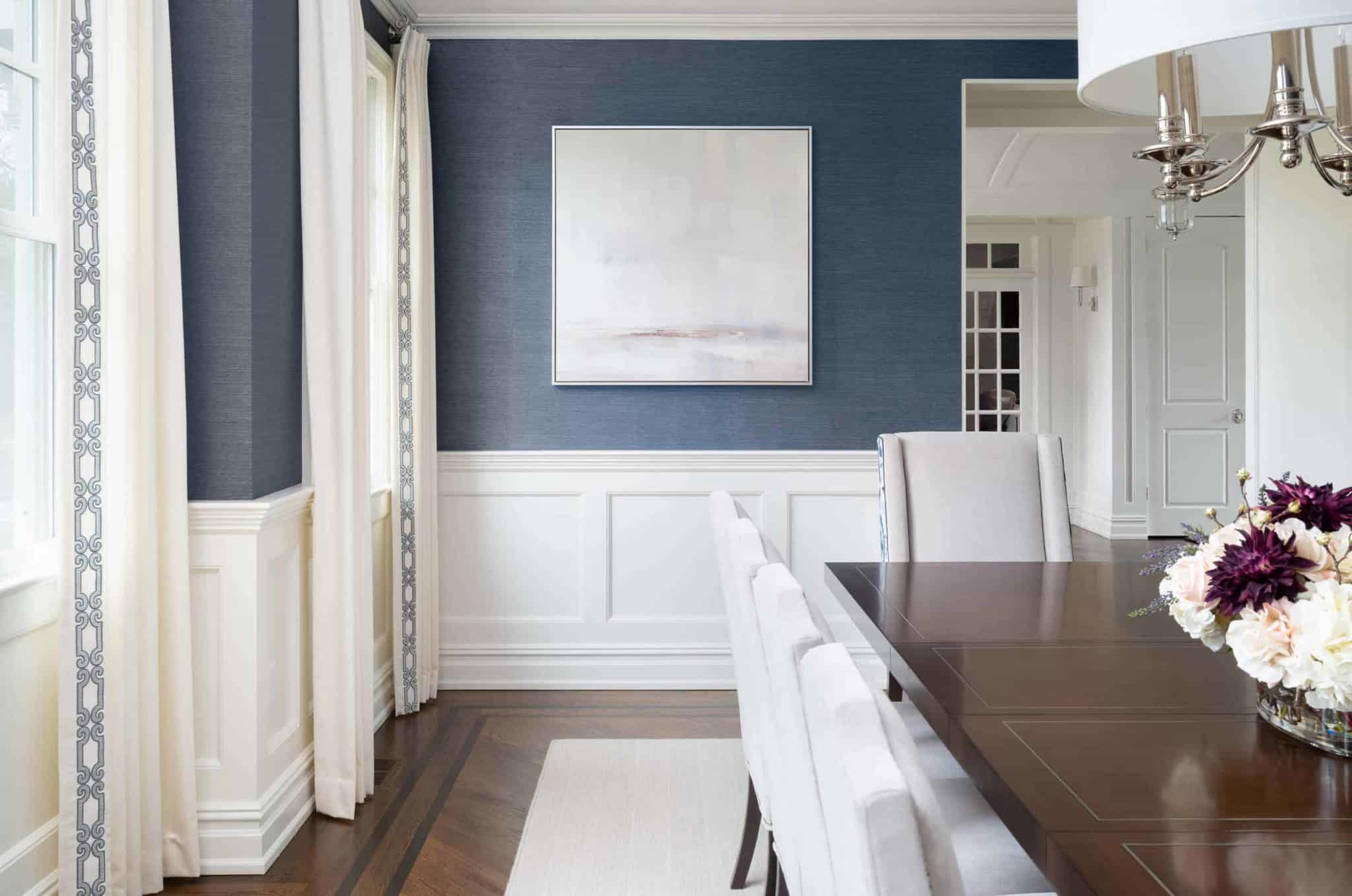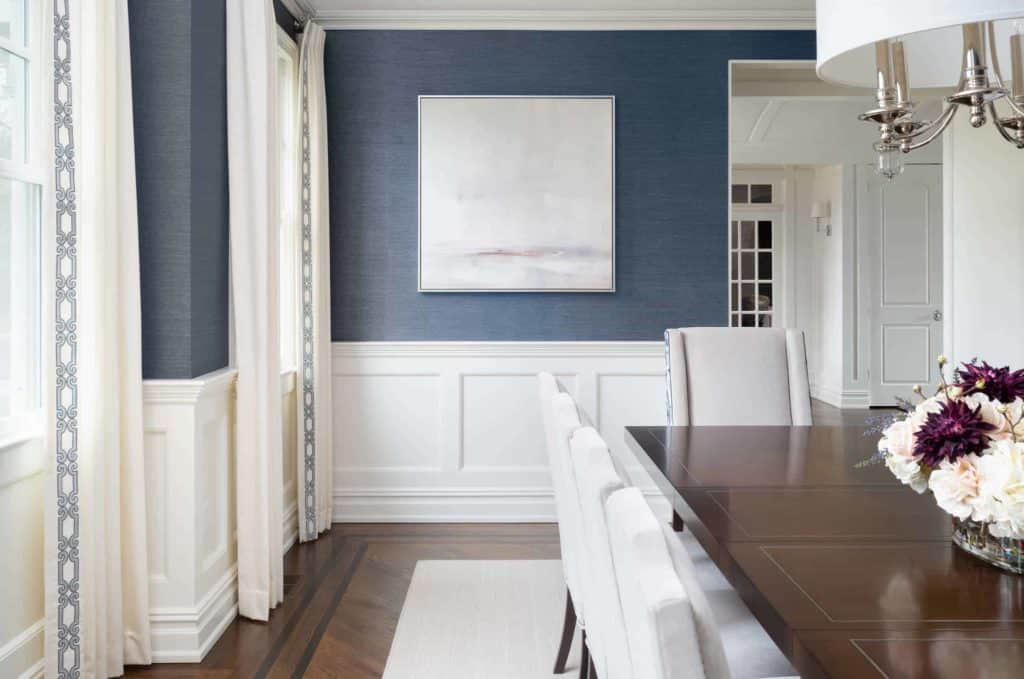 Take a page out of the French colonial handbook and bring a feeling of elevated and classic elegance to any entryway or parlor with soft white or charcoal wainscoting with simple rectangles in relief.
#16 — Urban Industrial Opulence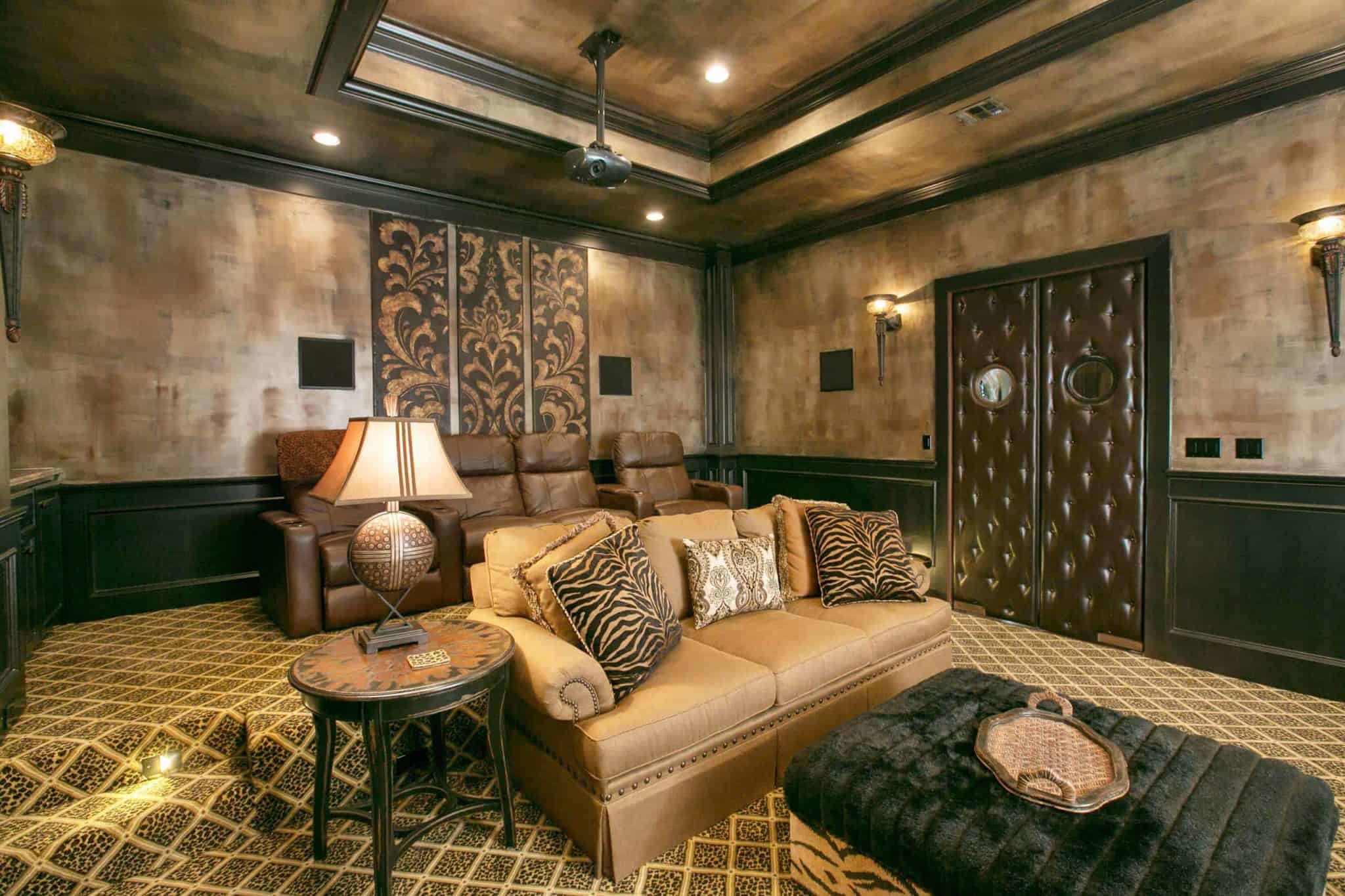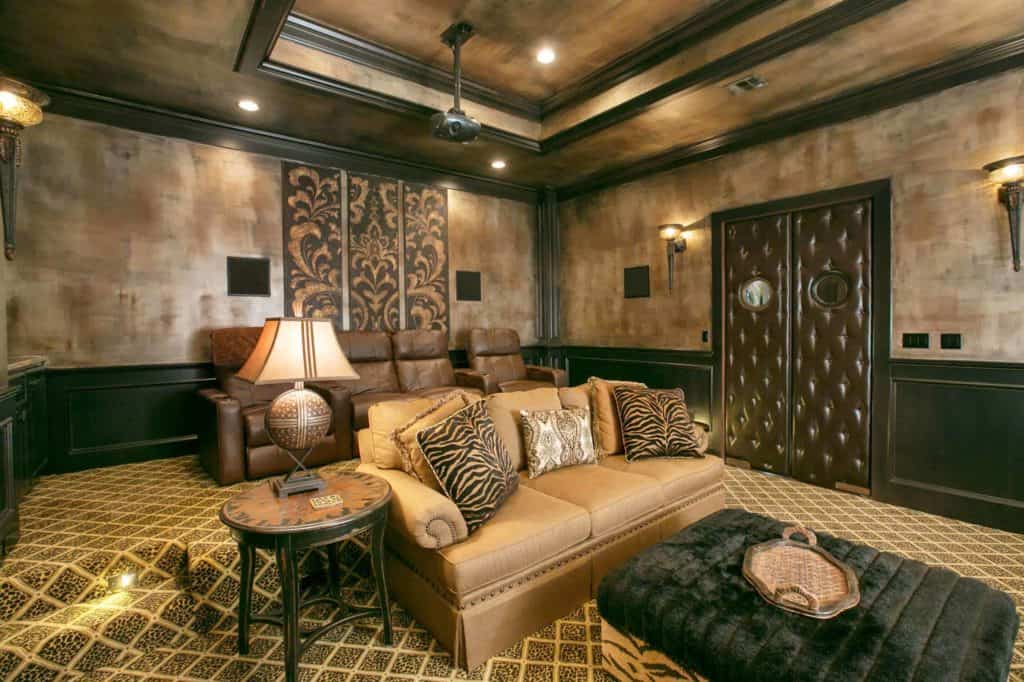 To bring out the fullest sense of your personality and style, allow the materials in your space to speak for themselves. Give your walls a low seated wainscoting with dark paint and let the walls and leather and leopard print do the real talking.
#17 — Lumber Cabin Walls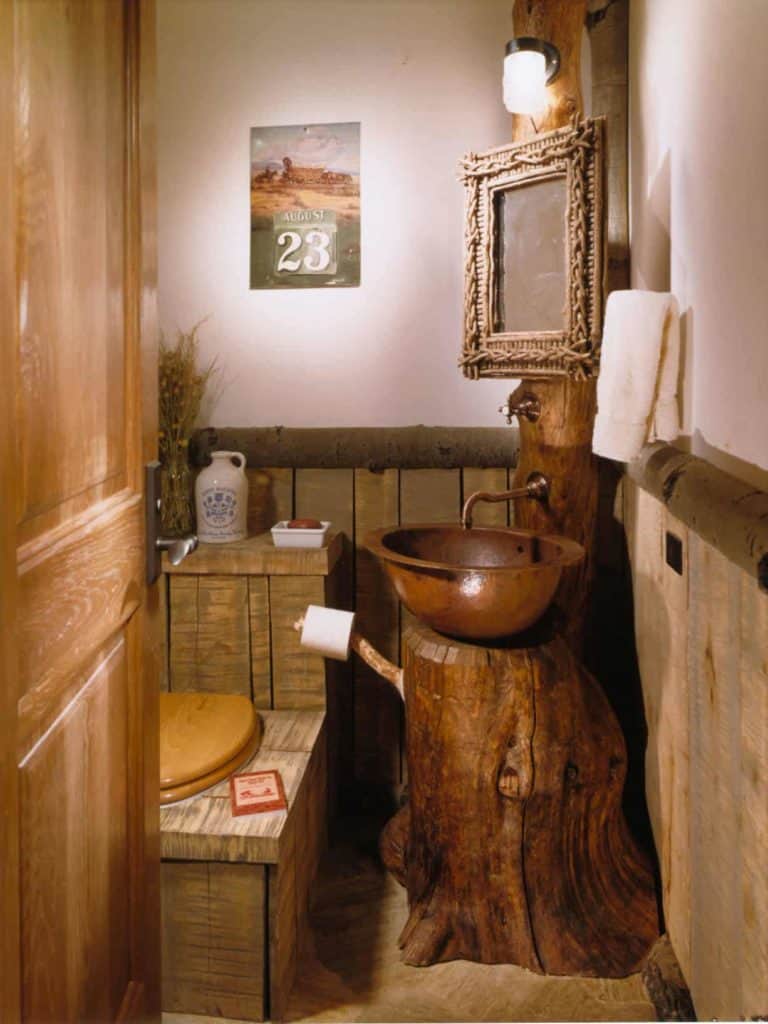 This is one of my favorites on the whole list! Take wooden lumber from the nearby forest and turn it into the uppermost bar of your arboretum-inspired bathroom space. Trees aren't just for outside anymore…
#18 — Comfy Traditional Wooden Paneling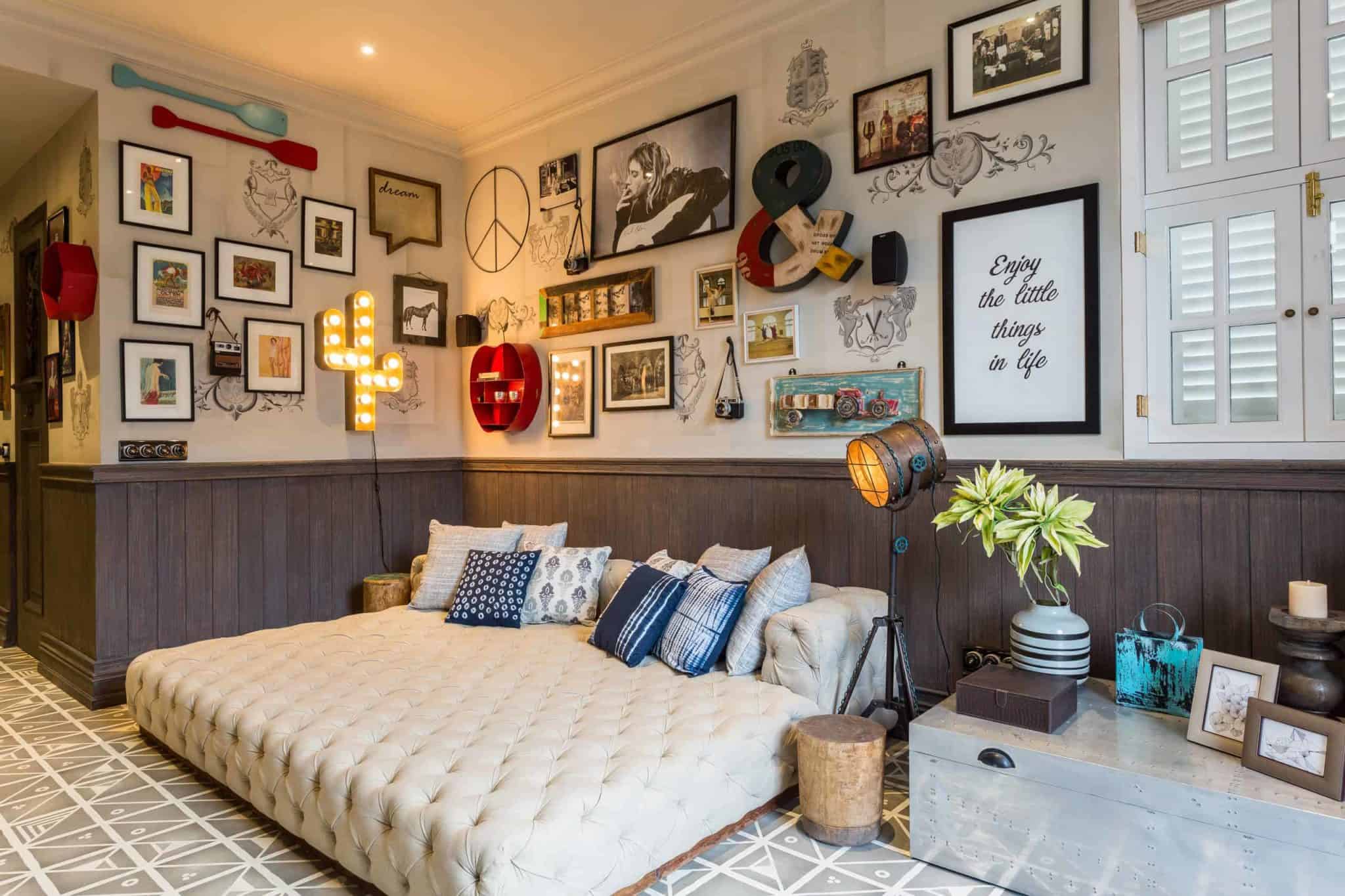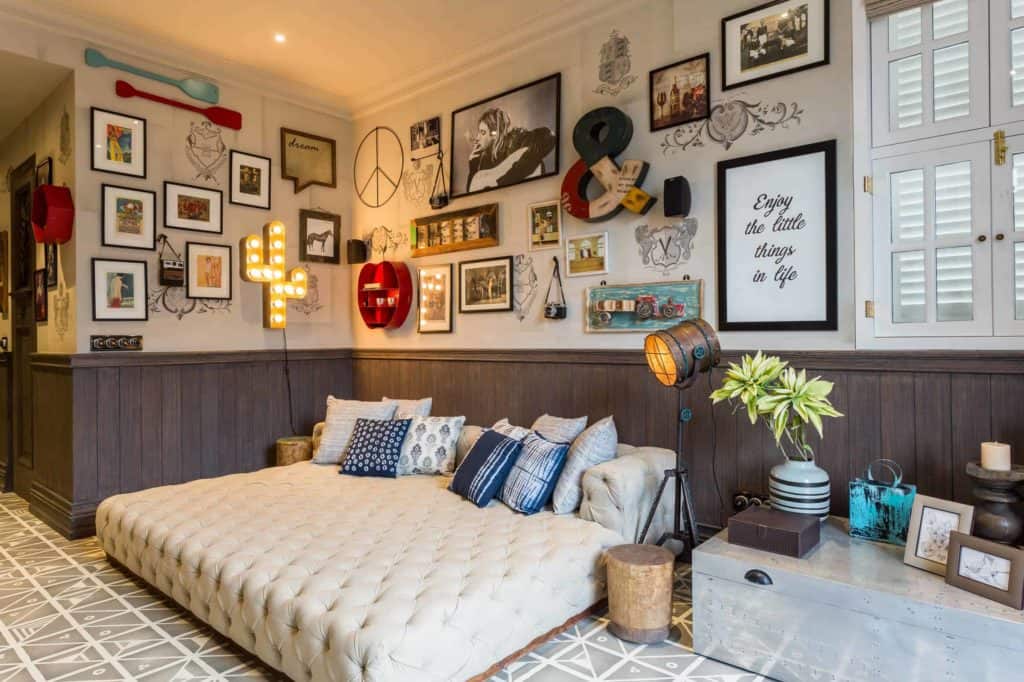 Don't overthink it. With vertical wood paneling, you can infuse an otherwise dull space with a lot of life, without a lot of effort.
#19 — Classy Gloss Finish Wainscotting Idea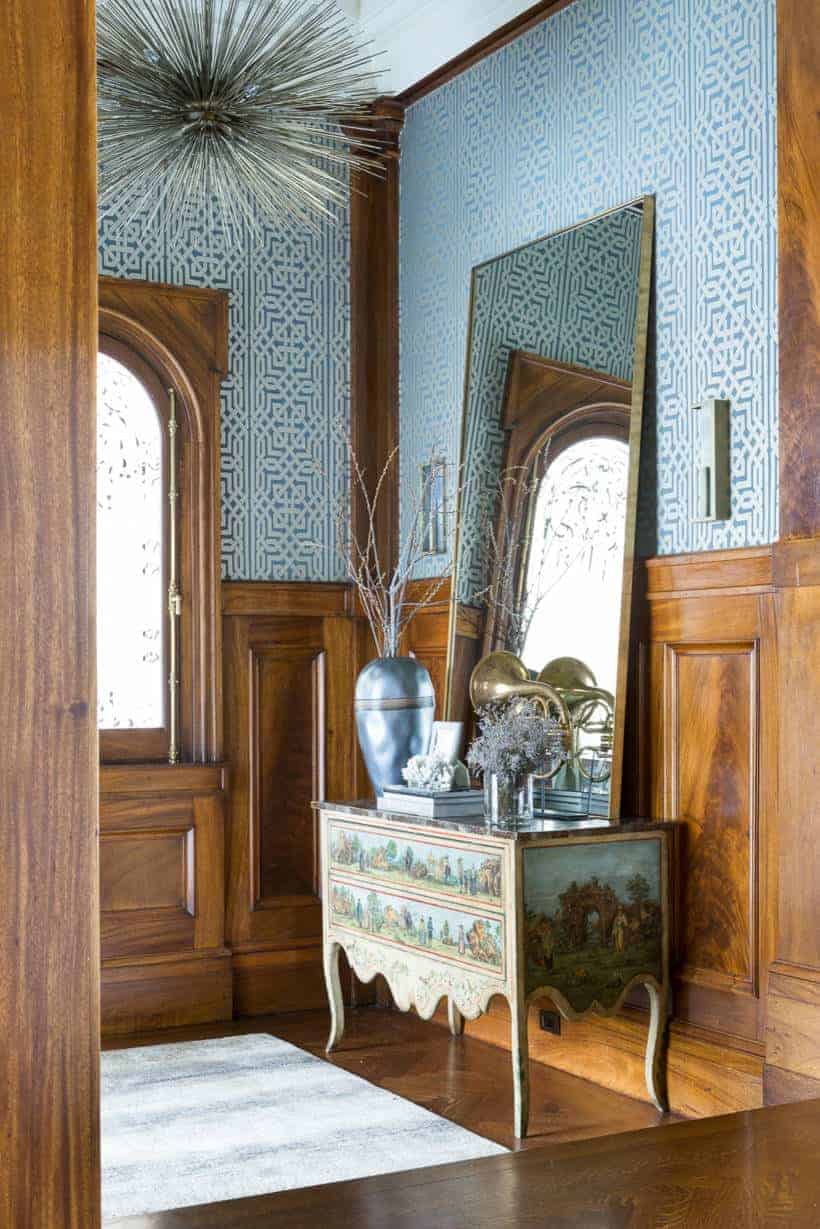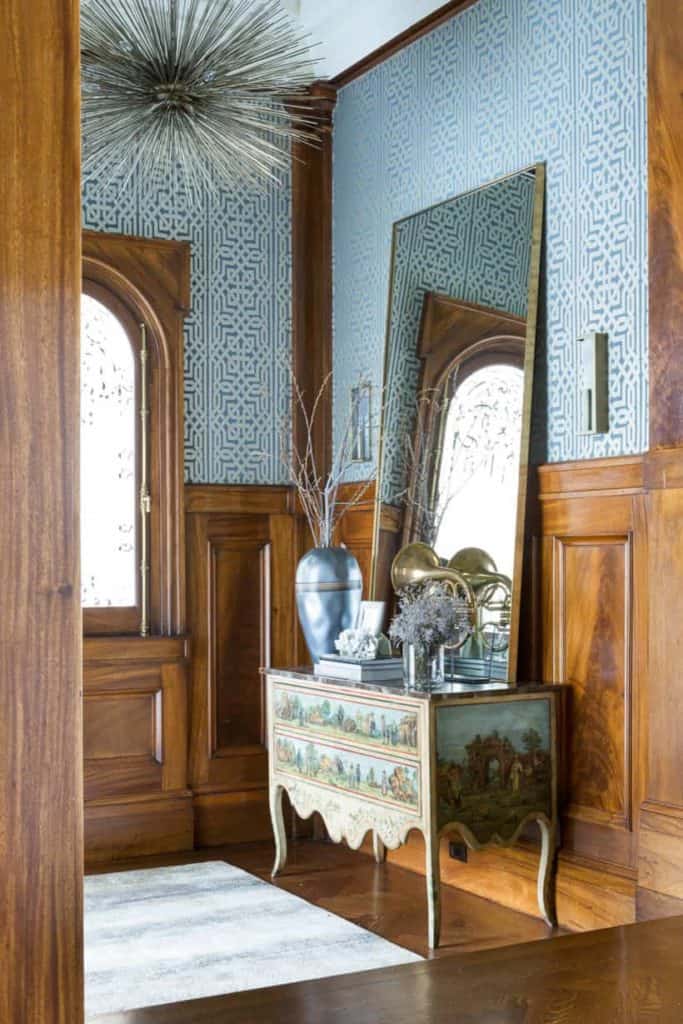 The same shapes and patterns can be utilized over and over again with new and surprising results. Here, take a simple rectangular motif and apply a glossy finish to make the wood pop and shine.
#20 — Mixed Wood Wall Paneling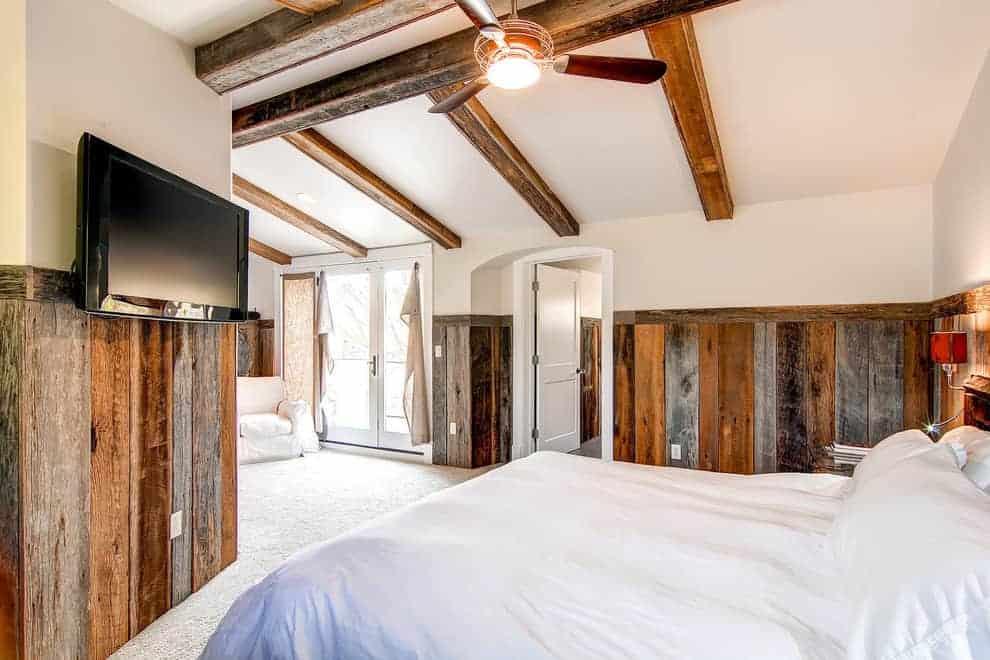 You just have to know that I love this one. What appears complex on the surface is actually nothing more than multiple styles of unfinished wood laid side-by-side. It's rustic and fun from start to finish.
#21 — Mountain Lodge Wainscoting Idea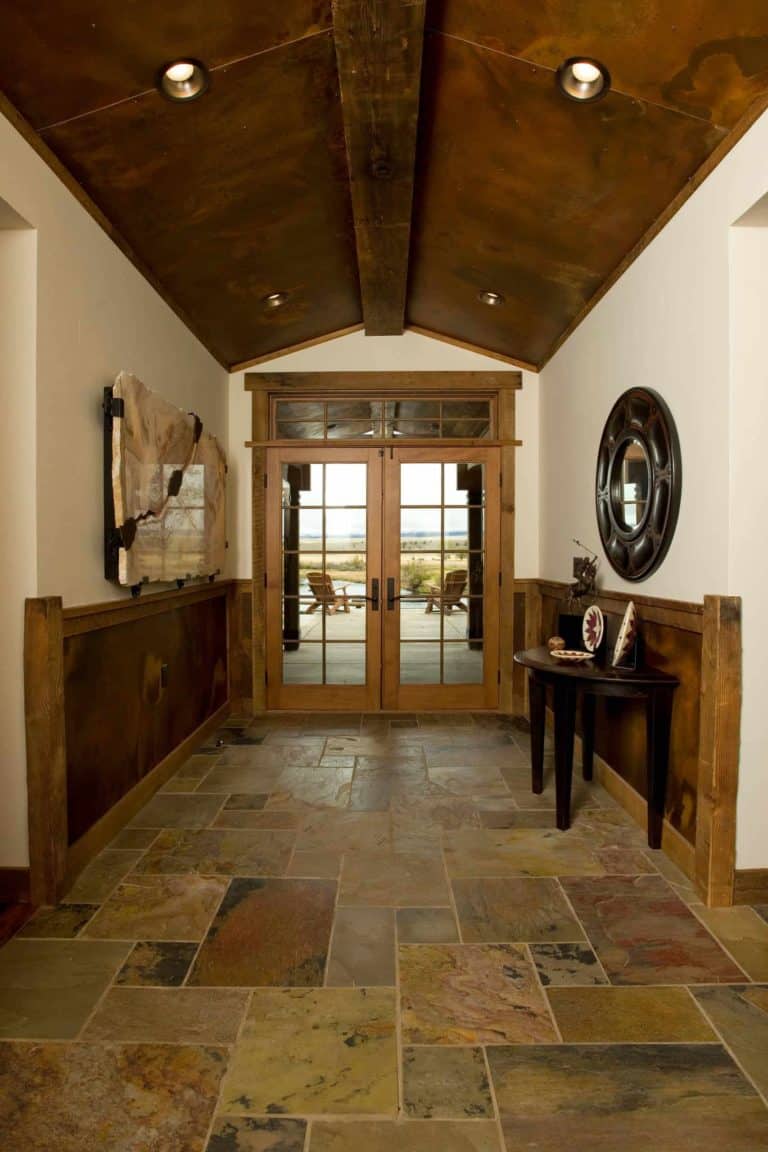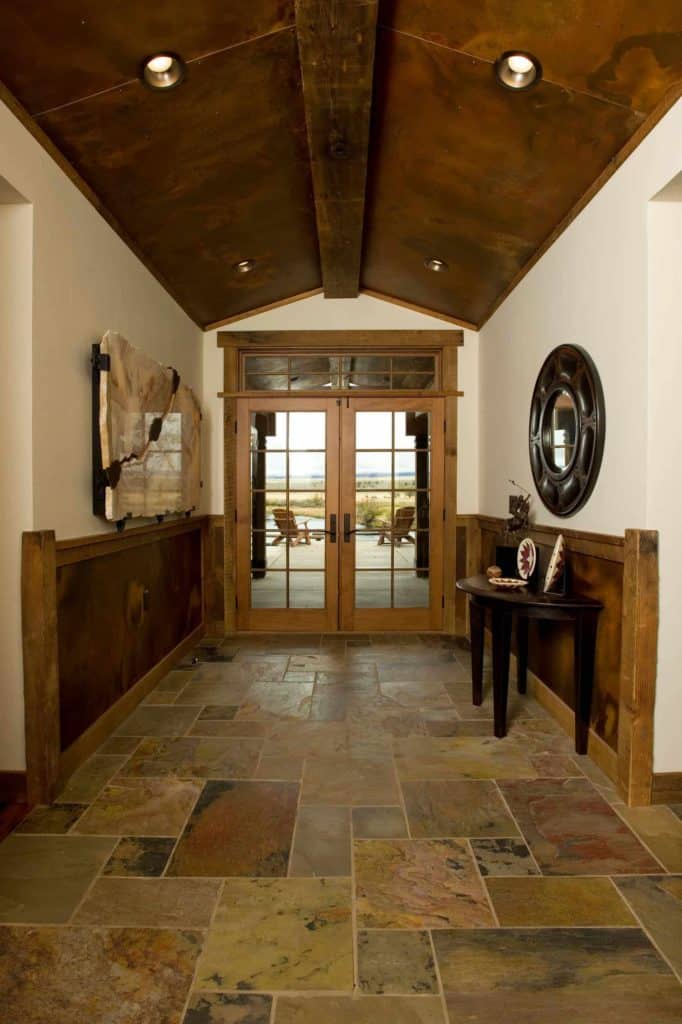 Here, we can see the use of deep brown wood reminiscent of dark chocolate lining an entryway. You don't need anything more than this to recall the mountains and the forests in a cabin or lodge atmosphere.
#22 — Mirrored Relief Ideas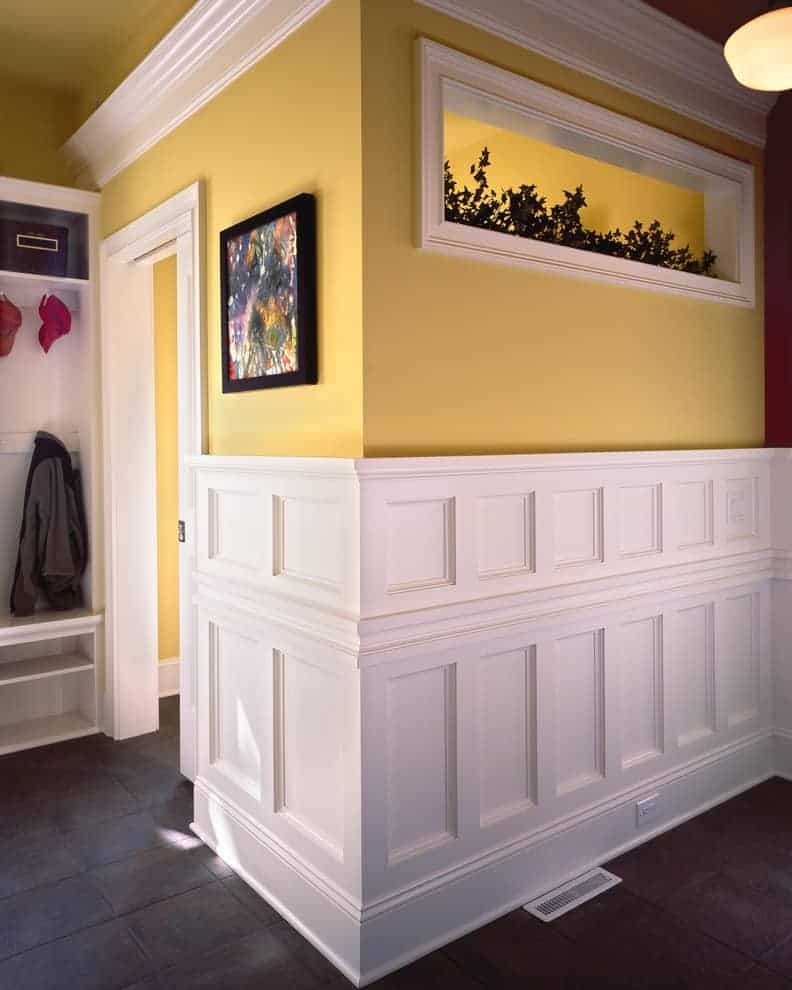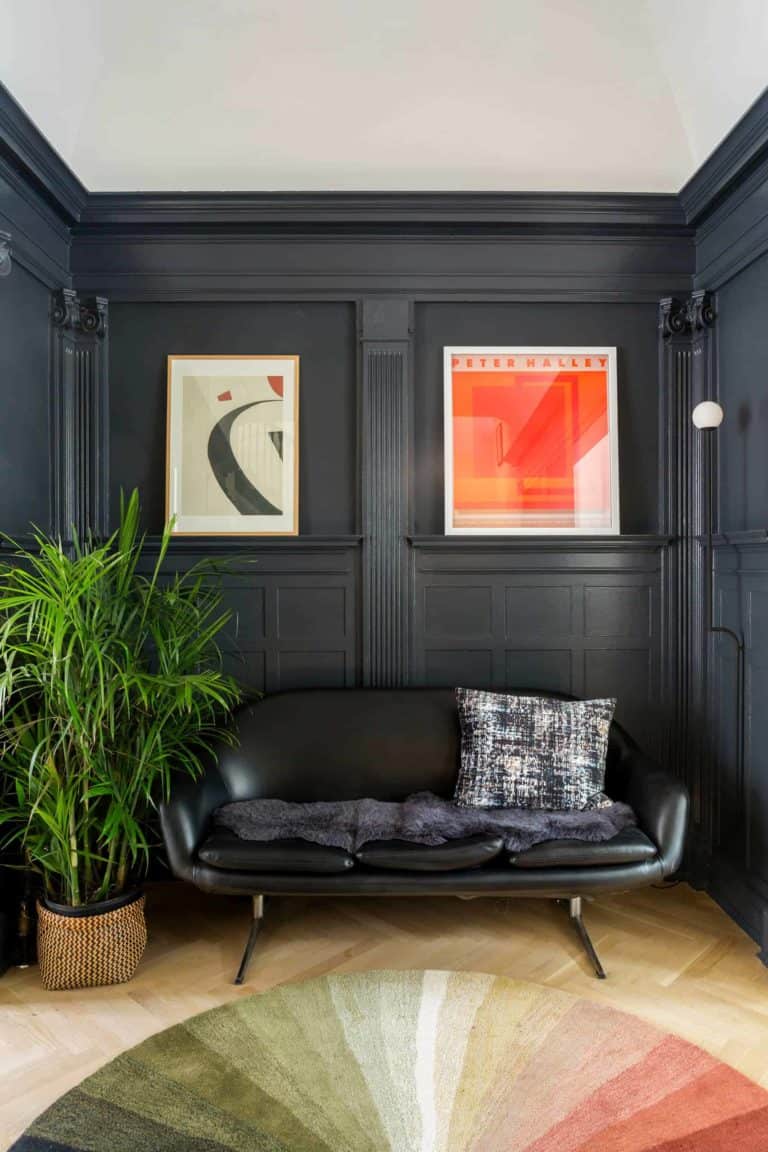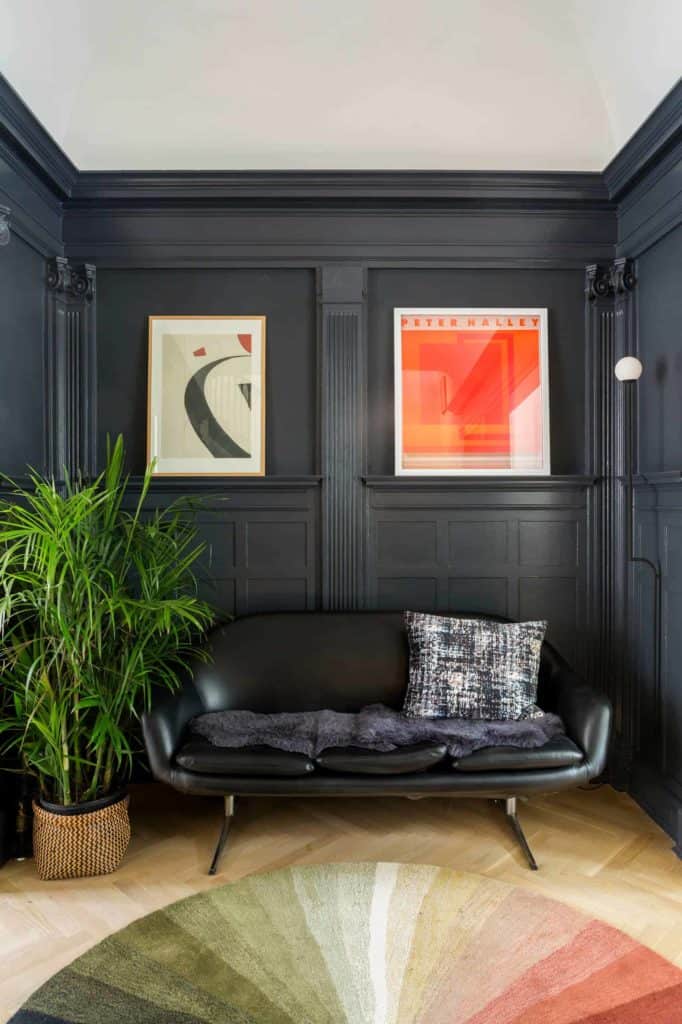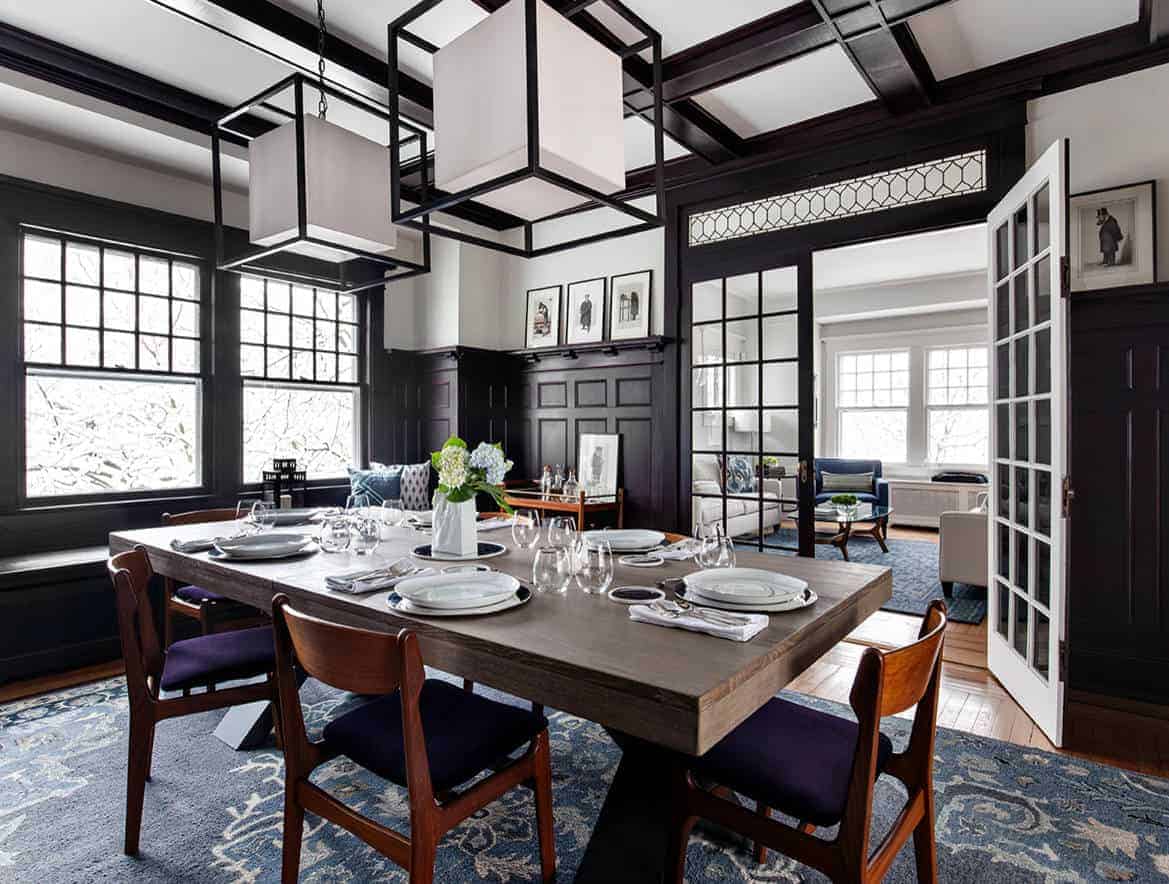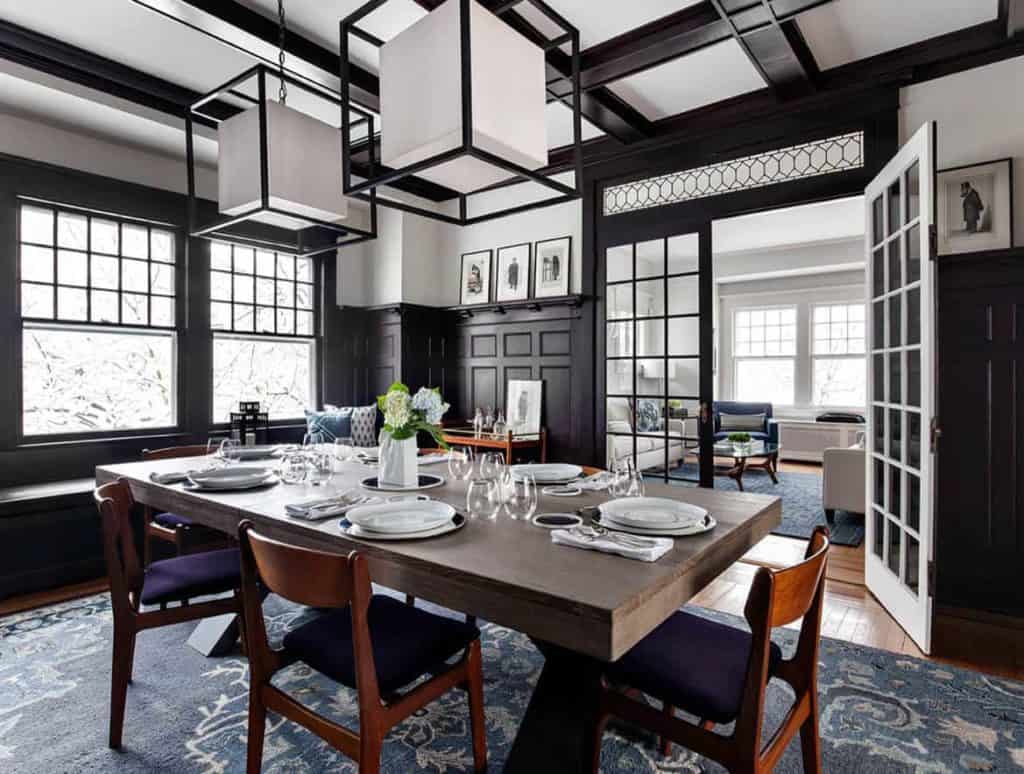 Sometimes, one shape just isn't enough. When that's the case, utilize two or more geometric figures — something simple like a square or rectangle — beside and atop one another. It's classic and traditional and elegant all at once, whether in white, black, or another color altogether.
#23 — Geometric Stone Pattern Paneling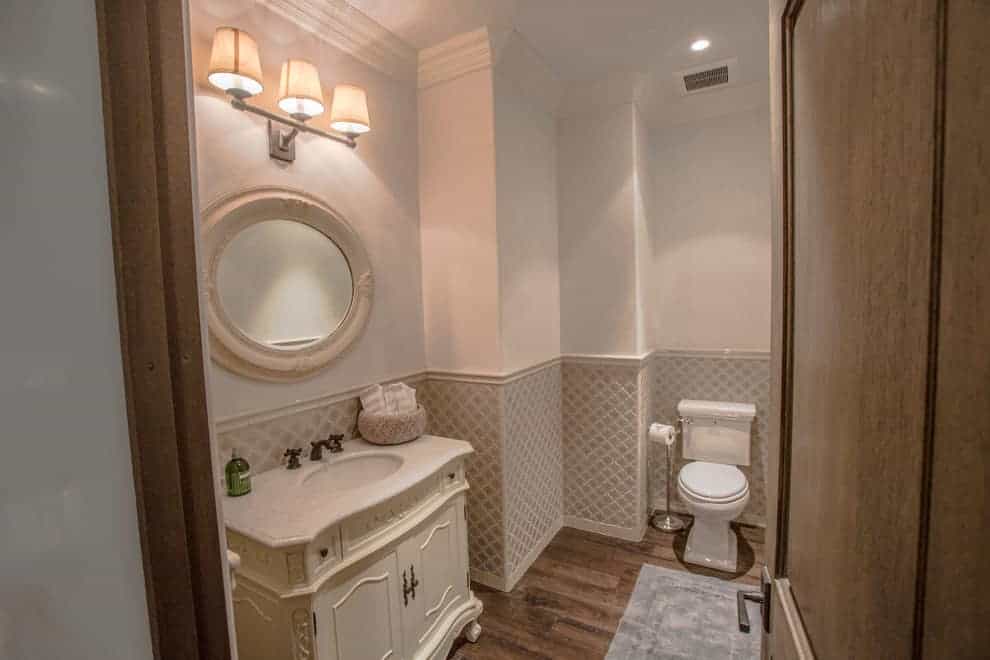 To really strike a bold impression on your walls, use a stone-like material as the wainscoting base and have a geometric pattern scroll top-to-bottom and side-to-side like beautifully crafted waves.
#24 — Traditional Vertical Panels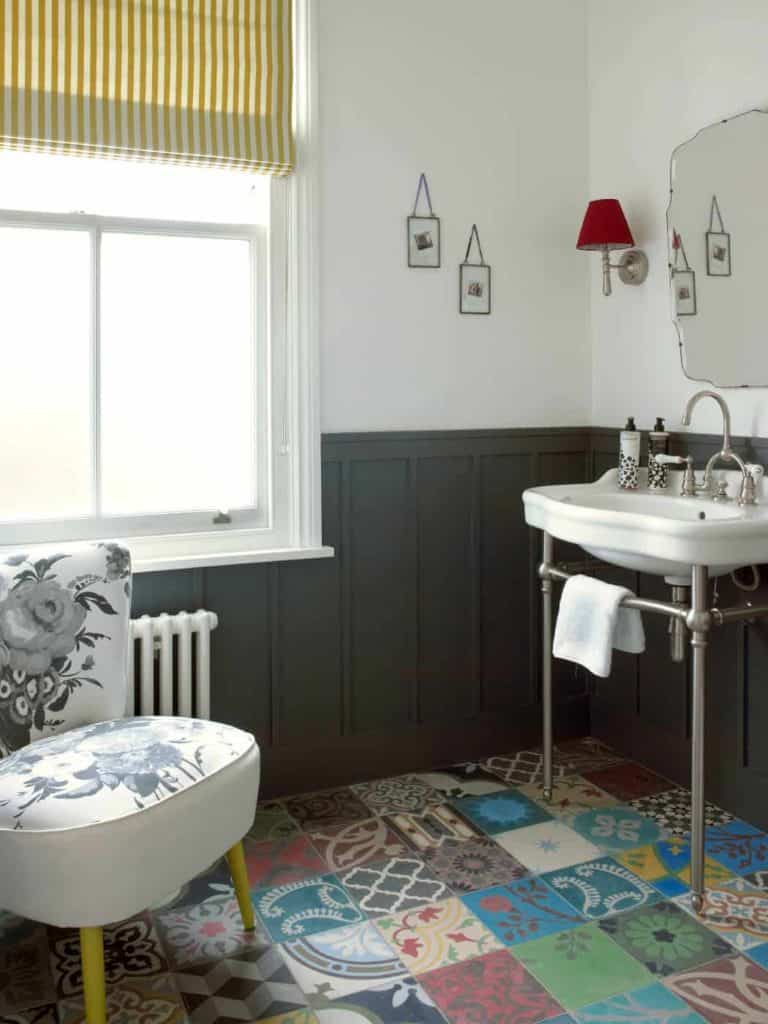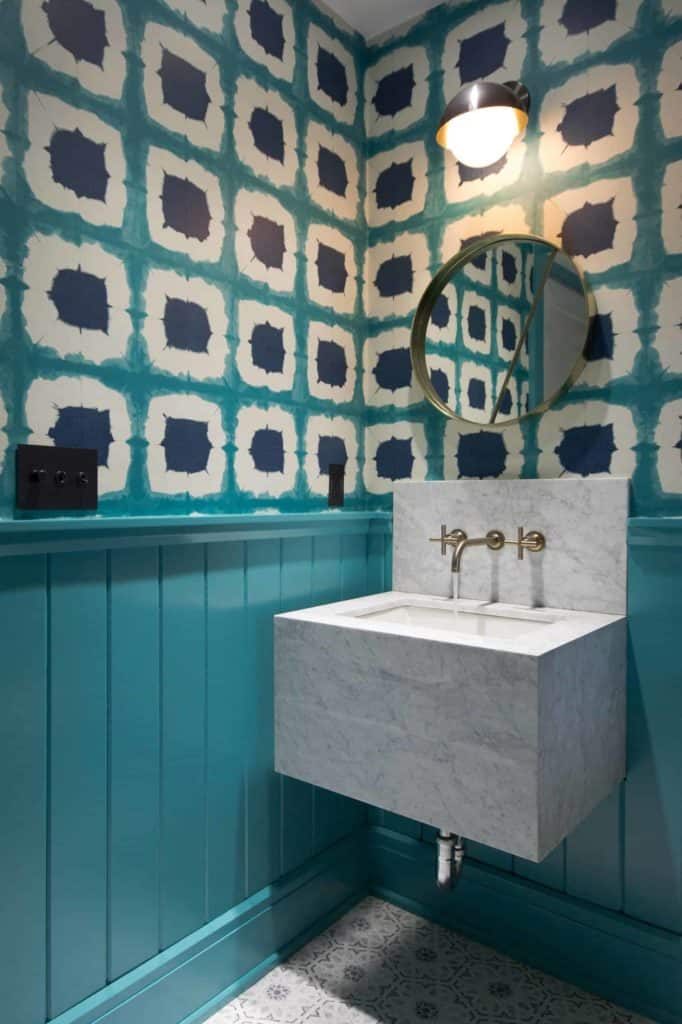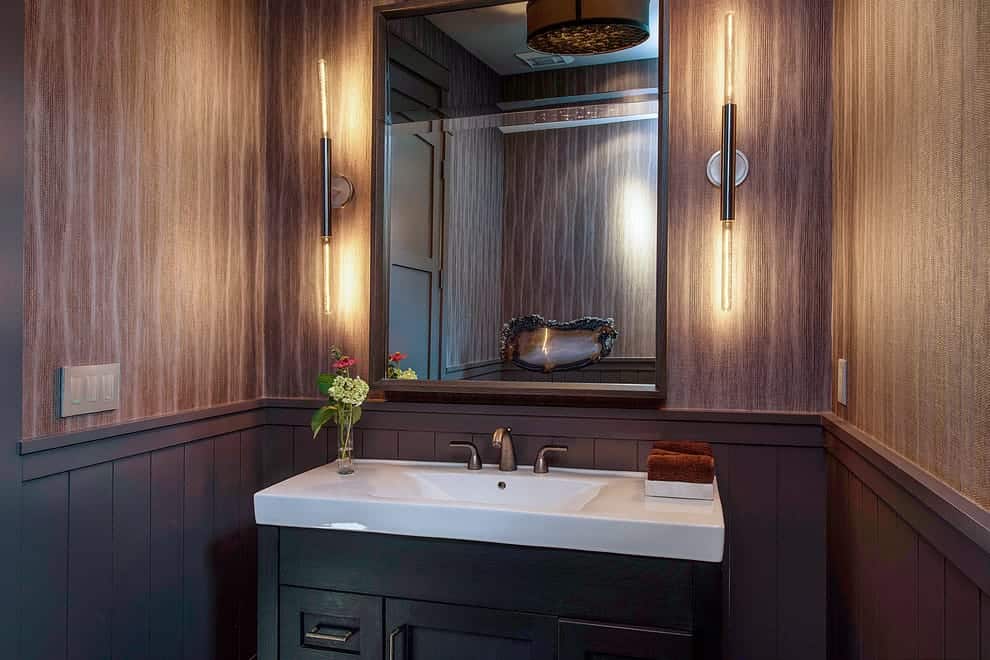 If simplicity is your North Star, consider straightforward vertically oriented dark cutout panels in your wainscoting. And if you want to jazz it up a little bit, go with a bright pop of color like teal.
#25 — Colonial Relief Wainscoting Ideas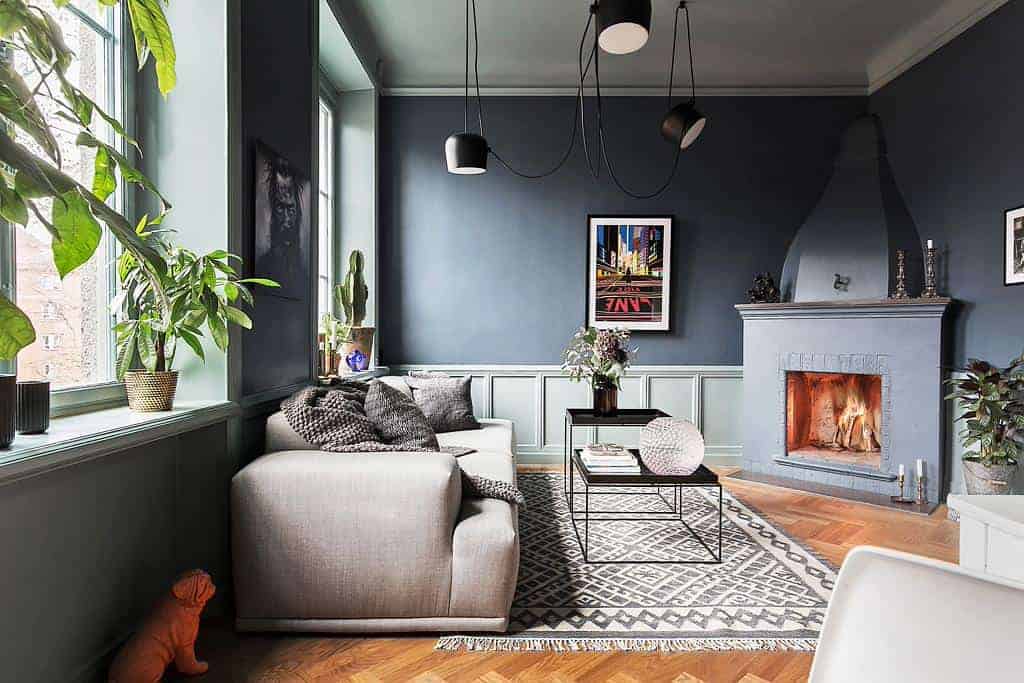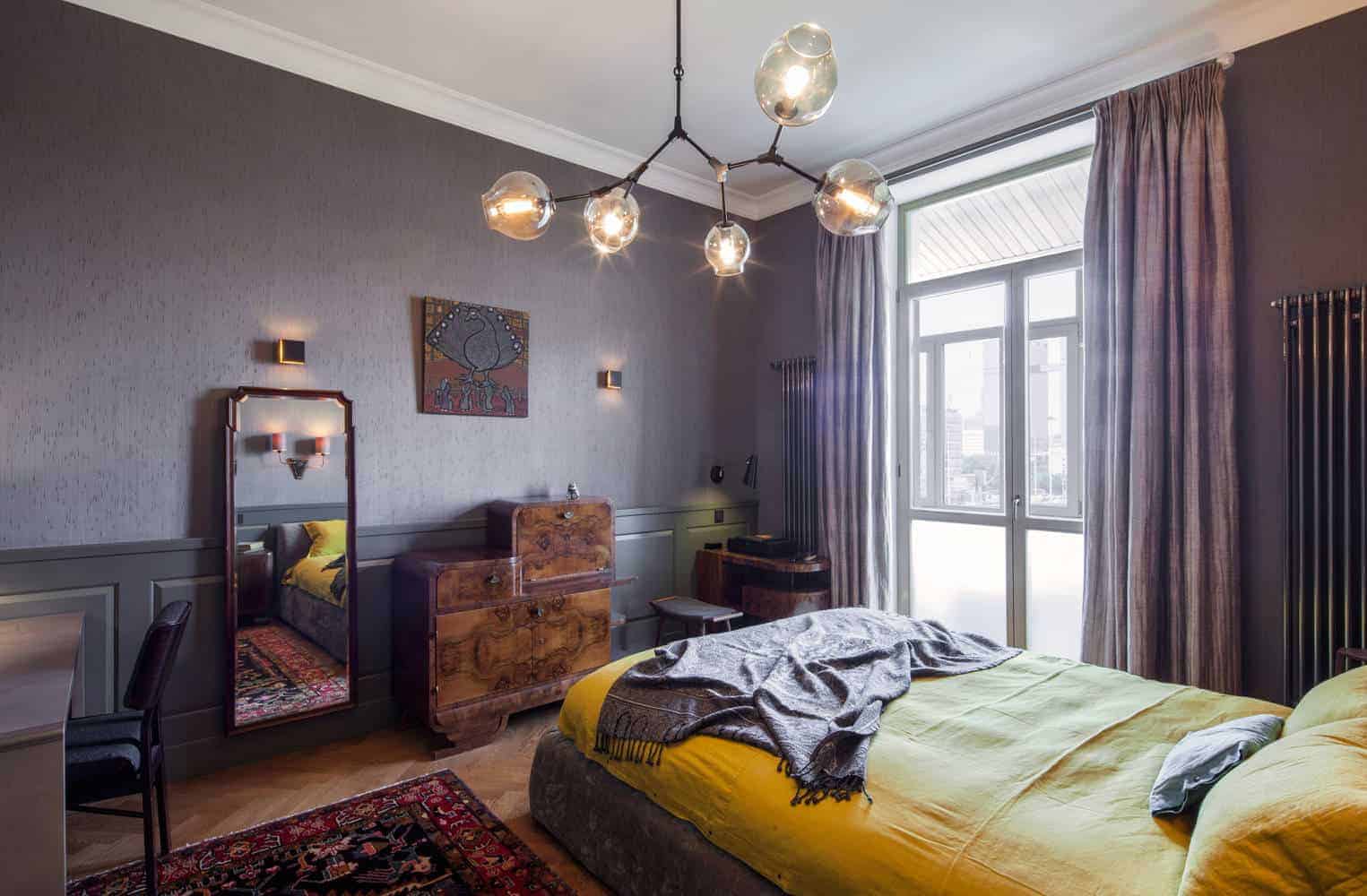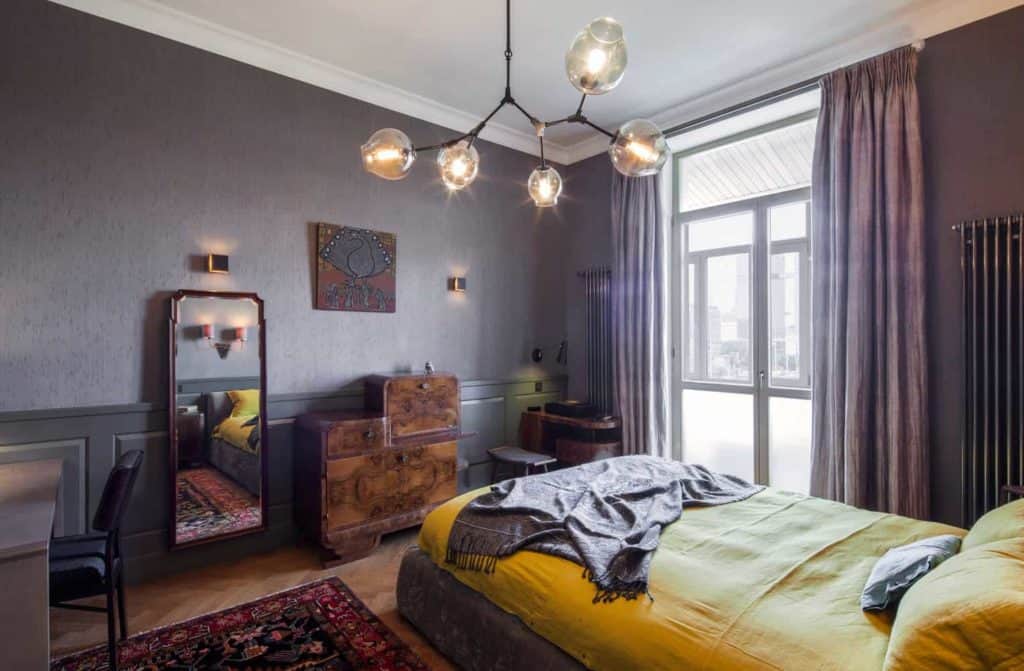 The colonial facade typically composes itself of primary elements like brick or wood. You can add to this in the interior design by adding components such as plain wainscoting with rectangles in relief.
#26 — Alternating Shapes Pattern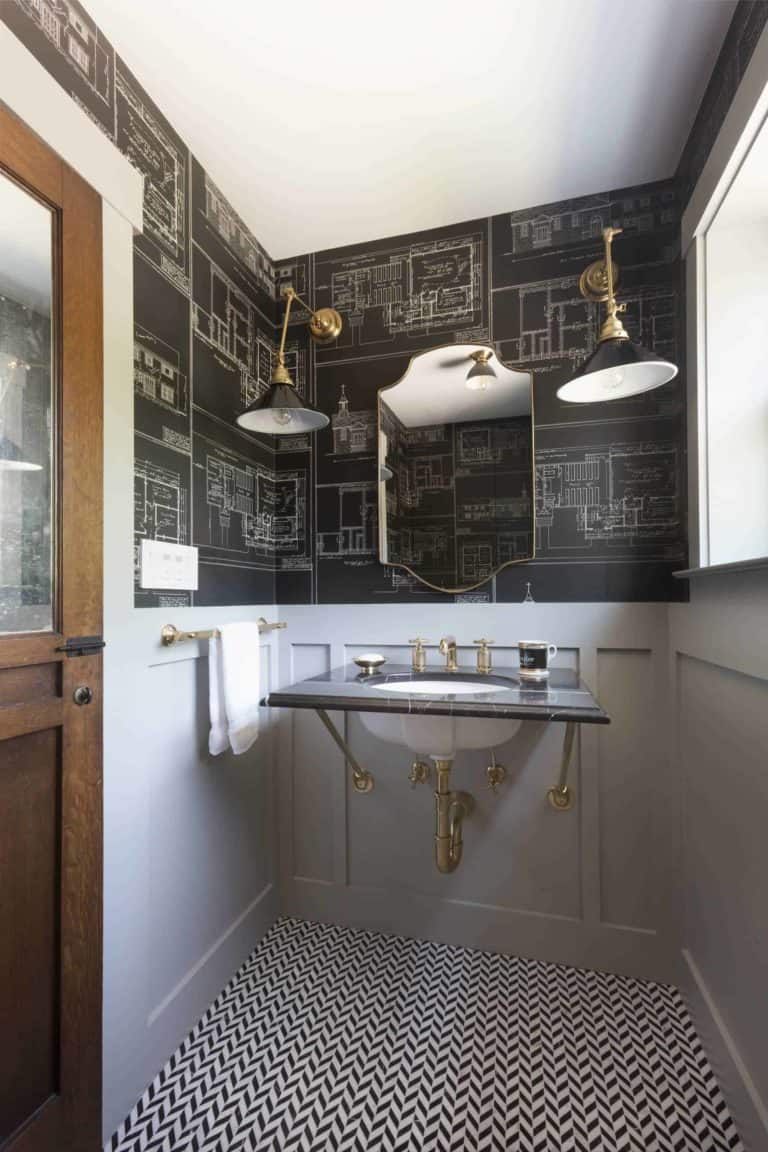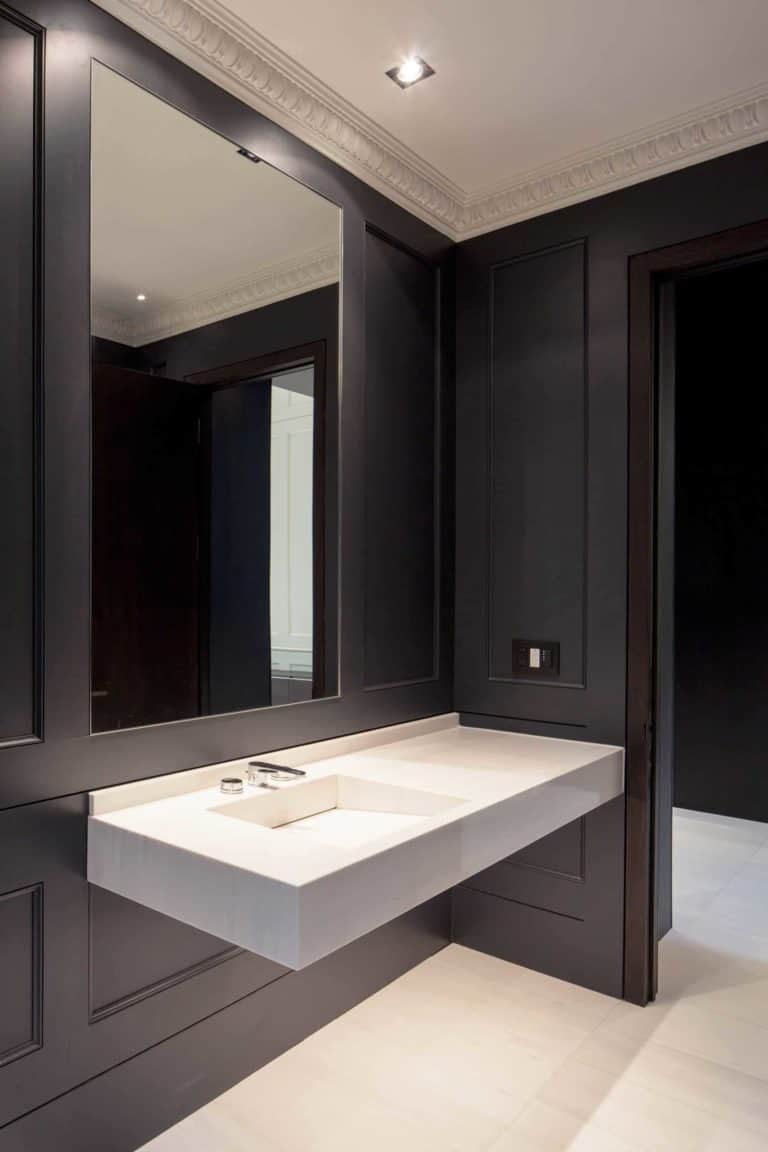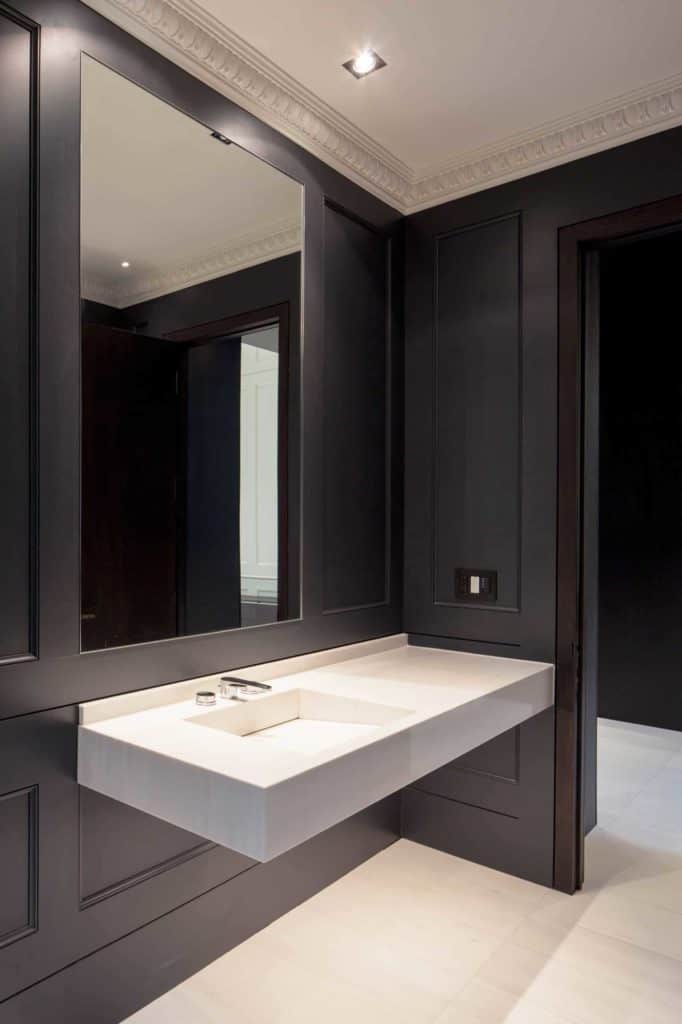 Though these may appear similar to some we've shown you above, the patterns here holds a unique distinction. The rectangles vary in size around the wall, creating a more distinctive (and modern) composition.
#27 — Vertical Pinstripe Wainscoting Ideas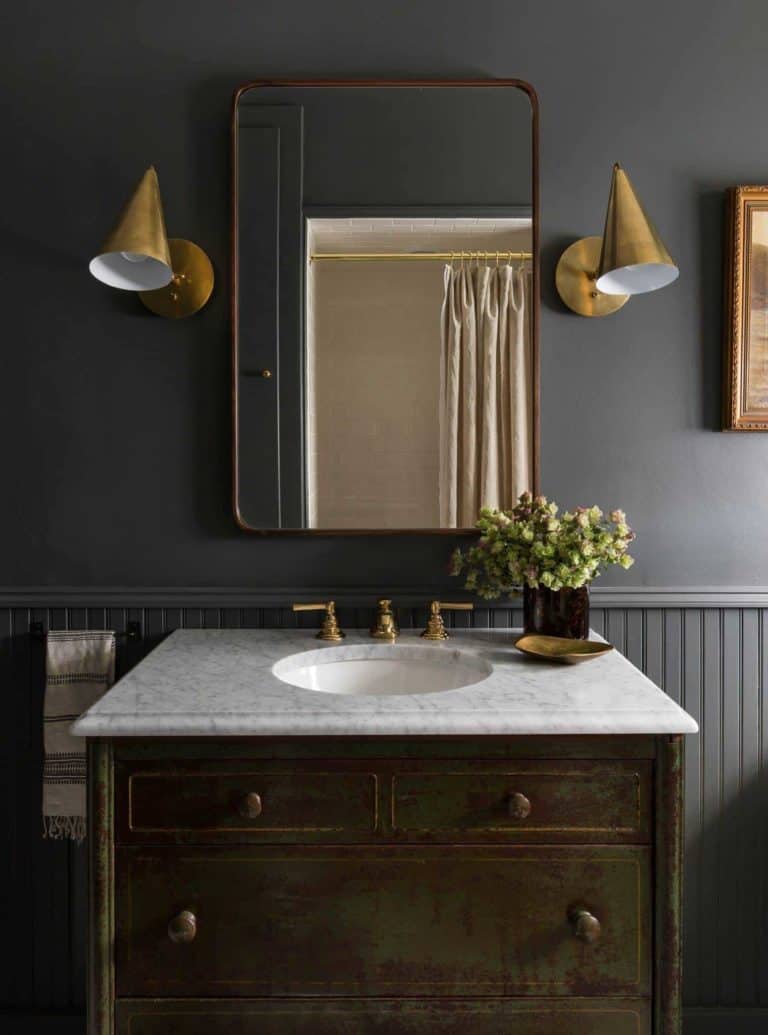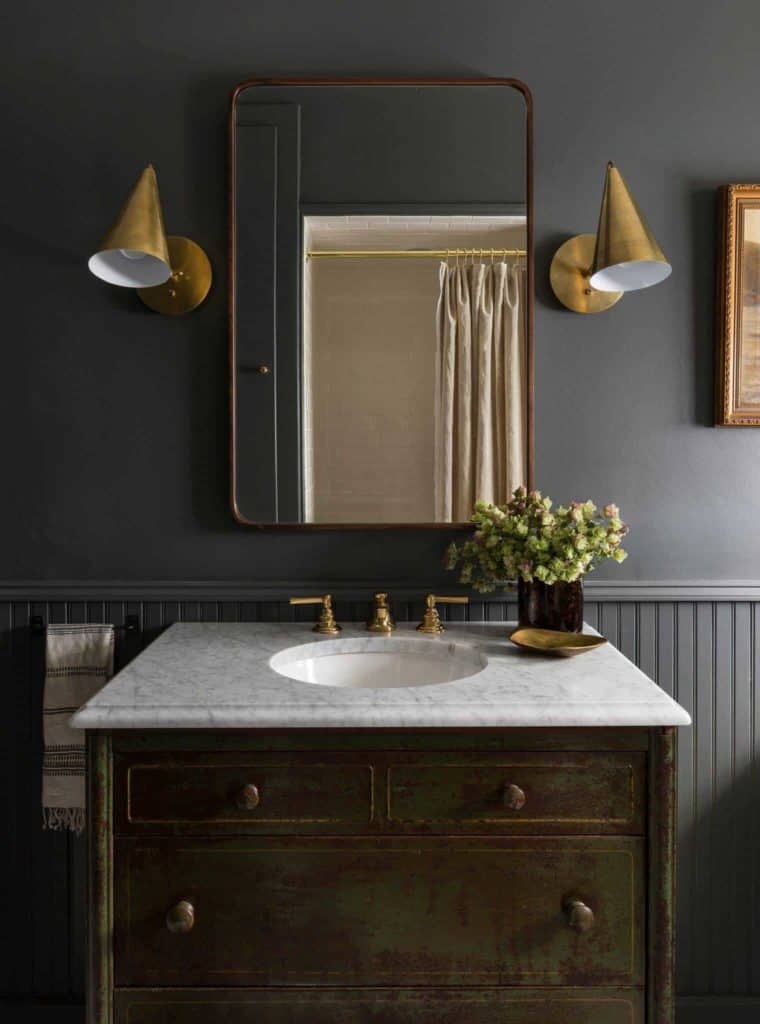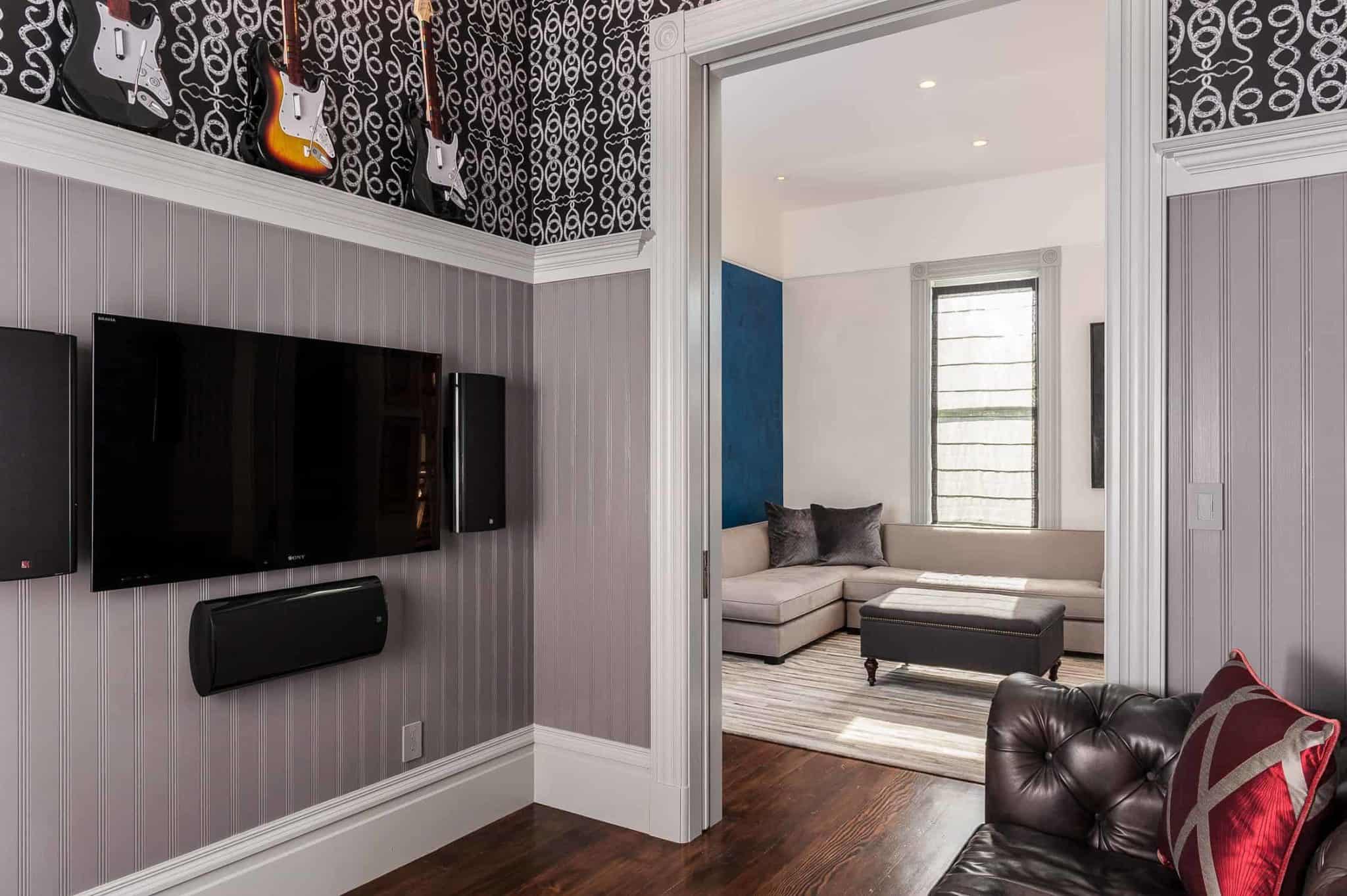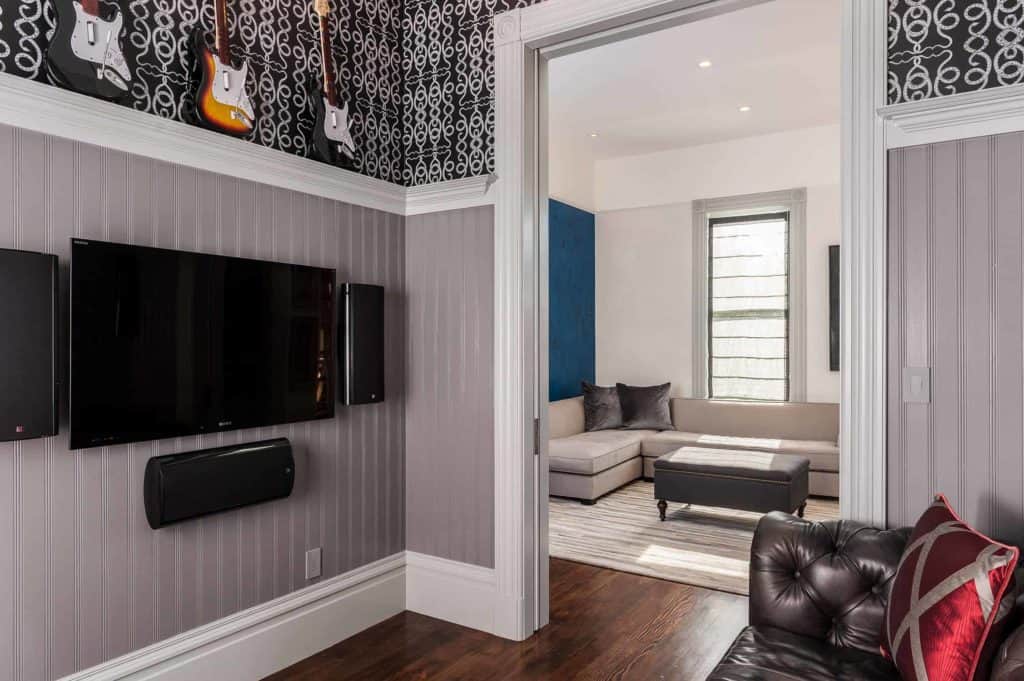 Stripes function as a mark of simplicity and authenticity in fashion, and the same holds true in interior design. Use these on your walls to strike consistent visual notes without a lot of work.
#28 — Cubic Relief Wainscoting Pattern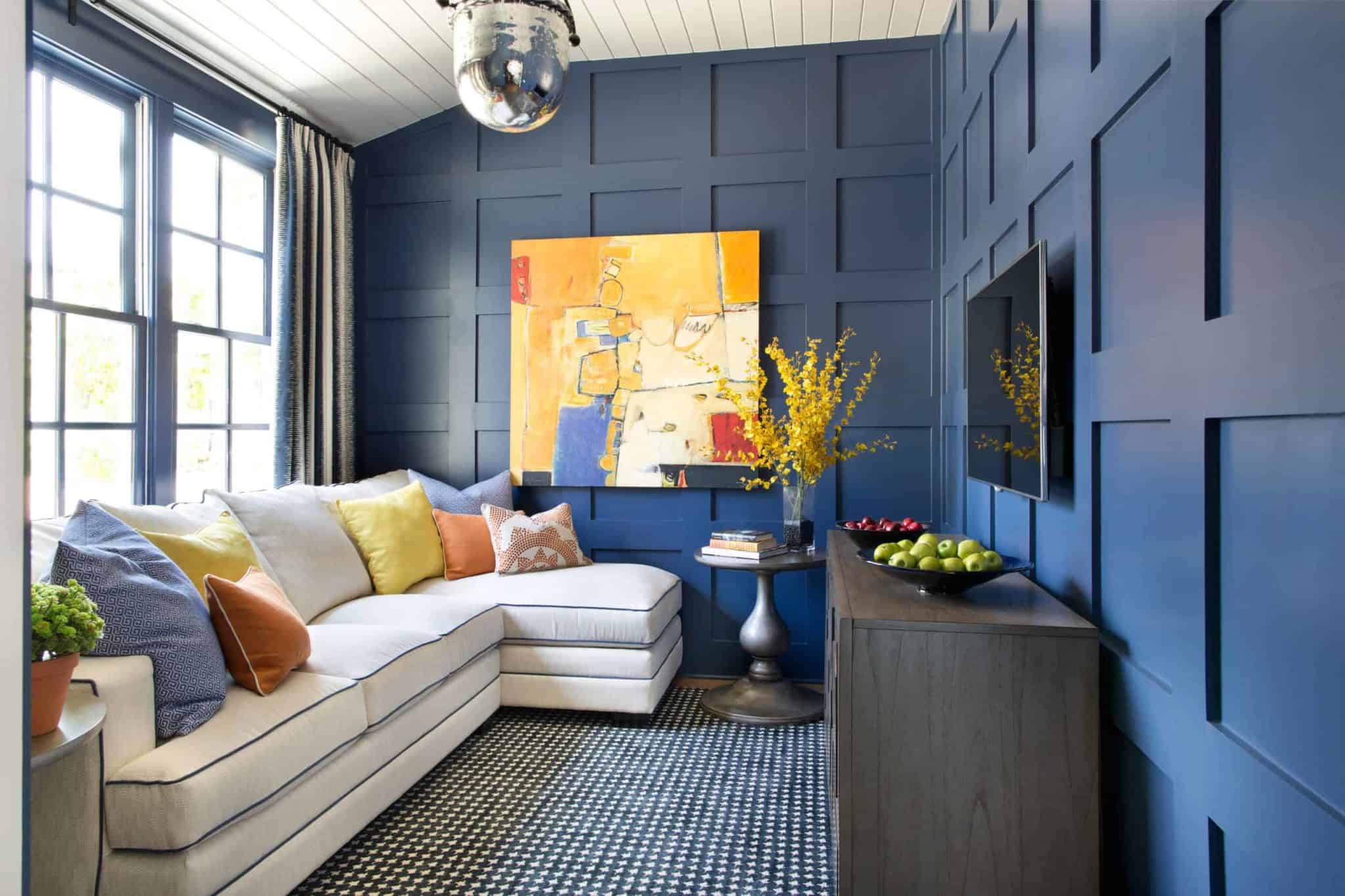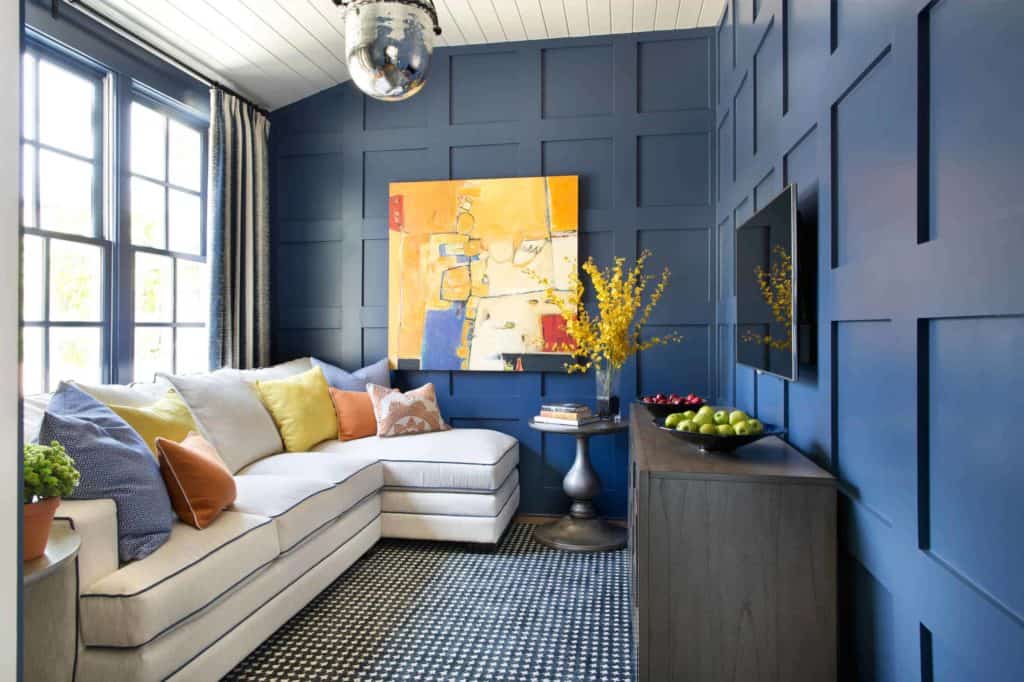 I know I keep saying this (sorry not sorry), but this one is another of my absolute, all-time favorites. These blue cubes are set in relief throughout the entire wall, making it less wainscoting and more of a wallpaper that's come to life. How great is that?!
#29 — Solid Black Wainscoting Idea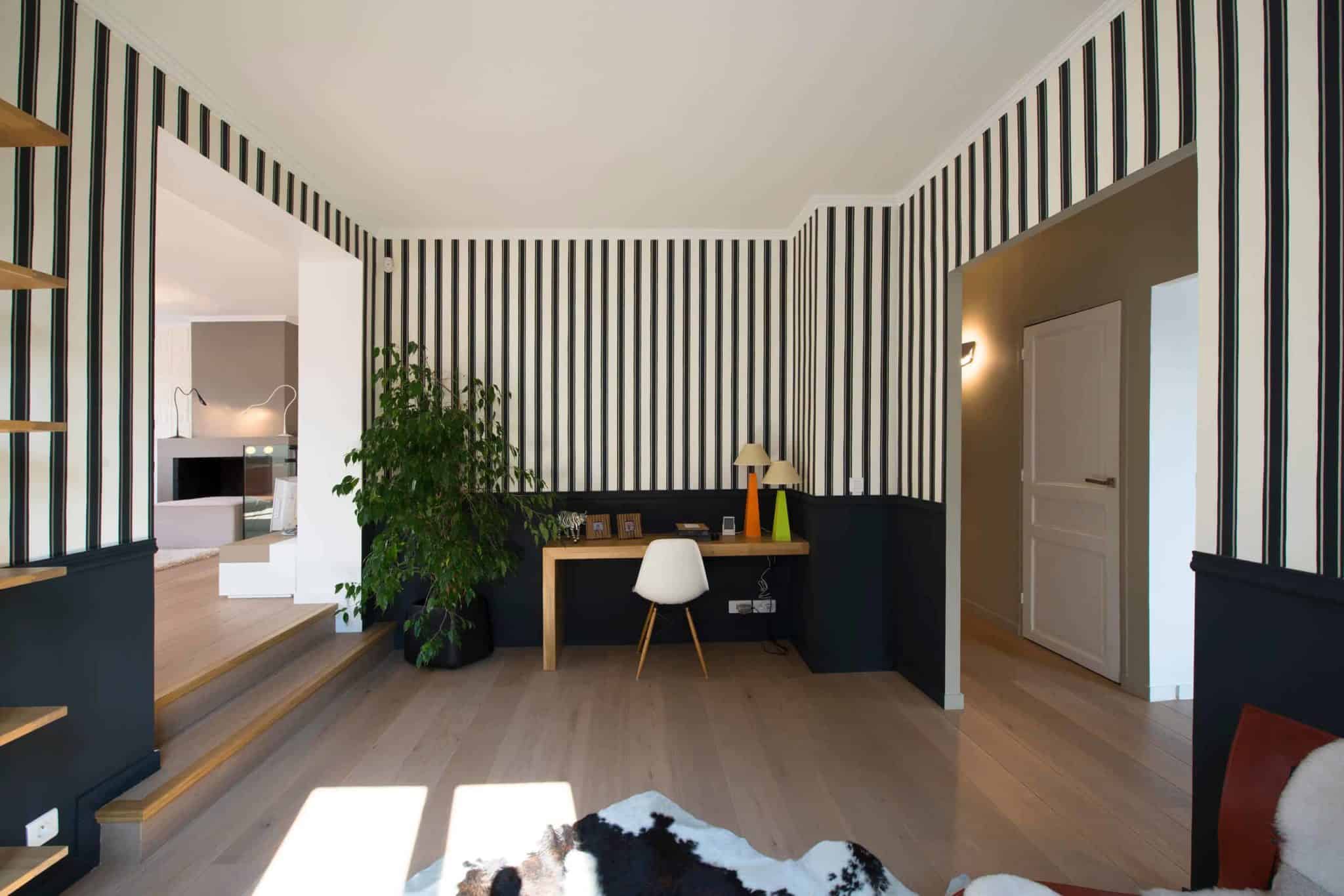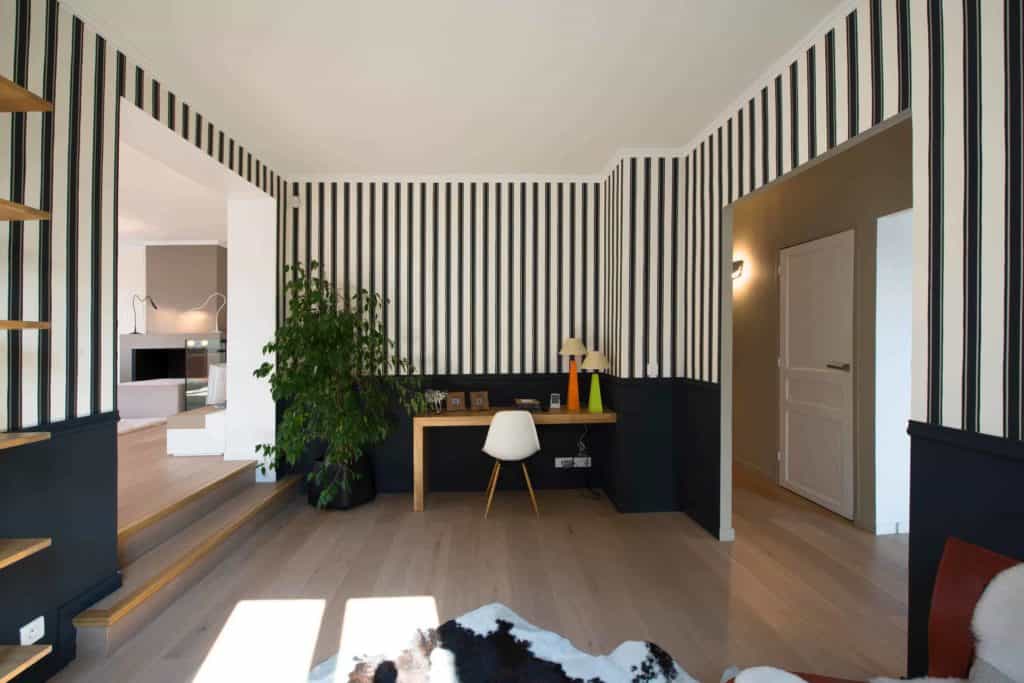 I've said it once, and I'll say it again. Sometimes black is the most striking color you can use in interior design. Give your wainscoting the LBD treatment. It never fails to impress.
#30 — Elegant Colonial Idea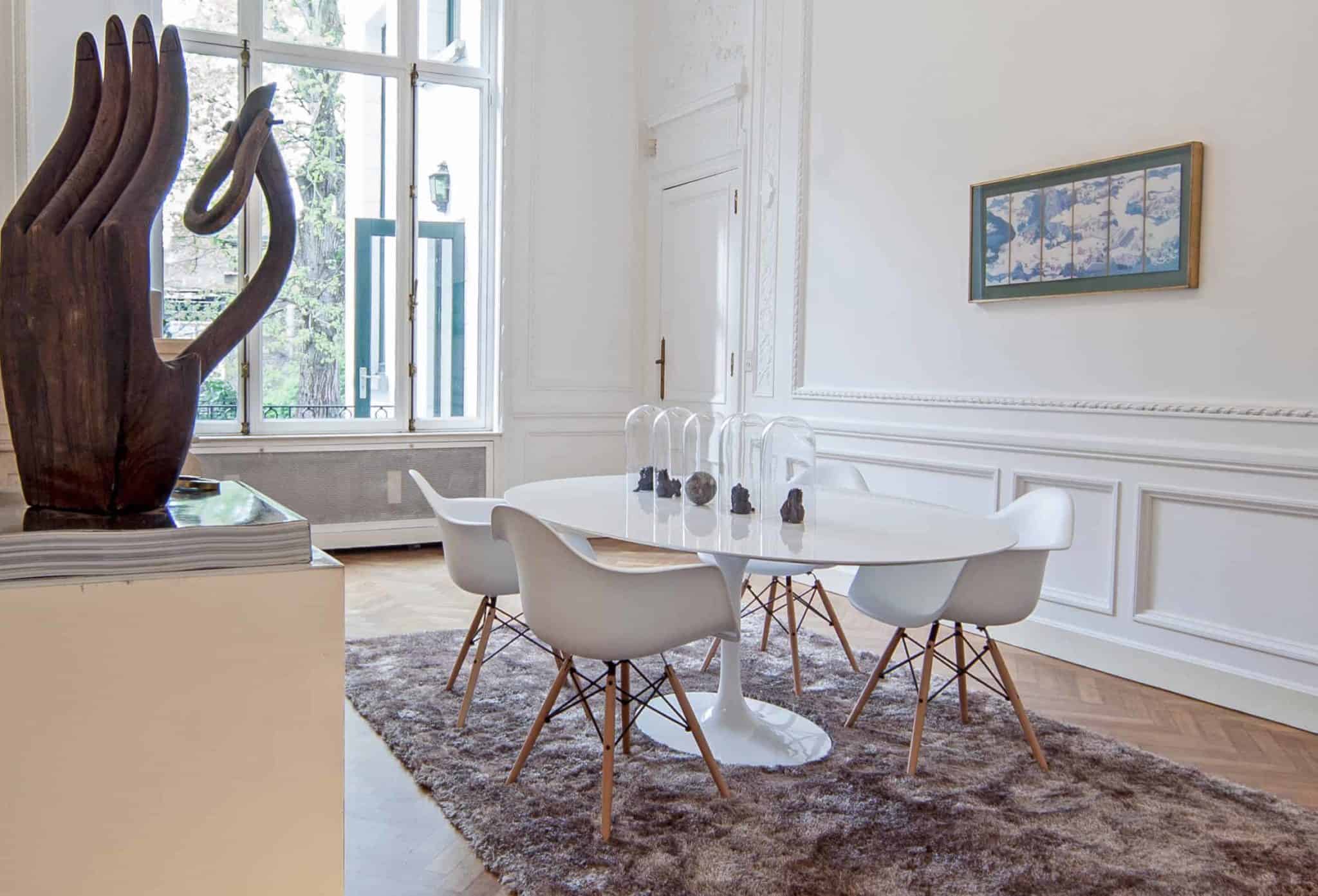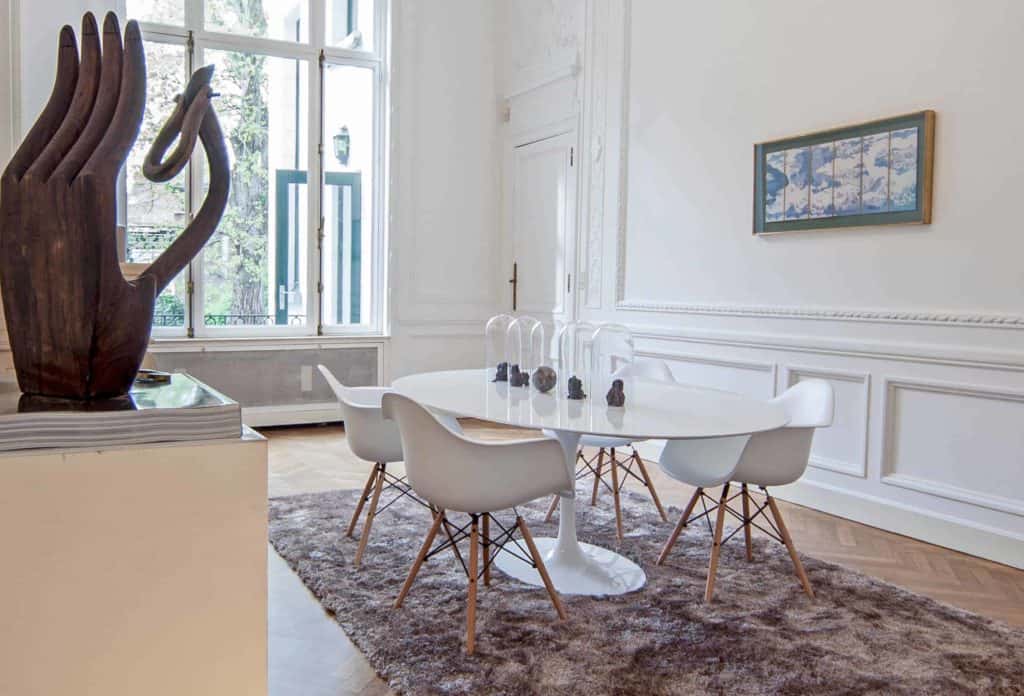 At first blush, this might appear like the earlier colonial ideas, but this one has an intricate design hiding in the corner, as well as a "rope" line along the top of the wainscoting in this somewhat pastoral inspired idea.
#31 — Traditional Wainscoting with Paint Coat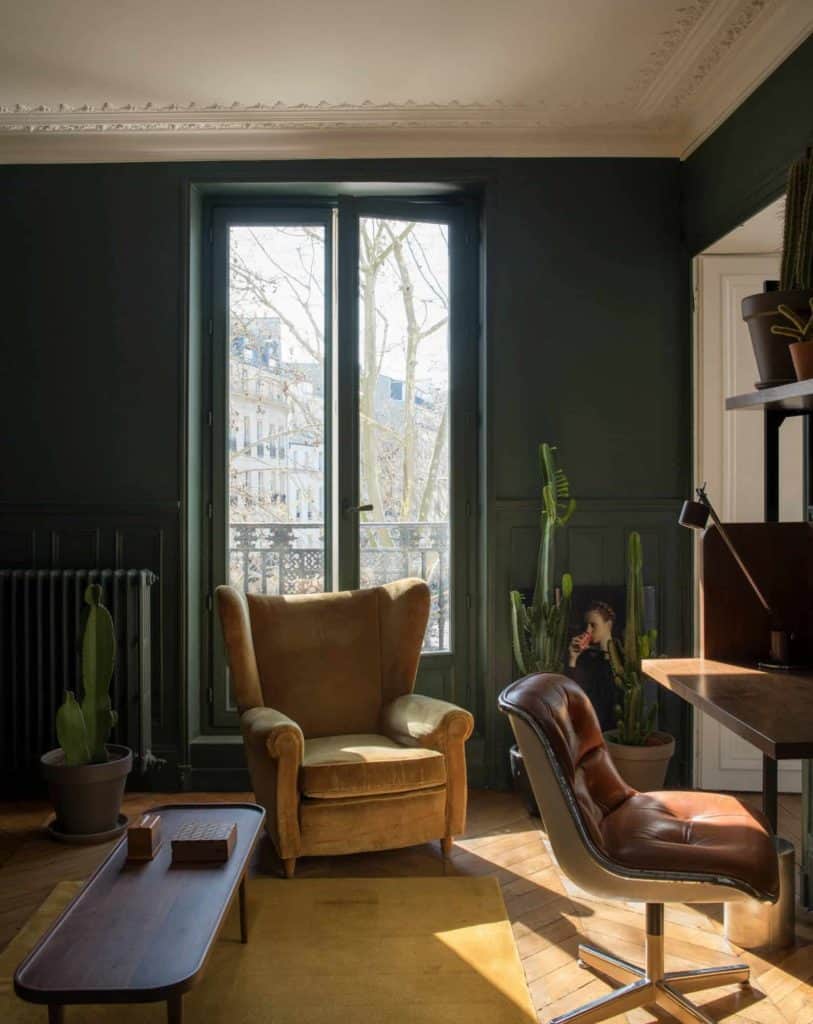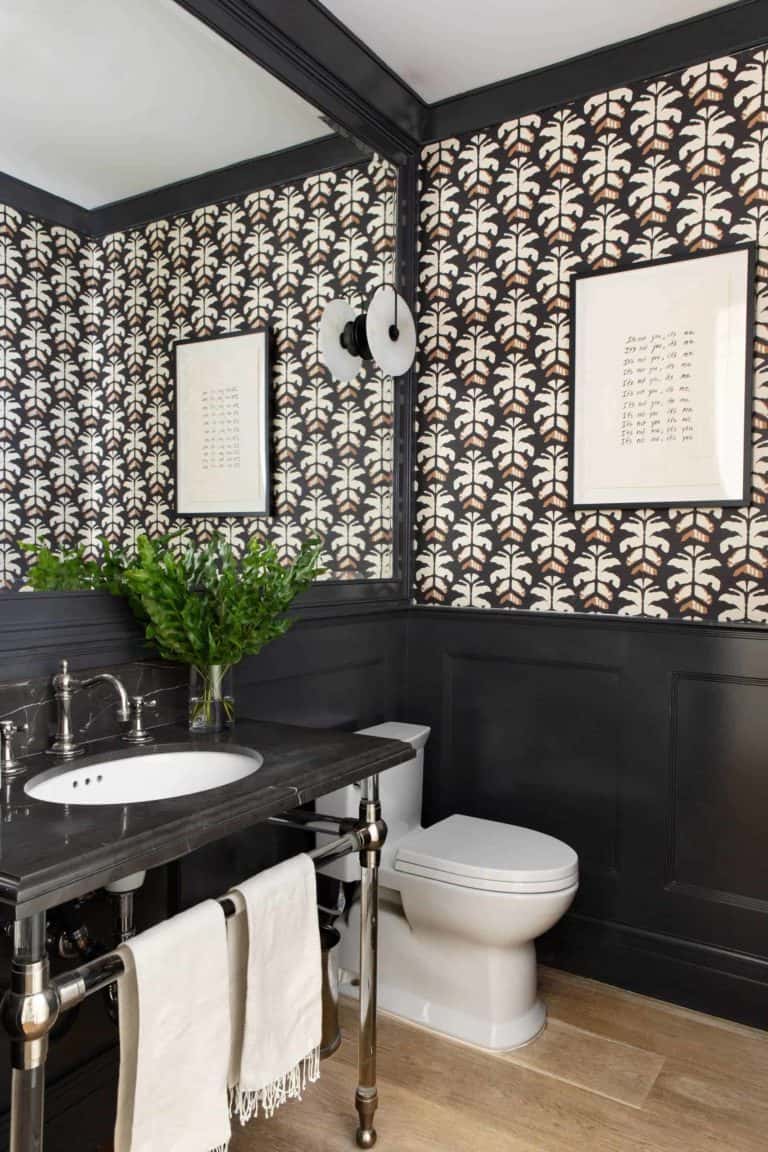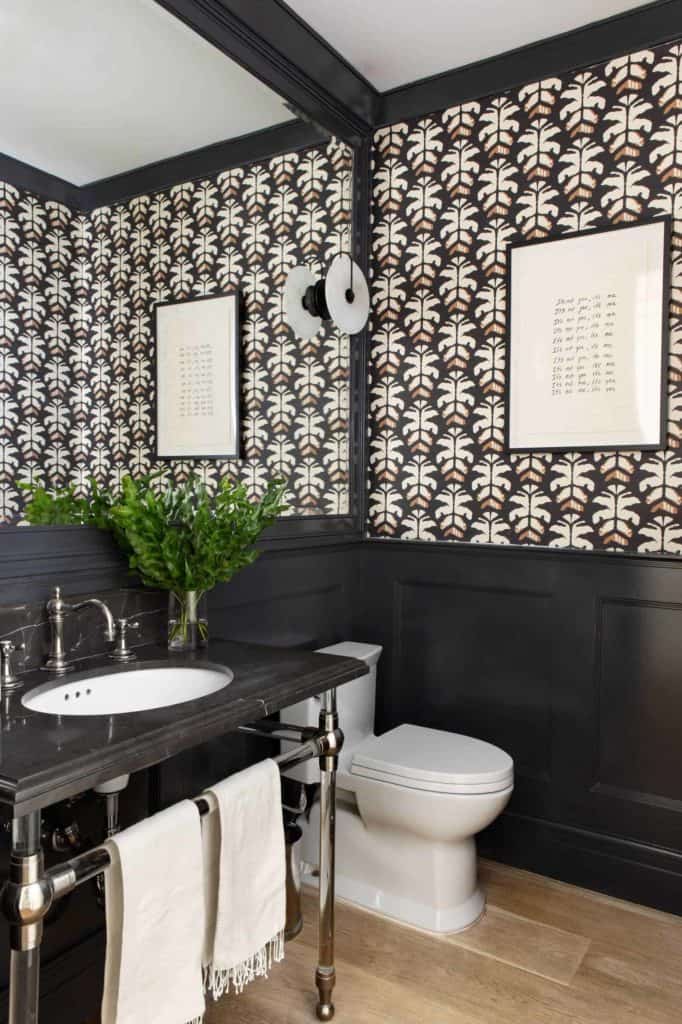 Take a simple, traditional wainscoting and give it a coat of paint that tells a completely different story. In one instance, we've used a hunter or forest green to give it a feeling of deep, rich elegance and sophistication, as well as a very modern sensibility. In the other case, black paint does the trick all on its own.
#32 — Multidimensional Tile Siding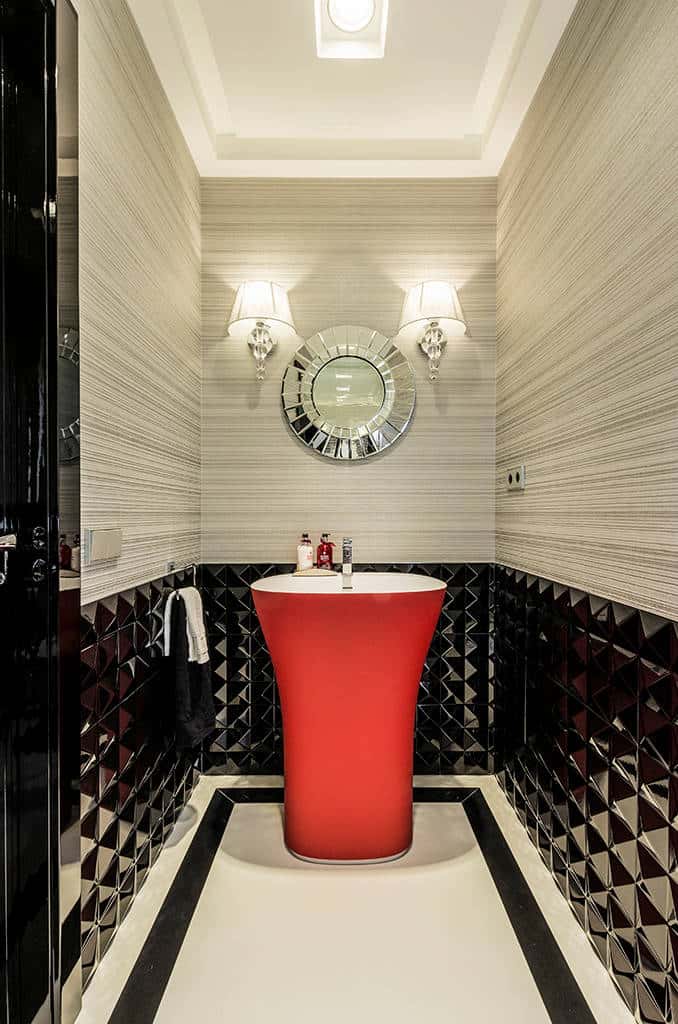 Ground control to Major Tom… Your bathroom wainscoting is calling. This design is worthy of rock stars and anybody that wants to live like one. If you use this wainscoting, please invite me over ASAP. Because it's incredible, and so are you.
#33 — Ski Chalet Wood Paneling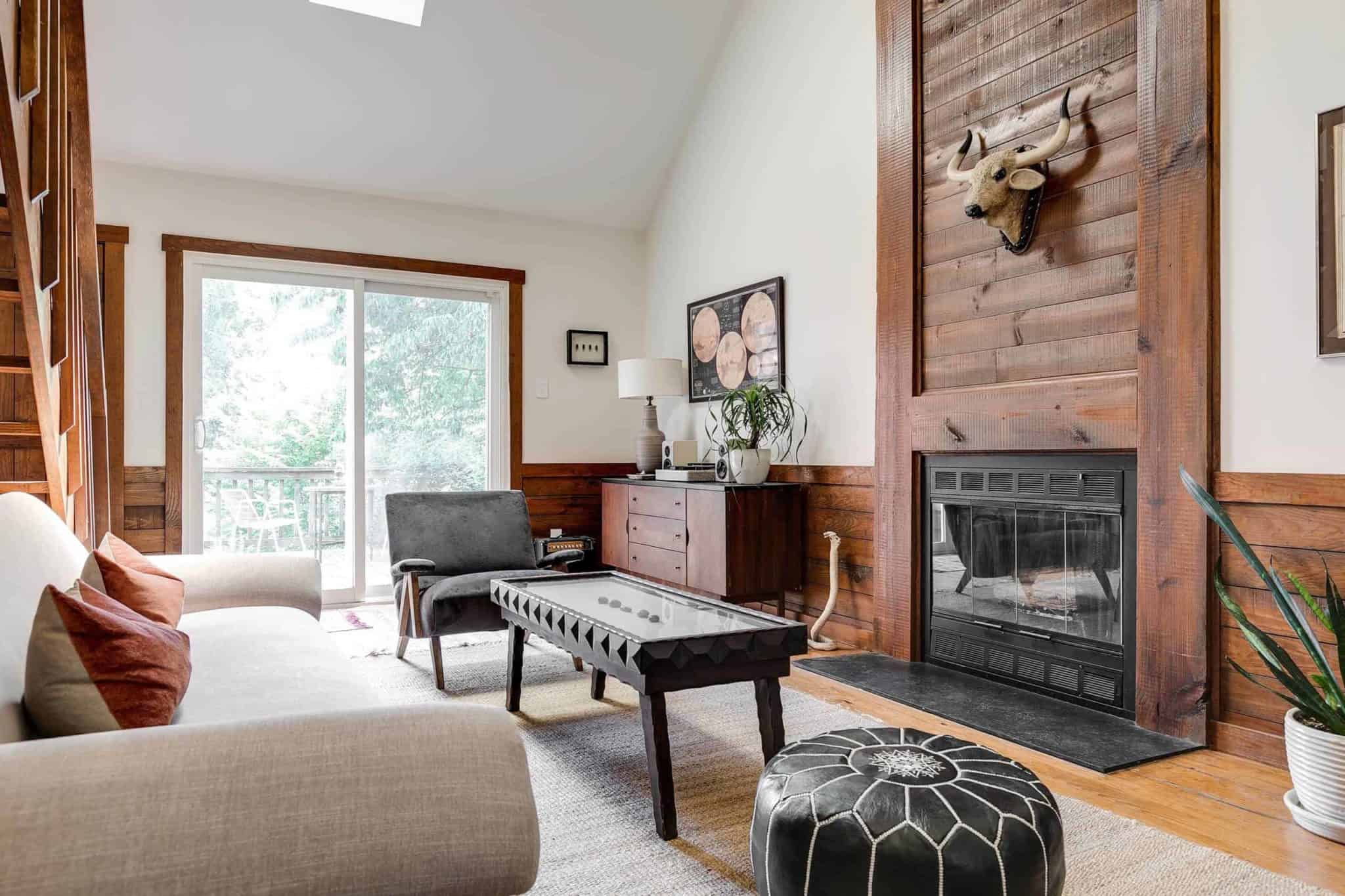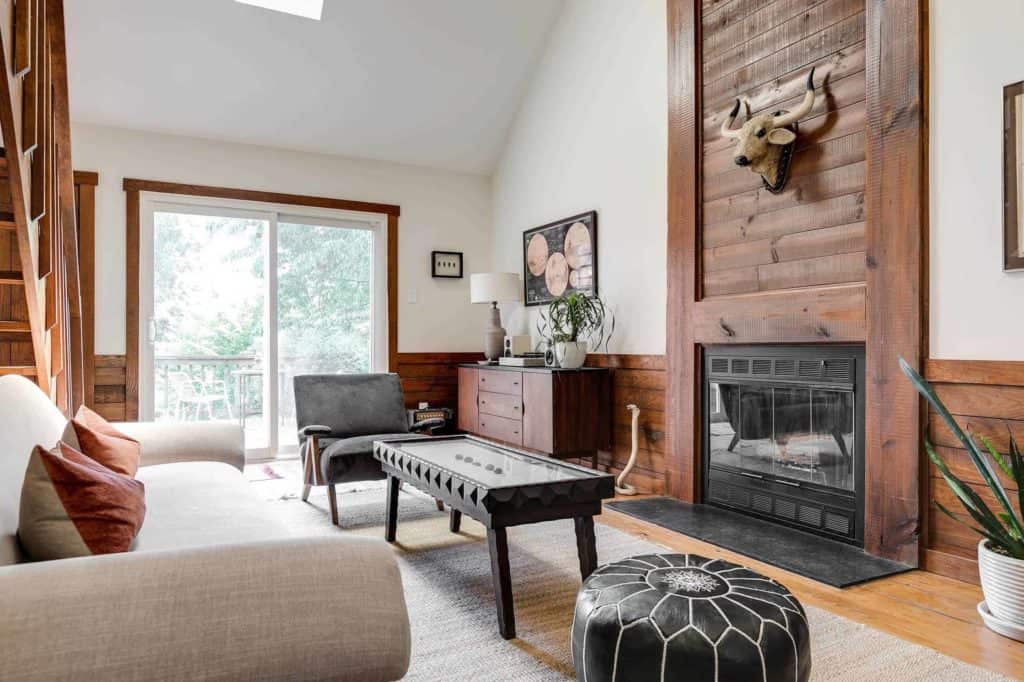 Long wooden horizontal beams extend from one side of the room to the other, creating a clean lodge look in any space that calls for it.
#34 — Rustic Distressed Wall Panels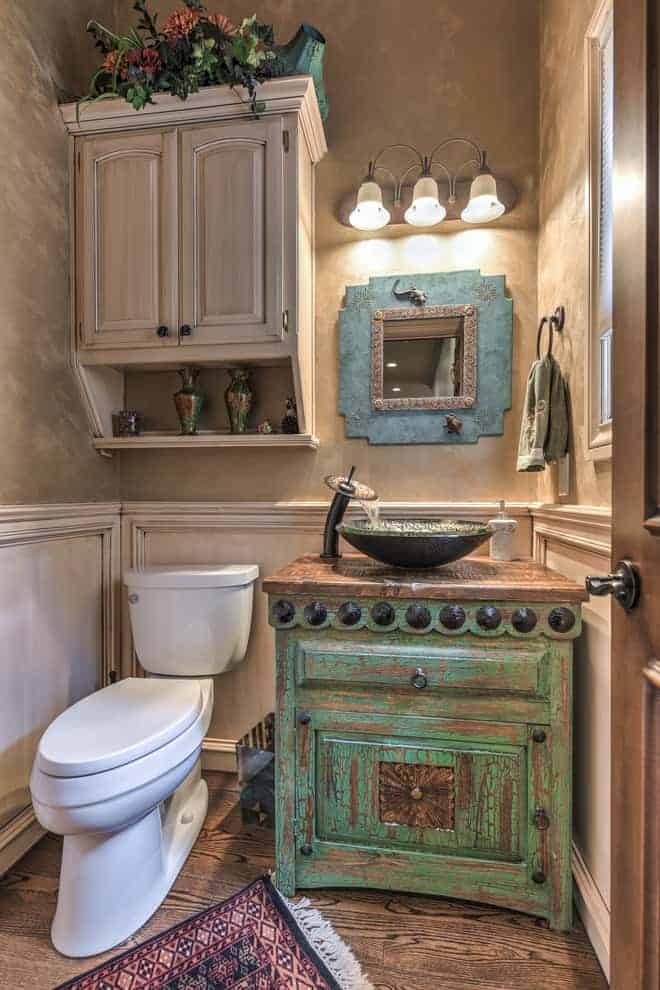 Take traditional wainscoting, give it an eggshell or beige coat of paint, then distress the bevel. This is all it takes to make something contemporary uniquely your own.
---
FAQ: Common Questions About Wainscoting
How high should wainscoting be?
Typically, the wainscoting cap sits about a third of the way up the wall in a given room. So, if the wall is 12 feet tall, then the wainscoting cap would be roughly 4 feet up the wall. You can go taller if you want. If that's the case, consider going a full two-thirds up for the cap instead.
Why is it called wainscoting?
The meaning of wainscoting isn't obvious to most people. The first part of the word, wains, comes the Dutch word for "wagon". The second half, scot, means "partition" or wall. Literally, wainscoting means something like "wagon wall". The word originally meant a specific kind of oak tree wood, but over time the term transferred over to the wall paneling itself.
Is wainscoting still in style?
In a word: Yes. Wainscoting provides the ability to visually separate walls from the floor and from the materials used in each one, whether it's wallpaper, paneling, artwork, or anything else.
Is wainscoting expensive?
This depends on a number of factors, including the amount of wainscot you'll need and the materials that you plan to use. Traditionally, you're looking at around $5 per square foot, on average, though it can be much higher or lower than that.
How wide should wainscoting panels be?
The width of your wainscot panels will determine the look and layout of your wainscoting design, but there's no set length for how wide they should be. Take a look at the many different styles and sizes in this post to see just how widely they vary (pun intended).
What paint finish is best for wainscoting?
For spray painting your wainscot panels, go with a semi-gloss finish. For brush paint, a satin finish looks better, and is often a bit easier to work with as well.
Does wainscoting increase home value?
Yes, definitely. It does this by adding visual "expense" to homebuyers, infuses homes with undeniable charm, requires somewhat little capital to actually install, and ultimately functions as both decoration and a kind of home renovation.
Is wainscoting waterproof?
It can be, though it really depends on the materials and finish you decide to use.
When to use wainscoting?
Truly, you can use it anywhere, but you should look to utilize paneling or wainscoting in any room and foyer where you can really stand back and take it all in. Different styles work better in different rooms and environments.
Does wainscoting go behind baseboards?
Wainscoting or beadboard can go behind or on top of baseboards. If you already have existing baseboards, it might be better to install it above those. For new construction or renovation projects, you can actually purchase baseboards that have a notch built in which to fit the wainscoting.
Does wainscoting make a room look bigger or smaller?
Taller wainscoting, especially in rooms with lower ceilings, can give the appearance or feel of a smaller room. That said, darker colors on wainscoting can also make rooms look and feel on the smaller side. To employ wainscoting to give rooms a larger feeling, opt for shorter panels and colors on the lighter end of the spectrum.