Wall decor stickers and decals are slowly becoming a great substitute for wallpaper. They enhance the appeal of a room in less time, with less money, and less effort than applying wallpaper.
Whatever the purpose may be for your wall decor stickers, it is a relatively easier process compared to putting up wallpaper for the entire wall. It just requires a little preparation for stunning results. Wall decor stickers are great for bedrooms, living room, nurseries, and basements!
Wall Decals for Kids' Rooms and Nursery
Wall Decor Stickers with Flowers, Plants, and Trees
Wall Decor Stickers with Animals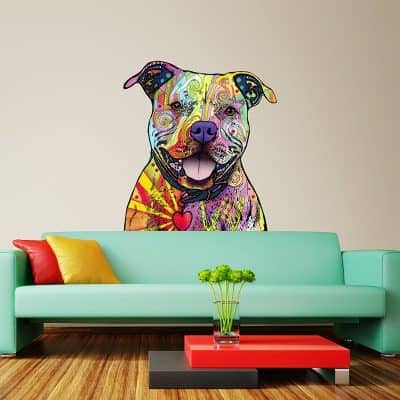 Wall Decor Stickers with Maps
Decal Ideas With Words and Phrases
---
Tips for Sticking your Wall Decor Stickers
Wall Preparation is Key
What you need to do before you create your wall decal masterpiece is to prepare your wall.  The sticker is a part of the theme of your room so you have to make sure that everything including the background goes well with your choice of stickers. It is practical and easy to clean and paint the wall before applying the wall decor sticker.
First and foremost, the wall should be washed. Make sure there's not dust or dirt. This will create a smooth surface for the sticker. Then let the wall is thoroughly dry before applying your wall decor stickers.
Plan Your Wall Decor Sticker Design
Some wall decor stickers are hard to remove or replace once you have applied them to the wall. It would behoove you to lay out your design on the floor or table so you will know the exact placement of your stickers before finally sticking them to your walls.
Pro Tip: For better visualization, try using painter's tape to temporary stick your stickers to the wall with their backing still intact. Then you will have the freedom to play with their placement and arrange them until your happy.
Now, mark your final placements on the wall. You can do this by marking temporary outlines with a pencil along the edge of the sticker backings.
Ready to Get Sticking.
Okay, your wall is clean and prepped. It's dry. You marked the placement of your stickers. Now you're ready to stick.
Remove the backing from each sticker and apply them to the wall one piece at a time. You need to be careful when applying the stickers to the wall so they don't form any lumps or bubbles.
Start on one edge and then slowly smooth the piece with your hands. Smooth and secure the stickers by rubbing each piece slowly with a squeegee or a with a flat, smooth object like a credit card. The top covering can be removed once you are happy with the result.
Usually, this is a one-person job. But for large pieces, you should ask a friend for help. This will keep the wall decor stickers from sticking to itself once you peel away the backing.
Want more?
For more Wall Decor Sticker ideas, be sure to check out my ideabook on Houzz. I found a lot of great ideas there.
Also take a look at this really neat French sticker site, http://poissonbulle.com/ – lots of great designs there though I'm not sure if they ship to the US.