Keeping yourself caffeinated in the morning is important. But many people fall victim to using an ugly, crowded coffee corner of their kitchen to hide their coffee makers. The truth is, you can have a coffee station inside your home that makes the room feel just like your favorite cafe. There are many different kitchen coffee station ideas to organize your cups, coffee maker, and even the coffee itself to create a beautiful home coffee bar. Having a beautiful morning starts with a trendy coffee bar.
What you will need for your Perfect Coffee Bar
1. Start with a Great Coffee Maker
One of the first steps in creating a coffee station is having a device to make coffee of course. Whether you're a fan of pour-over, espresso, or prefer a pod-based electronic coffee maker, you'll need to find a coffee maker that fits the aesthetic you're going for. Many of the ideas I've listed below have some great coffee makers included and would be a great place to draw inspiration from.
2. Add Coffee Bar Furniture and Decor
Next, you'll want to find a shelving type that fits the look you're going for. Almost every coffee bar out there needs at least one shelf if not more. Whether you want more of a cafe-style look or a coffee cabinet you'll need to decide what you want the shelving to look like as well as what it will hold.
3. Add Coffee Bar Accessories
Lastly, one of the staples of a good coffee bar is mugs or cups. Using the coffee maker and shelving as a guide, you can easily find mugs that match the aesthetic you're going for.
All three of these elements put together will allow you to easily find the perfect additions to spruce up the coffee station without making it overcrowded.
Coffee Station Ideas for Your Kitchen…
Here are 47 brilliant kitchen coffee station ideas for giving you beautiful caffeine boost in the comfort of your own home.
Industrial and Compact Coffee Station Ideas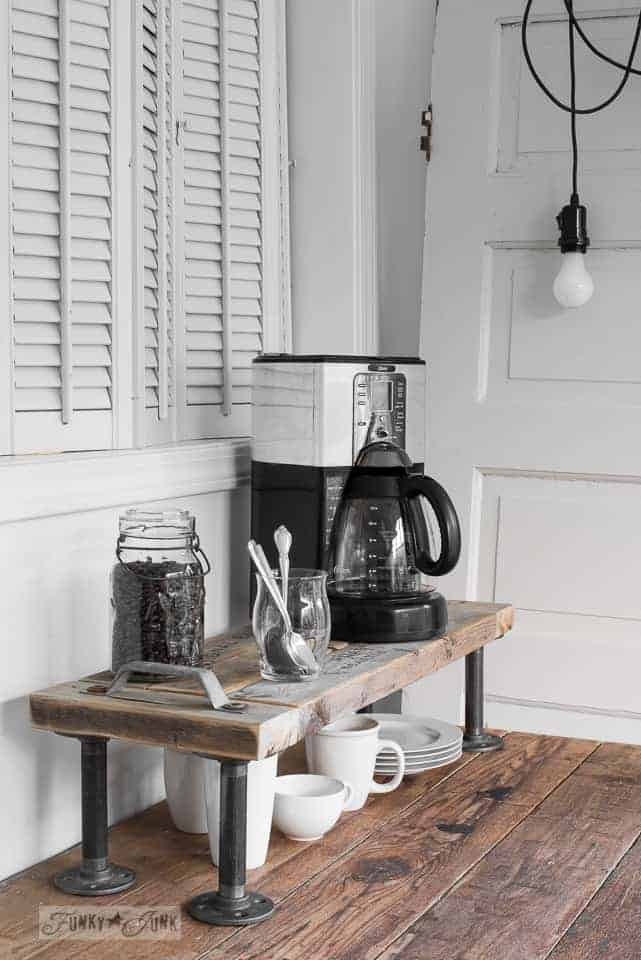 Just because you're short on kitchen space, doesn't mean you can't make a great coffee bar set-up. Using small, industrial-style shelving, like with this coffee station, will give your caffeine station a unique feel. As you can see, just adding a single shelf to the coffee station table nearly doubles the space available for a coffee maker, mugs, coffee beans, and even a few saucers.
Hotel-Style Coffee Station Without Leaving Your House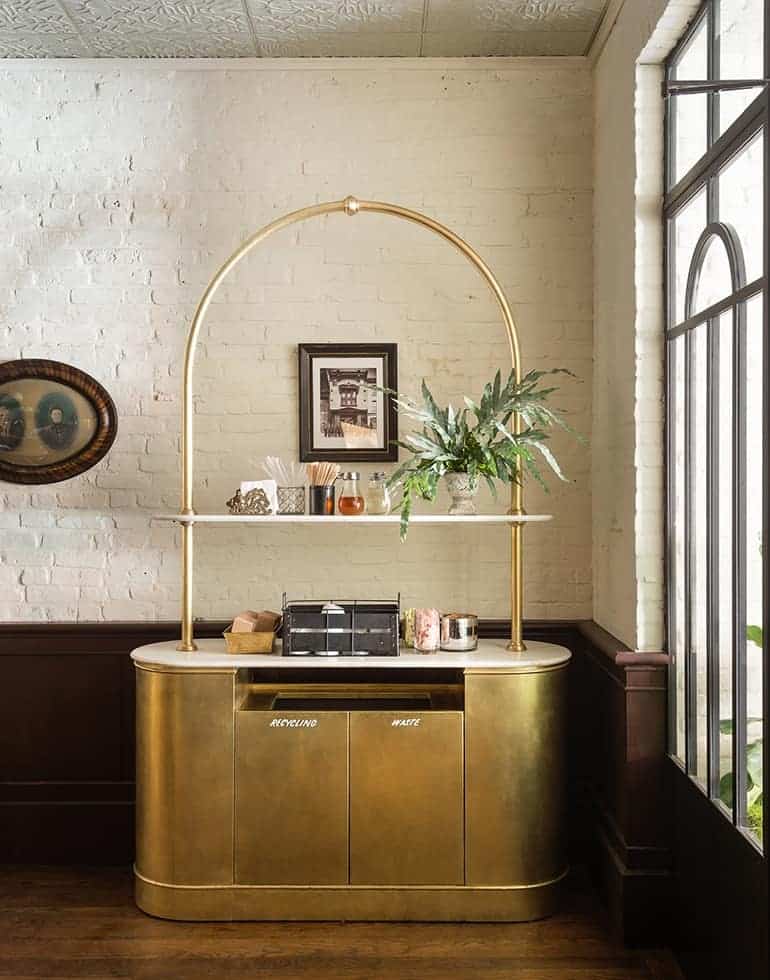 If your kitchen is lacking in space for a coffee bar, but your other rooms have plenty of space, this might be the set-up for you. Adding a golden breakfast counter, similar to that at a hotel's continental breakfast, can be a great place to house coffee accessories. This option leaves plenty of room for stir sticks, add-ins, and other coffee adjacent items.
Cozy Cabin Chalkboard Coffee Bar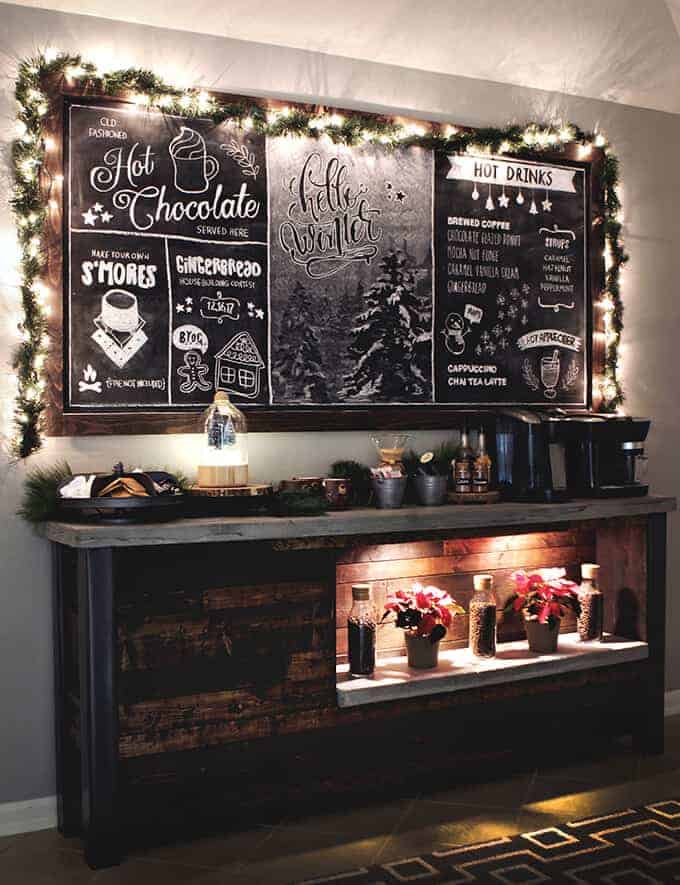 Grabbing a warm cup of coffee after hours in the snow sounds fun, but it's even better when you can capture that style at home. If you've got an artistic flair, and a spare wall, throw up a chalkboard for a fun space to set up your at-home coffee menu. The faux pine twinkle lights and dark wood cabinet bring this coffee station together to give you the feeling of staying in a mountain cabin.
Farmhouse Diner Idea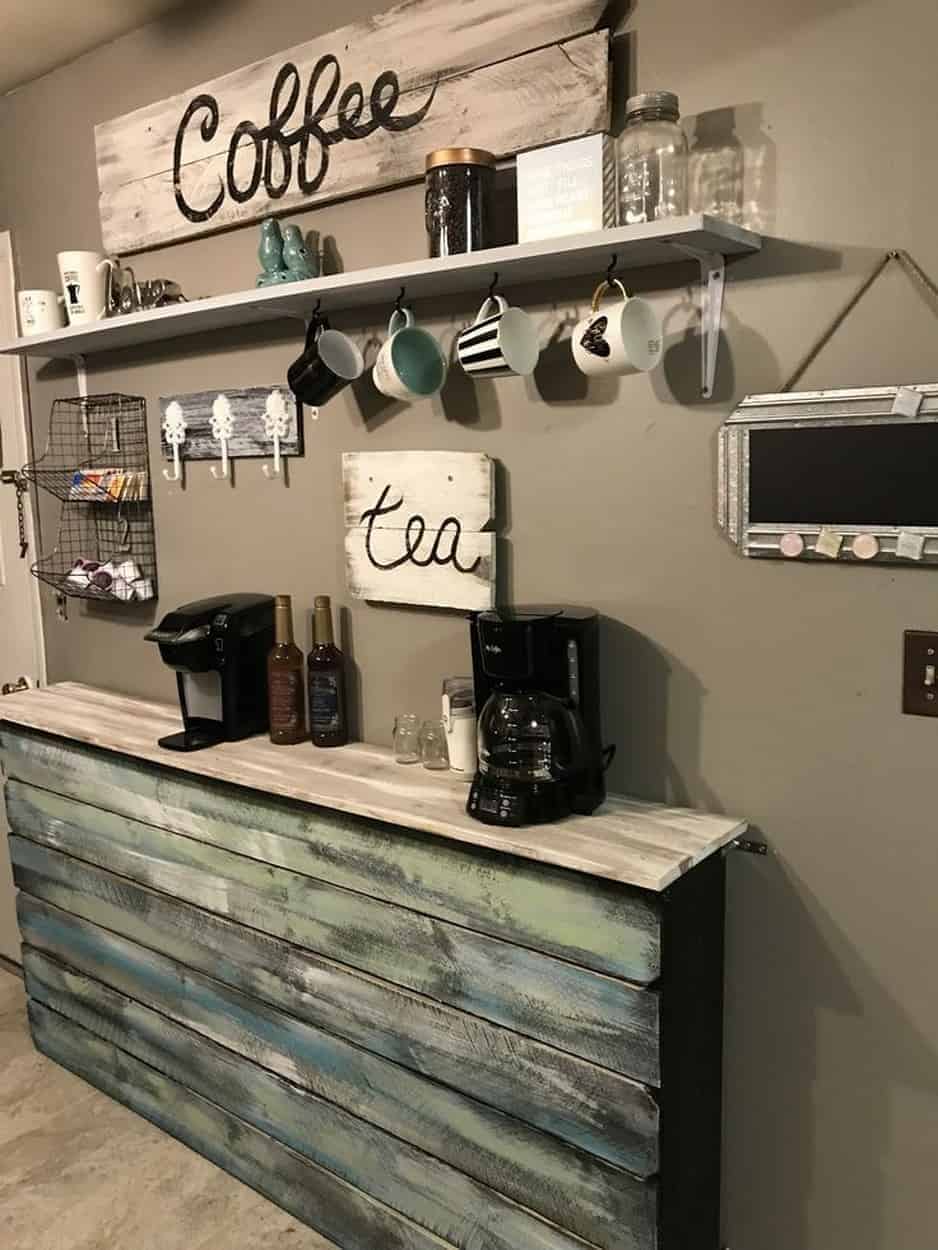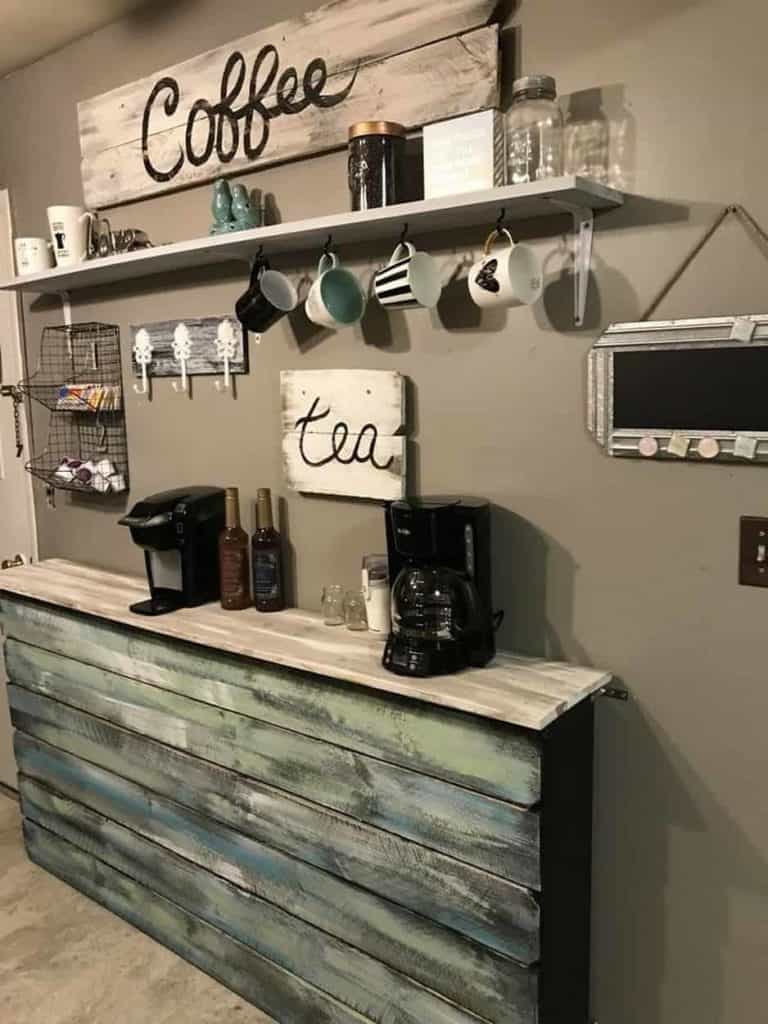 Patched paint, mismatching mugs, and wooden signs really give this coffee bar a diner feel. This particular example has great use of space with the hooks to hang mugs, leaving more free space on the countertop. The farmhouse style also makes this an easy enough coffee station to make yourself with a variety of materials.
The Island of Espresso Coffee Station idea
If you've got a flair for fancier coffee and an espresso machine, this coffee station idea is probably your perfect set-up. This coffee bar features a rustic, wooden island with an espresso machine and accessories. Adding this to your home will make it feel like a nice morning at the farmer's market every day.
Cafe-Style Chalkboard Walls Coffee Station at Home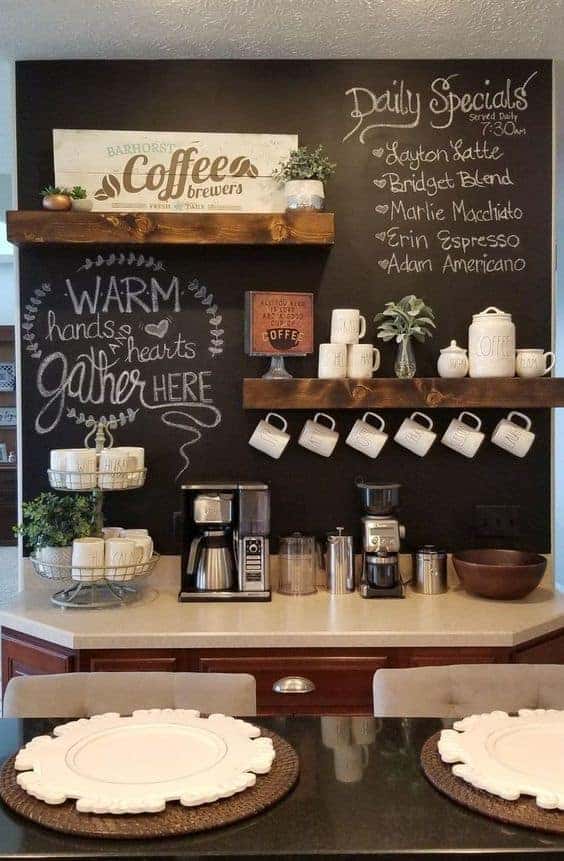 When that café aesthetic is really calling your name, you can spruce up your coffee station with a chalkboard wall. The repurposed fruit basket with matching drinkware gives an organized but warm feeling to this organization. Adding in the greenery throughout brings together a muted and balanced color palette.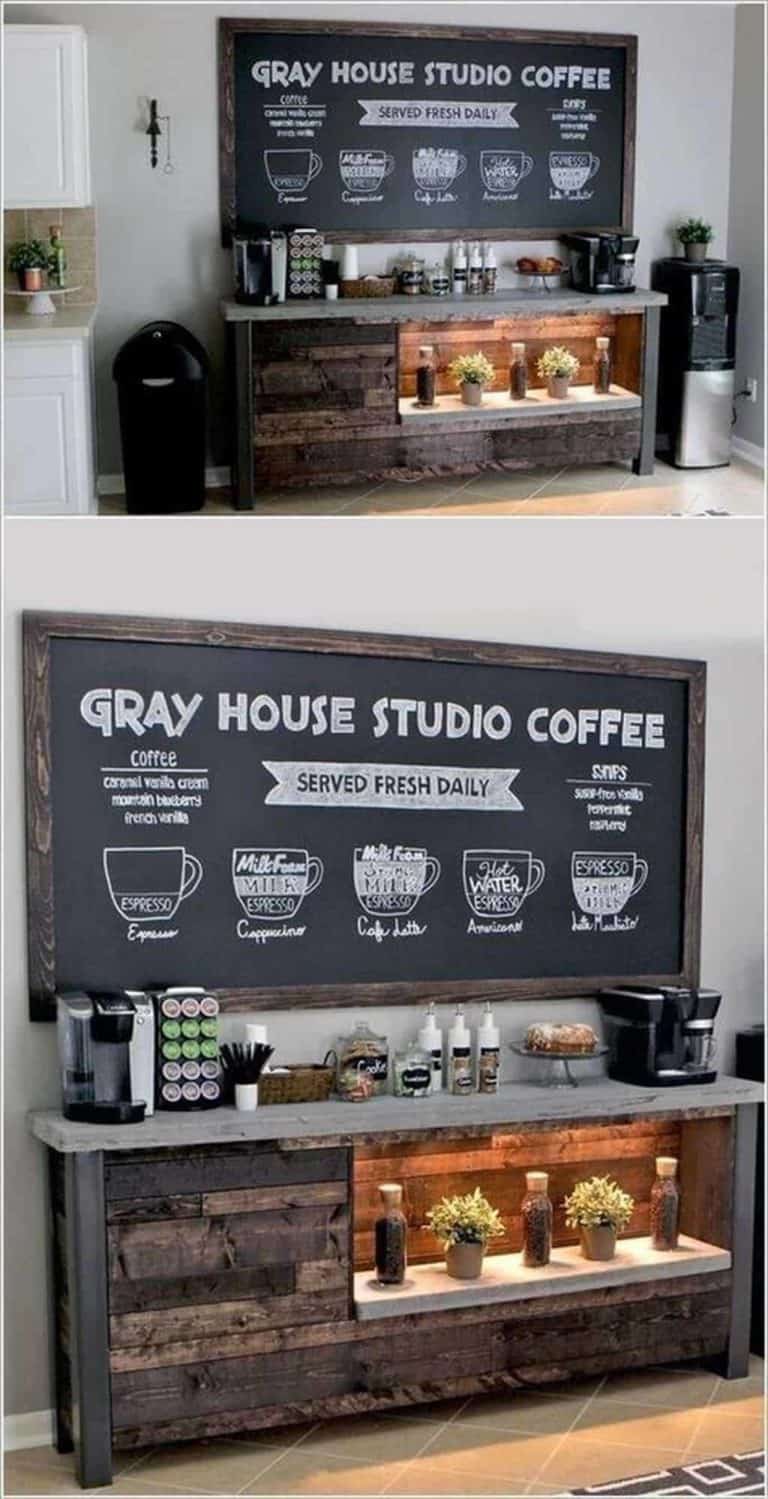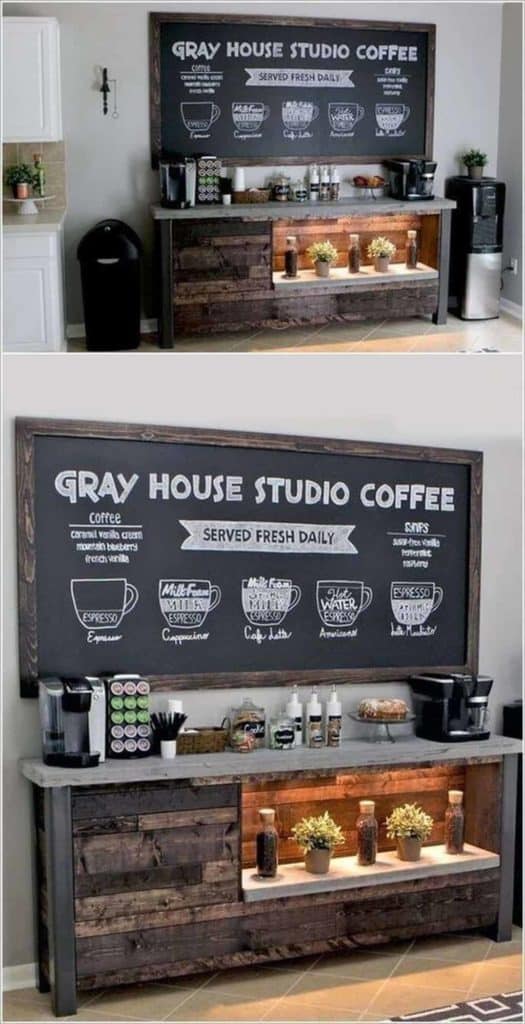 Like many of the examples on this list, this coffee bar utilizes a chalkboard. However, using a chalkboard to make a rustic coffee menu gives the bar an artistic flair.
Coffee Station Idea With Shelved Chalkboard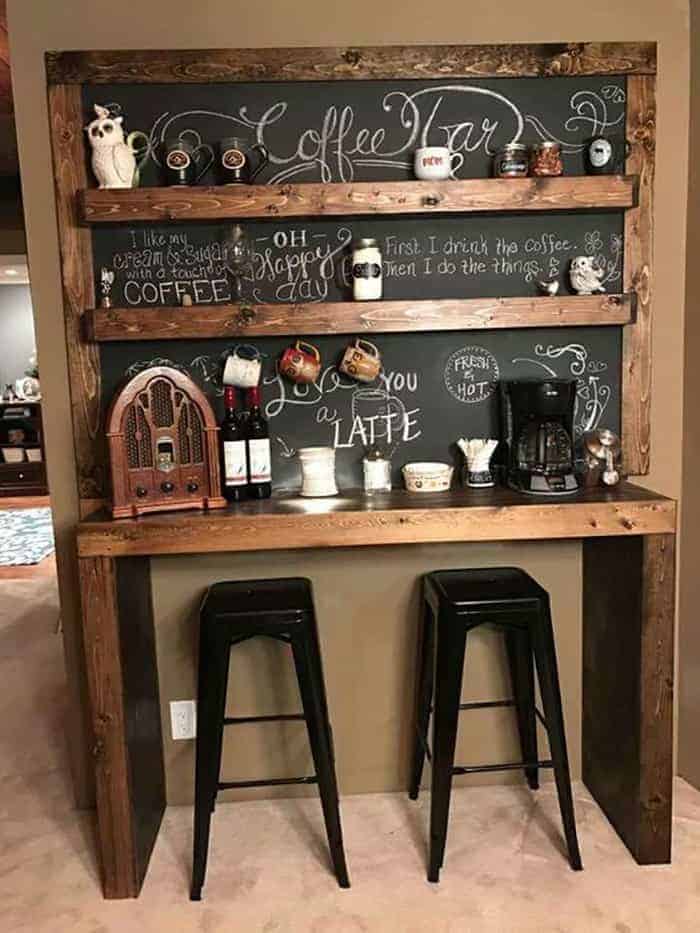 This chalkboard-centered coffee station utilizes the space available by adding shelves onto the chalkboard itself. Using this method can save space while also creating different sections on the chalkboard for a variety of designs.
Coffee Bar for a Kitchen with Industrial Tiers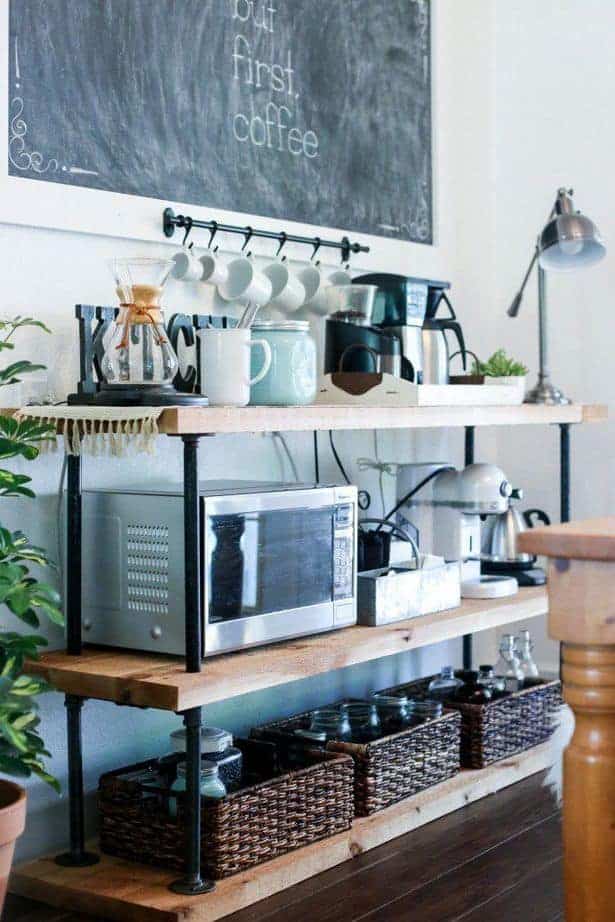 Creating kitchen space where there wasn't any before can really take your coffee bar to the next level. This example utilizes the top shelf for any coffee needs which providing cups at the bottom. What could be overcrowded on a single shelf is made to look much more put together when multiple tiers are introduced.
Simply Welcoming DIY Coffee Station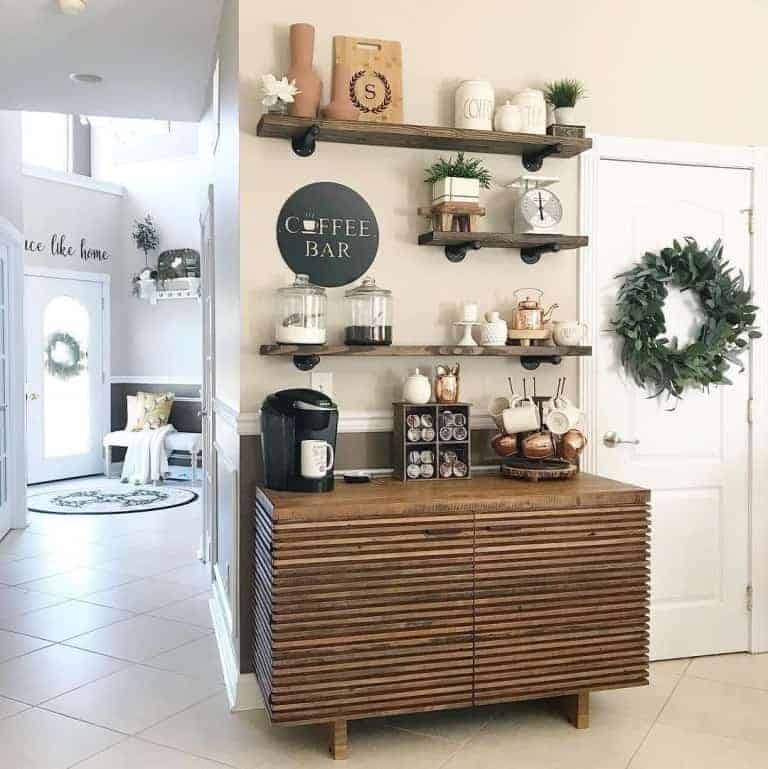 This coffee station does an excellent job of creating a more open space with shelves in a variety of sizes. This station feels simple thanks to the free space on the counter and the location of the coffee station gives it a welcoming feel. There is an excellent example of how to store coffee pods here as well while not making it feel disorganized.
Home Coffee Bar with Hot and Cold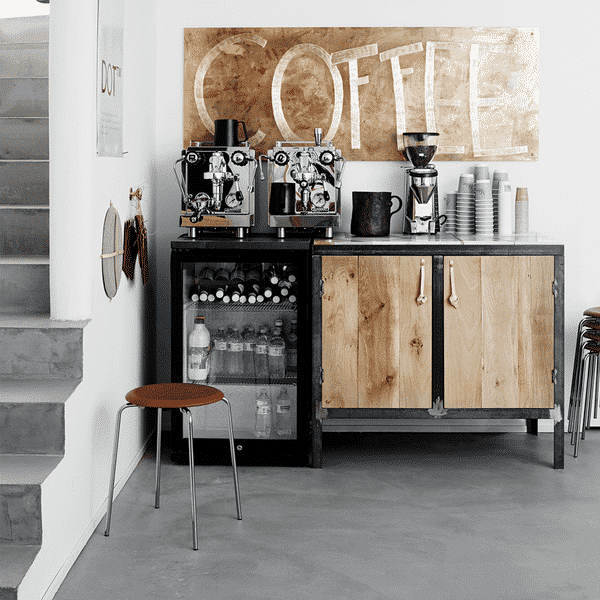 With two espresso machines, you'd expect an overcrowded and messy space. But this coffee bar organizes them nicely while also seamlessly integrating a mini-fridge, without it looking tacky. The balance of metal and wood with the rest of the room makes this industrial style look right at home.
Farm Shelving Kitchen Coffee Station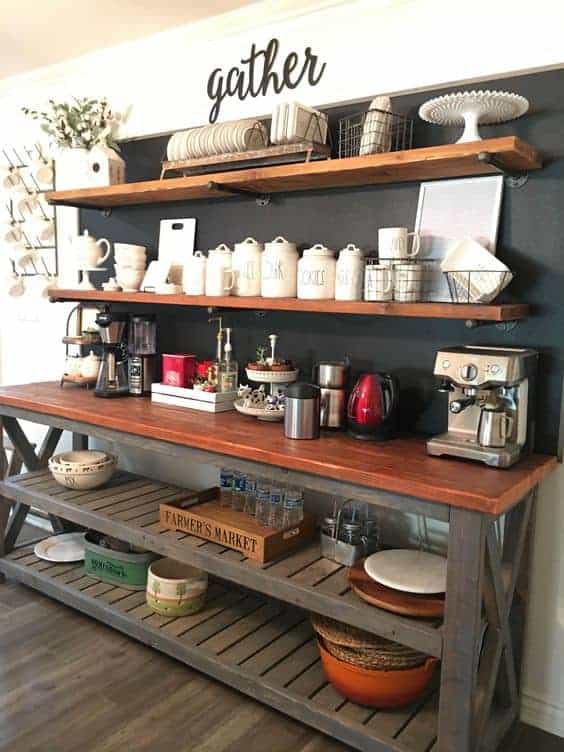 This farm-inspired coffee station features rustic shelving and ceramic bowls below for a southern kitchen feel. But the shelving above the bar has a nice contrast of matching jars, drinkware, and saucers to bring a sense of balance to the coffee station .
Modern Café Station Idea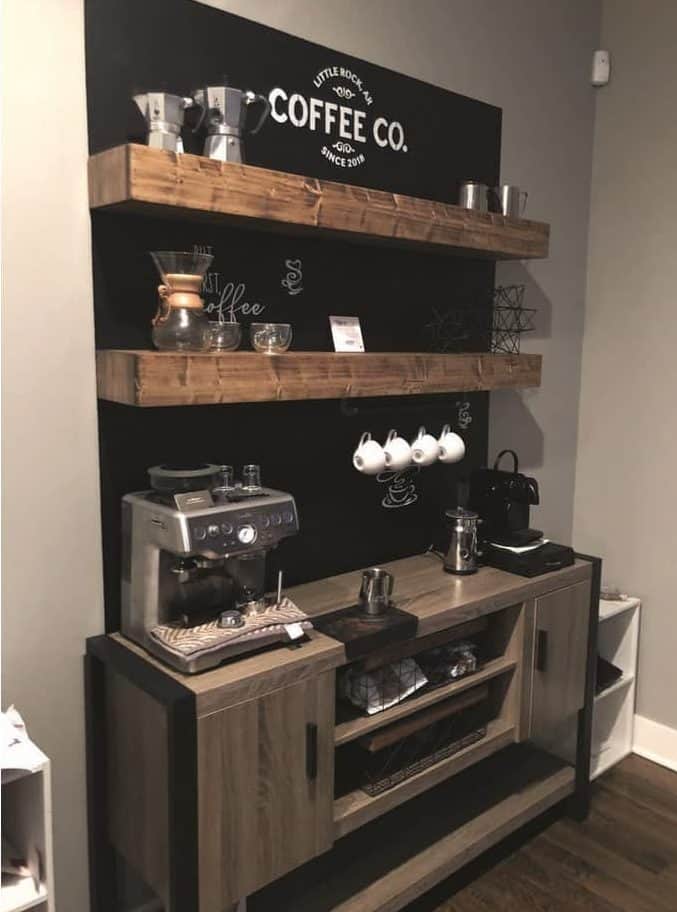 The trendiest coffee bar in town just moved into your living room with this set-up. The variety of coffee brewing methods combined with the modern feel of the wood gives makes this the trendiest way to get caffeinated.
Simple Coffee Station Breakfast Bar – Studio Style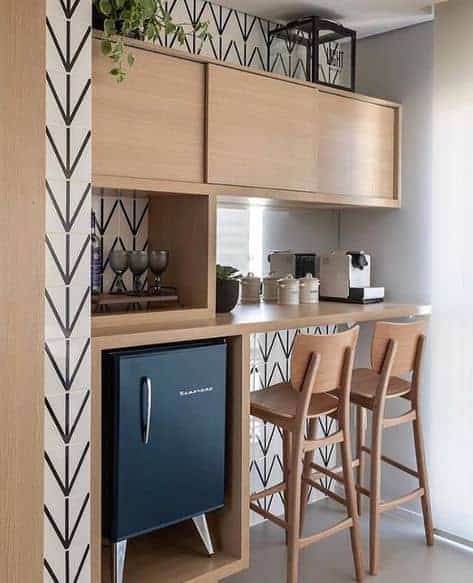 This sleek, modern breakfast bar saves on kitchen space and gives a cozy feeling. The counters aren't covered in cute mugs or other coffee accessories, because there isn't enough space here. But what this coffee station lacks in space it makes up for in cozy, modern style.
Chalkboard Coffee Bar Idea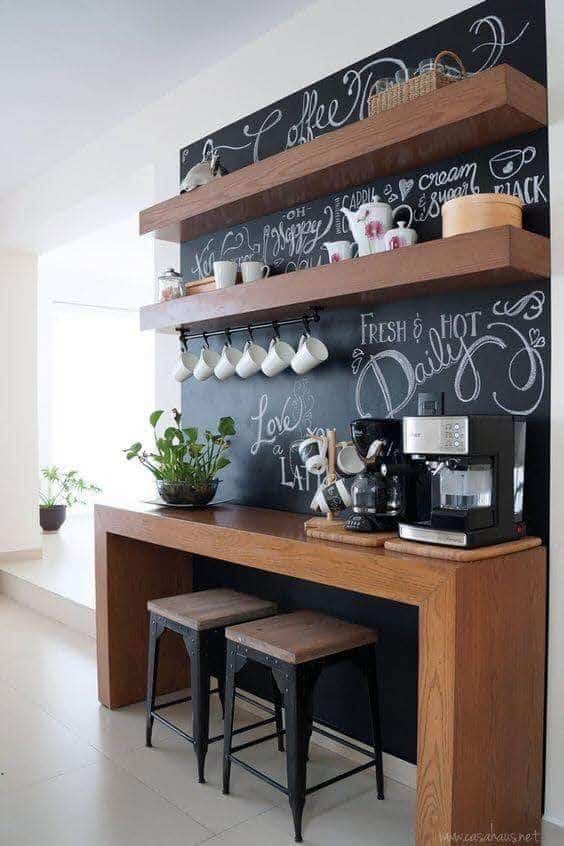 A modern breakfast bar with a chalkboard bar provides a rustic place to sip and make some coffee. The addition of a small plant adds some color to this coffee bar table and gives some life to it as well.
Closet of Coffee Station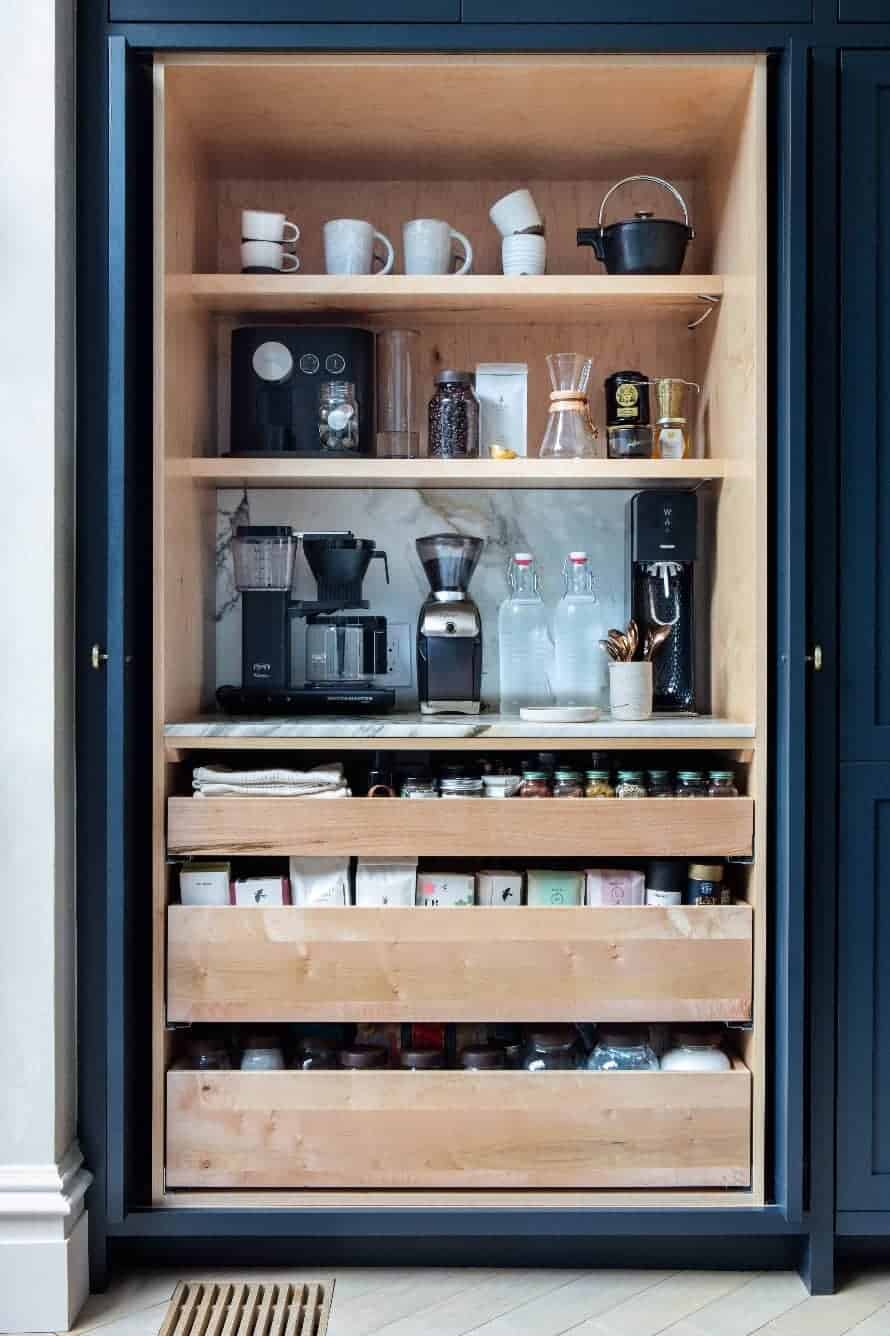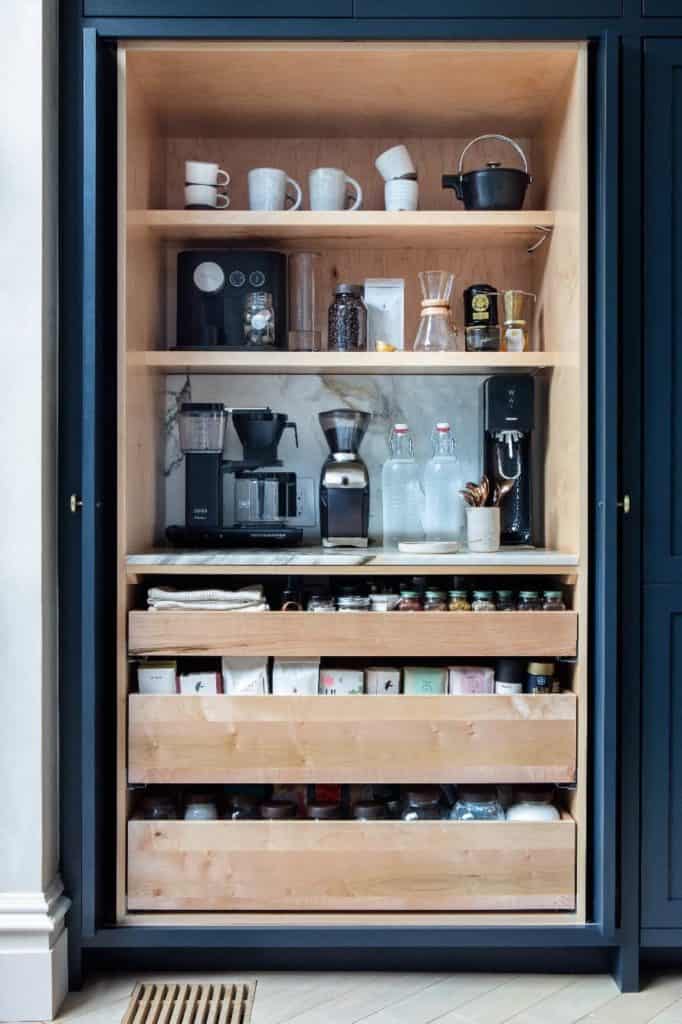 A great space-saving idea for a coffee station in the kitchen would be to put the set-up inside of a closet. This example used the shelf and drawer space of a pre-existing closet for a unique bar with plenty of storage space built-in.
Pantry Coffee Bar Idea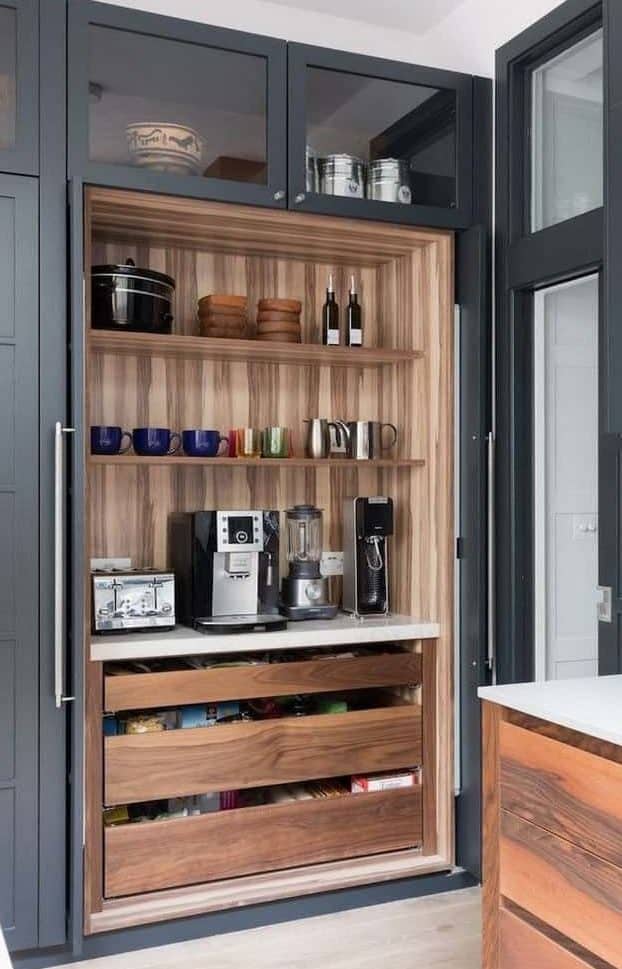 Just like the coffee closet, this example uses a pre-existing piece for the coffee bar. However, this example is a bit more similar to pantry and closet hybrid, allowing for a wider area and more kitchen counter space. And just as with the coffee closet, this coffee station makes a nice hide-away spot that can easily be covered up.
Repurposed Cupboards for a Coffee Corner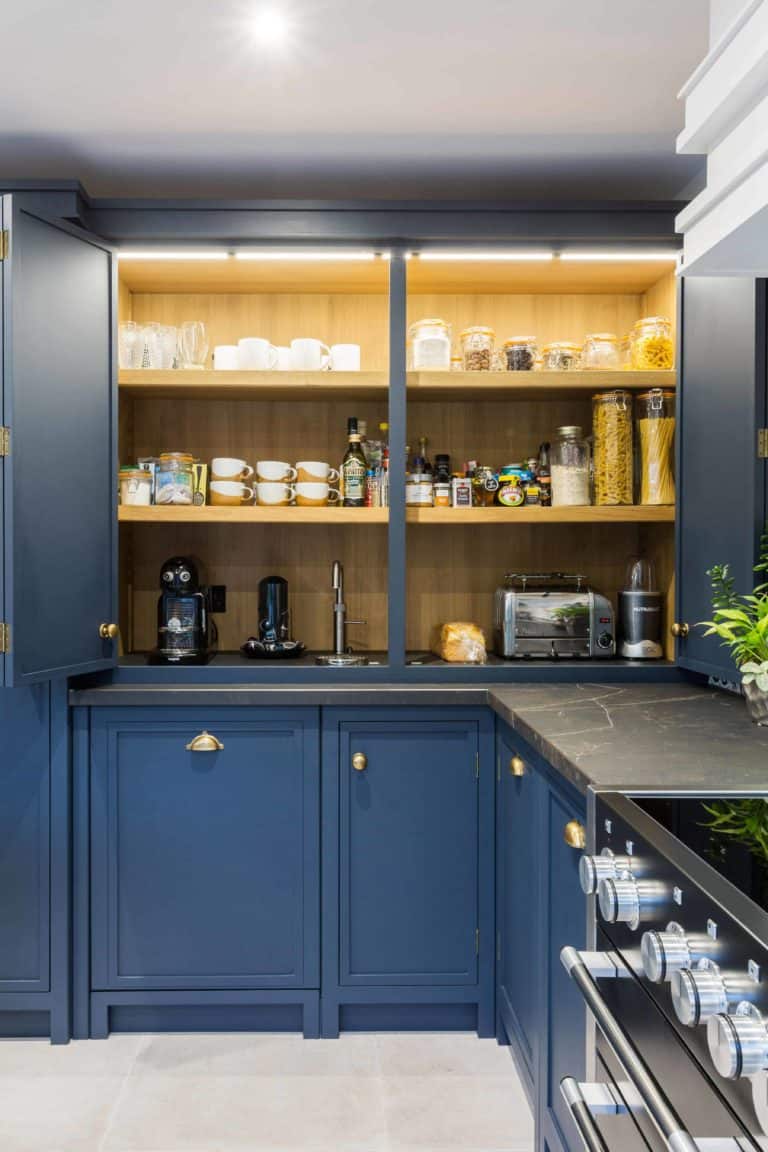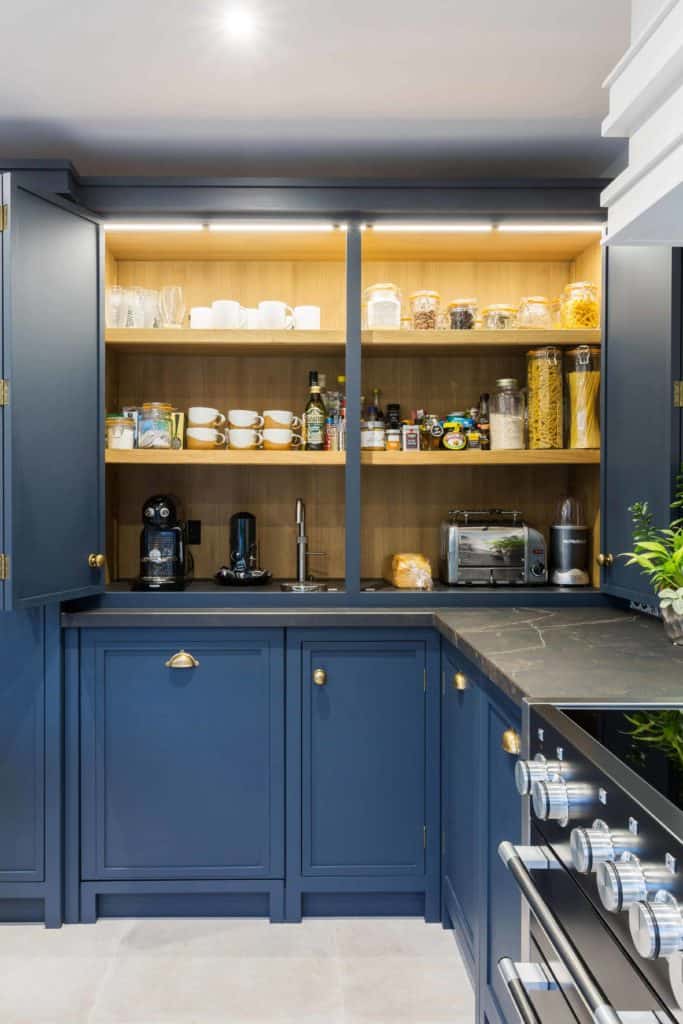 Having a coffee hideaway in a closet or pantry is nice, but repurposing an unused set of cupboards can be just as handy. This coffee bar takes the place of cups, plates, or anything else that would have been housed in these cupboards. Creating this type of coffee station also allows for additional storage for any coffee toppings or syrups.
Breakfast Counter Coffee Station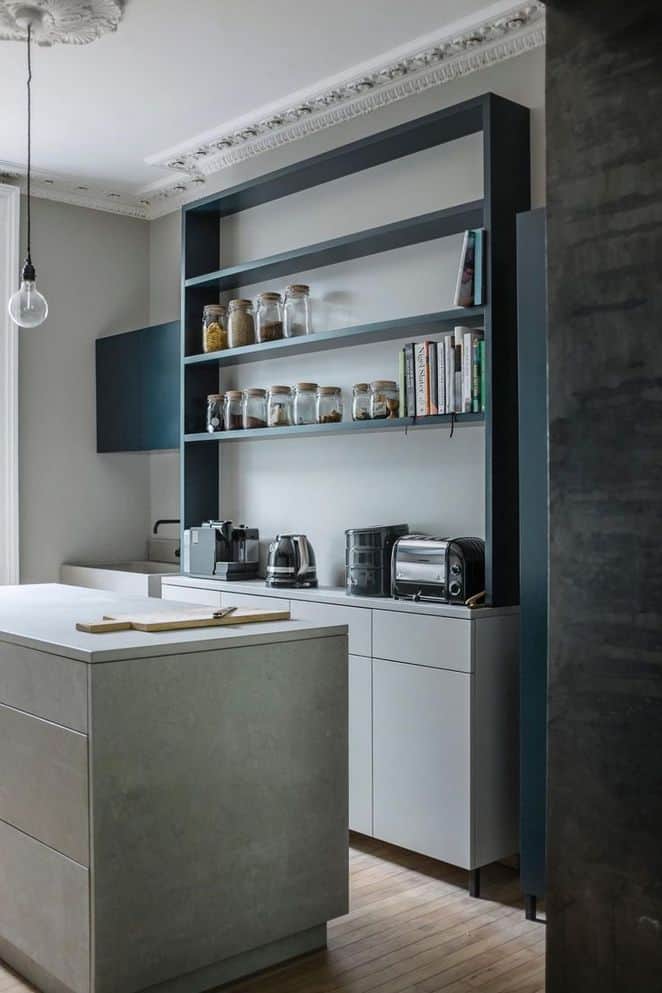 This simple set-up combines a coffee bar and a few smaller kitchen appliances. There isn't exactly a method to the coffee station part of this, but the shelving is a nice touch.
Subtle, Sleek, & Small Coffee Station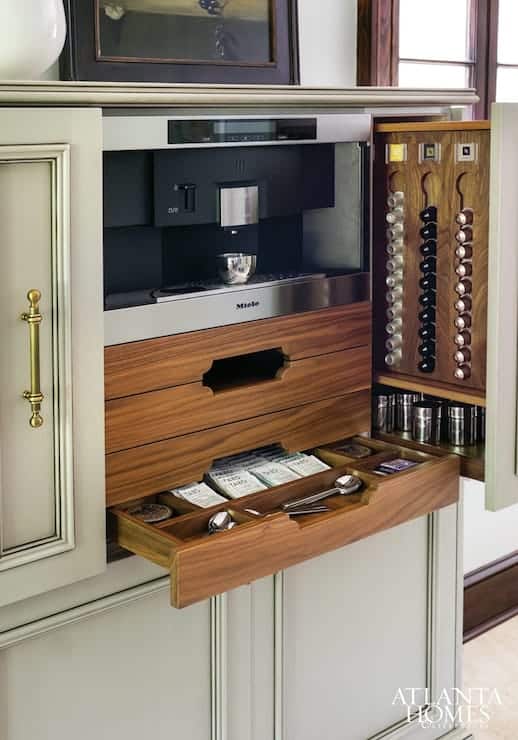 So subtle you may not have noticed it at first, this small coffee station is perfectly hiding in plain sight. With the coffee maker, pods, and even some tea cleverly organized and hidden away, this is perfect for those that don't need their coffee machine to be a statement piece.
Bread Cupboard? More Like Coffee Cupboard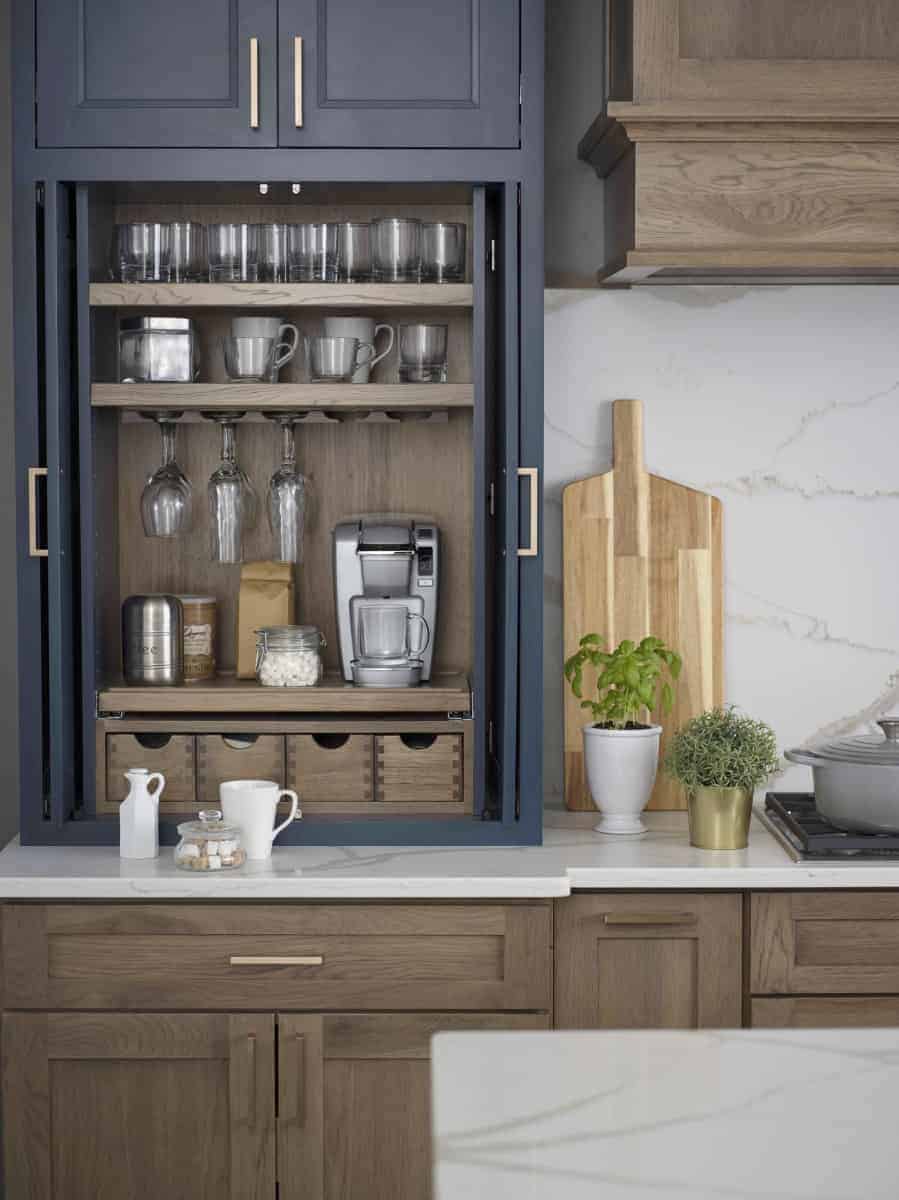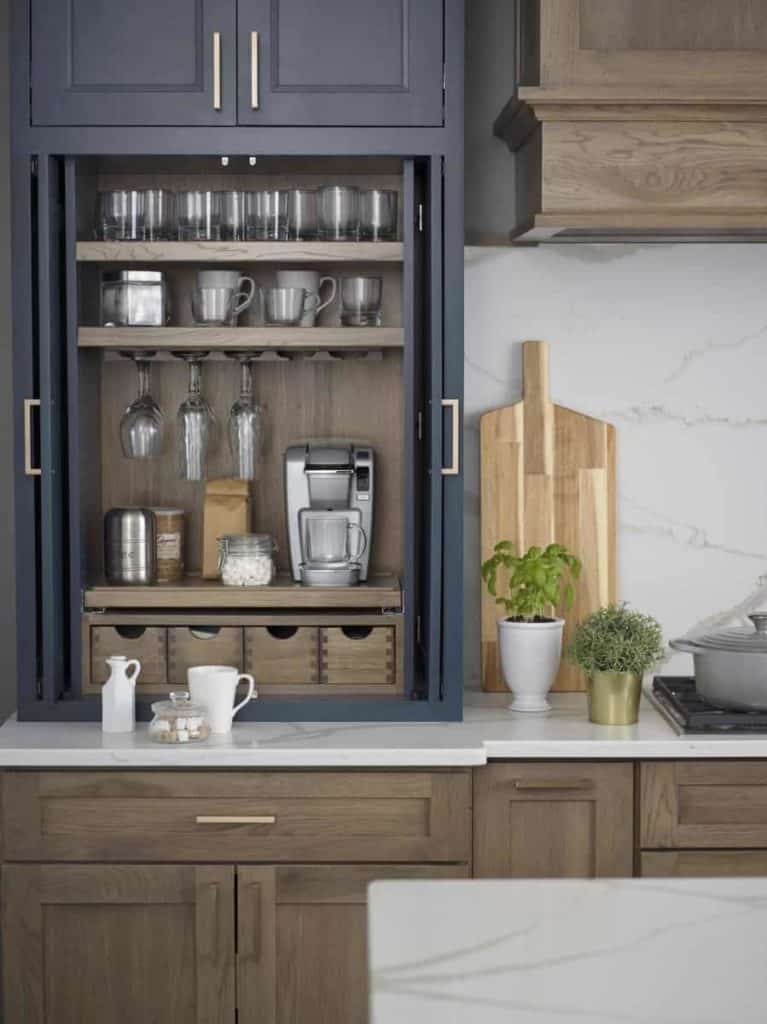 Gone are the days of hiding a bread loaf off of the counter, it's time to make that space bigger and use it to house your coffee and cups! These coffee station ideas use the shelving attached to a kitchen counter to keep the coffee, toppings, and a variety of cups inside.
Simple Coffee Station with Narrow Space? No Problem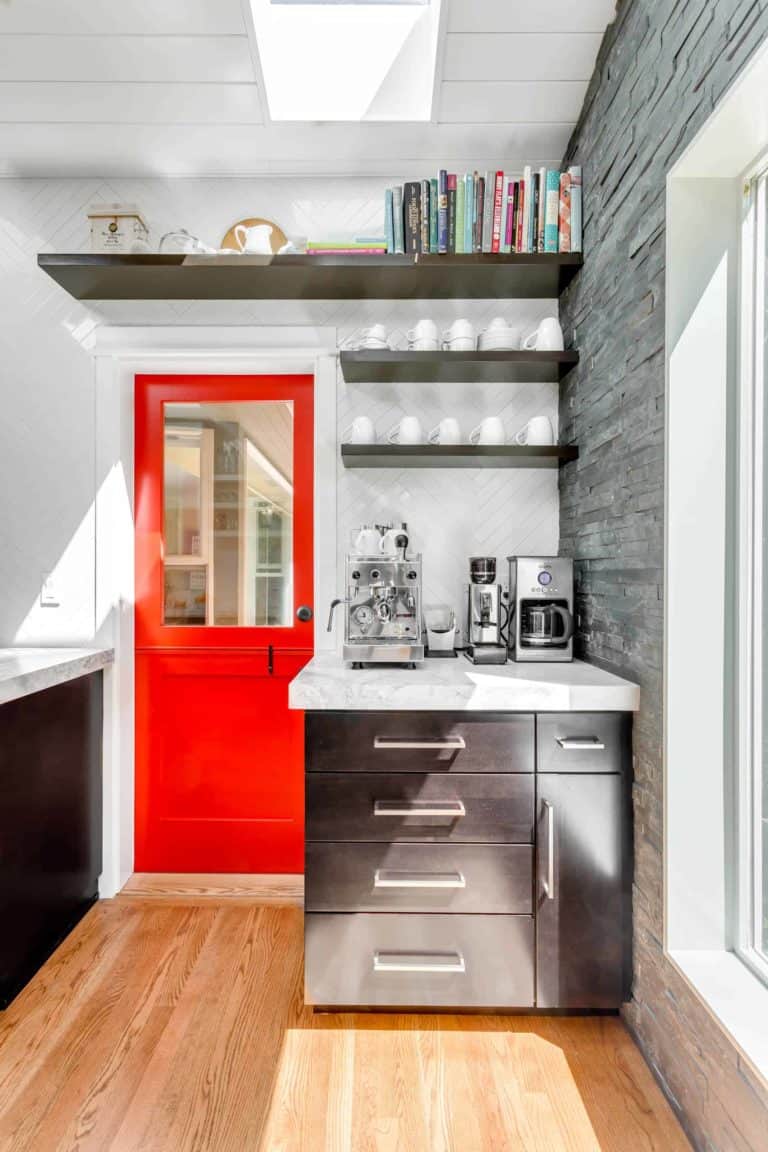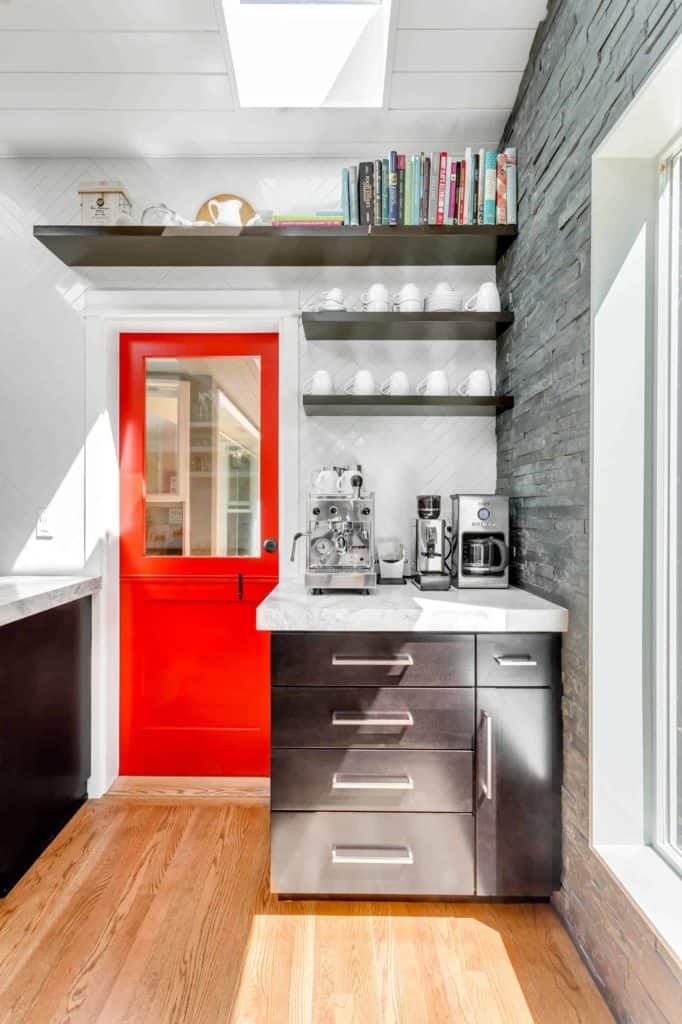 This coffee station uses a small kitchen space so well that it can fit two different coffee makers and a coffee grinder on one counter. The shelves above the coffee station are key here as they really open up space on the small counter and remove unnecessary crowding.
Behind Door Number One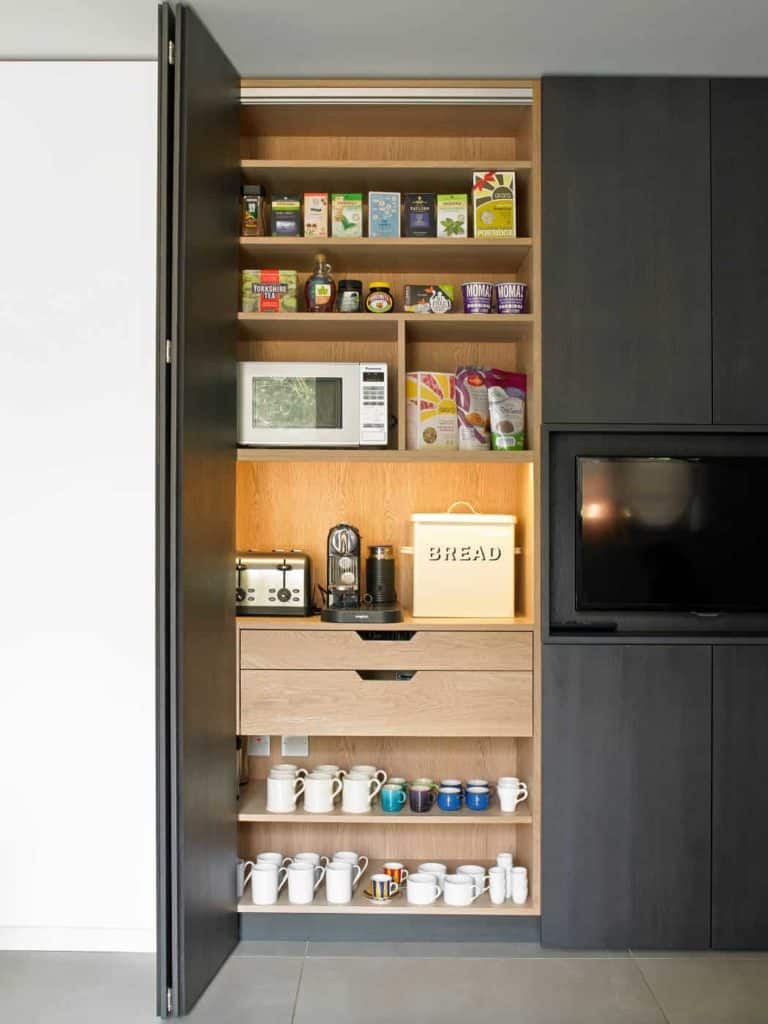 Hiding a coffee station in your living area is a genius idea as shown in this example. It isn't taking up precious kitchen space and it's subtle enough that it won't look out of place to the untrained eye. Sneak in some food for some easy-access snacking during a movie.
Small and Efficient Coffee Bar Idea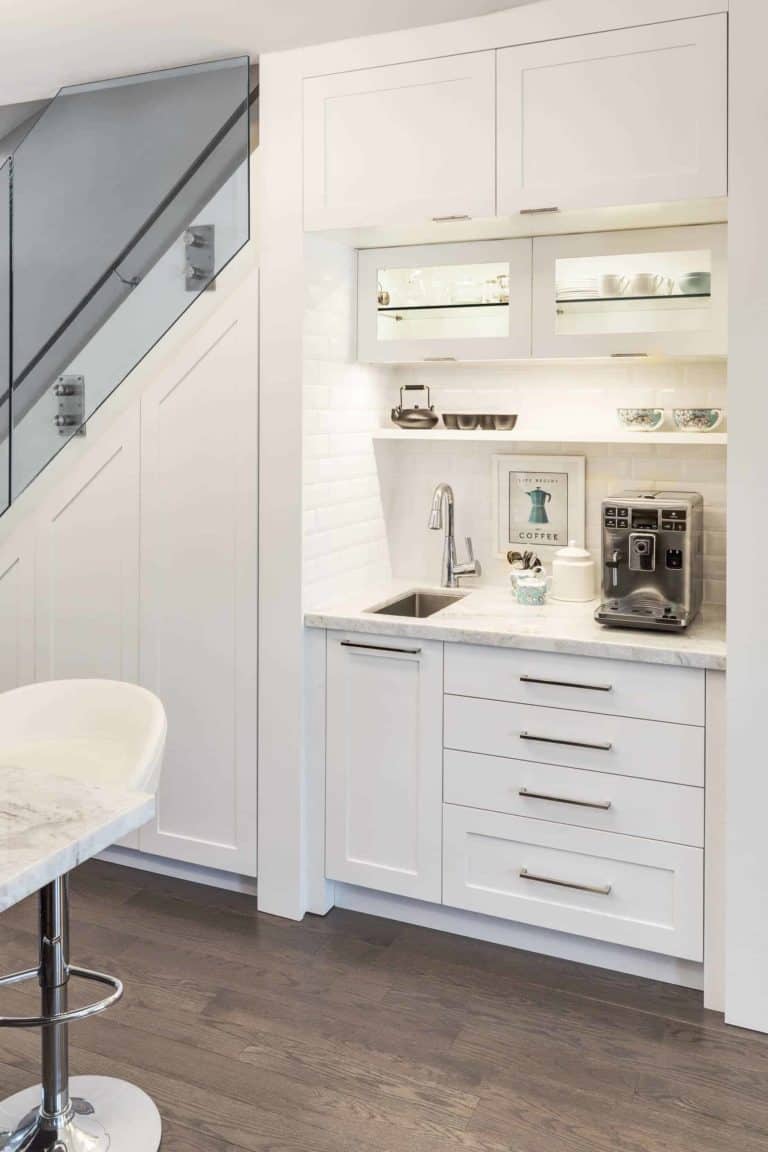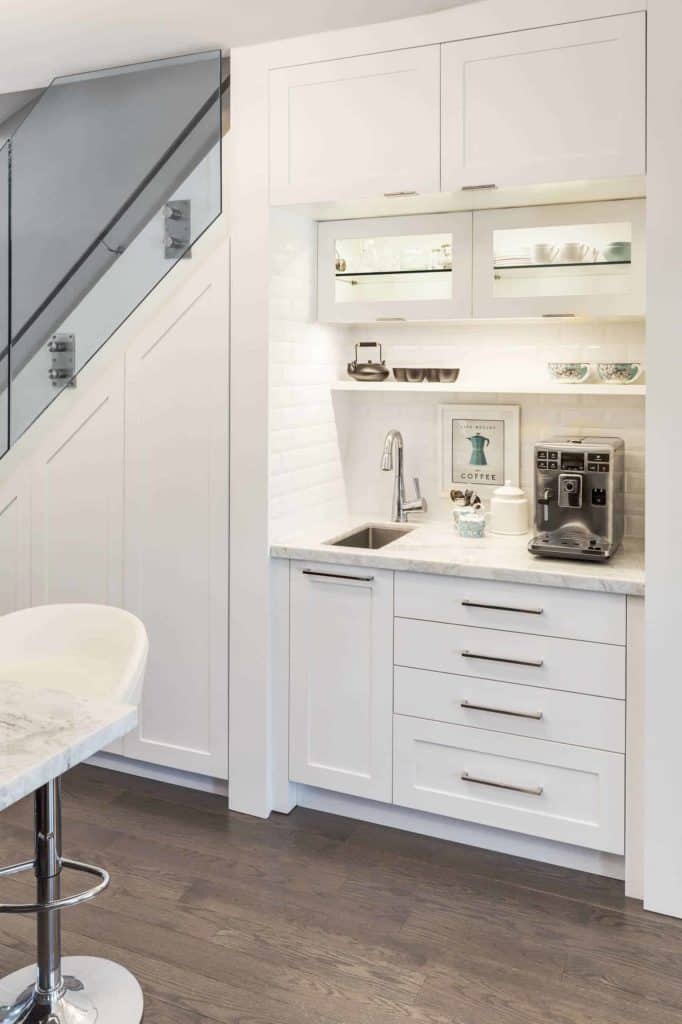 This small coffee station is complete with a sink and coffee maker but feels much larger thanks to the shelves and lighting. The counter is freed up by the shelves and cupboards while the small bowls and painting add a nice touch of color and warmth.
Coffee Shelf Idea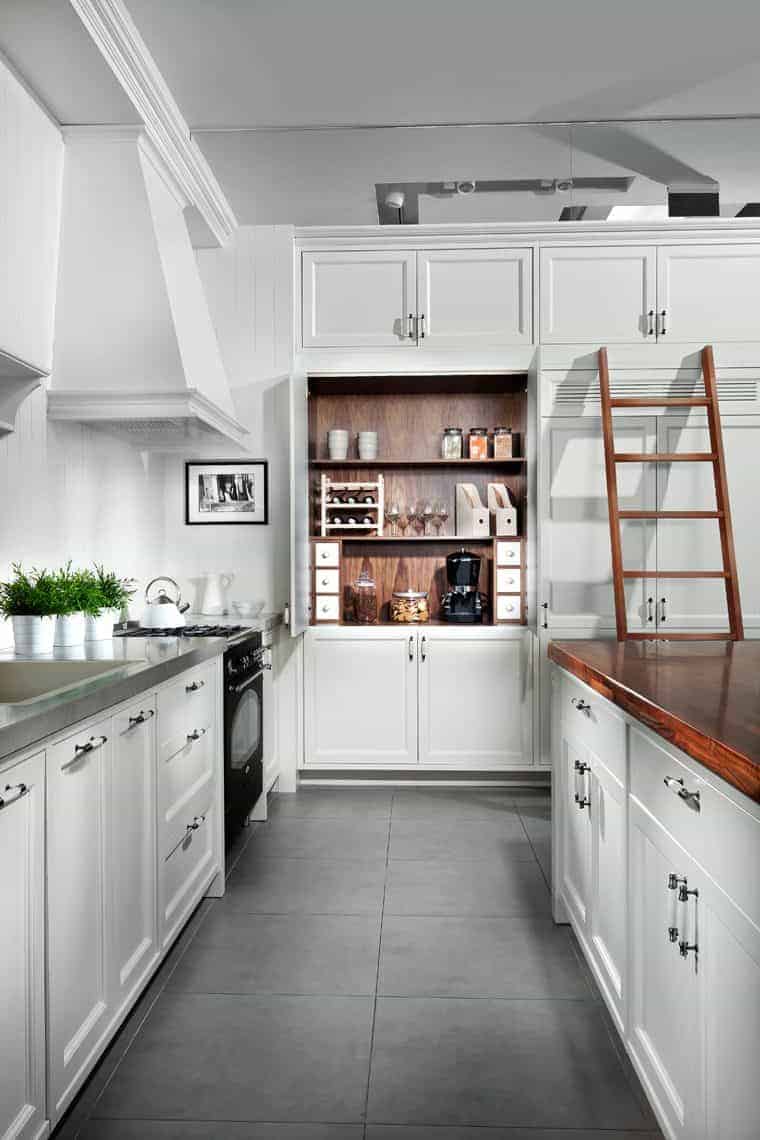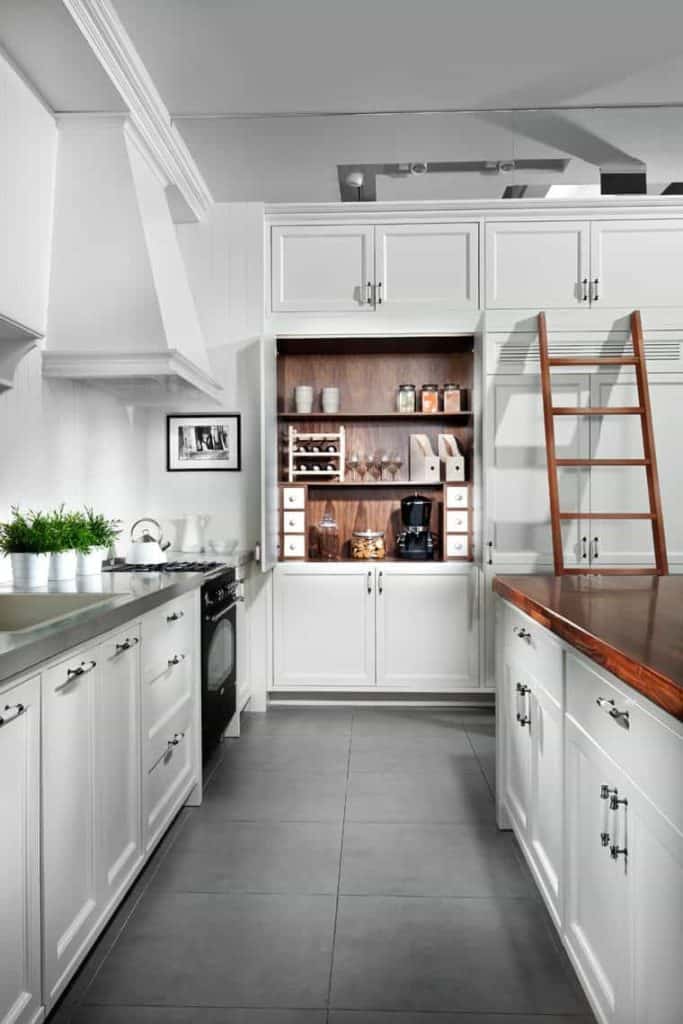 This simple set-up features a single coffee maker in a set of cupboard shelves. The surrounding jars, organizers, and wine glasses give it a more subtle feel and let the coffee bar become a multipurpose area.
Vertical Style Coffee Station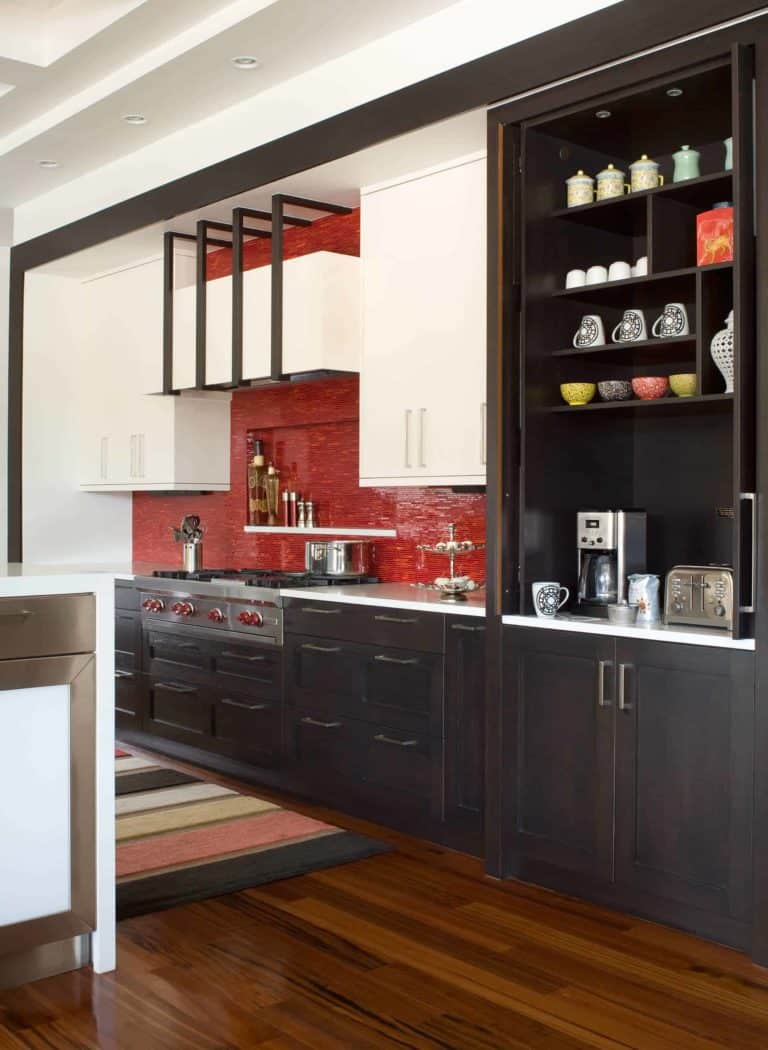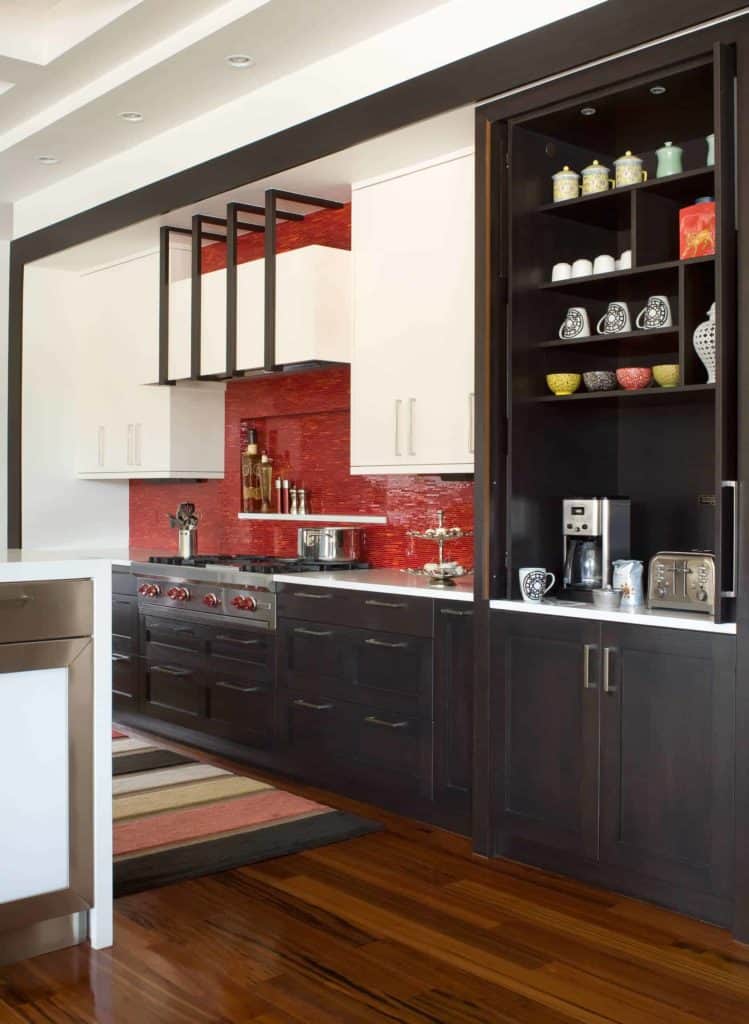 Where a lot of coffee stations choose to go horizontal, this example takes a vertical approach. The coffee station sits on top of a small counter with a variety of mugs available on the shelving above. This provides a nice, clean space on the counter with easy access to different mugs.
Modern Meets Rustic Coffee Bar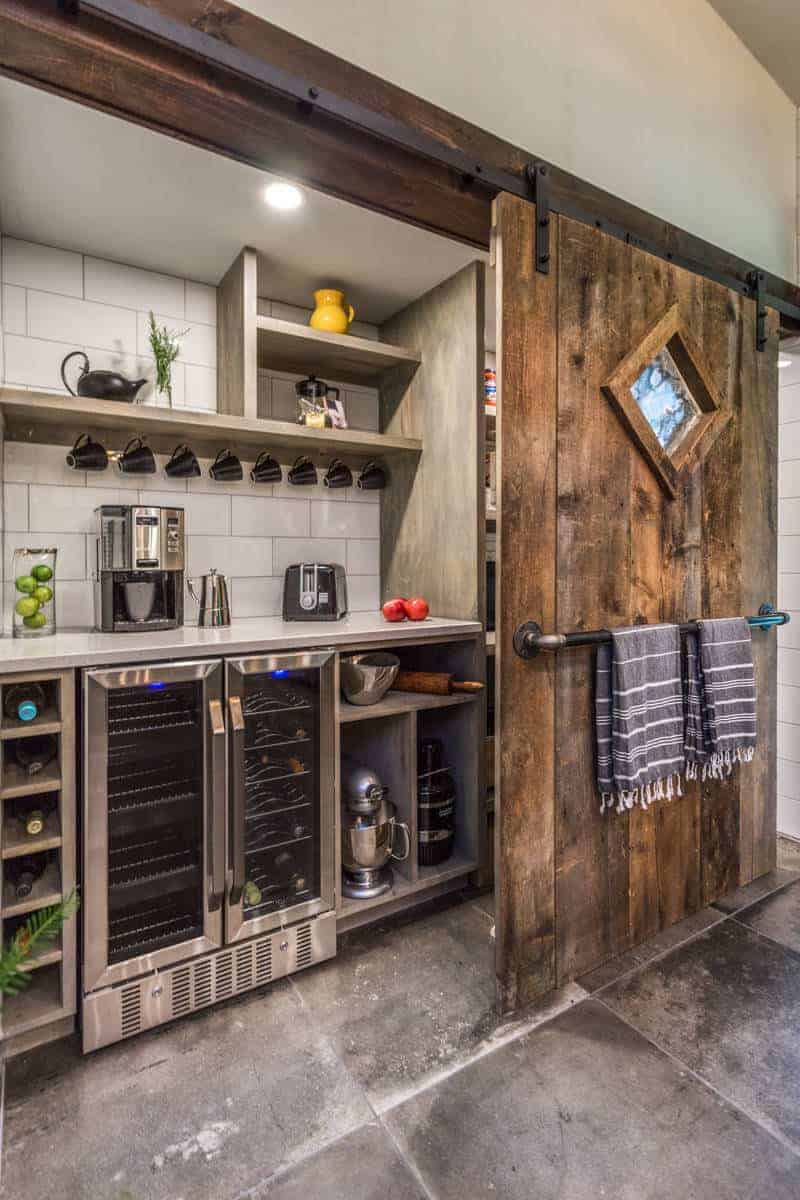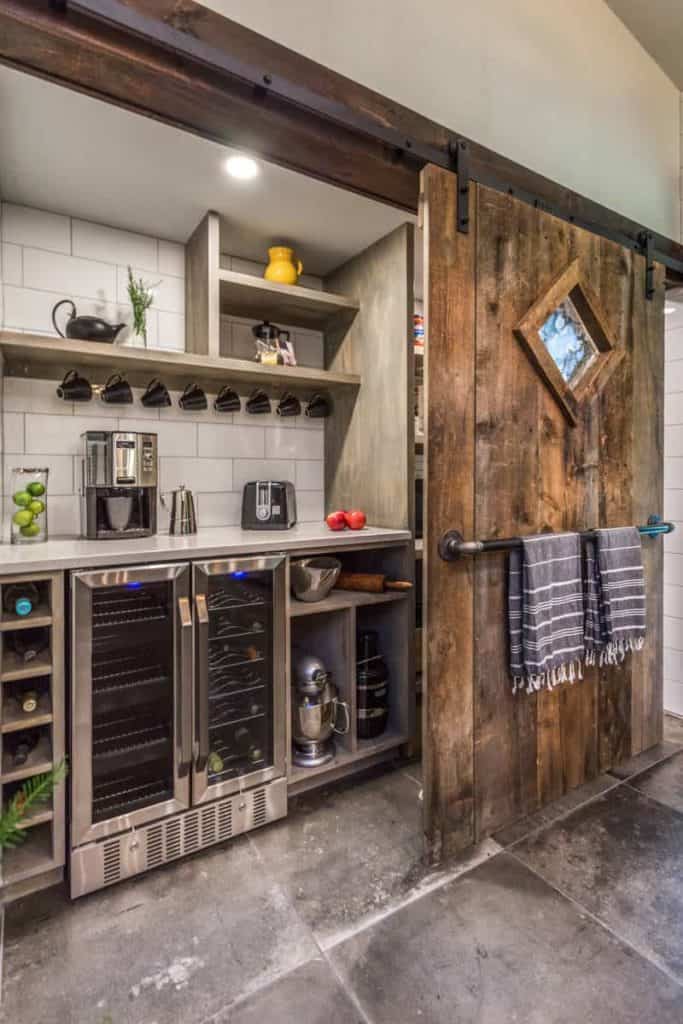 This bold combination of rustic doors and a modern, metal coffee station set-up works great. The silver coffee maker and kettle fit in nicely with the rest of the colors in this area. This is another great example of a multipurpose space where a coffee station can naturally fit in.
Move Over Spice Rack, This is A Coffee Rack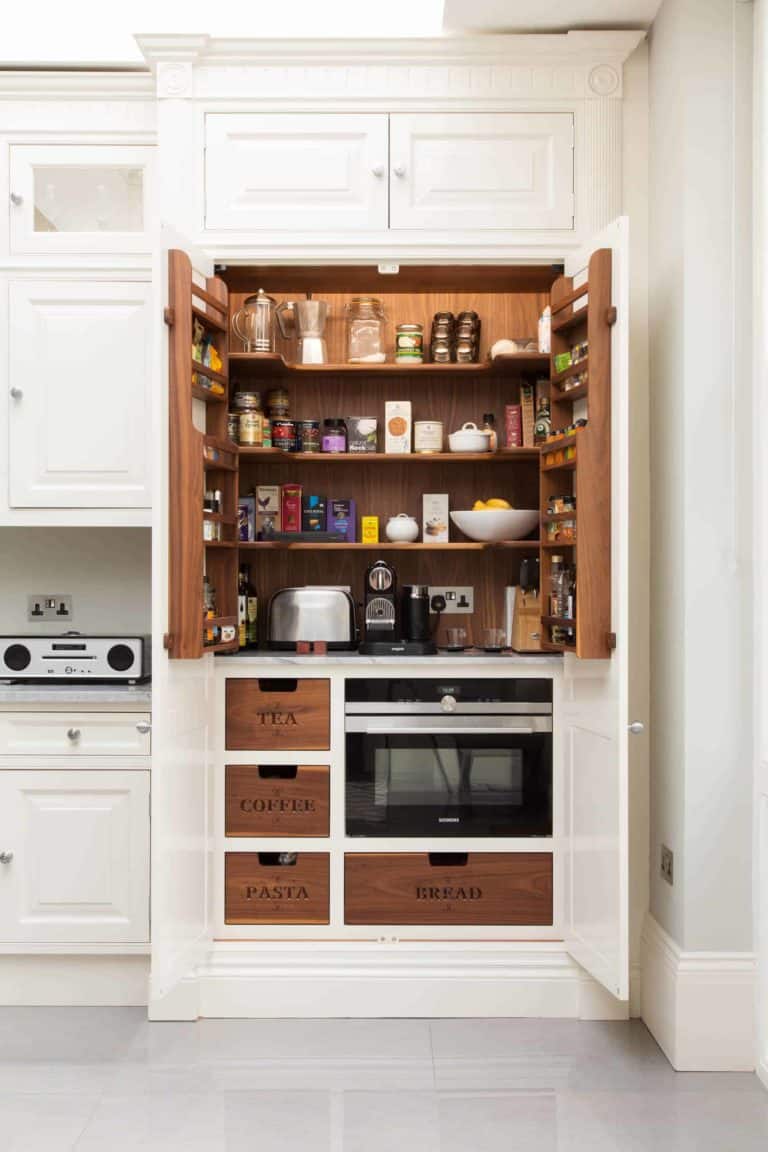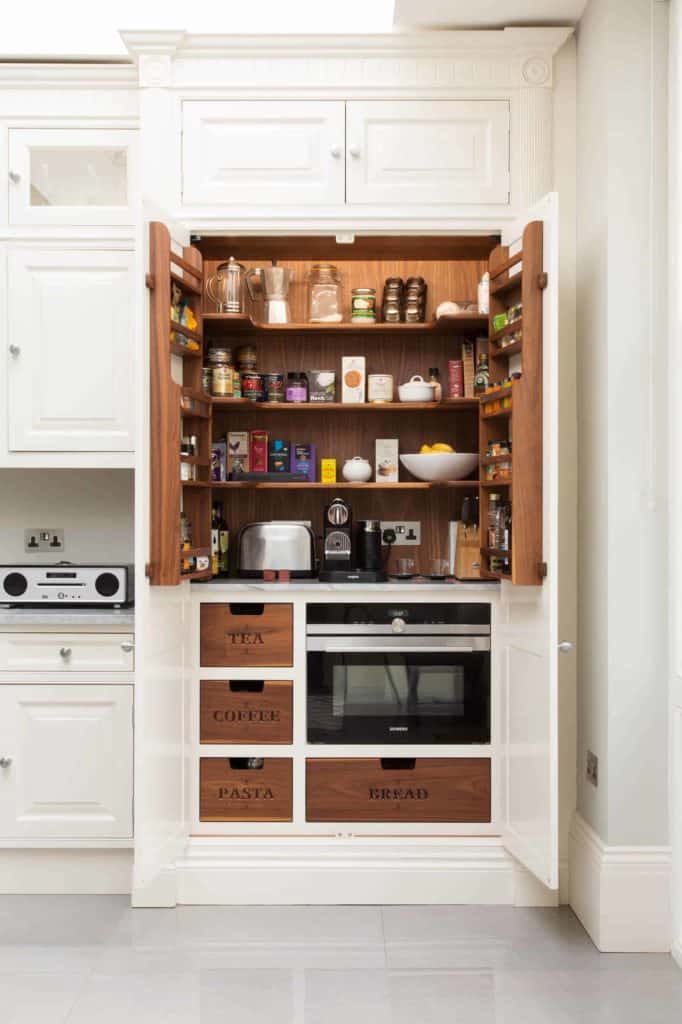 A unique use of what may have once been a spice closet, this coffee station pulls out all the stops. The shelving, drawers, and use of space allow for what could have been a cluttered kitchen closet to feel organized. Notice the wood choice as it is the perfect contrast to the white cabinets and kitchen.
Repurposed Spice Closet Coffee Bar Ideas for Home
This coffee station idea is an even cleaner example that the other spice closet in this list. Just like the prior example, this use of a closet that had a previous purpose is unique and creative. Having the bottom drawers inside the closet is a nice touch and allows for the entire coffee station to be hidden when needed.
Corner Coffee Bar Idea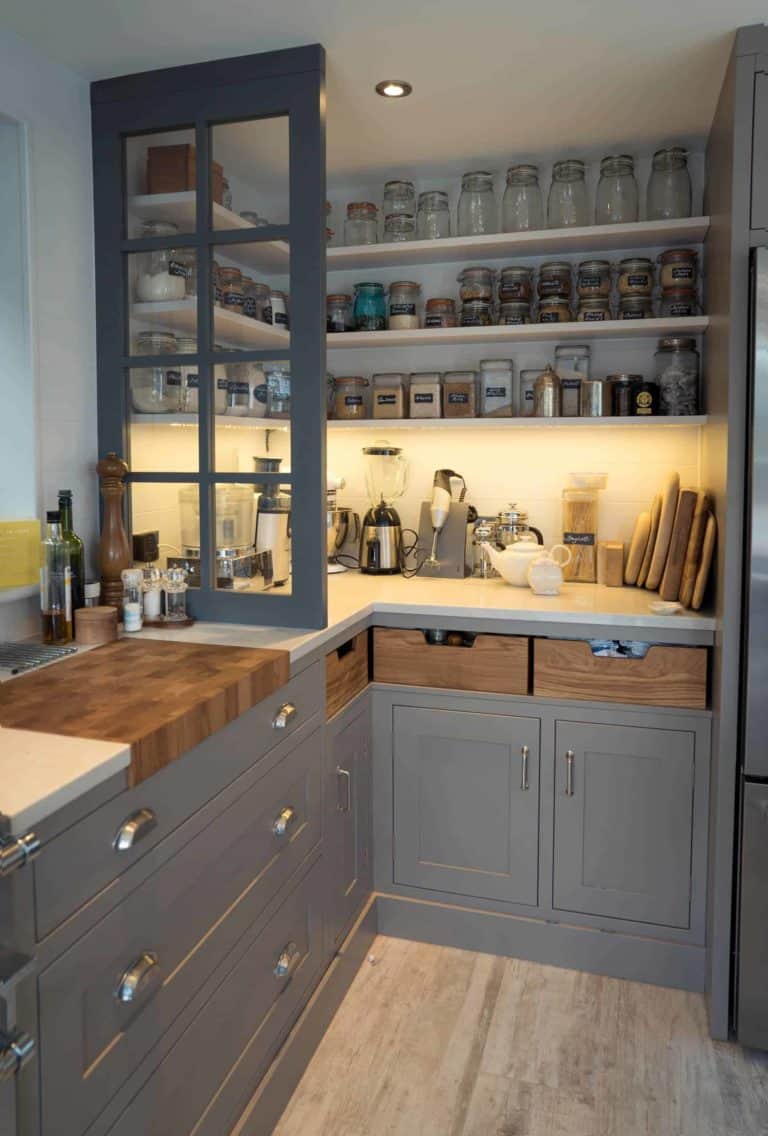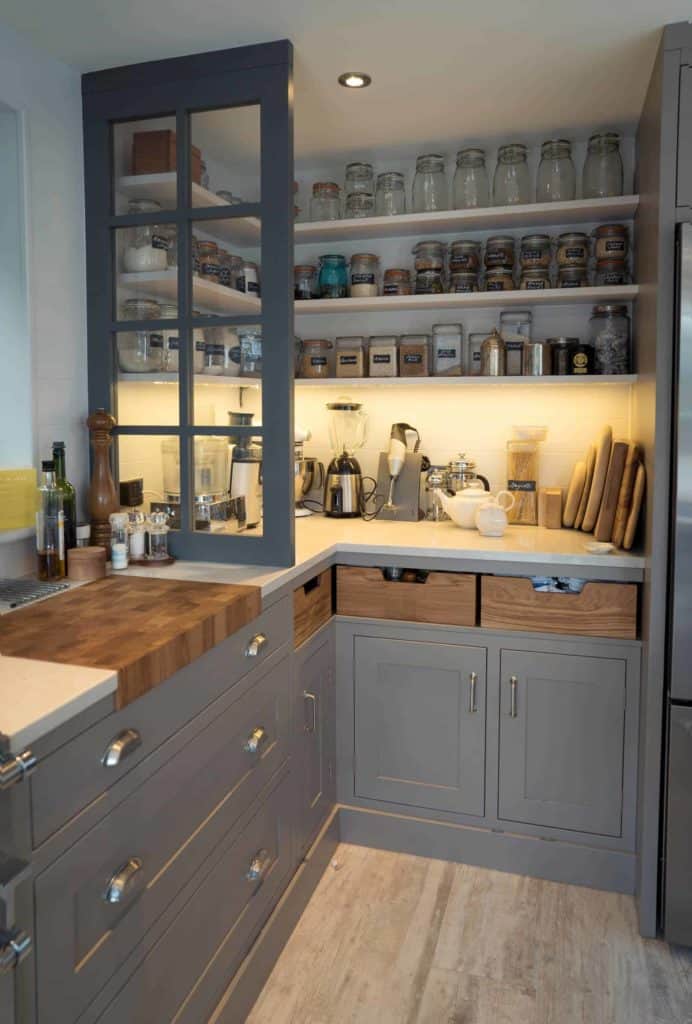 While the actual coffee part of this coffee station is struggling a bit to stand out, this is still a nice little set-up for someone without a lot of cupboard or drawer space. The shelving helps the area to stay as clean as possible. But the shining star of this example is the windowed panel that creates an open but smaller space for the corner coffee bar to live in.
Coffee That Comes to You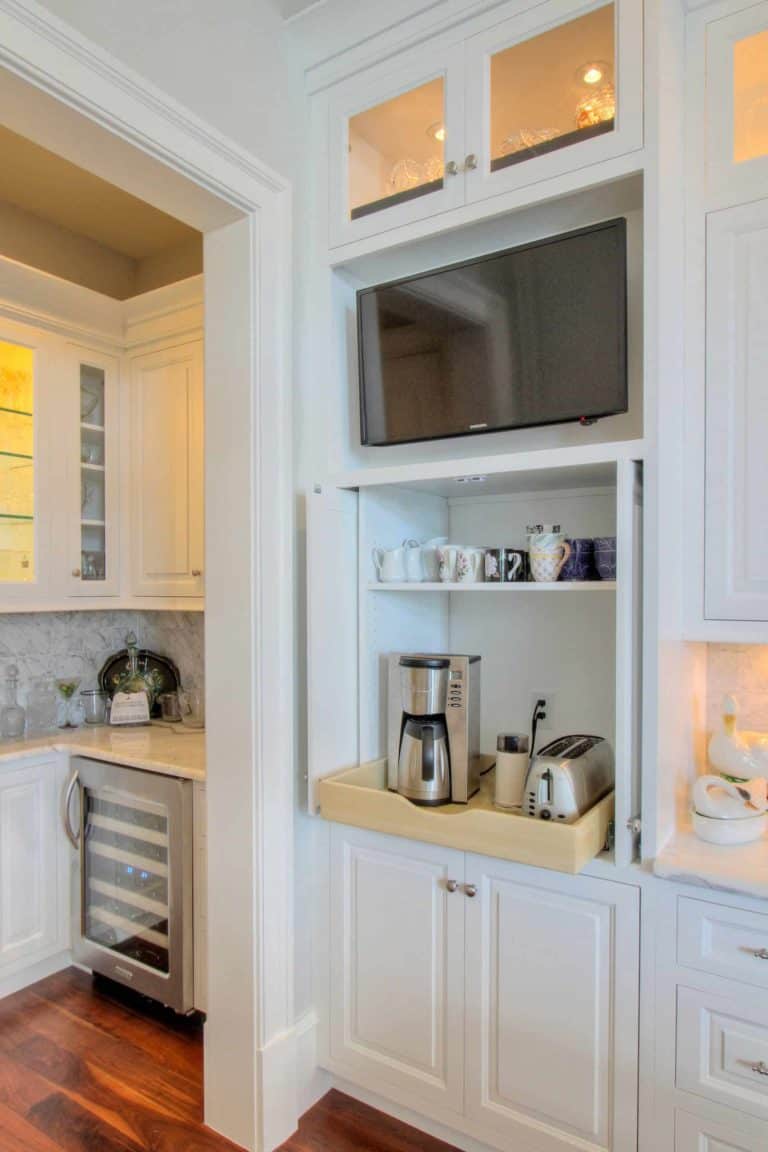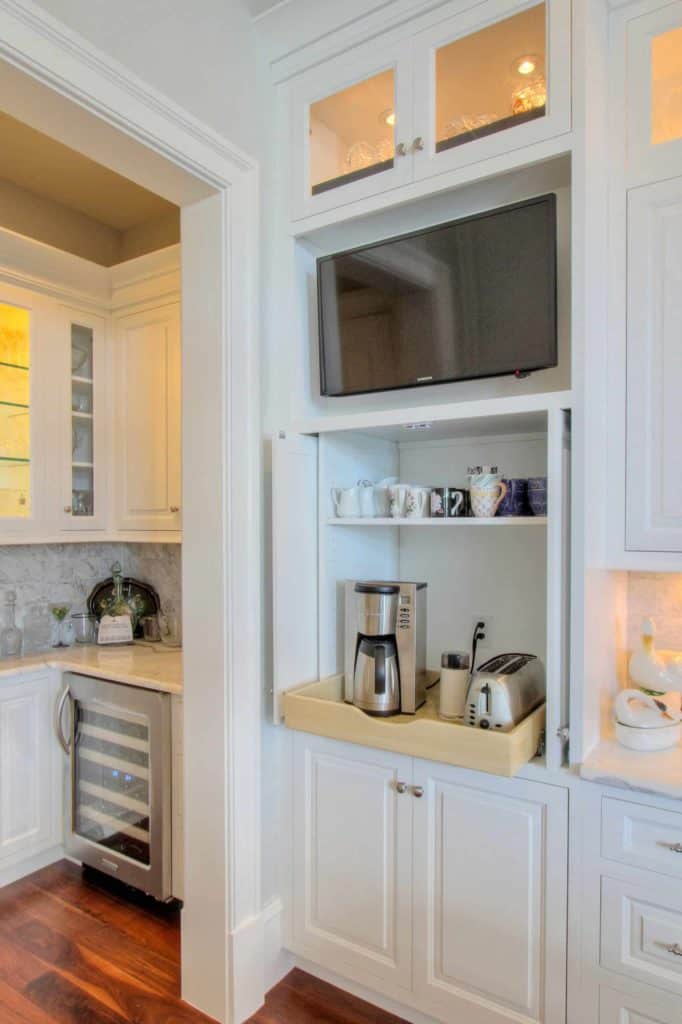 This simple coffee bar features a nice shelf for mugs and a pull-out shelf for the coffee maker. A small touch, but the pull-out shelving allows for easy access when making coffee in the morning.
Coffee Bar Hiding in Plain Sight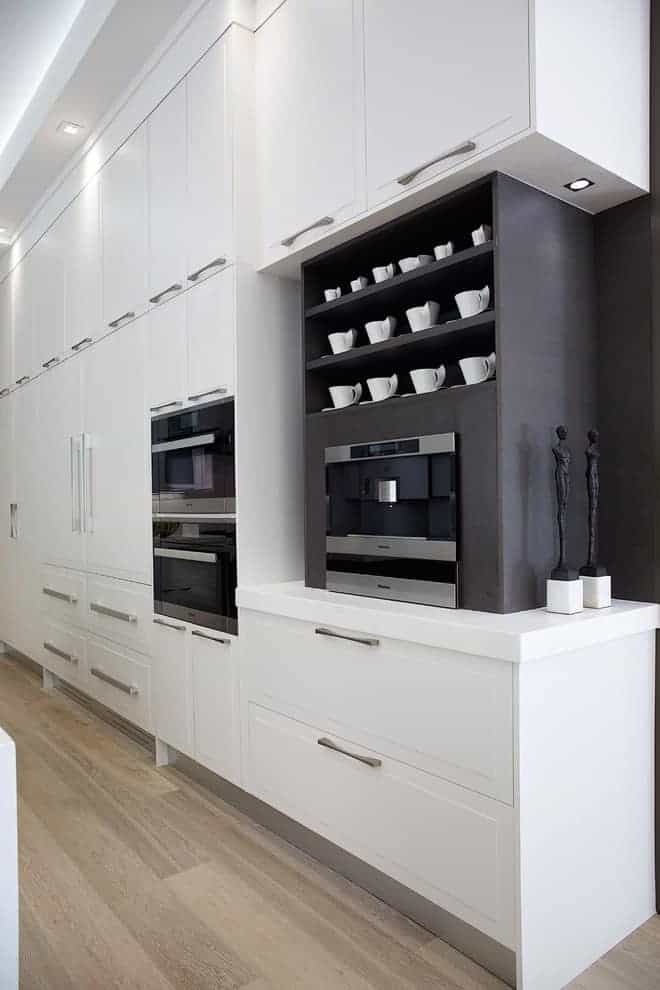 At first glance, this looks like any modern kitchen without a coffee station. But if you look closer, those mugs aren't sitting above any average kitchen appliance, in fact, that is the coffee station itself. This subtle take on a modern coffee station is perfect for the modern kitchen.
Coffee, Smoothies, and Juice Station Idea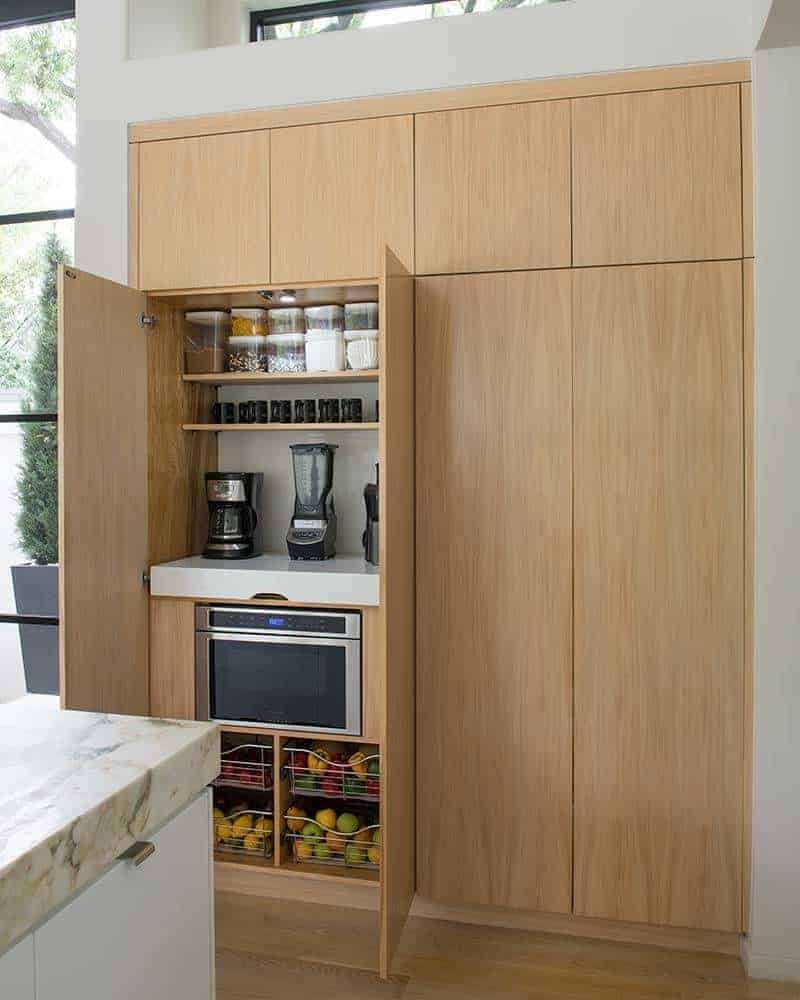 If you're someone that doesn't stop at coffee and has their life together enough to make a smoothie or juice every morning, then this is the coffee station for you. This closet-style example includes fresh fruit, a blender, and even a juicer, creating the perfect multi-purpose coffee station .
A Coffee Bar with Character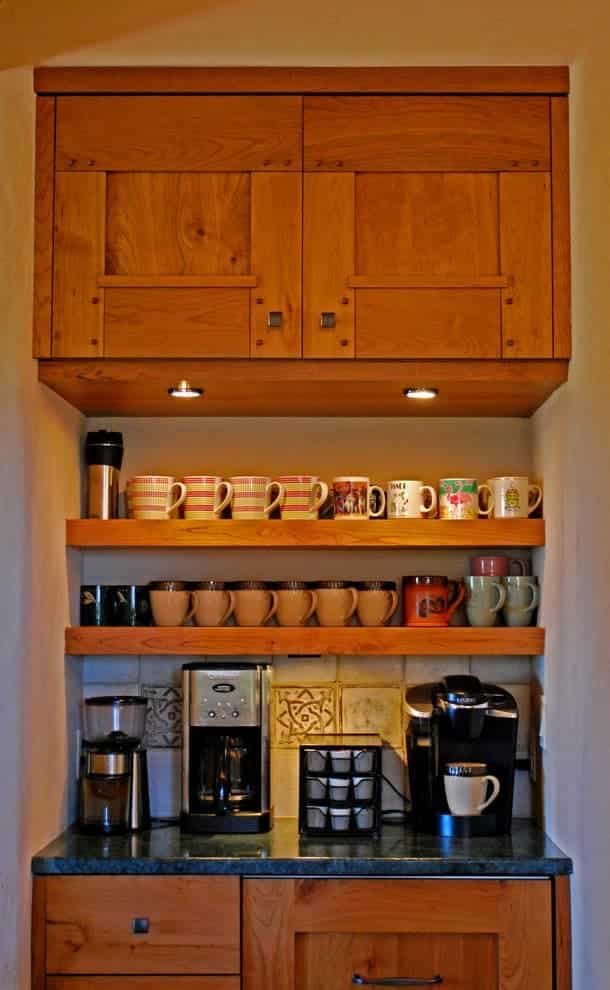 This coffee bar is a great use of kitchen space without being too crowded. The shelving and counter aren't full of unnecessary items and, with the mugs out of the way, the counter feels balanced.
Espresso Heaven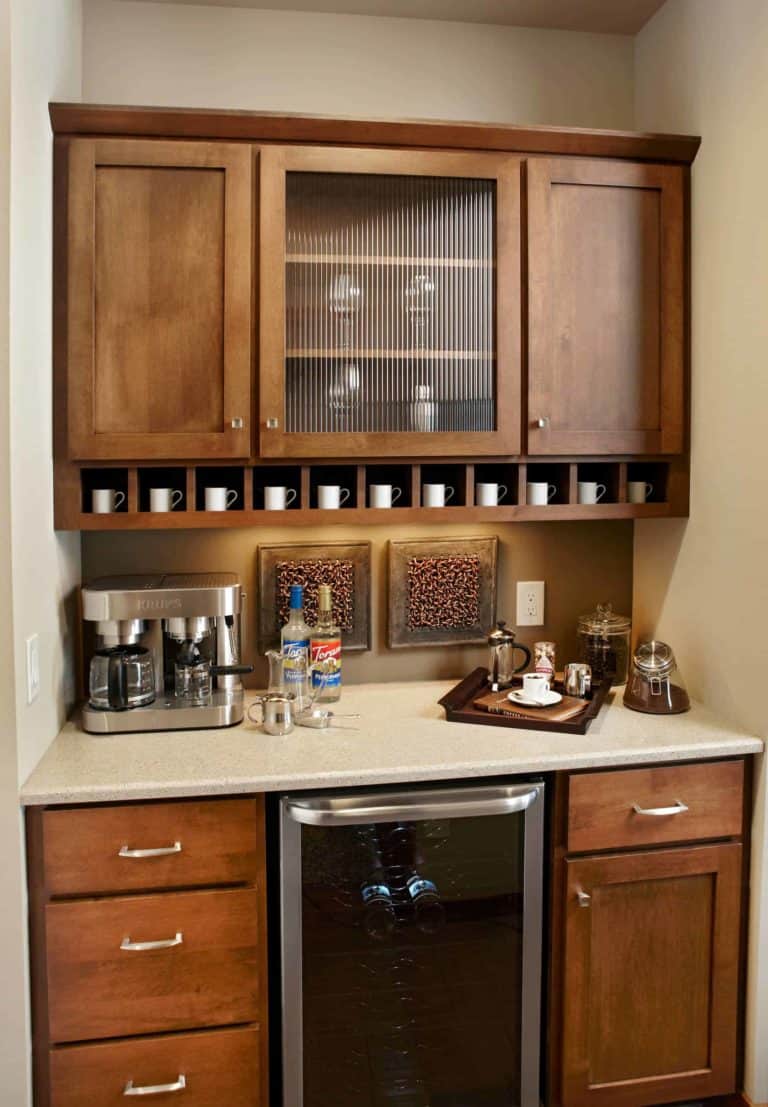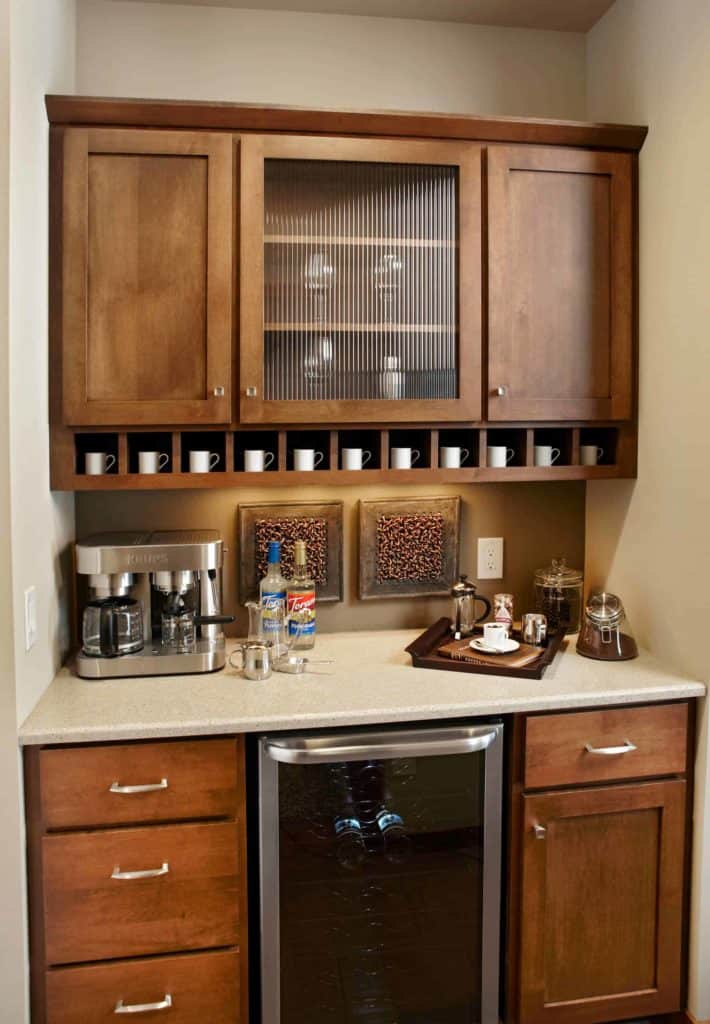 The espresso part of this coffee maker is the star of the show with this coffee station . The smaller shelves above are perfectly utilized for espresso cups while a few syrups and other espresso accessories are on the counter.
Simple and Tall Coffee Station Cabinet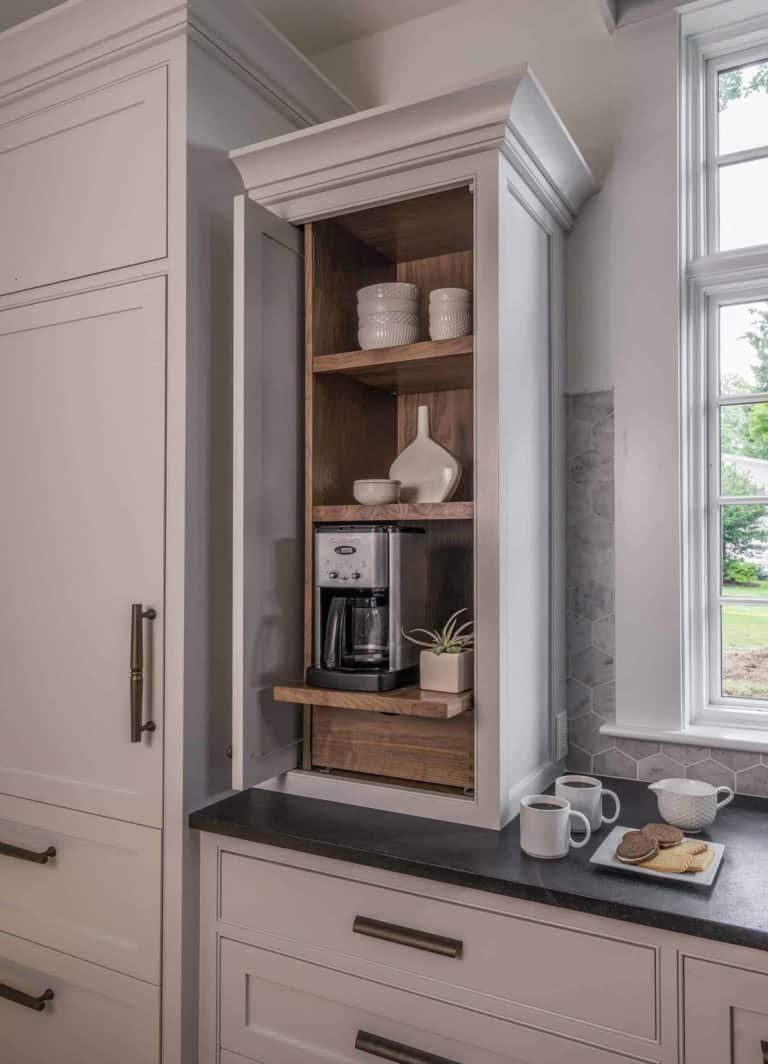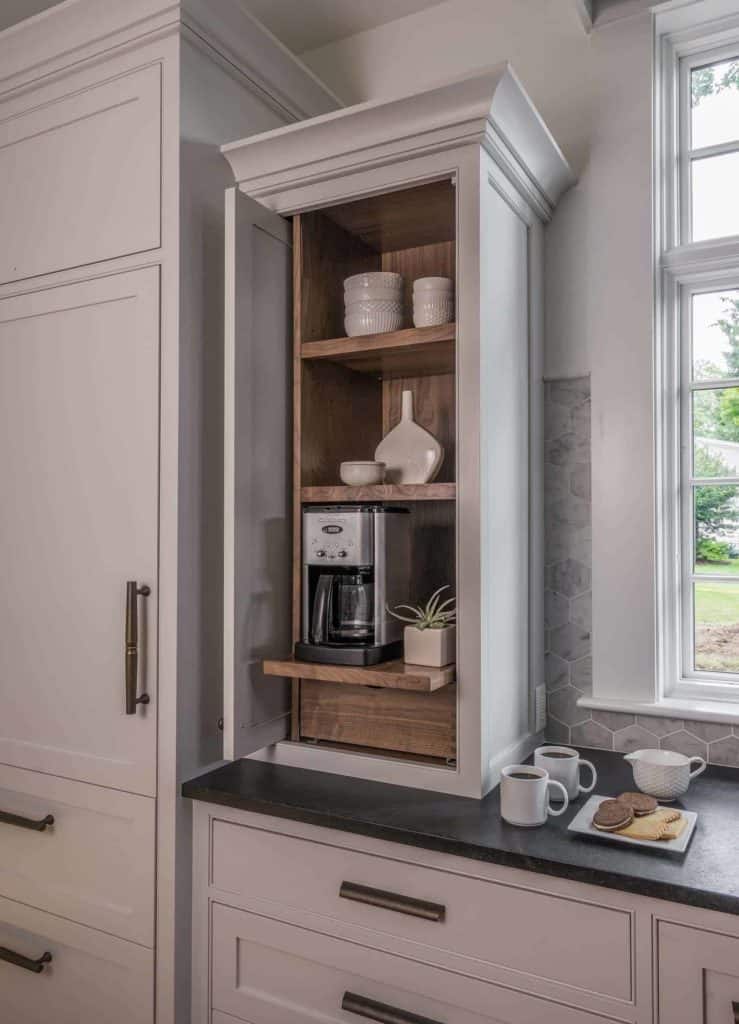 Repurposing cabinets, closets, and shelving are definitely popular with coffee stations and this example is no exception. This tall and slender cabinet is perfect for a single coffee maker and the accenting pottery on the shelves above gives it a nice touch.
Coffee and Tea Hideaway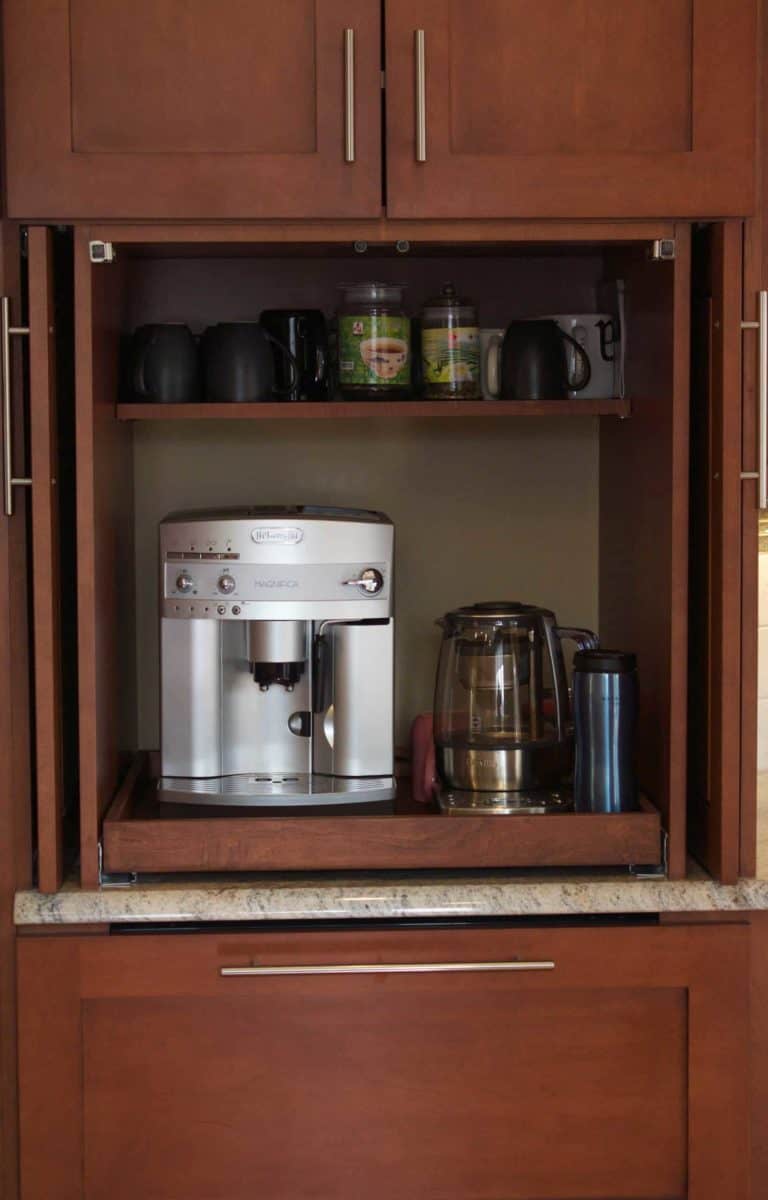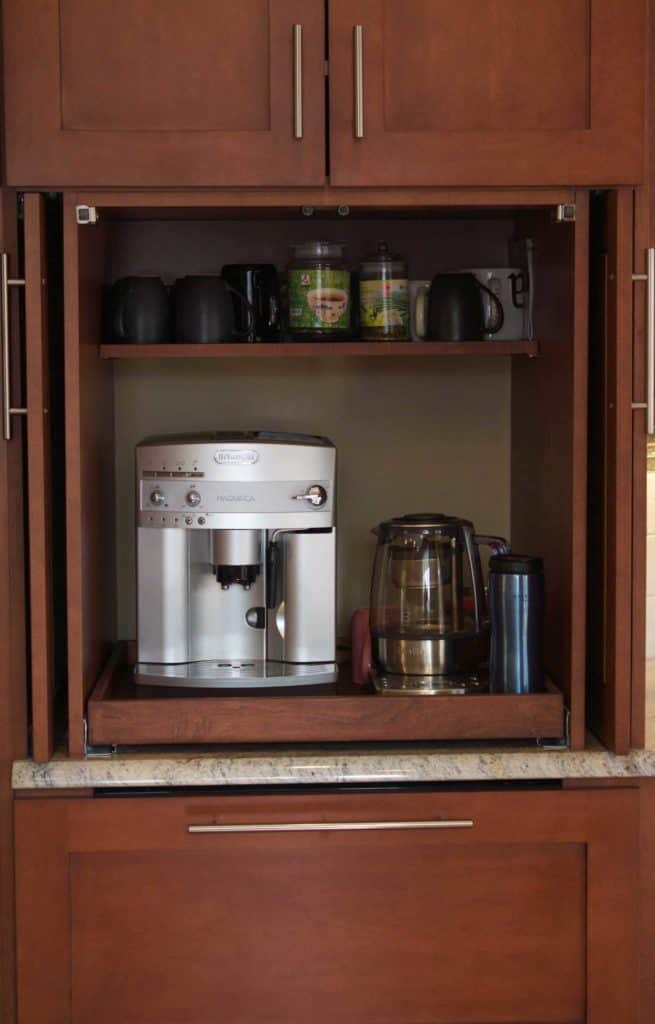 This hidden duo of a coffee maker and tea kettle makes a simple coffee bar. As always, the mugs above clear out space and allow the set-up to feel balanced.
Built-In Brew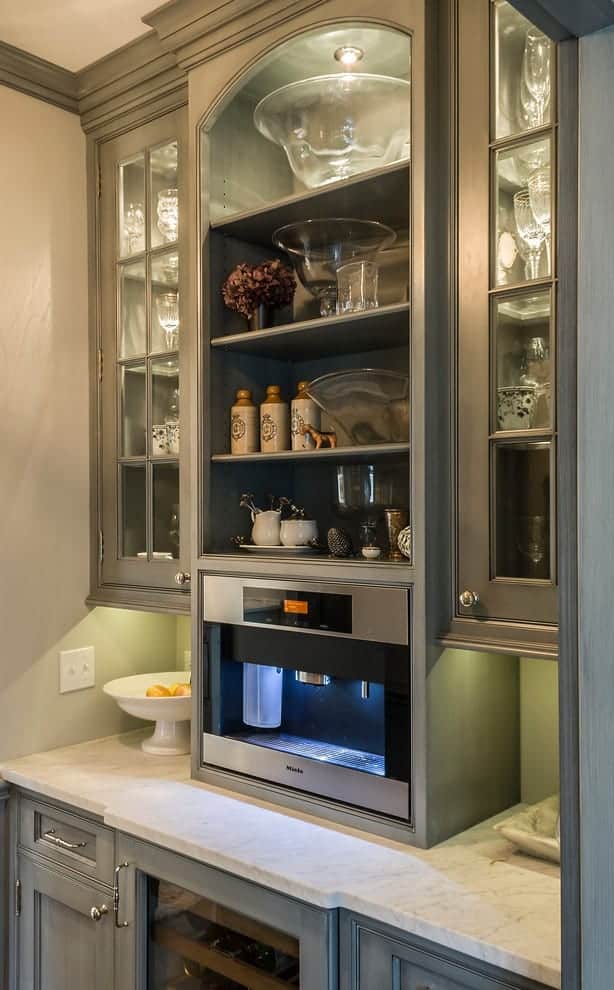 Putting the coffee maker inside of the shelving adds a nice subtlety, as we've seen with other examples in this list. But this coffee station allows the coffee accessories above to blend in as well, giving an overall subtle feeling to the entire coffee station.
A Coffee Bar to Open the Room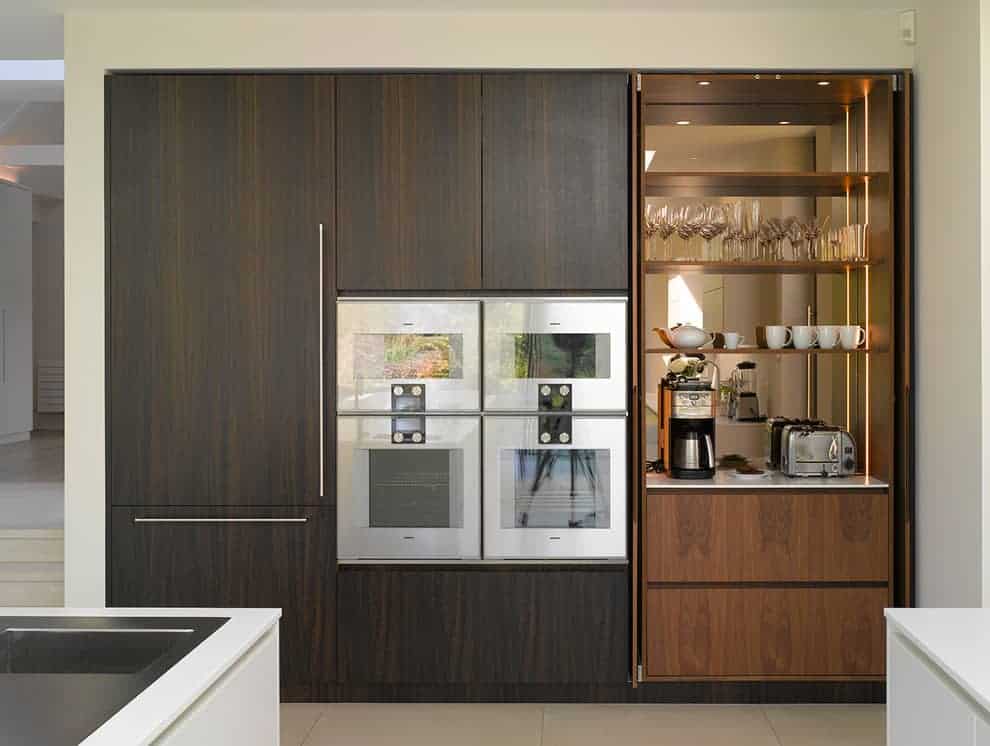 This coffee bar has been given equal space in the kitchen, making the entire room feel balanced. However, the mirror behind the coffee bar is the star of the show and gives the kitchen a more open feeling.
The Coffee Maker Becomes the Shelf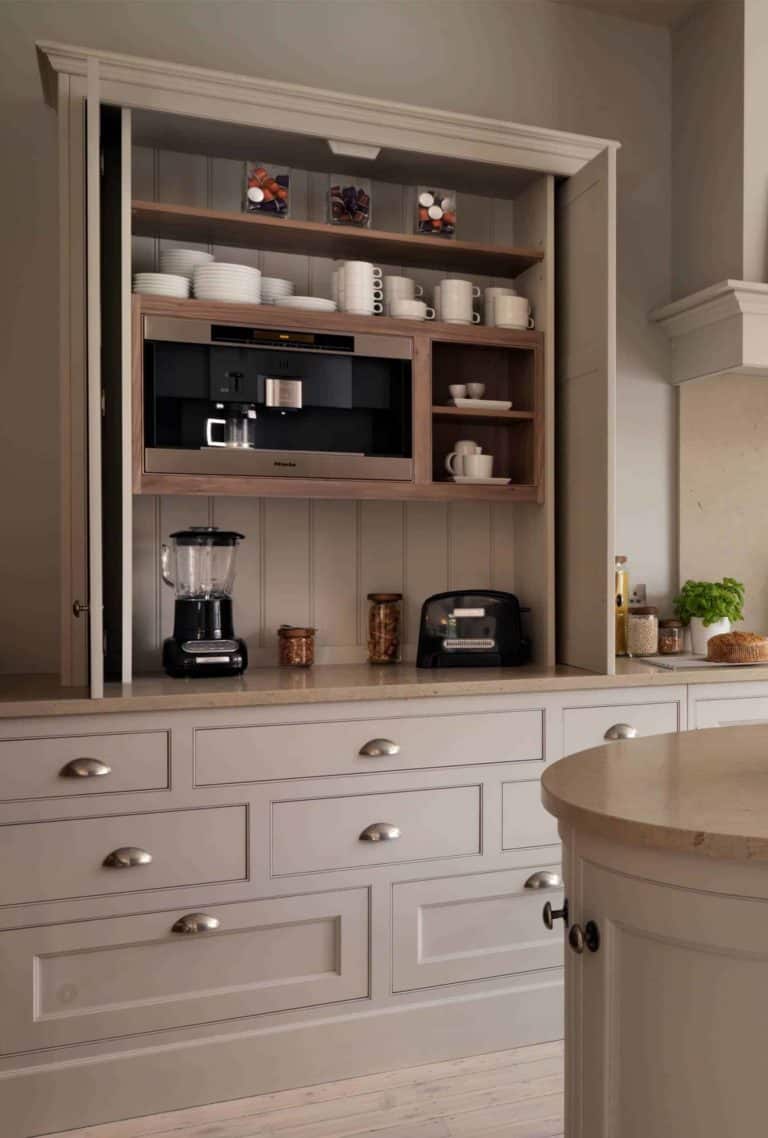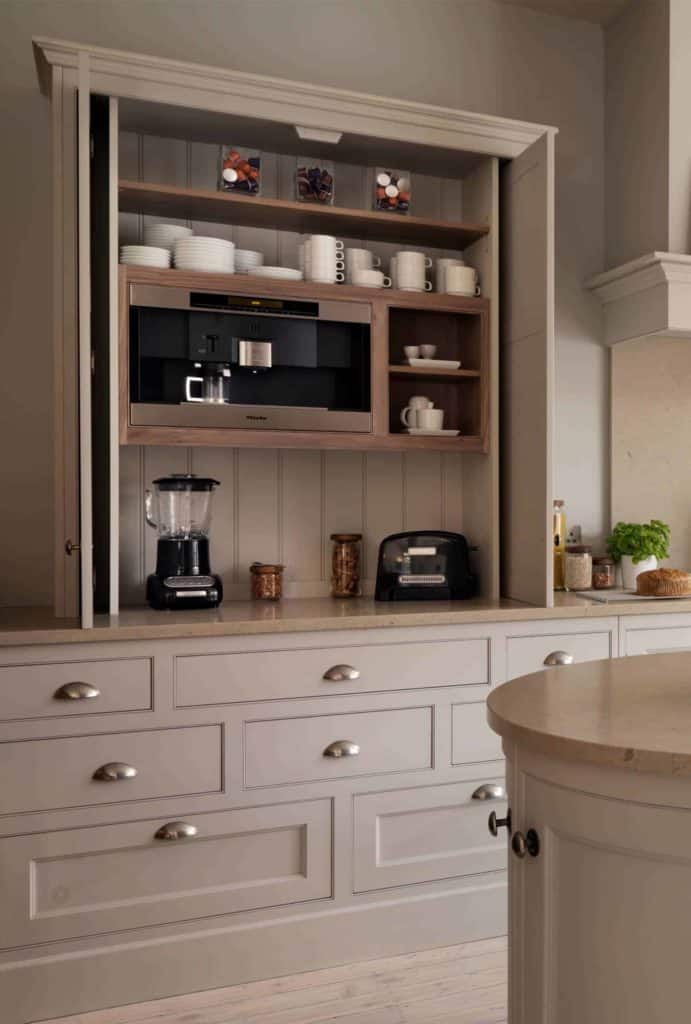 Just like with a lot of the examples here, this one features a built-in coffee maker. But what sets this coffee station apart is the use of a shelf that houses not only the coffee maker itself but many different mugs and saucers as well.
Minimalist Coffee Bar Idea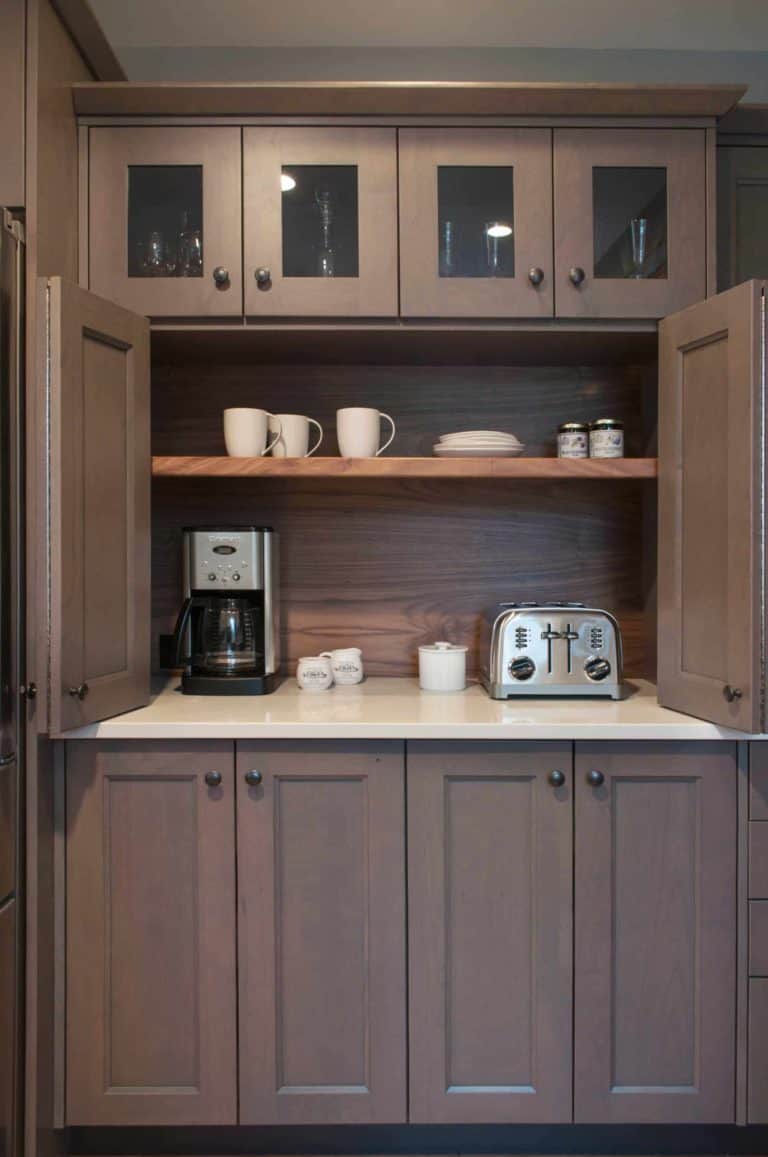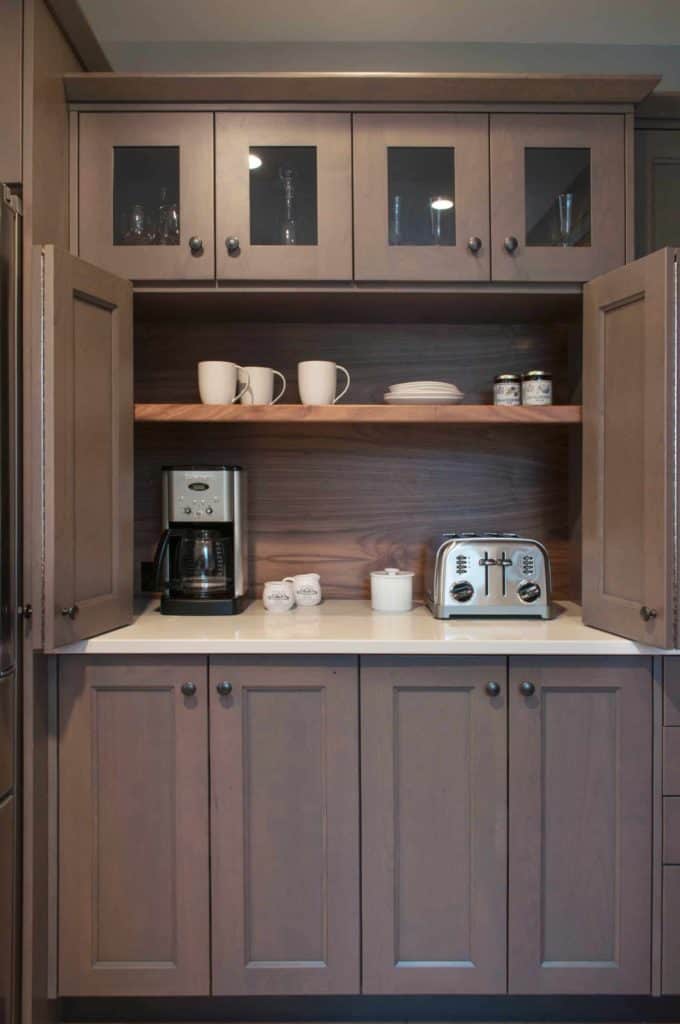 There aren't a lot of plates, mugs, or other coffee accessories in this example. Sometimes, even if you have kitchen space, it can be nice to just let the area breathe and not add a lot of unnecessary things.
Minimal, Modern, Chalk Coffee Station Idea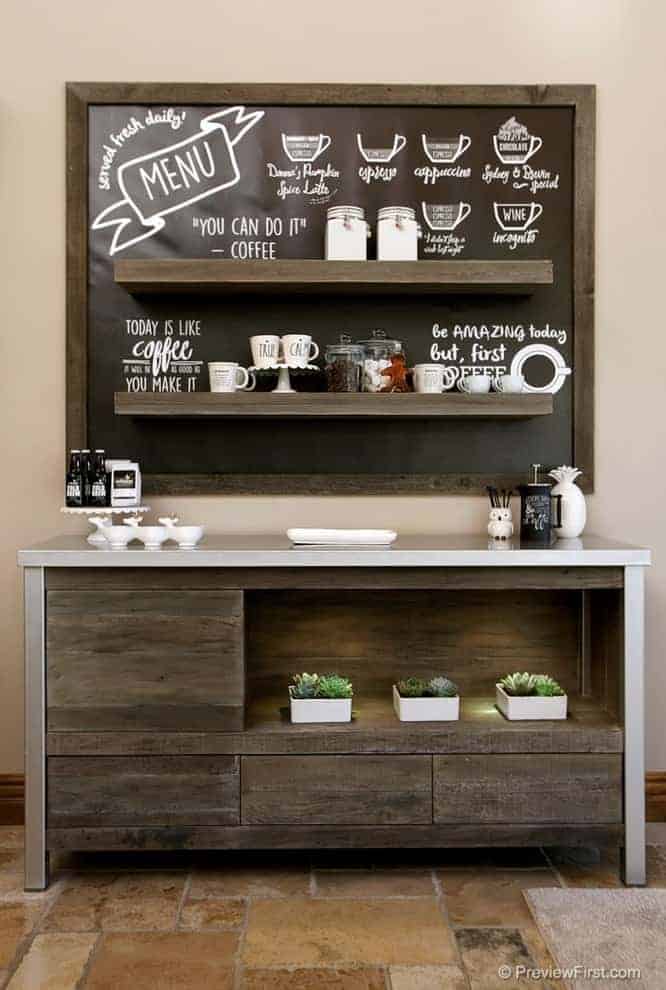 This coffee station combines many of the coffee station ideas in other examples on the list. It has a nice balance of shelving, a chalkboard coffee bar sign, and some more minimal inclusions on the counter. At first glance, you might not even notice the coffee maker for this bar.
Coffee Bar with Clean Colors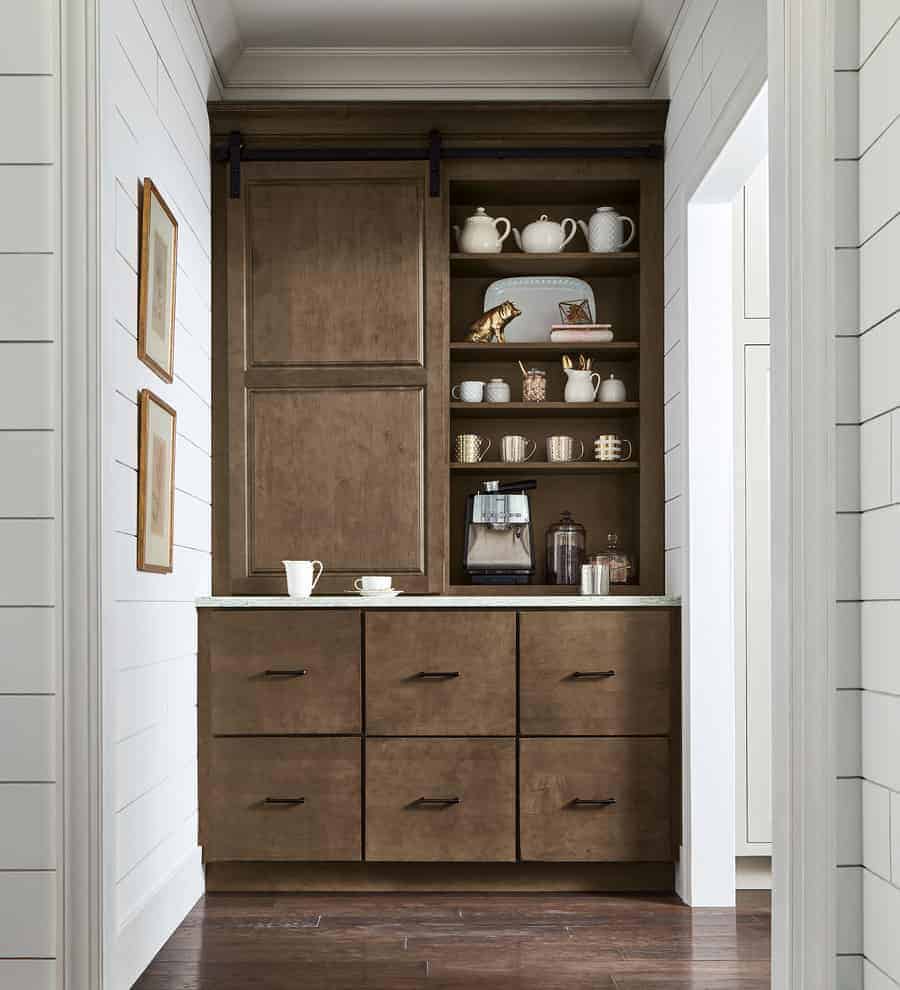 The colors for this coffee station are what sets it apart from the others. White, gold, and even some copper shine through for a nice contrast of the wood of the shelving and coffee station.
Color Palette Centered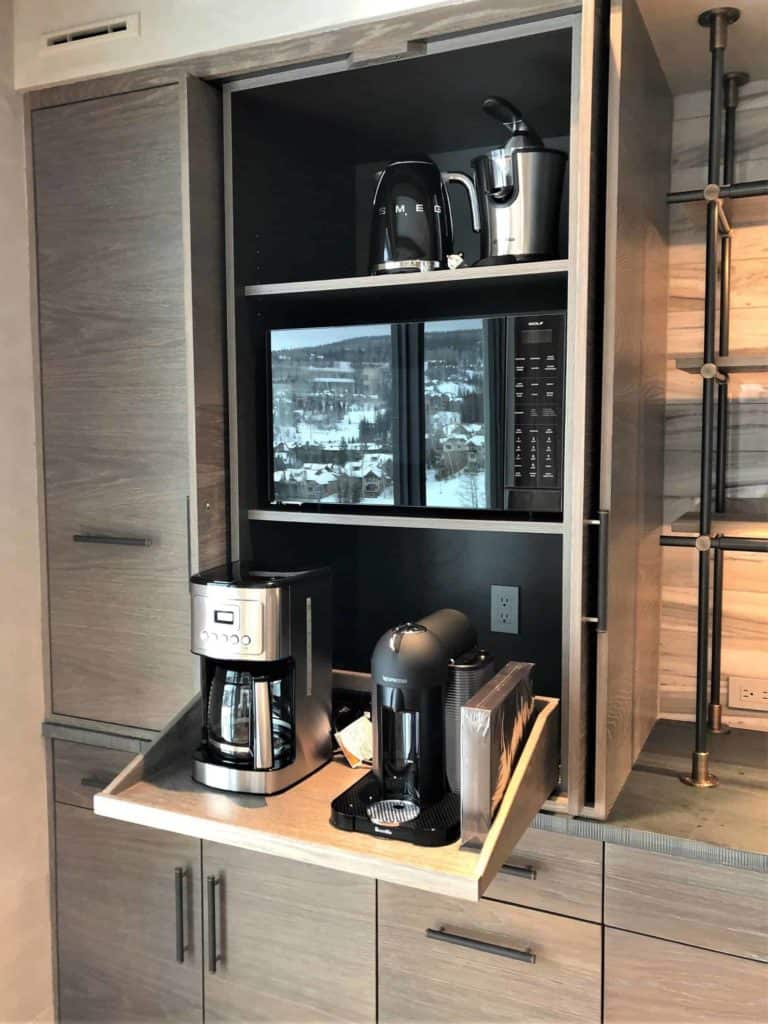 The focus for this coffee station in on the colors. Every appliance in this cabinet matches perfectly and allows for a modern, balanced feeling.
Just A Bar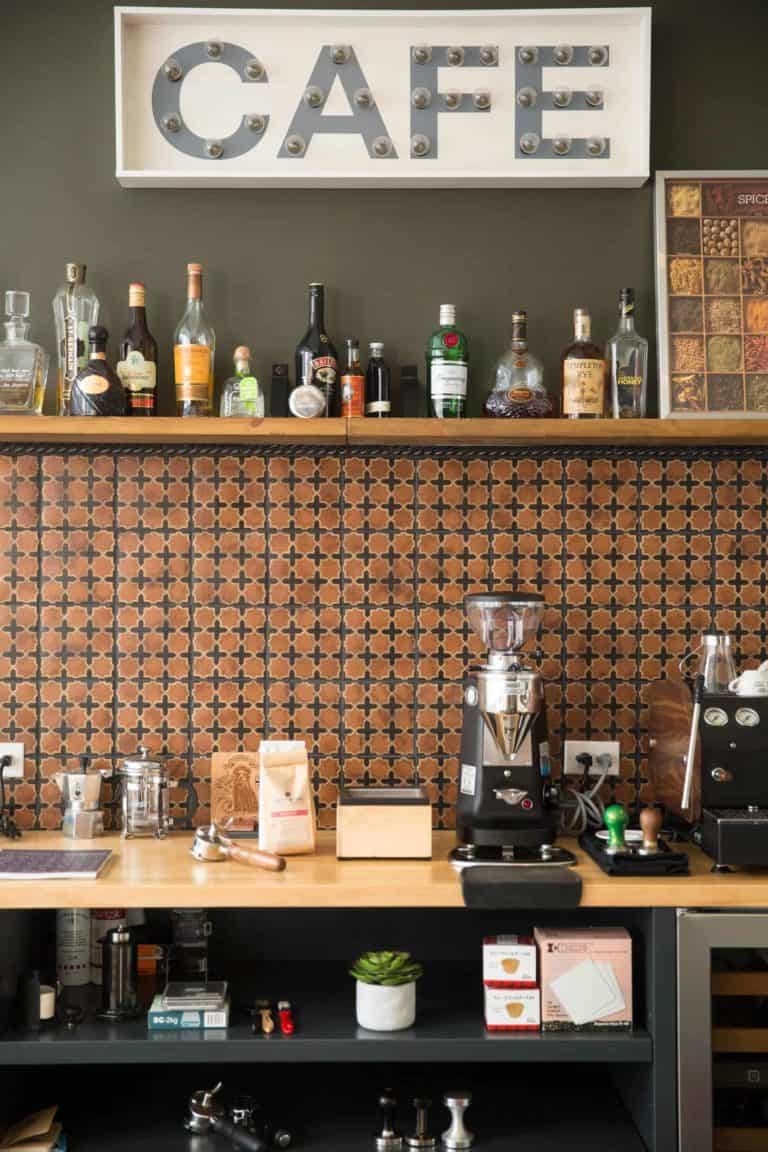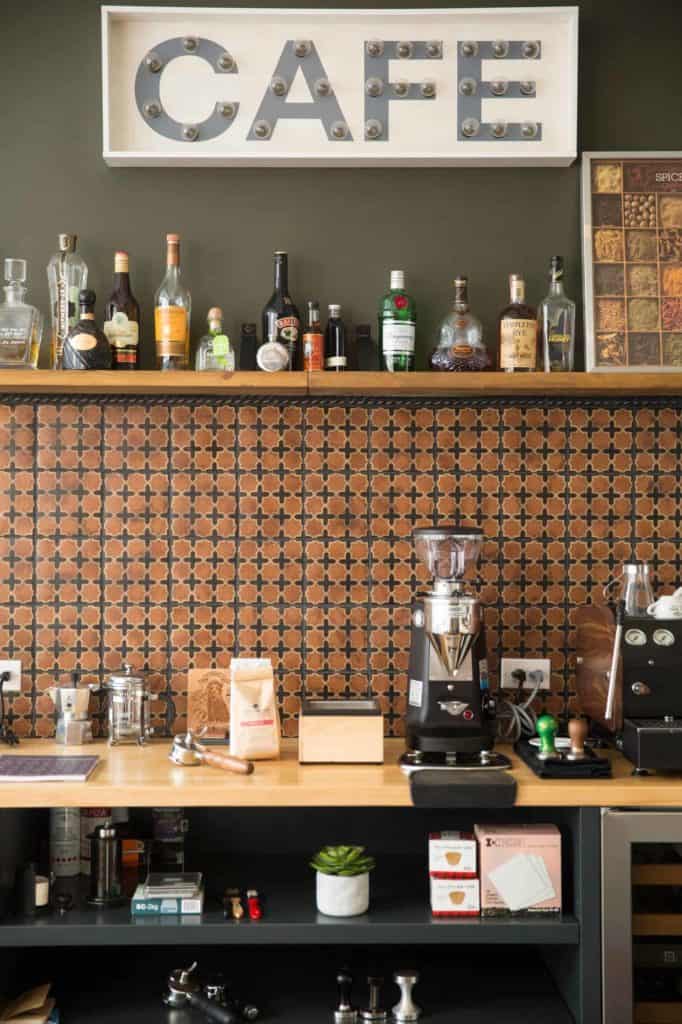 Where the rest of these examples are coffee bars that are for, well, coffee this coffee bar cart has a bit more than that. Featured in a shelf above this coffee counter are a few adult beverages for when you're needing more than just some caffeine. This set-up is nice and gives the coffee station a more edgy feeling.
Coffee and Wine, A Perfect Pair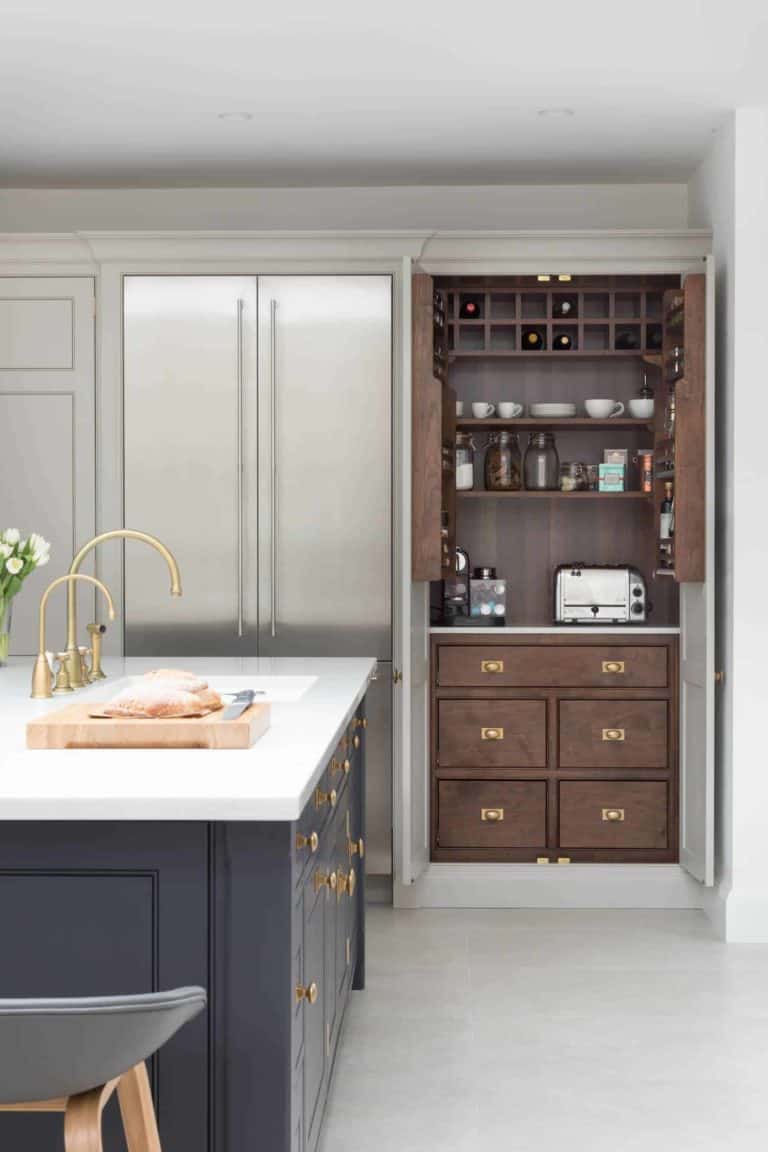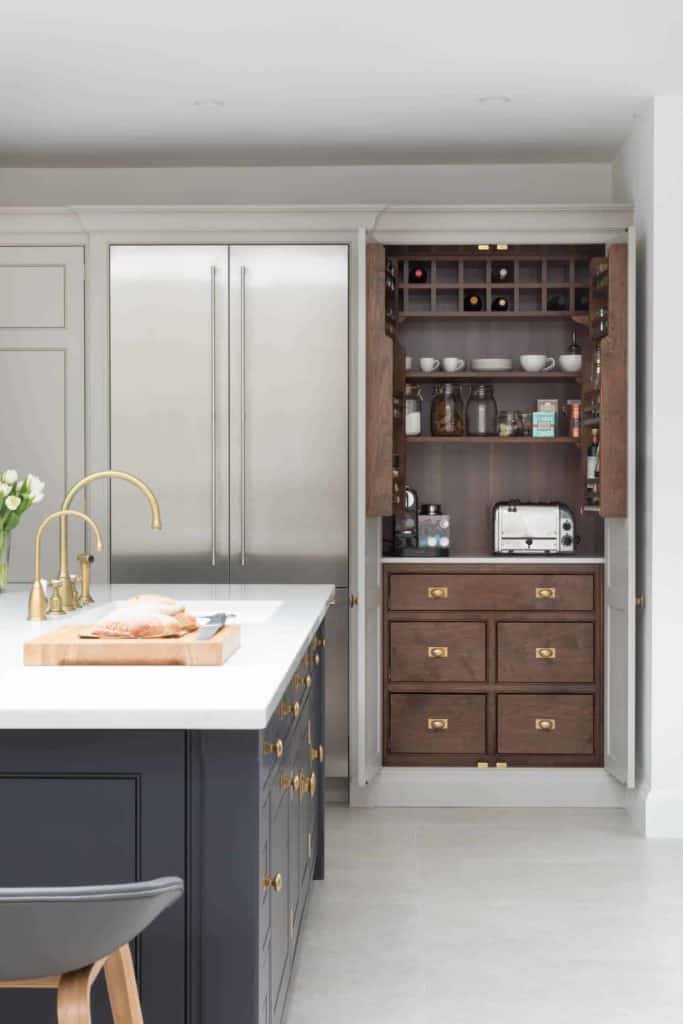 A lot of people enjoy the saying "Coffee until wine," and this is the perfect realization of that. This coffee bar features many of the great elements we've discussed in this list while including a few wine bottles at the top.
Clean and Classic Coffee Storage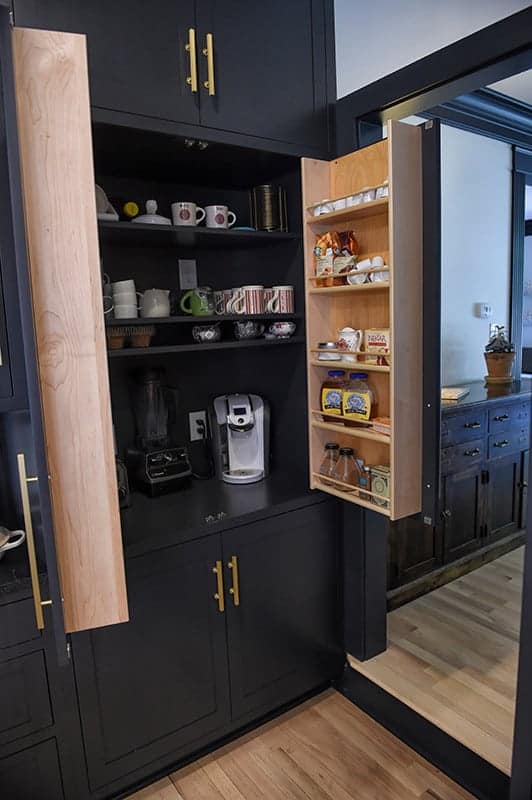 This coffee bar does an excellent job of repurposing a cabinet while including shelving for some great storage. It looks great but not too flashy, a very approachable concept for many looking to create a coffee bar at home.
---
Overall, a coffee bar is what you want it to be. Whether you're a fan of flashy espresso machines with perfect, color-coordinating shelving or you're a fan of a small and simple coffee station with set of shelves with mugs and toppings.
What coffee station ideas or concepts from this list do you want to try out? Are you planning to go all out for a grand coffee bar soon? Let me know below!