Choosing a new bathroom design for the entire family can be both daunting and exciting. Whether you are revamping it or going for a totally different bathroom design, there is a lot of possible bathroom renovation ideas you can to think about.
But worry not, this article is a simple step-by-step guide to completing a bathroom renovation, big or small.
As you go through the steps below, you will discover a lot of helpful ideas and tips to move through the remodeling process.
I'll help you to decide how and where to start. I'll also show you how to maximize space and small bathroom ideas to make it look bigger.
So, let's begin…
Step 1- Consider the 5 signs that you must remodel your bathroom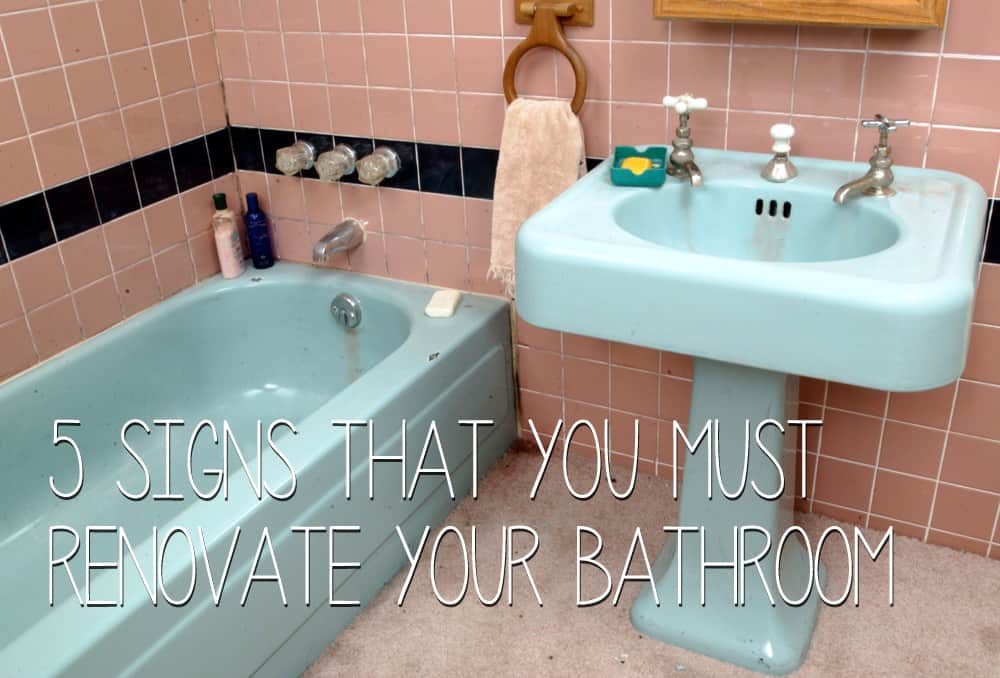 Grout is falling in the tiles. Things like caulking are turning yellow. There is mold and mildew on your walls.
Your bathroom is too small.
It is also hopelessly outdated.
You are thinking of selling your home
Your needs have changed: marriage, a new baby, elderly parents moving in etc are some important considerations.
Your bathroom is just not you. If you feel your bathroom just doesn't reflect your style or personality, it is time to consider some new bathroom decorating ideas!
Step 2- Determine your goals
Do you simply need new bathroom fittings, accessories and a new coat of paint?
What is your bathroom's current situation? Can you attack the grime and mold with some bleach instead of replacing all existing fittings with brand new bathroom sinks, vanities, and tubs?
Is there another bathroom in the house or does the entire family use the one? In such a case, it might help to have a separate area for the toilet and shower. This way, someone can still use the vanity and mirror while another person showers.
Who will be using the bathroom? Consider each person's gender, height, and age when buying bathroom furniture.
How much money can you realistically set aside for the project? If you are selling, you might not want to spend too much since you will not be using the bathroom unless of course, it will help you increase your home's value.
Step 3- Consider the latest trends and bathroom remodel ideas
A bathroom, no matter its size is an area for contemplation, luxury, comfort, and functionality. If you feel your bathroom has been wearing a tired look lately (or you are going for a complete redesign), it is time to take a look at the current bathroom trends.
Here is what is hot, as predicted by experts, for creating a modern contemporary space:
Timber and timber veneers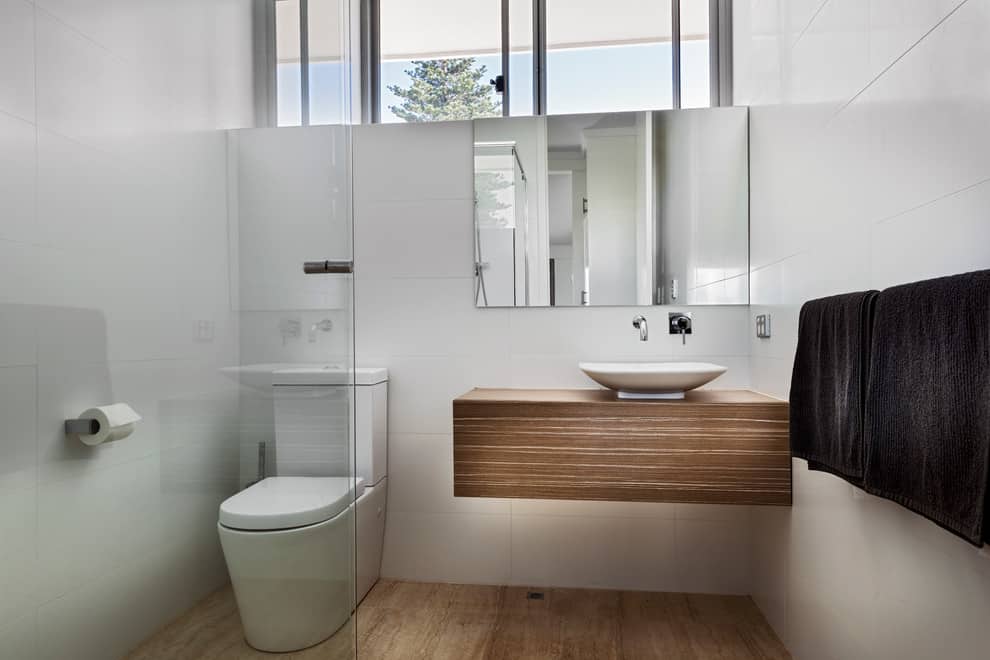 Timber is stronger than ever when it comes to finishes. But, this year bathroom timber veneers will come with a twist in that you will see refined, crafted and engineered options.
Textured timber is even more popular than before. Think walnut and chestnut finishes for depicting warmth and reminding one of nature.
Stone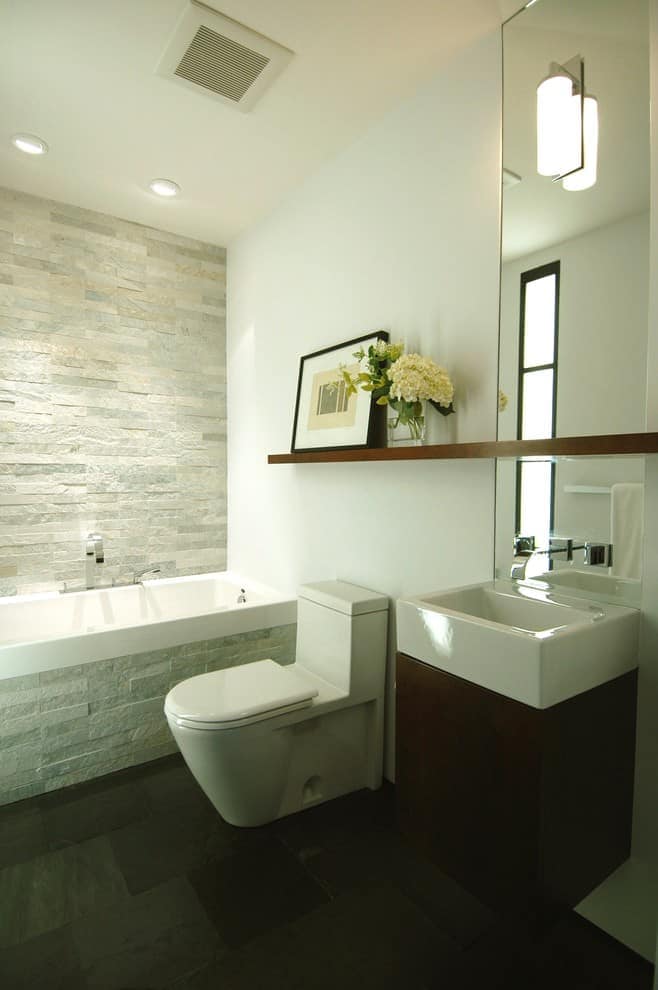 Stone is a key feature of this year's bathrooms. Natural, raw or finished, engineered stone, slabs, and tiles can recreate the luxe look of expensive marble. This is an important trend in bathroom flooring.
Metals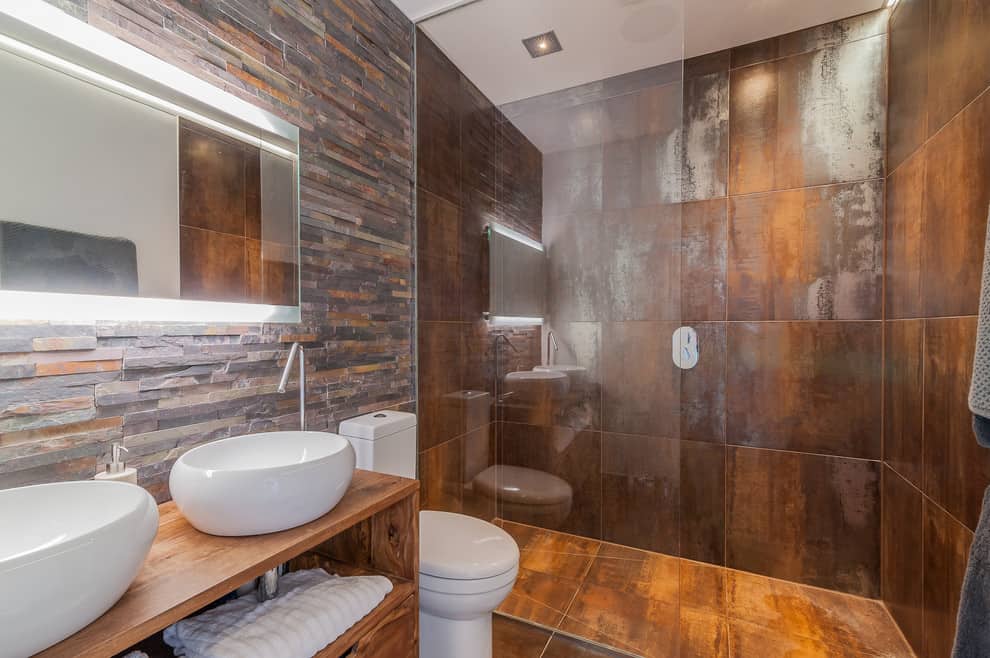 While metallic finishes in gold, rose gold, copper, pewter, and brass were popular in 2014-15, in 2016 we see a new addition-Rust.
The metallic rust colored look will be seen not only on hardware and plumbing fittings but also on wallpapers, paints, and tiles for creating a rustic down to earth look.
Living Wall

This is one of the highly popular bathroom decorating ideas which can be as low key or high end as you like. This means you could incorporate a simple lily on the windowsill or go for an entire wall of succulents featuring one large glass panel.
Blue is still a popular color for tiles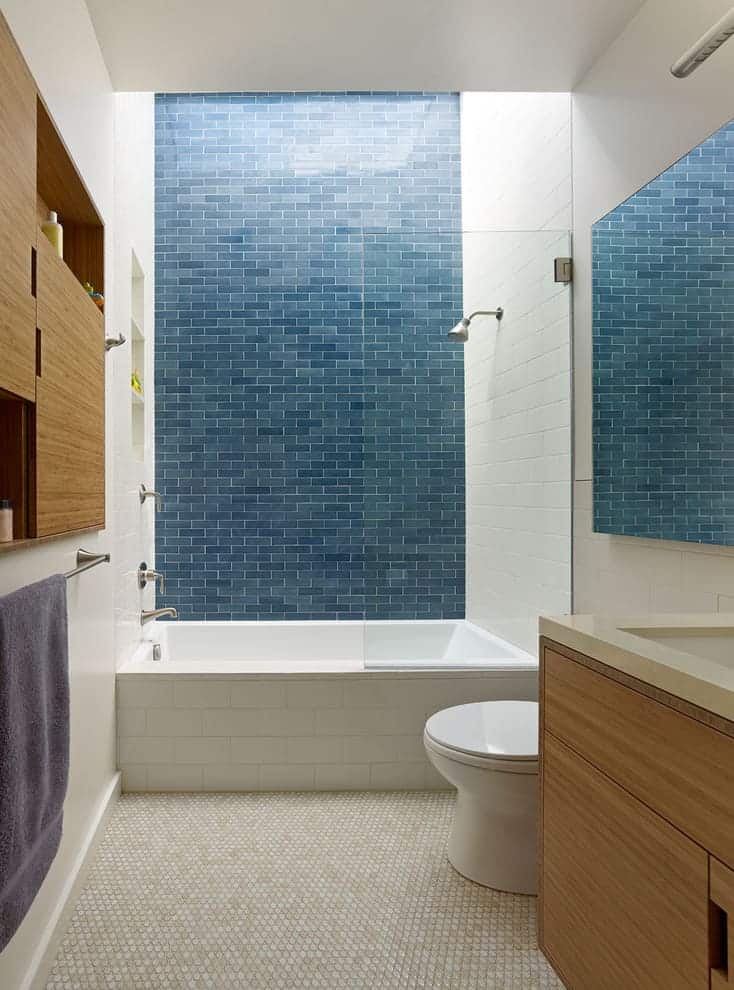 Thinking of replacing your bathroom tiles? Blue has been going strong as far as the popular colors for bathrooms for the past 5 years.
This year though, you can expect to see Indigo and Ink blues which are warmer shades of Blue.
Also, white is a popular color in tiles for bathrooms, but you can expect to see it trending to greener bases rather than grey or beige.
LED Lighting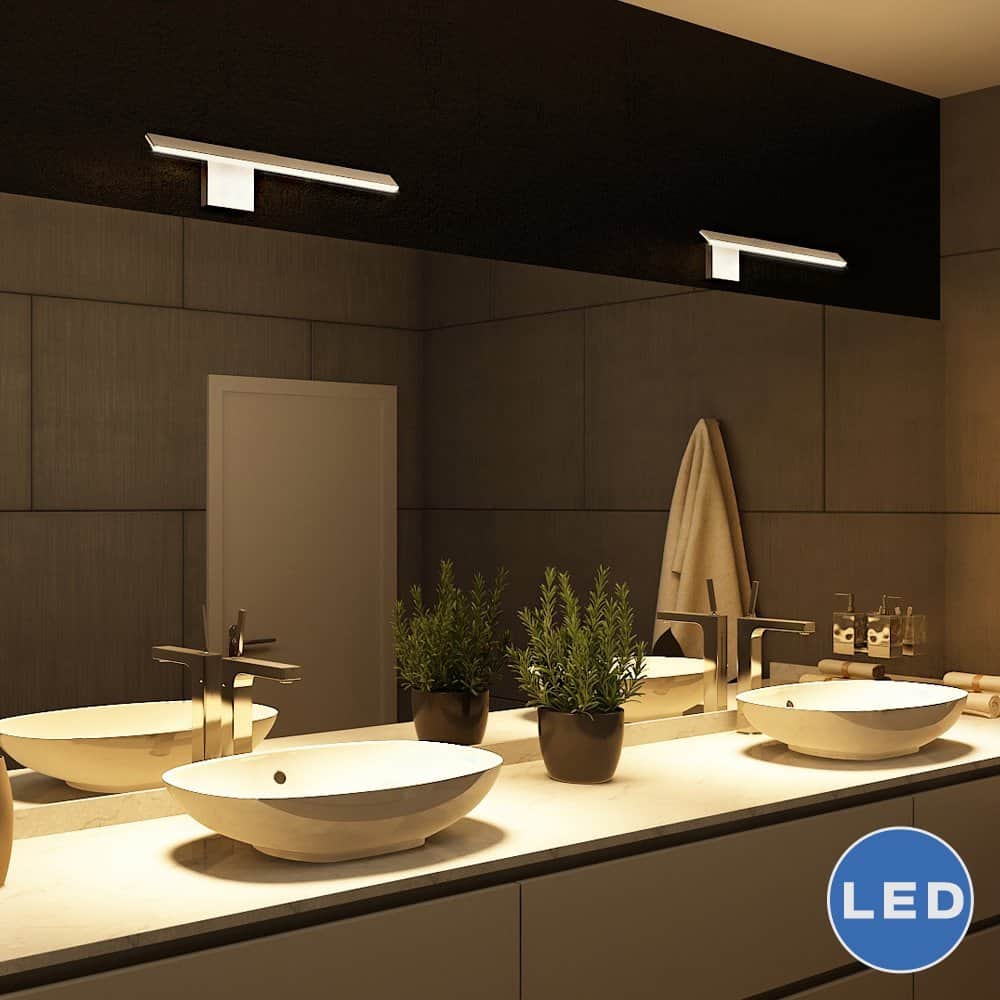 Think of lighting that adds soulful warmth to your small space. LED lights in negative detailing can help flood a wall or accessory to create interest and texture.
Step 4- Getting started
Your bathroom is your sanctuary-a place where personal intimacy is cherished and time can be spent reflecting upon self.
Redesigning your bathroom to create more space requires a marriage of form and function, aesthetics, and comfort.
Here are some bathroom design ideas to get you started:
Layout
Think about first impressions when planning the bathroom layout. You do not want your toilet to be in direct line of sight of the doorway.
One of the best small bathroom vanity ideas is to have one that is wall-mounted. This can greatly maximize your space.
You can have a heated towel rack or rail right next to the entrance of the shower stall. Such bathroom shower ideas are best implemented with an electrician's help to ensure the rail is in an electric safe zone.
Add plants and greenery to instill life in the design.
If you are upgrading the entire bathroom, make sure you account for plumbing points. If they need relocation, it might increase your budget cost considerably.
If you love clean lines, one of the best small bathroom storage ideas that does not clutter the room is adding recessed mirror cabinets. Just make sure you select ones that fit the depth of the bathroom wall cavity.
Lighting
One of the most important bathroom accessories are your lights. You should try to use as much natural light as possible. Arrange to have your mirror such that it lets you see your reflection in natural light.
You can choose LED recessed lights which help save energy and the hassles of changing light bulbs every now and then. Do not go for overly bright or white light as it can over-saturate the space.
One of the best ideas for a bathroom's lighting is to select a shape you want to accentuate the most. You can start with the bathroom sinks. Square sinks with rounded edges are one of the most popular designs in basins. You can later extend to choosing the shape of your mirror and bathroom cabinets.
Step 5- Choosing the right bathroom accessories and fittings
Here are some important planning tips and ideas when purchasing products and bathroom fittings:
For a walk in shower, choose a shower mixer that is readily accessible from outside your shower entrance. This way, you do not get drenched in cold water when accessing the mixer.
Stick to a single brand especially when selecting your fittings and accessories. This will help you keep the same shade of all your fixtures and keep a look of uniformity.
If you have a small space, then a great small toilet idea is to do an in-wall cistern. The water tank is in the wall, so you will need to ensure there is adequate room in the wall cavity for the waste outlet through your flooring.
Choose bathroom cabinets with mirrors having demister. Demisting Bathroom Mirrors ensure you have a crystal clear reflection when you get out of the shower. You can also go for glazing protection to maintain the life of glass and enhance appearance.
For budgeting purposes, always note what bathroom accessories come with your selected products. For example, some bathroom sinks and vanities do not come with waste, bottle trap or overflow covers. So check with your plumber or builder as to what bathroom accessories you will need.
Instead of traditional heating, go for under-floor heating elements. These are great because they keep your feet warm on the usually cold tile floors.
Step 6- Selecting your Bathroom Vanity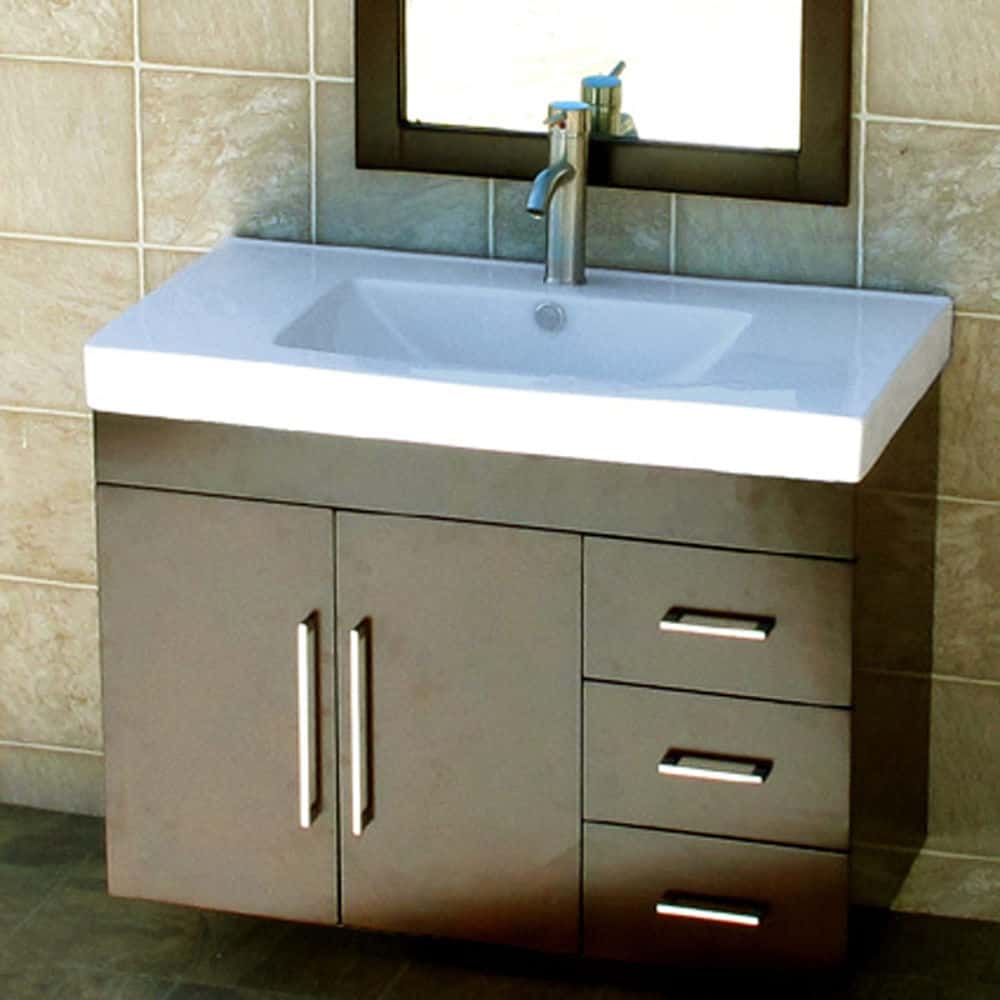 The ultimate purpose of a bathroom is to help you wash, clean and store toiletries. Here are some important ideas and tips when selecting a bathroom vanity:
If you have already chosen your tiles and bathroom color schemes, then take the tile and your color swatch along with you to the home store. You can use them to make the right choice when you pick your bathroom vanity.
You can maximize your space by choosing mirrored small bathroom cabinets. These can give you much needed extra storage and also accommodate your daily beauty regime.
If you are having your vanity custom built, just remember that it takes a lot of extra time. To avoid delays, get this part started at the beginning of your makeover project. This will help avoid complications and delays.
If your vanity is going to be hung on the wall, ensure there is adequate support built in for this purpose. If you have tall/short people in your family, take their height into account when mounting the vanity.
Make sure that the design, height, finish, and function of the vanity suits everyone who uses the bathroom.
Some bathroom furniture designs come with traditional doors, or drawers, or doors-AND-drawers styles. The drawers can be small or deep enabling bottles to be stored vertically. Take all these ideas into account when selecting your design.
Vanities come in various materials and finishes. You can select bathroom sinks built into the vanities. The sinks and tops can me marble, porcelain, or other composite materials.
Bathroom cabinets also come in a wide range of materials like Melamine, wrapped foil, polyurethane, or glass.
Step 7- Putting it all together and avoiding mistakes
One of the most common mistakes made by both professionals and homeowners during a bathroom remodel is inadequate planning.
Some crucial basics are often forgotten. For example, many people fail to take existing plumbing and electrical wiring into account.
Also, don't underestimate costs. If you are altering existing flooring, sunken fixtures, walls or ceiling, you will need extra time, materials and money. So make sure you estimate costs accurately and seek the help of specialty contractors.
Remember that all the costs can add up quickly, so be sure to keep yourself in check when taking on a bathroom makeover.
---
I hope you found some useful tips here. Please reach out in the comments below if you need any clarification or advice. Good Luck!